Get ideas for walk in tub dimensions including what sizes they come in, measurements for standard, and small, and Safe Step, Kohler, and American Standard brands.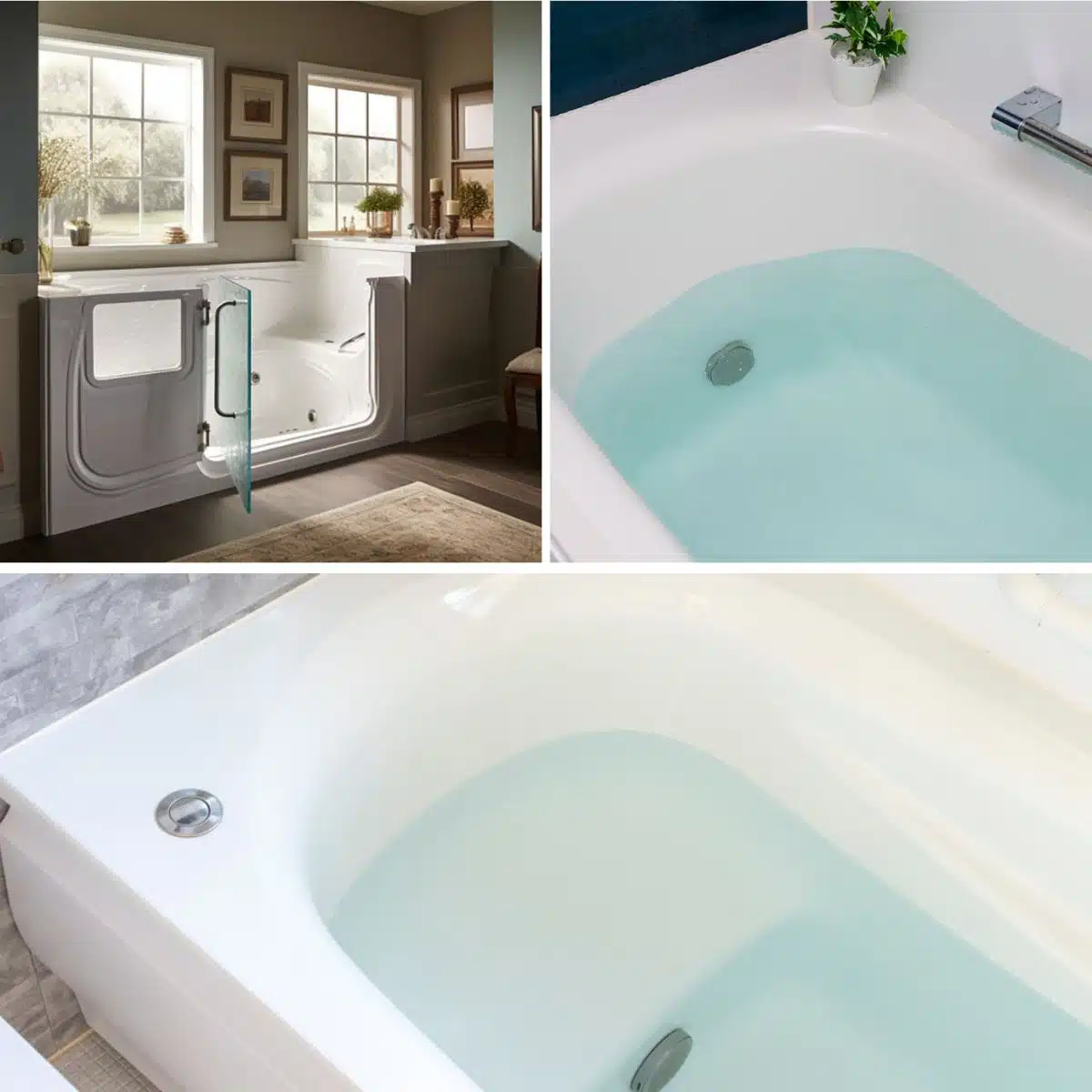 Think of something in which relaxation and accessibility are harmoniously integrated. If you are reading this article, you might be thinking about the wonders of a walk in tub. When it comes to walk-in tubs, the dimensions are more than just numbers on a spec sheet; they become the doorways to a refreshing experience unlike any other.
Once the perfect tub is chosen for a specific requirement, form meets function in perfect harmony which opens the avenue of comfort and convenience for any bather. Read on to explore the world of walk in tubs, where dimensions become the architects of rest and relaxation.
What Sizes Do Walk Inside Bathtubs Come In?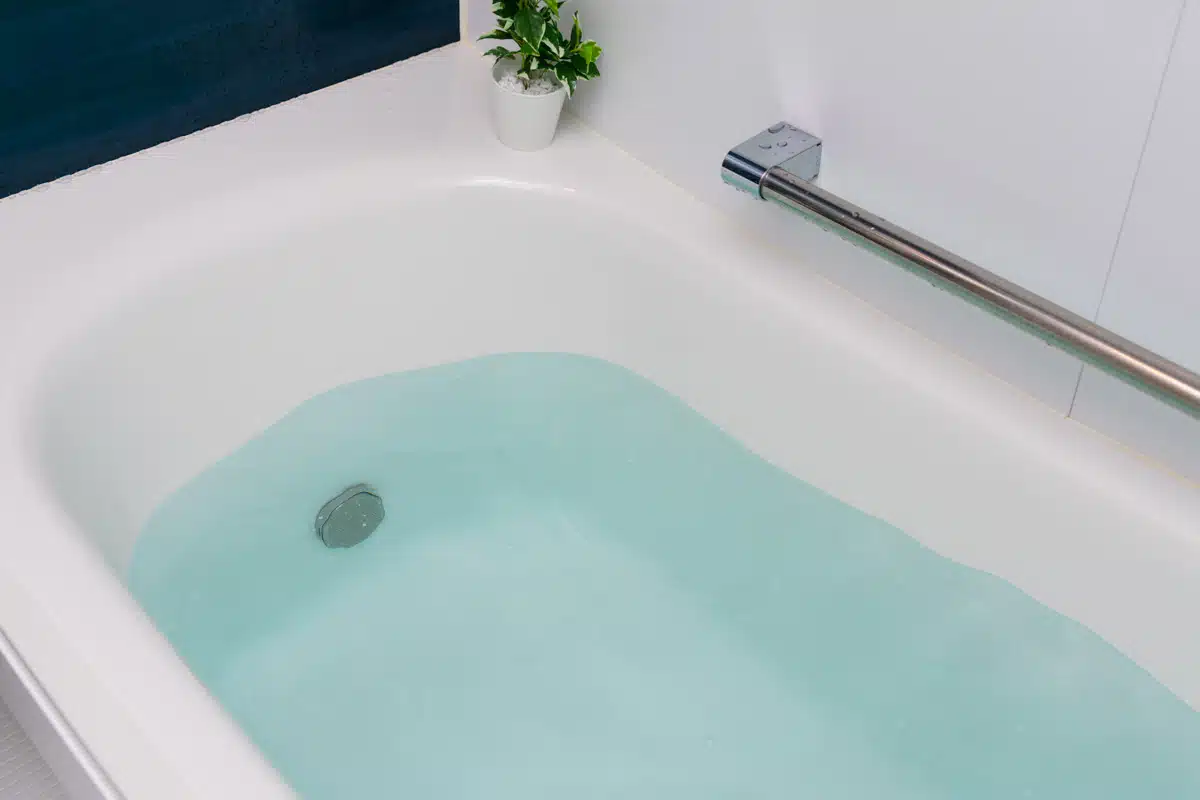 The good thing about walk-in tubs is they are available in a variety of sizes to fit any bathroom layout and user requirements. Here are some of them for your perusal:
Standard Walk-In Tub Sizes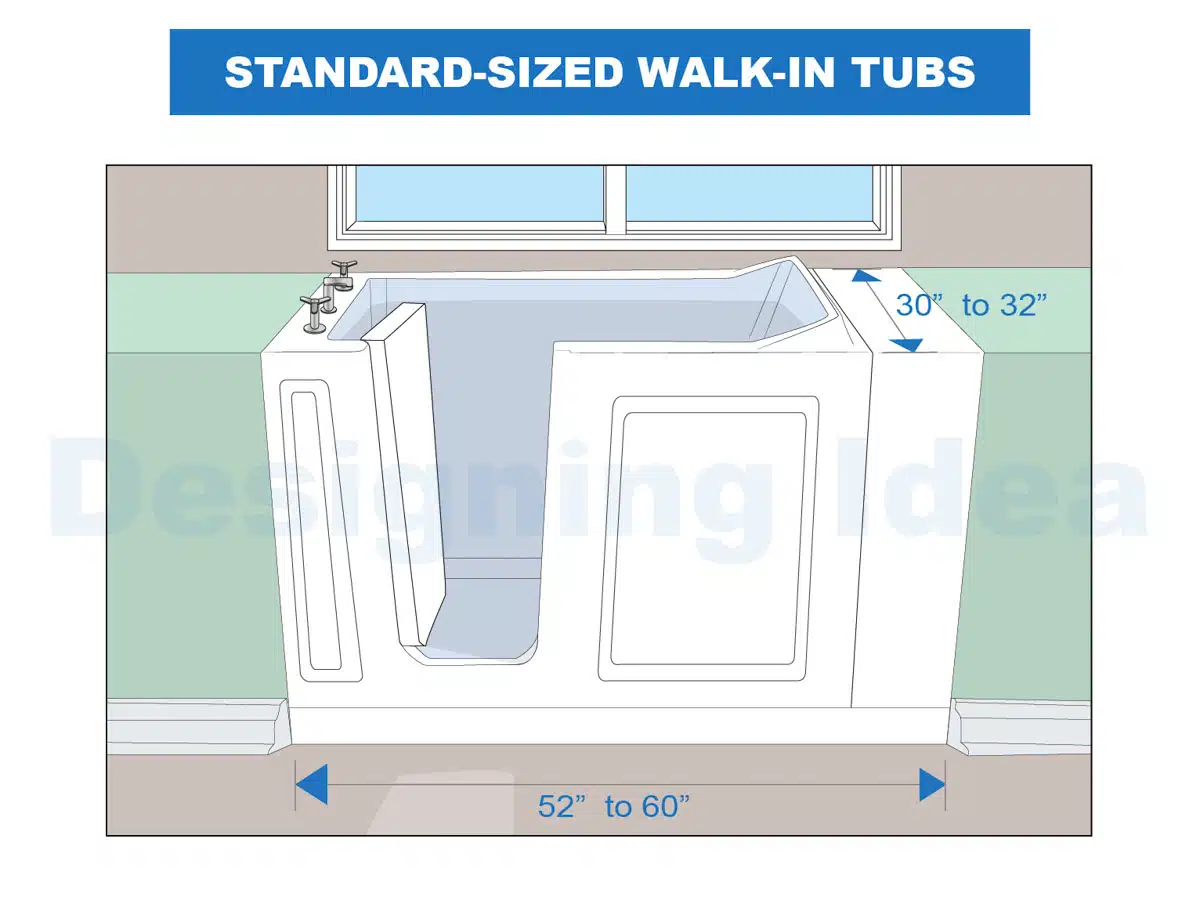 • Standard-Sized Walk-In Tubs: The most common and adaptable walk in tubs are the standard-sized tub, with lengths ranging from 52 to 60 inches or around 132 to 152 centimeters and widths ranging from 30 to 32 inches or 76 to 81 centimeters. They are small enough to fit into most standard-sized bathrooms and provide a worthy blend of comfort and space for families.
Sizes For Deep and Wide Tubs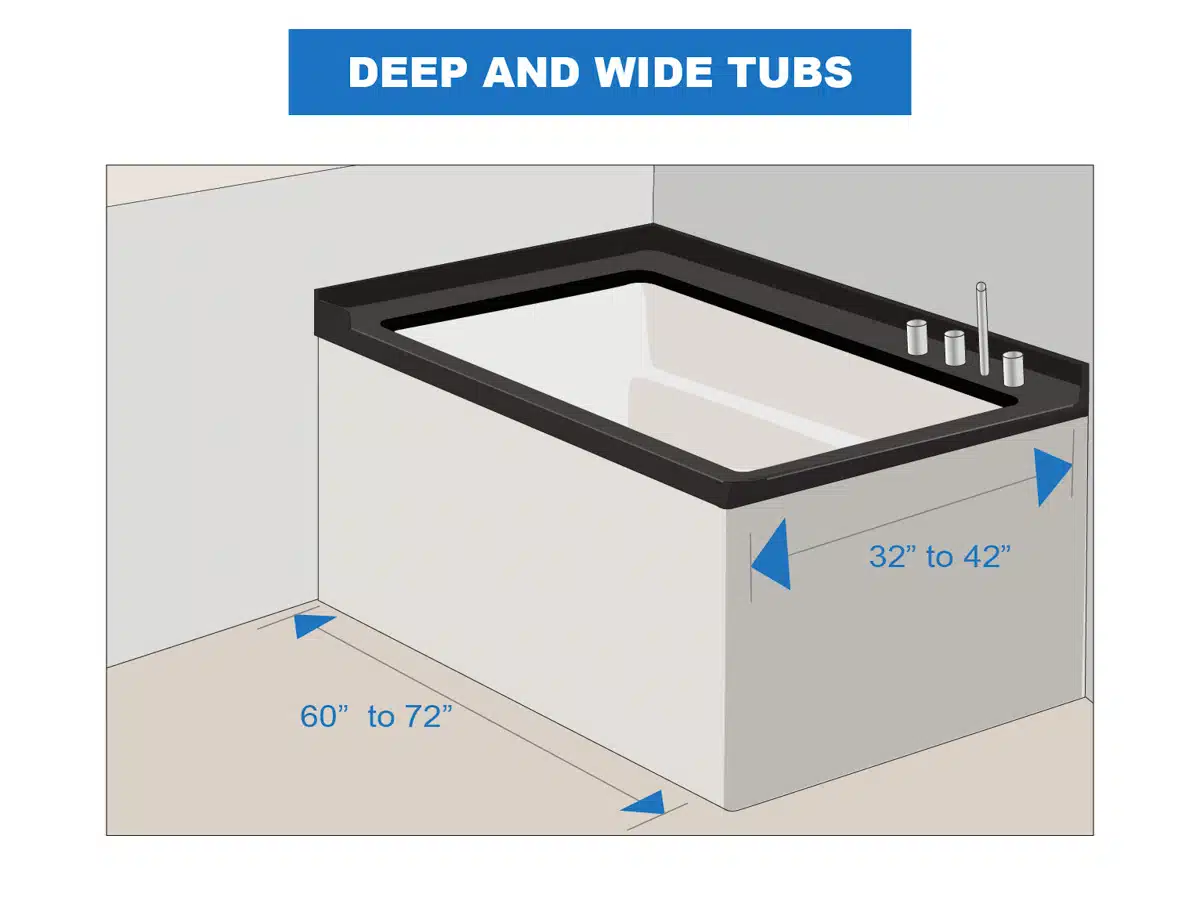 • Deep and Wide Tubs: For tubs deeper and broader than standard-sized tubs it provides additional room for soaking. They can range in length from 60 to 72 inches or approximately 152 to 178 centimeters and width from 32 to 42 inches or 81 to 107 centimeters. They are perfect for people who are looking for more legroom; the best thing is this size could even fit a wheelchair.
Size Of An Extra Large Tub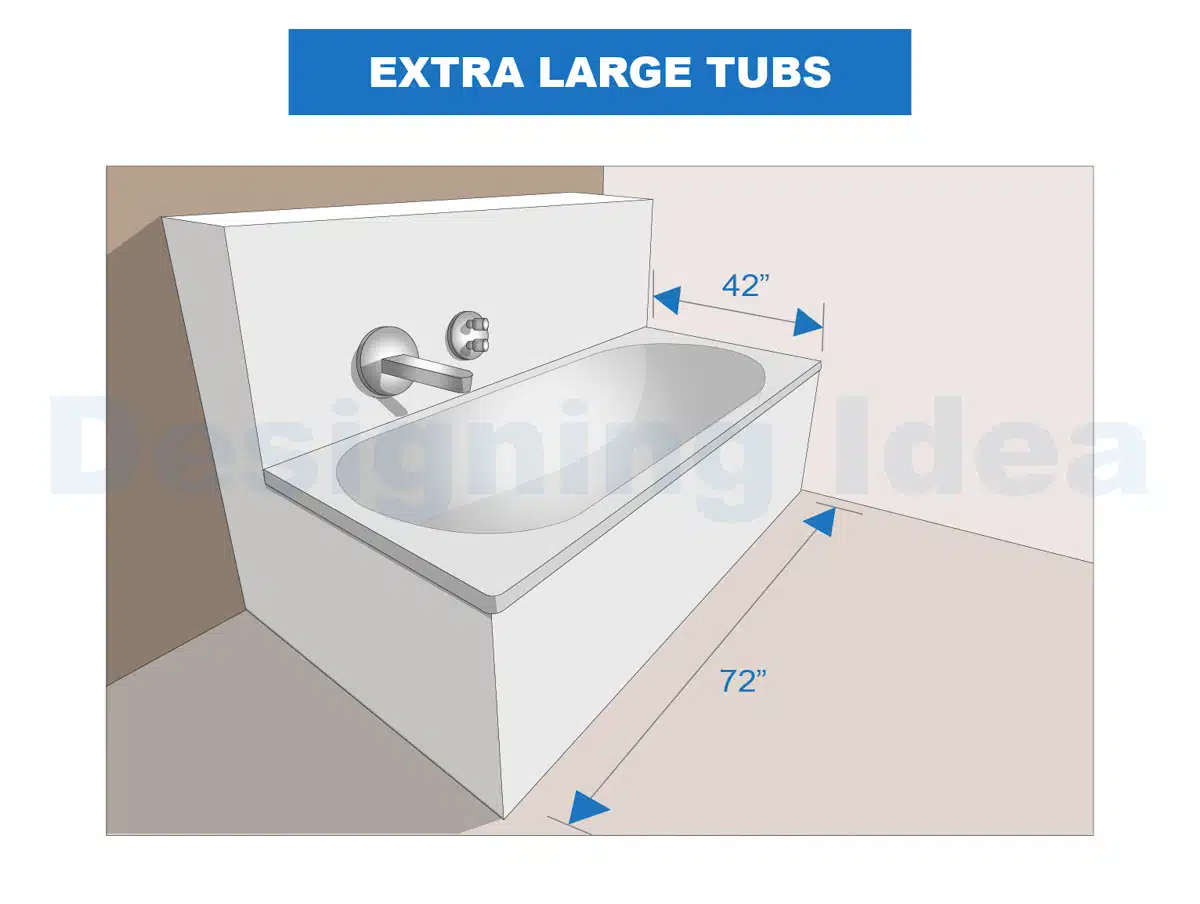 • Extra-Large Tubs: For individuals looking for a truly luxurious bathing experience, extra-large walk-in tubs with lengths surpassing 72 inches or 183 centimeters and widths of 42 inches or 107 centimeters or more are available. These baths have plenty of space and are frequently outfitted with extras like hydrotherapy jets and many other added tech or features.
Small Walk-in Style Bathtub Dimensions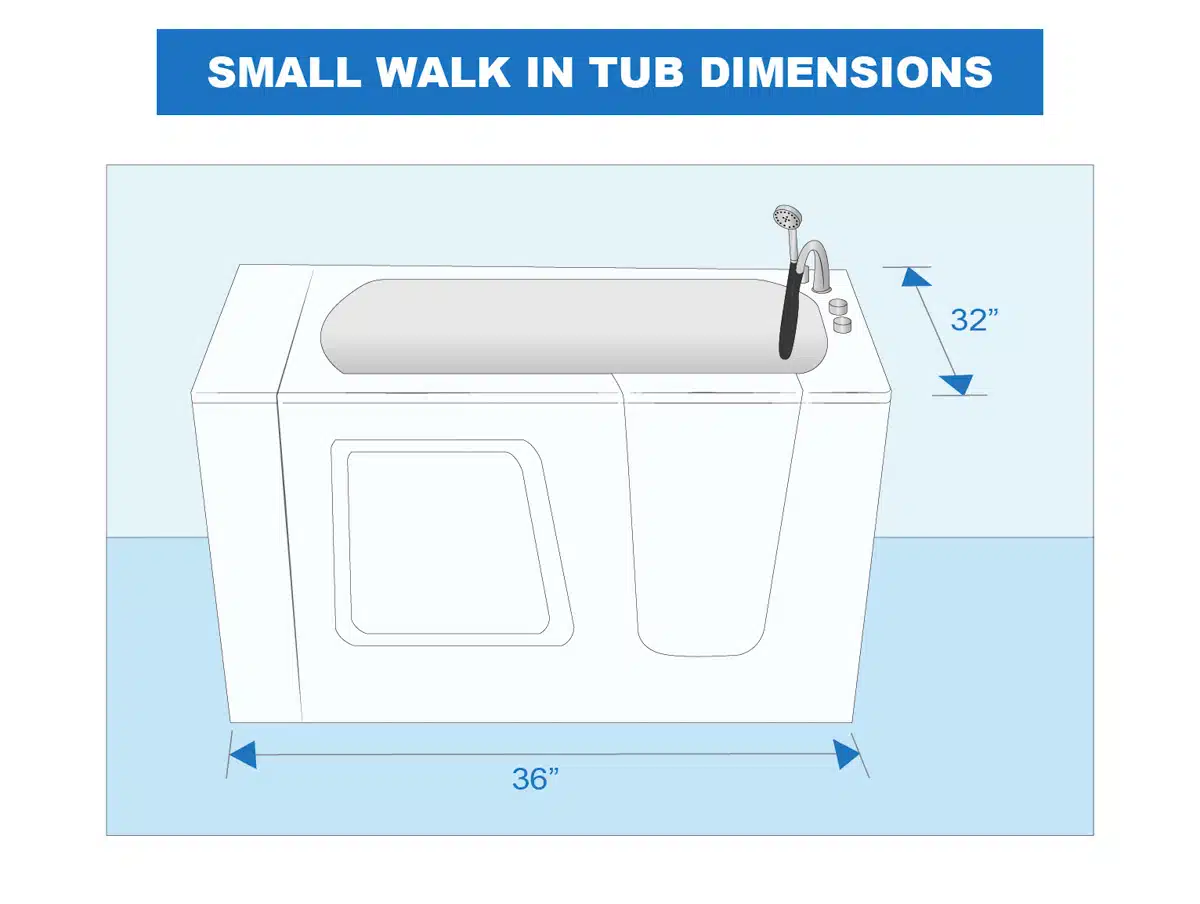 To fit into small bathroom sizes, small walk-in tubs have been created that offer the comfort and accessibility of a standard-sized walk-in bathtub. Small walk in bathtubs commonly have these dimensions: about 36 inches or 91 centimeters in length and 32 inches or 81 centimeters in width.
The trick in any case is to carefully and thoroughly plan out the positioning, plumbing, and details of new or replacement bathtubs or showers. – Black and Decker The Complete Guide to Bathrooms Updated 6th Edition, Editors of Cool Springs Press, Chris Peterson
They are appropriate for bathrooms with constrained space because of their reduced dimensions. Since they are easier to install and still offer the advantages of an easy entry access, safety features, and therapeutic alternatives like hydrotherapy jets, compact bathtubs are a practical solution for people or families with smaller bathrooms.
Remember that these measurements may vary somewhat depending on the individual model and manufacturer. To achieve a correct fit, you must carefully measure the available space in your bathroom and consult a professional installer.
Compact Tub Measurements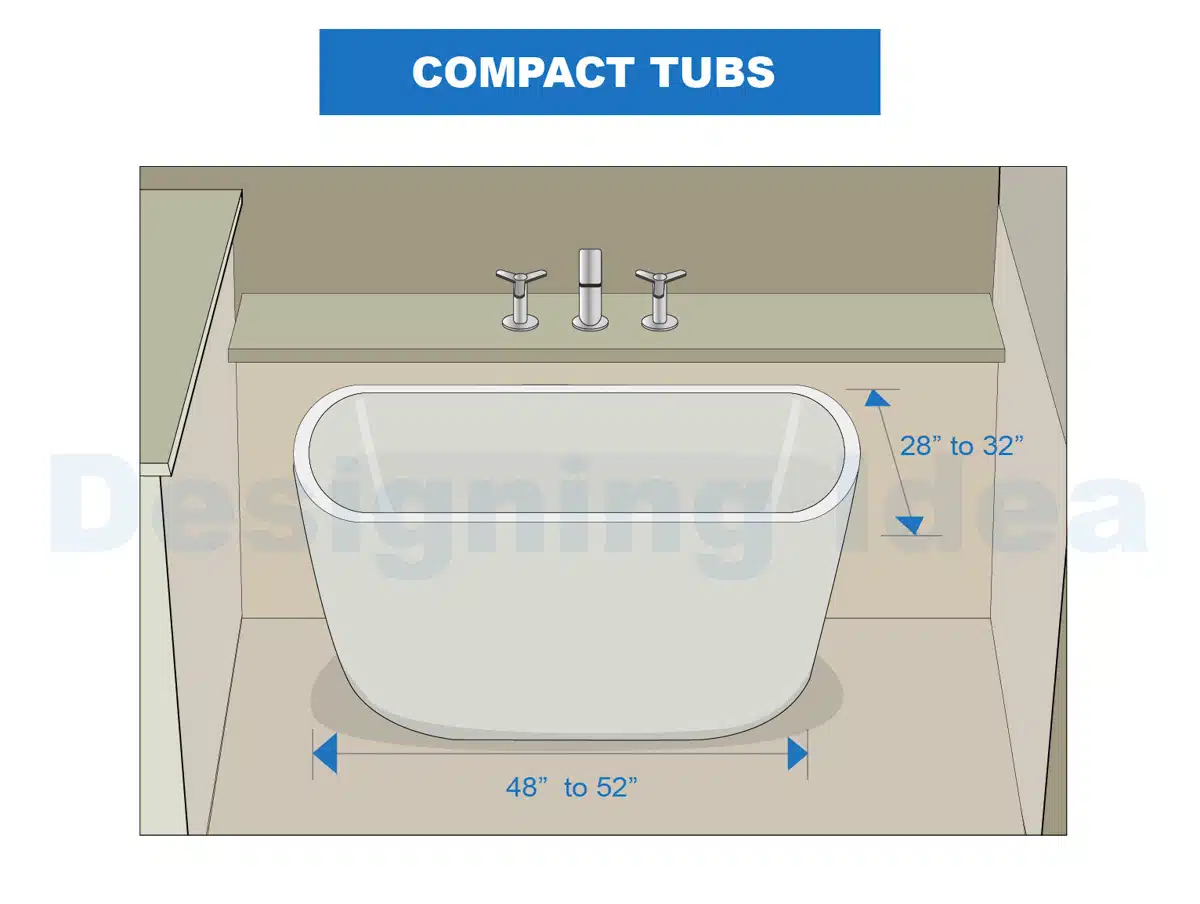 • Compact Tubs: Compact or smaller walk-in tubs are normally 48 to 52 inches or about 122 to 132 centimeters in length and have a width of 28 to 32 inches or 71 to 81 centimeters. This tub size is meant to fit into areas similar to standard alcove tubs. This is the perfect tub to get for compact bathrooms like in apartments in the city.
Safe Step Tub Brand Dimensions
It is worth pointing out that walk-in tubs are specific for individuals with impaired mobility. For example, the elderly might have insufficient strength to "hop" into a conventional bathtub or a medical condition could prevent them from safely doing so.
Many homeowners and families trust Safe Step to deliver high-quality bathtubs. Although these fixtures' design is identical to conventional types of bathtubs, they offer the added benefit of effortless installation.
Safe Step's walk-in tub spans 52 inches side-to-side and clears the bathroom floor in 30 inches. Families who need a combination of shower and bathtub would want to prepare a bathroom floor space measuring 5 feet along its longest section. It is spacious enough to accommodate a wheelchair, while facilitating 360-degree tub pivot.
Wheeling in a wheelchair into the tub should be a cinch via its spacious opening. However, maneuvering the wheelchair in the 38-inch-wide fixture can be a hit or miss. Families might want to consider a larger-sized bathtub in such instances.
American Standard Tub Sizing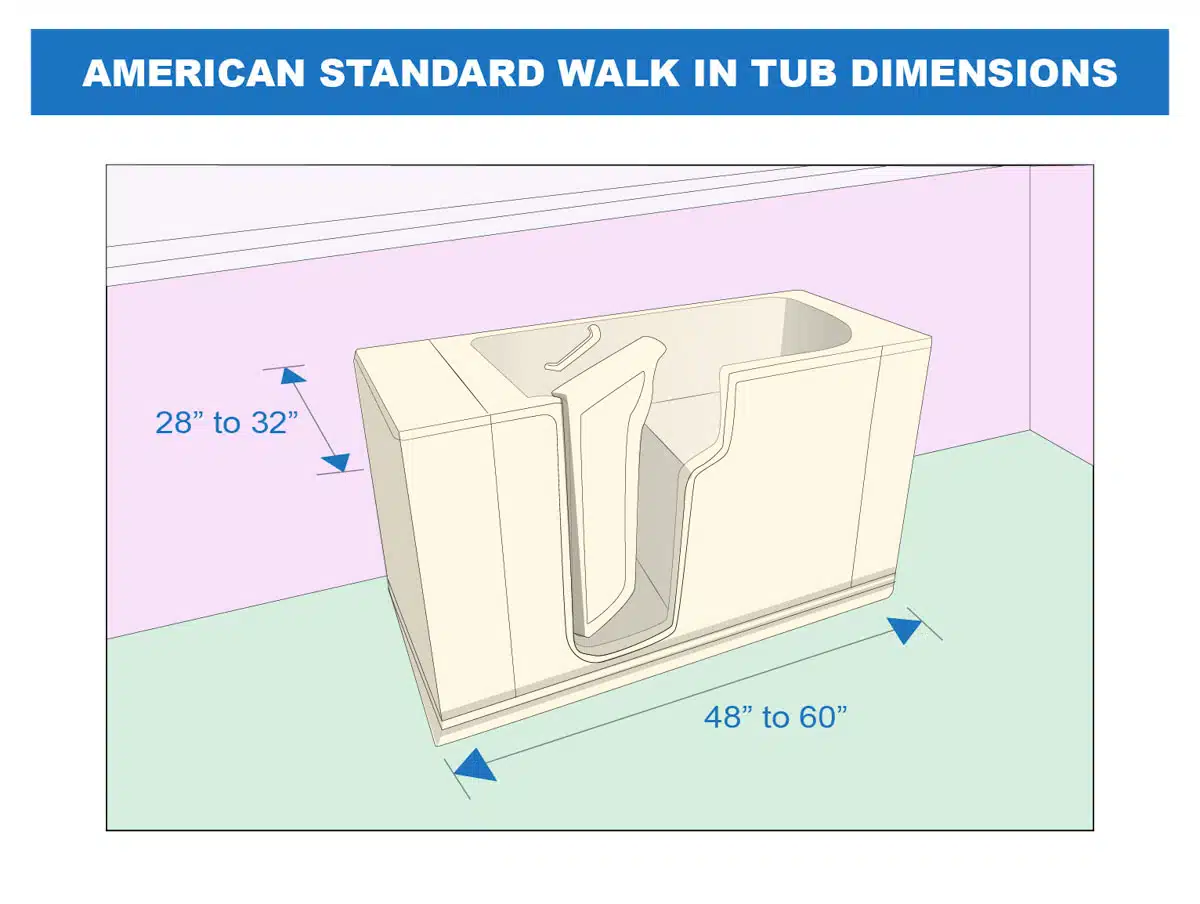 Like other walk in tub brands, American Standard offers families several options to zero-in on their needs. For instance, households with cramped bathroom spaces can consider American Standard's compact units measuring 48 inches from side to side and 28 inches from front to back.
On the other hand, families who need the largest tub to accommodate their loved ones, ensuring maximum mobility and safety in the bathtub, can pick a 60-inch-long walk in tub. This product spans front to back at 32 inches. With an inward pivoting door, entering the bathtub should be a cinch.
Other models might vary in measurements. Hence, homeowners must consider the available real estate in the bathroom and use it as a guide in choosing the correct American Standard walk-in tub.
Kohler Walk-In-Tub Measurements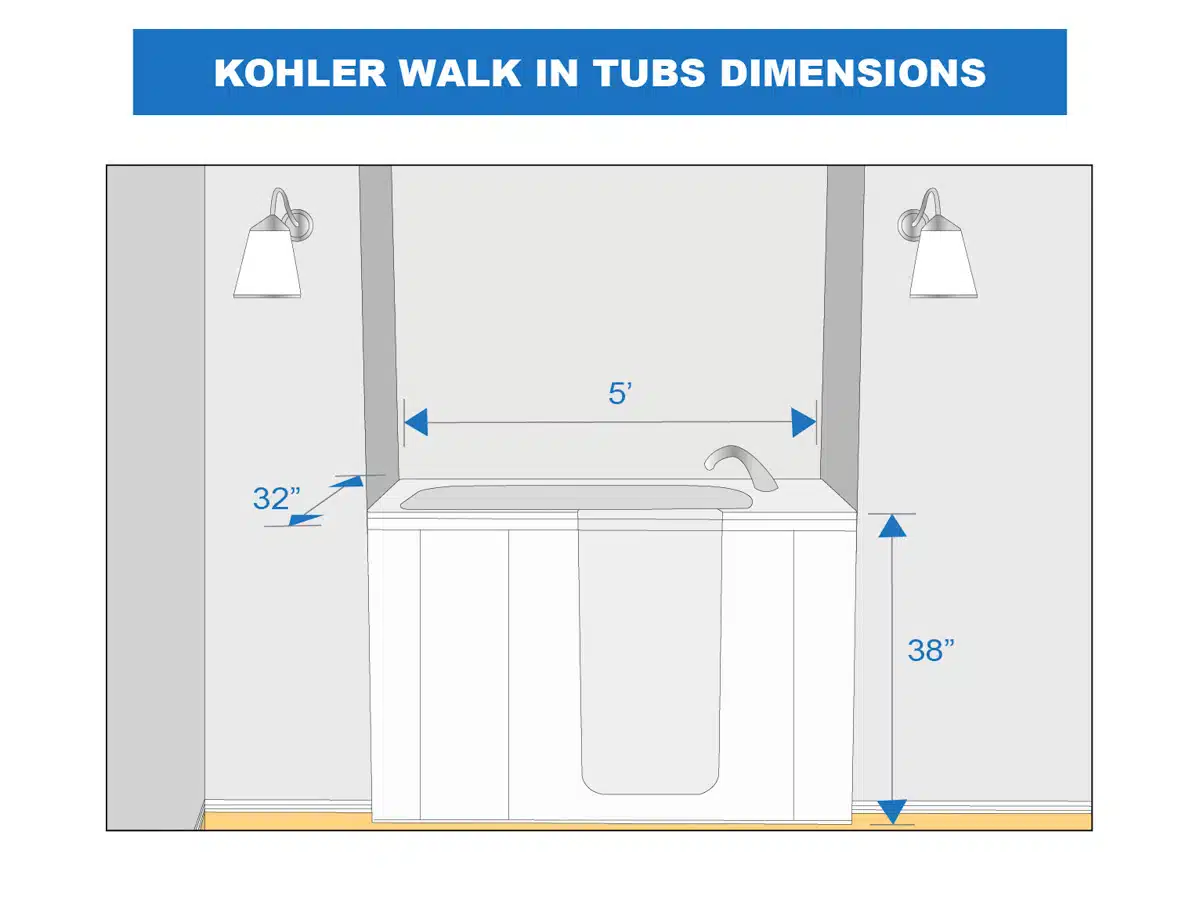 Kohler's walk-in tub offerings do not vary immensely from other brands, making contractors, interior designers, and homeowners believe they're the standard size.
A Kohler walk-in tub should fit nicely in a side-to-side space about 5 feet long, allowing folks with impaired mobility to stretch their legs while enjoying warm, relaxing bath. The 32-inch breadth is sufficient to facilitate wheelchair movement in the tub, while its 38-inch height is perfect for holding enough water to submerge a person's whole body sitting on the bench.
Kohler also has smaller units for homes with limited spaces, allowing families to provide exceptional bathing comfort and convenience for loved ones. These fixtures typically extend 3 feet from side to side and 32 inches from their outermost section to the other opposite side on the wall.
Larger units exist, giving more room for bathers to move about. These fixtures have a lateral span of 40 inches and extend 5 feet from side to side.
How Much Does a Walk In Tub Weigh?
Like other fixtures, several factors influence a bathtub's heft. These determinants include the following.
• Size: The larger the tub, the heavier it is.
• Material: Acrylic bathtubs are lighter than fiberglass versions.
• Capacity: Homeowners must appreciate that water weighs 8.34 pounds to a gallon. Hence, a bathtub with a higher capacity (in gallons) will be heavier. For example, a 50-gallon unit holds about 417 pounds of water, while a 40-gallon tub can only handle 333.6 pounds.
• Frame and door: The tub's supporting structure also adds weight to the fixture.
• Features: Mechanical devices, additional fixtures, user controls, and other tub elements can make this style heftier than others. For example, integrated heaters and water jet technologies can increase heft.
The average walk-in tub can be as light as 200 pounds (about 91 kilograms) or as hefty as 400 pounds (about 181 kilograms). Filling these tubs with water can add 100 to 600 pounds to their heft, bringing the total to at least 300 to 1,000 pounds (136 to 454 kilograms).
Is a Walk-In the Same Size as a Regular Tub?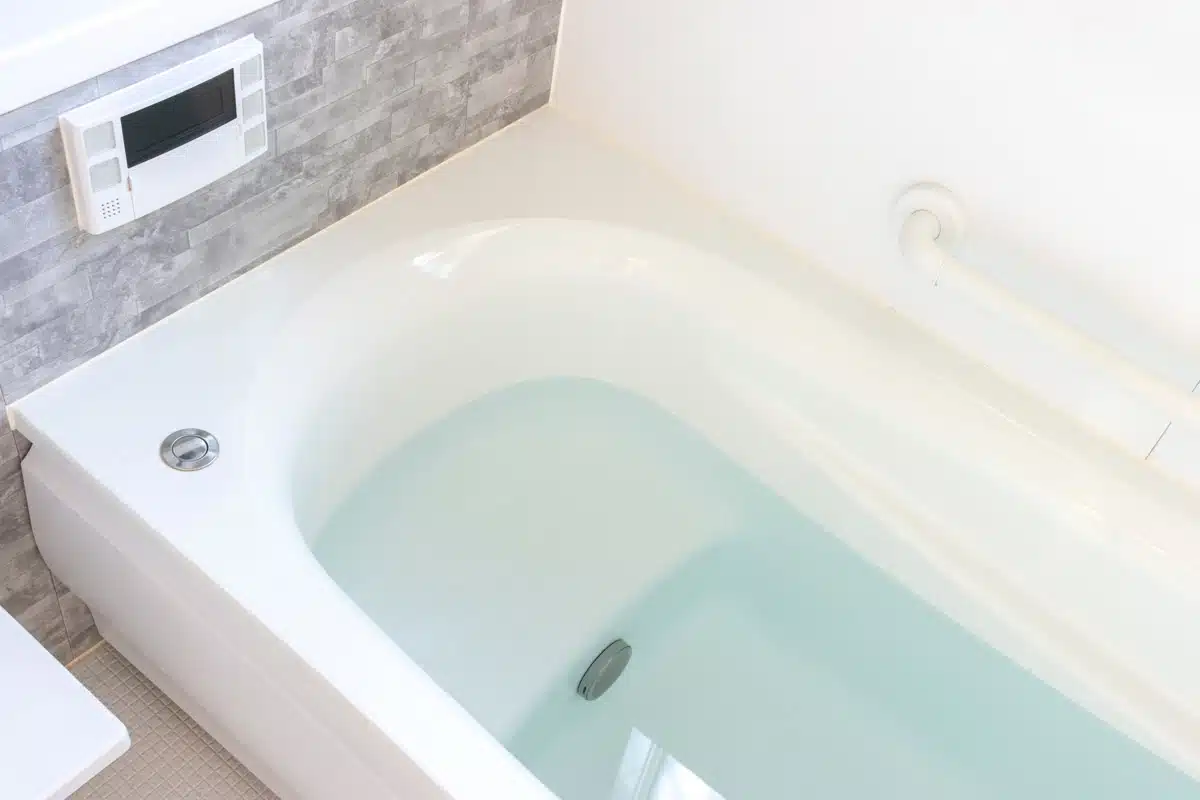 Recognizing the difference between a regular tub and a walk-in version extends beyond size, although common sense dictates the latter is bigger than what most families have in their bathrooms.
Families with members with physical limitations (i.e., muscle weakness, medical condition-related immobility, and old age) must make bath facilities accessible to these members. Hence, this style of tub will have features ordinary tubs do not. These differences not only contribute to size variations but also function.
• Seating: Thesetubs have integrated benches or seat platforms for users to feel more comfortable during bathing. These features also ensure safety.
• Safety features: This style of tub incorporates grab bars on the tub's inside surface, allowing users to stabilize themselves when entering and exiting the tub. It also helps facilitate movement. Other unique safety features unavailable in standard tubs include anti-scald valves and nonslip bottoms.
• Capacity: Although these tubs have higher walls than standard tubs, their capacity is lower to accommodate the needs of persons with disabilities or weakened states.
• Height and width: Walk-in tubs are higher and broader than conventional tubs. These attributes make these fixtures ideal for individuals with weakened physical strength, balance problems, and other health concerns.
• Door: All tubs designed like this have a door to facilitate entry and exit by people with physical limitations. They do not need to "hop" into the tub as "normal" individuals would. Instead, they swing open the door, roll the wheelchair in, and enjoy a relaxing bath.
How Much Space Do You Need for a Walk-In Style Tub?
No two bathrooms are identical. Hence, the space required for a walk-in tub depends on the bath's existing layout, including available space. Homeowners who wish to add a walk inside tub in their rooms must measure usable space, excluding toilet and shower facilities.
They can use the information to determine the most appropriate walk-in bathtub size. A good rule of thumb to observe is the 70-inch rule. Most walk in tubs extend about 70 inches from side to side (including the frame and associated elements).
See more related content in our article about corner tub dimensions on this page.