Here we share vinyl flooring in bathroom pros and cons including different types and what style is best for your interior design.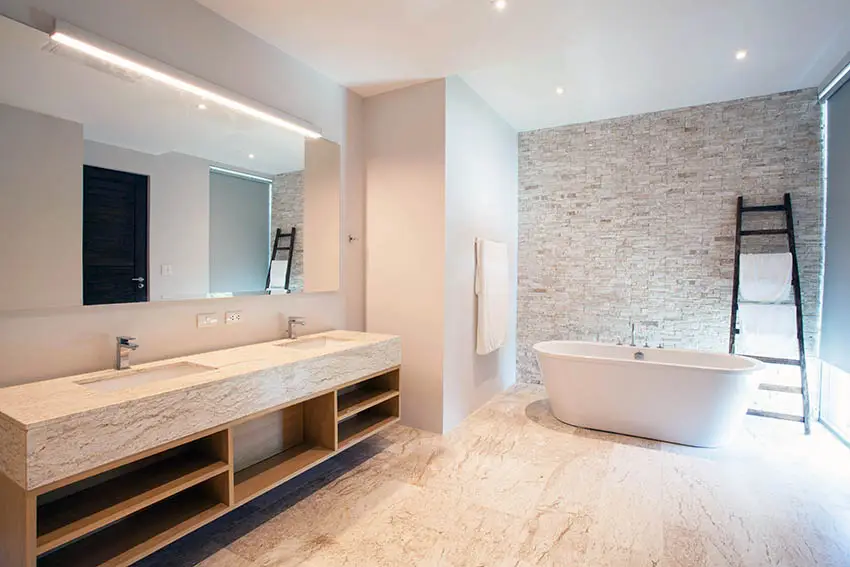 One of the most popular types of flooring for homeowners is vinyl flooring for bathrooms. It is quite an ideal solution, not only because of its aesthetics but also its durability.
From the tremendous flooring options for the bathrooms, these vinyl flooring types are also considered economical with great value. And this is why, it is highly preferred in the commercial, retail, as well as the residential sectors.
Due to a wide array of styles, sizes, shapes, and designs – this flooring option can seamlessly look cohesive in any and every interior design style.
What is Bathroom Vinyl Flooring?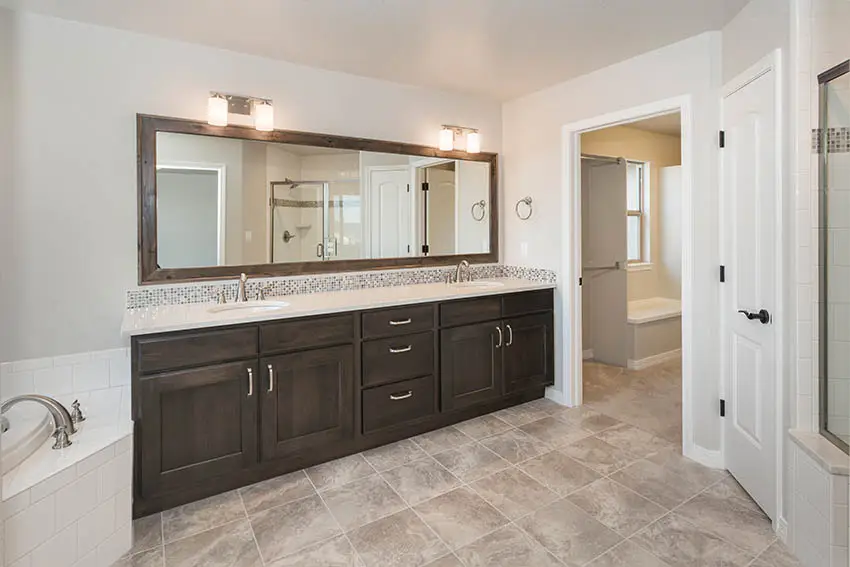 So, what truly is vinyl and what is it composed of? Well, vinyl is a synthetic cousin of linoleum that is stain and water-resistant at the same time.
Its versatility, affordability, and durability make it a perfect option to be used in the bathrooms as well as the bedrooms and living rooms.
Another point to note is that they can also be used in high traffic areas such as business sectors as well as offices and also the cafes and restaurants. And this is because they are easy to maintain and clean – just a wet wipe is more than enough to maintain the material in the busiest of areas.
There are two types of vinyl flooring: vinyl plank or sheet flooring and vinyl tile flooring.
When renovating or refurbishing the bathrooms, the topmost matter of concern is the flooring. Since the area is quite prone to molds and moisture, it is crucial to choose the best available material that offers the utmost advantages.
In the past, ceramic and porcelain tiles were limelight – however, on the contrary to the present era, luxury vinyl planks and luxury vinyl tiles are making headlines. Vinyl flooring has been around for more than 100 years now and has offered tremendous advantages when it comes to resilience and durability.
Bathrooms and kitchens are the prime areas for vinyl flooring. Being a low-hassle option, vinyl flooring is absolutely impervious and resistant to water.
It can very potentially tackle the moisture, steam, and humidity in the bathrooms that may otherwise cause molds and an unhealthy environment in your spaces. In the present era, vinyl flooring is available with attached underlayment or with a thickness of about 8mm or more.
Furthermore, this product can also be easily installed (sometimes DIY) with either a glue-down process or click-lock or loose-lay installation method. Expect immense rigidity in your bathrooms with these vinyl flooring on!
Bathroom Vinyl Flooring Pros and Cons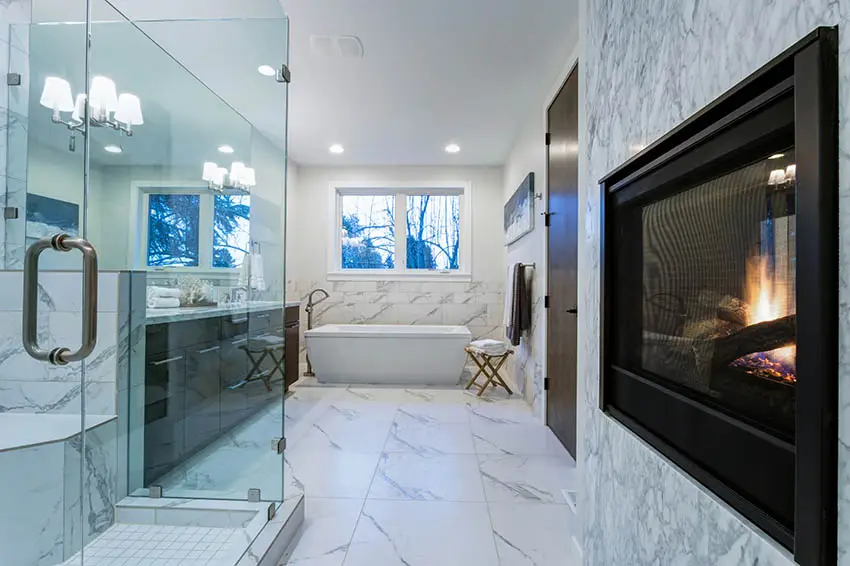 Pros
There are tremendous advantages offered by vinyl flooring that makes it an ideal option to be used in the bathrooms. Here is a list of pros that you must note:
1. Affordability – Vinyl flooring is considered an inexpensive material to purchase as well as install. As compared to other relative flooring options, this is definitely the one to go if you are on a budget.
2. Maintenance – Another major advantage offered by the vinyl flooring is its easy maintenance. When it comes to cleaning and maintaining, these flooring options definitely prove a must!
In the bathrooms, they only require mopping and cleaning on a daily basis to maintain and make the flooring look clean and crisp. Don't worry! A mop with warm water is the recommend way of maintaining and cleaning this flooring option.
3. Water resistance – One of the most preferable advantages, vinyl flooring offers utmost durability against water and moisture. You can shower comfortably or drop bits of water without having to worry about the floor getting damaged – since it has a great water resistance capability.
4. Comfortable to walk on – Vinyl flooring feels soft, comfortable, and warm under the feet. This is one of the most ignored aspects – however, the fact is that it is important.
Bathroom floors usually feel cold and wet due to retained moisture – but vinyl can help with this issue and make your bathroom feel cozy. Unlike other flooring options, you can quite likely stand on this flooring for prolonged hours.
5. Great alternative to other types of flooring – As opposed to wood, natural stone, and tile – this flooring option provides great wear and tear alternative. Due to the above-mentioned reasons, this flooring proves to be one of the best in the industry.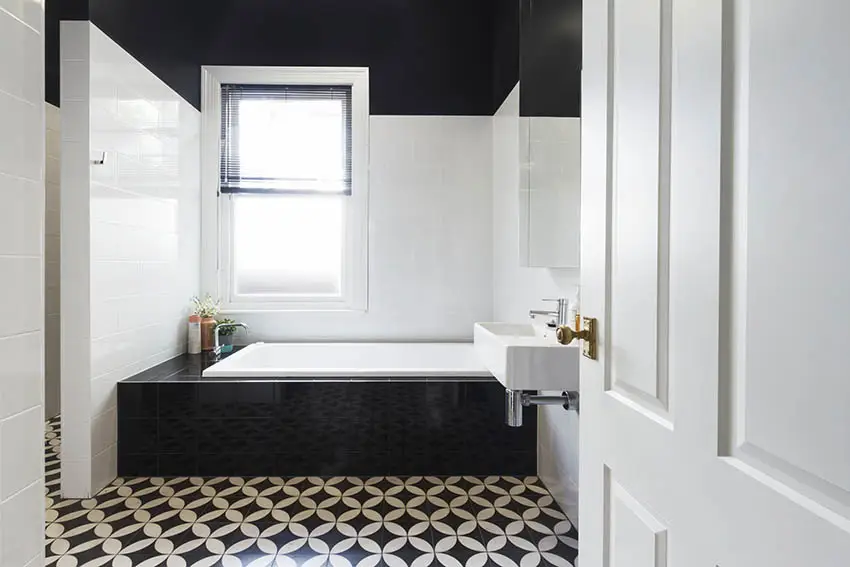 Bathroom Vinyl Flooring Cons
Apart from these tremendous advantages, it is true that vinyl flooring has some considerate associated disadvantages as well. Well, here is a list of cons that you must consider before installing vinyl flooring in your bathrooms.
1. Non-Biodegradable – So, for all the environmental-conscious and sustainability preaching homeowners, it is crucial to know that vinyl flooring can't be recycled.
It is non-biodegradable, and it truly affects the environment in a negative way – of course, in the long run. Hence, to heal the planet – this is probably not one of the best choices.
2. Difficult to Remove – Vinyl flooring when glued down to the subfloor can be quite hard to remove. So, if you are renovating or upgrading floors of your bathrooms – it is quite likely that your contractor faces a hard time in removing the floors.
Hence, it is always recommended to inform the professionals about not using glue to stick the flooring – rather prefer the loose lay or click-lock method.
3. Easy to Puncture – Since this material is quite soft as compared to other materials like tile, hardwood, or stone – it is quite likely that the sturdiness of the material gets affected.
This flooring option can be easily punctured through a knife or a sharp object – or in some cases, a sliding metal table or door can too hamper the strength of the material. Placing heavy materials can meanwhile cause dents on the surface.
4. Low Value – You would be surprised to know that vinyl flooring doesn't add to the overall value of your homes. It is cheap and can be easily installed by the homeowners themselves – hence if you are planning to sell off your home in the near future – this material may not add or detract from its resale value.
5. Low-Quality Finish – Although the material in itself is durable – however, the top-coat isn't. Since it is not UV resistant – it easily shows signs of discoloration and fading after a considerate period of time. Make sure there is no direct sunlight entering your bathroom!
Types of Bathroom Vinyl Flooring
Vinyl flooring is available in three types: sheet, plank, and tile. Comparing all of these, vinyl sheet flooring is the one to be used in the bathrooms where excess amounts of water are present. Let's discuss in detail about each specific typology.
Vinyl Sheets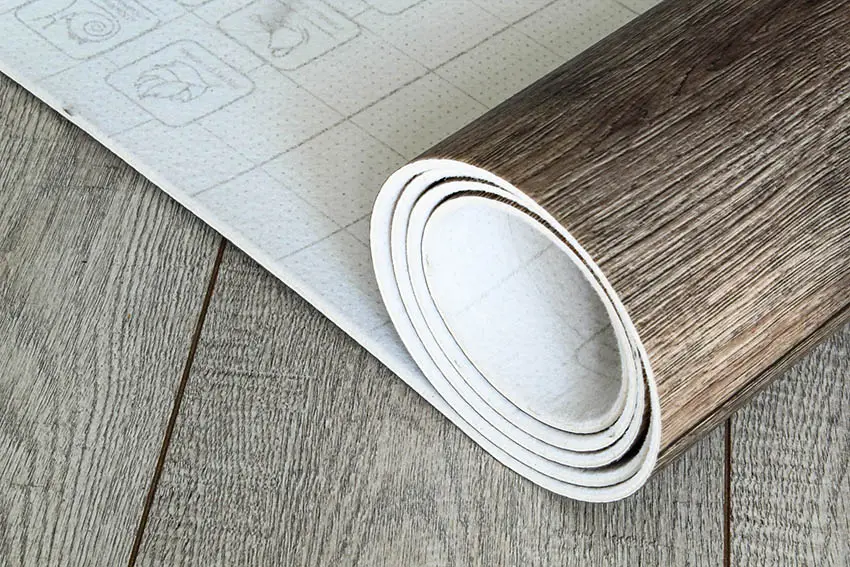 One of the largest, vinyl sheets are available in the size of almost 6 feet to 16 feet. They are comprised of a continuous sheet of manufactured polymer with a perfect layer of 'PVC' that gives the flooring a pattern, color, and texture.
On top of this is another layer to protect the underneath layers against any unnecessary wear and tear.
This type of flooring is available in large rolls – hence, somehow lesser seams and a greater way to repel water. So, just in case if you have a smaller bathroom, there may be no seams at all – which is a major plus point. However, this method is comparatively more expensive than vinyl tiles.
Vinyl Tile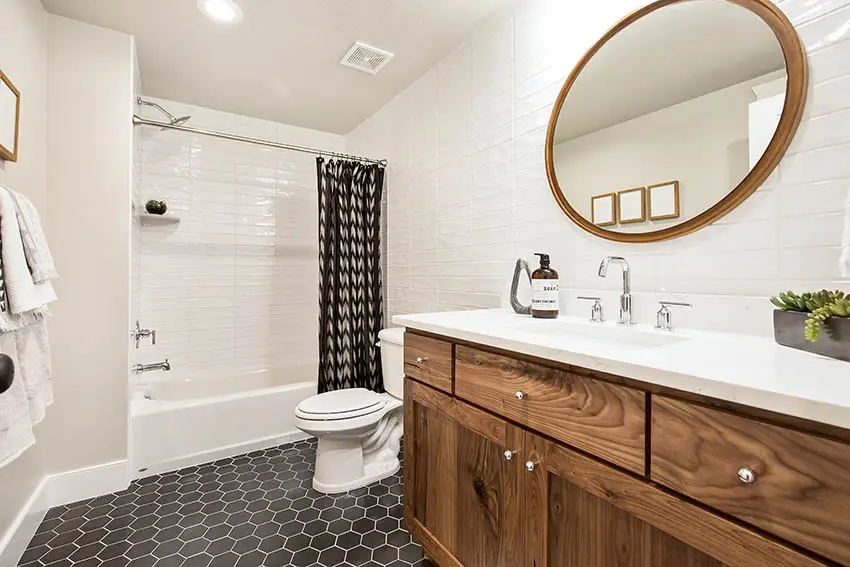 A blend of natural limestone, filler materials, color pigments, and thermoplastic binders – these tiles are way more difficult to maintain than the vinyl sheets. Hence, they may require constant care which makes them high maintenance material over the period of years.
Due to seams present in-between the tiles, it is quite likely for the water to seep in and loosen the underlayer after a certain time.
On the other hand, a major advantage is that this product can be easily installed and is extremely economical when it comes to purchasing and installing. See more bathroom floor tile ideas here.
Vinyl Planks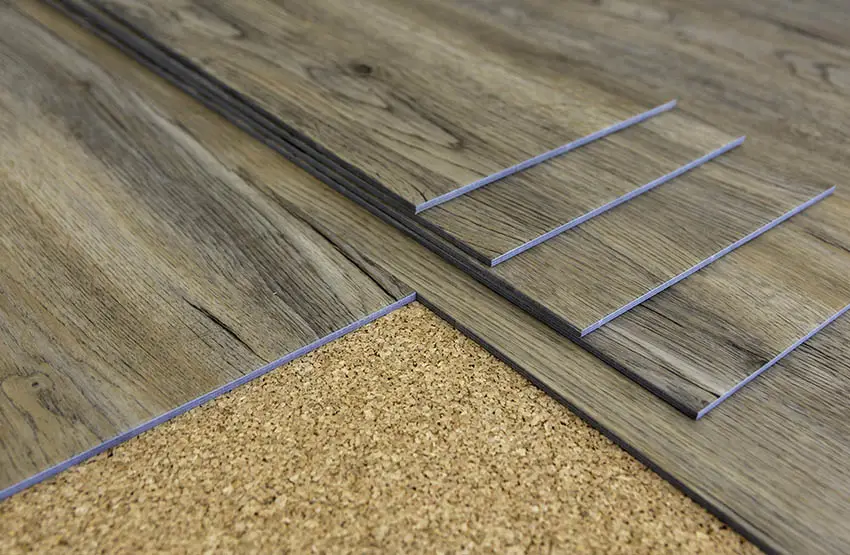 Similar to the vinyl sheets, this is a recommended option for your bathrooms. This flooring is comparatively more water-resistant, affordable, and durable.
You can also easily DIY this flooring at home – with allowing little difficulty in maintenance and repair. Also, they offer utmost longevity – so these planks are quite likely to stay for a longer time than expected.
Visit this page for more about types of waterproof wood flooring for the bathroom.
Best Vinyl Flooring for Bathrooms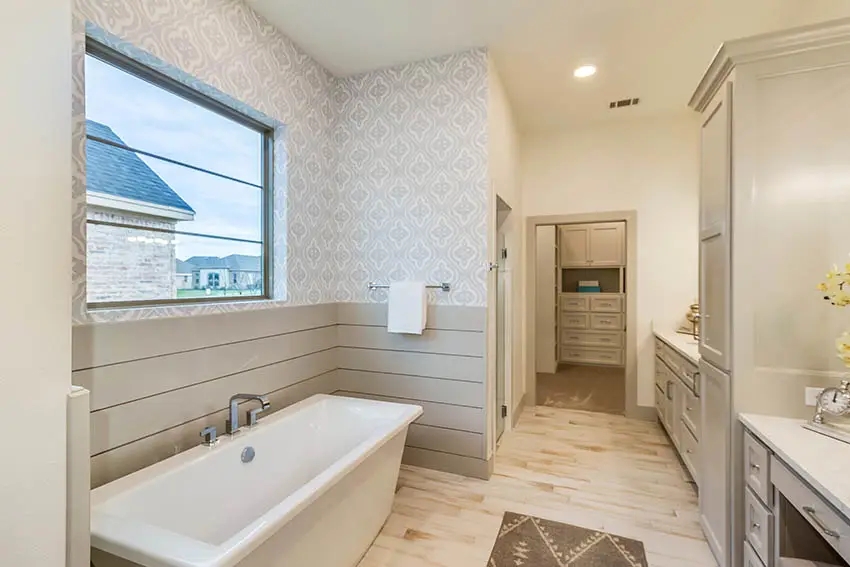 Undoubtedly, one of the best vinyl flooring options for bathrooms is the sheet vinyl. The primary purpose of a bathroom flooring is to retain and repel water – and that can be easily accomplished through the use of vinyl sheets.
Since these products are available in large rolls, they can be seamlessly applied to the bathrooms without any breaks and seams.
In the case of smaller bathrooms, the rolls can be enough to cover the floor footprint. Furthermore, they help stop the seeping in of water into the subfloor – further, preventing damage to the underneath layers.
Much of this is a do-it-yourself job, so just in case of renovations and refurbishments, vinyl sheets can be easily applied in a very short period of time.
Are there any vinyl flooring pros and cons that we've missed, and are you excited to install vinyl flooring in your home? Sheets or Planks? Do let me know your thoughts in the comments below.
Read more about the differences between laminate and vinyl flooring here.