Here we answer the question to what is brickmold on a door including different types of casings and brickmold vs no door brickmold.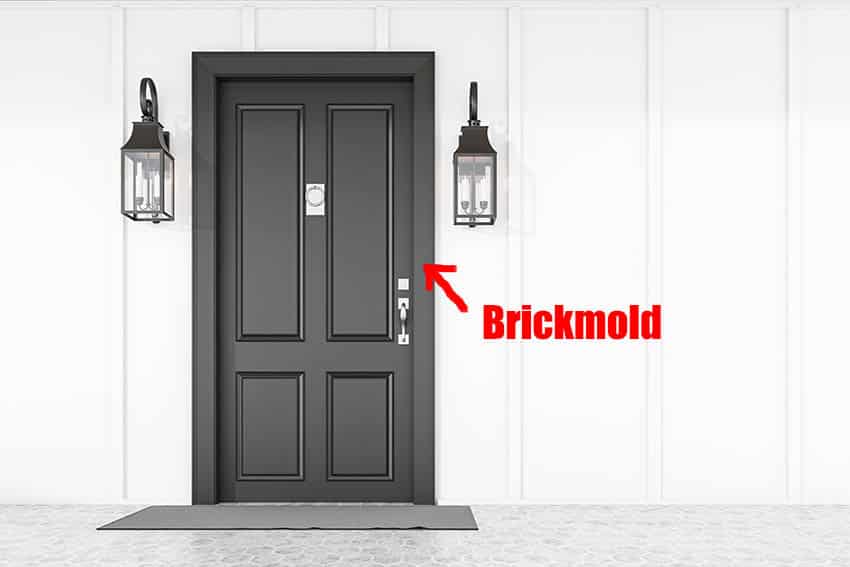 Deciding whether to use brickmold on a door or not could be pretty challenging, right? Whether it provides aesthetical features or raises concerns regarding safety and security – many homeowners are constantly surrounded by confusion if this would be the right decision to make.
Moreover, it is also crucial to choose durable materials while opting for the best installation methods for longer-lasting molding. So, what really is a brickmold?
Have you ever observed a thick frame surrounding the wall openings? Yes, that structure is called a mold and it has synonyms as trim and architraves.
What is Brickmold?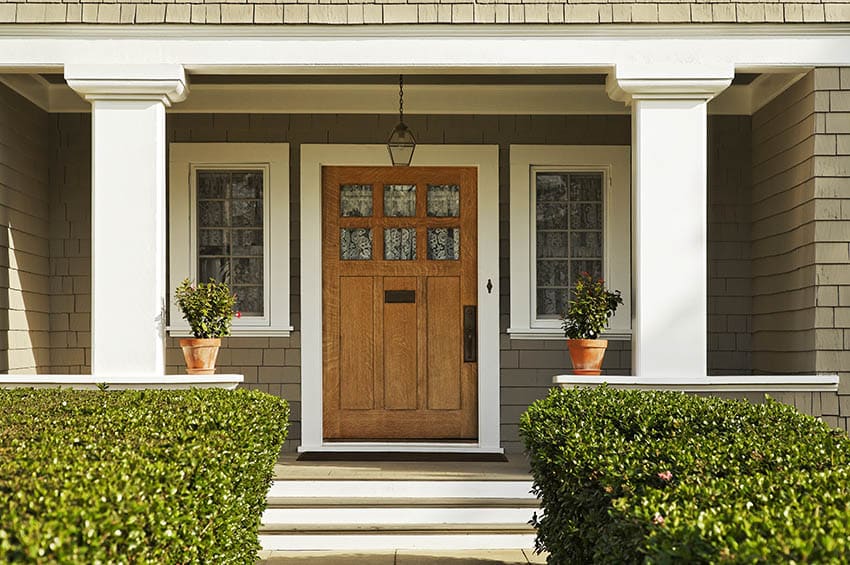 Craftsman style home front door with sidelights and brickmold casing.
Well, Brickmold is a casing for doors, windows, and any kind of wall opening that serves as a barrier between the siding and a frame. This exterior-facing trim material adds great aesthetical refined appearance to doors and windows while offering the advantages of extra safety and security.
Available in a wide array of sizes, styles, and materials – homeowners are now blessed with immense design options for their homes.
Using this mold trim can also protect your doors and help them extend their life while acting as a durable weatherproofing layer. Brickmold or no brickmold – the choice is yours; However, here is a little more information about this design element to help you make informed decisions for your home.
Brickmold Casing
Brickmold casing is available in various sizes (depending on the width), styles (modern, minimalist, traditional), and materials (wood, PVC). The size of a brickmold may vary around 2 inches primarily.
Nevertheless, you can select a brickmold as per your design style and specification. It may also include somewhere between 1.25 inches to 1.5 inches.
On the other hand, depending on the material of your door and window shutters, you can choose the best cohesive casing style and material. Let's discuss in detail about various materials that you can consider.
1. Soft Wood
One of the most common types, softwood comes mainly in two types – white or yellow pine. This typology is not a recommended option for regions that are exposed to harsh climate, however, painting and varnishing each inch of the frame may add on to the life of the casing.
2. Hard Wood
One of the most durable options, hardwood contemplates with the disadvantages of softwood to provide utmost durability and resistance to the harsh climate. This option is comparatively also more expensive in terms of labor and materials required.
3. PVC
This material in the casing helps resistance against pests, moisture, and molds. It can withstand even the harsh climates to provide utmost durability and longevity. Moreover, PVC also doesn't require high maintenance – thus, adding on to another advantage.
On the other hand, since PVC offers these various pros, it is important to know that they are comparatively more expensive than their wooden counterparts.
Brickmold Vs No Brickmold Door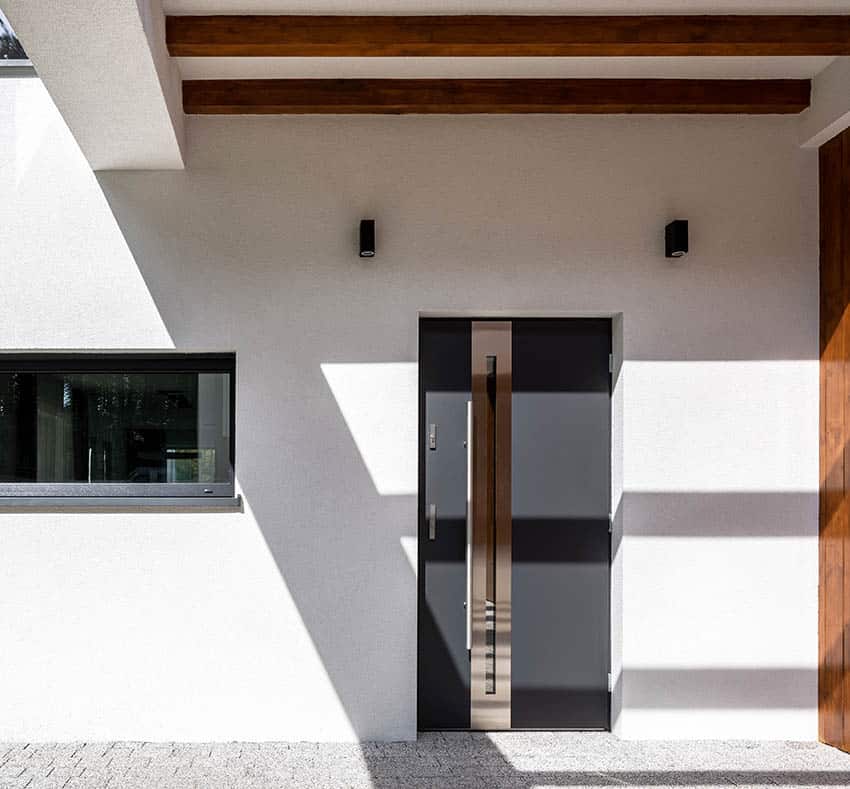 Since the entryways and doors are the key to safety in a home – you must not compromise with durability and security. Hence, it is always recommended to choose a door with the brickmolds as it also exhibits a great appearance to your guests and visitors.
However, with or without brickmold on a door may have its own pros and cons – hence, let's discuss what both scenarios have to offer.
First and foremost, a door with brickmold will provide extreme durability. It prevents the chipping of plaster around the door to further foster strength.
Secondly, a door with brickmold will protect against weather – whether it is the rains, dryness, or snow, it will prevent moisture retention and eventually rotting of the material. Well, nothing can beat the aesthetics as it is the primary consideration to make a space look homely and beautiful.
Thus, adding a brickmold to your doors would additionally exhibit a refined and sleek look. It will also make your doors look more bulky and wide (also a great solution in the case of narrow doors).
On the other hand, a door with no brickmold holds its own advantages that you could consider. First and foremost is affordability – if you are looking for a temporary residence, installing a pocket-friendly no brickmold door would be a smart move to make.
Also, it is an easy and quick process, since there is no installation of the brickmold that requires tremendous time. Moreover, if you prefer a sleek and minimal look in your homes, this brickmold is probably a no-no since it exhibits a classic and traditional look to your doors.
Do I Need a Door With Brickmold?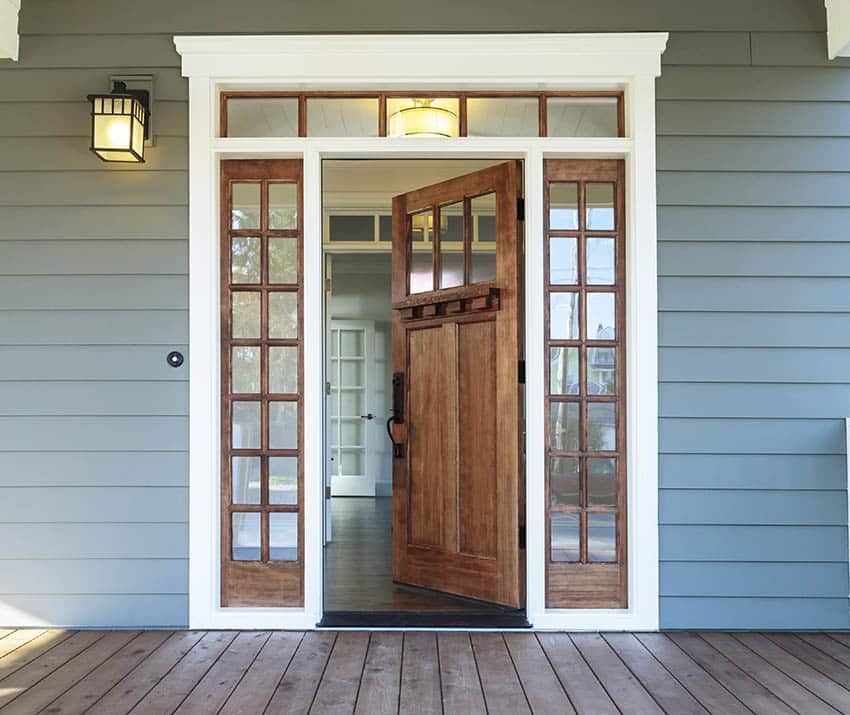 Even though a door with brickmold provides ample advantages, the personal choice is totally yours. So, if you have ample budget and time to get involved in the process of installation – you might as well choose brickmolds for your spaces.
Another reason to use brickmolds is if you are planning to live in that space in the long run or if you own the house. This will not only add aesthetical value to your homes but also provide long-term safety and security.
On the other hand, brickmold protects your space from any wear and tear. So, if you are living in a region or state that faces harsh climates all year round, you might want to consider installing brickmolds around the doors and windows.
Whereas, if you choose a door without brickmold, the costs incurred would be lower in the short run but later after a couple of months, you might need frequent replacement of the doors. Hence, it is always wise to choose a door with the brickmold to prevent any unnecessary replacements later.
If you are buying a new door, it is crucial to consider how the material reacts to the local climate. And if the area is exposed to harsh sun or regular rains and snow – you might want to prioritize a durable door with a durable brickmold.
Now that we have discussed the wide horizon of a door with and without brickmolds – are you confident about making a decision? Well, do let us know your thoughts and reviews in the comments below.
For more related content visit our page on the types of door knobs.