Here's our door with sidelights design guide including what they are, popular configurations and answer to most common questions.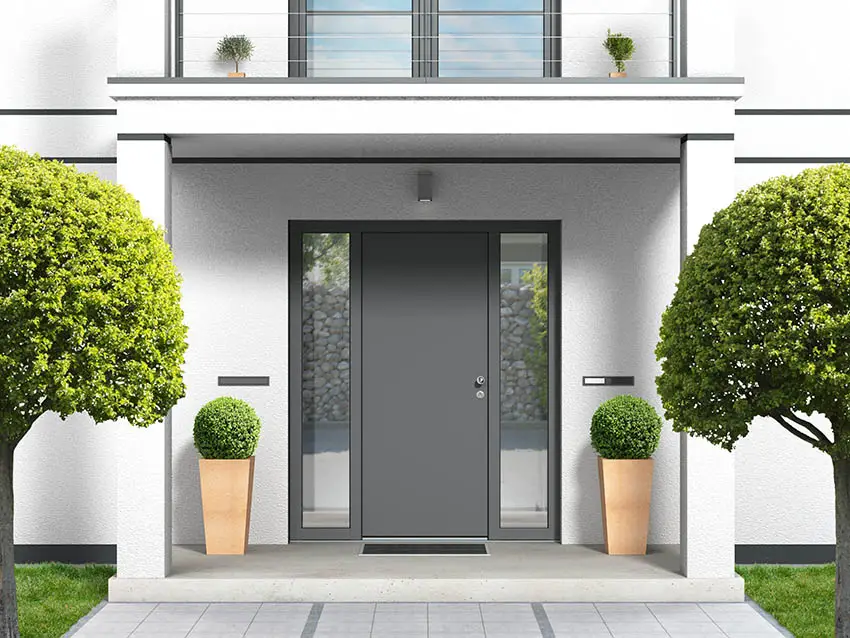 Thinking about adding sidelights to your front door? If you've seen and admired the ways that sidelights can make a door standout, you might be wondering how to go about making this design element work for you.
In this post, we're going to take a closer look at doors with sidelights (design guide) to help you decide if this is a design element that will fit your vision for your dream home.
What is a Front Door with Sidelights?
Usually a door with sidelights is placed at the main entryway to a home. Basically, it is a front door with narrow windows on one or both sides.
Having a front door with sidelights isn't just aesthetically pleasing or a way to make your entryway and thus your home standout but also has the additional advantage of allowing more natural light into your home.
They also give you a "peep hole" by which you can see what is going on in front of your home without opening your door. So you can see people approaching and even get an idea of who they are, be they a delivery man bearing a package or the friend you invited for dinner.
Door with Sidelight Configurations
Almost any type of door can have sidelights installed at its sides. Here, however, are the most common door with sidelight configurations that you can consider.
Square Top Door with Sidelights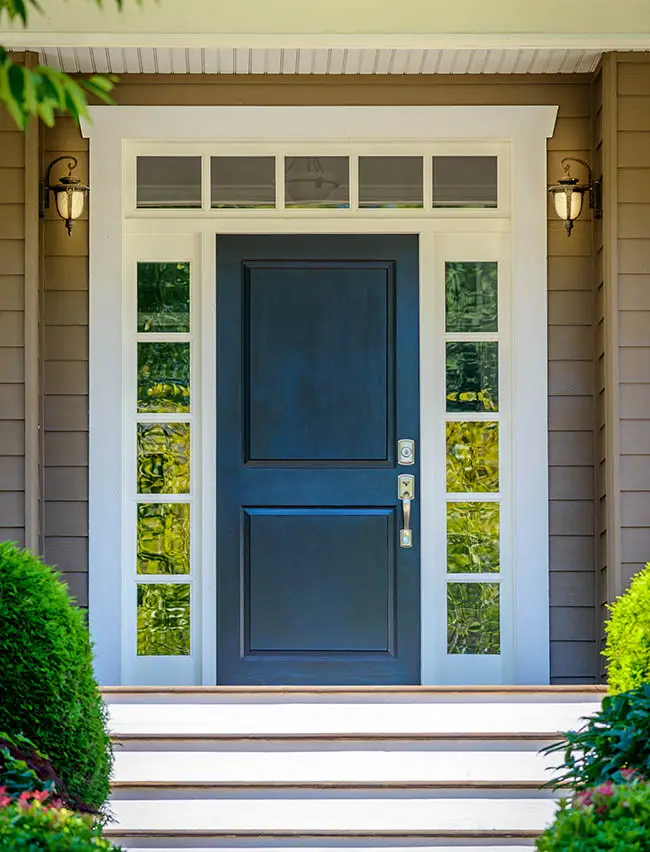 This is the most basic door design, basically a rectangular or square door with a flat top. The sidelights will run the height of the door and are placed on each side. This can either be a single or a double door.
Door with One Sidelight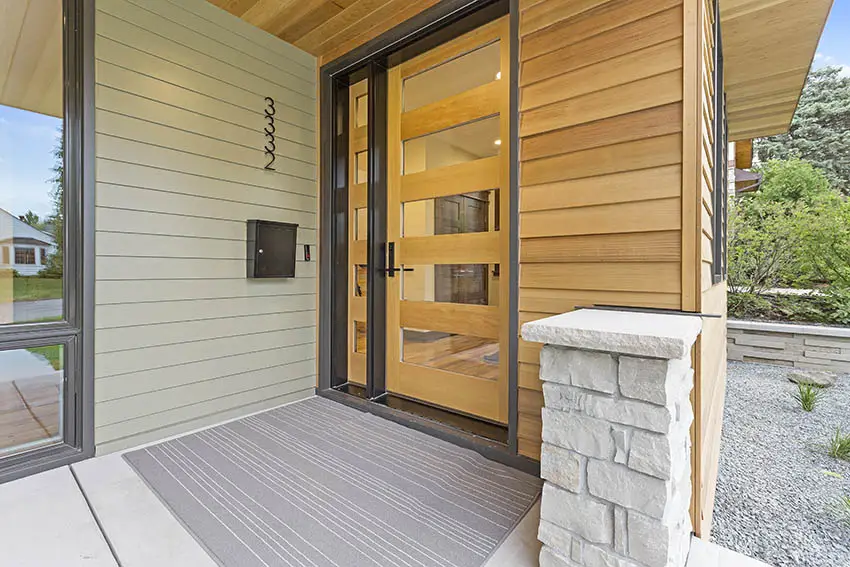 This type of door with sidelight configuration is a single door with one sidelight that runs the height of the door.
Arched Top Door with Sidelights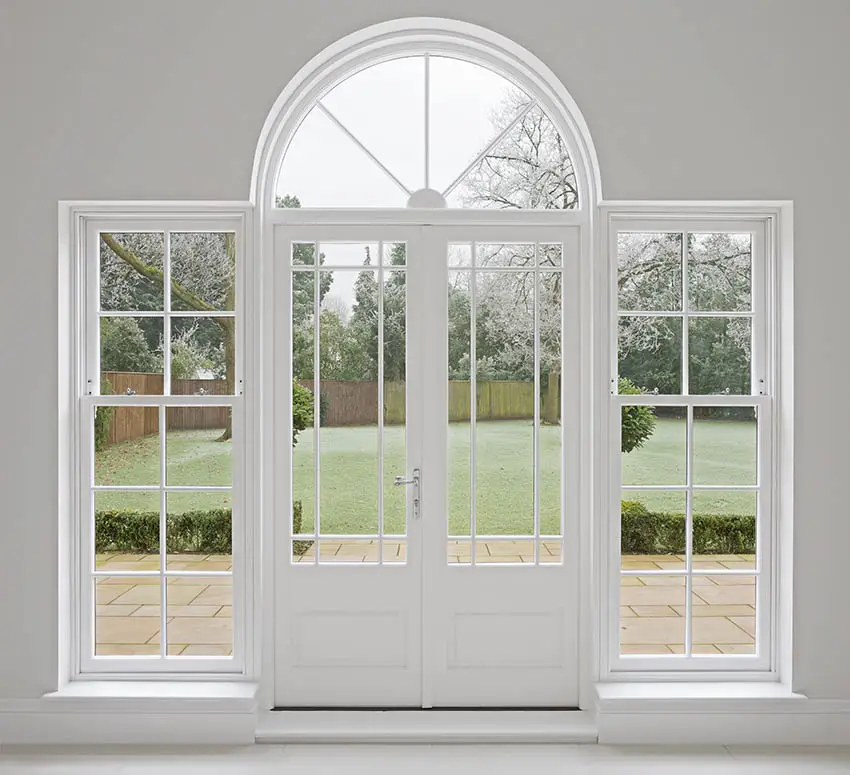 An arched top door is a rectangular or square door where the top is curved or arched. They can be either single or double doors.
They may also have windows that run from the bottom of the door to just before the door starts to arch. See more types of windows on this page.
Door with Transom and Sidelights
A transom is a decorative panel or window that is placed atop of your door frame. It is usually about the width of your door and can be arched or square.
If you have a transom window above your door, it's often paired with two windows that run from the floor to the top of your door.
Can I Add Sidelights to My Door?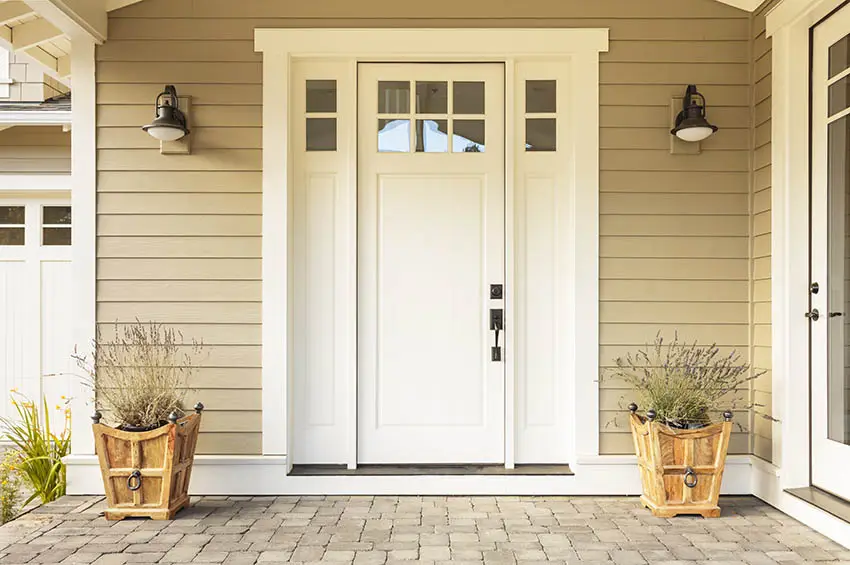 You can now order a variety of doors that come with sidelights or just come with sidelights to install.
It is admittedly easier to have a door with sidelights as part of your building's design from the start, but it is possible to add sidelights to an existing door or door frame.
If you want to add sidelight windows to your door, you need to figure out if they will fit in your entry way.
You will need to measure the space from your door frame to your nearest wall. Then make sure that the additions you get will fit in that space.
How Wide are Door Sidelights?
Sidelights come in a variety of sizes, usually meant to "match" the different sizes of doors that the manufacturer has available.
The usually width of sidelights however, are 6, 12, and 18 inches. Keep this in mind when trying to decide if you can add these windows to the sides of your door.
How Wide is a Front Door with Sidelights?
If you are going to add sidelight windows to your front door, it will increase the overall width of your doorway.
Standard door widths are usually about 30, 32, 34, and 36 inches, so add the width of your chosen sidelights to that to figure out how wide your front door with sidelights is.
Should Front door and Sidelights Be the Same Color?
Your front door and your sidelights don't necessarily be the same color, but they should at least be complimentary.
If your door is a unique or bright color, like yellow or red, you should make sure that the sidelights are painted in the same color as the door's trim.
If your door is a dark color, on the other hand, it's best to have your sidelights in a lighter color then your door's trim.
You should also think about how the color of your door and your sidelights might affect the overall look of your home.
For example, if you have a single-floor house with a low roof, a big door with sidelights in one color will make your entry way seem cramped.
If you have an arched door and sidelights, you should stick to the same color for both.
Colonial, Nantucket, and Cape Cod style houses often have trim and windows in white, and white sidelights are often a feature as well.
For Historic and Victorian homes, white sidelights and a transom above the door are a common design element.
In this case, the window enclosures might be the color of the door, but there will also be white trim that will separate the sidelight and door.
If you have a trim color for your windows and doors and an accent color from your shutters and doors, paint the sidelights in the trim color. Read more about front door colors here.
Can You Replace a Door Without Replacing Sidelights?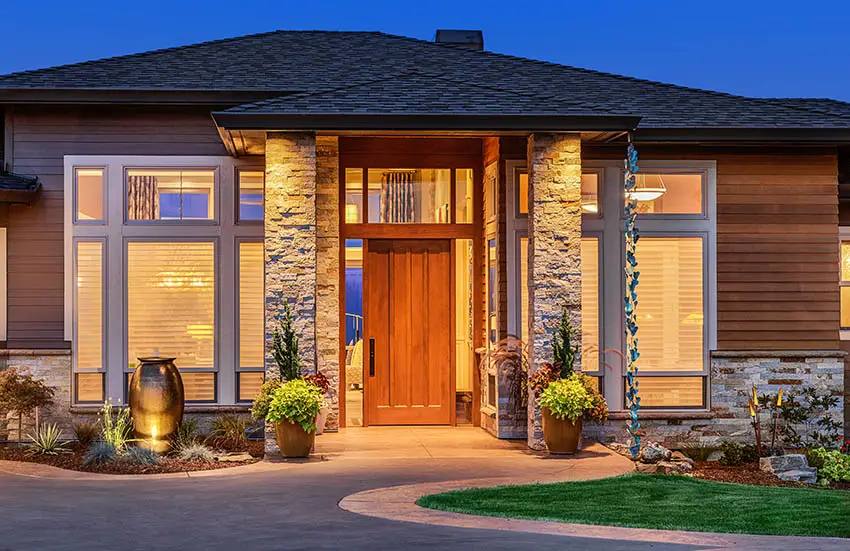 Yes, you can replace your door without replacing the sidelights as the door frame and the sidelight frames are usually separate pieces that are attached together.
You just need to separate and remove the door, but you can leave the sidelights where they are.
Make sure, however, that the replacement door is the right size to fit the space that your previous door left behind.
Can You Change the Glass In a Front Door and Sidelights?
Yes, it is possible to change the glass panels in your sidelights without removing the entire thing.
The glass panels are usually pinned to the frame with molding and it should be possible to remove the molding and take out the panel.
You can then replace the old panel with a similar sized panel and mold this to the existing frame.