Here we share our wet room bathrooms design guide including shower, freestanding tub and flooring ideas.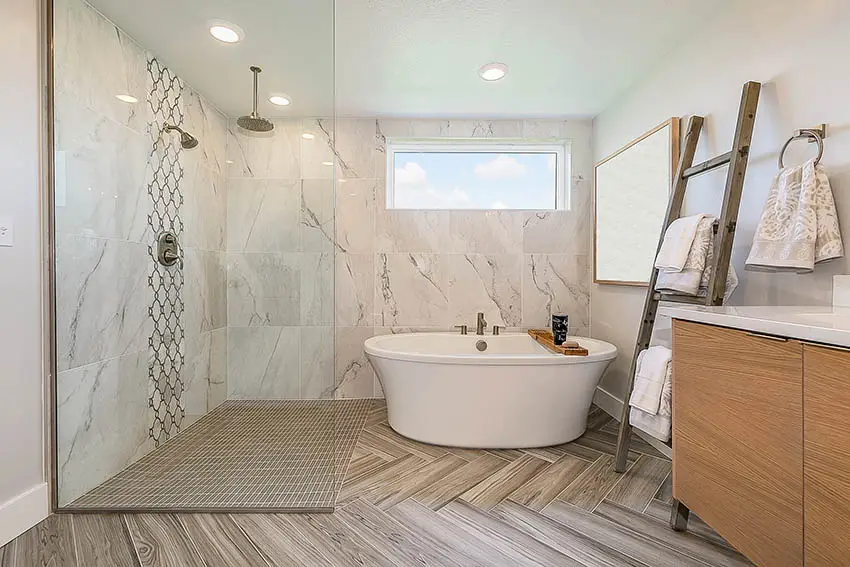 Once upon a time, it was common to have closed-off kitchens and separate dining rooms. But tastes and times have changed, and now the open plan kitchen reigns. In the world of bathrooms, a separate shower stall or tub/shower combo is analogous to the old dining room.
Wet room bathrooms eliminate the need for barriers between the shower area and the rest of the room, making it a sort of open-plan bathroom.
Wet room walk-in showers are trending as a remodel idea to create a stylish and contemporary design. They are growing in popularity with home buyers.
Additionally, if you have an en suite master bedroom or second bathroom in your home, transforming it to a wet room bathroom with add value when it eventually comes time to sell.
However, if you only have one bathroom in the house, and it has a bathtub, turning it into a wet room could hurt your sales prospects, as buyers prefer a room with at least one tub.
Wet room bathrooms are also popular choices for older homeowners who are planning to age in place. Handles, supports, and benches can be built into the design, making it both attractive and easy to navigate for older adults or those with mobility challenges.
What is a Wet Room?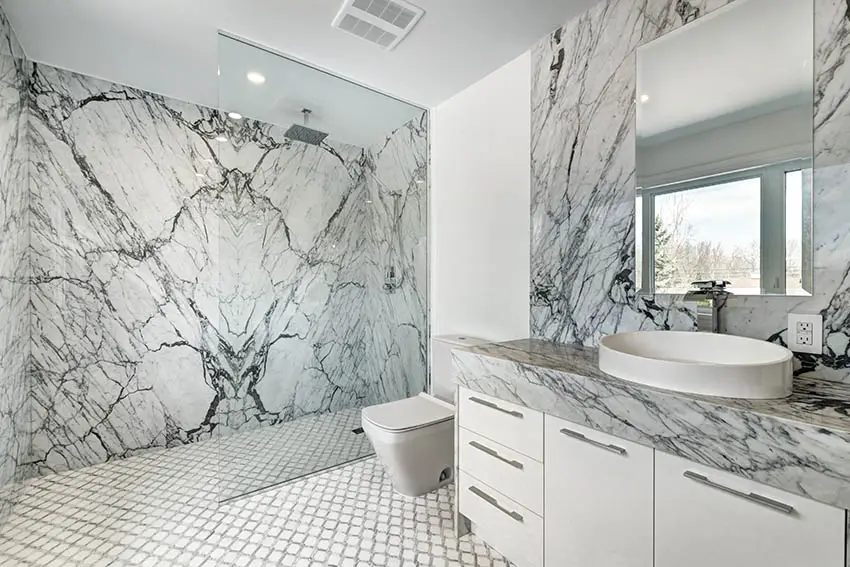 Wet room bathrooms have an open concept design with a shower that typically has no door or shower tray.
Instead of a shower door, one can walk directly in to the shower. The shower may have a glass partition with an opening or it may have no shower screen at all.
A wet room has a drain set directly into a tile floor and a slightly sloped floor to help direct the water flow. They are called wet rooms because the entire surface of the room can be exposed to moisture without taking damages.
Wet rooms are usually bathrooms, although some cleaning closets are also designed with floor drains.
Wet Room Designs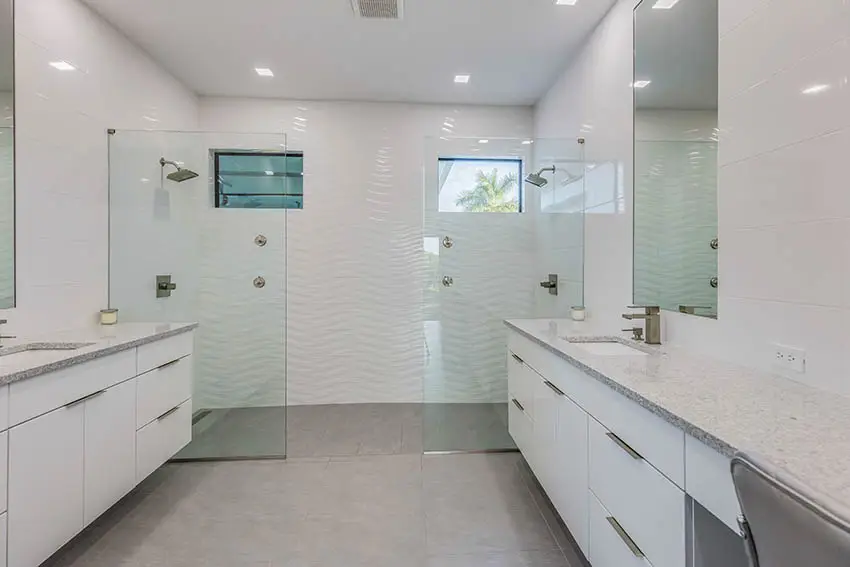 Wet rooms are a staple of inclusive design because they can be accessed by people of all ages and abilities.
The floor is one level throughout the entire room, allowing zero-entry access to the shower area. No steps, trays or raised portions are used in the design.
Since the purpose of a wet room is to create an open, flowing space, it's popular to use glass partitions or half-walls and avoid breaking up the room into too many disparate parts.
Generally speaking, the drain in the floor should be as far away from the bathroom door as possible.
For a super modern vibe, opt for wall-hung toilets and sinks and in your wet room. Not only will it make the floor easier to mop, but it also looks sleek and elegant.
One trend growing in popularity is the installation of a second shower head, allowing couples to enjoy a shared shower experience.
Consider installing in-built shelving for bathroom shower products and moving moisture-sensitive products like toilet paper and towels to another area of the house, not only for a clean look but also to protect them from steam.
Wet Room Dimensions
The average bathroom is about 40 square feet, and perfectly suitable for transformation into a wet room.
Larger bathrooms increase your options, such as adding double shower heads or a free-standing tub. But what about smaller bathrooms?
If you want a shower space, toilet, and washbasin, your bathroom needs to be at least 15 square feet.
Wet Room Shower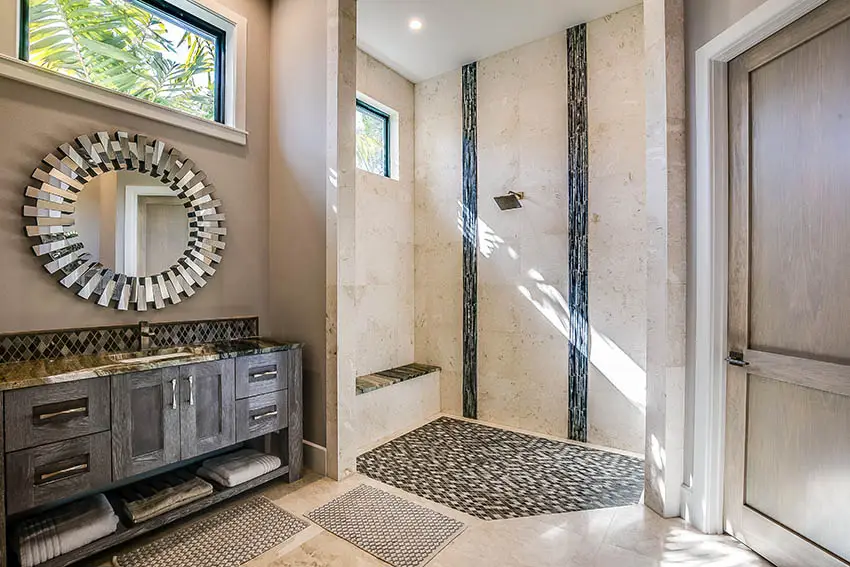 Most wet rooms include showers. In parts of Europe, it is common to install a second tap about 12 inches above the floor, to fill buckets or watering cans.
The shower head can be ceiling or wall-mounted. A wall-mounted shower head can be fitted with a shower hose, allowing you to easily clean and rinse the walls and floor of the room.
Some homeowners choose to install a glass wall to minimize splashing. In a small bathroom, a wet room design is a great way to maximize space, because a separate shower enclosure is not required.
Towel racks should be installed away from the walk-in shower area to keep your towels dry during your enjoyment of your wet room.
Wet Room with Freestanding Tub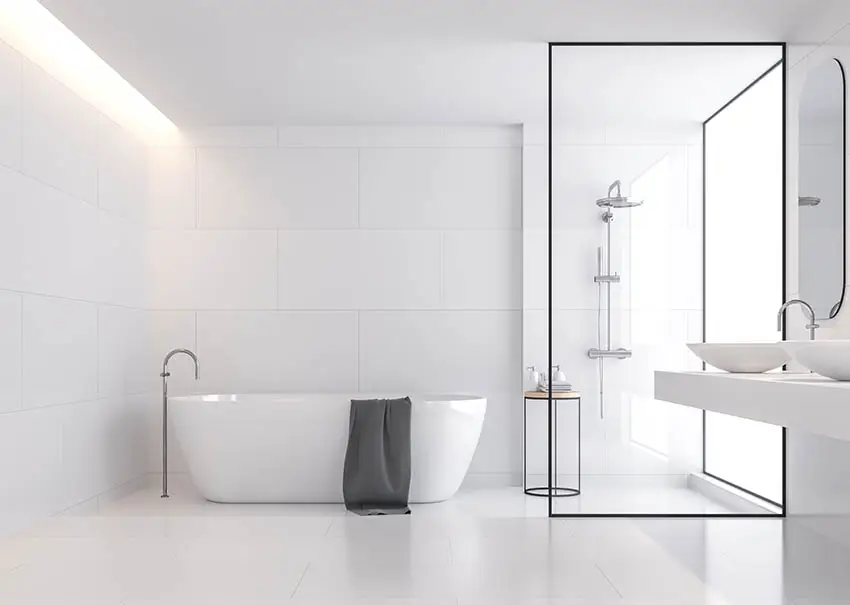 In many traditional bathrooms, a wall-mounted showerhead spills into a tub underneath it. In wet rooms, where the shower drains directly into the floor, you may choose to install a freestanding tub.
Freestanding tubs are often larger and more luxurious than the standard shower/bath combination. If you have the space for a dedicated shower and a dedicated bathtub, you can turn your wet room into a luxurious spa.
Wet Room Shower Tray
The purpose of a shower tray is to capture and drain water that falls from the showerhead, preventing it from spreading to other areas of the room. This is convenient because only the shower area needs to be waterproof.
A wet room has a drain directly in the floor, so there is no need for a shower tray, but the entire floor and room needs to be tightly waterproofed to protect from damage.
Wet Room Flooring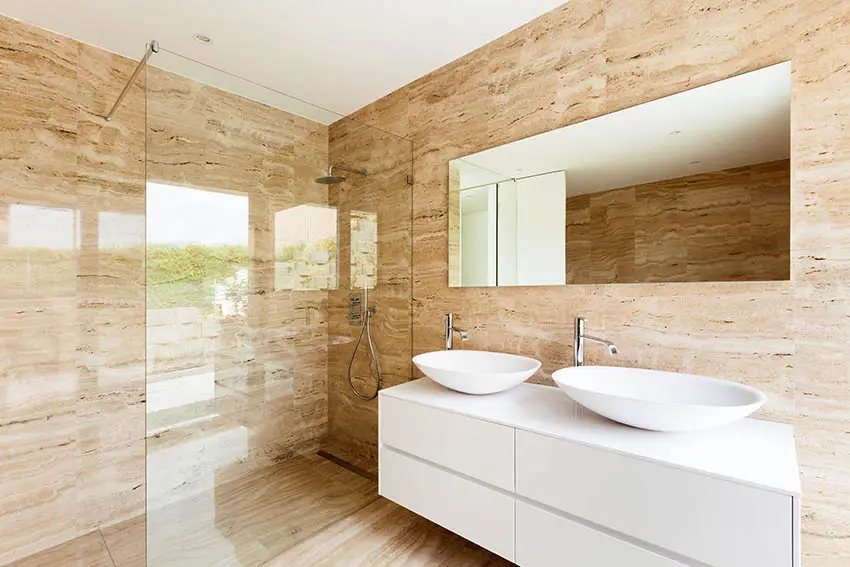 Kits to transform your bathroom into a wet room or install a wet room from the ground up are widely available. Installing a wet room requires special materials such as waterproof membranes, primer, and tape, or waterproof wall panels.
If the wet room is being constructed from scratch, or you're completely refitting the bathroom, you'll want to use a process called 'tanking'.
A 'tanked' bathroom floor has a watertight layer of material underneath every surface, all designed to direct moisture toward the drain. Generally the slope of a wet room floor should be about 2″ or 50mm.
A tiny unsealed spot in the watertight layer could allow water to damage other parts of your home, so it's best to have a professional install tanking material.
If you're looking to achieve wet room results with minimal demolition, waterproof wall and ceiling panels are an option.
When properly installed and functioning perfectly, waterproof panels will contain moisture in the bathroom.
It is not recommended to self-install waterproof panels unless you are very confident in your DIY skills, as subpar work can quickly expose your home to water damage.
Underfloor heating is another design element that when installed can help any excess water quickly evaporate away. This reduces the chance of moisture creating moldy conditions as well as help prevent slipping on wet floors.
Best Tiles for Wet Room Floor
When it comes to the best flooring for a wet room bathroom a small porcelain tile layout generally works well.
Floor Tile Size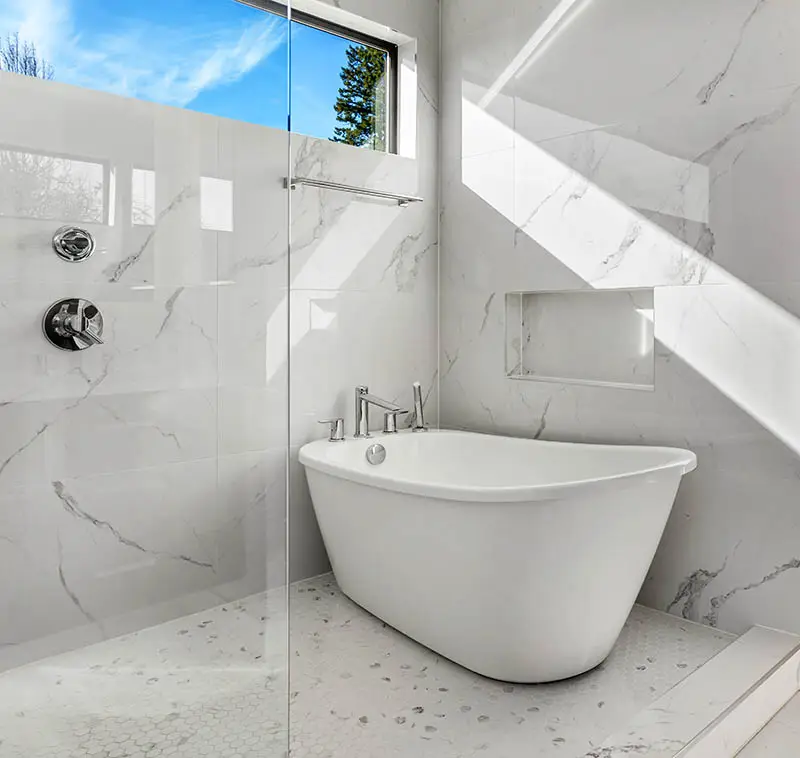 You might think that large tiles are the way to go for a wet room floor, but the opposite is actually true. This is because the floors of wet rooms are slightly tilted — they slope gently toward a drain at the center. The slope is so subtle as to be virtually undetectable, but still affects the tiles that can be used.
Tiles larger than 6 x 6 inches may be difficult to lay properly on a wet room floor, and it's best to keep the size of the tile to 4 x 4 inches or smaller.
But that's not the only reason to use small tiles. The smaller the tile, the more surface area will be devoted to grout, and in the case of a wet room floor, that's a good thing!
Grout is a non-slip material, and the slight variations between tile and grout will provide an excellent gripping surface, even for bare wet feet.
The relative slip resistance of various tiles is measured using COF, or the coefficient of friction. The higher the COF, the more slip resistant the tile. Read more about COF at Science Direct.
Look for tiles with a COF of at least .06. Your supplier should be able to help you find this information.
Floor Tile Material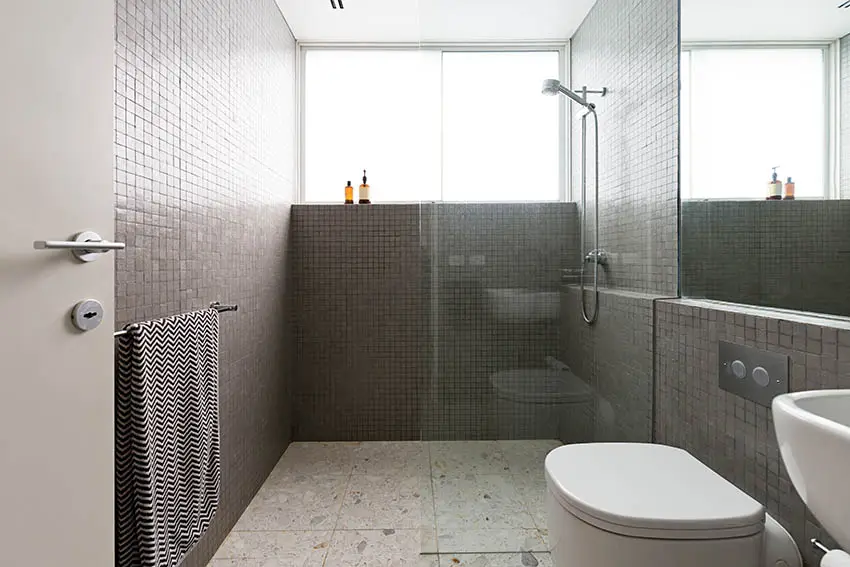 Textured glass tiles are a beautiful and sophisticated wet room-friendly choice.
You can use ceramic tiles, but they should only be used on the wet room walls, not on the floor. Ceramic is more porous than other materials such as vinyl or porcelain, meaning it absorbs more water than other types of tile.
Ceramic tiles are therefore perfect for wet room walls that might get occasionally sprayed or misted with water, but a poor choice to lay on the floor, where the majority of water accumulates.
Porcelain tiles are less porous than ceramic and can stand up to the deluge of your shower without absorbing too much water.
The hardness or durability of porcelain tiles is rated by the Porcelain Enamel Institute, and is called the PEI rating. The least durable tiles receive a rating of one, while the hardest tiles earn a five.
For the floor of a wet room, you should only consider porcelain tiles that have a PEI rating of three or higher.
If you've tanked your bathroom, you have the option to use natural stone tiles on your wet room floor. Natural stone tiles come in every texture and color under the sun. They will require cleaning and periodic resealing.
What do you think of wet room bathrooms, do you love them or hate this design? Let us know in the comment section what you think. For more related ideas visit our gallery of tub inside shower designs.