Below we share creative tub inside shower design ideas with a variety of layouts, features and bathtub styles.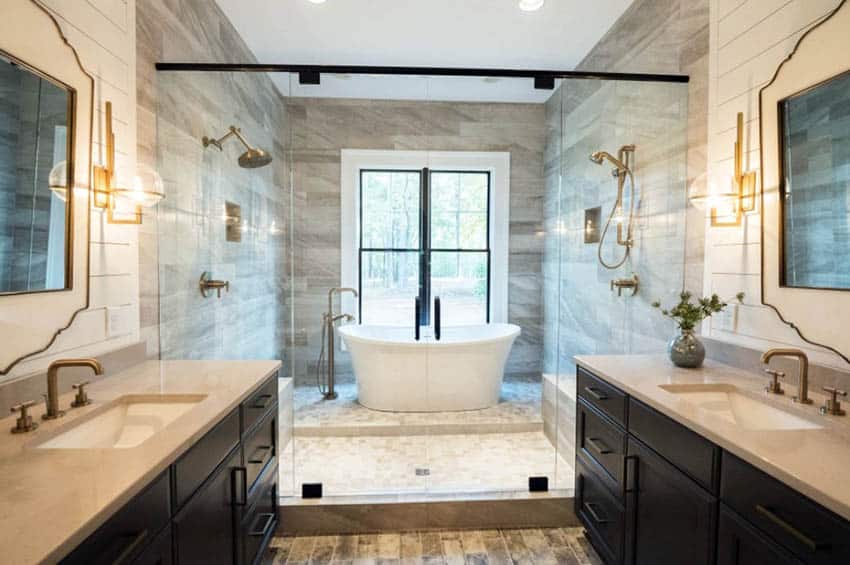 Imagine a large walk in shower, and once you get inside, there is a bathtub. Up front this sounds strange, but it is actually growing in popularity. It makes sense too, usually the shower is just a bathtub that you stand in.
However, now walk-in showers are getting higher tech and can include more room for more features. Some examples of bathtub and shower combo designs and their features are shown below.
Walk in Shower with Tub Inside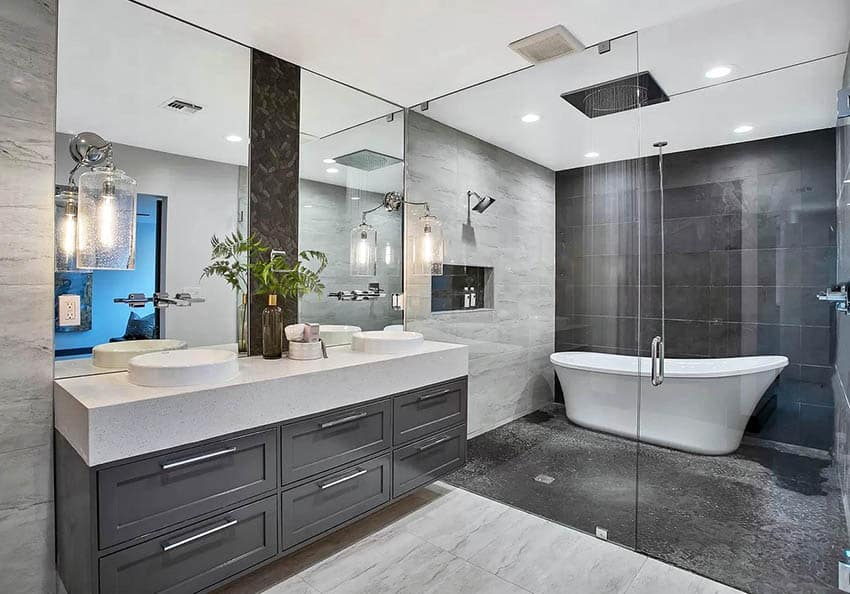 One of the most common examples of tubs inside showers is when there is a walk in shower with a large bathtub inside of it. Basically there is a separate room that is sealed with waterproof finishes with a 1 ½ inch to 2 inch drain in the middle, similar to large showers in public places. There could be large glass door or plastic curtain to separate this area from the rest of the room and keep all water inside the walk in shower.
Having this large of a space allows for features like dual sided sprayers, heated flooring, waterfall heads and much more. This situation would make it difficult to sit down and take a true bath, which is why in some cases there is section of the shower that includes a large tub. This also gives a nice place to rest a foot when shaving legs, or something to lean against.
Why You Might Put a Tub Inside Your Shower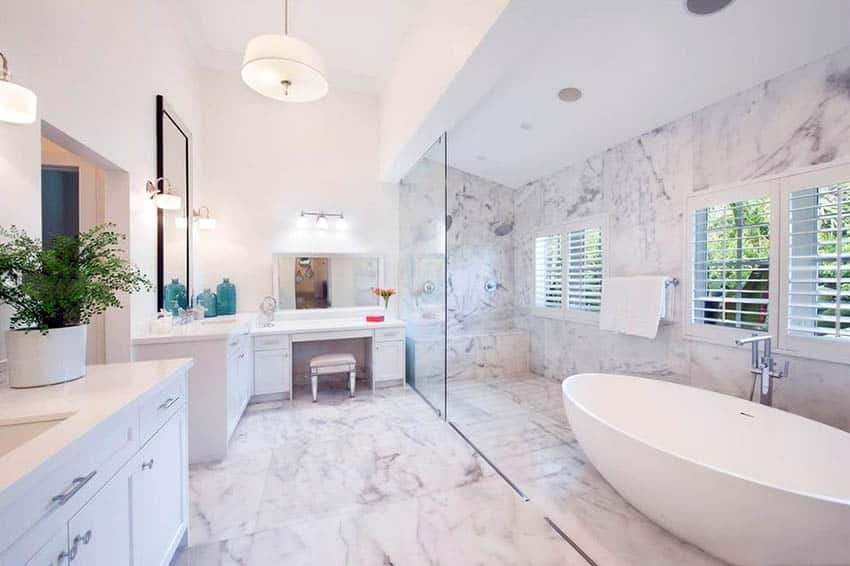 Now you may be wondering why you would not want to just stick with the typical shower and tub together or completely separate. Well for one this is a fantastic option if you are bathing kids or pets. If the tub is already in an enclosed location with waterproof finishes that are easily sprayed down it takes out a great deal of mess and damage that could come with splashing on finishes that cannot take the hydration.
In addition, having a tub in the shower can be a great place to relax when you need a second to yourself, or a helpful asset when you need to shave your legs and wash up. Tubs inside of showers make for easy cleanup and the opportunity for great features while still getting the versatility of both bathing and showering when needed.
Built-in Tub Inside Shower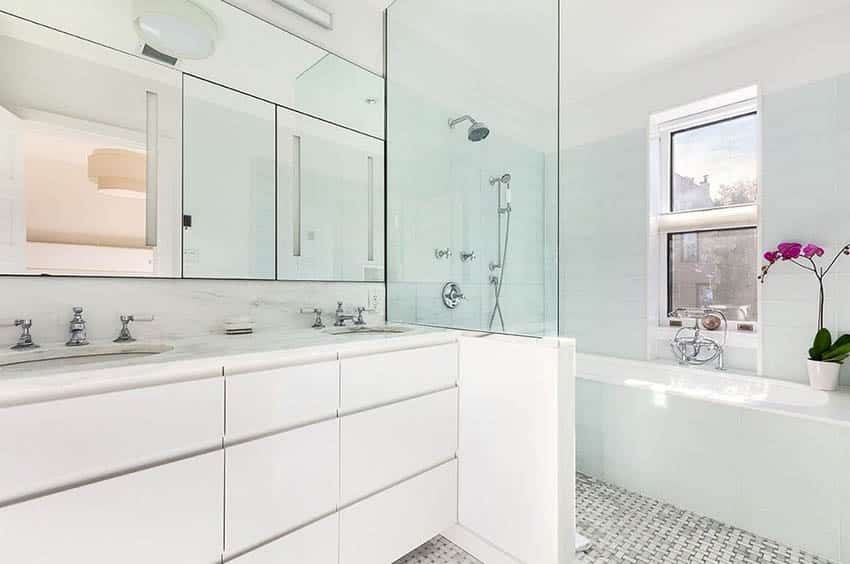 A built in tub is one of the easiest to install and most maintainable types of tubs that can be placed inside a shower. This type of tub can be unique to each space by incorporating waterproof tiles on the floors and walls to go up the straight side (or sides) of the tub to create a seamless look.
This built in tub is typically place in the far corner or on the farthest wall from the doors or curtain. This tub doesn't allow for any exposed unused space, meaning there is less places for water or dirt to get and stay in, making clean up a breeze.
Freestanding Tub Inside Shower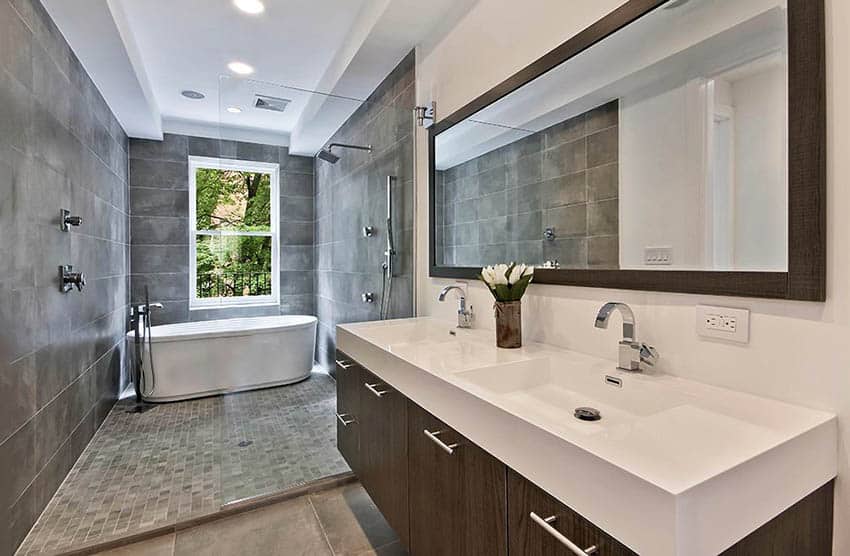 A freestanding tub is a bit more difficult when it comes to the installation and upkeep compared to a built in tub. This is because there can be dust or mildew, etc that gets behind the tub or around the legs that is not cleaned as well or as much as the rest of the shower space. The nice part though, about all the materials being waterproof and made for a shower setting is that it is a great deal easier to just spray the areas down, especially if you have a good sprayer on the shower part.
Installation is a bit tougher just because of the piping and such that goes into a freestanding sink. Just because these things are a little more difficult than a built in tub does not mean it is not worth it , a freestanding tub is beautiful and can be an iconic piece in the bathroom. ON top of that, it makes you less likely to set things on the corners of the tub (since there are not any) and that makes the shower area less crowed, leading to a minimalist look.
Japanese Soaking Tub Inside Shower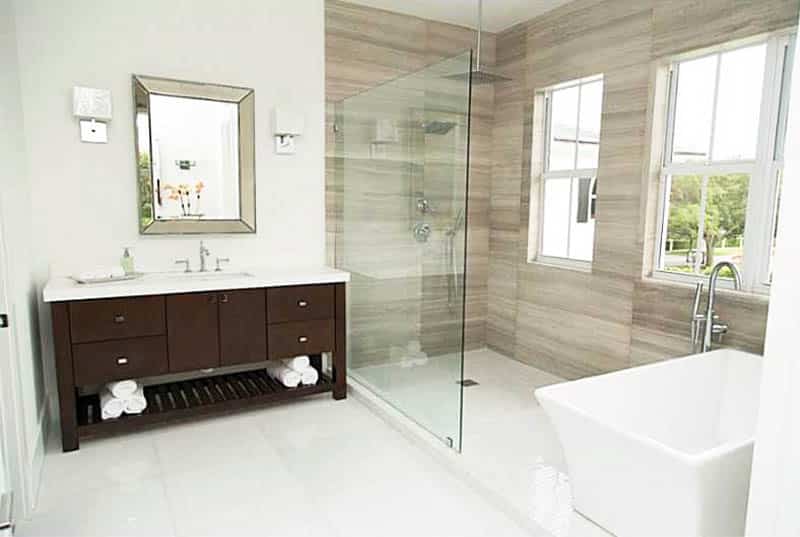 A Japanese soaking tub is a small, but deep bathtub. This type of tub has increased in popularity as it allows the water to cover more of your body and it stays warm longer as there is less exposed area. The design of the Japanese soaking tub is to promote a sitting position in the tub versus a lying down position. This is a bathtub that can be easily placed inside a shower, which helps with versatility, since a Japanese soaking tub typically does not have the capabilities to take a shower.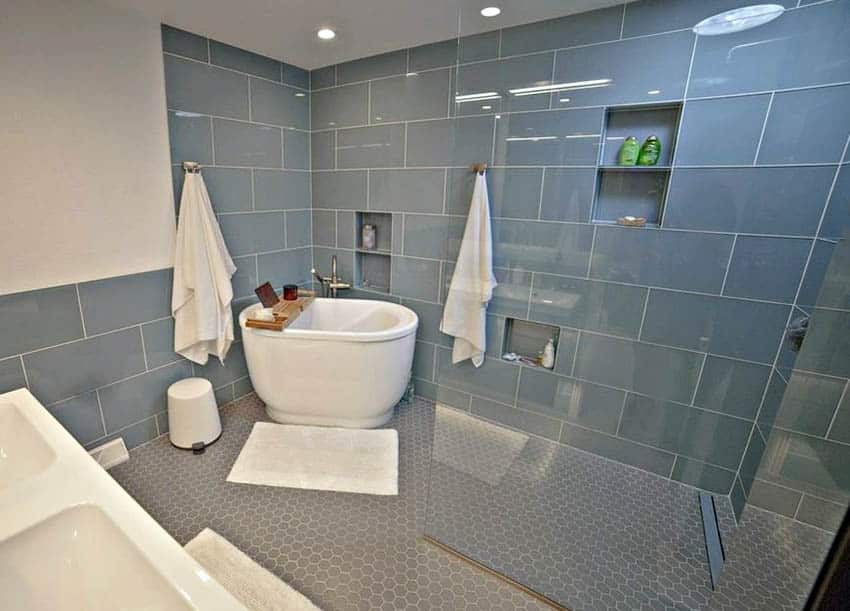 With a small bathtub of this sorts there is a great deal of space for the shower portion. Some small, but deep bathtubs of this sort have small sealed doors that allow for easy access. This can be helpful to have a shower outside the tub so that when you open the door and all the water spills out, it can easily find the drain without creating a mess.
Clawfoot Tub Inside Shower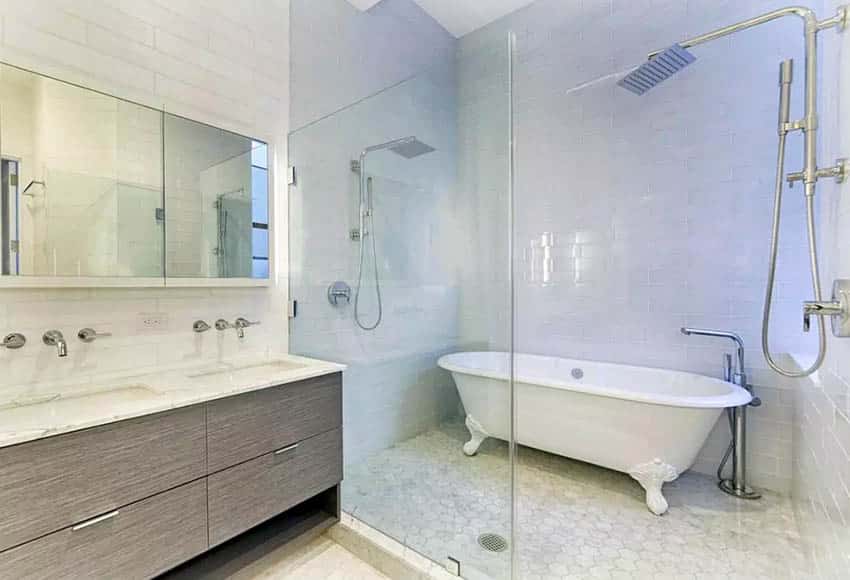 Having a clawfoot tub inside a shower is aesthetically pleasing and can be found in many different types of design specifications. Clawfoot tubs can have classic rill rims, sipper tubs, double slipper tubs and double ended tubs. These features change the slope of the side of the tub for a more comfortable laying back position taken while bathing. This can make the tub a little awkward to shower in, as it is made for lounging not standing.
On top of that, shower curtains do not sit it a great way when it comes to clawfoot tubs. With having the tub inside of the shower it removes the need for a shower curtain to be inside the tub sticking to a person trying to shower. Instead the curtain (or likely a glass door) will be a distance away and showering is not to be done in the tub itself.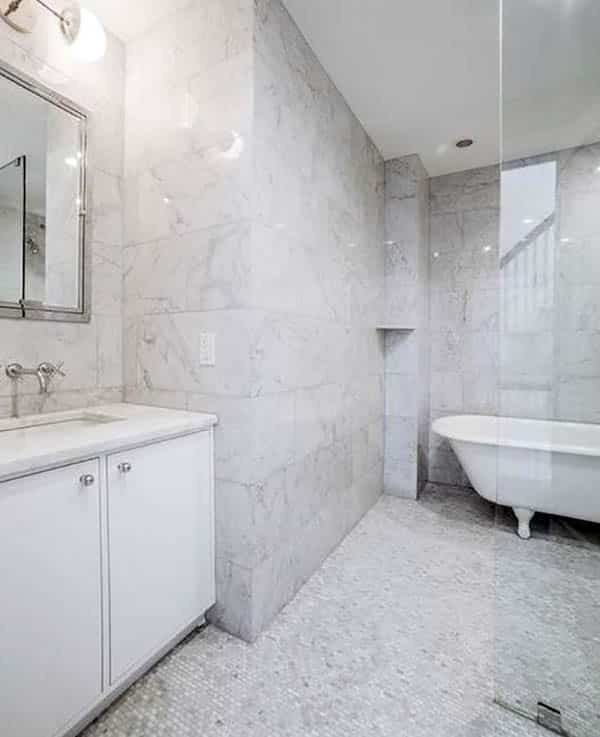 While a clawfoot tub was once considered a luxury item, nowadays they have become less of a hot commodity. However, for those who love the look, they can be a great addition to your bathroom design.
Tub Inside Shower Pictures
Choosing a bathtub to use inside your shower space will depend on your layout and square footage. Here are some more ideas to help with your bathroom remodel project.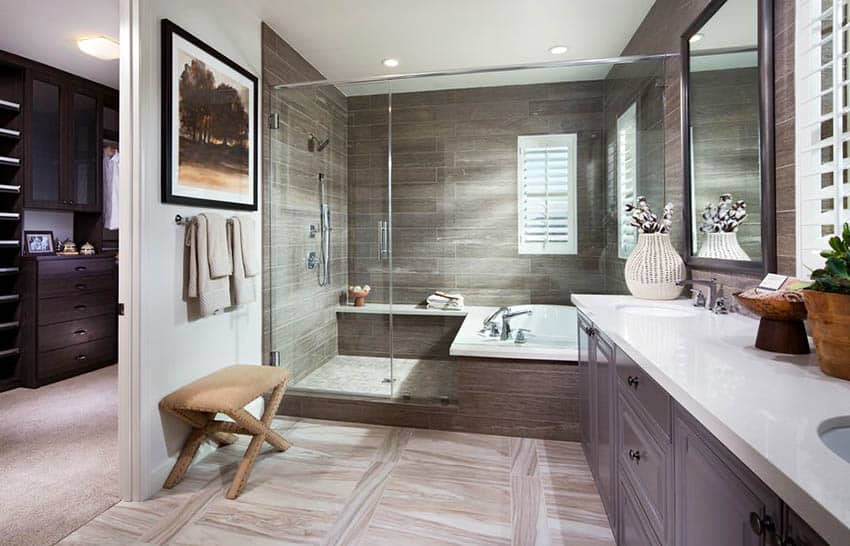 This shower with built-in alcove bathtub uses floor to ceiling tile and plantation shutters to give a contemporary look.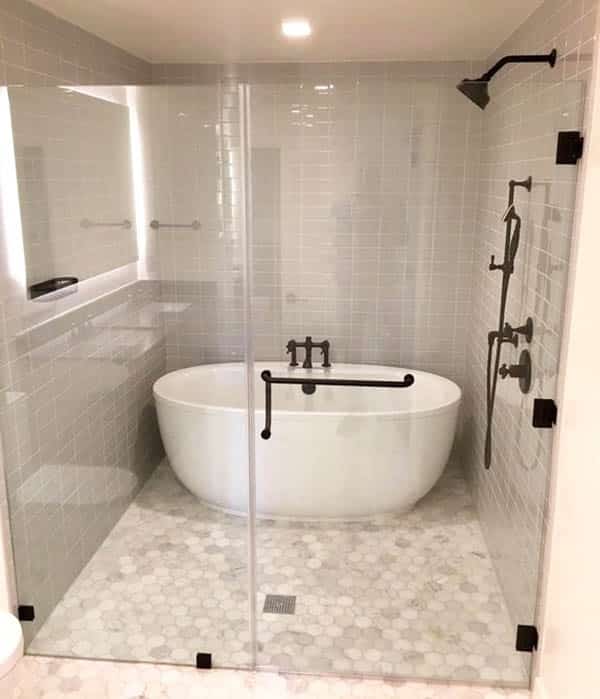 The walk-in shower with freestanding tub uses a glass subway tile for the walls and an hexagon floor tiles with bronze shower and tub hardware.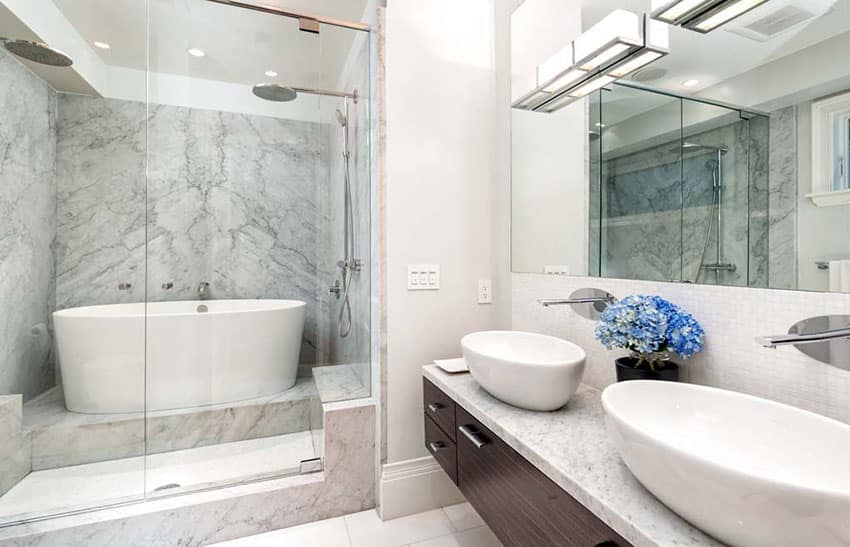 This inviting bathroom features a glass shower enclosure with a step up to a freestanding tub.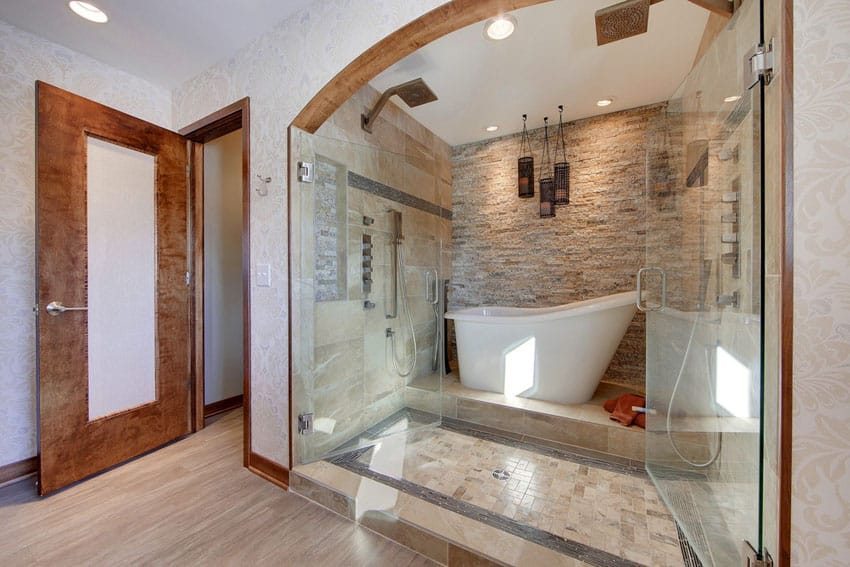 This luxurious bathroom with walk-in shower has a large slipper tub with plenty of room to relax and stretch out. The back accent wall is built from rough stacked stone, while the main shower walls are constructed with travertine tile. Two large rainfall shower heads provide room for two. Visit this page for more related luxury bathroom tub ideas.