Welcome to our gallery of walk In shower designs including popular types, dimensions, cost and creative ideas.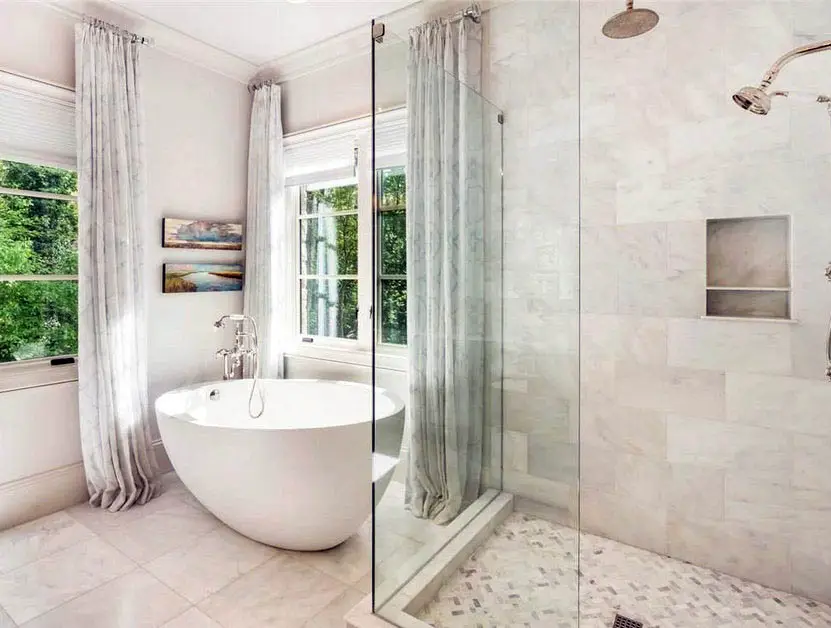 Walk in showers can be a modern and beautiful addition to any bathroom when they're done right. Just like any other home design facet, walk in showers aren't a one-size-fits-all deal. There's an endless number of ways that you can design your shower to fit your tastes and the structure of your home.
Walk in showers are different from standard showers because they don't require a full shower stall. Rather you should be able to walk straight into them from the rest of your bathroom instead of stepping into a tub. However, they often have shallow curbs or pans to ensure that the water from the shower doesn't seep into the rest of the bathroom.
With so many ways to incorporate one of these showers into your home, it can be pretty overwhelming to find a design that fits your style. The good news is that you aren't alone in wrapping your head around this type of design. We're here to give you our ultimate guide on everything you need to know about installing a walk in shower in your home.
If you are planning to use an all white color scheme for your walk in shower, one way to keep the interior from looking too dull and boring is to use wall tiles which have subtle patterns and light undertones.
In the picture above, marble like large wall tiles combined with herringbone patterned mosaic tiles give this walk in shower more visual and depth and dimension, while also maintaining a pristine, clean and bright look.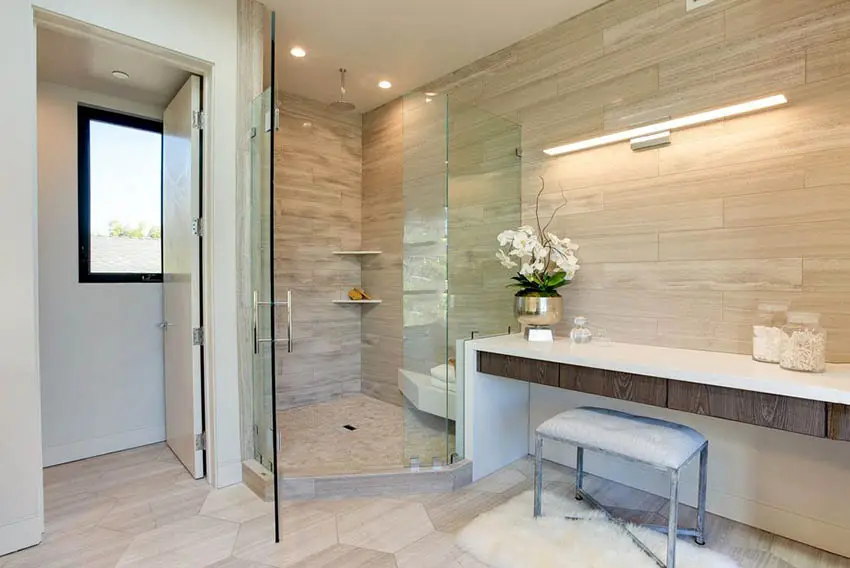 Corner walk in showers help maximize the space for a bathroom. To increase the efficiency of a walk in shower, floating corner shelves and a small hanging bench may be incorporated to the design. Some large walk in showers may also include a vanity table and chair.
Walk In Shower Dimensions
One of the most basic questions to answer when installing a walk in shower is how big that shower should be. This, of course, can vary depending on the size of your bathroom but there are some guidelines that you should follow.
Shower widths are typically measured in at 36 inches, 32 inches, or 60 inches. Those three measurements are arranged respectively according to how common they are. Less common widths include measurements like 42" and 48".
It's generally agreed that the average walk in shower size is 32" x 32" but a lot of homeowners find this size smaller than they would like. The next sizes up are 34" x 34", 36" x 36", and 42" x 36".
What most people consider a "comfortable" shower size that gives them a little more room than average is a 48" x 36" walk in shower.
If you need a little more room, you can vouch for a 48" x 48" shower and particularly large bathrooms can sometimes accommodate a very large 60" x 36" luxury shower. You'll also want a larger shower if you're looking for large extras in your walk in shower like benches.
Then, there is the height of the shower to worry about. This will likely vary depending on the size of your home but it's important to consider your ceiling height relative to the length and width of your shower.
Typically, the highest your ceiling should be is 8 feet. This is especially crucial if you want a steam shower because you don't want a ceiling so high that the steam will dissipate while you shower. It'll also help the design to be more attractive when you consider the three dimensions altogether.
For an 8-foot shower, the lateral dimensions are usually 60" x 48". You can also go smaller with dimensions like 66" x 66" x 90", 54" x 35" x 89", 71" x 47" x 88", or 42" x 42" x 82".
Installation Costs of Full Bathroom with Shower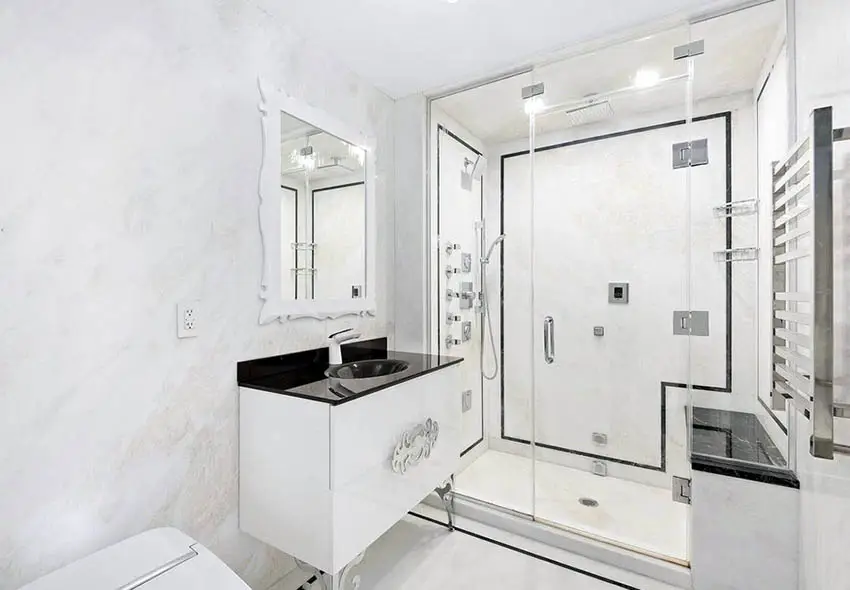 Once you've decided the size of your shower, you need to consider a factor that many homeowners dread. How much is it going to cost to renovate your bathroom with a walk in shower?
You're most inexpensive option when it comes to this design is to purchase a prefab walk in shower kit. These will run you anywhere from $800 to $2,500 depending on the quality of and material in the kit.
You can save a lot of money if you can take this on as a DIY but you need to be comfortable in your expertise in plumbing and framing. It'll cost you more in the long run if a shower is installed correctly.
If you're hiring a contractor, they should give you an estimate of the cost before they start the job but the average range is between $750 and $2,500 for a prefab installation.
This estimate changes based on the difficulty of the job and how long it takes to complete it. Factors for difficulty usually come from your house's plumbing system and the layout of your bathroom.
Custom walk in showers are going to run you a higher bill. Unless you're a professional yourself, you should always turn to a contractor for these types of custom jobs.
Once again, the price depends on the material you use and the level of difficulty and time consumption that go into the installation.
This can range between $6,500 to $15,000 or more. As we said, the cost of materials can play a huge roll in the overall cost. So, it's worth taking a look at some of the most commonly used materials.
It's no surprise that tile is the most popular choice for bathroom fixtures and custom walk in showers is tile. These showers will run you between $8,500 and $10,000 on average. This will get you a one-of-a-kind tile shower that will not only be gorgeous but add value to your home as well.
If you want to use acrylic, which is much cheaper, you're going to spend $6,000 to $7,000. This will buy you sturdy acrylic rather than low-quality, fragile acrylic like is sometimes seen mass-produced in hardware stores.
Onyx is another unique choice that has some popularity thanks to its versatility. It comes in multiple colors and textures and its installation will run you between $7,000 and $8,500.
Types of Walk-In Showers
The most popular types of walk in showers fall in to several main categories which are corner, recessed or floating.
A corner walk in shower can replace the traditional style shower and tub combination. They generally have two glass partitions and back in to the wall.
A recessed walk in shower is designed to replace an alcove bathtub. It is recessed in between walls, rather than providing for area to either side. This style has a single pane of glass that can be fitted with a door that open on the right or left.
A floating walk in shower provides a single glass pane that allows for entry on either the right or left hand side.
Another type of walk-in shower is called a wet room bathroom which is generally a much more open plan design. Whereas a traditional walk in shower may have a shower tray, a step through a door and several glass partitions; a wet room may allow one to walk right in with no door at all.
Tile Designs for Bathrooms with Showers
Tiles are a very common choice when it comes to showers and bathrooms as a whole. One of the biggest draws to tile is that there are so many different ways you can incorporate it into your bathroom.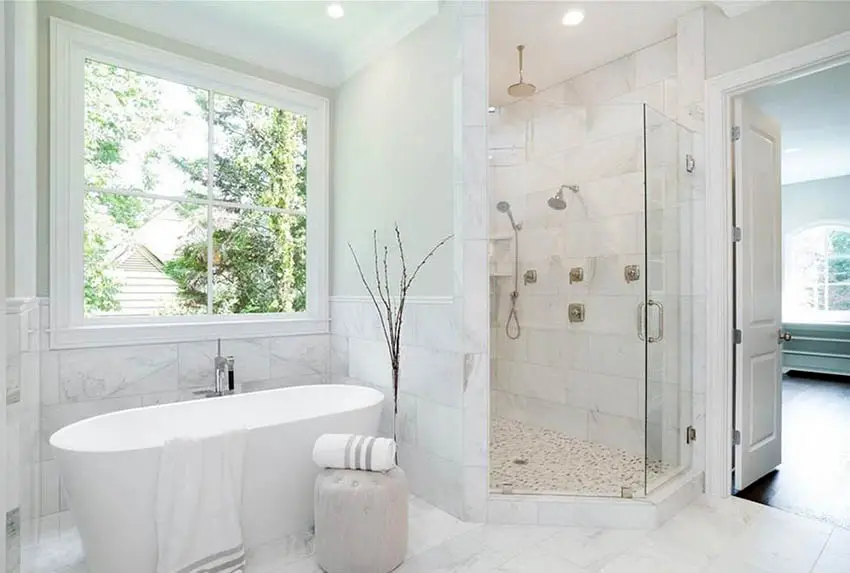 Combining different sizes and shapes of tiles while sticking to a single color family is one of the hottest trends in walk in shower designs. Not only is it aesthetically pleasing, but it is also a very effective design trick in making your walk in shower look more spacious and airy.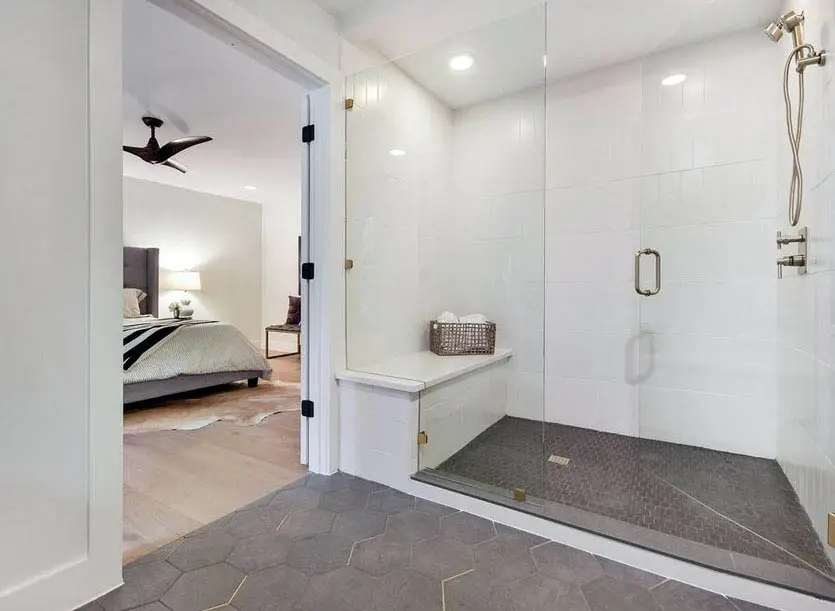 Using a single color for the floor tiles can give a walk in shower an illusion of more space, but if you want to delineate your shower space from the other areas of a toilet and bathroom, one trick is to change the pattern and size of your floor tiles.
The walk in shower design shown above also shows a perfect balance and contrast of colors from the gray geometric floor tiles and the glossy white wall tiles.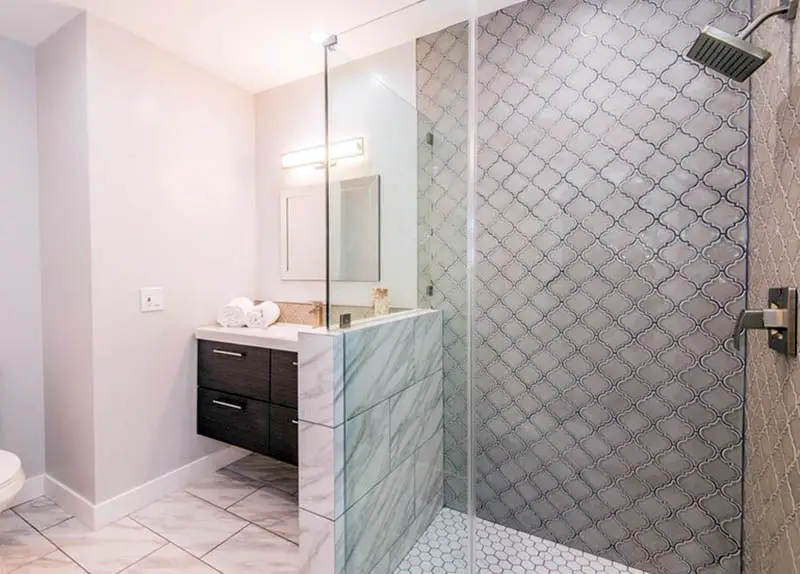 Keep your tile pattern layout extra interesting by combining more than two types and designs of tiles. For this particular walk in shower, geometric shaped mosaic wall tiles are paired with small honeycomb patterned floor tiles to create a subtle contrast.
Another ideal layout which you can try to keep your walk in shower spacious is to use a low partition instead of a full wall to separate the wash and shower areas.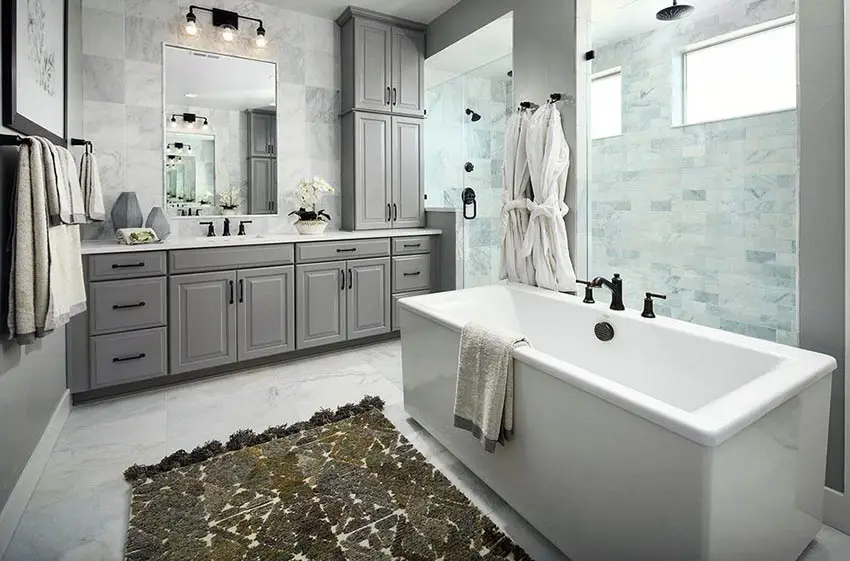 Maximize your walk in shower space by installing full floor to ceiling storage units just like the one shown above. This contemporary classic walk in shower features sophisticated gray cabinetry with raised panel doors in the wash and vanity area.
A glass partition separates the tiled walk in shower with the luxurious bath tub, while the walls and floors are finished with one color of tile that is cut into different sizes.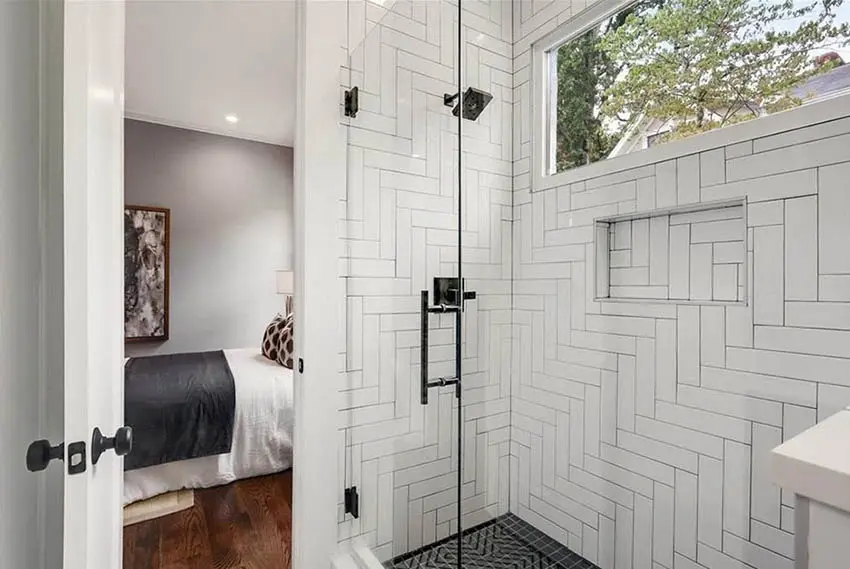 White strip tiles arranged in a visually satisfying herringbone pattern give the walls of this compact walk in shower a modern and refreshing vibe. To add contrast, black geometric print tiles were used for the floors.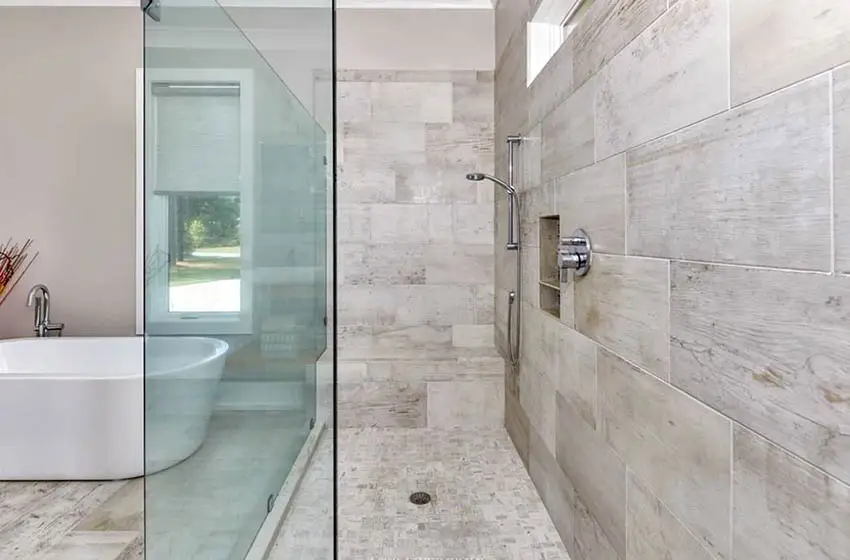 Large neutral colored tiles laid out in a horizontal pattern are another "go to" inspiration for contemporary bathroom design. This particular wet room walk-in shower layout creates an illusion of space, making your walls look more broad and your walk in shower bigger.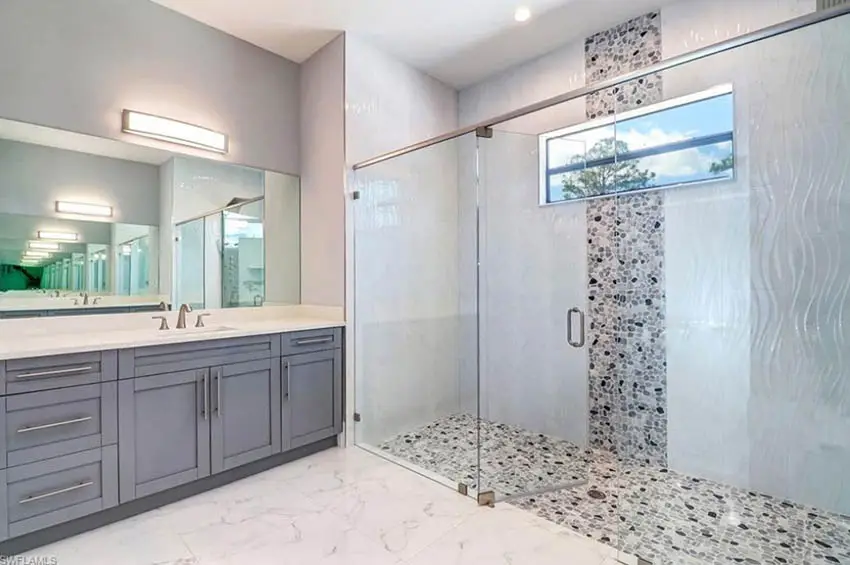 One of the best ways to get a truly one-of-a-kind design is to use a mosaic tile pattern. Stone designs, like the wet room walk in shower above, are particularly unique because you get the chance to play with both colors and irregular shapes.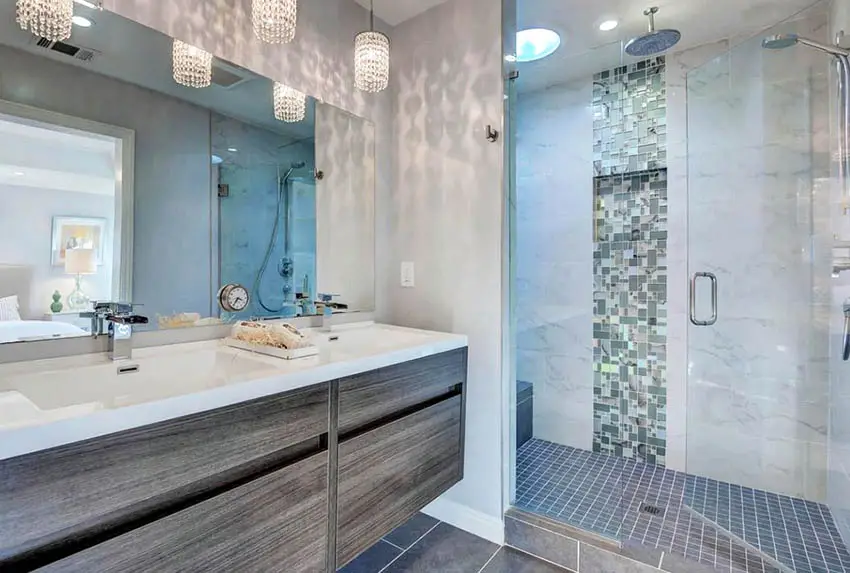 If you want to try a mosaic style with a bit more uniformity than stone-style designs can offer, square and rectangular tiles can be matched up for something modern. Using them in a vertical strip like this also creates a great accent piece.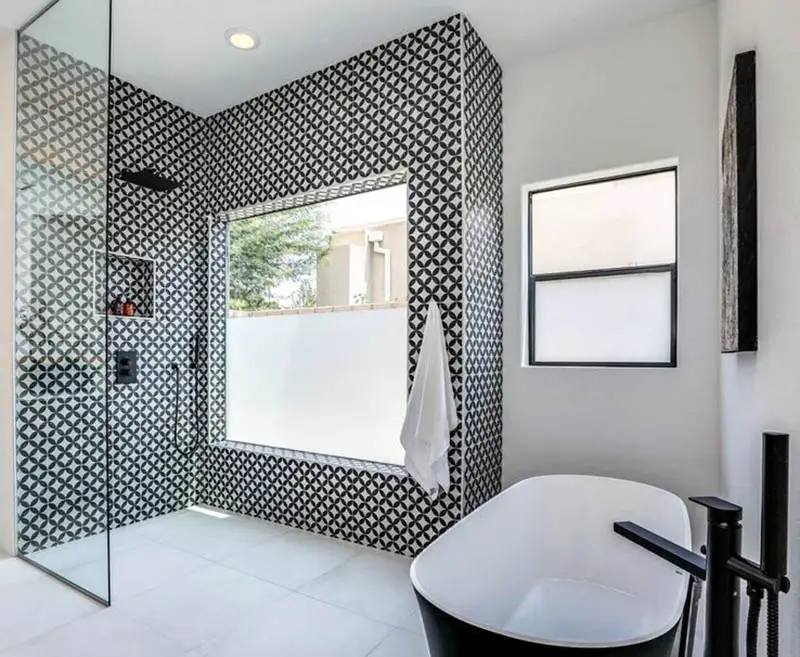 This dramatic wet room design has a sloped floor allowing the water to fall through a hidden infitity drain carefully placed out of sight.
Don't be afraid of bold designs either. Patterns like this walk-in shower that take the main colors of the bathroom and incorporate them into a distinct hatch pattern on the shower walls make quite the interior design statement.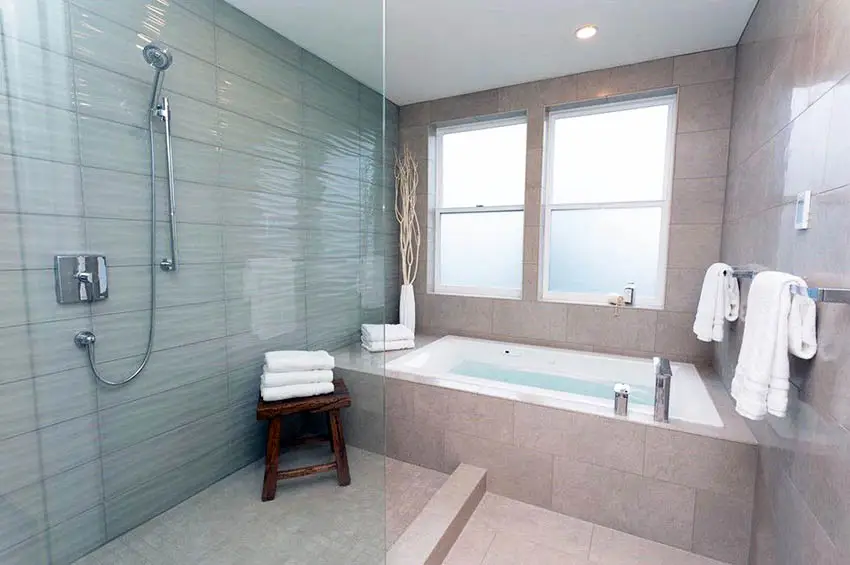 If you aren't into bold designs, don't worry! You can also create a sleek and modern look by using large, neutral-colored tiles like in this bathroom. Notice that this design seamlessly transitions into the rest of the walls in the room as well.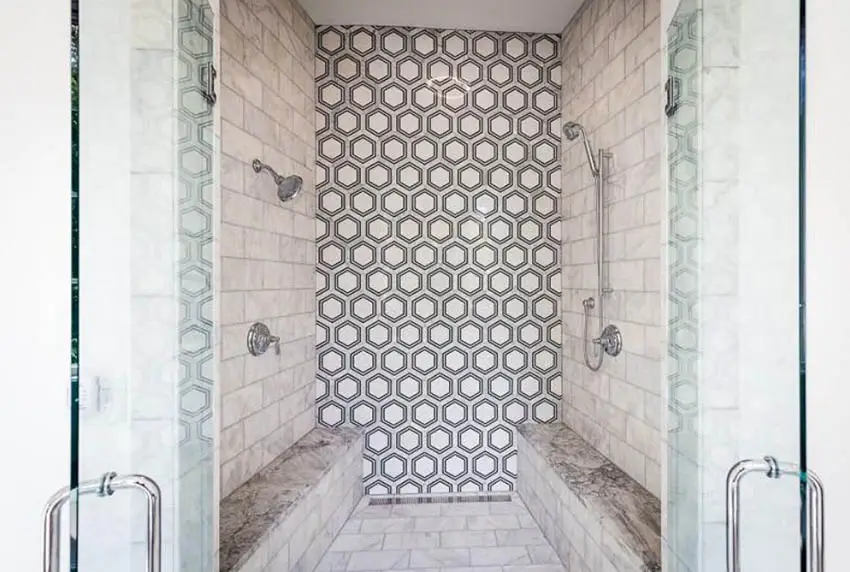 We've already discussed that you can get amazing results by mixing and matching tiles. In the above bathroom, you can see the walls and floor of the shower use large, neutral-colored, tiles. The back wall, in contrast, uses a black and white honeycomb design.
You'll also notice that the bench tops use a marble design. This is a combination that you probably wouldn't think of right away but it just goes to show that thinking outside the box can produce amazing results.
Shower Area with Doorless Design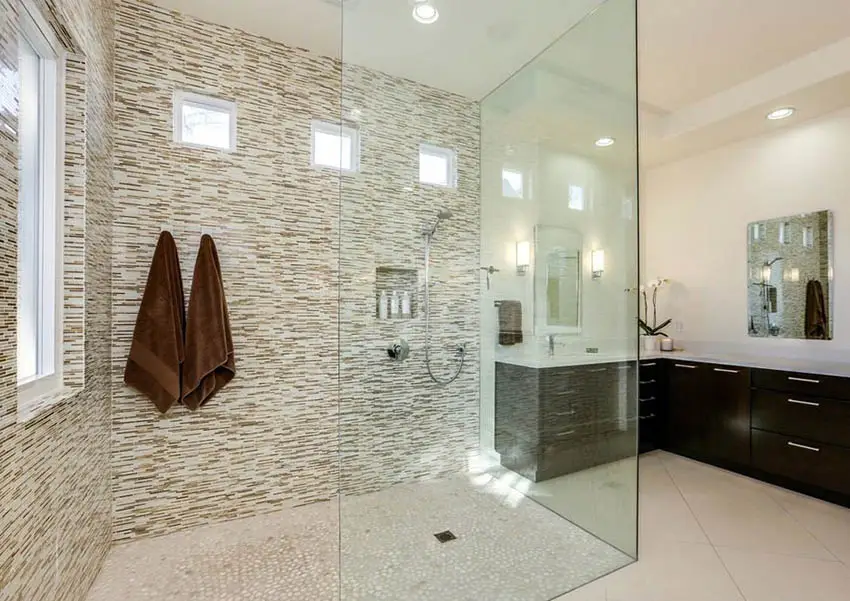 A wet room walk in shower without a door is a great way to have the design of the shower and room flow more smoothly and it makes the room look bigger too. These can also potentially save you money by calling for fewer supplies when being installed.
Because of the design of these showers with a drain on the floor, you don't have to worry about the spray going directly into the rest of the bathroom.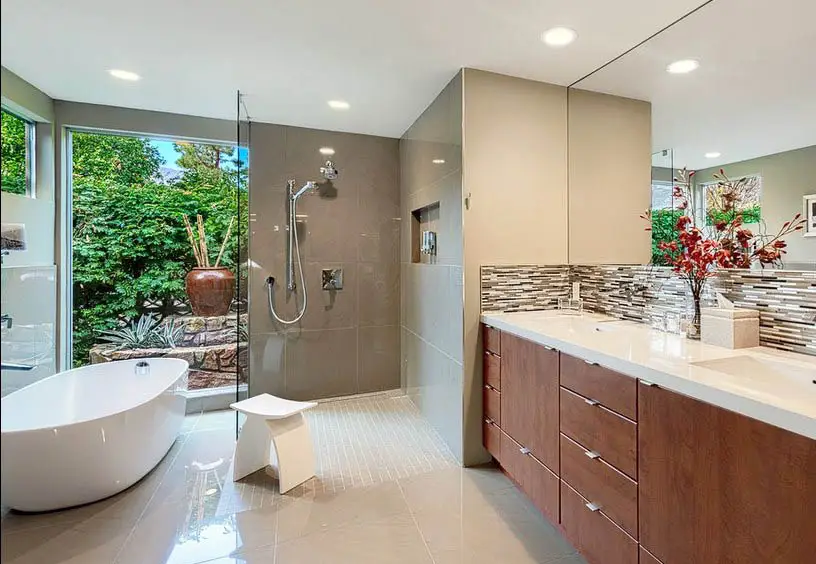 You can also use a glass partition to separate a tub and shower like the wet room bathroom here. It can even help you bring your own seat over to the bathroom if you can't afford built-in benches. Since there isn't a door, the positioning isn't awkward.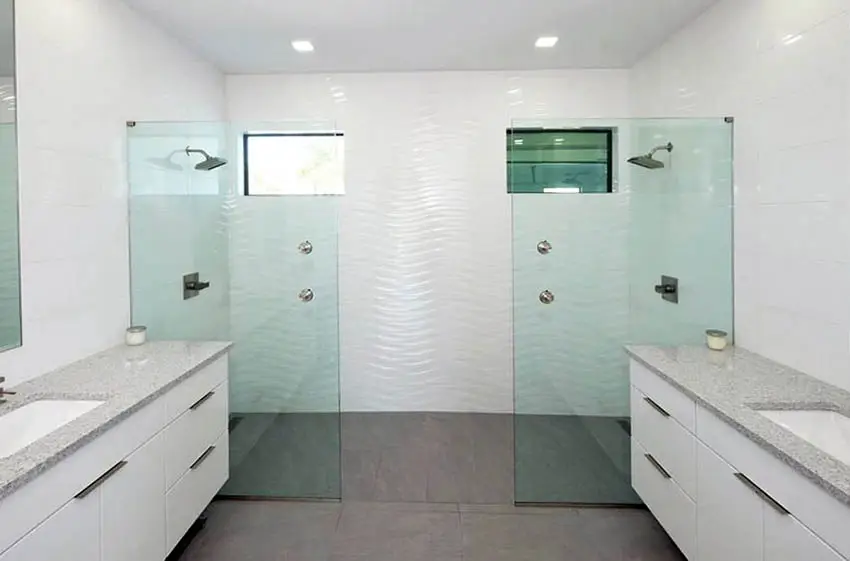 Even without a door, you can use glass partitions to separate the shower from the cabinets as seen here. Like this bathroom, though, the open design streamlines the bathroom so that you can walk straight from the entrance and into the shower. The partitions on either side of the opening also adds to the symmetry of the room.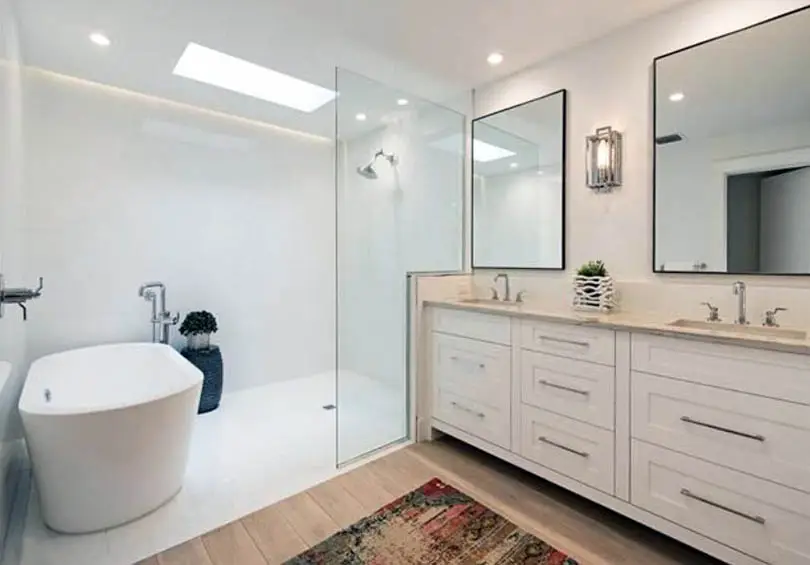 The lack of a shower door also gives you room for bigger additions the same way it allows you to pull in small pieces like seats. In this bathroom, the shower is open enough to include the bathtub in the same space. Since this bathroom is slightly smaller, this combination helps to fit both fixtures in one space. See more tub inside shower designs here.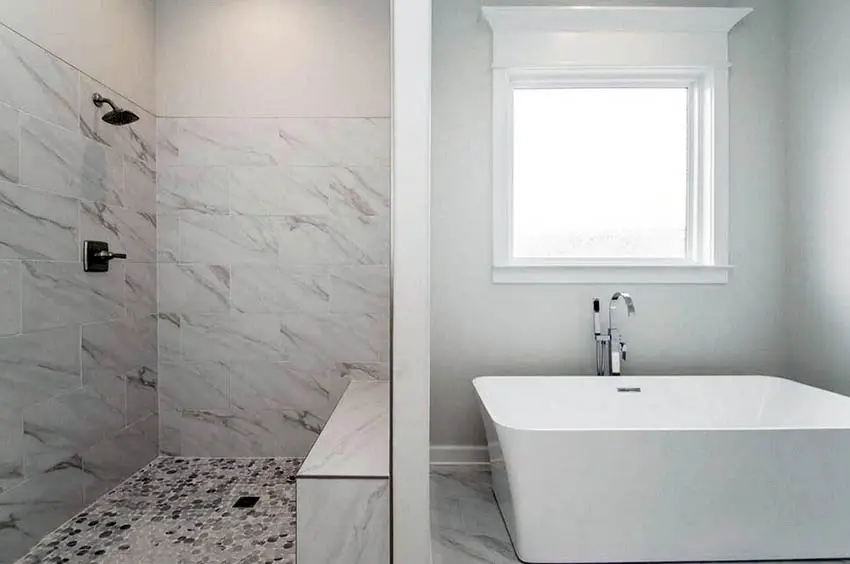 This bathroom uses an open concept design and a thick wall between the shower and tub instead of a glass partition. This thicker barrier gives the homeowner a chance to install a bench in the shower as well. It also creates a bold, defined design.
Large Shower Area Designs
If you're lucky enough to have a large bathroom, a large walk in shower is a great addition. It's a beautiful choice and, since these showers open up a room, can highlight how big your bathroom is. If you're aiming for a modern design, these showers are also a great way to show off the other design aspects of the bathroom because it isn't broken up by a shower curtain. These designs aren't monotonous either. You have plenty of different choices when it comes to customizing your walk in shower and the style it evokes.
This marble shower design allows the floor design to continue but to transition up the shower wall as well. It also helps that the bathroom has plenty of natural light from the three main windows and the smaller window in the shower. With the tub in the nook with the windows, it also allows the shower to stretch from wall to wall. Thanks to the large bench installed in the shower, the space is used effectively rather than just feeling barren which is important in a shower this long.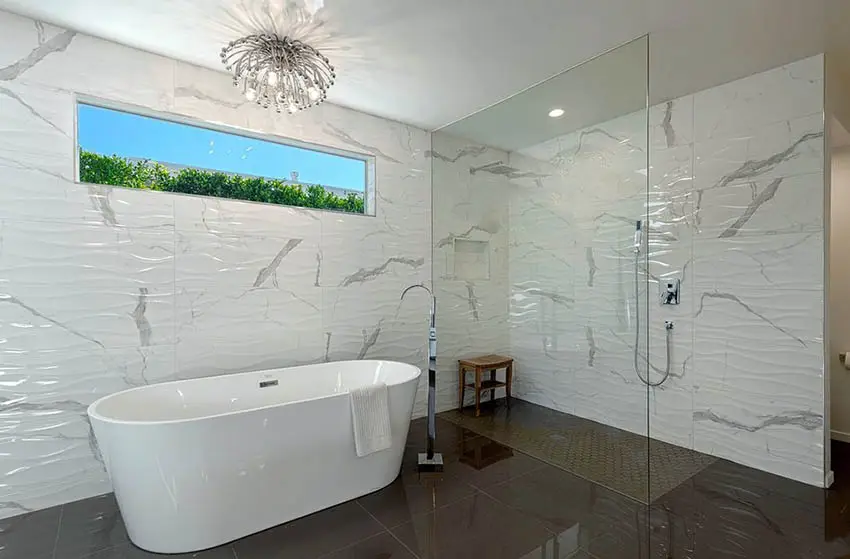 If you have a partition wall between your sink and the rest of your bathroom, you can add a large walk in shower. With a doorless design, this shower fits right into the space. This also leaves plenty of room for and doesn't detract from the large tub that's made to be the focal piece of the room. The minimalist design and off-to-the-side placing allow the tub beneath the chandelier to really shine. The shower also uses an unattached stool to add seating without adding to the cost or breaking the minimalism with an installed bench.
Custom Shower Spaces
Nothing gives you quite the individualism of a custom walk in shower. These are made to your preferences and even to fit into the unique architecture of your own bathroom. Showers like these should always be installed by a professional for the best results both aesthetically and technically. Tackling one on your own will probably lead to lackluster results.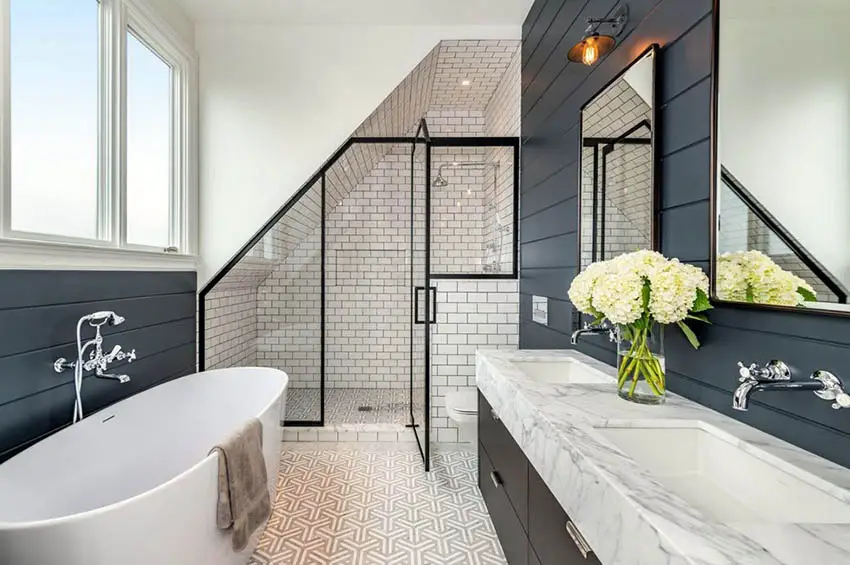 With this shower, you can see that the initial design of the bathroom was adapted into the shower. The slant of the ceiling was compensated with a slanted shower door. The walk in shower also uses tiles with black grout lines to match the black metal frame. It also uses a partial wall in the design as well. You can see many more types of shower doors here.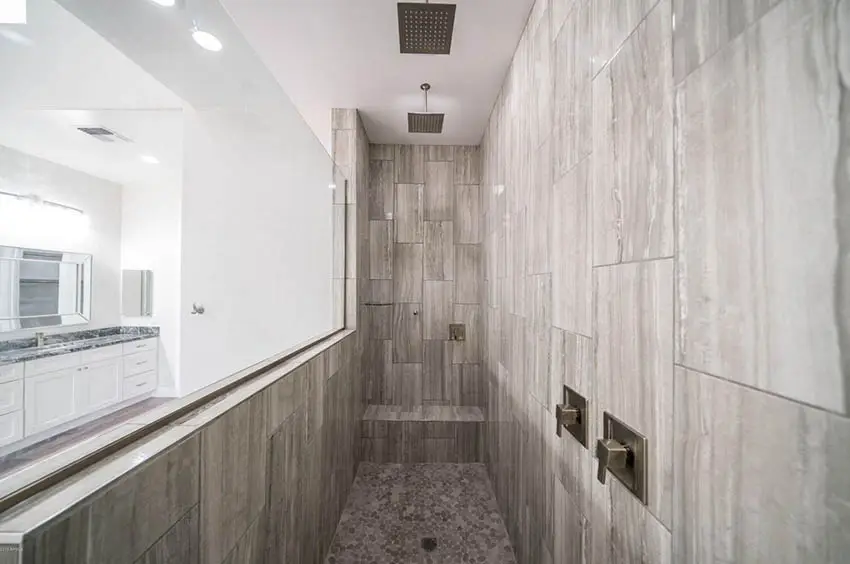 This bathroom uses the length of the bathroom to its advantage. You can see a clear line between the rest of the bathroom and the shower with a half wall partition and glass. The length of the shower creates the opportunity for a number of extras like the installed bench. It also allows for the two rainfall shower heads for a luxurious and relaxing rinse.
This shower utilizes a much smaller space but still doesn't fail to deliver on the extras. Specifically, it still offers a pair of rainfall showerheads. Instead of being fixated on the ceiling, these are affixed to the wall. You'll also notice that this shower uses a full stall with doors to protect the hardwood flooring of the next room.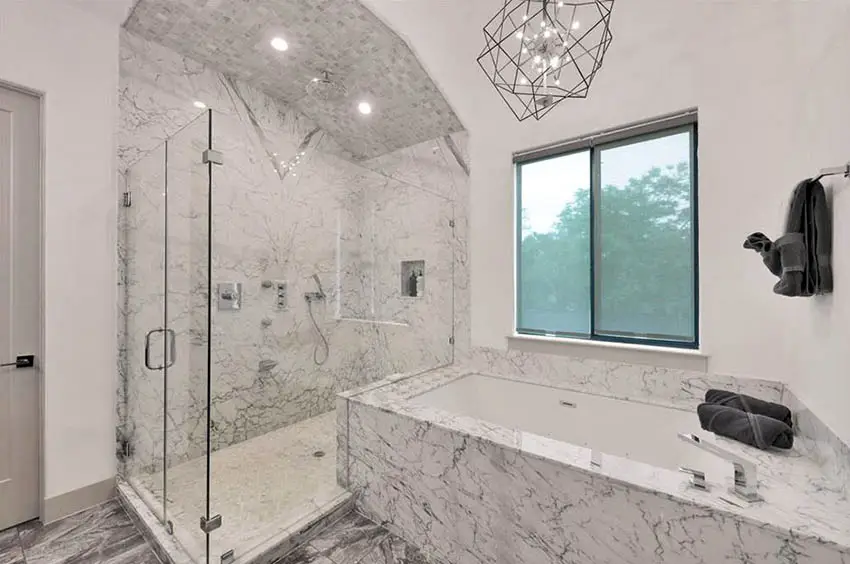 The bathroom above has a high ceiling that isn't conducive for steam but the arch of the ceiling adds an elegant touch. The side of the shower also has a partial wall that flows into the bathtub. While the marble of the shower wall, bathtub, and floor tiles don't match up entirely, they are similar enough to keep the design distinct. The overhead lights in the shower keep it evenly lit.
Showers with Stone Tiles
Stone is also a material that's a great choice for the bathroom. One of the biggest things that homeowners will notice is that stone retains heat better. So, when you step into a warm shower, you aren't going to feel any cold tile under your feet. It'll warm up almost as quickly as the water.
The most popular types of stone for the shower are marble, granite and travertine. A few of the more exotic types include slate, onyx and sandstone.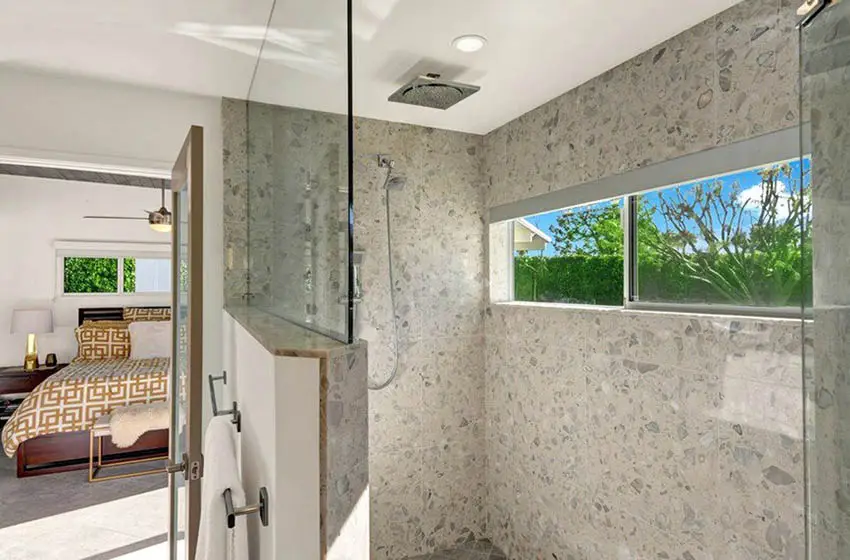 You can also take advantage of the natural shape of stone. This shower doesn't cut the stone into set tiles but lets the stone exist in natural formations in the slabs. This works well at creating a unique shower design without shelling out the money for completely custom designs.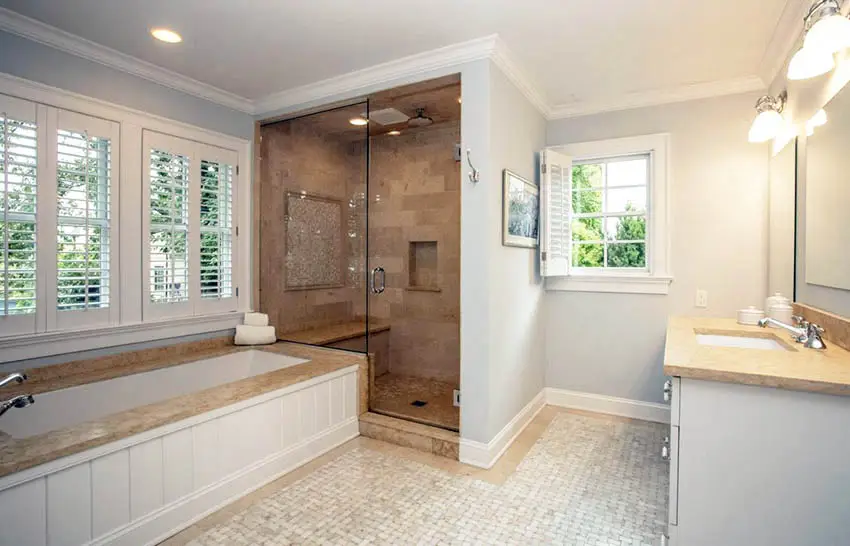 In this bathroom, the travertine shower looks impressive, especially with how the stone tiles complement other natural features such as the wooden counter. The overhead shower head helps to make the most in a small stall too.
Cut stones can also be used to make patterns as tile does. This bathroom works to blend the uniformity of tile with the natural irregularities of stone. They use a standard tile pattern but the natural color variation of the stone makes it unique.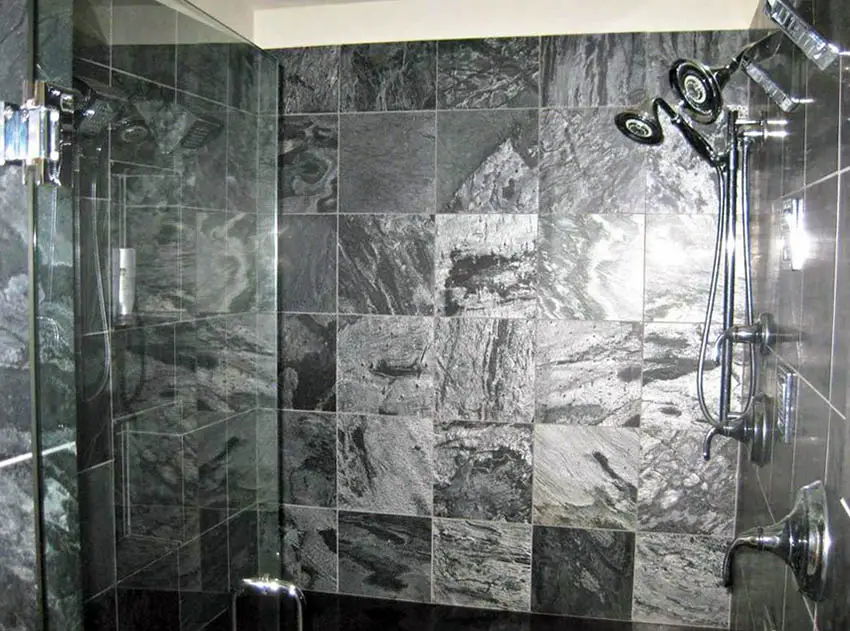 The natural formations of stone can be used for variations themselves. This shower switches things up by making sure no tile flows directly into the next one. This creates an interesting and eye-catching accent wall to set this walk in shower apart from its contemporaries.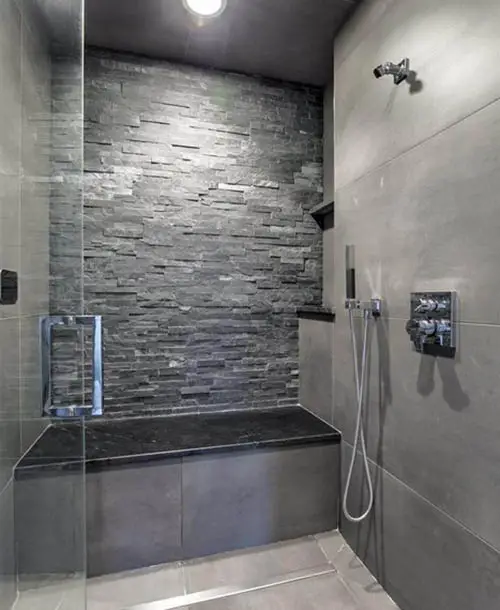 A stone walk in shower also gives you the potential to play with different textures. While stone tiles and slabs are often smoothed out, this shower took advantage of the ridges in the stone they used. This breaks up the smooth surface of the rest of the shower and creates a creative backdrop for the bench and shelves.
Walk-In Style Showers for Small Bathrooms
Interior design can become more challenging when you're working with limited space. Many homeowners resign themselves to the fact that they can't have features like a walk in shower because they simply don't have the room. However, with a little ingenuity, you aren't stuck to the idea that a walk in shower won't work for you.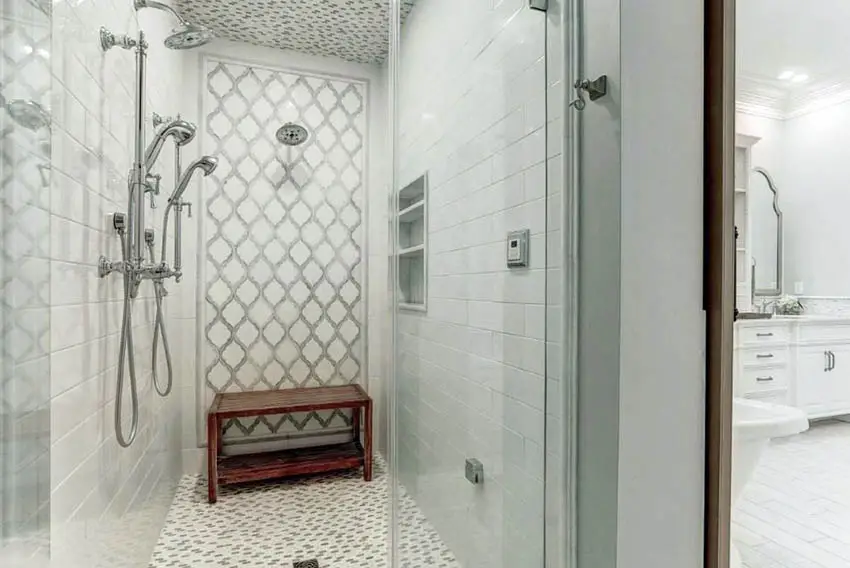 Walk in showers without doors are a great way to minimize the space a shower stall takes up. This shower also uses inset shelves. This lets you store your necessities like soap, shampoo, and conditioner without taking up any space in the shower. Using an independent seat rather than a built-in bench also gives you room to redecorate the space as you need not only now in the future as well.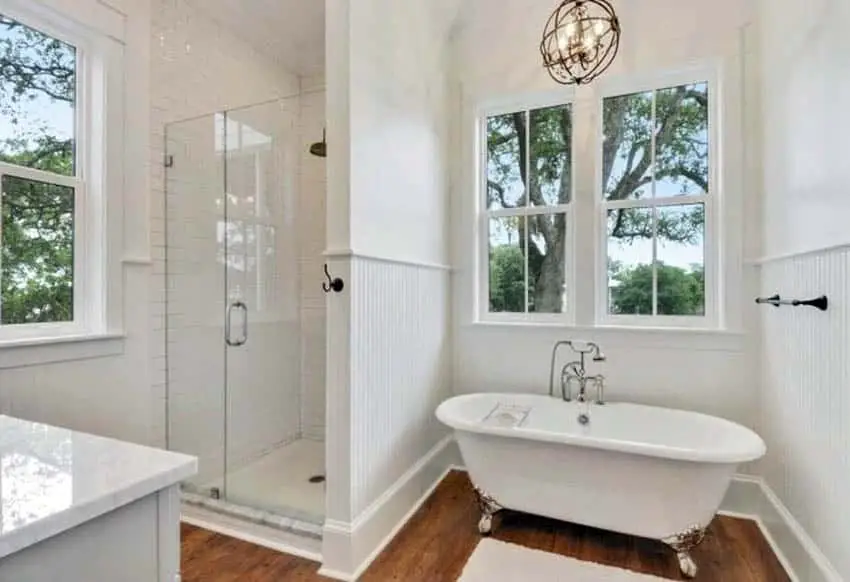 You can also use situate the shower stall in one corner of the bathroom. This bathroom does just that and, like the larger bathroom we looked before, let's the shower sit to the side to draw attention to the standalone tub. This is a great way to make your small bathroom look bigger by not cramping everything in the bathroom together. The large amount of natural light in the bathroom helps open it up as well.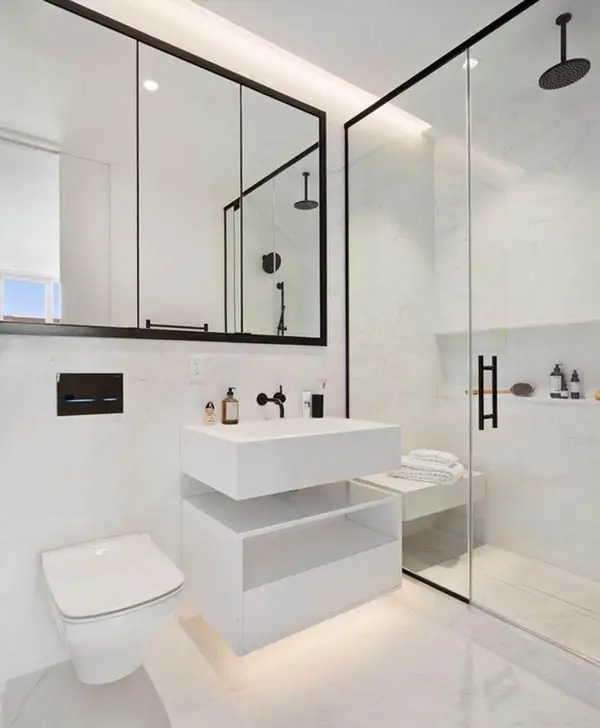 Modern, minimalist design also helps make the most of a small space. This bathroom uses a small toilet and a compact sink. The shower stall is long and thin which accommodates the lack of width in the bathroom. It also uses inset shelving to create extra storage without losing space. While there isn't much natural light in this bathroom, the well-lit white design and large mirror add the illusion of extra space.
Small Shower Designs with No Doors
The most obvious answer to a small bathroom is to have a small walk in shower. The ultimate goal is to make sure that while the shower is small, it isn't cramped or uncomfortable. The best interior design makes the most of the space you have rather than cramming everything in a small room together and only worrying about if it fits.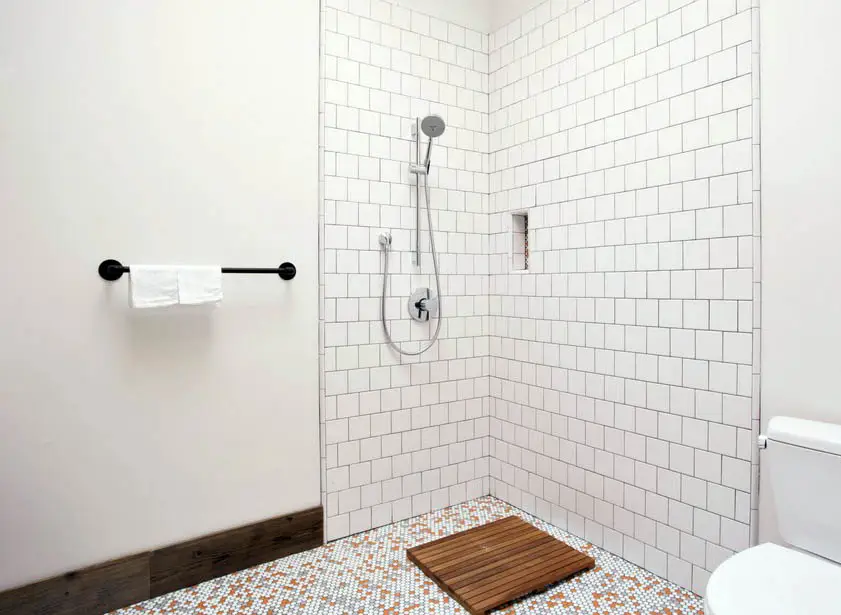 One of the best ways to save space, like this bathroom, is to use a corner and not create extra space by opting to not install a door. Don't worry about the water either. This shower would have a drain beneath the stand so the spray didn't flood your bathroom. The small inset shelf also saves space as well.
Showers with a Bench
A walk in shower with bench allows you to relax a bit in your shower after a long stressful day. Like this shower, it gives you the chance to sit back and enjoy the steam and unwind. They're a pretty inviting design feature to add to your shower. They can also serve a technical purpose such as giving you a perch while you shave your legs or work as a temporary shelf mid-shower.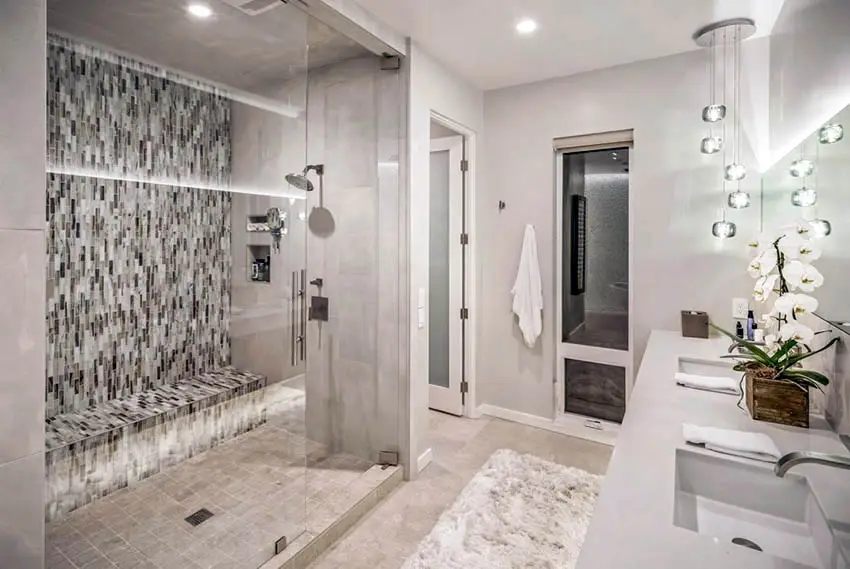 These benches are also easy to install and don't require much extra room since they're set in the wall. They're particularly a good idea if you're splurging on a completely custom walk in shower.
Walk In Glass-Walled Showers
Glass is one of the most popular choices when it comes to the partitions and doors of walk in showers. One of the reasons for this is that it's a versatile material that isn't limited by color or pattern. It can be used in a lot of different bathrooms to match the unique decor design.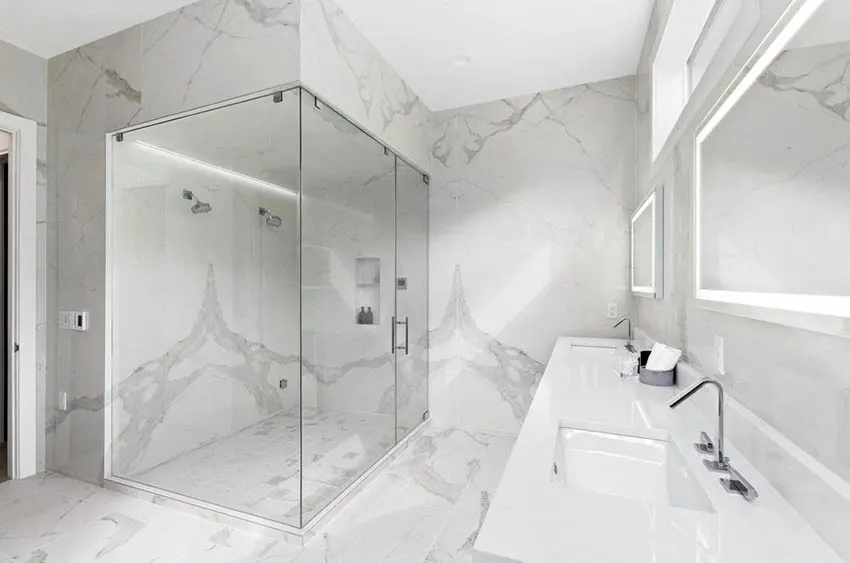 The above bathroom uses a stark white design that a colored shower walk in door would detract from. It also works well with the clean lines and sharp angles of other parts of the bathroom such as the rectangular mirrors and square sinks.
You'll also notice that the glass partition and doors sit flush against the ceiling above it. This helps to retain plenty of steam when you take a shower. This design also allows the marble to shine as the focal point of the room.
This bathroom, on the other hand, isn't afraid of color. This cozier bathroom uses cream, brown, and even a little teal. The central tub and vanity are obviously the focal points making this bathroom appear as a luxurious place to get ready at the beginning the day and get ready for bed at night. To preserve this, the walk in shower is simplistic. It uses pale gray tiles and the glass doors without a visible frame to allow the shower to blend in with the rest of the decor without taking away from it.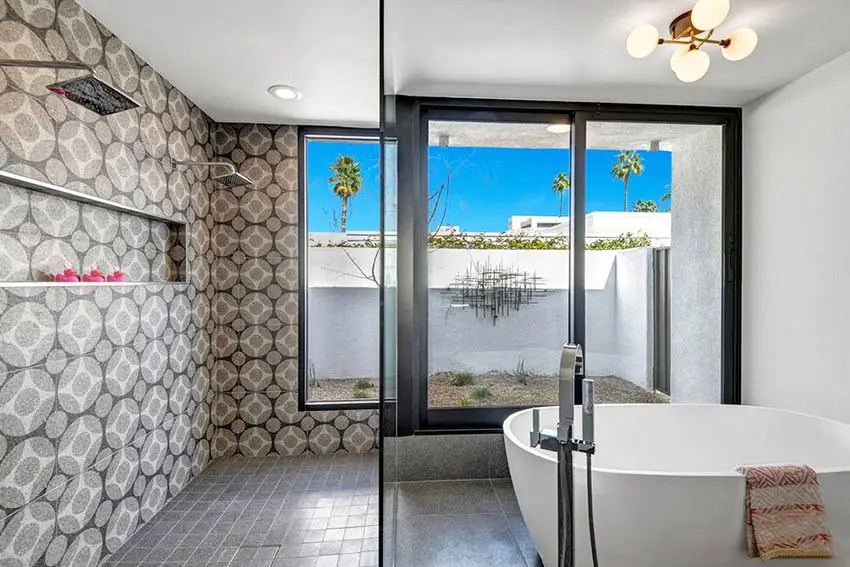 Framed glass partitions are a clever way to separate the shower space from the bath tub, since they do not make the space feel too cramped, but instead gives it a more open look. Also, the geometric printed tiles which are used for the walls make the monochromatic gray color scheme of this walk in shower more interesting and lively.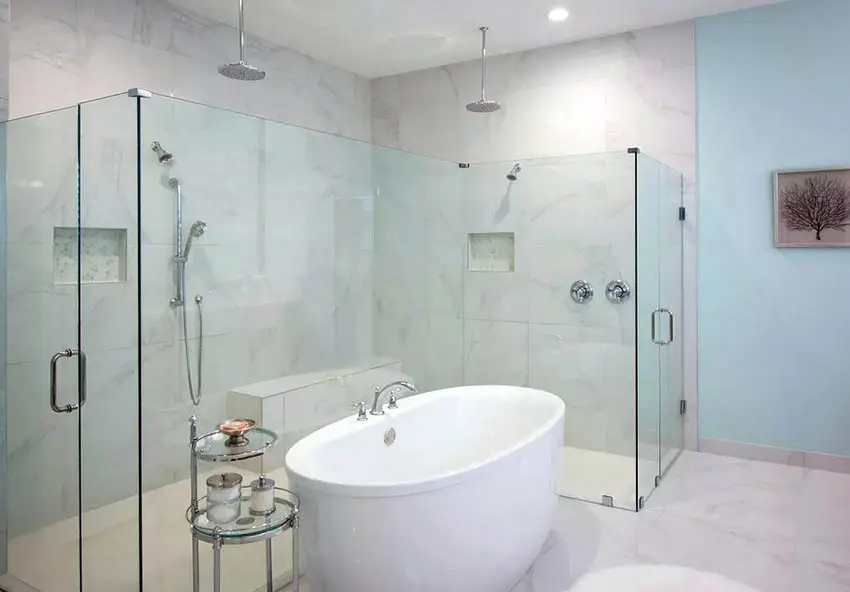 Glass is also a great choice because it can take on the tone of the things around it. Specifically, it works well with pale blue tones because it easily reflects that. You can see in the bathroom above that the glass works well with the wall that's partially blue next to it. In fact, it takes on that tone even though the wall behind it is completely white. The glass partition also uses a unique shape to nestle the tub against the shower. Since the glass comes behind and around the side, it doesn't look like the tub was simply placed next to it. It gives it a distinct place to fit in.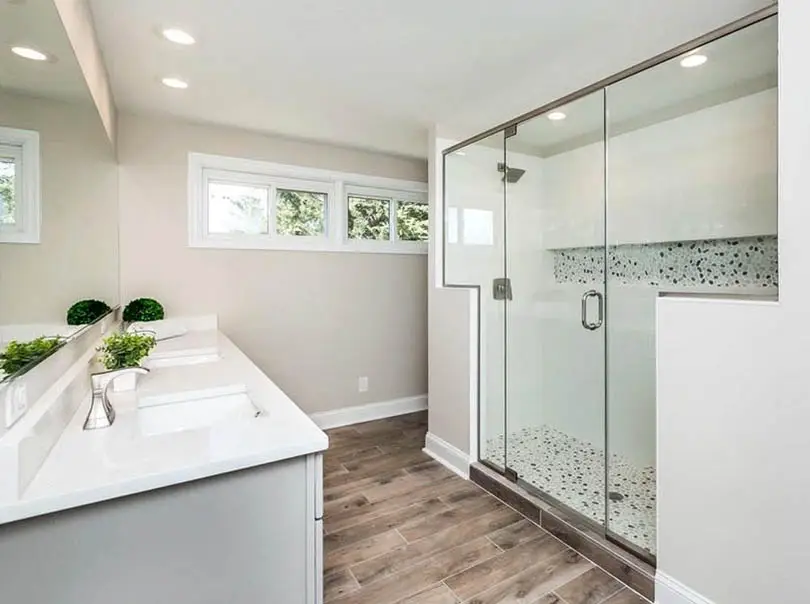 This one of the best examples of fitting a walk in shower naturally. It also manages to be a large shower without taking up more width than a shower and tub combination would. The glass door is simple in design and goes beside and above the wall on either side. This makes the walk in shower seem like a natural, original choice of design. It also breaks up the stark white design of the shower to use a mosaic accent strip and shower floor. Since the partition and door are made from glass, you can see this design from the rest of the bathroom.
Bathroom Showers with Modern Design
Modern design is a distinct type of interior design that usually opts for clean lines and minimalism. You aren't going to find bold and bright colors or excessive knick-knacks or small decor pieces in this type of design. Walk in showers complement this type of design well because shower curtains usually look a little out of place in a minimalist bathroom. These walk in showers are great examples of this design done right.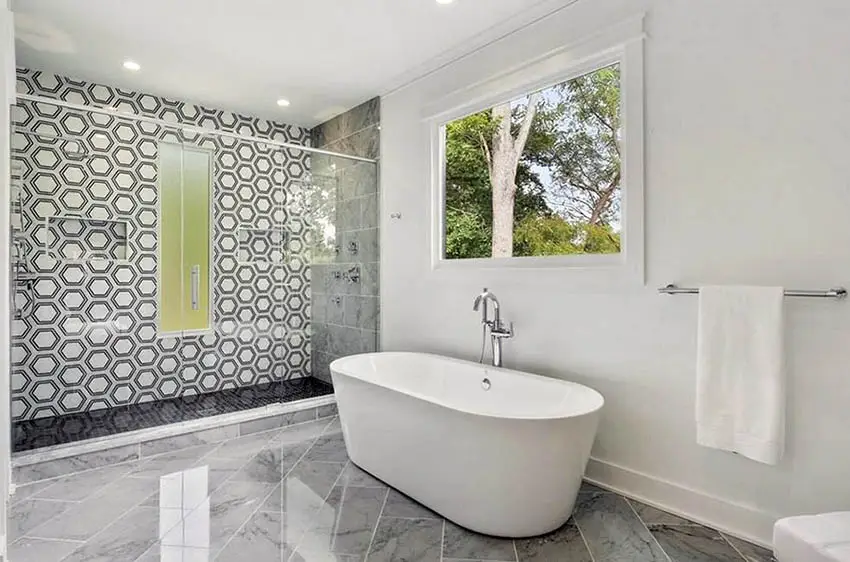 You can see that this bathroom doesn't use any unique shapes in the shower partition itself. It's straight across without any sharp changes in angle in the shower partition itself. However, the bathroom maintains a minimalist design without being too sterile. The gray tiles on the floor and sides of the shower work well for this but the back wall of the uses a hexagonal black and white pattern as an interesting accent.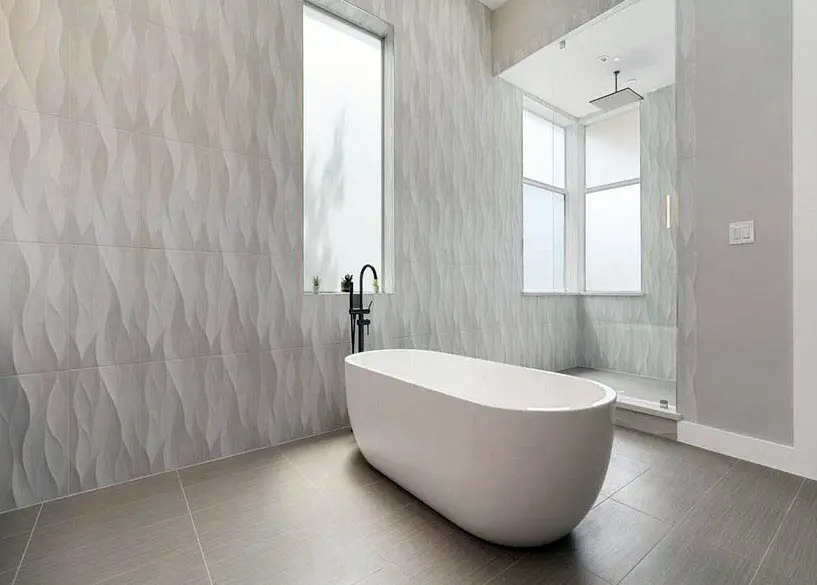 The bathroom above takes on a more all-white design but breaks up the monotony with a textured wall that leads into the shower. Since the walk in shower doesn't have any doors, it allows the design to go completely unbroken even by a sheet of glass. It also utilizes a modern showerhead to finish the look off. It's a thin, square, rainfall showerhead that promises a luxurious shower even in this smaller stall.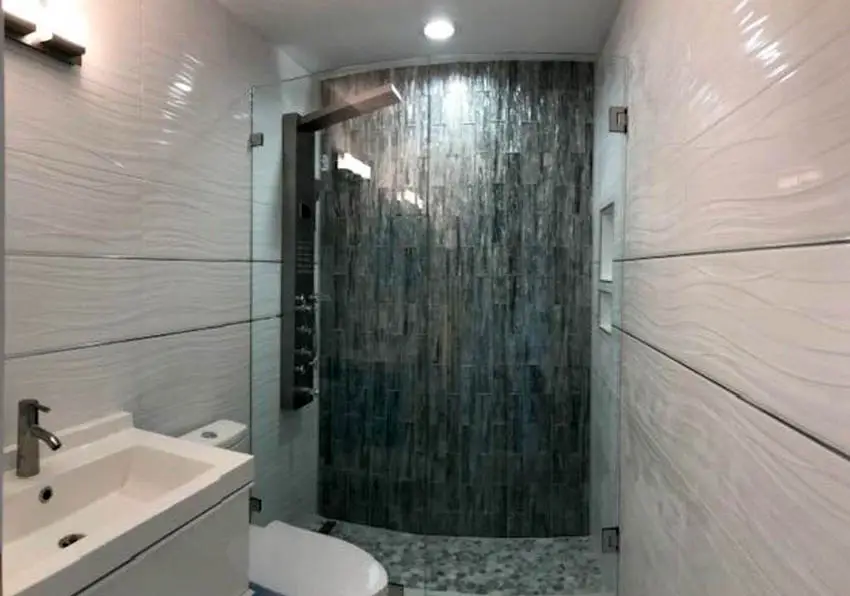 We've already discussed how texture can play a big role in creating a unique design. This bathroom takes this to heart. The horizontal texture of the walls leads your eye directly to the shower which is obviously the focal point. This is driven home by the horizontally textured, dark gray wall at the end of the room. This also contrasts with the mosaic-style shower floor. This is also another shower that adds to the modern feel with a unique shower head. A non-descript infinity shower drain blends seamlessly in to the corner allowing one to appreciate the river rock flooring.

Walk In Steam Shower
There are a lot of benefits to relaxing in a steam shower. It can help improve your circulation, relax sore muscles, help clear up head colds, and more. However, not every shower works as a steam shower. It's a want that you need to keep in mind when you're narrowing down the exact design that you want. There are a few different ways you can achieve this effect, though.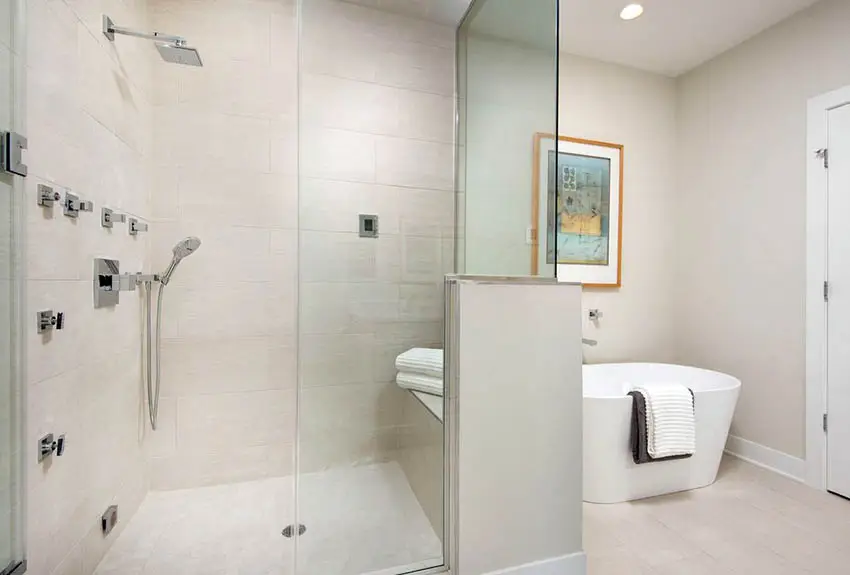 It's only basic science that if you want a lot of steam, you need to have a lot of water. Without water, you don't get any steam. So, you can help your walk in shower along by having large showerheads and even additional fixtures. This shower uses a large waterfall showerhead for a generous spray without being uncomfortably over pressured. The shower also includes side sprayers to add to the spray. Not only does this add a luxurious touch, but it also adds an extra source of steam.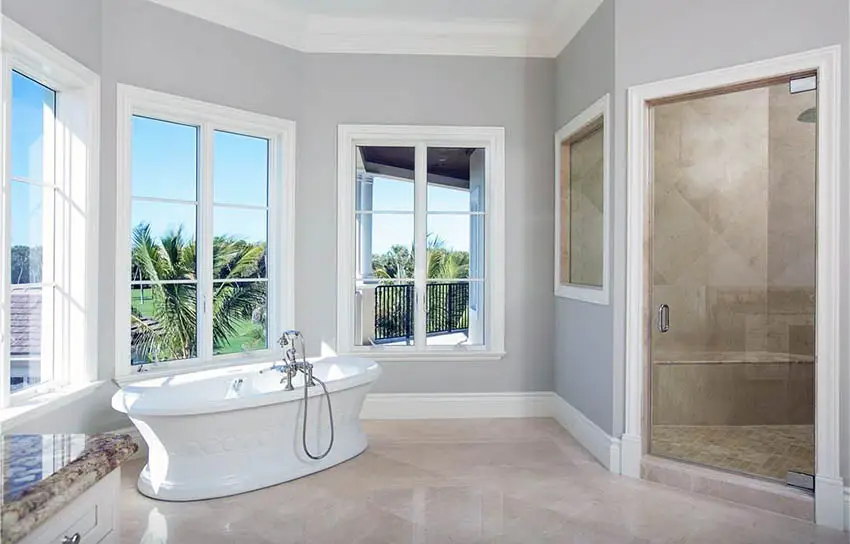 It's also crucial that the steam is contained. If it can escape outside of the shower easily then it'll quickly disperse. This is why steam showers are designed from floor to ceiling and why they aren't often used in particularly tall bathrooms. This bathroom goes the extra mile by partially walling in the shower with a glass door and window. This is incredibly effective for keeping steam locked in with the person taking the shower.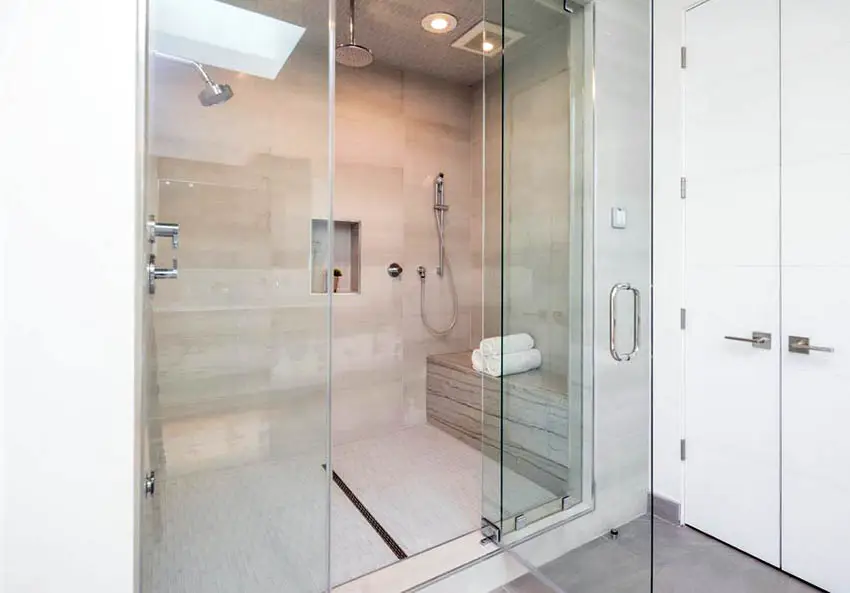 This shower also uses a floor-to-ceiling design to trap steam in. What the focus here is, though, is the built-in bench. If you want to get the most out of the steam shower, you should relax in it. If you just take a quick shower, you won't be able to reap the full benefits of the steam. With this shower, users can sit back and relax and since the steam is trapped inside, they don't have to worry about constantly running the water to enjoy it.
Rustic Style Private Showers
We've talked a lot about modern design at this point but walk in showers can adapt to any design if you put the right planning in. Let's take a look at one design that's very different from modern design: rustic design. If you choose the right colors, materials, and shapes, it'll all come together beautifully.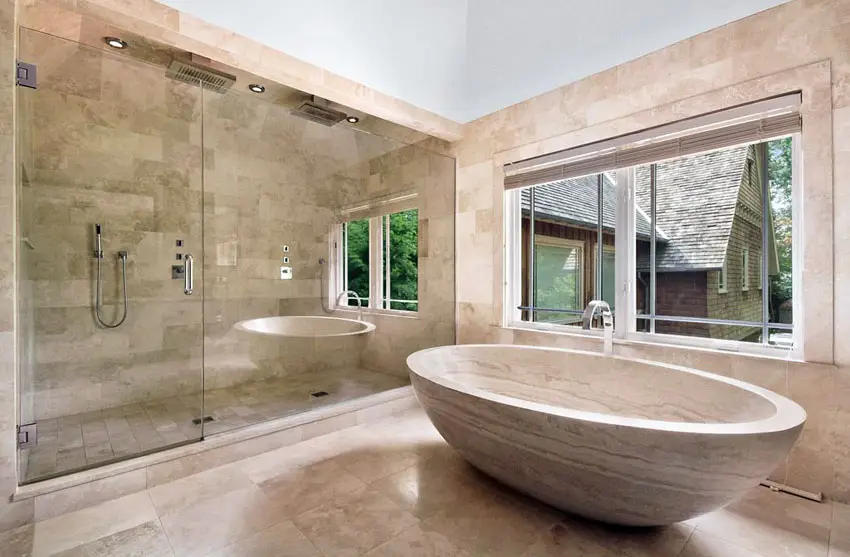 A big part of rustic design is the materials you use. The focus of this decor style is on natural materials. You can see that in play here with the use of stone in every part of the room. It also helps that these stone tiles have a warm, brown hue that's also popular in rustic design. This way, despite being a mostly tile bathroom, it's still welcoming and warm.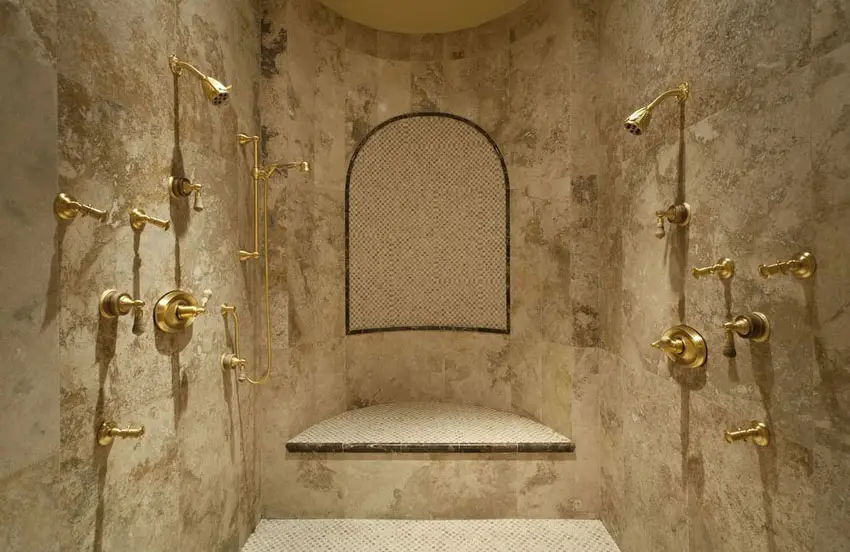 When you're trying to keep the tones warm and close to neutral, stainless steel fixtures tend to stick out like a sore thumb. This shower changes things up with gold fixtures. It also keeps the rustic design going not only with the stone walls but the mosaic accents.
Bathrooms with Half Wall Shower Design
One of the best ways to make your shower fit in seamlessly with the rest of your bathroom is to use a half wall as part of the partition. This makes the shower stall built into your bathroom rather than looking inserted into it. This is also a great way to add a bit of elegance to your bathroom without necessarily shelling out a high price.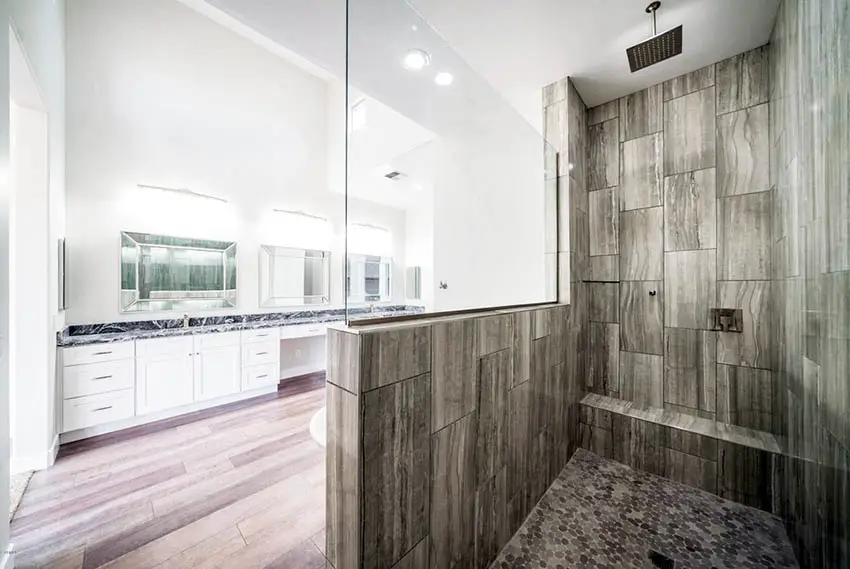 This bathroom pairs a half wall with a glass partition to define the shower from the rest of the room. This also allows the unique tile pattern on the shower wall to stand out because it's being showcased on the half wall as well as in the shower stall.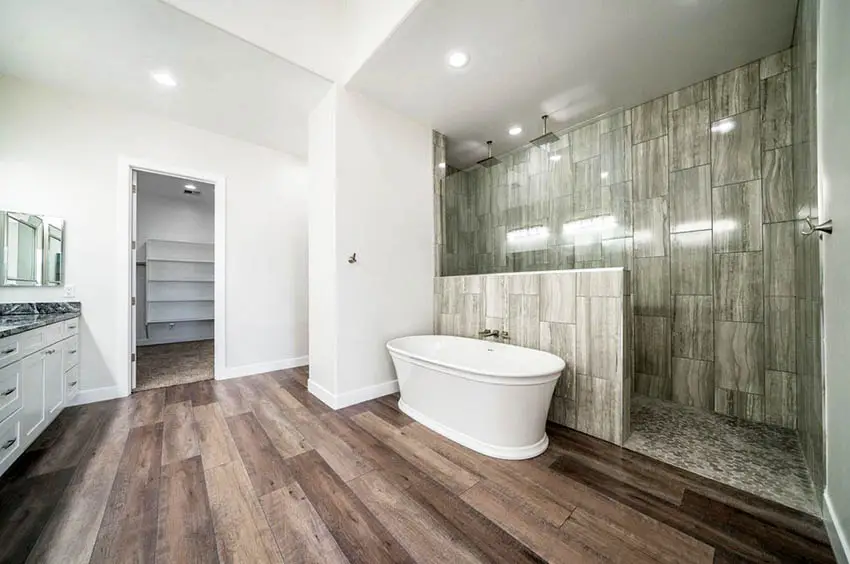 You can also see from another angle that the half wall of the shower and the protruding wall offer a perfect place to nestle a bathtub. The tile of the shower contrasts with the wood floor as well too since they play with verticle and horizontal patterns, respectively. Without a lip or tub to step into, the transition between the floor and the shower is absolutely seamless.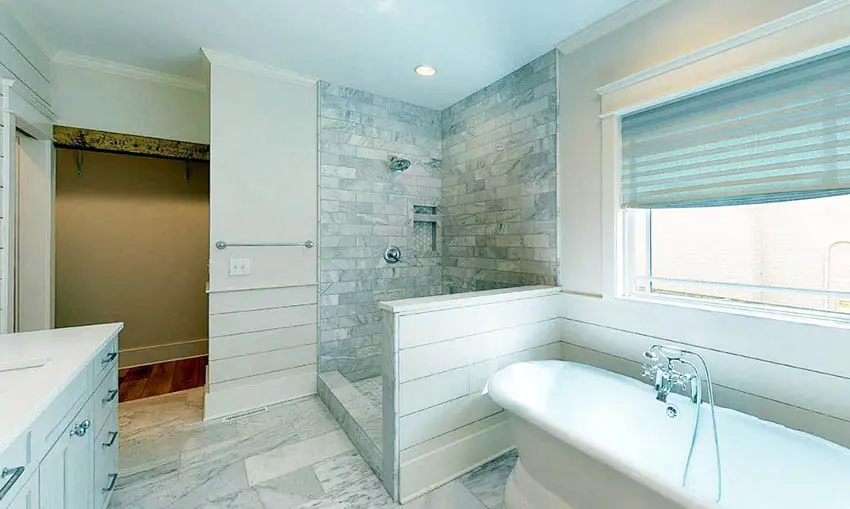 A half wall is also a great way to define the space in a small bathroom. This bathroom doesn't have a lot of room but it still preserves enough room for both a walk in shower and a tub. The half wall partition also makes it seem like the bathroom has more space because the tub and the shower aren't crammed in right next to each other.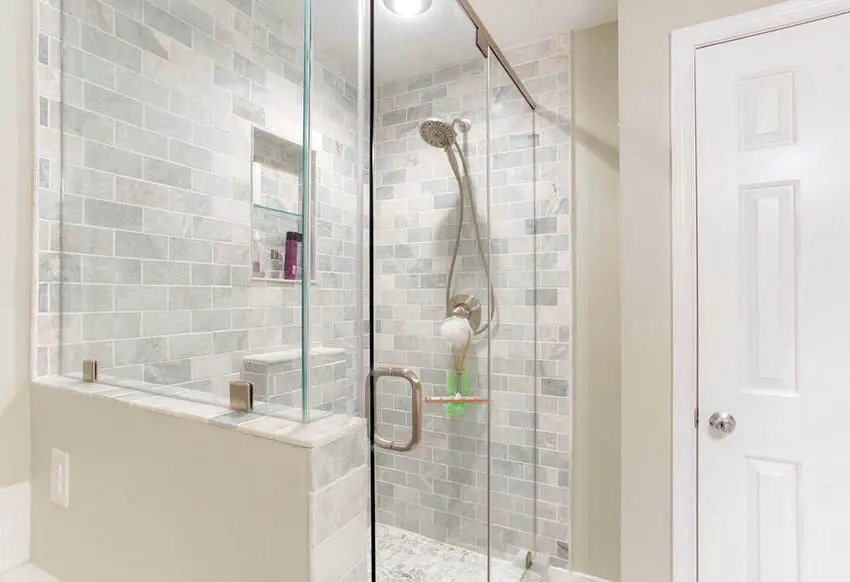 The half wall can also sit directly next to the shower door to help close in the space better. This bathroom also shows an outlet on the half wall. That placement is useful if you're at the sink beside it drying your hair after your shower. This shows that a half way can be just as practical as it is attractive.
Remodeling Ideas for Walk In Type Showers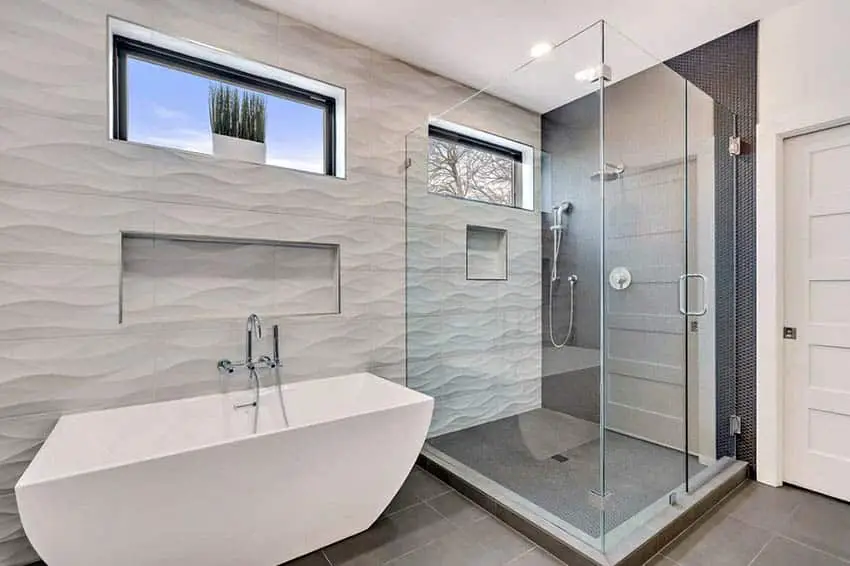 We've already looked at the fun you can have with texture and a remodel like this can show your love for it. With the tile backsplash in the shower and the wavy contour, there's plenty of different choices here that blend well together.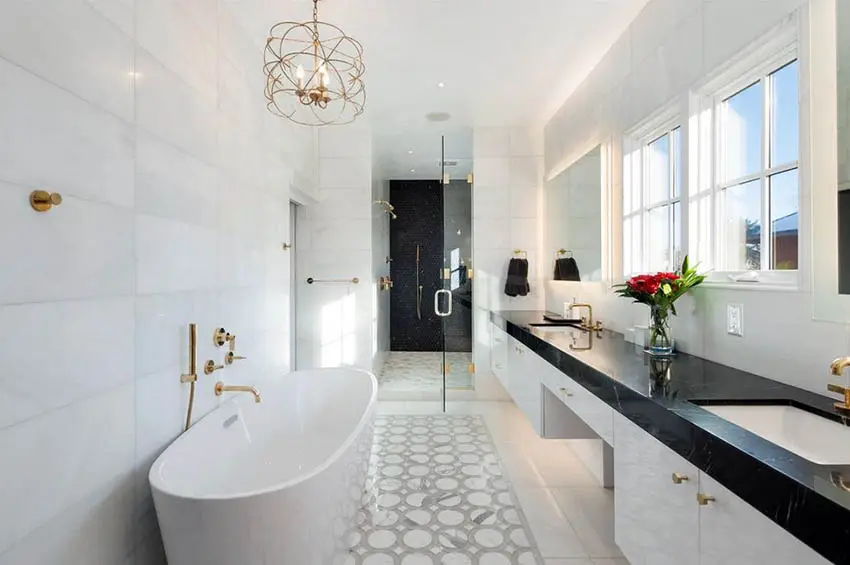 Walk in showers are also a great way to end off a particularly narrow bathroom. Here you can see that the bathroom is narrow but the space is optimized well by a long rug and counter that lead down to the focal point of the shower.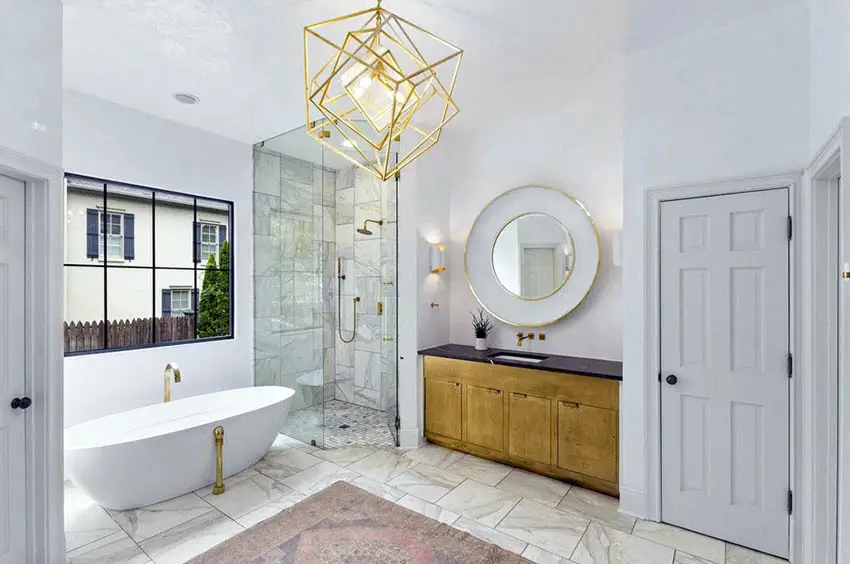 These types of showers are also convenient because you can fit them in almost anywhere. This is a pretty large bathroom but the shower only takes up a small corner. Since it's inset into the wall rather than protruding as a standalone shower stall, you don't have to sacrifice comfort for space.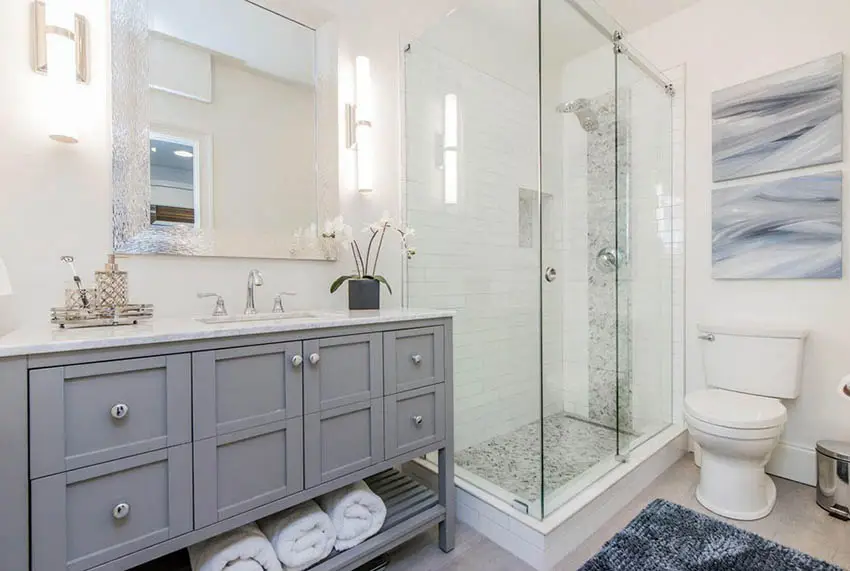 You can even use walk in showers in a traditional bathroom. This bathroom doesn't have any high-tech features and it doesn't fall into the category of modern design but the shower still fits in perfectly. All in all, they're a very adaptable choice.
Walk in showers offer a lot of versatility and there's no limit as to how they can be incorporated into your own bathroom. While they do offer a luxurious and elegant touch to your home, you aren't going to half to worry too much about the price tag of the renovation either. With ideas like these, you'll have a plan for your own bathroom in no time.
To see more types of bathroom showers check out this gallery.