Here's our guide to types of bathroom showers including popular shower design styles, doors, shower heads and materials.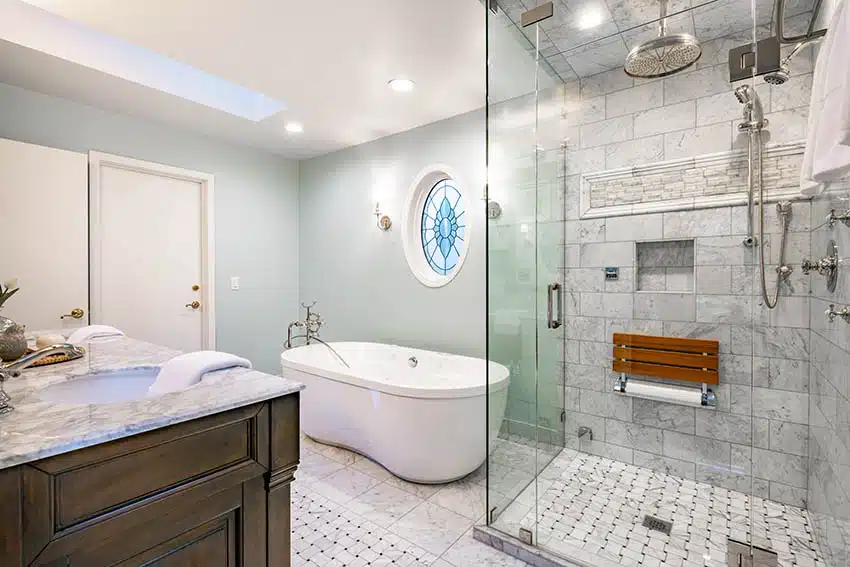 Your shower is an essential part of your bathroom. After a long, hard day out of your home – be it for work or play – there is nothing better than stepping into the shower and letting the water wash your worries, cares, and the sweat of the day's activities away.
The type of bathroom shower you choose will help you create the relaxing atmosphere you want from your ideal bathroom. You want a shower area that you can really relax and be comfortable in. Your shower should be a place of relaxing contemplation as a place that enhances the look of your home.
When choosing between the types of bathroom showers, you need to consider the different styles and designs. You can choose between custom showers and prefabricated showers. You will also have a choice of different shower shapes and even different types of shower doors and sidings. The type of bathroom shower you choose should fit the all around design of your bathroom and also fit your particular needs.
There are a lot of different types of bathroom showers out there and it might be a little confusing as to which exactly is the right one for you. To help you make the best decision, we've identified five important questions you need to ask yourself and why they are important. Follow along and make the best decision on what type of bathroom shower is YOUR dream come true.
Quicklist: Types of Bathroom Showers
Types of

Shower

Types of

Shower

Doors
Custom

Shower

Ideas
Prefabricated

Shower

Sliding Door
Rainfall

Shower

Manual Mixer

Shower

System
Hinged Door

Shower

with Body Spray Jets
Thermostatic

Shower

System
Pivot Door
Steam

Shower

Electric

Shower

System
Privacy

Shower

Multiple

Shower

Heads
Tub and

Shower

Combination
Glass

Shower

with Half Wall
Outdoor

Shower

Rectangular or Square

Shower

Enclosure

Doorless Walk-In

Shower

His and Her

Shower

Corner

Enclosure

Shower

Extra Large

Shower

Curved

Shower

Enclosure

Concealed

Shower

Round

Shower

Enclosure

Ceiling Mounted

Shower

Head

Shower

& Bathtub Combination
Custom Showers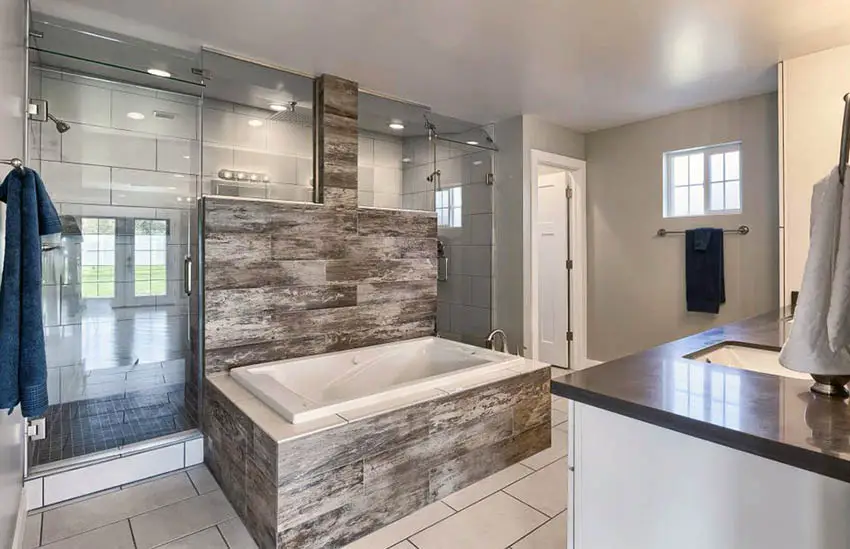 The first question to ask before you proceed is do I want to have a custom shower, or will a prefabricated shower do?
A custom shower is one that will be built from scratch according to your exact specifications. This means that, each and every component of the shower – from the shower head to the flooring – will be picked out by you. A custom shower will be uniquely suited to your personal preferences.
Popular custom shower design features include:
Rainfall

shower

heads
Dual

shower

heads

Shower

bench seat
LED lighting
Digital temperature controls
Built-in sound
Steam

showers
We share additional pictures of custom shower designs below.
By choosing a custom shower, you can be sure that your shower fits your space, needs, and idea of what your dream bathroom will look like. However, as a custom shower is built from scratch, it can be difficult and time consuming to create. Building a custom shower can also be quite expensive.
Prefabricated Shower
A prefabricated shower, on the other hand, comes already made. In most cases, it comes as a single piece you can install in your space. A prefabricated shower has all the necessary shower parts included in one unit. This includes the walls, floors, doors, shower head, shower fittings, and – depending on the unit you choose, a variety of shower fittings and accessories.
As a prefabricated shower already comes with everything you need, all you need to do is pick the unit that suits your tastes and needs and install the whole thing in one go. This saves you a lot of time, with the trade-off being the lack of all the personalized features you may want.
There are also many prefabricated showers available out there with various features that you can choose from.
If you take your time and pick carefully, you will find one that can suit your needs and match your bathroom's style and theme. This is actually the more budget-friendly option.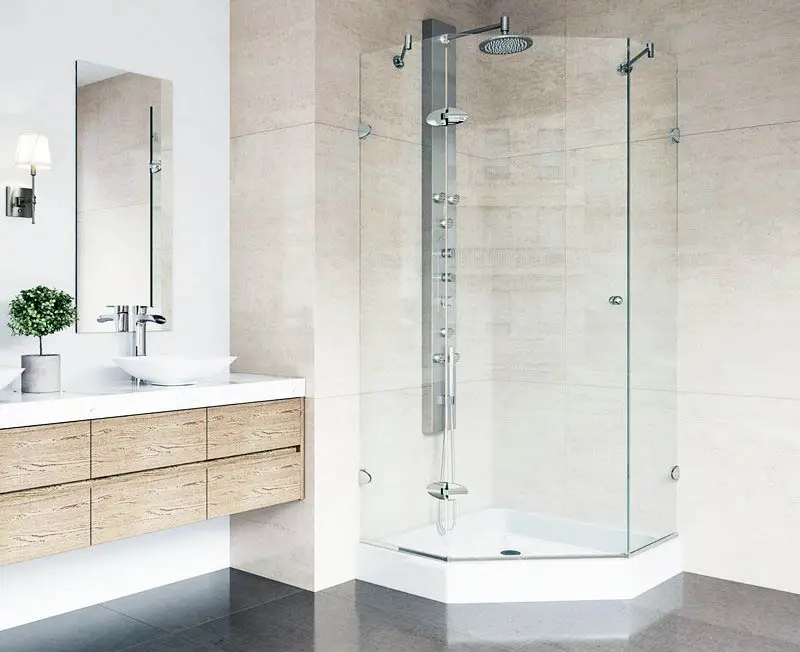 Prefabricated shower kit with angled design
What type of shower system do you want?
Whether you choose a custom shower or a prefabricated shower, it is important to choose a shower system that will give you the shower experience you want.
The shower system type you choose and install in your bathroom will allow you to control the temperature and pressure of the water that falls from your shower head. This allows you to determine how you want your shower experience to feel.
Manual Mixer Shower
This is the most basic shower system and the one that most people are used to finding in a bathroom.
A mixer shower takes its name from the system allowing you to mix hot and cold water to get the desired temperature. The basic part of a mixer shower is the shower head and one or two shower valves.
By turning the shower valves you can control how much cold or hot water comes out of the shower head. This allows you to control the overall temperature of your shower.
These types of shower systems are common and popular because they are easy to use and also easy – and economical – to install.
Thermostatic Shower
As with a manual mixer shower system, the defining feature of a thermostatic shower system is the fact that it allows you to control the temperature of the water coming out of your shower head.
The difference is, instead of manually controlling the temperature by manipulating the shower valve, you program your ideal water temperature into a built in thermostat. This ensures that your shower system provides you automatically with a consistent water temperature.
(Thermostatic shower with manual temperature control)
Many thermostatic shower systems incorporate a digital control panel. When they do, these shower systems can also be called digital showers.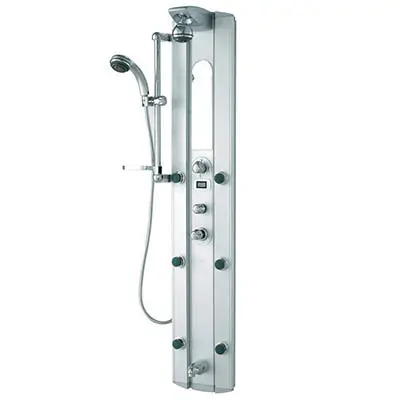 The advantage to this type of shower system is the consistency of the water temperature. With this type of shower system there is no more standing to the side shivering or accidentally scalding yourself while trying to get the temperature just right.
Thermostatic shower systems are ideal for households with young children or elderly persons. These individuals are less likely to scald or burn themselves while turning the shower on accidentally.
(Digital temperature control shower head)
Electric Shower
With an electric shower system, you get a built-in heating unit that heats the cold water coming from your home water supply. This shower operates separately and independently from your home boiler or hot water system. The built-in heating unit takes cold water from your home supply and heats it before it then comes out of your shower head.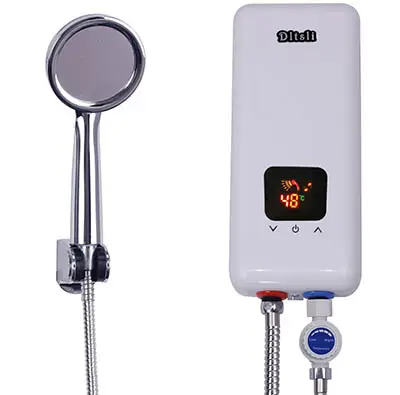 Because an electric shower system has its own heater, it can heat up the water quicker than a mixer or thermostatic shower system. Instead of combining cold and hot water to create the right temperature, it just heats the water straight.
This means you do not have to switch on your home's hot water system and wait to provide hot water before a shower. All you have to do is jump in and turn on your showers heater.
An electrical shower tends to be more economical regarding water usage. However, as it is electrical and draws from your home's power supply, it will have an effect on your electricity bill. They are also a little bulkier looking than mixer showers, so it might not suit everyone's vision of what their ideal shower looks like.
(Electric shower with digital temperature gauge – See at Amazon)
Concealed Shower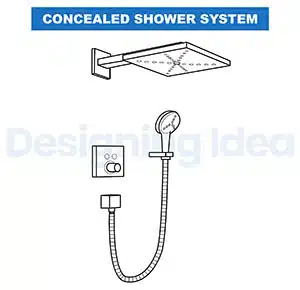 The term, concealed shower refers to hiding the pipes, and in some case the controls completely out of sight. Concealed showers maximize space with their low-profile design, and offer a contemporary style.
They are sometimes referred to as a recessed shower, and can be installed with any type of plumbing system.
A fully concealed shower is a minimalist design where all of the pipes and controls are hidden from view.
This custom design provides a streamlined look that works well in modern or natural shower designs where you don't want to be surrounded by natural elements.
Types of Shower Heads
What type of shower head should I choose? After deciding how you want to control the water temperature, the next step will be to decide how you want your water spray to hit you. This depends on the type of shower head you decide to have.
There are three basic types of shower heads depending on how and where they are mounted in your shower area.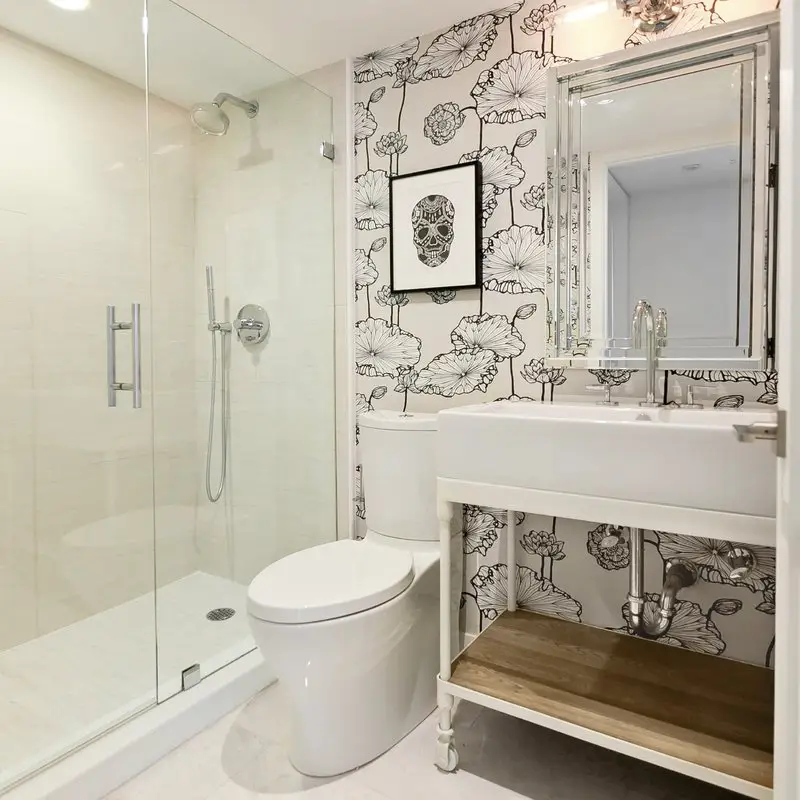 Fixed shower head
Fixed Head
This is the most traditional type of shower-head. They are mounted on the wall of the shower and often feature an adjustable head to direct the water spray. Fixed shower heads come in a variety of styles such as Victorian, rain fall, extending arm and multiple jet.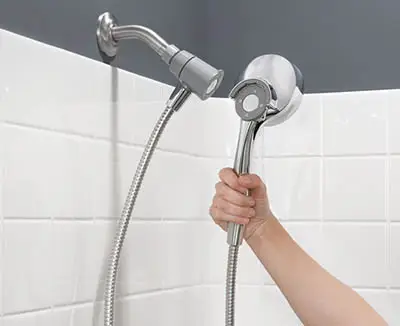 (Hand shower with flexible hose)
Hand-Set Shower
This shower head is also mounted on the wall but features a flexible hose that allows you to take it down from the wall in order to better direct the spray to where you want it.
(Hand shower with flexible hose)
Ceiling Mounted Shower
This type of shower head is mounted on the ceiling of your shower. Also known as rain drop shower heads, they work well with medium or low water pressure. This is because, the positioning of the shower head allows gravity to work on the water and allow it to "rain down" on you as you stand underneath it
Another way to classify the different types of shower heads is according to how and if you can control the water pressure levels and the spray that comes out.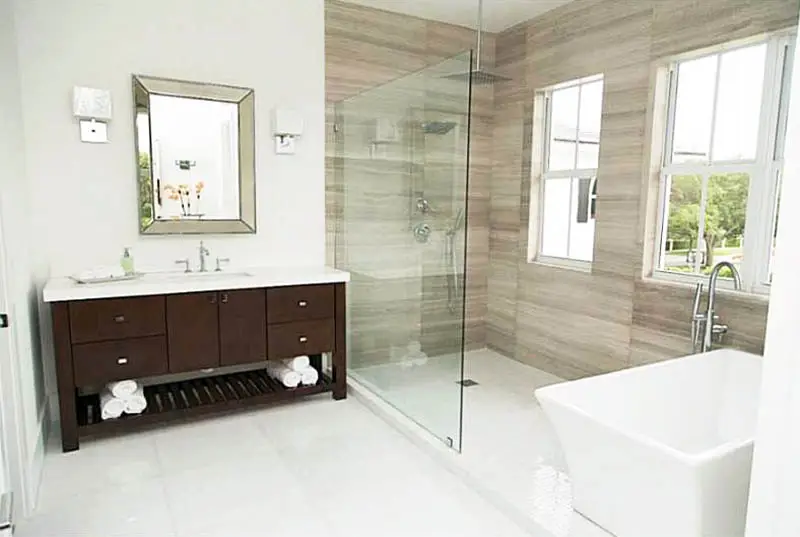 The shower in the picture above features a ceiling mounted rainfall shower head, as well as a wall mounted head and a traditional wand sprayer.
Single Setting Head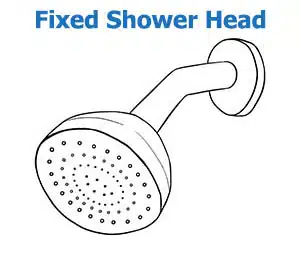 As the name suggests, this type of shower head only has a single, unchangeable setting. The flow of water from this shower head is consistent and steady.
You can get these shower heads in a variety of spray patterns, but once you choose this head, that will be it.
For a relaxing, cleansing shower, a single setting shower head is more than adequate. It is also the more budget-friendly option.
But if you want a more varied, spa-like experience when you shower, you should look into the next type of shower head on this list.
Multi Setting Head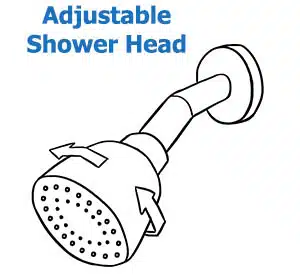 With a multiple setting shower head, you can change the spray settings of your shower head to enable you to craft a shower experience that suits your needs and wants.
Some common types of adjustable spray patterns that you can get with a multi setting shower head is the full body spray, the massage spray, the misting spray and the water saving spray.
Many multi setting shower heads also allow you to control the size of the stream that is coming from the shower head.
For a truly luxurious experience, you might also want to look into one of the two following shower heads: The rainfall shower and the shower tower.
Rainfall Shower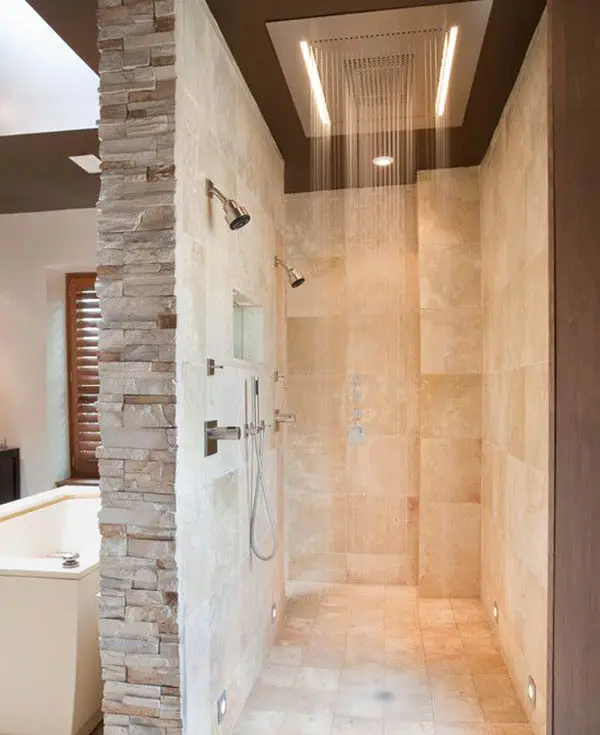 We mentioned the rainfall shower or rain drop shower head earlier when we were discussing the different types of shower heads according to how they are mounted.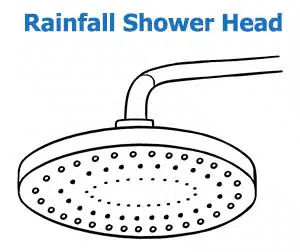 As we mentioned, this shower head is mounted on the ceiling and uses gravity to direct the spray so that it falls around and on you like raindrops.
The rainfall shower is usually a single setting shower but that one single setting is one of the most popular types of settings.
The rainfall shower gives you a soothing and luxurious shower experience. The gentle pressure of the spray, and the soft "rain-like:" tinkle of the drops falling is soothing and perfect for washing the days cares away.

Shower Tower
The shower tower is a uniquely designed shower head that adds an interesting an luxurious touch to any bathroom.
Instead of just one nozzle, the shower tower has several nozzles to direct the spray on your body.
Your basic shower tower is a vertical strip studded with nozzles that are usually adjustable to enable it to spray water on you from several different directions.
Most shower towers have adjustable nozzles and multiple shower settings to enable you to truly control the sprays and craft your own spa-like experience. It's like being in a jacuzzi, except you're standing up.
(Shower tower with multiple sprayers)
Here's an illustration of the most popular types of shower heads available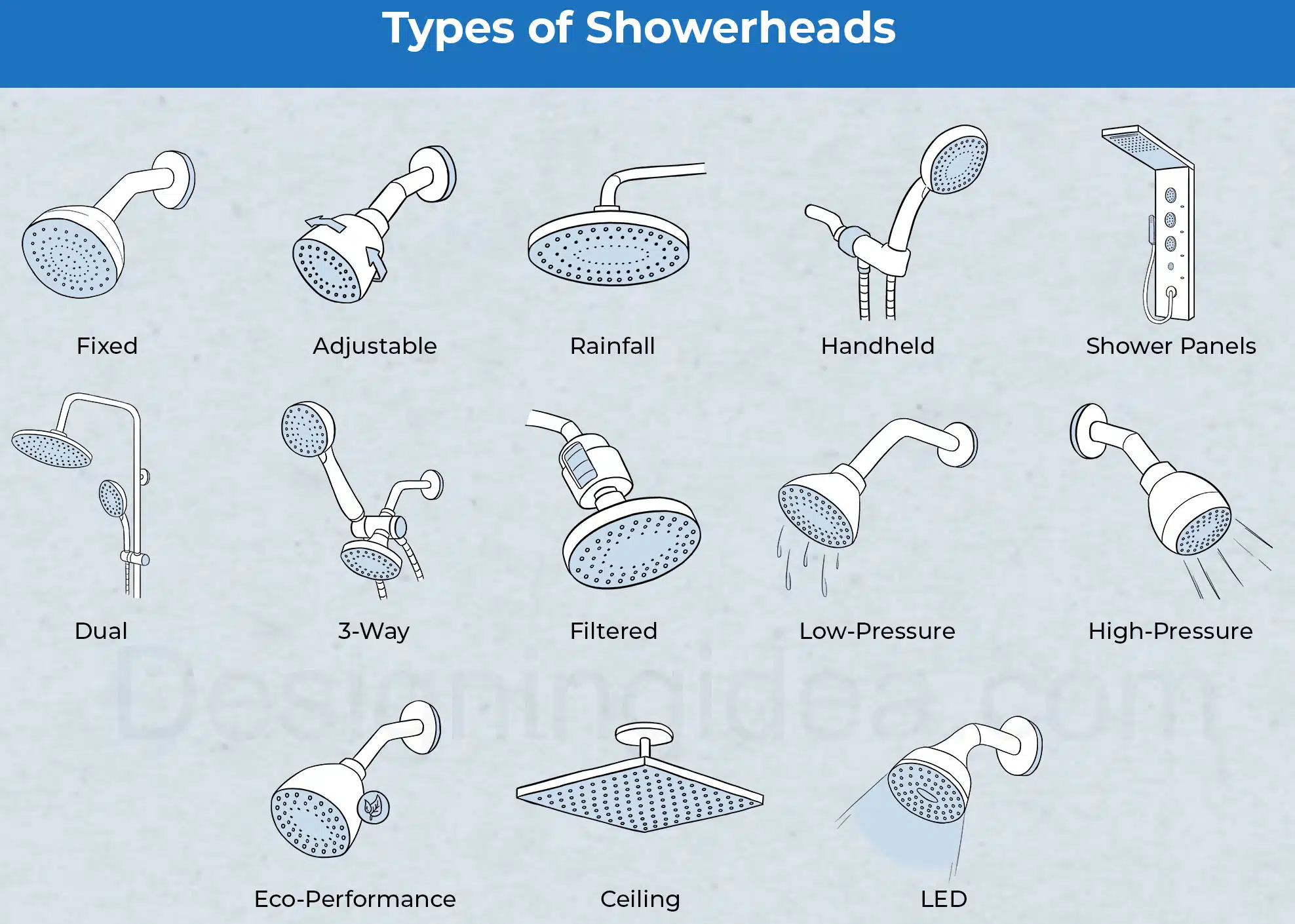 Beyond the basic shower head styles available there are also some with varying functionality. For instance high pressure, low pressure, water filter attachments and built-in LED lighting to create an exciting ambiance.
Bathroom Shower Dimensions
When considering a bathroom remodel there is not a one size fits all standard shower size, there is an effective way to help you find the right one for you.
To find a good size for you, try standing with your arms extended and turn in a circle. This should offer as a guideline for the amount of space you would feel comfortable in without feeling too claustrophobic.
Most people would feel comfortable with a standard shower size of 48″ x 36″. However, depending on your space and budget this may not be possible.
For a smaller bathroom remodel the smallest standard size you would likely find is 32″ x 32″. For those with a larger remodel layout a good size would have the minimum dimensions of 60'' x 36''. A larger size is especially welcome if you will be adding custom design features such as a bench or dual shower heads.
To help you with your design layouts there are an assortment of bathroom remodel software available. These types of programs are extremely useful for selecting materials and planning the room layout without needing to first hire an architect.
Shower Materials
After you know the size of your shower layout its important to carefully consider the material you want to use for your shower walls.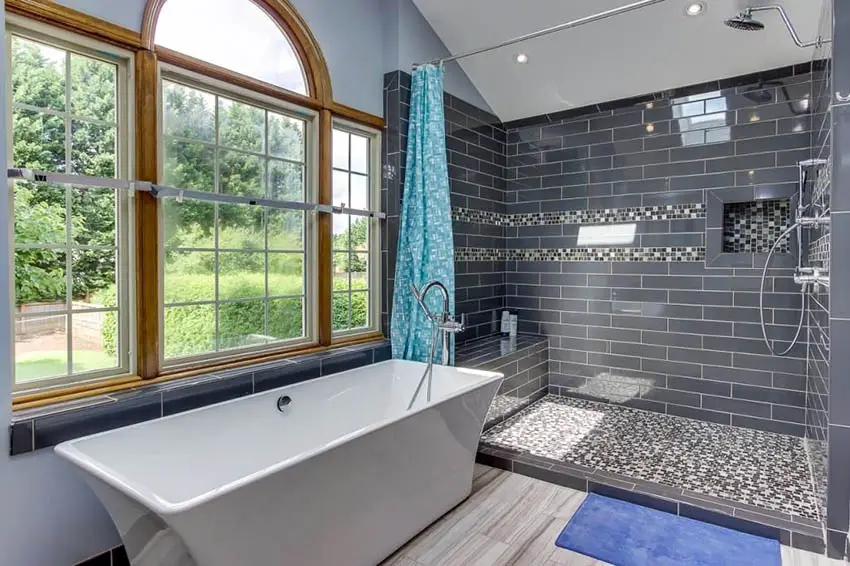 When selecting the best materials for your shower wall its important to consider several factors to ensure you select the best type for your design.
It must be water resistant.
It must be easy to clean
It must look stylish
It must be long lasting
The most common types of shower materials are those that fit the four criteria above. Here are some of the most popular types of shower wall options currently being used today.
Ceramic/Porcelain Tile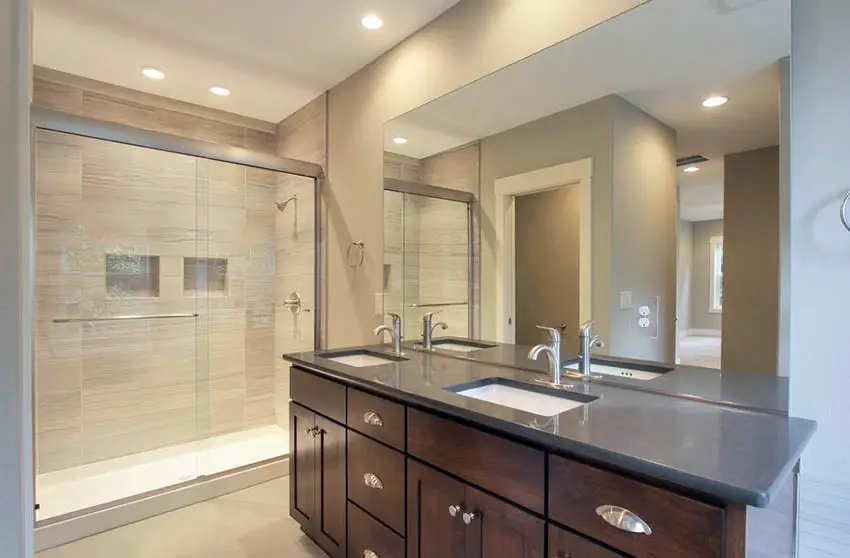 Both ceramic and porcelain tile are constructed from clay making them quite similar. Overall ceramic and porcelain tile are both great for a shower. However, for overall durability porcelain wins. In fact porcelain tile is more durable and less porous than ceramic tile making it ideal for the bathroom.
Marble/Travertine/Stone Tiles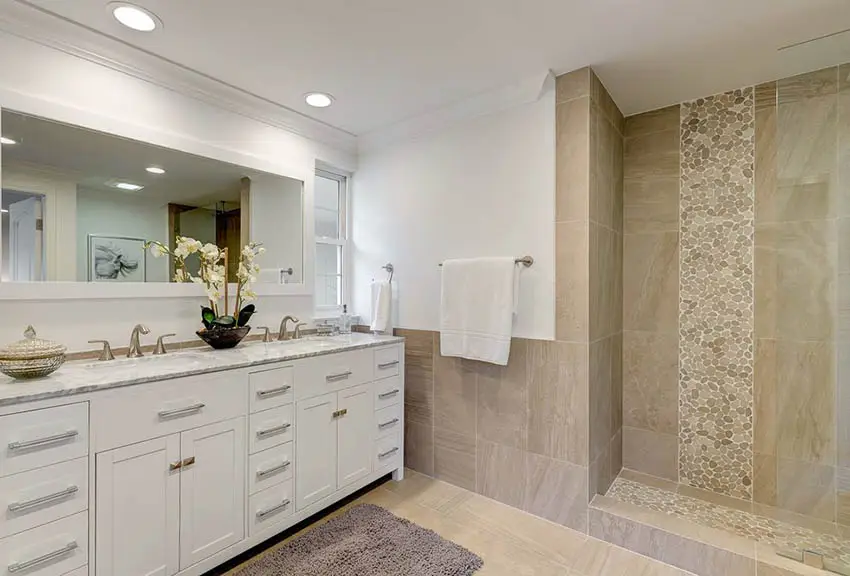 Having real natural stone tiles in the shower such as marble, travertine, granite and slate is luxurious and looks amazing. The downside are natural stone materials can require a good amount of maintenance such as sealing and cleaning to keep looking their best.
Some natural minerals such as marble have a large amount of iron which can cause discoloration issues to develop over time if not properly sealed.
The picture above features a travertine shower with a stone pebble inlay and flooring. A white marble vanity with double sinks provides an attractive contrast to the beige of the natural stone shower.
Engineered Quartz/Cultured Marble/Solid Surface Materials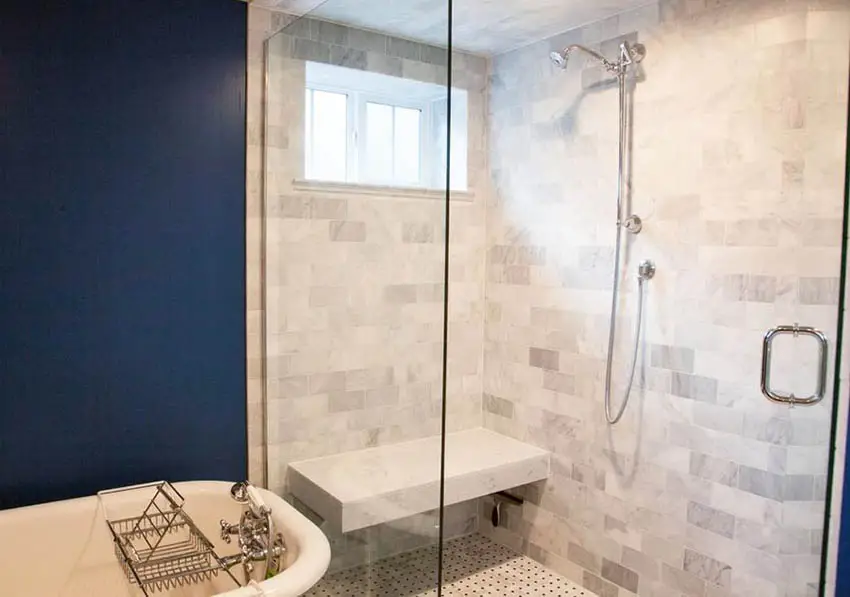 There are several man made materials that are frequently used in shower design with great results. Some of the most common are cultured marble, engineered quartz and solid surface materials such as Corian.
Both cultured marble and engineered quartz are created from a blend of natural ground stone particles and combined with a resin to create a natural looking product. They both have a wide variety of colors and realistic patterns to match your design.
Corian is the brand name for solid surface material created by the Dupont company. Their product also mixes natural materials with a combination of an acrylic polymer and alumina trihydrate. There are several distinct advantages of solid surface materials like Corian over tile such as maintenance and lifespan of the product.
Fiberglass One Piece Shower Kits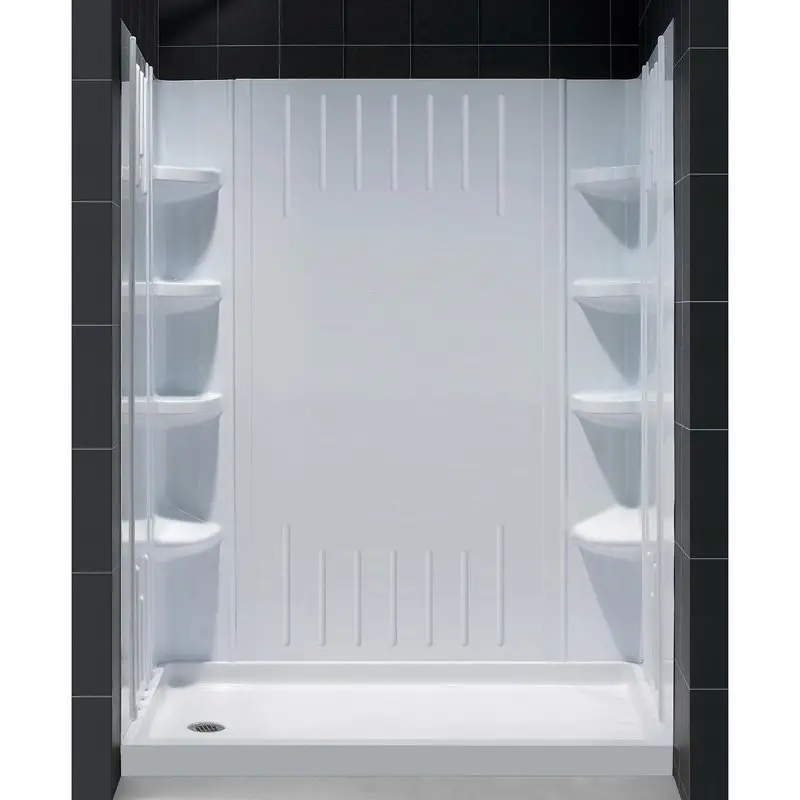 Fiberglass shower kit
A fiberglass shower kit is a good option for those looking for an affordable and simple to install option. These kits generally are constructed with fiberglass with a glossy acrylic finish to keep it stain resistant and make it easier to clean.
Shower Shapes
What type of shower shape should you install? When crafting a unique and relaxing shower experience, we can't neglect the aesthetic and practical importance of choosing the right shower shape.
The right shower shape can make or break your entire bathroom as a shower that doesn't "fit" can ruin your space's overall theme and look. An ill-fitting shower will also detract from your shower experience as, if you're not comfortable, you might get clean but you will not be relaxed or soothed.
The shape of your shower stall depends on the shape of your shower enclosure or stall. Your basic shower enclosure includes the shower walls and floor. Simply put, it is where you stand to take your shower.
According to the shape of the shower stall, there are five basic types of shower shapes that you can choose from:
Rectangular or Square Shower Enclosure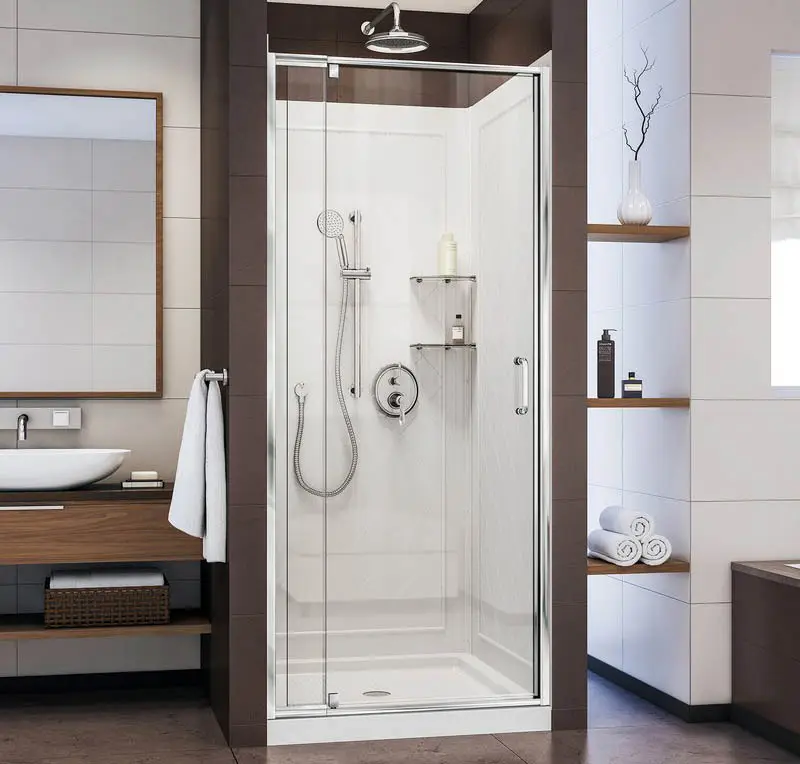 Square shower enclosure kit
This is the most basic shape that a shower can come in. Just like the name says, it is composed of four sides that enclose a rectangular or square space.
The reason for the popularity of the rectangular or square shower enclosure it it's versatility. A shower enclosure in this shape can fit almost any bathroom area and will suit almost any bathroom design style. You can find many prefabricated shower enclosures in this shape in almost any size.
With regards to your shower experience, a rectangular shower enclosure provides ample room for your shower activities so it's a good choice that will work with almost any shower system and shower head.
Corner Enclosure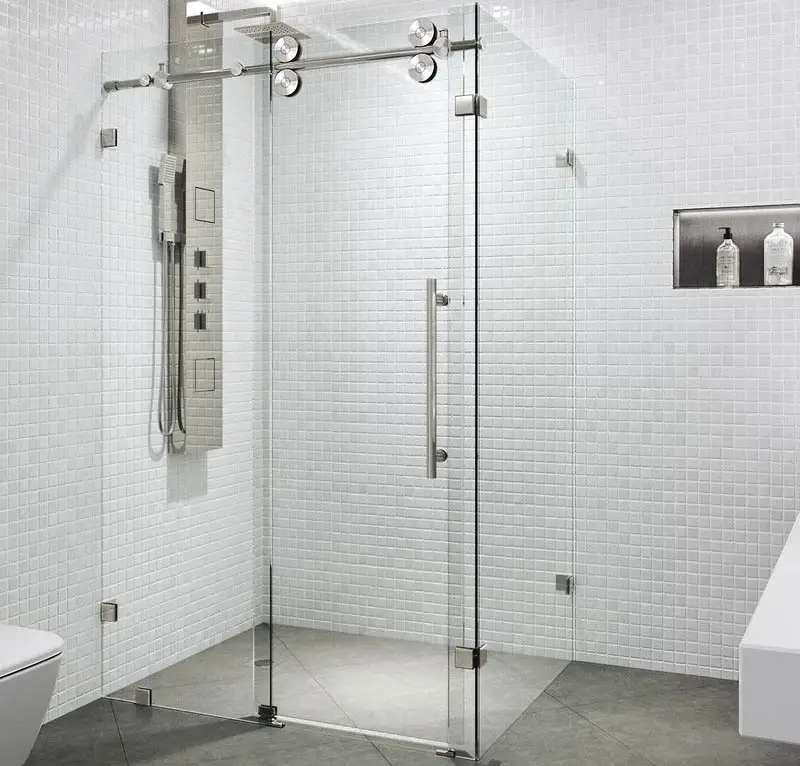 Corner rectangle shower enclosure
This is a particularly good shower shape to have if you have limited space. This type of shower is designed to fit in the corner of your bathroom.
Many corner enclosure showers come in a rectangular, angled, or square shape, but they many also be curved.
Curved Shower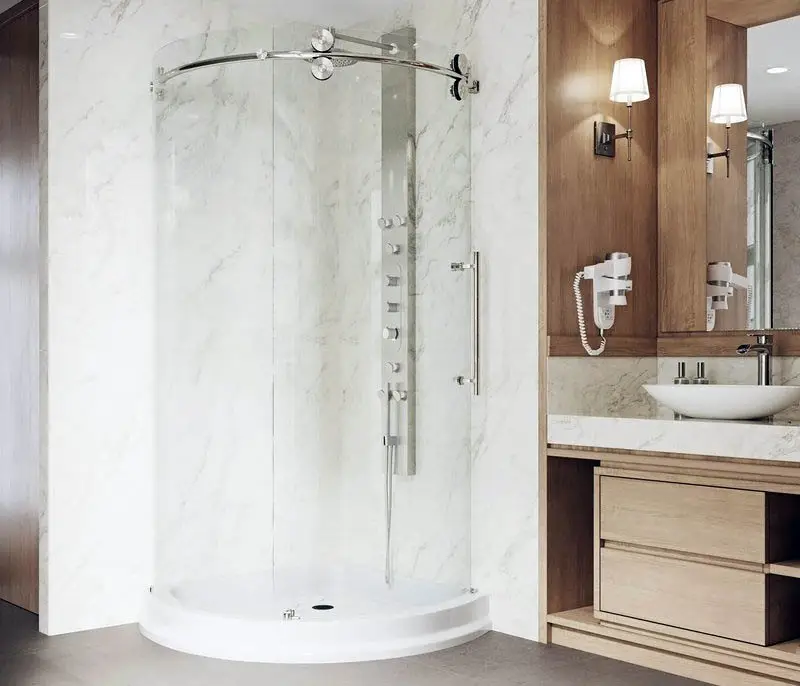 Round shower enclosure
The curved shower enclosure is basically an enclosure that has three sides to the rectangular shower enclosures four. Like the corner enclosure shower, it is also build to fit into the corner of your bathroom area.
Also known as a quadrant shower enclosure, the curved shower enclosure wall basically encloses an area the shape of a pizza slice.
Two straight walls form an angle while the third wall, often the entrance or door to the shower, bridges that angle but in the corner enclosure shower, it is a curved line. The curve of the third wall creates more space then a plain straight line would.
Round Shower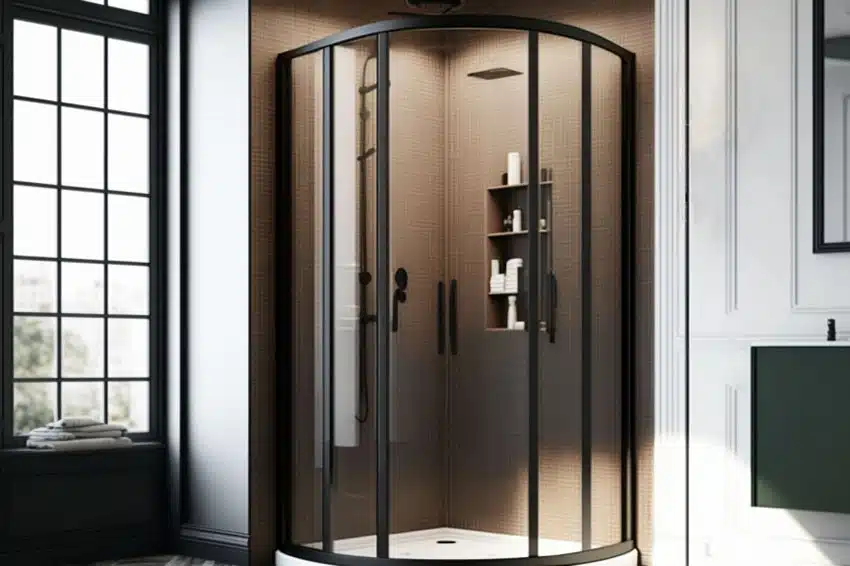 As its name implies, the round shower enclosure is shaped like a circle. While it can make an interesting bathroom feature, you'll need a lot of space if you're going to incorporate this shower shape into your bathroom design.
It is a free-standing circular shower shape, meaning it will not use the corners of your room and must be placed in the middle.
Neo Angle Shower
Rather than use walls that have 90° corners, a neo-angle shower design has walls that feature 135° angles, and most have a shortened 45° outer corner.
This space-saving modern design adds interesting visual flair to the space and can be modified to the layout of the bathroom floorplan. The average size of a neo-angled design is 36″ by 36″; however, many different models exist.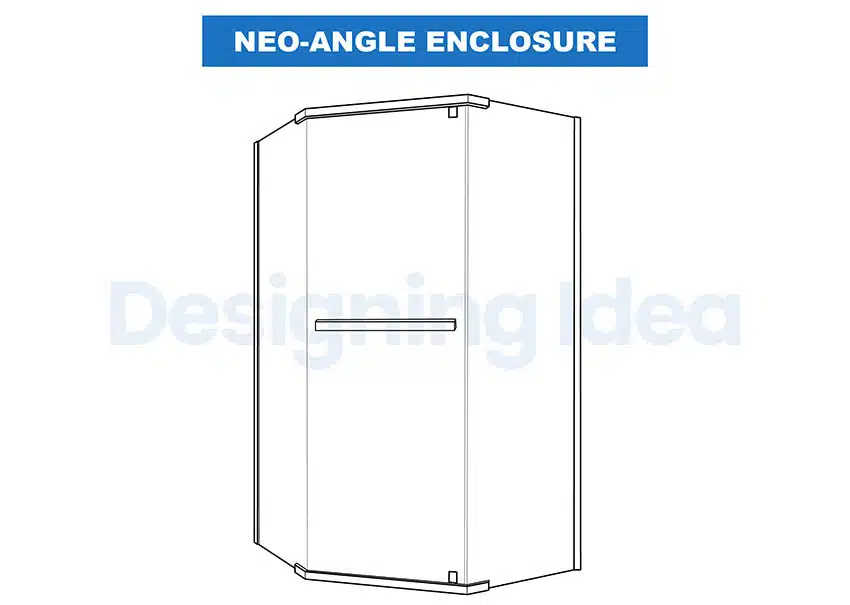 The primary advantage of this design is that its minimal construction provides little room for mold and mildew to accumulate and thus makes cleaning and maintenance easier to perform.
Most neo-angle showers are sold as all-in-one-packages. The kit includes the shower pan, three wall pieces (two flat panel and a corner shelf connector unit), and the glass panels and frames for the door. – Chris Peterson, Black and Decker The Complete Guide to Bathrooms Updated 6th Edition
Tub and Shower Combination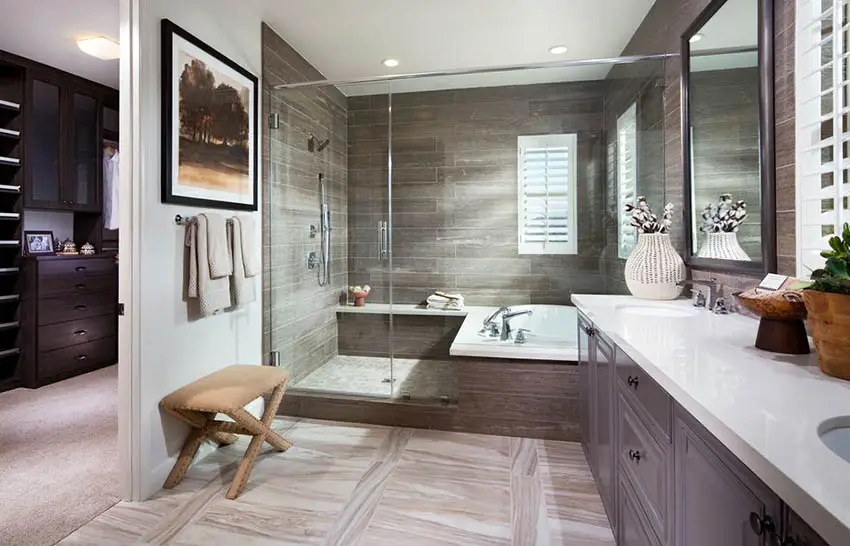 As the name implies, this means that you combine two bathroom features in one. The tub and the shower. A tub shower combo is a shower installed over a bathtub, so the tub is the base or floor of the shower.
Combining a tub and shower in your bathroom is a practical, space-saving trick. That's why this particular type of shower enclosure is popular in hotels. It also allows you to have some variety to your bathroom routine as you now have two ways to wash away the cares of the day.
However, there's no denying that many tub and shower combos are not very attractive. Think before you decide on this enclosure.
Types of Shower Doors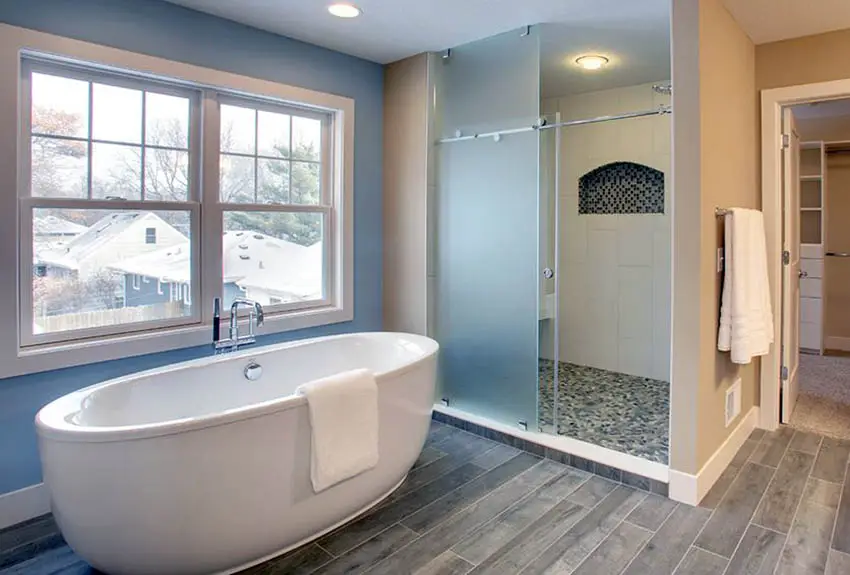 What type of shower door should you choose? So now that you have decided on what type of shower enclosure and shower head you want, the last element that you have to decide on is what type of shower door you should choose.
Your shower door is an important final component of your dream shower as it basically is how you ensure your shower is an aesthetically pleasing haven from the outside world.
When you step into your shower enclosure and close the shower door behind you, you want to be able to block out the outside world and create a cozy soothing cocoon for you shower.
There is also the practical aspect to a good shower door. You want to prevent the rest of your bathroom from getting wet while you are in the shower and avoid potential water damage from occurring.
You also want a shower door to protect you from drafts, look stylish and allow you to enjoy your bathroom. Check out this page for even more ideas about the types of shower doors available, including glass styles and variations.
There are basically three different common types of shower doors that you can choose from:
Sliding Door
A sliding shower door is basically mounted on a frame at the entrance of your shower enclosure. You slide a panel open or closed to get in or out of your shower.
A good sliding shower door is full-length and waterproof and keeps the water from your shower from leaking out into the room. It also ensures that you are protected from any stray drafts or air currents.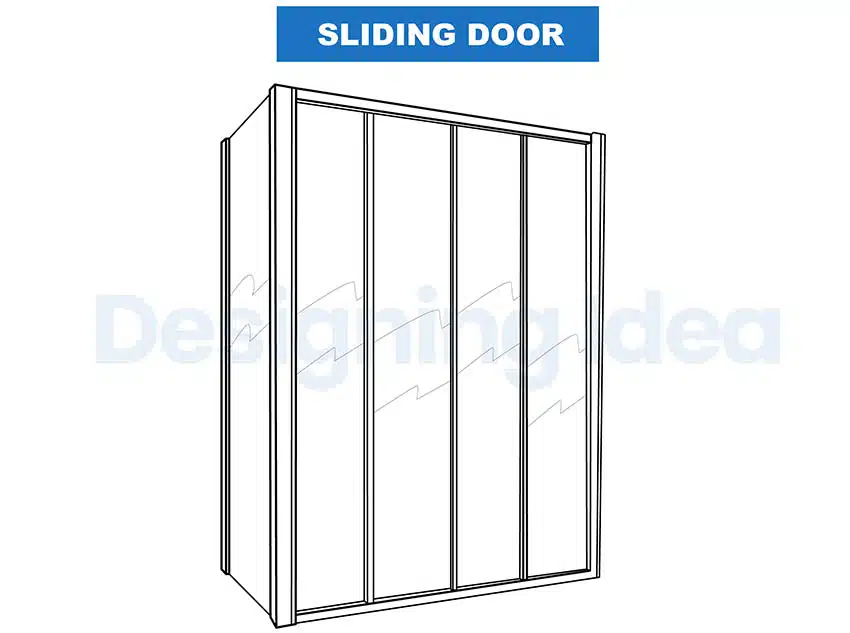 This is an excellent type of shower door to have if you have limited space, as it fits in the frame of your shower enclosure and doesn't swing out. There is no need to have empty extra space around your shower where the door can fit.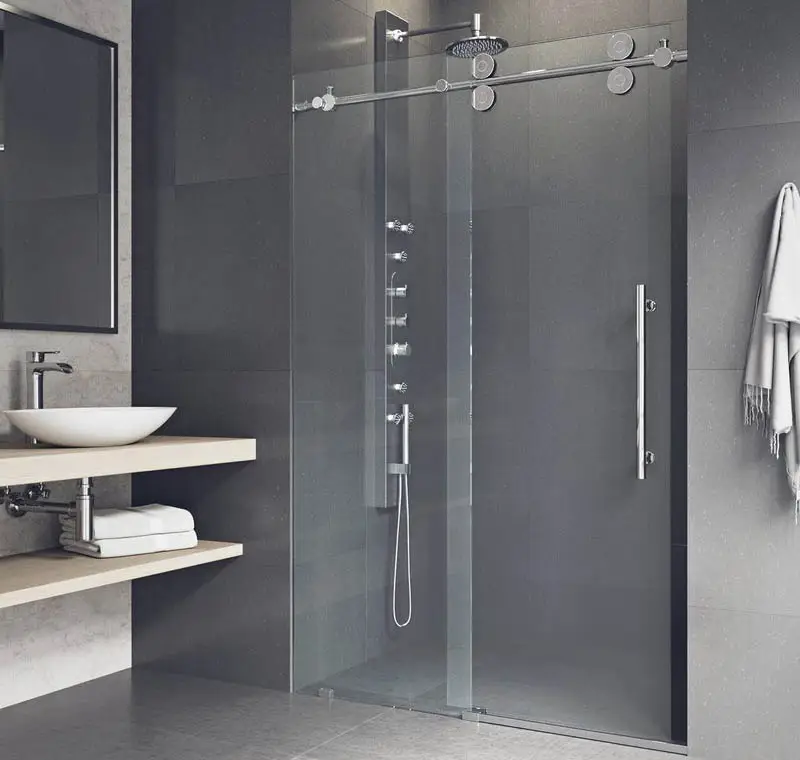 Frameless sliding shower door
This type of shower door is recommended for those with children or elderly users since it's easy to open and close. Their downside is that the grooves can trap water, leading to some hard-to-reach and clean areas within the track mechanism.
Hinged Door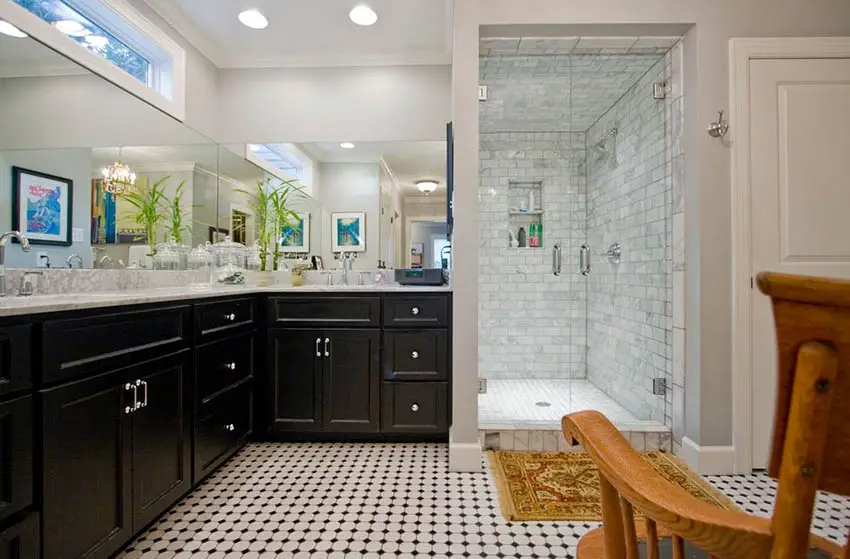 A hinged shower door is a shower door that is attached to the side of a shower enclosures entrance. The door rests on hinges, which means to open or shut the door; it swings out and away from the shower enclosure.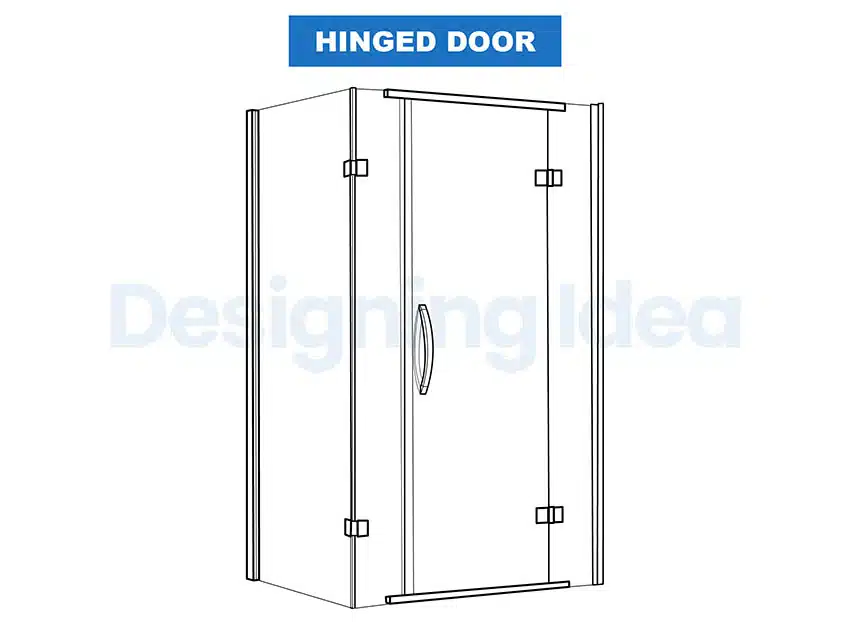 Example of a hinged shower door
Hinged shower doors are recommended compared to sliding doors as they have fewer crevises where mold and mildew can accumulate. Another advantage is they tend to leak less overall than the sliding variety.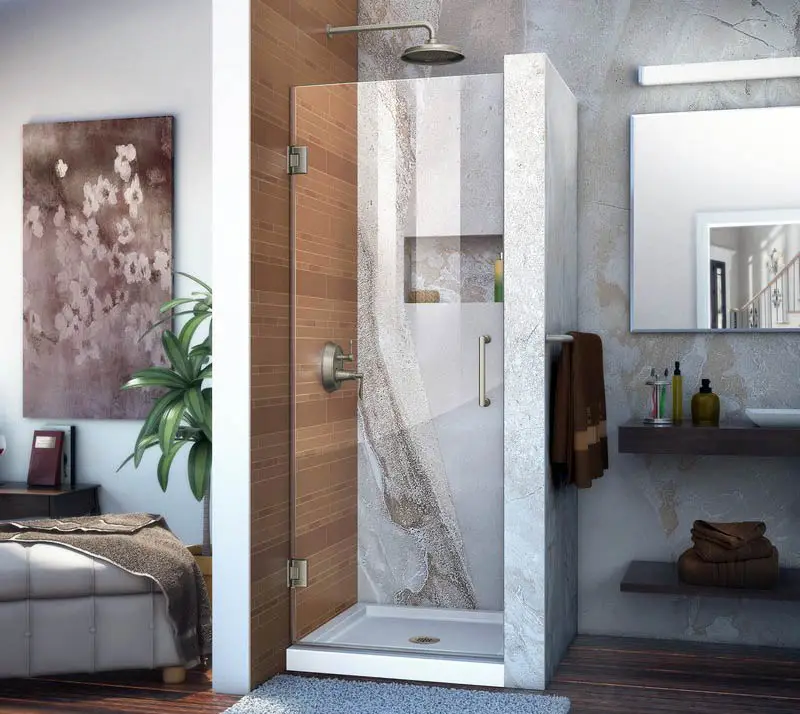 Example of a frameless hinged shower door
Care must be taken to ensure that a hinged shower door is attached securely and snuggly against the side of the shower entrance.
You don't want water seeping out or drafts creeping in. You will also need to make sure that you leave enough space around your shower to allow the door to swing out and open without hitting anything.
Pivot Door
A pivot door is similar to a hinged door in that both are designed to be attached to the side of a shower entrance and swing open to let you into the shower.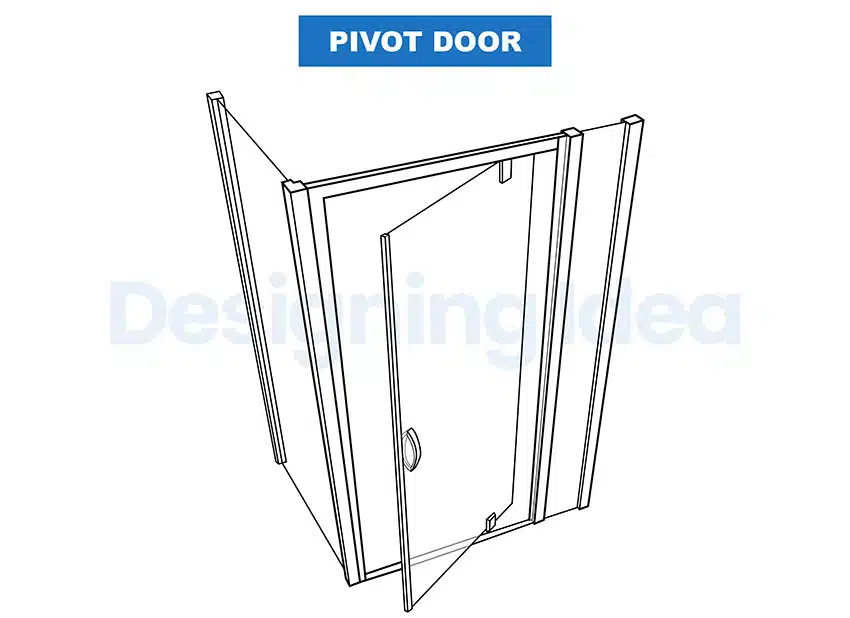 The difference between a pivot door and a hinged door is the position of the hinges. A pivot door hinges are most often located at the top and bottom of the shower entrance. However, pivot doors can also be seen with one continuous hinge that reaches from top to bottom.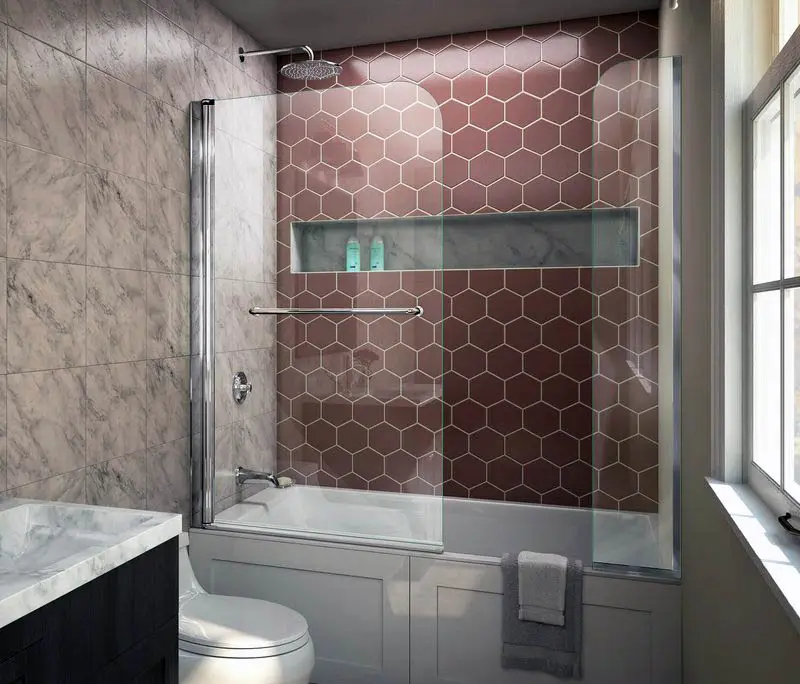 Pivot shower door with one hinge
Pivot doors are popular for the clean and modern look and feel having one of these gives to your bathroom. This is also a good option if you have a small space and don't want a sliding door.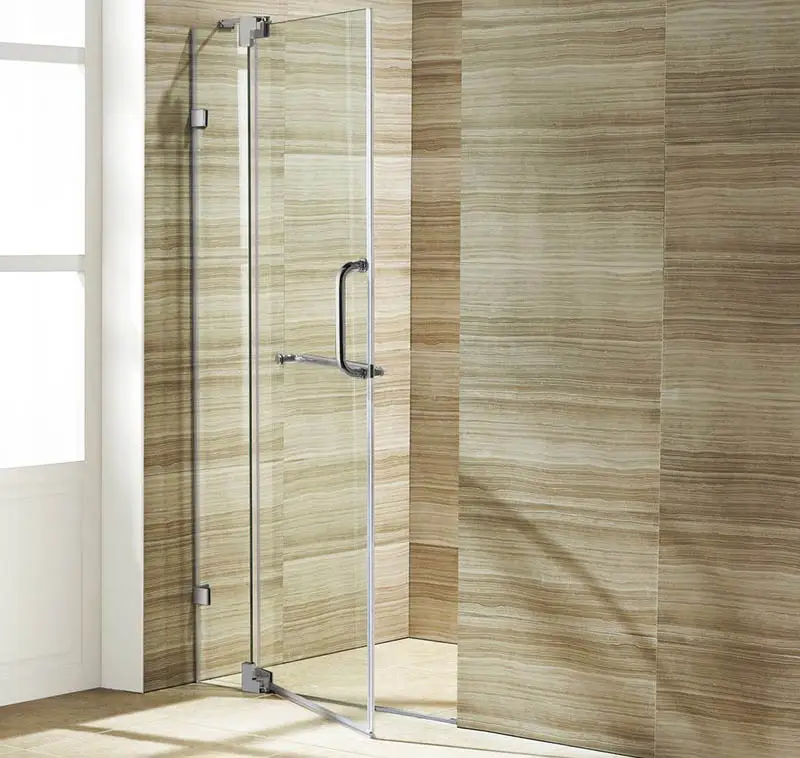 Frameless pivot shower door
Pivot doors swing open at a smaller arc then hinge doors, so you don't have to worry as much about hitting other bathroom fixtures.
Custom Shower Ideas
There are many ways to design a custom shower. Below we share some creative ways to inspire your own bathroom ideas.
Shower with Body Spray Jets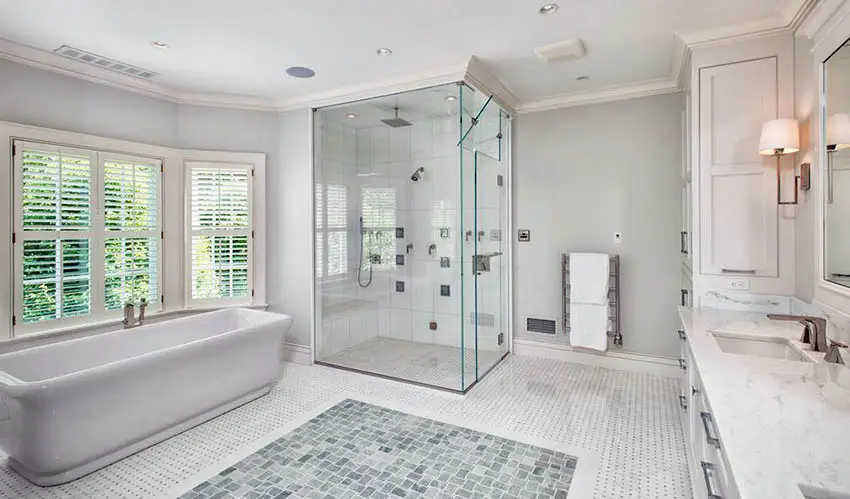 This beautiful bathroom design features a frameless glass shower with multiple shower heads and jet sprayers. Marble mosaic floor tile and marble vanity contrasts well against the darker central square feature tile. An extra large freestanding pedestal tub with a view offers a great spot to luxuriate.
Walk-in Shower with Bench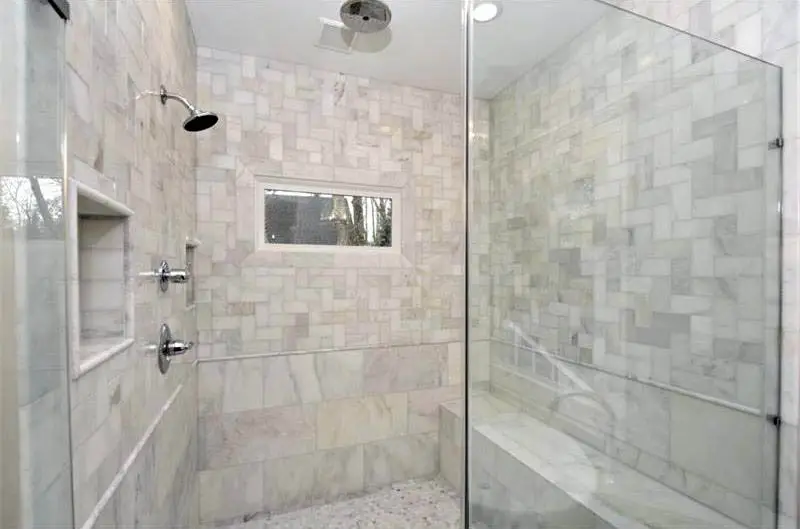 There are several great reasons to install a bench in your walk in shower designs. Not only does it look stylish, a shower bench offers convenience, relaxation, storage and accessibility for those unsteady on their feet.
Carrara Marble Shower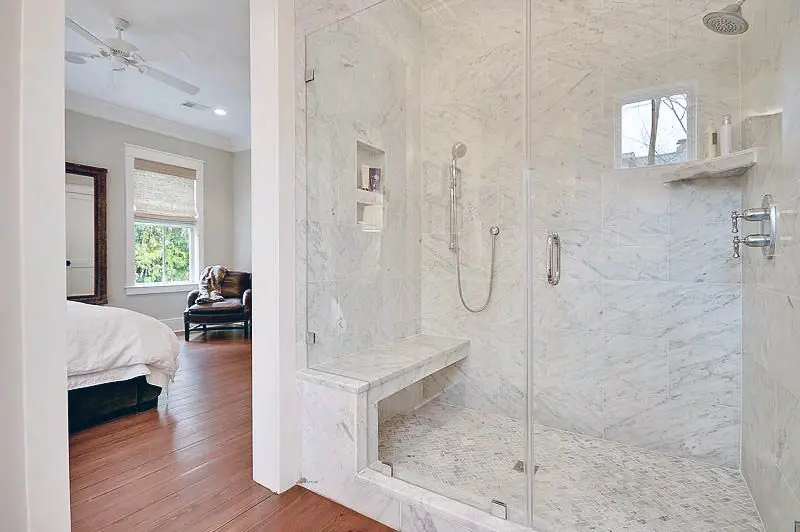 Carrara marble is a popular choice for shower designs with costs that range anywhere from $125 to $300 a foot. Since marble is porous it is highly recommended to use a high quality sealer to help prevent discoloration of the natural stone.
Quartz Shower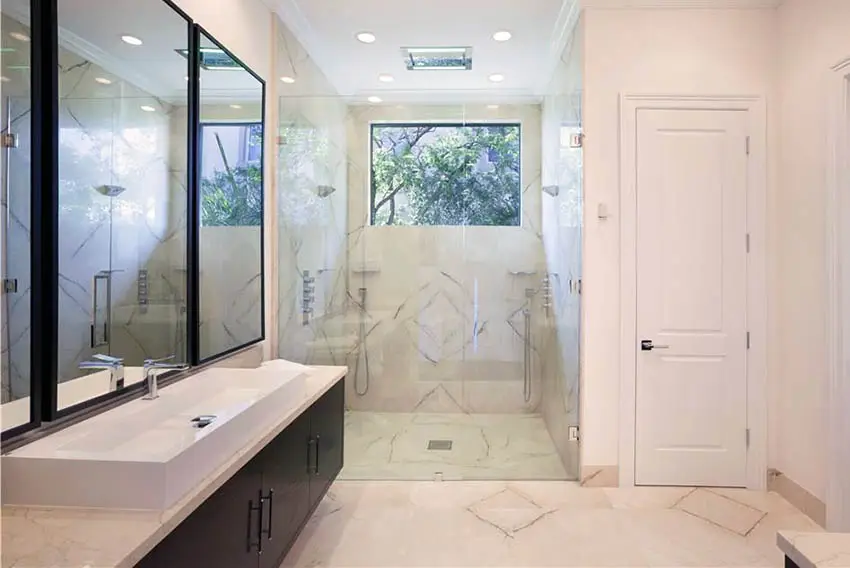 Quartz is a great choice for the shower because it is a non porous stone that will not absorb water and will help make things easier while cleaning. Home owners also find quartz to be a very durable surface material that has a wide range of colors and graining to choose from.
Steam Shower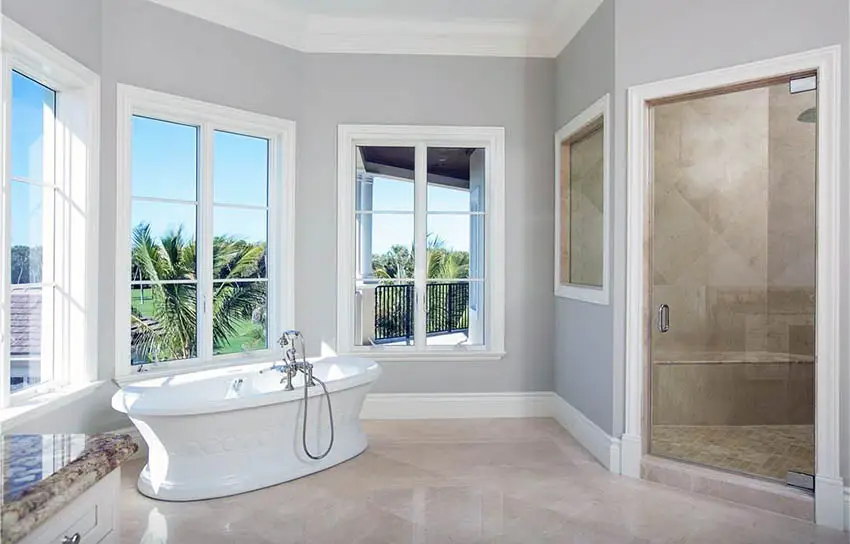 If you've ever been to a health spa you might have run across a steam shower. This type of shower contains a moisture sealed enclosure so that one can command it to steam via digital controls to relax sore muscles as well as clear the skin and sinuses. Steam showers can be custom built or can be purchased as stand alone units.
Glass Shower with Half Wall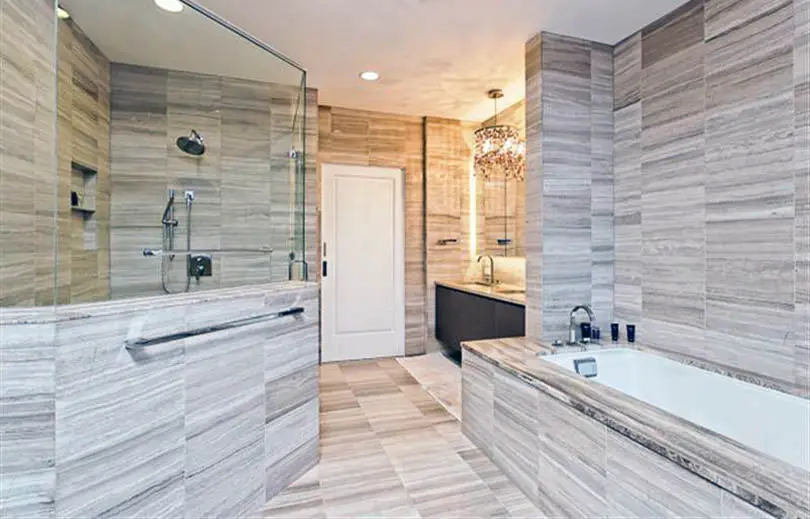 A shower with half wall provides some privacy for the bather. This type of shower is a good option for couples who want more modesty or have a bathroom design that is open to the master bedroom..
Shower with Natural Light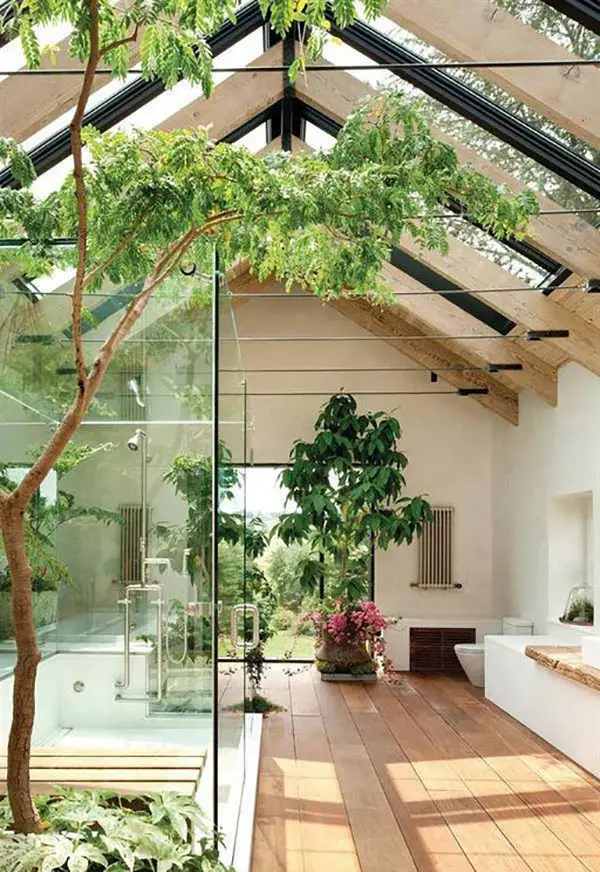 This gorgeous bathroom design provides an abundance of natural light for anyone enjoying the large glass shower. The room's cathedral ceiling is installed with multiple glass panes to let in light and keep room feeling like a natural outdoor oasis.
Outdoor Shower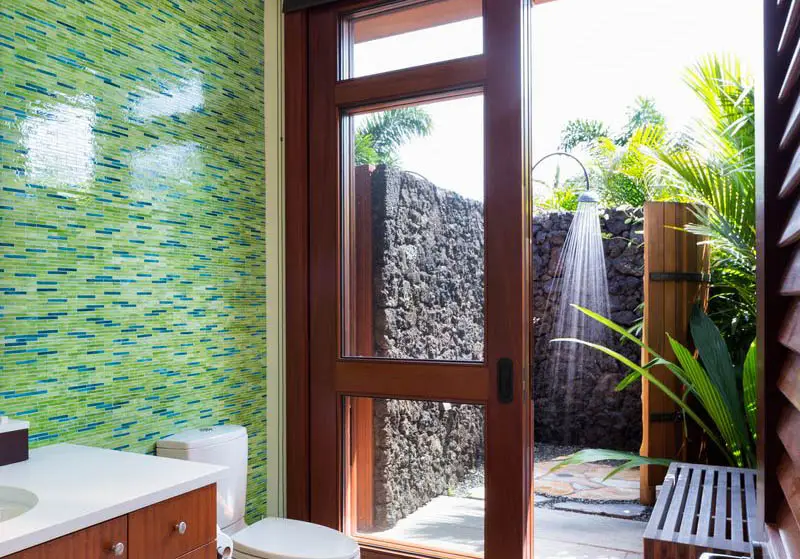 An outdoor shower is ideal for those who live near the beach to spray off sand before entering the house. It also works well in a warm environment or for the more adventurous who like the idea of showering under the sun or stars. The addition of teak wood and lava rock helps to reinforce that natural feel throughout the space.
Indoor/Outdoor Shower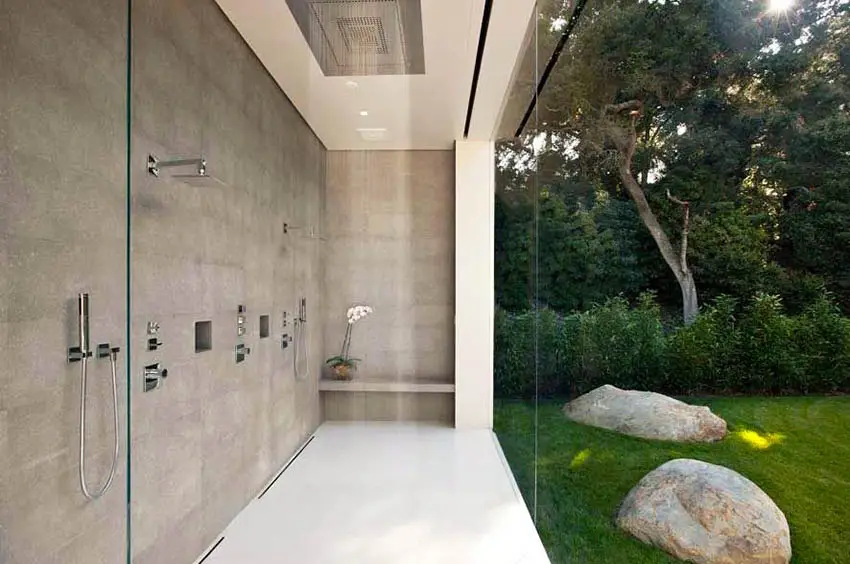 This impressive indoor/outdoor shower leaves nothing to the imagination. This custom shower design features a large glass window overlooking the private backyard garden. Multiple rain shower heads and sprayers provide ample room for a couple to bathe like they were standing in the outdoors.
Frosted Glass Privacy Shower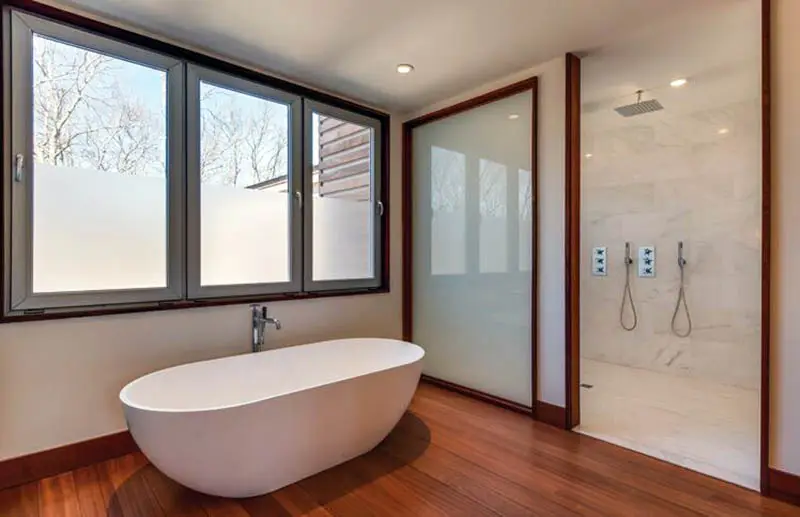 Adding a frosted glass privacy shower to your bathroom is suited for those who want a little more concealment. This Asian style bathroom with natural wood flooring is complimented by its large rounded tub and frosted windows and shower enclosure.
Wood Style Porcelain Tile Shower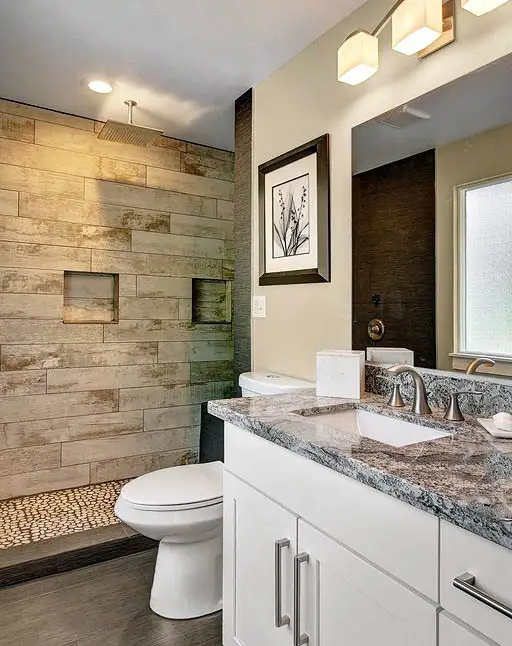 This wood style shower is made from porcelain tile and creates an amazing looking wood design without all of the maintenance issues of wood in a wet environment. The light wood tones of the wood look porcelain tile above evoke a feeling of a rustic farmhouse while the other finishes bring in a more contemporary style.
Rainfall Shower
An oversized rainfall shower can be a completely relaxing experience after a hard day at work. This spa sanctuary retreat bathroom goes for a natural look with plenty of green plants and wood finishes to provide a place for total rejuvenation.
White Subway Tile Shower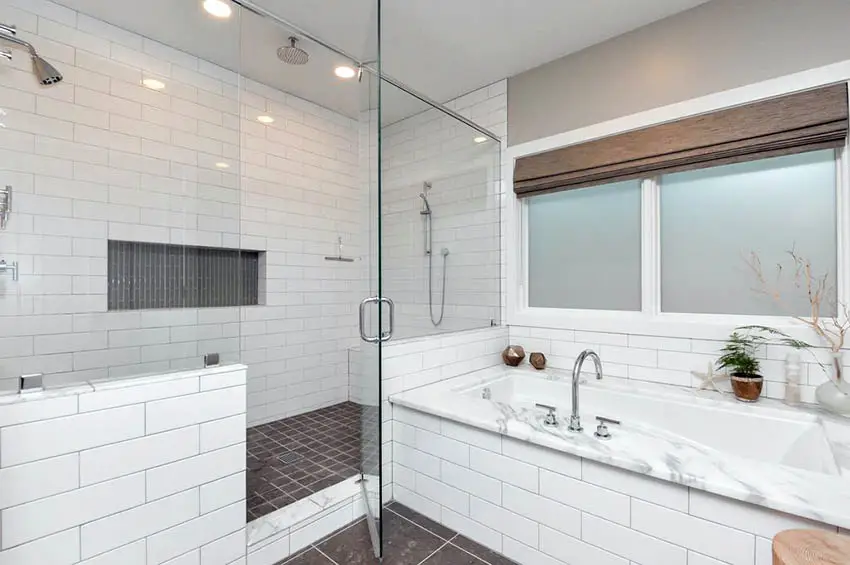 White subway tile in the shower is a traditional design look still in style today. The bathroom featured here provides an extra large subway tile matched together with a dark granite floor tile and marble bathtub top.
Shower and Bathtub Combination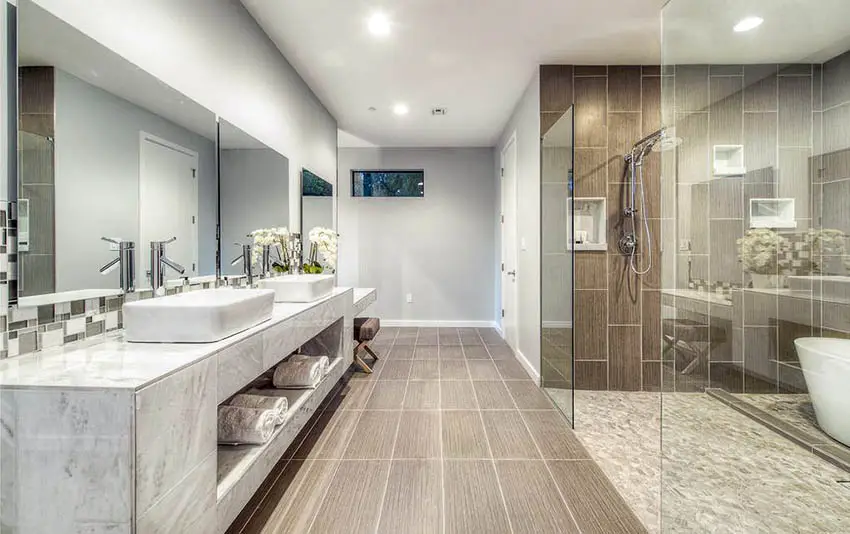 A shower and bath combination is the perfect way for bathers to go effortlessly from tub to shower without getting cold or dropping water all over the bathroom floor. This gorgeous bathroom design uses an assortment of finishes such as cultured marble for the vanity, porcelain tile floors & walls, glass tile backsplash and beige stone for the shower floor.
Private Spa Shower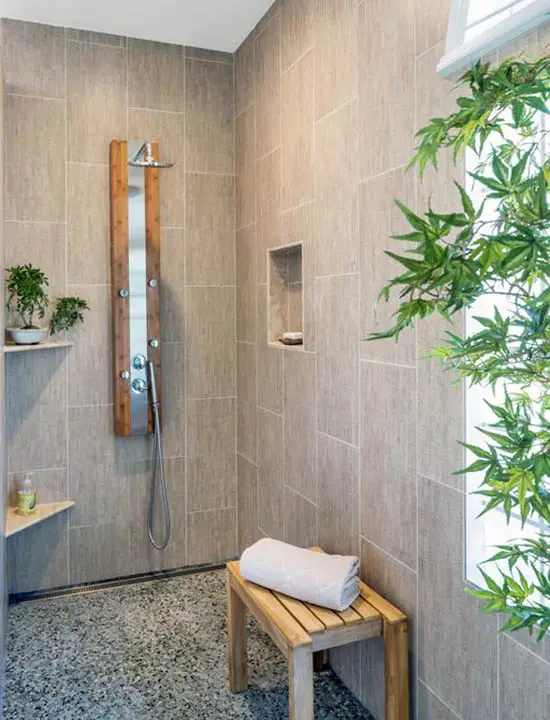 An indoor spa shower can be achieved with the right ambiance. For a relaxing look this shower utilizes a variety of natural stone surfaces combined with a wood shower bench and green tropical plants for a soothing effect.
Modern Bathroom Shower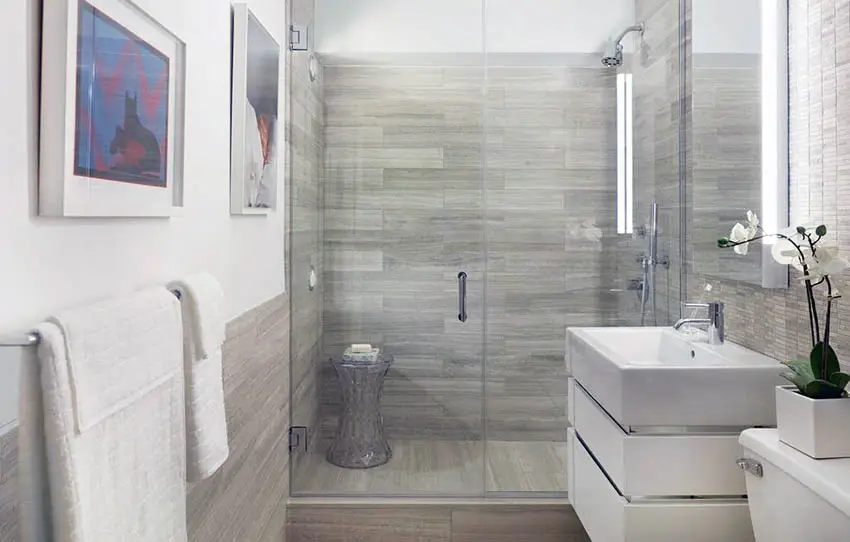 This modern bathroom design showcases a wood grain porcelain tile with a sprayer and wand shower head. Rather than having a wall cutout for soap and shampoo this shower opted for a small pedestal for necessary toiletries while bathing.
Multiple Shower Nozzles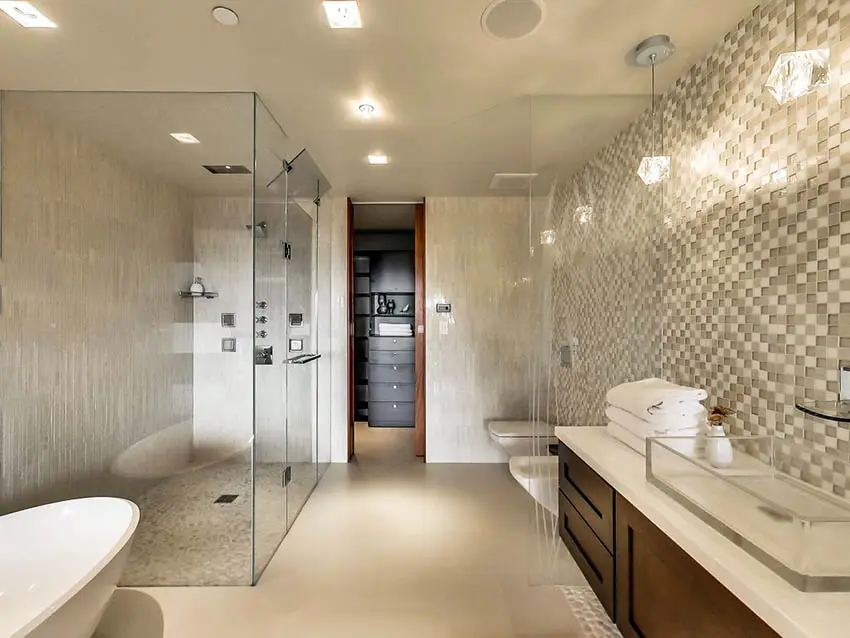 A shower with multiple shower heads can be an advantage for those who like a variety of options. Some of the popular types include rainfall shower, pulsating sprayer, and wall jets. It's also a great idea for couples who can't agree on their favorite style of shower head.
Doorless Walk-In Shower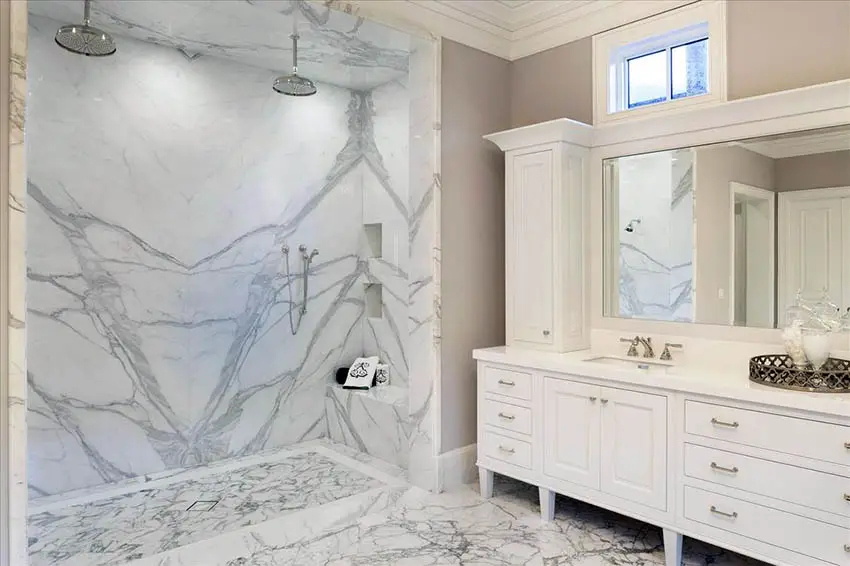 A doorless walk-in shower wet room bathroom design can be a stylish addition to a home. Probably the best reason for a doorless design is there is no shower door to keep clean.
Shower with Contoured Wall Tiles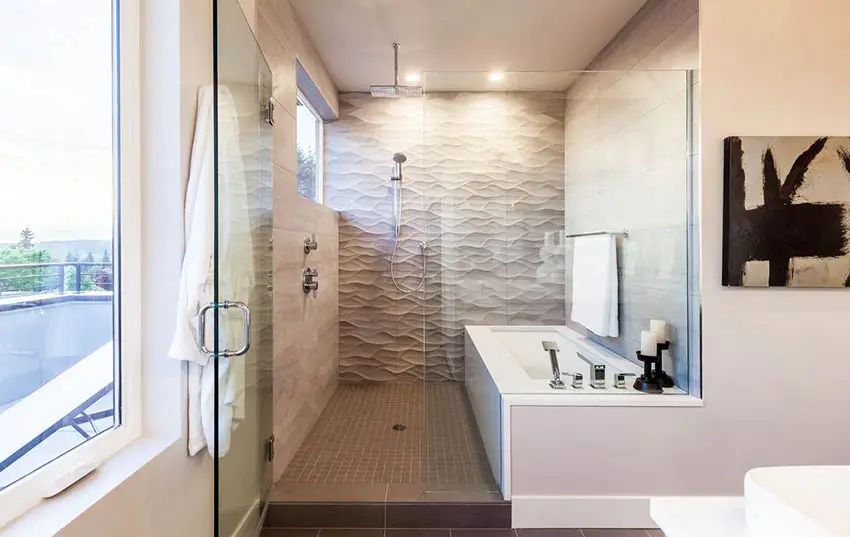 The 3D wavy tile found in this shower is the perfect complement to a contemporary designed bathroom space. The tile has a contoured look that stands out and creates a lot of visual interest.
Shower with Herringbone Pattern Tile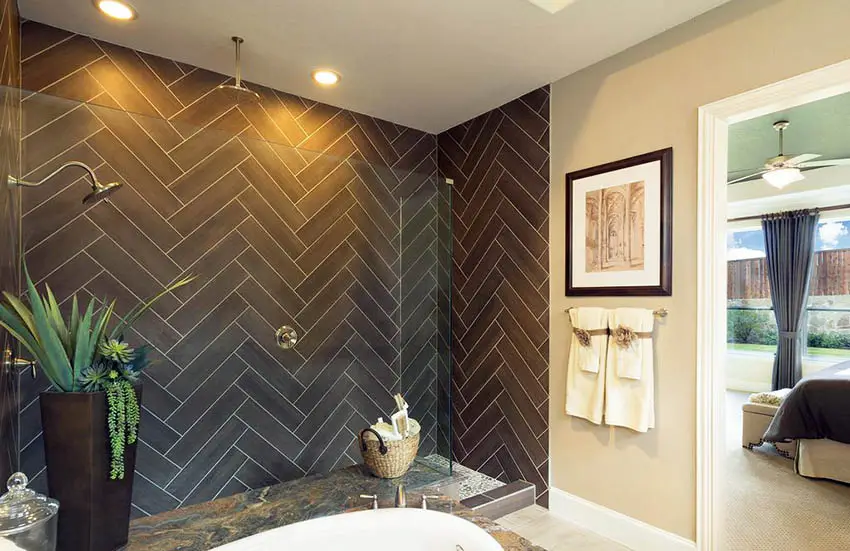 A herringbone pattern tile shower creates a stunning look that can really turn heads. This shower design features a rich brown porcelain tile with a frameless glass enclosure. Two types of shower heads is an added bonus to give it a spa-like ambiance.
Shower with Gold Finishes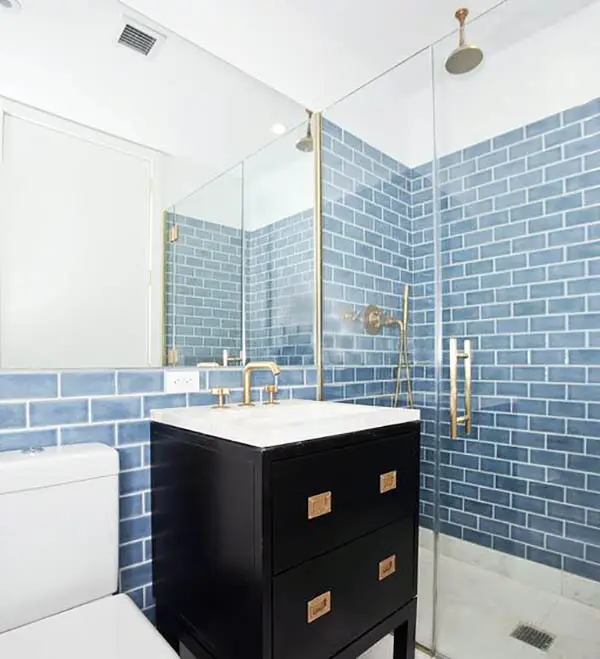 Gold finishes are making a comeback. This contemporary shower offers a variety of gold to match harmoniously with white marble surfaces and a blue ceramic subway tile for the walls.
Shower with Pattern Tile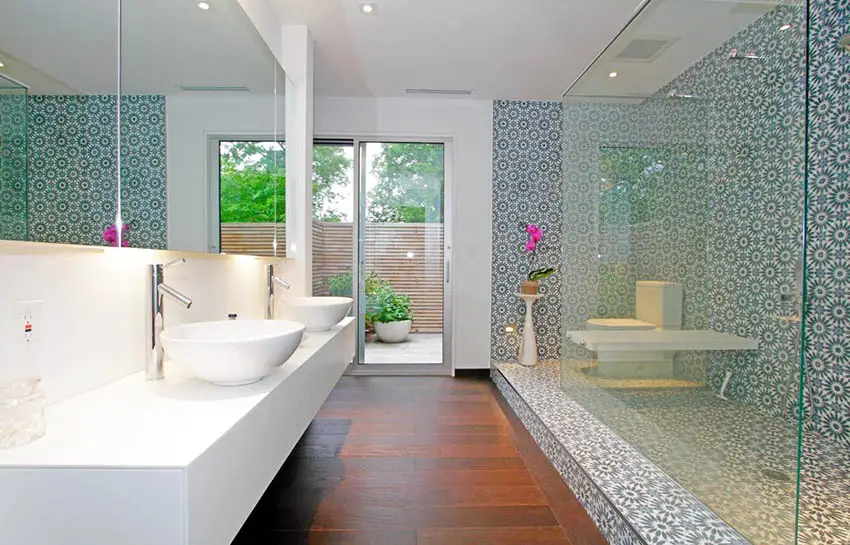 The beautiful cement pattern tiles in this shower really make a statement. Since these types of shower tiles are porous they do need to be sealed with a penetrating sealer to help prevent them from staining and maintain their looks.
River Rock Shower Floor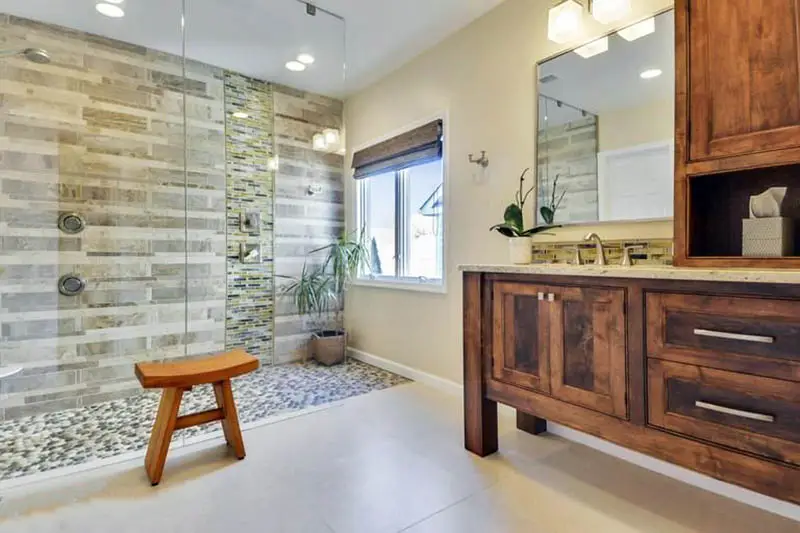 A shower with a river rock floor can look alluring and bring some of the natural environment indoors.These tiles are actually mosaics and typically come in 12 x 12 sheets from the store.
Be aware that using pebble river rock for a shower door can be challenging. When installing, the edges of the pieces are wavy, which can make it a time consuming process to line up. In addition, river rock need a lot of grout to install, and all of that grout needs a lot of maintenance to keep it clean and looking its best.
Shower with TV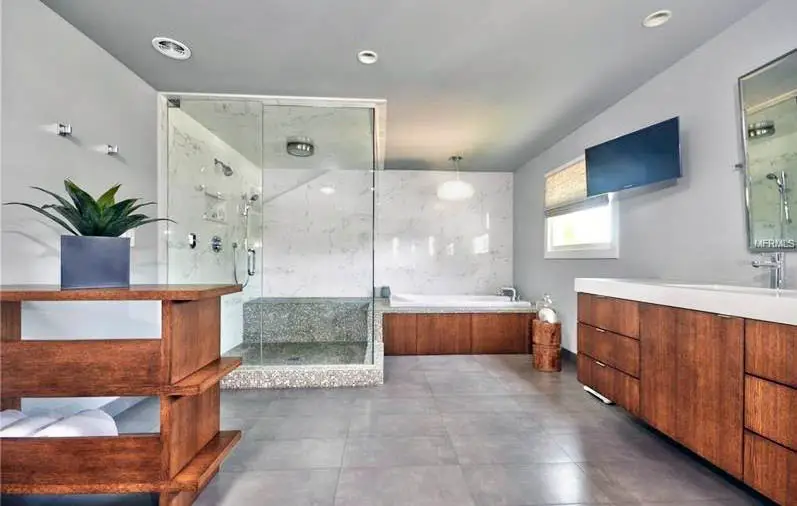 Who wouldn't want to watch their favorite show from the shower or bathtub? This contemporary shower design offers white marble walls with an assortment of shower heads for a true spa experience.
His and Her Shower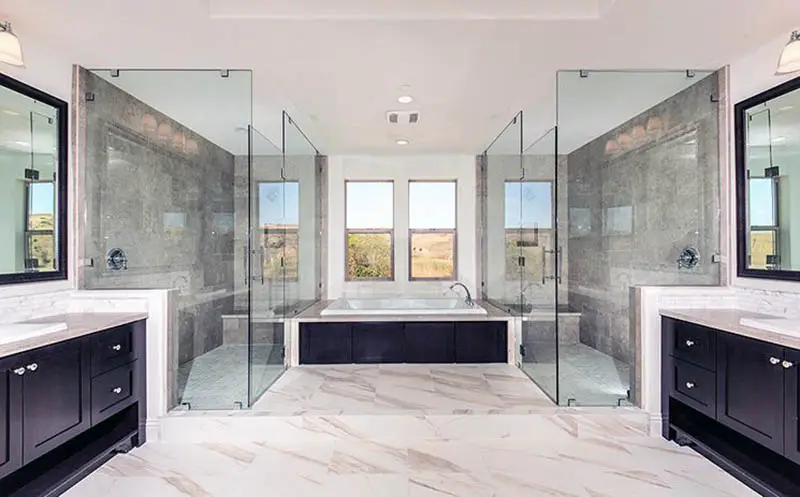 What's more luxurious than having his and her showers? This expansive master bathroom design showcases two identical twin showers with a center soaking tub. Each shower is equipped with a frameless glass enclosure and its own sitting bench.
Extra Large Shower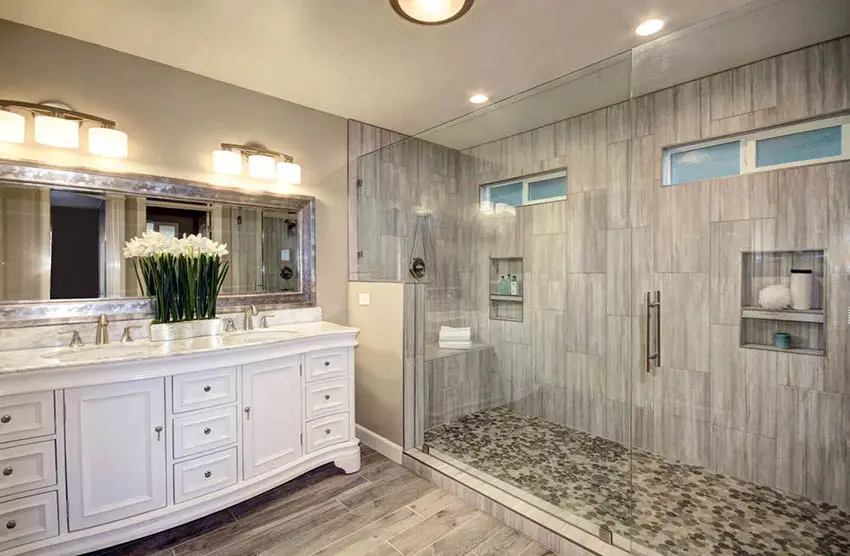 This extra large walk in shower features glazed porcelain tile with a wood grain style. Some of the custom features of this luxury shower besides how large it is includes a built-in bench, shampoo niches and river rock floor.