Here are the different types of marble bathroom countertops with pros and cons, helpful tips on how to clean and seal a marble countertop, and their comparison to quartz and granite.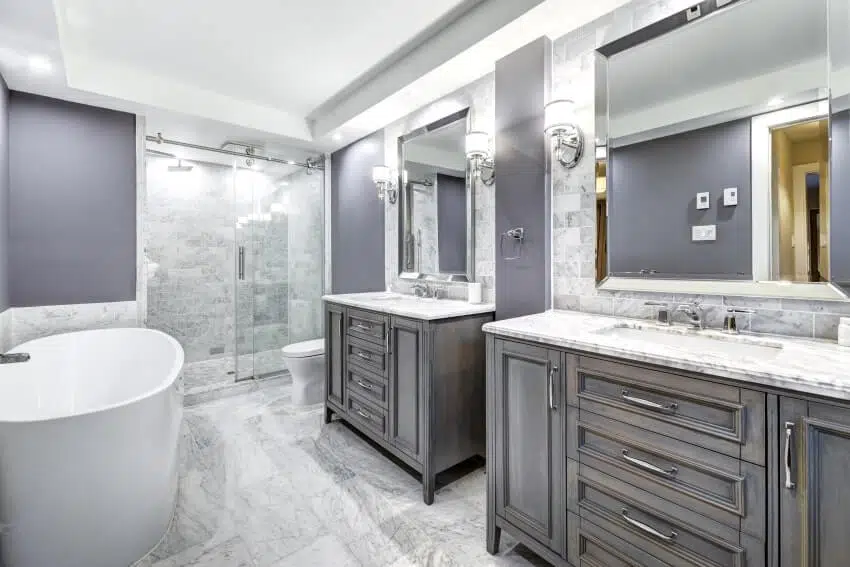 There's no question that the marvelous marble is the first thing that comes to mind when it comes to achieving that luxurious quality. The natural stone is unmatched for its timeless beauty, making it one of the more popular options for countertops.
But before finally giving in to the hype, is marble the best choice for your bathroom countertop? Before choosing your home interior, there are pros and cons to consider as any other material finish.
Pros Of Marble Countertops In Bathroom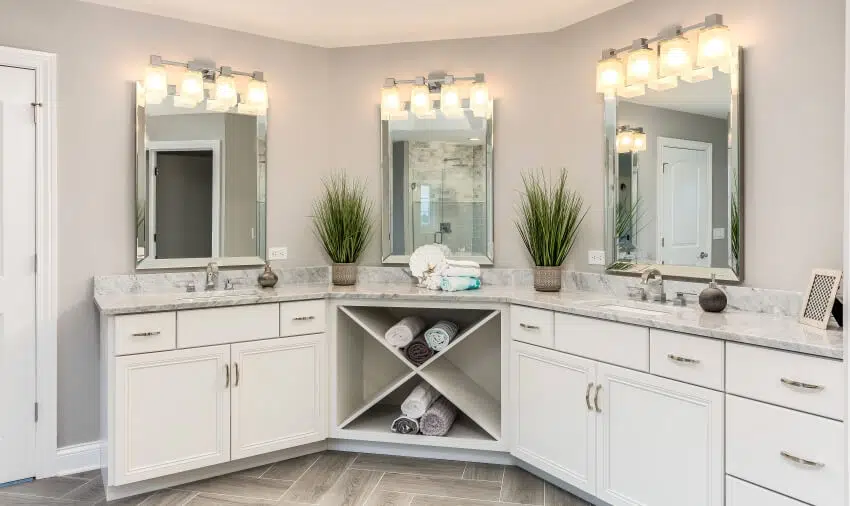 1. Excellent Heat Resistance – There's a reason why marble is a favored material for that posh fireplace mantel or kitchen countertop; it's because it can withstand heat and is unlikely to burn. This marble property makes it a fitting surface for your bathroom countertop, especially when you accidentally place on styling tools such as curling or hair straightener when prepping.
The heat-resistant surface can withstand 200 degrees Celsius or 329 degrees Fahrenheit before it weakens and cracks. Although, when exposed to high temperatures, the marble surface can cause discoloration.
2. A Very Durable Surface – Unlike synthetic materials, marble has a very durable material. The NAHB or National Association of Home Builders reports that marble can last over 100 years. This makes the marble bathroom countertops a worthy investment. Although, softer than quartz can be sealed to prevent etchings on the surface or chipping of edges.
3. Availability of Suppliers and Installers. Marble has been used in the building and interior design industry since ancient times, and finding a suitable marble slab locally for your bathroom countertop design won't be impossible. For a long-lasting bathroom vanity, a need for quality installation is needed, and there are many marble companies that do provide warrantable installation along with their products.
4. Unique Look and Feel from every Marble Slab. Genuine marble gives that unmatched luxurious beauty, with each slab having unique veining patterns and varying shades and undertones. Personalization offers value to your most intimate space; you'll have a bathroom countertop look like no other making it more personal and uniquely yours.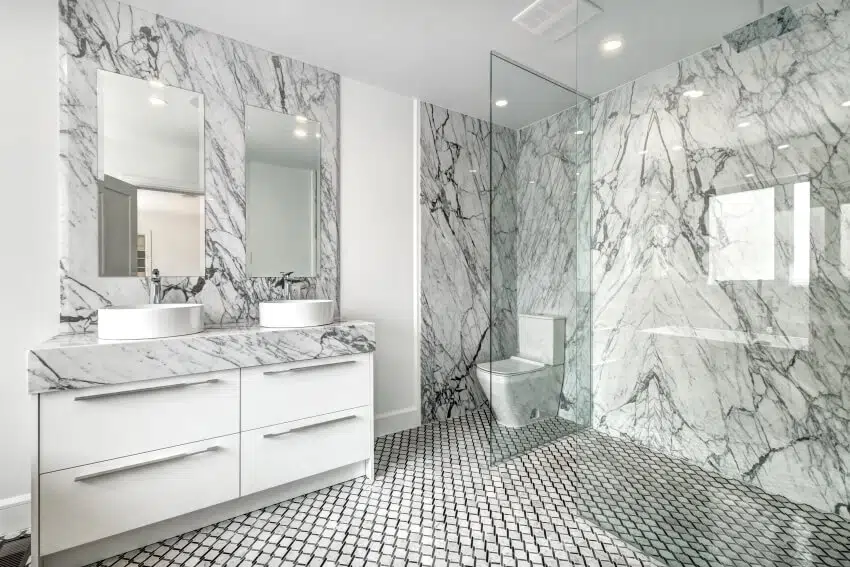 5. Increase the Value of Your Home. A marbled countertop installation not only dramatically changes the look and feel of your home but increases its market value as well. With marbled bathroom countertops that have been well maintained, you'll expect a return of investment up to 200%, as stated by many real estate professionals.
The reason for this significant hike is the fact that marble-like many natural stones, is very durable compared to other materials such as vinyl or cultured marble. In addition, the appeal of marble never wanes, and many homebuyers find the natural stone as a prized material that connotes luxury.
6. A Cost-Effective Option. While marble may not be the cheapest bathroom countertop stone, it's not the most expensive as well. It has that posh quality like granite even more, but it's not as expensive as the said stone. There are more affordable marble options out there in the market, such as the Carrara marble, which showcases soft gray hues.
The Carrara is sourced from Carrara, Italy, and has widespread availability making it less expensive than other marble variations. The rarer the marble, the more expensive it gets, so you can still have the luxurious look of marble with a mid-range price tag. The key is to source out reputable marble companies locally and not to rely solely on the internet as much as seen online are not the most affordable.
7. Unmatched Aesthetic Value. Aside from that unique opulence and elegance it brings, marble works with any design style. The natural stone is flexible to work with, from traditional to minimalistic styles, which will suit any form or theme you have in mind for your bathroom countertop. Whether you have a tightly-spaced vanity or a large bathroom countertop, large slab cuts can cover a spacious area that maintains that monolithic look.
Cons Of Marble Countertops In Bathroom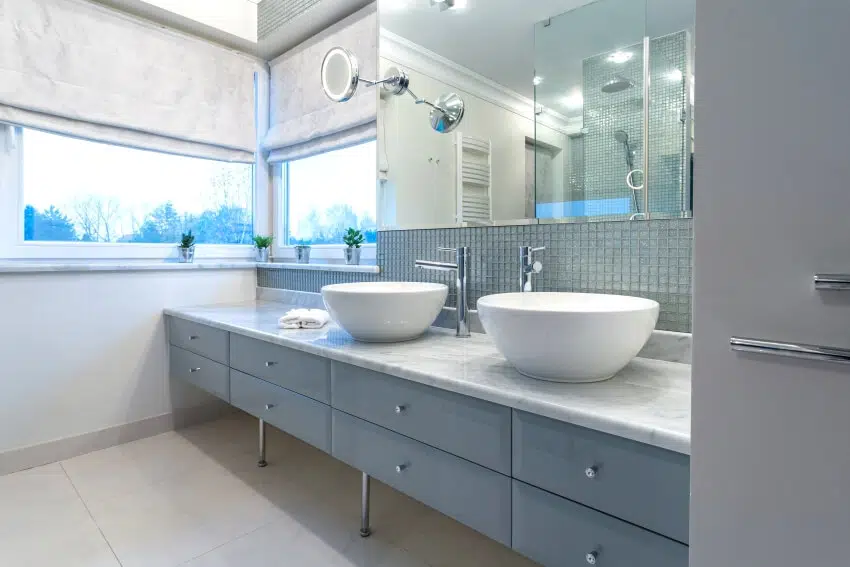 1. Can Absorb Water. Like any natural stone, marble is porous, which means it can absorb water once your sink overflows, which can seep through the stone. Continuous exposure to water can harbor fungus and bacteria, which can lead to health problems.
Though you can counter this by having it sealed and having a working slope percentage on your bathroom countertop. Applying peroxide poultices and other cleaning agents can clean up your marble bathroom countertop.
The ability of marble to hold water is also great in preventing water from seeping through your vanity cabinet, which can rot when made out of wood.
You can also use marble types that are less porous such as Carrara marble which is denser as each marble type have different absorption rates.
2. Stains Easily When Not Properly Sealed. As marble can absorb water, it does easily stain. When harsh cleaning agents, makeup, soaps, and lotions seep through, discoloration will occur unless sealed. Experts recommend choosing white marble as acid etchings caused by detergents can leave a whitish mark which means it's more visible on colored marble.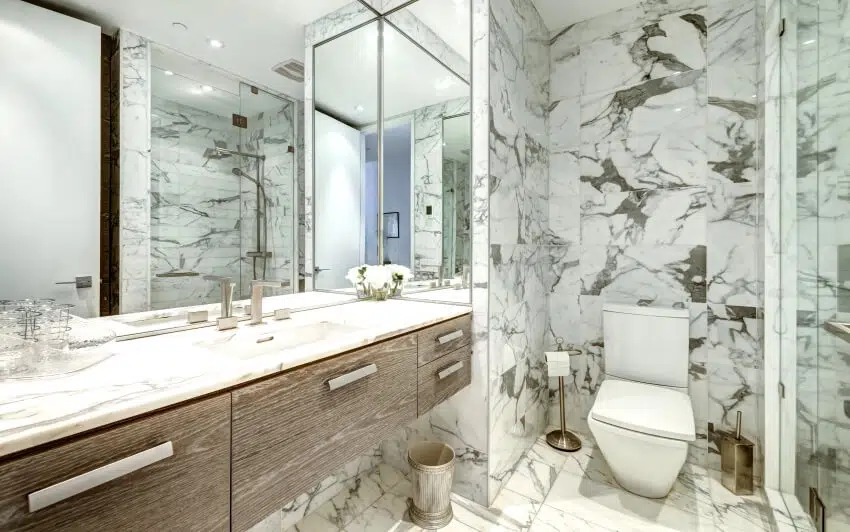 3. Periodic Resealing is Needed. Marble is not acid-resistant and will stain when not sealed properly. Depending on the type of marble you have and the wearing rate, you'll need to seal your marble periodically.
It is recommended for an average of two years for highly used surfaces to be resealed, but since bathroom countertops are not subjected to harsh abrasions such as foot traffic, you may enjoy your marble longer without the need to reseal it.
4. Prone to Dents and Etchings. Marble bathroom countertops are softer than granite and are prone to dents and etchings on the surface and on the edges. Dropped items such as jewelry can dent the surface.
Honing your marble which results in a matte finish, will show less obvious dent marks, and regular resealing of the surface can help it withstand damage. An impregnating process is used to fill in the pores and bind the marble's capillaries from within, thus tightening the pores.
Types Of Marble Countertop For Bathrooms
Here are a few of the most popular types of marble used for bathroom vanity countertops.
Carrara Marble Bathroom Countertop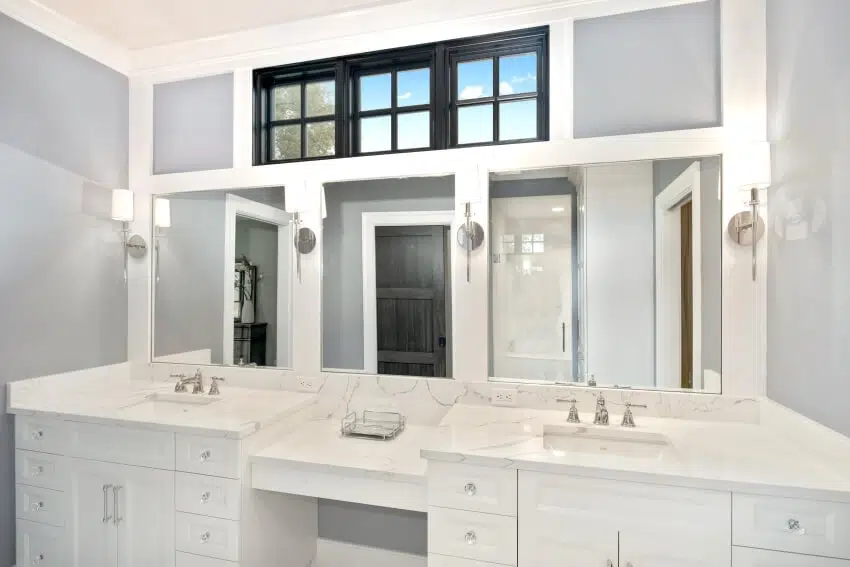 Carrara marble is one of the most affordable and well-known marble due to its widespread availability. As its name implies, the Carrara is sourced in Carrara, Italy, but there are a lot of available local suppliers for the marble in the country.
The Carrara marble displays a light gray hue which can lean towards a bluish-gray quality with soft feathery veining and patterns.
Carrara is the most affordable marble because it is quarried in more significant quantities and is perceived as less high-end. Uninstalled, you could pay anywhere from $75 to $100 per square foot.
Calacatta Marble Bathroom Countertop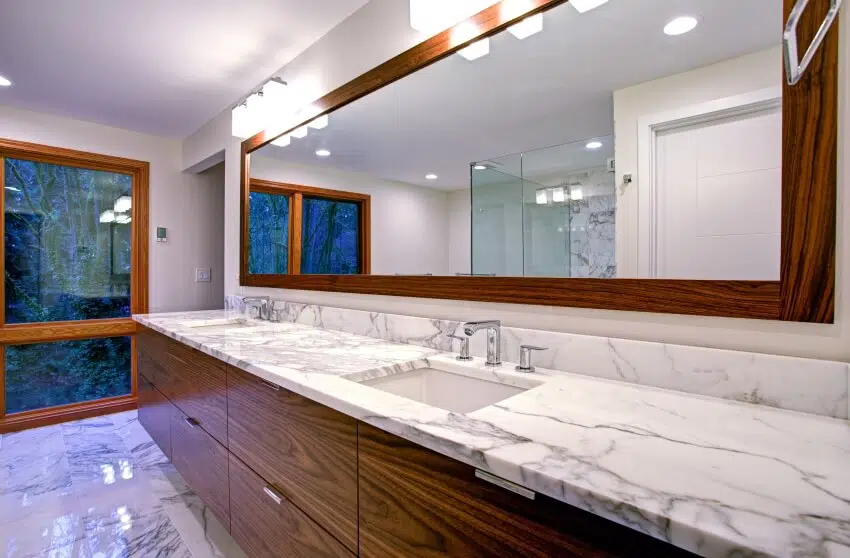 Calacatta marble is a pricier option with a bright whiter surface and more dramatic veining than Carrara, which ranges in gold, brown, beige, and dark gray.
Many people believe that a whiter marble looks more opulent. They may choose Calacatta marble, which is also widely available in the United States. (It's also quarried in Carrara, which is a bit confusing.)
Since Calacatta it's a rarer and more coveted, could cost as much as $250 a square foot. Read more about marble countertop cost here.

Cultured Marble Bathroom Countertop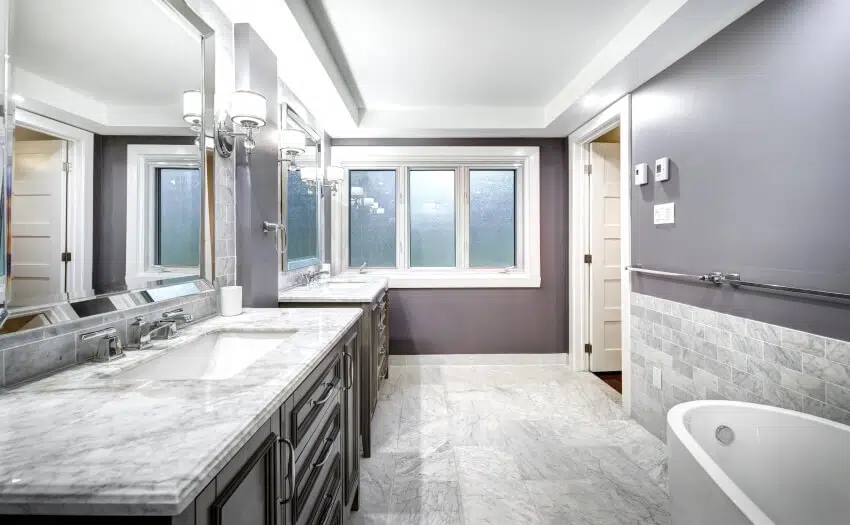 Although many people believe cultured marble is a purely synthetic material, it is not true. Instead, dust from real natural marble is used in the manufacturing process of cultured marble and actually makes up around 75% of the finished product. The said powder solution is mixed with liquid polyester resin to make the cultured marble vanity top.
Cultured marble has only been around for about four decades, but it has come a long way in that time. Many of the cultured marble vanity tops on the market are extremely long-lasting and require little maintenance to keep their stunning appearance. Sinks with built-in vanity tops, bathtubs, shower basins, backsplashes, and whirlpool tubs are also available.
Cultured marble is a molded manufactured product and is categorized as an engineered stone. Thanks to this process, almost any shape or size can be custom-made to fit your needs. In addition, the manufacturer can tint the product to create nearly any color you want. Depending on your preference, the final product is coated with a clear finish that can be satin or high gloss.
Is Marble Good For Bathroom Countertops?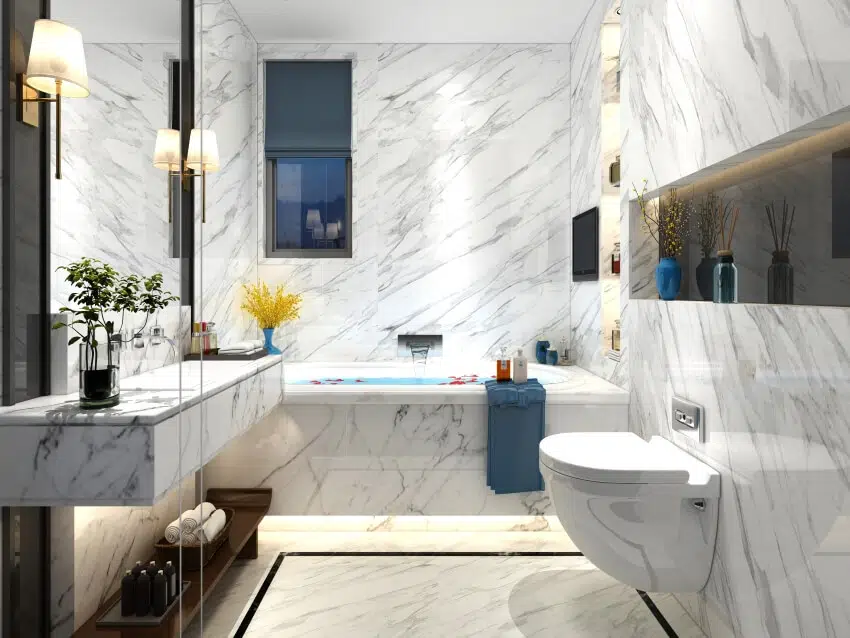 Marble is excellent for bathroom countertops when the benefits and limitations are considered. More from its aesthetics, marble is a practical choice because it's a very durable material compared to vinyl or wood. Vinyl or laminate surfaces can peel off, especially the edges, with prolonged exposure to water.
Wood, in the meantime, has a high absorption rate in moisture and will expand and contract due to temperature variations, unlike marble, which works well with any climate or temperature changes.
Although sealing wood surfaces will prolong its service life as well, a busy bathroom area with continuous exposure to moisture can wear off the protection quickly. It will need much varnishing all the same.
How To Clean Marble Countertops In Bathrooms?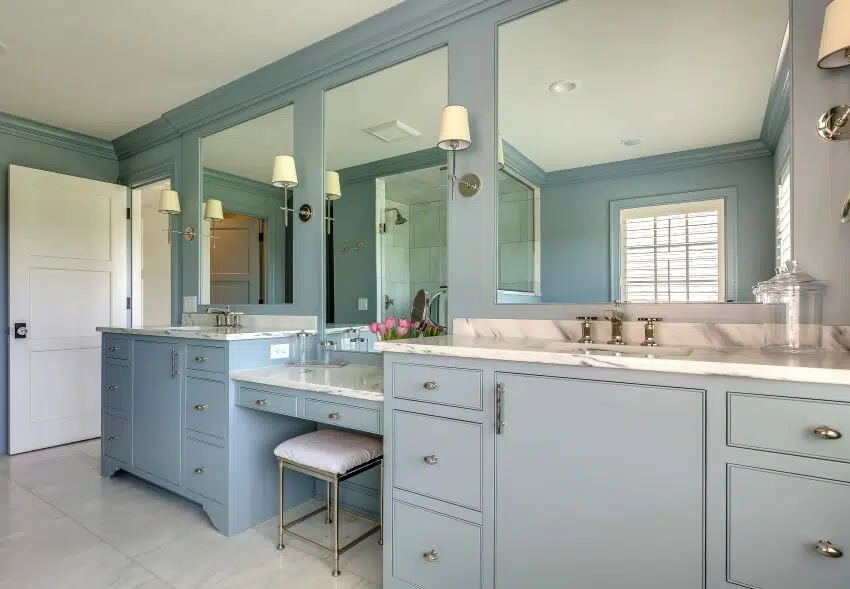 With a porous surface, marble is vulnerable to acidic liquids and cleaners that can leave stains as it seeps through the pores. It even can leave blemishes or etches. To avoid this, clean your marble surfaces with the most basic cleaning solution possible. A little bit of soap and water solution does go a long way.
For Cleaning Blemishes and Quick Spills
1. Using a clean sponge, apply a few drops of mild dish soap and a splash of water. Using the softer side of the sponge, scrub the marble countertops vigorously until good lather forms.
2. Use the sponge to wipe the soapy lather off the counters after rinsing it clean of suds. After you've removed the soap from the counter, buff the area dry with a clean dish towel to restore its lustrous sheen.
To remove etches and blemishes and restore the marble's original luster, sand and polish as needed.
For Stubborn Stains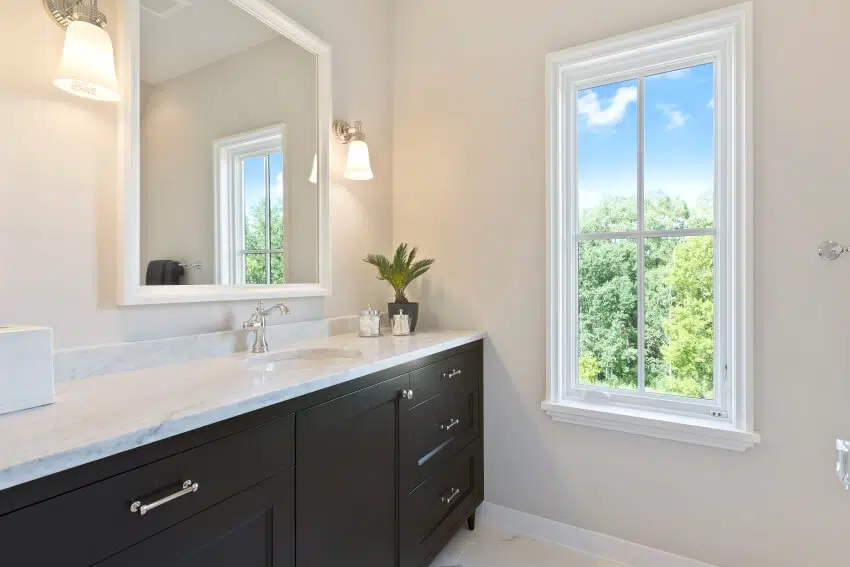 The Marble Institute recommends cleaning most stains with a 12 percent hydrogen peroxide solution and a few drops of ammonia. If you spilled something oil-based and the stain has seeped through, scrub it gently with a liquid cleanser containing household detergent, mineral spirits, or acetone.
For Daily Cleaning
Warm, soapy water is adequate for routine maintenance and spills that happen quickly. Just make sure to rinse well and soak up any standing water; you don't want anything abrasive on the surface where dirt and sand are being dragged around by a hand vacuum.
Sealing Marble Countertops In Bathroom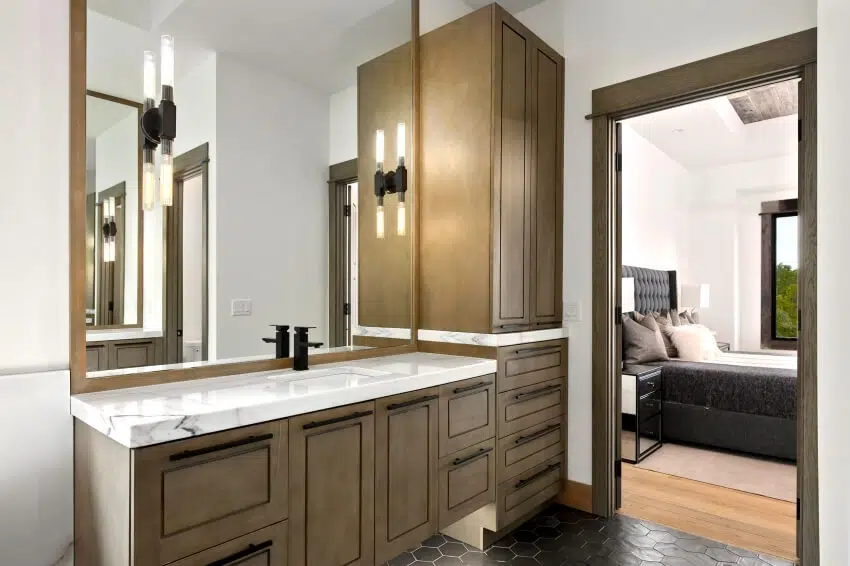 Unsealed marble bathroom countertops will absorb water, and water with high calcium and magnesium carbonates will leave a yellowish or brownish stain on the surface.
It is recommended to seal off the surface of your marble counter to preserve the look of your bathroom countertop. In addition, fungi and molds can grow from prolonged exposure to water.
What Are Marble Sealers?
Marble sealers are impregnable sealers that penetrate beneath the surface of the stone and absorb into it. They're made up of a solid resin and a liquid-based solvent, which could be water or chemical.
The solvent penetrates the natural stone pores, and when the solvent evaporates, the solid resin remains to fill in the gaps between the pores. Water-based sealers are more popular because they emit fewer fumes while drying and curing.
Its sole purpose is to clean beneath the surface to help prevent stains. On the other hand, an impregnable sealer will not completely seal the marble countertop, polish or shine it, protect it from wear and tear, or provide any etching resistance against anything acidic.
Qualities To Look For In A Marble Sealer:
• It has low or no VOC content (Volatile Organic Compounds) that is harmful when inhaled.
• Has heat-resistance and acid-resistant features.
• It has excellent oil resistance.
• It has a manufacturer-backed warranty.
• Require an authorized installer to apply the sealant to retain a validated warranty.
Marble Sealer Brands
Using a water-based impregnating sealer is the best option. On the other hand, Spray-on sealers are quick and convenient, but they aren't as effective as liquid application sealers.
Sealers made specifically for polished and honed marble are also available. DuPont, Miracle Sealants, and MB Stone Care are just a few of the well-known brands.
How To Care For Marble Countertops In A Bathroom?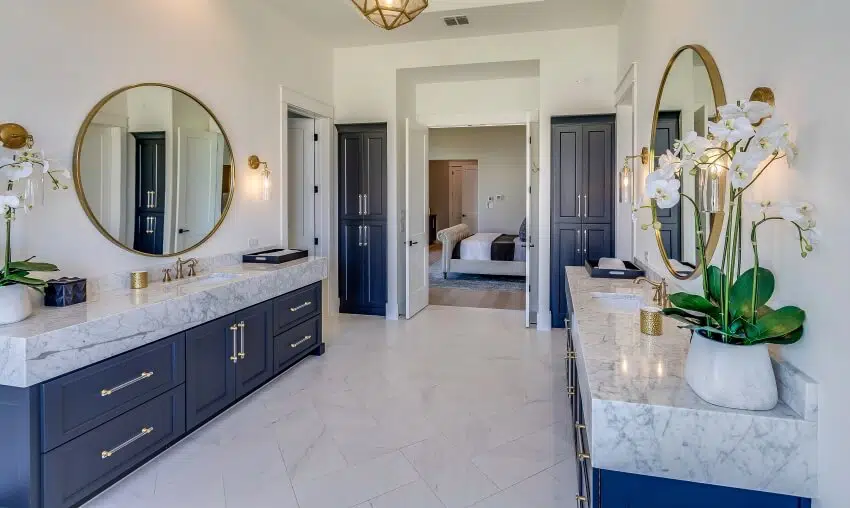 Avoid Placing Acidic Substances on Surface – Marble surfaces are vulnerable to acid as acidic solutions can etch into the marble's surface, leaving it dull and lifeless.
This is something to keep in mind when selecting countertop cleaners. Bleach and vinegar are acidic and abrasive cleaners that should be avoided, as should harshly scrub pads.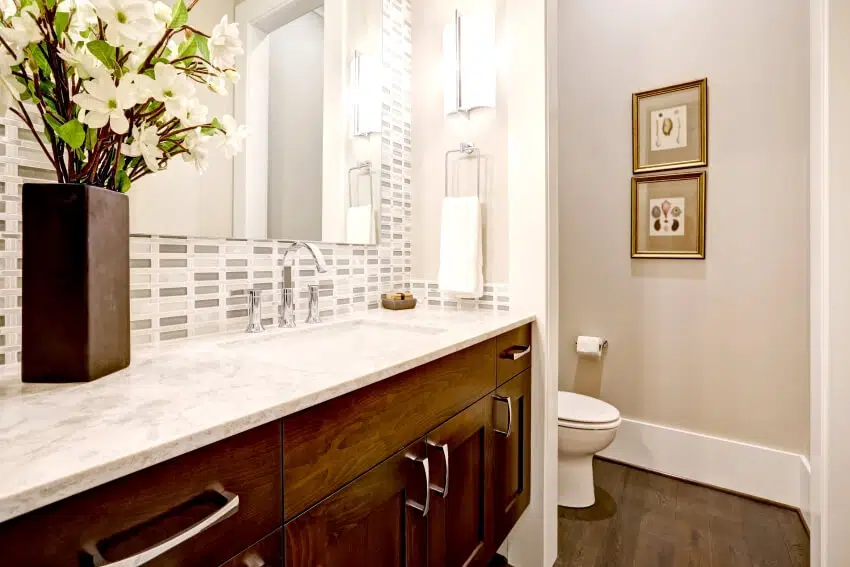 Stains Should be Wiped-Off Immediately – Unfortunately, even with careful attention and regular cleaning, it's still possible that your marble countertop will stain. Address these stains immediately, especially stains from oils that can be removed with a gentle cleanser or a few drops of ammonia or hydrogen peroxide.
Most stains can be removed with mild detergents, peroxide, and ammonia, but some may require physical removal. Paint stains are frequently removed with care using a razor.
Steel wool can be used to wipe out water stains and marks. To keep your marble countertops looking great for years to come, make sure to remove stains before they become permanent fixtures on the surface.
Don't Use Harsh Detergents on Surface – While it may appear that cleaning marble without the use of abrasive cleaners is difficult, it is not. Marble is simple to clean and keep in good condition. All you need is some gentle soap and warm water to get the job done.
Cleaning a marble countertop is as easy as scrubbing it with a water-and-soap solution, wiping it with a wet, hot dish towel, and then drying it with an absorbent towel.
Marble countertops can be kept looking great after everyday use by cleaning them with gentle soap on a regular basis. If you make a mess, spot clean any spills right away to avoid staining. The longer you leave something on top of marble, the more likely it is to stain.
Marble Vs. Granite Countertops Bathroom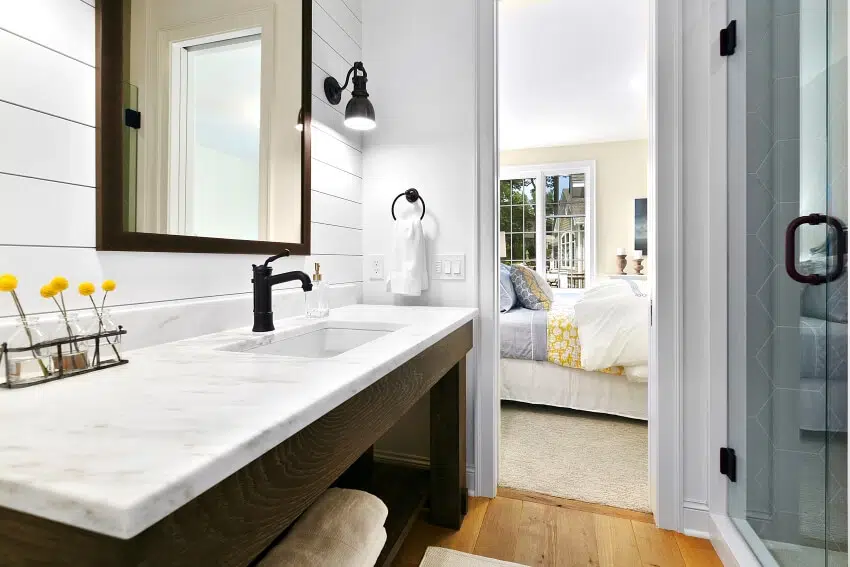 Granite countertop bathrooms win over marble and cost less when it comes to durability. Solid slab marble countertops usually range from $100 to $200, while granite countertops will cost around $75 to $175 per square foot.
Marble may be less durable than granite but is still a very tough countertop material that can withstand wear through the years. When properly installed and maintained, the natural stone can last 100 years or more.
Although granite bathroom countertops are mostly stain-resistant since granite is less porous than marble, sealing the surface is still recommended by fabricators and installers as a precaution.
Unlike marble which has the elegant soft veining that's consistent and noticeable, granite has more flecks of varying colors and less veining. These flecks usually come in black, gold, green, and red. Granite is an excellent choice for your natural stone if you want a more diverse and busy patterned surface.
Quartz Vs. Marble For Bathroom Countertops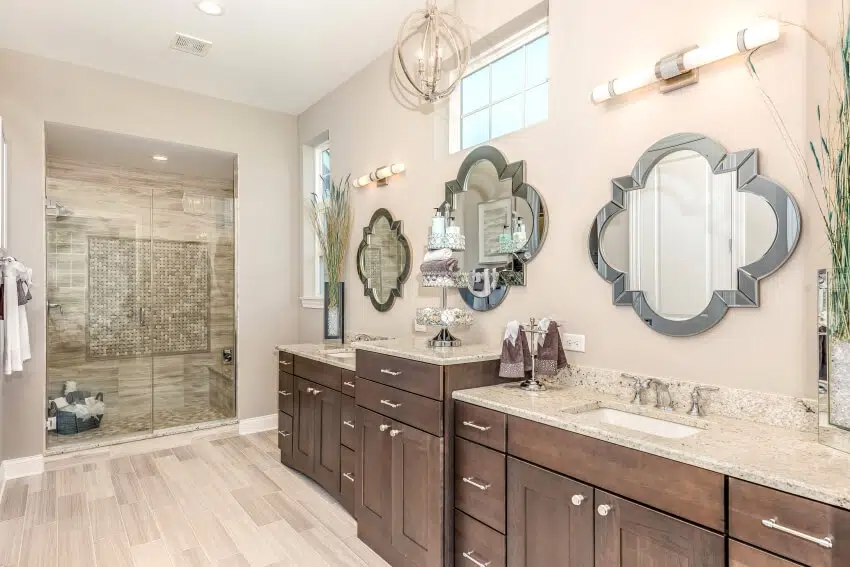 If you want a more consistent pattern for your bathroom countertop finish and love the look of natural stone, the quartz is an excellent alternative to your marble bathroom countertop. In essence, a quartz bathroom countertop is an engineered stone made from 70 to 90 percent grounded quartz.
The powdered quartz is mixed with other minerals with resin and pigments bonded together and shaped into countertop slabs.
There are quartz stone slabs that are almost indistinguishable from the actual stone. They are more durable than marble and do not absorb water or stain due to their lack of pores, so there's no need to seal the surface to protect it from damage or discoloration.
Although, they are pricier than your average marble. A quartz countertop will cost around $125 to $220 per square foot. They are great for heavy use but still won't give that unique and natural look of natural stone.
Visit our concrete bathroom countertops for more related content.