Here we share our laminate wood flooring in a bathroom guide including what it is, pros and cons, cost, which type of laminate flooring is the best, and if it's suitable for bathrooms.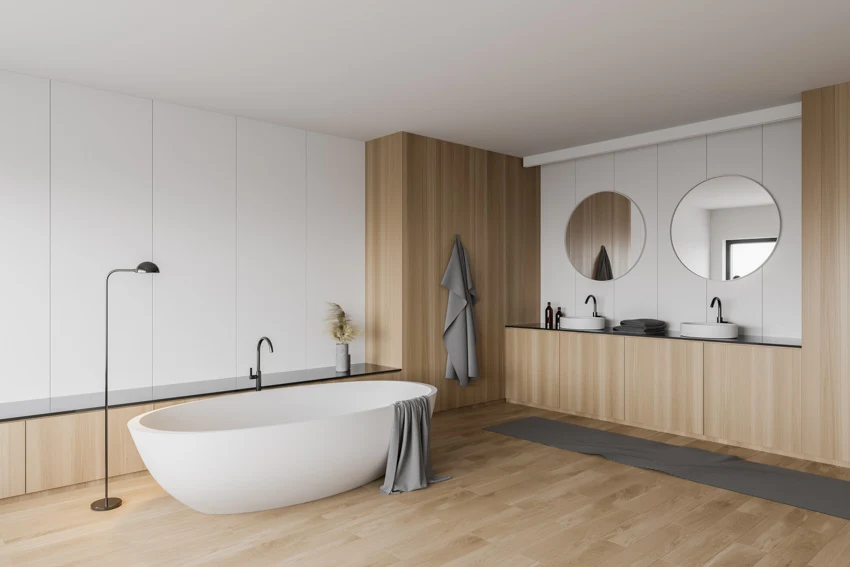 In many areas of the house, you mainly base flooring selection on its aesthetics. You want your living room, dining room, and bedroom flooring to look fantastic; performance is often secondary. But when it comes to bathrooms, the rules are different.
The bathroom is the most humid room in the house. This fact is the reason why you must be picky when it comes to bathroom flooring, mainly because you must choose a floor that is waterproof or, at the very least, water-resistant.
There are many bathroom flooring alternatives to pick from, and laminates are one of them since the material is often inexpensive and low-maintenance.
However, because moisture can damage laminate flooring, you should carefully consider it. When selecting bathroom flooring, think about how it will hold up under pressure. And in this situation, the main consideration is potential for water damage. Other variables, including durability, beauty, cost, and installation convenience, must also be addressed.
Many homeowners desire to emulate the traditional aesthetic of hardwood without the high expense of picking a bathroom floor. Laminate flooring is an excellent choice for those on a tight budget. If you want to add this newest renovation to your bathroom, laminate flooring is the simplest and most cost-effective option.
What Is Laminate Wood Flooring?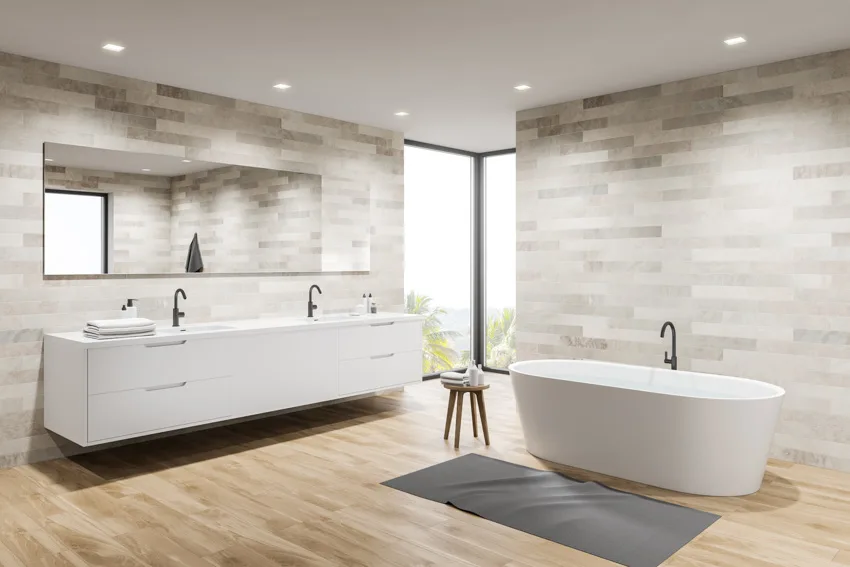 Laminate flooring is a hybrid floor covering that consists of a particle board wood base with an image layer and a transparent layer on top. Laminate flooring is a popular choice for living rooms, kitchens, bedrooms, and other parts that are not prone to moisture.
Perstorp, a Swedish company, invented laminate flooring in 1977. This company came up with the idea of repurposing waste wood by exposing them to very high pressure, heat, and binding chemicals and then converting the results into helpful floor coverings.
Many other manufacturers, such as Shaw, Dupont, Mannington, and Armstrong, have introduced laminate flooring.
Laminate flooring starts with a core layer of fiberboard derived from wood byproducts. A design layer is printed on top of this to look like wood or another material.This differs from vinyl floors which have plastic cores rather than wood substances.

A transparent, hard wear layer protects the design layer and provides good scratch and stain resistance. Laminate flooring boards are thin and have click-lock edges to keep the boards together.
Laminate flooring has three layers in general:
• Dense core or base layer of plywood or high-density fiberboard – To give the material strength and stability.
• A photo-realistic image layer with high resolution
• A protective wear layer, which provides hardness and protection
Laminate Veneer Flooring Pros and Cons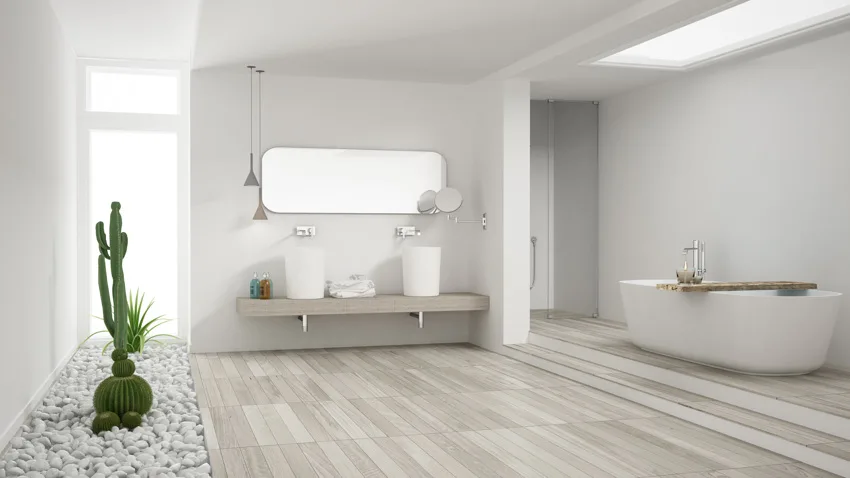 Here we share the advantages and disadvantages of laminate wood floors for bathrooms.
Pros of Wood Style Laminates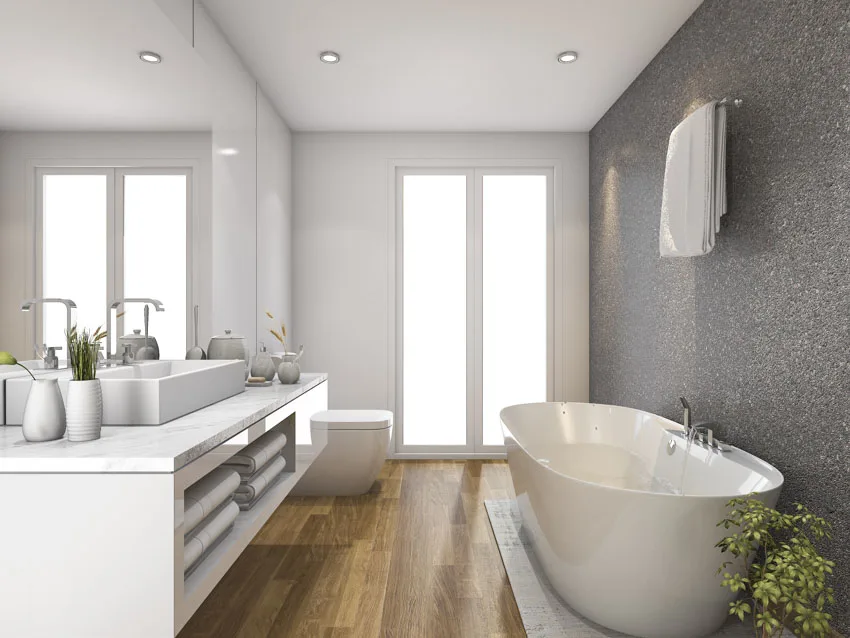 Durability: Laminate flooring is exceptionally durable, especially considering how little upkeep they need. Laminate is resistant to UV rays and can be waterproofed, ideal for high-traffic areas. It is also less likely to scratch or discolor than hardwood flooring.
Cost-effectiveness: Laminate flooring has pros and cons, but anything cost-related is firmly in the pro column.
Laminate flooring is far less costly than genuine wood, which may be pretty expensive depending on how exotic the tree is since it is mainly composed of composite wood pressed together at high temperatures.
Laminate is a significantly more cost-effective alternative to hardwood. It ranges in price from $2 to $8 per square foot. Hardwood flooring begins at roughly $8 per square foot and may go up to $15 per square foot or more for the better brands.
High resiliency: The composite wood substance of laminate flooring is not only durable but the top layer of laminate also has excellent scratch resistance.
The top layer of laminate flooring can withstand heavy traffic, loud children, and pet claws. UV resistance also means that the color of your flooring will last longer.
Great Aesthetics: Today, thanks to advancements in laminate flooring technology, distinguishing between genuine wood and laminate is considerably more difficult.
Many laminate floorings have distinctive embossing that closely resembles the look and feel of actual wood. Laminate is available in various designs and realistic textures to make it seem natural.
It is available in thin or broad plank wood flooring, stone and ceramic tile-inspired fashions, and traditional types of wood grain patterns like herringbone parquet. There is a laminate version of it if it exists!
Low-maintenance: Laminate flooring is simple to maintain. You can quickly sweep away spills and markings using a soft microfiber cloth while dirt and dust. One of the downsides of cork flooring, for example, is that you must seal it every year. Laminate is simple to clean and doesn't need to be maintained regularly to look good.
Simple Installation: Laminate flooring often has a simple lock-together mechanism that is exceptionally straightforward to use, allowing for DIY installation. Colors are not the only thing laminate has to offer.
Perhaps you like the distinctive beauty of hickory but are put off by the (rather considerable) drawbacks of hickory flooring. You may be able to locate a laminate with the same pattern! These planks fit together like jigsaw pieces at the edges. There are no nails or glue required.
Allergy-Friendly: Carpet vs. hardwood, laminate, or other hard surfaces are difficult for many allergy sufferers. Carpet fibers collect allergies like pet dander, making it challenging to maintain your environment free of these irritants. With laminate, you will have allergy-friendly flooring that is simple to maintain.
Cons of Wood Pattern Laminate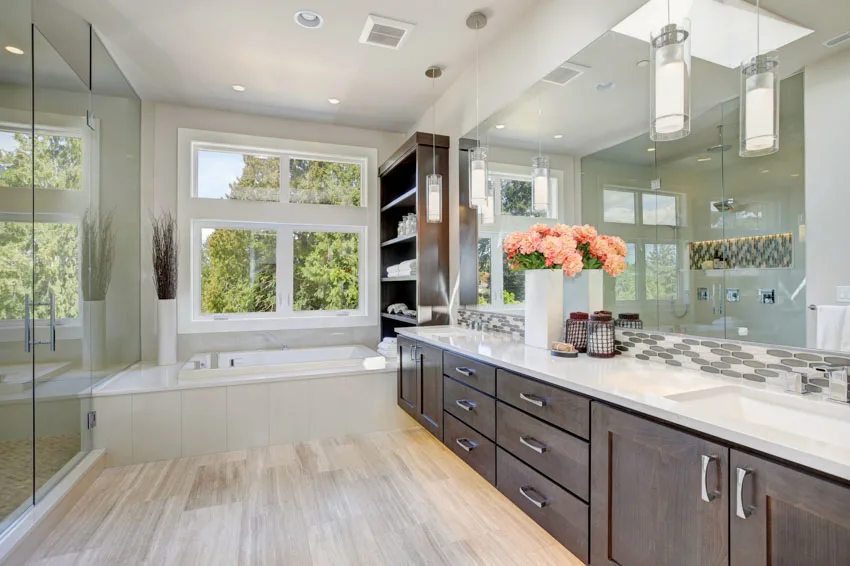 Susceptible to Damage: Laminate flooring is susceptible to liquid damage due to its sensitivity to moisture. If left unchecked, oversaturation of any liquid, not just water, may cause the planks to collapse, discolor, and break down.
Even though laminate wood waterproof flooring is becoming more common, it is always a good idea to be cautious, notably if water penetrates beneath the floor. Damaged planks or tiles must be removed entirely and replaced.
Cannot be Refinished: Laminate floors cannot be refinished due to their composite structure and wear layer. You must change laminate flooring if it is damaged or worn out.
If you wish to restrain or sand down your hardwood floors to smooth out scratches, you should opt for the best types of hardwood floors rather than the finest laminate flooring.
Artificial Appearance: No matter how good it is, Laminate flooring cannot be mistaken for its exact equivalent when studied attentively.
Everything about a laminate floor, from pattern repetition to how it sounds and feels underfoot (a laminate wood floor, for example, will be noisier than a hardwood floor), is an indicator that it is, well, laminate.
Not Waterproof: Laminate flooring is susceptible to dampness since it is wood. As a result, it is not suitable for use as a hard floor in bathrooms. You should use it with care as kitchen and laundry room flooring. Cleaning with soft surface water should not be a problem, but you must avoid saturation.
Not So Environmentally Friendly: Artificial flooring, such as laminate, nearly always includes certain volatile compounds (also known as VOCs). Off-gassing is the term for this process, and it has been a problem for several manufacturers in the past.
Non-toxic laminate flooring exists, though—seek goods that have received a GreenGuard or FloorScore certification!
Laminate Board Flooring Cost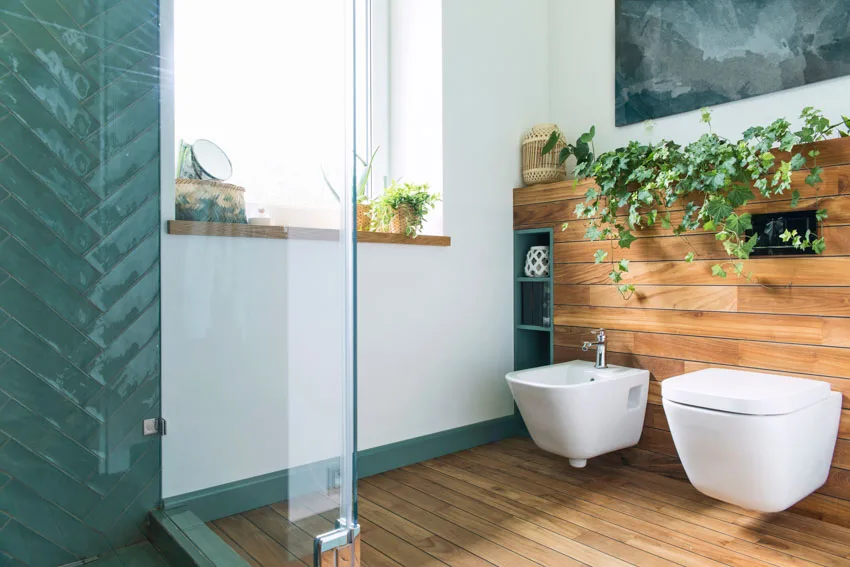 Many people choose laminate flooring because it is a cost-effective solution to get the appearance of natural wood floors. It is available in various shapes and finishes and is scratch and dent resistant.
Overall, this is a good option for homeowners who like the look of wood but don't want to deal with the high cost or maintenance that comes with it.
The laminate flooring materials range from $0.70 to $2.00 per square foot, with labor costs ranging from $0.60 to $4.00 per square foot. The pricing range allows for differences in kind, style, and location.
Many types of laminate flooring have the appearance of hardwood and are after the natural material, such as maple, cherry, acacia, and oak. Many higher-end laminate flooring products may simulate the look of natural wood, even if the top layer is not real wood but a "photographic appliqué layer."
Installing a laminate floor in a 200-square-foot room costs around $1,600, but it can cost anywhere between $400 and $5,000 depending on the type of flooring, abrasion rating, and location. Although your contractor may include the cost of adhesives and underlays in the total price, always double-check.
Which Wood Laminate Flooring Is Best For The Bathroom?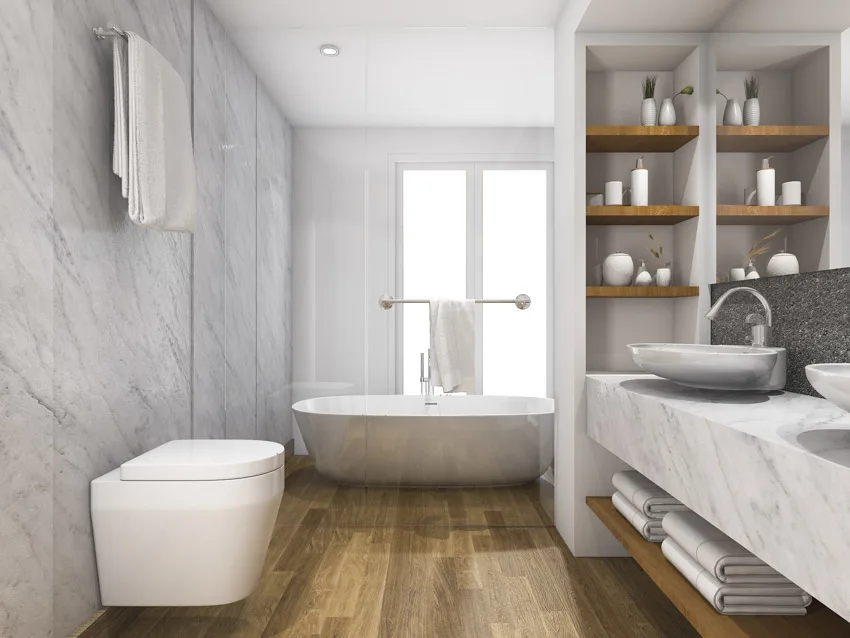 The best choice for bathrooms is water-resistant laminate flooring, which may work if you take the proper precautions to prevent damage.
This laminate may resist absorbing water for a long time before ultimately doing so. When looking for a laminate floor for your bathroom, be sure it is water-resistant.
Moisture-resistant walls and floors are essential. When you consider the other variables, including durability, affordability, the convenience of installation, and, of course, aesthetics, you will have a lot to think about when choosing the best material for bathroom flooring.
Traditional laminate flooring that is 100% waterproof may come up in the future, but for now, you must settle with water-resistant laminate flooring.
Are Wood Textured Laminate Planks Suitable for Bathrooms?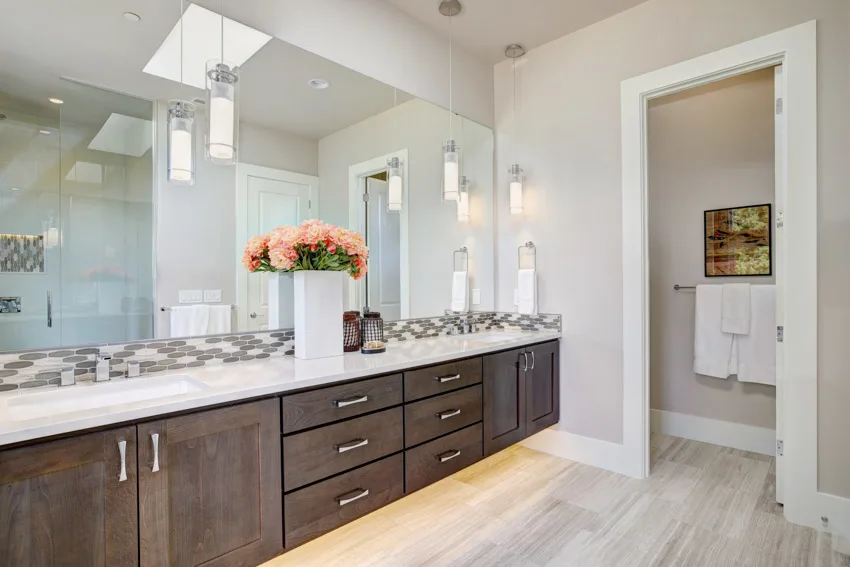 We spend a lot of time in the bathroom, and it is always pleasant to enjoy time in a warm, relaxing environment. On a typical day, everyone in the family uses the bathroom numerous times. As a result, installing a floor that you and your family will appreciate makes sense.
A common wood-look flooring choice is laminate flooring. It has a water-resistant, resin-coated top layer in various wood finishes.
However, since laminate includes a wood-chip composite core, it may succumb to the same fate as wood if exposed to moisture; hence it needs great precautions for use in bathrooms.
See more related content in our article about engineered wood flooring in the bathroom on this page.