Here we share our living room office ideas, including tips to make this design work, conversion tips, and how to choose the right home office desk and chair.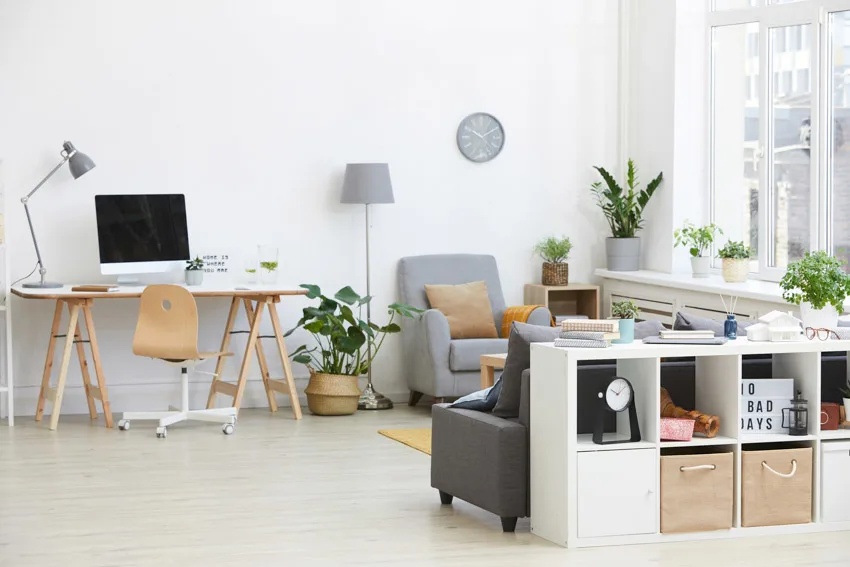 Many homeowners are now getting introduced to united spaces, where two rooms are combined as one. Bathrooms are now in bedrooms and dining rooms, and the kitchen is regarded in the same area. Whether this is due to the lack of space or an ongoing trend, more people are liking this new home style and a new challenge.
One of the more popular combinations is the living room and home office pairing. This combination can be a good way to utilize this space for working remotely from home.
Home Office In The Living Area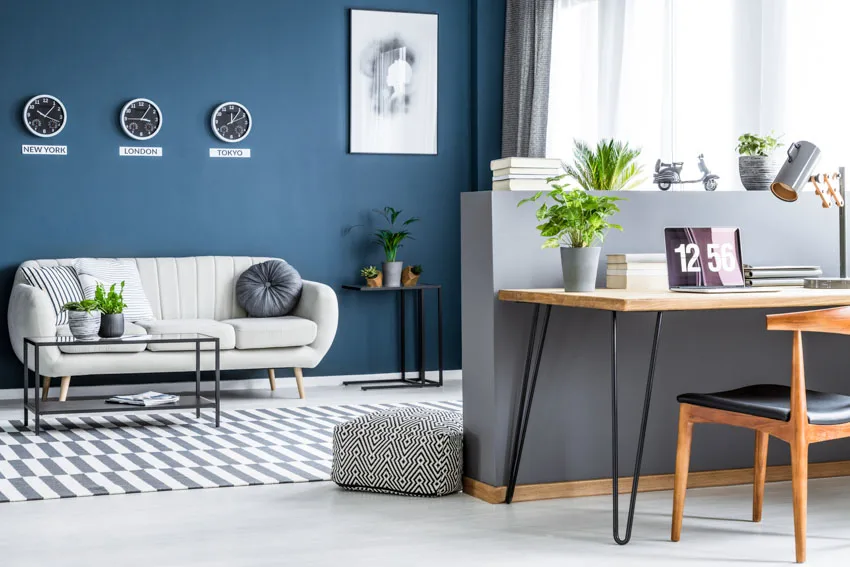 The modern working style has transformed from the standard office-based setup to a work-from-home (WFH) setup, which is what makes a home office a good idea to explore.
But let's face it, not everyone has enough space to have one, and what you can really do is incorporate it into one of the common rooms at home. And one of the best areas to incorporate it into is the living room, creating a living room office to use for work.
The living room is an excellent area to incorporate your home office into, primarily because it screams comfort. Working is all about productivity, and while too much comfort can be detrimental, too little is also not good.
And the living room can provide just enough comfort to help you focus on your work but not too much that you will be tempted to rest and sleep.
Living And Office Combination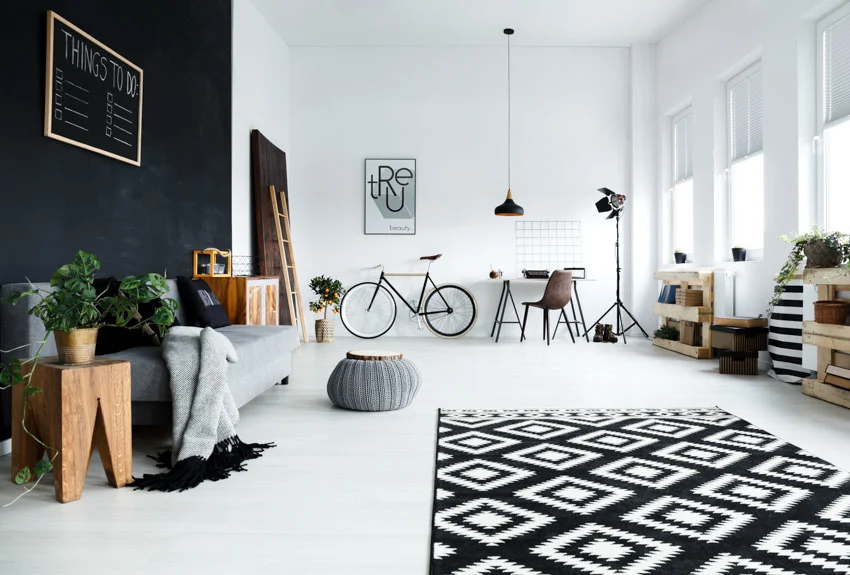 Incorporating a home office in the living won't need to look so forced. In fact, you can design your living room office to be stylish and functionally productive at the same time. Seamless incorporation is needed for a living room office combination to work.
Choosing a living room office combination means you need to find a good way of mixing both the living room and the home office into a seamless new area that can accommodate both functions.
Would you want to have a separate area from the living room and the home office that just appear to be an open area, or would you want to smoothly combine both areas?
A home with enough space can accommodate an open area where the living room and home office areas are in one room and without partitions. If you have a smaller house, a living room office combination is better.
Make Use of Unused Nook: With a living room office combination, you might even be able to make use of and maximize forgotten spaces in your home. Whether it's the space behind your sofa or a hallway often neglected, there is a space somewhere in your living room that goes unused, and you can make the most out of it.
Look for unused nooks in your home, specifically in the living room, that you can transform into a home office. You can check out the corners of the living room if you can have enough space to set up a desk and a chair.
Using existing built-in cabinets for an office can be an excellent way to designate your office space. And if you want to define the space more, you can use the sofa as a divider to somehow separate and workspace from the living room.
Use Shelves & Optimize Them As A Working Spot: Another idea you can use in a living room office combination, particularly if you have a small living room and a tight space to consider for your home office, is to make use of the wall shelving.
A compact wall shelf can serve as a workstation where you can conveniently place your laptop on and get work done. Easily pull up an ergonomic chair by the shelf and simply fill in the remaining spaces with office materials and books.
Converting A Formal Living Space Into An Office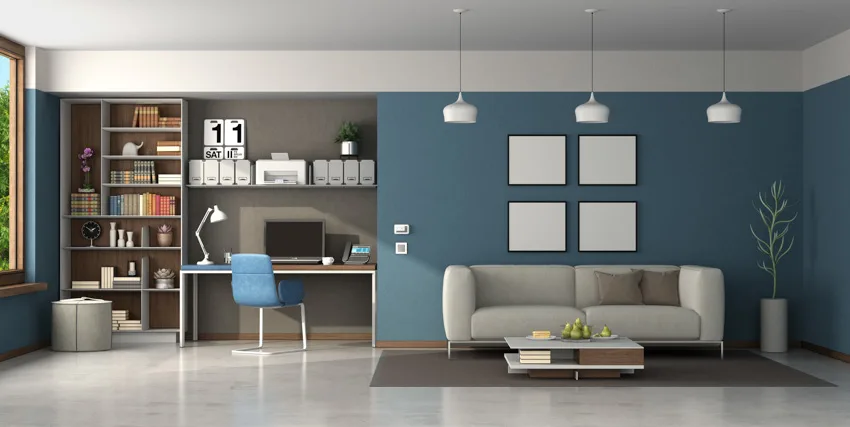 Converting your formal living room into a home office takes a bit of creativity, especially if you have limited space, but it's possible.
When you convert your living room into a home office, this would require prioritizing interior elements that are found in a home office rather than seeing more elements found in the living room.
Some of the elements you would need to include in your workspace are a desk to accommodate your computer, an ergonomic chair, and the proper office lighting that can support your productivity. With these elements, it is relevant that you integrate them seamlessly and make them work with the layout of your living room.
How To Convert A Room To An Office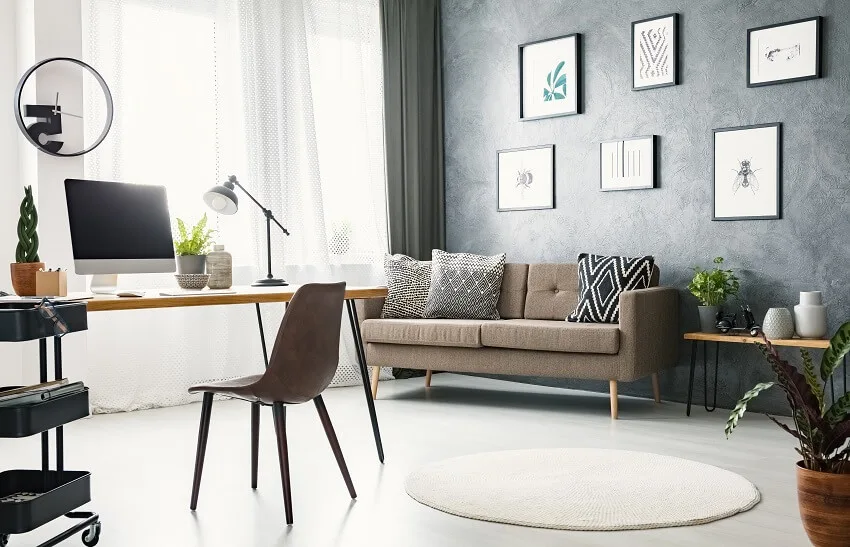 Converting the living room and setting up a home office for remote work in it means making the most out of your limited space. Incorporating all the elements of the home office in the living can be accomplished by creating a space in the living room entirely for office work.
It can also be done by working in the living room, incorporating desks and chairs, or using multifunctional furniture that works both for the living room and the home office.
Check out these ideas to help you convert your living room into a home office.
Create an Open Office Space: With a large living area, you have more freedom to build your own office space with a simple desk.
You can be stylish in building your office by mounting an office desk on a wall, appearing to float. Separate and emphasize your office space in the living room by using a small rug in the office area. Decorate the wall above your desk with your favorite artwork or create a gallery wall that fits the theme of your room.

Work Station Line Up: Another way to incorporate an office area in the living room is to line up a workstation by setting up multiple desks on the wall.
If you're now the only one working at home, creating a workstation can be a creative choice to consider. The setup of these desks can be considered the "home office."

Fit a Desk in the Hallway: If you have a hallway near the living room that is randomly used and has enough space to fit a desk, it is another area you can consider for your home office.
One thing you can do is add a console in the hallway or even just near the entry to the living room. A console is big enough to function as a desk but small enough to fit in hallways.
Utilize Natural Lighting: By setting your office work station so it can benefit from natural light, you can increase your productivity and reduce eyestrain. Make sure you have proper office window coverings to control the level of glare when needed.
Don't Forget Design & Decor: Keep your living space uplifting by painting the space a lighter neutral color that helps keep the room bright for a better work environment. Add decor items such as mirrors, lamps, and other light fixtures to provide light in the evening when you may be working late.
Consider elements such as a bookcase, bookshelves, or entertainment center that can store your home office space materials out of site when not in use. In addition, don't forget organization bins to keep your office accessories within easy reach.
Choosing A Living Room Office Chair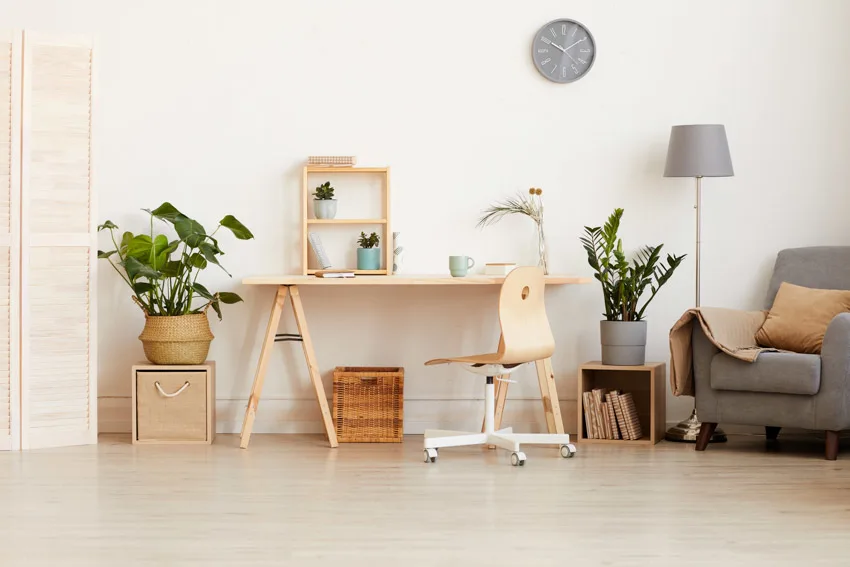 When choosing an office chair for your transformed living room, you need to take into account your comfort and productivity while working and at the same time the aesthetic and look it can contribute to the room. For your comfort and productivity, a good office chair considers the following factors:
• Adjustability: Choose the types of office chairs that can easily have their height adjusted to what you're comfortable with. Most office chairs have 5 adjustments but there are some that can have as many as 14 adjustments.
• Armrest: Armrests of an office chair must also be adjustable to cater to your comfort.
• Backrest: This is an important factor, especially if you spend most of your time sitting down. The recommended width for an ergonomic office chair is between 12 to 19 inches.
• Lumbar Support: More than just the right width to accommodate your back comfortably, it is also necessary to have enough lumbar support that can cater to the curve of the spine.
This feature will help fit your lower back comfortably in the office chair and prevent back strain, which can be a challenge when working on a desk.
• Fabric: Office chairs should be made from breathable fabric that can keep them from getting hot and uncomfortable after sitting on them for hours. Padding installed on the back is also recommended for additional comfort.
• Swivel Base: Choose a freely swiveling office chair that can help you access different parts of the desk whenever you need to. It will help you avoid arm fatigue by overextending your arm and straining to reach items on the desk.
• Wheel Base: Make sure that the office chair you choose has a wheelbase that can seamlessly roll around the floor. Same to a swiveling base, this will also avoid needing to overextend your arm just to reach for different items on the desk.
More than these functional factors in choosing your office chair, if you use it in the living room, you might as well match its appearance with the style you have in the area.
Adding a recliner or chair with an ottoman may give you a place for reading or contemplation. If you're really short on space in the home, you may even want to consider buying a sofa bed to add even more functionality to the space for friends and family to sleep over.
Choosing An Office Desk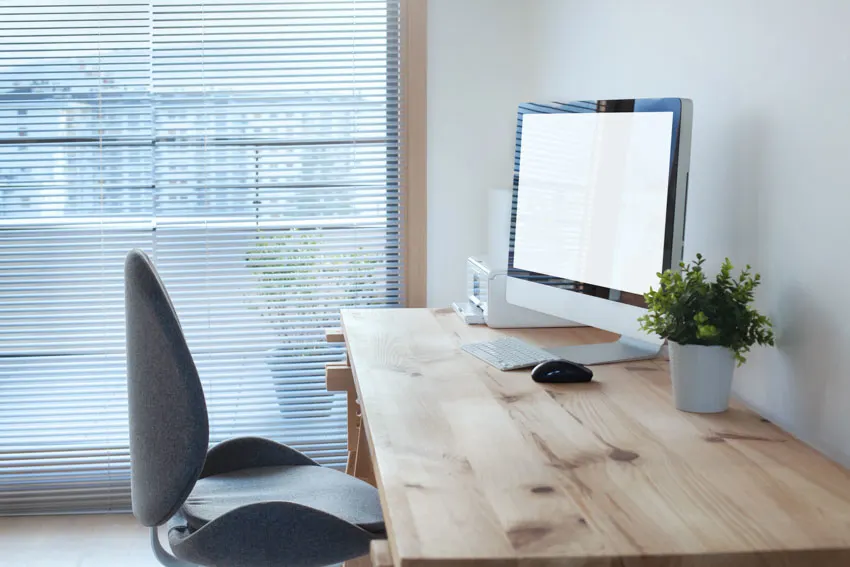 When turning or combining your living room into a home office, consider the space you can use and the vibe in the room when choosing an office desk.
The great thing about installing office types of desks in the living room is that you can challenge your creativity in installing and incorporating one in your living room. Some of these ideas are:
Use the Sofa's Center Table/Coffee Table As A Desk: If you want it as simple as possible, you can sit on the sofa and use the current center table you have in the living room as a desk. You just need to set up your laptop on the table and start working.
Look for tables that are at a comfortable height for typing on your laptop and allow for interruption free work time. Since this location is probably in front of the television, there will be a distraction you will need to consider. And if you share the space with other people, you will need to be able to work effectively even with that distraction.
Save-spacing Foldable Desks: A fold-out desk can be the solution to your issues with space. You can tuck it away when not in use, and for office hours, have it set up in the location where your coffee table or center table is, and the sofa can serve as your office chair.
Living Room's End Table Transforms Into A Desk: If you have an end table that accompanies your sofa, you can use it as your desk. One disadvantage you will experience though is that since the table is small, you have limited space in your "desk." This can work if you have a small laptop and won't need space for other office items.
Since this type of desk is foldable, it is temporary, and so you would need to pack up at the end of the day (Which can be a real hassle!).
Install Desks As A Living Room Shelf: Most home offices use an executive desk, and you can also install it in the living room and use it differently but have it function as a shelf.
With enough storage space (with its drawers), you can keep files and office equipment and supplies in them. However, when not in use, you can use the desk as a shelf and put books, vases, and other ornaments on it.
Make sure to choose a small to medium-sized executive office desk to save space! And you can also use a writing desk if you feel like an executive desk is too much formal to consider.
Floating Fold-out Desk: Similar to a foldable desk, this type of desk can easily be tucked away when not in use. The difference is that since it's mounted on the wall, you don't have to find a corner or cabinet to store it. You just have to fold the desk then and there.
Convenient as it may be, these floating fold-out desk is not aesthetically pleasing to look at. You might still need to find a way to hide it when not in use, like a curtain. And you will also have to pack up every time you finish work at the end of the day.
See more related content in our article about the different home office gym benefits on this page.