Here we share our home office ceiling lighting ideas including the different light layering methods, types of fixtures & options, and suggested color temperature to use.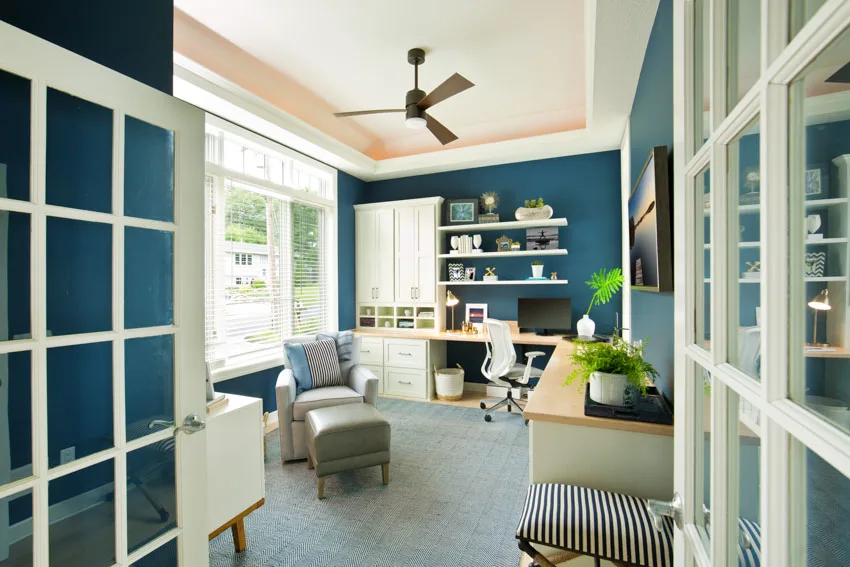 When we think about lighting in a home office setting, for most of us, throwing in a lamp and a couple of pendant lights simply does the trick.
However, we can do more than the typical lighting setup. We're used to having a well-thought-of lighting layout that goes a long way, affecting our day-to-day office work safety and performance.
When considering a lighting layout, it is good to focus first on people, then the built environment, then decor. Every aspect is important but lighting a home is primarily for people – to enhance their comfort and communication and facilitate the daily tasks of eating and working.
Light layering is a technique in home lighting design that uses four primary layers of light – ambient, task, accent, and decorative – as well as some standard techniques like wall washing, grazing, and silhouette, to supplement and enhance light layering.
Layering Lighting In A Home Office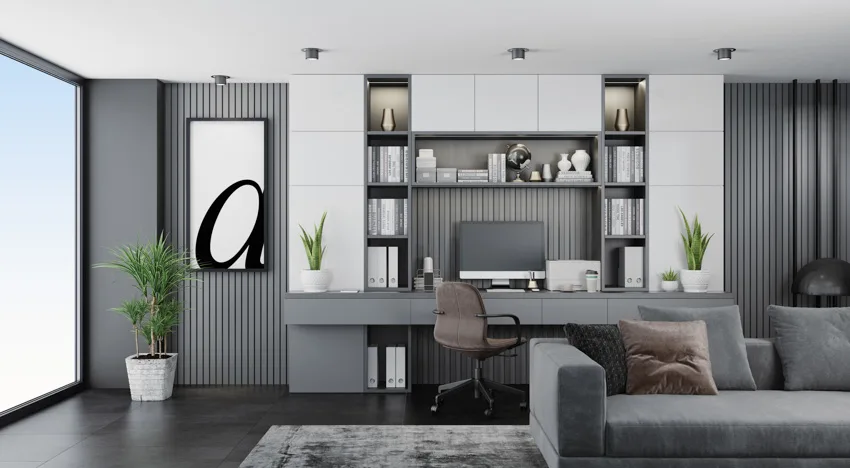 Layering your lights is the best way to achieve quality lighting in your workspace. Layering involves combining the three main types of lighting, namely ambient, task, and accent light to create a well lit home office.
Adding your perimeter lighting and architectural lighting can also be included for a more dramatic effect, but is also necessary for a workspace environment.
Ambient Lighting
This layer of lighting is also termed general lighting, which serves as the overall illumination to your home office.
Ambient lighting serves as a consistent lighting level throughout the enclosed space. Generally, it has a soft, diffused light which reduces the shadows and evokes a sense of openness to the room.
For home offices are mostly installed on ceilings, either mounted or recessed. They can also be installed on walls such as wall sconces.
Other types include cove, valance, or soffit luminaires which bounce off the lights between the ceilings and walls.
Task Lighting
As the term implies, task lighting is used to provide light on a specific task area. A lamp next to a reading spot and a desk lamp are two common examples of task lighting.
Task lighting is most commonly used in living spaces such as the kitchen, laundry room, home offices, and workshop areas. Task lighting is critical for your vision, as it aids in the maintenance of healthy eyes and the prevention of eye strain.
Accent Lighting
Like décor, accent lights add that visual intrigue and excitement to your space and are usually ten times brighter than your ambient lighting.
Backlighting or coved lights on your shelving is an example of accent lighting.
Accent lights are also used to highlight an object, such as artwork or display. It also draws the eyes away from something or helps create a color temperature or ambiance to a space.
Other Lighting Layers To Consider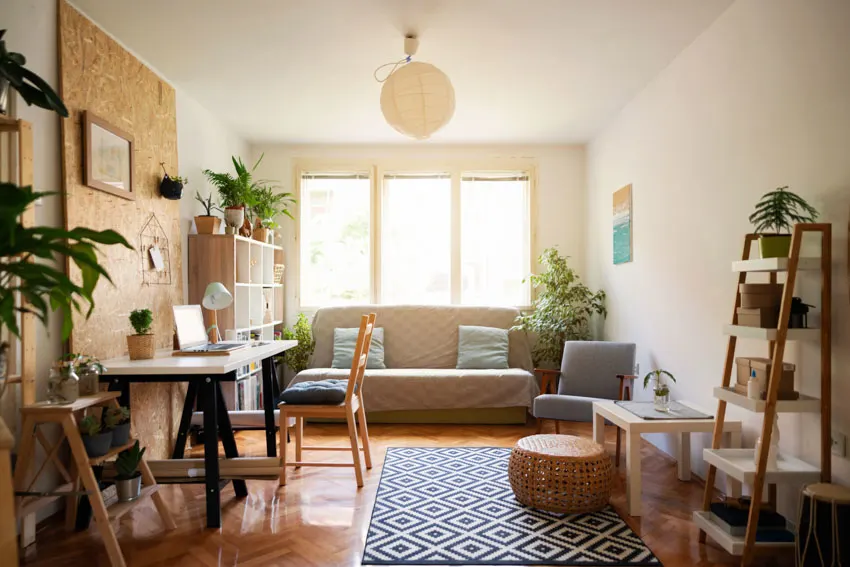 Natural Light/Daylighting: A light and airy work environment will motivate and encourage productivity while reducing procrastination. Allow natural light to flow into your workspace whenever possible.
The ability of sunlight to produce warm light that stimulates your mood and promotes a relaxed working environment is one of its many benefits.
The natural rays of the sun will help you absorb vitamin D, which will keep your bones and immune system in good shape.
Control how natural light enters the room by using blinds, shutters, and positioning your desk or workstation in a north or south direction can help reduce shadows and glares from the sun.
Architectural: Cove, soffit, and valance are the three most common types of architectural lighting; all three are built into the room's structure.
• The light from cove lighting is bounced toward the ceiling or upper wall from a shelf, recess, or a ledge, shelf, or recess high up on a wall.
• Soffit lighting is a type of lighting that is installed in a soffit or cornice near the ceiling and shines down on the wall.
• Valance lighting is light that bounces upward and downward from glass, wood, or metal mounted above a window or high on the wall.
• Indirect lighting is the technique of bouncing light off walls and ceilings, which many lighting professionals prefer because it reduces shadows and glare. Ambient lighting is the most common application of architectural lighting.
Home Office Ceiling Light Fixtures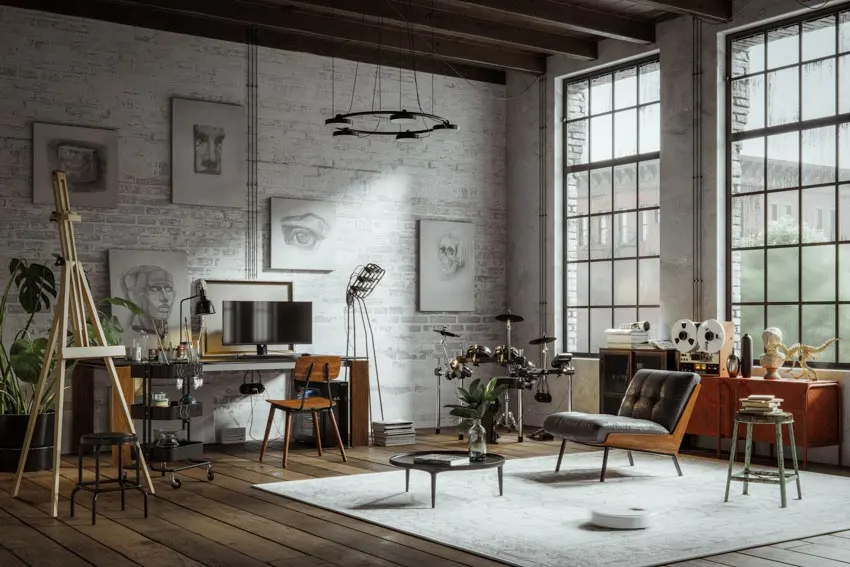 Office types of ceiling lights come in a plethora of designs, and the most commonly used in a home office setting includes:
Recessed Lights – Best for Diffusing Overall Lighting
A popular choice for most office spaces, both for residential and commercial offices in the recessed light.
Along with your flush mount version, a recessed light is able to diffuse light and works well with a home office with a lack of natural light. With the right lighting layout, it can diffuse the light evenly.
Track Lights – Customizable
Track lighting has come a long way over the years, with many great fixture designs that allow you to make a subtle visual statement with this versatile lighting option.
These home office ceiling lighting fixtures are installed on a linear track which consists of several headlights that can be adjusted anywhere and at any angle along the track.
This customizable feature makes it a practical home office light as you can adjust the direction and angle of your light depending on the task at hand.
Flush Mount Ceiling Lights – For Low Ceilings
As the term implies, it is a dome-shaped ceiling fixture that's mounted flush to the ceiling.
Another version is called a semi-flush mount light that extends just below the ceiling, which is usually used as a decorative feature. If
They're a stylish option for homeowners with low ceilings and a subtle alternative to pendant lighting. Furthermore, if you require additional illumination, a flush mount will work well with wall lights.
Pendant Lighting – A DIY Favorite
Pendant lighting is highly versatile. You can buy it straight from the store and customize it to fit your needs by adjusting the suspension or the height at which it is hung.
This feature is critical because there are now interior design guidelines to follow, such as the proportion of the light in relation to its distance from the walls.
You can also choose to replace the light bulb to achieve the desired ambiance. Long hanging pendant lights also can make ceilings seem higher, and rooms feel larger.
Floor Lamps – Best for Reading
In general, you'll want a floor lamp that shines brightly outward and upward. Floor lamps for tasks such as reading should be placed to the side or behind you when seated.
Floor lamps can be statement pieces because of their size and height. If you're looking for a unique floor lamp for your home office, an adjustable Pharmacy floor lamp is a great choice. A popular design you might have seen in many interior design showrooms is the
Home Office Ceiling fan with light – For Hot Work Days
You can always install a ceiling fan in your home office space if you don't want to go with office chandeliers or pendants.
This is especially beneficial for home offices located in warmer areas of the house, such as an upstairs room or a room with a full-sun window.
But what about those bleak early mornings and late evenings spent at work? Ceiling fan light kits come in handy in this situation.
Most ceiling fans come with built-in light kits or optional accessories that you or your contractor can connect at the installation time. If you know the model number of an existing fan, we can try to match it with a separate light kit accessory from one of our manufacturers.
Several of them sell light kits separately for just this situation, where a homeowner already has a fan installed but later decides to add a light.
Office ceiling fans with light kits provide sufficient area lighting for your home office while also providing a cool breeze for you to enjoy. This is especially useful now that summer is rapidly approaching.
Light kits come in different styles to match your office ceiling fan, whether you're looking for a new accessory for an existing fan or want your new ceiling fan to come with a light kit.
Hybrid Lighting Fixtures – Dual Purpose
As single lights aren't available on all flush mounts, you can choose hybrid versions.
Some of them resemble a cross between a flush mount and a chandelier, adding just enough visual interest to small spaces without being overwhelming. A flush mount chandelier with track lighting is a good example.
Cordless Types – Portable
Are you fed up with tangled cords? Invest in a cordless lamp. A cordless or portable LED table lamp can provide functional lighting without adding to your desk's tangle of cables.
This lamp has three brightness levels and can provide up to 48 hours of cordless lighting on a single charge, which are two of the main reasons it was chosen as the best overall cordless lamp in our research.
Wall Sconces – Area and Task Lighting Combo
Office wall sconces may be the lighting solution for you if your home office space has low ceilings or if you simply prefer to keep your lighting closer to eye level.
Wall sconces are ideal for the area and task lighting because they hang lower than ceiling light fixtures. Install multiple wall sconces for maximum area lighting, or use adjustable swing-arm wall sconces for added task lighting as needed.
To create layered lighting, pair off office wall sconces with additional task lighting at your desk.
Best Ceiling Light For Home Office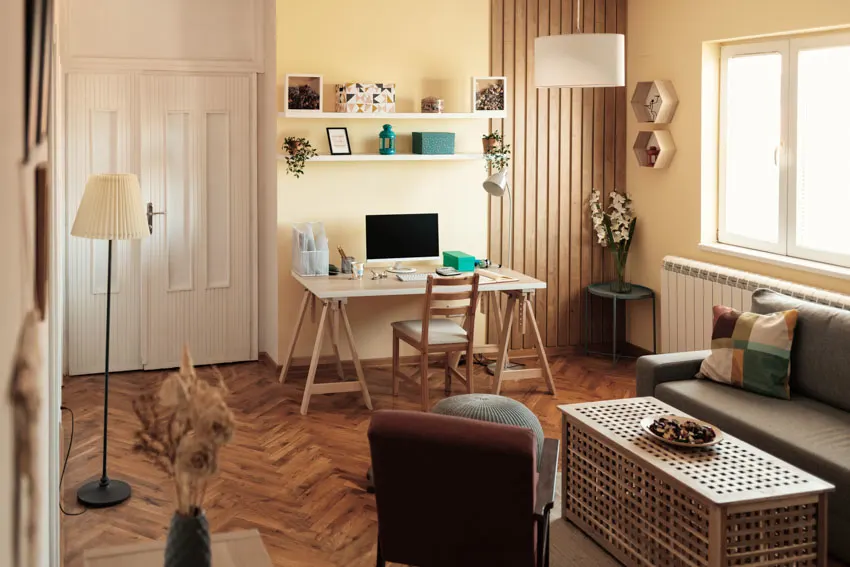 Here we share the criteria you can use in choosing the best type of ceiling light for your home office.
• Versatile: Pick among the many types of lighting fixtures that are timeless in design and can work well with other luminaire designs. This will make layering your lights easier.
• Adaptable: A fixture that can adapt to changes on your workspace, such as adjustable angle or brightness.
• Space-saving: Head clearance is important.
• Energy-efficient: There's a reason why LED lights are now the standard lighting option for almost any functional use as you get quality light with less cost.
• Within the Budget: If you're working on a budget, there are a plethora of luminaire designs to choose from.
What Types Of Light Bulbs Are Best For The Home Office?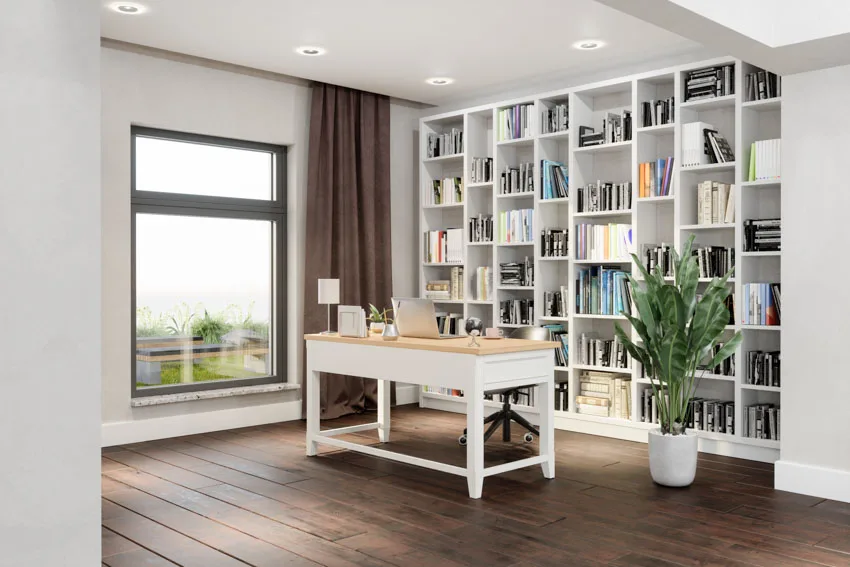 Your choice of lighting in your home office or workspace is critical to your productivity. The best light bulbs for home office areas will help you stay focused and productive no matter what you're doing.
While portable lamps can be found in almost any office, this collection of desk, task, and library lamps allows you to be more creative with how and where your lighting is placed.
Over the desks, linear suspension and pendants provide a bright spread of illumination for the entire room (handy over rectangular desks or conference tables).
Recessed fixtures are a subtle way to achieve general ambient lighting, and a ceiling fan with an integrated light kit is recommended if you need to move air around the room.
When it comes to office lighting, LED is an important consideration. You'll appreciate the bright, focused illumination they provide, in addition to their inherent energy efficiency. Whatever you choose, you'll be sure to appreciate the extra light in the room.
Choosing the right light bulb is critical when installing a new light fixture in your home office. For workspaces, having a good lighting projection is essential.
To maintain focus and concentration in a home office, you'll want bright, cool lighting. In those Zoom meetings with the rest of the team, the bright light also makes you look professional.
How Bright Should The Home Office Be?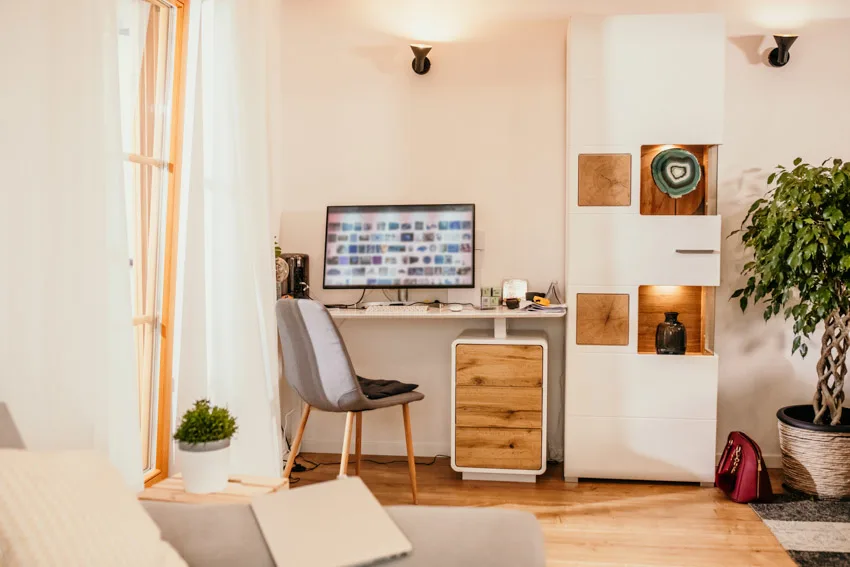 Selecting bulbs with a dimmable feature in a warm to cool color temperature range is ideal. A dimmable light fixture can help you adjust lighting requirements and strengths as the day progresses.
A light bulb with a color temp of 3000k to 5000k should provide adequate light amplification for your workspace.
Suspended direct/indirect fixtures provide a bright, low-glare environment for long periods of computer or paperwork while also being very energy-efficient.
• Use a cool lamp (3500K is a good choice) than in the rest of your home office.
• Recommended: All fluorescent should be >80 CRI, 2700K Electronic Ballast.
• Don't force all three (or five) into the space when not necessary.
Controlling the fixtures intuitively and appropriately is a part of the design process. The best way to do this is to imagine the space as you go about your daily activities.
Which light fixtures do you want them to be able to control? Which lighting fixtures would you like to be able to dim out when you have guests over for a formal dinner and want to create an intimate atmosphere?
Of course, when installing or upgrading a lighting system, all applicable codes and regulations must be followed. For more information on code, permit, and inspection requirements, contact your local electrical provider.
See more related content in our article about small home office ideas on this page.