Below we share the best flooring for home office and help you choose based on your requirements.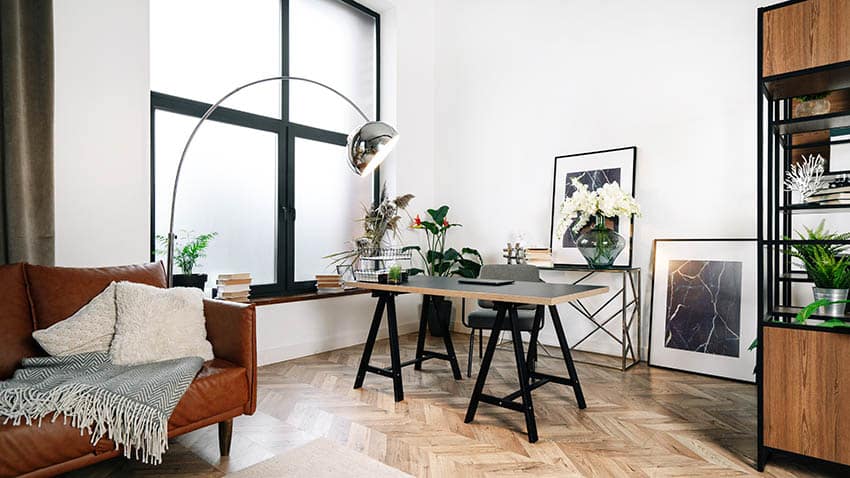 To make the best choice of flooring for your home office, it is important to consider three variables: budget, practical requirements, and design. The amount of money you have to dedicate to the project will dictate what options are even possible.
The logical first step is to look at your available funds and decide how much you are willing to spend, in total, over the life of the office space.
Consider how long you would like your flooring to last. Your total spend will need to include the purchase of materials, cost of installation (either your own time, or hiring a professional), and maintenance of your chosen flooring throughout the life of the office. Some materials may appear cheap at first, but time, effort, and cost of maintaining them can make the price rise.
Choosing the Best Type of Flooring for Your Home Office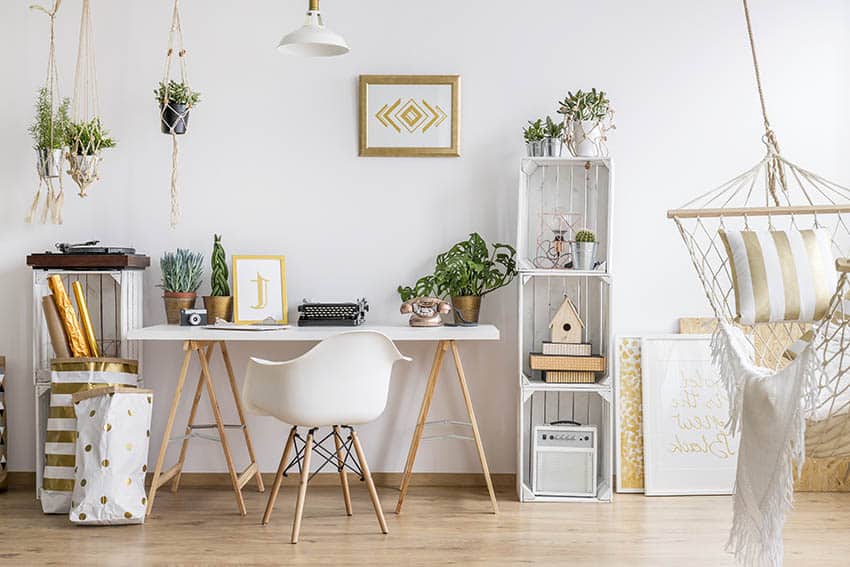 Practical requirements to consider are more varied than they might seem at first glance. Will the office see heavy use? Do you wear shoes when you're at work? Perhaps your space is in an outbuilding, and so heat retention is a consideration.
Your comfort is key, and if clients will be visiting your space, you will want to consider their comfort as well. Do you use a rolling or swivel chair? If so, selecting a surface that will allow your chair to glide comfortably is a practical consideration.
If your business requires you to keep paper records or store inventory, you'll want to choose a flooring option that will stand up to the heavy weight of filing cabinets.
Finally, the look and feel of the office is an important consideration. What is your design intention for the space? Are you looking for a small office space for ideas to emerge? Or a cozy and comfortable cocoon from which to create?
There are options in every price range for whatever your design aspirations might be, and articulating this beforehand will help you create a cohesive and aesthetically pleasing space.
Home Office Flooring Options
The top choices for home office flooring natural hard surface flooring, terrazzo, vinyl composite tile, luxury vinyl tile, stone tile, broadloom carpet and carpet tiles. Well discuss each of them below one by one.
Natural Hard Surface Flooring
Natural Hard Surface Flooring is a broad category that includes stone, wood, and ceramic flooring options.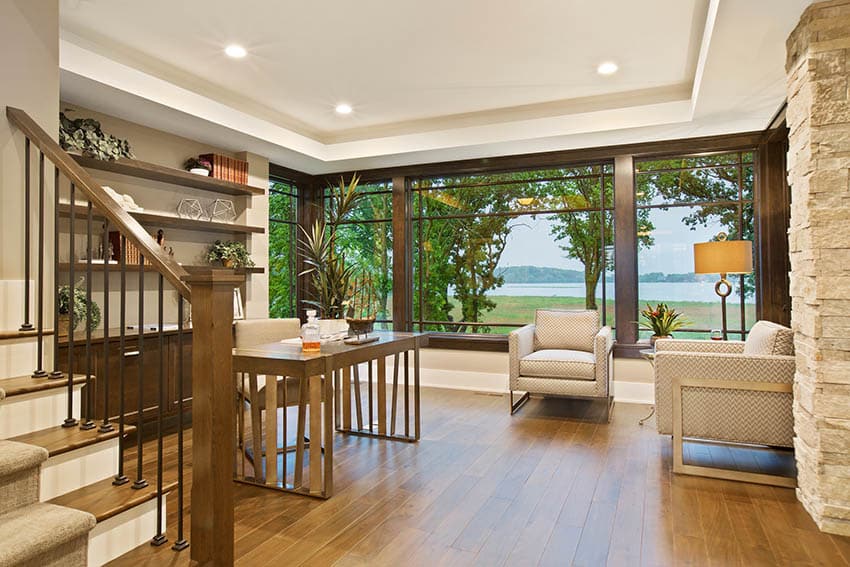 Home office with built-in bookshelves and hardwood flooring.
Wooden floors are beautiful, especially when first installed. They dampen sound and lend a homey feel to an office. It's a perfect choice to create a warm, inviting, and natural atmosphere in your home office. There are many types of hardwood flooring to choose from and they are a great way to get a refined office look.
However, even hardwood is a material that will accumulate damage. Scuffs, scratches, and indentations are part and parcel of this flooring option. If you wear high heels or entertain clients who are likely to choose this footwear, you'd be best served by a flooring option that is less prone to damage.
Natural hardwood flooring also requires professional installation, which increases the cost. When considering your budget, make sure you calculate the cost of occasional refinishing.
Wood look floor tile is another option that mimics the look of real hardwood floor. It is constructed from ceramic or porcelain and can be less expensive and may be a better option for those who desire a more maintenance free option in their home office.
Terrazzo
Terrazzo floors are well known for being durable and providing an assortment of color options.
Terrazzo itself is a composite material constructed from a variety of different substances such as granite, marble, quartz glass or other materials combined with a binding epoxy.
If mixed, installed and sealed correctly Terrazzo is resistant to water damage and staining. It is also resistant to chipping. It can have a lifespan of 75 to 100 years making it one of the most long lasting flooring options available.
The downside is that it comes at a cost with professionally installed Terrazzo flooring often consisting more than even marble or granite.
Vinyl Composite Tile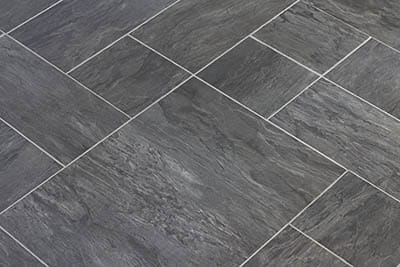 Vinyl Composite Tile, or VCT, is an extremely durable and long-lasting choice for the floor of your home office. However, it requires regular upkeep in the form of cleaning, waxing, and sealing.
VCT makes sense where there is a budget for maintenance. From a design perspective, VCT will help you achieve an impersonal, sterile environment.
Vinyl composite tile is installed in sheets, so there will be few visible joints, depending on the size of your space.
Luxury Vinyl Tile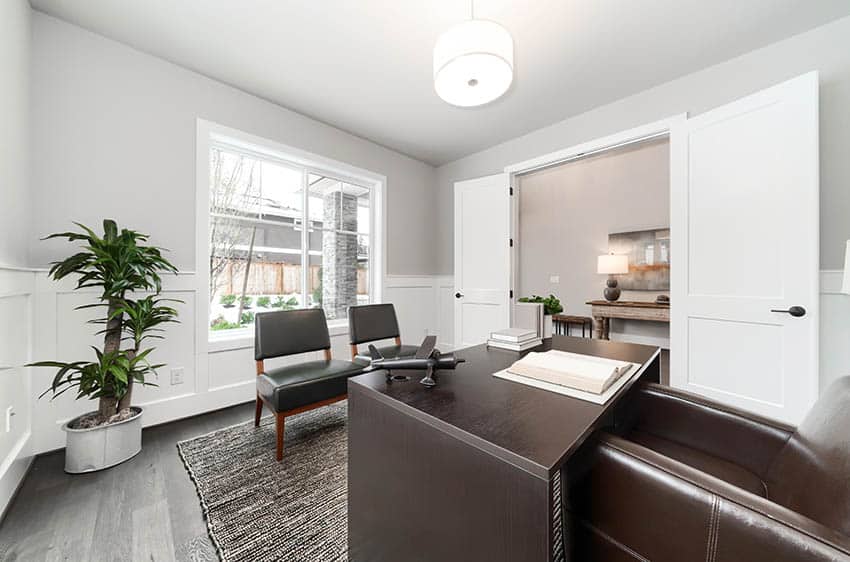 Luxury Vinyl Tile, or LVT, is a great option to mimic the look of natural materials such a stone or wood, but at a lower cost. You can even get LVT with an embossed wood grain pattern, so you can see and feel the 'grain' of the 'wood'.
It comes in planks and tiles that can be installed by a homeowner, provided the installation surface is already clean, dry, and level. LVT comes with a protective coating (called the 'wear layer') that preserves the design and eliminates the need for daily mopping and regular waxing and polishing.
Luxury vinyl tile is not as comfortable to walk and stand on as cushioned carpet, but if you spend most of your time sitting, this may not be a concern for you.
Another consideration is acoustical transfer — a stone or ceramic floor will bounce sound around the room. While LVT doesn't have the sound-dampening qualities of carpet, it will transfer less noise than any of the natural hard surface flooring options.
Stone Tile Flooring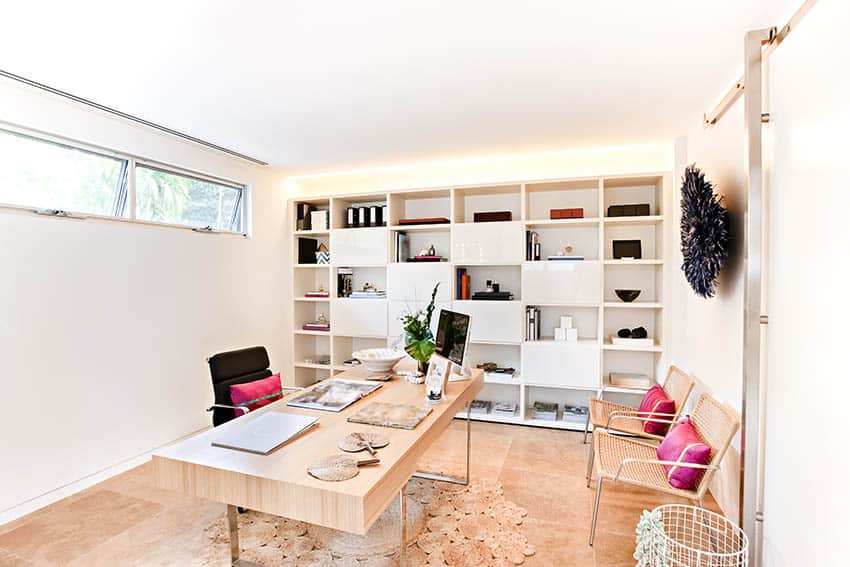 Stone tile flooring is a great choice for areas that flow between indoor and outdoor. If your home office includes a terrace or veranda, this can be an excellent option for incorporating that into your interior space.
Natural stone comes in many different styles such as travertine, limestone, granite, slate or marble floor tiles.
Stone tile flooring also requires professional installation, but is virtually indestructible and needs little to no maintenance. If you're in a cold climate and your budget stretches to underfloor radiant heating, this will make your office an inviting place on chilly days.
On the other hand, in warm climates, stone retains its cool temperature.
Broadloom Carpet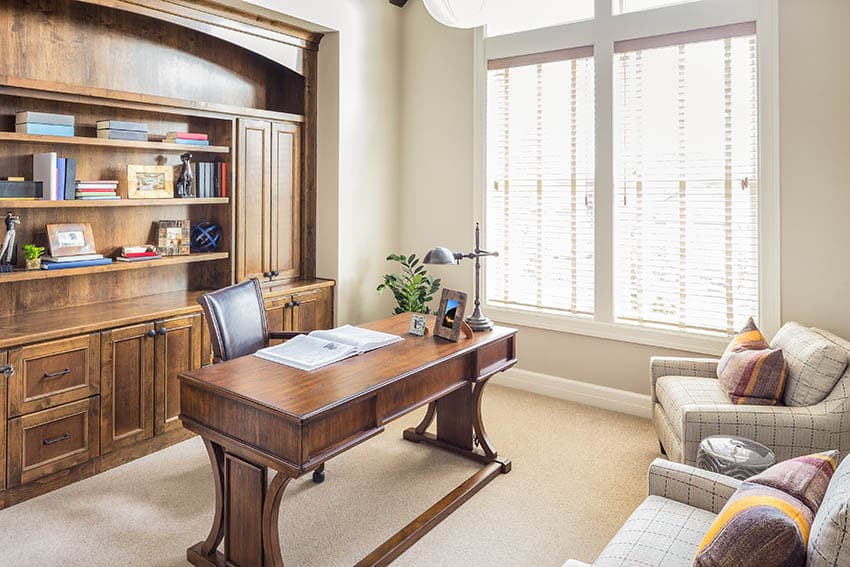 Broadloom Carpet, also called wall-to-wall carpet, is an option if your design priorities are uniformity of material and color, and if cushion and sound-dampening are important to making your space functional and supportive of your work.
The natural fibers of carpet can trap allergens and stains, making it the least hygienic of all your home office flooring options. Installation is best done by a professional, and the process can be frustrating if you have an irregular space — you will need to purchase more carpet than will be used.
If you're lucky, the left-over bits (called remnants), will be in a size and shape that you could have them bound and used as runners or floor mats in other parts of the home, but realistically you're more likely to keep them in the garage for a few years and then throw them out.
Carpet Tiles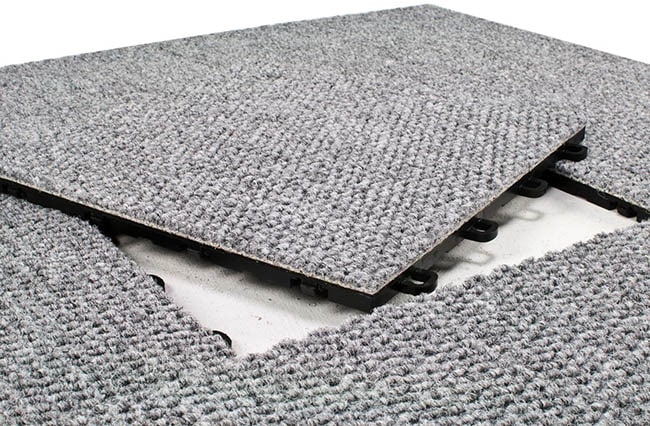 Carpet tiles are a newer alternative to broadloom carpet. A prominent benefit is that they can be customized to exactly fill the space of your home office, avoiding the question of what to do with unusable remnants.
Should you (or a client) inadvertently create a stain, only the affected tiles need to be replaced. Carpet tiles with cushion backing will not only absorb more sound but extend the life of the carpet as well.
If you choose carpet tiles, consider an installer that offers pattern-matching technology. This helps carpet tiles look more like part of a larger carpet, rather than individual pieces. Carpet tiles also don't need to be installed throughout the entire room, making them an excellent choice if you have an existing floor that you'd like to protect from traffic.
For more related designs visit our article about home office staging ideas.
Disclosure: DesigningIdea.com participates in the Amazon Services LLC Associates Program, an affiliate advertising program designed to provide publishers the ability to earn fees by linking to Amazon.com and affiliated sites.