Below we explore interior designs with wood look tile flooring including its pros & cons, the best way to lay tile planks and popular layout ideas.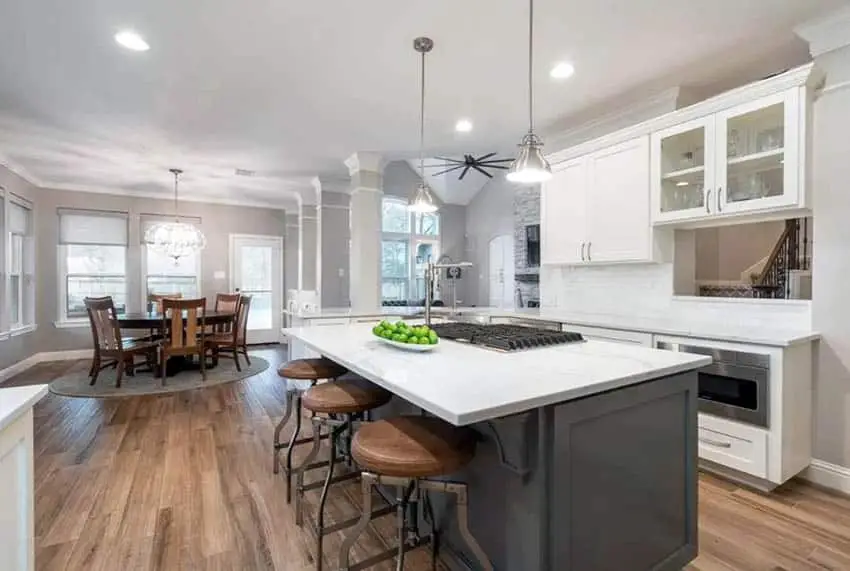 If you want the appearance of wood flooring in your home without its cost and maintenance issues, wood look tile is a popular choice. Wood look planks come as ceramic or porcelain tiles and are most often in the shape of planks, just like real wood. The primary benefits of these types of tiles are their durability and cost.
Homeowners often ask whether hardwood floors or porcelain tiles which look like wood are better than the real thing. This question poses a challenge since there are pros and cons for each option and it depends on the homeowner's preference.
There are two main structures for hardwood flooring which are solid hardwood and engineered hardwood. Solid hardwood is solid wood usually has the thickness of ¾" and is solid all way through. On the other hand, engineered hardwood flooring is made up of layers of wood laminated together where in the top layer is a hardwood veneer.
Whereas, porcelain tiles are made out by the fusion of clay making it dense. Porcelain is completely vitrified and can be unglazed or glazed. Porcelain tiles are less porous than ceramic tiles. It is the toughest flooring option because of its durability, higher water absorption rate and stain resistant. Porcelain tiles are highly resistant against chipping and scratching, making it preferable for areas exposed to heavy traffic such as hallways, kitchen floor and other commercial use.
Wood Look Tile (Pros & Cons)
We have gathered some advantages and disadvantages of wood look tile in order to assist and help you decide on which material to use in your home.
Wood look Tile Pros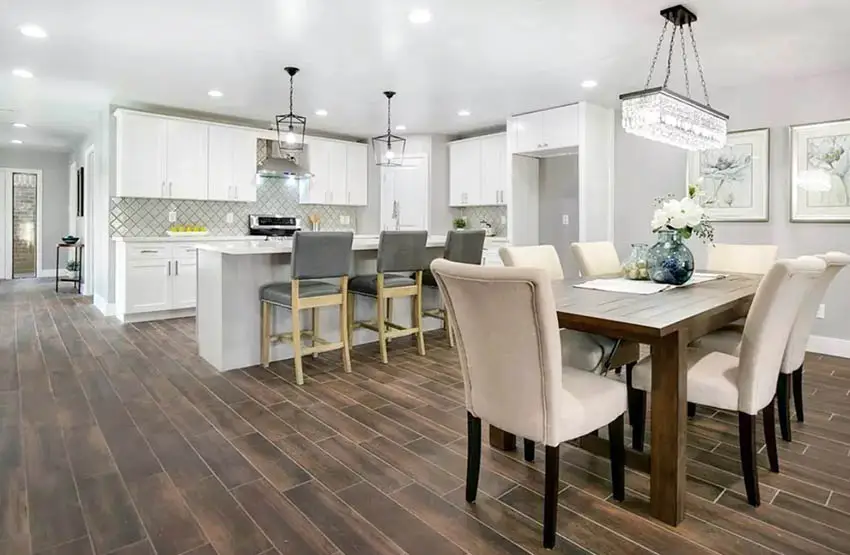 Cost – Wood look tile is more affordable than the traditional solid hardwood floors, giving you more value for your money. There are variety of styles, colors and design to choose from without extra cost and at a lower price. Wood look tile is more economical. Unlike solid hardwood, which is separated into species wherein different colors and patterns have different prices.
Easy Maintenance – Wood look tile is the easiest to maintain and clean. Regular sweeping with a soft broom and occasional vacuum will remove all dry dirt from the floor. For a deeper cleaning, occasional mop-up with mild soap and warm water will ensure that your wood look tile stays in excellent condition.
Durability and Versatility – Due to its resistance to dampness and humidity, the wood look tile can be installed in any area of your home. Wood look tile is extremely durable, water resistant and it does not scratch. It doesn't need to be installed on a subfloor such as plywood and adheres to the cement easily.
Environmentally Safe – Since wood look tile are made from sand and clay and exposed to high temperature during manufacture, it means that these tiles do not contain any toxic chemical compounds known as VOCs; making it safe for the homeowners and the environment. What's more, these wood look tiles when discarded can be recycled into useful raw materials.
Allergy-friendly and Pet-friendly – Because of its smooth tile surface, wood look tile doesn't retain dirt and pet dander. Wood look tile is also resistant to irritants which can cause allergies such as pollen and dust mites. Wood look tile is also a wise choice for a pet-friendly flooring since these tiles are resistant to scratches, scuff marks and stain.
Wood look Tile Cons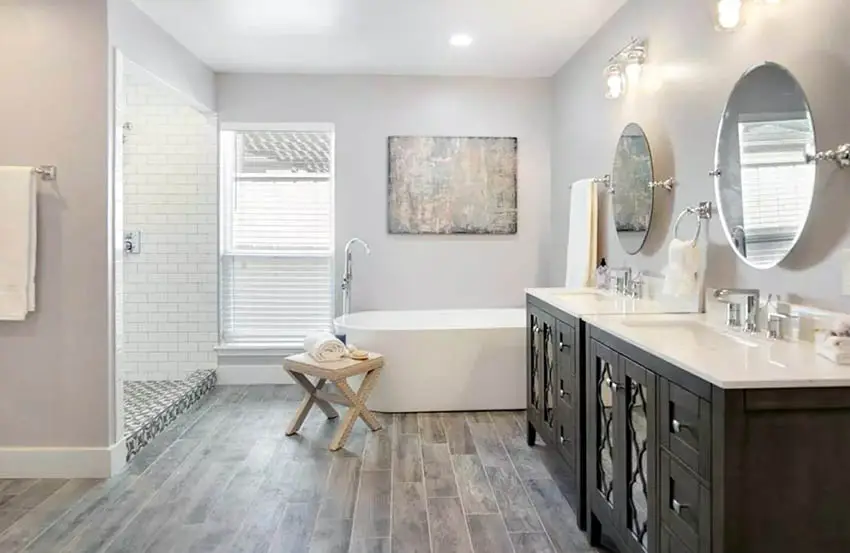 Installation – Installing wood look tile can pose quite of a difficult challenge and so it requires a professional to install. Blending the color tones and arranging each piece to create a realistic wood look appearance can be tricky and difficult especially to an inexperienced installer.
Comfort – Wood look tile can cause discomfort if you spend long hours standing on it. These tiles can be hard and cold to the feet and it does not give any underfoot bounce unlike solid hardwood floors or other types of flooring.
Slippery – Wood look tile with its smooth surface can be slippery to walk on when wet, therefore it can be hazardous. It is wise to choose wood look tile which are non-slip or tiles with a textured surface such as grooved or hand-scraped designs, these varieties can help prevent slipping and improve traction in wet areas.
Wood Look Porcelain Tile Cost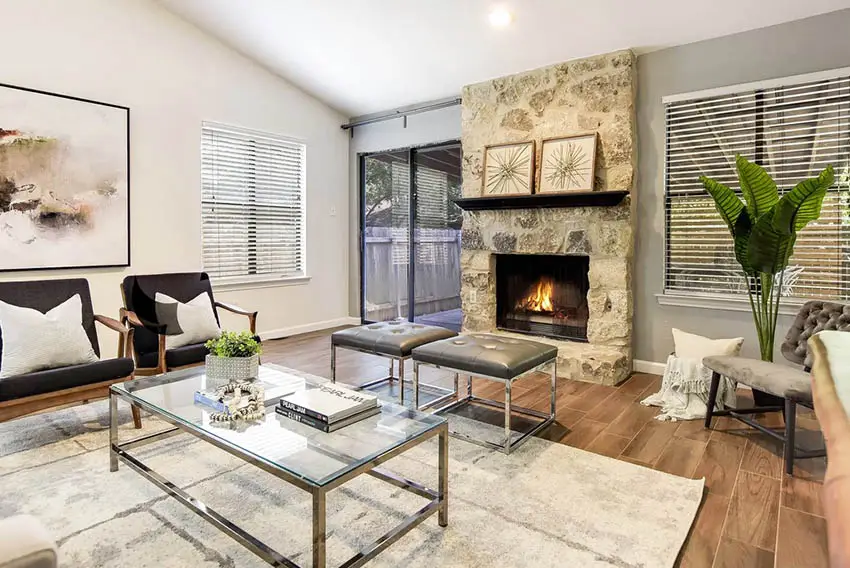 Usually, the cost of wood look porcelain tile depends on the quality, type, durability, thickness, size and of course, the brand of the tiles. High quality wood look porcelain tiles will cost around $6 to $12 per square foot. Wood look porcelain tiles can be customized and its price starts at $20 per square foot and can run upwards.
There are also wood look porcelain tile which range from $3 to $8 per square foot, but the style and stock might be limited; plus the wood grain design can be a bit low in quality. When calculating the cost of your flooring project, don't forget to add around 20 percent extra tiles in order to compensate for wasted materials during installation.
Best Way to Lay Wood Look Tile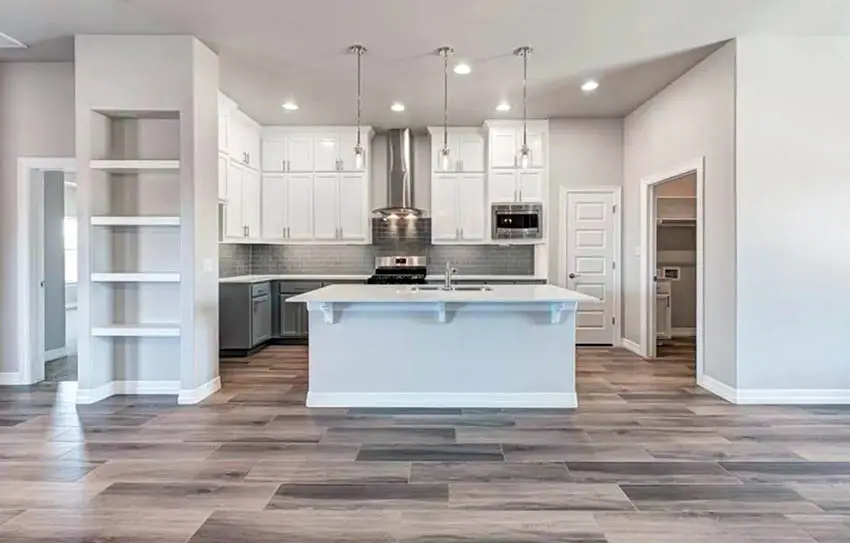 Wood look tile are durable and easy to maintain; and because of its aesthetic appeal the wood look tile has become increasingly popular in recent years. Given all its benefits, the wood look tile may be a bit more challenging to install – and here is why.
Wood Look Tile is NOT Flat. They might seem to look flat at first glance, but if you look closely, the center is higher and that they are crowned in the middle.
Offset Patterns
For wood look tile, usually a random offset technique is used to imitate a solid hardwood floor installation. Offset pattern is an installation technique which sets the center (high points) of the tile next to the ends of the next tiles (low points) in a weave-like pattern. Remember: Do not do a full offset with your wood look tile.
According to the American National Standards Specifications for the installation of tiles (ANSI A108.02 Section 4.3.8), it is recommended that tiles should be offset to no more than 1/3 of the tile – this sets the limit at 33% maximum offset. Example: For a 24" long tile, the maximum offset is 8" You can see out gallery of tile pattern layouts here.
Orientation of Wood Like Tiles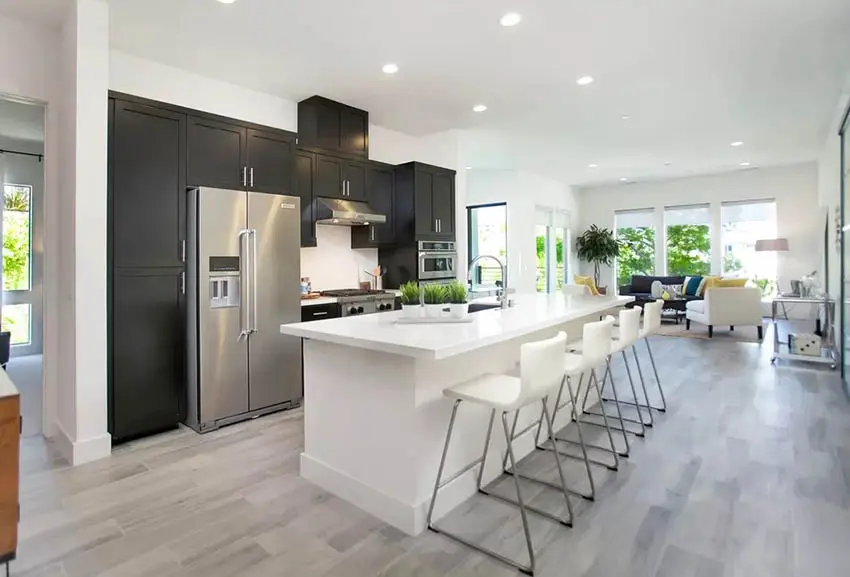 When installing wood look tile, it is very important to pay attention to the orientation of the tiles. Start with laying two rows of the wood like tiles and run them from one end of the room to the other end. Use a tile leveling system and place it straight across the top of the tiles making sure that they are flat to each other; replace tiles which are either too low or high.
Flooring Should be Flat – Installing wood like tile on an uneven surface will bring out more problems especially when the center of the tiles is higher. Make sure that the tiles have the maximum allowable 1/8" deviation in 10 feet.
Use the Right Thinset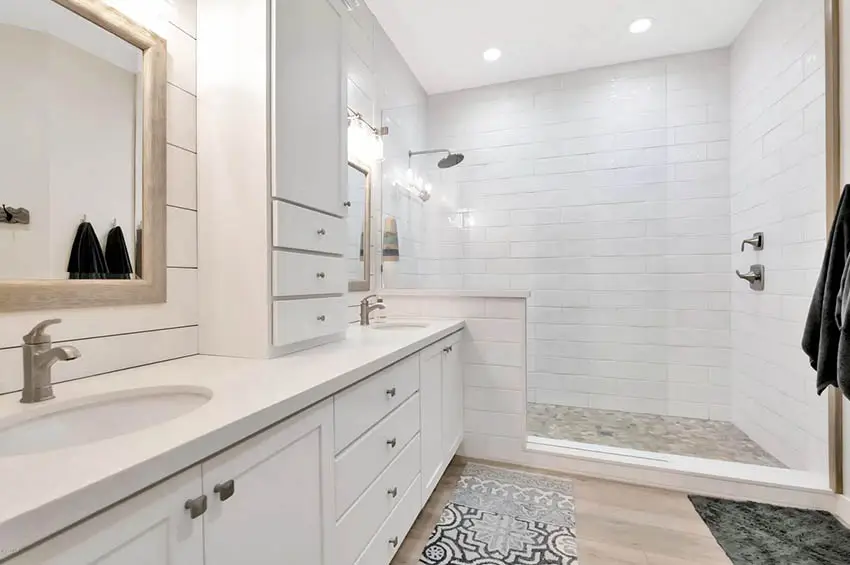 To ensure proper wood look tile installation use the right tools and materials. Working with a large format tile, use a medium bed mortar and a ½" x ½" notch trowel, this will make installation of your wood look tile easier.
The Grout Joint Size
Consider the size of your grout joint, if you set your grout joint very thin it will make the wood like tile lippage more evident and will just increase the difficulty during installation. A wider grout joint will help minimize the difference between the tiles. It is best to set your grout joint at the very minimum of 1/16" and the recommended minimum for plank tiles is 1/8".
Wood look tile is the latest hot new trend, we do hope that this article somehow got you informed with the characteristics of the wood look tile flooring and how to lay it correctly.
For more related design ideas check out our gallery of tile shapes here.