Here we explore teak wood flooring including the pros and cons and popular types for interior design.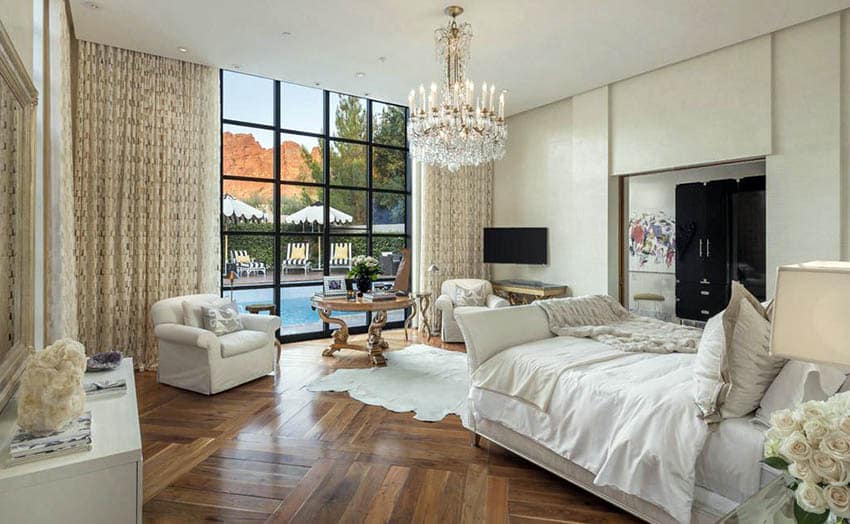 Teak as a building material has been in use as early as the 7th century. Shipwrights favored the wood for its moisture resistance and its proclivity to keep decay and insects at bay. Some old naval ships from the last couple of centuries still float today due to their teak composition
For its hardy properties, teak hardwood flooring can be used for outdoor decks and terraces. Some outdoor furniture are made from teak as well. As a flooring material, it has a color that ranges from a pale yellowish hue to a richer, dark beige hue. Aged teak hardwood flooring tends to get to an even yellowish brown with dark streaks here and there. When it comes to the grain, the texture is fairly random, with some being straight and others not so.
On the Janka scale, teak scores a relatively low 1155, making it one of the softer hardwoods out there. However, its durability is still good enough such that using it as a hardwood flooring material is still practical. Just be mindful of any potential dents that might be caused by furniture legs. Remedy that by using padded undersides or carpet to prevent any unwanted scuffs.
In using teak hardwood flooring, be mindful of its limitations. Never utilize teak hardwood flooring, or any wood flooring for that matter, in rooms with standing water, excessive humidity, or plenty of moisture. For that reason, teak hardwood flooring should never be used in levels below the natural grade line. Moisture tends to seep in through the soil underground and could cause the teak to decay prematurely. Also, UV radiation, from the sun for example, causes teak hardwood to get discoloration. As such, be sure to use blinds when the daylight outside is too harsh.
Maintaining teak hardwood is relatively simple. Regular mopping and vacuuming should be sufficient enough for starters. Try to also use warm water weekly or every other week to keep the floors relatively clean. As with any wood flooring, teak hardwood will require an occasional waxing for it to keep its sheen. Be sure to take out any dirt or dust from the surface of the flooring before applying the coats of oil.
In general, teak wood is considered a sustainable, eco-friendly building material. This can help with the overall "greenness" of a building and can have a significantly smaller carbon footprint than other flooring materials. (Visit our types of hardware floors gallery for more species of wood for interior design)
Teak Hardwood Flooring Pros and Cons
Teak has many good qualities going for it. Advantages include fairly strong durability. It can handle high traffic, heavy activities, and pets quite well. Splinters and cracks form relatively later than other materials due to how resilient teak flooring can be.
Teak is also fairly resistant to moisture damage. Many homeowners in tropical, humid countries in the Pacific and in Southeast Asia have a preference for teak when it comes to home building materials. Aside from that, it is also strong against any instances of rot and insect infestations.
Its aesthetics has also been a favorite of designers. Teak is a wood species that retains a lot of its natural oils, and so you can choose to leave it unfinished or untreated, and the wood ages quite beautifully. Skipping the finishing and staining step can also be an effective way to cut your costs.
With all that said, teak also has its fair share of downsides. For instance, teak tends to be quite pricey depending on where you're ordering it from. It's a fairly prolific species in Asia but is scarcer in North America. As such, most of it needs to be exported from other countries which drive up their prices a bit.
Maintaining teak can also be quite a chore, if you're not one who likes building materials that change colors and textures as they age. If you like your teak flooring looking consistent every year, regular finishing and oiling sessions have to take place.
Lastly, some species of teak are known to be endangered. Be sure to consider the sustainability of the materials you choose for you home and check whether the teak you're going to be using is approved by the appropriate authorities, such as the Forestry Stewardship Counsel (FSC).
Teak Hardwood Flooring Prices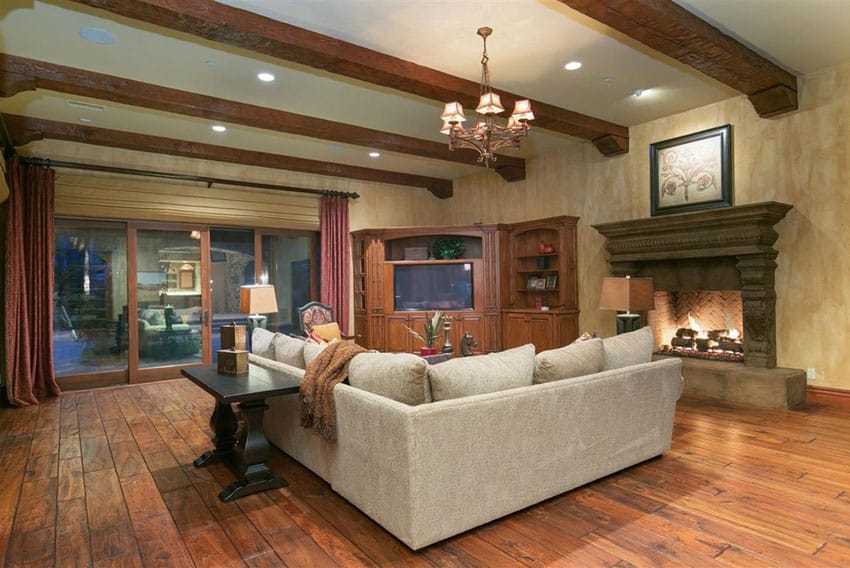 The price of teak flooring can go up or down depending on many different factors. First of is its grade or quality. The lowest quality teak flooring can range from $6.00 to $7.50 per square foot. Really high-end, quality grade teak can run you as much as $14.00 to $17.50 per square foot. The majority of common grade teak wood will be at around $10.50 to $13.00 per square foot.
Keep in mind that costs will vary based on local factors, such as your suppliers own price ranges, the availability of teak in your area, and the amount of flooring you'll be ordering. In general, the more area you're covering, the less the price per square foot.
Also take into consideration hidden factors such as installation and labor costs, possible permit fees or taxes in your area, and costs for finishing or wood treatment.
Brazilian Teak Hardwood Flooring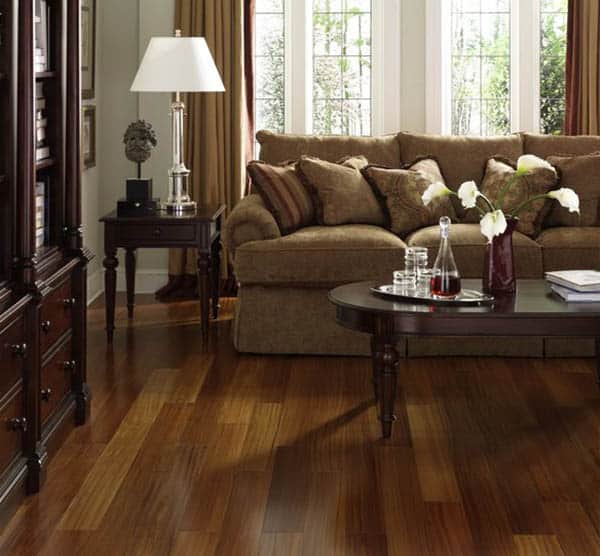 (See this engineered Brazilian teak wood flooring at Wayfair)
Cumaru Brazilian Teak, more commonly known as Brazilian Teak, is harvested mostly from South America, where it is a native species in. It's stronger than common hardwood species, and can be used hardwood flooring quite effectively. It has a very distinct look and has copious amounts of material strength. This also gives it a higher initial cost, alongside its nature as an imported material, but the higher price is quite often worth it for the species' quality.
In color, it has the characteristic reddish beige hue of teak. In hardness, it ranks a whopping 3540 on the Janka Hardness scale. As such, it is great for high traffic areas and places prone to heavy wear and tear on the floors.
Despite its hardness, it is fairly easy to work with; most suppliers and installers will be knowledgeable with how to work with Brazilian teak. Most homeowners and designers will favor the wood for its visual appeal. It will have slight color variations that give it character and depth as a material. Finishing them with different materials also yields different end results. Oil finishes will give it a deeper hue; water-based stains will keep the color relatively unchanged. Brazilian teak goes well with lighter colored furniture and décor for a good amount of contrast.
Brazilian teak comes in 1 foot to 7 foot long pieces and will often come already pre-finished. Most Brazilian teak planks will be around 3 feet long.
Acacia Teak Hardwood Flooring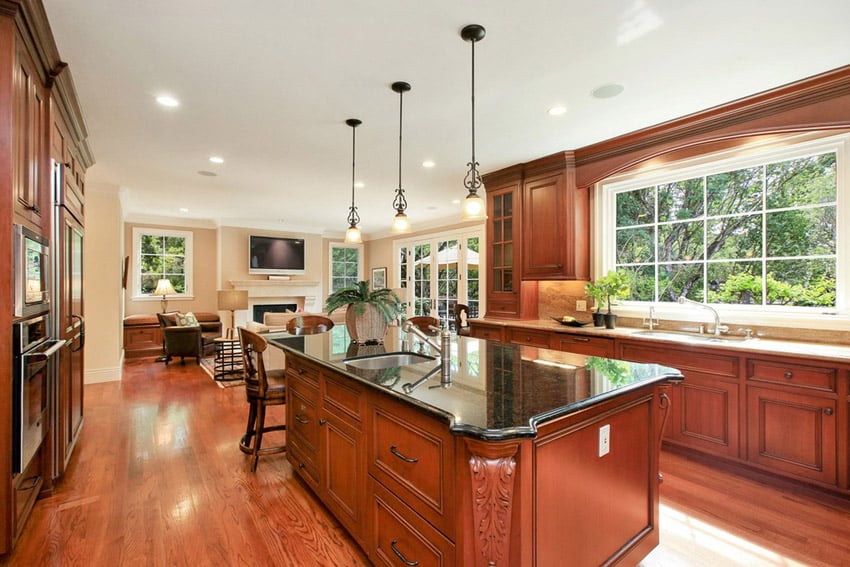 Acacia teak is variety of acacia that is mostly native to Asia, Australia, and Africa. The Pacific Islands also have them, as do some select parts of North America. Its defining trait is its wavy and wide grains that have distinct knots in many places. This particular species is also known to be water-resistant and relatively strong against mold and minor fires.
As a building material, Acacia teak is sought out for its durability, aesthetics, and versatility. Although used for flooring, it can also be used for woodworking, furniture, instruments, and even bowls.
Using Acacia teak as a flooring material has many upsides. The material itself has established itself as a species with a variety of beautiful textures and colors. You will find some samples with dark brown hues and others with sunny yellow colors. Not to mention its beautiful and unique grains and texture patterns.
It is also quite durable and resistant to wear. It takes a while before the flooring needs to be reworked or replaced, and as such works well for homes.
It's also a budget-friendly material. Initial costs are often relatively low compared to other exotic woods and maintenance is also a walk in the park budget-wise.
Do note however that Acacia teak will sometimes have a tendency to shrink and warp a bit. Due to the nature of the trees they come from, the available plank lengths are also on the short side. With its variety of textures also comes a chance of having more defects and inconsistency in its overall appearance. Visit this page to see our gallery of living rooms with hardwood floors for more ideas.