Here you'll see butcher block countertop laundry room ideas including why it's a great choice, how to make butcher block countertops and important care & treatment steps.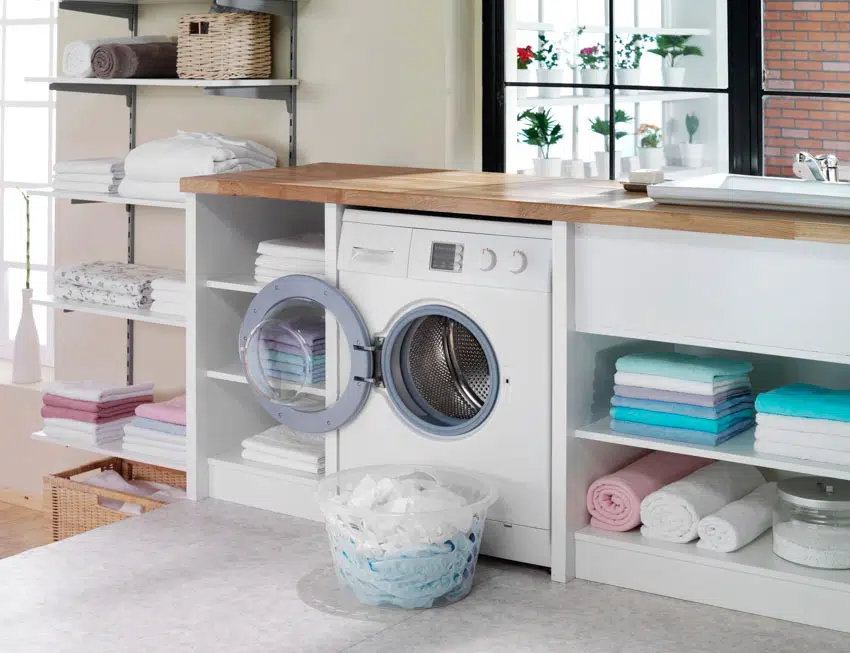 If you have ever organized and folded clothes on mattresses, tables, or other improvised surfaces, you will truly appreciate the ease of a wide flat-surface. A well-organized laundry room where you have a designated location to handle stains, arrange clothes, hang your clothes to dry, and even perform minimal ironing may make or break your laundry routine.
Having a butcher block countertop is one of the perks of a completely constructed laundry space. Sturdy butcher block countertops that are primarily dedicated to clothing is a great option to consider for a efficient laundry room. Here are reasons to use butcher block countertops for this situation.
Why Butcher Block Countertops Are A Great Choice For Laundry Rooms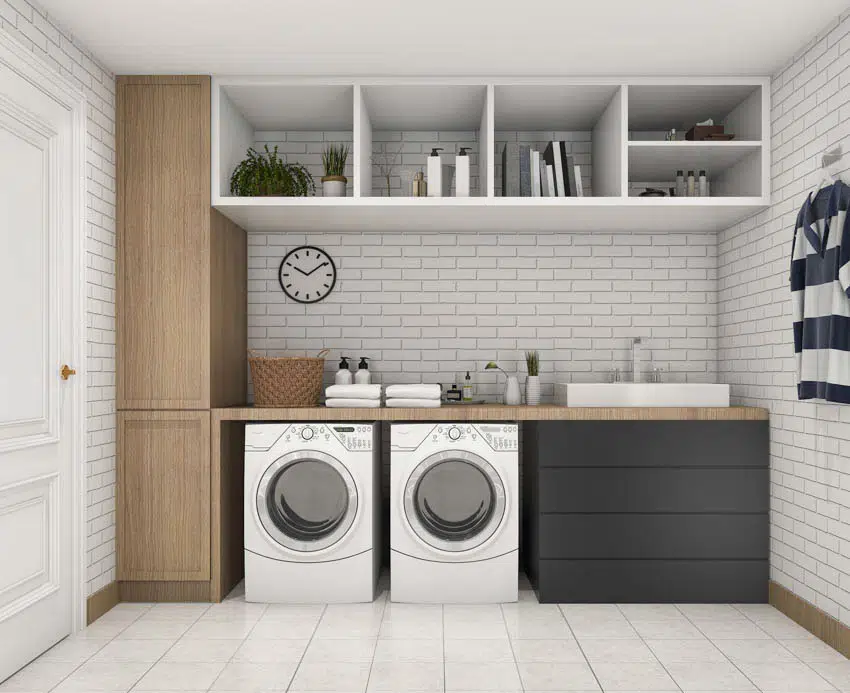 Butcher block countertops are made up of separate wooden pieces that have been put collectively to make a smooth and strong base or surface.
It is among the trending types of kitchen countertops, but it can also be a wonderful choice if you are intending to modernize your laundry space. It features a rustic, country aesthetic with soft undertones, and it can brighten up the laundry area with a subtle splash of earthy vibrancy.
A butcher block countertop is one of the most cost-effective countertop options available, thus if you want to upgrade your laundry room without breaking the bank, this is something to think about. What's nice about this countertop is that expert setup isn't actually necessary.
You can do the project on your own! Indeed, you will just need to trim the material to the exact dimensions that you desire, and you will have to cut into the areas with a rotary saw if you require openings for sinks as well as other laundry room items.
Yes, you can keep a butcher block counter spotless and polished with standard household cleaners and waxes, making this material ideal for use in the laundry room.
How To Make A Butcher Block Countertop For A Laundry Room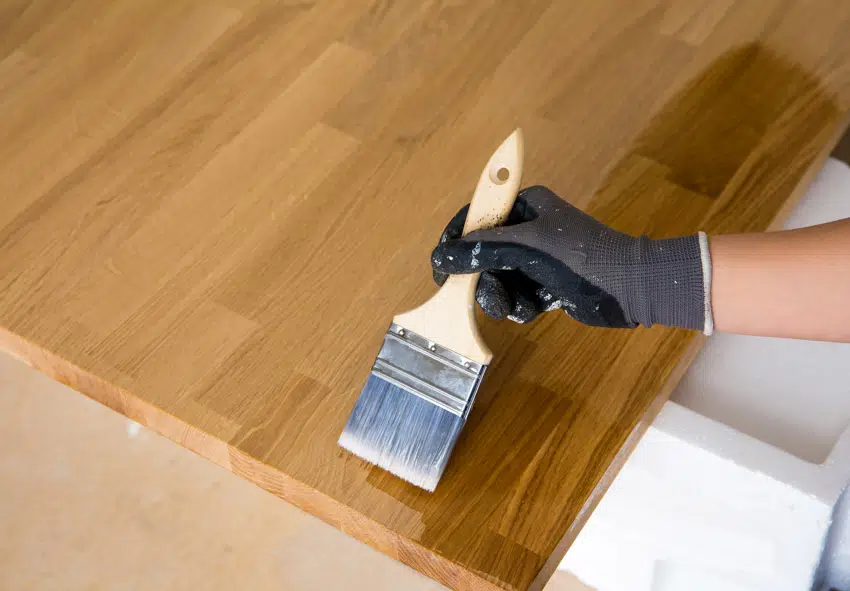 Here are a few generalized steps on how you can make a butcher block countertop in your laundry room:
1. Prepare the Countertop Frames: Prepare the countertop frames so that the butcher countertop boards can be easily placed.
Moreover, set it up to your preferred design. You might need 1 to 2 days to treat it, particularly if you are using polyurethane to condition the board.
2. Get the Exact Measurements of the Walls and the Set of Your Washing Machine and Dryer: The butcher block countertop will be stabilized towards the walls by a piece of wooden material known as cleats or braces.
Get the accurate measurement of your laundry room dimensions and the areas you're going to use for the countertop.
These include the back of the wall, the sides, as well as the height of the washing machine and dryer setup. Allow for 1 to 3 inches of space between the washing machine and dryer and the countertop.
3. Using a Level, Mark the Position of the Butcher Block Countertop Installation: Draw a level mark on your wall to represent the underside of the to-be-installed countertop.
Make sure that there is sufficient space between the top of the washer and the butcher block countertops so that the washing and dryer machines can be dragged in and out.
Following this would be helpful for any possible maintenance work. A 1-inch to 3-inch distance interval is highly suggested.
4. Trim the Wood Boards to Fit the Countertop Supporting Braces: Trim the butcher block wood panels according to the length of the rear wall and the depth of the washing and drying machine.
You should cut the butcher block wood pieces that will be closer to the washing and drying machine at an inclination that will make them less apparent when positioned beside the countertop.
In fact, it can be optionally painted to conceal the wood and make it less noticeable. Furthermore, you will need to make openings for both sides of the wall braces. The joint fillers for the central support braces will make the surface stable.
5. Install the Butcher Block Countertop Support Wall Braces: Mount the wall braces with a level and a stud finder.
Attach the braces on all sides of the wall where the butcher block countertop needs to be supported and stabilized.
6. Set Up the Laundry Countertop Central Supports: You can alternatively insert smaller wooden boards measuring 1-inch x 2-inch to support the center of the butcher block countertops.
They have to be thinner than the wall braces. You can use wood adhesive to firmly attach the brace to another brace.
7. Place the Butcher Block Countertop on Top of the Braces: Simply slip in the butcher block countertop and secure the braces using L-brackets.
8. Apply a Countertop Finish (It Can Either be a Paint or Veneer): On top of the butcher block countertop, apply a laminate veneer or epoxy paint.
These surface coatings can be affordable and easy to apply, resulting in minimized moisture and heat damage.
Laundry Room With Butcher Block Countertop Tips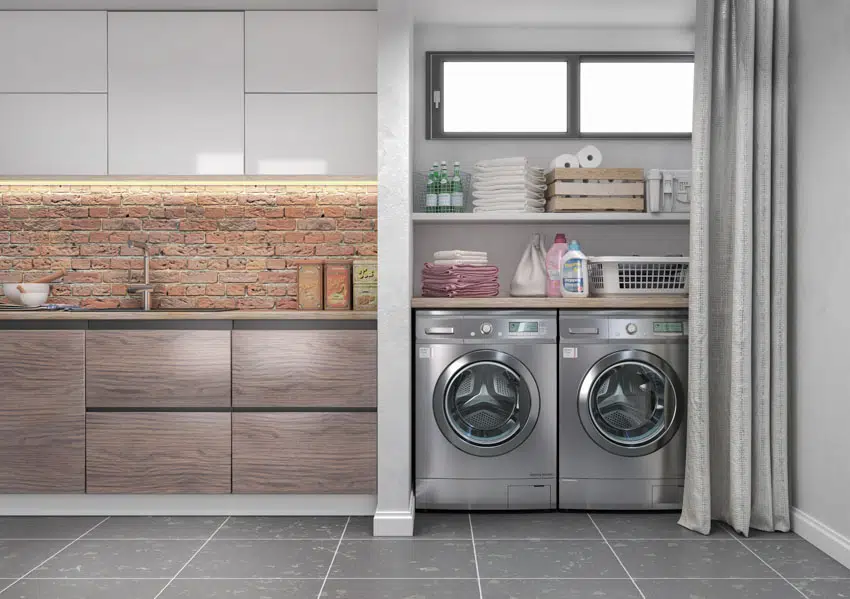 Here we share important tips about butcher block countertops in laundry rooms.
• If your butcher block countertop is not coated with a protective layer, you have to prevent it from getting in persistent contact with water as too much moisture can make the surface prone to rotting and discoloration.
• Butcher block countertops can expand or shrink as a result of severe dryness or dampness, which can develop breaking.
Indeed, it expands and contracts in response to fluctuations in environmental conditions, rendering it prone to bending, warping, and gapping. Make sure there is enough ventilation in your laundry room. It should not be too hot or wet.
• Butcher block countertops are a long-lasting and powerful option, particularly if correctly maintained. Therefore, you must ensure that they are free of dust, water, and other elements that may affect the surface quality.
• Cleaning your unfinished butcher block countertop with a combination of salt and lemon routinely will help eliminate germs and enhance the surface quality.
• Unfinished butcher block laundry room countertops may last much longer if you will apply mineral oil on the surface every month as it will prevent the wood from cracking and drying.
However, oiling is discouraged if you are constantly using your butcher block countertops for folding your clothes. Oil can badly stain your clothes.
• Unfinished butcher block countertops should be refinished every three to five years at the absolute least. But if you do not want to refinish your butcher block countertop in your laundry room regularly, read the next section to know the solution.
How To Treat Butcher Block Countertops For The Laundry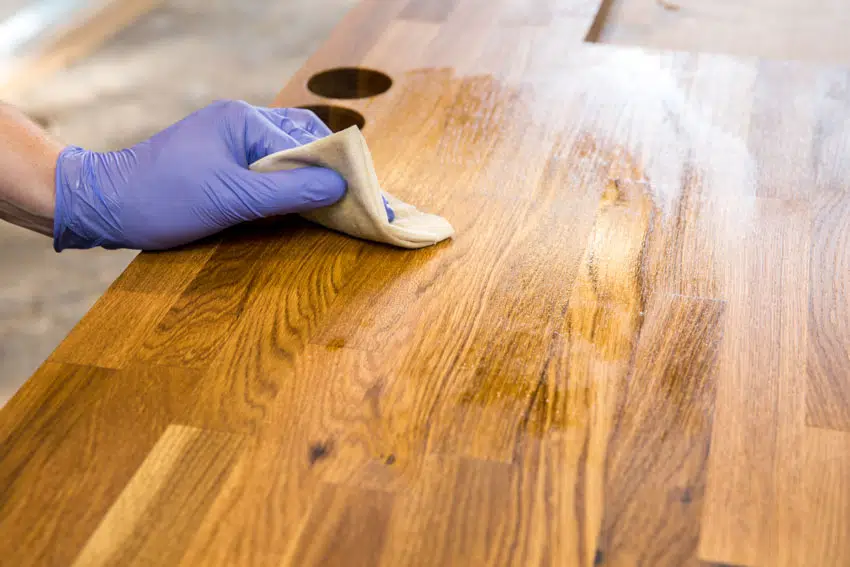 Butcher block wood countertops can only go poor in two instances: moisture seeping in or moisture going out.
Maintaining any wood surface in your laundry space entails preventing moisture from entering the wood and stopping moisture from leaving the wood.
Hence, to solve this problem, you will have to put a durable coating that will make the whole butcher block surface waterproof and heat-resistant (just in case you want to do some light ironing).
The most highly recommended component that you can put on top of a butcher block counter surface is epoxy paint (either clear or colored), as previously mentioned.
A clear epoxy coating over a good butcher block countertop will look great. In fact, one of the most common applications for epoxy resin is to cover wood surfaces.
You can also add epoxy to almost any surface, helping to add shine to your laundry countertop. Epoxy coatings on wooden countertops may help prevent the wood from trapping in moisture.
Once you apply a clear coating of epoxy, you have to let it cure for 1 day. After that, you can already enjoy your butcher block countertop without worrying about trapping moisture and developing mold growth in your laundry countertop.
Every time the countertop surface gets wet or dusty, you can easily wipe the surface with a cloth to remove the dirt.
See more related content in our article about laundry room flooring on this page.