Here we share craft room paint color ideas including the most popular hues, and new modern palette recommendations that are best for your craft room renovation.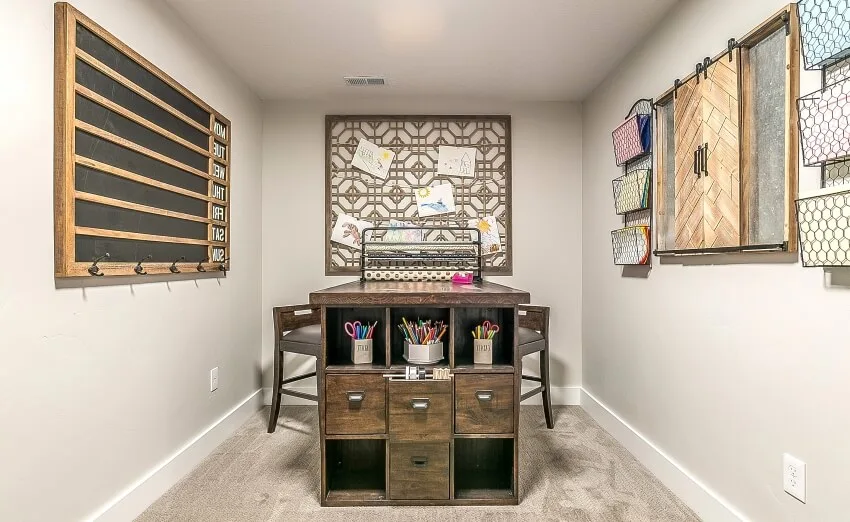 For the ardent crafter, having one's own space is just sublime, without distractions tinkering away through hours of the day or night. If you're renovating or building a new craft room, you're likely experiencing a dilemma in finding the best paint color to spark your creativity.
You won't find rules on what's the perfect craft room paint color to use, though, but most experienced crafters will tell you that vibrant and warm hues work best for craft rooms.

Best Paint Colors For Craft Room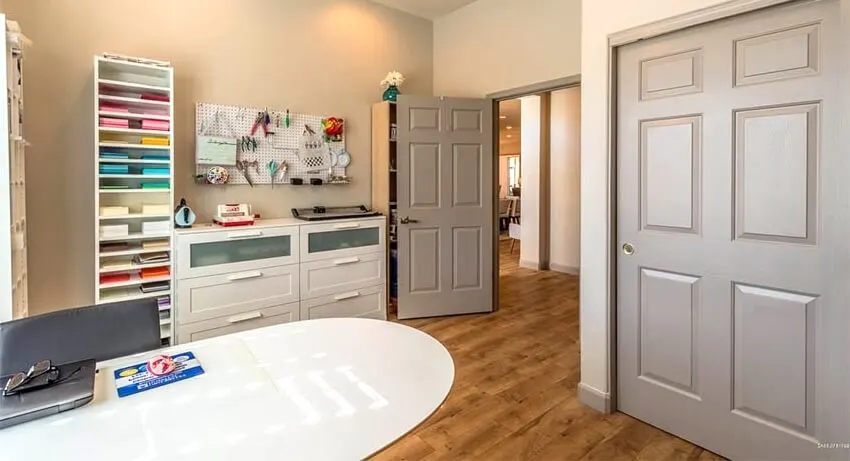 Warm colors such as red, yellow, or orange exude that enthusiasm and keep your imagination running. And as there are no hard and fast rules on the best craft room color to use, your individualistic taste, goals, and other preferences will influence your decision.
To help you out with what best color for your craft room, we've picked the most popular hues recommended by experienced crafters and new modern palettes from trusted paint brands.
The Joyful Orange – Behr P240-7 #fa9236
Inspire your imagination with a splash of Behr's Joyful Orange. The eye-catching hue is the perfect backdrop for your crafty works. Paint it in front of your work table and have the rest of your craft room in a white paint color.
The stimulating hue is a very engaging color. Experts agree that orange tones increase energy levels and are highly recommended for demanding tasks such as studying.

Behr P240-7 #fa9236
The cheerful orange exudes a playful air and can create a lively space when crafting.
Lively Yellow – SW6907 Forsythia
The lively and comforting Forsythia by Sherwin Williams is an exciting yellow hue that keeps you going with your creations. Yellow projects optimism, friendliness, and a sense of confidence making it an effective color to boost your confidence and stay positive in your workplace.
This lively color is a suitable wall surround for a crafts room with limited daylighting, such as a basement.

Forsythia by Sherwin Williams
Match the warm yellow with white to balance the look if you're worried about being overwhelmed with the color. CHeck out our guide on colors that match with yellow for a related article.
Zesty Yellow – Milk Paint RMP15 Fresh Lemon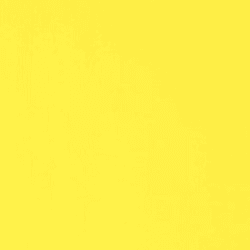 Milk Paint RMP15 Fresh Lemon
We just can't get enough of how the yellow hue is made perfect for craft rooms, and we've added another version of yellow that's a little cooler and brighter than your lively yellow. The zesty tone will bring some zing to walls or cabinets with Fresh Lemon Real Milk Paint.
This zesty citrus shade offers an on-trend look for kitchens, and its pure, bright tones mesh seamlessly with soft or pale hues like Parchment or Honeysuckle while providing a bold contrast to rich colors like Peacock or Lily Pad. See more craft room ideas here.
Spunky Red – SW 6868 Real Red
Match your fervent spirit with Sherwin William's Real Red. The bold and bright hue, as the name suggests, has the vibrancy and nature of true red. Either splash the color of your focal wall or complete surround, you'll add breadth and depth to your craft room.

SW 6868 Real Red
The red shade effortlessly pairs with blue, or yellow, and soft shades of orange to create a playful and confident air to craft space. It easily draws your attention, so it's a great color to place in front of your working table.
Sweet Punch of Pink – Watermelon Slice Behr P180-5
The paint name itself gives a satisfying ring to it, and if you're looking for the perfect shade of pink that's not too soft yet feminine, the Watermelon Slice by Behr is a great choice.

Watermelon Slice Behr P180-5
The shade has an undertone of gray that can perfectly match with beige, gray, or white hues. The color has just the right amount of vibrancy, perfect for the mellow and temperate crafter.
See more craft room paint color ideas below.
Fascinating Blue Green – Benjamin Moore 2050-40 Florida Keys Blue

Benjamin Moore 2050-40 Florida Keys Blue
Love vintage? You'll love this vivid blue-green tint with a hint of gray by Benjamin Moore has been a fast favorite by interior designers and is one of the best paint colors for craft rooms for the creatives who love cooler shades.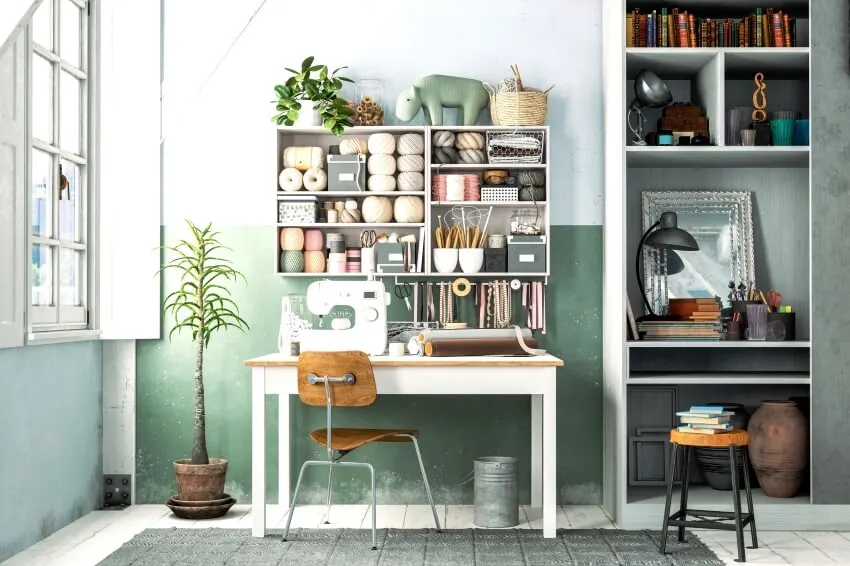 Benjamin Moore Italian Ice Green 2035-70

Benjamin Moore Simply White OC-117
The Florida Keys Blue is a subdued shade of teal that provides a relaxing atmosphere to any crafts room. Reminiscent of the mysterious and exciting depth of the sea. Match another cool tint such as Italian Ice Green 2035-70 or Simply White OC-117.
Mellow in Pink – Behr Coral Fountain MQ4-03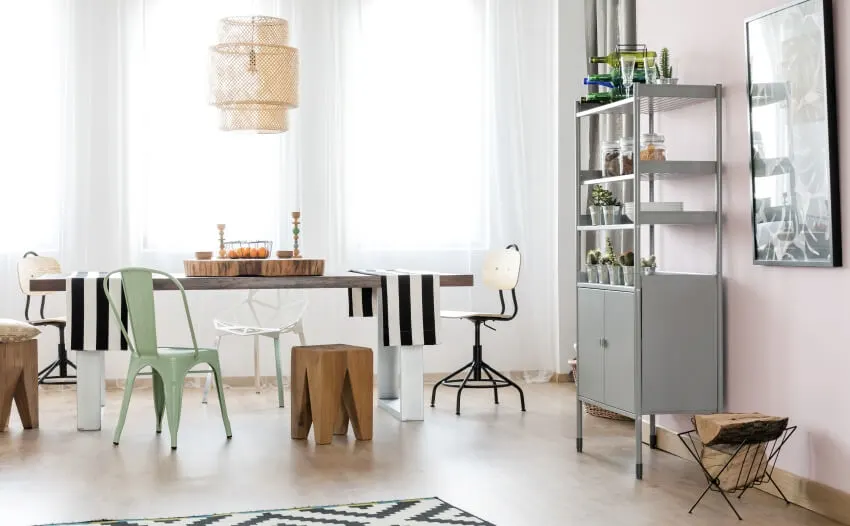 Coral Fountain is a perfectly balanced shade that's not too dark or light. If you love pink but don't want it to be too pink or vibrant, this is a very warm pink color that's great to pair with white or cream. The term coral means having orange or yellow undertones and a tint of gray to create that perfect pink shade.

Behr Coral Fountain MQ4-03
You're not limited in pairing this lovely hue with other colors, and you can pair the Coral Fountain with tropical colors, such as sky blue, vibrant yellow, or forest green. Other combos can include neutrals as well to have that modern vibe, such as black or navy blue. Read more about our ultimate guide to the best colors that go with pink here.
Best Craft Room Colors For Creativity
Source your creativity from nature with the uplifting yellow-green. Like working in a garden of greens, Benjamin Moore's Chic Lime gives a fresh surround to your craft room. You can add touches of live plants to the space's positive atmosphere.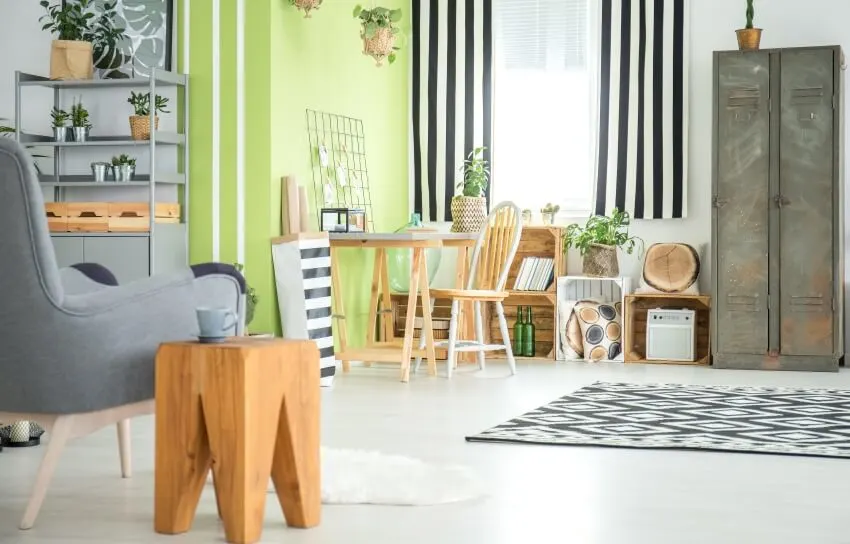 Uplifting Yellow Green – Benjamin Moore Chic Lime 396

Benjamin Moore Chic Lime 396
One of the best colors to ignite your creativity is having organic elements in your craft room. Add soft shades of brown or natural wood with your furnishings to complete the look.
A Blank Canvass – Site White SW 7070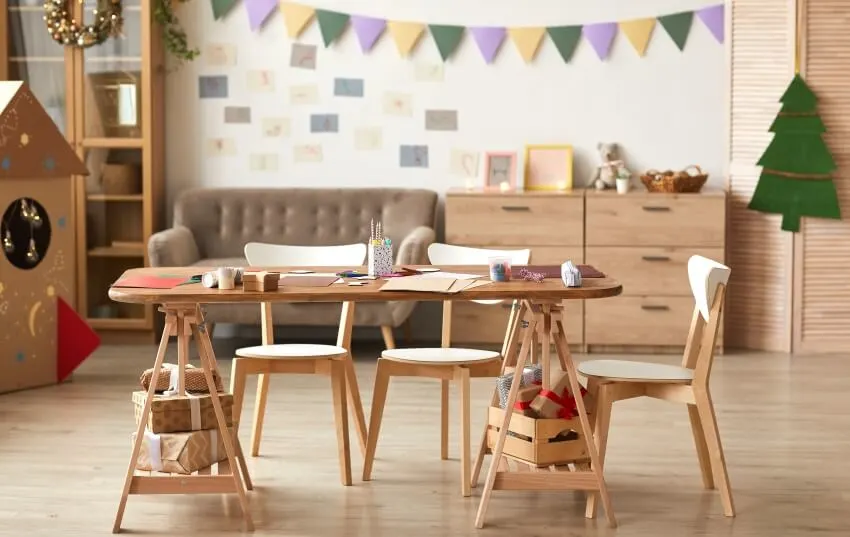 While starting on a blank canvass can be intimidating to some, a white blank space to stare at can work well if you're a unique creative who is organized and who wants to start fresh.
Sherwin Williams sites that white gives you that clean white-washed wall but at the same time has a touch of warm softness to it. The off-white color mellows the crisp edge of many white paint colors provide, which makes it more inviting and undaunting.

Sherwin Williams Site White SW 7070it
If you have a lot of colored items or do paintings, this color is the perfect choice as it doesn't influence the colors you are working on. Site white is one of the best colors for creativity when strategically placed with accent colors and with the right furnishings.
Outerspace Sherwin Williams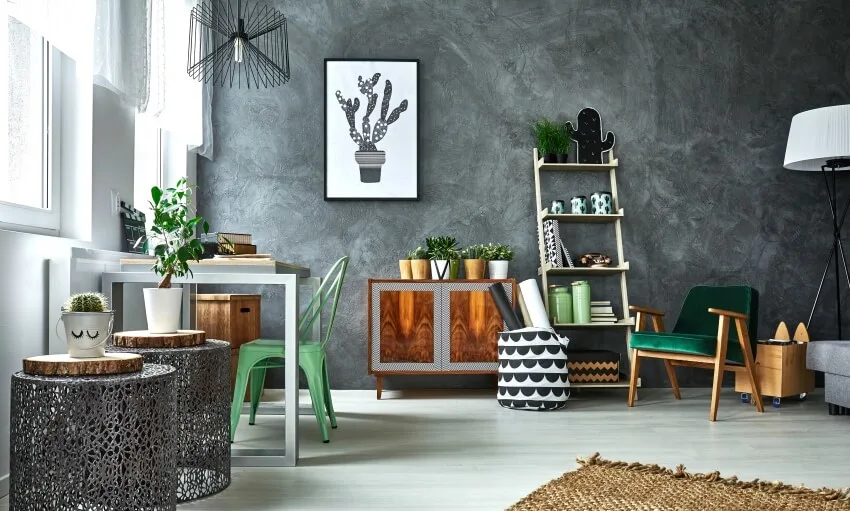 Creative minds need creative spaces. The Outerspace by Sherwin Williams is a dark gray hue with hints of blue and green tints.
If you're looking for a more masculine hue, this is just the perfect craft room paint color to choose. The hue can work well with warm and cool lighting, making it a perfect color if you want to highlight workpieces while keeping your task lighting at a cooler temperature.

Outerspace by Sherwin Williams
Match the hue with a crisp white for an effective contrast, or work with gray on gray to layer the colors and add depth to your working space. The dark gray hue with blue-green undertones is a perfect paint color to splurge on for your craft room if you have ample working space.
Visit our free paint color visualizer programs guide for more craft room paint color ideas.