Here we share the pros and cons of painting ceiling same color as walls including some interior design tips to help you decide if this style is best for your home.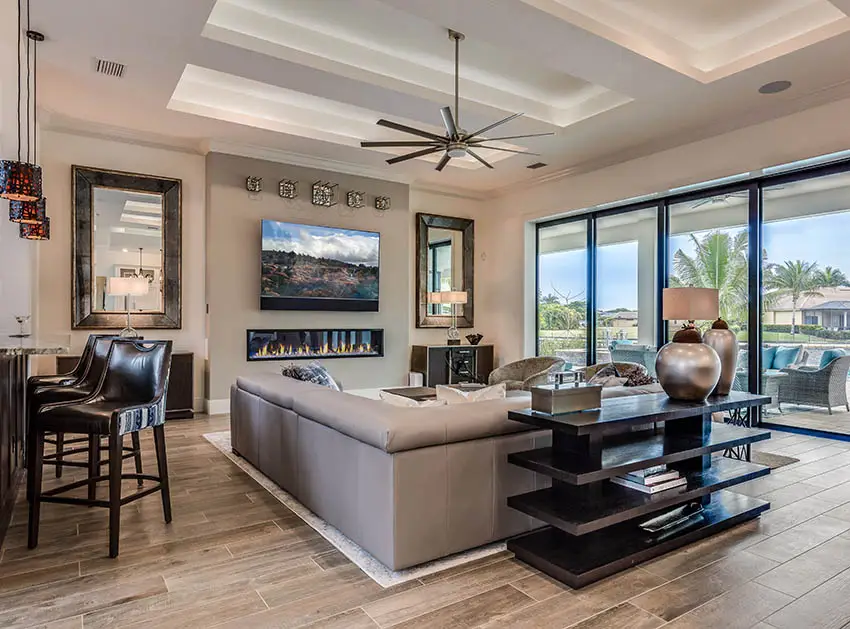 Walls and ceiling are the backdrops of our interior design, and not to mention their color is the mood setter of space. That is why it is crucial to think carefully about the colors to paint on these expansive areas.
Though aside from the color choice, you'll also have to decide whether to paint your walls with the same color as your ceiling, or use a different color for each.
Deciding between painting a ceiling with the same color as your walls or going with a different shade entirely can be a dilemma that puts your remodeling or building project at a standstill.
Understandably you'll want the right design decision as colors can either enhance or ruin the look of your built space.
If you're having a dilemma, it's best to know the pros and cons of painting a ceiling with the same color as your walls, which can help you resolve this important design decision.
Painting Ceiling the Same Color as Walls Pros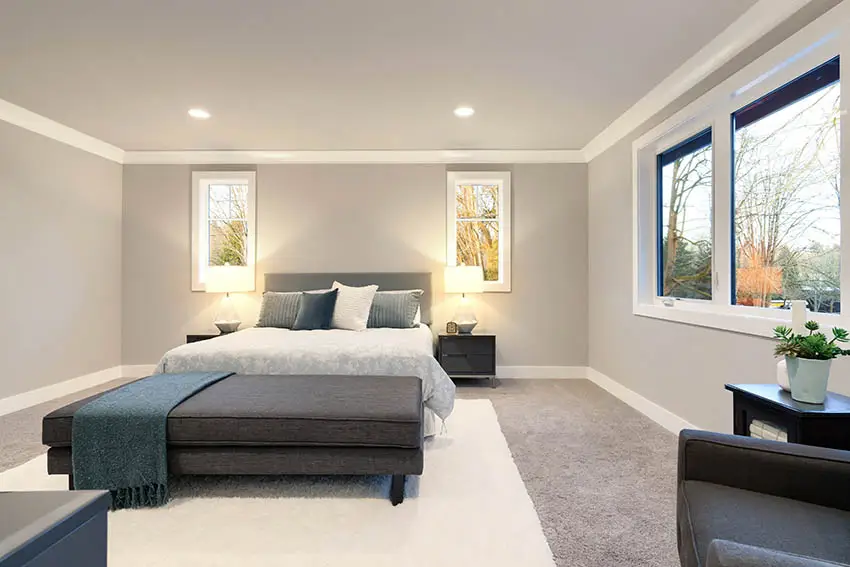 Bedroom with light gray walls and ceiling and white molding. See more bedroom paint color ideas here.
Cost-Effective. Finding ways to stretch out your budget may be the most attractive benefit of having your walls and ceiling with the same color.
This means you don't have to spend valuable time on achieving a perfect line between your ceiling and wall color as cutting in or freehand painting takes a lot of time and skill. Taping meanwhile, shouldn't be a rushed job as well, since paint can bleed to the tape from the ceiling to your walls.
With one color, you don't have to spend on added labor costs as well as worrying about which colors to match.
Faster Turnover. In connection to having a cost-effective painting job, this also cuts the time you spend on painting your walls and ceilings. You don't need hours spent on perfecting a straight line between your ceiling and walls and the daunting task of finding the perfect color combination.
Creates an Illusion of Space. Light and color have a peculiar way of deceiving our perception, and that applies suitably in designing interiors. If you want to add depth to your space, use darker hues as the tone will allow your eyes to perceive a receding space.
If you've got a space-starved room, a monotonous color of ceiling and walls will make your space look larger than it seems.
White and lighter hues are advisable, especially if you have a limited source of natural light. The lighter colors magnify the light source and distribute almost evenly on your entire room and thus gives an impression of having a larger space.
Makes a Room Look Clean and Relaxed. When you want a crisp-looking interior in a room, go with a wall and ceiling with the same hue.
Select lighter hues to create a more relaxing ambiance, and the safest bet would be white and other light neutral hues as darker colors of the spectrum can make a room look dingy and heavy.
Allows Other Elements to Pop Up.Creating balance in a room is a crucial element to achieve a good-looking interior, and this means you'll need a focal point. It also requires elements to be cohesive and not clash or overshadow other design elements.
If you want to highlight your gorgeous kitchen shaker cabinets, for instance, it's a good rule of thumb to have your walls and ceiling lighter or darker with one color tone so your furniture could stand out.
This is also an opportunity to create a blank canvass for more intricate and notable décor items without overwhelming the interior space.
Also, when you have a stunning floor tile or wood material, having a monochromatic wall and ceiling means you can showcase your floors without worrying if it goes with your ceiling color.
Create an Interior Suited to the Times. As they say, less is more, having a monotonous look with the largest area in your room creates a simple clean-cut look.
Modern homes allow a few décor elements with a monotonous color scheme and if you love the minimalist look then going with one color with your ceiling and wall is the best option.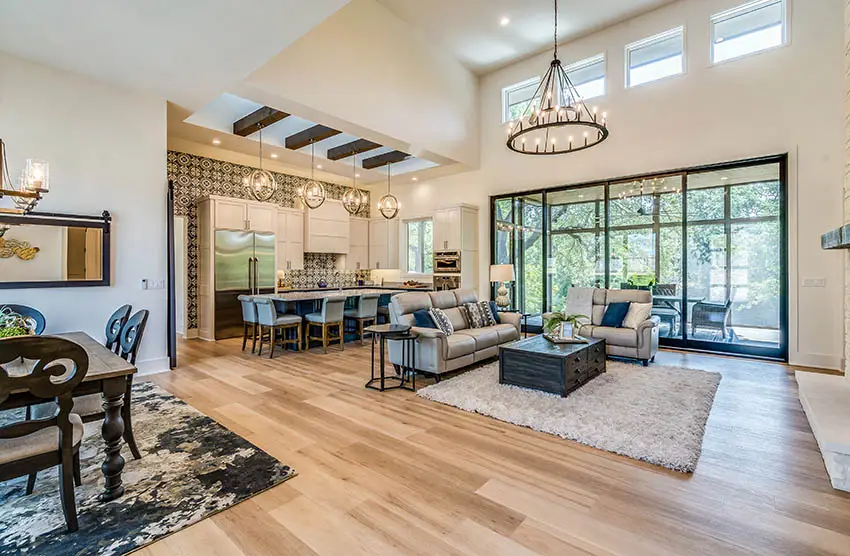 Expansive high ceiling living room with the same color paint for the walls and ceiling. See more living room paint color ideas here.
Painting Ceiling the Same Color as Walls Cons
Obscure a Gorgeous Ceiling Molding. While a monotonous background allows other elements to be highlighted, it can also make other important ceiling details disappear such as a coffered ceiling or molding.
Can Make a Room Look Cold and Lifeless.It takes a good visual perception to get all the elements together and choosing your ceiling and the wall color is just one aspect of the numerous design decisions.
When you fail to add contrast to your interior, it can look stark and unexciting, most especially when you use pale neutral colors.
Can Make a Room Overbearing.Similar to choosing a light color that makes a room look bare, having the same bold color from your ceiling down to your walls can be overwhelming and heavy. Avoid using black or other darker shades if you have a small to medium-sized room.
A Challenge to Find Décor and Furniture.Having a monotonous color scheme with your ceiling and wall means you'll need to make it up for the bareness of the space through furniture and décor.
The challenge now is how to find the right pieces that will go together well without clashing when placed in one space.
Painting the Ceiling and Walls Takeaway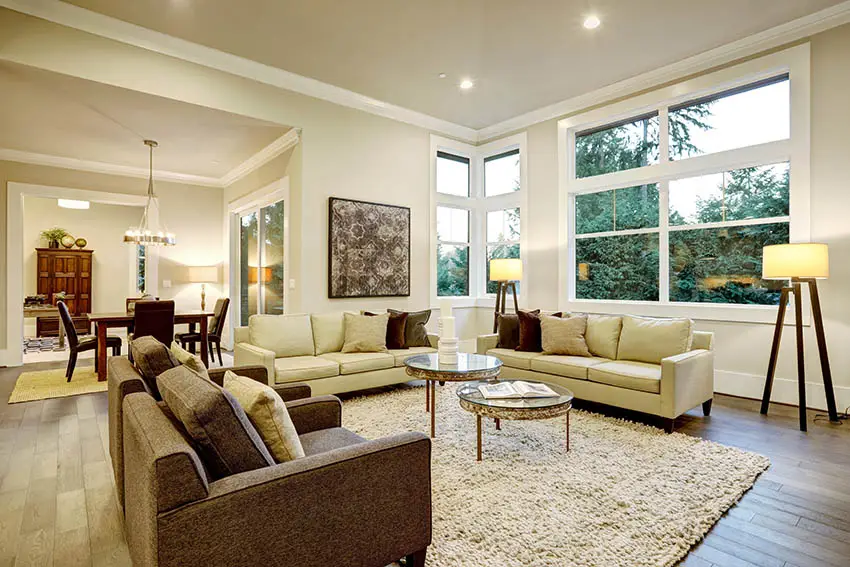 As personal difference plays a major role in your decision, it's also wise to consider the design rules when it comes to your interior that saves you a lot of headaches and money in the long run.
There are two factors to consider when choosing between painting a ceiling with the same color as your walls, which is the size and lighting of your room.
Painting Tip: If you have an expansive room with high ceilings, a different shade for your ceiling is a great idea and can even showcase your outdoor views of you have a tall window as it draws the eyes upward.
This also means you got plenty of natural lighting that will soften and make your room balanced.
For small spaces, you may want to do away with a colored ceiling as it can shrink your vertical space. If you still love the idea though opt for a lighter shade for your ceiling with the same undertones as your ceiling color.
For more related ideas visit our article about the best kitchen paint colors.