Find out which alternative to bifold closet doors work best, including sliding, barn, pocket, stacker sliding, curtains, tapestry, and accordion doors.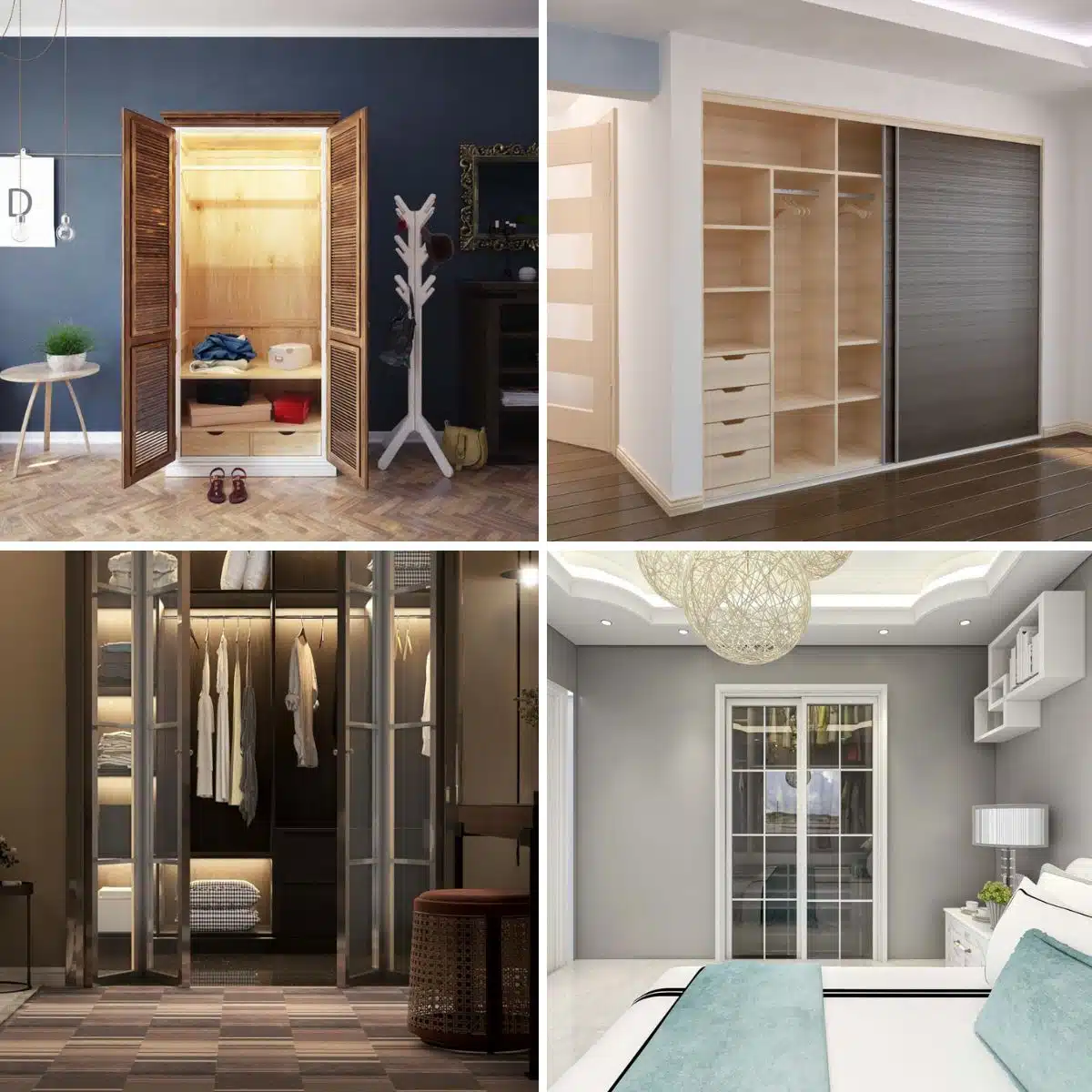 Bifold doors are popular closet door solutions with two pairs of panels hinged together, creating a folding door swing on each side of the door opening. Since it has smaller door panels that fold together, it only takes a little space to open and close, making it a suitable closet door.
However, bifold closet doors are only sometimes a viable design solution for closets, as there are better alternatives to address the specific needs of users. On top of it are the accidents that occur during the use of bifold closet doors, especially in children and even pets. Discover different door types and coverings as an alternative to bifold closet doors.
Quicklook: Different Alternatives to Bifold Closet Doors
• Barn Door
• Pocket Doors
• Stacker Sliding Doors
• Curtains
• Tapestry
• Accordion Doors
• Pivot Doors
• Folding Screens or Dividers
• Roller Shades
• String Beads
• Macrame
• Glass Framed Closet Doors
• French Doors
• Wooden Lattice Doors
Sliding Panel Doors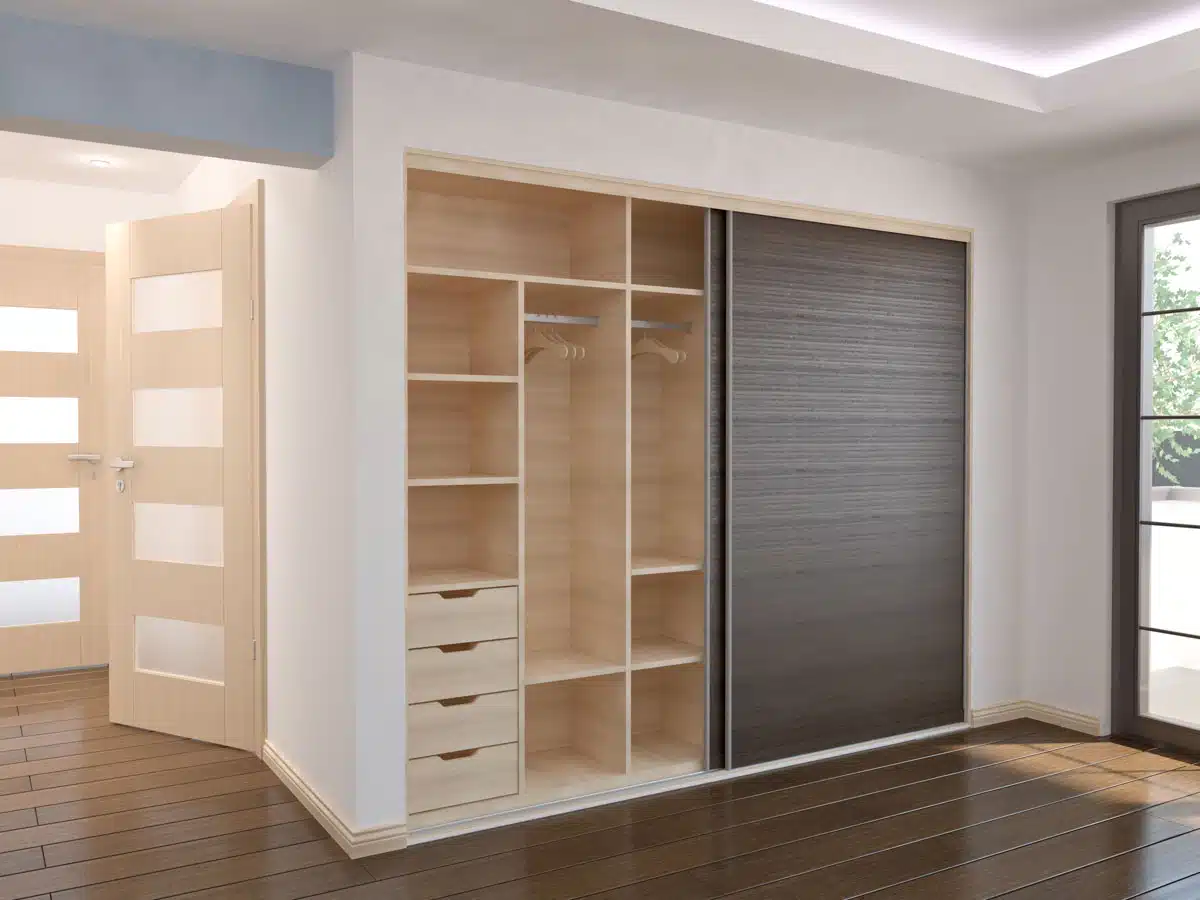 As it offers a seamless transition between spaces, a sliding door is a space-saving solution for tight spaces as it eliminates the need for a door leaf or the area where a door swings to open or close. To replace a bifold closet door, a sliding door will basically have a door panel or a number of panels (depending on the type of sliding door) to slide horizontally along or into the dividing wall.
Unlike bifold closet doors that require hinges, sliding doors are usually affixed with rails or tracks installed above and below the door opening, also called top track and bottom track.
Removing the folding mechanism means no accidents, such as fingers getting caught between the door panels or hands being slammed by the doors. This makes sliding doors a safer alternative to your conventional bifold doors. The mechanism of sliding doors makes it easier to open and close without much effort, even when made from heavier materials.
Slider doors can have mirrors affixed to the exterior for bedroom use while dressing or to help a room appear larger. There are also other panel styles such as louvered, Shaker design, shiplap, beadboard or geometric patterns.
Types of Sliding Doors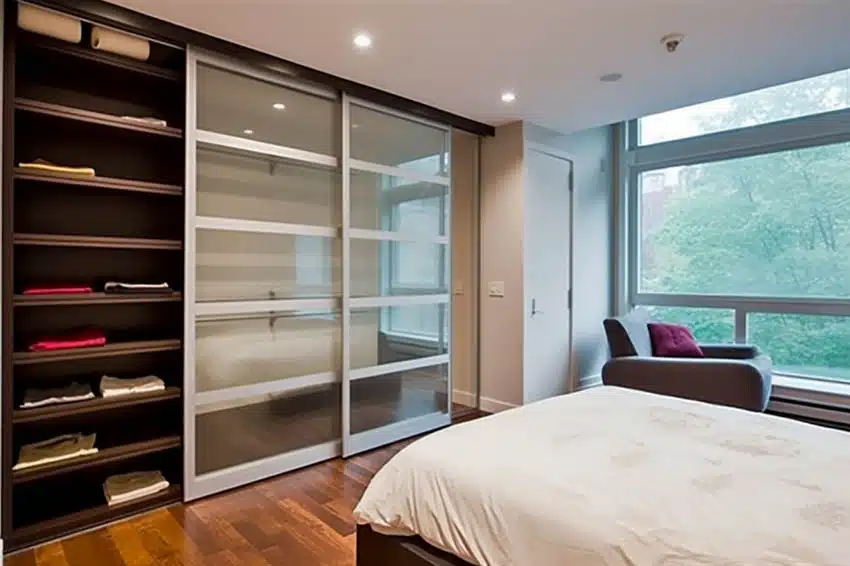 Here we share the different sliding door types for closets.
Barn Door
A barn door, also called a bypass door, has been a trending door style option for farmhouse and industrial-styled homes in recent years and a practical solution in modern-themed homes. Barn doors are a type of sliding door style inspired by the traditional countryside barns with its rustic wood doors and metal hardware usually made from brass or steel.
The wood and steel assembly with exposed hardware and rustic or modern door panels make the barn door attractive, and the utilitarian feel makes it a perfect closet door. Moreover, bypass doors can bring character and dimension to a space making it a perfect update for a large walk-in closet.
Installing a barn door doesn't require complex construction, and it fits any closet door size. This type of sliding door has the top track mounted above a door instead of having it below the header.
The noninvasive installation, except for making a few holes in the wall to fasten the mounted rails, makes it DIY friendly installation. There are also barn door kits available that come with complete parts that are easy to assemble.
Pocket Doors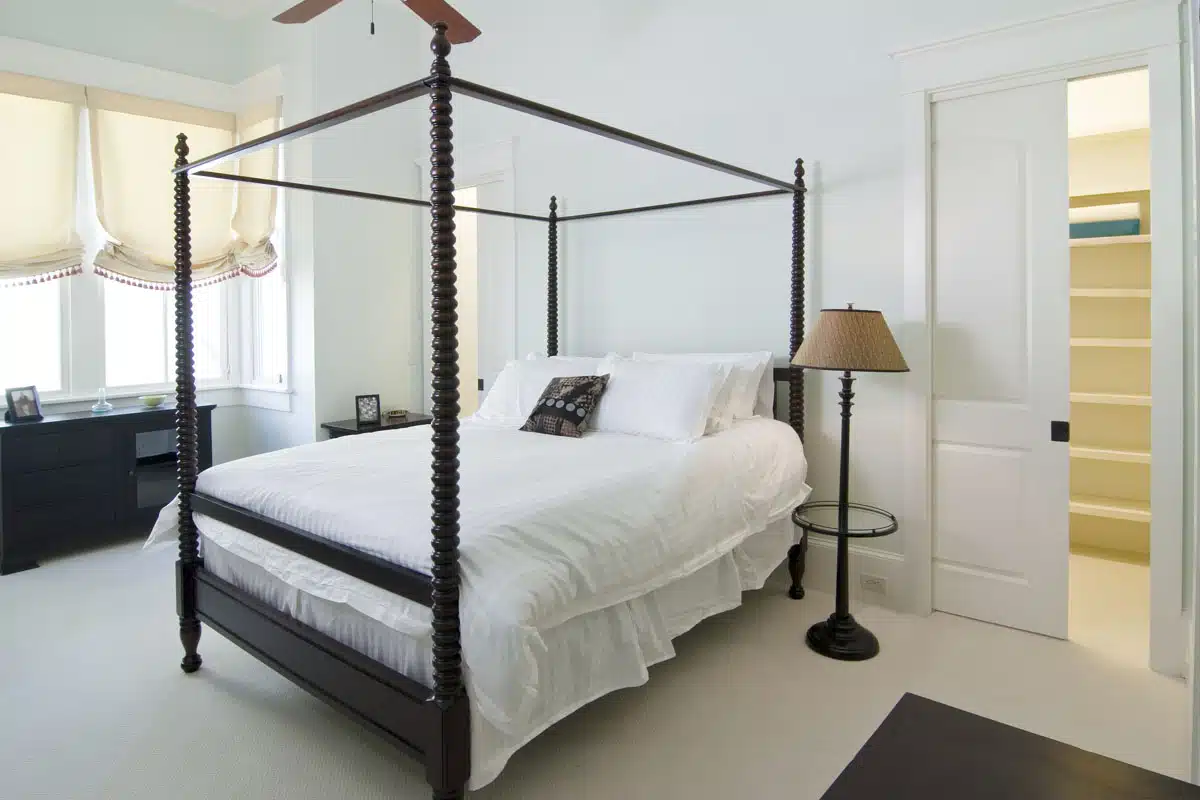 One of the challenges of bifold closet doors is that the hardware, particularly the hinges, can be repaired or misaligned over time due to poor installation or low-quality materials.
Pocket doors are an alternative to bifold closet doors when looking into retrofitting or for a newly built one because it will require a wide sectional width of the wall where the door can be easily "pocketed" or passed through.
It's always nice to find a way to increase the usable space in your home without expending a great deal of effort or money. Such an increase can be obtained by replacing a swinging door with a pocket door. – Popular Mechanics, October 1986
The wall should also be wide enough for the whole pocket door size to be concealed when slid through. Owners can have the option of having a single door to cover the opening and slide into one side of the dividing wall or have two doors that slide on each side.
Integrating the doors into the wall maximizes the opening creating a clean, minimalistic look when opened. The pocket doors give a polished and modern look for a walk-through wardrobe that's easily operatable and doesn't need much effort to open or close the doors, given that it is installed properly.
Stacker Doors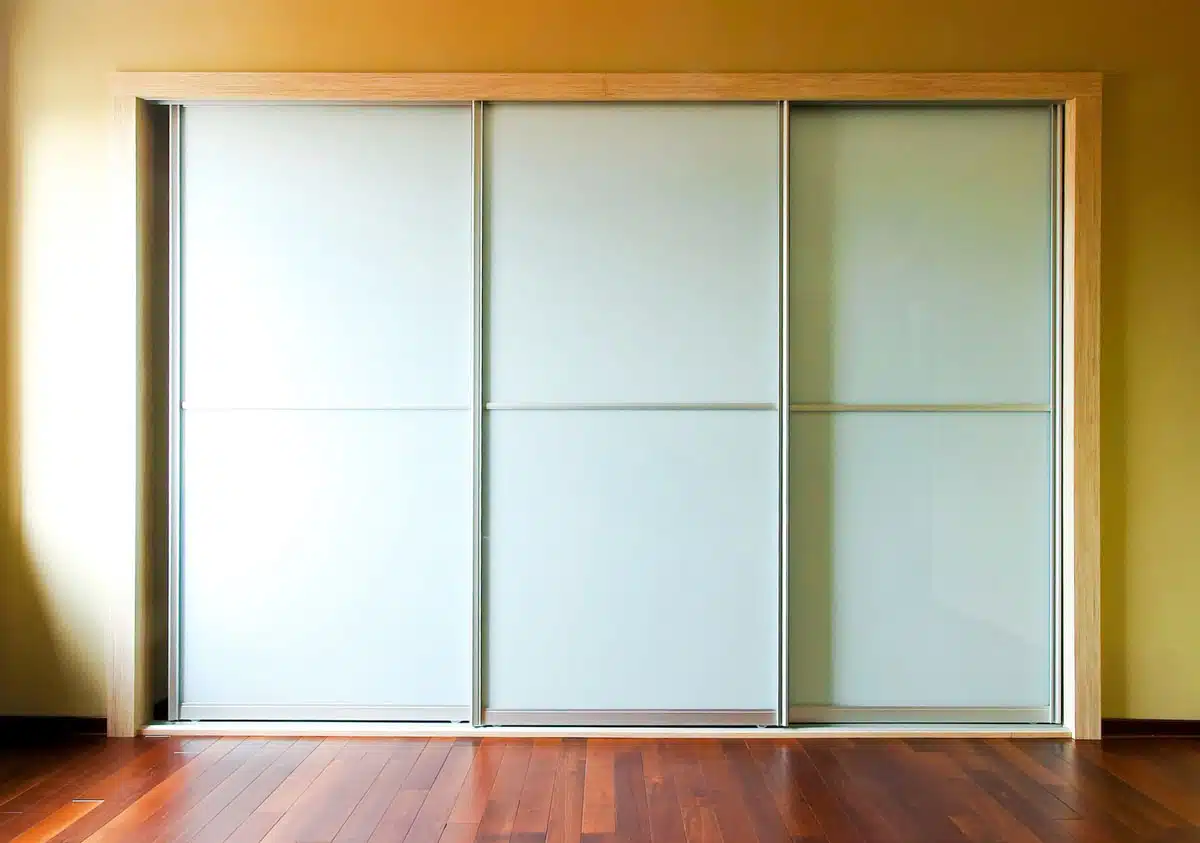 A stacker or stacking sliding door is a type of closet door where the door panels stack on top of each other when opened, and each panel slides through its own track. This means it will require a wider sectional wall width compared to a pocket door, but depending on the number of panels and the material used, fabric or paper door panels are thinner and can have lesser total width.
Due to its construction, stacker sliding doors can control the number of openings to be closed or opened as the panels are easily moved along the track. For wider closets, stacker sliding doors are practical as it doesn't require all the doors to be opened or closed when accessing items inside a closet.
The wider opening also allows the entire wardrobe to be seen, and natural light and air can circulate through the closet periodically to prevent mold. Moreover, the wider opening allows passing through larger items that can't go through a typical bifold closet door.
With stacked sliding doors, corner or L-shaped closets are possible as panels can slide through separately through each length when opened and meet at the corner when closed. Stacker sliding doors are great for lightweight materials since it's easier to maneuver the panels and won't need complex hardware to install.
Curtains
A low-cost closet door opening solution that can be installed in minutes. The curtains will need the typical curtain rod to be fastened over the opening or below the door header. It's a great option for renters or when construction is not desired. From a tight to a wide door opening, installing a single length of curtains or having several sections to cover the closet opening is possible.
Curtains can also add color, dimension, or texture to a space, and since closets are often located in bedrooms, the fabric covering can contribute to layering textures in a room. The color and design can be matched with existing bedding or window curtains.
Tapestry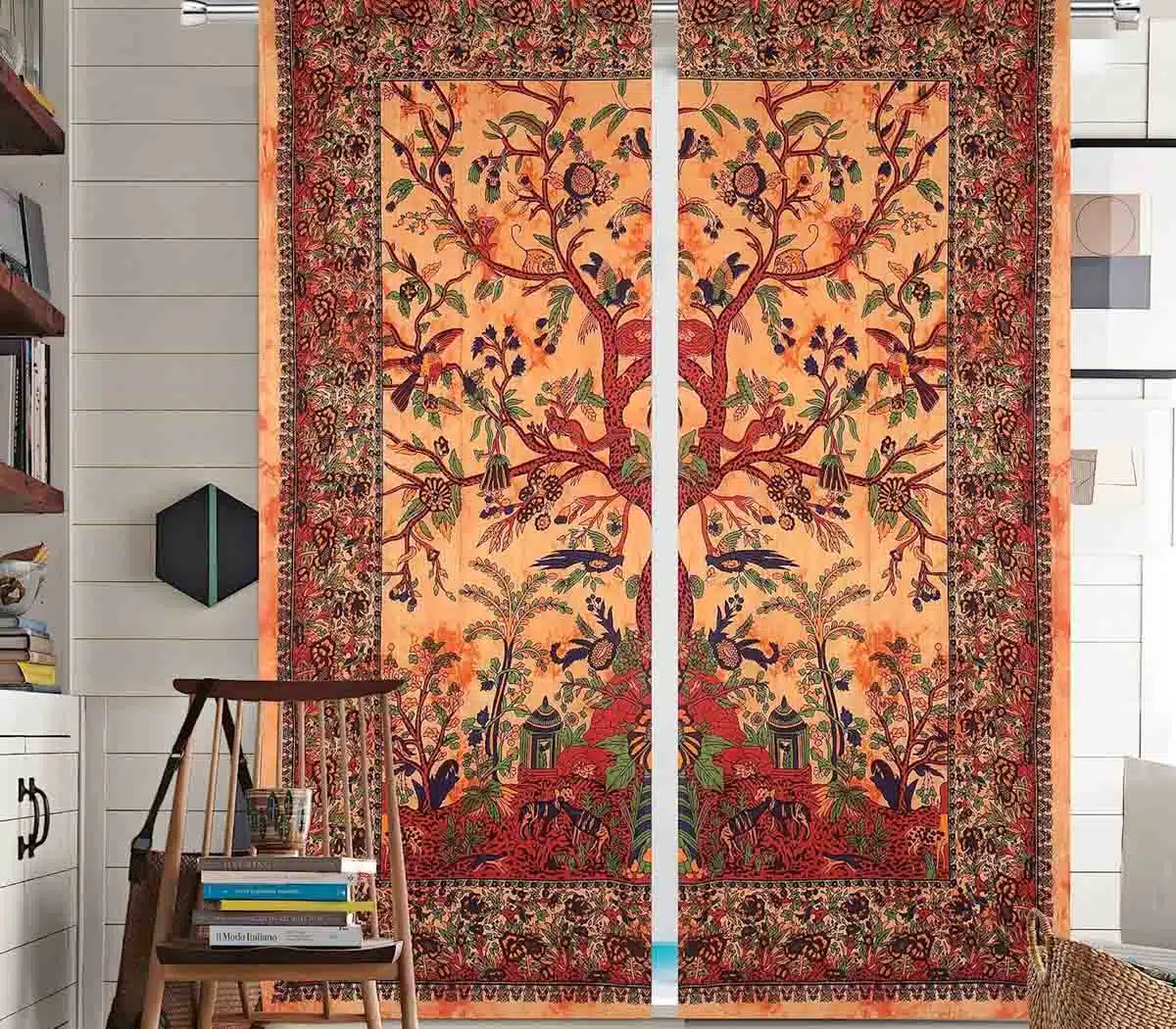 See this tapestry at Amazon [sponsored link]
As curtain closet covers, a tapestry is a fabric that can conceal closet items without the need for a complicated installation and can be easily removed. But unlike curtains, tapestries are intended to function as decorative wall pieces and usually have more intricate and thicker fabrics than curtains.
There is embroidered construction that usually showcases botanicals, maps, landscapes, animals, or sayings. An attractive heading for tapestry closet covers is the tab top, which resembles flat squares or rectangles of fabric alternating as loops around the curtain rod.
The fabric is usually made from the same material as the tapestry. The exposed rod from the alternating fabric is also a great way to showcase the rod material.
Accordion Doors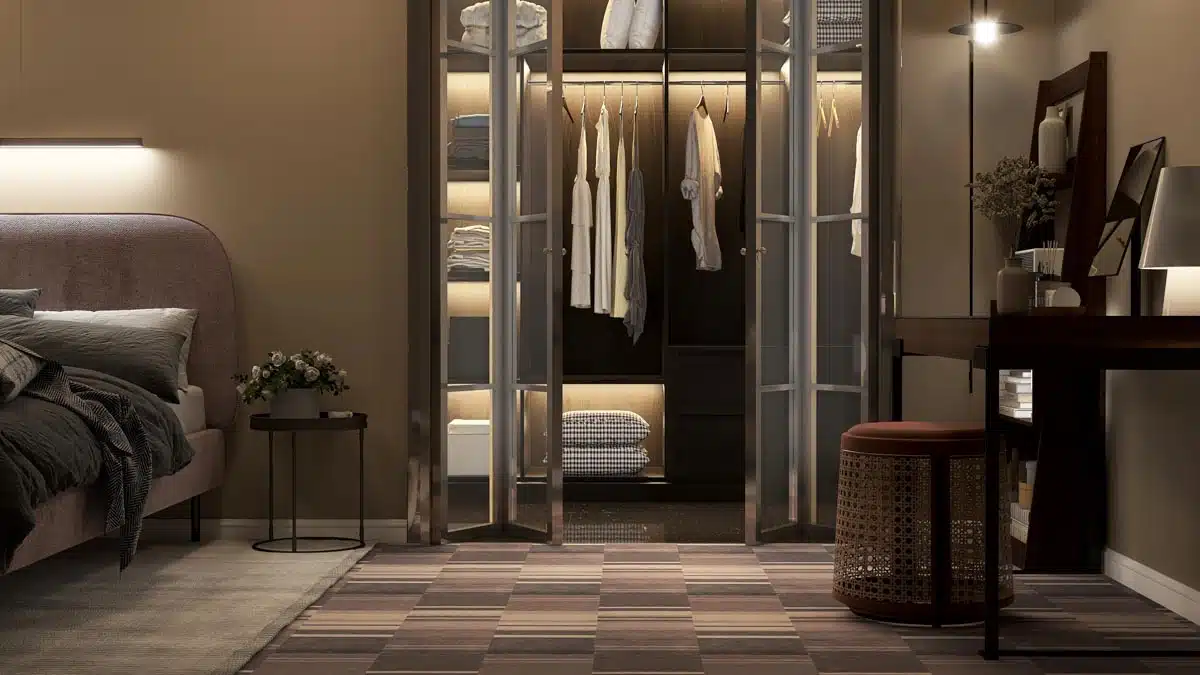 When opting for a folding door but don't have enough space for a single leaf, accordion doors are a great alternative. Accordion doors are termed as such since it has a series of panels connected through hinges, making it possible for the connected panels to fold in themselves. When fully closed, the panels are stacked and pressed on one side, and when opened, create a zig-zag pattern.
Lightweight materials are practical for accordion doors as it is easier to operate, but solid wood with or without glass inserts is popular for expansive closets. Accordion doors are typically made from vinyl or PVC, so it's easier to press and compact the narrow panels when closed, leaving the most door opening possible.
Pivot Doors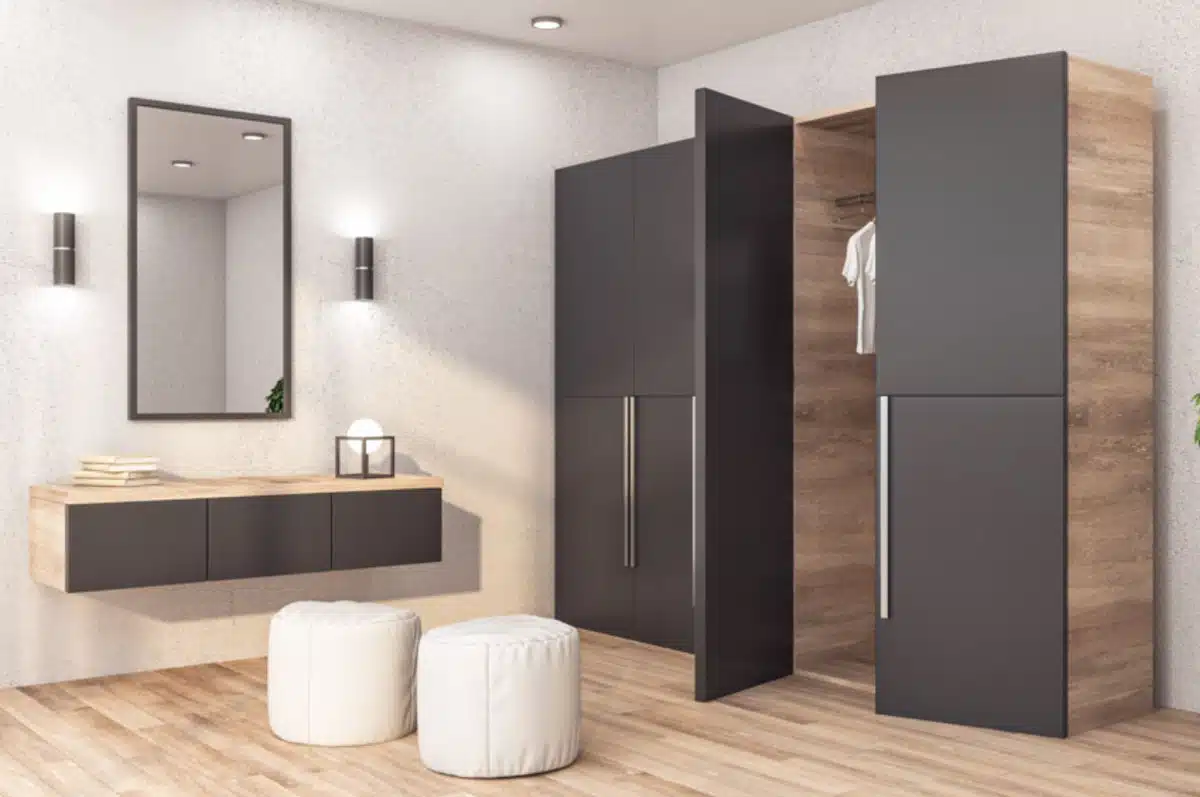 Pivot doors are rarely used as closet doors due to the space needed for the whole door to rotate when they need to be closed or opened, and they are often used in large luxury homes. Wheelchairs or other disabled users can take advantage of closets with a pivot door as it can be opened easily with a slight push as the doors pivot in the vertical access.
However, this will need a larger leaf door area from inside and outside the closet. A variation of the pivot doors is the pivoting sliding door that employs the swing and sliding mechanism simultaneously, lessening the leaf door area needed.
The pivot hinge distributes the weight more evenly, allowing for larger and taller door panels without the need for additional support or framing. This makes pivot doors suitable for walk-in closets and other wider closet areas.
Folding Screens or Dividers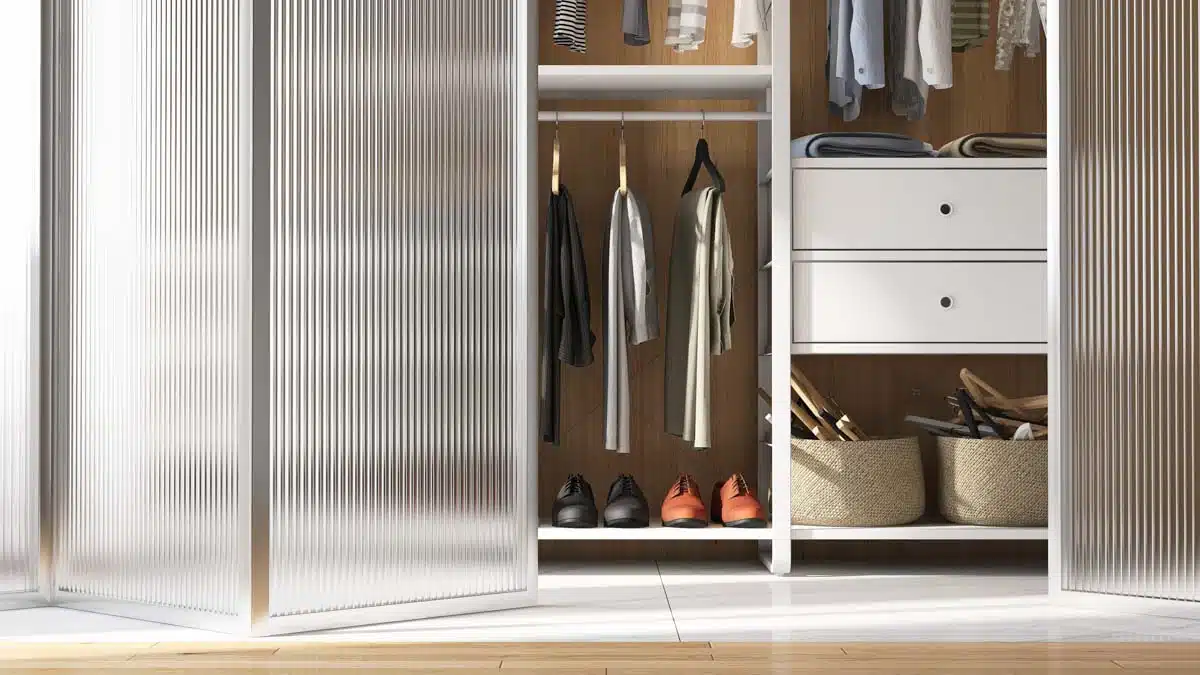 A quick and absolutely no construction replacement for bifold closet doors are placing folding screens against a closet door opening. The portable cover can be easily moved away or folded conveniently when accessing items.
A myriad of folding screen designs and sizes are available in almost any home and improvement store. Folding screens for closet spaces costs significantly less than installing a bifold closet door and can be replaced anytime by a more permanent cover if required. Panoramic landscapes and geometric or plain materials are popular options for folding screens for bedrooms.
Roller Shades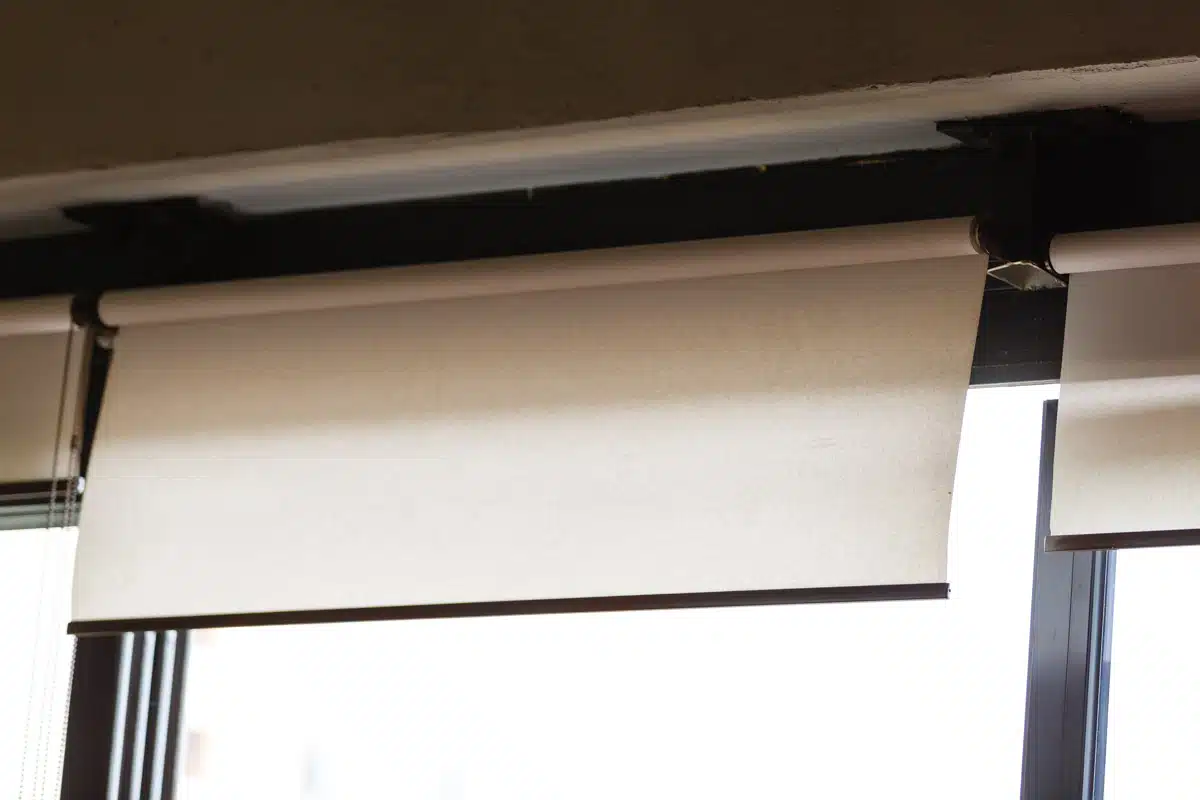 Roller shades are a great solution for providing a cover for a closet door opening, as it has a sleek and clean appearance and works with any closet-size opening.
Roller shades are usually made with fabric or canvas that is rolled around a hollow tube. The fabric or canvas rolls down or up by pulling a continuous string that often looks like a beaded chain.
The string is fastened on a clutch located on one end of the hollow tube, and the opposite end has an end plug. To be able to mount roller shades, a bracket is drilled just below the door header, where each bracket horizontally holds the tube, allowing the rolled fabric to drop below the opening.
There are cordless rolling shades with a motorized mechanism that can be operated or adjusted by switches or a smartphone. This is convenient for opening or closing the closet without the need to be near its door opening while not having to deal with a cord hanging from the closet area. Roller shades can also be easily made by using a hollow tube, blind components, adhesive, tape, a stapler, and scissors.
String Beads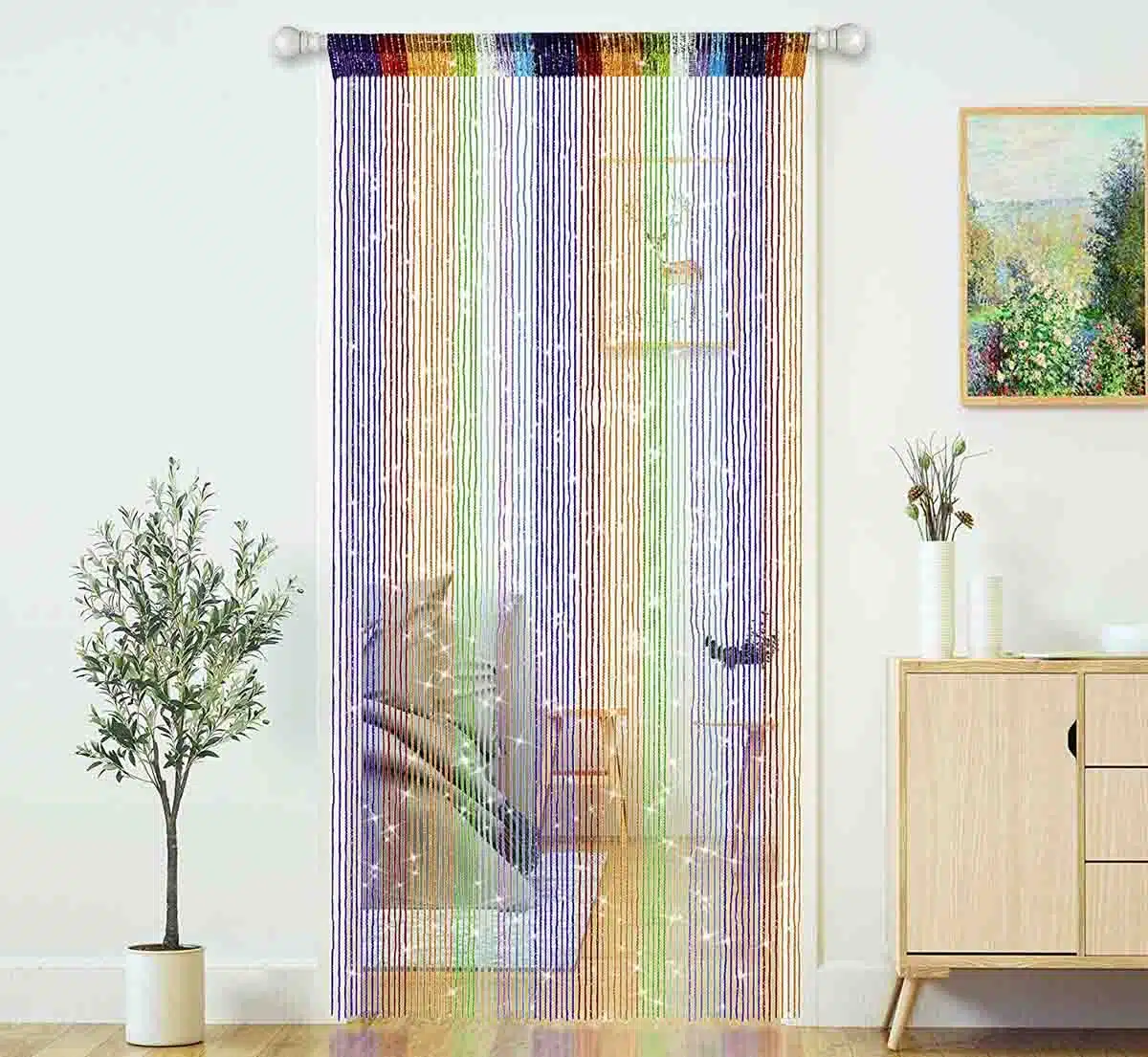 See this beaded curtain set at Amazon [sponsored link]
A unique and easy way to add personality to a closet opening while obscuring the closet's contents is by installing a series of strings of beads. While it's easy to find or even your own string beads as a closet cover, they have the disadvantage of getting in the way when accessing the contents of the closet. The noise of beads can also be an issue.
Macrame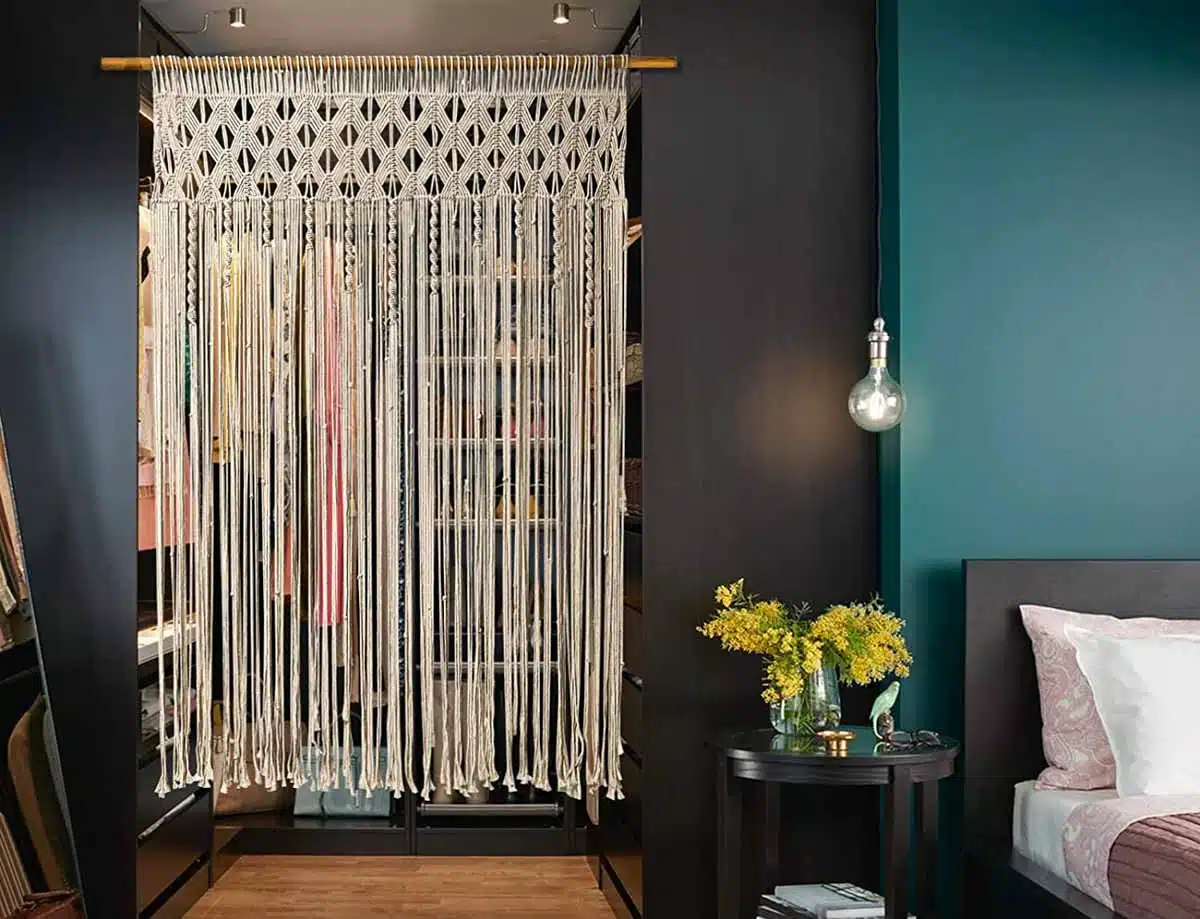 See this macrame set at Amazon [sponsored link]
A crafted closet cover, the macramé is considered a fiber art that originated in ancient civilization and was established as a bohemian or hippie wall crochet in the 1970s. Today the macrame with its knotted fiber strings melds beautifully in modern interiors.
The macrame can be a more subdued version of your string beads and is considered an effective wall décor for a modern or Scandi-inspired home due to its soft color and intricate detailing.
Glass Framed Closet Doors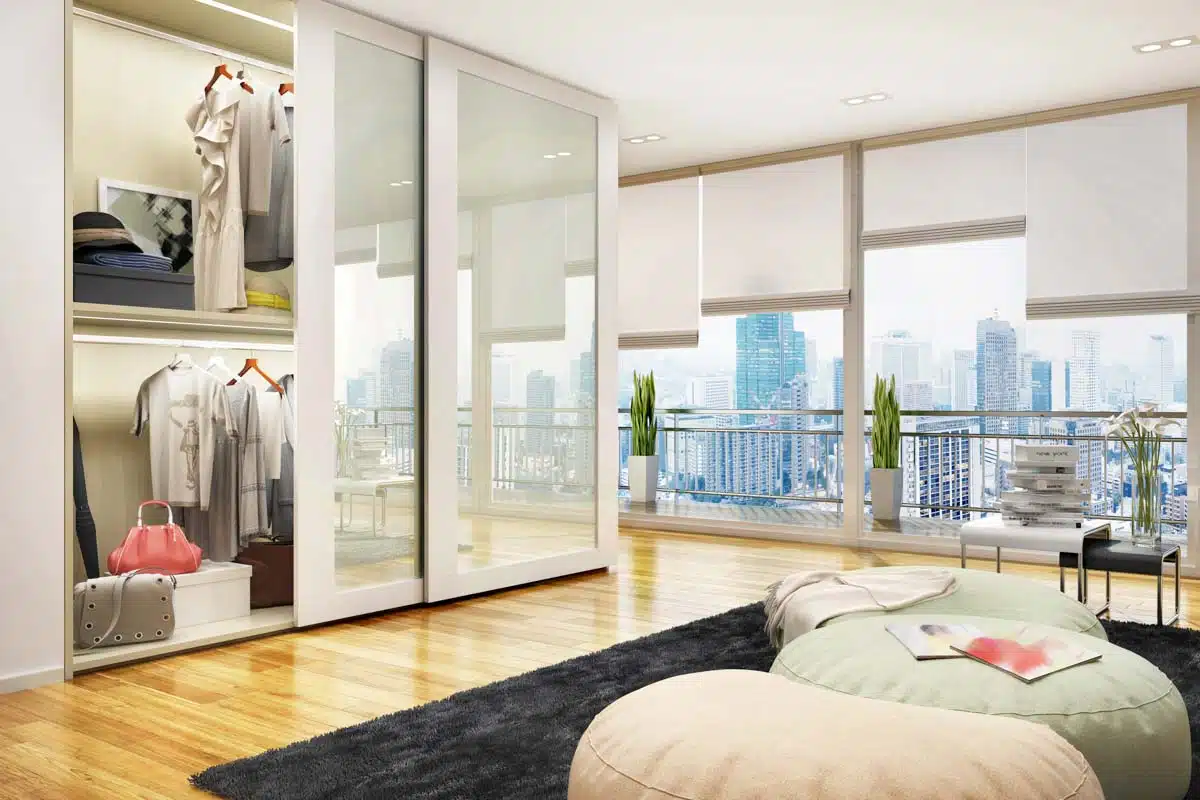 The glass framed doors give a stylish and edgy look that has been a trending door solution in contemporary staged homes. Glass framed closet doors or Crittall doors are distinct with their use of their metal grid frames, often with black or matte black finishing with windows or internal screens as panels.
The word "Crittal" is a registered trademark of a windows and door company called Crittall. Similar door designs are available with not only a clear glass panel but with frosted as well as decorative embossed designs. Decals can also enhance glass-framed closet doors to make a more personalized and unique design.
French Doors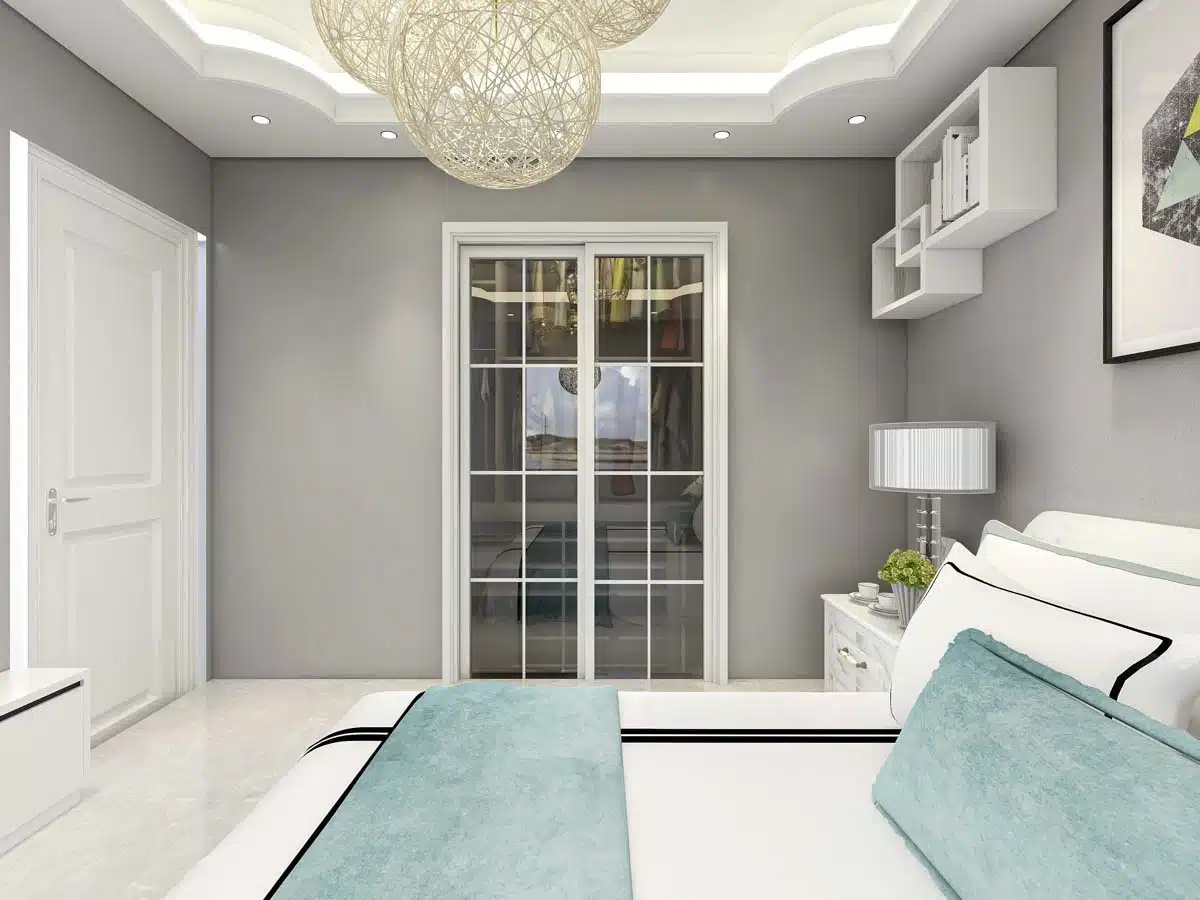 An alternative to the modern Crittall doors are French doors, which have two hinged doors with glass panels but is traditionally made out of wood with thicker moldings. The commercial size of French doors is 80 inches x 36 inches tall, but customized sizes are available.
While often used as an exterior door, French closet doors can be charming indoors, especially in bedrooms. Frosted or smoked glass panels can be specified for French door closets to completely hide away closet items while still enjoying the architectural feature of the door frames. Double doors in this style can be a great alternative if you have enough clearance to provide for the door opening radius.

Wooden Lattice Doors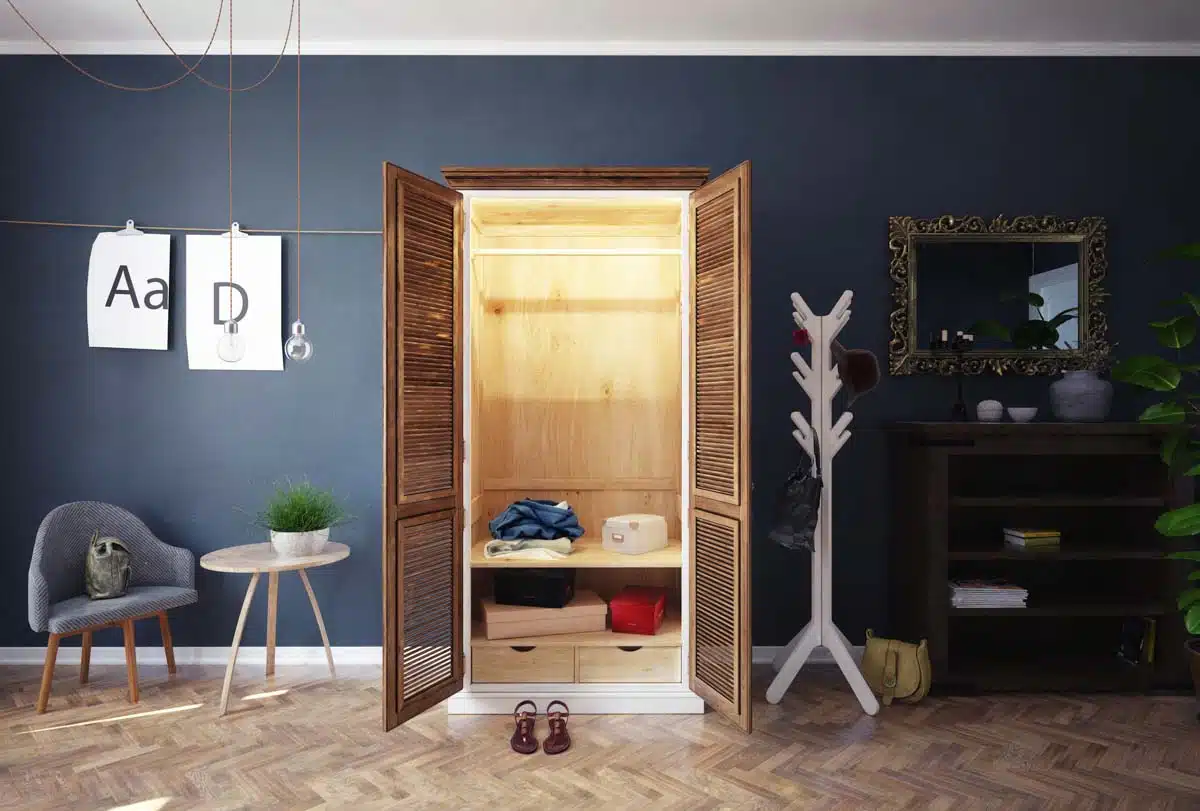 An attractive alternative to your utilitarian louvered doors, wooden lattice doors or screen doors showcases wooden strips interwoven that look like small grids. The basket weave-like construction of the panels leaves tiny holes where air and light can pass through.
This interior screened closet door maintains good airflow through the closet, preventing mold or bacteria from growing. Wooden lattice closet doors can also be hing as the perfect DIY project, as premade lattice panels are available to be incorporated into the design.
See more related content in our article about the different types of closet doors on this page.