Find out endless pool sizes from smallest to biggest, the most popular endless pool dimensions, and endless pool pump sizes. From the compact inground endless pools often encased in vinyl, to the grand, freeform designs that mimic nature's own contours, there exists a variety of options.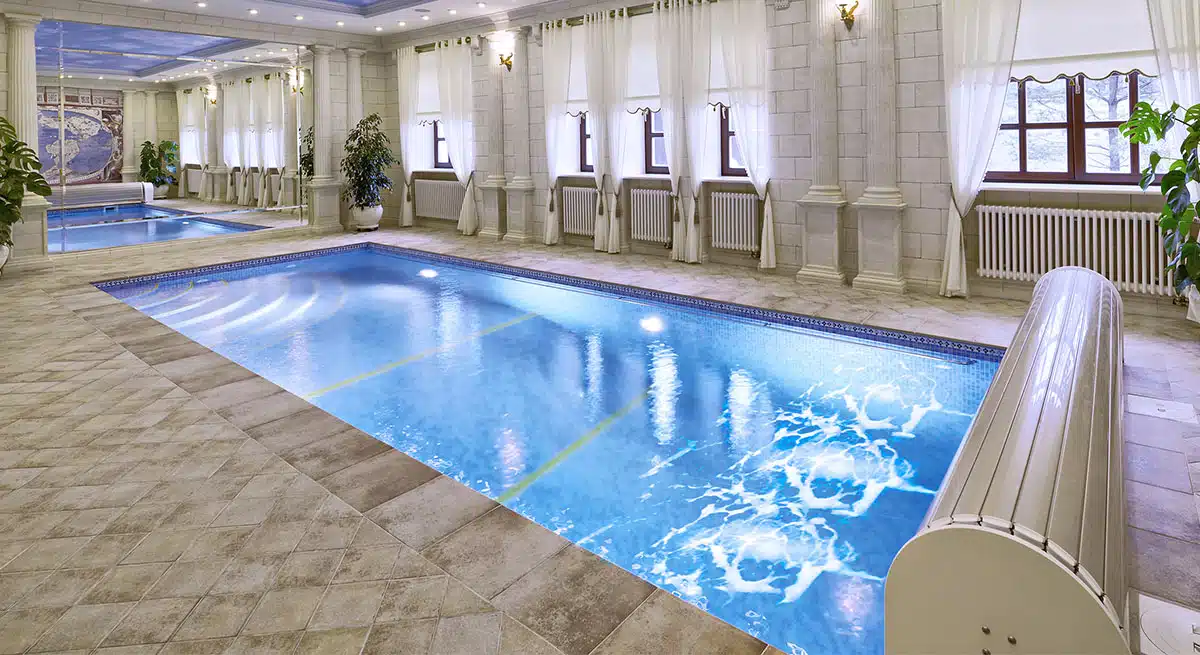 Endless pools are a health enthusiast's best friend for maintaining fitness without forfeiting valuable residential space. These smaller-than-average swimming pools also provide an ideal ground for individuals in need of regular hydrotherapy as part of an ongoing physical rehabilitation program.
Besides, these pools are a great addition for families to indulge in water activities on a platform with variable water currents and serve as perfect above ground alternatives for spas as well.
Choosing from a variety of endless pool sizes is an important facet of maximizing these benefits. Although endless pool sizes are customizable to fit a family's needs and the property's space requirements, some dimensions are more or less standard.
Understanding endless pool sizes empowers individuals and families to choose the right design or style for their needs, whether it's round, rectangle, or an oval-shaped pool.
Endless Pool Smallest Size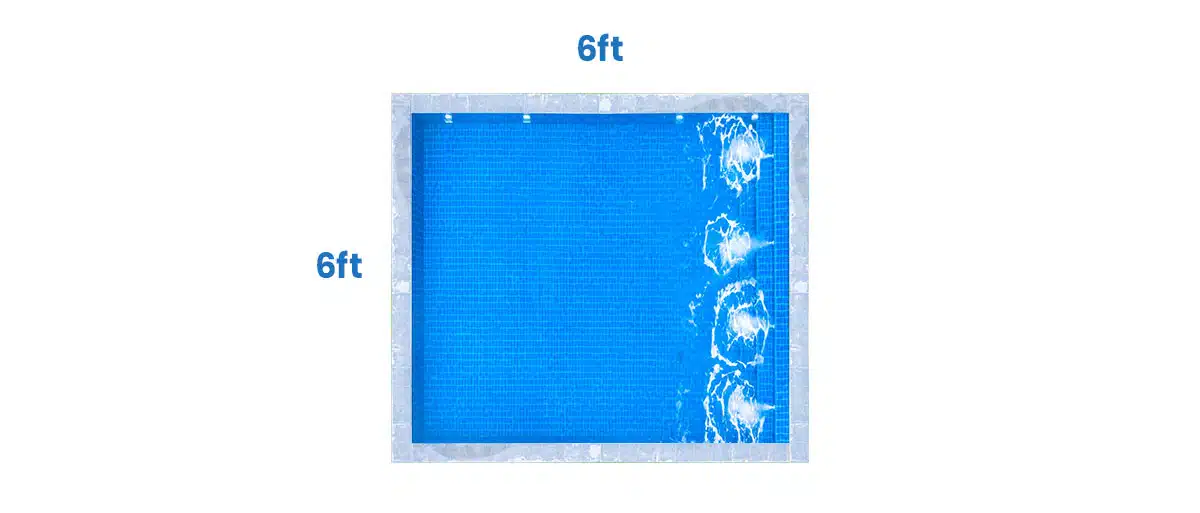 Most vinyl liner endless pools measure 8 feet (2.4 meters) wide and 15 feet (4.6 meters) long, creating a 120-square-foot (11.04-square-meter) "aquatic treadmill."
These measurements allow most individuals to practice their swimming strokes without moving from one end of the pool to the other.
The smallest endless pool size is 6 feet by 6 feet. It is worth noting this measurement might be "too cramped" for the average American male (at 5 feet, 9 inches).
Swimming requires the person to extend their arms to the front. They might hit the endless pool's edge when performing the strokes and injure the swimmer.
Ideal for children and individuals shorter than 5 feet, the tiniest endless pool can be an excellent choice for people undergoing physical rehabilitation.
Its small dimensions should fit into a cramped living space. However, it is worth pointing out that the 6 feet by 6 feet measurement only refers to the endless pool's inside dimensions.
Manufacturers and endless pool installers often observe an allowance of 2 feet and 3 feet for the site's width and length. Hence, a 6-foot by 6-foot endless pool requires a space of at least 8 feet by 9 feet.
Popular Endless Pool Dimensions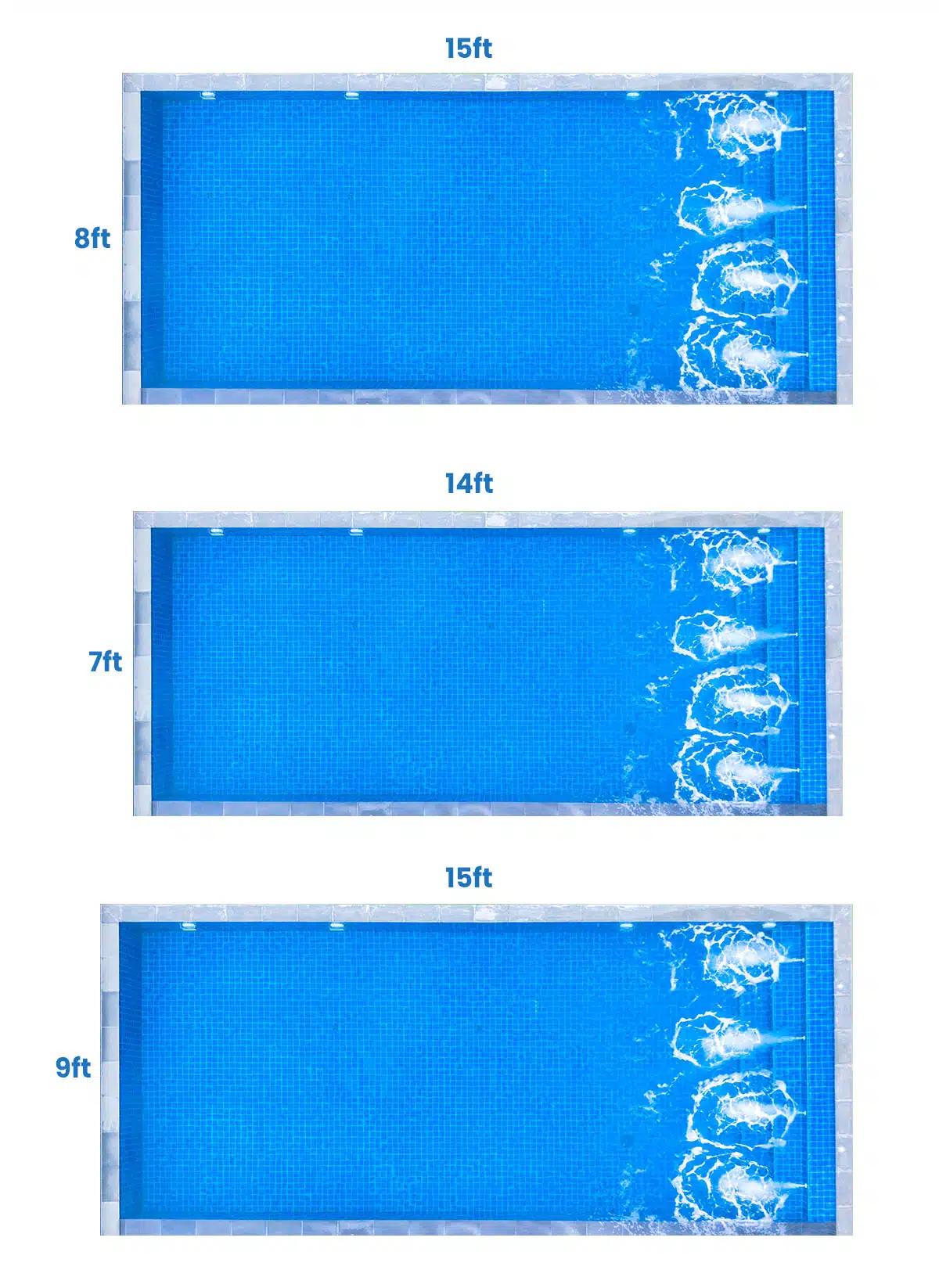 The most popular endless pool size is 8 feet (2.4 meters) by 15 feet (4.6 meters), although a slightly smaller version (7 feet by 14 feet or 2.1 meters by 4.2 meters) also enjoys a significant following.
Some homeowners also pick a 9-foot by 15-foot (2.7 meters by 4.6 meters) endless pool.
These physical dimensions are ideal for most urban homes with limited property spaces. An endless pool's compact design allows homeowners and individuals to install the pool indoors or on any sturdy platform.
Unsurprisingly, many homeowners consider their property's available space before commissioning an endless pool manufacturer to fabricate a platform specific to their requirements.
For example, a residence with a 10- by 15-foot (3 meters by 4.6 meters) unoccupied section can hire a professional to construct an 8- by 12-foot (2.4 meters by 3.7 meters) endless pool.
The two- and three-foot (0.6 meters and 0.9 meters) allowance guarantees access to and from the pool. It is worth noting that an endless pool's boxy design makes it suitable for corner positioning. It will help conserve space while enabling homeowners to pick a slightly larger endless pool.
The styles similar to the size of hot tubs are often more compact than the endless pools, thus, offering a different sort of experience. In contrast, the format of a swim spa or a swimming pool provides a completely different experience, thus triggering several questions among potential customers and the use needed.
Biggest Endless Pool
As a rule, endless pools are smaller than swimming pools. Backyard swimming pools range in size from 10 feet by 20 feet (3 meters by 6.1 meters) to 20 feet by 40 feet (6.1 meters by 12.2 meters).
Hence, homeowners can assume an endless pool is not broader than 10 feet (3 meters) and shorter than 20 feet (6.1 meters).
The longest custom-built endless pool is 16 feet (4.9 meters) long, although it is possible some homeowners might want an 18- or 19-footer (5.5 or 5.8 meters). Meanwhile, the broadest endless pool measures 10 feet (3 meters).
The largest possible dimensions for an endless pool depend on a property's available space. For instance, a 100-square-foot area (9.3 square meters) can only accommodate an endless pool with a maximum size of 9 feet by 11.1 feet (2.7 meters by 3.4 meters) or 10 feet by 10 feet (3 meters by 3 meters).
The measurements do not have the minimum required allowances, reducing the endless pool's final size. Hence, a 100-square-foot area can only accommodate a 7-foot by 8.1-foot (2.1 meters by 2.5 meters) endless pool.
For homeowners who wish to turn their property into a family-friendly place, adding an extended length pool can enhance that family-oriented swimming experience. The right balance of information is essential to guide such customers.
If customers have any questions relating to these measurements, it's best to contact a local dealer to help you get the best swimming pool experience for your family's needs.
How Deep Is An Endless Pool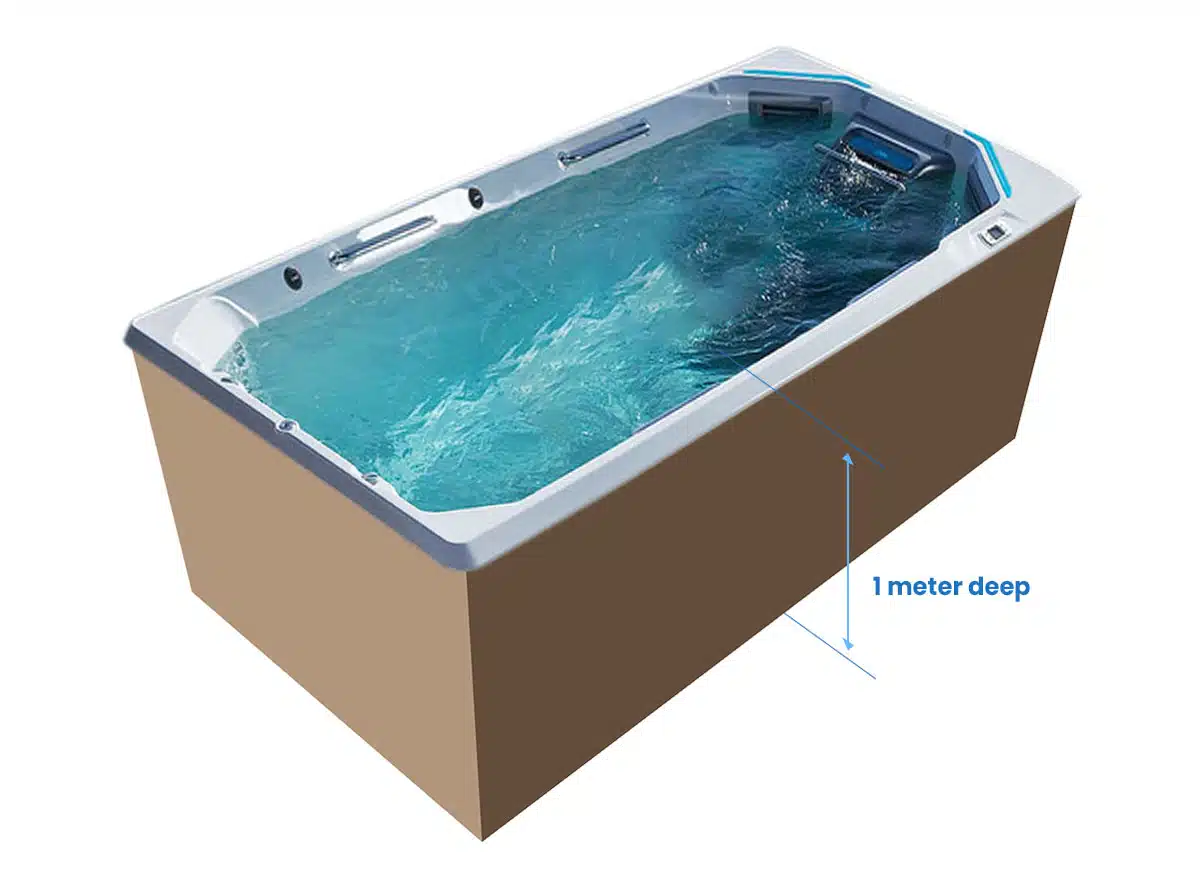 Endless pools are 39 inches (1 meter) deep, approximating a typical swimmer's stroke reach. On the other hand, backyard swimming pools have a slanting design. They are shallow on one end and slowly increase in depth up to 8 feet (2.4 meters) at the other end.
As mentioned, endless pools are customizable. Swimmers with extended reach might opt for deeper (>39 inches or >1 meter) units to facilitate freedom of movement and promote a full range of motion. They need an endless pool deep enough to perform swimming strokes without hitting the pool's bottom surface.
On the other hand, individuals who need an endless pool for physical rehabilitation (i.e., hydrotherapy) might opt for a shallower unit. Peculiar requirements influence an endless pool's depth, making custom-built options preferable to ready-made versions.
Endless Pool Pump Size
Pump sizes vary across endless pool brands and models, even for those integrated into larger swim spas or tubs.
For example, the HotSpring R200 RecSport features a 5.2-horsepower breakdown torque with a 2.5-horsepower continuous-duty dual-speed pump. The motor delivers 815 liters of water (about 215 gallons) per minute through 27 hydromassage jets.
On the other hand, the company's X2000 Endless Pool features a similar pump configuration, except with an extra single-speed module. Despite its identical pump technical details, the X2000 delivers more water per minute than the R200 (1,325 liters or 350 gallons thus providing a different swim experience.
Meanwhile, Endless Pools' Original Series features a single propeller 5-horsepower pump. Its Performance Series is identical in power delivery, except it has twin screws. The brand's Elite Series also has two propellers, but its 7.5-horsepower pump makes it one of the most robust on the market.
Although most endless pool pumps average 5 horsepower, some models have higher pump specifications. The variance in pump sizes underscores the differences in endless pool requirements or purposes.
Professional or competitive swimmers might opt for pools with larger (or more powerful) pumps, while low-horsepower units are ideal for rehabilitation, therapeutic, recreational, and relaxation purposes.
Moreover, pool size influences pump configuration and capacity. Larger endless pools require more powerful pumps than compact-sized units.
For more related fiberglass, concrete and vinyl liner ideas visit our plunge pool size guide here.