In this plunge pool size guide you'll see the average sizes for circular & rectangular plunge pools, different fiberglass & cold plunge pool dimensions and their cost.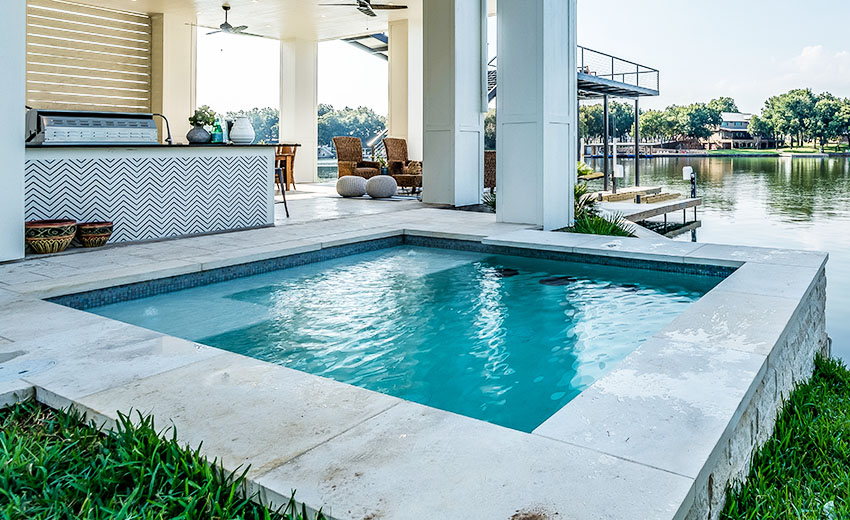 Many homeowners dream of having a pool in the backyard. A pool is a fun addition to the backyard since they work well for kids and adults, and they also provide conversation starters in many backyard parties a homeowner is looking to throw. The only problem with a pool is that it requires a sizable yard to have it in, but that is further from the case, and here is where a plunge pool will come in.
Plunge pools are the happy middle between in-ground and above-ground pools. If an in-ground pool starts at 14 by 28 feet and an above-ground is 12 feet in diameter, plunge pools are there for smaller yards and spaces.
Average Plunge Pool Size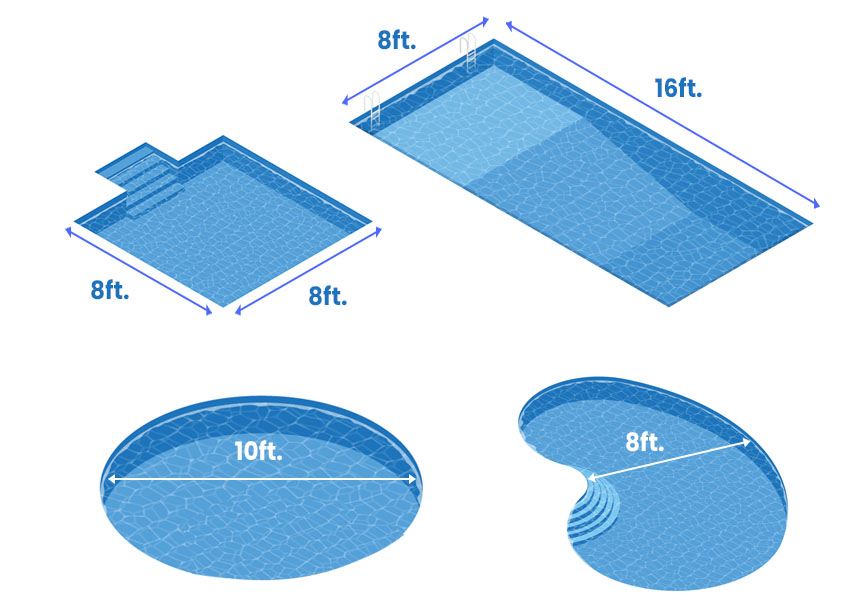 Plunge pools are designed with leisure and enjoyment in mind, and for little kids, no pools are too small in order to be enjoyable. The size of the average plunge pool will vary, but the most usual size is the 8 by 8 feet or precisely 96 by 96 inches plunge pool. There are also the 8 by 16 feet or 96 by 192 inch plunge pools.
These sizes for plunge pools will vary in shape and depth. There are also standard circular plunge pools that are 10 feet or 120 inches in diameter. At the same time, half-circle pools are 8 feet or 96 inches in radius.
The best shape for plunge pools is the rectangular design which can utilize more usable space in a given area, with the 8 by 16 feet rectangular pools being the most famous size. See more pool shapes here.

How Deep Is A Plunge Pool?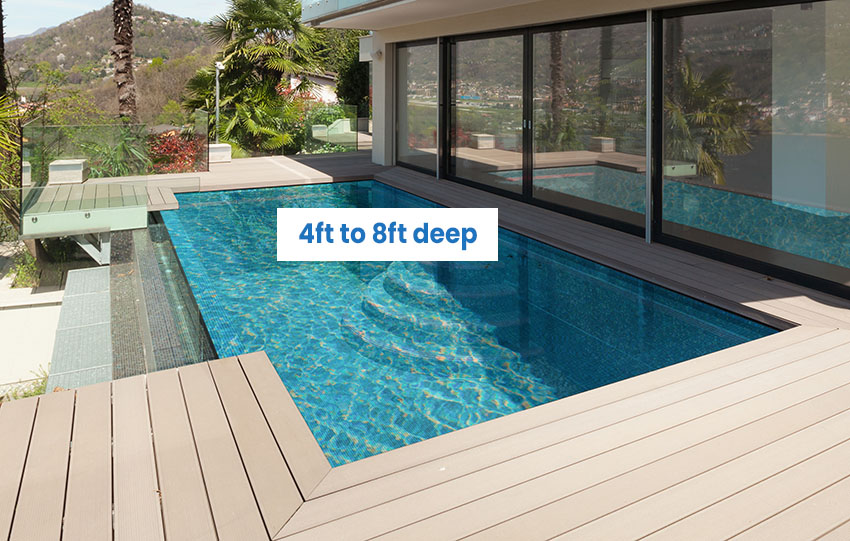 Like the standard plunge pool sizes, the depth will vary across the board. Some shallow plunge pools are there solely to dip in and cool off. While many will want less depth at one end that goes deeper so they can grow with the children.
Another type of plunge pool design has a even deep depth to facilitate swimming and exercise. With this in mind, plunge pools are around 4 to 8 feet deep or 48 to 96 inches deep.
There are prefabricated plunge pools that dictate the size at 7 by 13 feet or 84 by 156 inches, and the plunge pool depth, which is midsized at 5 feet or 60 inches.
Small Plunge Pool Dimensions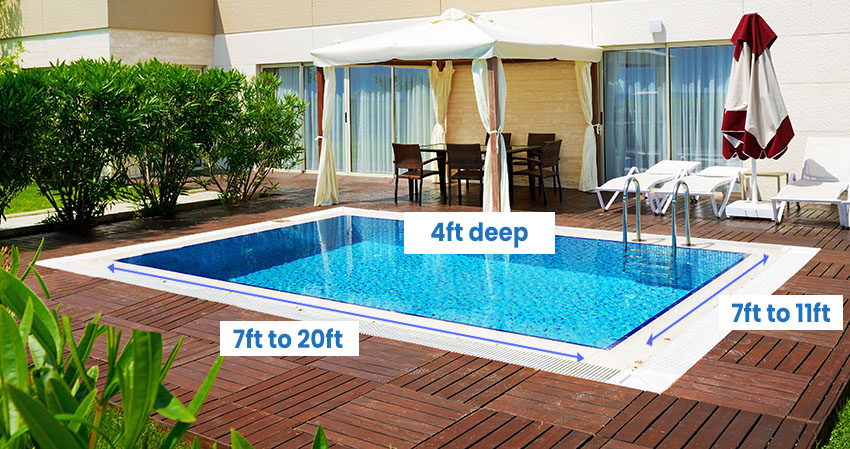 Plunge pools are smaller; they are not necessarily swimming pools but are designed with leisure and relaxation in mind, so most will offer seating options. If this is what any homeowner will want in their homes, there is a minimum standard for a small plunge pool they can use to guide the construction.
Smaller plunge pools will range from 2 to 6 meters or about 7 to 20 feet in length with a width of 2 to 3.5 meters or 7 to 11 feet. These pools will not usually be deeper than 1.2 meters or 4 feet, and most of these will usually include seating areas for maximum pool relaxation.
What Is The Smallest Size Plunge Pool?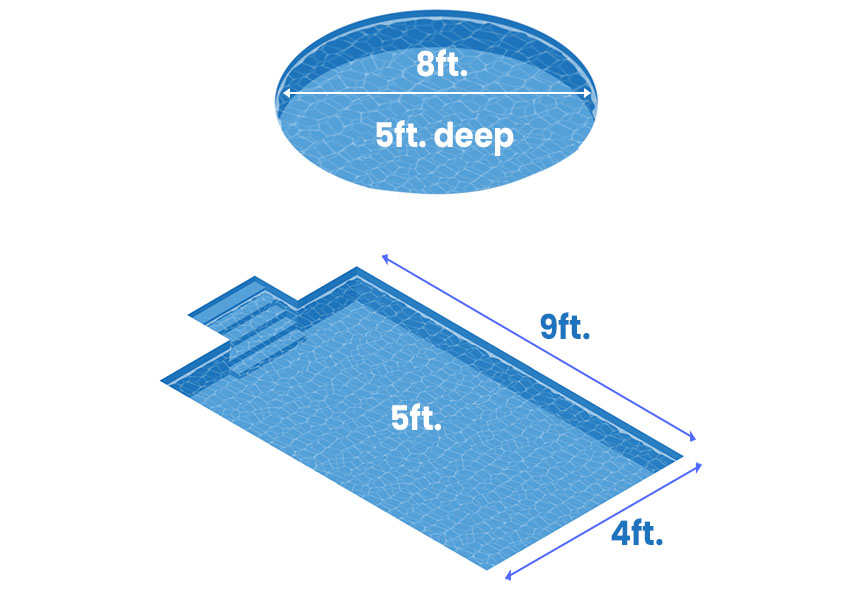 The smallest plunge pools are usually a size one pool company offers, and this will vary significantly from the standard with the sole purpose of creating a dipping pool for the homeowners to enjoy during their downtime.
The smallest circular plunge pools have a diameter of 2.5 meters or 8 feet and a pool depth of 1.51 meters or 5 feet. Usually, this will offer no seating, but modifications can be done to accommodate one.
A small rectangular plunge pool will measure a length of 2.6 meters or about 9 feet, a width of 1.24 meters or 4 feet, and a depth of 1.49 meters or approximately 5 feet. See more pictures of small pool designs here.

Large Plunge Pool Dimensions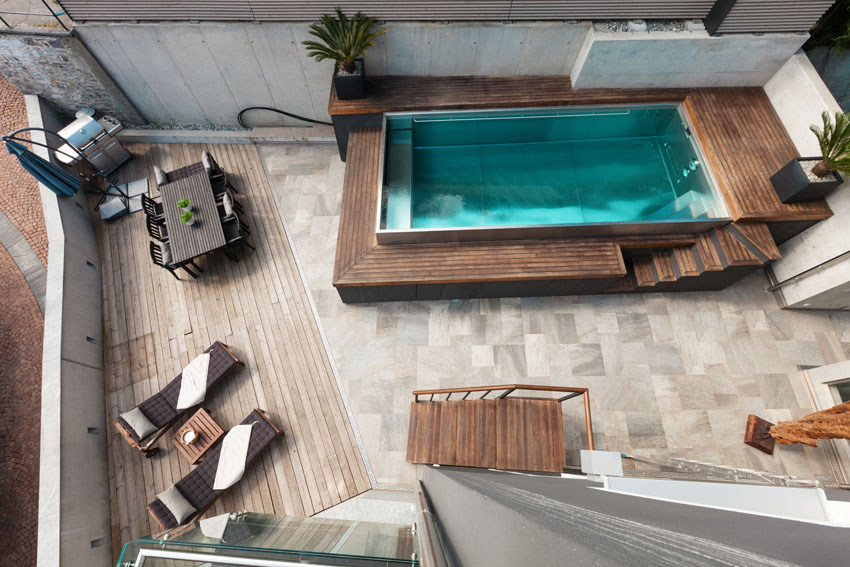 On the other side of the plunge pool size spectrum are the larger plunge pools most pool companies will offer. Larger plunge pools are not big enough to be considered regular pools, but they will offer added features like seating which can make the plunge pool more relaxing.
Bigger circular plunge pools have a diameter of 3.4 meters or 11 feet, with a pool depth that can reach 2.725 meters or about 9 feet. This size is trendy since it offers more depth. On the other hand, bigger rectangular plunge pools have a length of 4 meters or 13 feet, a width of 2.3 meters or about 8 feet with a depth of 1.6 meters or 5 feet.
Fiberglass Plunge Pool Sizes
Fiberglass plunge pools are cost and space efficient and available in many sizes for homeowners who want a ready-made plunge pool installed in their backyards. The smallest fiberglass plunge pool any homeowner can have a length of 9.6 feet or 115 inches and a width of 6.11 feet or 73 inches.
Bigger midsize fiberglass plunge pools range in length from 16 to 20 feet or 192 to 240 inches with a width of 8 feet or 96 inches. A larger fiberglass plunge pool will have a width of 12.6 feet or 151 inches and a length ranging from 23 to 26.3 feet or 276 to 316 inches.
Cold Plunge Pool Size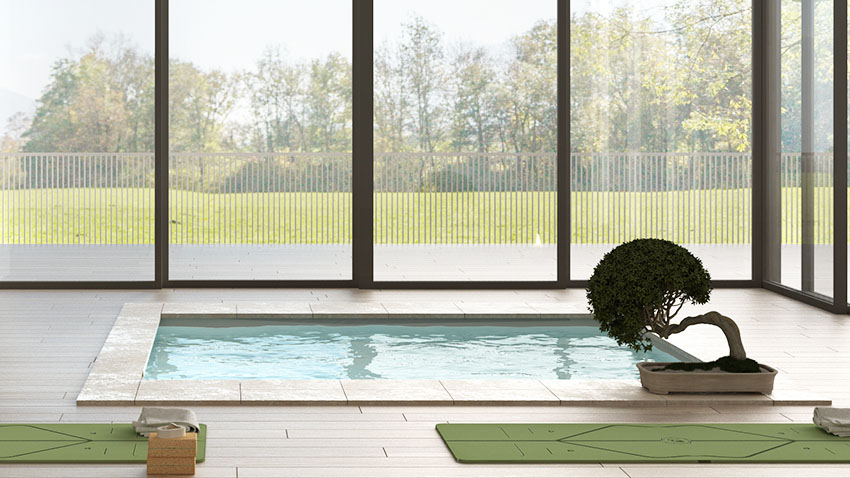 Cold plunge pools are the therapy side of plunge pools mostly found in spas and more luxurious homes with hot climates and temperatures. They instantly lower a body's temperature when feeling hot since most cold plunge pools are kept to be around 50 to 55 degrees.
Smaller cold plunge pools are available at 40 by 96 by 29 inches or 102 by 244 by 74 centimeters. There are also bigger cold plunge pools at 98.5 by 103 by 36 inches or 250 by 262 by 91 centimeters. See more swimming pool sizes on this page.

Plunge Pool Costs
The prices of plunge pools will vary according to size, materials, and labor. A smaller plunge pool can average about $20000 to $25000, with fiberglass plunge pools being the more affordable option over concrete plunge pools.
Plunge pool construction labor is the same as an in-ground pool, but it will cost less since they are smaller in scale. Homeowners will need to hire an excavator and acquire permits to build a plunge pool for their backyards.
See our list of swimming pool design software for more options for creating your own custom plan and landscaping.