This gallery shares the types of closet light fixtures with the different design styles, their benefits, suggested wattage, lumens, and power sources for closet lights.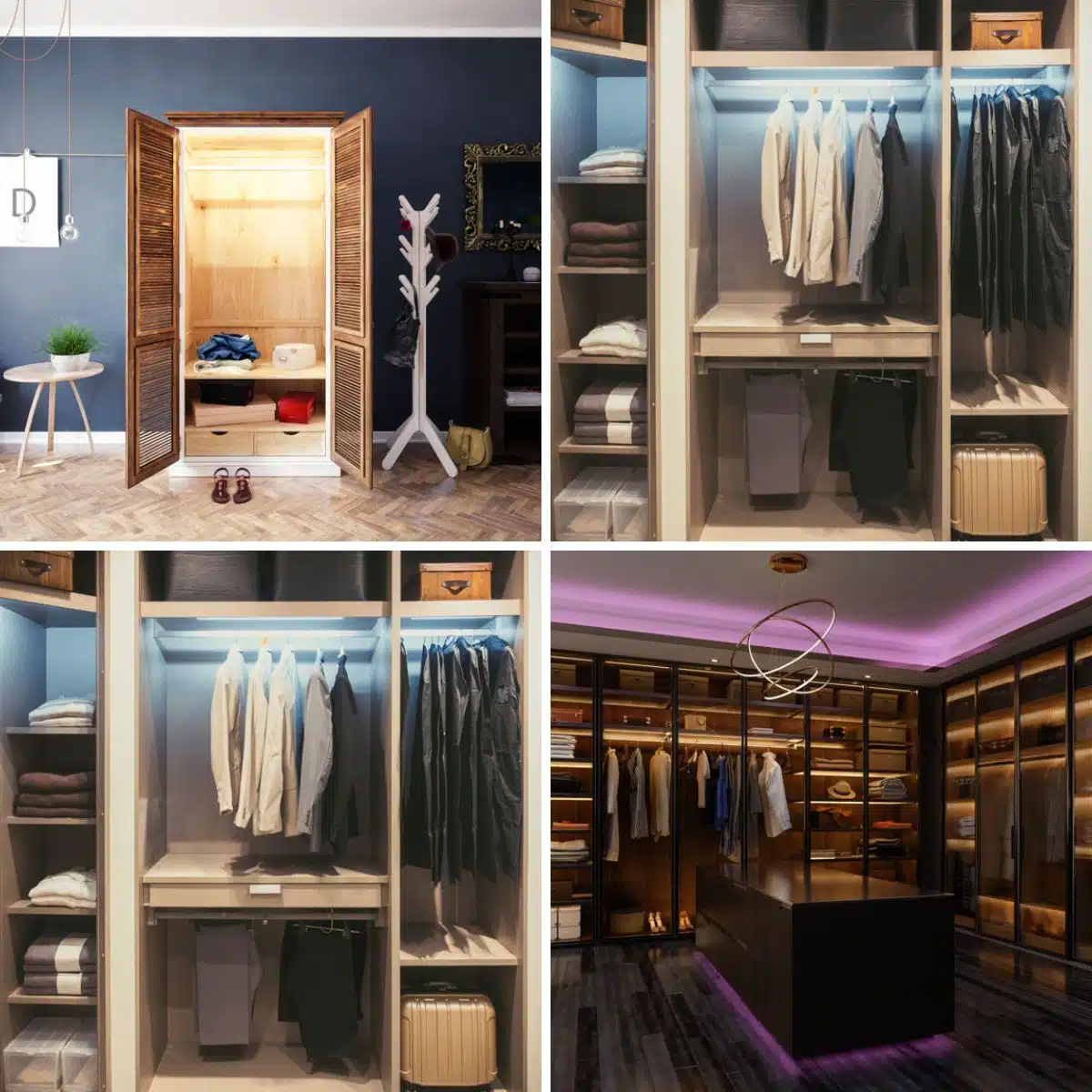 Picking your outfit of the day from your closet seems like a simple enough task. Truth be told though, it will feel like walking blind if the inside of your closet is completely dark. And let's face it, it can be a major mood killer, especially as you are starting the day with this little inconvenience. There's a solution to this though. The right closet light fixture can fix this issue.
If you have a walk-in closet, you only have three options to choose from, including accent lighting, ambient lighting, and task lighting. You can choose accent lighting if you want to produce a specific ambiance inside the walk-in closet or if you want to put emphasis on specific pieces you currently own (like shoes or bags).
Ambient lighting is the general type of light that helps you find your way inside the walk-in closet and is often in the form of an overhead light fixture. And finally, task lighting is focused more on the illumination and giving emphasis on specific areas inside the walk-in closet, including the vanity and built-in dresser.
With a closet though, there are many types of light fixtures you can consider to help you see inside better and be able to choose the clothes you want to wear for the day. When you choose or build your closet, a light fixture should be part of the package. This is because the right lighting in your closet can drastically improve its functionality. But you can always add the aesthetic element to it!
The most common light fixtures used in closets are track lighting, strip lighting, and recessed lighting. But these three are only a small percentage of all the options you can explore when choosing your closet light fixture. Check out these incredible options to start with.
LED Light Fixture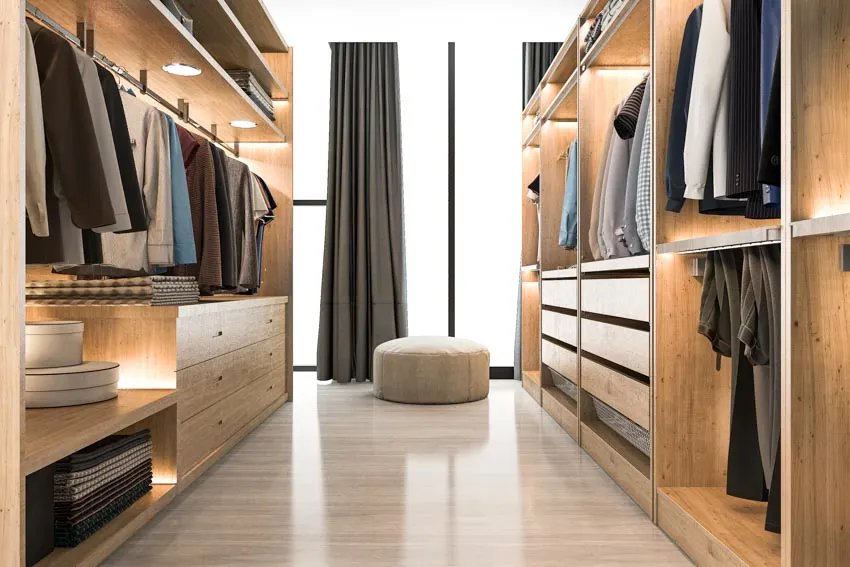 LED lights are popular for a reason and it's because of the bulb's efficiency and usefulness even in small spaces like the closet. LED lighting technology is popular for its convenience and no-stress installation. Whether you have a small or large closet, make sure you buy the LED lights designed to be installed for closets.
Benefits of LED Closet Lights:
• Energy efficiency resulting in energy savings
• Produces only a minimal amount of heat
• Long-lasting
• May possibly be added to the home's value
• These LED lights are flexible and efficient yet simple installation because of their compact size and they do not require wires to work
• Free from junction boxes, in-wall hard wiring, and switch button (available on the wall or on the remote control)
LED Light Strips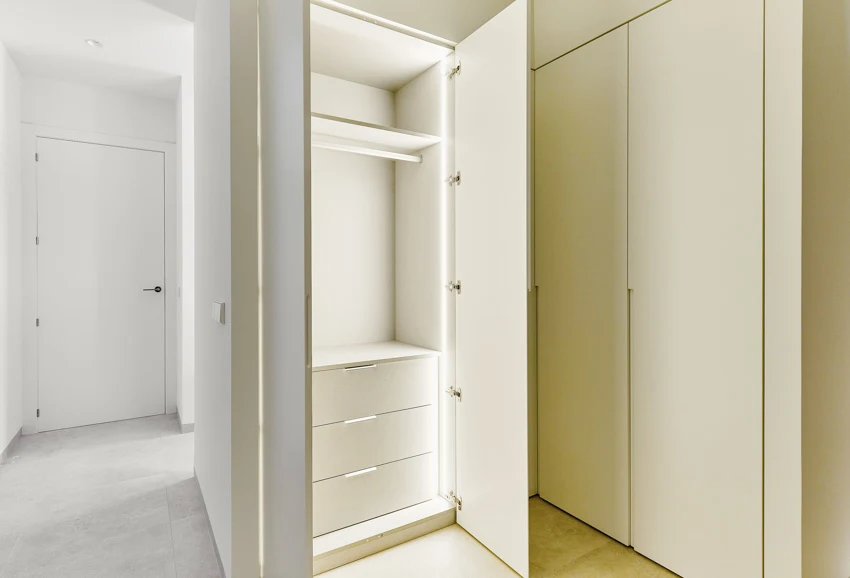 LED light strips are also a great option for your wardrobe illumination because it has a compact structure and so can easily light up dark small spaces like closets. These lights come in the form of strips or flexible cords and are installed by using a strong adhesive and putting them on the surface of the insides of the wall. You can also use LED lighting to illuminate the shoe rack or the hanging bar.
You can use LED light strips for general lighting or accent lighting, depending on where you install them. You can get more even lighting with vertical installation.
Benefits of LED Light Strips:
• Free from hardwiring but require to be plugged in when used
• Easy installation (with a simple adhesive)
• Flexible installation (You can glue them on the top, bottom, or inside of the closets)
• Compact design
• Capable of changing the pattern and color of the lights using a remote control
Flush Mount Light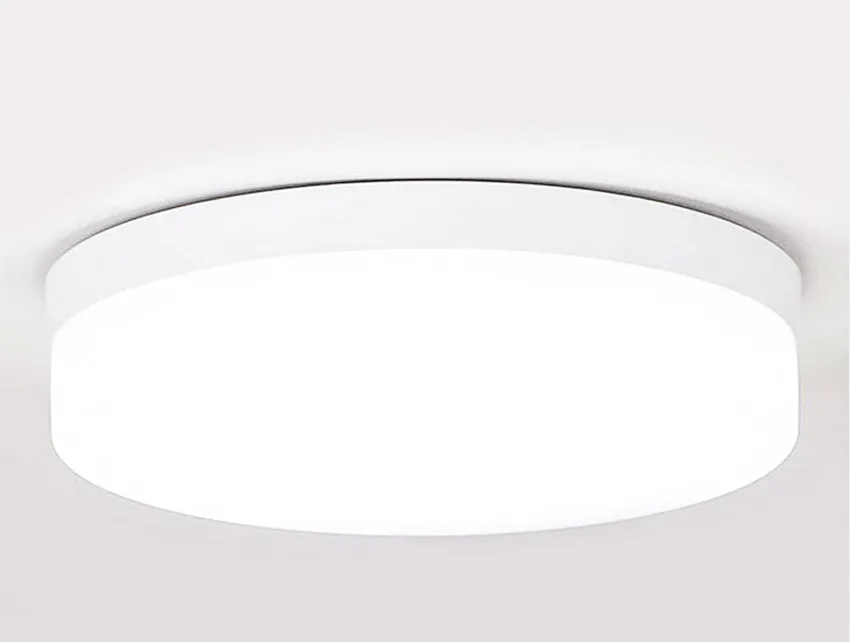 See this flush mount closet light at Amazon [sponsored link]
This flush mount light can be used and installed in large spaces like the bedroom, living room, kitchen, dining space, and bathrooms but they can also effectively work in small spaces like the pantry, hallway, and closet. They come in different sizes and you can choose the one that fits the size of the space where you will install it to.
A flush mount closet light involves a dome-shaped light fixture that's often installed on the surface of the ceiling. It is mounted, embedded, and flush to the ceiling which is how it got its name in the first place. It is wired to the closet's ceiling and so can easily light up the interiors of the closet without taking up space inside like under-shelf or wall-mounted lighting does.
Benefits of Flush Mount Light Fixtures:
• Highly versatile in usage and installation
• Come in a variety of sizes ranging from 12 to 24 inches wide (13 inches wide on average)
• Works both in both formal and casual interiors
• Installation does not take up space
Semi Flush Light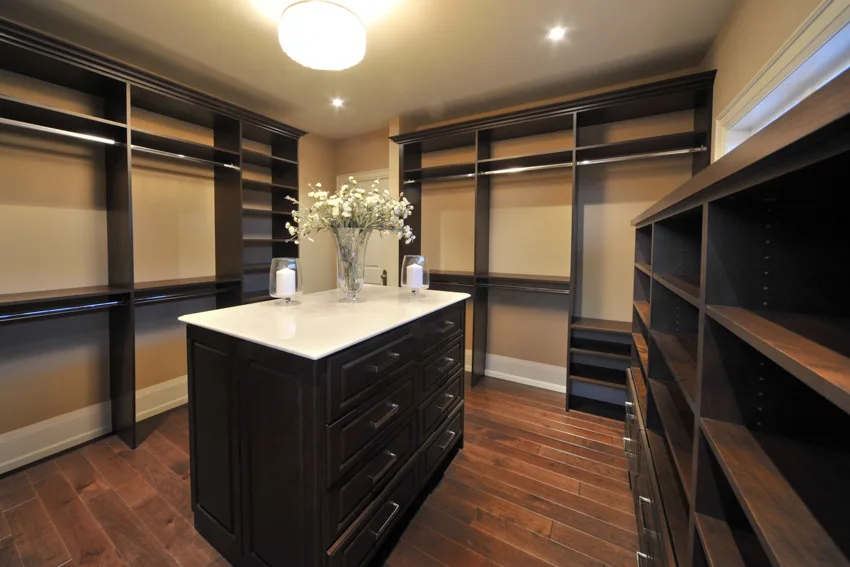 A semi flush closet light involves a more decorative appearance and while the flush mount is completely embedded within the ceiling, this type of light has its based embedded just below the ceiling. It has a bit of a similarity with pendant lights but is better since they don't hand too low and take up ceiling space.
Like its flush mount version, the semi-flush mount light can be used both in large and small spaces, from the living room, bedrooms, and dining rooms to hallways, foyers, and closets. You just need to choose the size of light that fits the size of the space where you will use it.
Benefits of Semi Flush Light Fixtures:
• Comes in a variety of sizes ranging from 6.25 inches to 23 inches wide
• Compatible to be used in large spaces and small spaces alike
• Compatible with both casual and formal interiors
• Can provide ambient lighting when installed in rooms with low ceilings
• Highly versatile in its installation
Recessed Lighting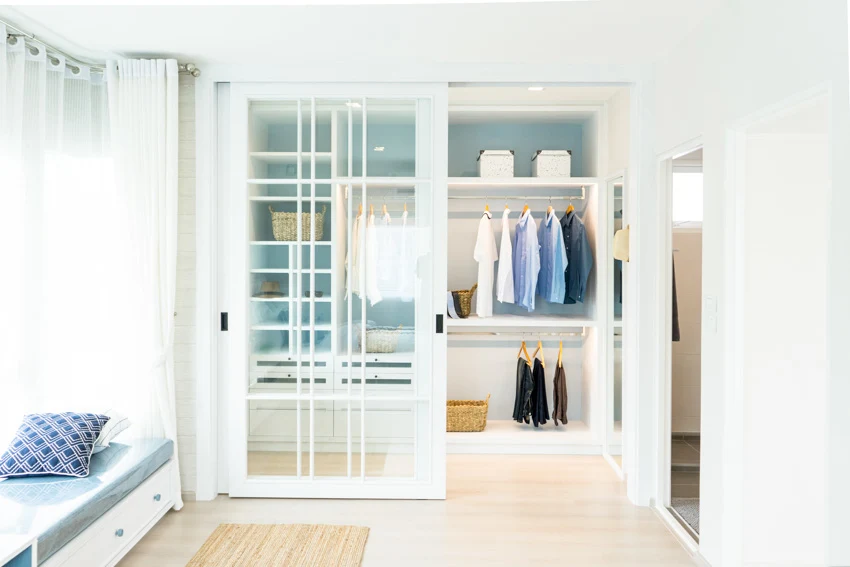 A recessed wardrobe illumination involves hardwired lighting installed and flush with the ceiling's drywall. Install a series of small recessed types of lighting fixtures inside your closet to have better and more even coverage.
Recessed lights are around 3 to 12 inches in diameter and are round in shape. And just like any standard electrical fixture, make sure to follow appropriate fire-safety precautions for your own sake.
Benefits of Recessed Closet Lighting:
• Offers better lighting coverage both in small and large spaces
• Usually comes with LED lights
• Benefits from the stability offered by permanent hardwired lighting system
• Some are dimmable
• With many options to choose from in terms of colors and brightness level
• Worry-free about running out of battery or taking up an outlet
Mini Chandelier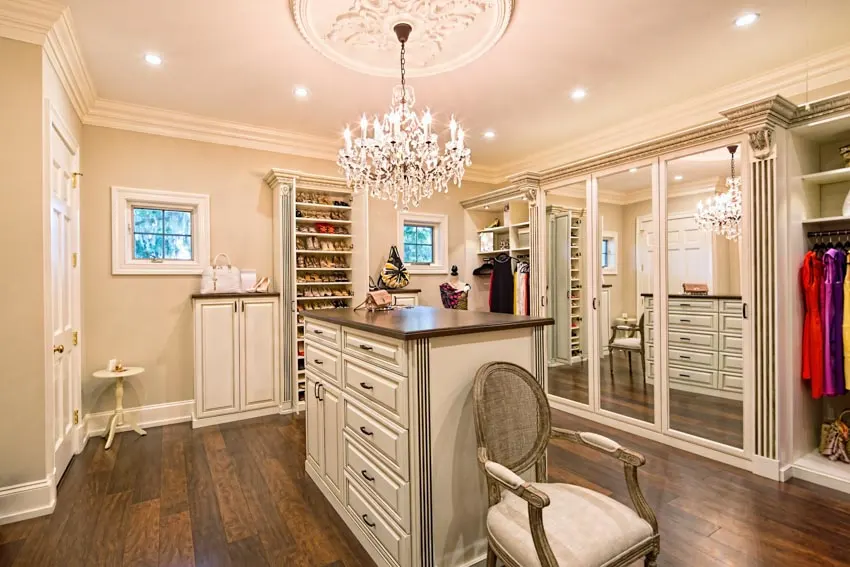 Another type of light fixture you can install inside your closet is a mini chandelier. More than just its functionality of lighting up the space inside the closet with wide coverage like usual overhead lighting, a mini chandelier also serves as a decorative element.
Even with mini chandeliers, there are different types to consider. Here are some of the most common types of chandeliers to consider:
• Crystal chandeliers: Add glam and drama with drips to crystals
• Glass chandeliers: Lightweight and classic in aesthetics
• Candle chandeliers: Rustic in appearance but not a safe option for your closet (Fire hazard)
• Chandelier with shades: Offers soft, warm, and subtle lighting that does not fully illuminate the space and so may need another type of light fixture as support
Check out the advantages of using a mini chandelier in your closet, including the following:
Benefits of Mini Chandeliers:
• Rustic and romantic vibe inside your closet
• Adds elegance to your home
• May serve as decor but take up ceiling space so you need to have a tall closet
• Broader illumination compared to overhead lighting
Pendant Lighting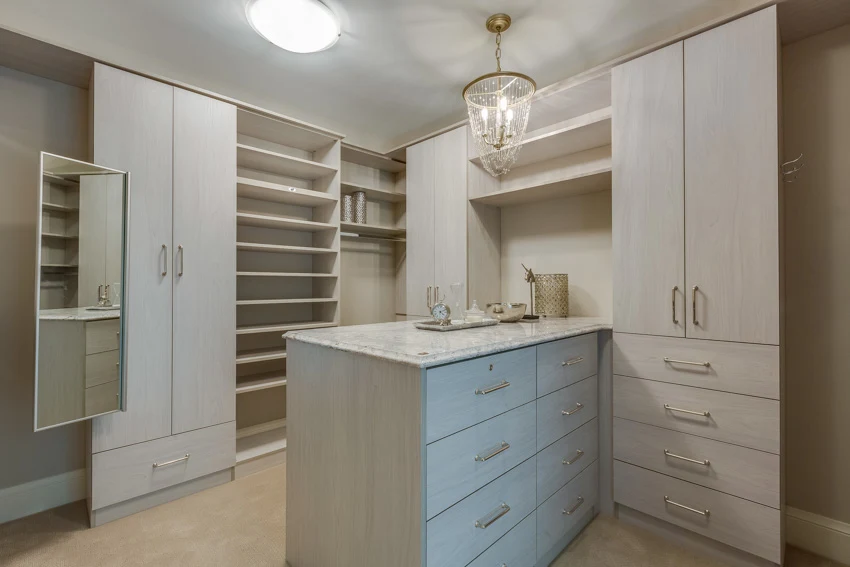 Pendant lighting is a kind of ambient lighting you can use inside your closet. Pendant lights are both functional and decorative light fixtures you can install. They can come in the form of a vertical rod where the lights are connected. When installed, the rod usually faces towards the bottom of the closet.
If you have a smaller closet and fear the amount of space pendant lights may take up, choose a flush mount one to solve that problem. Make sure though that you position the lights in a creative way,
Benefits of Pendant Lighting:
• Helps accentuate the space it is installed in
• Can produce a visual effect with creative installation and right positioning
• Adds elegance and stunning aesthetics even when inside your closet
• Ideal for closets located in the attic
Closet Track Lighting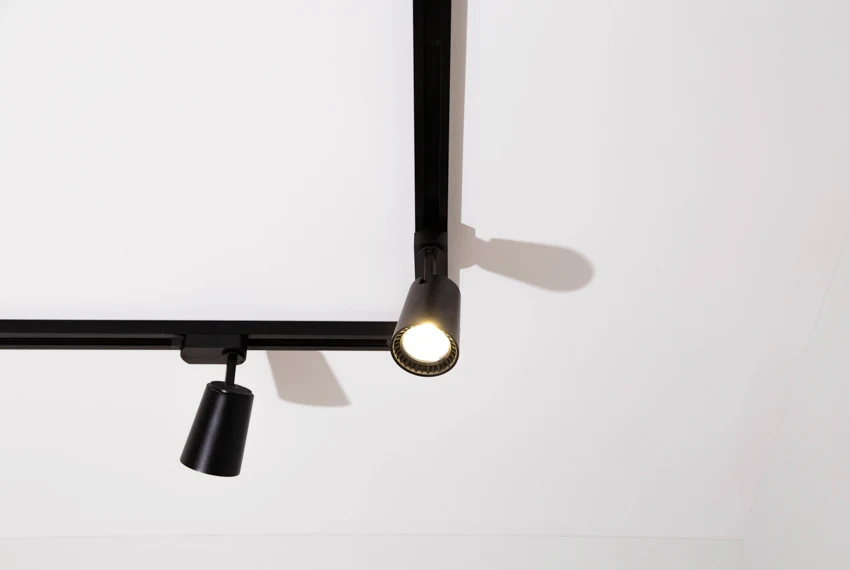 Track lighting for the closet is an effective choice since it can direct light exactly where you want it. It is a great space saving option that allows more room for storage and shelving space.
Actually, track lighting isn't all that new: It's been used commercially in display windows and stores for years, and has proved to be safe, rugged, and flexible. So track lighting isn't just a gimmick or a fad. – Popular Science, January 1975
There are many different track lighting design styles available that enables you to match whatever style you want in your space. In addition they can be installed easily without worrying about a labor intensive remodel project.
Benefits of Track Lighting:
• Saves more space for clothing storage
• Easier to install than many other types of closet light fixtures
• Many different options and styles available
• Can position the lights exactly where you want them easily
Recessed Puck Lighting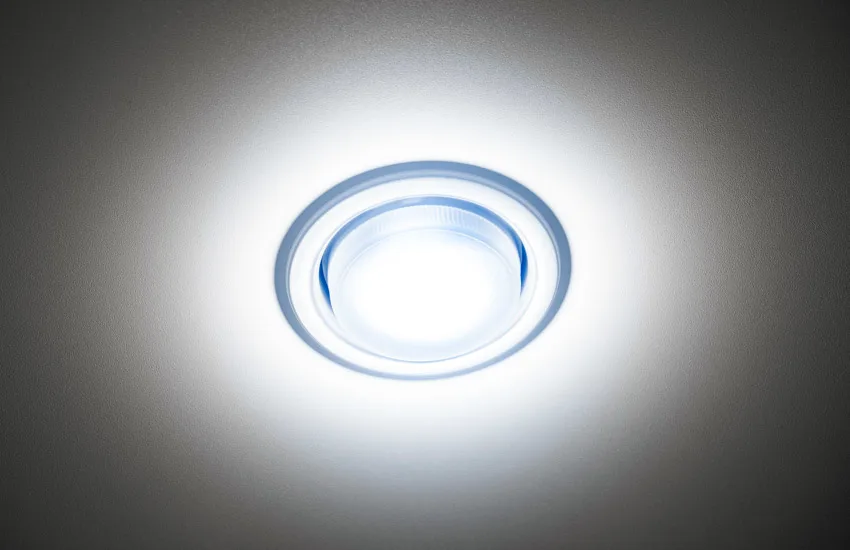 Puck lights are a popular choice for closet installation because of their compact size. These types of ceiling lights are usually small like a hockey puck, which is where it got its name. Recessed puck lighting may be used as task lighting or display lighting, depending on the type you've chosen and how you installed the fixture in the closet.
Recessed puck lighting is popularly used over a mirror in the vanity, where you can see yourself better as you prepare for the day. But they can also be mounted to the underside of the closet or the top of the shelf inside the closet to illuminate specific pieces.
Benefits of Recessed Puck Lighting:
• Do not need to be surface-mounted
• Features neat and uniform appearance
• Lightweight and thin in structure
• May come in a peel-and-stick version
• Usually battery-operated and so won't require hardwiring or a nearby outlet just to function
• Easy to use (Turning on and off with a light tap)
• May be used as accent lighting for your treasured pieces inside the closet
Ribbon Lighting Above Closet Rod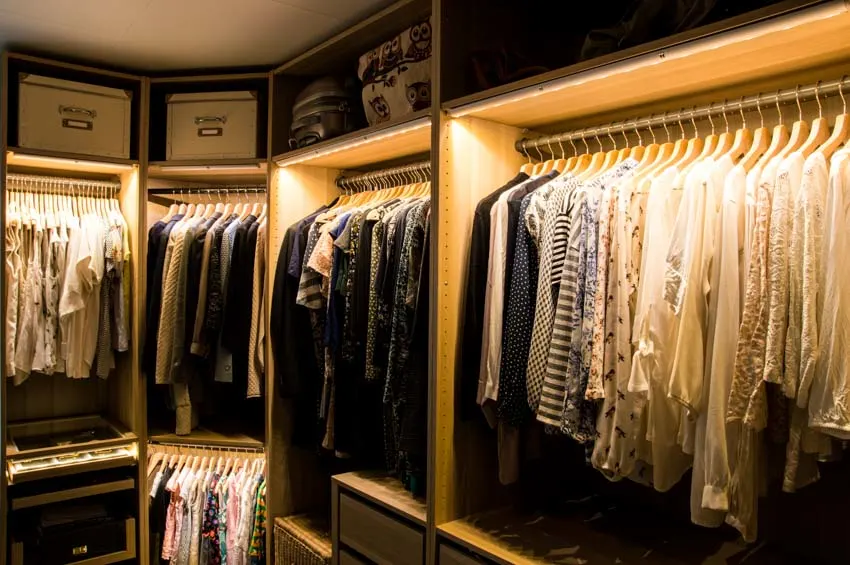 Ribbon lighting refers to a row of strip lights that is usually installed above the closet rod. Installing them above the closet rod creates an even and excellent coverage of lighting from both ends of the closet.
While extremely useful, ribbon lighting above the closet rod is more functional than aesthetics. It is not very attractive to look at and is much more focused on making sure that you can see and find each piece inside the closet.
You can install it in a way that it's not too bright and where it can be routed to offer a recessed channel for beautiful and soft illumination above the rod.
Benefits of Ribbon Lighting:
• Provides even lighting coverage in the closet
• Offers the best visibility of what's inside your closet
• Compatible with both small and large closets
Motion Sensor Light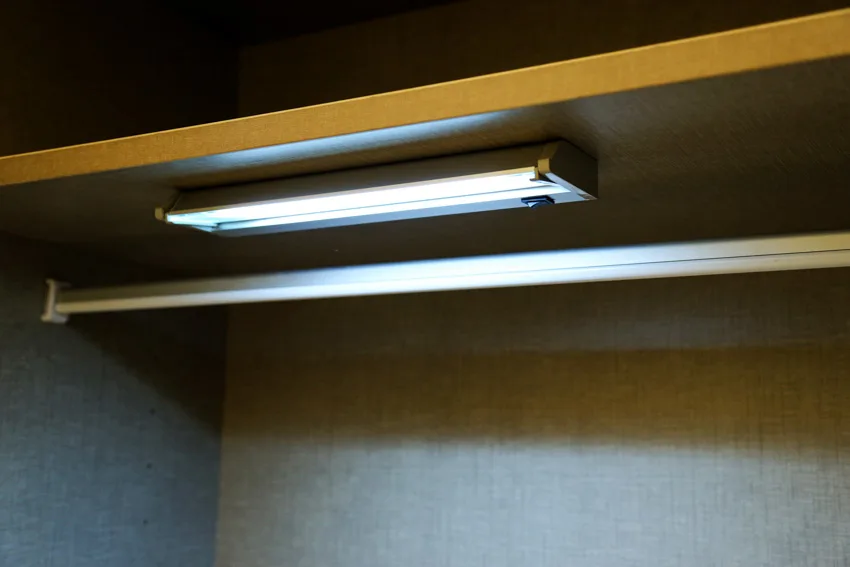 Motion sensor lights will always seem like an object of the future. Truth be told though, the future is now and you can actually enjoy using motion sensor light even inside your closet.
Motion sensor closet lights are fixtures that automatically turn on once movement is detected within the sensor range. The two types of motion sensors are passive infrared and active ultrasound, where body heat or infrared energy is used to detect motion for the former while ultrasonic waves are used for the latter.
It is a preferred lighting fixture for closets since you don't need to reach blindly for a switch whenever you need to look for some clothes inside the closet at night. The best position for these lighting fixtures is the corners of the cabinet for maximum light coverage.
Benefits of Motion Sensor Lights:
• Helps disperse even light to all corners of your closet
• Automatically turns off when not in use (Energy-efficient) and so does not require a switch to turn it on and off
• Easy and flexible to install inside the closet
Battery Operated Light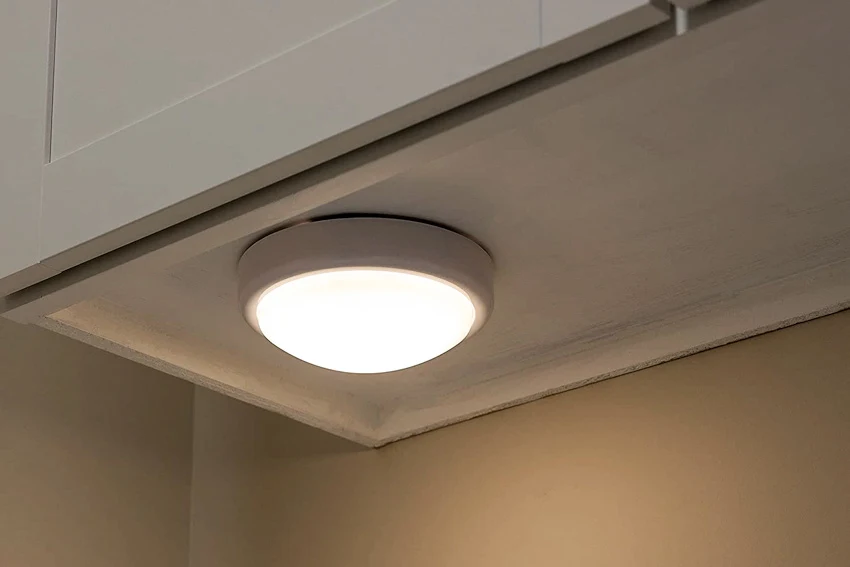 See this battery operated closet light at Amazon [sponsored link]
Battery-operated closet lights are the solution for closets that are not placed anywhere near an outlet and do not have enough built-in lighting. They can come in a variety of forms, from LED lights to other types of lighting fixtures.
As long as they can operate using the battery and without any electricity support. it can be considered under this category. They can easily be installed by using adhesive at the back of the lighting fixture and so can be positioned anywhere you want.
Benefits of Battery Operated Lights:
• Hardwiring and outlets are not necessary
• Not dependent on electricity and so are not affected by power outages
• Mostly are affordable in the market but there are also expensive ones
• Easy, convenient, and flexible installation
Wireless Light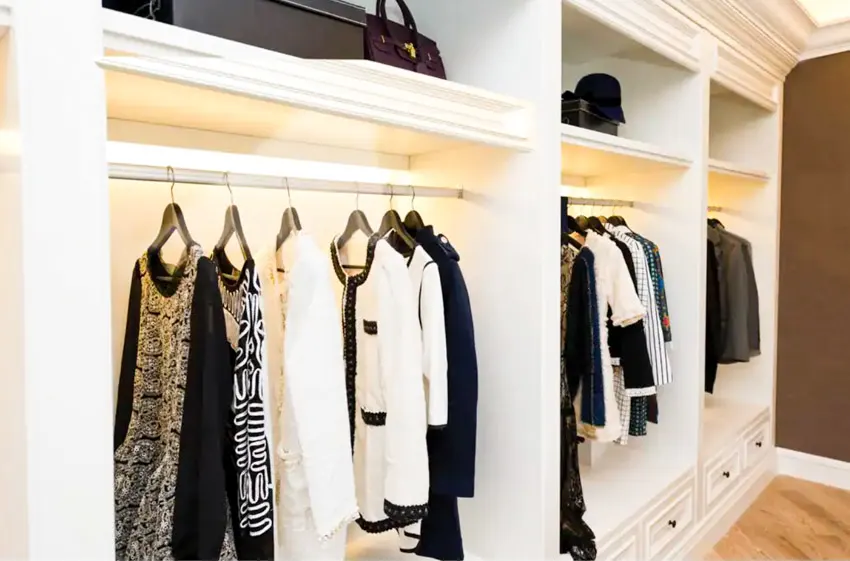 See this wireless closet light at Home Depot [sponsored link]
Wireless closet lights are now popular options you can explore. Its wireless capability takes out the need to cut into the ceiling and install hardwiring within the walls just to power the lights. You have the option of choosing the ones that are powered by batteries (Mostly AA and AAA batteries) or those that are rechargeable.
With battery-operated ones, you just need to change the batteries once they run out while rechargeable ones need to be plugged in using a phone charger or USB port. The former will cost you every time the batteries run out while the latter would require you to stop using them for a few hours for charging.
Benefits of Wireless Lights:
• Does not require electrical hardwiring
• Can either be battery-powered or rechargeable depending on its design
• Power capability: Can last up to 3 to 5 hours of continuous usage or 1 to 2 months of sporadic usage
String Lights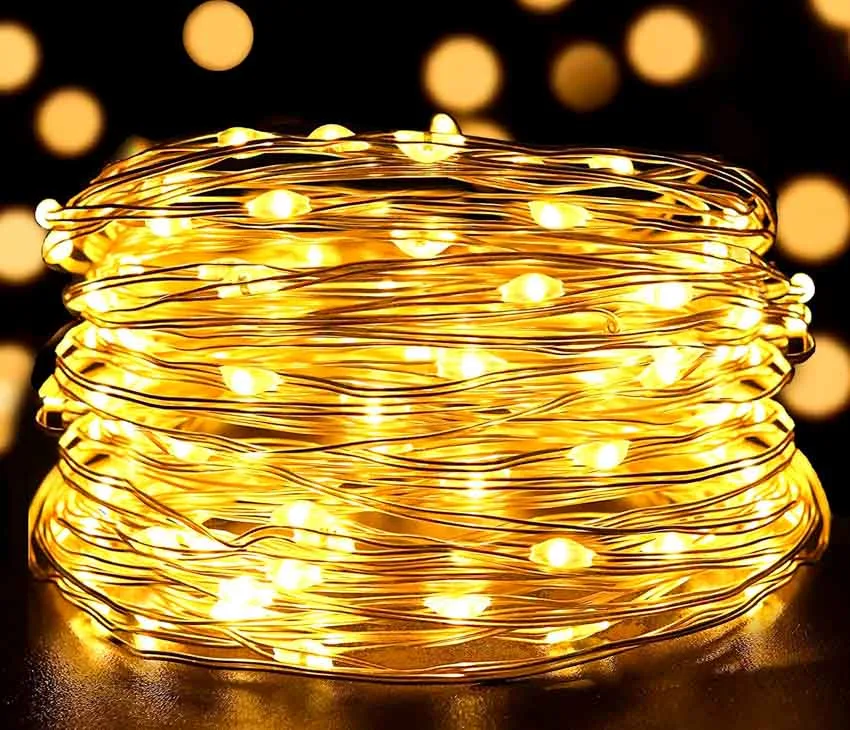 See this string light set at Amazon [sponsored link]
String lights, also becoming known as fairy lights, are now becoming popular for many homeowners. While not as durable and permanent as other lighting fixtures, they add enough light inside your closet to be able to navigate inside and choose the clothes you need.
String lights don't offer robust lighting but they are functional enough to help you see inside your closet. You also have the option to choose between rainbow-colored lights or classic solid white LED lights.
Benefits of String Lights:
• Adds warmth and whimsy lighting to your closet
• Dreamy and romantic aesthetics
• Available in a variety of styles, shapes, and colors
• Easy and flexible installation (You can even put them inside a jar and look like fireflies inside)
Wall Sconces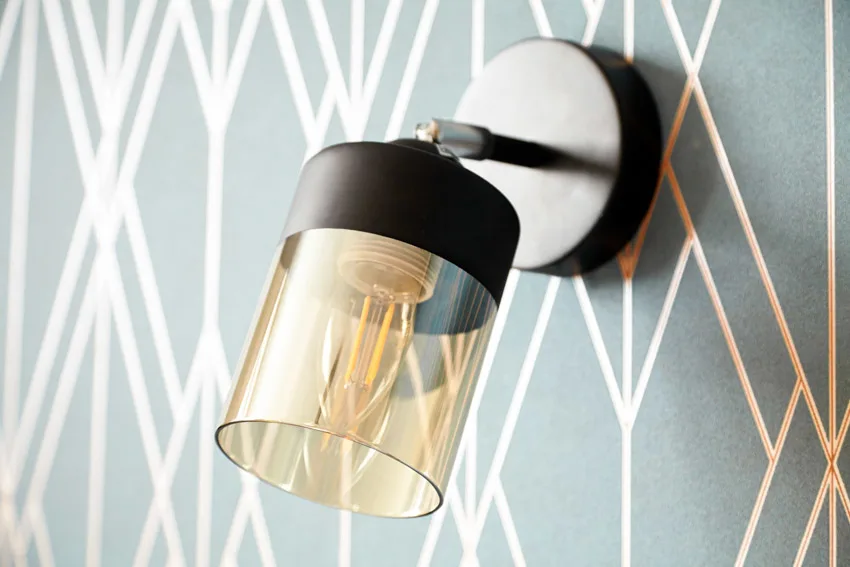 If you're into drama and aesthetics even when it comes to light fixtures in your closet, wall sconces can do the job for you. Besides the mini chandelier, these light fixtures are the option you can choose if you want something rustic and medieval to try. Of course, that would depend though on the design of the wall sconces you've chosen.
Benefits of Wall Sconces:
• Ideal for larger closets with enough interior space on the sides
• May be paired with mirrors to achieve a romantic and dreamy effect
• Easy to turn on and off but may require hardwiring depending on the type of wall sconces you choose
How Bright Should A Closet-Style Light Be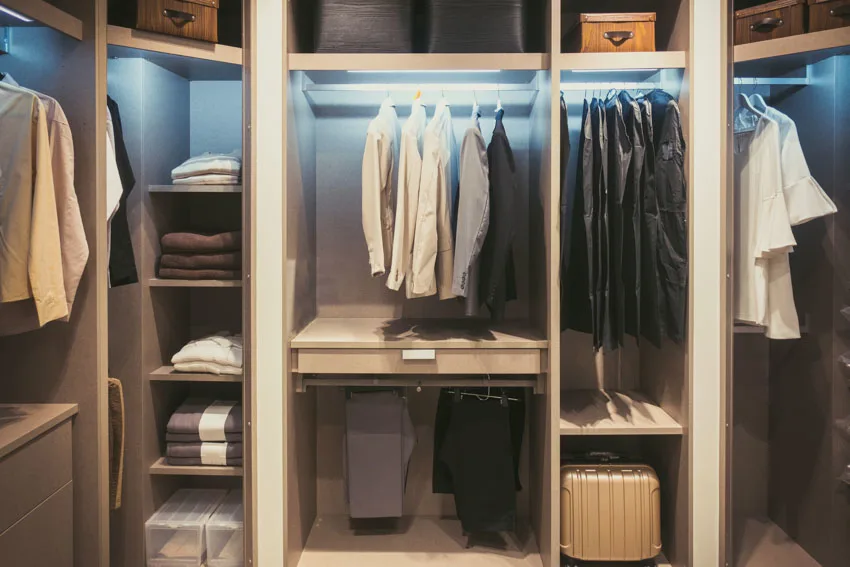 In choosing the type of closet light fixture to install, you need to know how much light is necessary to allow you to see inside the closet without overwhelming your eyes because of the brightness. The brightness will be dependent on the size of your dressing area. A smaller wardrobe will need less brightness but the wattage is guaranteed to multiply accordingly as the size of the closet also increases.
In figuring out the amount of lighting you need for your wardrobe, measure the dimensions you're taking into account. There's a specific number of lumens recommended based on the size of the closet but you will also have to consider your personal preference and whether or not you want dim lighting or robust lighting when going through your closet.
What Wattage To Use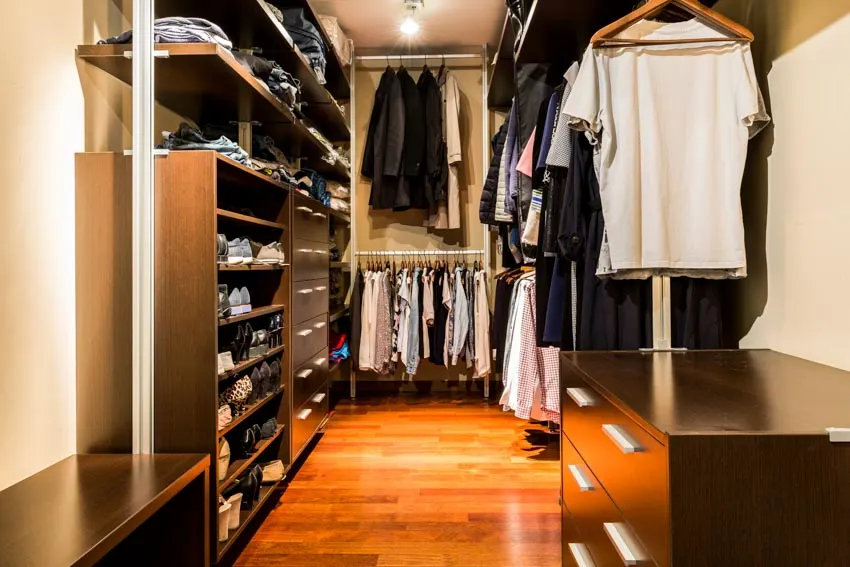 Besides the recommended number of lumens, you can also take into account the wattage of the light fixtures you're considering for your closet. For a small wardrobe, it is standard to use around 150 watts in total so you can rack up multiple bulbs and fixtures just to build the number of watts you need.
LED bulbs have different wattages so make sure to check them when choosing for your closet. Choosing multiple bulbs may be a better option in order to have a more even lighting coverage. You can install the bulbs spaced from each other to cover all the necessary spaces in the wardrobe.
This will be a different matter though if you're going for something dreamy and dim for your wardrobe. A high-intensity ribbon light can have 3 watts which can be enough for task lighting. The level of brightness of the wardrobe light fixtures is dependent on your preferences and the ambiance or vibe you want to produce when using your dressing area.
How Many Lumens to Illuminate Closets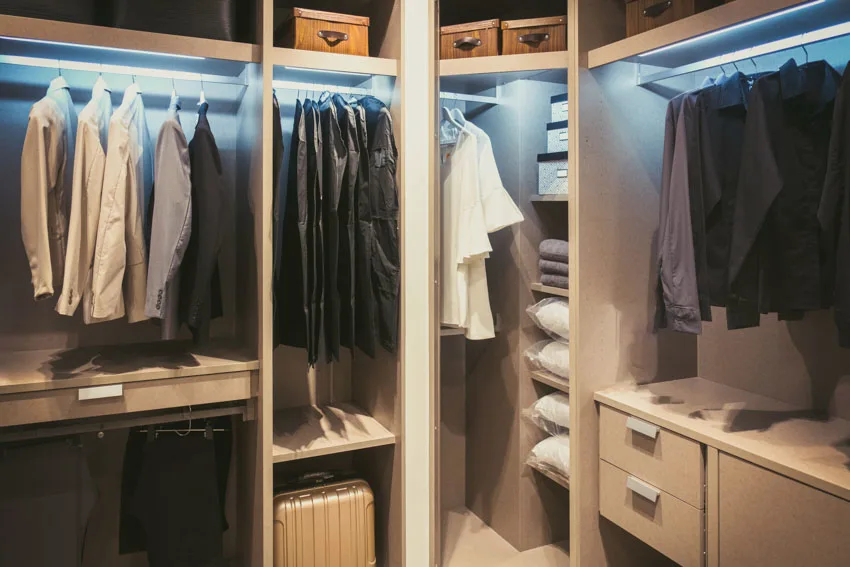 If you want to be more technical and consider the number of lumens instead of wattage to determine the level of brightness, you can do that too. Similar to wattage, you will need to take into account the size and dimension of your wardrobe. The best thing about using lumens, though, in calculating the level of brightness is that there is a recommended number of lumens for a specific square feet closet.
The standard equation for the number of lumens considers 20 to 30 lumens per square foot. Here is a guide you can make use of to help you decide:
| | | |
| --- | --- | --- |
| Closet Size | Size (Square foot) | Number of Lumens |
| Small | 12 to 25 | 240 to 750 |
| Medium | 30 to 80 | 600 to 2400 |
| Large | 100 to 150 | 2,000 to 4,500 |
The standard wardrobe is around 20 to 50 square foot so you will need around 400 to 1,500 lumens. Simply take into account these numbers and adjust the brightness accordingly depending on your preference.
How to Light a Closet Without Electricity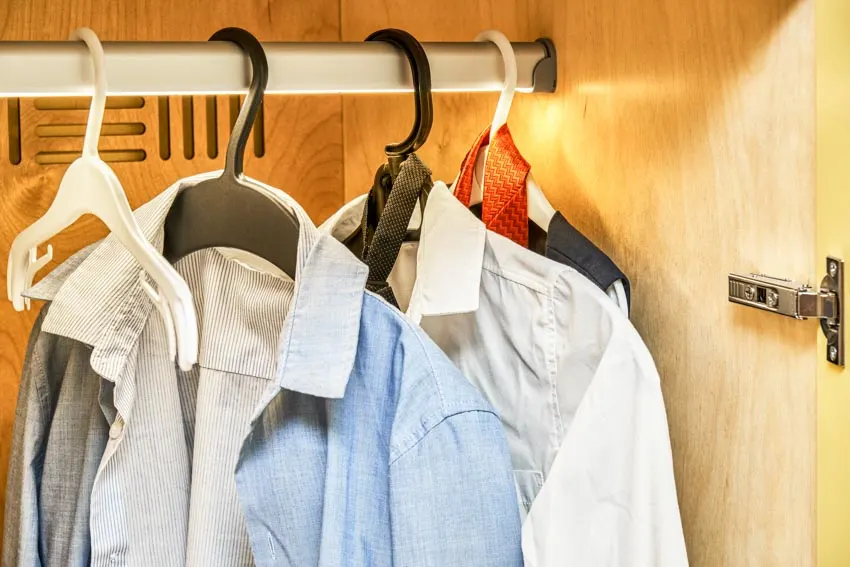 If your wardrobe is located far from an outlet and you believe that hardwiring is a major no-no for your wardrobe, you just need to consider the options you have that do not need electricity to work. There are two options you can consider if you're going for an electricity-free choice, including the following closet light fixtures:
Battery-operated wardrobe lighting: Easy enough to understand, battery-operated wardrobe lighting involves light fixtures that are powered by batteries. The most common ones use either AA or AAA batteries but there are many types that use other kinds of batteries.
If you're going for this option, make sure to know what battery is being used. AA and AAA batteries are popular because they can easily be found in the market.
Make sure to take into account the number of hours or days that the batteries can last. Standard battery-operated lights can last as long as 5 hours of continuous use and 2 months of sporadic use.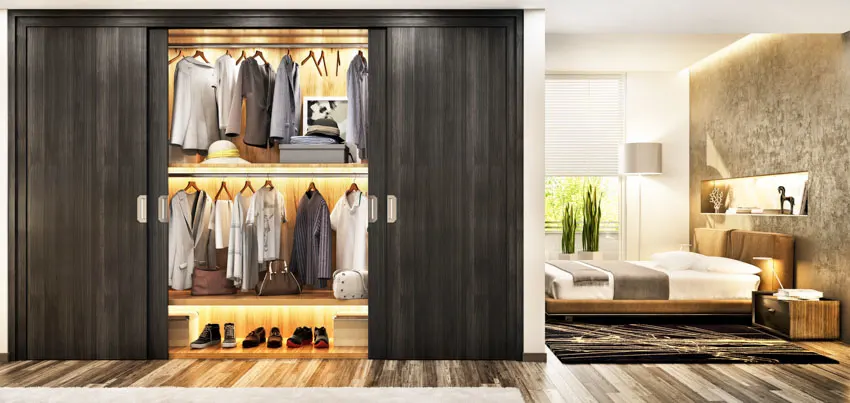 Rechargeable wardrobe lighting: Rechargeable wardrobe illumination involves light fixtures that may not be connected to the electricity as they operate but will need to be charged and plugged in once the stored electricity runs out.
Similar to battery-operated lights, rechargeable lights have a maximum number of hours of operation before they are required to be recharged. You can check out the manual of the light fixture to know how long it can last before needing to be plugged in.
The major advantage of rechargeable lighting is that you won't need to spend on batteries every time it runs out. You can easily plug it in and wait for it to be fully charged before using them.
Whether battery-operated or rechargeable, lighting options that do not require electricity are easy to install so you won't have to worry about taking them out for battery changes or recharging.
Best Lighting Fixture for Wardrobes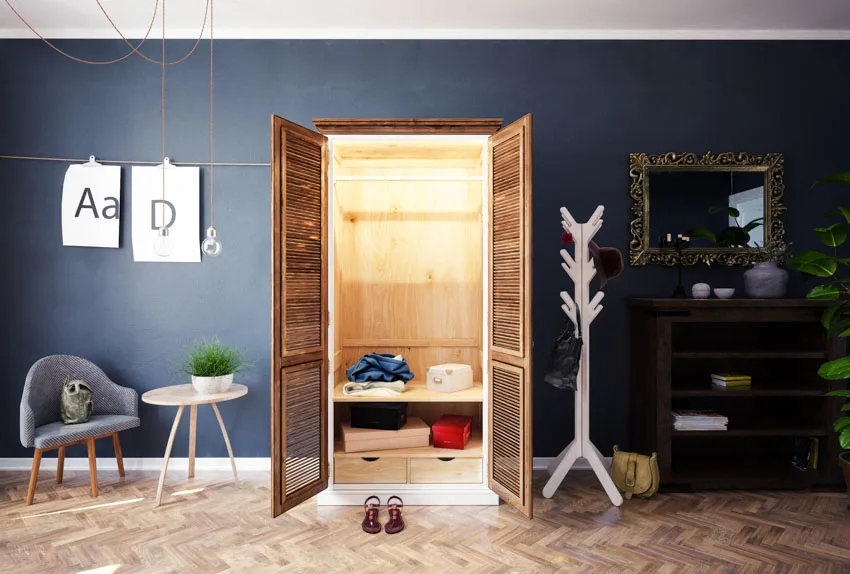 Deciding the best lighting fixture to use for your closet will require the consideration of several factors. Your preference plays a major role in how satisfied you can get with using a specific light fixture. Whether with the level of brightness or the specific ambiance you're going for, you need to decide on these factors yourself.
One thing you need to remember, though, is that for a garment cubicle light system to be considered excellent, it needs to have both task lights and ambient illumination. You can add accent lights into the mix if you have a large garment storage and you want to focus on special pieces you have.
Task lighting can provide the general and wide coverage lighting you will need to navigate inside the wardrobe, while ambient illuminationcan provide the vibe you want your wardrobe to have. In choosing the best lighting fixture, here are some of the factors to consider:
• Wardrobe Space: The level of brightness relies heavily on the dimension of the wardrobe and how much space needs to be covered. The bigger the wardrobe, the higher the level of brightness it needs (which is usually measured in wattage or lumens).
• Wardrobe Layout: The interior structure of your wardrobe plays a role in choosing your light fixture. If you have a short clothing storage space, you can't choose pendant lights and mini chandeliers. The layout will also affect where you will install the light fixtures.
• Matching Materials: Your wardrobe light fixture and the materials they are made from need to match your wardrobe. If your wardrobe screams industrial style, going for track lighting with metal frames is more suitable.
• Level of Brightness and Color Temperature: You will need to match these factors with the size of your wardrobe and the type of lighting you want to use. If you want dim lighting for your cabinet, a lower level of brightness will be needed.
You will also decide if you want to choose a cooler white tone or a warm yellowish one when choosing the bulb. The former is more for track lights while the latter is more for ambient light. Both can be used for accent illumination though.
• Aesthetics: More than just the function side of light fixtures, taking into account the aesthetics is both necessary and fun. If you want a more romantic vibe and aesthetics, go for wall sconces, fairy lights, mini chandeliers, and pendant lights.
​​See more related content in our article about the best walk in closet accessories on this page.