In this gallery of walk in closet accessories ideas you'll see features like shelves, mirrors, elegant lighting, seating, and walk in closet decor to create a beautiful design.

A walk-in closet is a wonderful luxury that provides you the space to organize your clothes and other personal belongings. This is an welcome convenience, and a well-designed walk-in closet makes the experience even more pleasing since it feels like stepping inside your personal boutique.
In order to say that what you have at home is a walk-in closet, there are several elements that need to be present. These elements make getting dressed enjoyable, especially when you get to see your beautiful clothing, jewelry, and accessories on display.
Custom Closet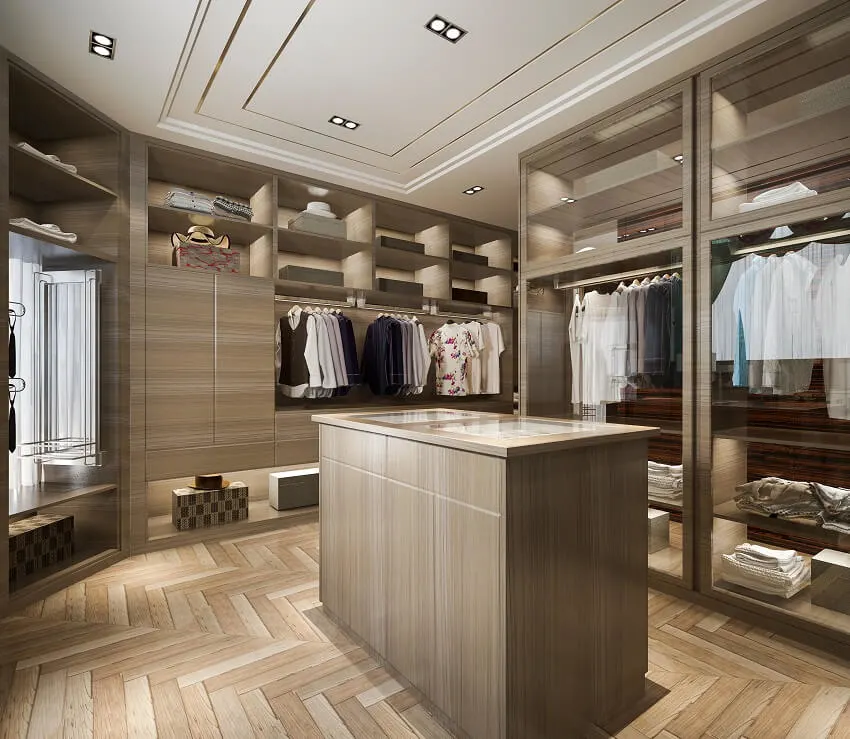 A custom closet is understandably an important aspect every walk-in closet should have. While simply buying a closet works, getting a customized one that fits the size of the room makes the entire ensemble feel more like a walk-in closet.
Choosing a custom closet means you get to decide on how much space you can allot for your clothes and you have more control over the style and aesthetic of the furniture. You can build around the style of the closet and design your walk-in closet from there.

Closet Island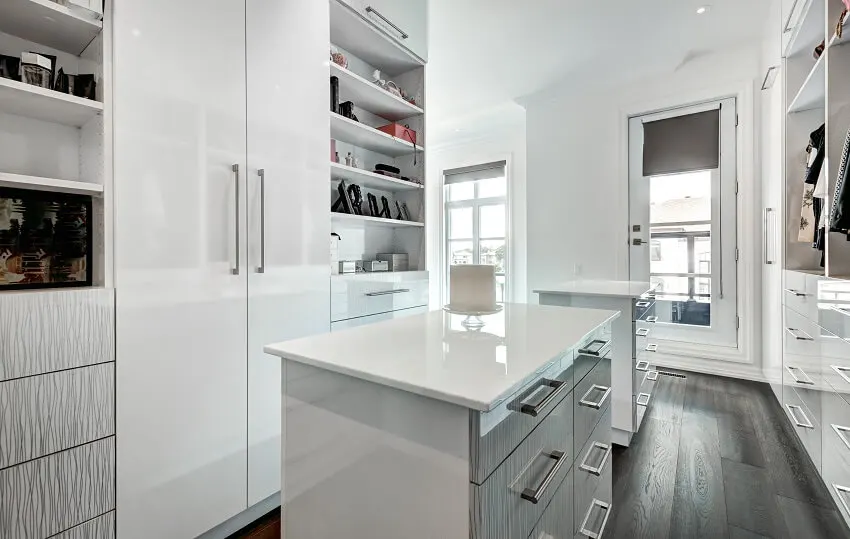 Adding a closet island in your walk-in closet rounds up the entire ensemble towards a more elegant and trendy look. Closet islands can serve several functions, from simply storage of more important things like jewelry and shoes to a simple counter you can use as a table with an installed power plug for charging phones.
Closet islands are known as storage for more personal stuff like underwear, lingerie, and stockings. It can also be the home for your precious watches and jewelry.
Stacked Shoe Shelves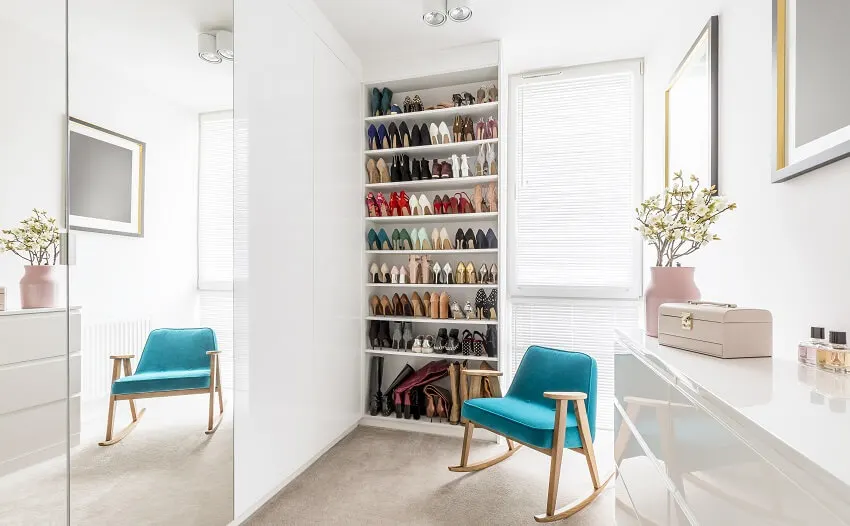 A dedicated shoe system is also needed to complete your walk-in closet. Stack shelves can house your collection of shoes and be protected.
Dedicate an entire wall to house your shoes, whether in a built-in shoe rack or a floating shelf. Simply arrange the shoes where the ones you frequently use are within rich while the ones you rarely use are on the top shelf. See more closet shoe storage ideas here.

Jewelry Drawers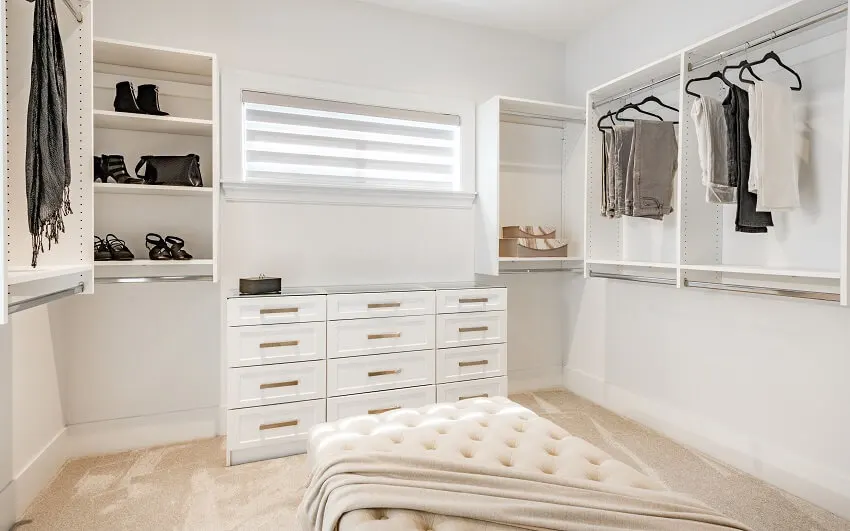 If there's one thing that can complete your getup is to wear jewelry like a cherry on top. And these items should also have a home of their own.
Drawers are an excellent addition to a walk-in closet, where watches, jewelry, and other small items can be kept and protected. You can also keep cuff links, brooches, sunglasses, wallets, and scarves in these storage units.
One of the popular jewelry drawers comes with a line of satin or velvet. The addition of this material somehow gives additional appeal and importance to the furniture. It's not surprising especially if you keep your precious family heirlooms in the same storage.
Full-Length Mirror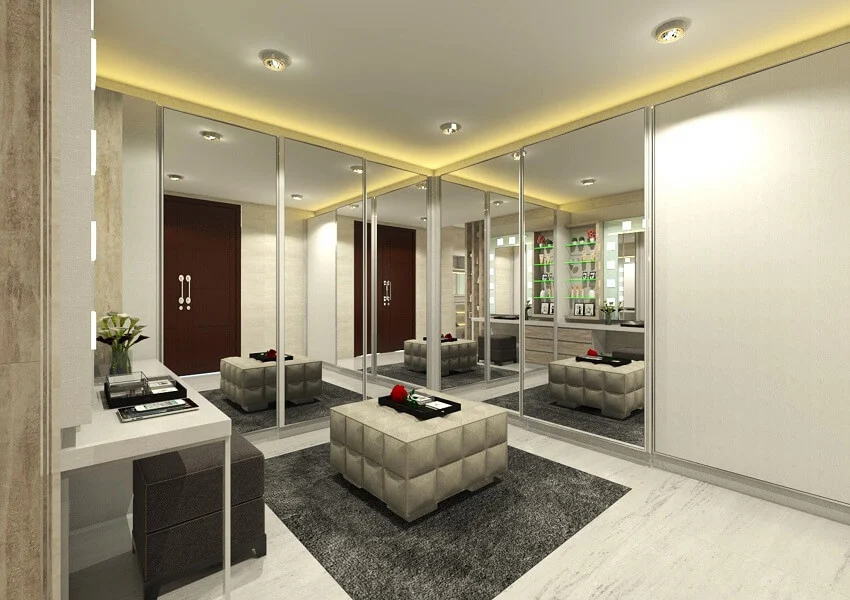 A walk-in closet will never be complete without a full-length mirror to use when getting dressed. There is a variety of ways you can install the mirror in the walk-in closet.
You can use a standalone mirror if you have enough space to spare for it or if you want to save space, you can mount a mirror on the wall or check out mirror-covered cabinets and fold-away mirrors you can easily purchase.
Make sure to install the mirror where there's good lighting so that you can see yourself clearly while getting dressed. Adding a large mirror in a small room can also cause the illusion that the area has more space than it actually has.
Hats & Handbags Shelves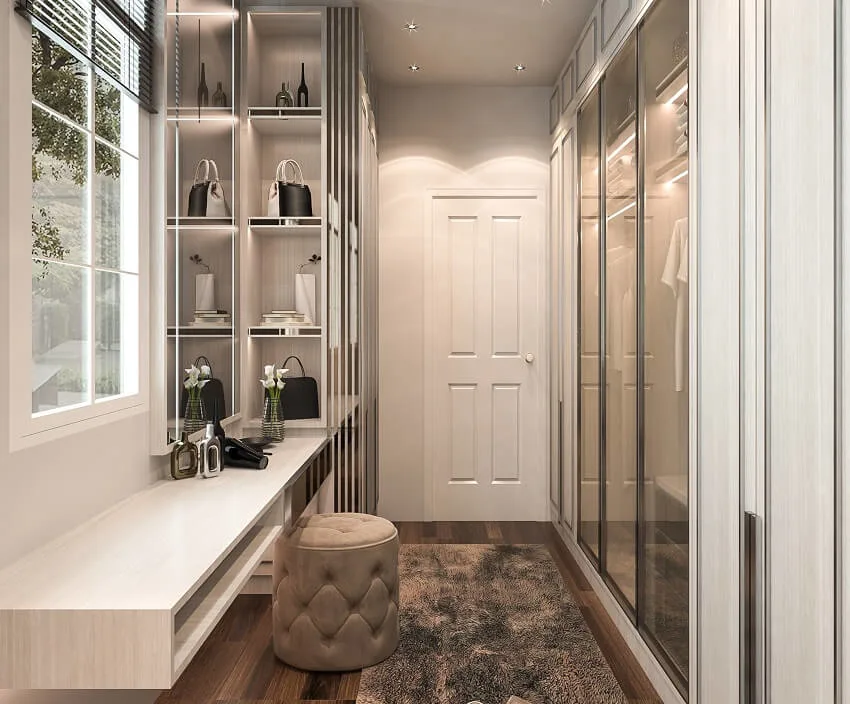 Hats and handbags are also part of your closet and they are the best pieces to put on display on shelves. Expensive hats and handbags are particularly necessary to find a good place to keep, particularly with a glass door to protect them from dirt and dust.
Hats and handbags also come in a variety of sizes and you would have to have enough shelf space to accommodate them.
Dressing Table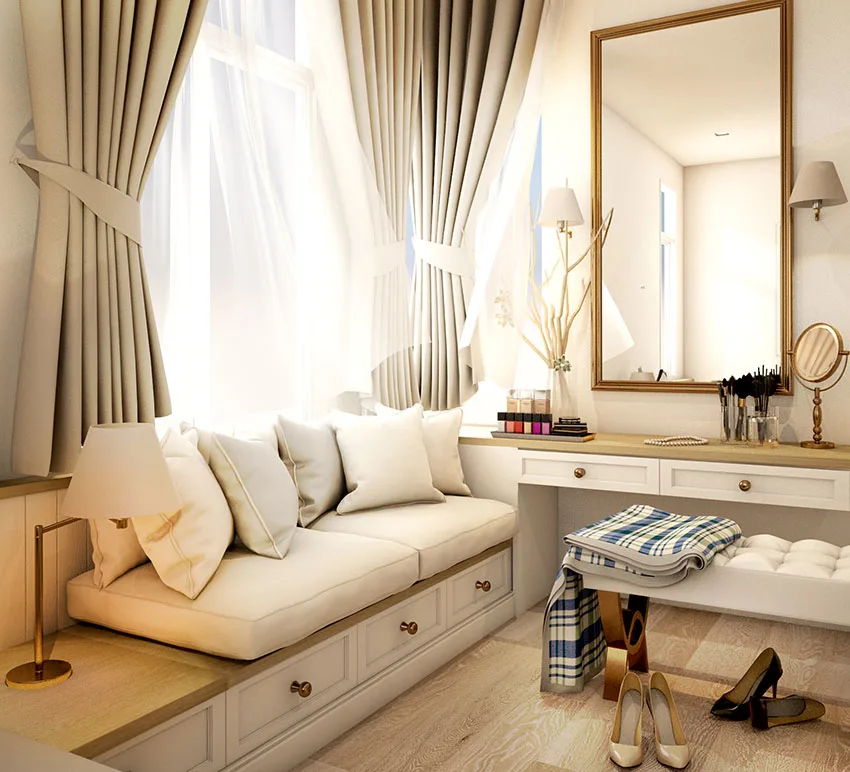 A dressing table is another excellent addition to your walk-in closet, especially if you pair it with a vanity mirror. If you have the space for it, dedicate a space where you can prep yourself and feel beautiful.
Organize your perfumes, cosmetics, and grooming tools on a sturdy dressing table. You can even install it with LED sconces with adjustable brightness. You can adjust the perfect lighting to use when you prep for the day.
Seating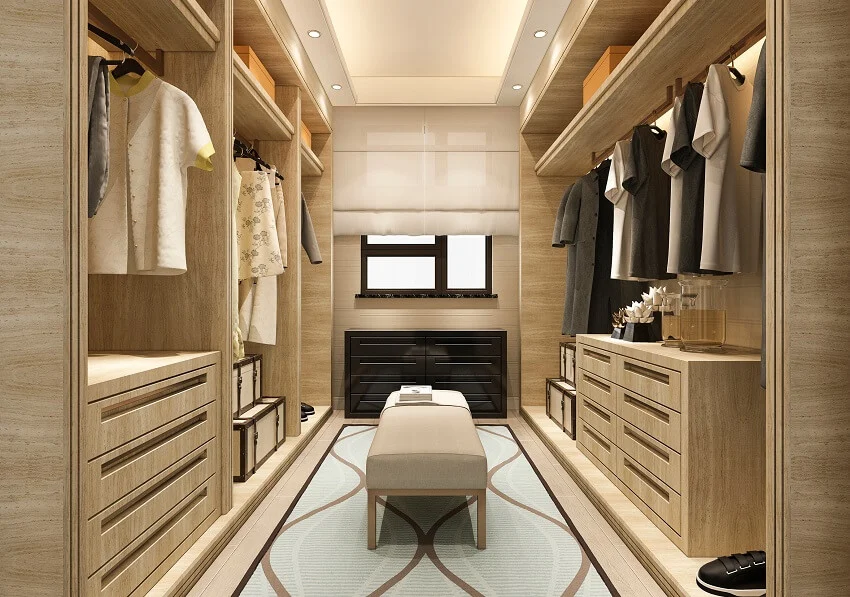 What comes along with a dressing table? Built-in seating can go a long way in improving your comfort inside your walk-in closet.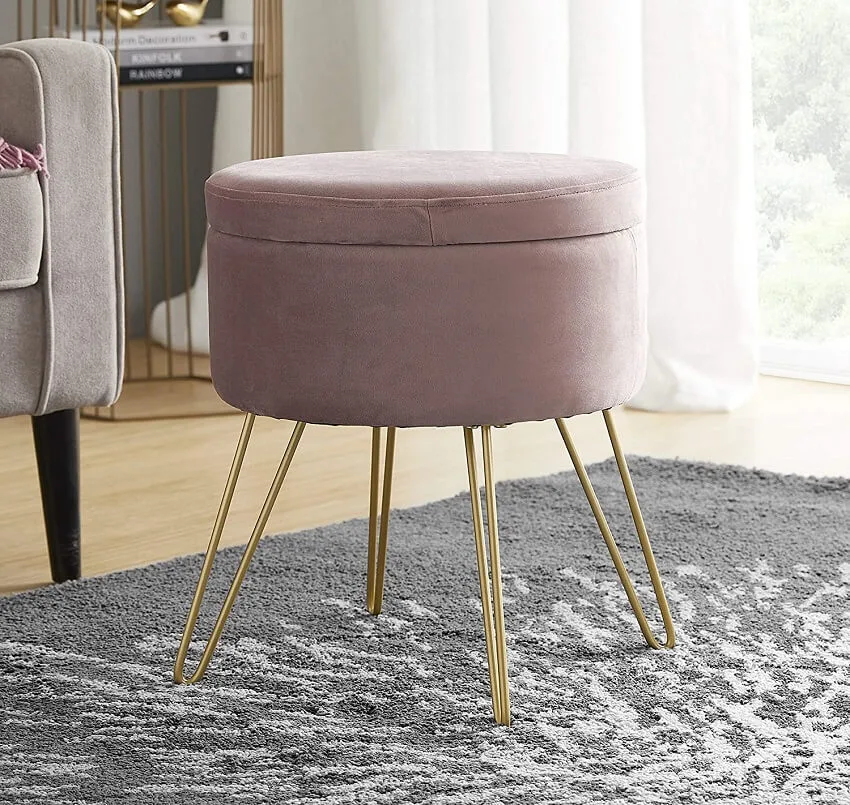 See this Modern Round Velvet Storage Ottoman at Amazon [sponsored link]
Comfortable seating will make you want to spend time inside the walk-in closet and take your time to prep up. You can choose comfortable benches, an elegant ottoman, a small sofa, or a luxurious chaise, depending on the ambiance you want your walk-in closet to have.
Elegant Lighting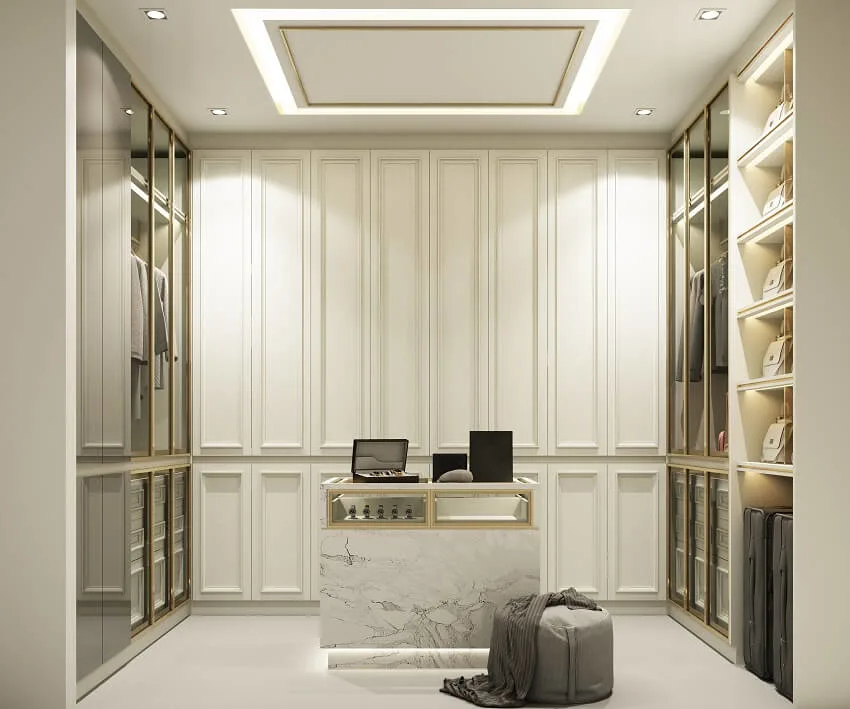 Lighting is important when you dress up and prepare for the day. For walk-in closets, the best lighting fixtures to consider are the following:
• Overhead recessed lighting (For general lighting)
• Chandelier (For mood and ambiance)
• Integrated LED lighting (To install behind or under the shelves and accent accessories and items)
• Dedicated lighting (To install in the dressing table for prepping)
Iron & Ironing Board
You can also keep your iron and ironing board in the walk-in closet so that you can have them handy anytime you need to prepare your clothes.
A custom built-in ironing board can also be used that can be pulled down or stowed away when not needed. Having an ironing board in the closet is particularly important if you need to get out of the door quickly but don't want wrinkled clothing.

Laundry Basket Space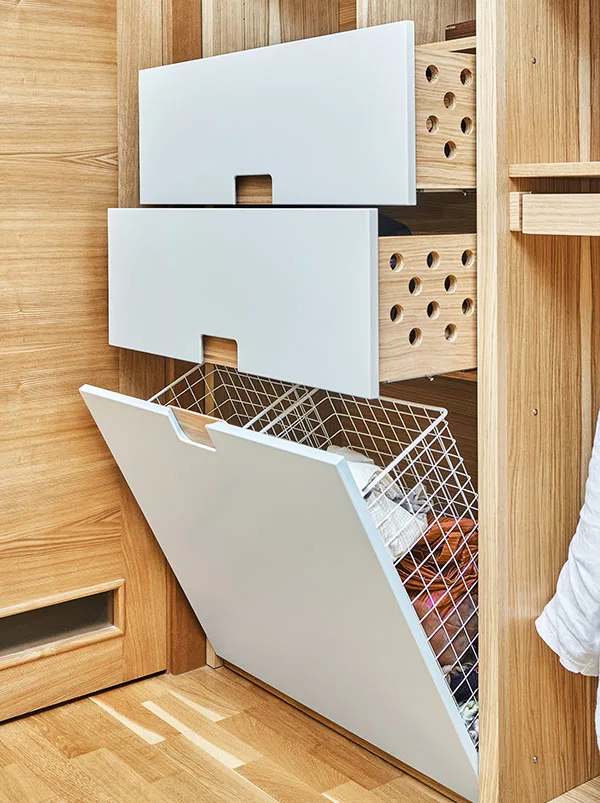 A walk-in closet should have a laundry basket space, where you can keep your dirty and used clothes tucked in. Arrange two built-in laundry hampers labeled dark and light laundry so that it will be more convenient to take out when necessary.
Let's face it, laundry baskets are not really the best elements for decor. There are two options you can do with it, either choose a laundry basket that has a design that can be integrated into your walk-in closet or just straightaway hide them from sight.
Decor And Artful Touches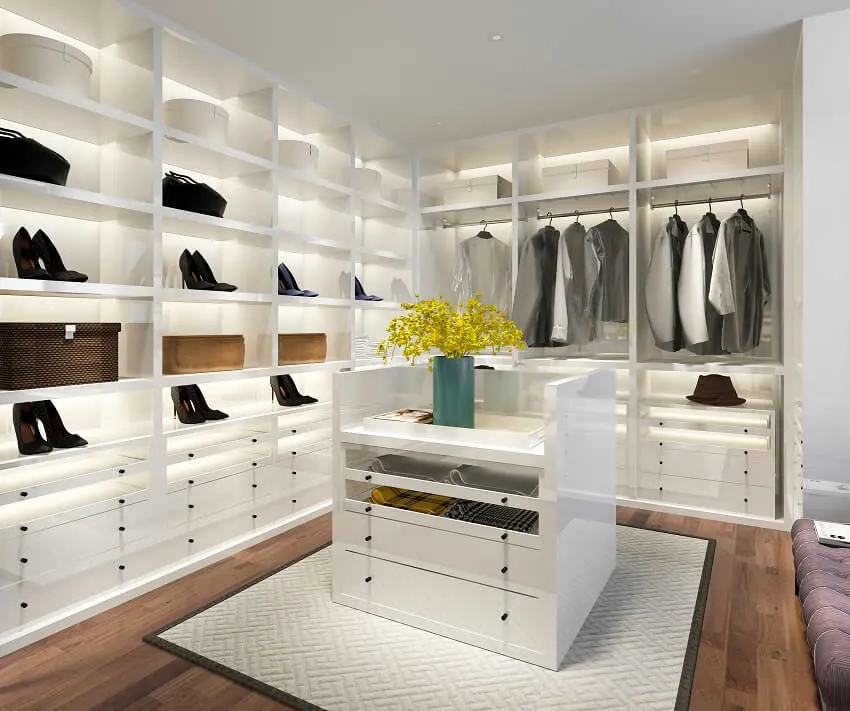 Don't let functionality hinder the walk-in closet from having artful touches that will boost the room's appeal. Integrate books in floating shelves and hand a piece of art if you're into it.
You can even place a vase of fresh flowers on the closet island to add a bit of freshness to the room. A stylish rug may also help set the right ambiance you're going for and provide some warmth if you have cold closet flooring.

Visit our guide to the best closet design software for help with creating your perfect space.