Here's our guide to the best closet flooring ideas including popular types, how to choose, and the easiest closet flooring to install yourself.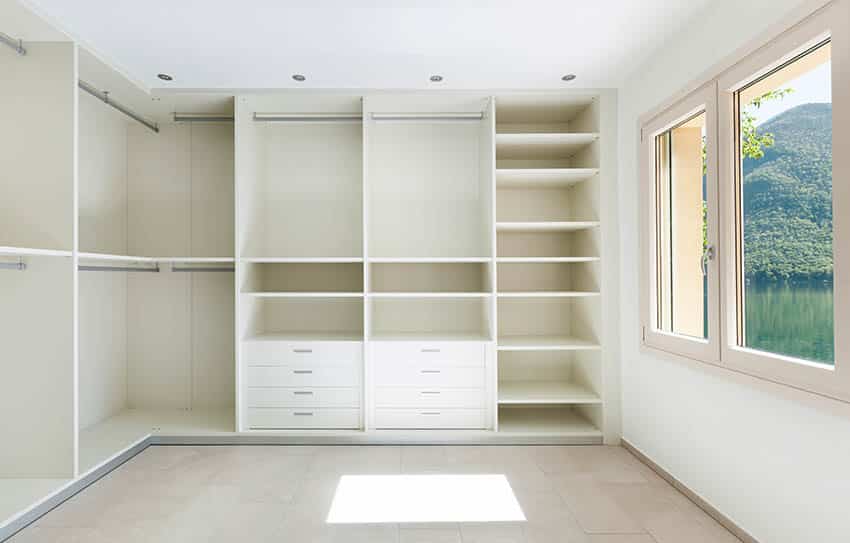 Are you thinking of sprucing up your closet flooring? A good flooring design should be attractive and easy to maintain as well, even for your closet.
If you're feeling a little inspired in sprucing up your closet you'll want to know what is the best, most sturdy flooring to install. With the many options available, this rundown will help you get on track and make a good buying decision for your closet flooring.
Types Of Closet Flooring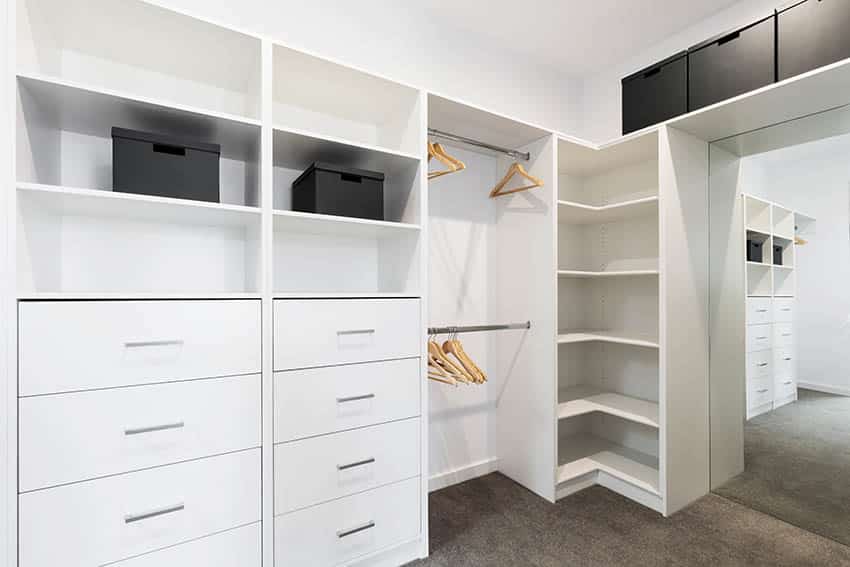 Planning for your closet flooring is not a tedious project. But figuring out which design to use when there are plenty of options might become downright overwhelming for you. Below, we will break down each type of closet flooring to help you see the ones that appeal to you.
| Flooring Type | Description |
| --- | --- |
| Vinyl/Laminate | Affordable alternative to hardwood flooring, with an aesthetically pleasing look that blends well with carpeted adjacent rooms. Vinyl & laminate floors are durable, sustainable, and offer progress in terms of design. |
| Hardwood | Elegant and inviting look with natural insulating properties but prone to scratching. |
| Tile | Opulent and grand look with easy maintenance and cleaning. Cold on the feet. |
| Radiant Heat Tile | Expensive and elegant flooring option that provides heat and spa-like ambiance. |
| Carpet | Comfortable. High maintenance, difficult to clean, and prone to stains. |
| Natural Stone | Elegant look with unique characteristics based on the type of stone used. |
Vinyl Or Laminate Flooring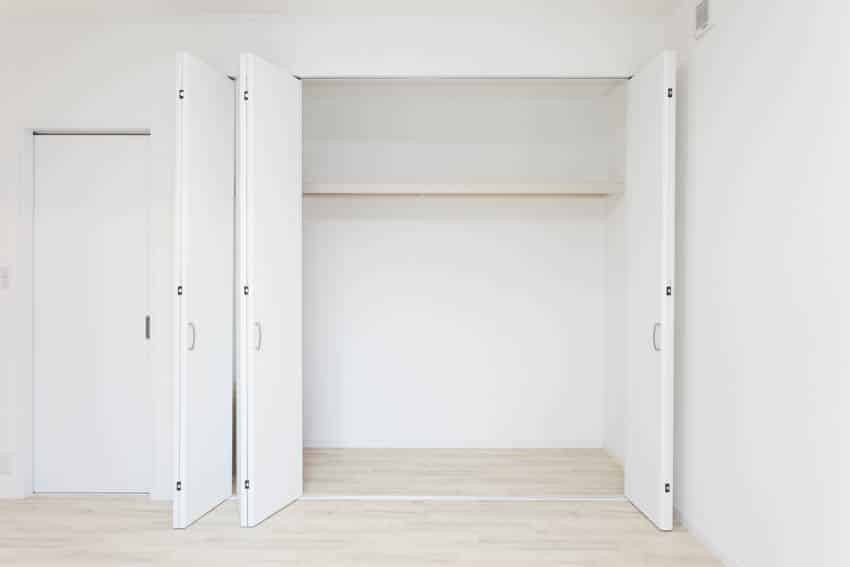 With a tight budget, both vinyl and laminate flooring are excellent alternatives to hardwood flooring but at an affordable price. They provide your closet with that hardwood look and a lower price with superior durability.
It doesn't matter if its adjacent rooms are carpeted, using vinyl or laminate flooring can blend in for an aesthetically pleasing look.
Over the years, such flooring solutions have significantly contributed to the flooring industry. They offered progress in terms of design, sustainability, and durability.
Hardwood Flooring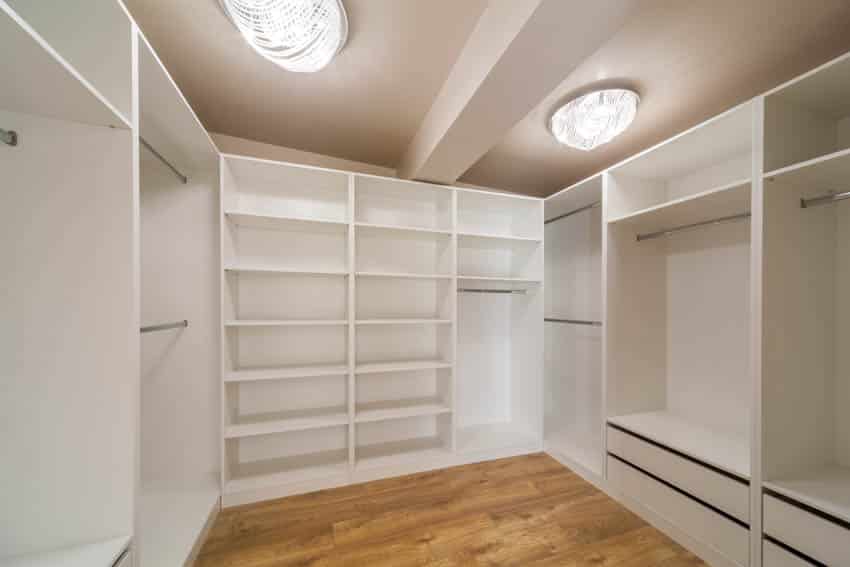 Hardwood floors always give that elegant yet inviting look. It is a beautiful addition if you choose it for your walk-in closet. It is the winsome details of this flooring that makes it a good option.
Additionally, the natural insulating properties inherent in this material will not keep your feet cold when barefoot.
One caveat of hardwood is that it is prone to scratching compared to other flooring options. On that note, this can be an advantage for closets considering that these are areas with low traffic. Read more about our guide on the different types of hardwood floors here.
Tile Flooring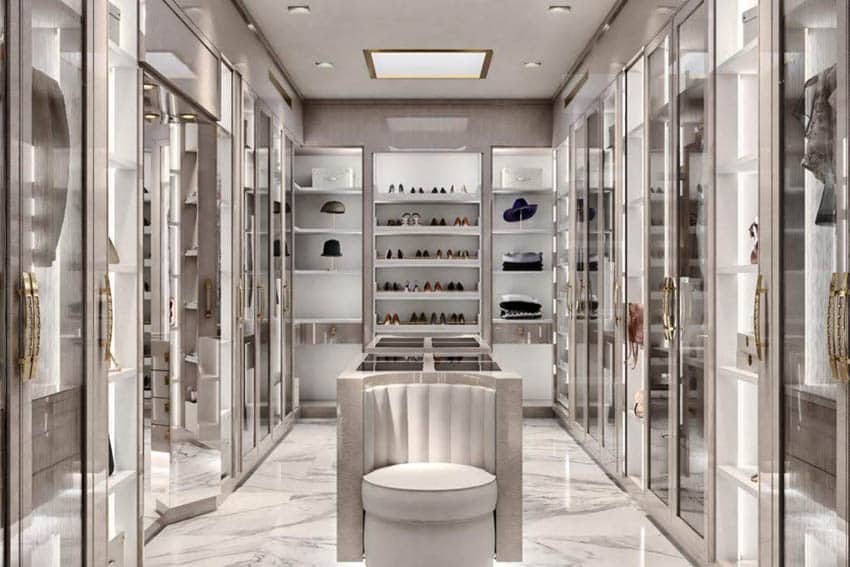 Tile flooring is always associated with opulence and grandeur for a walk-in closet. This type of flooring uses ceramic tiles.
These materials are the easiest to maintain and clean, making them worth their price. If an elegant flair is a top priority for your walk-in closet, ceramic tile flooring is the perfect option.
Radiant Heat Tile Flooring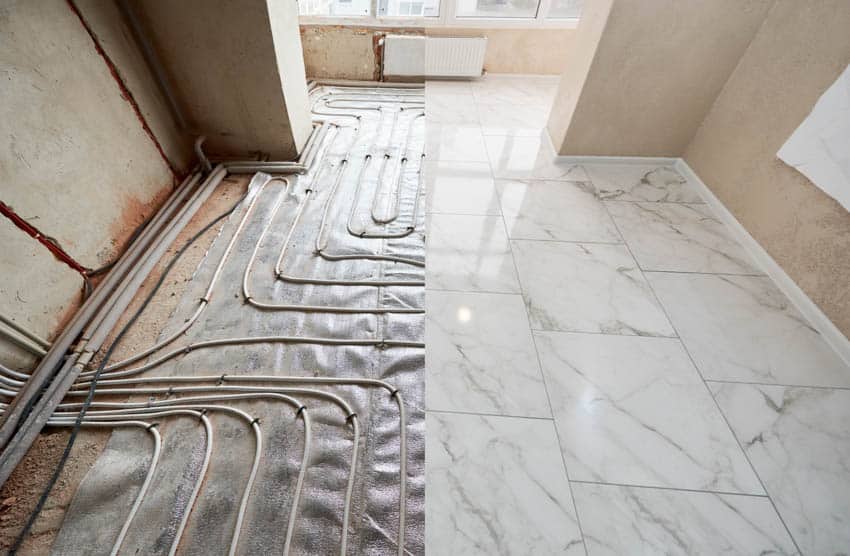 Radiant heat flooring is an expensive flooring option. Similar to tile flooring, this flooring type gives that elegant feel but with an extra function — ceramic tiles are placed atop channels of electric heating wires.
Turning on the heat, your feet will never have to worry about getting cold. It levels up your walk-in closet one notch higher and at the same time, gives it a spa-like ambiance.
Carpet Flooring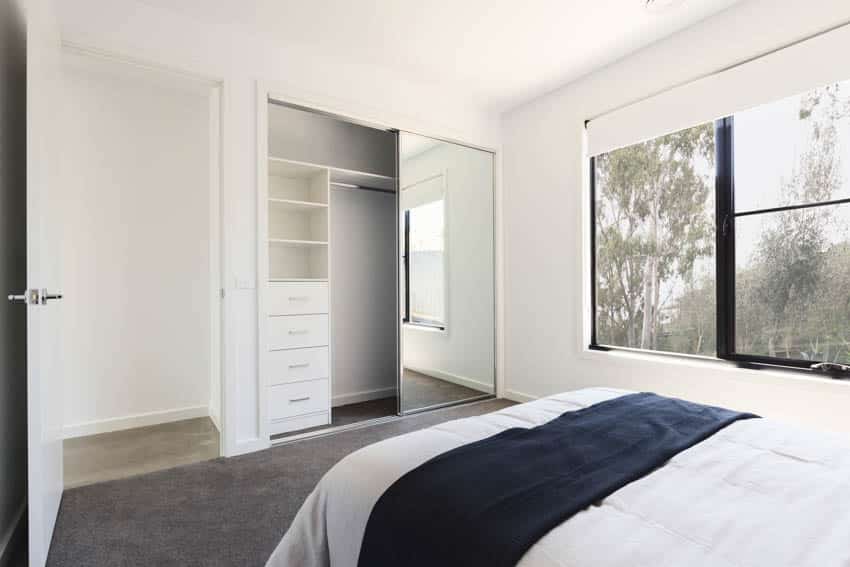 Although carpet flooring is not famous because it's high in maintenance. With carpets, you have to vacuum every nook, cranny, and corner of your space to get everything cleaned.
It also takes more effort to move clothing racks when cleaning. Bringing in mud or dirt from your shoe and pet stains is also difficult to handle with carpets. Read more about our guide on the different types of carpet here.
Natural Stone Flooring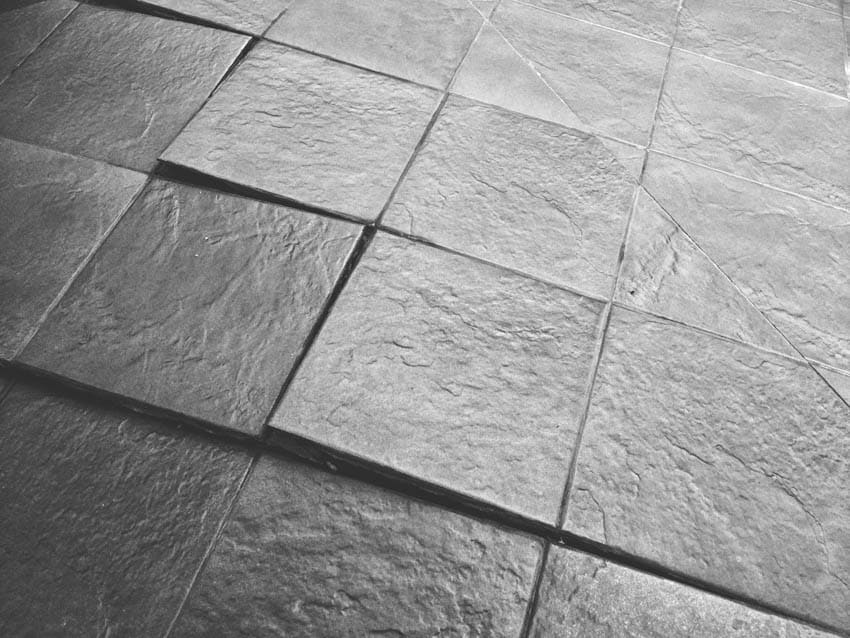 Besides tile flooring, natural stone also offers that elegant look. The material is a variety of mountain-born mineral substances.
Completely different from synthetic or manufactured stone products, the natural stone flooring can be slate, marble, limestone, travertine, granite, and sandstone. Each is unique with slightly different properties.
Get to know each floor material's characteristics so you can determine the type of stone ideal for your interior design.
Alternative Flooring Options
These alternative flooring options are for specific situations that may arise depending on certain health conditions or climate conditions.
Cork flooring. A healthier alternative to carpet if needing a comfortable closet floor to walk on is cork flooring. Hypoallergenic, the natural material is made from the bark of cork trees which are harvested every 9 to 10 years without the need to cut the tree. Thus, it is also a sustainable material.
A cork closet flooring not only eases the feet and back when standing or doing chores but is also sound absorbing, making it a great fit for up stair bedrooms.
Cork flooring also provides an additional insulation layer to your closet area, which means you reduce energy costs and have a comfortable closet are the rest of the year.
Many cork flooring styles are available, not just your typical natural brown color. Herringbone and hexagonal-shaped cork floors are also available, which makes them easy to incorporate into any type of closet style.
Easily maintained as it is naturally resistant to mold. Just wipe the cork flooring with a damp cloth for maintenance. With proper installation and care, cork floors can last an average of 25 years.
Concrete flooring. For closets that are built in areas with hotter climates, concrete flooring is a great option as it stays cooler than most flooring materials, especially carpet.
Industrial and other modern-styled closets opt for the natural look of concrete which makes it an economical choice and is easily laid on with another material if one wishes to upgrade to tile or wood flooring.
Concrete floors come with a variety of finishes, such as stained, polished, or painted, where patterns or designs can be easily added. An inlay of brass or chrome strips can be added for a more luxurious look.
Its high durability makes the concrete floor a viable option for high-traffic closet areas. Maintenance is also easy as the surface can be easily wiped to remove stains.
How To Choose Closet Floors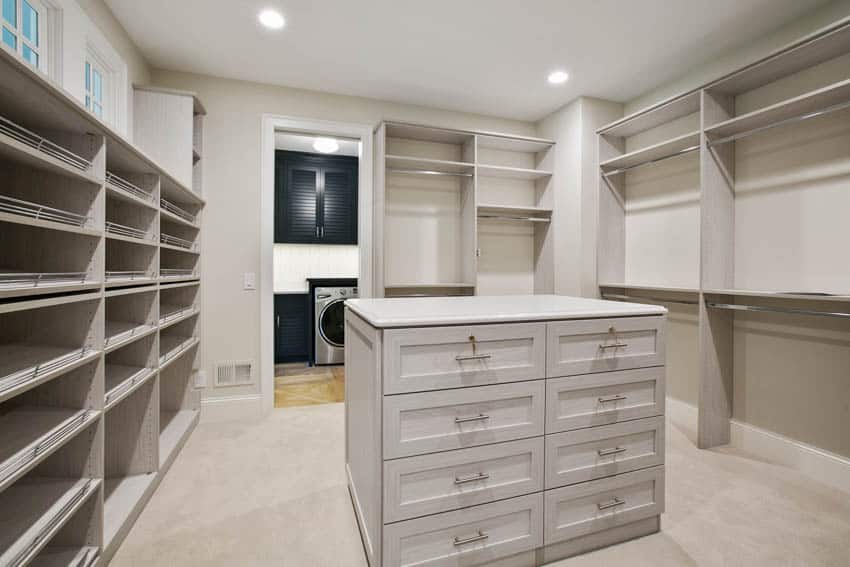 Below we break down the primary reasons for choosing flooring to help you decide which features are best for your needs.
Extend Existing Flooring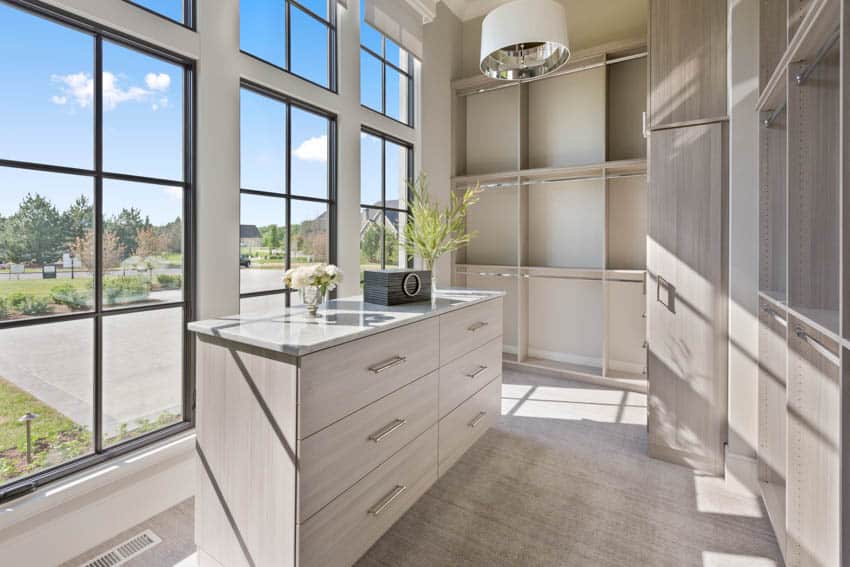 Occasionally, some homeowners opt to do their flooring installation by room. In this case, if there is existing flooring in your home, you might want to choose and match that existing flooring.
Extend that flooring to your closet by taking a small piece of that existing wood floor so you can find the perfect wood profile to match. Doing so is a great way that ties your whole house together.
Use Easy To Install Flooring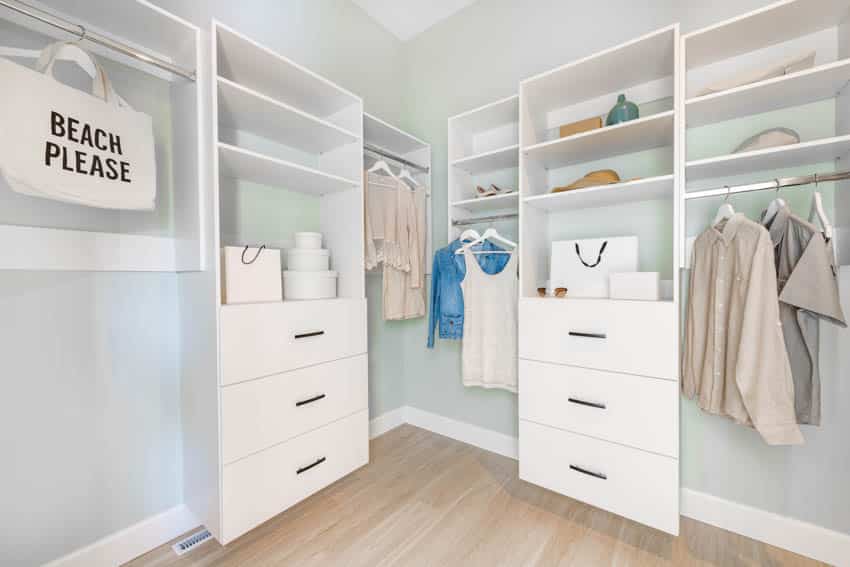 In choosing your closet floor, there are easy to install flooring available. Some good examples are the Carpet tiles, Peel and Stick Vinyl tiles, Vinyl Plank flooring, and Vinyl sheet flooring. There are advantages as to why some people prefer doing DIY projects nowadays.
Flooring installation doesn't shy away from this either. These DIY flooring materials are important and relevant for a good reason. It is why the industry has coped and made a lot of technological advancements.
You might want to consider them. These are some of the flooring options that can be easily installed for your closet.
Install Comfortable Flooring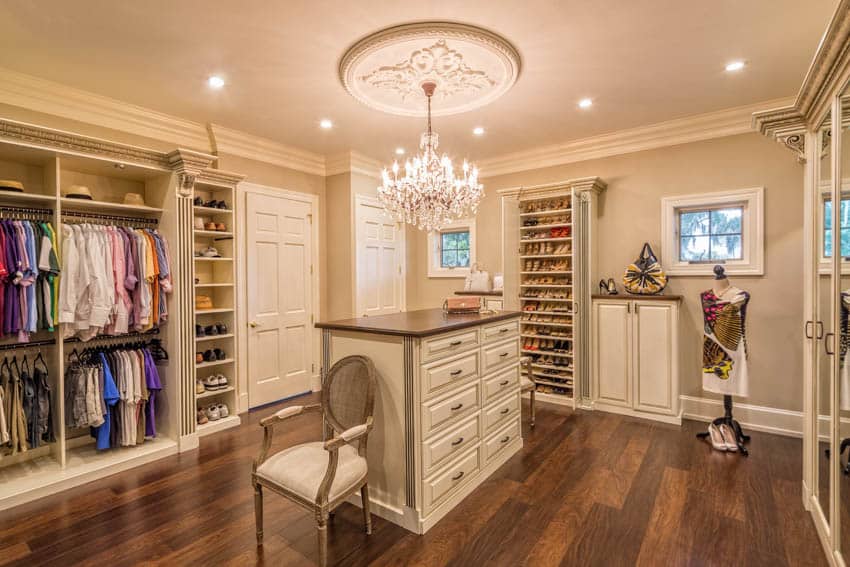 Lastly, it is never wrong to decide and go for comfortable flooring, especially if it's your closet you plan to spruce. Your closet is a personal space, choosing a material for convenience might be in your best interest.
With these, you might want to consider tile flooring or radiant heat tile flooring, both of which are mentioned above. Not only are they comfortable, but they also give you that classy vibe when you enter your closet.
Best Flooring For A Walk-in Closet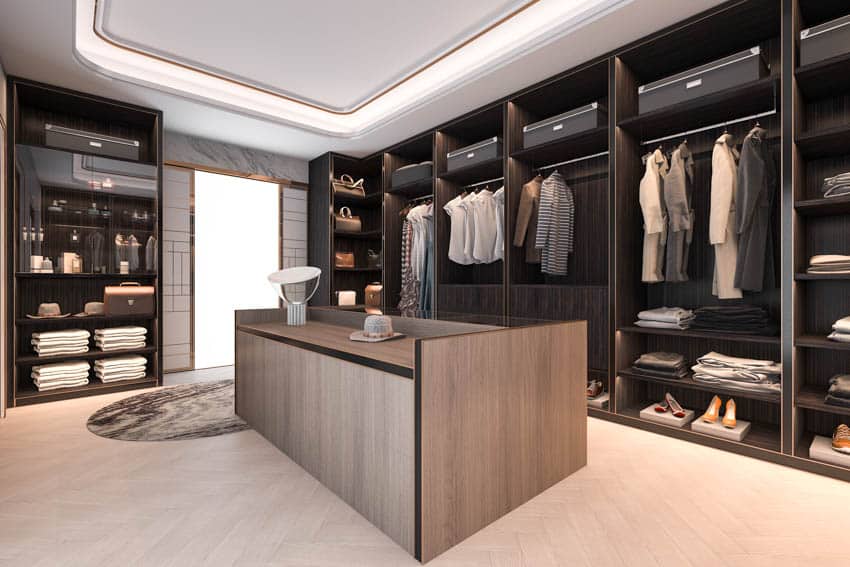 Since walk-in closets are a bit spacious, the flooring solutions that would best suit the space are laminate wood flooring, radiant heat tile flooring and hardwood flooring. We'll explain further below.
Laminate wood flooring is deemed the most affordable alternative solution while still gaining that wood-floor look in your walk-in closet. Having this type of floor, you can easily clean your room and will hold up well to daily wear-and-tear.
Since this is a manufactured material, your feet may be cold during the winter season. If you are not a person used to wearing slippers, you might want to contemplate on the next flooring.
Radiant heat tile flooring, as we've explained briefly above, are ceramic tiles that can keep your feet warm. There is a knob on the wall near the floor where you can control the heat level. This can be left on during the winter season.
Fortunately, these heated flooring solutions use up only a small amount of electricity. However, it is undeniable that this type of flooring is a more pricey option for a walk-in closet. If you usually like to frequent your closet barefoot, this flooring solution is for you.
Lastly, hardwood flooring is a sophisticated option to consider for your walk-in closet. This wood flooring doesn't get so cold when you enter bare feet compared to tile or laminates.
The material itself consists of natural insulating properties. With this, choose a design that matches or complements the design of your closet. Just like the radiant heat tile flooring, this type is also an expensive choice.
On that note, other flooring ideas are still welcomed for your walk-in closet. Weigh in your options and take into account the purpose of the closet if it's for the best.
Best Flooring For Small Closets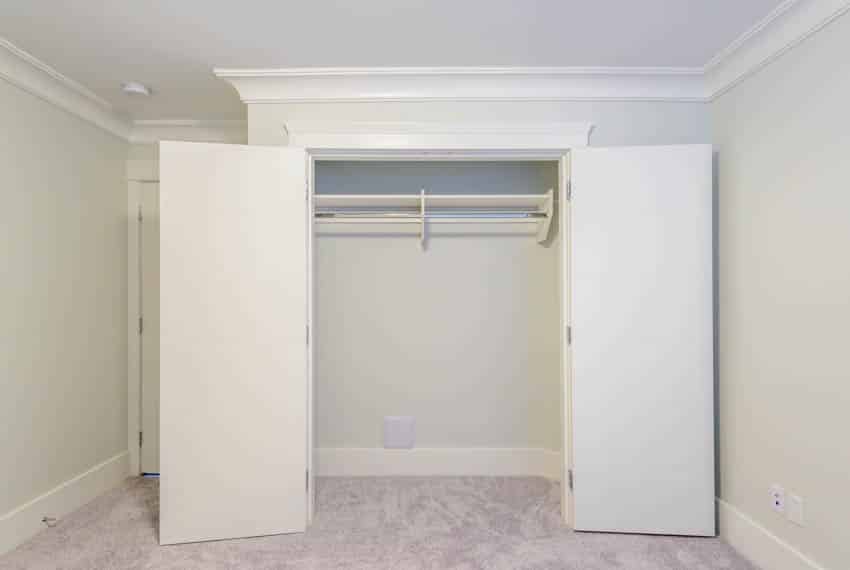 With small closets, there are fewer concerns over aesthetics. Having a solid floor that is durable enough will suffice. Hence, the most important consideration is the sturdiness of the floor.
Ask yourself, what is the purpose of your closet? Is it just for your clothes alone? Will you be storing heavy boxes? These are questions you need to access so you can choose the type of flooring that will sustain.
Since it is now for a smaller space, carpeting may be a good choice. There is a great chance that the subfloor may already be neglected, or worse, drafty. If this is the case, use a carpet for flooring and then add padding underneath.
Such padding will serve as insulation during cold weather. However, you might want to keep your pets out of these small closets to prevent the need for heavy cleaning and maintenance. Always close the closet door when not in use.
What Is The Easiest Flooring To Install Yourself?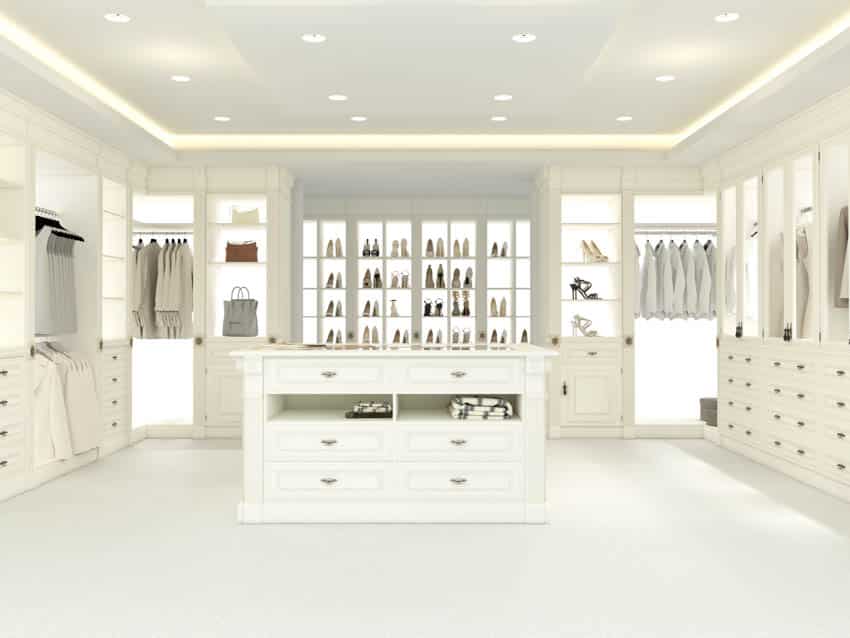 We have been getting this question lately. Indeed what is the easiest flooring solution out there you can install yourself? We give you our top 3 DIY flooring ideas.
Carpet Tiles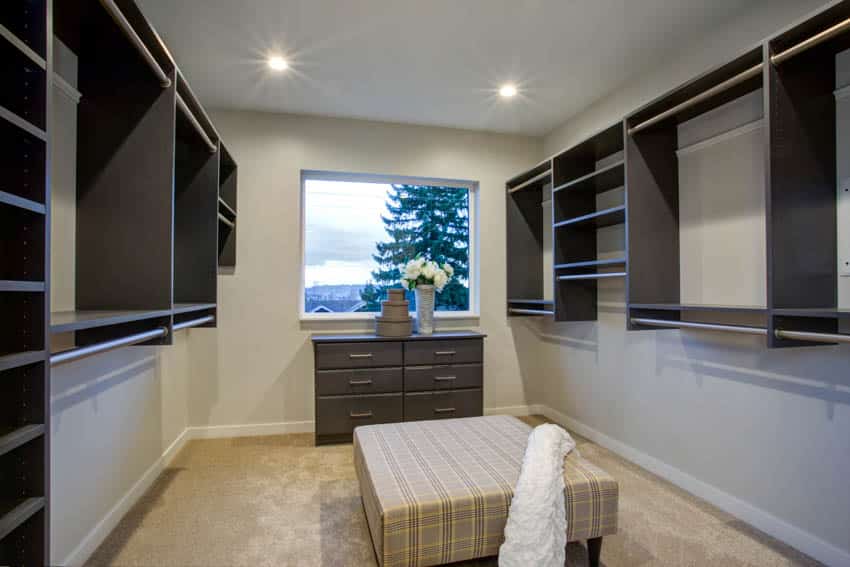 Perhaps, carpet tiles are considered the easiest flooring to install. If there's an area in your room you would like to spruce up a bit, improve the flooring, nothing beats carpet tiles as they are the easiest to go.
When you go for this flooring solution, you will find that there are endless options available in the market, from affordable pieces to top-of-the-line quality options.
How to Install Carpet Tiles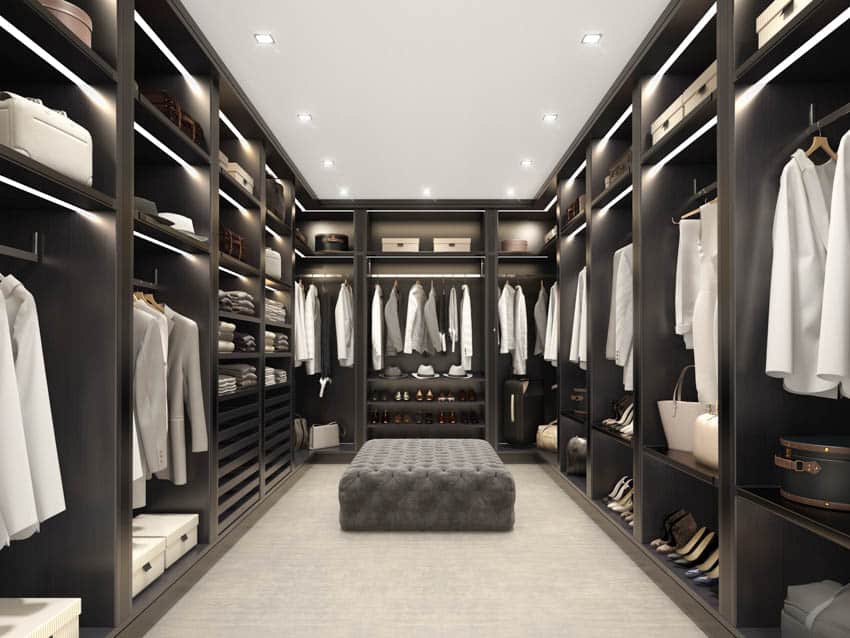 Anyone willing enough to finish a DIY project can go ahead and try installing carpet tiles. These types of flooring usually just have a peel and stick backing. Sometimes, there is some adhesion with some double-sided carpet tape or tabs.
If you would just like to keep them afloat to your subfloor, simply tape them together on the bottom. Cutting carpet tiles is also fairly easy.
Some of these materials can be cut using scissors. Although others need to be cut using a utility knife alongside a straight edge like rulers.
Vinyl Tiles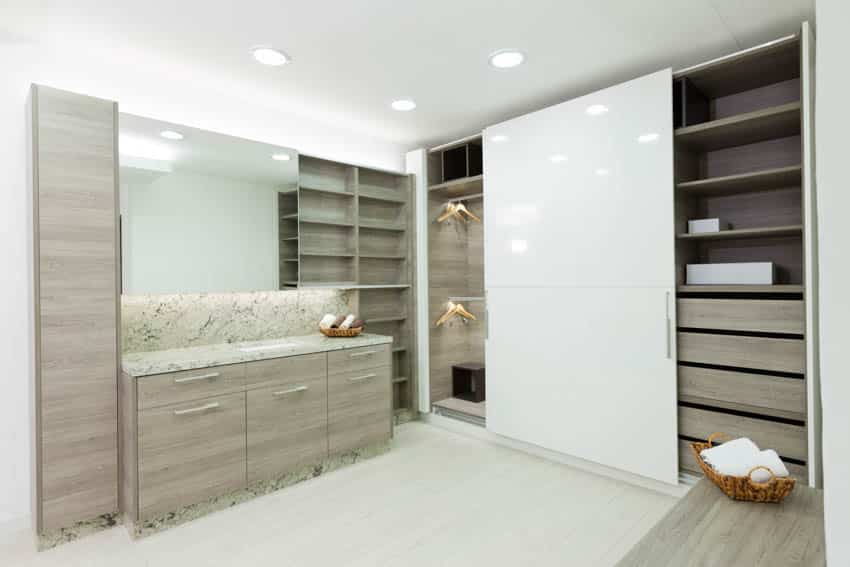 Aside from carpet tiles, the peel and stick vinyl tiles are other great options to consider if you are planning for DIY flooring. They are particularly a favorite from DIY crafters especially if you only want to give a certain space a quick accent and flooring makeover.
What's more, the vinyl tiles can be utilized in any room or on any floor level, even in bathrooms and laundry rooms. Nowadays, there's been a renaissance of design.
Many design choices are available so there's always a style that will suit you. Read more about our guide on the vinyl flooring in bathroom pros and cons here.
How to Install Vinyl Tiles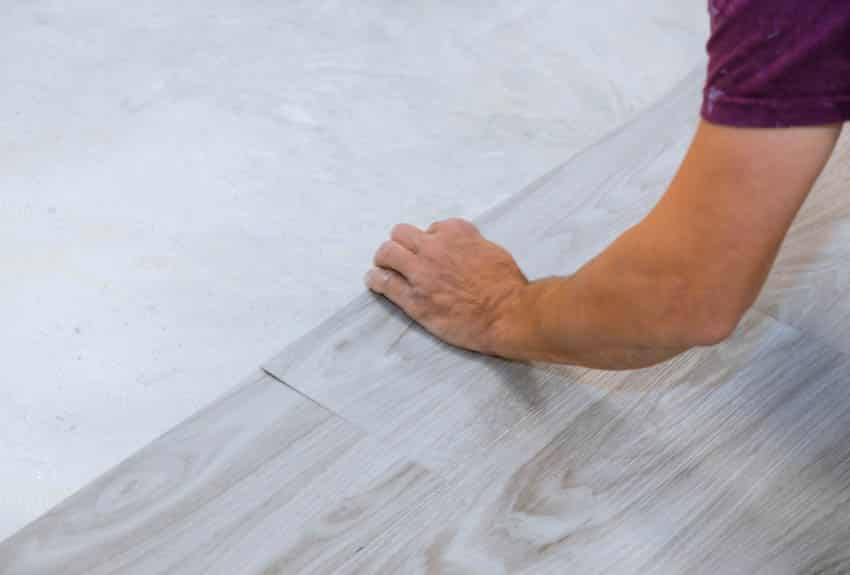 Installing vinyl tiles is literally as simple as peeling and sticking them to their designation. With that said, you will want your subfloor to be leveled so that there will be no underlying floor transpose through your flooring materials.
Often practiced, we recommend starting doing the peel and stick procedure in the middle of the room for square-shaped tiles.
On the other hand, start from one of the corners of your room if you are using planks. Be ready with both a scissor and a knife paired with a cutting edge if there's a need to cut your tiles.
Moreover, you might want to invest in equipment such as a tile cutter. This equipment is efficient enough to give you a straight, unflawed cut. Although it is not necessary, it will spare you some problems later with your installation.
See this video on how to install peel and stick vinyl tiles:
Tongue And Groove Cedar Wood Flooring
Cedar can be a good choice for closet spaces as it naturally repels insects such as silverfish, roaches, and moths which can damage clothing.
The only caveat to using cedar is that on rare occasions some have sensitivity to the oils emitted by this type of wood.
When cedar flooring comes with a tongue and groove design it can be easily installed as a home DIY project in several hours or less. The best type of cedar to use is called red cedar or Juniperus Virginiana.
Custom Closet Flooring Ideas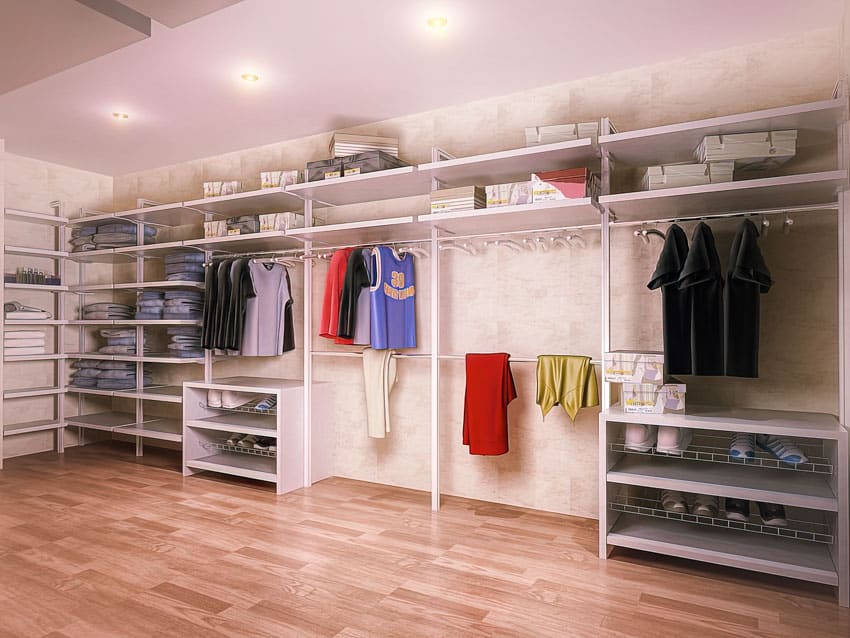 Install floor heating systems. Elevate comfort and save energy by installing floor heating systems. There are smart closet floors that integrate heating systems to warm up floors that are perfect for the colder months.
An efficient option is radiant heat floors which can come as ceramic tiles installed over electric heating wires. The heat setting can be adjusted to the desired temperature with just a small amount of wattage. While radiant heating is a more expensive heating system, it is efficient and can increase property value.
Smart shoe storage. With motorized shoe storage, the shelves automatically pull down when selecting the right pair of shoes. This makes it easy to access the shelves without bending and sifting through every compartment.
Automated Lighting. Motion detection for lighting is a popular choice for almost any type of room, and the closet is the perfect space to integrate the motion detector light system to light deep shelves. This also saves energy as it turns off when not needed. Install underneath or along the closet flooring along with integrated charging stations which can be useful in charging devices.
What Flooring Is In Style?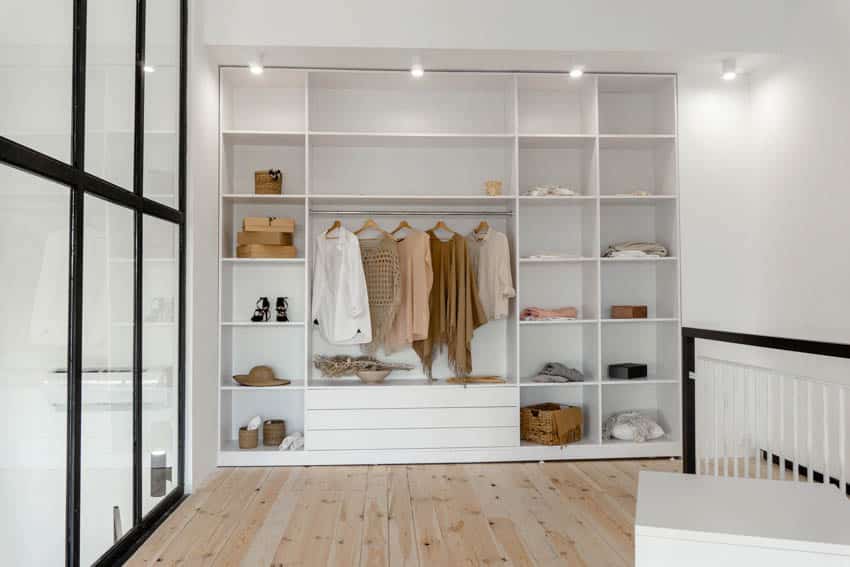 There certainly are flooring trends today – one of them is hardwood flooring trends. It covers the trend in stain colors, finishes, and styles for wood flooring.
When a design is involved, we want to optimize our best options possible without compromising any important factor. What we mean is that most people want a design that is both on-trend yet practical.
And with advancements today, it is totally feasible. Especially in the flooring world. Because flooring gives the design of the core foundation of our home, we would want to choose those of quality.
Recently, hardwood flooring is on trend again. These flooring materials continually grow and are now preferred to most floors in our home. As a matter of fact, some homes now are converting their kitchen floors, powder room, and entryways into hardwood flooring.
Additionally, part of the reason why they are in style is that hardwood flooring has a vast selection of the following: color, shapes or wider planks, and environmentally friendlier finishes. As a result, even for closets, hardwood floors are in style.
For the more price-conscious look into engineered hardwood flooring which uses real wood for the top layer and can be much cheaper to buy.
When it comes to your closet, choosing a flooring design is all about personal preference and liking. The function can also be a contributing factor.
On that note, consider each flooring idea suggested above. And then, finally, weigh your own pros and cons. You're not so far away anymore from the perfect closet flooring that best speaks for you. See more related content at our article about the different types of closets on this page.