Welcome to our epoxy floor ultimate design guide including popular types, styles, cost and pros & cons.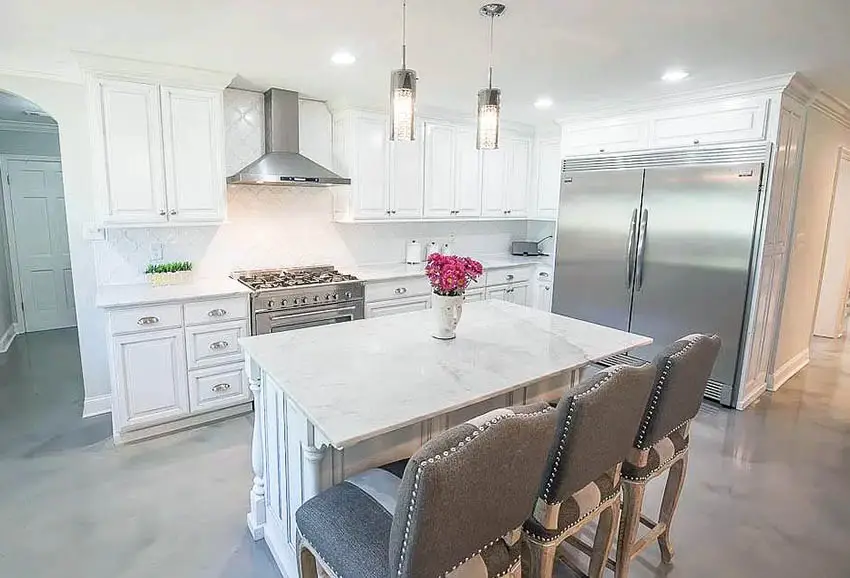 When you're considering a home renovation, the first thing to do is think about the basics: how will the walls and floors look? Focusing specifically on the floor, for now, you have a limitless number of options. If you want to step outside of the box and want a cleaner, highly customizable option, you should consider adding epoxy floors to your home.
However, any new idea can be confusing at first. That's why we've taken the time to help you out and break down this ultimate guide. Keep reading and we'll take a look at everything from what epoxy flooring is to the number of different ways you can incorporate it into your home design.
What Is Epoxy Flooring?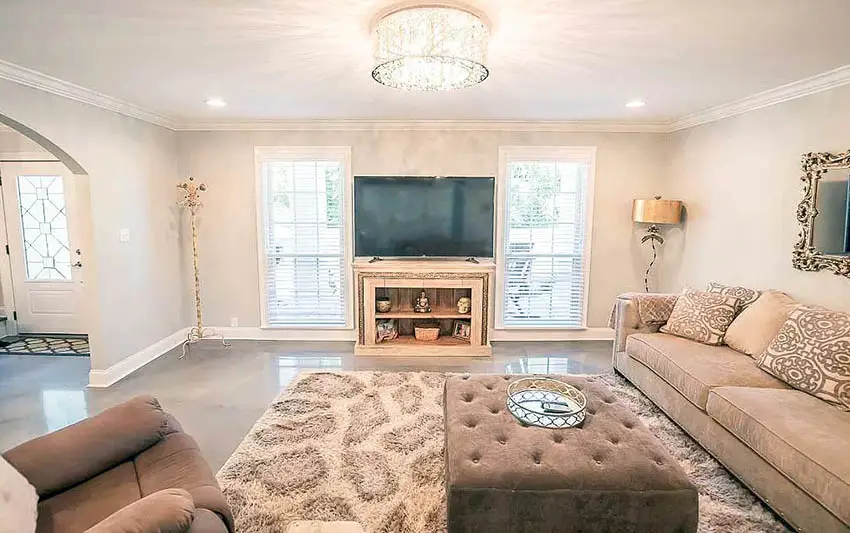 Epoxy flooring is gaining popularity but that begs the question: what exactly is epoxy flooring?
Basically, epoxy flooring also known as resinous flooring is a coating that's made up of a two part epoxy system. It uses a combination of epoxy resin and a hardeners that when mixed together create a chemical reaction and bond together. This process creates multiple layers of epoxy that attaches to the subfloor creating a durable flooring material with multiple layers.
It actually starts with a layer of concrete flooring. After the concrete flooring is laid out and smoothed over, it's prepped for the next steps that make it epoxy flooring.
At the same time or directly after, a mixture of resin and a hardening chemical is prepared to go on the floor as well. Over the course of a few days, this mixture will harden into a type of plastic.
The mixture is poured onto the concrete and given time to harden. Afterward, additional layers may be added.
Epoxy flooring is often used in commercial and industrial buildings like schools and hospitals but it also serves a purpose in residential environments as well.
Types of Epoxy Flooring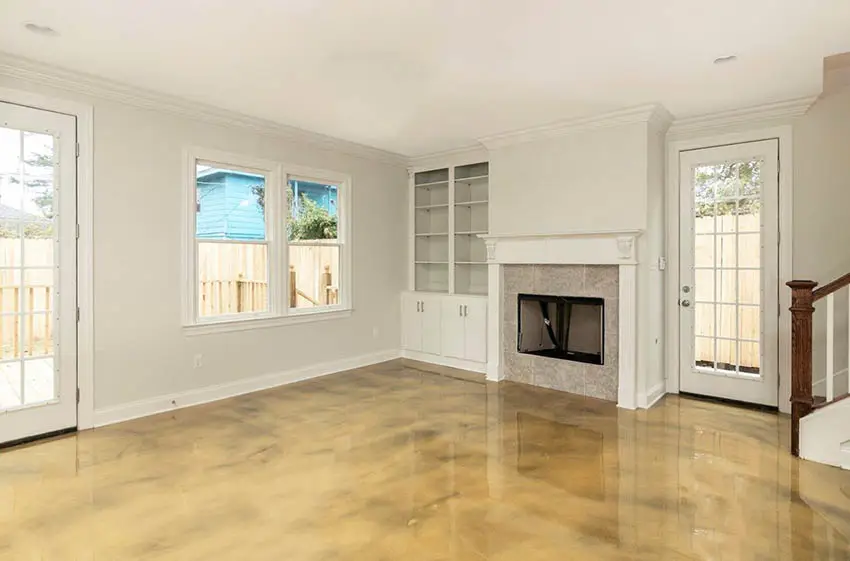 Epoxy flooring doesn't refer to a single option but rather represents an overarching category of flooring.
To cater to your own needs and interior design preferences, it's important to understand your options when you're looking for epoxy flooring for a garage or even a basement or other room in your home. Here are some of the options you have at your disposal.
Epoxy Floor Coating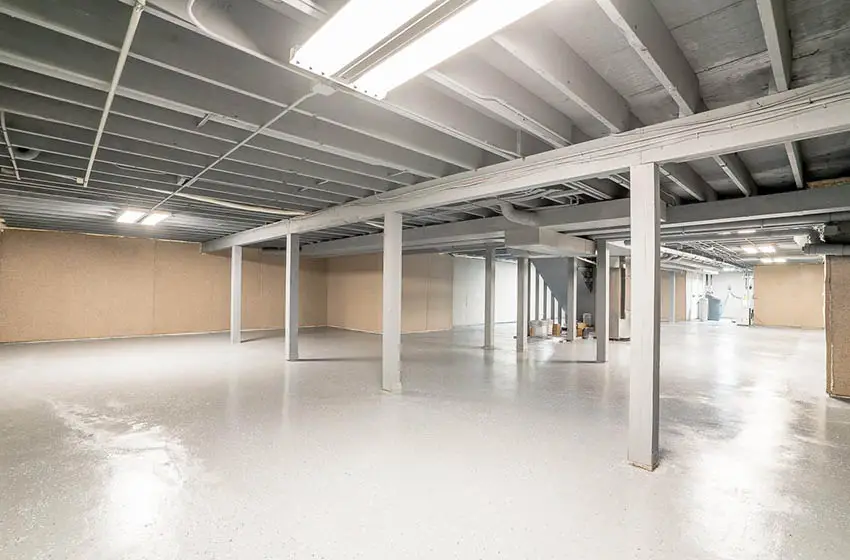 Epoxy floor coating is epoxy flooring in its most basic form. It refers to the actual methods and supplies used in creating an epoxy flooring over an existing flooring to create it. This material is usually concrete but you have a few different options.
The material is a popular choice when you need a floor that will stand up to tough environments. This is because it's resistant to a number of harmful elements like abrasion, chemicals, and even just stains.
That being said, if you want to make sure that your epoxy flooring is properly installed. Otherwise, you risk lasting damage or a shortened lifespan. We'll take a look at professional installation and DIY options in a bit.
Epoxy Resin Floor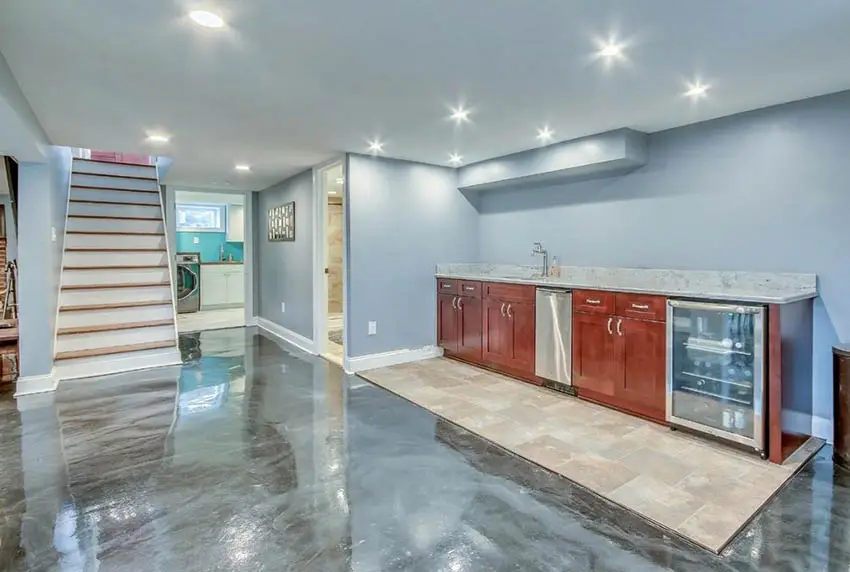 Epoxy and epoxy resin actually have a bit of a difference in their nature. Specifically, epoxy resin is used for coating, making it a great tool when you need to add a layer to a floor such as adding epoxy overtop of a concrete floor base.
Epoxy resin takes about 72 hours to cure, so you'll still need to set plenty of time aside for the renovation.
Metallic Epoxy Floor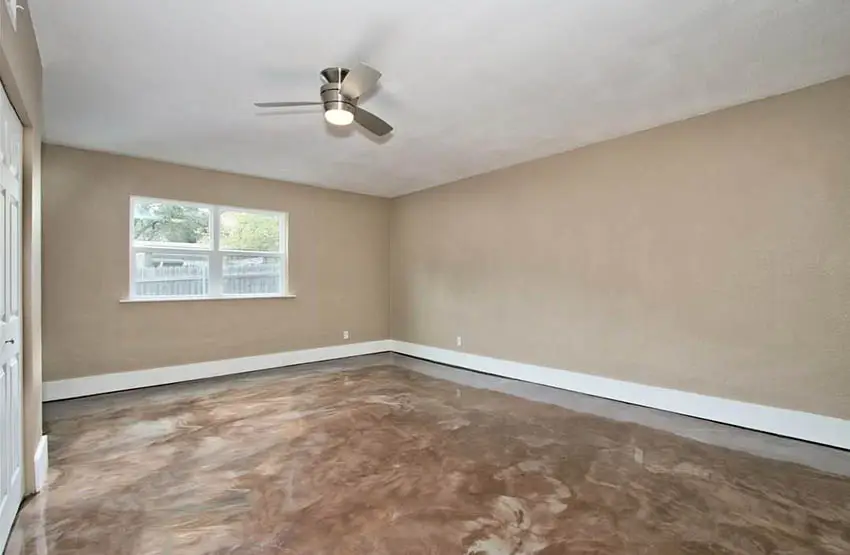 Metallic epoxy floors are a unique choice when it comes to epoxy flooring because they aren't a single solid color as many epoxy floor options are. This type of epoxy is, like most epoxy, made up of two components but has the addition of a metallic pigment.
Once this epoxy flooring is fully set, you'll have a finish with a shine. In fact, it's close to the appearance of glass but with a high durability and nearly unmatched longevity.
Even better, because of the nature of epoxy, any added pigmentation that isn't single-toned will look completely new and interesting compared to another epoxy floor.
Marble Epoxy Floor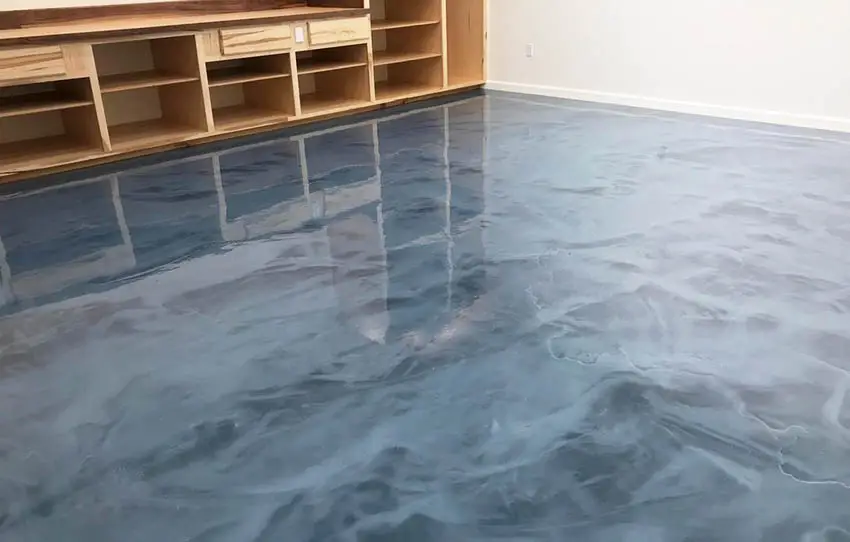 Marbled interior design has been a beautiful choice that has been recognized as a luxury item for centuries. That's why renovations such as the addition of marble countertops in a bathroom or kitchen are so popular.
You can even add marble flooring for a bit of heightened luxury in your home. Luckily, you can add this without the disadvantages of marble – like its expense – by using marble epoxy flooring.
These types of epoxy floors use a blend of colors and shades to create a marbled appearance and, as with metallic epoxy floors, you can expect something new with every marble epoxy floor you see.
Epoxy Floor Paint
Epoxy paint and epoxy coatings aren't the same despite their similar names. To ensure that you get exactly the floor that you're hoping for, it's a good idea to understand the differences between the two.
In composition, epoxy paint is actually paint. Specifically, it's usually made up of latex acrylic paint with epoxy mixed in. This is a smaller concentration of epoxy than an epoxy coating but it makes it easy to use since they only need to be put down to dry rather than mixed and cured.
All in all, you can apply epoxy floor painting quicker and with less prep work than an epoxy floor coating. Yet, the downside to this is that since there is a thinner coat in epoxy paint and a lower ratio of epoxy, it won't have the same level of durability as an epoxy floor coating.
Epoxy Floor Colors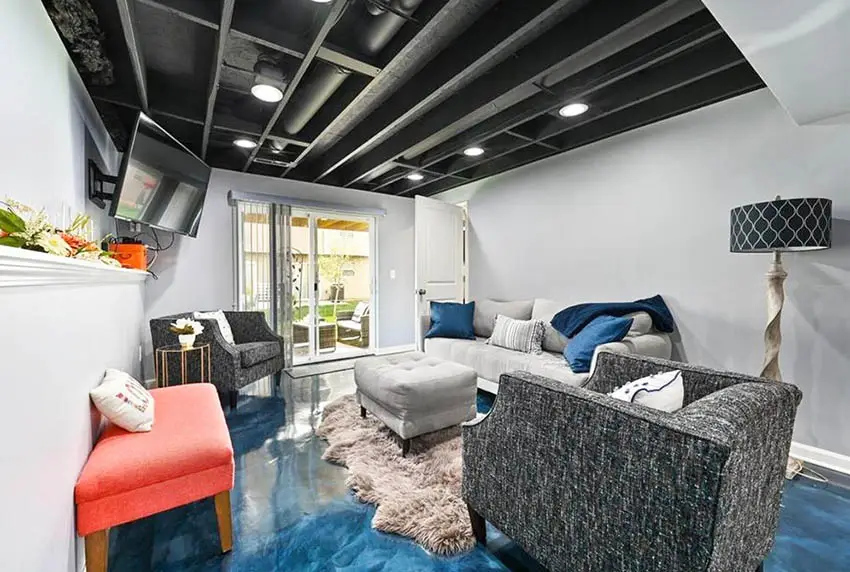 One of the biggest benefits that you can take advantage of when you use epoxy flooring in your home is that it can look almost any way that you might want. Unlike an option like hardwood flooring, you can opt for a wide range of colors rather than relying on a variety of shades.
The standard colors for epoxy are rather neutral like white, black, gray, tan, and brown. In addition to that, there are some standard colors that step outside of neutral territory. It's a great choice if you want to explore bolder colors like red, blue, green, and more.
There isn't a lot of limitation to what you can do with epoxy flooring, so feel free to explore a bit to find what fits your tastes.
Glitter Epoxy Floor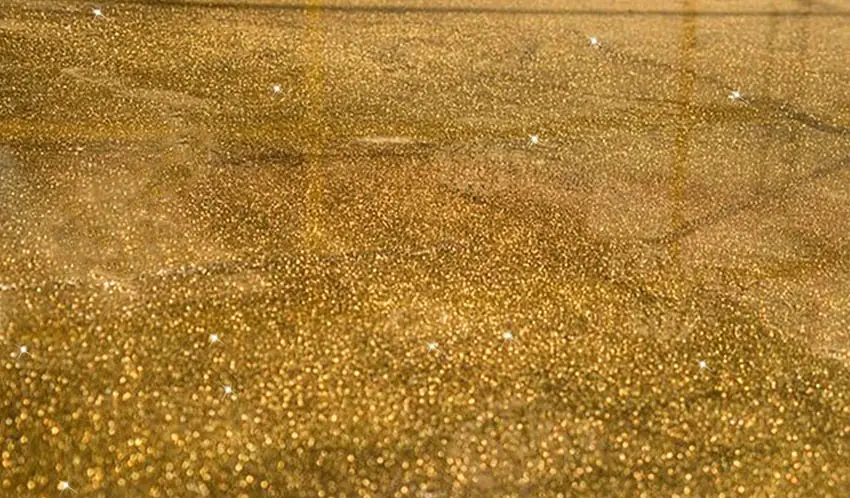 If you want to do something a little more fun with your floor, epoxy has options here as well. One of the most fun options that you have available to you is to lay out a glitter epoxy floor. The primary rule here is that you'll want to make sure you thoroughly mix the glitter into the epoxy formula for an even spread of the glitter as the floor sets.
Where to Use Epoxy Flooring
Epoxy flooring is usually thought of in high-traffic work areas like garages and workshops. That being said, these are far from your only options. You can use epoxy flooring in several areas in your home such as basements, but it's crucial to consider the advantages and disadvantages to it.
Garage Floor Epoxy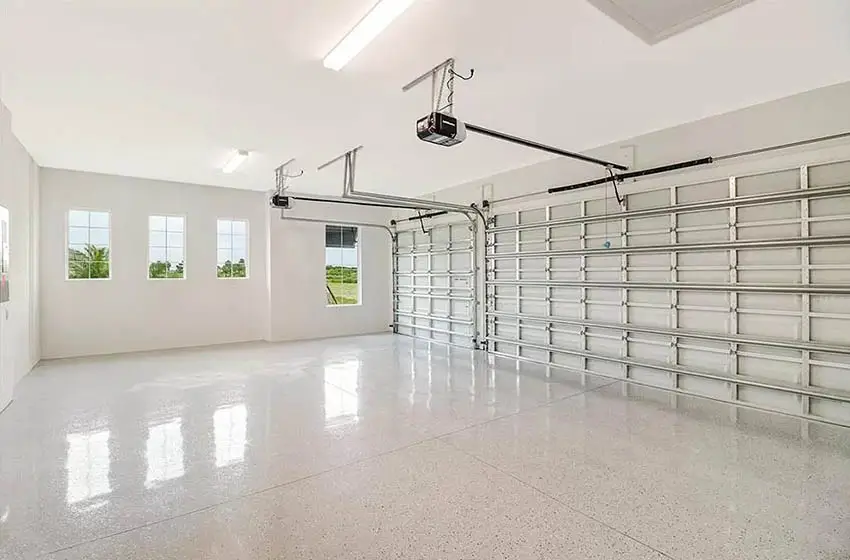 Epoxy floors are often seen in garages for a number of reasons but the primary ones revolve around their durability. In general, a well-installed epoxy floor will last a long time but they're also fairly resistant to lasting damage.
This means that epoxy floors are a great choice for an area that sees a lot of work. They're even suited to more industrial settings like an auto shop or factory, so an epoxy floor will be able to handle anything you throw at it although heavy vehicle traffic will degrade it faster than standard foot traffic.
Epoxy Basement Floor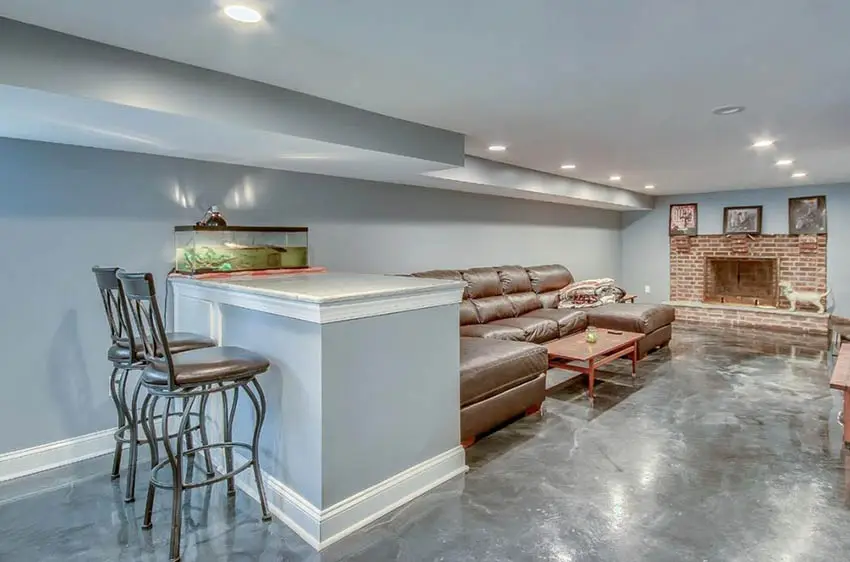 Epoxy floors are great in basements for a lot of the same reasons that they're great for garage floors. You don't have to worry about them getting damaged easily and you can even customize them if you have a furnished basement that you spend a lot of time in to make the space more personalized.
However, if you have chronic moisture-related problems in your basement, epoxy flooring might not be the best solution.
You need the concrete base flooring to be completely dry to lay out the epoxy and end up with a lasting and beautiful result. Otherwise, it's prone to lifting away from the concrete rather than creating a flat, smooth surface.
Epoxy Kitchen Floor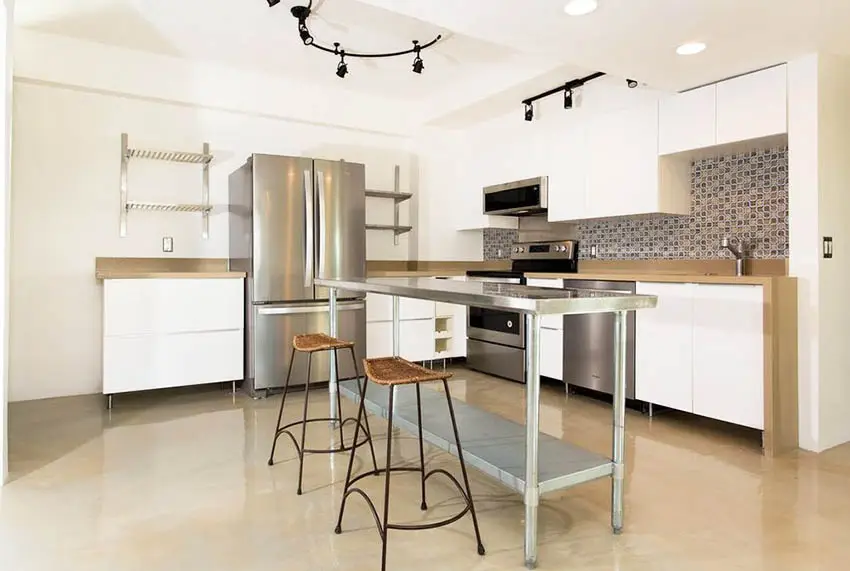 Again, epoxy floors are great for residential areas where you want the decor to be just right because they're so heavily customizable. On top of that, the longevity of an epoxy floor saves you from a remodel in a high-traffic area of your home for a while.
There are some downsides, though. While after the epoxy is completely dried it will handle moisture well since it's water-resistant once it has set, it does get slick when it's wet. This means that spills and splashes are something you should be careful of when you're walking around and cooking.
Epoxy Bathroom Floor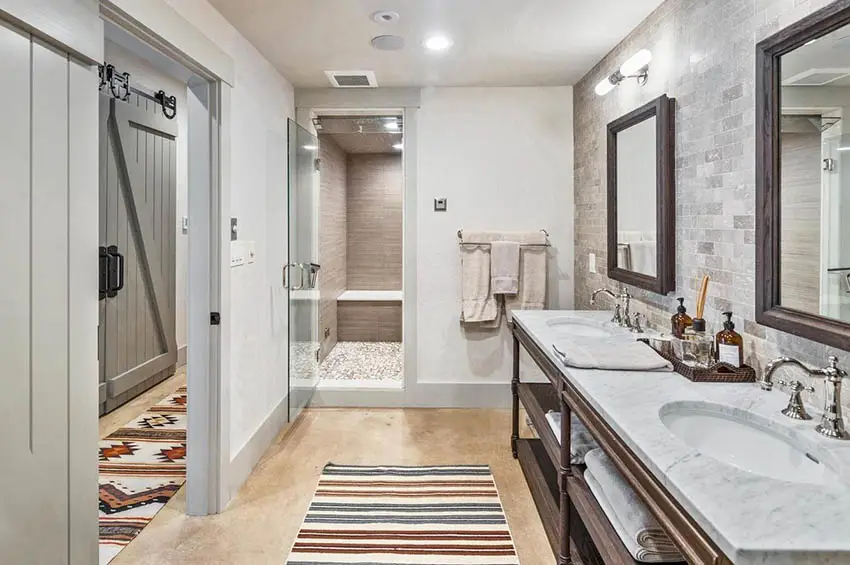 Epoxy flooring in bathrooms does have some clear advantages. For one, because epoxy flooring is so highly customizable, you can use epoxy to achieve a wide array of different designs whether you want to use an interesting color or effect.
The only major drawback to an epoxy bathroom floor is something we've already touched on – it gets slick when it's wet. While this isn't an automatic deal breaker, it's worth noting that you'll want to be careful since the bathroom is an area where spills and splashes aren't uncommon. However, it won't damage the flooring to get damp often after it's set.
Epoxy Shower Floor
Once again, the biggest challenge to epoxy shower floors is that epoxy flooring tends to get slick when it's wet. Luckily, there are plenty of products that are made to help you keep your footing in the shower since most types of hard flooring under the direct spray of a shower can get pretty slick.
On the other hand, you can also take advantage of the benefits we've already discussed such as the chance to choose among a variety of designs, types, and even just colors. This will allow you to create a one-of-a-kind shower that is resistant to water-based problems like mold and mildew.
Visit this page for more options for waterproof bathroom flooring.
Epoxy Floor Cost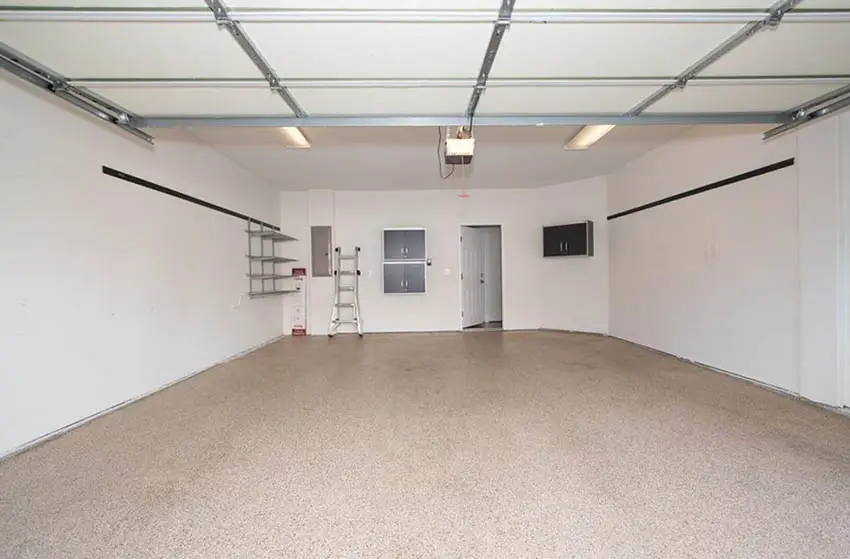 As with any project, you'll want to consider the cost of adding an epoxy floor to your home. After all, any renovation has to stay on budget to stay reasonable and stress-free. The good news is that epoxy flooring isn't an outrageously expensive choice.
The cost of any DIY project is dependent on a few factors such as where you're located, where you're buying your materials, and whether you're taking the project on as a DIY or hiring professionals.
The average cost of epoxy flooring sits at about $3 to $7 per square foot. This means that the bigger the project, the higher the cost but the cost per square footage is relatively low compared to some other flooring options.
How Much Does It Cost to Epoxy a Garage Floor?
Again, this price range is dependent on a few factors, including how large your garage is. It will also vary based on your installation method. Are you laying out the epoxy yourself or are you planning on hiring someone to do it for you?
For the average two-car garage, you can expect to spend within a range of $1,320 to $3,080 with the consideration that labor costs around $1,711 on average.
It's worth repeating once more that you can shave off some of the cost of an epoxy floor by taking the project on as a DIY if you're comfortable with that but it's better to refer to an expert if you aren't sure you have the time or skills for the DIY steps.
How Much Does It Cost to Epoxy a Basement Floor?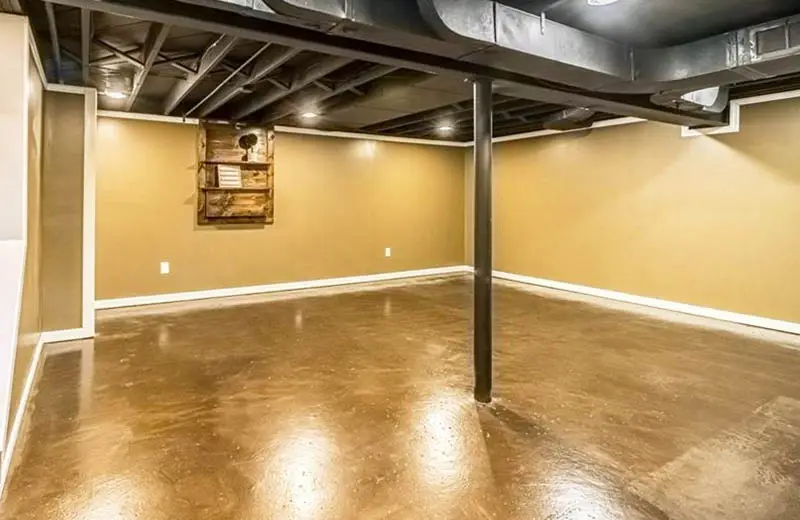 Whether you're finishing basement floors or you just want to make sure that you one that will stand up over time, an epoxy floor is a great option to turn to. Once again, the cost is an important consideration.
The fact that it's a basement doesn't take away from the approximate average cost of $3 to $7 per square foot for epoxy flooring. So, the cost will largely depend on how big your basement is.
The average basement is around 1,000 square feet, meaning that the average cost for adding an epoxy floor would be around $3,000 to $7,000 depending on the variable factors we've already discussed.
Pros & Cons of Epoxy Flooring
Like anything else, epoxy flooring isn't perfect. It offers you plenty of benefits and drawbacks and both are important to understand and factor into your renovation decisions.
Pros:
Affordable – On the more practical side of the matter, epoxy flooring is priced affordable when compared to other types of flooring choice.
Stain Resistant – It's also resistant to stains. This includes resistance to harsh materials like bleach and gasoline which is why they're so handy for garage floors.
Durable – Since they're built on a concrete base and epoxy itself is strong, you can also expect your new epoxy floor to last you years to come. Plus, there's plenty of visual variety in epoxy flooring.
Cons:
Can Crack – While epoxy flooring is durable, it does tend to crack over time, so odds are you'll have to be careful to maintain it over the years.
Can Be Slippery – You'll also want to be careful because epoxy floors can be slippery, especially when they're damp.
How Long Will Epoxy Floor Coating Last?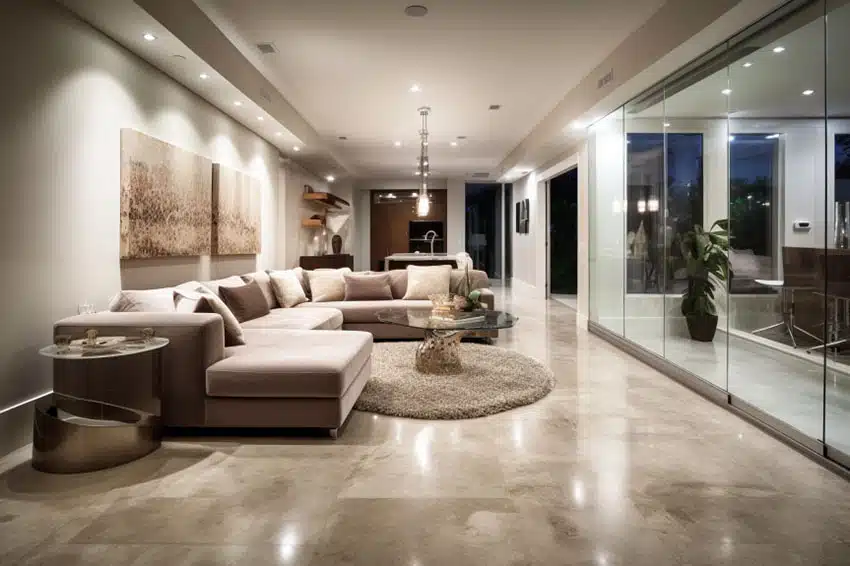 Like many things, the lifespan of an epoxy floor depends on a few factors. Overall, epoxy flooring has the opportunity to last up to 30 years when it's correctly installed but this can change depending on a few factors.
For instance, if you install an epoxy floor in a high-traffic area like an industrial or heavy-duty commercial environment. In a residential space, like your home or even a private garage rather than a concept like a mechanic's shop, you'll see the lifespan stretch closer to 30 years.
Factors like sun exposure can also play a role in how quickly an epoxy floor deteriorates.
You can also extend the lifespan of your epoxy floor by making sure to take care of it too. For example, keeping it clean and maintained can go a long way.
DIY Epoxy Floor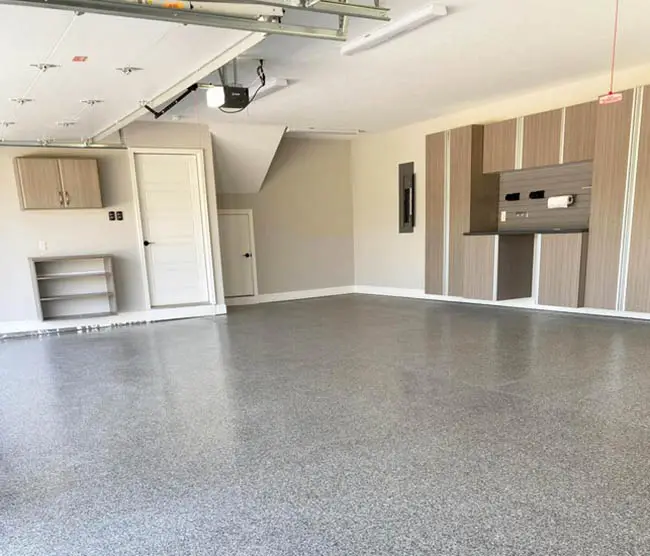 We've discussed that an epoxy floor is created by applying a chemical mixture on top of a finished concrete floor to create a hard, plastic-like coating. However, that doesn't mean it's necessarily a simple DIY and there are a few things that you should be aware of.
For one, you can't just pour the mixture on the concrete. You need to prepare it by not only cleaning it but removing oils, waxes, and contaminants. You should also make sure to acid etch the floor because the pores of the concrete need to be opened.
DIY homeowners also need to make sure there's no moisture in the concrete because it will negatively affect the finish. This means high-humidity is something to avoid – a de-humidifier is a handy tool here.
Because there are so many factors to correct epoxy flooring installation, it's best suited to professionals and people who are very comfortable with harder DIY projects.
How to Epoxy a Concrete Floor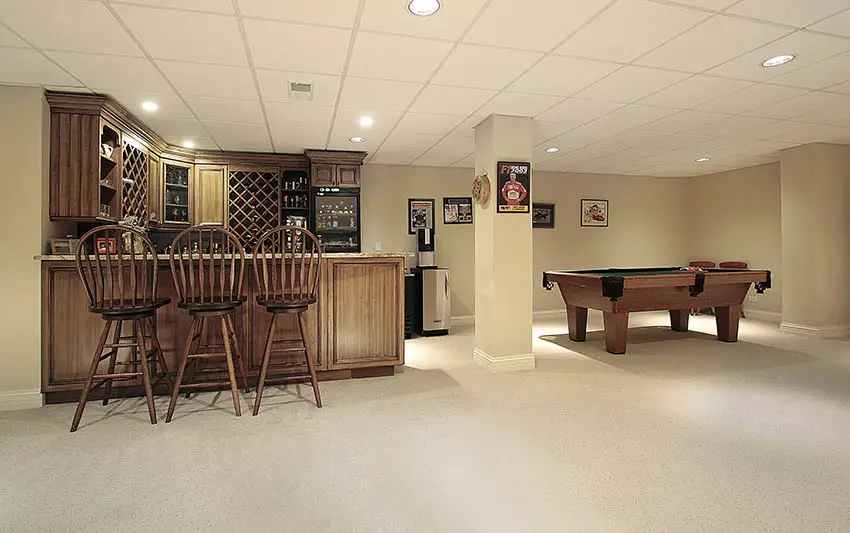 The first step to prepping a concrete floor for an epoxy coating is to clean it thoroughly. The last thing you want to do is trap debris under the epoxy, making for an uneven or tarnished end result. Take the time to sweep and use a degreaser for any grease stains.
The environment matters too. Your concrete floor should be completely dry and at least 55 degrees Fahrenheit and the ambient air should sit between 60 and 90 degrees Fahrenheit. If the concrete is new, it needs to have been cured for at least 30 days before adding the epoxy.
It's almost as easy to add epoxy as to put paint on a wall but you'll want to make sure it's smooth and has at least 12 hours to cure per coat.
Best Garage Floor Epoxy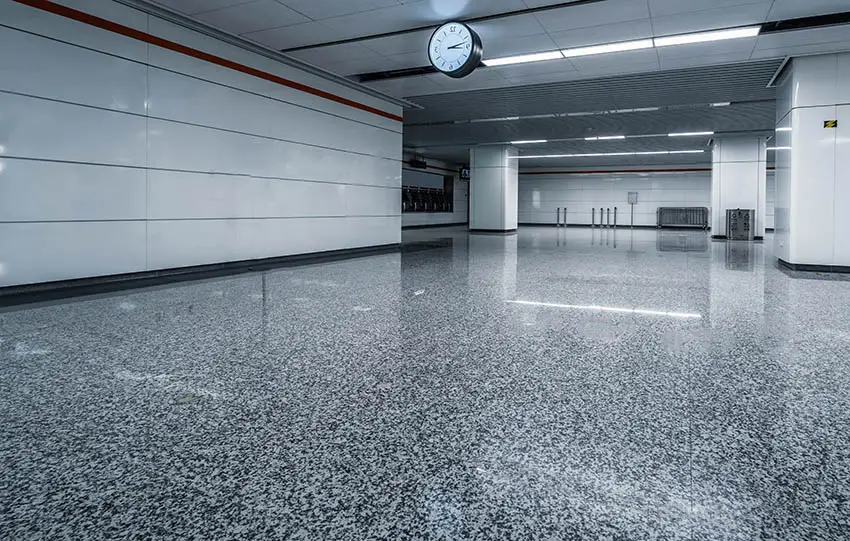 As we looked at earlier, there are a variety of different types of epoxy to choose from. This means that there are plenty of options as to what garage epoxy to use and how you're installing it whether that's a DIY project or a professional installation.
For DIY projects, it's easiest to find kits with waterborne epoxy paint. It has the longest pot life compared to other types of epoxy and doesn't take as many tools and supplies to lay down. Plus, brands like RustOleum offer this type of epoxy in DIY kits.
Even better, they usually don't take many coats, cutting down on teh amount you need to buy even though they're not quite as durable. Read more about concrete floor finishes here.
Can You Epoxy Over an Epoxy Floor?
Yes, you can add an additional coat of epoxy over an epoxy floor. Yet, this doesn't mean that you can simply pour it on as is. Just like adding an initial coat of epoxy to concrete, you need to take the time to properly prepare the floor.
When you're applying an additional coat of epoxy to an epoxy floor that has already dried, you won't have the benefit of the chemical bond. In its place, you'll need a mechanical bond for the new epoxy to latch onto the epoxy that has already cured on the floor.
The best way to do this is to sand down the existing epoxy floor until it has a nearly white, matte appearance.
How to Clean Epoxy Floor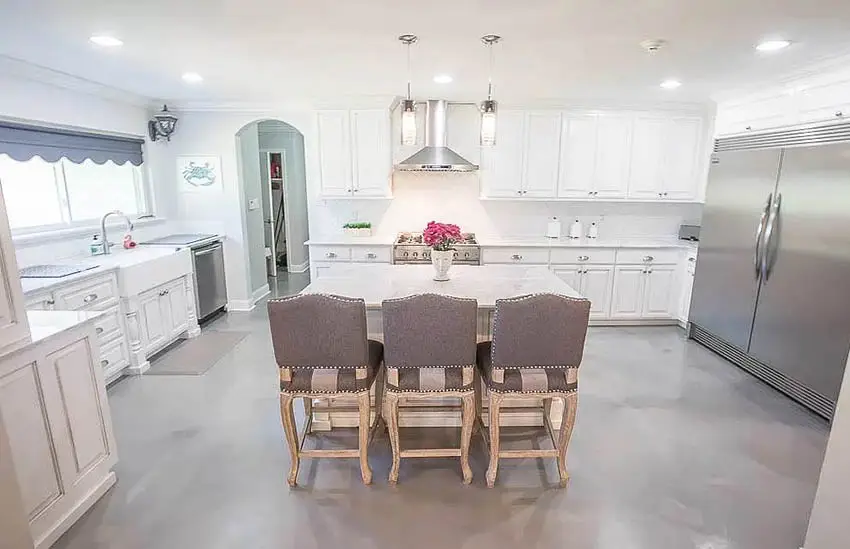 Luckily, cleaning an epoxy floor isn't a difficult task. For the most part, you can rely on the cleaning products you already have around the house to get the job done.
To start, you're going to want to sweep and vacuum the floor. This will remove any surface dust, dirt, or grime to clean it and get it out of the way for tackling deeper messes. For any leftover messes, all you need is a hard foam mop and some water – preferably either hot or warm water.
If you need to commit to a second round of mopping for particularly challenging stains, you can use a mixture of ammonia and water. However, the mix should be a ratio of only about two or three ounces of ammonia for every gallon of hot water.
Do you like epoxy flooring? Let us know what you think about epoxy coatings in the comments. For more related ideas check out our gallery of kitchens with epoxy countertops.