Discover all you need to know about a basement movie theater including the design, room size, seating, colors, lighting, cost, and the best ideas to consider for this space.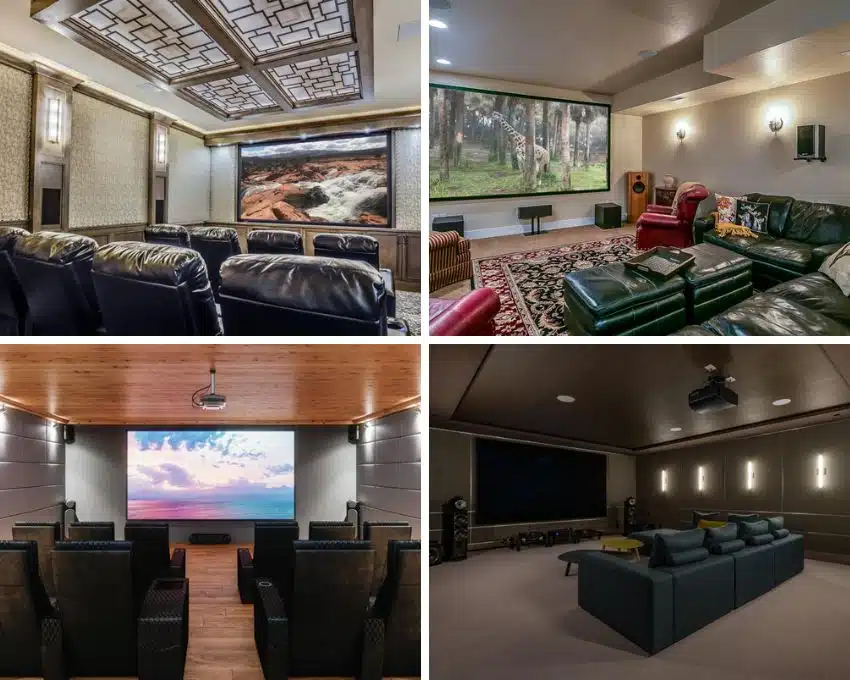 The basement is the perfect location for a home theater as it is commonly isolated from the rest of the home, providing a private space without you worrying about disturbing the rest of the rooms.
The minimal ambient lighting and thick walls are other reasons for the new addition. Moreover, the potential to transform a blank open space into whatever theme you want makes it an even more attractive remodeling project.
With enough thought put into the design, one can transform a dark, dreary basement into an inviting place for relaxation and entertainment. The following are guidelines and tips to help you design your basement movie theater.
Basement Media Room Design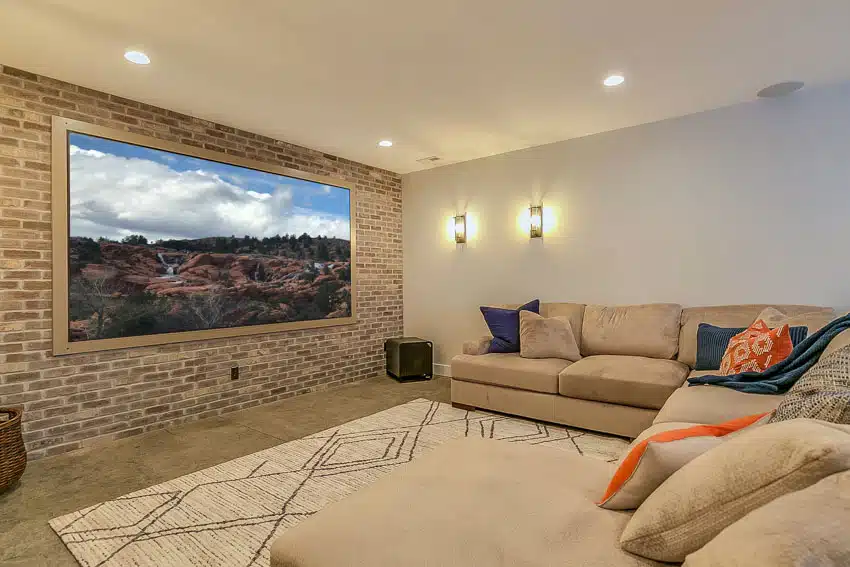 Having a basement media room offers a space for watching shows, presentations, or collaborating music. It's like an extension of your family room but can be a versatile space for an online conference for work or a game room. A basement media room can ultimately add value to your home and entertainment experience.
Start with a theme and style in mind
The classic movie house with vintage memorabilia is a nod to the golden days of cinema.
Velvet walls, retro sign boards, tiered seating, rich brown leather, and sconce lights are perfect accents to elevate the feel of the classic-themed movie house.
Modern home theaters, meanwhile, love to incorporate moody tones with stained wood or metal accents, but with smart lighting fixtures, even neutral-toned surround is no longer a hinder to the cinematic experience.
Sloped floors are a hallmark of traditional cinemas, while contemporary themes incorporate tilted seating with sleek and minimal elements.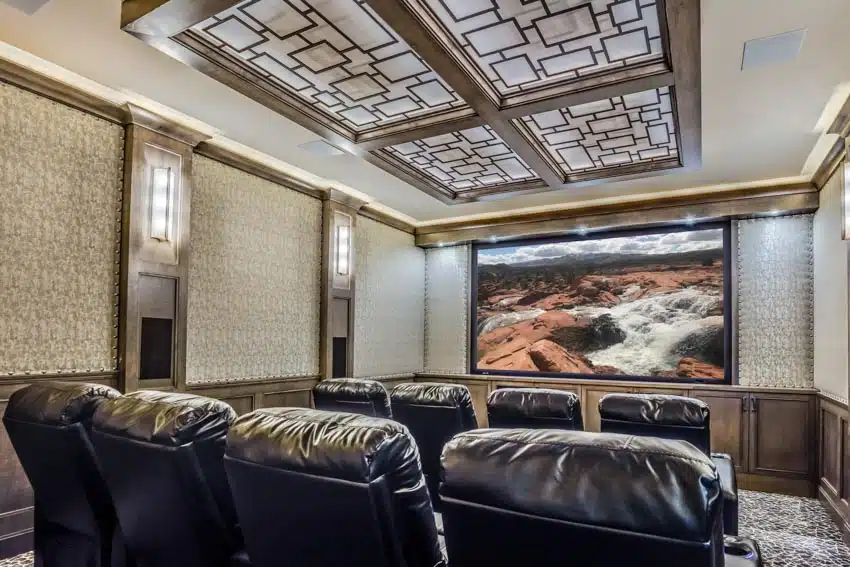 Understanding the sound channels
The acoustic system you aim to use is integral when designing your basement media room. If you have heard the 7.2.4, for instance, it means having 7 surround speakers (center speaker, right speaker, left speaker, rear right, rear left, and two side speakers on the side walls).
The 2 means 2 subwoofers, and the 4 means the ceiling speakers or atmos. When installing the center speaker, it is recommended to have it at the center or leveled along your eye or ear when sitting. An acoustically transparent TV is available if there's no space for your center speaker.
Movie room sound tips:
• Decide if you'll go for a TV, Video Wall, or a projector. Also, consider the type of screen, such as fixed-frame or motorized, and the material, such as matte white or gray.
• Use an acoustically transparent TV if there is no space for a center speaker.
• Choose a removable cladding design to access concealed wirings behind.
• An economical way to set up the walls is to use a framework of joists and board with 2 x2 or 8×8 inches size.
• Don't forget to use soundproof insulation and completely seal openings from ambient light.
• Consider tufted doors for additional soundproofing.
• Don't forget about the data flow. Wiring and flow of connection between signals, especially for advanced WIFI signals, affect the design.
• Don't use or leave a concrete wall or concrete blocks as walls.
• Carpeting to absorb dampens sound and suppresses reverberation or echo.
• Plan wiring from the earliest stages of designing to not impede the construction process.
• Soundbars are the ideal speaker system that you can use for wireless connections.
• When going for wood materials, spruce, and cherry wood are the best species to choose when planning for the natural material as cladding.
• Also known as sound absorption panels, the insulating acoustic panels usually come in 1′ x 1′ and 2′ x 2′ in sizes, which is a recommended addition to your wall cladding.
• Keep your electronics hidden to maintain a clean and uncluttered look. Consider installing built-in cabinetry or using a media console to hide your electronics and wires.
Remember: Basements are often prone to dampness and water damage, so make sure your basement is properly waterproofed before starting your media room project. Consider installing a sump pump, French drain, or waterproofing membrane to prevent water damage.
Basement Room Size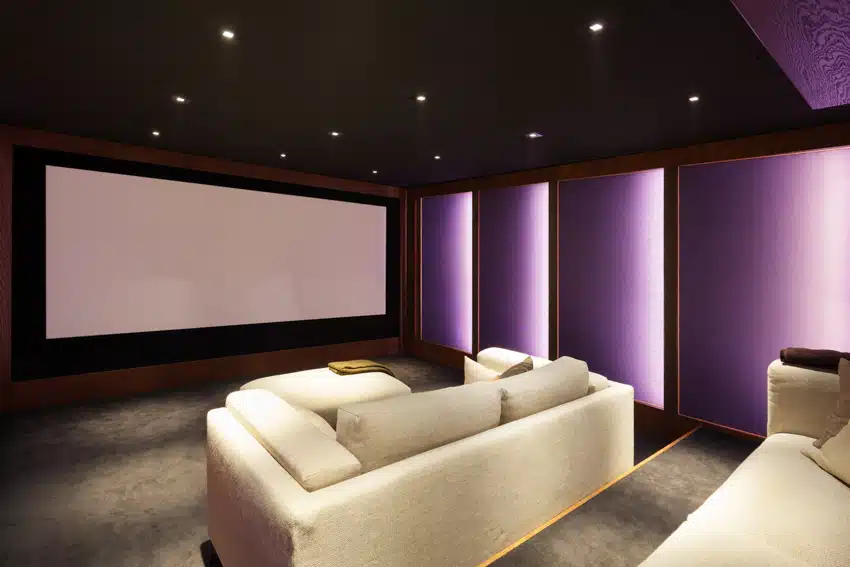 Your basement media room size is a crucial factor that determines optimal screen size, speaker placement, lighting design, and configuration of your media elements. There are home theater dimensions for basements recommended to achieve that optimum acoustical experience which is 3 meters ceiling height x 4.8 meters wide and 8 meters long or the golden cuboid.
Although ultimately, the larger the room, the better for your basement media room. Most acoustic manufacturers recommend having at least 1 cubic meter area. Many studies on the best room dimension ratio have been conducted, and it can be a challenge to determine the perfect room size.
The golden room by L.W. Sepmeyer, for instance, provides a table with corresponding ratios based on the ceiling height. For example, his ratio 1 (Height): 1.14 (Width): 1.39 (Depth or Length) can be calculated by multiplying these factors using the floor-to-ceiling height of 8 feet calculated as 8 feet x 9.12 (8×1.14) x 11.12 (8 x 1.39).
Aside from room size, the shape of your basement media room greatly affects how sound travels through the room as it bounces off flat surfaces. The best shape of a media room is rectangular as cube-shaped rooms where the length, width, and height of the room dimensions are very similar.
Having similar dimensions can cause standing waves which basically cause bouncing and reflecting soundwaves to collide with the same frequency. The low frequencies or standing waves can cause acoustical issues such as sudden increase or decrease in volume in some areas or sounds prolonging than they were intended.
Rectangle-shaped basements provide better viewing and sound saturation. Even narrow basements can work well and have the advantage of maximizing the acoustics, and it doesn't require the sound system to work hard to provide the best sound quality.
When it comes to height, modern homes built starting in the 1930s typically have an 8 feet floor to ceiling height, but older homes typically have 6 to 7 feet clearance. As it is recommended by home theater sound system manufacturers, the lower the ceiling, the better.
If you have a high ceiling, consider acoustical drop ceilings. Dropping a few inches below your original height can help block sound from above floors and prevent sounds from bouncing around the area. Another advantage of drop ceilings for basement media rooms is that existing pipes and other utilities can be easily accessed for repair or maintenance.
Basement Theater Seating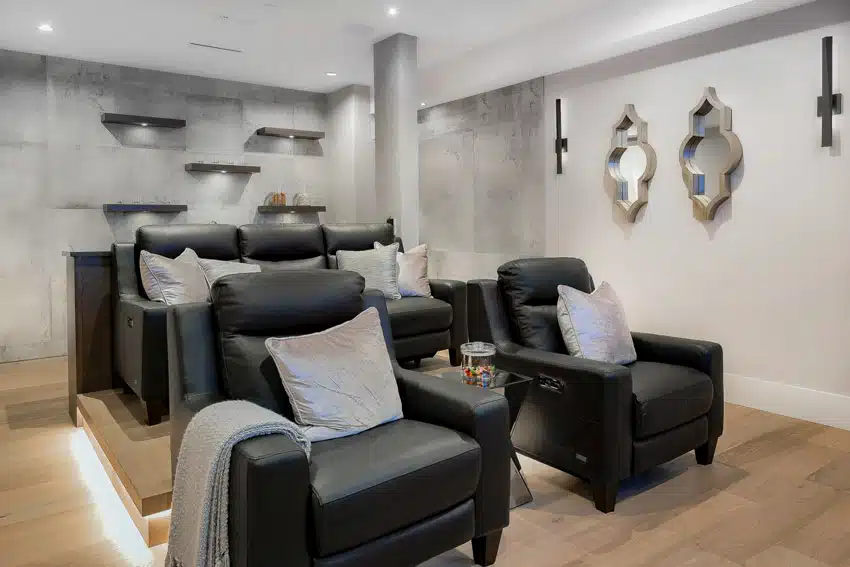 There are three major goals when designing your basement movie theater seating which are getting the optimal surround sound to work, a clear view from all seats, and comfort. When positioning seats, it is best to have them positioned at the center of the room.
This configuration allows you to have the best viewing experience from any of the seats. You can elevate the back seats and lower the backrests and provide deeper depths for the seats up front, which encourages people seated at the front row to get into a relaxed and lower seating position.
When thinking about your home cinema, you want to make sure that you and your guests are comfortably seated before the movie starts – The Ultimate Secret of Building a Home Cinema, Clarence Ball
Get adjustable or convertible dropdown seats to create a versatile seating configuration that can be adjusted to accommodate different groups of viewers. For instance, dropdown armrests can create a loveseat for couples, and the arms can be easily lifted when it's family or friends' movie time.
To get the best screen-to-seat viewing distance is to multiply your intended screen size by a factor of 1.5. A 150-inch screen, for example, will get you 225 inches or about 18 feet distance. More than comfort, choose seats that are easy to maintain and durable.
Couch recliners made from leather are the go-to material when it comes to home theaters due mainly to their elegant finish and durable material.
An alternative to leather is seats made from microfiber, which is hypoallergenic and soft to the touch, which makes seating for hours comfortable compared to leather.
Add Extra Features:
• Built-in wireless power outlets
• Theater chairs with headrests & lumbar seats
• Dropdown tables
• LED lighted cup holders
Basement Colors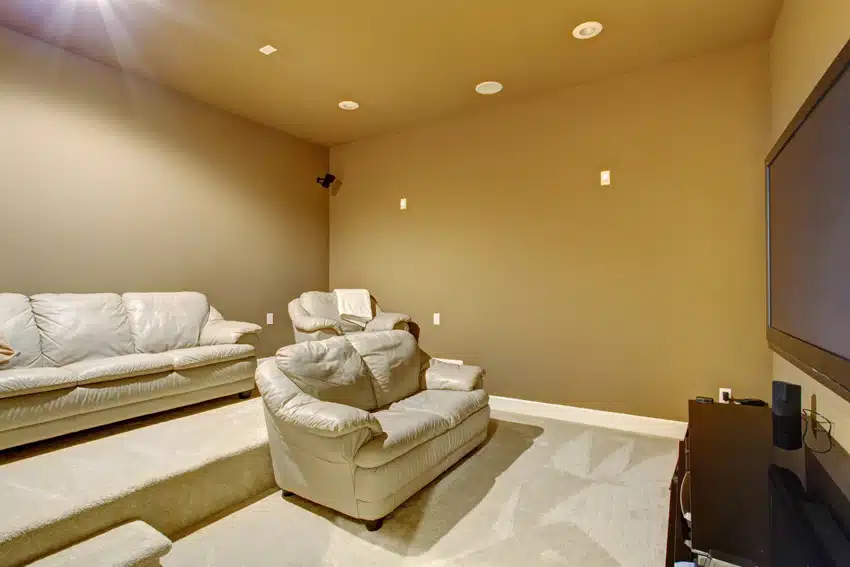 The paint colors for a home theater you choose affect the mood and ambiance of this space. Often, you'll observe commercial movie houses have dark and almost black colors in the ceiling and walls with limited accents, and elements such as emergency exits are backlit to be easily seen when the light are out.
So, the darker your walls are, the better, and with few distractions aside from the necessary safety signages, this makes you focus on what's on screen. Painting ceilings black can obscure unsightly wiring and other utilities; the color also makes a room look compact and cozy, and the high contrast against the brightness helps us focus more on the screen.
Aside from black, red is a favorite color for commercial theaters as it is the first color to disappear when lights are dimmed or turned off as it absorbs less light. Combining the black and red colors into your basement movie theater recreates that theater or movie house experience.
However, don't limit your color palette to the usual tones. Explore fresh color ideas for a modern home theater, such as burgundy, dark brown, gray, dark navy blue, and other paint shades.
Paint Choices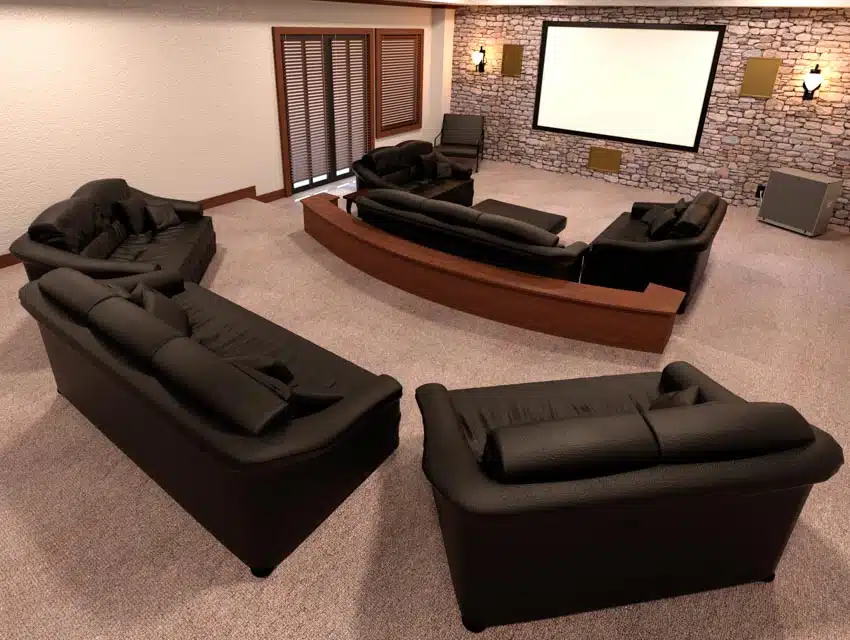 Since natural wood and drywall are typical materials used for the walls and ceilings, use enamel matte paints as enamel adheres to wood better. Avoid using glossy finishes to prevent glare.
When you want to further improve your acoustics use Acousti-Coat. The paint has sound-absorbing fillers that are meant to be painted for acoustical tiles, which further buff sound.
Are there colors to avoid? Light colors such as white, yellows, creams, or neon shades should be avoided as these colors are not only distracting but can create glare as light from the screen bounces off these colors.
Stay with earthy tones and nautical shades with lower LRV (Light Reflectance Value) if you want more color than black or gray in your home movie theater. Along with your lighting, the color temperature you choose can also affect the ambiance of your basement movie theater.
Basement Lighting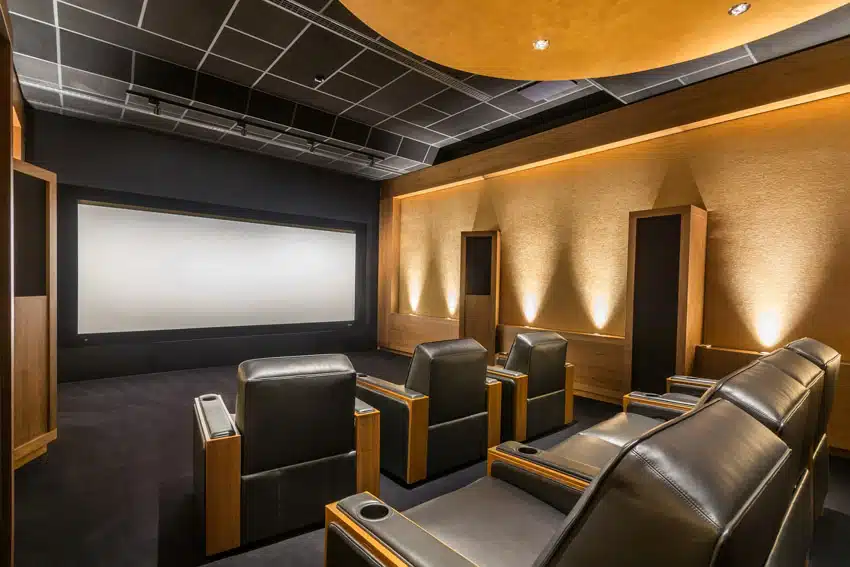 Often overlooked, lighting should be planned at the earliest stages of designing your basement movie theater to minimize changes or relocating of elements. The unique thing about theater lighting is that it reduces ambient light as much as possible to prevent glare and seeping light through the room.
Door jambs and basement windows should be shut tightly to prevent unwanted light from leaking through. But at the same time, there should be enough light during maintenance or when doing other activities in the room.
The theater lighting system composes of fixtures that are dedicated to performing one task, and others serve more than one task. Complete lighting control is essential in a theater lighting system is essential.
Recessed Lights: The recessed lighting fixture is perfect for task lighting since it has focused lights that serve the particular area in which it is positioned to.
You can wire each row with different circuits to have overall control of the recessed lights, where areas can be dimmed when not in use. This saves energy while reducing the number of fixtures for tasks.
Recessed lights can come with different beam angles; the narrower your beam angle, the more focused the light across. There are recessed lights that come with black rims, which will perfectly blend with your dark ceiling creating a seamless install.
Tip: Consider creating have centralized lighting system for better control of home theater lights.
Basement Design Cost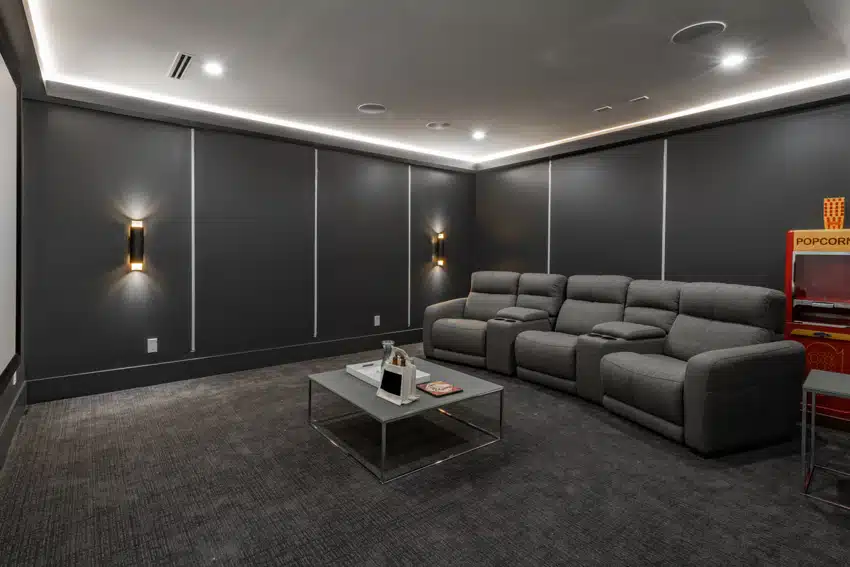 Designing a basement media room is similar to that of a regular cinema, where the primary considerations, such as acoustics and viewing experience, are replicated but on a smaller scale. Another consideration when designing a basement media room is the budget. How much are you willing to spend?
Finishing a basement which includes adding or removing walls, painting, cable management, type of acoustic setup, etc., are variables that will affect the costs. The size is a significant factor in a basement movie theater construction.
The average cost per square foot for building a basement movie theater is $50 to $250, where you are expected to pay $5,000 to $30,000 for the average-sized basement.
A good flatscreen TV makes it all worth it. The larger the TV, the better. Of course, there's also the added option for gaming consoles like PlayStation, Xbox, Nintendo Switch, a gaming PC in the corner, etc.
Sounds systems are not cheap, the audiophiles drool over these things. But if you are not that demanding when it comes to sound quality, you could opt for mid-level equipment.
Regardless of your preference, this is a factor to consider. The better the sound system, the better you can take advantage of your basement's acoustics. Depending on how many devices you have, you should be paying $2,000 to $15,000 for a full sound system basement renovation.

Basement Home Theater Ideas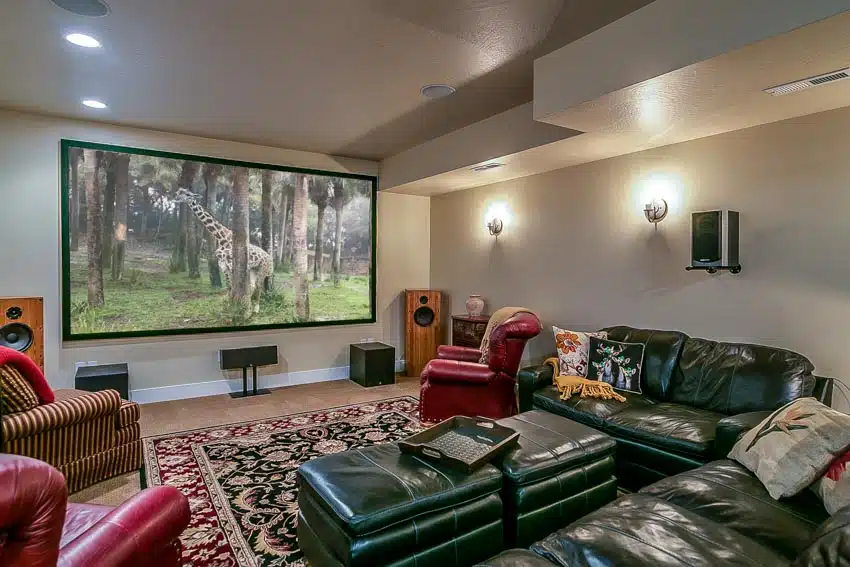 Watching movies at home that are close to that cinematic experience seems to be a dream for a lot of adults. According to research by Statista, a significant increase of adults 55% globally prefer home theaters compared to watching movies at commercial movie houses. Sourrce: Statista

If this is you then you may want to consider these incredible home theater design ideas for your basement.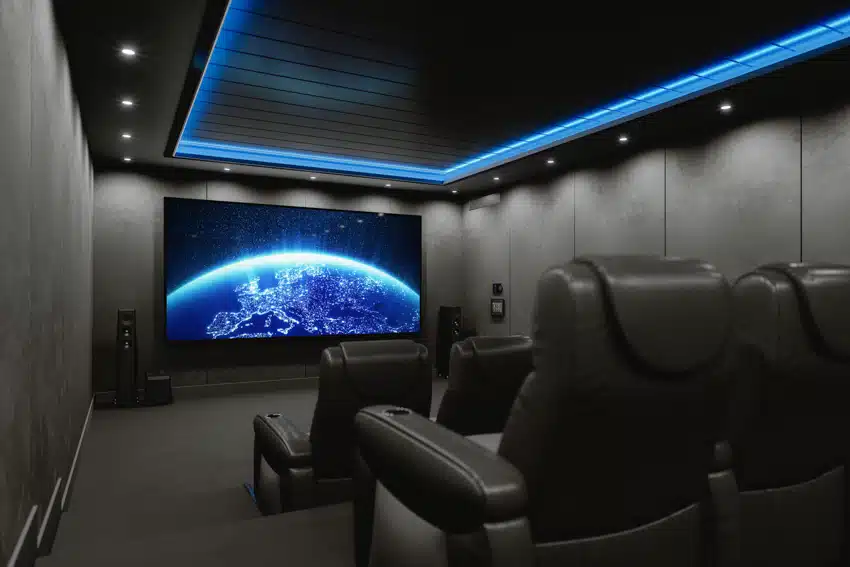 The darker the basement home theater, the better, as your eyes are drawn to the screen with no distractions. When there's limited head clearance, and you want a raised row of seats for your home theater, consider having a recessed ceiling.
This tray ceiling showcases horizontal panels of wood and cove light. The lighting installed at the ledges of your ceiling provides a dramatic look. You can also add dimmers to control the amount and color of the lights.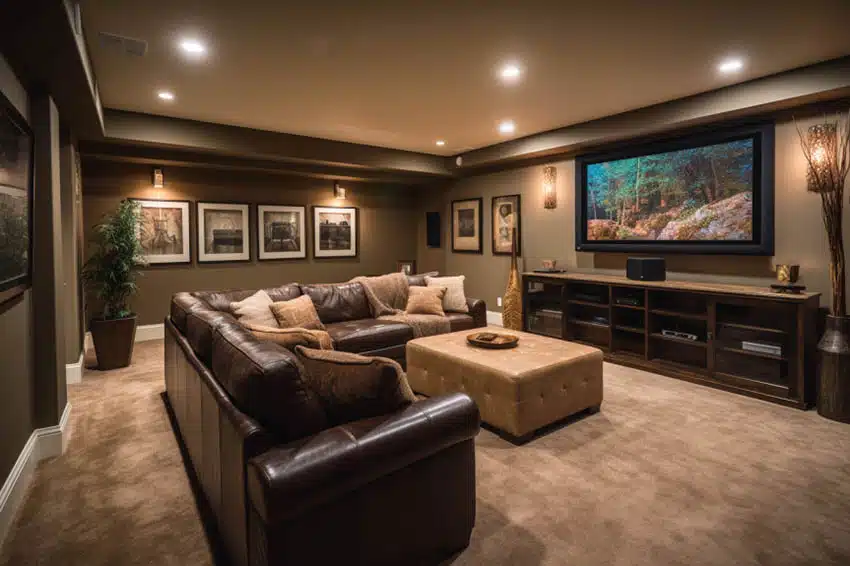 The large wall mounted flat screen is the focal point in this spacious basement movie room. Walls are painted in a rich brown to complement the luxurious leather sectional, decor pillows tan ottoman and artwork. Adding your favorite movie posters to the walls can give the space your own sense of style and character.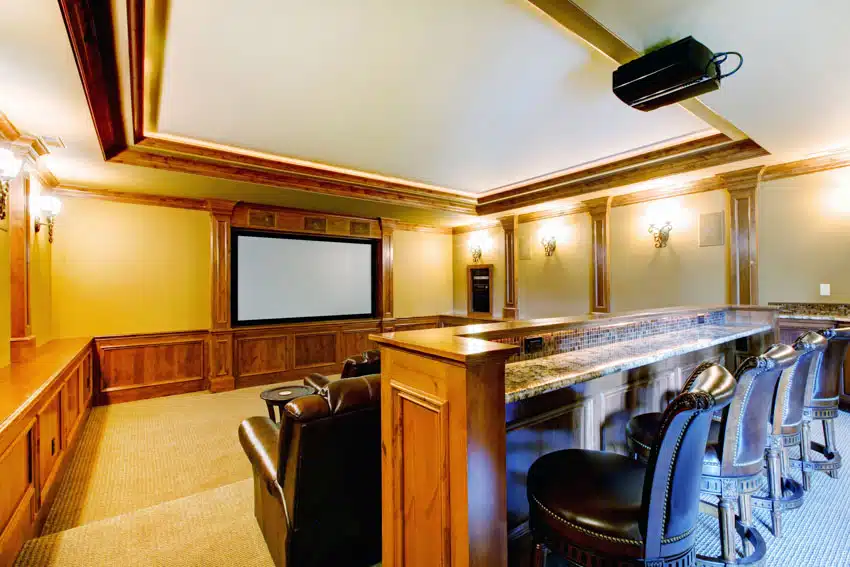 This gorgeous traditional home theater melds together vintage aesthetics and modern systems. The takeaway from this ensemble is the counter which is useful when you want to eat a full meal without spilling food on the couch.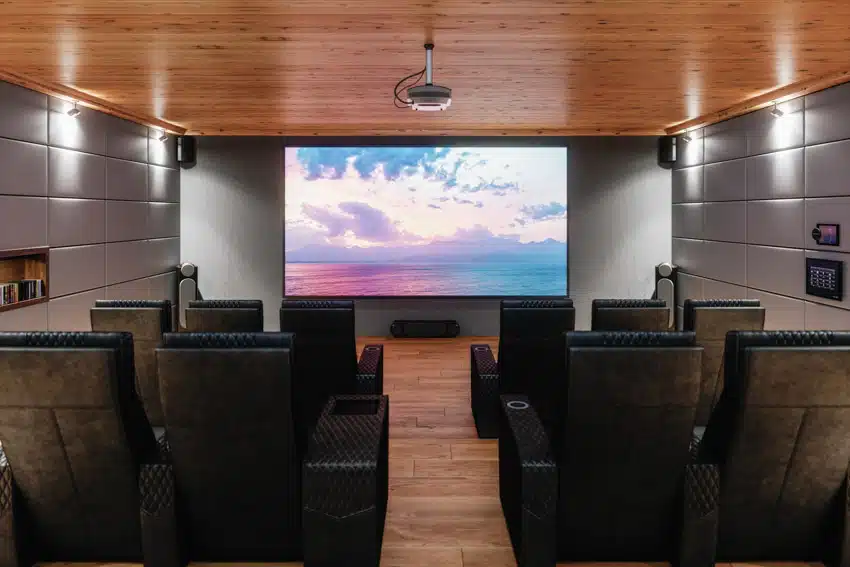 While monorail lighting is an excellent option for home theaters as it contributes to that modern and casual entertainment vibe, it is also one of the safer basement lighting ideas for home theaters as it has low voltage.
This means a lower risk of electrical shock. An alternative to monorail lighting is track lighting, but it has a higher voltage. Monorail has a voltage of 12 volts, while most track lights come with 120 voltage. Both are easily controlled with their intensity and direction of light.
Angling the seats allows watchers to have a good perspective of the screen. However, when positioning home theater seats angle them not more than 35 degrees to prevent neck strain.
This home theater employs natural materials and earthy tones, creating a relaxed and casual ambiance. The curved wooden pew at the back of the front row is a nice touch to the seating area and provides extra seats and can also serve as a place to leave drinks or food while watching.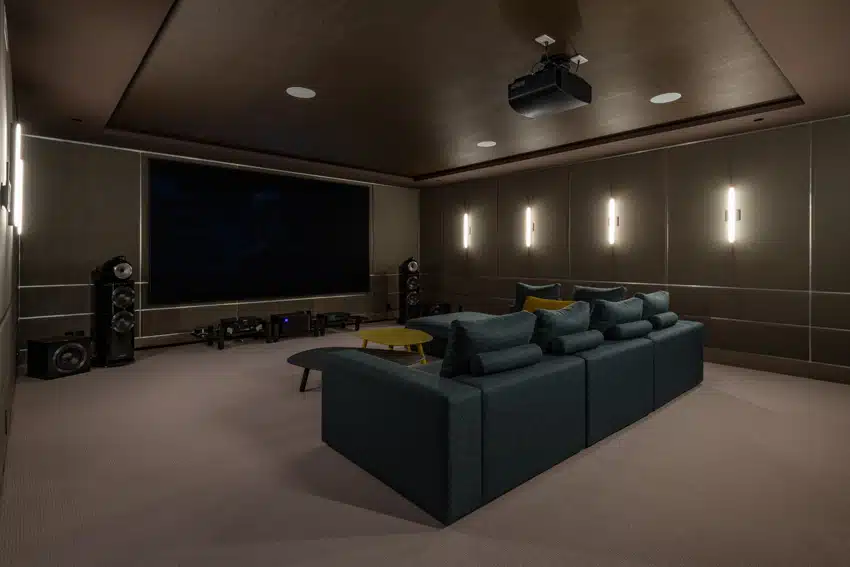 Along with warm color, subtle textured finishes can help a home theater look more welcoming, even when aiming for a simple and minimalist look.
A pop of vibrant colors, such as yellow, can be incorporated into your home theater as long as it doesn't cover a large surface to prevent glare when viewing.
Minimal accents, such as the metal strips, make the room look more polished and zones out areas making the expansive room look cozy.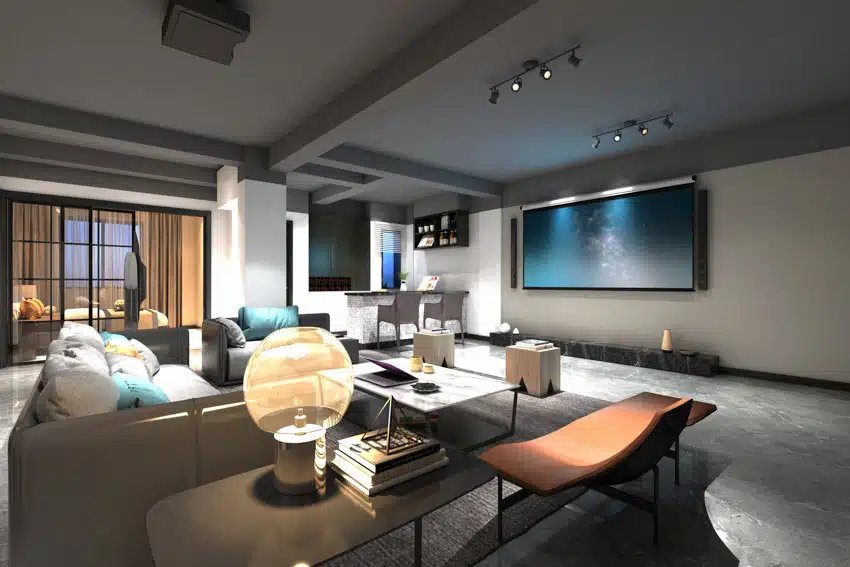 A contemporary basement movie theater design that incorporates a layer of gray coloring and simple silhouettes in furniture.
The stone floor grounds the area while allowing other elements to stand out but with a luxurious backdrop. Track lighting or monorail lighting is excellent for controlling lighting in different areas of the house.
See more related interior design layouts in our article about the best modern basement ideas on this page.