See the best paint colors for a home theater including different ideas, options, paint color picks, and the ideal background for TV's and movie screens.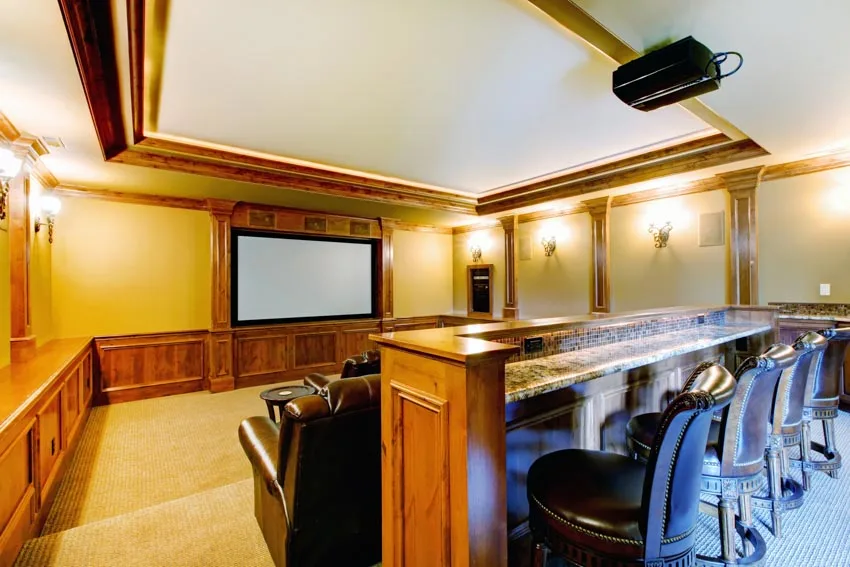 A home theater can be a great way for friends and family to get together for fun and relaxation. One of the ways to maximize your enjoyment is by having the right color scheme. Choosing the right paint colors can enhance the rooms ambiance, and even promote a better viewing experience.
Best Paint Colors For Theater Room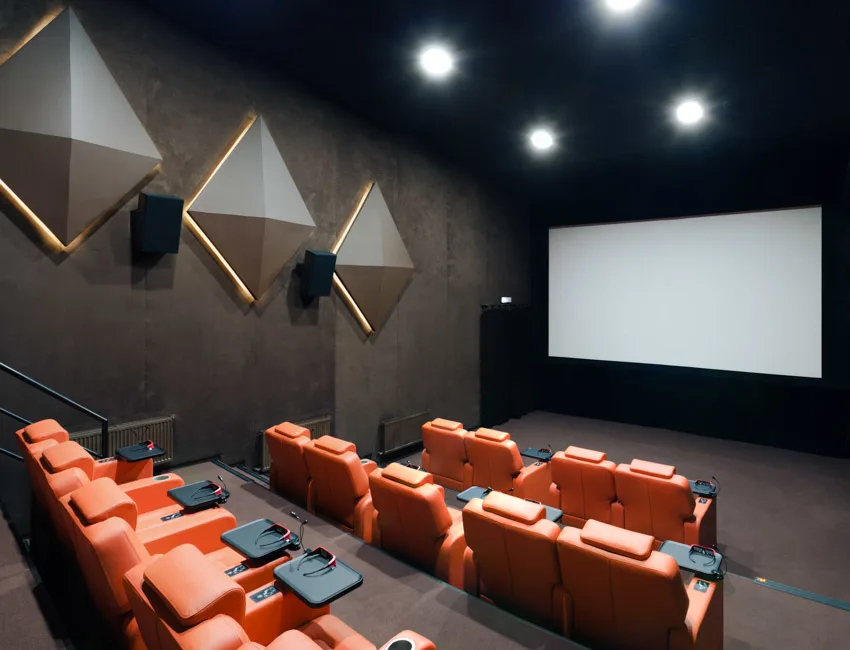 The best paint color for a home theater is generally dark matte colors ranging from brown-gray to black with strategic lighting. These dark colors contrast the projected screen, allowing viewers to see the images clearly and preventing glare and sheen from light bouncing to and from surfaces.
When choosing colors, consider the style and theme you are going for, as room color equates to the atmosphere. Warmer colors such as dark brown or burgundy make a room cozier. Meanwhile, gray and black are among the home theater wall colors that give off a cooler, more sophisticated modern look.
Home Theater Paint Ideas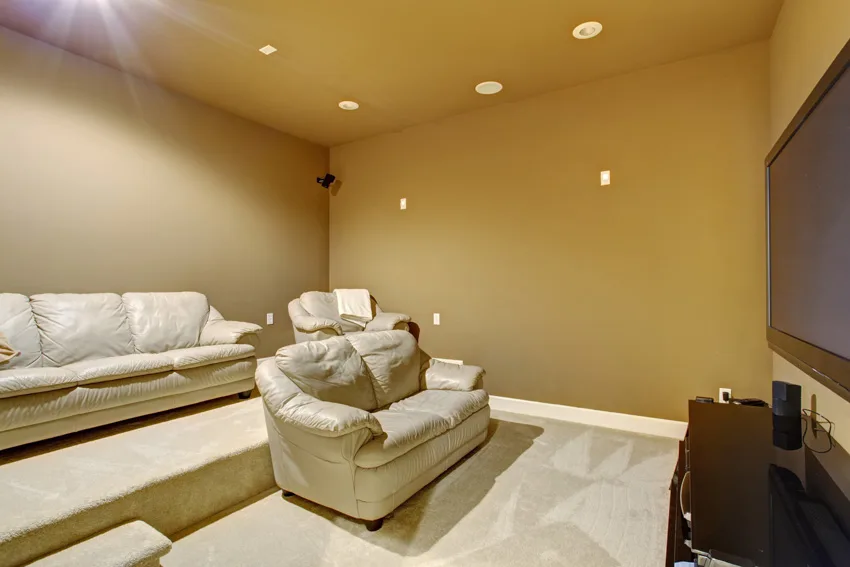 Here we share the different paint ideas for home theaters.
Dark Blue Dark Night SW 6237
LRV (Light Reflectance Value) – 4%: Whether you have a small or large home theater, this cool dark blue, green tinge is an excellent choice for a modern and simple home theater with a naval theme.
Either paint your home theater purely with the Dark Night SW 6237 color or combine it with accent colors such as Warm Stone SW 7032 and Peppercorn SW 7674.
Dark Blue Anchors Aweigh (SW 9179)
LRV (Light Reflectance Value) – 3.02%: Nautical colors are a popular choice for home theaters. It breaks away from the traditional colors black and burgundy of commercial theaters but makes sure to choose the darkest shade possible.
Anchors Aweigh SW 9179 is another darker nautical shade that matches great with white or brown furniture. If you want to add a warmer touch to your blue theater, choose velvet or leather brown reclining seats to balance the look.
Black Federal Standard (27038)
LRV (Light Reflectance Value) – 2.6%: With a low LRV rating, this is an excellent choice for any home theater design. The Federal Standard 27038 is close to dark gray shades with a tinge of blue and green colors.
It works with most home theater dimensions, especially for small areas, as it keeps to room feeling open and relatively feeling light. A close alternative to Federal Standard 27038 is Farrow & Ball Off-Black 57, which has the same dramatic and easy-on-the-eyes quality.

Tricorn Black (SW 6258)
LRV (Light Reflectance Value) – 2.8-3%: If you want to have a home theater paint color that goes with other colors of your furniture, carpet, and ceiling, the Tricorn Black SW 6258 is a safe choice since it has no visible undertones. In addition, the deep black is an excellent contrast and a stunning color that makes your focal point (your media screen) stand out.

Black Fox (SW 7020)
LRV (Light Reflectance Value) – 8%: The Black Fox SW 7020 boasts a rich brown undertone that's perfect for homeowners looking for a paint color for their home theater that leans more towards a warmer hue.
Another great thing about the medium-dark tone is that it still gives a modern vibe while retaining a cozy atmosphere. The Black Fox SW 7020 is also great for small home theaters as it opens up the space with its lighter tone.
Gray Behr's Graphic Charcoal (N500-6)
LRV (Light Reflectance Value) – 8%: Another less distracting paint option for your home theater is a color under the gray range. Like black, gray is a neutral hue that's excellent in pairing with other colors. Still, unlike black, it is not visually overwhelming, making it possible to match with other colors and apply to a larger area.
Burgundy

Arresting Auburn (SW 6034)
LRV (Light Reflectance Value) – 6.7%: Burgundy is a familiar hue that most of us associate with the traditional movie house and theater. The deep dark red can exude a feeling of luxury for any home theater but can be challenging when it comes to lighting and combining them with other colors.
The best strategy is to have a well-thought lighting design to prevent glare and other viewing issues from achieving a mood. Red Theatre (SW 7584)
LRV (Light Reflectance Value) – 5.89%: The pale red is a perfect home theater paint if you're looking for a more traditional and livelier color tone. Choose a matte or eggshell finish to prevent reflections while still achieving a sober atmosphere for your home theater. You can match with SW 7070 Site White, SW 7074 Software, and SW 7012 Creamy as your accents.
Why Are Media Rooms Painted Dark?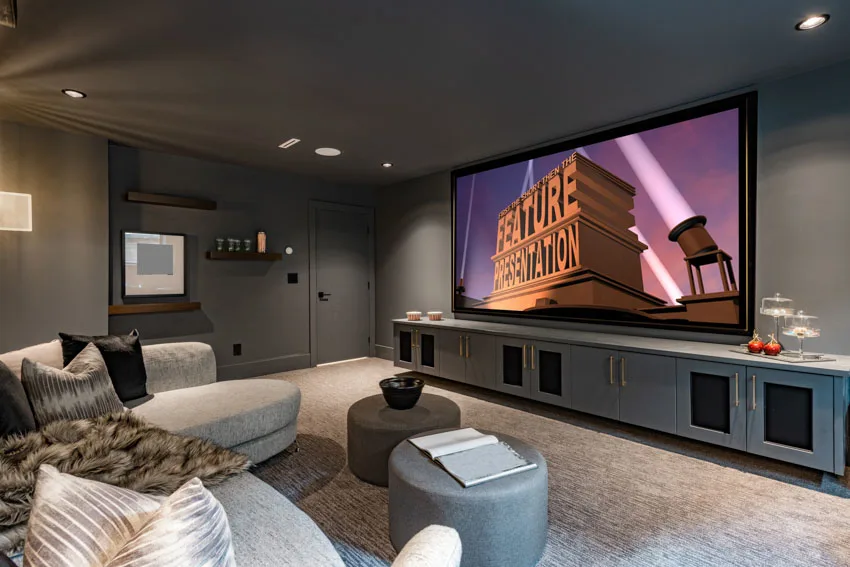 Media rooms are painted dark to minimize light reflections and allow the media screen to pop out from the contrasting backdrop. When choosing the paint, avoid glossy finishes. Opt instead for a flat finish that doesn't reflect light.
Take note though you can choose to have your screen's backdrop as the only area with a dark color and choose another tone for your walls and ceiling. Make sure that proper colors and the types of lighting fixtures are used to complement your darker hue while not causing any visual discomfort.
Ceiling paint should also be considered. The best strategy is to paint your ceiling the same color as your home theater walls to prevent reflection and glare and maintain the screen's true colors.
What Is The Best Background Color For TV?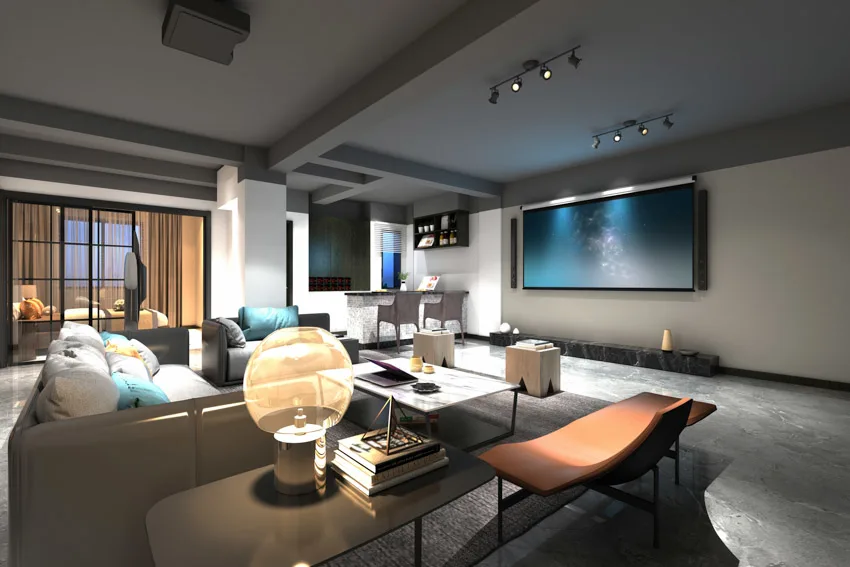 Neutral colors are best for achieving accurate colors for your screen. You can also choose deep dark shades to mid-tone grays and browns to prevent strain on your eyes and get the best viewing experience.
Black is another excellent choice and creates the best contrast from your screen, but the heavy color can make a room look heavy and oppressive to some people. Use other lighter colors to subdue and accentuate your home theater to mitigate this.
Read more about our guide on the incredible home theater design ideas and decor here.