Here's the best types of laundry room countertops including stone, solid surface, butcher block, and laminate countertops as well as DIY ideas for the cheapest laundry room countertop options.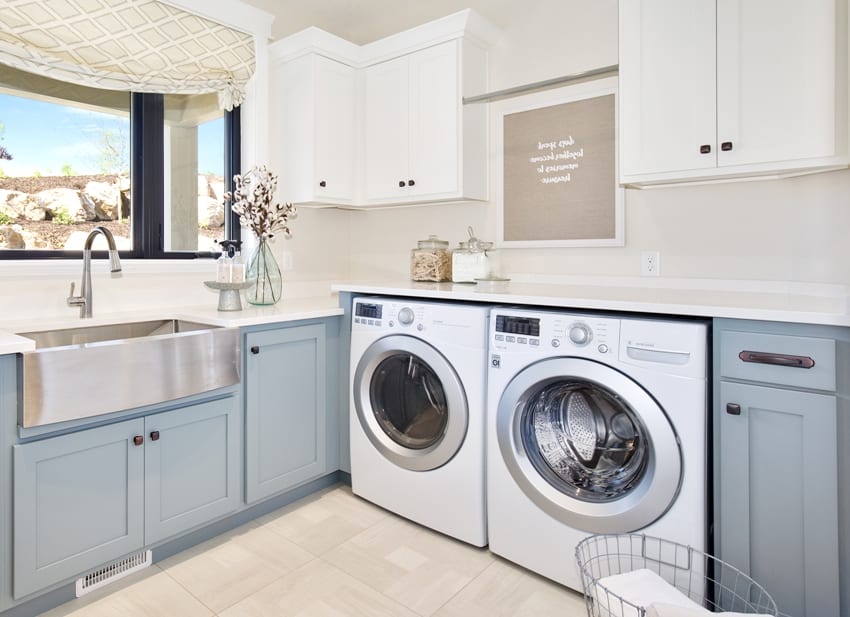 There are a few areas in the home that get a lot of action and require a lot of attention when it comes to organization and foot traffic. One of these spaces is definitely your laundry room area.
A well laid out laundry room where you have a dedicated space to treat stains on, fold clothes on, hang your clothes to dry, and even do a little bit of light ironing could make all the difference in your laundry handling experience and this is where countertops come in handy.
Types Of Laundry Room Countertops
Here's our list of what the different countertops are so you can pick the one that works best for you and your home.
Stone Countertops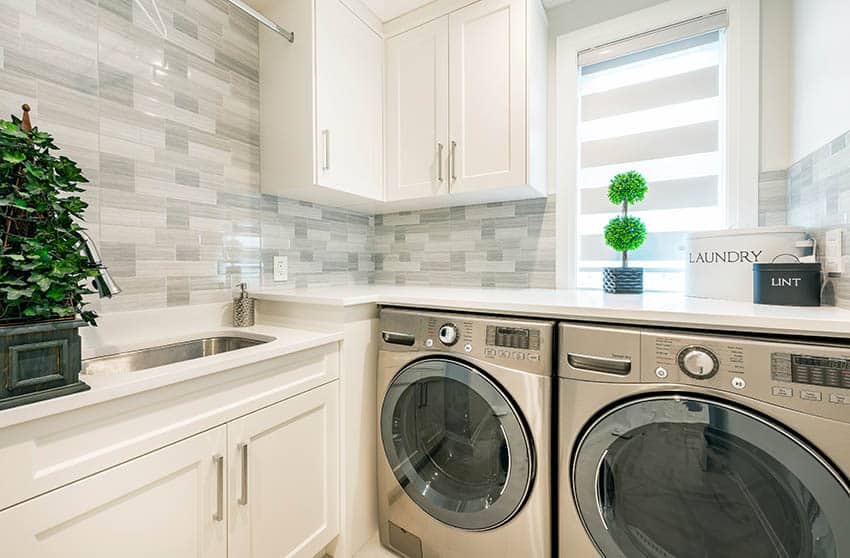 Stone countertops make for great options as laundry room countertops because they can work well with clothing. This material is mainly seam-free, flat, and most importantly, smooth.
It won't snag or get in the way of even the most delicate fabrics you have when you have to fold or iron them on the surface.
These countertops can also be extremely durable. Although stone countertops like granite or quartz usually come up as materials that are used for kitchen counters, they can be quite useful in the laundry room as well.
To start off, it has immense aesthetic value. Stone countertops in your laundry room can completely transform the space and make it look inviting and less boring. We get it, laundry rooms don't really get a lot of visitors but think of this as more of a personal type of satisfaction.
Depending on your stone of choice, they can have marbling and can come in a variety of different colors. You can definitely customize the kind of stone countertop you're planning to get for your laundry room so that it complements the rest of the other colors and ultimately, the look and vibe of the entire space.
You can use it as a dedicated space for folding, among other things. You'll be spending a lot of time in your laundry room, at times daily, and making sure that you have a space that you can aesthetically enjoy makes all the difference in the world.
Solid Surface Countertops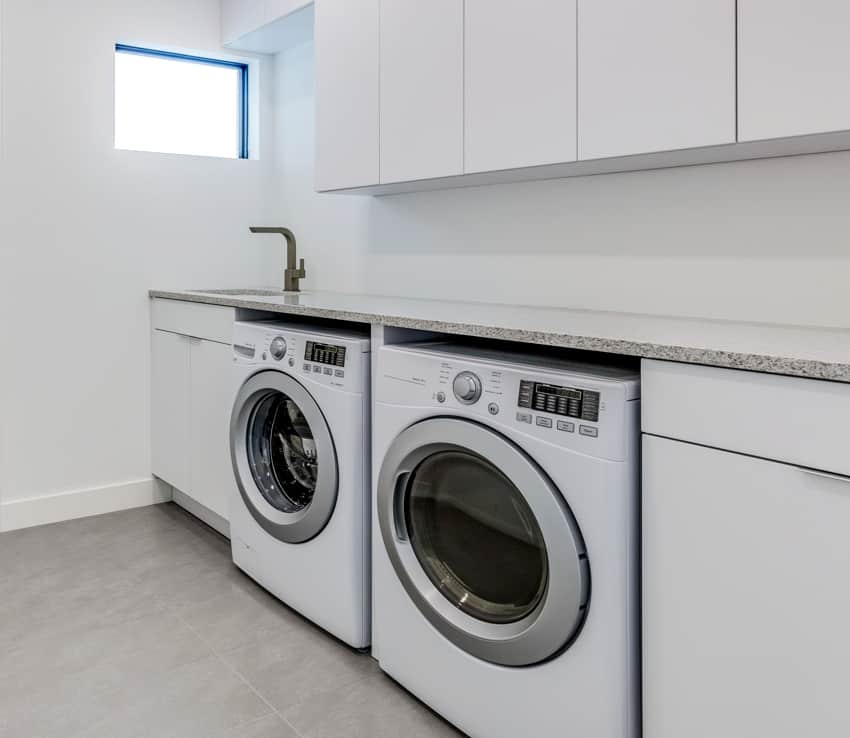 Solid surface countertops have been around for over half a century now and to this day, they continue to be a staple in bathrooms, kitchens, and yes, even in laundry rooms. They place somewhere on the mid-range level of the pricing wheel so if you're on a bit of a budget, this can work for you.
Visually, it can't really compete with the aesthetics of real stone countertops but they are definitely a huge upgrade compared to the laminate ones.
The idea behind solid surface countertops is to have a solid material that is just like stone but isn't as porous. Stone countertops often run the risk of cracking or breaking because of its main material composition but solid surface countertops have the advantage of being far more durable.
It's great to use for the laundry area because it's a space that's usually prone to wear and tear and in the event that you do get a few scratches in, you can easily repair it just by sanding it down.
Butcher Block Countertop Laundry Room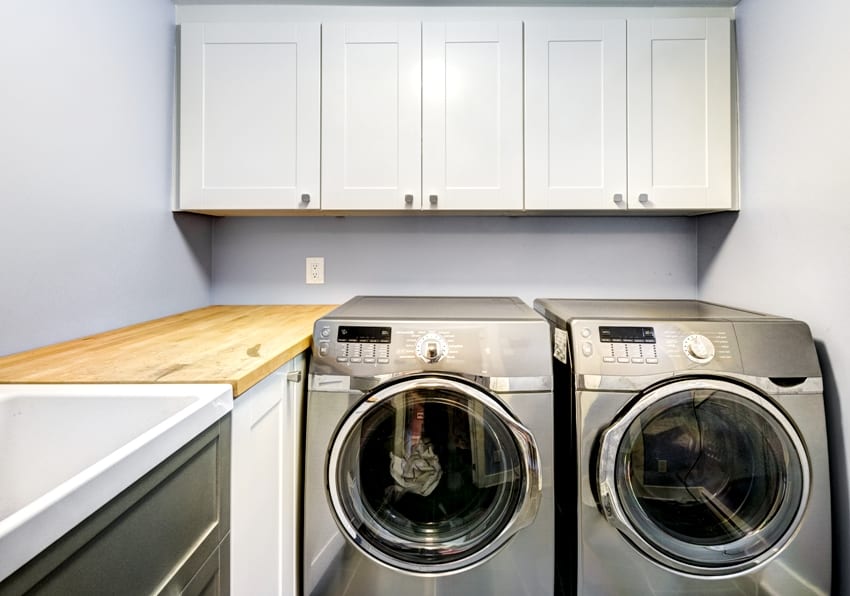 A butcher block countertop is basically composed of individual wooden strips that have been joined together to form a sleek and solid base or slab.
It is quite a trendy material to have in the kitchen countertops but it can also be a great option to go for if you are planning to update your laundry room area. Its aesthetics are that of a rustic, farmhouse vibe that has warm undertones and it can liven up the space with its subtle pop of earthy color.
It is one of the most affordable options out there for countertops so if you want to update your laundry room without burning a hole in your pockets, this is something worth considering. If you want to save even more money, what's great about this countertop is that professional installation isn't really a must.
You can definitely opt to do it yourself. It really isn't that hard to get this installed. You will need to cut the material according to the specific measurements that you need, and cut into the spaces with a circular saw should you need holes for sinks and other laundry room elements.
You can also keep a butcher block countertop clean and shiny with nothing but the most basic home cleaners and polishes so cleanup is a breeze with this material in the laundry room!
Laminate Countertops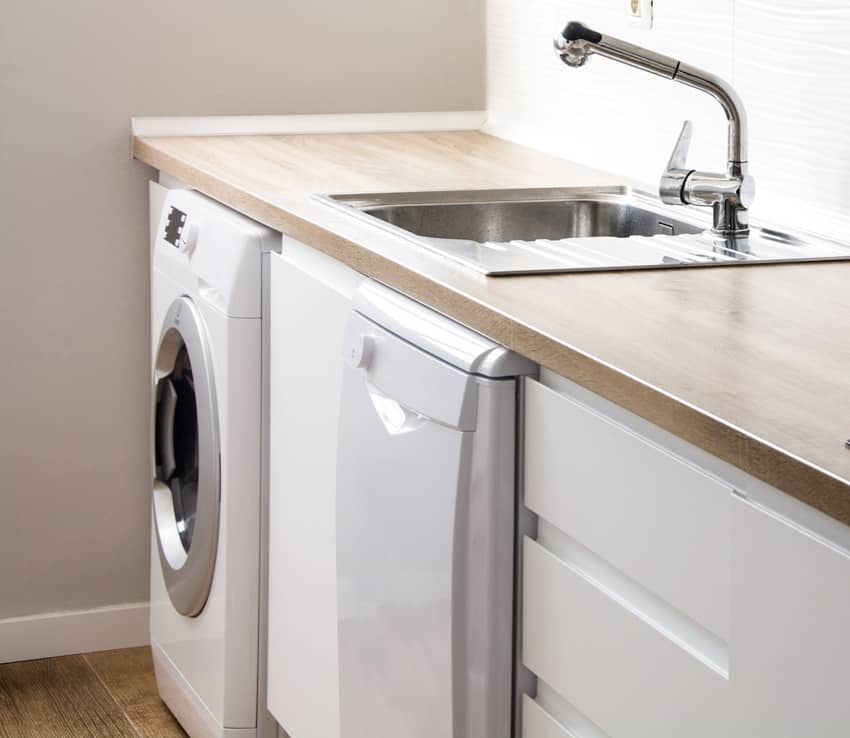 The surface area of laminate countertops is ideally seamless and extremely smooth. It can definitely work well if the intent is to use it for sorting out or folding your clothes in the laundry room.
It is also available in a wide range of colors and different finishes so in terms of aesthetic flexibility, it can be top notch. They can be a wise choice to opt for if you are planning to remodel your laundry room on a budget because they don't cost much and it would be fair to claim that laminates are the cheapest materials available for countertops.
A word of caution though, these might not be as durable as the other countertop materials. They can peel and flake and it wouldn't be advisable for you to use hot iron on this surface as it would melt out the laminate.
Its colors may fade over time but if you're OK with the occasional replacement every 5 years or more of hard use, then this shouldn't be that much of a problem.
DIY Laundry Room Countertop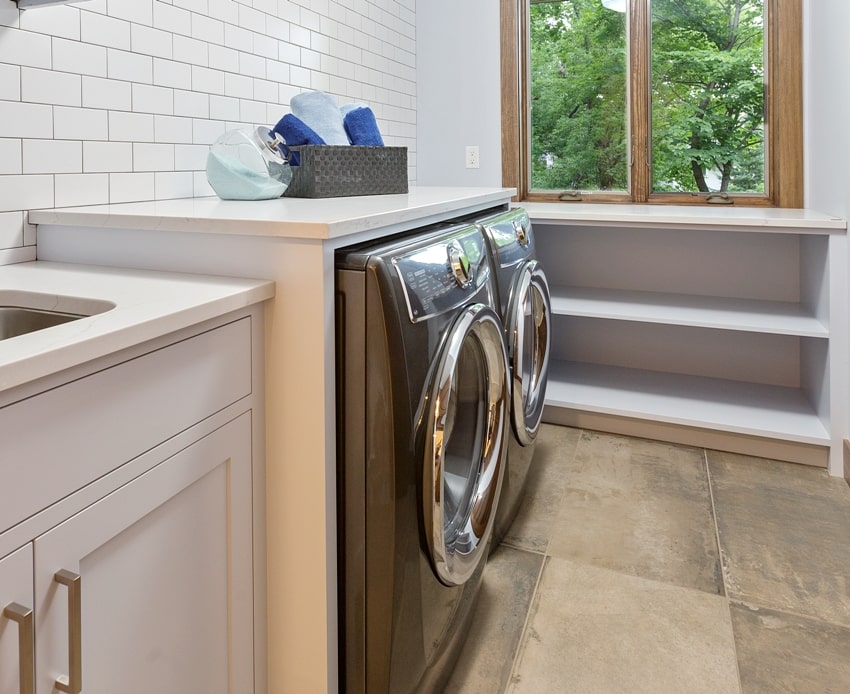 A laundry room countertop is oftentimes an integral part of the entire space. If you don't have the budget for a professional remodel, thankfully, with a few handy skills, this is something that you can definitely opt to do yourself.
You are going to need wood pieces cut out to the specific measurements of the space that you're planning to install your laundry room countertop on, some drywall anchors, assorted screws, a stud finder, a drill, and a level to make sure that everything is even and installed at the proper height.
A level also ensures that your laundry room countertop isn't askew or asymmetrical. An optional material to go for would be a wood stain or paint of your choice. See the best laundry room paint colors here.
Pay attention to the depth of your washer and dryer set. Not all pairs come with the same height and you might want to go for a level for your countertop that accommodates both of them. Measure out the height of your highest set and add an inch or two for your actual countertop space.
Best Countertop For Laundry Room
Considering all of the options available, what we feel will make the best countertops would be the laminate and solid surface types. This is factoring in the aesthetics, cost flexibility, availability, and durability.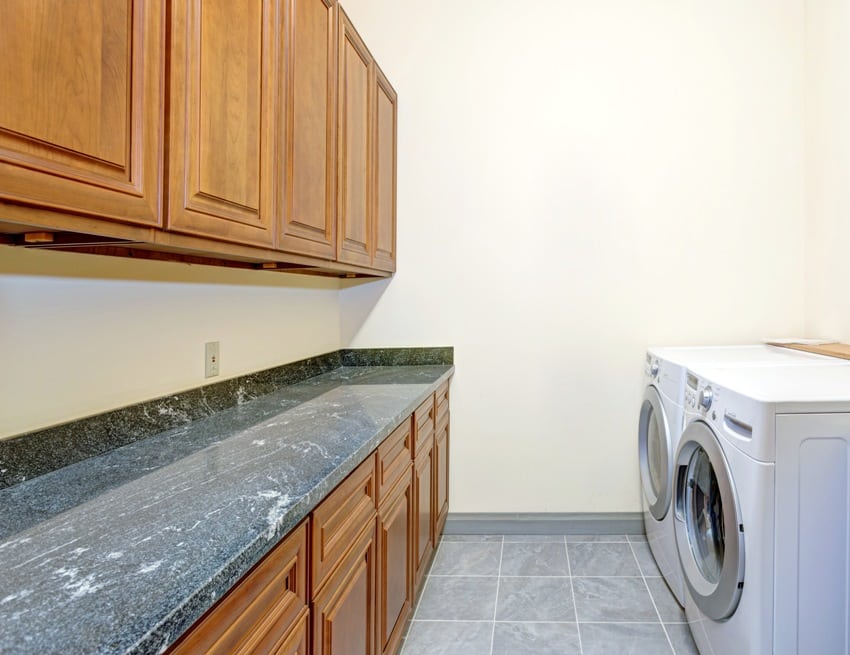 Of course, if you have a premium home, it would be in your best judgment to upgrade to more premium materials as well such as quartz countertops but for the average home, laminate and solid surface countertops will work perfectly.

Inexpensive Laundry Room Countertop
As we've discussed, the cheapest laundry room countertop option is the laminate countertop. It ranges at around $10 to $30 per square foot and is quite a far cry from say, a stone countertop, which can be easily at $50 to $100 or even more.
For more related designs visit our gallery of laundry room flooring.