Here we've listed out the best laundry room paint colors to give you the cleanest and most organized mood that could turn your chore into a more relaxing activity.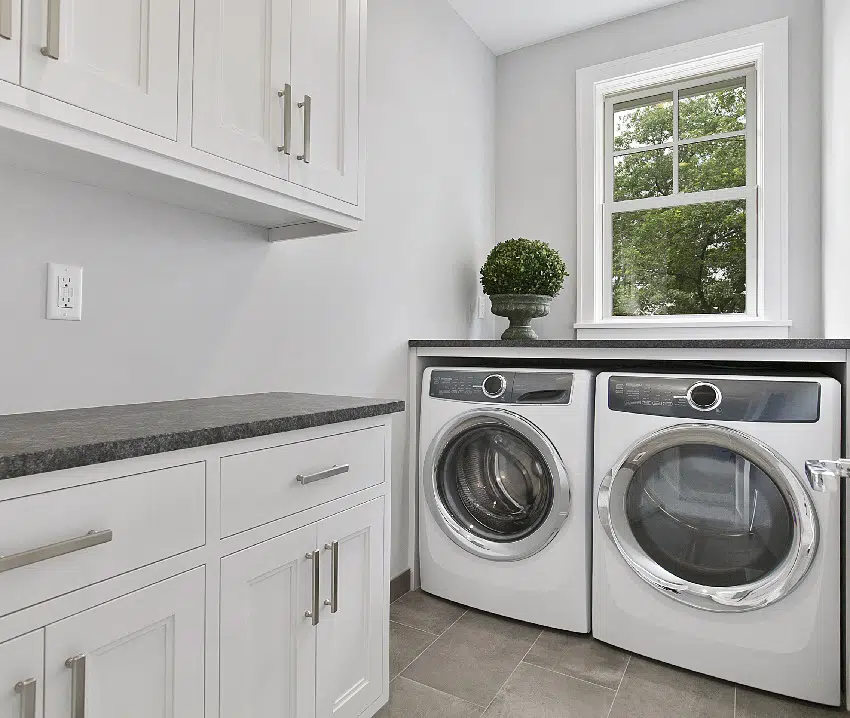 Laundry day isn't something a lot of us look forward to, since washing, drying, and folding heaps of clothes can be arduous. However, having a pleasing room to do your laundry can certainly turn "chore" into "sure!" Fortunately, a good choice of paint color can make all the difference.
Laundry Room Paint Colors
The laundry room is undoubtedly an essential space in your home, but it is often overlooked when it comes to house decorating.
While not as cozy as the bedroom or as lively as the dining room, it doesn't mean this utility room should remain plain and bland – and painting your laundry room is one of the most affordable ways to upgrade it.

Recommended color palettes:
Pastels, neutrals, and moody hues, with complementary colors depending on the undertone

Pairs best with: Similar neutral colors, sleek black or white appliances, wood accents

The mood of the room: It can range from soothing to energizing, but all the while should have maintained a fresh and clean appearance

Where to paint: Laundry room's walls and cabinetry
Laundry Room Color Ideas
Everybody will always have a different way of doing things – including how to spend the day finishing chores. So, you may want to paint your laundry room a certain color that reflects the mood you want – or need – on a busy day.
For instance, many people want to feel energized around a place to get their chores done. Others prefer a more soothing atmosphere that can help them stay mentally focused on a task.
At the end of the day, it's all about turning laundry day into a more pleasurable activity.
In this regard, here are some of the best laundry room color ideas that will make you look forward to washday.
Crisp White
Airy and light, painting your room white is a no-fail choice. It is clean as a laundry room should be, and versatile enough to blend with secondary colors from any furniture or appliance.
Nonetheless, it creates an attractive visual contrast when paired with black washers and dryers.
Modern Grey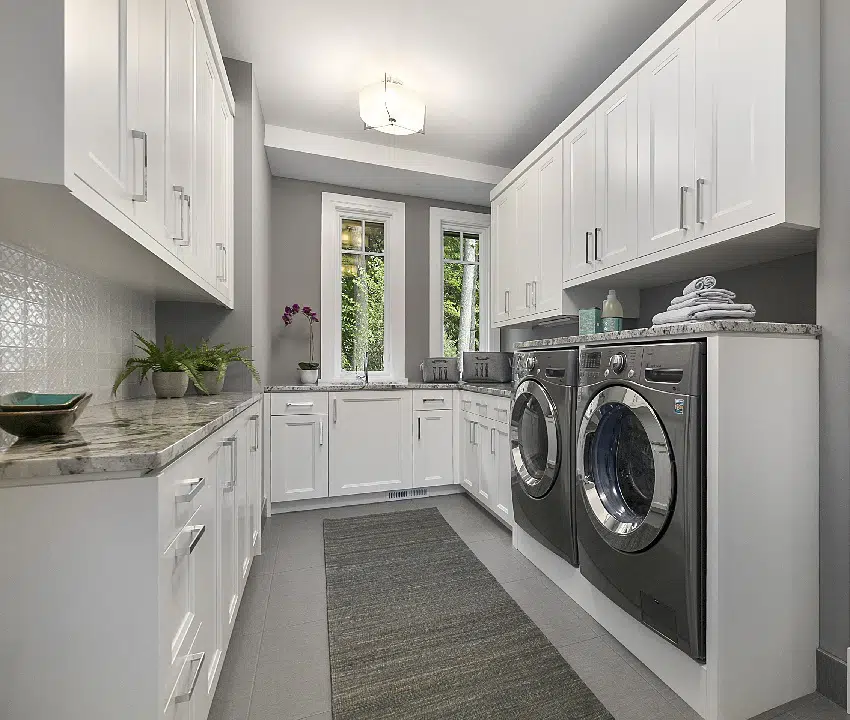 Grey paint is an alternative to white when you want a simple and classy finish. This color has been increasingly popular in the past few years, especially with the trend of minimalism.
It blends perfectly with similar neutral colors, as well as some blues and yellows.

Beautiful Beige
Beige adds a little warmth to the room, but not too much to impose a dark mood. It's the lighter shades of brown, red, orange, and yellow, and others look brighter and complements a wider range of colors. As a warm neutral, beige can be a great transitional color between rooms.
Pastels and Muted Colors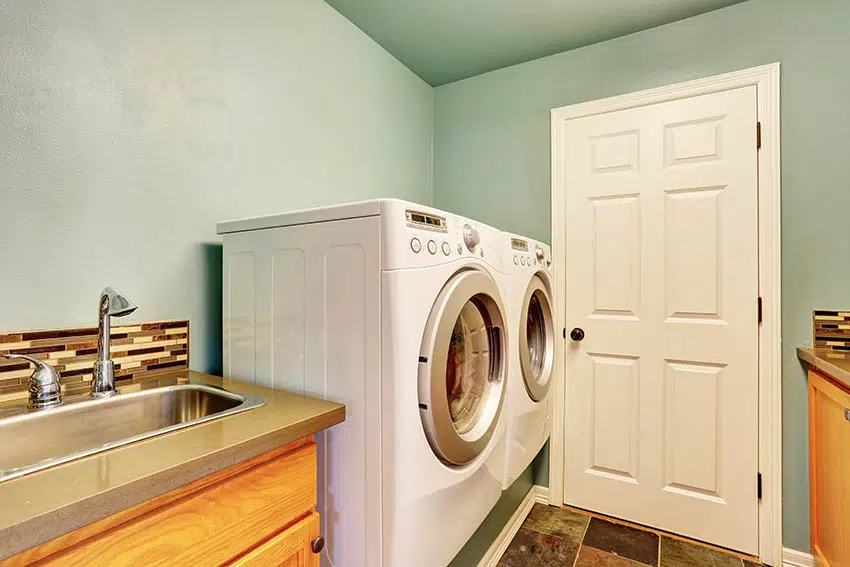 The laundry room is a perfect space to experiment with colors other than safe neutrals. Hence, you can add more personality to your room with pastel and muted colors as these colors add more energy to your space without overwhelming it.
Try shades of sage, pink, yellow, cornflower, and mint green paired with cool neutrals to make your laundry room look livelier and more inviting.
Blues and Aquas
Shades of blue always make a room look refreshing, and refreshed is what we want to feel while we work on batches of clothes and linens. Bright, clean, and fresh, blue or aqua paint gives you a calm feeling and lifts your mood.
Choosing Laundry Room Wall Colors
When styling your laundry room, one of the most important parts to consider is the color of the walls. After all, they comprise a significant area of the room.
Primarily, the walls should be a shade that's timeless yet interesting so it's not tiring to see, especially when your washday is a couple or more times a week.
At the same time, the laundry room's colors should blend well with your appliances, furniture, and the rest of the house.
Here are a few tips from designers on how to choose a wall color for the laundry room.
Monochromatic
There are so many wonderful colors and you're probably unsure which one to choose. One option is to pull colors from the flooring, woodwork, or countertops and paint the walls a lighter or darker tone from that color.
Back to Basics
Similarly, you can choose no-fail neutral colors like white, grey, and beige that blend beautifully with almost all shades and hues.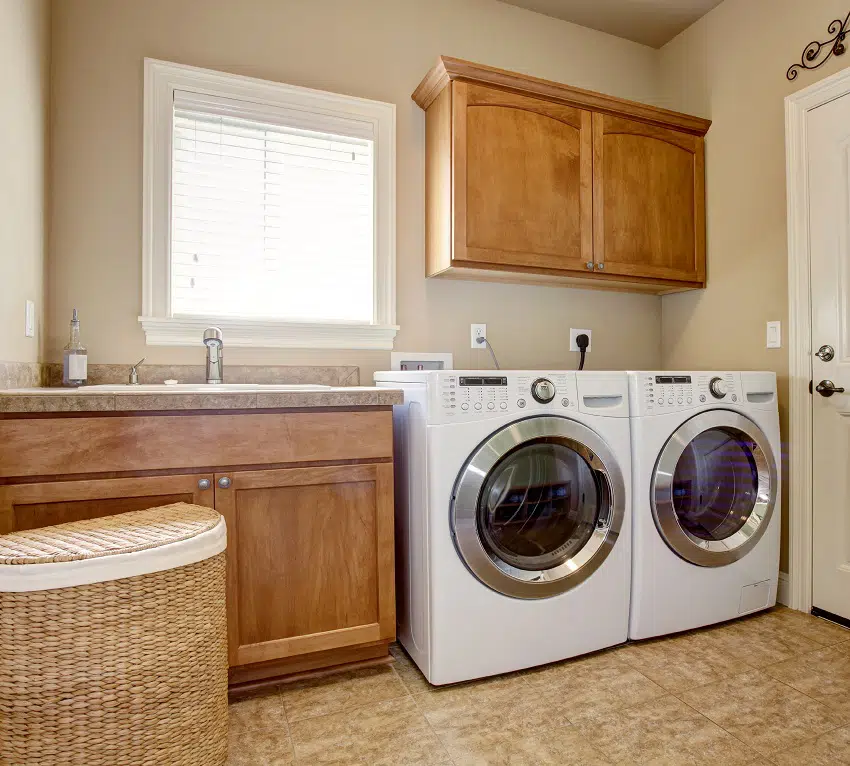 Best Paint Color for Laundry Room
The best-recommended paint color for laundry rooms includes neutral, pastel, and moody colors. Hopefully, the tips and color ideas above can help you choose a suitable wall color for your laundry room.
Don't forget you can have different colors for different sides, and nobody's stopping you from choosing out-of-the-box colors, too!
What Type of Laundry Room Paint To Use
The laundry area is a room with high moisture, and semi-gloss paint is most often used on all parts. However, the right type of paint to use actually depends on a few more factors.
Small laundry rooms and rooms without ventilation are more prone to humidity and moisture. Thus, semi-gloss to high-gloss paint is required.
Well-ventilated rooms, on the other hand, can accept matte, eggshell, and satin paint.
Larger laundry rooms can accommodate more paint finishes. The walls nearest the washer and dryer are best finished with semi-gloss paint, while farther areas, including accents, can be painted with an eggshell, matte, or satin paint.
What Are the Best Colors for a Small Laundry Room?
Laundry rooms are usually around 35 square feet, including built-in cabinetry, countertops, washer, and dryer. More or less, it looks cramped and unpleasant to work in if not decorated properly.
Fortunately, you can make this small room appear more spacious with the right paint colors.
White walls give the illusion of a larger space, as well as cool tones like grey, green, and blue. A blend of aqua, tan, and white paint creates an airy and light atmosphere that will remind you of the beach, while light greens, browns, and splashes of yellow evoke an open field.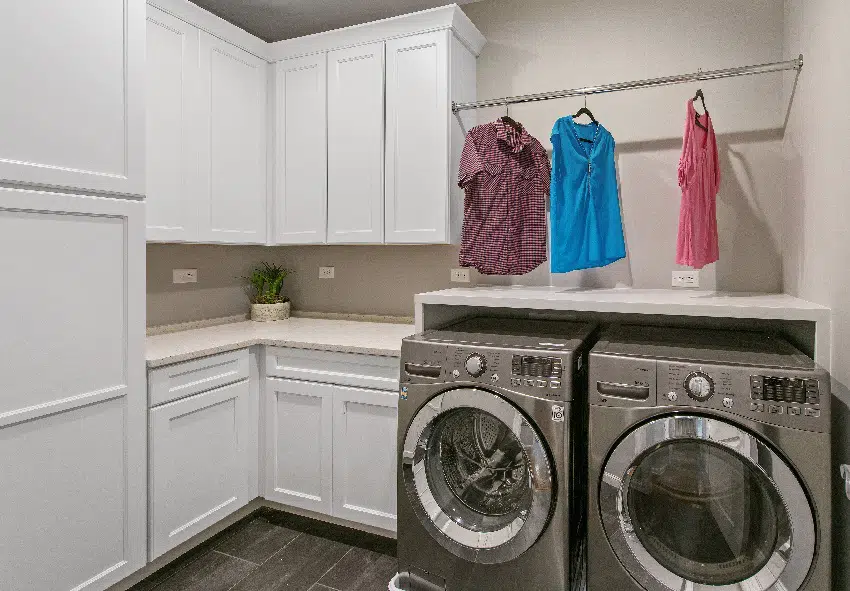 What Color Should I Paint My Laundry Room With No Windows?
If you're painting a laundry room with no windows, designers recommend using lighter colors with a high-gloss sheen. These types of paint can help mimic the effects of natural light and make the room look brighter.
Furthermore, it is best to avoid pure white color, although it is often believed to have the same effect. Pure white works best with naturally lit rooms, but can make a windowless room look bland.
Visit this page for more related laundry room paint colors and design ideas.