Read on to find out a collection of sunroom flooring ideas that are perfect for every season and which will surely cater to your taste.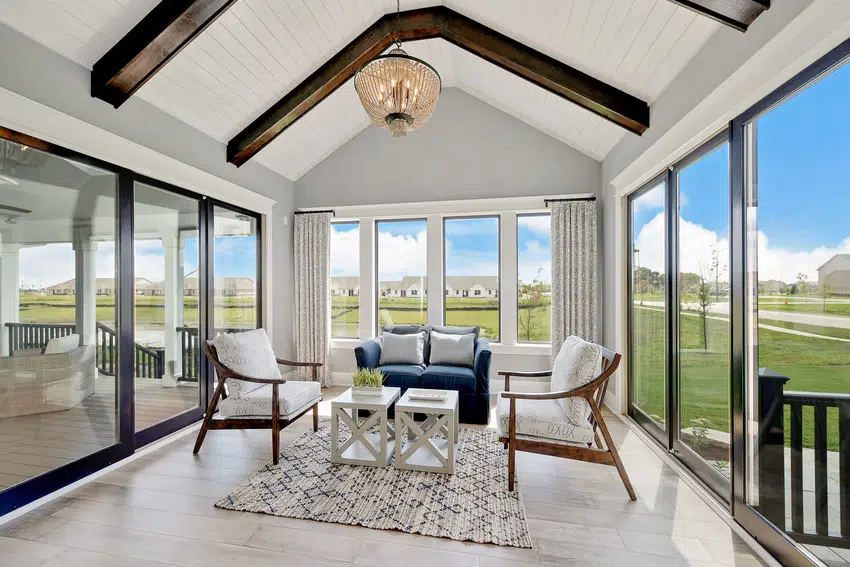 Sunrooms hold a special place in a home to get a healthy dose of sunshine all year round, without even stepping foot outside your house.
By nature, we love the outdoors, thus we have patios, balconies, and decks that allow us to enjoy the gifts of nature. However, not everyone is willing to brave the outside elements, especially during the colder or hotter months of the season.
From forest greens to surf-side surroundings, the sunroom is the ultimate hangout place to indulge in the natural light and views during all four seasons.
To create that perfect sunroom that's lounge-ready throughout the year, you will need a good eye for design and materials. Let's start with the mood-setter of the room, the sunroom flooring.
Below we've gathered the best sunroom flooring ideas to kickstart your ultimate sunroom project.
Sunroom Flooring Options
Here we share the most popular flooring options used for sunrooms.
Sunroom Tile Floor – Best-All-Around Flooring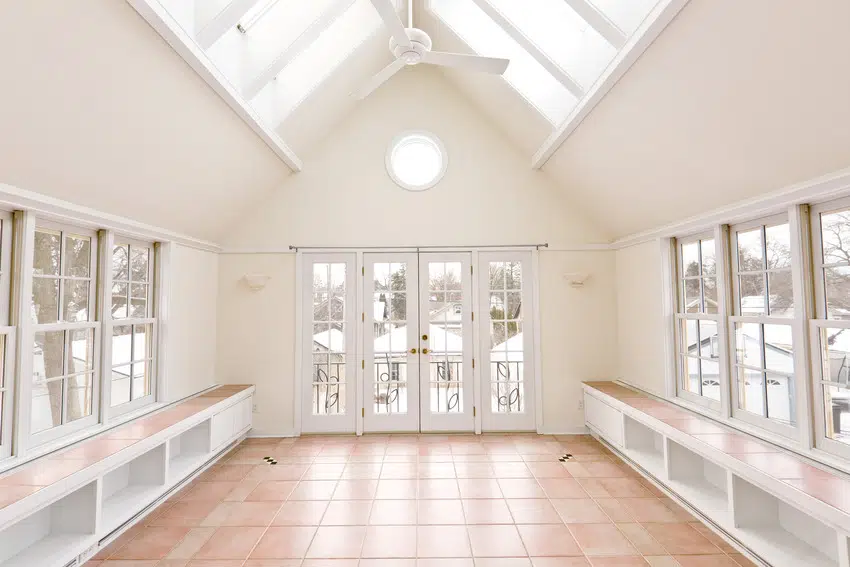 With the wide range of designs, colors, and prices available on the market, you can virtually achieve any look you have in mind with tile flooring. Not only do they look good in your sunroom, but they are also dependable when it comes to common sunroom problems such as mold and heat retention.
Since sunrooms are usually made of glass walls and ceilings, expect to have condensation problems, especially if you have a poorly installed glass system. But whether you have a knowledgeable installer or not, tile flooring is a practical choice to avoid moisture build-up during extreme temperatures.
Tile flooring is perfect for:
Converted Deck or Porch

.

The tiles can easily be installed over a concrete or other subfloor, and they provide the best value in terms of waterproof flooring. The highest quality material is used in this tile's design, and a finished border system is available.

Connecting to an Existing Room

.

When you've decided to open up a wall to connect an existing room to your sunroom, such as a dining or living room area, most likely you'll want to have a cohesive flooring for the open plan. Tile floors are a perfect choice.
Cons: Walking barefoot on ceramic, porcelain, or granite tiles can be cold, especially for unheated floors. Thus, area rugs are the perfect solution to warm up your sunroom floor tiling.
Sunroom Brick Floor – Best Temperate Flooring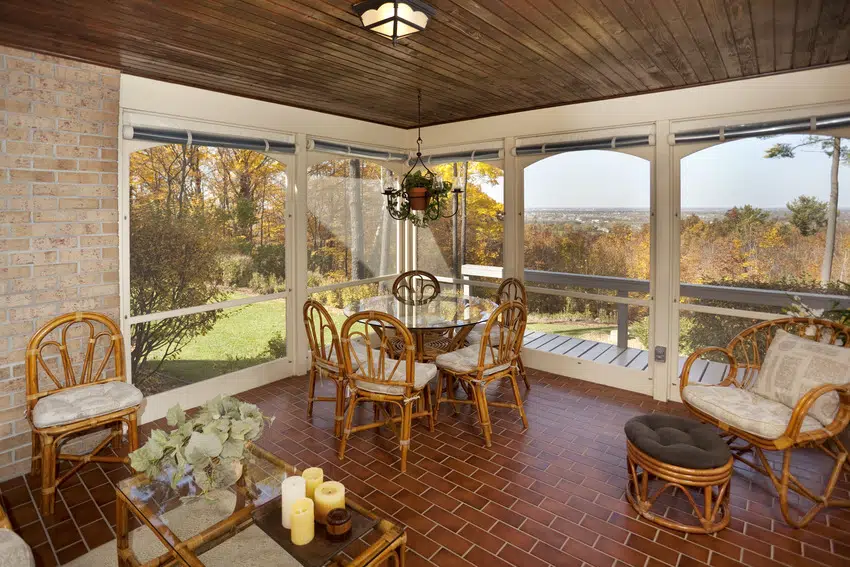 Bricks are cozy materials not only with its appearance but how it feels against your feet as it tends to maintain a moderate temperature all year round. Sunroom brick floors are also long-lasting, hence you'll find old-time structures with bricks still intact and gorgeous looking.
Bricks are great for:
Heated and Unheated Floors

.

The fire-baked material also works well with radiant floor heating systems since stones retain heat well, making the floor system efficient.

Excessive and Sustained Sunlight Exposure

.

One of the good things about bricks is their surface color does not fade away easily, and uneven weathering gives it an attractive rustic appearance.

Traditional and Classic Homes.

The classic red and brown bricks are the trademark of country-styled or Spanish-inspired homes.
Cons: Since bricks are highly porous, they stain easily and can be difficult to maintain. You'll need to apply a protective coating on your bricks to prevent the absorption of moisture. Also, when it freezes over, the water inside the bricks will expand, causing the bricks to fracture.
Vinyl Sunroom Floor – Best Waterproof Flooring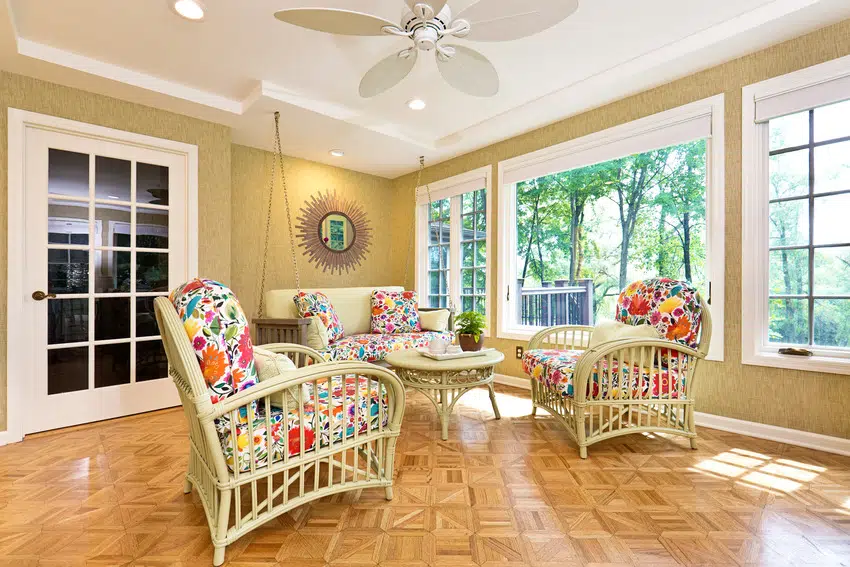 Made mostly of polyvinyl chloride (PVC) components, expect to have waterproof flooring for your sunroom. Premium-grade vinyl flooring materials are very durable while maintaining heavy-feeling or rubber-like properties.
Vinyl flooring is perfect for:
Moisture Prone Areas

.

If you open up your kitchen to a sunroom or have a built-in fountain or pool, chances are you have flooring that will receive a significant amount of moisture and water. With a vinyl floor, you're sure to have easy-to-maintain flooring that won't stain or get damaged even when subjected to water ponding. However, it is still advisable to wipe off the water immediately from your flooring to prevent slippage and mold build-up.

Extreme Weather Conditions.

Since vinyl floors are impervious to water, freeze-thaw problems won't be an issue. Premium-grade vinyl flooring has additives that bring dimensional stability preventing damage to your plastic floors.

Wood or Stone Floor Look

.

When you love the look of natural wood or stone in your sunroom but don't want the downsides that come along with these organic materials, vinyl floors are your best option. There's no shortage of designs you can choose from, ranging from brick patterns to wood floor planks that look just like the real thing. Moreover, any DIYer can install vinyl tiles much easier than real wood or stone.
Cons: Can deform or dent from heavy furniture. Place furniture feet pads to lessen the direct pressure on your sunroom vinyl flooring. Another disadvantage of vinyl floors is they fade over time, even with premium-grade products.
Concrete Floor Sunroom – Best Budget-Friendly Flooring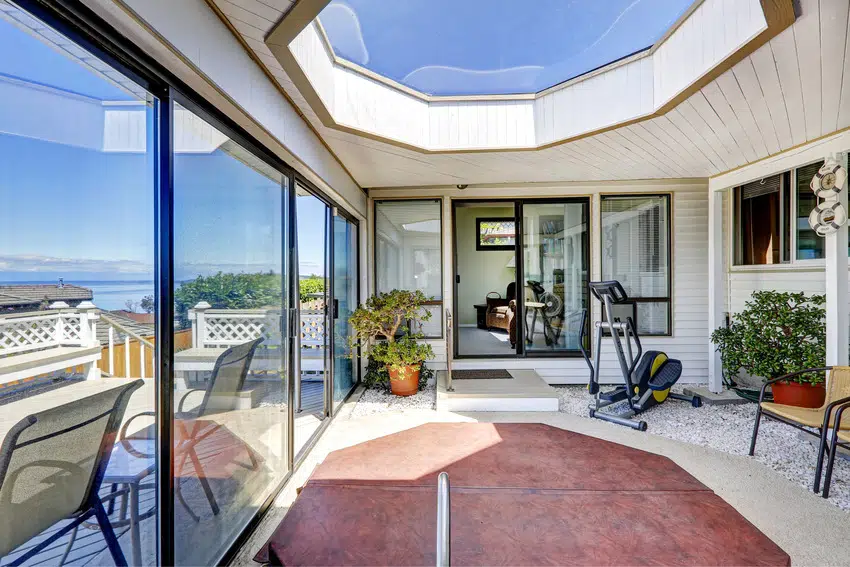 Glass and concrete can be a sunroom flooring that's surprisingly stunning and full of character. More than an industrial look, you can achieve both the traditional or modern look with stamped, stained, or painted sunroom concrete floors.
It's fast and easy to construct and costs less compared to most of the popular sunroom flooring.
Concrete floors are great for:
Future Sunroom Improvements

.

If you plan to add flooring tiles or wood planks on your sunroom when your budget allows, concrete floors are great initial flooring to construct. You can easily install it over your concrete floor in the future.

Moderate Climate Conditions

.

With proper installation, sealing, and waterproof underlayment, concrete flooring is suitable for almost any location. However, you'll reap off the benefits of the man-made stone if you live in a place with moderate climate conditions such as Florida or Delaware. Though built in an enclosed area, concrete flooring is susceptible to freeze-thaw damage if it receives a significant amount of moisture, hairlines, and cracks can still show.
Cons: Concrete flooring coupled with the glass enclosure can magnify noise which is not ideal if you have kids or pets around your home. There are several ways to reduce the poor sound insulation of concrete, the simplest way being adding area rugs to increase the sound absorption of your sunroom concrete flooring.
Laminate Floor Sunroom – Best Wood-looking Floor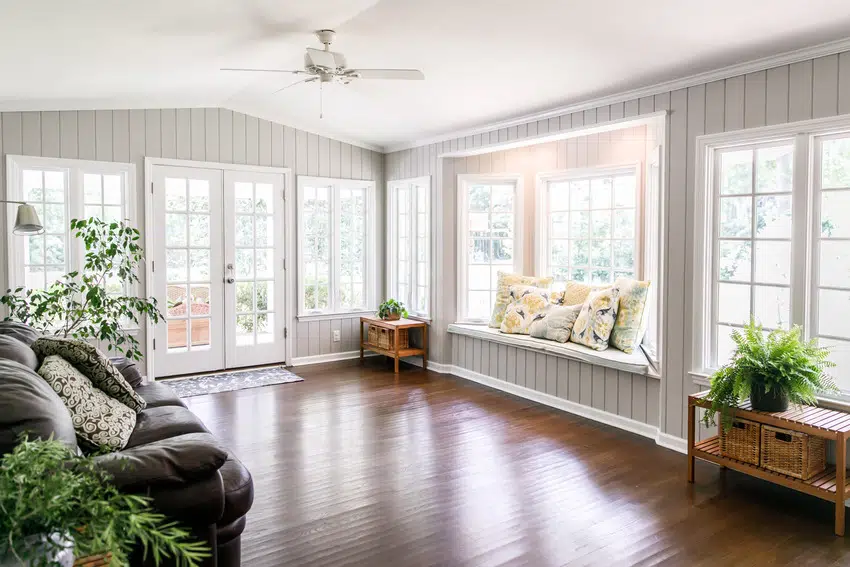 Though more prone to fluctuating temperatures and water damage, nothing beats the feel of wood against your feet. It may not have the authentic feel like true lumber, but it's the closest flooring material you can have to hardwood floors.
The warm look of laminate floors compensates for the cold translucent look of glass, and that's with a fraction of the price of true lumber. They are easier to install where there are individual planks that have a tight locking system where spills or moisture can't go through.
In addition, there are waterproof laminate floors that are manufactured with water-resistant layers to protect the surface.
Laminate floors are great for:
Second-floor Sunrooms

.

Lightweight and minimal need for structural support, laminate floors are the perfect flooring material if you plan to construct your sunroom above the first floor. This means it reduces your cost for structural additions and you can enjoy your sunroom sooner compared to a tile floor.

Sunrooms with Adjacent Wood Flooring

.

While most are agreeable with a floor transition, having cohesive flooring is still the safest bet when it comes to your overall flooring.
Cons: Can warp under high temperatures making it more suitable for temperature-controlled sunrooms.
Carpet Floor Sunroom Flooring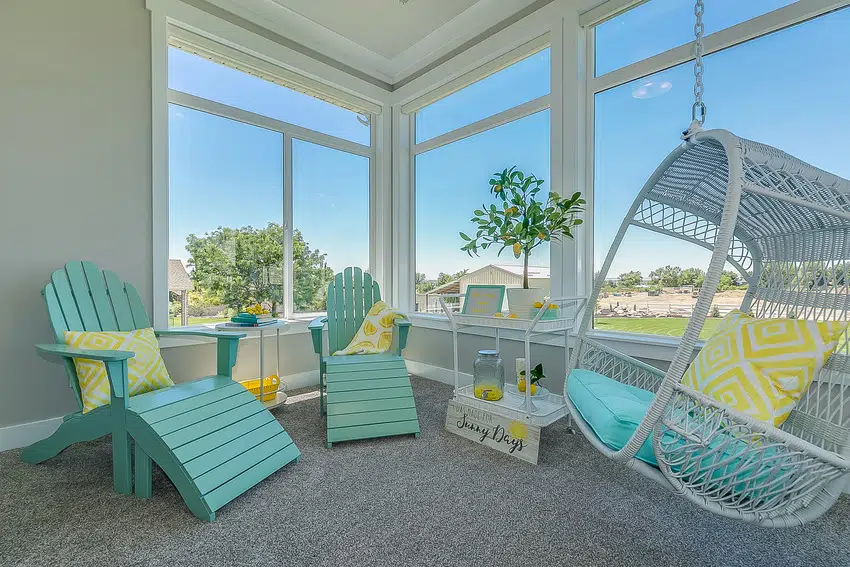 Carpets may as well be the epitome of domestic coziness as it feels downright comfortable to walk on even when barefoot. While it warms up a translucent surround especially if you have an all-around glass enclosure, it's also a smart option for sunrooms without climate control as it is more resistant to heat.
Carpet choices are limitless and can be mixed and matched with any style you are going for, and is also a great addition to your sunroom design and aesthetic.
Carpet floors are great for:
Cold Locations.

When you live in a place where colder months seem to take up most of the calendar, then carpet floors can help maintain a comfortable sunroom flooring on top of your heating systems. Look for fabrics that are less prone to static build-ups like wool or acrylic. Similarly, there are also anti-static sprays you can apply on your sunroom carpet floors.

Formal to Splash-themed Sunrooms.

When you plan to use your sunrooms as a meeting area or an extension from a formal room, keeping up with the theme through a sunroom carpet floor is effective as it is inexpensive.
Unlike wood or tile flooring, you can choose to have a more eye-catching look for your interiors such as purple, tangerine, red, or any other vibrant hue you have in mind.
Cons: Not a wise option for sunrooms that are detached or that opens to the outdoors as mud or oil can be very hard to clean. You may choose to purchase a peel and stick or interlocking carpets that usually come in 50 cm x 50 cm modular sized carpets instead of the large roll of material.
Best Flooring for Sunroom
Flooring for 3 Season Sunroom
The best overall flooring material that performs well in a room subjected to significant sun exposure are natural stone tiles, specifically limestone, travertine, quarry, and ceramic. These hardscapes remain temperate even during extreme weather conditions and are adaptable to any location or climate. Furthermore, they won't fade over time and are very durable even for busy sunrooms.
Readily available in virtually every Home Depot across the country, you'll find a great design or color that matches your desired sunroom look. It also accommodates any type of buyer with a reasonable price range. Stone and glass are a great contrast of materials that work with any style, from a sleek look to a savannah-themed sunroom.
Laminate, vinyl, carpet, linoleum, and ceramic are great for unheated floor sunrooms, with ceramic being the best of the lot since it doesn't warp or expand under the sun. Ceramic handles temperatures extremely well, too. It does not get too hot or too cold so it remains balanced throughout the various temperature fluctuations.
Ceramic tiles are also durable and it can also be glazed to give it that additional gloss. Additionally, ceramic is water-resistant, making it perfect for humid climates.
Read more about 4 season sunrooms on this page.
Best Waterproof Flooring for Sunroom
For applications that require waterproofing, vinyl is 100% waterproof. It comes in many compositions, depending on the way it was engineered.
When shopping, you will see acronyms like WPC or SPC. These simply stand for Wood-Plastic composite or Stone-plastic composite. The former is a mixture of wood and plastic flour, while the latter is a combination of stone and plastic flour.
WPC is older and has been around for quite some time but SPC is a new player in the construction scene. Regardless, both are waterproof. Vinyl flooring is made up of four layers that include a waterproof core.
How to Insulate a Sunroom Floor?
Keeping your sunroom warm requires two components: First, a means to heat the given space, and second, is to keep the warm temperature locked in through the installation of adequate insulating material.
Insulation ensures that you are not wasting energy, and this will save you hundreds, if not thousands, in your electricity bill. So how exactly can you accomplish this?
Here are a few things you can do.
Install Weather-stripping.

One way to keep the heat inside the space is by sealing in as much of it. Weatherstripping is a material installed around panels and windows. The use of a caulk seal between these different components ensures to keep the warm air in.

Use Clear Insulation.

Aside from sealing gaps, you may also need to apply clear insulation on window surfaces. Something like clear plastic will do the trick. It does not have the same R-value as a solid material, but it should be able to increase energy efficiency.

Tinting. Window tinting is the process of applying a layer of tinting material. This will slightly darken the window a little bit, allowing the radiant heat to stay in. The view is diminished by just a fraction of what you are normally supposed to see.
Use Insulated Drapes.

Trapping the heat with this method is done by using insulated drapes. First, you capture radiant heat by opening the curtains during the day then closing them at night.
Takeaway
A sunroom can use natural heat from the sun during winter, depending on the positioning of the room. If it is directly south-facing with all-day sun exposure, it will probably warm up to a comfortable temperature most winter days.
Furthermore, sunrooms use stored solar energy. Depending on its location in the house, it should stay comfortably warm during the winter, particularly if it is south-facing.
However, if sunlight isn't enough to warm up a house, you can either open your door to let more warm air in or install heating systems that will do the trick.
Visit this page for more pictures of sunroom ideas.