4 Season Sunroom buying guide including cost & popular additions.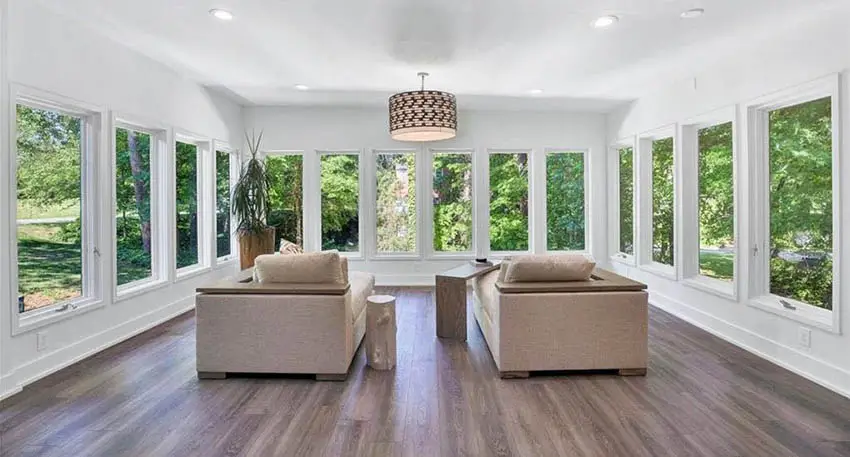 If you live in an area which experiences all four seasons, a great way to enjoy the changes that these seasons bring – without necessarily going outdoors – is by building a 4 season sunroom.
A sunroom is basically a building feature that is designed to allow occupants to allow an abundant amount of natural light and even air while still keeping harsher natural elements – rain, snow, cold winds – out.
A sunroom is usually roofed room addition, accessible from inside the house, where three of the walls on the exterior are made of glass, screens, or both. Sunrooms can be built in almost any area, but if you live in an areas where the season's change, you should specifically look into building a four season sunroom.
What is a 4 Season Sunroom?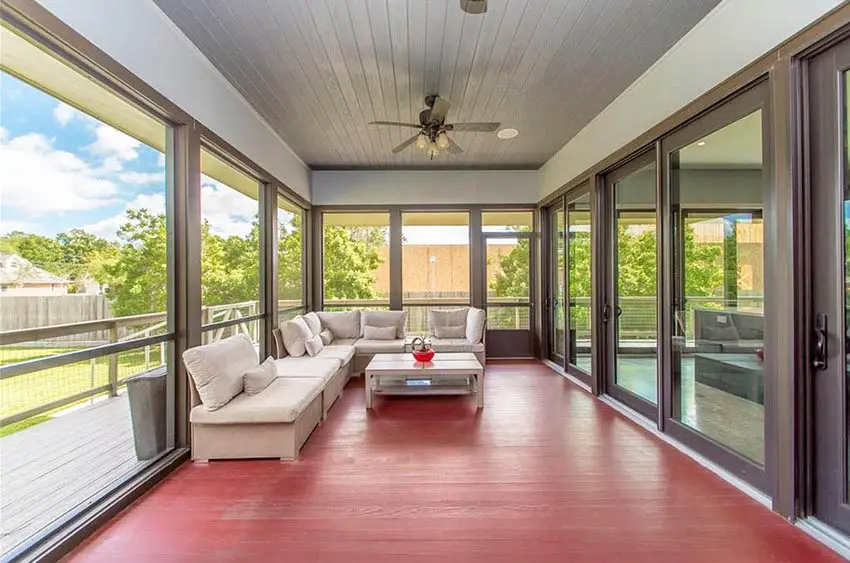 A four season sunroom is an enclosed room addition that is designed to allow you to access and enjoy the outdoors, no matter what the weather might be.
If you live in an area which experiences all four seasons, you should look into having a four season sunroom attached to your home. A four season sun room is designed to be a comfortable place to relax or entertain, all year round – no matter what the season.
What is the Difference Between a Sunroom and a Four Season Room?
One common feature that all sunrooms share is that they are built to maximize natural light and allow you to enjoy views of the outdoors without necessarily leaving your home.
While a regular sunroom is accessible from the inside of your home, connected to the body of your home, it is not necessarily connected to your home's systems.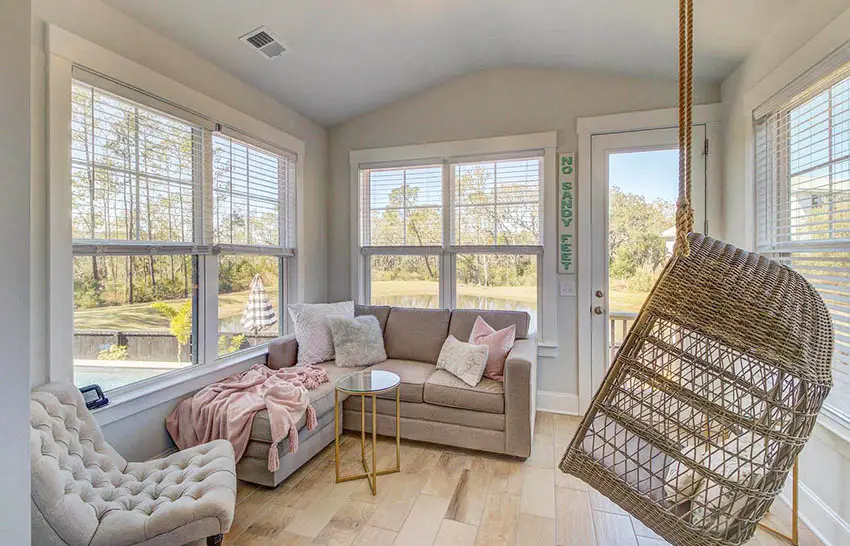 While a regular sunroom design might be connected to your electricity grid, it is typically not hooked up to the cooling or heating systems of your home. This means that the room might not be usable during very hot summers or harsh winters.
A four season sunroom, on the other hand, it designed so that you can comfortably use the room no matter what the season might be.
So, it is either hooked up to the heating and cooling system of the main house, or has its own means to control the temperature year-round. Designing your sunroom to be a four season room allows you to maximize the use of the room.
4 Season Sunroom Cost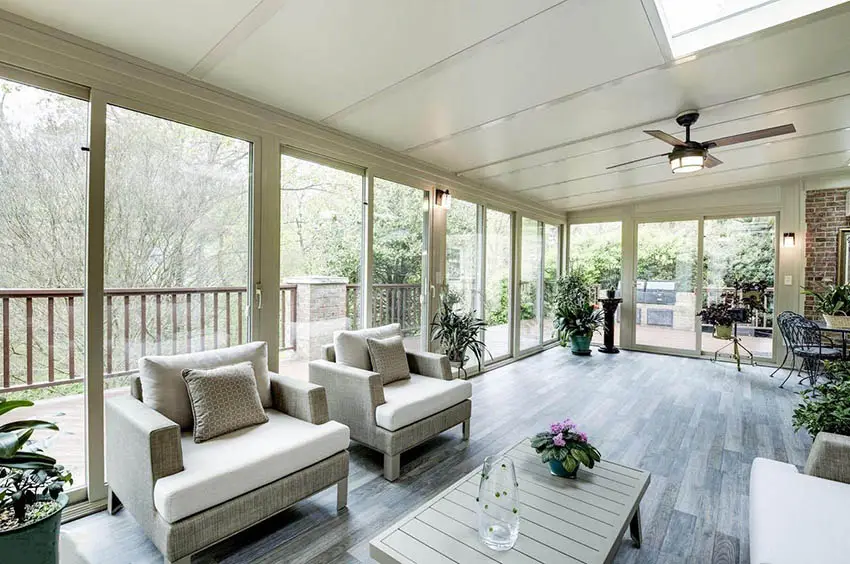 The cost of a sunroom will mostly depend on the materials you use and the size of the layout you are building. Building a sunroom will cost approximately $150 to $300 per square foot. The average cost to build a sunroom is about $35,000 to $55,000.
Due to the additional requirements of a four season sunroom – insulation, air conditioning, heating system – a four season sunroom will cost a little more than an average design. It's thus estimated that a four season sunroom will cost about $25,000 to $90,000 to build.
Does a Four Season Room Add Value?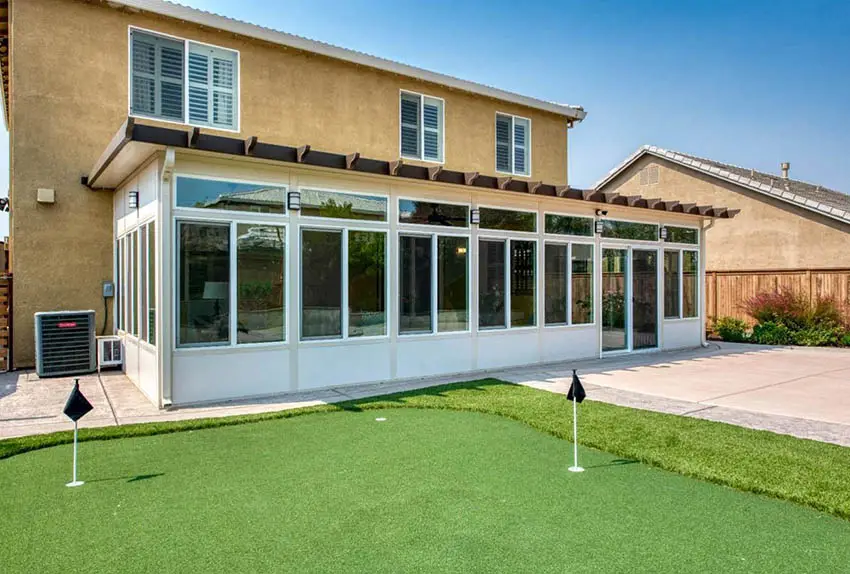 4 season sunroom attached to house overlooking a backyard putting green.
As a home design feature, a four season room will add value to your home as it can be an attractive addition that can serve as a "come on" to buyers.
You can add "sun room" to your home listing as an additional feature. It will increase the resale value of your home.
4 Season Sunroom Additions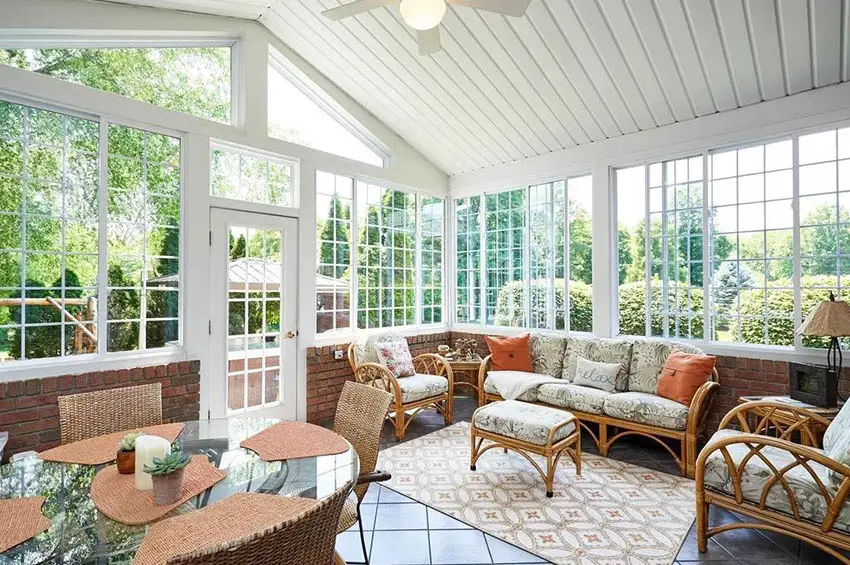 If you have decided that you want to have a four season sunroom build here are some additions and extra features you should consider incorporating in your room design.
A standard sunroom design is to have ceiling to floor glass panels for walls. Why not have one portion made of French doors instead?
French doors will allow you and your guests to access the garden from your sunroom. During particularly nice days, you can keep the doors open to let more air in.
Having a few portions of your sunroom wall made of screens instead of full glass, you can allow more air into your sunroom while keeping bugs out.
Don't forget, however, when the weather turn's cold, you need to be able to shut the room tight. Having a sliding screen doors covered by sliding glass doors, is your best bet.
A few strategically placed skylights on your four season sunroom roof will allow even more natural light into your room.
Skylights are an especially attractive option for stargazers as it will allow glimpse of the night sky from your sunroom.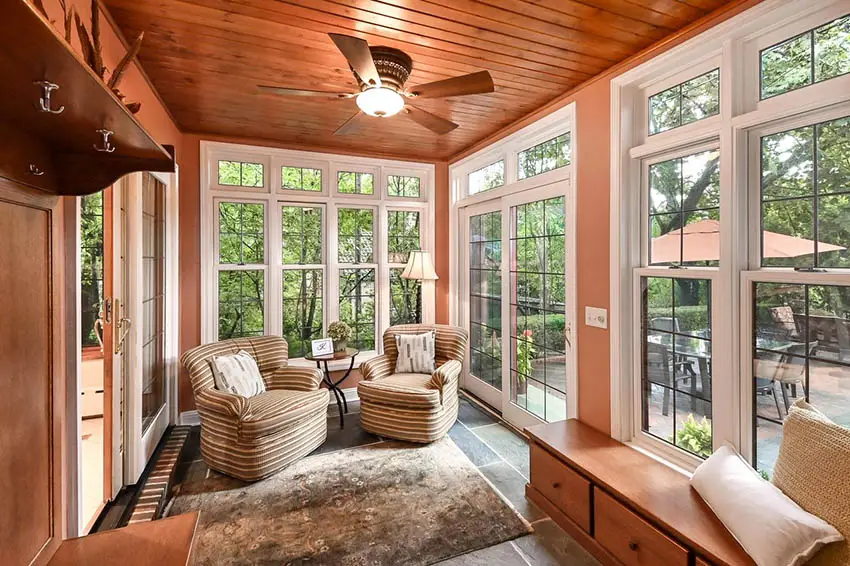 Ceiling fans don't just make for an exciting room design feature; they can help improve the air flow and circulation in your room. They can save you in cooling costs.
Adding a fireplace is an interesting and cozy way to keep your four season sunroom warm during the milder days and nights of the winter months.
Turn your sunroom into a little greenhouse. Indoor plants will thrive in a sunroom as they can get the sun they need even through the colder months of winter.
Instead of totally clear glass windows, you might want to have slightly tinted glass for your sunroom walls – especially on the side that gets the most amount of sun. This will cut down the glare and provide some UV and heat protection.
Insulated double pane or triple pane windows can help keep the room warmer during the cold winter months and cooler during the warm summer months. These can be especially useful for helping regulate the temperature int he space and cut down on electricity bills.
4 Season Sunroom Kits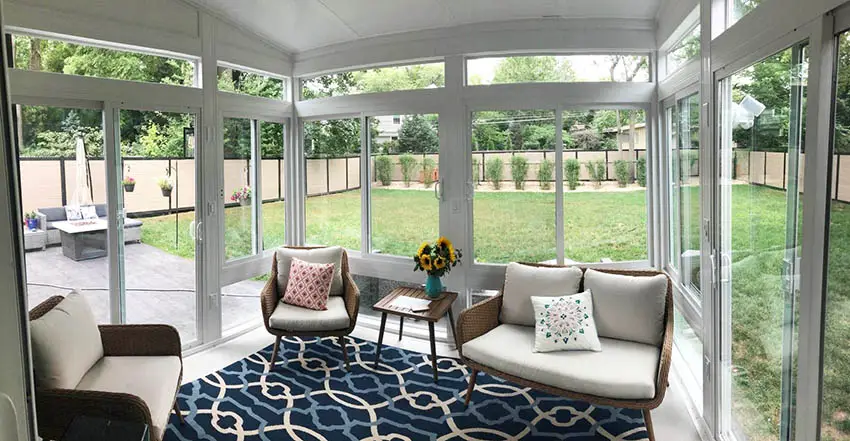 If you want to save in costs, you should look into four season sunroom kits. There are prefabricated kits with the framework for the room and the panels for the wall. You can assemble these pieces on site.
The cost of sunroom kits depend on the size and any additional features you choose to incorporate. Again, because of the need to incorporate features to heat and cool the room, a 4 season sunroom kit will cost a little more than other prefabricated models.
On average, however, you should be able to find a prefabricated sunroom kit for about $6,000 to $30,000.
For more related designs visit our gallery of sunroom ideas.