Here's our guide to turning a deck into a sunroom including ideal foundations, cost to build, types of decks and different sunroom designs.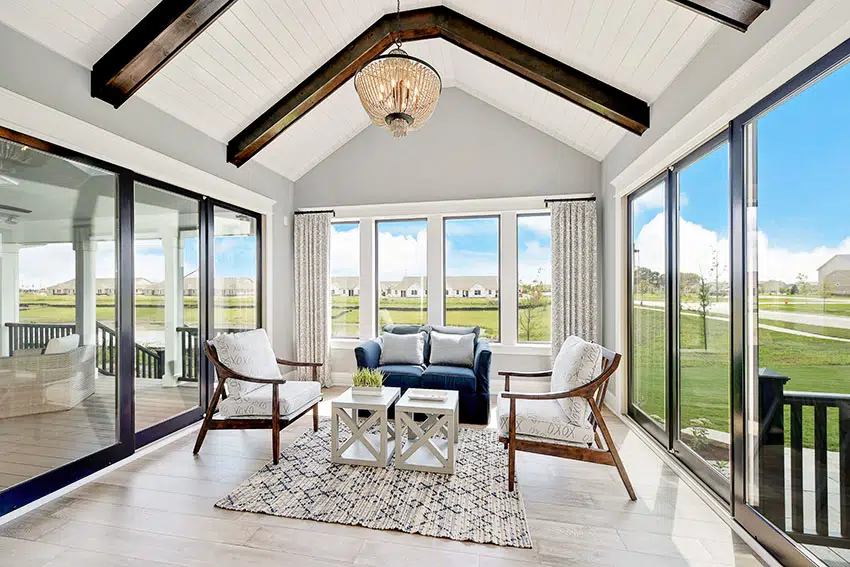 It's always a good idea to bond with your family or friends on an outdoor deck. It's the most ideal place for eating, partying, and playing games.
No doubt decks are the perfect spot for entertainment purposes. But it's not that fun when inclement weather strikes.
How then, can you make your deck shielded against rainy and cold weather? Well, if you have observed that you have a secure foundation, you might want to consider converting it into a sunroom.
One of the most popular design trends is to create an outdoor living space that merges the best of both worlds. And yes, making a sunroom out of your deck is the most ideal way to experience that.
This could be an uncomplicated task if you have the right building permit and you fully understand the existing building codes.
But the questions are, can you transform a deck into a sunroom? How much will it cost you? How can you build a sunroom on a deck? We'll discuss all of these questions in this article.
Can You Turn a Deck Into a Sunroom?
Yes, a deck can be converted into a sunroom. However, before the construction, you might need to review these factors and considerations first.
First of all, you need to assess your existing foundation. If you're planning to convert your deck into a sunroom, you have to check if your deck is placed on an appropriate foundation that will strongly hold the whole structure.
The foundation has to be very sturdy as there will be a lot of materials needed in making a sunroom. A wood deck can't hold a sunroom by itself. If you have a wood deck and you want to make it a sunroom, you have to install supplementary joists for additional durability.
Let a licensed contractor or expert evaluate your deck before taking further action. Remember, the most ideal foundations and attributes for making sunrooms are: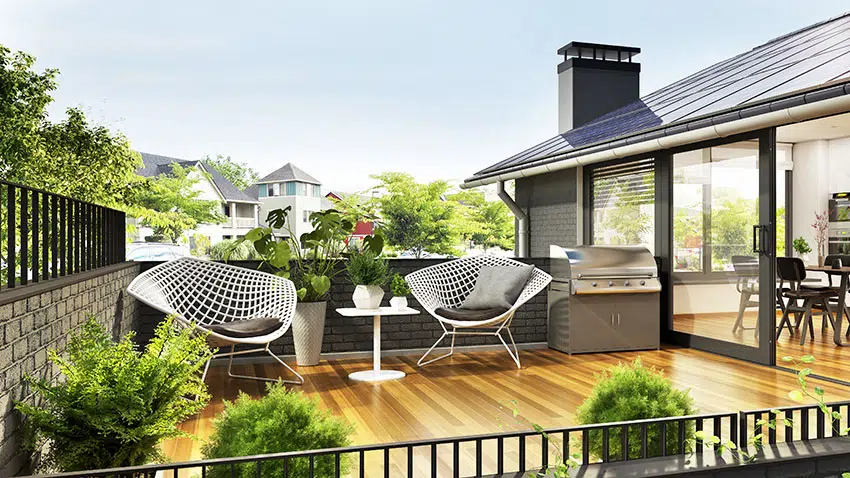 Pre-existing deck. A deck that's originally part of your outdoor space is already a suitable foundation to make a sunroom. But not all decks are strongly built; some might be needed to fortify first such as putting joists and piers
Crawl space foundation. This foundation provides sufficient insulation which is perfect for a sunroom to keep it energy-efficient and warm. It's also a beneficial foundation as it allows a person to access underneath the foundation to fix the plumbing, wiring, and insulation. This is the best foundation to build a sunroom.

Concrete slab. This foundation can support any type of sunroom. Concrete is doubtlessly durable and it's not that hard to apply. It's also inexpensive. But before the construction, you need to ensure that you've fixed all the insulation, plumbing, and electrical.
There are also a few things you need to remember before making any purchases and starting construction on turning a deck into a sunroom:

Think about how you will use the entire space. If you're planning to make a sunroom with an outdoor kitchen or cooking area in it, then you have to arrange all of the insulation, plumbing, and electrical settings before proceeding to the structure.
If you wish to incorporate huge windows for enormous passing of natural light, make sure to identify the size and weight of every window you'll buy before buying any other materials and finishing your design plans.
Also, ensure that you have enough windows in your sunroom to ascertain a perfect outdoor ambiance.
Cost to Convert Deck to Sunroom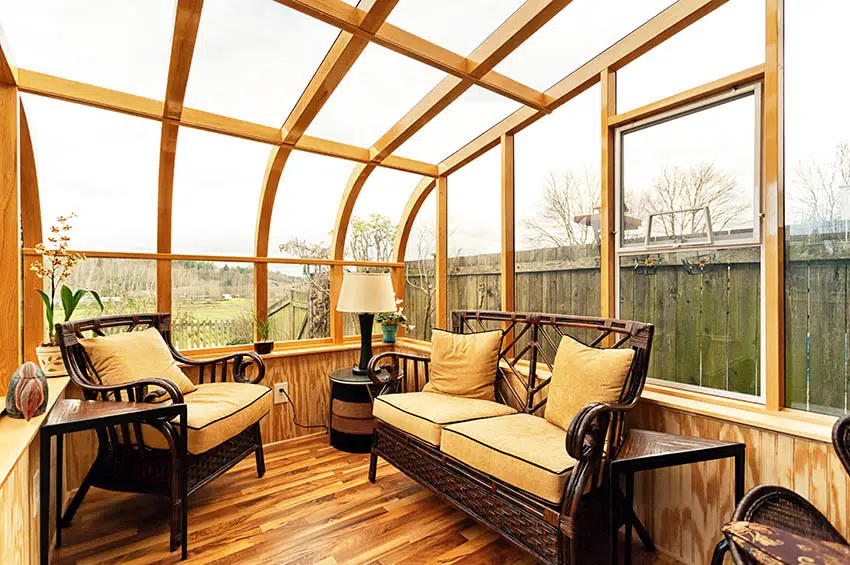 To make an ultra-durable, long-lasting, and functional sunroom, you will need high-quality materials and experienced and professional contractors. These factors might cost you an expensive price.
The common cost of a small-scale sunroom that comes with a kit can range from $120 to $300 per square foot.
However, a deck that will need more work like installing a fence post to the house wall, spading footers, and mixing and pouring cement can cost around $10,000 to $50,000.
Even so, the overall cost of turning a deck into a sunroom will depend on the sunroom's design, style, and intended use.
For example, if you want to transform your large-size deck into an ultra-big conservatory sunroom, it can cost from $60,000 up to $100,000!
But if you only have a regular-size deck and you want to convert it into a three-season sunroom, it can only cost you $10,000 to $30,000.
That's because three-season sunrooms do not require that much insulation unlike four-season sunrooms, glass solariums, or conservatories.
How to Build a Sunroom on a Deck
To successfully build a sunroom on a deck, you must identify first what type of deck you have. This is the first step you need to do if you're planning on turning a deck into a sunroom.

Here are the three types of decks: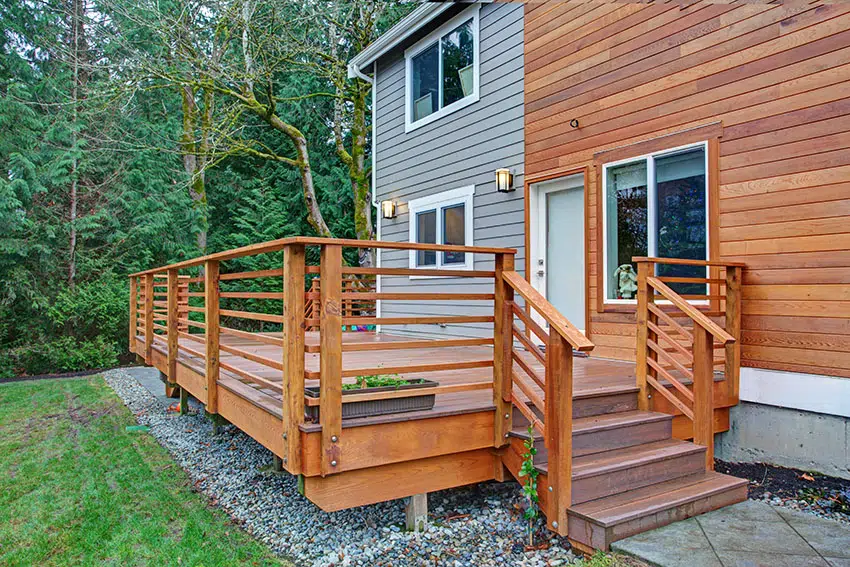 Attached deck. This type of deck is the most common deck type among the three. This is also a very popular deck type to build a sunroom as it's already elevated and attached to the back or side of a house.

Wraparound deck. A wraparound deck is normally raised to a similar level as the house entrance. They wrap around either a portion of the first floor or the entire of it.

Covered deck. This type of deck either has a partial or total coverage which has roofing to give enough shade. This can still be transformed into a four-season sunroom. See more deck ideas here.
After identifying what deck you have, you have to select what sunroom style you want. There are different sunroom designs.
Ascertain that you'll select the style that will suit your needs, budget, and preferences.
Popular Types of Sunroom Designs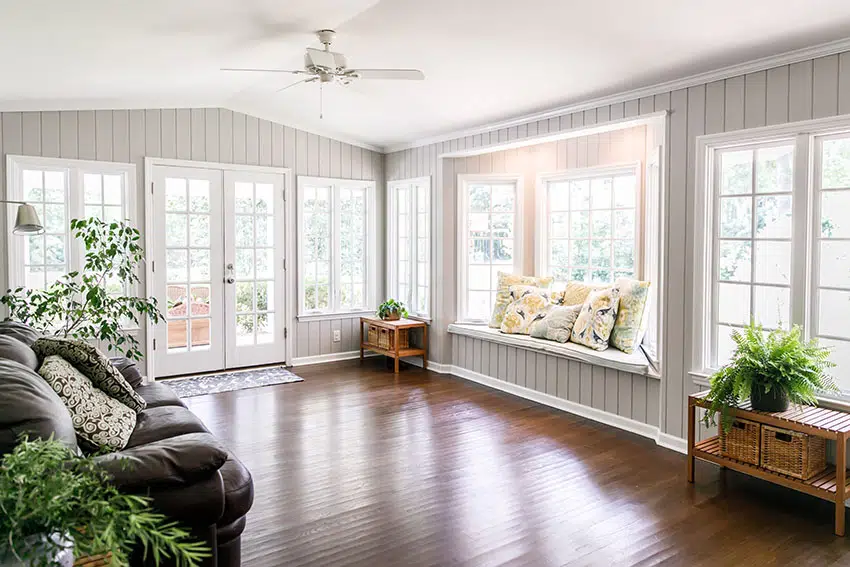 Three-season sunroom. This is the most affordable option. It is also customizable and it doesn't require too much insulation.

Four-season sunroom. This is a more costly option but this would highly increase the value and appearance of your house. A four-season sunroom allows you to fully enjoy the outdoor ambiance without getting affected by the inclement weather. Know more about four-season sunroom here.

Gable sunroom. This sunroom design normally has a sloped roof and wooden joists that give a rustic and traditional vibe.

Solarium. This type of sunroom can be costly but it will doubtlessly provide maximum warmth and a peaceful atmosphere especially during the cold months.
When building and designing a sunroom, you have to remember that a well-built and designed sunroom can be a permanent home extension. A well constructed structure can increase the value of your house.
That's why you need to ensure that your interior walls, exterior walls, and windows are complementary to each other. They should also match well with the current design of your house.
Inside the sunroom, you can produce a more elegant look such as creating cathedral ceilings, installing roofs made with glass panels, skylights, ceiling beams, arched windows, French doors, and other stylish architectural materials you or your contractor find.
Before Building a Sunroom on a Deck Tips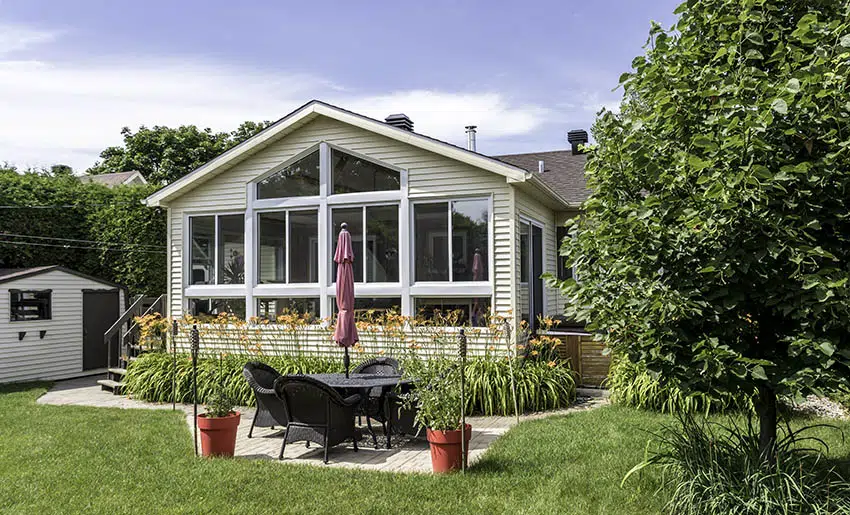 If you have vast experience in construction, then you might have the capability to build a sunroom. However, before we discuss how to build, let us talk about what materials and tools are commonly required for turning a deck into a sunroom.
First, what are the materials that are generally needed in building a sunroom on a deck? Here are some of them:
Aluminum, vinyl, or wood
Insulated glass
Air Conditioning / Heating devices or machines
Low-emission treated glass
Engineered roof panels
There are also available sunroom kits. A sunroom kit commonly includes lightweight aluminum frames and all the needed hardware to install the kit pieces. This will prevent you from buying footers or joists hurriedly and last-minute.
Sunroom kits provide all the advantages of an extended outdoor living space that's insulated and covered.
However, to know exactly what materials are needed in building your most preferred sunroom design and structure, feel free to ask a construction expert for more detailed information.
Now, if you have all of the required materials, what tools must be needed for you to successfully apply all the materials to your sunroom? Check down below:
Screwdriver
Saw (7 ¼" circular saw with carbide toothed blade) / Angle grinder
Pliers
Screws and washers
Ruler and tape measure
Level bar / laser level bar
Drill
Screw gun
Hammer
Rubber mallet
Before we go any further, you must know first some of these necessary tasks:
Choose the best window that will suit your sunroom
The overall style and design of your sunroom will mostly depend on the size of your windows and their placement. It's highly recommended to choose the highest-quality windows. Identify if you need an insulated glass or non-insulated glass.
Even so, using insulated glass on your windows is much more preferable. It would work excellently if you're planning to utilize your sunroom year-round.
Other factors that are needed to be considered involve choosing between tempered and non-tempered glass and what window framing is suitable (sliding, hung, hinges, double, bay, etc.)
Remember, the size of your windows matters. Incorporating windows from the ceiling to floor will give you enormous natural light but it will also increase the temperature inside. You might want to install a transom above your door for minimal lighting or install custom-designed window shapes.
Identify your electrical needs
The current deck generally has electrical units such as outlets and lights. However, if you're building a sunroom on your deck, you must multiply your electrical units to allow for more furniture, fans, lights, switches, and other electric-based objects.
A sunroom contains a lot of glass objects, so you have to identify where you will place the electrical components so that you can accordingly frame the overall structure.
If you do not have expertise with working with electricity, it's advisable to communicate with a licensed electrician to help you in your construction and design process.
Choose the best flooring option for your sunroom
You might want to change your sub-floor depending on the condition and construction of your existing deck flooring. The sub-floor will hold the decking material. But then, if you think your deck's foundation is weak, you might need to fortify the posts, beams, piers, or joists.
Adding a layer of plywood over your current deck will be enough to support the flooring. After that, you can decide if you want to install wood, carpet, tile, brick, concrete, laminate, or stone in your sunroom flooring.
Steps on How to Build a Sunroom on a Deck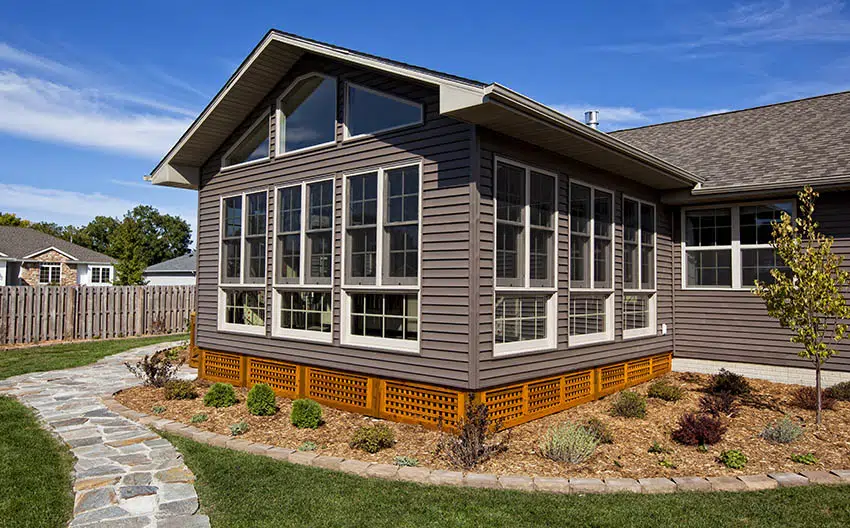 If you're already equipped with all the needed initial tasks, tools, and materials for turning a deck into a sunroom, then you can start constructing. Here are the steps on how you can successfully build your sunroom.
Frame your current deck
After identifying the window size, your preferred sunroom style and design, your electrical units, and flooring options, then you can frame your current deck and build the walls.
You will now have to frame the dimensions of the allowances of your windows. This is one of the most crucial steps in the construction process. If the framing is highly precise and aligned, it will be much easier to install the windows.
You have to ensure that you're following the instruction manual for installing your doors and windows. Those instruction manuals normally come with the product you purchased. Remember, not all doors and windows are installed in a similar way. So, be sure to be guided by the instructions.
Install your doors and windows
Make sure to use all the required tools in installing your doors and windows. Again, be strict in terms of following the installation guide.
Arrange all the electrical wiring
After completing the door and window installation, arrange the electrical wiring. You also need to install the fixtures.
Start completing your exterior design
Start painting and fortifying the exterior side of your sunroom. This might also involve the installation of sidings and trims.
Focus on organizing your interior space
Make sure to add the perfect furniture for your sunroom. If it's hot, make sure to add fans or an air conditioner to reduce the temperature.
However, if the temperature is low, you might need to add a heating machine to increase the temperature. You can also add lighting fixtures, trim, and hardware if you think it's appropriate.
Have you considered turning a deck into a sunroom? Let us know what you think in the comments section. For more related content, check out our article on 40 beautiful sunroom designs here.