These green couch living room ideas showcase different color schemes, matching tips, room designs, and paint shades to use for dark & light green couches.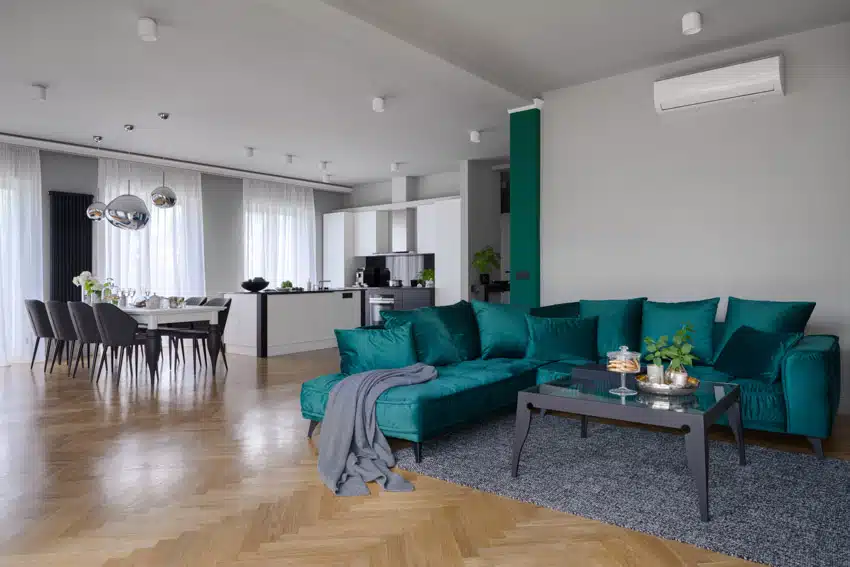 A green sofa in your living room may end up posing a particularly difficult decorating dilemma. After all, it isn't a common color in sofas. Then there's also the matter of knowing which wall colors, furniture colors, and other elements to pair with it to make the overall living room design cohesive.
One thing to keep in mind though is whether you want to go for something subtle or something a bit more striking? As a start, your wall colors will also have a huge impact on how your living room area turns out.
Here are some creative ideas to play around with if you happen to be stuck with the aesthetics of a green couch and what it can bring to the table. It may be a challenge at first but when done right, a green couch can be the highlight of your living space.
What Colors Go with a Green Couch?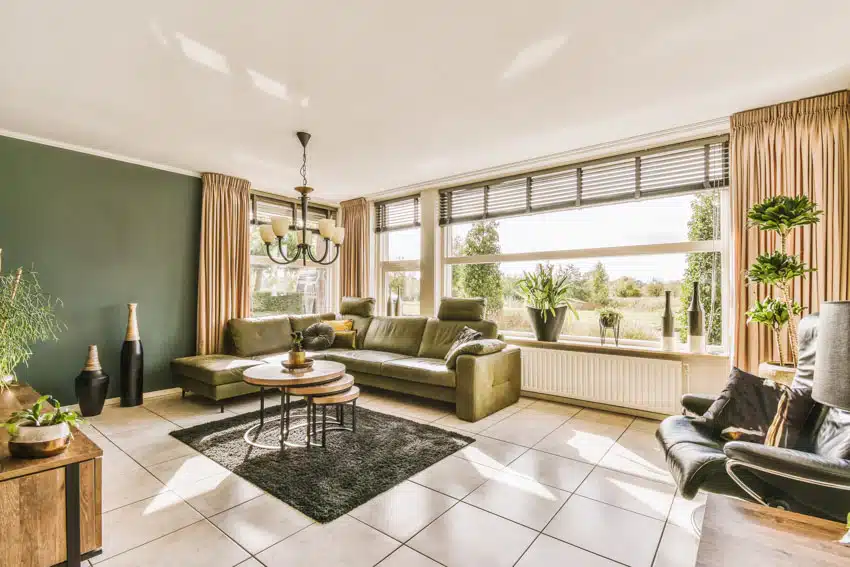 Depending on your preferences, the color of the walls surrounding your green sofa can help it stand out or blend in with the rest of the room. If you want your space to have a gentle and understated vibe, use a neutral wall color or undertones similar to the green on your sofa.
Neutral tones, such as white, beige, tan, and gray, are excellent choices for decorating around a green sofa. If you would rather have a more colorful appearance, select a hue with cool undertones, such as blue or a different version of green, to complement the undertones on the sofa.
Utilizing vibrant hues is a great way to make a proclamation. However, the intensity of the color you paint your walls should be comparable to the color of your sofa. For example, if your sofa is a light sage, you should choose a light hue for your walls. Choose a wall color that is one shade darker to complement a sofa in a lush forest green.
Create a contrast between the sofa and the wall if you want the green sofa to be the room's focal point, but at the same time, you want it to stand out. That means you should choose either a light green sofa with dark walls or a dark sofa with light walls.
A significant contrast can also be achieved by selecting a color on the color wheel opposite green. Because red and orange are strong contenders, you should paint the walls a shade of wine, brick, rust, or pumpkin.
---
Ask the Designer – What Colors Go With A Green Couch?
We asked interior designer Jennifer Eldridge, for her best tips for choose colors to go with an apple-colored sofa and here's her response:
A green couch can act as a focal point of a living room or blend into the wall color. For example, The best wall colors to pair with a dusty sage couch are neutral colors, including any variation of beige, tan, white, or gray. Particularly those that have an undertone of chartreuse.
Another option is to paint the walls a green hue lighter than the sofa. A darker accent wall with an apple-colored sofa couch will offer a bold contrast; black or white can be used as an accent in windows, doors, or millwork.
Complimentary color options include red, purple, or pink. An unlikely but beautiful color scheme for an apple-colored sofa couch highlights dusty pink and other neutral colors like tan or beige.
The color of the walls depends on the tint, hue, or shade of the sofa. For instance, a dark emerald green sofa would make a statement and could be paired with neutral walls or a green patterned wallpaper with accents of emerald green.
Another option is to change the color tone; when gray is added to a color it becomes much more subdued. This would result in a chartreuse wall color that is duller and therefore helps the green couch stand out.
One more great way to accent a green couch is by incorporating light browns, neutrals, and mustard yellows. This color scheme invokes a warm, cozy vibe reminiscent of fall. A desaturated blue of any tint, hue, or shade can also be paired with a green couch.
---
Dark Green Sofa in Living Room (Color Schemes)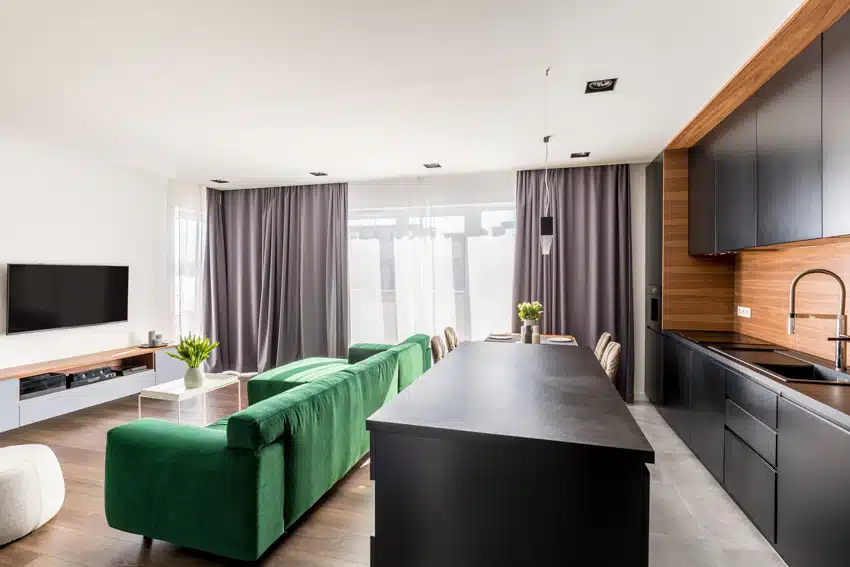 Depending on the room it's placed in, a sofa in a dark moss color can either be an eyesore or a beautiful gem. Dark moss color may not appear neutral at first glance. However, a dark shamrock-colored couch in the living room can be styled to look good with any other color, including animal prints, solids, and patterns.
A lush and luxurious look may be achieved in a room by using dark shamrock-colored cloth in conjunction with the appropriate colors and accessories that go with it.
Brown types of rugs or hardwood floors might complement dark pine as it's a natural color. Dark floors add depth and drama, while light floors make colors pop. A rug adds texture and pattern. It also softens and defines the hardwood floor.
A rich crimson carpeting will contrast with warm walls and bring out the couch's dark pine without being Christmassy. Patterns that include wall neutrals or offset the couch can create room harmony. Choose a black-and-white geometric rug to accent your dark shamrock-colored couch in a modern space.
What goes with a dark shamrock-colored couch depends on your style. Add soft furniture in bright tones like red or gold, or neutrals like chocolate brown, for a traditional look. White chairs contrast with dark pine to lighten and modernize the room. Safe bet: wooden furniture. Ornately carved, dark-stained wood is formal; knotty, untreated pine or oak is rustic.
Throw pillows should incorporate the room's hues. This is an excellent time to introduce natural-themed items like flower- or bird-printed pillows for a dark jade couch. Gold finishes, such as gold lighting fixtures and picture frames, are exquisite.
Decorating ideas for a dark jade couch are almost unlimited as long as the artwork and accessories match. If you use a contrasting hue in pillows, rugs, or art, utilize it in curtains.
Incorporating Color Schemes for Olive Toned Living Room Couches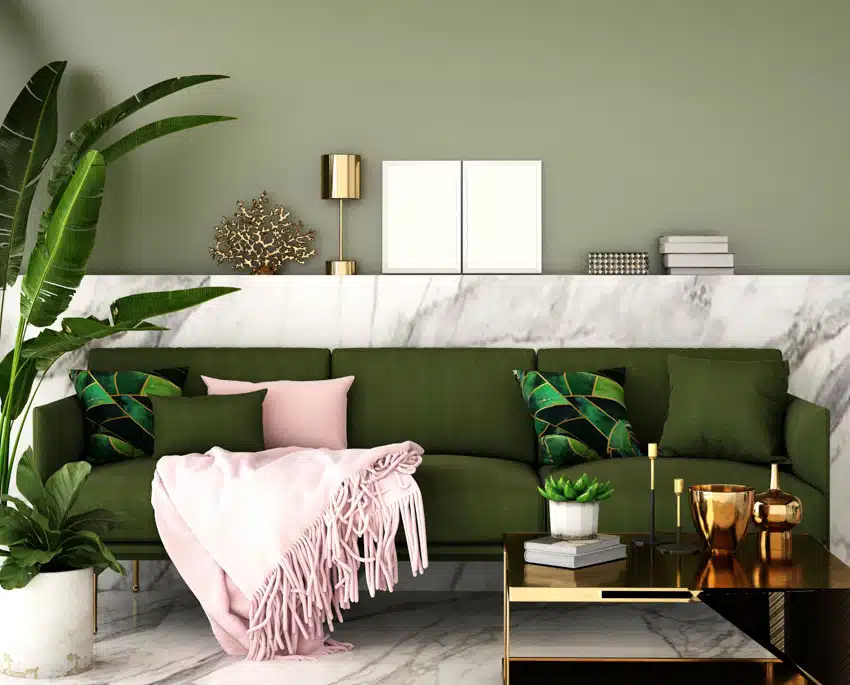 A deep variation of the color green is called olive green. It is created by mixing one part blue with three parts yellow to generate green, then adding a little red. Before you begin using olive hues in your designs, it's crucial to recognize that it has qualities of three other colors, making it highly complex.
The hue of olive is elegant and adaptable. It can be used in place of other neutral colors and blends well with other hues.
Blues: All hues of blue look beautiful with soft olive hue. Use a more vital shade of blue, such as royal blue, for the upholstery or accessories in rooms with olive-colored walls to inject some color. Use olive colors instead of other neutrals for more contemporary rooms.
Choose a deep olive sofa over a gray one. Cornflower is a light hue of blue that you may include to give the space a delicate look while yet adding intrigue.
Pinks: Misjudging the pairing of chartreuse and pink is challenging because they are complementary hues. With softer pink tones, the depth of olive hue looks really good. Blend blush or light pink with olive in the room's decorations, such as couches, bedding, rugs, or curtains, to create a feminine space.
Golds: Warm colors like olive and gold can be used to design attractive interiors. Mixing olive sofas or armchairs with gold-accented couches, such as a coffee table or side table.
Accessories will elevate a space against painted walls of olive, gold-framed art, and sparkling lighting. Pair olive upholstered furniture with gold accent cushions or materials like draperies.
Whites: Spaces that combine white and olive colors are serene. Keep the room's base white in relaxing spaces, like bedrooms, and add olive through accessories.
Use plants to provide a sense of harmony to the room and add elements with olive hues to the throw pillows and couches, as well as bedding that combines the two colors.
What Colors Go Well with Sage Colored Couches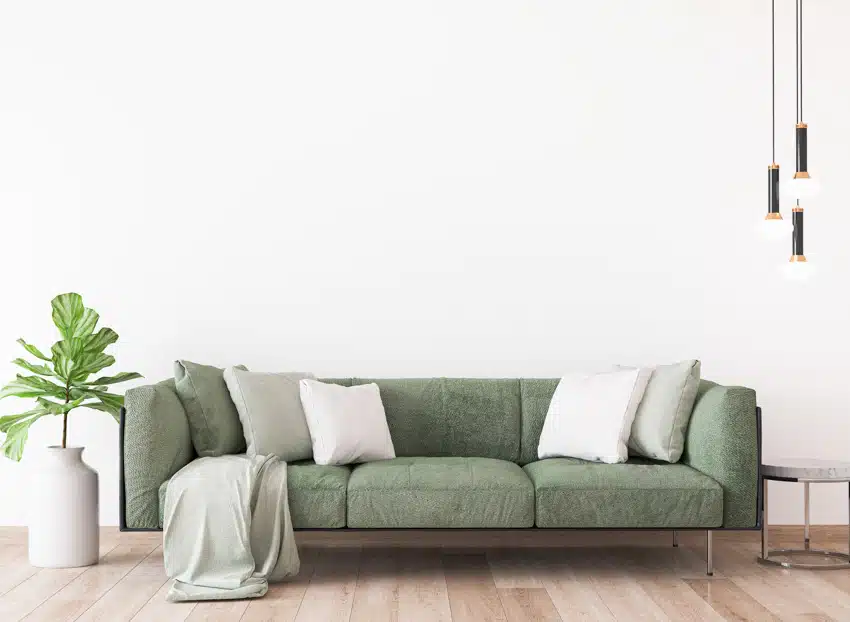 Sage, a serene earth tone, works in Mediterranean, Early American, and modern design. Wall color options vary depending on whether the sofa is the room's center point or a quiet bystander. Choose the wall color last because it complements the room's furniture and decorations. You can blend the paint into any color.
Earth Tones: Evaluate your upholstery, paintings, and accessories to find a backdrop color for your earth tones. A faint French mustard wall behind your sage green sofa creates a neutral backdrop that's not overpowering.
A darker green forest highlights a prominent wall, exceptionally glossy or coated as Venetian plaster. Pale coral walls with white trim are another option. The latte with white accents is neutral. Feature walls should be darker.
Mediterranean Colors: Tuscany's rustic clay tones and southern France's lavender fields match sage tones. Tuscan terra-cotta and brick offer a striking backdrop for a textured sage-colored sofa. Accent a wall with lemon-cello tones and sage-colored accessories.
Pale lavender on the walls and earth brown trim create a Provencal impression. A sunflower yellow accent wall with black lacquer painting complements your sage sofa.
Early American Colors: Early American decor is robust. Burgundy, barn red, pumpkin, Lexington green, Federal blue. A sage sofa surrounded by 95% white-green paint calms the atmosphere.
Whiten inside trim. Alternate dark sage with diluted sage hue to create vertical stripes behind the sofa. Glossy for dark, eggshell for light. Federal blue accessories unify the room.
Modern Colors: Modern colors surround a sage-colored sofa. Slate or a lighter color is elegant with poppy orange. Taupe paint with chartreuse overtones merges the sage sofa into its surroundings, and black-framed sepia pictures contribute to the futuristic appearance.
Warmer tan tones go well with sage, especially wheat or oatmeal trim. Linen gives the sage sofa a neutral background for red or teal accessories.
Best Colors to Use with Forest Green Sofas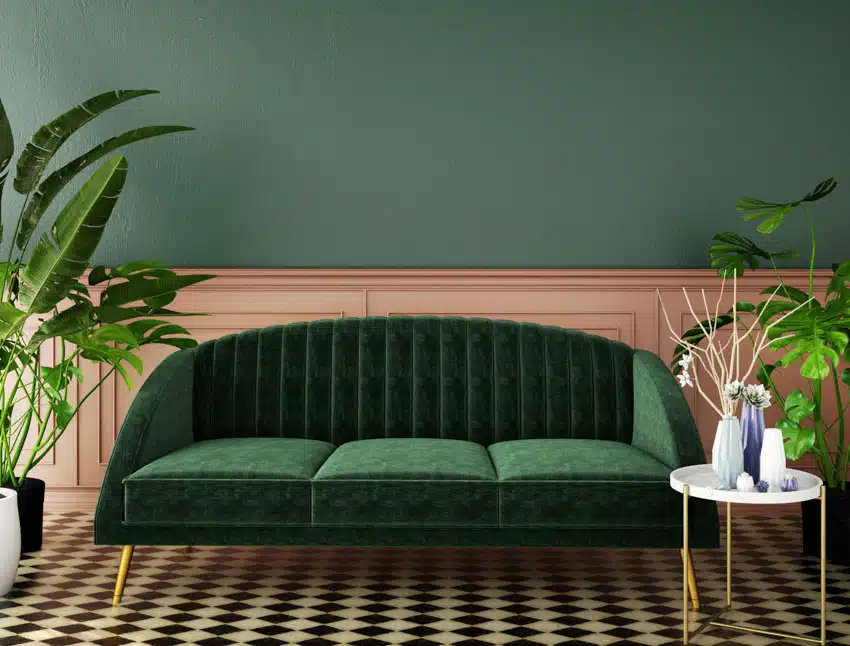 Off-Whites: One of the warmest colors to use with a forest green sofa to warm up the space is off-white. Off-white is comparable to pure white because it has the drawback of concealing dirt. Still, it also has the benefit of making a space appear larger and airier.
Off-white is a neutral color that works well for introducing other hues into a space. This implies that you can change the color of your accessories without ruining the current layout. Off-white also conveys a sense of cleanliness.
Light Grays: Regarding décor, light gray and pear are thought to go well together. The colors are fantastic for achieving any décor design depending on the tones. Additionally, since light gray is a neutral hue and viridian is a color of nature, pairing them together is always a good idea.
Dark viridian sofas look pretty lovely next to light gray walls. Even though gray is a typically good neutral hue to match other colors, a light gray shade works well with dark moss to produce a chilly atmosphere.
Khakis: Khaki, traced back to the mid-1800s US military uniforms, has established itself as a significant player in the décor market. This is another excellent wall color option to go with a viridian sofa.
The powerful, earthy tone of khaki is appreciated for its ability to blend well with other colors in a design. When paired with a moss-hued sofa, the space will have a refreshing touch of freshness when paired with a khaki wall. Khaki produces an earthy, warm feeling.
Charcoal Blue: The color wheel neighbors blue and teal, so picking one for the wall and the other for the sofa makes sense. Although the tone depends on the hue used, charcoal blue aids in producing a bold appearance.
When paired with the charcoal-blue wall, the light tone of aquamarine on the sofa helps to make the space feel more airy and alive.
Combining Colors with Couches in Hunter Green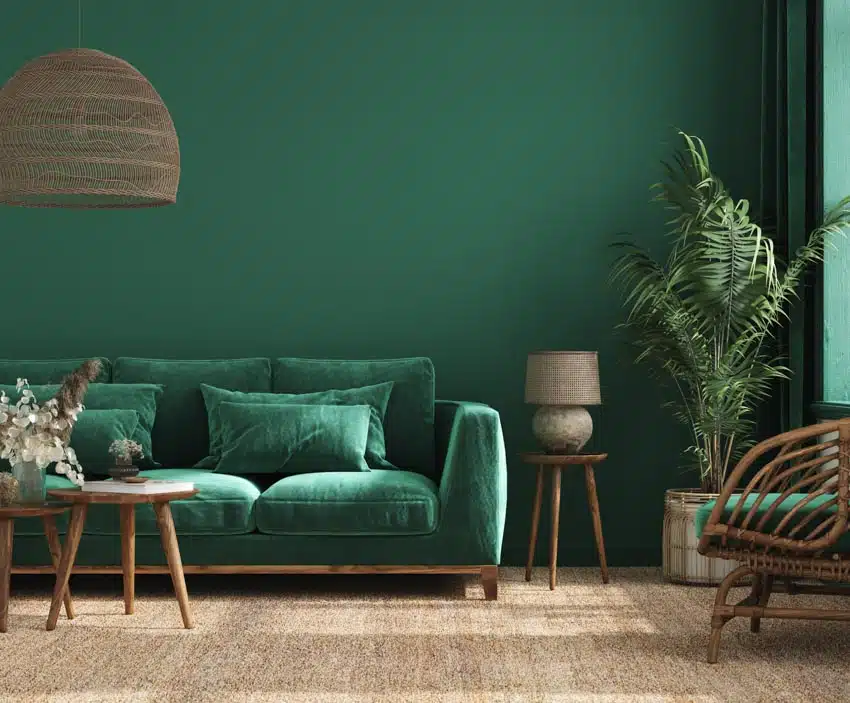 Hunter green has a fascinating past. It was a hue that hunters wore in the 19th century until olive drab took its place in the 20th. Although it is no longer the recognized color for hunters, many individuals still use it as their preferred hue for fashion.
Mustard and Taupe: Anyone who wants their home to have a more classic and elegant vibe can use this color palette because it is ideal. Combine a stylized bronze or deep mustard yellow accent with your hunter green sofa for a complementary look.
Those who are drawn to a boho design will find this color palette to be ideal. Use this color palette inspired by nature to demonstrate that you have a bohemian paradise. Accent your home and give it more bohemian character and individuality by combining this palette with various wood and metal accents.
Color Schemes for Light Green Colored Couches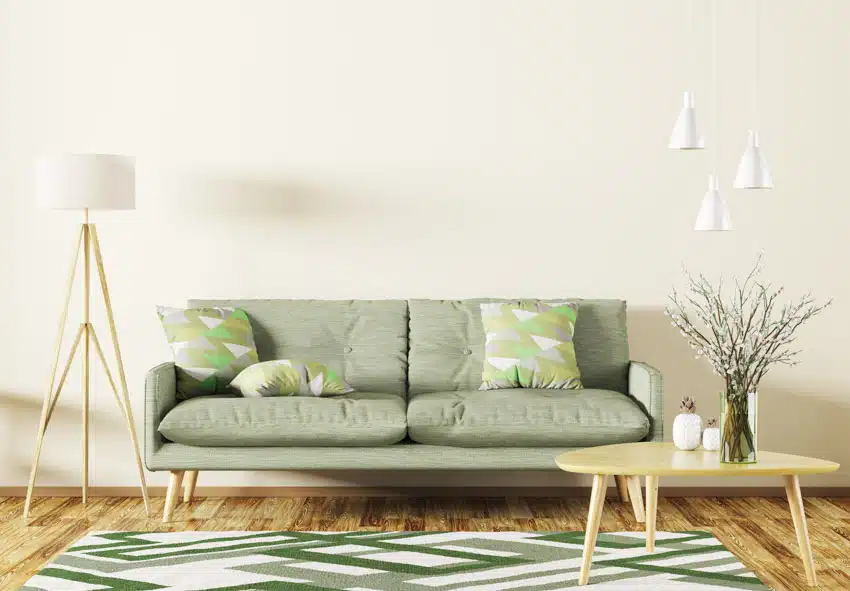 Light green colors are a good choice for offices and workplaces because it is frequently linked to creativity. Working in offices decorated with greenish tones will inspire creatives like writers, artists, advertising executives, and marketers. It is one of those distinctive colors that stands for the conflicting concepts of motivation and rest.
The color blends flawlessly with various hues to illuminate homes and offices. It goes nicely with both warm and cool colors, as well as dramatic and delicate tones. Greenish color schemes will ensure that a place remains fashionable and welcoming for many years.
Colors to Match with Couches in Emerald Green

Many paint and color resources have named this greenish hue as the color of the year. Green symbolizes prosperity and new beginnings. Add emerald hues to your decor with a sofa.
Go with a design that features a feminine color scheme. The result is a glam design concept. This is a type of design that will elevate your living room. Its elegance and individuality will wow your guests.
Neutrals: There's no need to overcomplicate things when decorating with a green sofa. This sofa color works wonderfully with earth tones and other natural shades as complementary accents.
White, cream, beige, tan, and grey are some of these colors. If you want extra color, try a color scheme with pink or coral that is complementary to the other colors. To achieve a contemporary glam look, add accents of gold and black.
Mix and Match Ideas for Lime Couches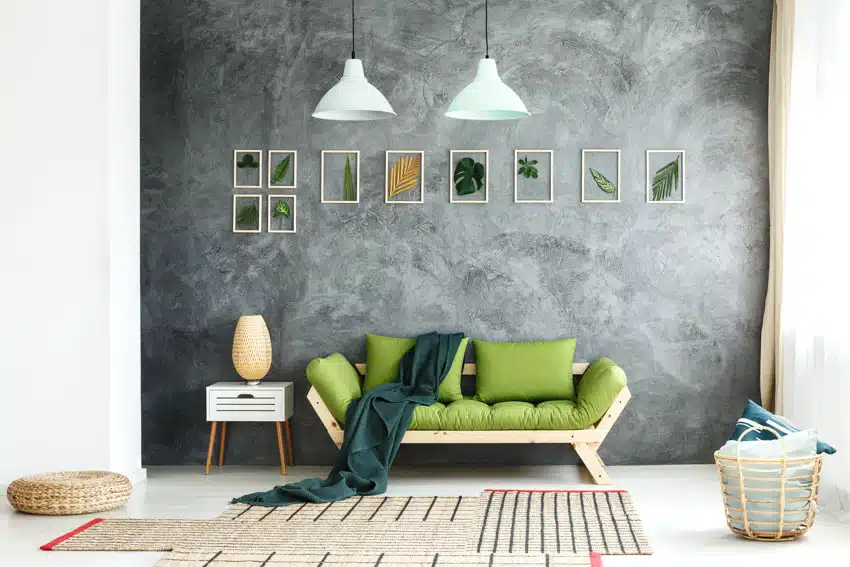 The color of limes' skin inspired the name of this vivid green. It's a vibrant, new color that boosts any color scheme. Because lime green is a tint between yellow and yellow-green, it pairs well with yellows and blues.
Contrary to popular belief, lime goes well with various colors. It can be used with other vibrant hues or kept neutral for a more timeless appearance.
Navy: In general, blues and greens go well together, and navy and lime are no exception. Although it's common to locate goods with these two colors already incorporated, a navy-colored decor piece is a terrific method to silence the brightness of the lime couch. Anyone looking to achieve a cheerful, preppy style should pair navy with lime tones.
Blue: Blue and lime are lively options for home design, much like the lime and purple combination. Even though the two hues can be potent when combined, sparingly utilizing them is a terrific approach to experimenting with color.
Turquoise: Due to its mixture of blue and green, turquoise is a color that goes well with many other hues. Thus, turquoise and lime green complement each other beautifully. Like most lime-based color combos, lime and turquoise can be too dominant in large doses.
Purple: One of the most incredible color pairings is purple and lime. Because purple is a complementary color to lime , this color scheme works. Locating understated accent pieces in purple and lime is crucial rather than making a massive statement in your home.
Utilizing milder lime hues and purple variations is an additional choice (instead of the jewel-toned colors). This mixture provides a little touch of fun without becoming overpowering.
Best Hues to Pair with Your Moss Green Settee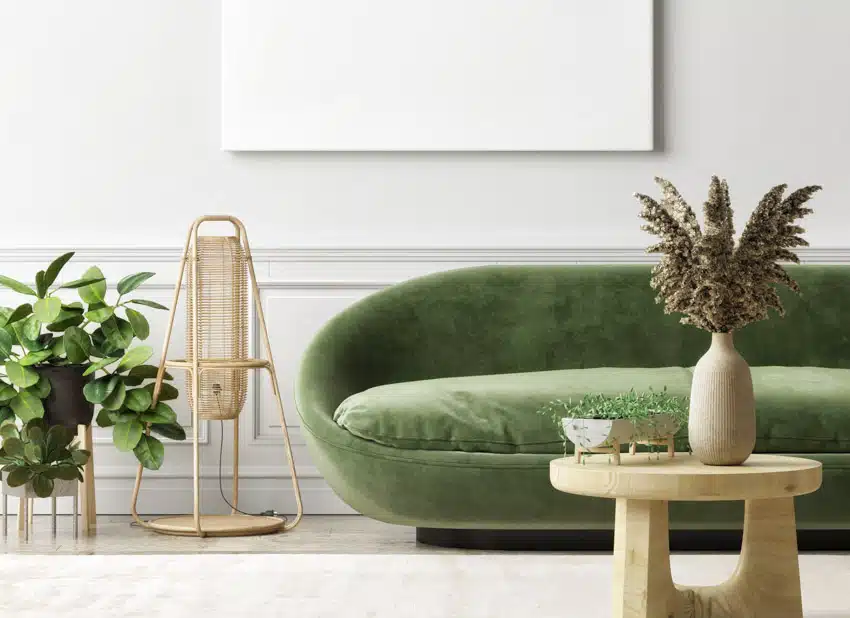 A muted shade of green with hints of brown and yellow, moss is described as earthy. It is a particularly appropriate color for interior design styles based on natural and botanical themes that are recently gaining popularity. It is because it is named after the ground-level plant growth that covers the land in many different settings worldwide.
The color green has experienced a significant comeback in interior design, and moss green is no exception. It is a subdued color that feels contemporary and gloomy. Still, it may also feel fresh when combined with other specific colors.
Mulberry: The mulberry plant's fruits inspired the hue. It's purple-red, and red is moss' opposite color on the color wheel. Mulberry comes in vibrant and subdued colors, so choose one based on the mood you want to create.
Brighter mulberry tones contrast significantly with moss green, creating a vibrant aesthetic. At the same time, more subtle shades provide a more muted approach. Consider moss colored walls with a mulberry sofa or lamp shades.
Taupe: Taupe is a darker gray-brown than greige. Its earthy vibe pairs beautifully with moss green, but it's not too warm and remains fresh and modern. Taupe is a comfortable neutral that pairs well with moss colors. Taupe's warm and cool tones produce a warm vibe without looking old, like beige.
Blush Pink: Blush pink is a very contemporary interpretation of pale pink. It looks great with several greenish hues, including moss. There are undoubtedly many dark tones of green combined with blush pink if you look at some of the most well-liked trends in interior design from the previous year.
Since pink is a pale version of red, it creates a complementing contrast with the earthy moss hue. It gives it a beautiful and feminine air.
Green Velvet Couch Color Pairings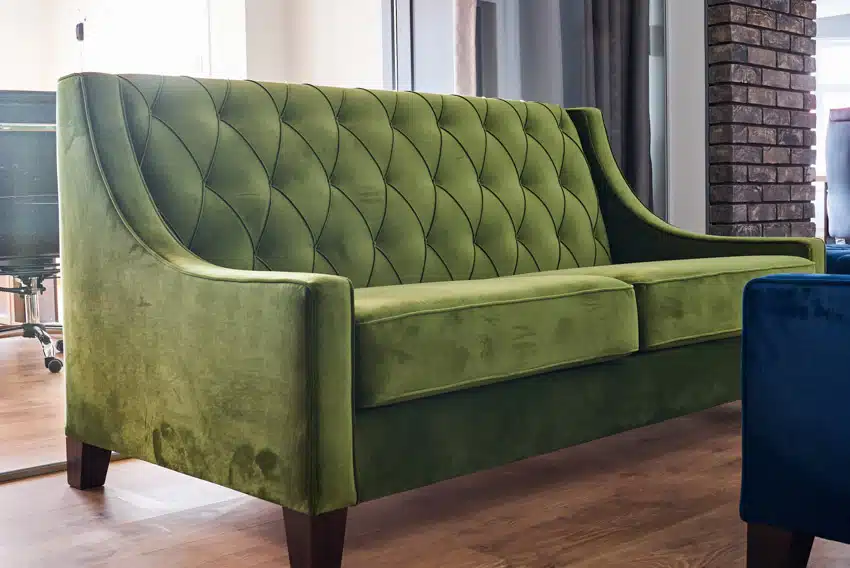 Place your green velvet sofa in your living room next to mirrored pieces, such as certain types of coffee tables and sideboards. Accessorize with gold metallic accents to create a laid-back atmosphere at home.
The greenery that looks like palm trees, silk pillows, and contemporary art bring the overall design plan together, making it an ideal setting for adult social gatherings.
By contrasting the cool tones of green with the warm tones of red, you can bring out the full potential of both colors and make them appear as brilliant as possible. Warning: the closer your green gets to blue-toned, the lower down from red you should go to yellow you should go.
What Colors to Pair with Green Leather Sofa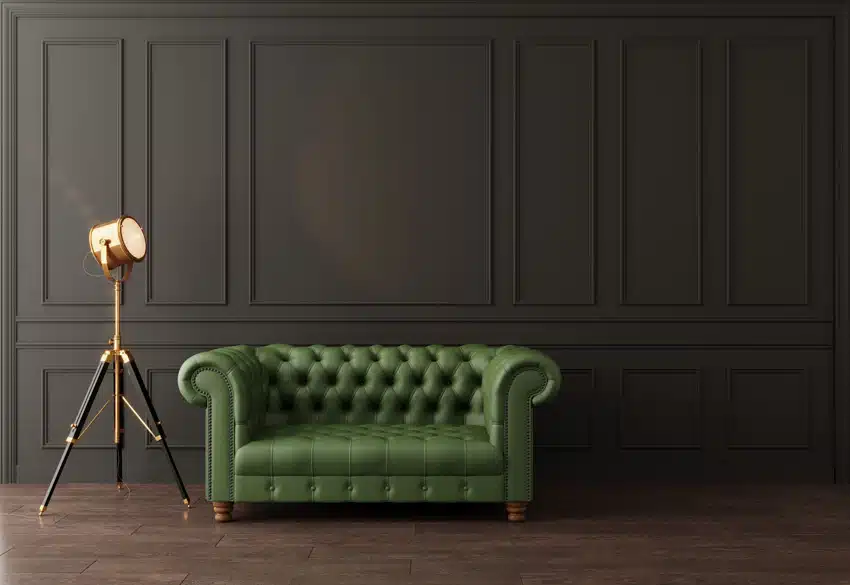 A sofa made of dark evergreen leather may appear rather opulent. A leather sofa in a dark jade color can be emphasized with pillows in several styles, whether in your living room, den, or library. For comfort, leather is best combined with extra-soft textiles like chenille, velvet, and woven cotton. Leather might feel chilly on your skin.
Pick hues like off-white vintage cotton linen or gray velvet that go well with dark green. Use two or three purple cushions with a hint of metallic thread for a modern appearance. Select materials that pair this color with more vivid tones rather than solid brown pillows against dark green.
To create a modern, feminine look, place fuchsia pillows against dark pine leather. For a relaxed atmosphere, use green cushions in a range of tones and sizes with a monochromatic color scheme.
Decorating Ideas for Green Living Room Couches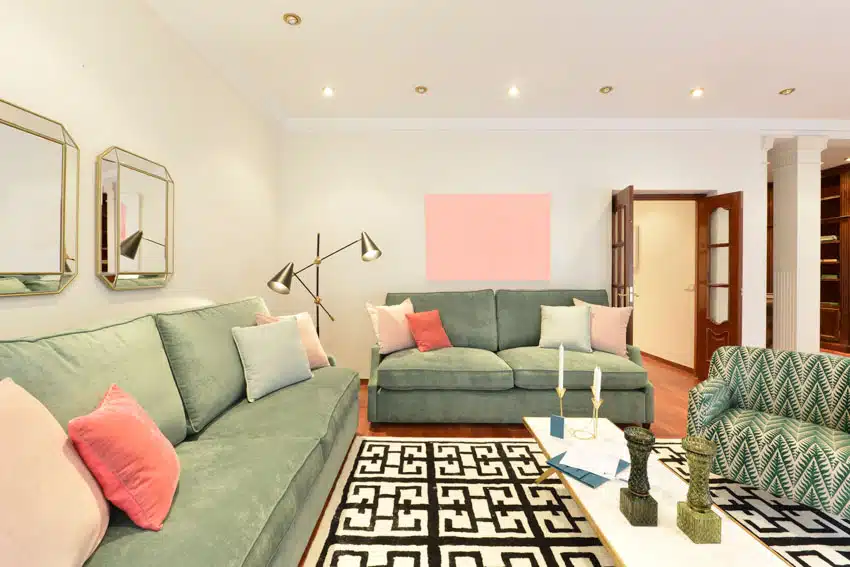 The choice of a pine sofa for any living room, no matter the size of the area, is guaranteed to make a statement. This is true whether the couch is part of a small living room idea or one chosen for a bigger room. Utilize these ideas as a springboard to create the atmosphere you've always wanted.
Team A Softer-Toned Emerald Green Couch: An emerald couch in an open living room may provide a stunning focal point. It can be softened by adding a variety of natural materials, such as warm wooden furniture with smooth lines, and quieter accents, such as textured cushions and plants, to tie the room together.
Incorporate Millwork With Paler Greens: A green couch in a dark shade of color can be paired with millwork in lighter tones to create a living room that is powerful and harmonious. A modern minimalist style can be achieved by combining neutral furnishings and essential accessories. In contrast, adding metallics and delicate details like fluting can create an opulent atmosphere.
Add Some Contrast With Blush Pink: Looking forviridian couch living room ideas to design a stylish and calming space? The combination of blush pink and vivid green is unbeatable because it is calming when used together. You may experiment with the ratios to design a posh living space.
Accenting With Lemon Yellow: Make use of highlights in yellows, neutrals, and other shades of viridian to bring depth and warmth to the area, while richer patterns help add interest to the setting.
Use Fabrics As A Base: Green sofa living room ideas could start from another aspect of the space instead of that one, such as the pattern essential to a warm living room design. You can search for the ideal harmony of an earthy-fresh green color with an excellent hand for the couch fabric.
Pair It With A Plain Colored Couch: Among your viridian couch living room design ideas, consider a patterned variation. ' If you want to add color and pattern to your living room but don't want to use wallpaper or curtains, consider getting a couch with a classic floral pattern.
By choosing a pattern with just one color, like pine, you can employ additional chairs upholstered in that color to accentuate the pattern and produce a unified overall appearance. Natural elements like wood and wicker accents will bring the room to life.
Decorating Tips for Sofas in Green Shades
Interior designer Jennifer Eldridge provides these tips:
One of my favorite ways to decorate with a pine couch includes pairing it with dull brown, green, tan, or orange colors. Incorporate warm lighting, organic materials and shapes to create a relaxing environment.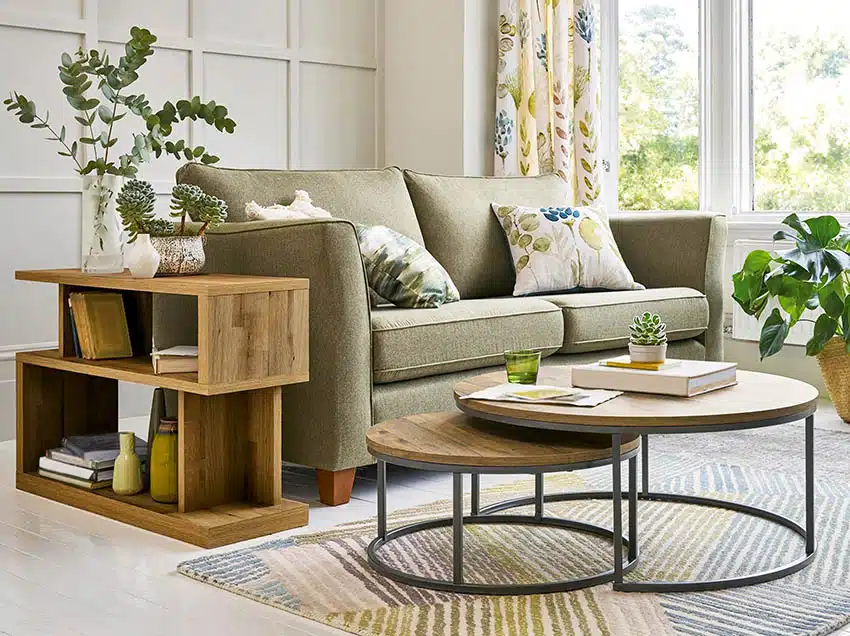 To develop a classic design, pair an evergreen couch with neutral furniture pieces to make the color stand out. If you are looking for a natural, botanical design, place plenty of houseplants around the room and bring elements of the outdoors inside. Incorporating prints and raw wood or stone adds the finishing touches.
Manipulate contrasting colors and materials to compliment the evergreen sofa. For instance, place a black and white patterned area rug under the sofa, or add patterned throw pillows.
The sofa's style largely impacts how you decide to decorate the rest of the space. For instance, a vintage or antique celadon sofa would go well with other antique pieces, especially those made from medium to dark wood.
A modern fern colored sofa can be paired with minimalist furniture, such as tables with stone tops and metal legs or mid-century statement floor lamps.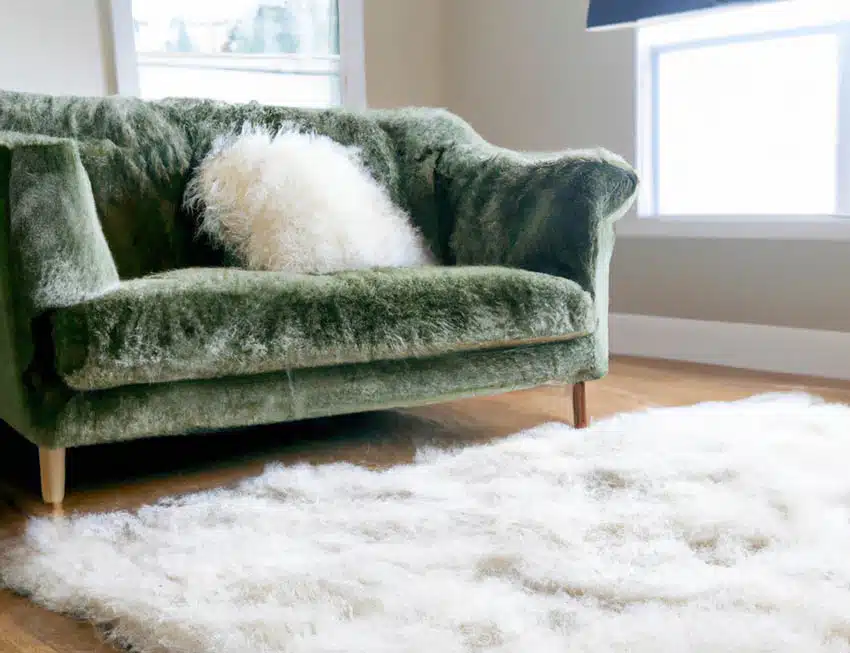 A popular material for a chartreuse couch is velvet, which adds a luxurious feel to the space. This style can be paired with any of the furniture already mentioned above, as well as white shag rugs, fur throws, and other richly textured materials.
A viridian couch can automatically become the focal point of a room or blend in with the rest of the furniture, depending on where you want to draw the eye.
See more related content in our article about the different sofa styles on this page.