Below we share beautiful earth tone living room designs in an assortment of styles, colors and finishes.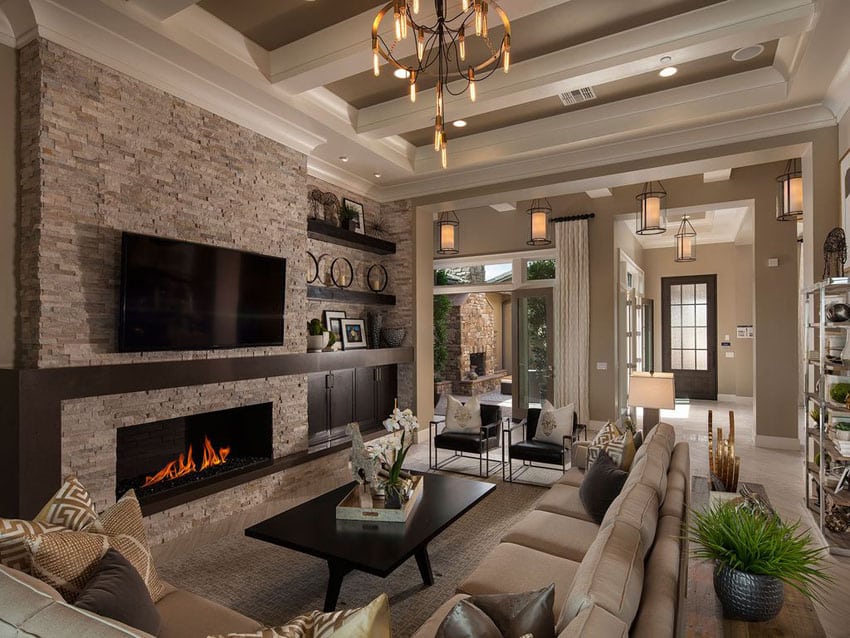 Using earth tone color schemes always add a warm, cozy and laid back ambiance to any space. Since earth colors are warm neutrals, it looks good when combined with almost any color, making it an ideal choice for common spaces. If changing furniture upholstery is out of your budget, simply repainting the walls with an earth tone paint would instantly give that warm ambiance to any living space. Another advantage of using earth tone paint colors is it's proven timeless charm and versatility. You can play around with different shades and tones, and it will never go out of style, making it a worthy investment and a practical choice as well.
In the picture above the soft beige paint color of the walls adds just the right amount of warmth to the space, which is also populated with earth-toned furniture pieces. The beige color is even used on the coffer ceiling, making it stand out.
Earth Tone Paint Colors for Living Room
When choosing the paint color for your living room, always take into consideration the color of your furniture pieces and accessories. For projects starting from scratch, paint color could be decided before furniture color, but if you have already selected furniture pieces and upholstery colors, the paint should complement or match with your fabric choices.
Currently popular is greige, which is a mixture of gray and beige. This color is a nice and subtle neutral color that would easily match any theme. You can also experiment with warmer and darker earth tone colors, depending on the look you want to achieve.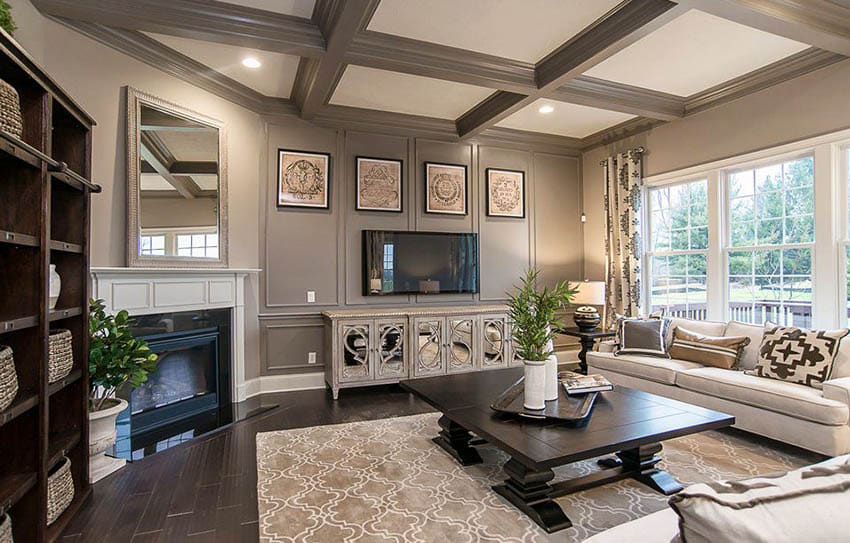 Here are some popular earth tone paint colors commonly used in living rooms:
Shaker Beige (Benjamin Moore) – a mid-tone beige color that would look great for a general wall color. It has a nice, warm undertone that creates a warm and cozy ambiance.
Antiquarian Brown (Sherwin Williams) – a rust-toned color that has a strong warm undertone which would work well as an accent paint color.
Natural Linen (Benjamin Moore) – a light taupe tone color that is also good as a general wall color which is very subtle and can create a brighter ambiance
Squirrel Tail (Benjamin Moore) – a dark, earth color with a gray/neutral undertone which looks great as an accent color and matches well with natural stone finishes
Colony Buff (Sherwin Williams) – a soft-toned earth tone color with a feminine appeal
Brevity Brown (Sherwin Williams) – this color has a red undertone with a very natural look that is very close to wood natural wood colors
Coconut Husk (Sherwin Williams) – another nice dark earth color which you can use as accent and molding color
Earth Tone Color Schemes for Living Room
Below you'll find a variety of living rooms featuring earth tones in an assortment of design styles.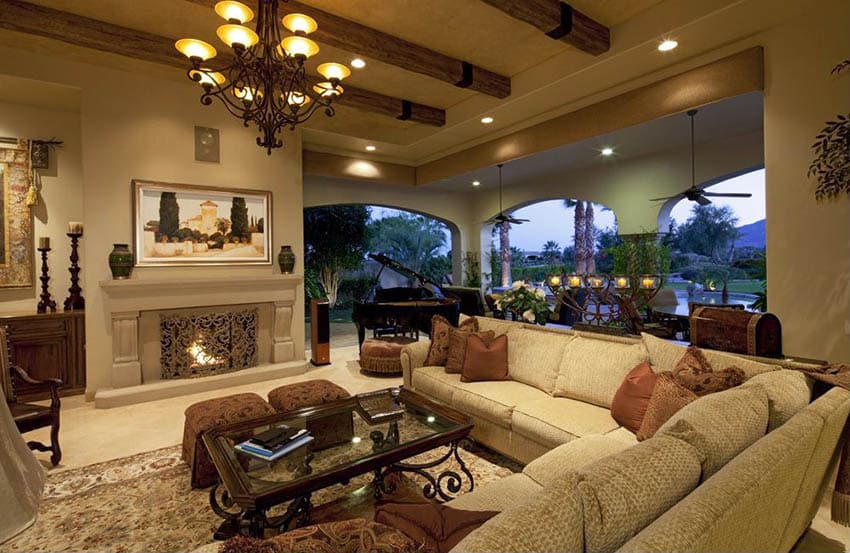 This contemporary living room provides true indoor outdoor living. The color palette is a light brown for the wall paint with matching furniture, contrasted by dark wood beams, two brown ottomans, a dark wood coffee table and accent pillows.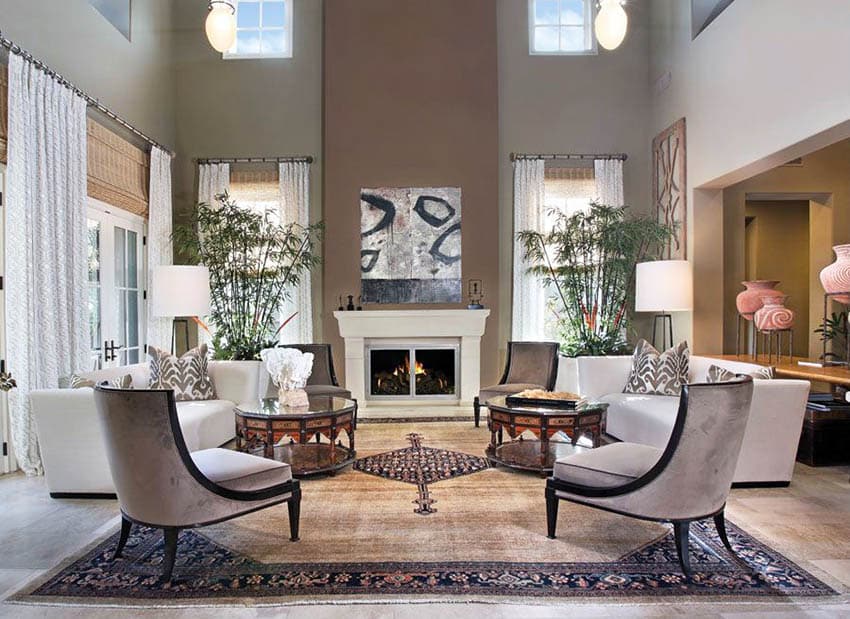 This contemporary living room space showcases its high ceiling with a primary beige paint color and a brown accent color above the fireplace. A light brown jute area rug with matching window valances combined with wood furniture pieces offer plenty of earth tones that are further enhanced by two large indoor trees.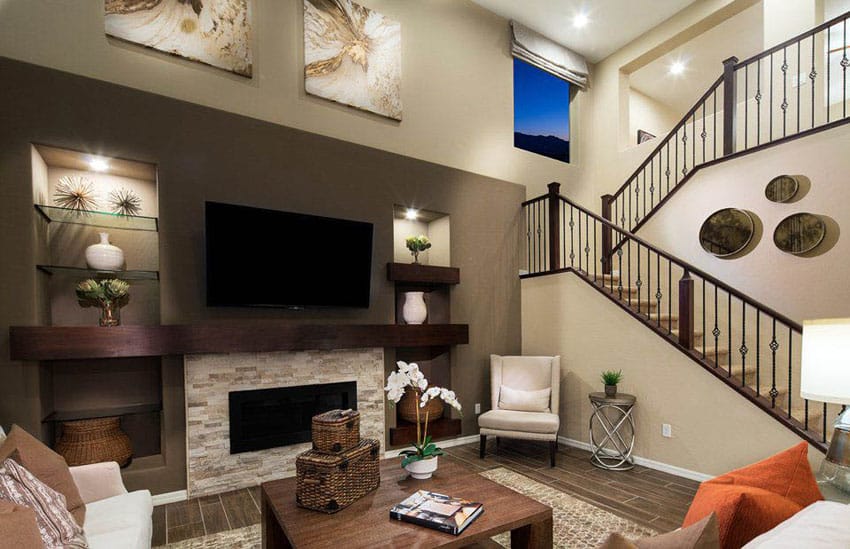 For this living room design, the walls were painted a soft taupe color to give it a light yet warm-toned finish. The TV wall becomes the focal point of the room as it uses a darker beige paint, similar to Sherwin Williams Nuthatch.
This modern living space with an open layout is a good example of using very subtle earth tone colors to add just the right amount of warmth to this very contemporary space. The living room paint color uses a light creme shade to give it a brighter ambiance. The use of wood finish on the tray ceiling accents and openings also adds more warm earthy tones into the space.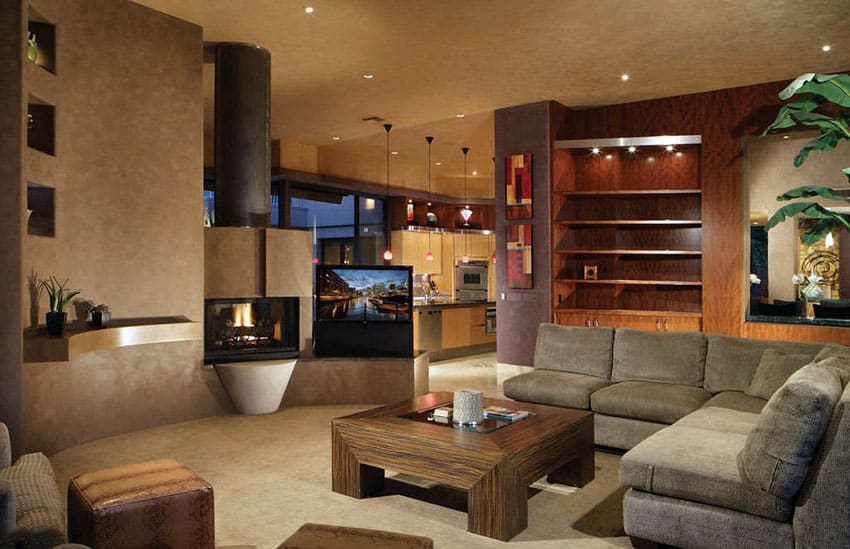 You can also play around with textures to achieve the look you want. While using stones /masonry is the usual route, it can be above the budget for some, so a quicker and more practical solution is using textured paints and paint techniques. In this example, Venetian Paint in a sand color was used on the accent wall, giving it an elegant yet simple texture.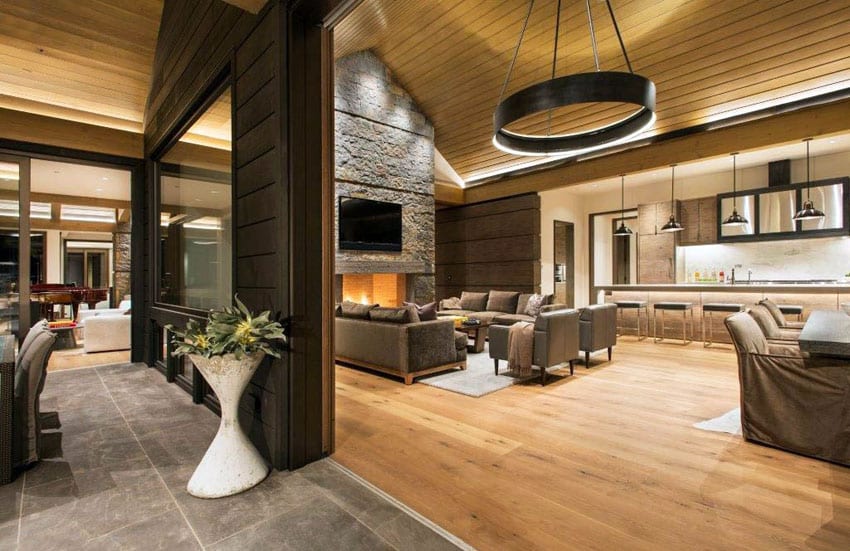 The use of earth tones isn't only limited to your paint colors, but can also be used on the finishes of your wood. This example shows various tones and colors of wood, of which the dark Mahogany wall slats stands out the most, giving the space a modern yet natural appeal.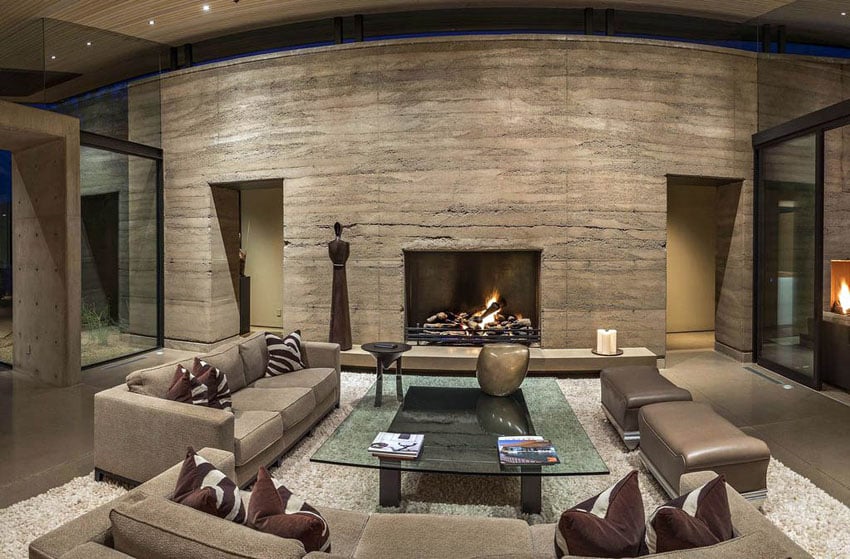 Aside from paints and wallpaper, if you have the budget, you can also you large natural stones to serve as your earth toned backdrop. This contemporary living space has gorgeous solid sandstone walls paired with beige floor tiles.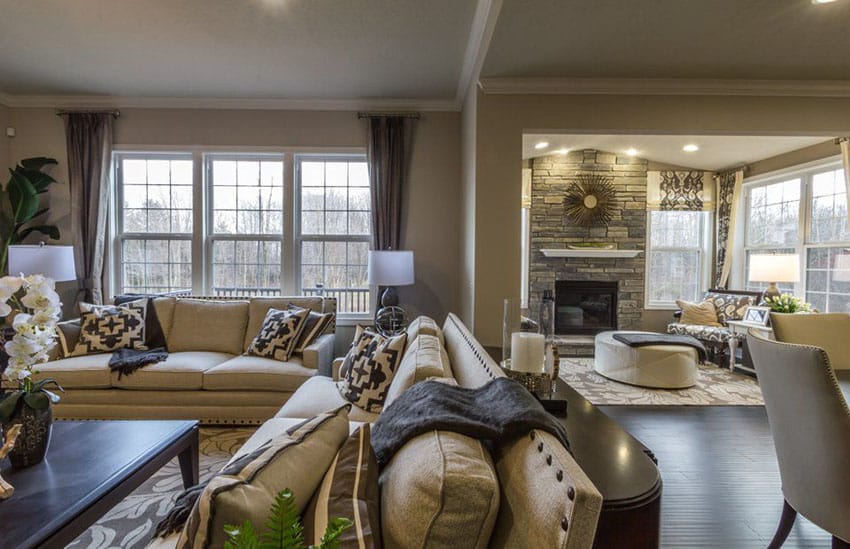 The walls of this living room is a neutral taupe color to give balance and contrast against the dark wood finishes found on the flooring and the wooden furniture pieces. The furniture pieces int he space have matching creame-beige toned upholstery, creating a fresh and warm atmosphere to the space.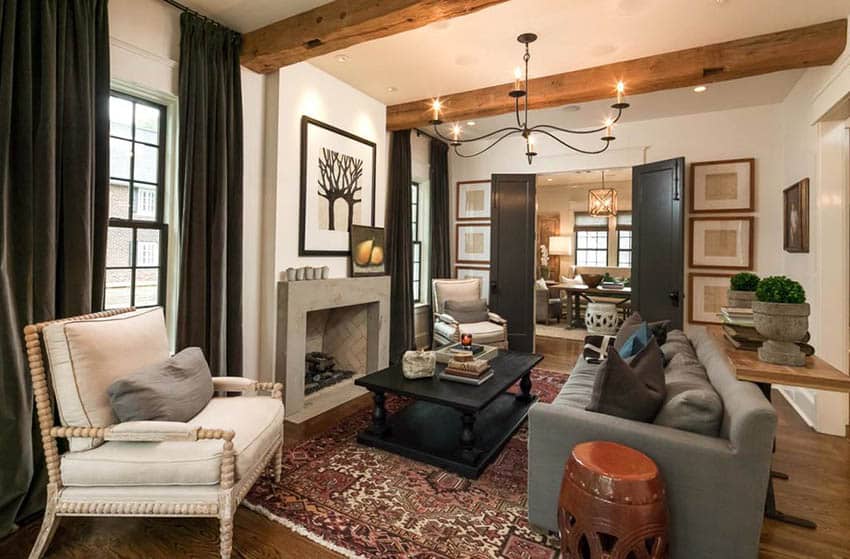 This traditional living room offers a variety of earth tone accents including dark wood double doors, brown curtains, wood beams, floors and a variety of furniture pieces. The living room hardwood floors and wood beams bring a rustic charm to the space. Pops of color are used throughout the decor to liven up the design and provide contrast to the space.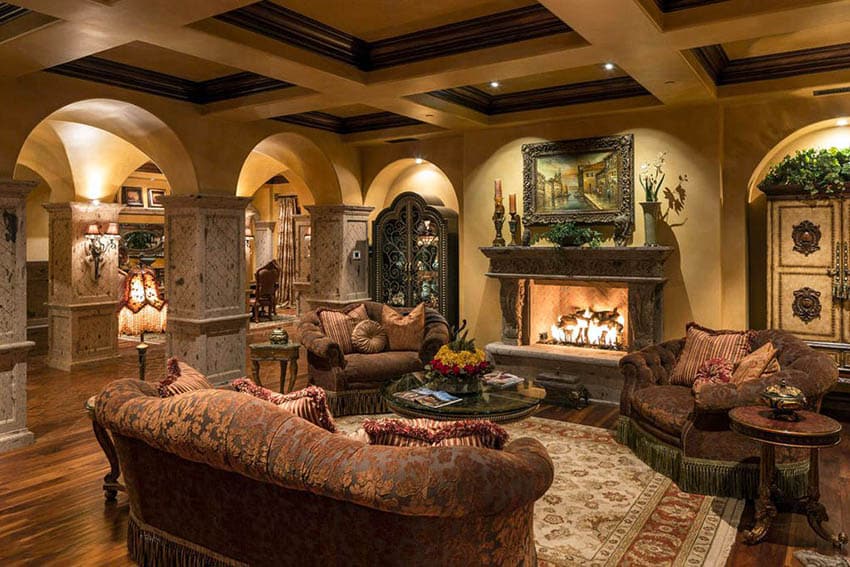 To maintain the classic ambiance of the interior architectural features of this space, matching Baroque furniture pieces were used. Warm yellow Venetian paint finish was used on walls and the ceiling, accentuated by natural stone wall panels and dark Mahogany moldings on the ceiling.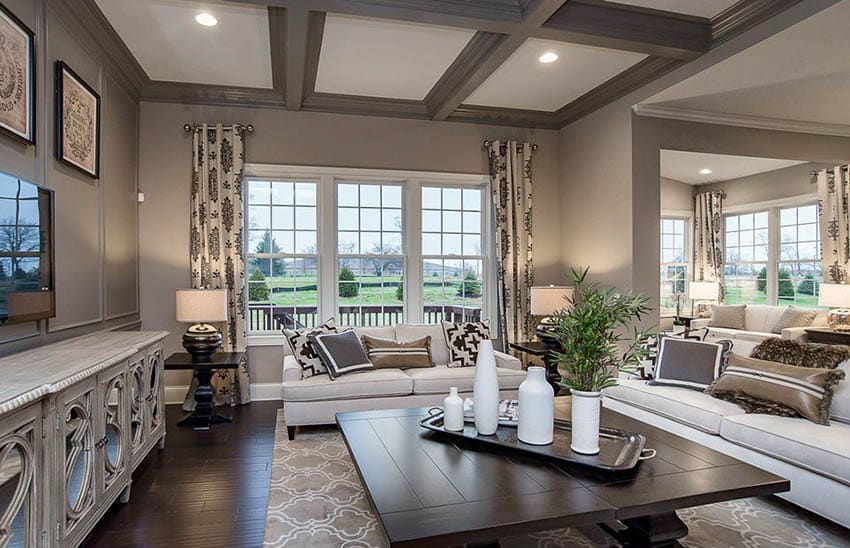 This lovely open living room design utilizes squirrel tail gray paint by Benjamin Moore to effectively realize soothing earth tones. Natural hand scraped wood flooring and wood beam ceiling combined with a wood coffee table and end tables helps create a cohesive space.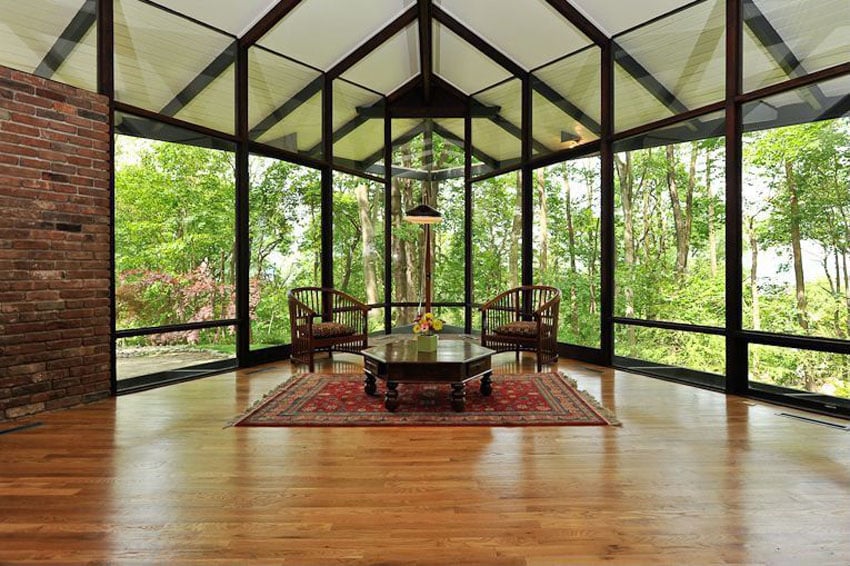 The architectural details alone of this space is enough to create a stunning look, but the modern lines and geometry is given more personality and warmth through the use of earth toned finishes such a the golden oak flooring and the brick accent wall.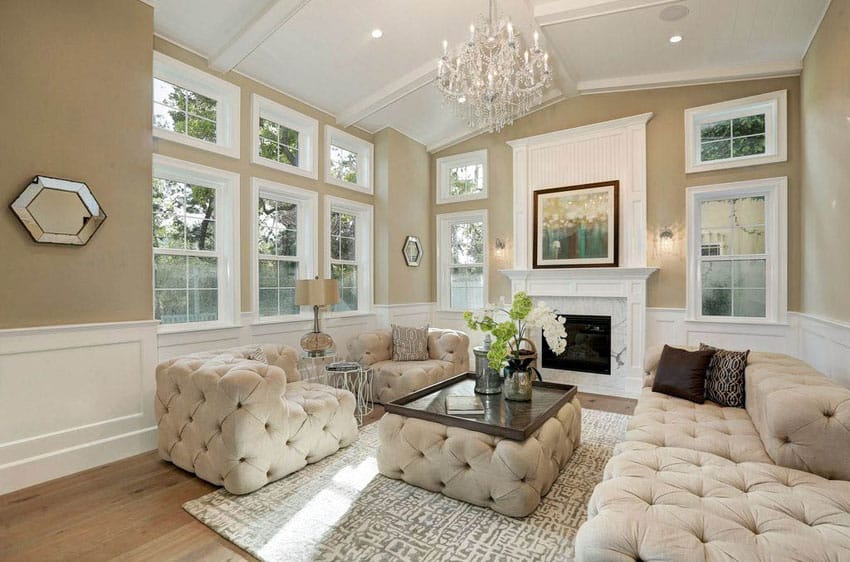 This feminine transitional style living room has a soft and dainty look with the combination of tan colored walls and white wood paneling. The French casement windows and other interior architectural details further adds a dainty appeal to this space.
The warm yellow undertone of the wall color helps tone down the dark Mahogany color of the wooden doors and beams found in the space. This also helps balance the over-all look of the large and dark-colored furniture pieces in the space.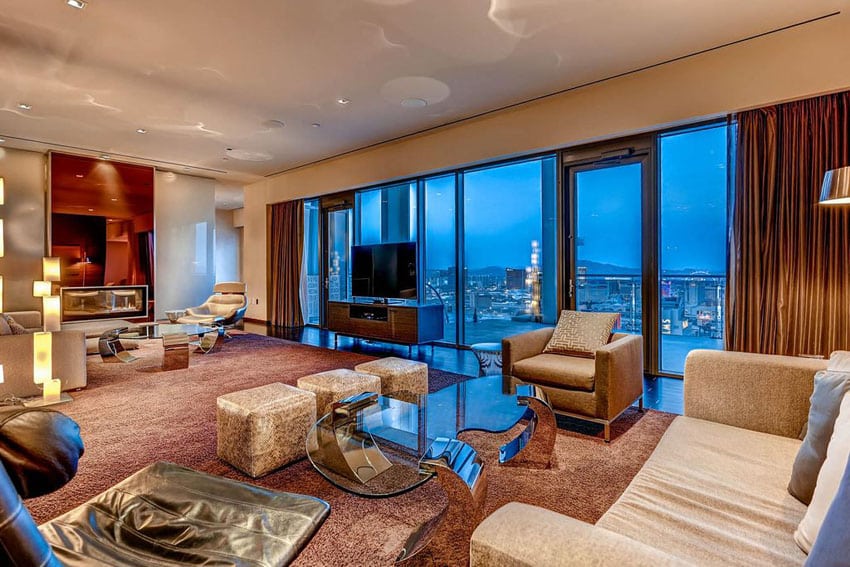 A contemporary living space is given a warmer and cozier ambiance through the use of an earth-tone color scheme. To maintain the contemporary aesthetic, light-toned colors were favored, such as the light cream paint on the walls. Subtle accents with red undertones were also use to add a bit of contrast to the space, such as the copper-colored curtains and area rug.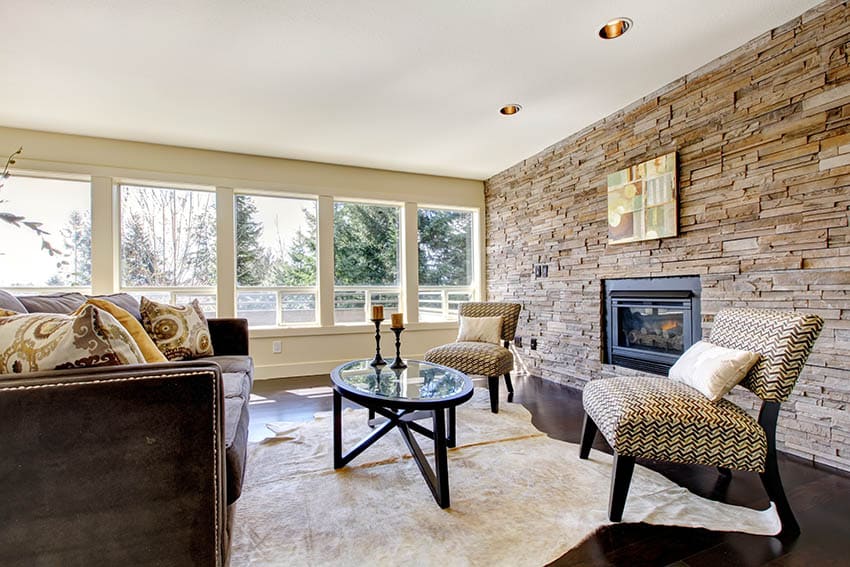 This living room uses a simple combination of a light-cream painted wall, dark brown flooring and a gorgeous beige stone accent wall, creating a space that feels light with enough balance and personality.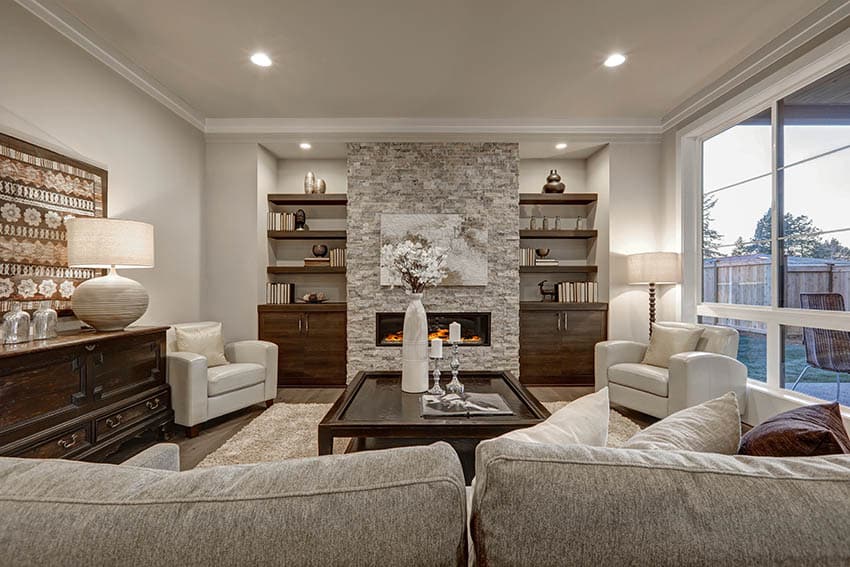 This contemporary living room design uses mostly gray tones is given a touch of warmth through the use of earth tones found in the Oak wood furniture pieces and the accessories in the space.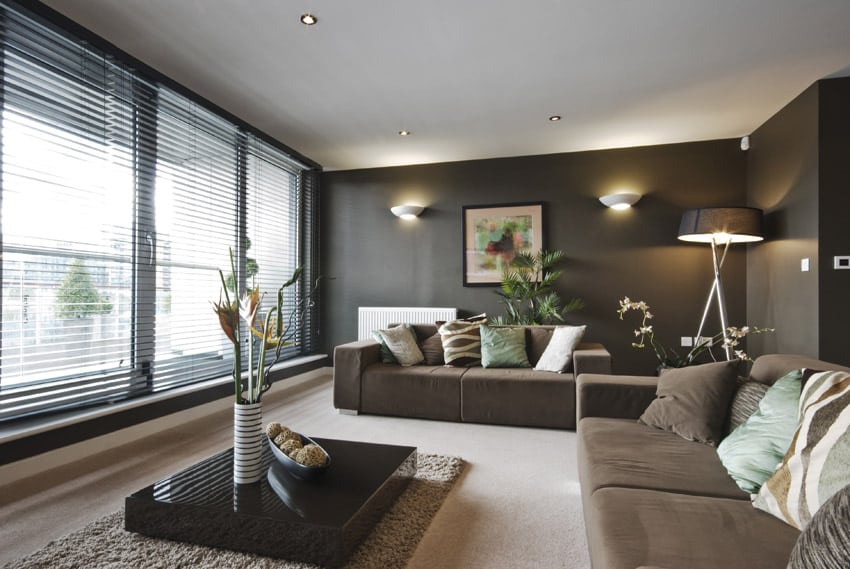 This living room design embraces brown with a dark shade of the color for the primary wall paint matched by a lighter shade for the two couches. To keep things from getting too dark the dark shades are contrasted by a light beige carpet and area rug, accent pillows and light color ceiling.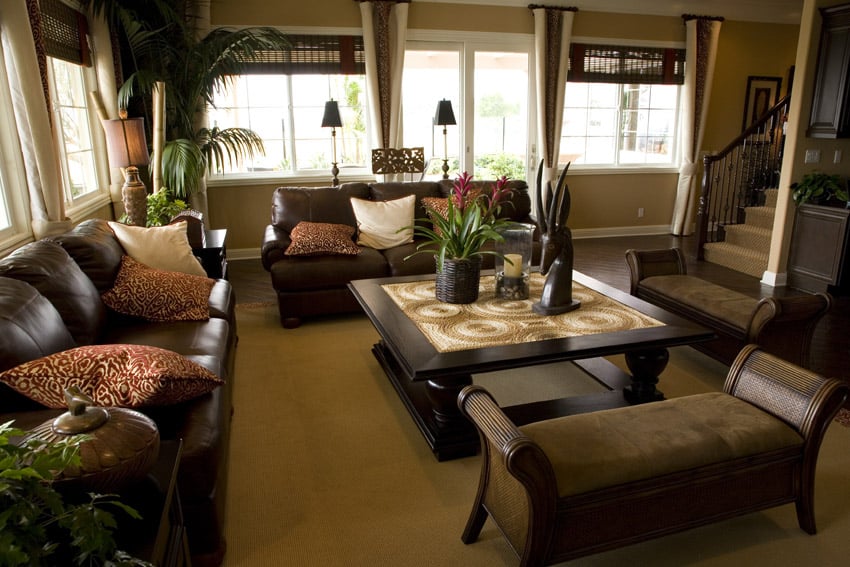 This rich earth tone living room features a variety of shades from beige for the walls and area rug, cream for the window coverings and dark brown for the leather furniture.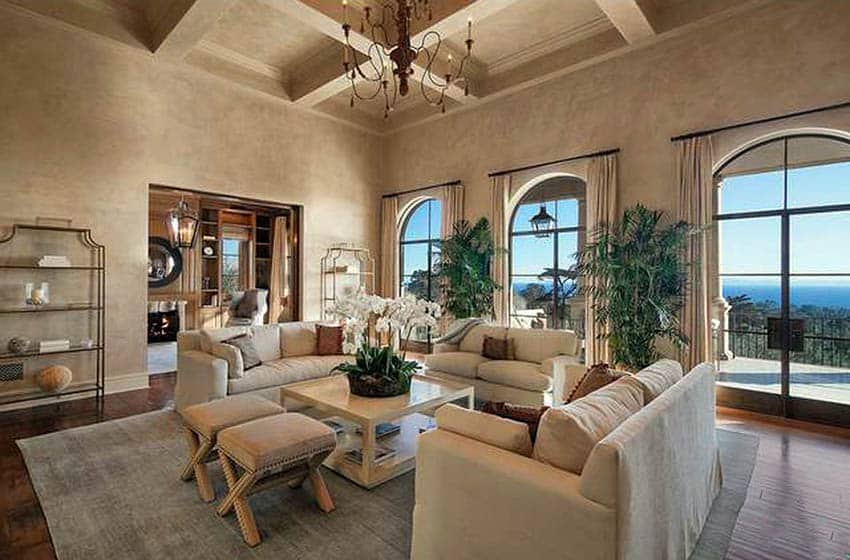 This monochromatic living room design features a beige wall and ceiling paint color with similar tone furniture and window coverings. You can achieve an attractive monochromatic design by choosing a single base color and then using its relative shades and tints for other details in the room.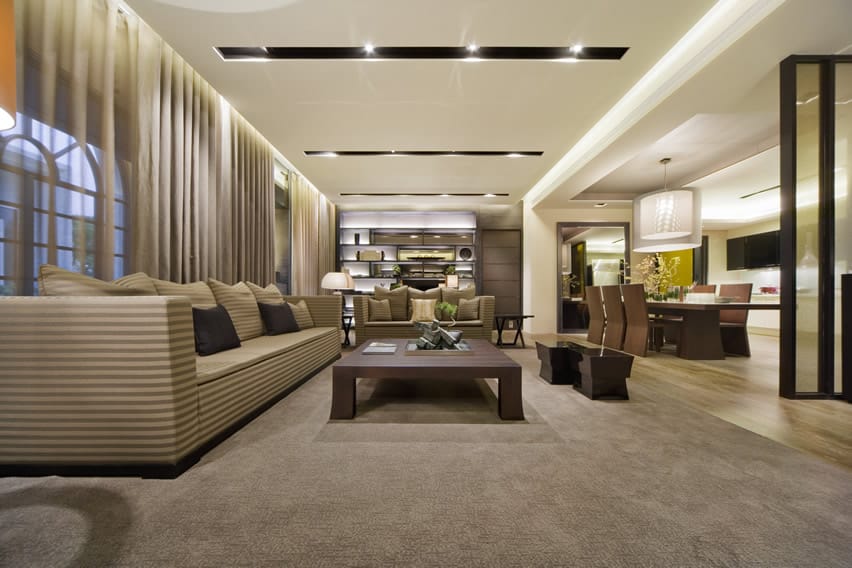 This modern living room space has a warm color palette with an assortment of brown colors to create a cohesive design.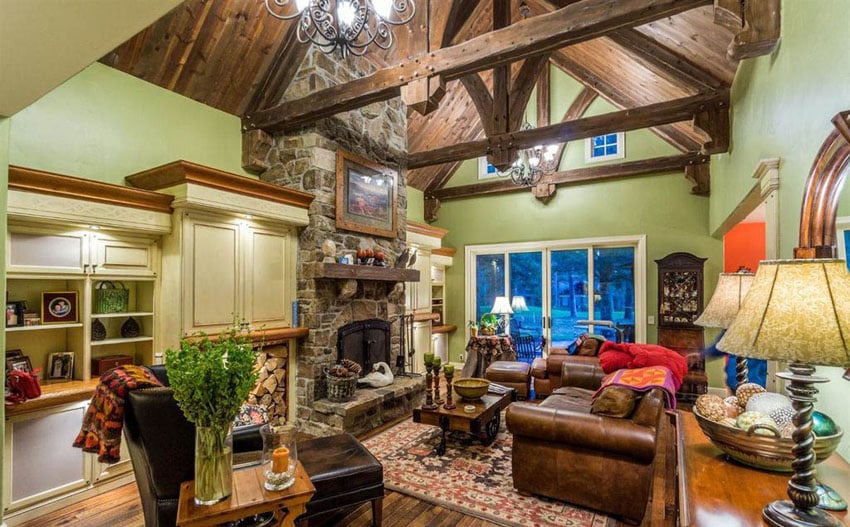 For this space, the natural wood finishes on the ceiling and flooring already makes up most of the earth tone is the space. In contrast, the walls were painted in a light green color giving it a vintage appeal.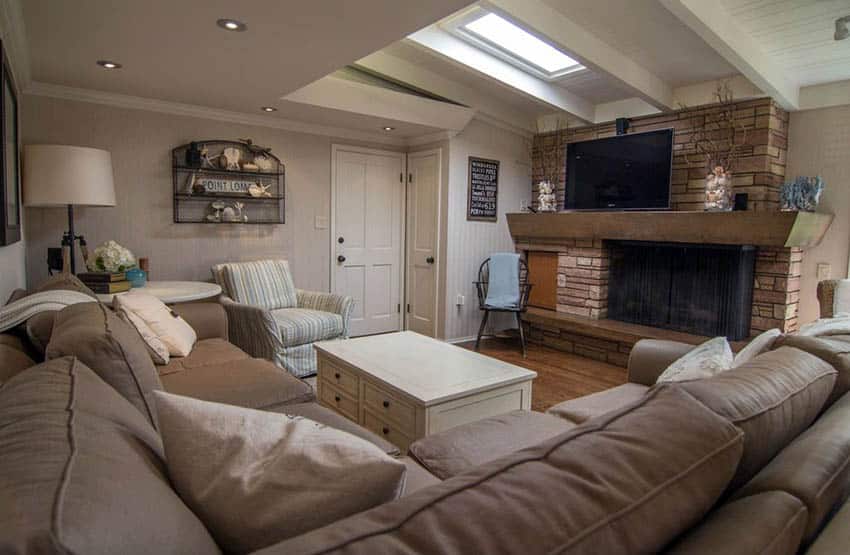 This cottage style living room design has painted shiplap walls with a beige color, wood flooring, stone fireplace and large brown sectional couch.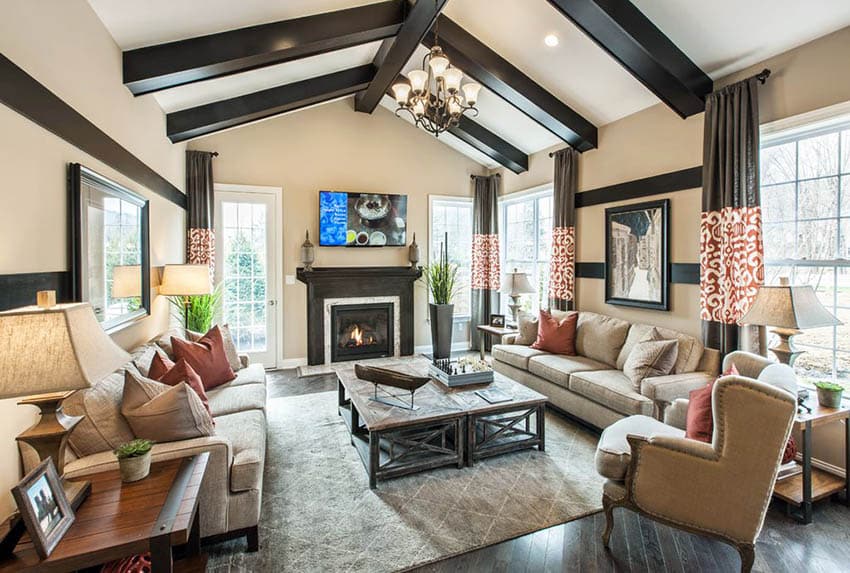 Showcasing an assortment of earth tones, this formal living room brings in color through its use of burnt orange and brown curtains, throw pillows and houseplants. A large area rug frames the central sitting area and matches the overall look of the sofas and armchair.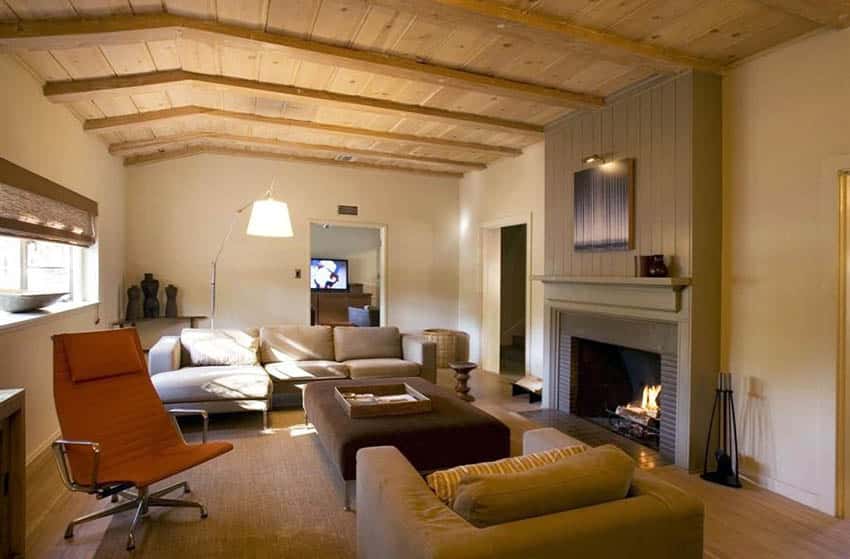 This stylish contemporary living room space offers wood textures including a sloped ceiling and bamboo floor. An orange modern ribbed management chair brings a pop of color in to this otherwise neutral color design. Get more living room flooring ideas from this gallery page.