Welcome to our guide of living room floor ideas sharing popular materials, options and styles.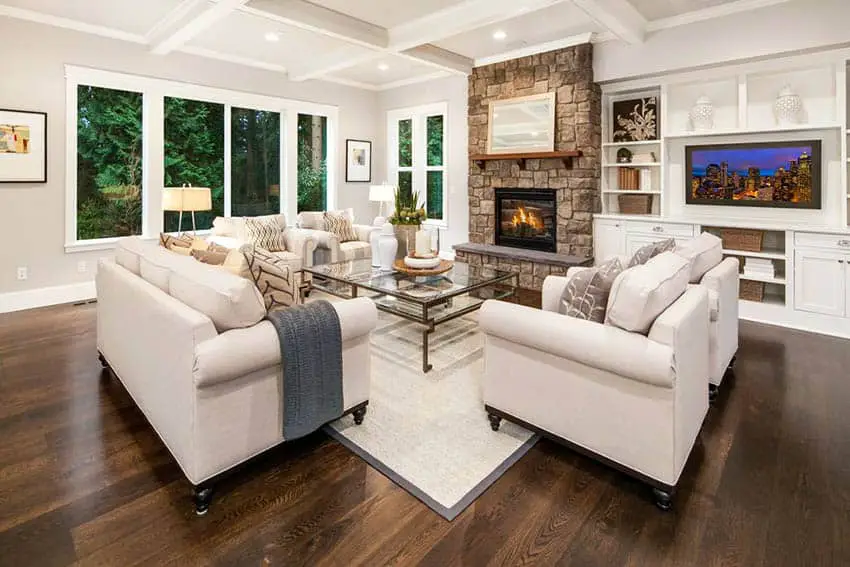 Your living room is an important place in your home. It's where your family gathers to spend time together and where you relax at the end of the day. It's a high traffic area of your home and you need to make sure you choose the flooring that is beautiful, suits your home's style and is built to last.
There are a variety of options that you have when you are choosing the flooring for your living room, though. It isn't just an aesthetic decision; you also need to consider the practical side of your options. The first step of this is to know what your options are and what each of those options mean for your home.
Flooring Options for Living Rooms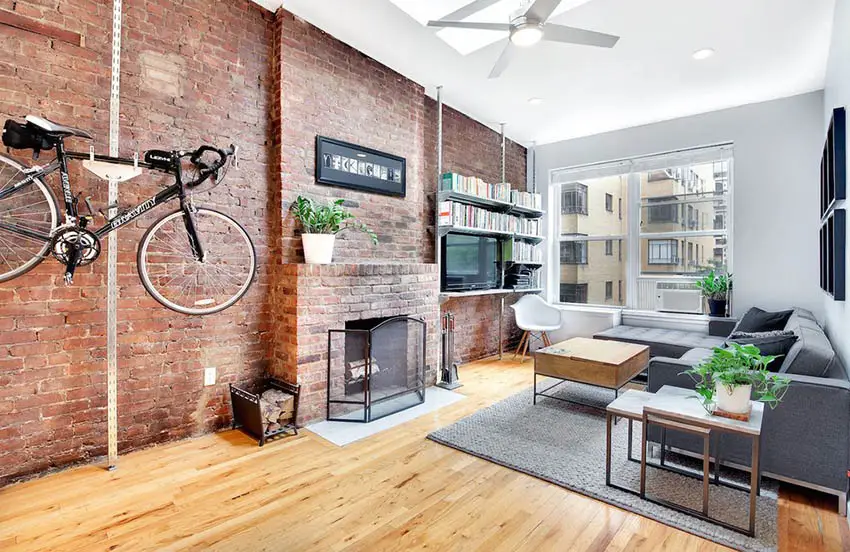 When considering a floor for your living room, you have a lot of options. Some of the most popular choices are wood, carpet, ceramic & porcelain tile, laminate and concrete.
Hardwood – Hardwood is currently the most sought after flooring for living rooms.It offers an attractive appearance that is appealing to home owners and provides a great resale value. Wood flooring can be purchased for between $3 to $12 a square foot. Read more about the cost of wood flooring here.
Carpet – Carpet brings a softer look to interior designs. The drawback is it can attract dirt and need frequent cleaning to maintain its attractive appearance. It is also an inexpensive option averaging around $2 to $5 per square foot.
Tile – Tile is available in a wide variety of designs and can be purchase for between $1 to $25 per square foot. Tile is easy to clean and is water resistant making it great for the living room. Porcelain tile is widely regarded as the most durable flooring.
Laminate – Laminate is a durable flooring option that doesn't scratch easily making it ideal for high traffic areas like a living room. It is also inexpensive with laminate going for less than $1 a foot to around $3 a square foot on average. Laminate flooring has also come a long way with newer laminate being able to mimic the look of other popular flooring materials with great results.
Concrete – Concrete flooring has a reputation of being hard on the feet and cold to the touch. However, it can also be a stylish addition to a living room with the use of latex epoxy paints to give it depth and character. Concrete flooring costs between $3 to $6 for bare flooring or $5 to $8 for more custom finishes.
Below we'll cover some of the pros and cons of each flooring material to help you decide the right one for you.
Wood Flooring Ideas for Living Rooms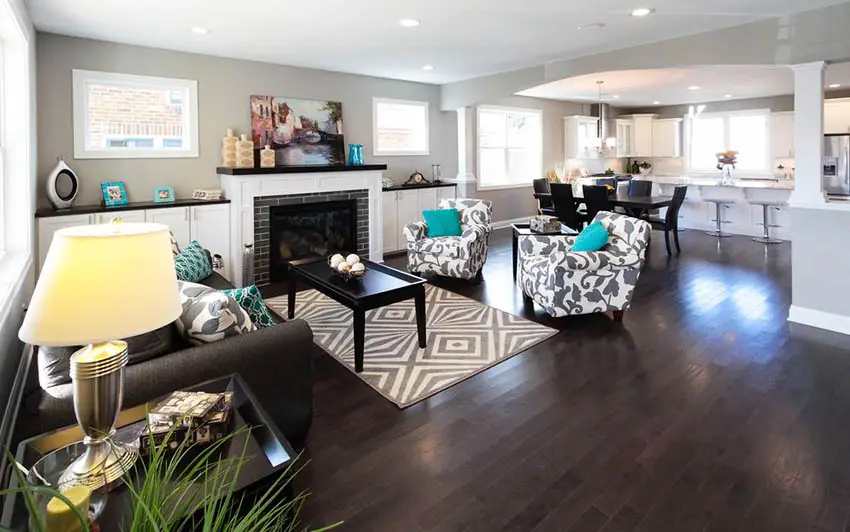 When you are considering wood for your living room, you need to consider what types of hardwood flooring you want to use. Broadly speaking, you can choose between a lighter wood or a darker wood.
First, let's take a look at some darker woods. It is important to understand that dark wood flooring doesn't refer to a single type of wood. Rather, it is a wider category that encompasses several species of wood flooring. Here, we will take a look at a few of your options if you want a darker hardwood floor.
Dark Wood Floor Living Room Ideas
Walnut is a popular choice when it comes to dark hardwood floors. This wood is rich in color and has attractive swirling grains. As a softer hardwood, walnut flooring works better in living rooms rather than dining rooms where chairs are constantly being scraped back and forth. It does have a fantastic level of photosensitivity meaning that it won't be susceptible to light damage so you don't have to worry if your living room gets a lot of sunlight.
Teak is another dark wood option. This wood ranges in color from a dark golden yellow to a rich, deep brown. When it is a darker brown, it has characteristic chocolate streaks that set it apart from other woods. It is also a rather durable, so you won't have to worry about scratching or denting as much as other woods. In addition, teak flooring is resistant to termites. The downside is that teak can have a dull luster and it can be a rather greasy wood.
Rosewood is also a dark wood. As far as color, it ranges from dark brown to dark violet and it can feature streaks of black. Its name comes from the fact that the wood has a scent like roses. It also has a natural polish to it. The biggest downside to rosewood is the fact that it has a past of unsustainable harvesting but lately growth has been transferred to farms, making it more sustainable.
For those who want a wood floor between a light and dark color there is cherry wood flooring. Cherry is actually not from a cherry tree, but from a wood called Jatoba, Locust or Courbaril. It is an extremely hard wood that is more durable than most with a tight grain pattern and rich characteristics.
Light Wood Floors in Living Room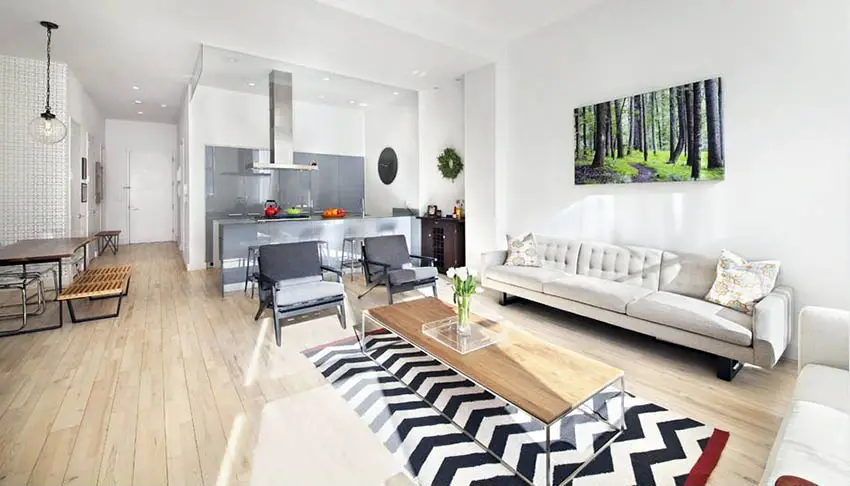 Your second option when it comes to wood flooring is to look at lighter wood flooring. Much like darker hardwood flooring, there isn't a single type of wood that accounts for all lighter wood flooring.
One option for light wood flooring is birch. This is probably the lightest option you have as birch ranges in color from as light as creamy white to a yellow-white color and it has a very discernible grain. If you aren't fond of the color, don't worry! Birch takes to staining very well. On the other hand, birch is a very soft wood – the softest known in fact. As such, it is rather susceptible to denting and scratching.
Another light wood option is pine. Pine is what most people picture when they think of wood flooring. It is rather rich in color despite not being dark and has an interesting grain to it. If you want it darker, though, much like birch, pine can be easily stained. Pine is also interesting because it ages over time so it can look different several years after you install it.
The major upside of pine is that it is an affordable option. In fact, on average, about $1.50 to $2.00 per square foot. This is in comparison to an average of $2.00 to $5.00 per square foot of other wood flooring. Unfortunately, much like birch, it is a rather soft wood. So, you'll have to be careful if you want to avoid denting and scratching.
Bamboo flooring is an other light wood option that is a great choice due to it being a natural renewable resource. Bamboo is versatile for the living room because its easy to clean, can be refinished, is somewhat resistant to water and is quite affordable.
Maple flooring is another light wood option. It has a draw to many people because it offers a beautiful color as well as a uniform texture. On top of that, it has a unique grain pattern unlike any other wood. Unlike the other types of light woods we have looked at so far, though, maple is rather durable. It isn't as soft so it won't scratch or dent as easily as pine or birch. This makes it a great choice for your living room if you have children.
You can also easily stain maple if you want it to look different than it does naturally. However, you will want to be careful when you are staining to seal the floor properly. If you don't, you risk a botched stain job.
If you choose light wood flooring, you will want to make sure to choose the right wall color to compliment it. You need to understand, though, that light wood flooring has two distinct characteristics. That is that they are either warm or cool. Warm tones have red, orange, or yellow coloring while cool tones have taupe or gray coloring to them.
White is a color that will compliment any light wood flooring. This color, though, will give your room a rather stark look which most people don't prefer for their living rooms. This effect can be combated by using an off-white color like eggshell.
Another option is to use neutral colors that will go with any type of flooring. These colors include tones such as blacks and browns which are usually toned down to grays and beige. Those paint colors can have cool and warm undertones that you should match to your flooring for the best effect. It is a good idea to vary the tone on your wall about two shades either darker or lighter than your flooring. After all, you don't want a direct match.
Carpet Flooring Ideas for Living Rooms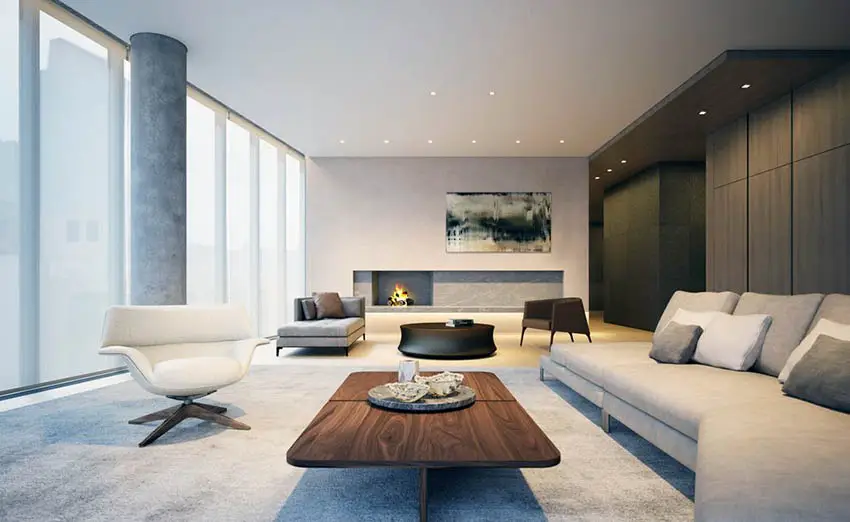 If hardwood flooring isn't your best choice, you can also consider carpeting your living room. Carpeting is great because it is a comfortable choice. No matter what type of carpeting you choose, you can depend on a soft, plush feeling under your feet. On top of that, carpet is good insulation meaning that it will help to keep warmth in your floor and in your living room.
You can also depend on carpet to add some texture to the visuals of your living room since it isn't simply a hard, flat surface like a wood or concrete floor. It also absorbs sound so you won't have to worry about loud noises on the floor. You can read more about the benefits and different types of carpets on this page.
There are some drawbacks to carpet, though. For one, it is moisture trapping. So, if you were to spill a drink on the carpet, it would be very hard to clean up and potentially damaging to the carpeting.
Carpeting also traps allergens. If you or anyone in your home has bad allergies, you might want to consider an alternative to carpeting. A carpet is also a great breeding ground for dust mites. Luckily, you can fight this by making sure you keep your carpet clean by vacuuming regularly.
There is one more give and a take to carpeting. Buying and installing carpeting initially isn't terribly expensive. Over time, though, carpeting can incur some additional costs. For example, carpets need to be kept clean as we stated before. While regular vacuuming helps, you usually need a deep or professional cleaning twice a year. Whether you rent a machine to do it yourself or you hire a professional, these costs can add up.
Best Carpet for the Living Room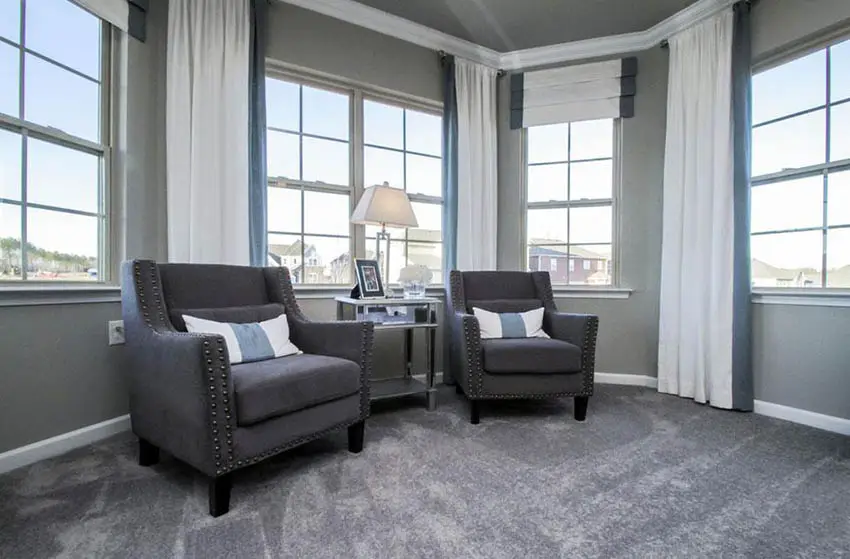 Now, let's take a look at some of the best types of carpeting for the living room that you can choose from. When you are considering types of carpet, don't think of it in types like shag carpeting although you should consider the length you want. Rather, they types of carpeting typically refers to the types of fibers that the carpet uses.
First, let's take a look at synthetic carpet fibers. These are a popular option and make up almost all of the carpets that are sold today. Synthetic fiber is only a category however. To be more specific, synthetic fibers mainly refer to nylon, polyester, polypropylene (or Olefin), and triexta which is a newer option.
The most popular option when it comes to synthetic carpet is nylon. This is because it is extremely durable and resilient so it will last you a long time. It is also popular due to the fact that it's been around the longest, developed in 1935 as a response to a lack of natural materials. Unfortunately, for all the good that nylon carpeting offers, you are looking at a higher cost in return for those benefits.
Speaking of natural materials, finding all natural products is another option you have. Natural, renewable resource products have become more and more popular in recent years. This is, in part, because more people are interested in eco-friendly options in their home. To explain briefly, these carpets are made of materials from animals, plants, and even insects and are then processed into usable fibers.
Wool is the most popular form of natural fibers used in flooring. Much like nylon, wool is impressively durable. Once again, though, if you want the best type of natural carpeting, it comes with a steep price. You can save on cost by using other natural fibers such as cotton.
Finally, you have the option of semi-synthetic fibers which are also known as manufactured fibers. These are byproducts of natural fibers and include materials like rayon. Rayon can be an absolutely beautiful choice as it comes in a variety of designs. The downside is that rayon isn't the most durable option that you have. As such, it wouldn't be a great option for living rooms since they are a high traffic area.
To achieve a softer carpet surface you will need to select the right carpet cushion for under the carpet itself. A popular idea is that a carpet pad must be firm to be durable and long lasting. This isn't necessarily true, and one can find modern memory foam carpet cushions to provide a good balance between both durability and softness for the floor.
Tile Flooring Ideas for Living Rooms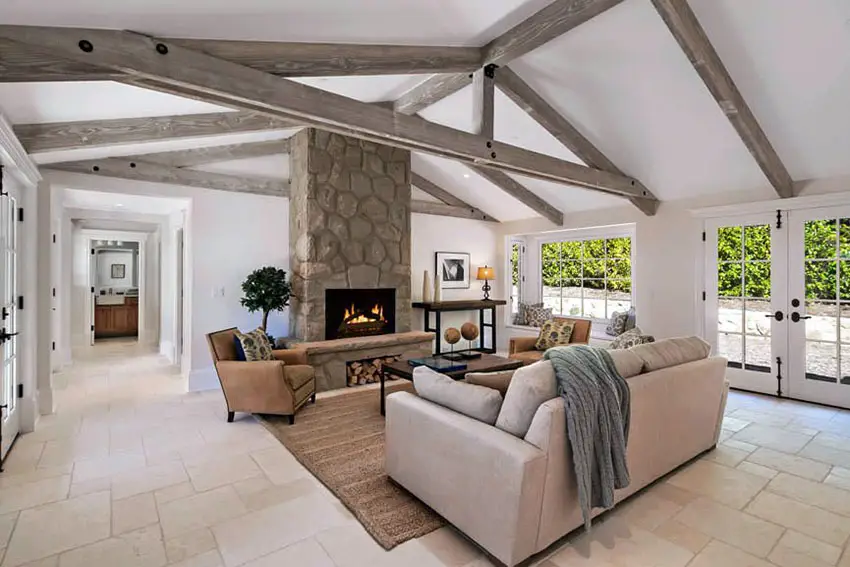 Tile flooring often comes with the idea of only white tiles. This is, of course, an option but it isn't your only option. You also have the choice of designed tiles or tiles of any color you would like.
When discussing tile flooring, the first option that usually comes to mind is ceramic tile. This is a great option because ceramic tile is waterproof so if you were to spill a drink in your living room, you wouldn't damage your floor.
Ceramic Tile Floor Living Room
Glazed ceramic flooring can unfortunately scratch easily over time. There are finishes other than simply glazed that you can choose from including matte and embossed. Some people even choose to leave their tiles unglazed. Aside from your living room, many people use ceramic tile in their outdoor flooring because of its waterproof qualities.
Porcelain Tile Flooring for Living Room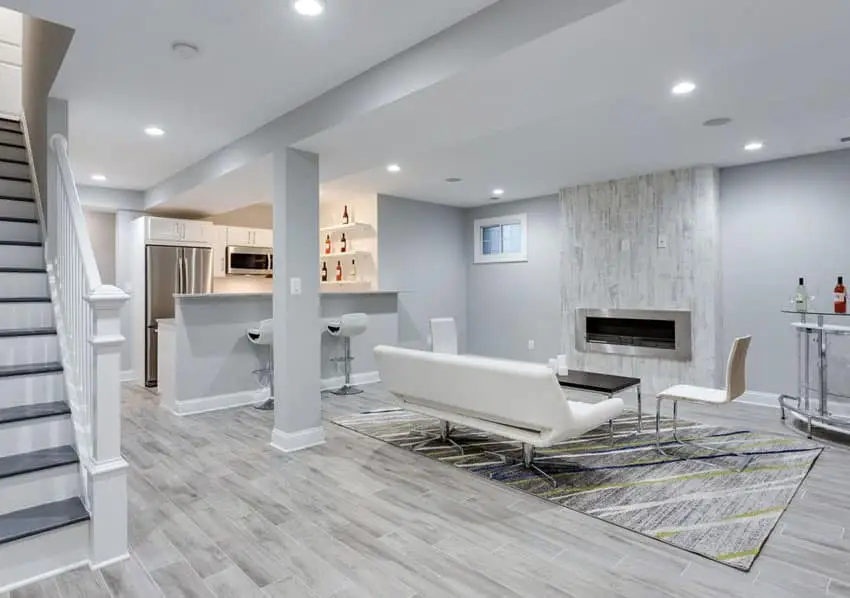 Porcelain tile flooring is another option that you can go with for your living room. In fact, porcelain tiles are a subset of ceramic tiles that can give your living room a nice look. The great thing is that even several years later, you are likely to be looking at tiles that are in as great a shape as the day you put them in.
The major downside of porcelain tile is that its great performance comes at a price. As such, you will be paying more for porcelain tiles than you would for some of your other tile options. To read more about the differences between porcelain vs tile flooring check out this page.
Marble Floor Living Room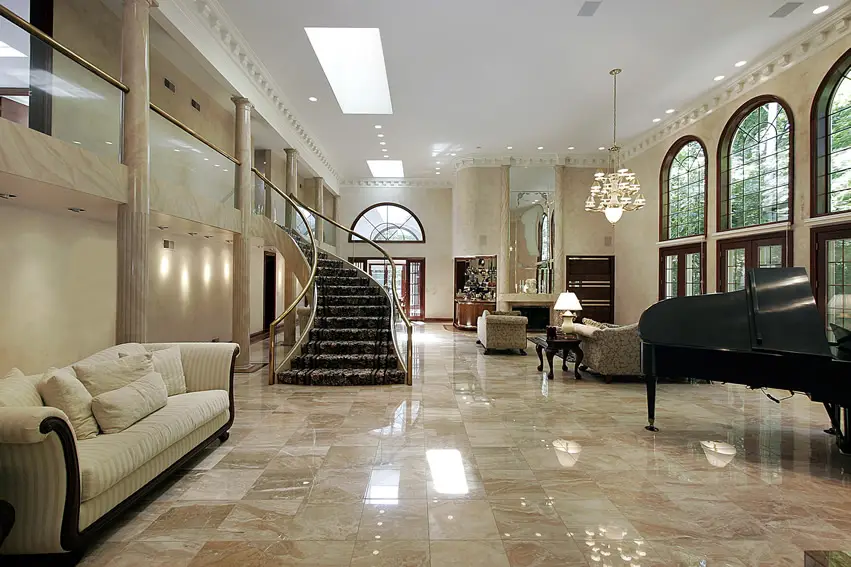 You can also consider using marble tiles in your living room. Not only do they sport an elegant look, they also offer versatility and durability. In addition marble flooring is often used in creating columns, countertops, and even walls. The tiles are easy to keep up with and don't demand much in the way of cleaning. Visually, marble is absolutely gorgeous and can be engraved to offer a one of a kind look.
The biggest downside to marble tiles is that they can scratch easily. So, you will have to be careful if you want to keep your floors in the best shape possible.
Concrete Floor for Living Room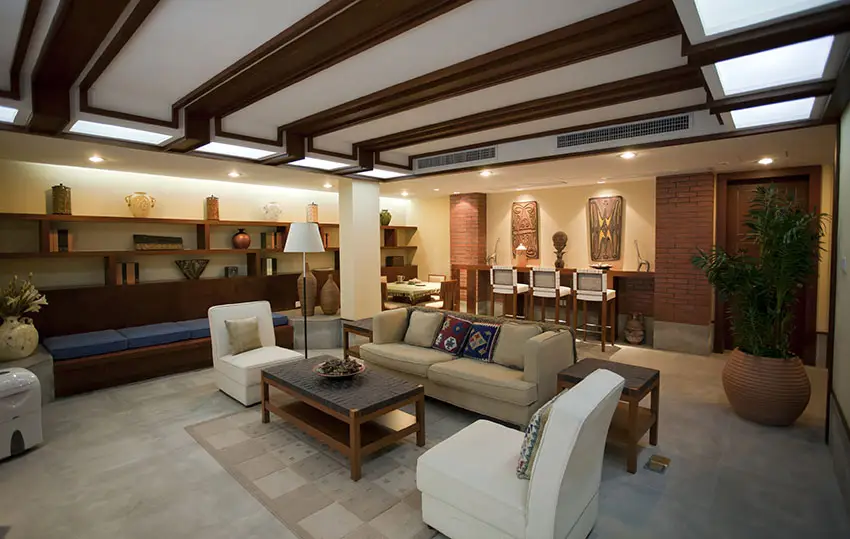 A unique option that you have when you are choosing flooring for your living room is concrete flooring.
The most obvious reason to choose concrete flooring is the strength and durability of it. You can put as much traffic on a concrete floor as you want, you probably won't scratch it and you definitely won't dent it. The other side of this is that concrete is hard. It won't offer the same plush comfort that a flooring like carpet offers.
Concrete floors are also low maintenance. Of course, you will have to sweep and mop them to keep them clean but they aren't going to hold allergens the way carpet does or need any heavy maintenance.
The biggest maintenance cost you will endure with concrete flooring is that eventually they will crack – no matter how well installed they are. The good news is that you can usually fix these cracks quickly with cement paste which can be colored to match your existing flooring.
The final con of concrete is that it isn't exactly the most environmentally friendly option. While it is true that concrete is surprisingly biodegradable, the production of it is the real problem. It takes a lot of energy to make concrete and the process involves the production of a lot of carbon dioxide.
While it isn't a problem for most living rooms, it should be noted that concrete is a very heavy material. This means that it is a durable option, it also has limited use. If your living room is on the first floor, you won't have any problems. Installing concrete on the upper floors of your home can quickly become problematic, though.
A myth that should be busted is that concrete floors are simply boring, gray floors much like having a sidewalk in your living room. The truth however is that concrete floors can be dyed and stamped to create different designs and textures to give your living room a pop of design.
Laminate Flooring for Living Rooms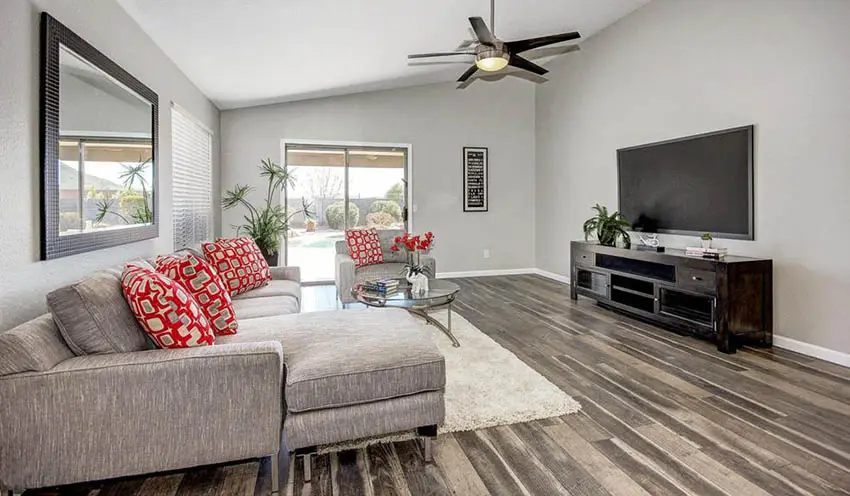 The last type of flooring we will look in this article is laminate flooring. To be clear, laminate flooring is made to imitate wood flooring. However, it is made to offer benefits that wood doesn't have.
Laminate flooring is great right off the bat because it is one of your cheapest options when it comes to flooring. It is also one of the easiest types of flooring to install and it has a variety of designs and colors that you can choose from. The unfortunate side of laminate flooring is that it is easy to scratch making it susceptible to damage. It also can't be refinished. If you're wondering about the difference of laminate vs hardwood flooring check out this page.