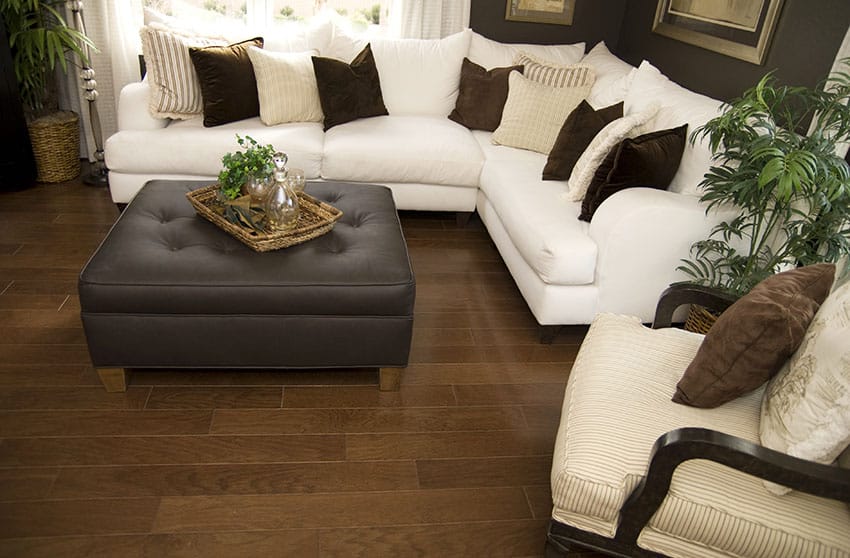 Hardwood is the first choice for most of homeowners when it comes to home flooring. This kind of flooring is known for its warm as well as classic look, versatility, and durability. As of 2017 the average cost of wood flooring including the installation is approximately $4,396.This amount can vary depending on factors such as the square footage of the area, and type of wood selected. Below you'll find some of the top factors to consider when purchasing wood floors for your home.
Cost of wood flooring per square foot – this includes the cost per square foot of the materials to be used and the cost for every square foot for the installation. This can be categorized in three varied price points on their average cost for every square foot for the flooring.
When selecting the type of wood flooring material its important to consider the style of wood plank, as well as its variety, and whether it is a solid hardwood or engineered wood.
Traditional wood flooring – this usually comes in narrow boards which are three inches wide or less. It may also comes in planks measuring seven inches or more. Its cost depends on your preferred type of wood to use.
– Low : it uses soft woods like the pine that usually cost $3 – $6 for every square foot for the flooring and the installation costs $3 – $5 per square foot.
– Mid : this makes use of mid-varieties like teak, oak, and American cherry costing about $5 – $10 per square foot for the materials and $4 – $8 for each square foot for the installation.
– High : it makes use of expensive wood floors which are made out from exotic woods like the Brazilian walnut, mahogany, tigerwood, and cypress. The cost for the materials is usually $8 – $14 for every square foot and for the installation is $4 – $8 per each square foot.
Engineered wood flooring – this flooring consists of the real wood veneer that is bonded to multiple layers of wood backing which is generally not as expensive as solid hardwood.
– Low : the basic engineered hardwood is composed of three core layers that are topped with a layer of wood veneer with the thickness of 1/16-inch to 1/12-inch thick. The cost is $3 – $5 for each square foot and its installation costs $3 – $10 per square foot.
– Mid : it usually have thicker veneer with a five-layer core that costs $5 – $10 with installation costing $3 – $10 for every square foot.
– High : it consists of seven or more core layers and has a top veneer measuring 1/6-in thick. The cost is about $8 – $13 per square foot and its installation per square foot costs $8 – $13.
Installation cost considerations – the installation payment depends on varied factors which include the location of your house as well as the intricacy of the project. Added cost would arise if there is still removing and replacing of furniture, repairing of subfloor, and removing or disposing the old floor. This can be costly compared to a project where the installer will only have to do the installation and nothing else. There are some installers who charge about twenty cents for every square foot for the removal of the carpet or moving of the furniture. Other installers would charge a per-appliance free as they move the appliances.
Hardwood Flooring Types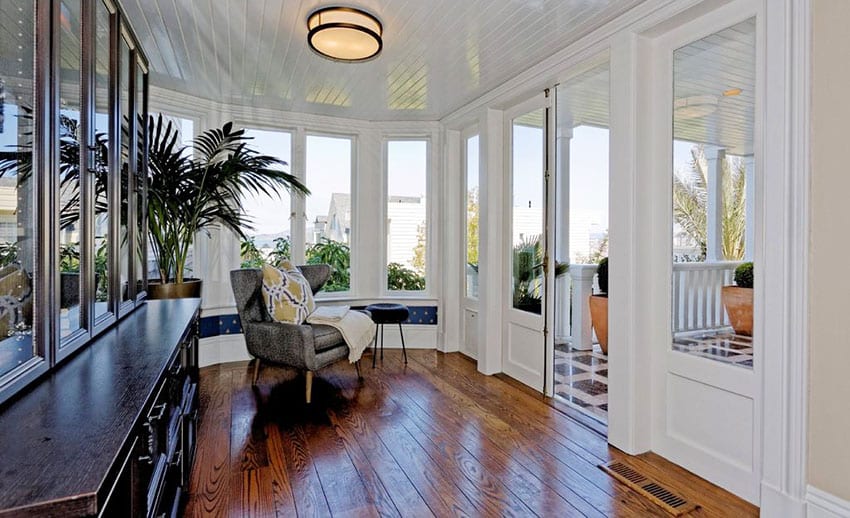 Hardwood flooring comes from a variety of tree species and each variety has its own distinct color, price, and durability as listed below:
Maple – it is very hard and resistant to dents. Its color appears creamy white to pale red and would cost $3.50 to $6 per square foot.
Hickory – it has exceptional variety of colors having dramatic grain patterns. It has a hard density that suits well on high-traffic areas. Its cost is about $3 to $6 for each square foot
Bamboo – it has interesting growth of striations having a variety of colors. The hardest and the most durable ones are strand bamboo flooring. The cost of this is $2 to $4 for each square foot.
Red oak – it appears reddish and tight with visible grain. It is durable and majority of these glow in the light creating a warm ambiance. $2 to $6 per square foot is its cost.
Pine – its appearance is rustic knot patterns with warm tones that range from light beige to rich golden amber. It has vulnerability to scratches and dents and it costs $1.50 to $4 for every square foot.
White ash – this has a creamy color that range from soft and light tan to pale gray that has visible knots. this type has good durability and is hard the stain. The cost is $5 to $6 per square foot.
Brazilian walnut – this is an exotic hardwood that varies in shades of brown. It is extremely hard and has good durability against the scratching of the pets. Cost is approximately $5 to $9 for each square foot.
(Visit our gallery of types of hardwood flooring for more details about popular wood species for use with interior design)
Engineered Wood Types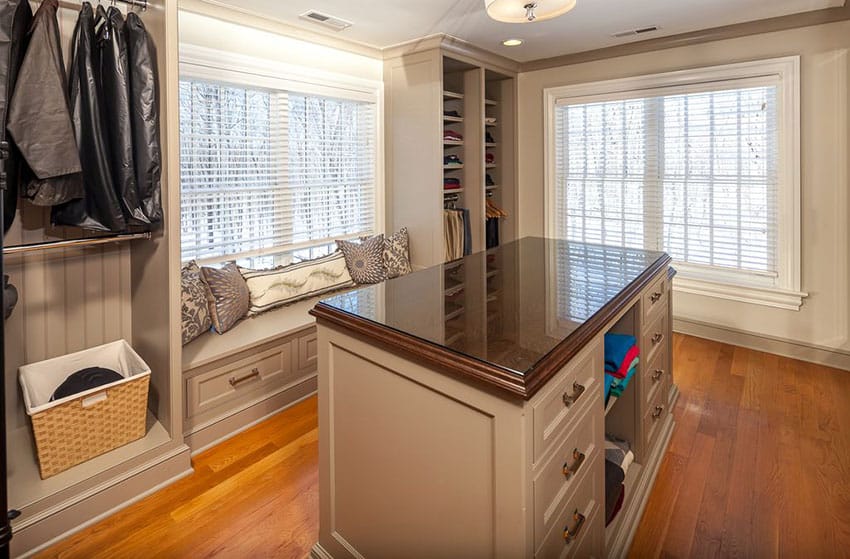 Engineered hardwood floors have increased moisture resistance compared to regular hardwood. These are better wood floors compared to traditional hardwoods for those who have pets or spill-prone kids. The most commonly known engineered flooring options are listed below:
Maple – the colors vary from creamy white to rich red. This can be fastened or glued that costs $10 to $11 per square foot.
White ash – it comes in a variety of colors as well as grain patterns that gives an interesting character for the flooring while hiding the imperfections well. The cost of this is $12 to $13 for each square foot.
Heart pine – it has vintage charms because of its gouges, nail holes, and attractive knots. $10 to $11 per square foot is its cost.
Brazilian cherry – it is an exotic wood having a warm red-brown tones as well as rich hues costing about $3 to $6 per square foot.
Acacia – it projects an attractive contrasts of medium brown colors. Its graining makes it known to be used because of its rustic and Colonial appearance. Its cost is approximately $4 to $5 for each square foot.
Brazilian koa – its color is distinct which is orange that has a rich and dark brown stripes. It projects a bold look which would cost $5 to $7 for every square foot.
Additional cost considerations – it is expected that you will spend more in both materials and labor if there needs a work to be done for the joists, subfloor, or other structural elements. The plywood or subflooring would have an average cost of $22 for every 4- by 8-foot sheet. A 12- by 12-foot room will need five sheets of plywood which can have an increased cost of $110.
Carpenters typically charge for the installation of new floor subfloors as well as joists at a rate of around $30 up to $100 for each hour on the job.
Related Wood Flooring Articles You May Like
Types of Kitchen Flooring – Engineered Hardwood Flooring in the Kitchen – Hardwood Floors in Kitchen Pros and Cons