These front door colors for gray house ideas showcase the best color combinations for light, dark, modern, and traditional gray houses.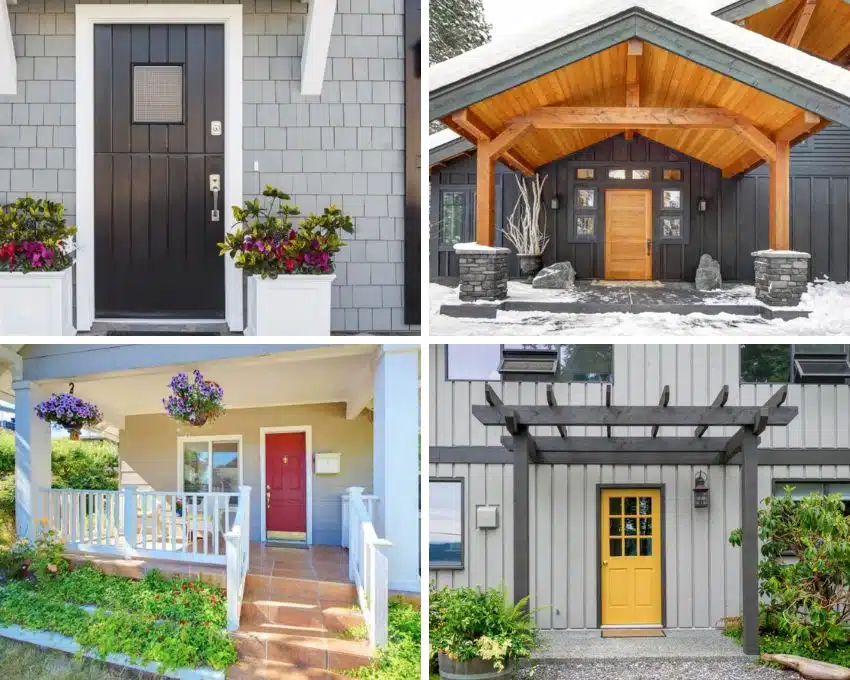 The front door of your home acts as more than just the entryway to your home. Along with the home's entire exterior, the front door contributes to your guests' first impressions.
Your front door needs to match the exterior aesthetics of your home, delivering a more unified and harmonized look. And this includes the color of your front door.
Some of the elements in your home's exterior that can affect your choice of the color of the front door include the roof, gutters, columns/railings, trim, retaining walls, driveway, and mailbox. The colors of these elements need to match and look good together.
If your home features a predominantly gray exterior, whether it has a lighter or a darker shade, your front door needs to have this welcoming and cozy feel to make an excellent first impression. The good thing about the color gray is that similar to other neutral colors, it is highly versatile and can easily be matched with other colors.
To work on the front door of your gray home, one of the first steps is to take is to skim through the colors you can use and would look great on your gray house.
What Colors Go With Gray?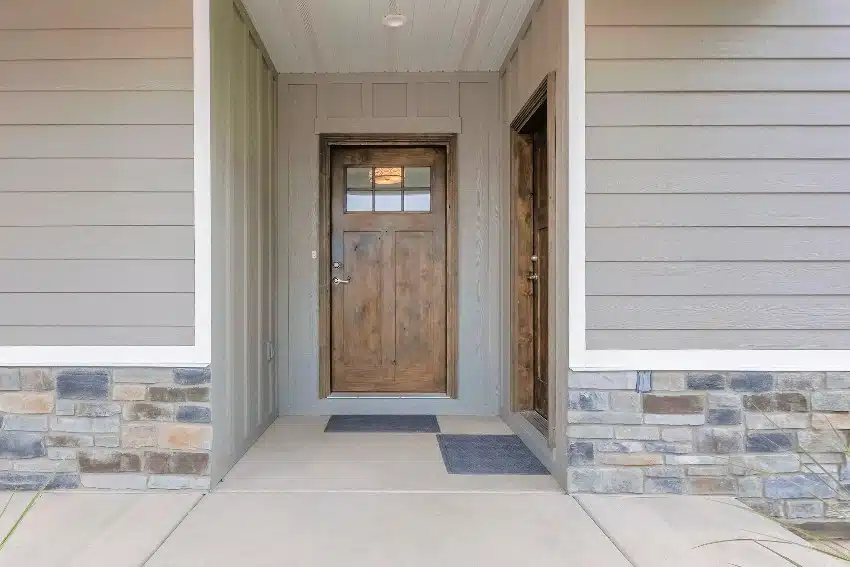 There are many colors that go well with gray and it can be a bit challenging to choose one in particular. The trick is to first identify the vibe you want to produce from the combined colors.
Generally, gray homes are subtle and calming, but they can also be dark and moody. From there, you can decide if you want to balance out that vibe with a brighter or lighter paint color to enhance its curb appeal.

To keep that subtle and calming appeal that the color gray usually has, match it with a light shade for your front door. But if you want to make a statement with a pop of color on your home's exterior, choose a bright or contrasting color. This will make your home stand out and easily seen from meters away.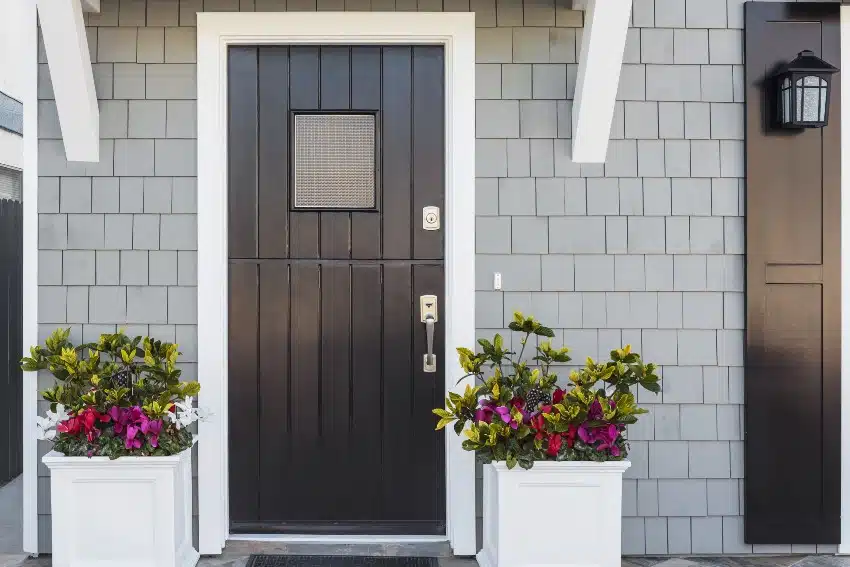 Gray is a neutral color that can complement different trends and interior styles. Its versatility is well noted and the color can be partnered with any color, with the right underlying tone and depth of color. It is important to consider gray's undertone when choosing a color to pair it with.
Gray with a warm undertone works best with yellow, orange, and red while gray with a cooler undertone matched cool colors like green and blue. You can also go for a monochromatic look by using different shades of gray and pairing them with black and white colors for more visual layers.
Front Door Colors For Light Gray House
If your home has a light gray exterior, you can check out the following colors to be used for your front door.
Yellow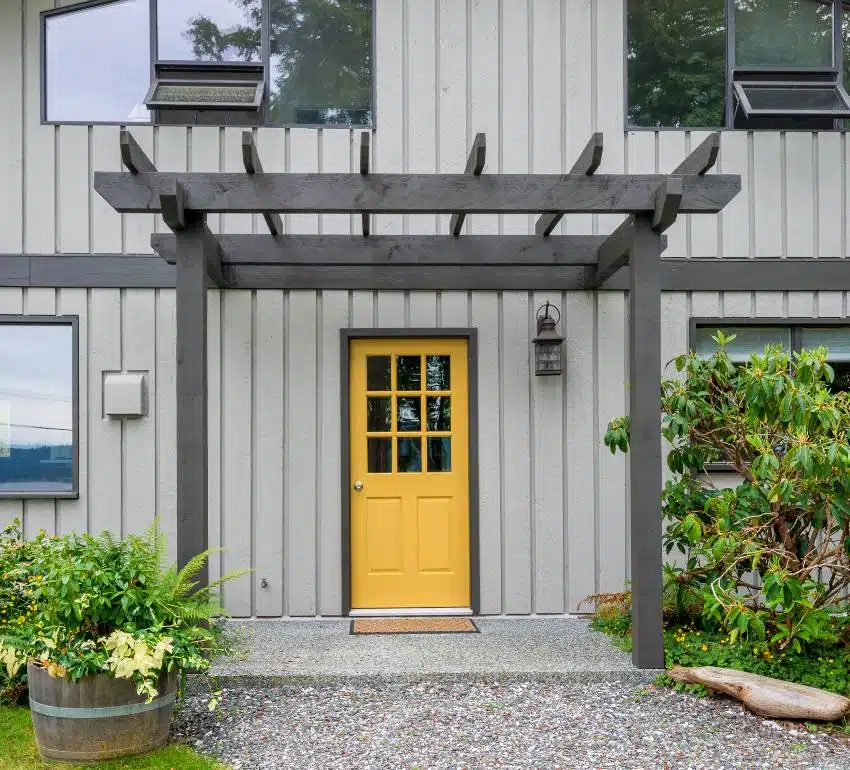 Considered to be an uplifting color, yellow works well with the subtle and calming gray. Yellow offers a bold and popping addition to your home's exterior that will look eye-catchy to anyone from the outside.
Yellow is a happy, upbeat hue that can elicit positive emotions like warmth and optimism. It is an adaptable hue that can be anything from a delicate pastel to a bright gold.
Yellow is a common color choice for educational settings and creative workspaces since it's also linked to intelligence and creativity. According to feng shui principles, the color yellow is thought to represent the earth element and can give a home stability and grounding energy.
You can choose mango yellow for light gray and marigold yellow or warm yellow for dark gray. Yellow and gray are a modern and contemporary color combination that can also feel quite youthful. A bright yellow front door for your gray home will create a compelling contrast.
Red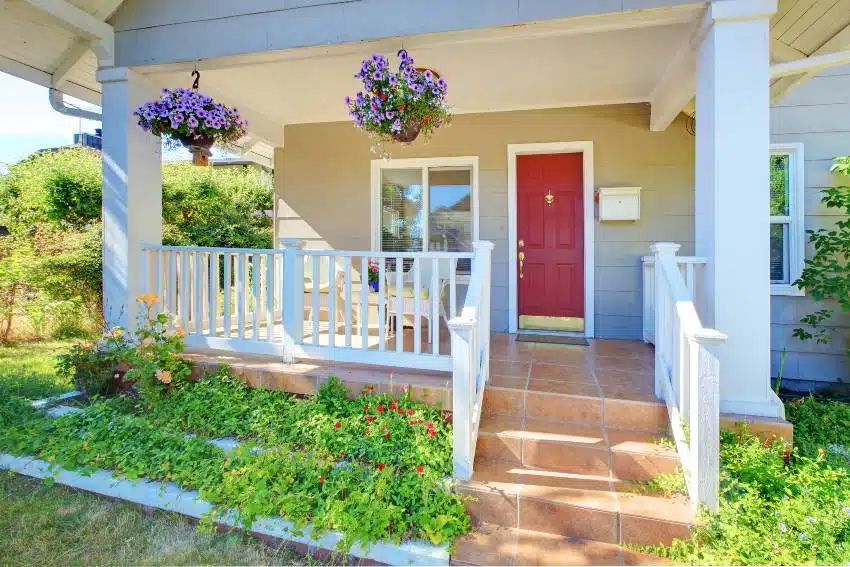 Red is a warm and energizing color that can immediately enhance the aesthetics of your gray home. A red front door provides a unique identity to a light gray home, easily catching the attention of anyone who sees it.
A passionate, exciting, and powerful sensation can be evoked by the vivid, energizing color red. It can be anything from dark maroon to vivid crimson, making it a very adaptable color. Red is thought to represent the fire element in feng shui and can energize and bring luck to the house.
While some may find the contrast a bit intense, this can work if you choose the right shade of red to pair with the kind of gray you have. For light gray, earthy red, and terracotta tone works wonderfully. Deep charcoal gray can use vivid red.
Dark Brown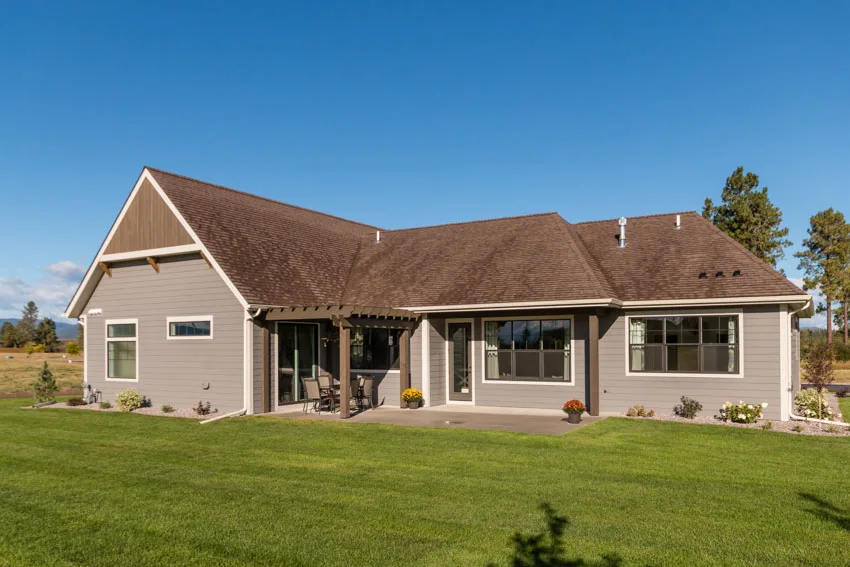 For an elegant look, dark brown is the color to pair with your light gray home. The rich and earthy color offers a natural wood look that elevates the neutrality of gray and at the same time falls on the safe side of color choice. Dark brown can be alluring and enticing, which is what you would want to balance the flat look of light gray.
Front Door Colors For Dark Gray House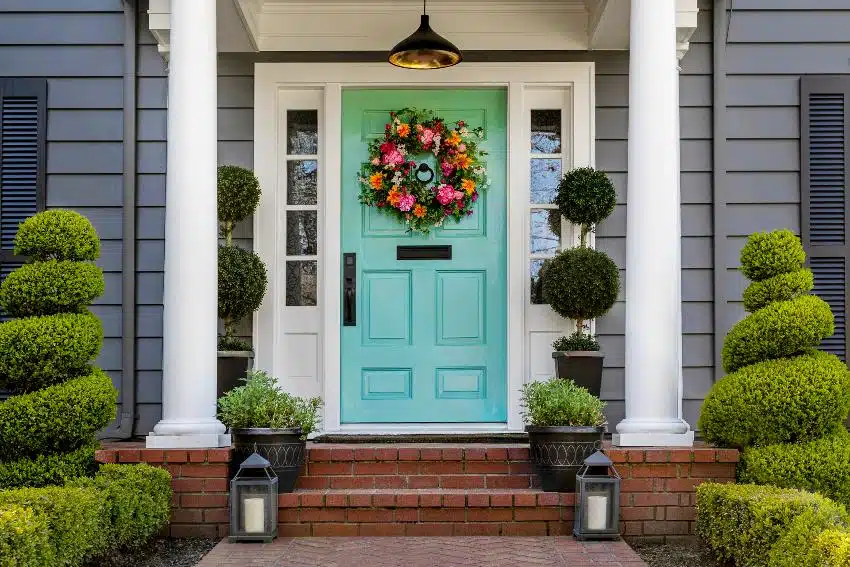 For a dark gray house, here are stunning front door colors you can explore:
Light Blue
The cool and moody vibe of dark gray can quickly be balanced by the peaceful and calming shade of light blue. Reminding you of the colors of the sea and sky, light blue has this relaxed and casual feel.
The color will make your front door feel more inviting and promote a sense of peace. (a total contrast to what dark gray usually makes you feel). You can choose a pale blue door with white trim to keep it simple and subtle.
A serene and tranquil color like light blue can inspire sensations of calmness, clarity, and relaxation. Light blue is thought to represent the water element according to feng shui principles and can promote harmony and peace in the home.
Light Brown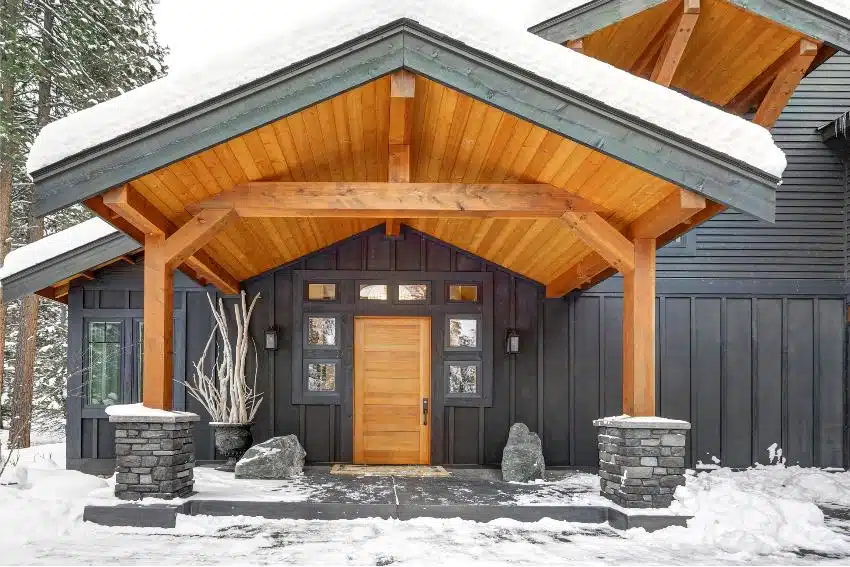 Compared to stolid dark brown, light brown offers a reliable and friendly ambiance that works well with dark gray. Both colors are considered safe color options and when paired together, deliver this understated naturalistic quality you will be comfortable looking at.
Purple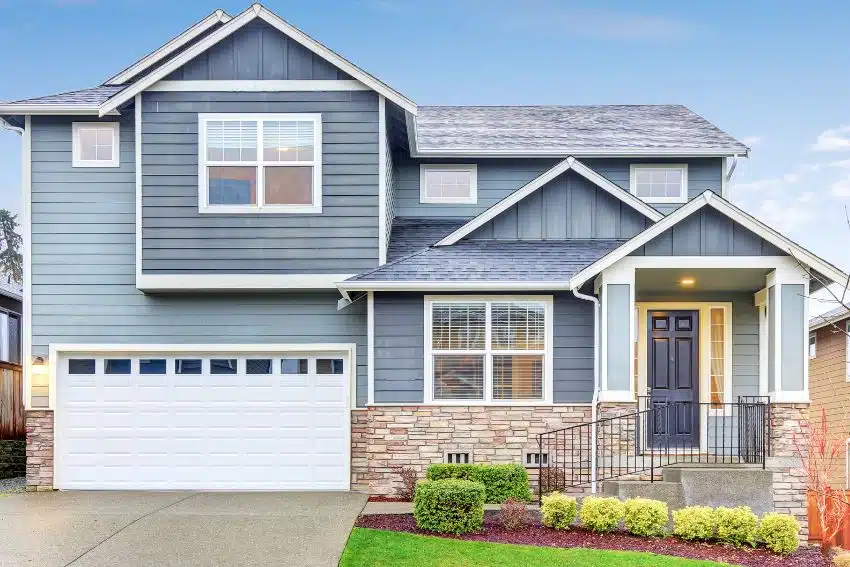 Considered to be a color of royalty, purple is a color that adds elegance and sophistication. If you feel like your dark gray home is quite gloomy and sometimes even depressing, purple is a potential front door color to turn that ambiance around.
Purple is a regal and opulent hue that can evoke feelings of refinement, inventiveness, and elegance. Lighter tones of purple can have a calming and soothing effect, while darker shades are connected to luxury and power.
In addition to being linked to creativity and imagination, purple is frequently associated with mysticism and spirituality. Purple is thought to represent the water element according to feng shui principles and can promote calmness and harmony in the home.
You can choose heather purple, amethyst purple, or even eggplant, depending on how dark the gray on your home is.
Modern Gray House Front Door Colors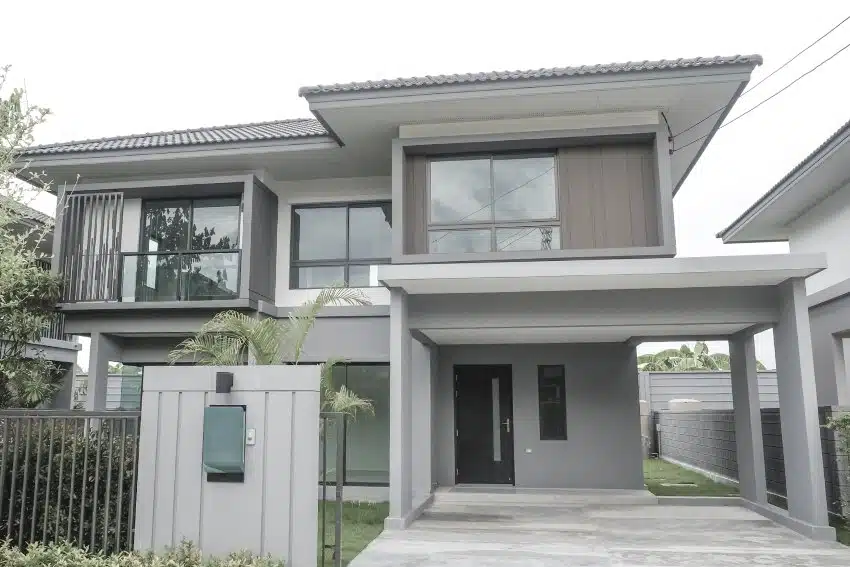 Many homeowners today are choosing to style their houses in modern and contemporary styles so as to ride with what's current. If you're the same, here are some of the colors to pair your gray home with to achieve that modern look.
Gray and Teal
Teal is a vibrant blue-green color that came to its fame over the past decade and is even regarded as fashionable. The color's popularity springs from its deep yet dramatic hue that easily stands out.
Another factor that makes it popular is its adaptability, where the proportions of green and blue can shift the color to either side. Gray and teal offer an elegant and harmonious look that's similar to adding jewels to a canvas, increasing its aesthetics and value.
Orange and Gray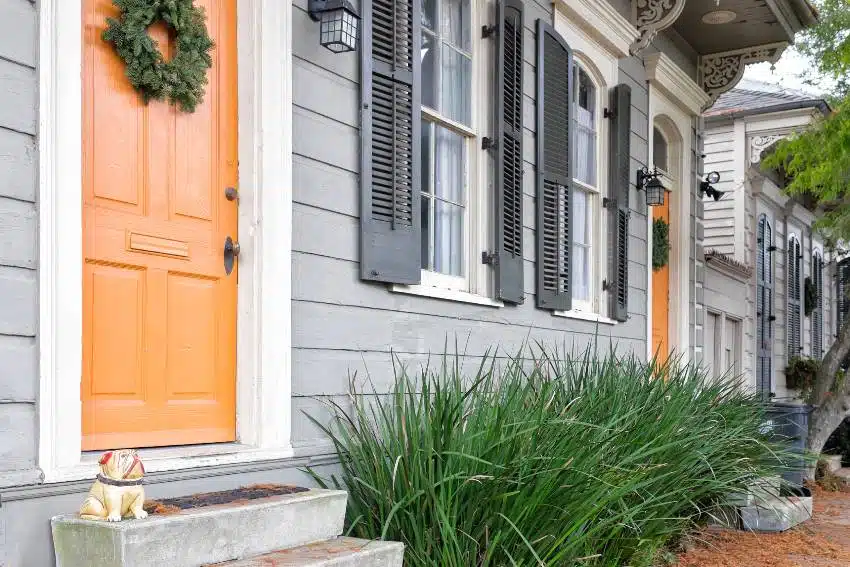 While not a new and trendy color like teal, orange delivers a modern ambiance due to its vibrant and gorgeous shade. The stunning color is usually associated with Halloween and fall, along with candy corn and pumpkins.
The color orange is vivacious and energizing and can inspire sentiments of enthusiasm, inventiveness, and warmth. It's a daring option that can give any home a splash of color.
Any hue of orange can convey a particular atmosphere, from bright and aggressive to gentle and muted. Vibrant oranges connote enthusiasm and liveliness, whilst subtler tones can produce a warm and welcoming ambiance.
Orange is the color that inspires creativity and activity. Orange will get you moving and give you more ambition while it helps your creativity grow. – Feng Shui for Life: The Magic of Simplicity and Happiness, Phil Lucas
According to feng shui principles, orange is thought to stand for the fire element and can infuse a home with passion and stimulating energy.
But it also has that edge you will usually see in a modern color palette. Choosing a bold orange front door for your dark gray home will turn it into a stunning modern and striking structure.
Front Door Colors For A Traditional Gray House
If you're envisioning a traditional-looking gray home, you will need to choose safe and subtle colors that will not be too edgy but also needs to be comfortable and welcoming. Here are the front door colors to explore to achieve this traditional look.
Gray and Sage Green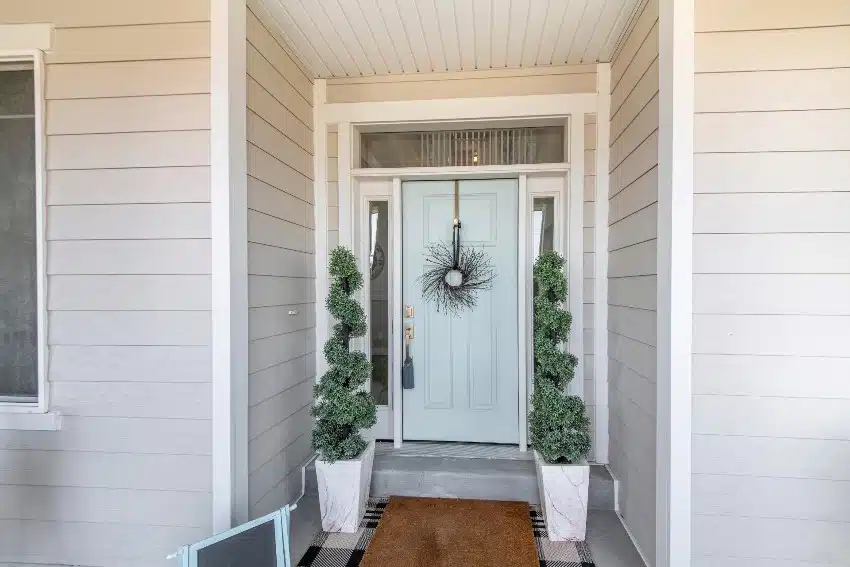 Sage green works well with gray because of its soft, earthy, and harmonious vibe. Sage green can sometimes be associated with a neutral tone, which is why it's understandable that it can easily pair with its fellow neutral color.
Gray and sage green is a complementary pair that offers a pleasantly pastoral feel you will usually experience in a traditional gray stone cottage.
White with Gray
White is a color that never goes out of style and this is one of the reasons why it is a common and basic choice for many homeowners. Besides the simplicity and serenity of the color, it is classic and adds an airiness to your home (making it a good pair for dark gray).
You can create this stunning contrast with white and gray that's elegant and not too overwhelming to look at.
Best Front Door Color For Gray House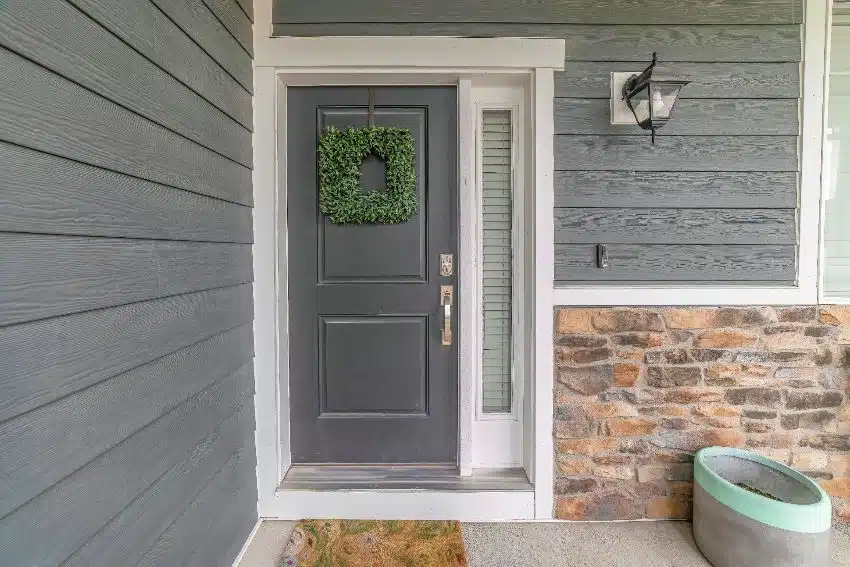 Deciding on the best front door color to use for your gray house can be challenging but not impossible. The best options you can explore for your front door are the following:
Gray on Gray
Create a monochromatic color palette by going all the way gray. Pairing gray with gray is not a dull or lazy option but a revolutionary and trendy one.
A gray color scheme can evoke sentiments of elegance, refinement, and modernism depending on the tint. Darker gray can provide drama and depth to the entrance, while lighter gray can create a gentle and welcome atmosphere.
The key to making this work is contrast and texture, which can be achieved by using different shades of gray. You can even accessorize your door for maximum effect, whether it's a white trim or a metallic outline.
Moreover, the color gray is related to harmony, neutrality, and tranquillity. According to feng shui theory, a gray front door symbolizes metal energy and can bring precision and clarity into the house. Read more about metal and wood energy at the Spruce.
Navy Blue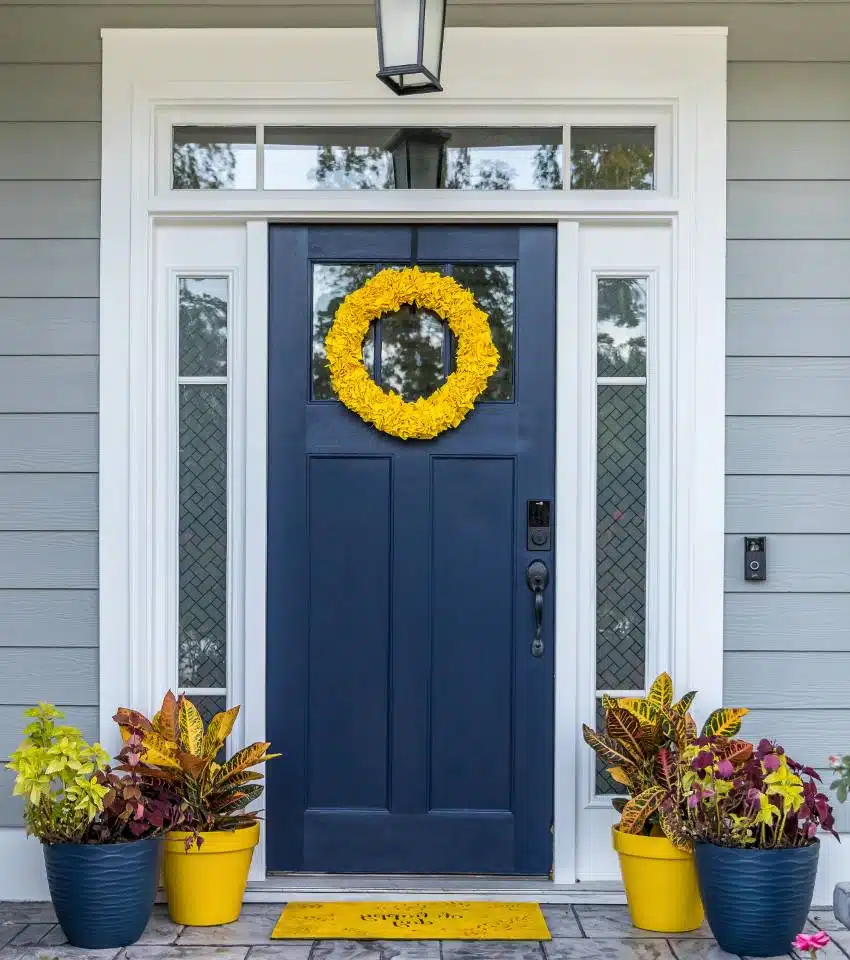 Navy blue is another popular option for your gray home's front door, adding subtlety and royalty to the vibe. This color triggers the blue undertones in gray, making the pairing more welcoming and at the same time unified to look at.
A navy blue front door can exude steadiness, dependability, and professionalism. It's a traditional shade that gives any house personality and a touch of refinement.
In addition to representing strength, power, and authority, navy blue. According to feng shui principles, a blue front door is thought to symbolize the water element and can infuse calmness into the home.
Blush Pink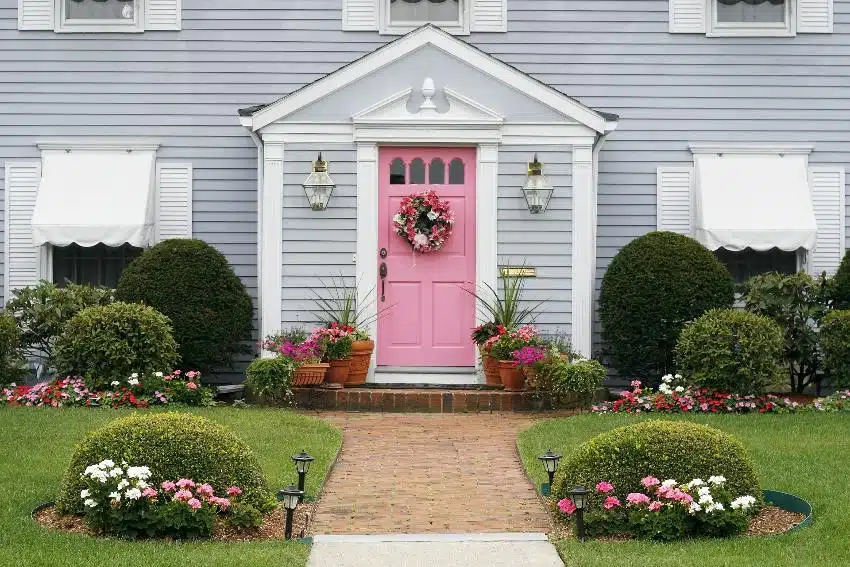 Since gray can be too cool, you will need a soft hue to balance it out and a blush pink front door can exactly do that. This sophisticated and soft color has this delicacy that will add that romantic vibe to your home.
Blush pink is a delicate and gentle color that can arouse emotions of affection, peace, and tranquility. It can produce a warm and appealing initial impression when utilized as the color of the front door.
Also linked to femininity, romance, and love is blush pink. A pink front door is thought to draw good chi and foster harmony in relationships according to feng shui concepts.
Charcoal or Black
For a bold and edgy look, black or charcoal can also be chosen for your front door. Like white, black is a classic and would work on almost anything.
When paired with gray, it can add a luxurious and modern feel to your home. You can also use black for window trim and shutters, especially if your home has lighter color hues. It's a popular pick for modern farmhouse style homes that use a white and black theme.

A black door is frequently linked with sophistication, elegance, and formality across various cultures.
It can also stand for authority, power, and defense. It's additionally thought to bring prosperity and abundance into the house according to feng shui concepts.
See more related content in our article showcasing a gallery of attractive front door colors on this page.