These are the types of exterior house stone including what it is, pictures, different materials, advantages & disadvantages, and stone siding designs.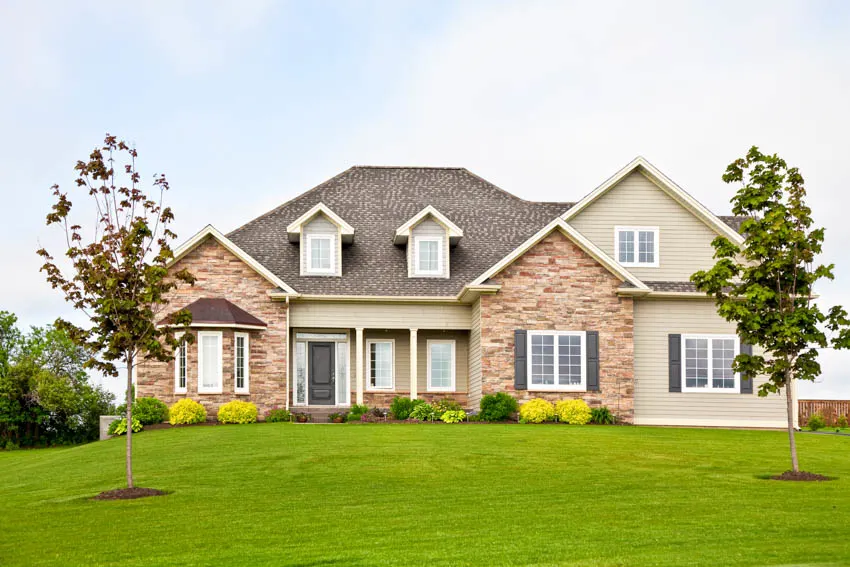 One of the best ways to spruce up and upgrade your home is to add exterior stone siding. If you have the budget and time to make changes and improvements, consider this element to your home to increase your home's value and at the same time its aesthetics.
Before deciding on this kind of upgrade though, you need to explore all the details that can affect your choice and the experience that comes along with it. Learn about the different types of exterior house stone you can use for your home's exterior and compare them with each other to settle on the ideal option for you.
What Is Stone Siding?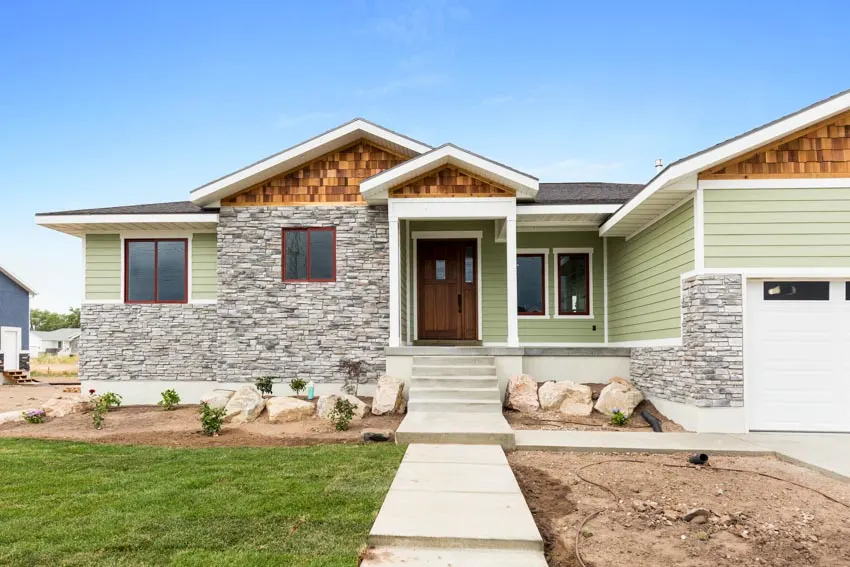 Stone siding is an excellent option for your home's exterior and it's only a type of siding you can consider. This type features either authentic and natural stone or manufactured ones used as solid siding for the home's structure. Many homeowners love the use of these stones as a construction material for their homes.
Natural types of exterior house stone siding are made from authentic virgin stone that's not manufactured or processed in any way or form. In the past, stone siding is used as protection and more than just aesthetics.
Some consider the addition of this element as a throwback to the time before the rise of the technological revolution. And while it's less common in homes today, it is still an option worth considering.
Manufactured stones, on the other hand, are when several aspects of natural stones are improved and empowered to be a better material. Here are the advantages and disadvantages you can weigh to help you decide.

Advantages of Using Stone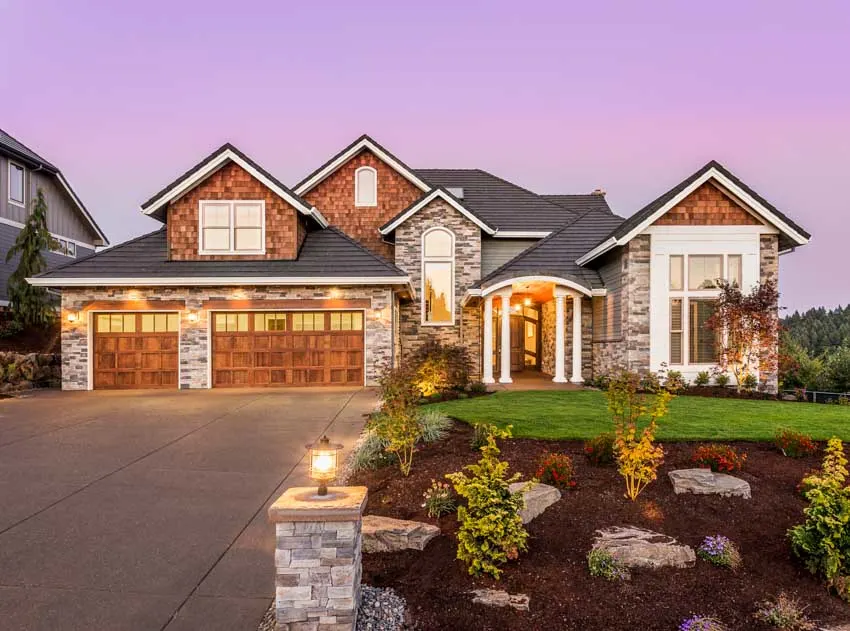 Many old homes have stone siding for a reason and that's because of the several advantages you can benefit from using it, including the following:
• Excellent Durability: Stone types of house siding are durable because of the nature of authentic stones used as materials. The stones are naturally resistant to insects and rotting while manufactured stones are generally fire-resistant.
• Suited for Harsh Climates: Whether natural or manufactured, stone sidings are resistant to harsh climates and weather elements, making them a great option for any location.
• Stunning Aesthetics: With a timeless and classic look, stone siding can turn your home into a canvas of art with pretty colors and gorgeous textures to make use of.
• Energy Efficient: Some types of exterior house stone siding can help block cold air during winter nights and seal the cold air indoors when the summer comes in. This leads to lower utility bills which will be quite an investment after some time.
• Low Maintenance: Taking care of your stone sidings requires minimal effort and you only need to follow the manufacturer's instructions to make it last longer, including sealing the stone every after five years.
• Long Lifespan: Stone sidings can last for 20 to 75 years, depending on the type of stone used and the care delivered all throughout the years.
Disadvantages of Using Stone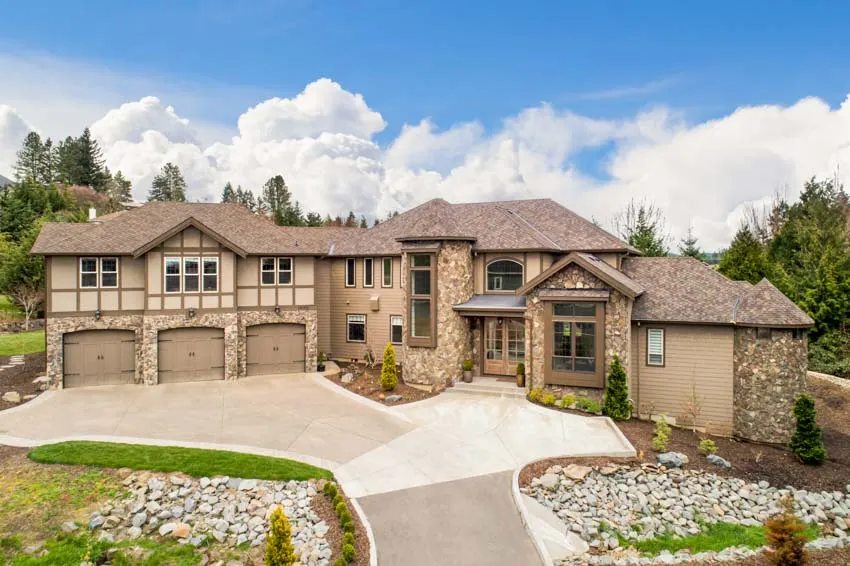 Besides these benefits, there are also several drawbacks you need to check out and learn about the different types of exterior house stone siding. Here are some worth considering:
• Heavy: Stones are heavy materials, making transport and installation difficult to accomplish since moving the materials will take a lot of effort.
• Expensive Option: Usually, the material and siding are heavier and so more expensive and costlier, especially because of transportation and delivery. The material itself is expensive and it would take a special kind of handling for installation. So if you're choosing stone siding, it will be a huge investment to take into account.
• Availability Issues: Stone material for sidings can be difficult to come by and you will need to contact a specialty dealer to help you with what you need. While there are some major retailers that can help, they don't have that much to offer.
Veneer Stone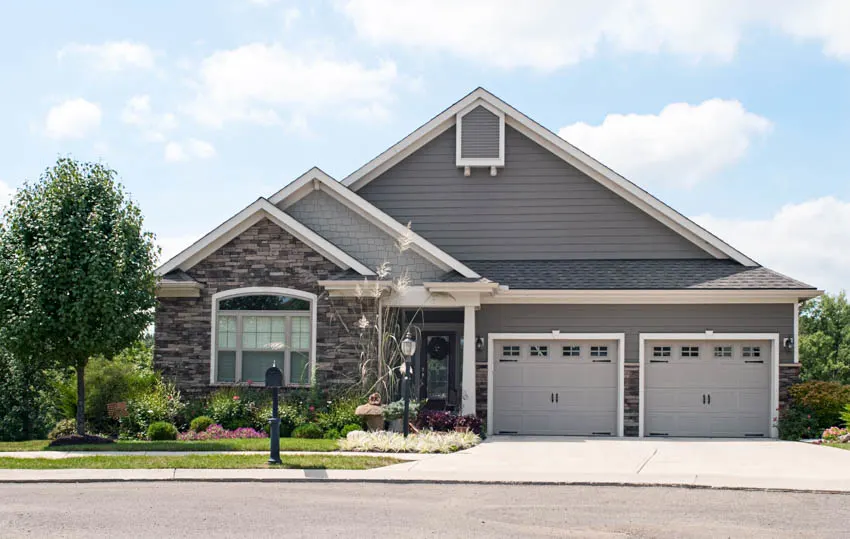 Another option is veneer stone siding or faux stone siding, which is created by using a variety of synthetic materials with stone aggregates then applying the pieces to a panel system making it easier to install. Many of the issues and challenges you will face with authentic stone siding are addressed with veneer stone siding.
It will be a good option if you don't want to deal with all those drawbacks but want to benefit from the advantages that come with it.
Some of the issues that can be addressed by veneer stone siding include the following:
• Weight: More lightweight and portable so with lighter materials, moving them around will be easier
• Installation: Materials often come with a "click-together" design that makes installation easier
• Inexpensive Cost: A more affordable option with less delivery and installation fees (from hiring an expert to install the stone sidings for you)
With these issues addressed, you'll be able to enjoy choosing the right types of exterior house stone siding without emptying your pockets and making it seem like a herculean task to accomplish.
Pros and Cons of Veneer Stone Exterior Siding
| | |
| --- | --- |
| Pros of Veneer Stone Siding | Cons of Veneer Stone Siding |
| Inexpensive when compared to natural stone siding | Not as long lasting or durable |
| Lightweight to install | Colors may fade over time |
| Easy to cut and work with | Lacking in appearance & mass produced |
| Widely available | Can have moisture problems if not installed correctly |
We cover additional pros and cons of veneer stone siding in our faux siding section below.
Types Of Natural Stone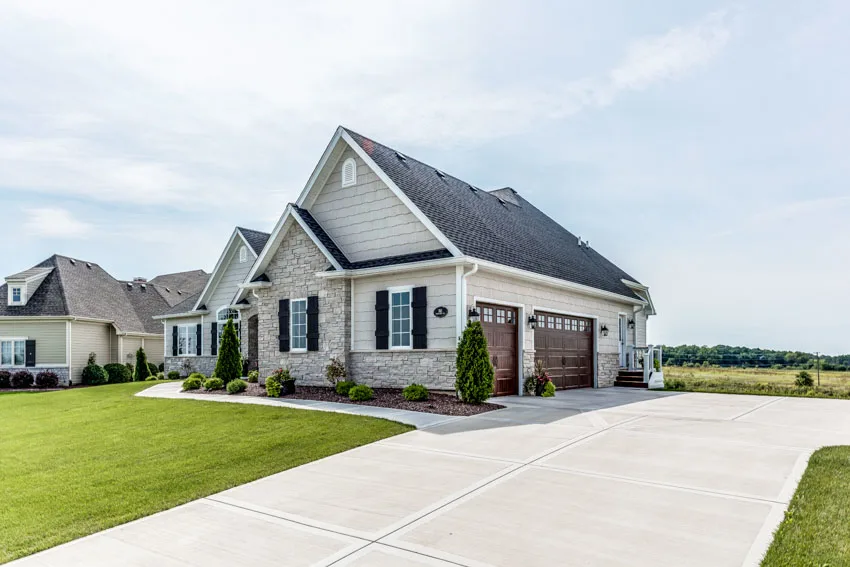 Upgrading your home's exterior with natural types of exterior house stone sidings will require you to get to know the options laid out before you. There's huge importance given to your choice of materials since it will dictate many of the features you get to either enjoy or suffer from your stone siding.
Choosing the ideal type of natural stone siding is possible if you get to explore your options well. With many options to go through though, this task may seem a bit overwhelming.
To help you with this task, here are some of the types of natural stone sidings you can consider and the benefits you can get from them.
Limestone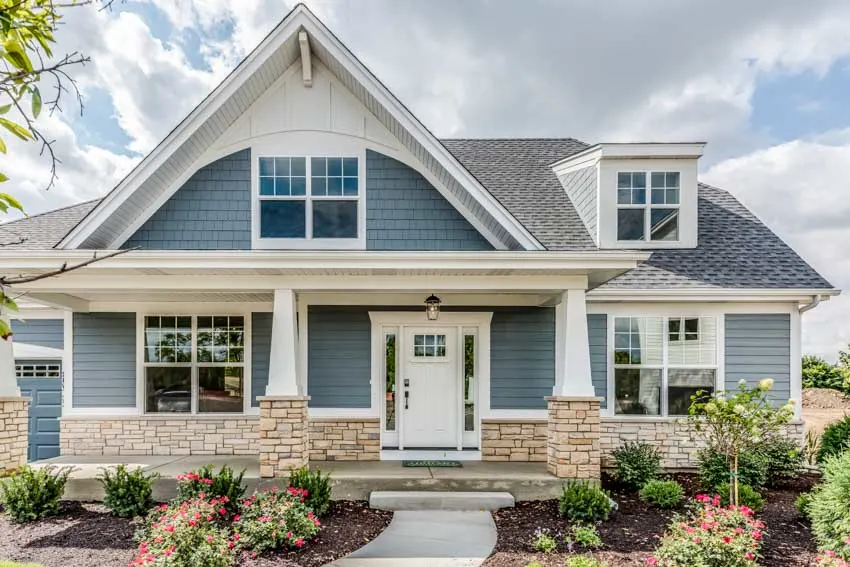 Limestone is one of the natural stones you can use as material for your siding. While mostly used for stone siding, it may also be used for wall cladding if you need to.
Benefits of Limestone Siding:
• Features a variety of shapes, colors, and designs you can choose from
• High workability and so you can cut and shape your limestone however way you want (Making it a favorite for many contractors)
• Beautiful and unique aesthetics that looks rustic and luxurious with amazing texture
• Weathers stunningly over the years (Like wine, it only gets better as it gets older)
The major downside of limestone though is that since it's extremely porous, it is highly susceptible to stains and scratches. Be careful of these kinds of damages and make sure you properly care for them so that they can last for many years.
Travertine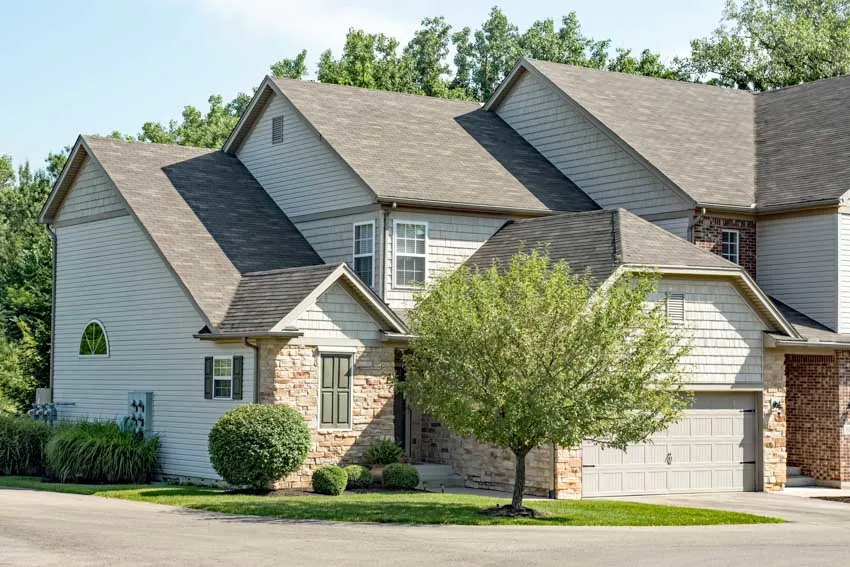 While not a common option like limestone, travertine is among the different types of exterior house stone that are used in places with hot climates. Its natural formation process gives way to having small cavities and as a result forming unique patterns.
Check out the following advantages you can get with using travertine stone siding.
Benefits of Travertine Siding:
• Very heat resistant makes it a great choice for places with hot climates
• Showcases unique flower-like design and pattern you can explore
• Offered in specific colors and shades, including cream, orange, pink, and gray
While it may be ideal for hot climates, it is not recommended for the other way around. Since it resists heat, using it when your home is located in a place with a cold climate might freeze you up.
Field Stone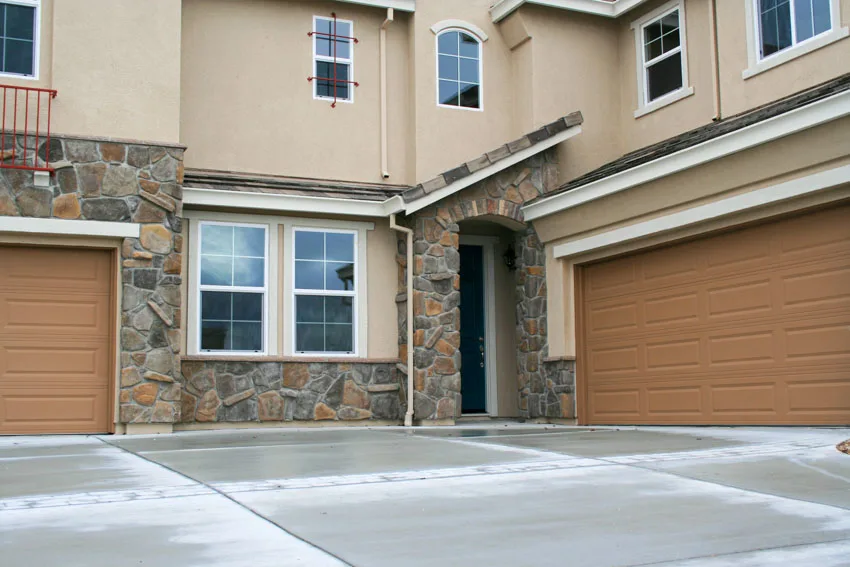 Field stone siding is considered one of the oldest types of exterior house stone siding because it is noted as one of the oldest construction materials used by homes along with river rocks. It is a popular option for your home's exterior stone siding because of the advantages the material offers.
Benefits of Field Stone:
• Warms up the space it's installed in
• Features unique irregular shapes
• Goes well with natural limestone
Ledgerstone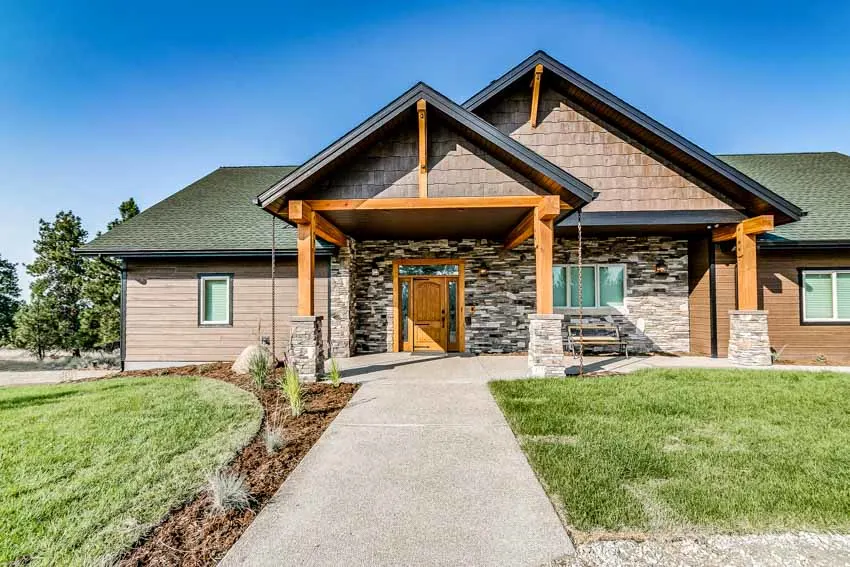 Ledgerstone is another option you can use for your exterior stone siding and it showcases rustic appeal for any home it's installed in. It has this three-dimensional look that features an appealing texture that can be a good addition to your home. Here are some pros to expect.
Benefits of Ledgerstone:
• Easy to maintain (Needs detergent cleaning and periodic sealing)
• Elevates the aesthetics of your home (Produces different styles, from minimalist to drama with flair)
• Features natural and rustic beauty outdoors
• Easily blends with the natural aesthetics of the outdoors
• Offered in a variety of sizes and color options to cater to your preferred aesthetics
Granite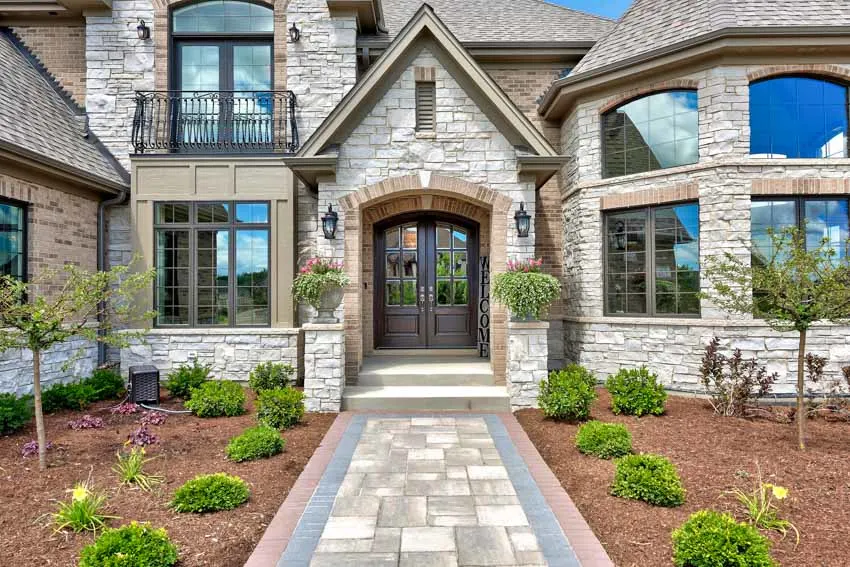 Granite is one of the hardest and most durable types of exterior house stone siding options you can consider for your home. It is popular for its swirly and speckled grainy texture and you have the option of keeping the look polished or natural since both options will still allow your granite stone siding to last long.
Benefits of Granite Siding:
• Comes in a variety of colors (Neutrals, blacks, grays, and pinks)
• Easily stands the test of time and lasts a lifetime
• Highly durable material that makes it a great option for exterior installation
• Excellent performance against messy weather conditions
• Polished or au natural, both options showcase an elegant look to your home
• Available in small or large slabs
The drawback with granite stone sidings is that it can be expensive because of its material and its labor-intensive and meticulous installation. The maintenance also takes special care.
Marble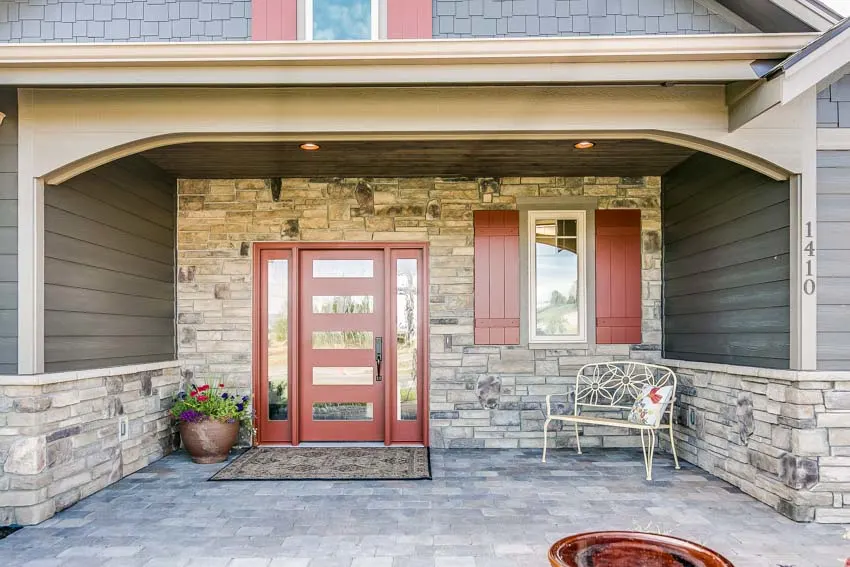 Marble is a popular construction material in many areas, including flooring, countertops, and even as the home's exterior. The construction materials can be used both indoors and outdoors, and showcase distinctive swirls and patterns that make marble a popular material to consider. Here are other reasons why marble types of exterior house stone siding can be an excellent choice for you.
Benefits of Marble Siding:
• Wide options to choose from with endless patterns and colors (Most popular colors are gray, pink, purple, and brown)
• Extremely durable and resistant
• Stunning aesthetics and vibe
• Smooth texture that gives the stone its clean, sophisticated, and polished look
Marble stone siding is guaranteed to be heavy and fragile though and these two factors need to be considered with your decision since it will need special handling for installation and maintenance.
Quartzite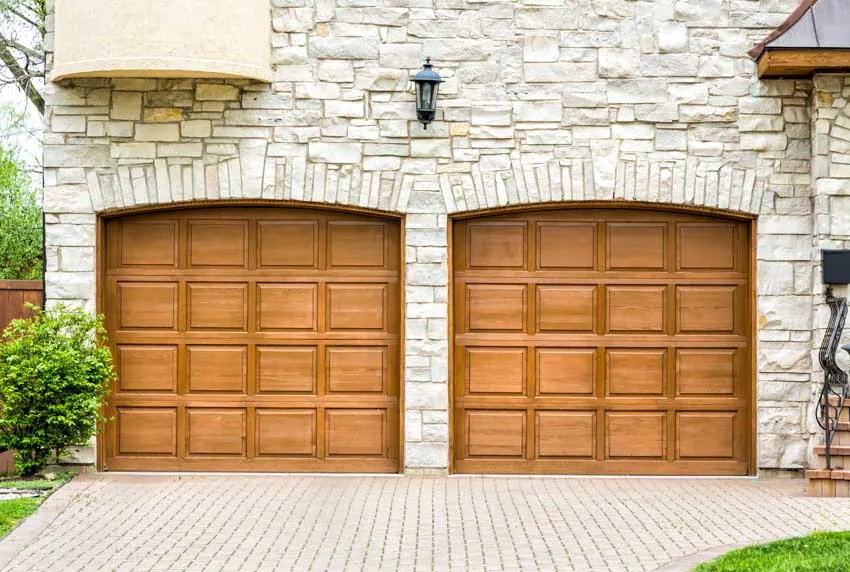 Quartzite is a solid stone option you can use for your home's exterior. In terms of durability and aesthetics, this type of stone goes toe to toe with marble. Because of these factors, quartzite is incredibly versatile that it can be used in different applications, including walls and flooring. But it's most commonly used on home exteriors.
Quartzites are firm, compact rocks composed of grains of quartz sand cemented by a later deposit of quartz. – Diamond-bit Performance in Quartzite, Albert J. Rambosek, Albert E. Long
Quartzite can be used for manufactured stone siding or stone cladding. They come in a variety of colors, including neutral tones, black, blue, red, white, and yellow.
Benefits of Quartzite Siding:
• Delivers excellent resistance and durability
• Showcases nostalgic rustic look and aesthetics
• Highly versatile and can be used in different aspects and areas of the home
• Available in a variety of colors and tones
• Resistant to moisture and temperature changes
• More sparkle and illumination compared to marble
Slate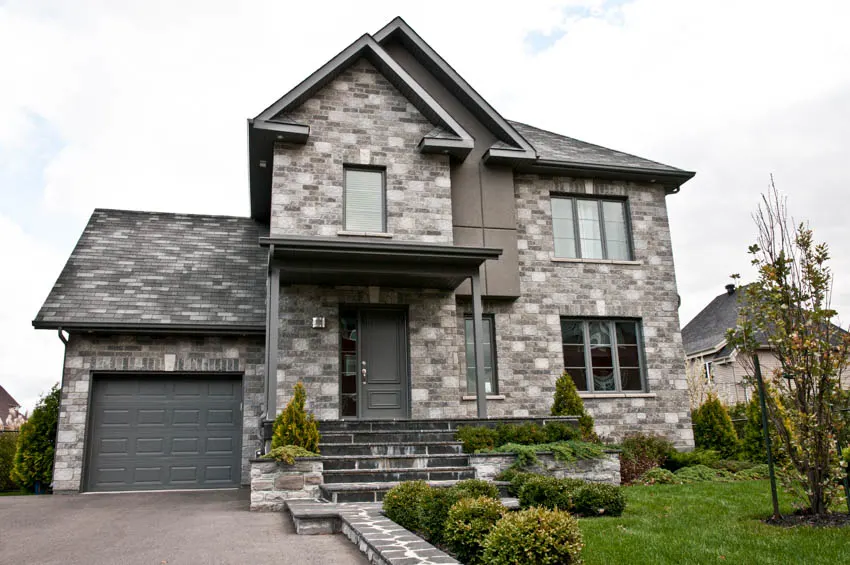 Slate is an incredibly versatile natural stone and can be used for different applications and that includes siding of the home's exterior. It is the popular option for this particular application because it helps the home's siding to be more impermeable and even extends the lifespan of your home. This is the reason why slate comes in panels.
Benefits of Slate Siding:
• Highly durable
• Easily resists extreme temperatures and acid rain
• Resistant to staining and cracking
• Do not require resealing or repainting
• Requires low-maintenance caring
Slate stone siding only has a limited appearance you can consider because of the limited options of colors. Slate comes more commonly in darker colors like gray and black. In addition to that, it is also offered at a high cost.
Sandstone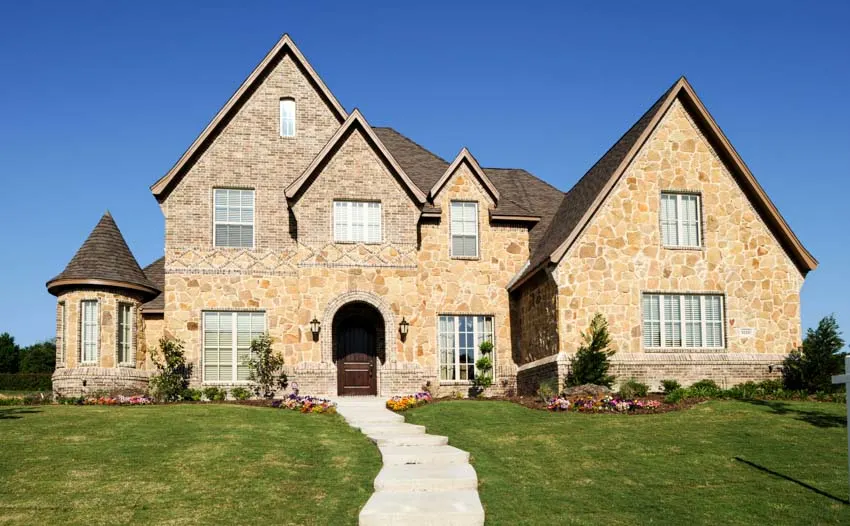 Sandstone is the ideal option for homeowners who want to customize the siding of their home's exterior in the appearance they want it to have. In customizing sandstone, you can make it into any pattern you wish for the stone to have. And since this type of stone is reflective, the tones and shades of the colors may change as the sun moves along the sky throughout the day.
Benefits of Sanstone:
• Incredible durable
• Highly workable and customizable since it's easy to work on it, including cutting, chiseling, and shaping
• Has reflective and organic-looking aesthetics
• Comes in a variety of forms (bricks, cladding, and slabs) and colors (brown, white, orange, pink, and purple)
Onyx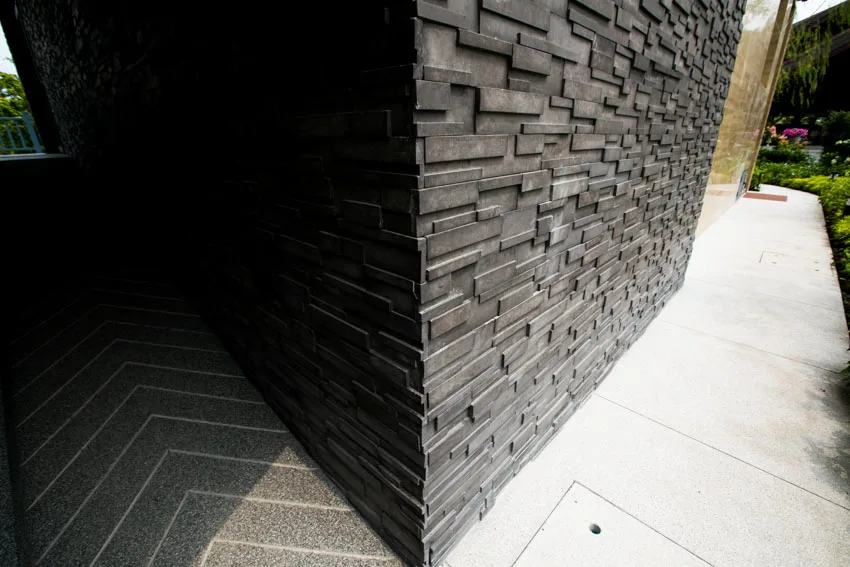 Another elegant type of stone you can consider using for the exterior siding of your home is onyx. This stone may not be popular to be used as stone siding but it may be considered because of other factors and benefits you can enjoy from this material, including the following:
Benefits of Onyx:
• Fine grains and texture
• Elegant and luxurious aesthetics
• Unmatched and enhanced translucent look
• Comes in a variety of patterns and colors
Onyx stone siding will transform the exterior of your home into a beautiful work of art dominated by fine grains and dark colors. You can even use the stone to add accents to your home's exterior.
The downside with onyx stone siding is that it's rare and so very hard to find. With incredibly limited availability, it is very expensive to have (even the most expensive natural stone option!).
Gneiss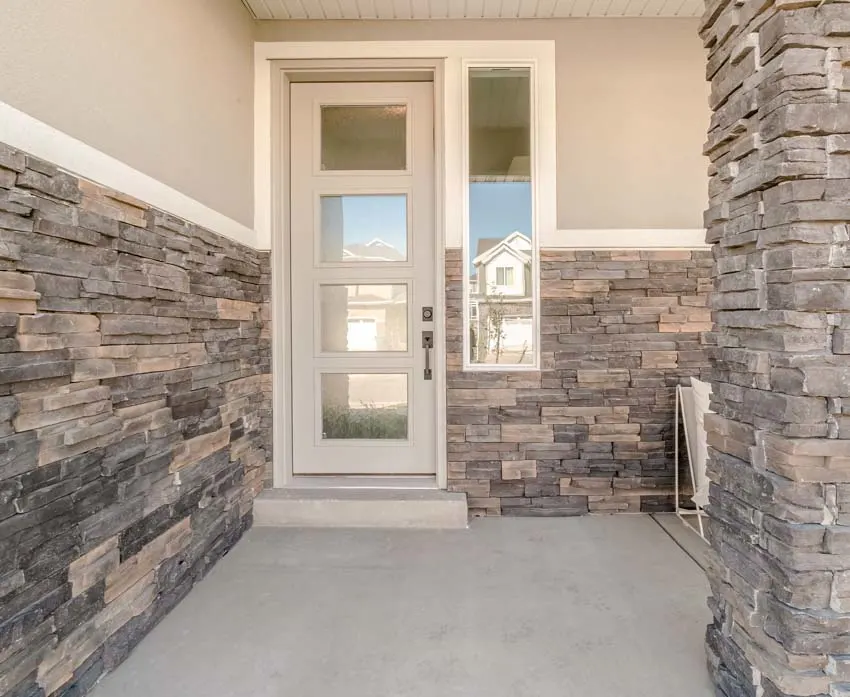 Considered one of the most common commercial stones used today, gneiss is a natural stone that's often associated with granite and sometimes even classified as such. Geologically and aesthetically, both stones look alike. Mistaking one for the other is not surprising.
Here are some of the benefits you can be sure to enjoy with gneiss stone siding.
Benefits of Gneiss:
• Visually interesting with its patterns that include flowy rivers, linear bands, and stripes
• Uneven and random patterned texture
• Minimally porous and so moisture is not an issue
Faux Stone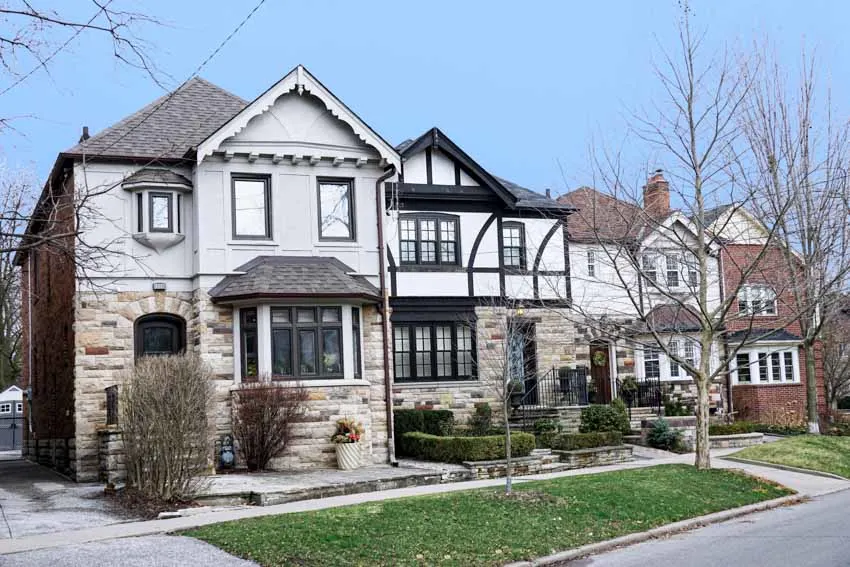 Rather than the natural stone siding, you can also choose the more affordable option which is faux stone siding. Compared to its natural counterpart, faux stone siding is popular and appealing to many homeowners because of this aspect. It is created by mixing together natural aggregates, cement, and pigments which transform into believable natural-looking stone pieces.
To check out if this is the best option, here are the advantages and disadvantages of using faux stone siding.
Faux Stone Pros and Cons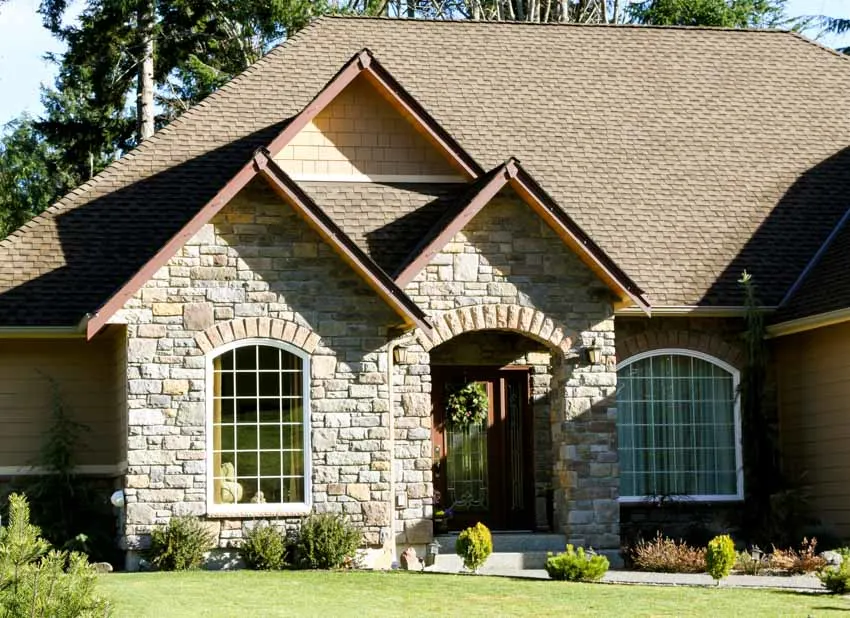 Here we share the advantages of faux stone siding.
• Much more durable and long-lasting
• Usually comes with warranties that range from 20 to 75 years
• Maintenance-free when installed properly
• More fire-resistant compared to vinyl and wood siding
• Considerably lighter than other stone veneers
• Much more affordable (Especially when it comes to installation and labor costs)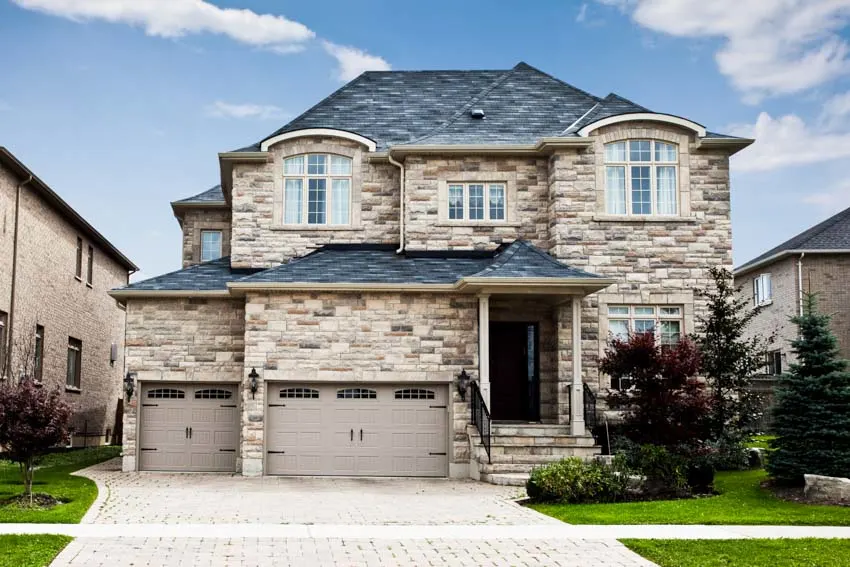 Here we share the disadvantages of faux stone siding.
• Possible moisture problems (If not installed properly) that lead to many other issues:
1. Structural damage
2. Molding and rotting
3. Moisture buildup
4. Water leaks
• Costs substantially more than vinyl and other more affordable siding options
Vinyl Stone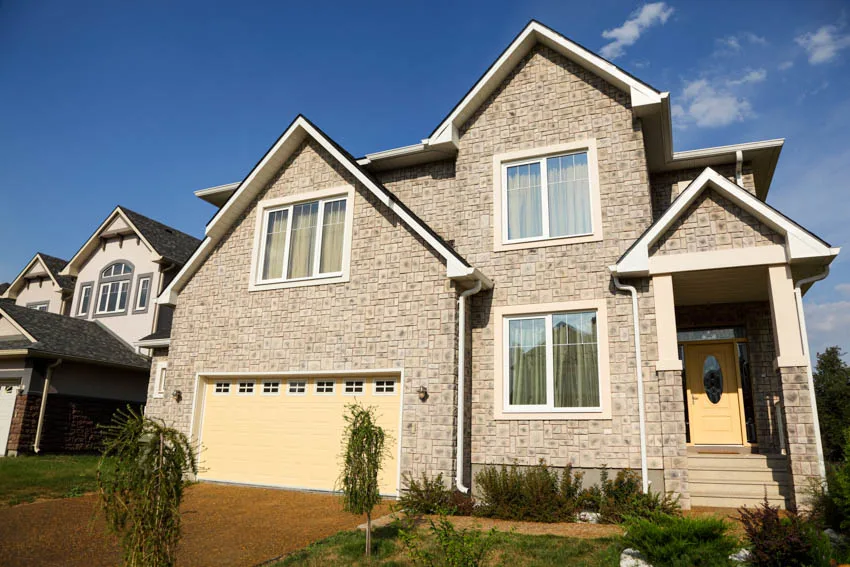 One of the siding options you can choose that's not a natural stone is vinyl stone siding. This particular siding is reinforced by fiber cement, stucco, composite wood, or steel, depending on what you want.
Benefits of Vinyl Stone:
• Significantly more affordable than natural stone options
• Lighter and so easier to install
• Convincing stone imitation
• Offered in a variety of colors and textures
Composite Stone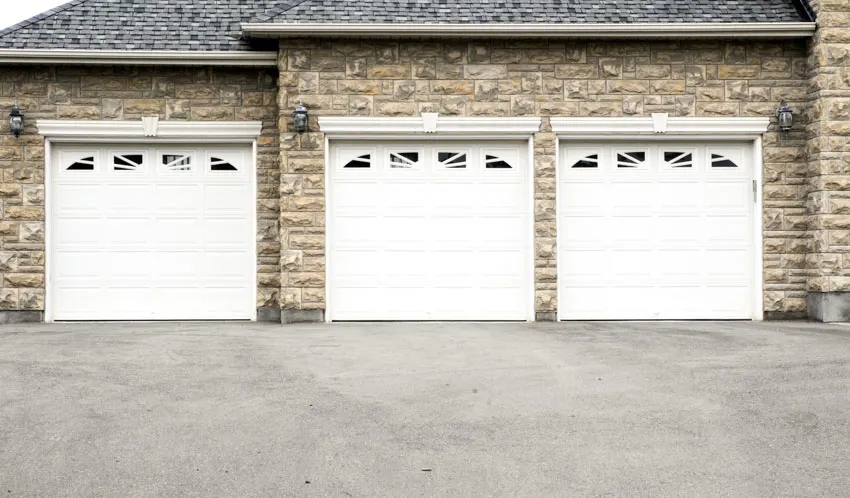 A composite stone siding is made by combining a backing panel (ceramic, fiberglass, or aluminum) and a thin layer of natural stone veneer. These two parts are completely glued together using pressure and high temperature.
This results in a durable and lightweight material that is able to retain the stunning aesthetics of natural stones like marble or granite. Explore the advantages you can experience if you choose composite stone siding for the exterior of your home.
Benefits of Composite Siding:
• Maximizes the use of natural stone components on the composite panels
• Excellent impact resistance
• Showcases flexural strength and water resistance
• Incredibly lightweight (Lighter than solid stone siding)
• Feature a variety of installation options: Mechanical fastenings or adhesion
Cultured Stone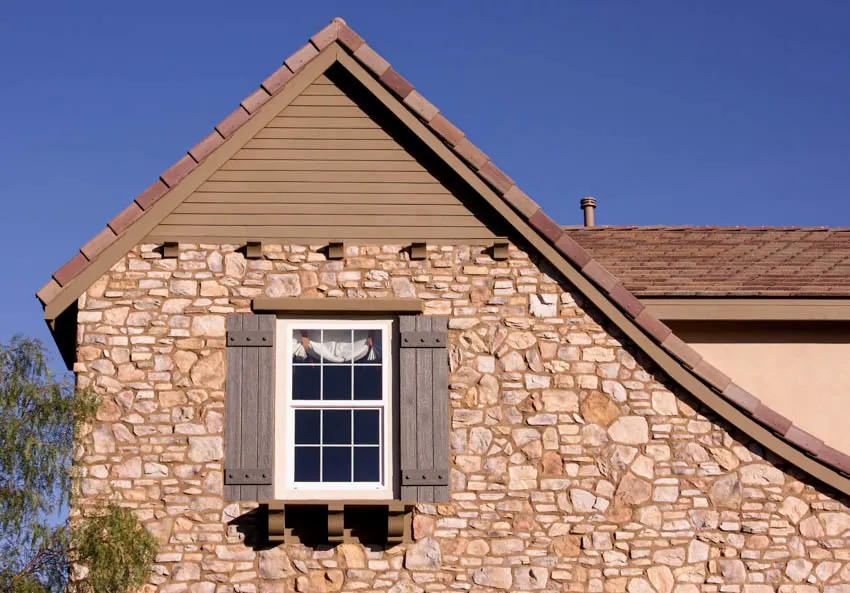 A cultured stone siding is another alternative you can choose rather than going for expensive full stone siding. It is generally made from concrete and has a lifespan of up to 50 years.
Though it may require you to follow a meticulous installation process, there are many benefits you can make the most of, besides imitating the elegant look of natural stones.
Benefits of Cultured Stone Siding:
• Way more affordable
• Far lighter compared to real stone
• Easy to transport
Polyurethane Foam Panel Stone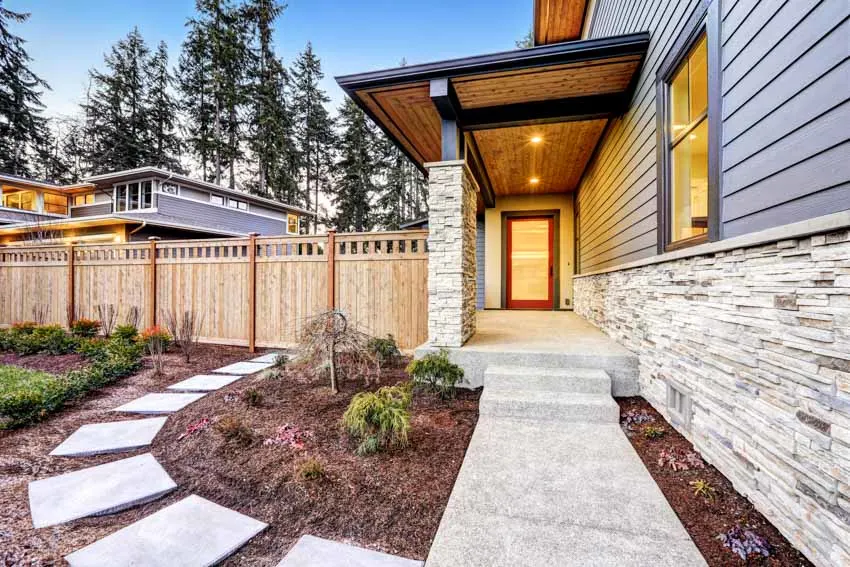 A polyurethane foam panel stone siding is another faux option you can choose instead of the expensive natural stone. Instead of using organic materials, polyurethane foam is used instead as the foundation for this type of siding.
This siding can also imitate the look of stunning natural stones but also takes out other challenges you may experience if you choose the authentic version like its weight and expensive cost.
While it may not be as durable and long-lasting compared to other options, explore the different advantages you can enjoy with this type of siding.
Benefits of Polyurethane Foam Panels:
• Significantly lighter and so can be transported and moved around easily
• Cost-effective way to use the stunning aesthetics of natural stone
• More straightforward and less labor-intensive installation process
• DIY-friendly compared to natural stones
• Available in a wide array of colors, shapes, and styles
Exterior Stone Designs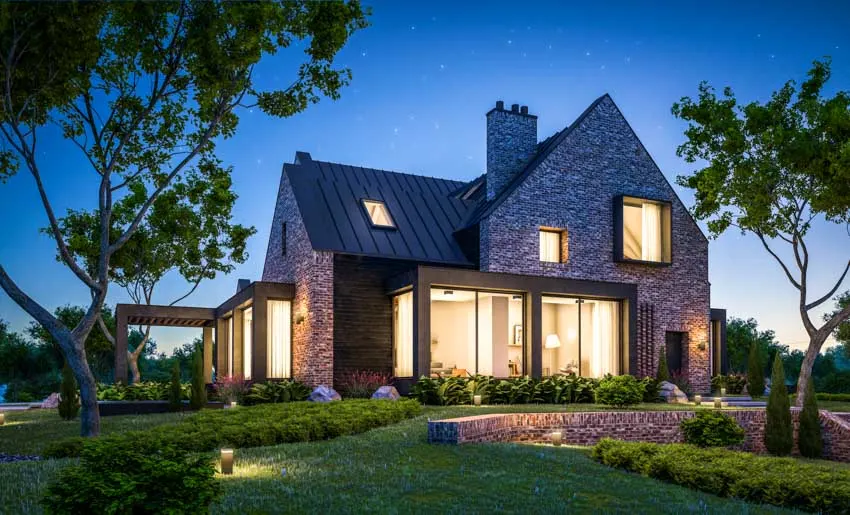 In updating the exterior of your home using stone sidings, there are several choices that are worth exploring. You can cover the entire exterior wall of your home, half of its facade, or choose an accent wall to focus on.
The decision is up to you and to give you an idea of what you can explore, these are some of the designs of exterior stone sidings you can find.
| | |
| --- | --- |
| Stone Siding Styles | Appearance |
| Rounded | Rough edges with natural looking feel |
| Stacked | Contemporary look with raised edges |
| Mosaic | Bold patterns with different sized pieces |
| Streaked stone | Mixed colors and striations |
| River rock | Smooth rounded stones of varied sizes |
| Brick pattern | Traditional style with uniform design |
| Fieldstone | Rough stones of irregular shapes and sizes |
Siding Panels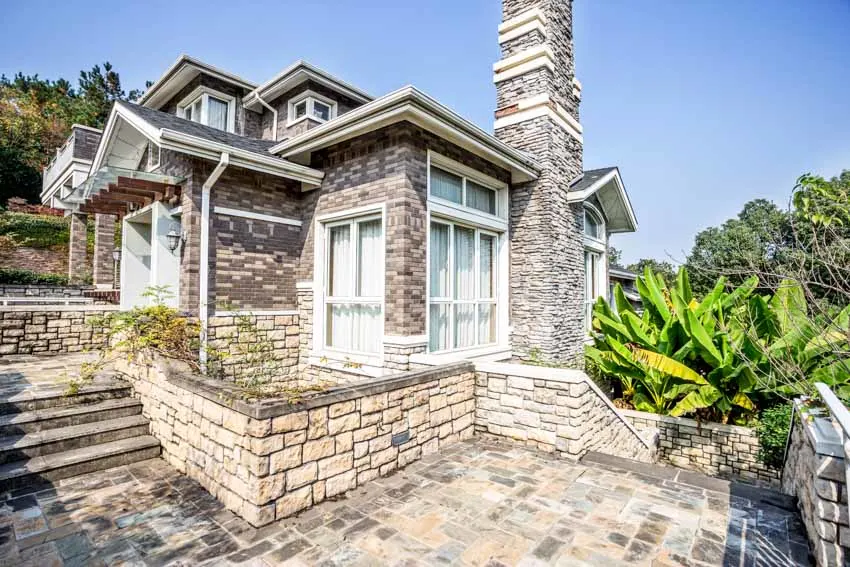 Stone siding panels can either be natural or manufactured and they include thin sheets of stones you can install on the exterior of your home.
Manufactured or faux stone siding panels are significantly lighter and more durable than their authentic counterpart. This means that it's also easier to install and move around.
Panels are the most common form that stone sidings come in. The dimensions are more installation-friendly and they have seamless look that makes your home's exterior look cleaner and smooth.
Stacked Stone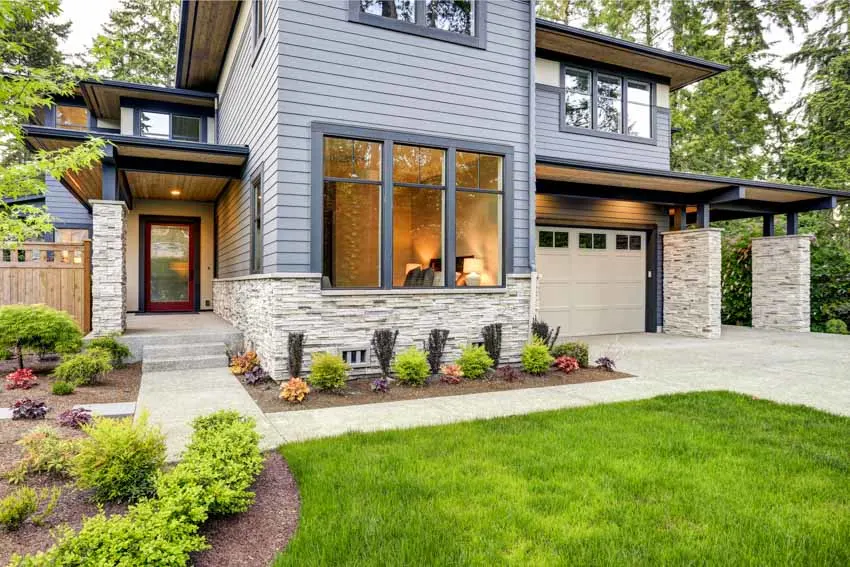 Another design you can consider is the stacked stone siding. This simply refers to the popular trend of stacking stones in order to add texture to the surface vertically. If you feel like your home's exterior needs a bit of texture, this might be a good option to consider.
Despite the added texture, stacked stone siding has a contemporary and smooth finish, making it an excellent element both indoors and outdoors.
One of the ways you can add stacked stone siding to the exterior of your home is to transform it into an accent wall, whether you install it in the chimney, on the columns, or even around the front door.
Castle Stone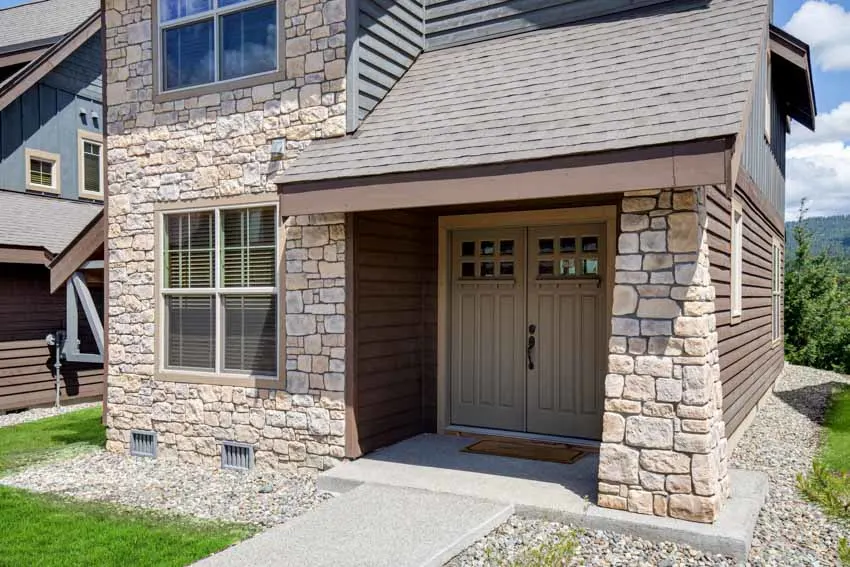 Finally, castle stone siding is the last example you can explore and consider using in your home's exterior. With its foundation rooted in the legendary European precision cut stones, castle stone siding carries beautiful color palettes. This color patterns range from light gold and subtle lilac to deep burgundies and have standard sizes of 8 inches and 10 inches.
Stone Cost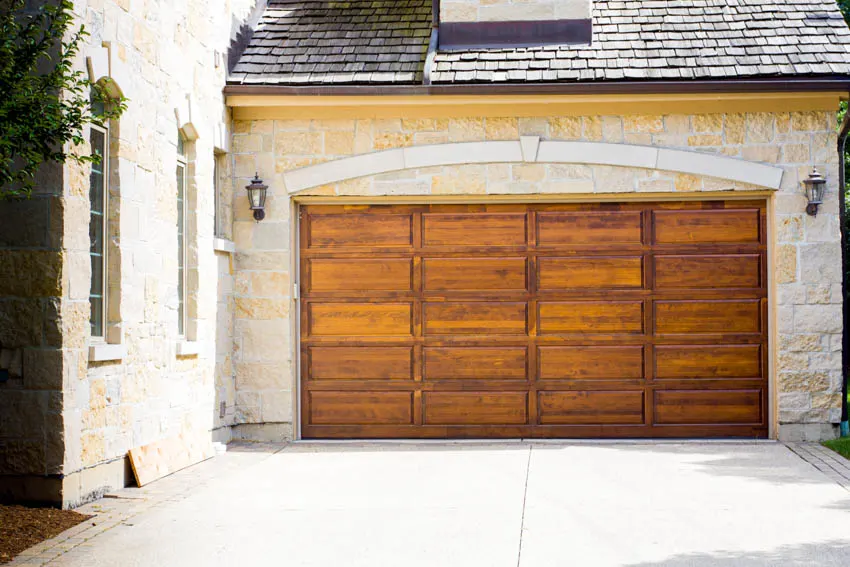 The cost of stone siding depends on the type you choose to install. All the factors of this option need to be considered. Natural stone siding is considerably more expensive than manufactured ones.
When it comes to natural stone options, onyx, marble, and slate can be more expensive than other authentic stone options.
To give you a general look at the prices you will face when installing stone siding to your home's exterior, here is a summary of the general cost of the different types of stone sidings.
| | |
| --- | --- |
| Type of Stone Siding | Cost (per square foot) |
| Natural Stone Siding | $35 to $50 |
| Cultured/Manufactured Stone Siding | $5 to $12 |
| Faux Stone Siding | $5 to $10 |
| Vinyl Siding | $2 to $8 |
| Stone Veneers | $6 to $11 |
Natural stone siding is the most expensive option, considering you're dealing with natural stones and their handling, transport, and installation. And looking at the most affordable choice, you have vinyl stone siding to check out.
Stone Veneer Cost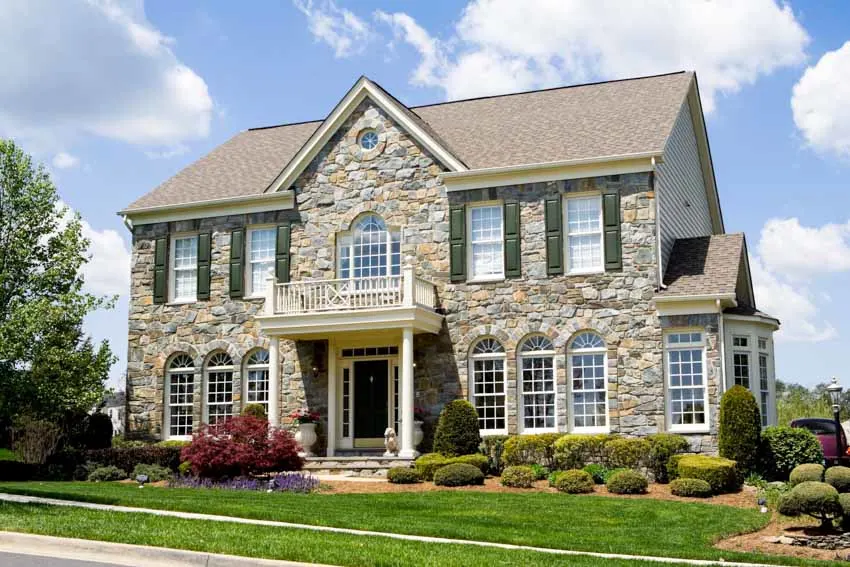 Stone veneers are understandably more affordable than natural stone siding. Here are the costs you need to take into account.
| | | |
| --- | --- | --- |
| Stone Veneers | Cost – Material | Cost – Installation |
| Stone Veneer Pieces | $2.50 to $8 per square foot | $12 to $20 per square foot |
| Stone Veneer Panels | $5.50 to $12 per square foot | $7 to $10 per square foot |
While the materials for the stone veneer pieces are more affordable compared to stone veneer panels, it is the other way around when it comes to their installation. Since installing stone veneer pieces needs more meticulous and thorough handling than the smaller veneer pieces, it is definitely more expensive.
Faux Stone Cost
Mass produced faux stone siding is another consideration you can check out and when it comes to cost, it's closer to stone veneers than natural stone siding. Depending on the quality the cost typically ranges from $5 to $10 per square foot and several factors can affect the price points you might deal with. Some of these are the following:
• Material options: Polymer and lightweight concrete
• Panels vs. Pieces: Same with stone veneers, panels are more expensive in material but more affordable in installation while pieces are the other way around.
• Possible water issues: Concrete-associated faux option looks more like natural stone options but it also comes with more moisture issues than its polymer counterpart
Stone Ideas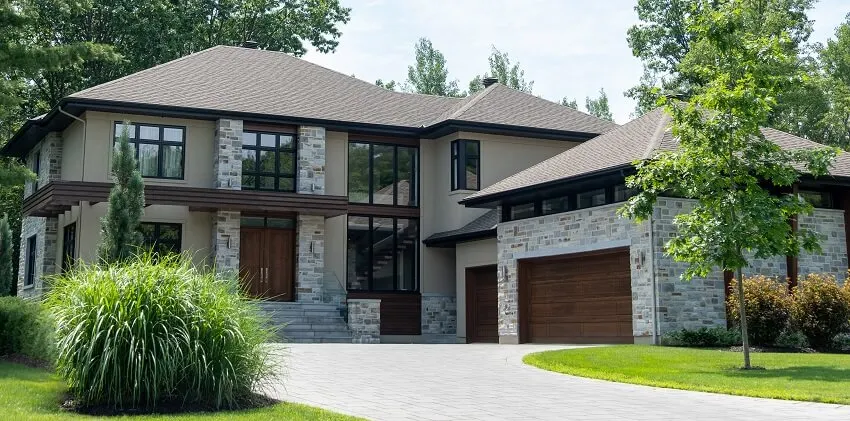 More than just the materials used, the types of stone sidings to consider, and the costs that come with them, you may also want to skim through some ideas worth checking out.
Siding And Stone Color Combinations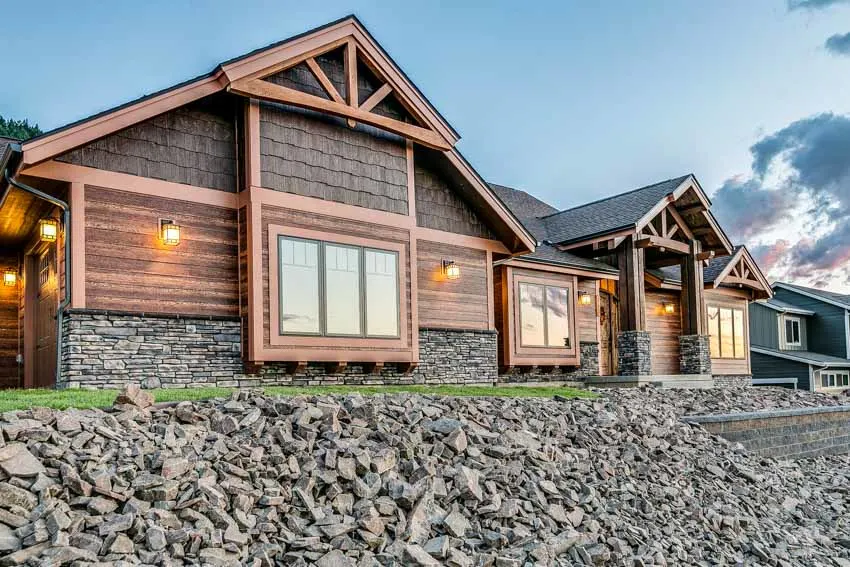 Make sure that the siding and stone color combination you choose looks harmonious and at ease. Choose a color combination that can improve the aesthetics of your home rather than messing up the vibe you want to produce.
Neutral colors are the safe bet for colors since they can allow your home to shine and stand out rather than taking all the attention. But if you want your stone siding to act like an accent wall, you can go for more vibrant colors.
Half Stone Half Siding House: One idea you can apply for your home is to install natural stone on 1 half and then install vinyl siding on the other. This is a good option if you don't have enough budget to accommodate full natural stone siding. Make sure though that you install the natural stones on the facade of your home.
White Stone Siding: White is a popular color option in every element you may be considering at home and that's because a white siding house looks clean, classic, and elegant all at the same time. This goes the same way with stone siding.
White stone siding can help your home to stand out without adding too much pop and needing to be too flashy in the process. Many modern homes sport this option because of its contemporary vibe and aesthetics. The siding looks sleek and clean, which you can also use if you want to apply a minimalistic style to your home.
Black Stone Siding: While also considered as popular as white stone siding, black stone siding provides the drama and flare that white cannot give. If you want something elegant and at the same time an aesthetic that stands out, this is an excellent option for you.
Brick Stone Siding: Brick types of exterior house stone siding are also stunning and innovative options to take into account. Compared to white and black stone sidings that have their focus on colors, this idea centers more on patterns.
Choosing brick stone siding for your home means using shale and clay in block forms and arranging them in the particular pattern you wish to see. You can go for the traditional and timeless herringbone or just the most common pattern running bond.
If you choose natural brick stone siding, you can benefit from its durability and timeless aesthetics. It can also help lower utility bills by assisting in insulating the structure. The downside though is that the installation cost may be high and the mortar is expected to wear over time. Water damage and issues are also prominent and weather elements can affect the bricks over time.
How Long Does Stone Last?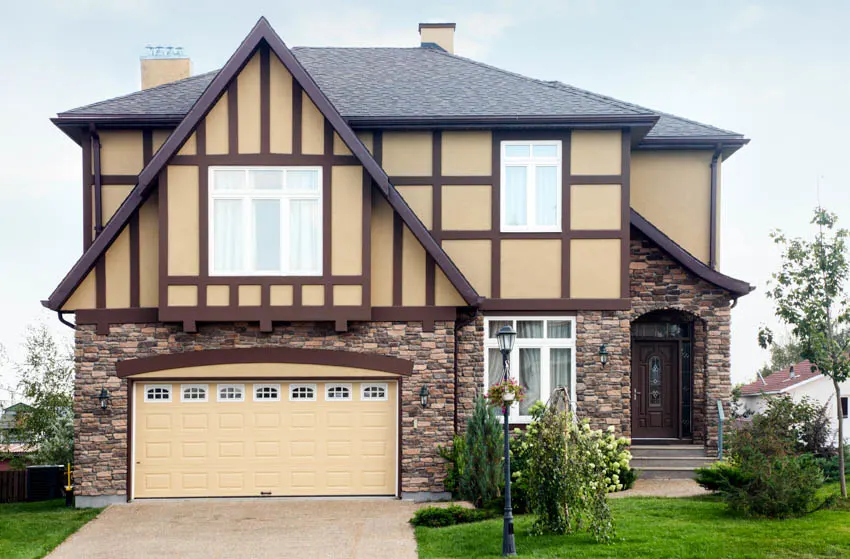 The stone siding of your home, when properly taken care of and well-maintained can last a lifetime, which is at least 20 years to 75 years. This can also depend on the material you choose and how meticulous you are in cleaning and maintaining it. Natural stone siding can last for a long time but this is the same way with manufactured and faux stone siding.
How Long Does Stone Veneer Last?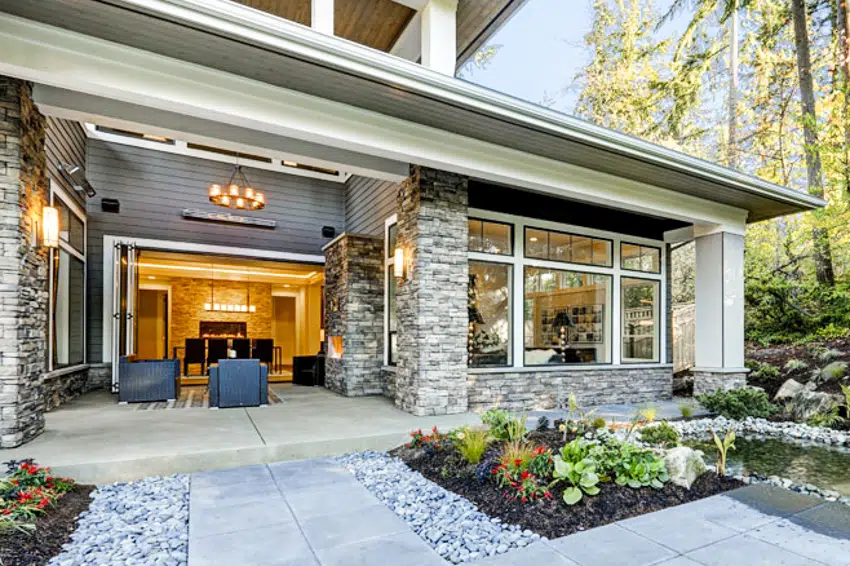 When it comes to stone veneer siding, it can last as long as natural stone siding with proper care and upkeep, which is around 20 to 75 years. Some of the factors that can affect its lifespan are the following:
• Materials used
• Processes used to make the veneer
• Proper installation and maintenance
• Weather and climate exposure (Moisture and humidity)
How To Choose Exterior House Siding?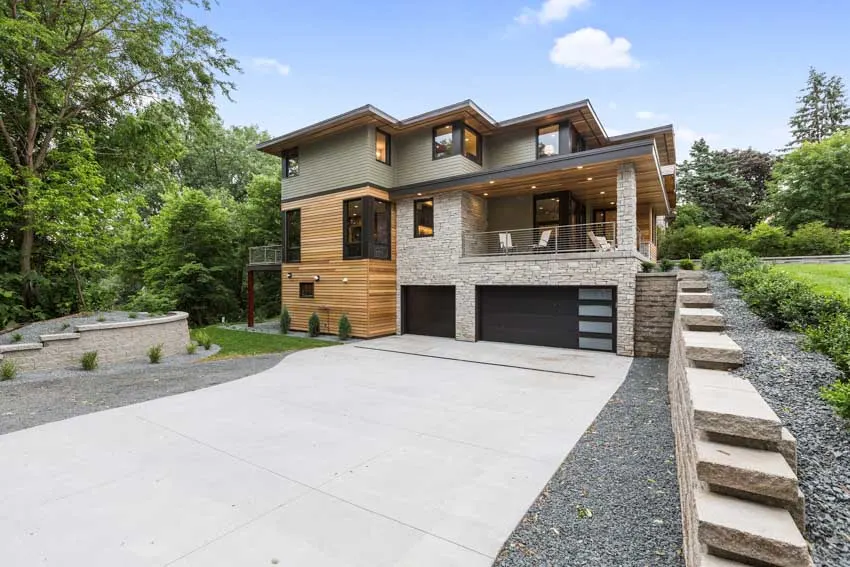 Let's face it, when you are faced with a lot of options, choosing can be overwhelming. You need to simplify the process and go back to the basics for you to make a more informed decision. And in choosing your exterior house stone siding, here are some of the major factors that can definitely affect your choice.
Budget: The budget plays a huge role in any home construction and renovation projects you plan. It can limit the extent of the project and affect your choices of materials, designs, and even the installation itself.
If you have a limited budget, natural stone siding may be out of your reach. However, there are still manufactured and faux stone sidings you can consider that may not be authentic stones but feature similar aesthetics at an affordable price.
If you're still insistent on using natural stones despite the limited budget, you can go for sandstone and quartzite since they are affordable natural stone options. Stay away from the most expensive ones like onyx, slate, granite, and marble.
Another way to save money is to DIY the entire project. If you have a bit of know-how in building things, avoid spending on installation costs and professional fees by doing the task yourself.
House Design: In choosing what stone siding to use, you also need to consider the house design you're going for (whether it's already installed or you're planning for it). They are specific stones, colors, patterns, and styles that will support rustic aesthetics but will look out of place in a contemporary and modern one.
This is the reason why it's important to take into account your house design before making a final choice on the stone siding you'll install on your home's exterior.
Durability: One of the most important features of stone siding is its durability. The more durable it is, the longer you can expect it to last. Many natural stones are incredibly durable and some can even resist moisture and heat.
This is one of the reasons why they are expensive in their own rights. So if you have enough budget in your hands, treat this more as an investment that you can enjoy for a lifetime – that's how long most natural stone sidings last.
Climate: The climate and weather can affect your stone sidings and there are specific materials that can work well in warmer climates than the cold ones. Travertine is the best example of this since it is best used in hot climates.
Slate is a much better option if your home is located somewhere with unpredictable weather and climates. It can easily exist in any environment without the weather elements affecting it.
Maintenance: Proper maintenance can extend the lifespan of these different types of exterior house stone siding. The downside though is that if your stone siding is high maintenance, you may be forced to spend so much more than you're willing to.
Some natural stones need to be resealed every after several years to protect them from moisture damage just like how marble needs to be taken care of.
For low-maintenance stone siding options, the best ones are granite slabs (for natural stones) and faux stone panel siding. Just make sure to choose the appropriate granite slab size that will fit your house exterior.
Popular Exterior House Stone Brands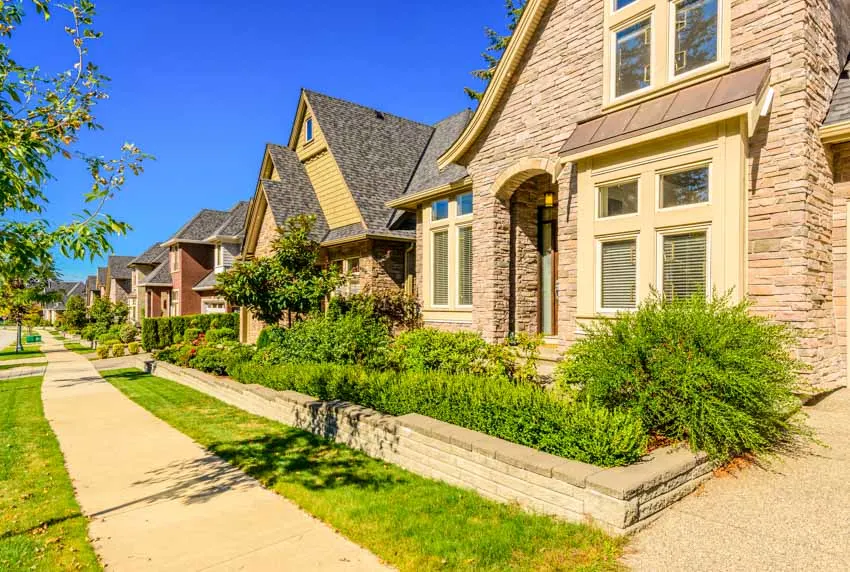 Choosing the specific brand to trust your stone siding needs will require learning about the best and most popular ones offered in the market. To give you a list of choices to choose from, here are the most popular exterior house stone siding brands that are worth exploring and checking out.
• Ply Gem
• Stone Design
• Veneerstone
• Faux Panels
• Silvermine Stone
• NextStone
• Eldorado Stone
• Cast Natural Stone
• Gen Stone
What Is No Mortar Siding?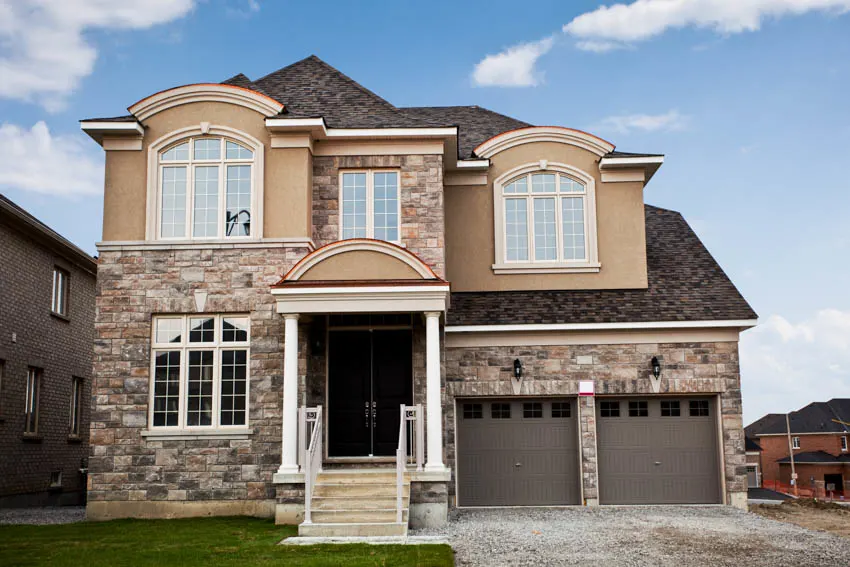 No mortar stone siding means that your siding option will not require the use of mortar. This often involves the use of faux stones than natural stones. With this option, you won't have to prepare and mix anything for the grouting. The installation will be less messy and way simpler.
Can You Paint Exterior Stone?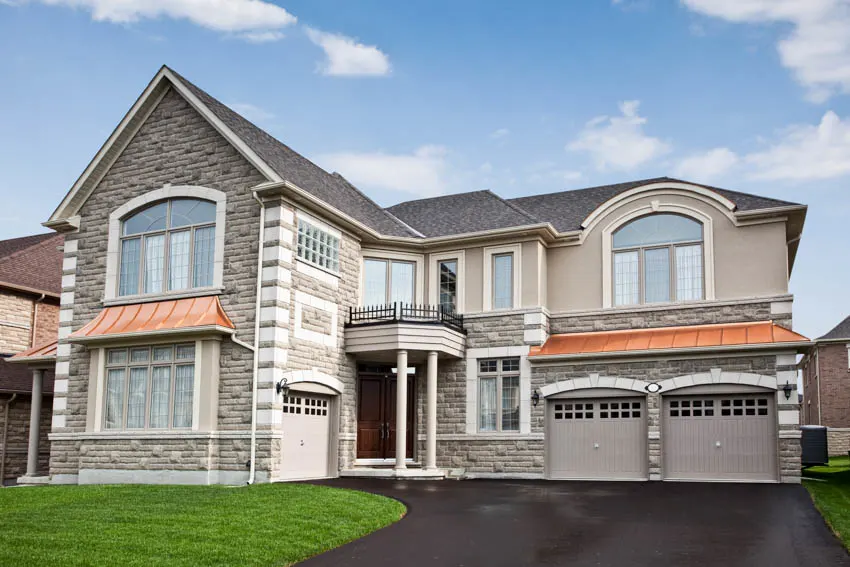 Yes, you can paint your exterior house stone siding, especially if it's already outdated and looks weathered. If your siding is made from porous natural stones, make sure to avoid ruining them by painting them carefully.
Of course, make sure you use masonry paint or just settle with stain. Manufactured and faux stone siding also requires a different kind of handling if you choose to paint on them. The best step to take is to ask the assistance of professionals before you paint anything.
Which Stone Is Best For Exterior Of House?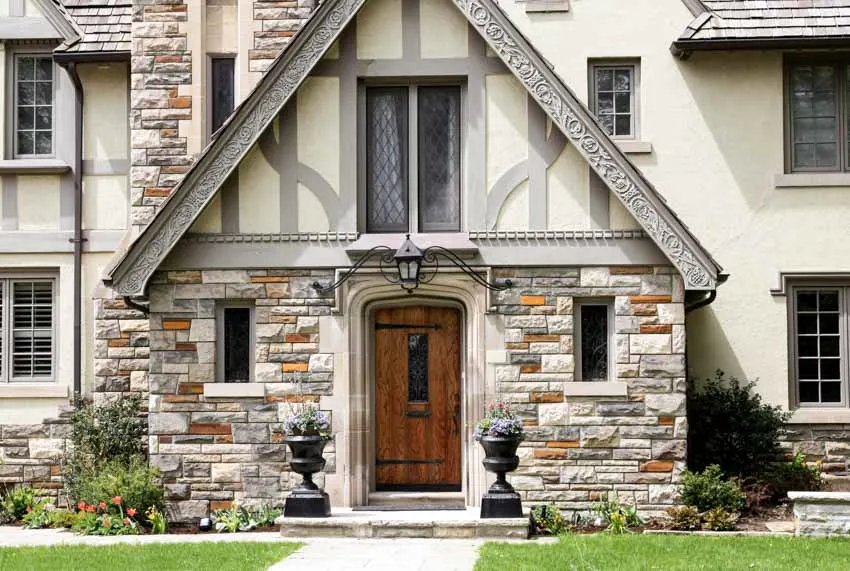 The best stone for your home's exterior is the one durable enough to stand the test of time even when exposed to weather elements and other factors that can possibly damage them.
Of course, you need to take into account your budget and the design of your home but if you'll be dealing with different natural stones, granite, travertine, limestone, and slate can all be great considerations.
They all have their own durability levels so make sure you explore other characteristics of these stones that can help them be a better option for you.
Best Stone Veneer-Style Siding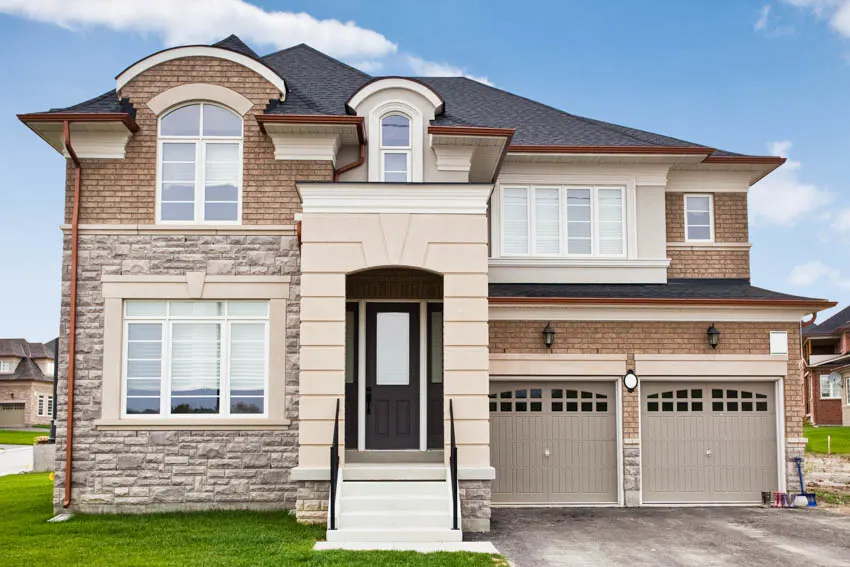 Stone veneer panels may be the best stone veneer siding option. While its pieces counterpart may also be considered, installing the stone veneer pieces take a lot more expertise and effort.
For a contemporary home design a dry stack faux siding design is the way to go. If you want your home to have a more traditional look you should consider a mortared faux siding design.
It also has a higher installation cost if you plan to have some professionals do the job. Veneer panels are more DIY-friendly and cost effective.
Are there any types of exterior house stone that we missed? If so let us know your thoughts in the comments. See more related content in our article about the exterior shiplap siding on this page.