Here's our gallery of white siding house ideas including different materials and designs, effective cleaning tips, and if white siding is a good choice for houses.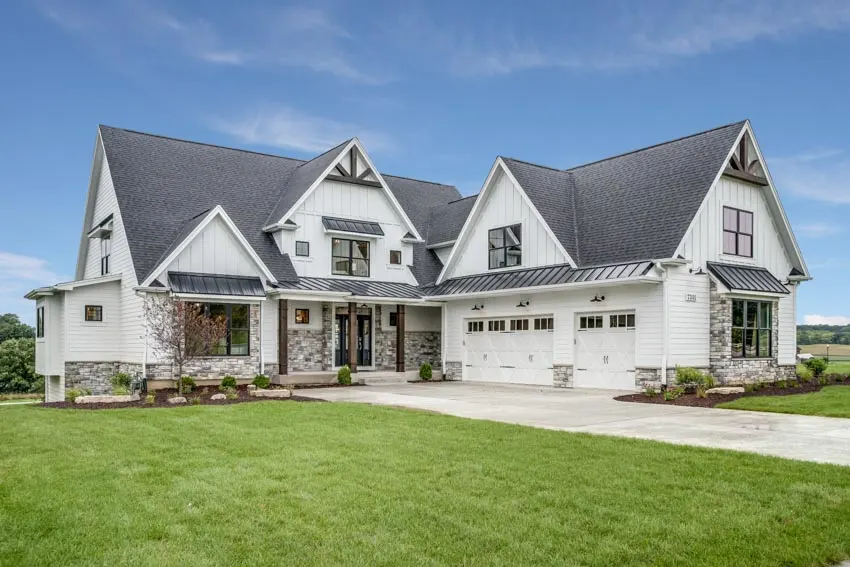 White siding isn't just for classic homes; it's certainly a phenomenal accent to more modern residences. Light colors work nicely with this design because they highlight the clean lines and square corners.
The white siding of the home above complements the property's linear lines and flat roof beautifully.
The siding just adds a gentle accent to the overall aesthetic, allowing the home's form to speak for itself. The white banisters, overhangs, and stairs assist in finishing the aesthetic and give the house a very clean and sophisticated feel.
Is white siding a great choice for an exterior improvement? What are the different siding materials and designs? Read on to find the answers.
White Vinyl Siding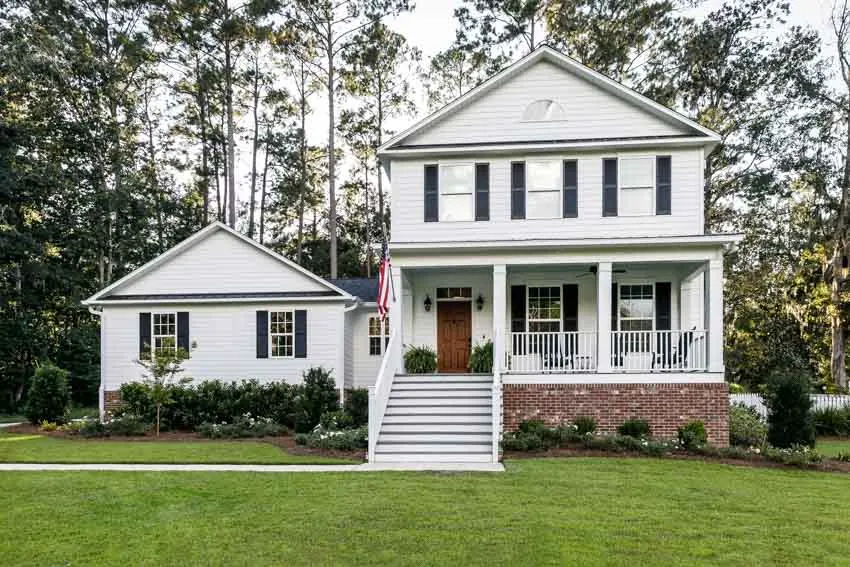 Nowadays, white vinyl siding has been increasing in popularity, and it shows no indications of slowing down.
Whether you're hoping to sell your house soon or simply want a low-maintenance exterior with timeless charm, white vinyl siding can help you achieve the clean appearance you want. Painting vinyl siding with white paint is also an option that can be considered to achieve this result.
White vinyl siding panels are a great option to give your home's exterior a very neat and refreshing aesthetic. Vinyl siding selections are popular because of their longevity, low cost, and ease of upkeep.
They come in a variety of sizes and colors, as well as offering strong protection against moisture and pests. Vinyl siding is also more lightweight and less difficult to install than most other options.
White Metal Siding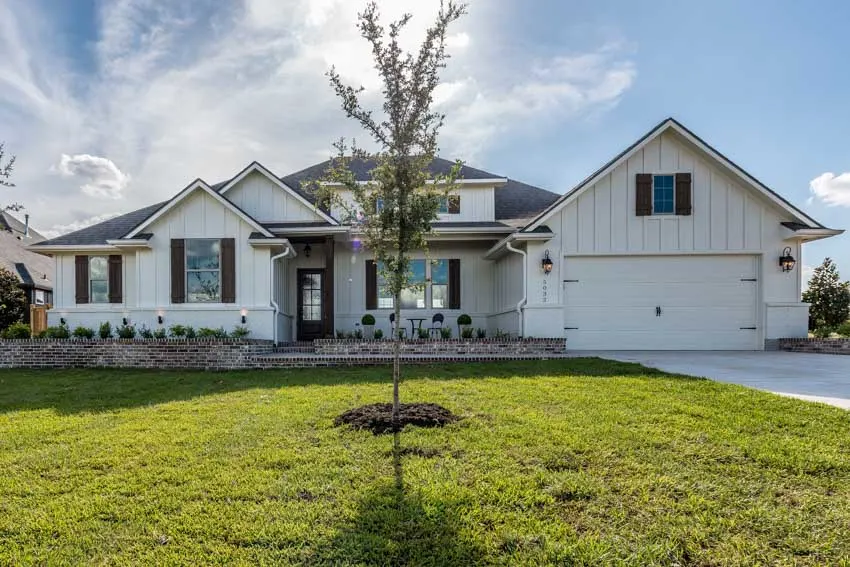 White metal siding is gaining popularity among homes throughout the world, and for good reason. Homeowners are turning to white metal siding to create an amazing look for their home.
This is because of metal siding's highly modernized look, minimalist design, strength, capacity to endure a long time, minimum maintenance, and many distinct types, including aluminum house siding.
Metal siding is sturdy and long-lasting. It adapts well to all weather conditions and is resistant to cracking, warping, and corrosion. Metal siding is one of the hardest materials on the market because of its ability to endure harsh weather including high-speed winds and severe thunderstorms.
Metal siding comes in many styles such as board and batten, metal shingle, corrugated, insulated, perforated, interlocking, ribbed, and flat panels. A board and batten siding was used on the modern farmhouse image shown above.
Regardless of your home's exterior aesthetic, the white metal siding will indeed complement it. And, because metal siding may survive for more than 50 years, you'll want to pick a siding type that is also visually pleasing.
White Brick And Siding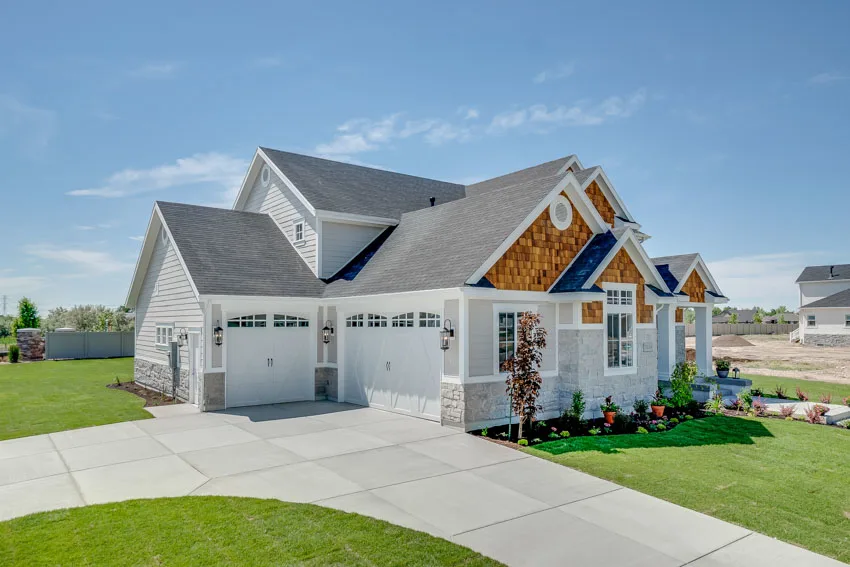 Luxury may be displayed in a variety of ways, not just with dark tones. If you wish, you may certainly choose white as another attractive tone for the half siding and brick style.
Of course, the luxury you perceive on the outside will be different if you pick white. It's a little more on the sweet and lovely side. At the same time, it brightens and cleans up the house.
Both the siding and the brick of the typical exterior above are painted in the same off-white tint. The yellowish undertone gives the house a vintage appearance, making it appear even more magnificent.
The addition of light grey and tan tones to the color scheme improves the situation.
Traditional brick houses with white sidings are among the best-known house designs on the market. You can consider painting the traditional red bricks white if you have a classic brick home that appears to be a little out of date.
Consider choosing white painted brick if you're remodeling or building a new contemporary house. A white brick and siding house is a terrific choice in any case.
Traditional White Siding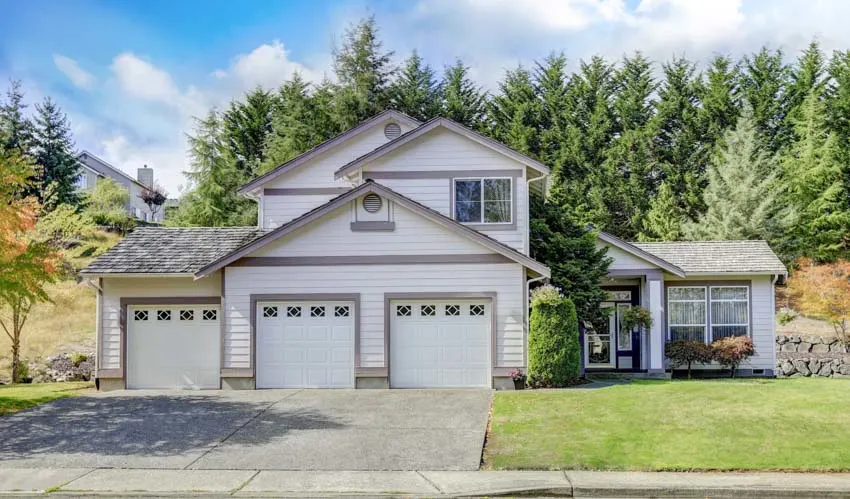 The brightness of the white siding gives the exterior house color trim a lift. White siding brings out the best in a home's many features, giving even traditional and historic homes a fresh new look.
White is a neutral color, which means it doesn't have a warm or cold undertone. A traditional home with white siding, on the other hand, radiates a significant and inviting warmth.
To give the design some color you can paint the trim around the windows or on the shutters the shade you want. Black, green, brown, and blue hues are frequently used for shutters. Additionally, painting the door or under the eaves with matching shades can have excellent results.
Modern White Exterior Siding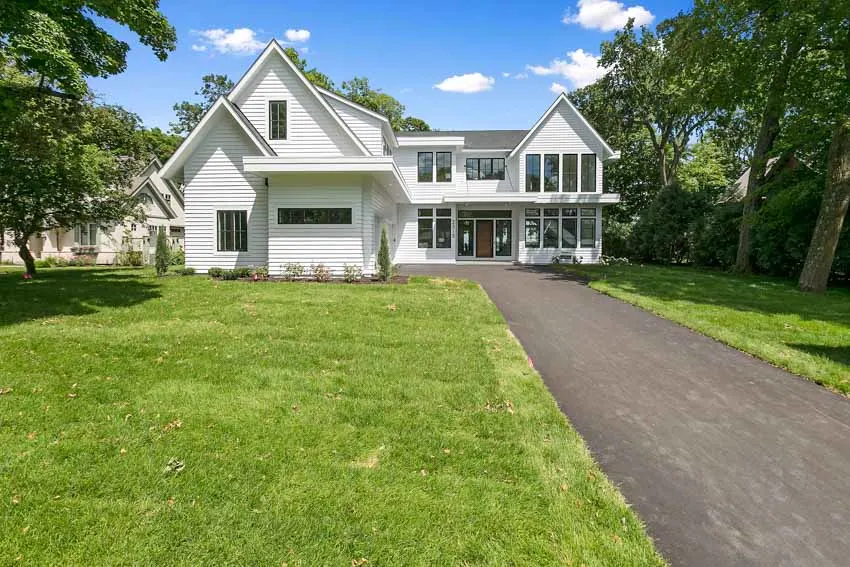 White siding provides a clean and monochromatic appearance, resulting in a modern house design. The most attractive siding is usually pure white.
Classic white has a role in refreshing the look of a house with a modern design, whether for the main structure of the house or as an accent color with deeper hues.
How to Clean a House with White Color Siding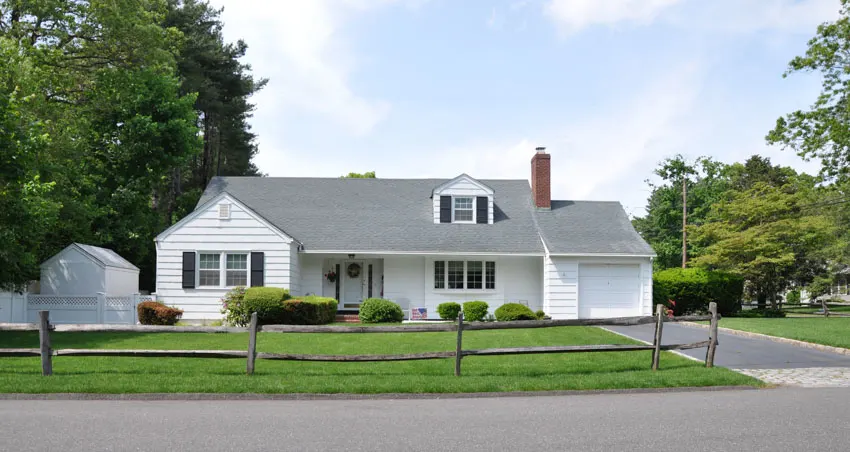 Without a Pressure Washer: You'll need a scrubbing brush, a pail, a hose, water, a ladder, and a cleaning solution to clean your siding without using a pressure washer.
You can produce an excellent all-purpose siding cleaner with 70% and 30% white vinegar that eliminates light mold and mildew stains. You can also use detergent or trisodium phosphate (TSP) as well.
Although scrubbing a complete home's exterior by hand takes a lot of time and work, many people say that it produces a superior effect to using a power washer.
When using a pressure washer, you're also more likely to harm your siding, so keep that in mind as you get ready to clean.
Attempting to clean every inch of your house in one day is not a great strategy. To avoid overdoing it and injuring yourself, pick one side of your house and clean it in quarters or thirds.
Climb up on the side you'll be laboring on with your ladder. Examine the siding for any damage before giving it a gentle scrub with a sharp wire brush. This will assist in the removal of any big debris or loose dirt sticking to the siding.
Clean the siding with a scrub brush and the cleaning solution to eliminate the filth and debris. The siding should then be rinsed with the hose and cleaned with a new cleaning solution.
Then go on to the next wall and repeat the process on each piece of the wall. It's not simple, but it'll pay off successfully.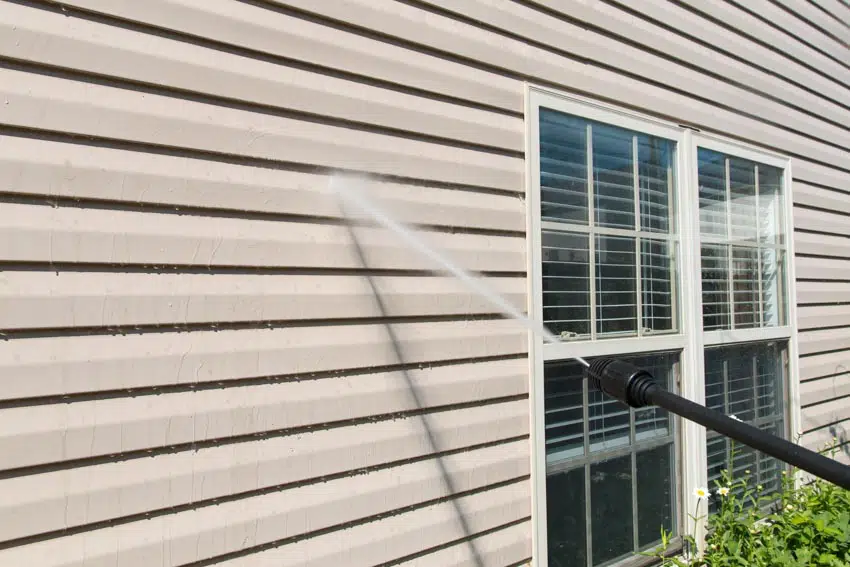 When using a Pressure Washer: Set the pressure washer to moderate. Avoid pointing the wand up and directing the spray where the vinyl lengths overlap when you begin to activate it.
When water is sprayed vertically or between siding laps, it is likely to push its way under the panels, damaging the insulation. When spraying, it's advisable to employ a tall ladder.
Spray the white siding with the soapy sprayer, maintaining the wand tip at a 45-degree angle to the window and trim. Instead of blasting it straight on, aim the wand at that angle to assist lift and eliminating debris from beneath.
After turning off the pressure washer, switch the wand tip to a tip that only generates pure water.
A tip with a 15-20 degree angle will create a higher pressure stream, which will efficiently remove soap from the surface as well as debris that has been freed by the soap. Allow the white siding to dry completely after that.
Is White a Good Choice for Siding?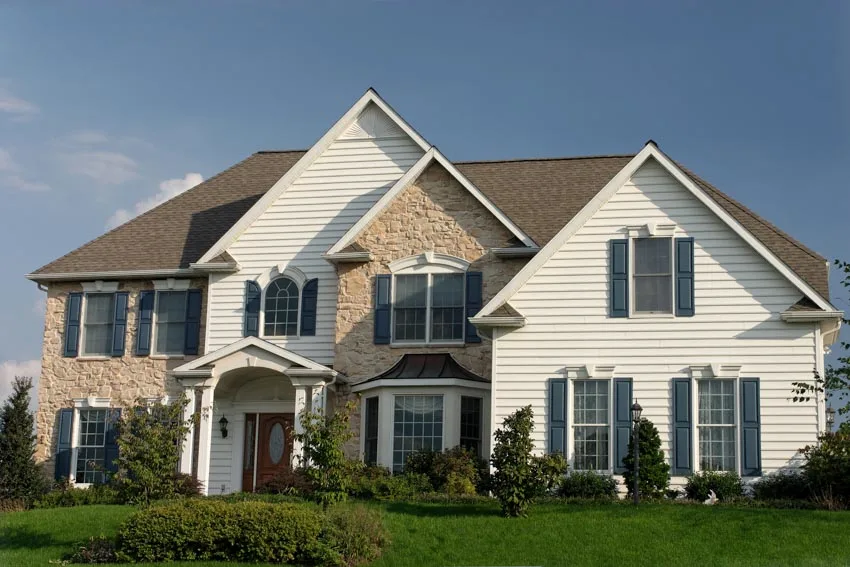 White siding is always a wonderful choice because it is timeless. It'll undoubtedly be one of the most popular exterior house colors in the coming decade.
On modern houses, white is practically a necessary paint color, and white on a traditional or modern-style home creates a sophisticated aesthetic.
White siding makes the house exterior extra neat and visually appealing. See more related content in our article about the different types of house siding on this page.