Here are the different types of metal roofs including the materials used, styles, panels, suggested paint & caulk, and the best roofing options to consider.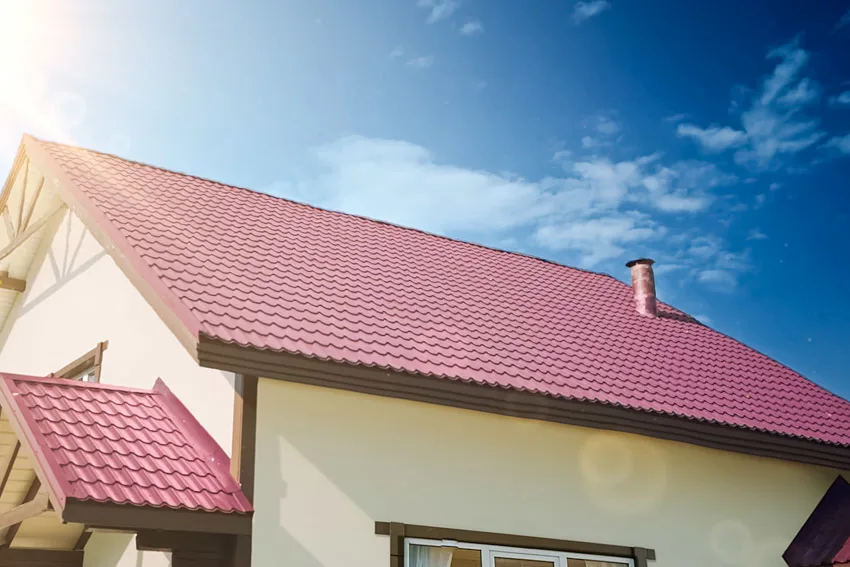 Metal roofs are becoming increasingly popular in both residential development and professional roofing operations. Indeed, the prolonged lifespan of this material is one of the main reasons why numerous homeowners choose it for construction projects.
If you're in the market for a new roof, the roofing material you pick will have a significant impact on the cost, appearance, efficiency, upkeep, and longevity of your new roof.
Is metal roofing the best option for your house? Well, the pros and cons of each type of metal roof are discussed in this article.
Aluminum Roofs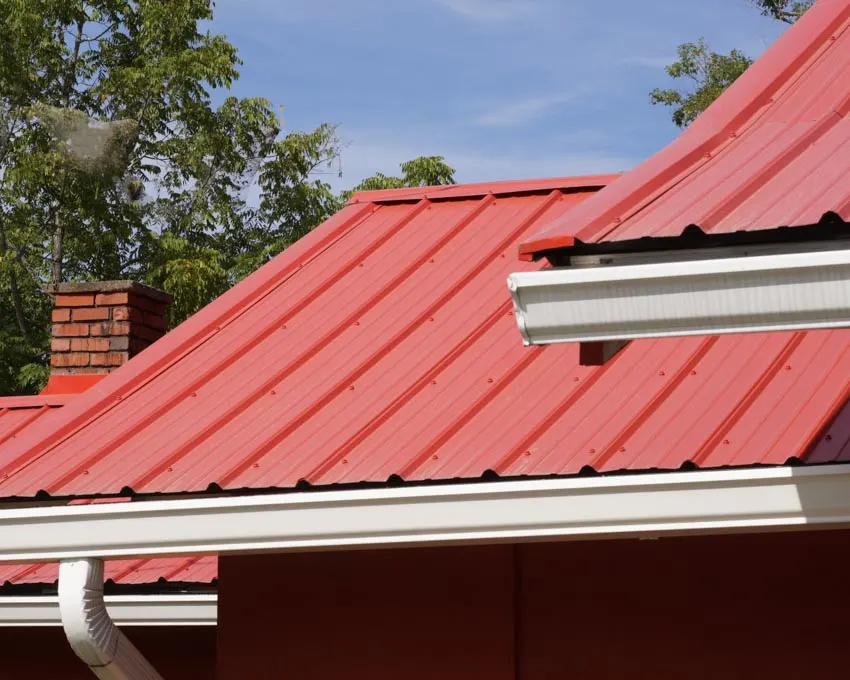 In coastal climates, aluminum metal roofs are frequently suggested. This is because of aluminum's superior salt corrosion resistance when compared to various metal roofing components.
This is also among the types of metal roofs that are long-lasting and have high resistance to saltwater corrosion.
While it's a popular misconception that an aluminum roof is impervious to corrosion, the truth is that it's an extremely active metal that reacts nearly rapidly to changes in the environment.
The exterior layer of aluminum roofing material interacts with oxygen in the atmosphere to form aluminum oxide, which firmly protects the metal's interior layers against potential corrosion.
Aluminum's disadvantage, like copper's, is generally the cost. While it provides superior corrosion resistance, it is also more costly than alternatives that employ aluminum as a protective layer.
Copper Roofing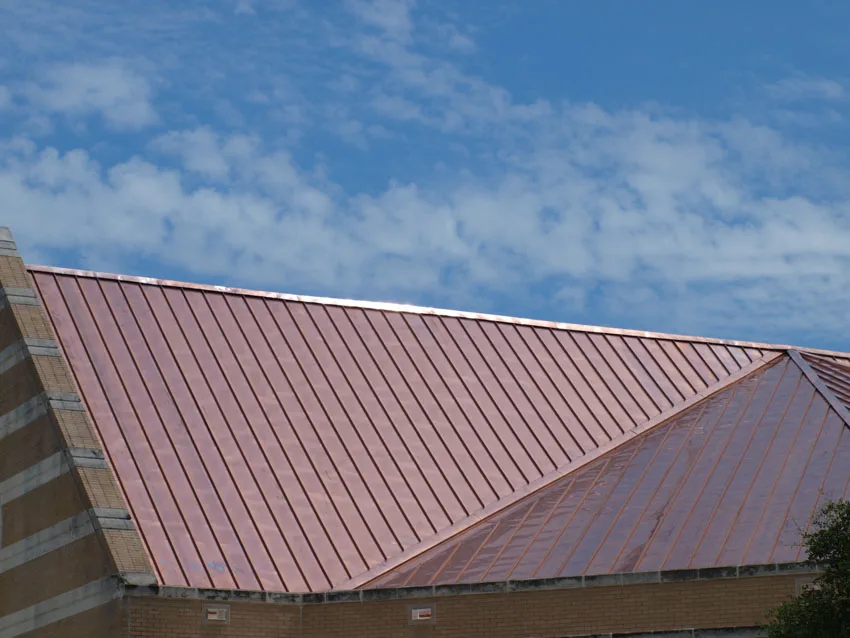 Copper roofs have been utilized for ages throughout the world. Copper is a very long-lasting metal that could survive for over 200 years under optimal conditions.
Copper roof types are also 100% recyclable, making them excellent choices for green roofs.
Copper is a very soft metal, making it one of the quietest types of metal roofs. However, due to copper roofing's gentle nature, it might be quickly damaged in hail-prone areas.
Hailstones can potentially break copper since it is a softer metal. Copper's inclination to expand and shrink with temperature changes is another disadvantage.
Zinc Roof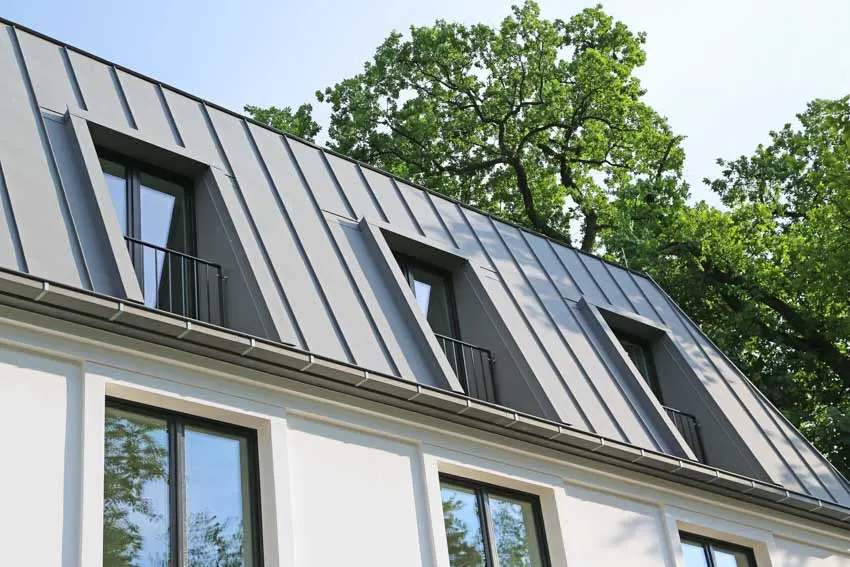 Zinc is a remarkable metal, capable of treating scratches with its oxidation over time and remaining strong for almost a century.
Zinc's inbuilt qualities make it among the popular types of metal roofs for commercial applications since it can be easily shaped and molded into extraordinary designs.
Whilst chalking of Zinc over time may not be a desirable feature of the metal, it may be cleaned and managed to a certain extent. Zinc is one of the most environmentally friendly metals for roofing. Its melting point is lower than that of conventional roofing metals.
Furthermore, when compared to copper or steel, zinc is 100% recyclable and readily obtainable in most local marketplaces, making it an exceptionally eco-friendly material.
From an aesthetic standpoint, the biggest disadvantage of zinc roofs is the chalking effect. It's also rather costly.
Zinc is frequently compared to copper. Zinc, like copper, requires professional installation to fully benefit from its advantages as a construction element. Moreover, zinc is a metallic element that can be readily destroyed by hail or severe winds.
Steel Roof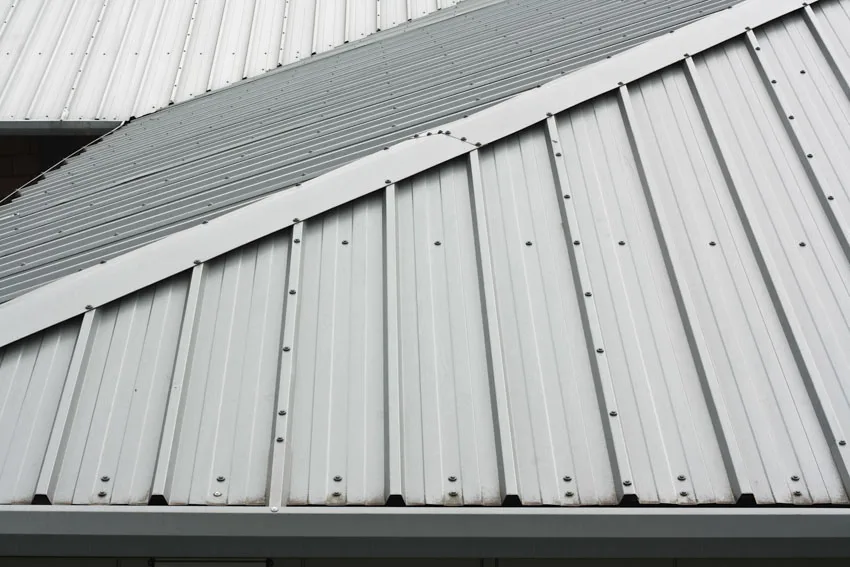 Steel is a composite material made up of iron as well as other components. Steel roofing has always been one of the most widely used elements used in a commercial construction area, and it is increasingly being used in residential development.
Though steel production can be an energy-intensive operation when compared to metal like zinc, the metal alloy's recyclability and accessibility imply that the majority of the steel we use nowadays is recycled rather than new.
Steel is the most recyclable material on the globe, making it a very environmentally friendly building component. Steel is also the least costly metal when matched to other metallic materials. It is normally priced substantially lower than aluminum, copper, or zinc.
Steel is therefore both more economical and more easily obtainable than the other metals. However, these are the 3 main types of steel roofs:
Galvanized
This type of steel is made by coating an inner layer of steel with zinc to safeguard it against corrosion.
This coating contributes to the extension of a steel panel's life and the slowdown of deterioration. Galvanized steel is indeed the most popular type of steel roofing component.
Galvalume
Galvalume steel is perhaps identical to galvanized steel, but instead of utilizing a zinc-only coating, it employs a mix of aluminum and zinc.
In some circumstances, aluminum is more corrosion-resistant than galvanized steel, and it also has a shorter, finer spangle for a more consolidated look.
Galvalume provides superior surface protection to galvanized steel, although it is susceptible to scratches and sharp borders because of its aluminum properties.
Weathering Steel
This type of steel was created with the intention of being used in heavy steel industries such as bridge development.
An exterior layer of steel is purposefully rusted to safeguard the interior layer of steel. The patina procedure for weathering steel roofing is identical to that of aluminum, except that it takes longer.
Weathering steel rusts on purpose and is not intended for use as a construction alternative for steel roofing. It's frequently utilized in accent roofing or with a clear awareness of the rusting operation and the requirement for routine maintenance.
Steel is one of the toughest metals available, and it can withstand a variety of weather conditions, including hail and severe winds.
It's a usual sight in mountainous areas with a lot of snow, and it's a smart option in hail-prone areas. Steel is also a highly versatile alternative for both commercial and residential metal roofing.
Tin Roof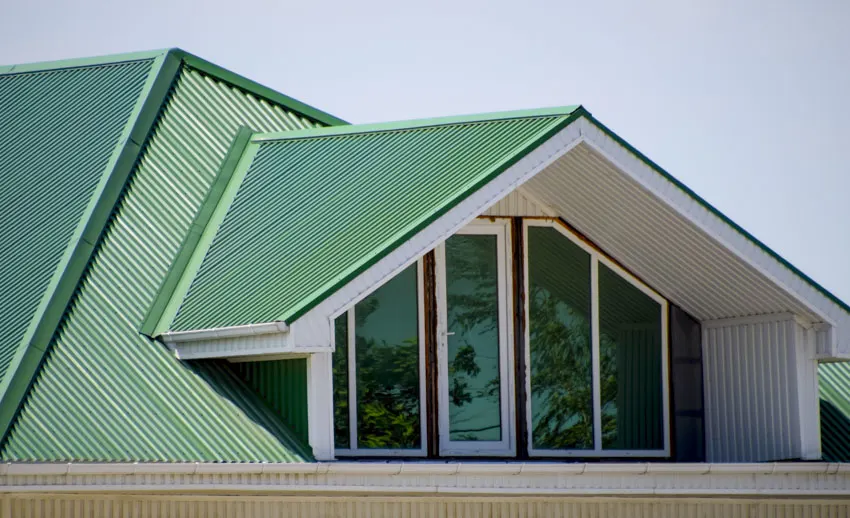 Tin is among the types of metal roofs infrequently used for houses. Tin, like copper and zinc, is also an element. Tin was first applied as a canning component, but it was later repurposed by countryside do-it-yourselfers who smoothed it and utilized it as a shingle when other options were unavailable.
When aluminum supplanted tin roof sheets as the norm for containers, so did the usage of aluminum as a DIY construction component.
In fact, the term "tin roofing" nowadays usually refers to galvanized steel or aluminum instead of genuine tin roof sheets.
Tin has various applications in science and technology, but it is no longer actively used as a construction material, and it seems that tin roof sheets have already been phased out these days.
Corrugated Roofing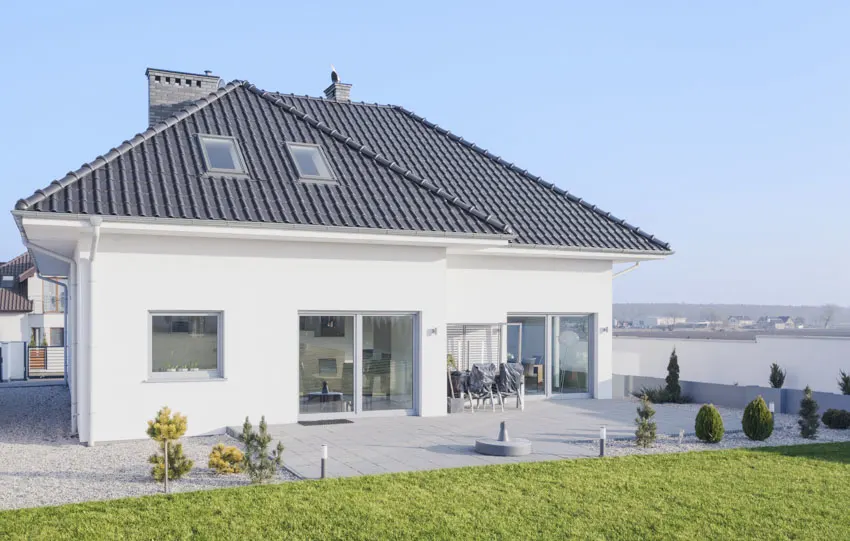 To clear out water rapidly, it's ideal to build a corrugated metal roofing system on a slope. Some might assume that these materials are loud when it rains, but that is not the case. If you had a brick or asphalt roof, you could hear the same level of noise.
In certain situations, a corrugated aluminum or steel roof can survive up to a hundred years. Steel, metal, or aluminum, on the other hand, does not corrode or fade over time and is impervious to termites and other tunneling insects.
To avoid algae development, these components are frequently handled with specialized chemicals.
One of the corrugated roofing's most appealing features is its minimal weight. It's no surprise that numerous homeowners like this form of roofing because of its longevity and adaptability, and also the efficiency that accompanies these features.
Corrugated metal roofs will withstand unfavorable weather extremes better than other components due to their solidity.
If you reside in a region where thunderstorms or hail are more common, you can try implementing these roofing materials instead of asphalt shingles since they can handle storms better.
On the other hand, the corrosion issues that many commercial and residential property owners experience may arguably be the most major drawback of corrugated metal roofing.
Metal Tile Roofs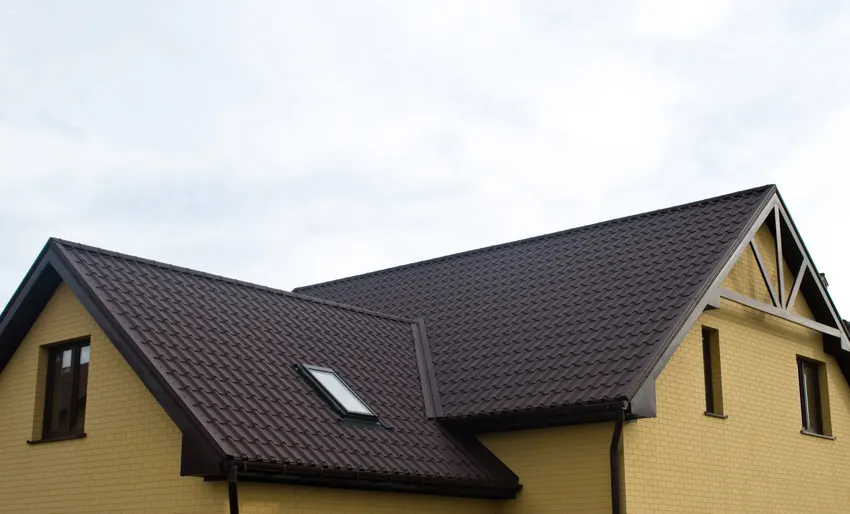 Metal roofing tiles are linked together directly using uncovered fasteners, which can corrode over time. But, there are metal sheet tiles that are mounted with hidden fasteners and embossed with a desirable texture or pattern.
Metal roof tiles are incredibly lightweight. Unlike heavier components like clay and concrete, you won't need a structural engineer's assistance.
Metal roofs can reflect solar radiation heat and make your house comfortable during the summertime with several types of paint coats. Metal roofing systems have longer warranties than most, but clay and concrete types of roof tiles are subject to deterioration in colder temperatures.
While metal roofing tiles do not shatter like clay tiles, they can corrode with time if exposed to rain on a regular basis.
Not only are metal roofing tiles hard to install and costly on their own, but the installation process can drive up the price even more. A metal tile roof requires the services of a qualified contractor.
Slate Roofs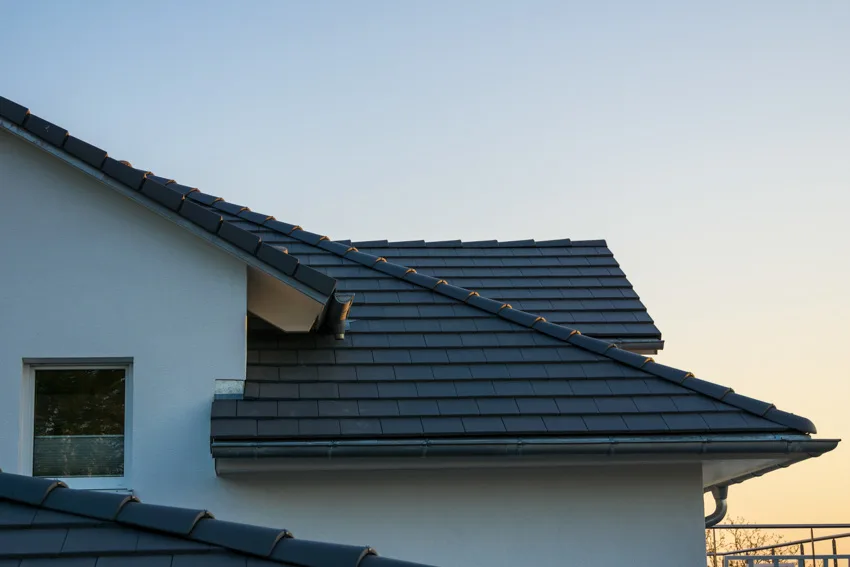 Slate is among the most appealing types of metal roofs. They are produced entirely of natural stone and have an inherently split surface with an exquisite color variety that runs the length of the roof.
Slate roof tiles are also incredibly long-lasting, often outshining the other buildings on which they are put. In reality, if properly placed and maintained, a slate roof may survive for 150 years or more.
Slate roof tiles are not only attractive and long-lasting, but they are also fireproof and environmentally beneficial. Because the tiles are composed of natural stone, they do not emit any VOCs or other pollutants throughout the production process.
They can also be reclaimed after being utilized on the roof or if the structure on which they are put outlasts the roof.
The cost and installation are the two greatest drawbacks of a slate roof. Furthermore, not every roofer has experience with slate roof tiles, and that makes it difficult for you as you will need to hire a reliable contractor who can do the job correctly.
The weight of a slate roof is another disadvantage. Because slate roof tiles are so heavy, the roof platform must be strengthened to support the weight.
A slate roof may weigh from around 800 to 1500 lbs, so you should get your house assessed to see whether it can sustain this weight before installing it.
Standing Seam Roofs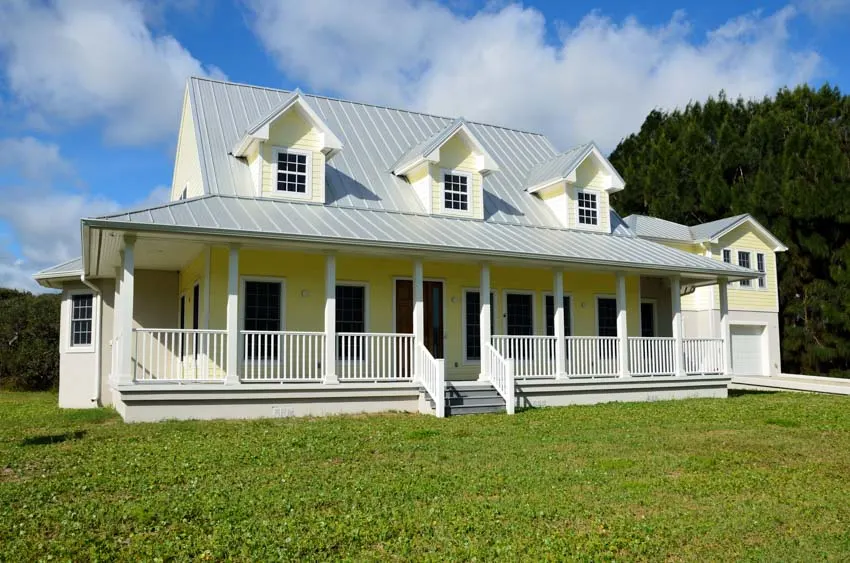 Standing seam metal roofs are available in a number of colors to match any home design, from contemporary to rustic.
The advantage is that bright colors may be used on the roof to reflect part of the sun's light and prevent the attic from overheating.
Standing seam metal roofs are named from the way they are constructed. They're made out of metal panels that stretch from the crest to the margin of the roof.
Because of their exceptional aesthetic, this is one of the types of metal roofs that could help keep your house appear classier.
Aside from that, the most significant benefit of incorporating this type of roof is its long-term durability. Because these roofs are made to last, they will not rust and will not fade under the sunlight.
The installation is the most noticeable disadvantage of this type of roof. While the majority of roofers deal with asphalt roofs, only a small percentage of them are familiar with metal roof installation and components.
As a result, it may be more difficult to contact someone who is experienced in the roof type.
Roof Styles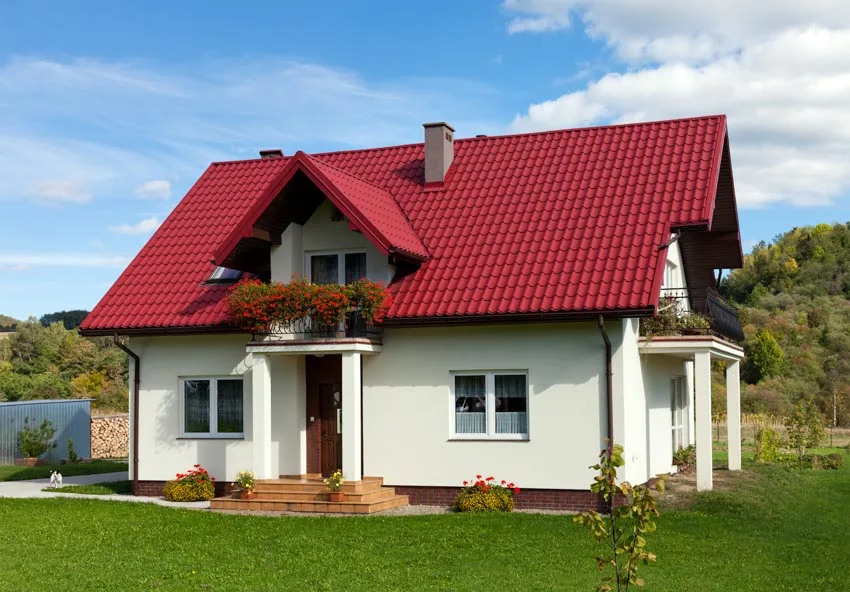 Here we share the different metal roof styles for the home.
Standing Seam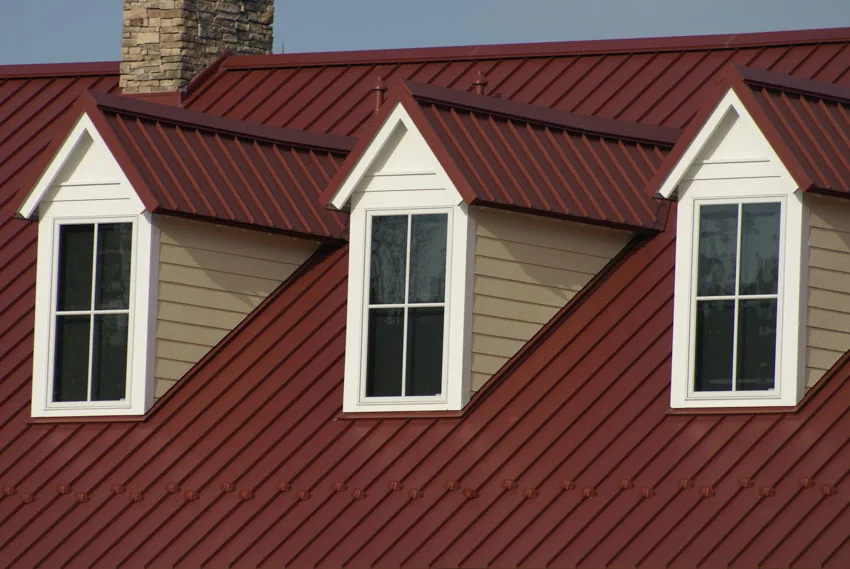 In a standing seam metal roof style, a tall seam runs along the border of each panel, connecting it to the next panel ranging from 1 to 1/2 inch over the roof, giving the impression that the seam is in a standing position.
Steel or aluminum can be used, with aluminum being the preferred material because it does not rust.
Its clean lines, which are generated when panel edges interlock, go well with a wide range of homes, from classic to contemporary. Panels are held in place by hidden clips that allow the metal to slide.
Tile Style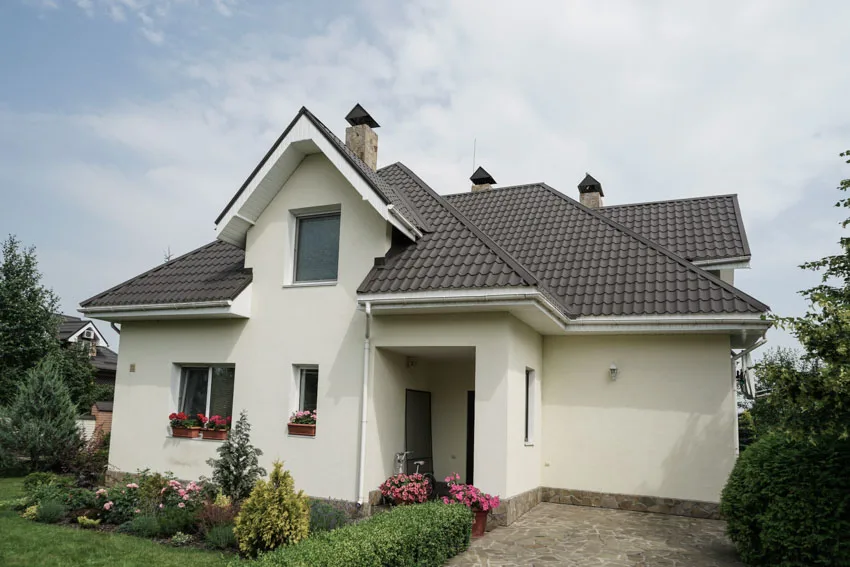 From the unique Mediterranean barrel tile style to the regal S-Serpentine look, metal tile designs come in a broad range of looks and textures.
Most tile patterns are fixed through the roof deck using uncovered fasteners, while some use a batten grid mounted to the roof deck whereby the panels are affixed.
The majority of metal tile systems are constructed in enormous types of roofing sheets that run from eave to crest.
Shake Style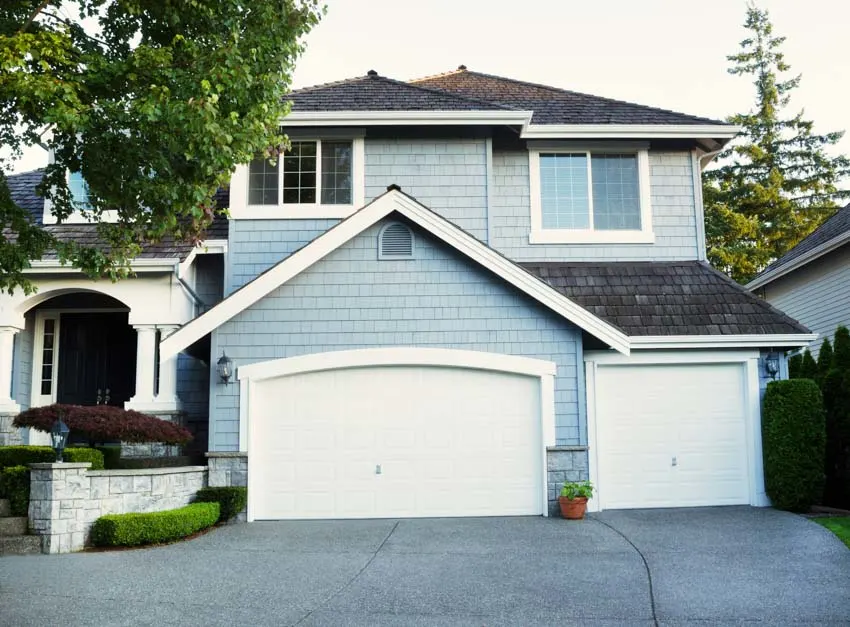 Metal shakes are intended to resemble hand-split cedar shingles.
Several homeowners choose these shake-style systems because of their similarity to wood shingles as well as the long-term durability metal gives.
Lots of people appreciate the unusual aesthetic of these customized metal shake-style systems.
Corrugated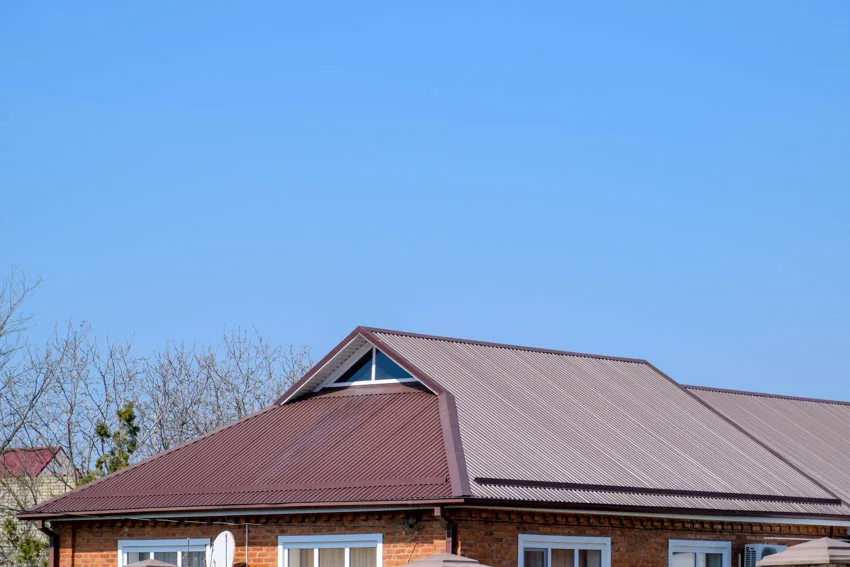 The corrugated metal roof style is made out of metal sheets that have been rolled into panels. Screws are then used to secure the panels to the roof.
Corrugated metal is an uncovered screw panel, which means that every fastener on the panel's surface is revealed.
Corrugated sheet metal is often circular and wavy in form. It's inexpensive, lightweight, sturdy, and simple to set up. It is also very energy-efficient and has incredible longevity.
Types of Roof Panels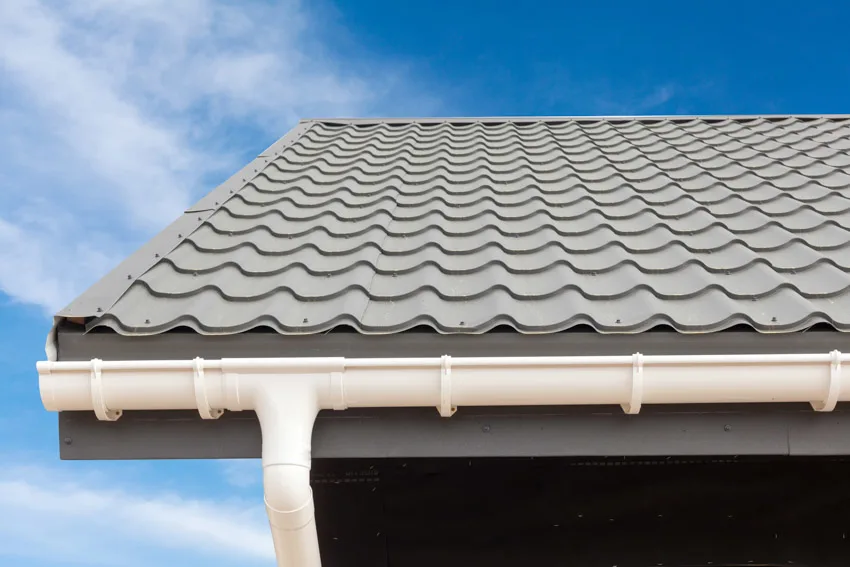 R-Panel: The exposed fastener panel is a type of panel that is frequently used in industrial and commercial roofing projects.
R-panel is formed of 26-gauge metal and can cover open rafters, similar to those seen in steel structures. On pre-engineered steel buildings, here is where the R-panel is most commonly seen.
Exposed fastener metal roofing panels are popular since they are inexpensive to purchase and simple to configure for roof specialists.
Nevertheless, though you may save money, quality may somehow suffer. It isn't that durable, unlike those metal roofs that use hidden fastener panels.
Mechanically Seamed Panel: A mechanically seamed metal roofing panel is a form of metal roofing panel that requires crimping or folding after installation.
The metal roofing panels are pressed together to create a waterproof barrier. The flexibility to employ this form of metal roofing in low-slope applications, such as steel structures, is its main benefit.
What Type of Paint to Use on Roofs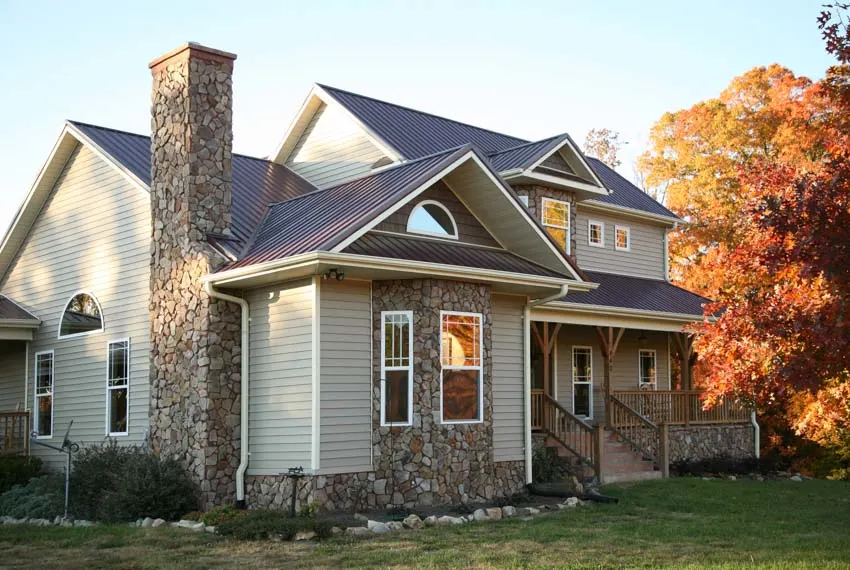 For bare metal roofs and to cover up previous paint, acrylic latex paint is an excellent option. With the right galvanized metal primer, oil-based acrylic paint can also be applied.
A high-quality topcoat does not replace the need for a solid primer; the topcoat protects the paint, but the primer ensures perfect adhesion.
Fire protection, insect and pest repellent chemicals, water resistance, and colors that aid in shielding UV rays to keep your home cooler are all features of certain paints made for metal roofing installations.
What Type of Caulk to Use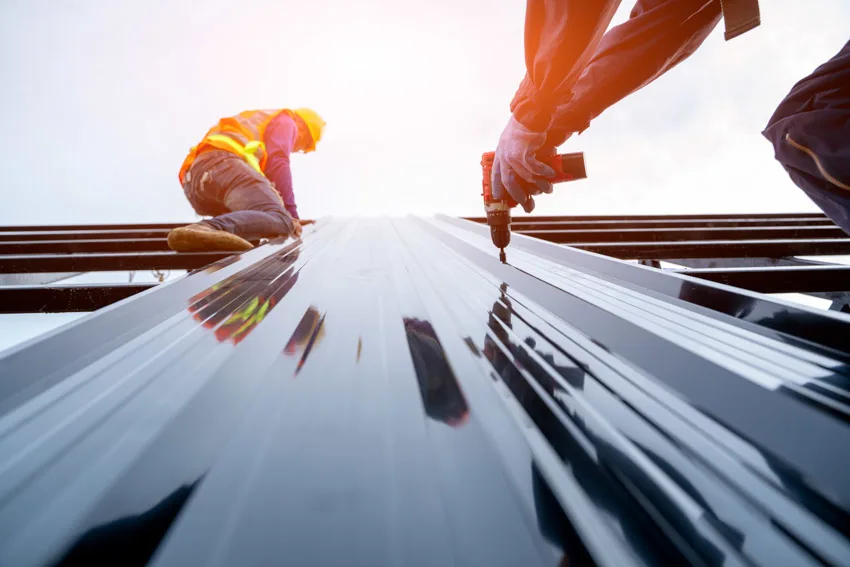 Metal roofs and the seams of insulated metal panels use non-skinning and non-drying Butyl sealants as the principal caulk.
They guarantee an excellent seal when attaching roof or wall panels since they are developed to remain soft and flexible. They ought to have a non-stringy consistency and be effortless to cut off for a clean coating.
Best Type Of Metal Roof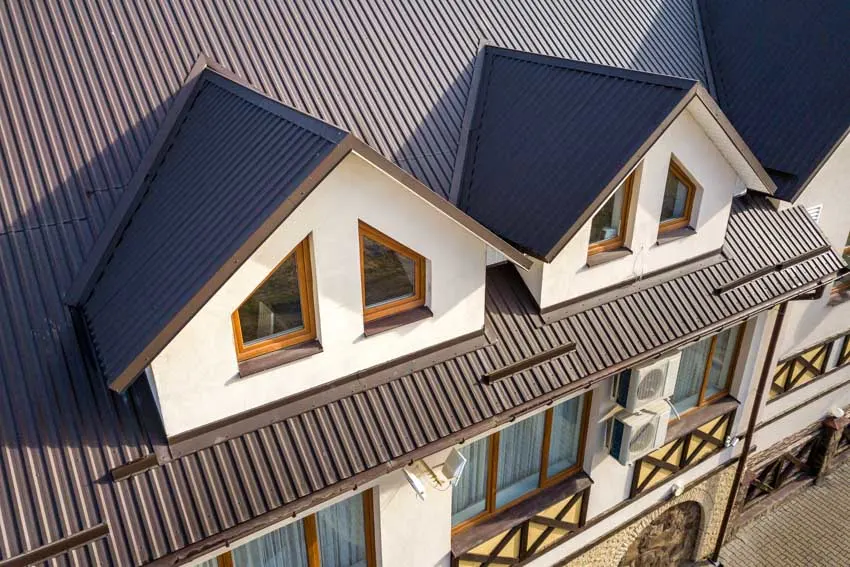 Steel is, without a doubt, the most highly recommended selection for both commercial and residential metal roofing applications. Steel-based roofs are an ideal solution due to their wide variety of applications, availability, affordability, and durability.
Steel roofing has come a long way in the last five decades, and it can now be used to imitate copper, zinc, and other more costly metal roofing components.
This is accomplished using paint methods that provide a painted solution that closely resembles the genuine patina of copper, zinc, or even worn steel.
These products often come with extensive warranties and are perfect for remodels, restorations, and new construction.
See more related content in our article about pitched roof types on this page.