These are the different types of ceiling fans, including popular design styles, sizes, measurement tips, mounting brackets, light bulbs, cost, and the best ceiling fan brands.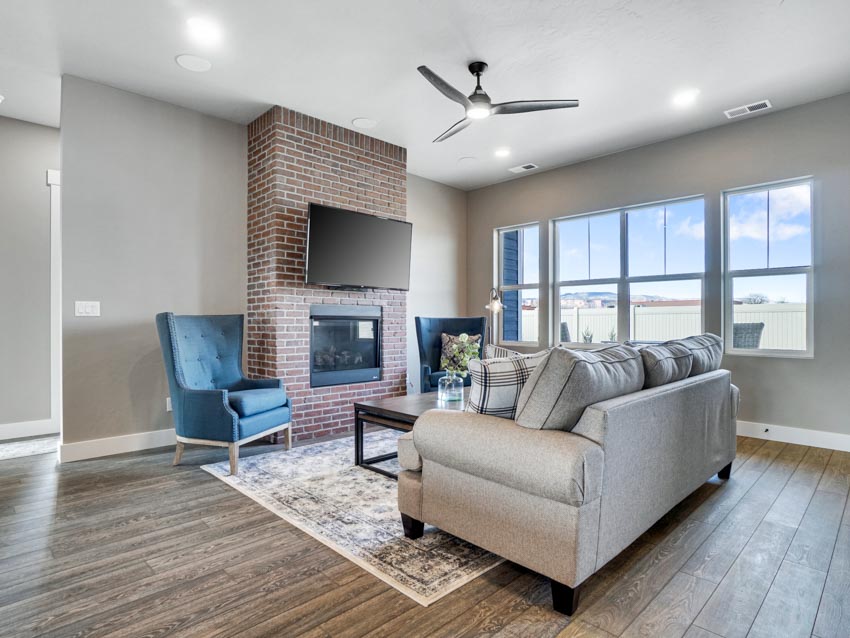 From Nordic to flamboyant, ceiling fans have become sculptural pieces worthy of a showpiece in the contemporary household. More to these revolving contraptions' evolution is the efficient and smart features added that make them a sensible element to consider in your next home update.
You'll find many options to choose from, and the types of ceiling fans are worth knowing to perfectly fit your lifestyle and use case.
Standard Ceiling Fan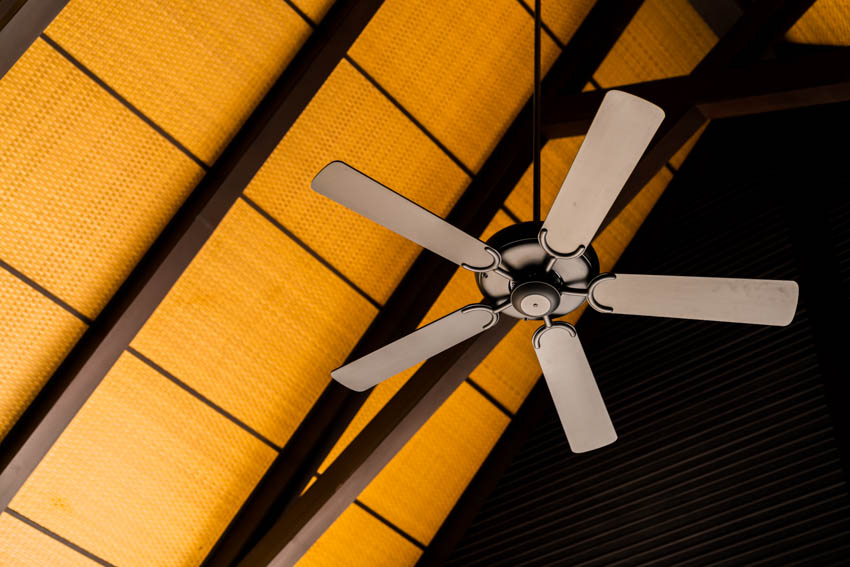 Keeping it simple, a standard ceiling fan gives you standard blades, motors, and downrod parts. Neat-looking without any additional embellishments, the standard ceiling fan is perfect for keeping your interiors or outdoors cool and comfortable.
The typical standard fan is available in popular three to five blades with common materials such as metal, plastic, wood, or fiberboard. When choosing your standard ceiling fan, make sure to have a compatible downrod length to your ceiling height.
Downrod is the metal pipe connecting the brackets to the motor housing. The minimum height is seven feet from the finished floor, which makes it safe from people passing below your fan.
Low Profile Fans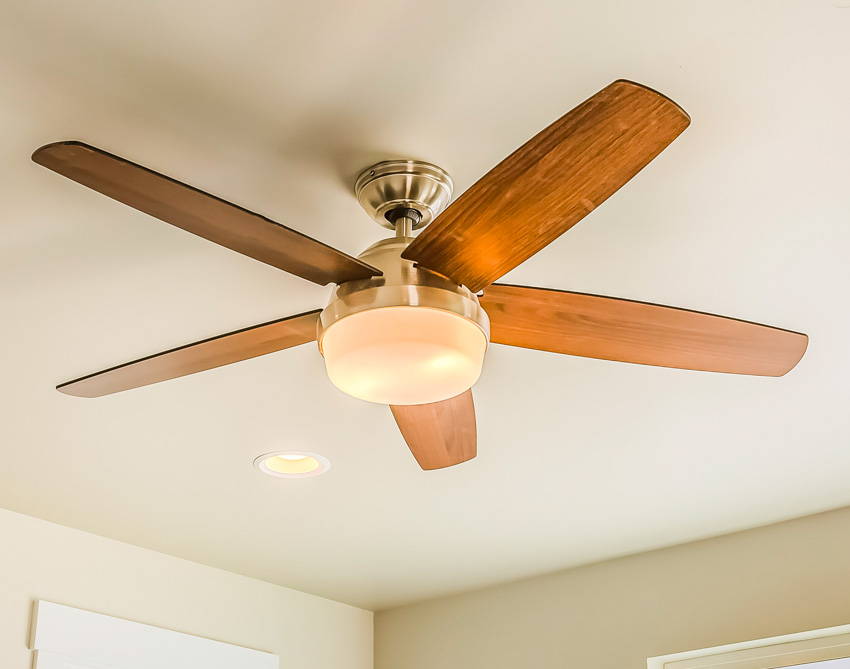 For ceilings that have a clearance of eight feet or less, the low-profile fan is recommended as it has a shorter height. Unlike your standard ceiling fans, it does away with the downrod. Instead, the fans are directly connected to the mounting bracket.
Similar to your typical ceiling fan, there are a variety of styles to choose from, so you get good-looking designs despite their shorter stature. Other terms used to refer to low-profile ceiling fans are hugger fans or flush-mounted ceiling fans.
Flush Mount Fan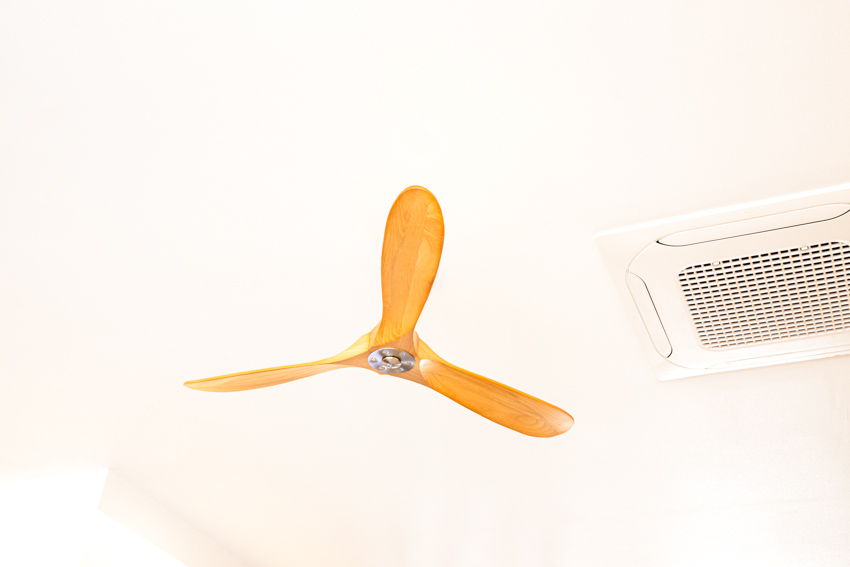 Basically, similar to your low-profile ceiling fan, the blades of flush mount ceiling fans have the fan blades directly connected to the mounting bracket.
While these ceiling fans are made to accommodate shorter clearances, wider versions can also be installed on high ceilings and give a modern and clean look.
Bladeless Fans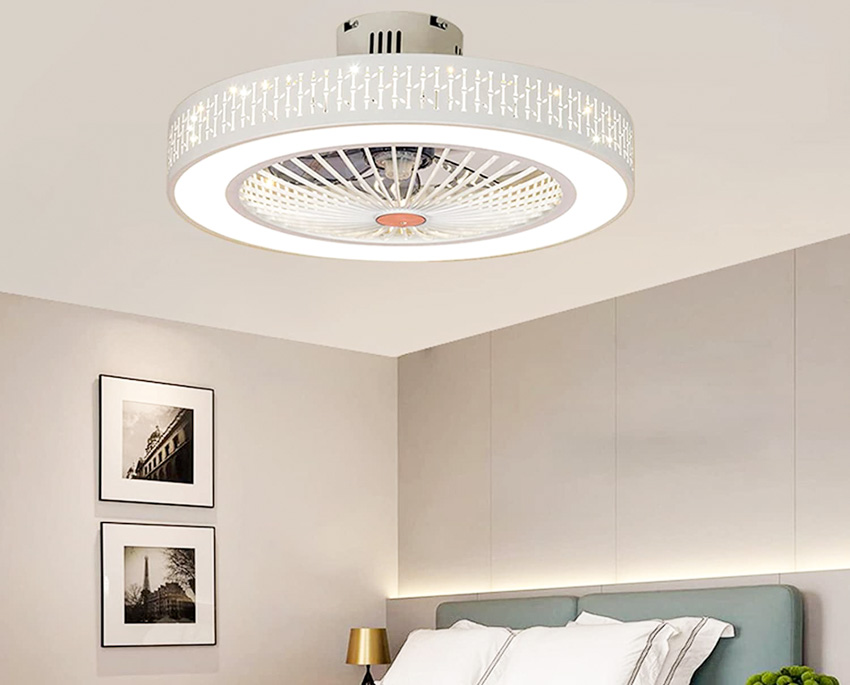 See this bladeless ceiling fan at Amazon [sponsored link]
Compared to your conventional ceiling fans, bladeless ceiling fans are considered safer and more efficient with a quieter operation. Using a 360-degree vortex distribution, it sucks in air, and the main chamber cools the pulled-in air.
It also redistributes the air throughout the room faster and evenly with less use of energy. Bladed ceiling fans are safe options for bunk beds and other low-clearance rooms without blades and an enclosed design.
Retractable Fans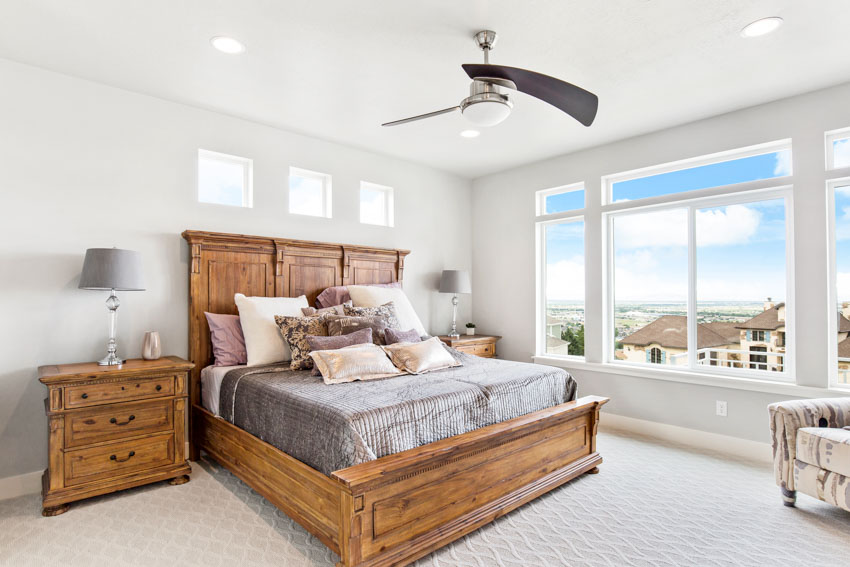 Hide away your ceiling fan blades when not in use with a retractable ceiling fan. When turned off, the blades fold in, typically hidden behind the lighting fixture to which it is attached, thus having a dual function that can independently operate or run at the same time.
This innovative version of retractable ceiling fans come with a remote control that can set how wide the fan blades are spread, the speed of circulation, and other major controls.
Smart Fan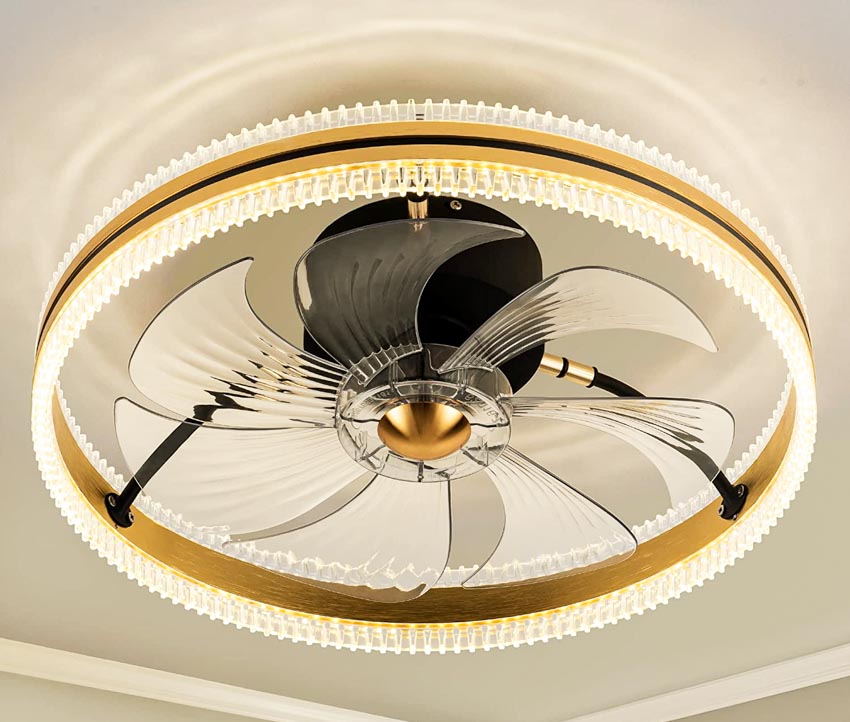 See this smart ceiling fan at Amazon [sponsored link]
Almost every home appliance can be controlled using your smartphone, and this includes smart ceiling fans. The benefits of automation can also be enjoyed using a smart ceiling fan.
Automated ceiling fans are no different from your usual ceiling fan when it comes to available designs. You'll find stylish ceiling fans with or without lighting features.
Smart ceiling fans will typically have a wireless connection using Bluetooth or Wi-Fi connectivity, and you can integrate applications such as Amazon Alexa, SmartThings, and Google Assistant to customize operations. This makes it customizable in its functionality, making it even more efficient.
Dual Motor Fan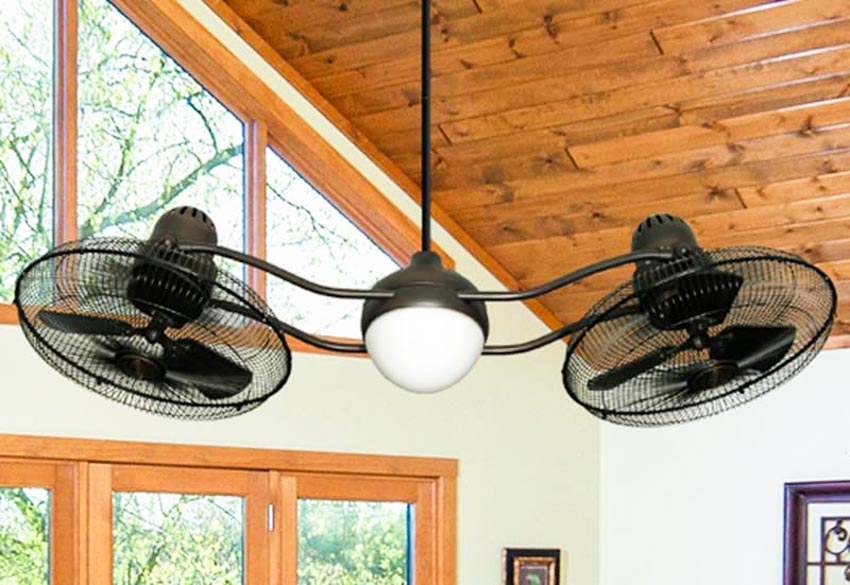 See this dual motor ceiling fan at Amazon [sponsored link]
Cooling down larger areas such as the living room or dining room can be challenging. Thus, you'll need stronger motor power to circulate more cooled air through the entire space. With a dual motor ceiling fan, you double the circulation and distribute more air.
The double motors are connected together using a horizontal bar. There are fans having three motors instead to circulate even more air throughout a room.
Having two circulating blades may not seem like an odd-looking element mounted on your ceiling, but there are attractive designs in the market to choose from.
Fan Chandelier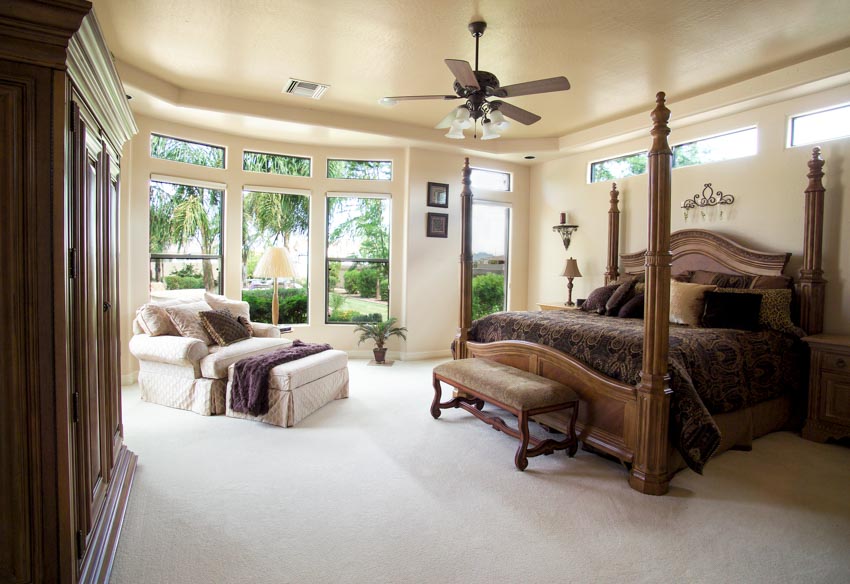 Regulating the air circulation while looking luxurious is what makes the ceiling fan chandelier a popular choice for homeowners.
With the right size, a ceiling fan with certain types of chandeliers can be a powerful focal point in a room. Choose retractable chandelier ceiling fans to hideaway the blades when not in use.
Windmill Fan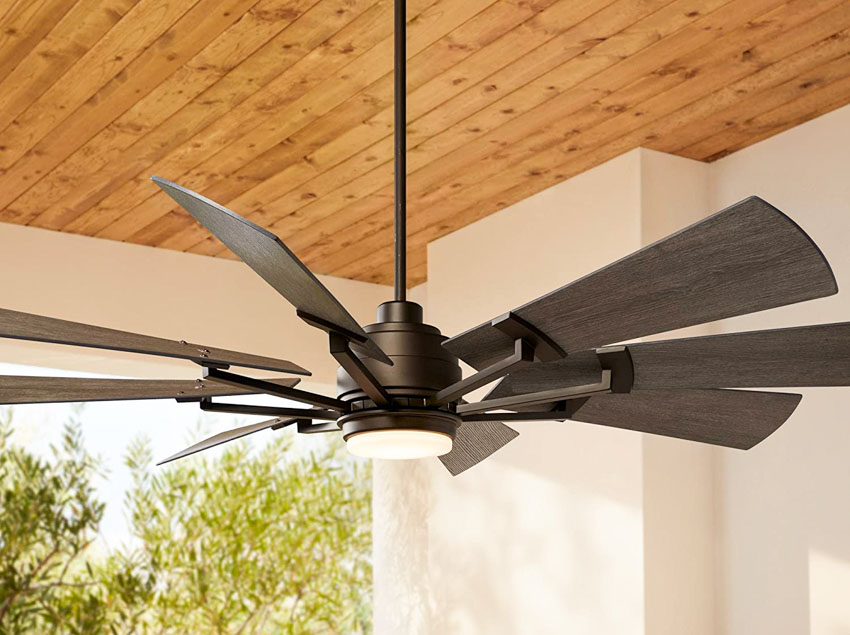 See this windmill ceiling fan at Amazon [sponsored link]
Compared to those clunky oars, the blades of a windmill fan are pitched at a much shallower angle. This means each blade has a lighter workload, but they haul a ton of air together easily. That's how a fan can actually save you money in the summer.
Enclosed Fan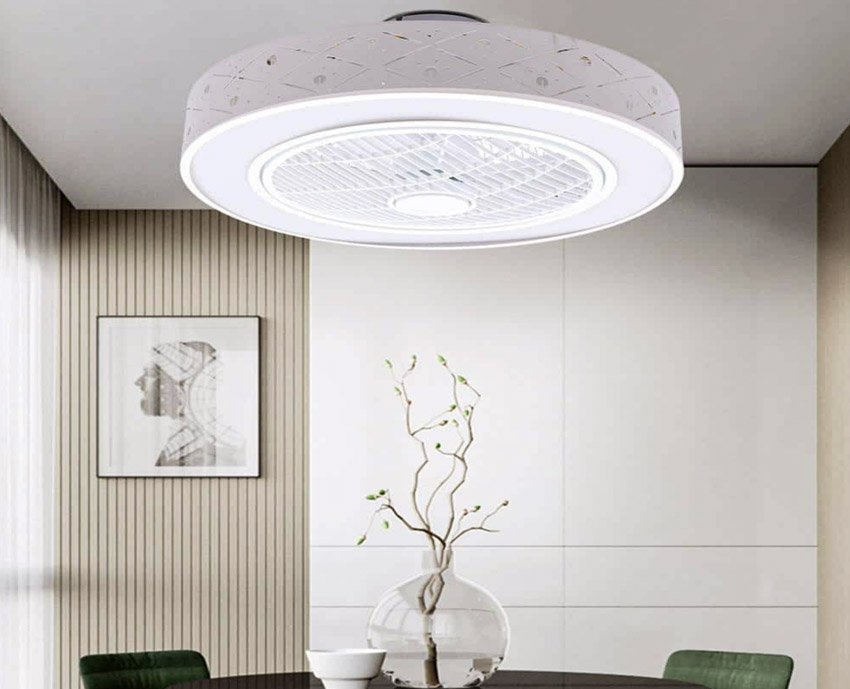 See this enclosed ceiling fan at Home Depot [sponsored link]
Enclosed ceiling fans are a great option for bunk beds or where rooms are low. The fan is enclosed in a cage to prevent people or pets from accidentally bumping into the spinning blade and injuring themselves. With that being said, an enclosed fan can be hard to clean.
Many appliances are designed to be smart or can be simply controlled using a smartphone application. Ceiling fans are no different. The more expensive models can be controlled to run at certain times or when the room reaches a certain temperature threshold.
Fan Heater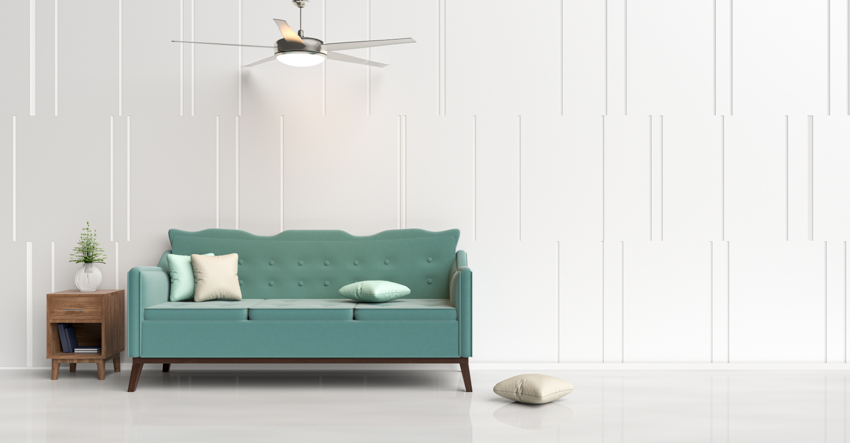 Ceiling fan heaters are a great addition to the home, especially during the colder months. Why purchase a separate space heater when you can upgrade your ceiling fans to provide warmth? This type of ceiling fan contains a heating element.
During operation, the fan spins in reverse to absorb cold air from below and passes that air through the said heating elements, heating the air. Not all ceiling fans have a built-in heating element, and the blades simply reverse.
Obviously, this isn't as effective as models with heating elements. So, when buying, make sure to purchase the model that suits your living conditions.
Double Fan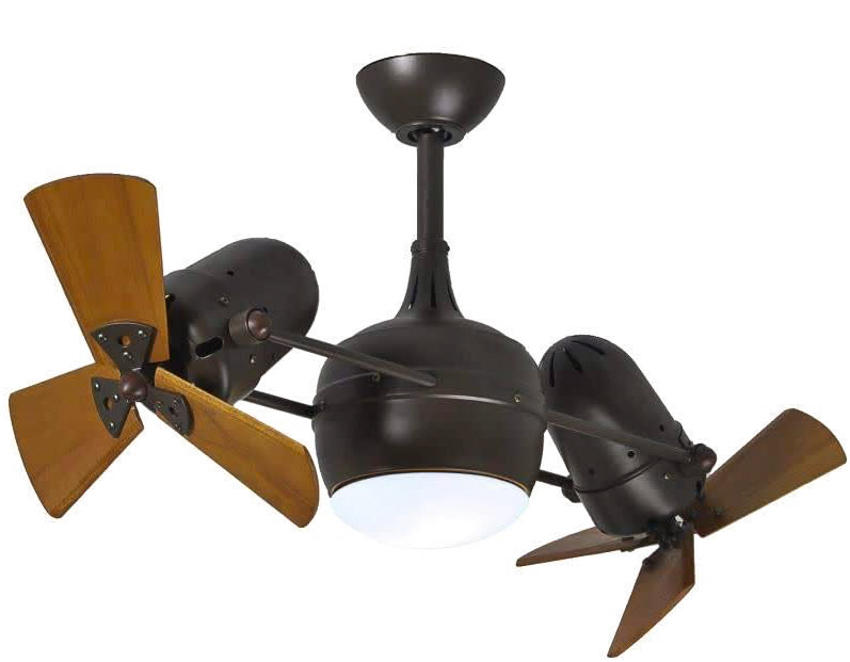 See this double ceiling fan at Amazon [sponsored link]
A dual-motor ceiling fan gives you double the comfort and a bold, even industrial style. These fans have two horizontal rods that are connected to a central motor housing. A motorized, adjustable fan head is supported by each rod.
For a bright, airy area, look for a ceiling fan with two motors and light kits. Dual-motor fans' ability to be tuned to different speeds to adjust comfort levels on opposite corners of the room is one of its finest features.
Because they can direct air circulation to specific areas and at genuinely adjustable speeds, these are fantastic options for commercial and public spaces. Depending on the demands of your room, dual motor ceiling fans with and without lights are also available.
Energy Star Fans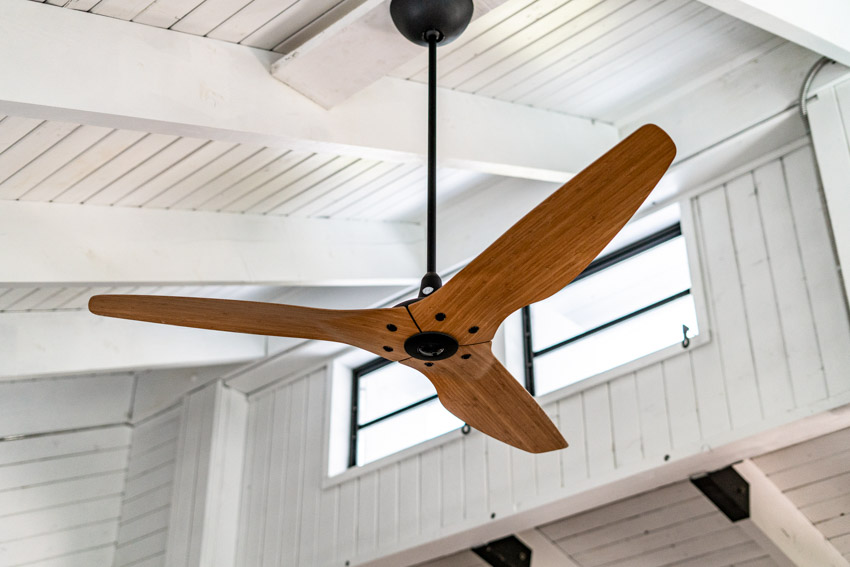 ENERGY STAR ceiling fans help you cut energy bills while all the while being friendlier to the environment. To make it easier for customers to tell whether a product has undergone efficiency testing, the Environmental Protection Agency developed the ENERGY STAR designation.
The fan must consume 20–30% less energy than necessary to meet federal regulations in order to receive an Energy Star certification. The rating is then made available to customers so they can see which companies and goods may help them save energy costs and have a smaller environmental effect.
Fans that have earned the ENERGY STAR label are available in both standard and low-profile models. They can cut through the air with little effort because of their aerodynamic blades. To assist light up the space, many energy-efficient ceiling fans also have LED Light functions.
Remote Control Fans
Ceiling fans are devices we normally install high up to get the most efficiency and coverage in a given area. But with need comes some disadvantages, primarily trying to gain access to the device when adjustments must be made.
Old ceiling fans can be controlled by pulling cables or using a special switch that has buttons that correspond to certain speeds. But what if there is a way to control the fan without having to stand up?
Remote controls have been used in many home devices, like the radio or television sets, for decades. So it's only a matter of time before ceiling fans get their share.
Remote controls can come bundled when purchasing a new ceiling fan. But for old fans that we still want to keep around, there are kits that can be purchased that will allow homeowners to modify the circuitry to work with remote control.
Homeowners should ensure that they are confident and knowledgeable when working with electric circuits to prevent accidents or fires.
Wet Rated Fans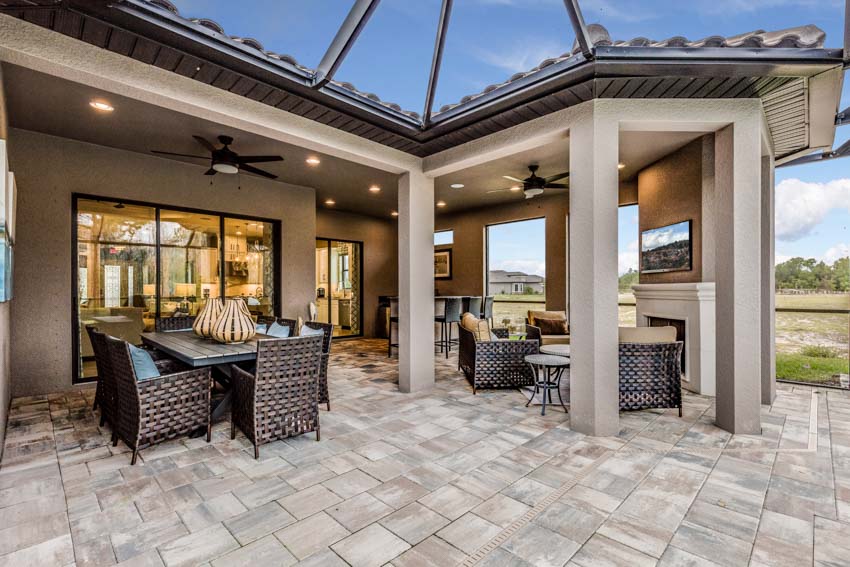 Ceiling fans are made differently for different purposes, such as those meant to be used in places where they can experience rainfall. A wet-rated ceiling fan is such a device.
These are meant to be used outdoors or in places with the fan cannot be protected adequately against the elements like a partially enclosed patio.

Quiet Fans
Ceiling fans are great utilities for lowering the temperature of a given area, but they can also be noisy. Anything from bad design or just the plain acoustics of the area can be a factor as to why fans can be noisy. Thankfully, quiet ceiling fans are a thing. By taking advantage of brushless motors, noise is reduced as well as heat.
Quiet fans equipped with DC motors have magnets that do not generate any electrical buzz. By operating at a cooler temperature they can avoid the clicking and humming normally associated with the noisier AC motor fans.
Kid's Fans
Designing the interior of a kid's room won't be complete if there's just one element that is off. In order to stick to the theme, manufacturers designed special ceiling fans made to go with the aesthetic of a child's room.
Kids' ceiling fan types come in colorful designs; some even have distinct shapes and forms to make them more fun to look at. A specialty fan could be used to help create a themed room design.

Outdoor Fans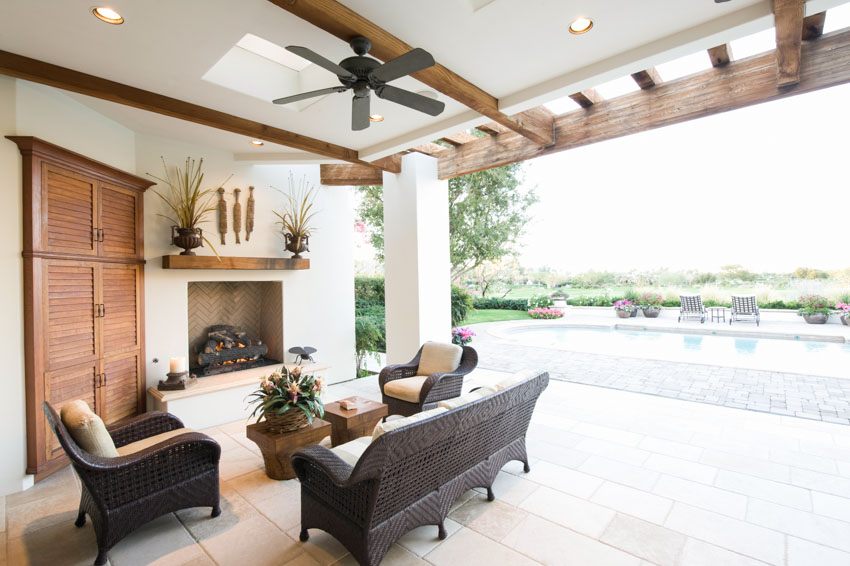 We just have to deal with summer heat when we are outside, especially in places with high humidity. When spending time outdoors, we still want to stay cool. Humidity is especially annoying, so we want to get rid of as much as we can.
An outdoor ceiling fan may just be the solution to the issue. Blowing air and circulating it can help prevent heat from building up in an area, and this can also help move humidity around and assist in cooling down an area.
Why should you opt for a ceiling fan designed outdoors? Ceiling fans are rated according to their use. The biggest concern here is moisture and water. Those made for the outdoors are not prone to damage due to water. Never use ceiling fans meant for indoors only.
Commercial Fans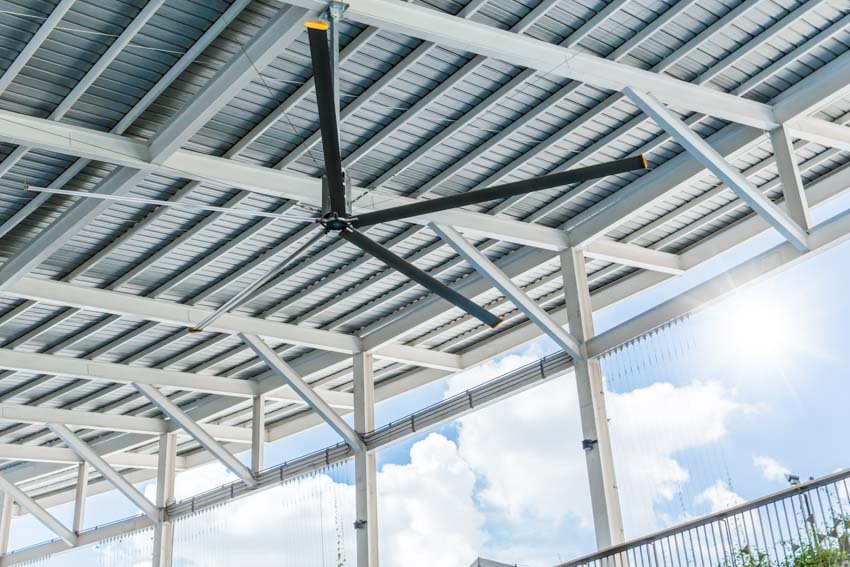 Keeping a venue cool is crucial in keeping customers happy. Whether in a restaurant or a shopping mall, people won't stay for long if the temperature gets to them. This is why a venue in warm climates has to have some means of dropping that ambient temperature to a more comfortable level.
Serious drops in temperature will require heavier hardware, such as air conditioning units. But for places with subtropical temperatures, even a simple ceiling fan is more than enough for the job. Commercial ceiling fans are designed to work more efficiently in areas where the air has to be moved quickly.
Commercial fans are also designed for heavy-duty tasks. The last thing you need in your place of business is for fans to be constantly breaking down. Breakdowns can cause discomfort to your customers and staff, not to mention the inconvenience it can bring due to repairmen making repairs.
Portable Fan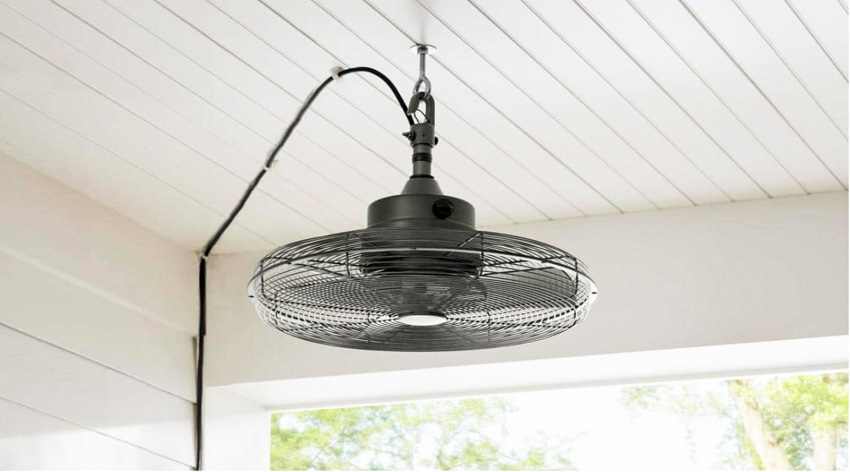 See this portable ceiling fan at Home Depot [sponsored link]
Ceiling fans don't always have to be permanent. You just need a quick solution to provide cold air circulation in certain situations. If you are camping and have built a large enough tent, you can have it equipped with a portable ceiling fan.
These fans are not mounted onto a beam permanently; some can just be tied to a beam. So, think of temporary setups like tents or other unique ceiling situations. This is perfect when you are out camping in the wilderness during the summer.
As they are portable, some models only require around 11 watts to operate, so that's something to consider when you are planning to bring a power source.
Industrial Fans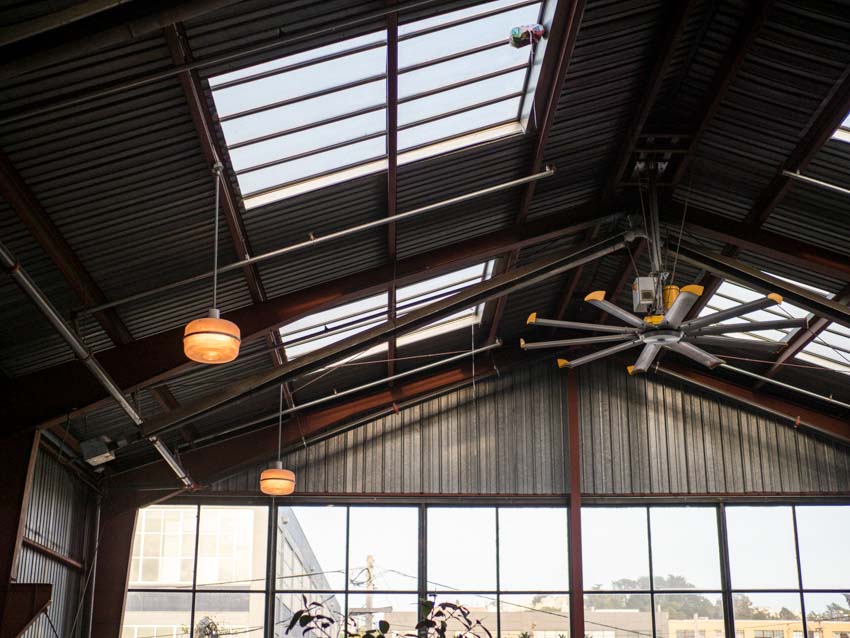 In heavy-duty applications such as in factories, an industrial ceiling fan is going to be a must when there is a need to move air around. Industrial ceiling fans are designed to be heavy-duty with little downtime.
They are not designed to look fancy as their only function is moving air. So, they look as plain as possible. They are also more expensive due to the higher quality of materials used to make them.
Agricultural Fans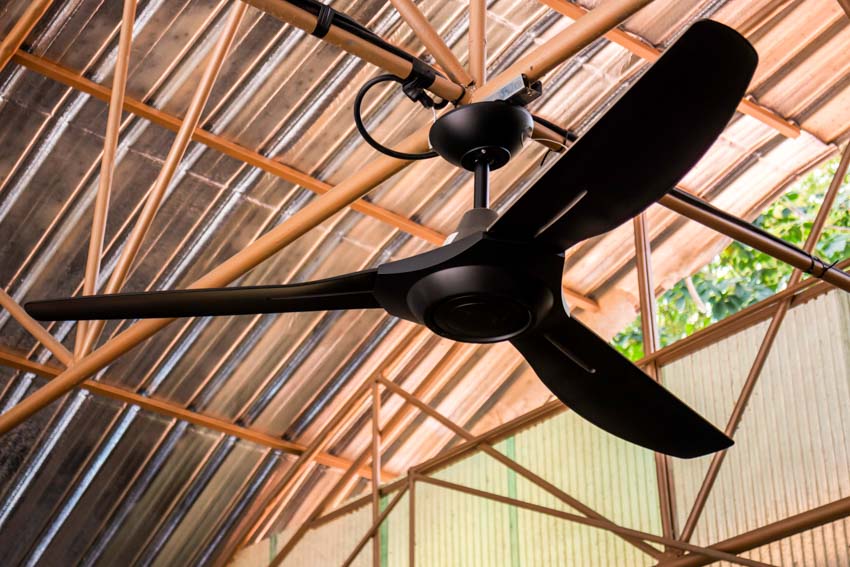 Keeping cattle or fowl cool is important to lessen stress on the animals. This is why fans made for agricultural applications need to be durable and fast. Moving that air is important to keep the animals comfortable.
Birds, in particular, are prone to heat stroke. A happy cow produces more milk, so keeping those stress levels as low as possible is very important for dairy farmers. If animals are involved, the smell of manure is going to be present.
An effective cooling fan setup should keep the foul smell to a minimum. When choosing the right fan, it is important to pick a design that is capable of moving as much air as possible.
Fans made for this application are not going to look fancy, just like any other industrial ceiling fan. Factors when buying one should include the size of the location that needs to be cooled down. A large barn will require powerful fans and lots of them.
Belt Driven Fan

See this belt driven ceiling fan at Amazon [sponsored link]
Driving a ceiling fan via a belt offers more control. It also enables multiple fans to be driven by just one motor. Belt-driven ceiling fans are generally quieter because of the reduction in electronics.
But as with anything that involves more parts, the belts can wear off eventually, making them less efficient. The belts may also produce unwanted residue from friction. When deciding to go for a belt-driven fan, this is something to be monitored.
Fan Size Guide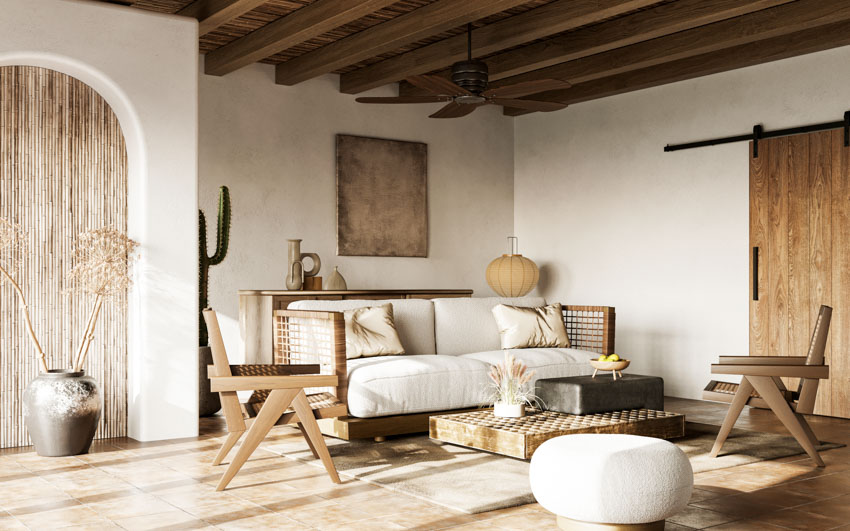 You'll find ceiling fan diameters ranging from 29 – 84 inches – the most popular being the 52-inch model. To get the right ceiling fan sizes, consider the room size. Choose a ceiling fan diameter that's proportionate to your room area.
| | |
| --- | --- |
| Recommended Ceiling Fan Blade Size Span | Room Area (Square Feet) |
| 29" or less | Less than 50 |
| 29" – 36" | 50 – 75 |
| 36" – 38" | 75 -100 |
| 38" – 42" | 100 – 150 |
| 42" – 46" | 150 – 200 |
| 46" – 52" | 200 – 300 |
| 52" – 54" | 300 – 400 |
| 54" – 56" | 400 – 500 |
| 56" – 70" | 500 – 750 |
| 70" – 84" | 750 – 1,000 |
| 84' or more | 1,000 square feet or more |
Aside from the diameter of your ceiling fan, another determining factor for your ceiling fan size to match your room area is the room clearance. That is the measurement of the height from the finished floor to your ceiling.
Ceiling Height – Less than 8 feet: Choose a low-profile ceiling (flush mounted)
Ceiling Height of More than 8 feet: Choose a ceiling fan downrod
Rectangular rooms with long configurations and with an area of 300 square feet or more are best to get multiple ceiling fans for a more even distribution and circulation of cooled air.
How To Measure A Fan for the Ceiling?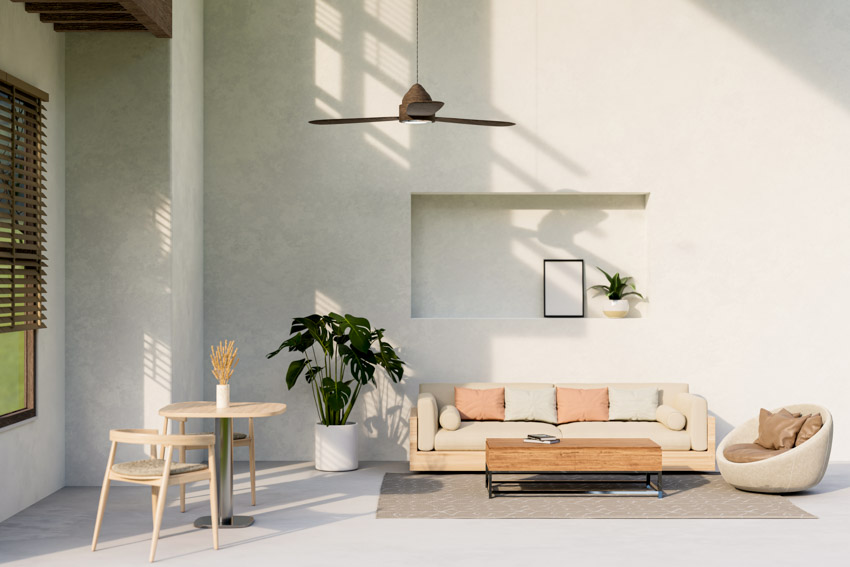 Firstly, get the blade span of your ceiling fan, that is, the diameter of your fan while the blades are rotating. For an odd number of blades, take the measurement of the blade from the center of the fan to the tip of your blade and multiply by 2.
For an even number of blades, measure across your ceiling fan blades end to end to get the diameter. You'll also need to get the area of your room which is the length multiplied by the width (square feet and square meters). The room size is directly proportional to your ceiling fan's diameter.
Sample Computation: What is the ceiling fan size for a 12 inches x 15 inches dining space? Multiply 12 inches by 15 inches which gives you 180 square feet.
Refer to the chart above to determine the fan size. The chart recommends a 42″ – 46″ diameter ceiling fan for 150 to 200 square feet rooms.
Types Of Fan Mounting Brackets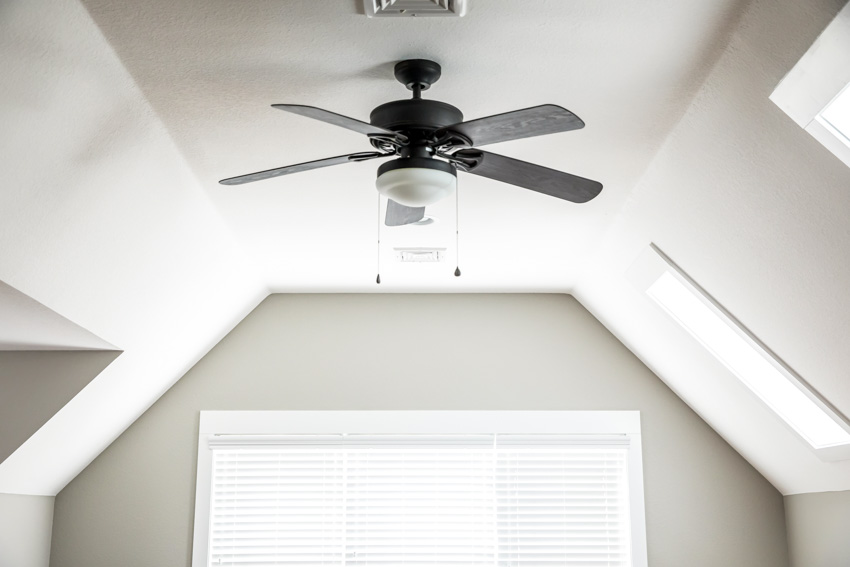 Standard Ceiling Fan Mount: The standard floor-to-ceiling height is 9 feet for the first floor and usually slightly lower for the second floor going for an 8 feet height.
This standard clearance makes it suitable for the standard ceiling fan mount, which is mounted at least 7 feet above the floor at a distance of 18 inches from the surrounding walls.
Extended Mount: To get optimum airflow, ceiling fans are mounted 7 to 9 feet above the finished floor, which can be problematic for unusually higher ceilings. To accommodate the shorter distance between the ceiling fan and the floor below, extended mounts use downrods.
A downrod is a metal pipe that is connected to the brackets of the motor housing. Downrods can be as long as 6 to 120 inches.
Flush Type: As the name implies, it is a mounting system that allows the ceiling fan to be installed at lower ceiling heights. A recommended 12 inches of clearance between the ceiling and the top tip of the fan blades. You can go with 18 inches for a more efficient distribution of air as long as the minimum of 7 feet is accommodated.
Sloped Mount: This mounting system is used for vaulted or angled ceilings. The ceiling fans are installed using a built-in ball joint mechanism or a fan adapter along a downrod extender.
Many ceiling fans today come with the ball joint mechanism that allows the fan to be installed on a straight or sloped ceiling and prevents the fan from wobbling. A fan adapter has a fixed slope and ceiling pitch; the most common are 45-degree or 29-degree slants.
Ceiling Fan Downrods: Downrods is a cylindrical piece of hardware that is connected to the motor housing and mounting bracket.
The main uses of the downrods are to prevent wobbling while the ceiling fan is rotating and to allow a safe distance between the blades and ceiling as well as the ceiling fan blades from the top finished floor.
Ceiling fan downrods can be in combination with other hardware, such as fan adapters and brackets, to achieve the right mounting system for a ceiling fan.
Fan Light Bulbs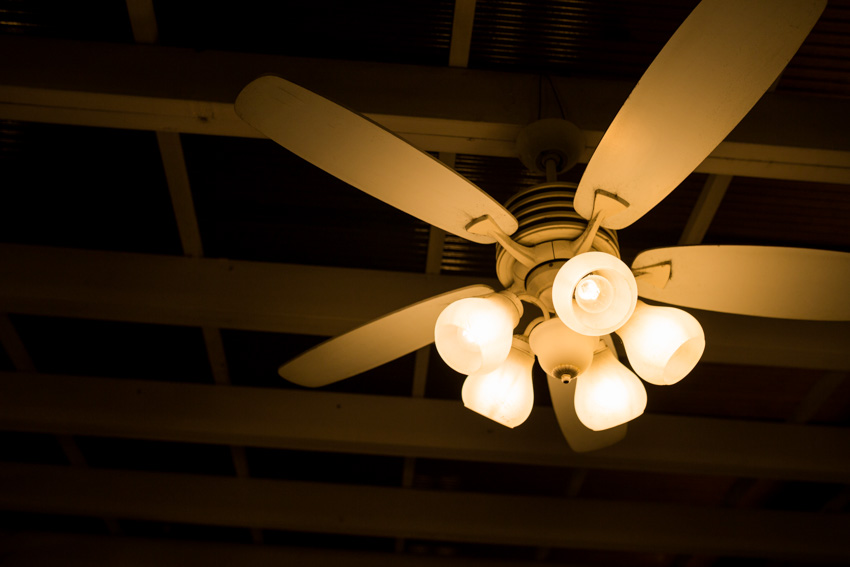 Not all bulbs are compatible with ceiling fans. When replacing your ceiling fan bulb, it is best to check the bulbs that came along with your ceiling fan light. You should use a similar bulb type when replacing your fixture. For the bulb size, take into account your room size.
Major Types of Ceiling Fan Bulbs:
• Standard Candelabra: Designated as E12 and 0.47 inches wide and 0.65 inches tall.
• Mini Candelabra: Designated as E11 and 0.43 inches wide and 0.51 inches tall.
• Intermediate Bulbs: Designated as E17 which is a little larger than your mini candelabra with a width of 0.45 inches and 0.82 inches tall.
• Medium Bulbs: Have a height of 1.05 inches.
LED or CFL bulbs are recommended as they are more efficient in energy use and cost-effective. LED and CFL are known to have a longer service life.
The average number of hours lights a LED bulb can service is 50,000 hours light; there are models that can provide as many as 100,000 hours. Typically, a home can use 10 hours of light each day which means you will be using your ceiling fan bulbs for as long as 14 years.
When it comes to bulb size, the typical 36 to 56- inch fans (good for small to medium-sized bedrooms 100 to 200 square feet) can be efficiently lit with 55 to 100 watts. Add task lighting such as floor lamps.
Brightest Light For A Fan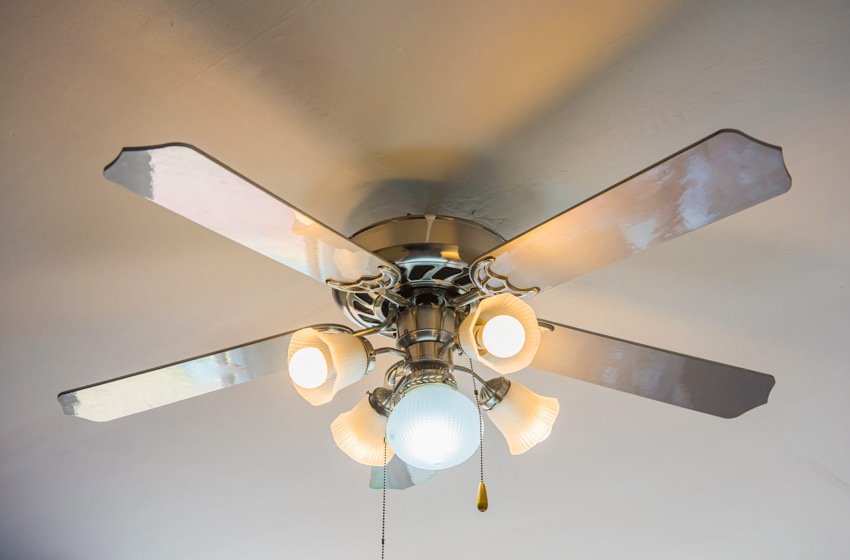 One of the brightest lights for a ceiling fan is a bulb with cool daylight and has a 5000 Kelvin color temperature which gives a crisp appearance and is great for task lighting and security lighting, which are utilized in basements and garages. Source: Energy Focus

A bulb with a lumen output of 800 and above is sufficient for standard rooms. Dimmable and long-lasting LED ceiling bulbs are cost-effective options.
Cost To Install A Fan On The Ceiling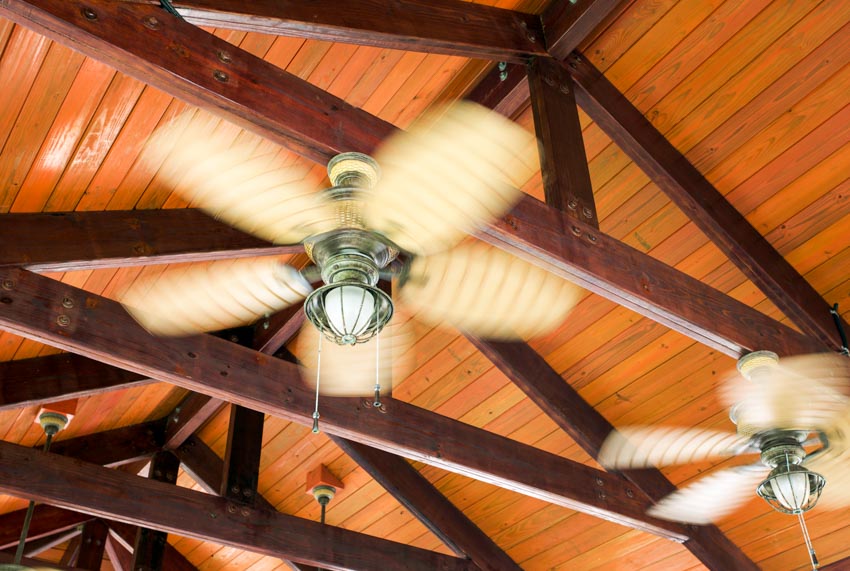 As of August 15, 2022, the average cost for a straightforward ceiling fan installation cost $247, with a range of $144 to $352. The more complex ceiling fan installations can go up as much as $600, with labor costs running from $50 to $250.
Factors that affect the ceiling installation cost include labor, which takes up the largest portion of the fee. Handyman services charge -$25 to $50 per hour, while a certified electrician charges twice, which is $50 to $100 per hour. As mentioned, the complexity of your ceiling fan installation dictates the labor costs.
Materials are another factor to consider where metal ceiling fans are more expensive than wicker or wood ceiling fans. Stainless steel, for instance, costs around $200 to $800, while wood materials will get you $100 to $400.
Additional features such as light and smart features can add to your labor and material costs. Wiring is another factor to consider, which averages from $350 to $2,000 for simple to midrange jobs, and complex wiring can add $1,000 to $2,000 to your labor costs.
Best Fan Brands
Kichler Company
One of the trickiest things to do when trying to purchase a new fan is trying to match the fan with the current or desired aesthetic. This is especially difficult when trying to install ceiling fans in an already established setting.
But thankfully, there are businesses out there that specialize in designing fans that will match the desired aesthetic of a customer. The Kichler company is one of the top manufacturers of ceiling fans.
It's always a pleasure to see ceiling fans with matching light fixtures. Replacing established light fixtures for the sake of new ceiling fans isn't exactly economical, so why not match the two?
The Kichler company also provides fan designs that add to the current or desired aesthetic of the setting. Now when it comes to durability, fans are expected to work in rugged conditions.
Anything mechanical tends to break down, but with excellent craftsmanship and attention to detail, a ceiling fan can be designed to be sturdy. However, they don't have a wide selection when it comes to smart versions.
Website: Kichler Company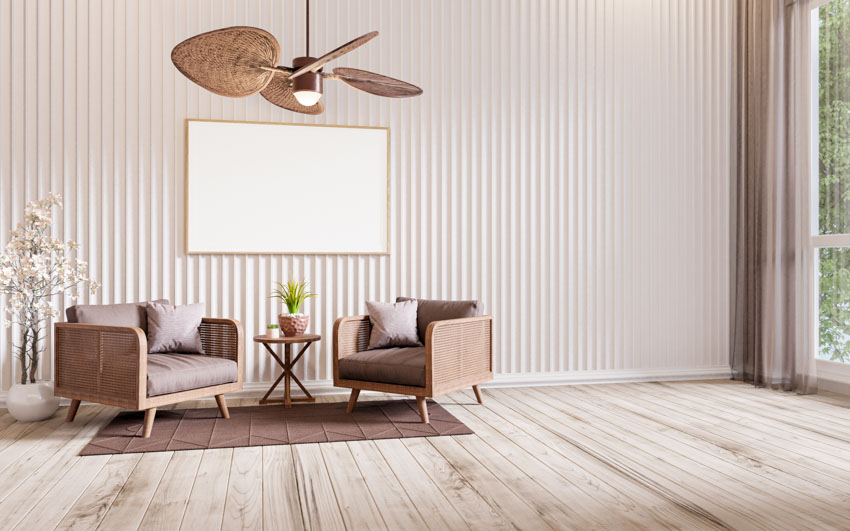 Hunter Fan Company
If you are a big fan of efficient and smart appliances, then this might just be what you need. The Hunter Fan Company has been around for more than a century. They are a trusted brand with an established name repertoire that you can fall back on when you don't know what to choose.
They stress the need to innovate. Anything from the latest silent motors to implementing smart options, they have options. When it comes to designs, they have a diverse catalog of light fixtures, motors, fan blades, and other various components.
Website: Hunter Fan
Minka Aire Group
A good fan design contributes a lot when it comes to aesthetics, but what about when it comes to lighting? Matching your light with your fans will certainly complete the look and change the ambiance room entirely with the proper lighting.
Minka Aire is a company that specializes in this area. But that is not to say that they lack in other departments. They have a diverse portfolio of fan and body designs that can fit into any era, from classic to contemporary.
If you are looking for an indoor ceiling fan, you can try to browse their selection, and you might just find what you are looking for.
Website: Minka Aire
Best Fans For Bedrooms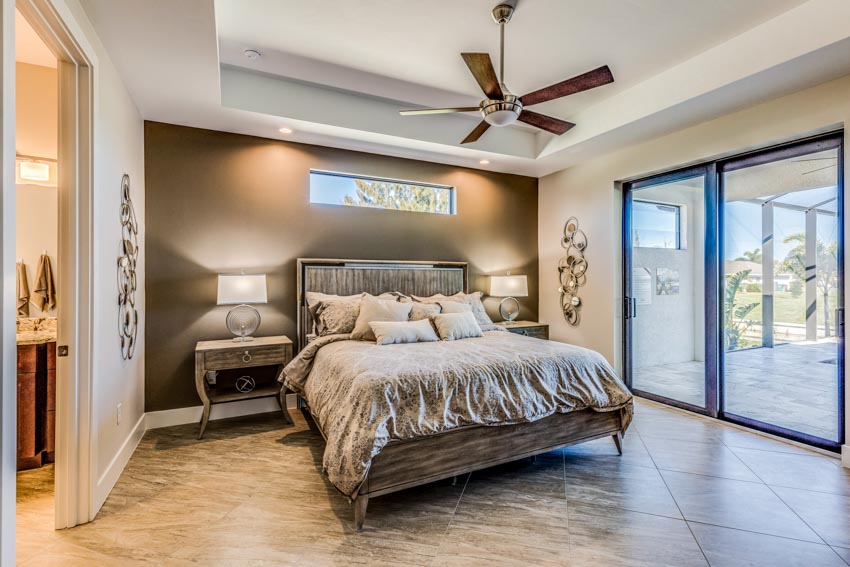 1. Finxin Remote Ceiling Fan: We rest and sleep in our bedrooms, and one factor affecting our sleep quality is temperature. Some people prefer to stay warm, but a vast majority of people can agree that a room too warm is not comfortable to sleep in.
Sometimes it's even impossible. If an air conditioning unit is not available, then lowering the temperature can only be done with a proper ceiling fan. The Finxin Remote Nickel ceiling fan is an example.
If you need a fan that will cool down your room and can also double heat up the room, then this fan is for you. It can only be operated with the remote control it comes with. It also comes with an LED light that can add to your room's existing lighting setup or replace it entirely.
See this product at Amazon [sponsored link]
2. Minka Aire LED White Flush: If you need serious airflow for your bedroom, then the Minka Aire LED White Flush is going to be your first choice. It sports a ceiling fan with a wide diameter of 44 to 52 inches.
The three blades whirl with some audible noise, but it does its job well enough to make up for the con. If you need the fan to provide warmth, then this fan will sit right in well for your bedroom. It also has an included LED fixture that can replace or add to your existing lighting setup.
See this product at Home Depot [sponsored link]
3. Hunter Hepbum Ceiling Fan: Want to cool down your room and add lights at the same time? This brand of fan comes in a wide 52-inch diameter with an included globe light. Its stylish white blades and brass casing should have no problem hanging on your ceiling.
See this product on Amazon [sponsored link]
What Are Hugger Fans?
Hugger ceiling fans are low-profile fans than don't have a downward rod. They are installed flush against the ceiling.
They are perfect for a room with less than 8 feet of vertical clearance. They work well on regular ceilings as well as sloped ones.
What Are Fandelier Fans?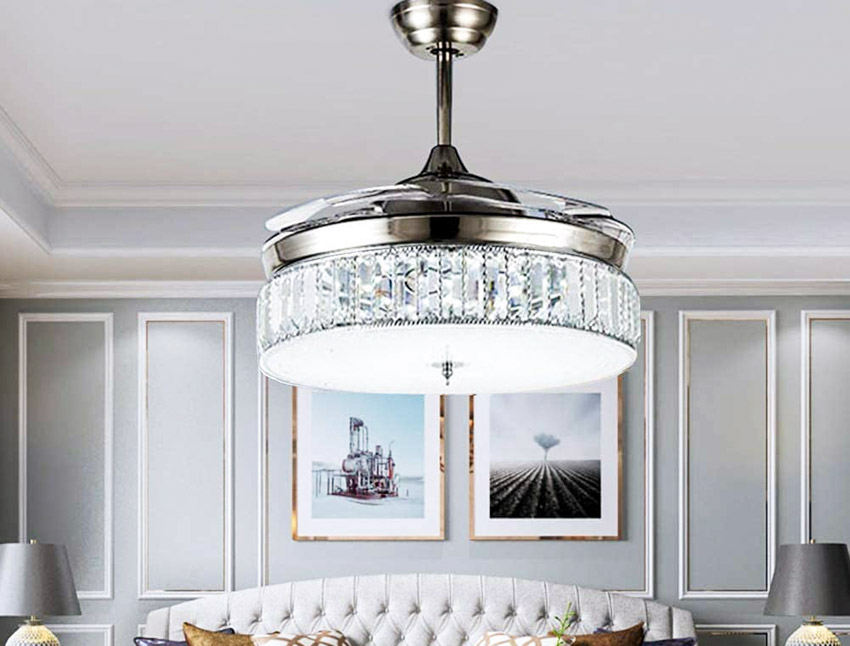 See this fandelier ceiling fan at Amazon [sponsored link]
Do you want to keep the room cool and keep a fancy set of lights over your head? Fandeliers is your answer. Manufacturers simply came up with the idea of combining a chandelier and a ceiling fan, and you have this.
This will do well in settings where social gatherings are common such as the living room or dining area. Although, be aware that fans under this category lack the power to move enough air because they have to sacrifice fan blade length to accommodate the aesthetic and lights.
Fan Direction Myth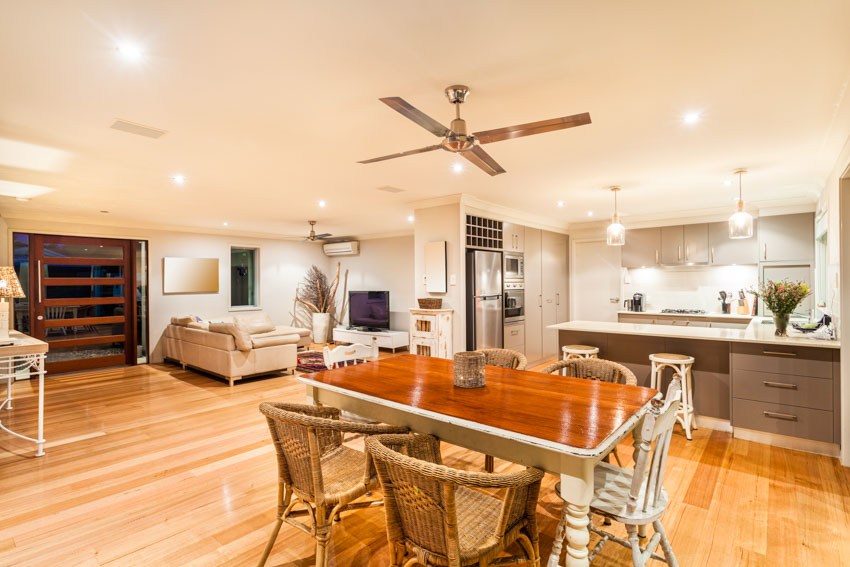 Ceiling Fans are only for the cold: The typical standard fans include controls that allow them to spin in reverse, which forces warm air upward while pulling chilly air from below.
Consequently, there will be increased air circulation if you turn the ceiling fan clockwise. This effectively stops heat from rising, keeping the room at a comfortable temperature.
Fans For Vaulted Ceilings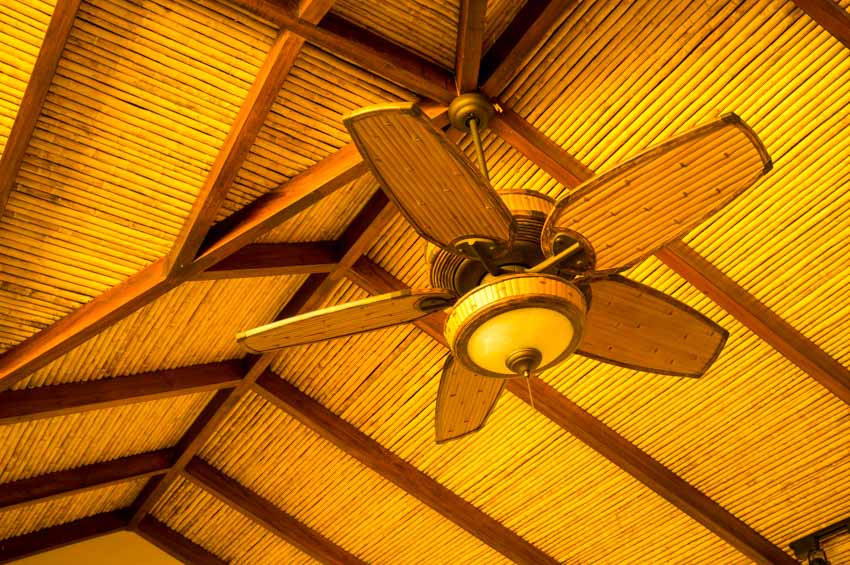 The diameter of the fan depends on the dimensions of the room. A larger room means you will need a fan that can move air efficiently. A small room can get away with a fan 42-44 inches in diameter.
But a room with a high ceiling can use a fan with a 60-inch diameter. For really large rooms with sloped ceilings, a fan that is 96 inches in diameter should be adequate.
Before going out there to buy your ceiling fan, you need to also consider if you have a vaulted ceiling. If you do, the fan you will need should have a down rod. This is especially required if you have a steep ceiling slope. The steeper it is, the longer the down rod you need. This is to ensure efficient airflow.
1. Norden Ceiling fan with light: Just because a device is designed to simply move air doesn't mean it has to look bare. Fans come in any design.
This one, in particular, comes with wooden fan blades, stained with natural wood grain to add to a room's natural theme or to break the monotony in a room's aesthetic, particularly if the room is starting to look too clean.
This model has six-speed modes and comes in swinging with its 54-inch blades and a 13-degree pitch. The fan can be controlled remotely for safety and convenience.
The motor body can come in white, satin copper. Depending on the body color, the blades can come in either ash color, pink, or matte nickel, respectively.
2. Minka-Aire LightWave LED Ceiling Fan: If you have a vaulted ceiling in a large room. This fan might just be what you need. It comes in with a large stylish fan with a diameter of 52 inches.
The down rod is 6 inches but can still be extended if there is a need. The fan can be controlled with remote control, seeing that this is expected to go in a large room, so cables and strings are out of the question.
What Is The Proper Height For A Fan?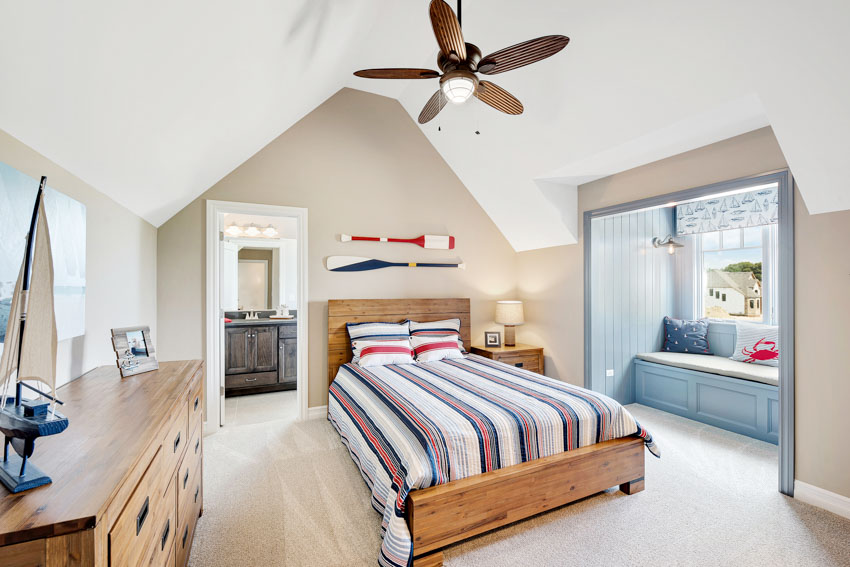 As per the building code, the vertical distance between the fan blades and the floor should be at least 7 feet. Any component, such as a light fixture (for some models), can go below the 7 feet requirement. If you want to stay within building code requirements, it is important that your blades don't drop below 7 feet.
The typical design for fans includes down rods 3 to 6 inches in height. These fans are also designed to be installed in a room with a standard height of 8 feet. This is to ensure optimum airflow. You must factor in these things when deciding what ceiling fan to install.
Down Rod and Higher Ceilings: Some rooms may have higher than standard vertical space. A room with more than 8 feet is designed so with the intent to give it a more spacious feel, literally and figuratively.
However, installing ceiling fans too low with overly extended down rods can defeat this purpose. It can also make the room look crowded, and the fans can also take away from the aesthetic of the room. So sometimes, it is wise to go against manufacturers' recommendations, specifically if they ask to drop the fan too low.
Ceiling fans are designed to provide a cooling effect, and in regions that experience winter, they also double as a tool for circulating heat. We all know that heat rises, and a ceiling fan reversed can pull cold air from the lower section of a room and push warm air down.
So, when installing ceiling fans, it is important to ask whether the fans are there only to provide cold air or should it also provide warm air. Deciding on this will affect the down rod's length. How low the fan is dropped determines how effective the fan will be at managing temperature in the room.
Cleaning A Ceiling Fan: Ceiling fans collect dust and grime over time, and it is important to keep a cleaning schedule. Depending on the environment's humidity levels, the fan can collect anything from dust to something sticky, almost like mud.
Keeping the fans can be done by either using a duster or going up there to wipe it with a solvent solution. The fans should be kept clean. Enough of those stains can make them noticeable to people visiting or living in the room. While cleaning, it is also important to lay down newspapers or fabric below the fan to collect fallen debris.
See more related content in our article about the best ceiling fan alternatives on this page.