Here we share our 15 ceiling fan alternatives featuring the different types, designs, features, and their pros and cons.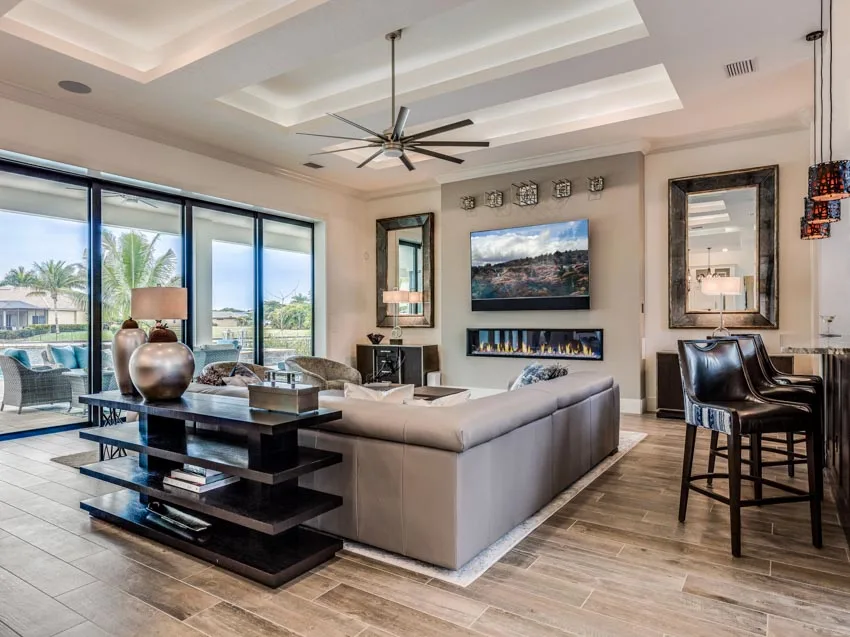 Ceiling fans were a breakthrough moment in the history of electrical devices. Although they began centuries ago, they continue to be extremely important in our daily lives.
Fans, meanwhile, might have taken a back place in many parts of the world due to the introduction of air conditioning units. Having said that, ceiling fans have consistently kept their simple and economical image over the years, which is why they are ubiquitous today.
However, there are numerous ceiling fan alternatives that will not only save you money on energy but will also deliver greater air circulation than a standard ceiling fan. Thus, if you are searching for a ceiling fan alternative to keep your living area cool, you have a lot of options. It all relies on your needs, preferences, and budget. Keep reading to learn about the various alternatives to ceiling fans.
Quicklook: Ceiling Fan Alternatives
Box Fans
Wall Mounted Fan
Portable Air Conditioner
Tower Fans
Air Purifier And Fan Combo
Evaporative Cooler
Pedestal Fans
Air Conditioner
Mini Split Air Conditioner
Table Fan
Attic Fans
Whole House Fan
Bladeless Fan
Window Fan
Bladeless Ceiling Fan
Pedestal Fans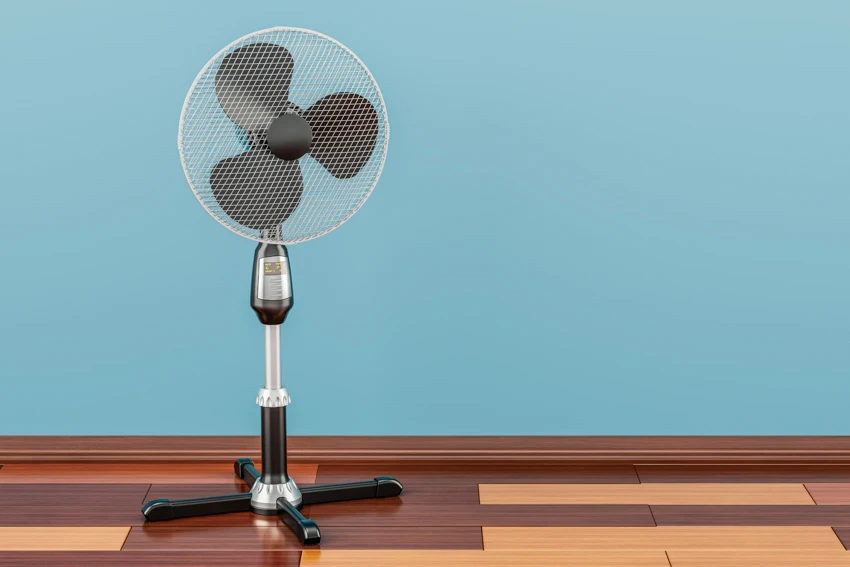 These ceiling fans may seem obsolete, but they can add an industrial and chic décor sense to your home. They are also ideal for huge places because they are designed to suit vast spaces.
These ceiling fans feature a vigorous airflow that will end up making you feel as if it is summer all year, even in the winter. The pedestal fan blades can provide a lot of space to move around while the fan is still running.
Such fans are also ideal for positioning in front of a window, allowing you to experience the fresh air from the atmosphere and breeze without having to leave your seat. Whenever you need to dry your wet clothes rapidly, they can also function as a dryer.
Moreover, these ceiling fan alternatives swing and have a variety of settings to let you control the appropriate setting. Whether it is the airflow's velocity, power, or even direction, additionally, pedestal fans are quieter than tower as well as typical ceiling fans.
Pedestal fans can stand independently and are simple to move around in different spaces. They also include a spectrum of features that will easily meet your requirements.
Some even include several features, including oscillating, tilting, and height modifications. Because of their adjustable height, they are ideal for homes with low ceilings.
Finally, because some pedestal fans have wheels, you may move them from one location to another. Unfortunately, because of their big and protruding blades, they can be dangerous, especially if you have children around.
Box Fans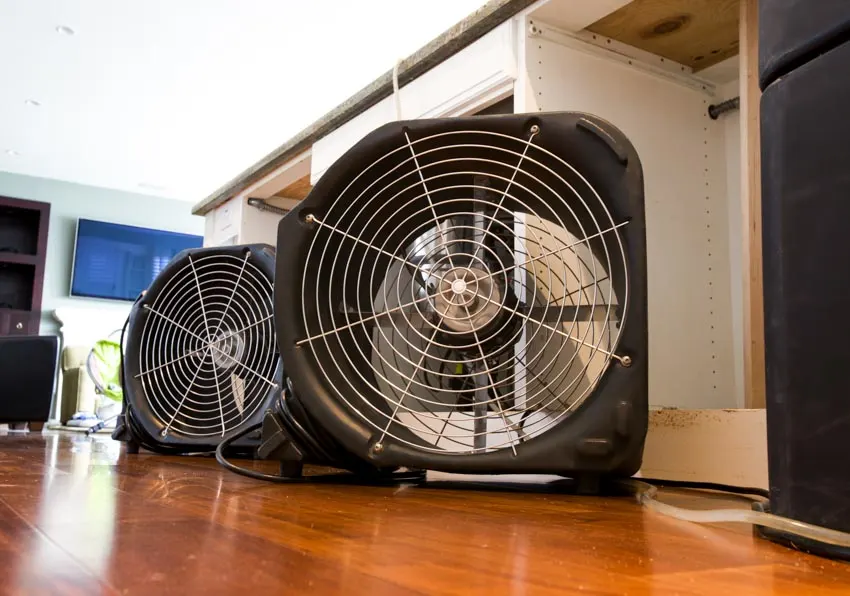 Box fans are among the most well-known types of ceiling fan alternatives. They obviously come in a box-shaped frame, as the name implies. They are typically big and feature a grill and cross-section to improve ventilation. They can work miracles if you simply put them on your window.
The window is a good spot to put them since it allows cool air from outside to flow throughout the space. They are an excellent ventilation system that aids in the fight against filth and dust. Because of their size and strength, they can cool the entire space by themselves.
The fan's dial location can limit how you utilize it in a window. The connector and controls should preferably be on the backside of the fan to facilitate installation.
Furthermore, because they are lightweight, you can easily carry them from one area to another or your terrace. They include an easy-to-use remote that lets you change the fan's power and direction.
In addition, you have to consider the size you will need as well as the controls you will require when purchasing a box fan as they come with a variety of speed and intensity levels.
However, since they are usually hefty, you must pick a proper location for them. Furthermore, installation is important because some parts can be dangerous if mismanaged or improperly positioned.
A box fan is a low-cost ceiling fan replacement that can be as powerful as a pedestal fan. Nevertheless, this fan lacks an oscillating feature, and you may have to settle for increased noise in exchange for more airflow. They also do not swing, so you can merely experience a straight blast of air.
Tower Fans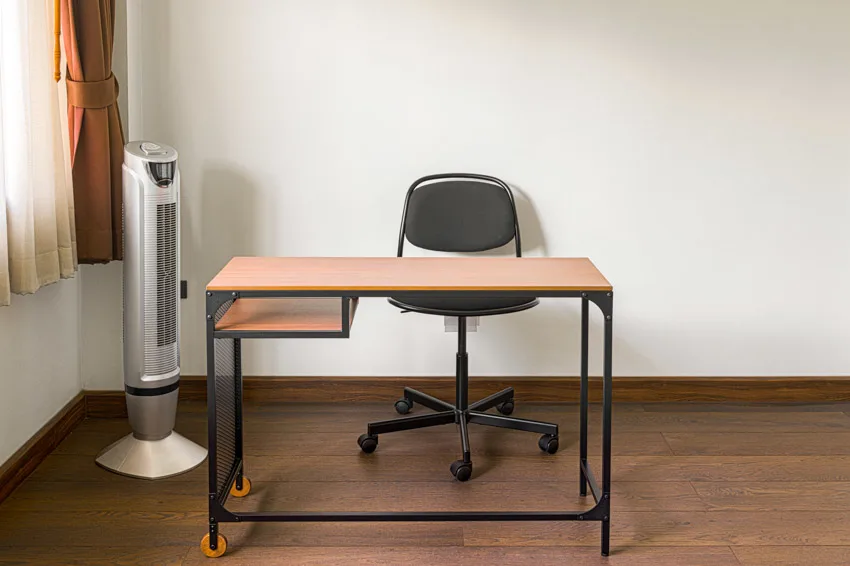 Tower fans are excellent ceiling fan alternatives because they do not take up the space that a traditional fan does. In actuality, most of them are cylinder-like and can fit into small corners, allowing them to be placed in most types of rooms in a house.
If you have a kid's bedroom, you might put one there because they are safer and child-friendlier than pedestal or box fans. These fans are mobile, compact, and sleek, which allows you to transport them from room to room with ease.
Their swinging composition ensures that everyone in the room feels it, no matter where they are. This makes them ideal for people who get cold easily and want to enjoy fresh air without a fan blasting right on top of them.
A tower fan is also more visually appealing and can complement a variety of design types. Such ceiling fan alternatives also have a multitude of settings that enable you to control how powerful the circulation is and how much noise you are able to bear.
Tower fans also have ionization functionality, which provides your living space with cold, fresh air from outside. Some of them also allow you to pour water to get cold air during hot seasons. You can also select between bladeless and bladed versions.
Table Fan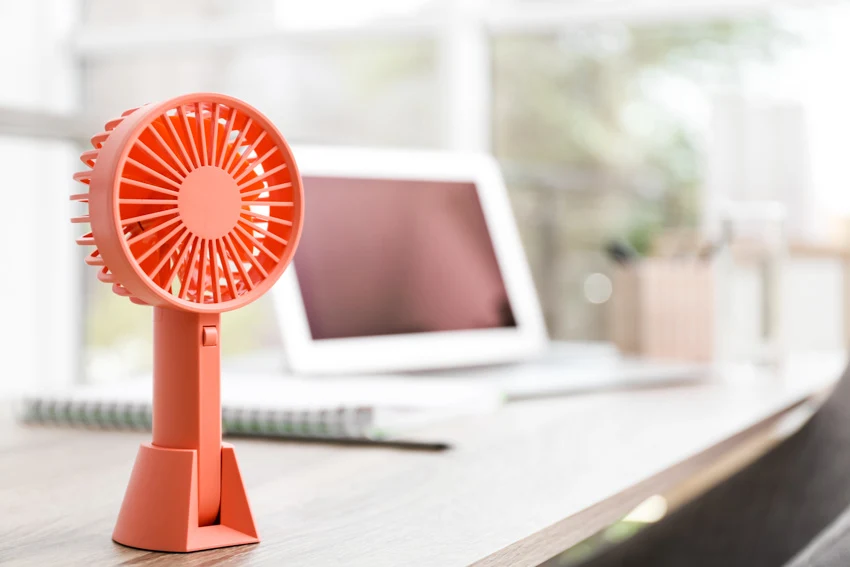 If you pick this ceiling fan alternative, you can obtain bladeless or standard table fan versions. They are available in compact tower forms or as typical circular fans, and the majority have an oscillating movement.
This is more for personal use, and it does not provide sufficient airflow to cool the entire area. They typically weigh less than ten pounds, making them relatively portable.
Bladeless variants provide more airflow, are easier to maintain, and run more quietly. They are also more energy-efficient, and they come in a wide spectrum of prices to suit almost any budget. A small-sized ceiling fan is a very cost-effective choice.
Bladeless Fan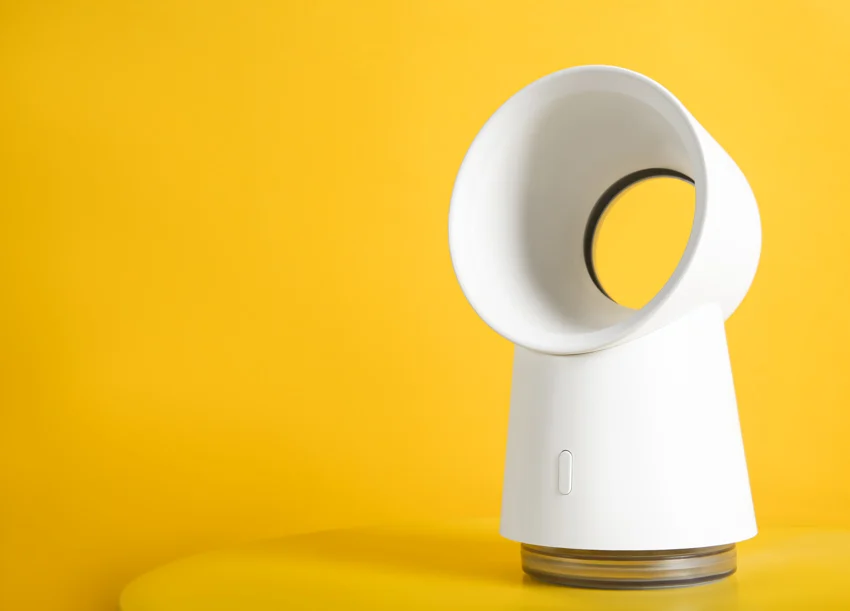 Standard bladeless fans are mere duplicates with a modern and stylish design. Some of them are so carefully constructed that they may qualify as works of art.
This fan creates a multiplier effect by drawing air up from the bottom into a hollow ring with small openings. The ring's curvature generates negative pressure in the same way as airflow over an airplane's wing does. Because of the reduced pressure, additional air will be drawn into the fan's airflow, encompassing the air around the ring.
A bladeless fan's multiplier function operates to amplify how much air it can pull in, and it has a stated airflow of up to 15 times larger than what is taken into the base. You will notice a smoother airflow as a result of this novel innovation. They are also quieter than bladed choices, and some of them can oscillate.
Moreover, bladeless fans normally include an ionizing feature to improve the quality of your air and are very easy to maintain. This is a more energy-efficient option that can lower your operating costs in half when compared to a regular fan. They can be a lovely addition to your room!
They, too, are caseless, but their foundation is made of a metal stand that displays the fan's creative design. Bladeless fans have a comparable power range to pedestal fans, which is less than 45 watts. They breathe air with their base, then blow it via a thin tube passing over the surface of the circle.
Certainly, each type of fan has distinct characteristics, and it also depends on where they come from or how they are designed. Nonetheless, the bladeless fan is a practical option and can be remotely operated. You may also control its speed.
Bladeless fans are more suited for large rooms, keeping you cool throughout the hot summer months and providing a restful night's sleep. The bladeless fan quickly cools the air due to its high velocity and thin bursts of air movement.
They are indeed a super fantastic ceiling fan substitute that's also trendy. However, because they are expensive, you will have to save ample funds to purchase them.
Wall Mounted Fan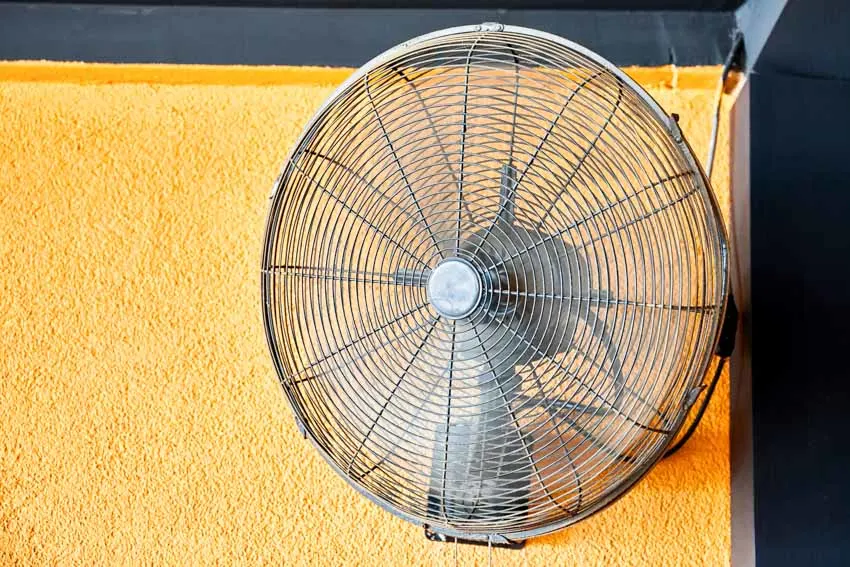 If you have a low-ceilinged space, such as a drop ceiling, you might think about installing a wall-mounted fan. It has an oscillating capability that a ceiling fan does not, and it is a smart option if your room does not have enough floor area for a tower or pedestal-style fan.
A wall-mounted fan, which ranges in size from 12 to 30 inches, can be installed close to the ceiling and out of reach of your child or pet. Many speed settings may be changed using a remote, dial, or hanging cable. Some have a wall switch as well.
This ceiling fan alternative is also a good option for outdoor use, particularly if installed on screened types of porches. Many of these outdoor fans have a misting function to help decrease the temperature of the outdoor air, and they are quite affordable. Nevertheless, the materials, style, and other features can cause prices to skyrocket by hundreds of dollars.
Air Purifier And Fan Combo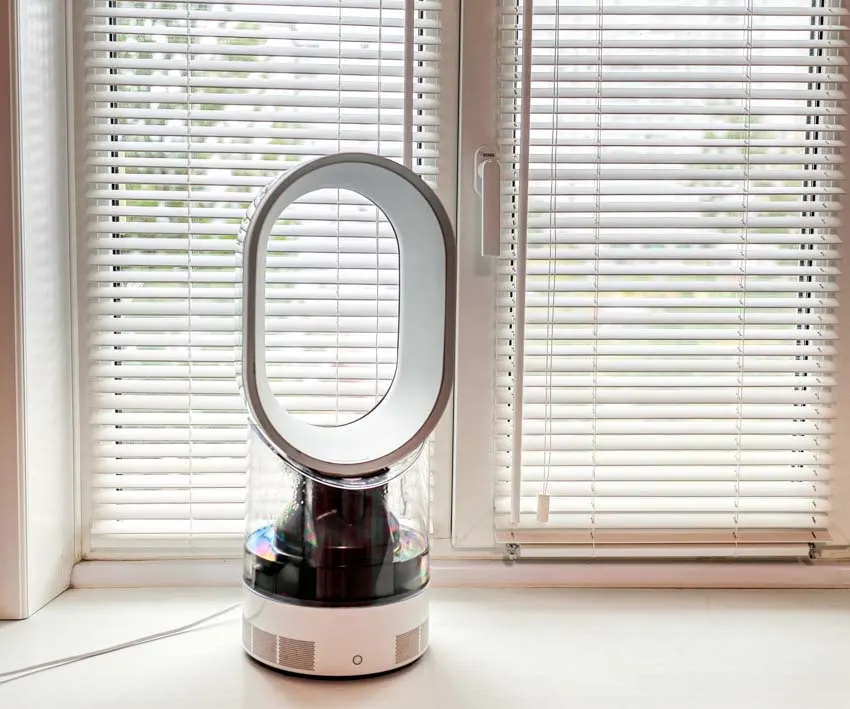 Air pollution worsens and becomes more persistent as temperatures rise. Hotter weather has a major impact on our air quality, whether it is higher pollen count, uncontrolled wildfire smoke, or disagreeable scents from scorching rubbish.
Fortunately, there are some excellent air purifier and fan combos on the marketplace that can address both concerns. These purifying fan combos can eliminate a vast array of pollutants from the air before it passes through the fan, combining the technologies; thus, you can be confident that the cool air heading your way is free of contaminants.
Air purifier fan combos have grown in popularity in recent years. Having your interior air purified hourly and a peaceful, cool breeze circulating through your house is all about the ideal indoor setting you can have during the summer months.
In today's environment, a purifier is an excellent tool to combat indoor contaminants that could be hiding throughout our homes. Air purifiers aid with allergies and mold issues, and they can get our fluffy indoor pets' dander under control. Certain filters can also remove odors and volatile organic compounds (VOC) that may have made their way in from the outdoor environment.
We all know that fans help us stay cool, especially in warmer climates. They are useful to have inside the house and can produce soothing air at night when opening a window may not be sufficient. As such, combining fans with purifiers is indeed a great way to improve and clean the circulating airflow.
Air Conditioner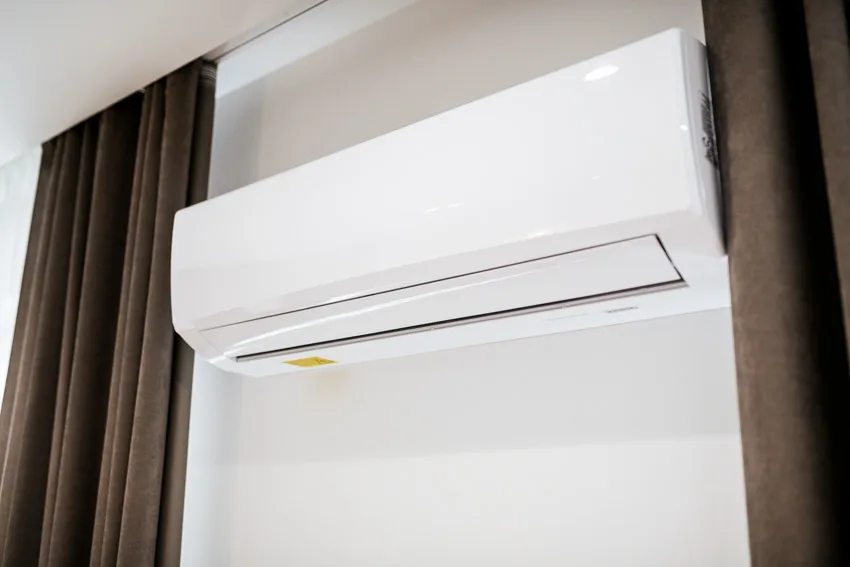 A conventional way to beat the heat is with an air conditioner unit. It is a superior cooling solution that can reduce your energy bills by more than half when compared to an air conditioner alone. Incorporating floor or wall-mounted air conditioners in a bigger house will help you remain cool without going overboard.
Air conditioners work by transferring heat from your home or office to the environment. It then returns cool air to the building. The mechanism cools the air by blowing it through a series of cold pipes known as an evaporator coil. It functions similarly to a refrigerator or when moisture evaporates from the surface.
The evaporator coil contains refrigerant or coolant, which converts liquid to gas since it soaks up heat from the air. This is subsequently pumped via another coil to the building's exterior, where it starts to cool and return to its liquid state. Hence, the exterior coil has appropriately been named the condenser.
The compressor is a pump that transfers the refrigerant between the two coils while also altering the temperature and pressure of the coolant to guarantee that it all evaporates and condenses in the correct coil.
Additionally, the compressor's motor consumes all of the energy required, and the system typically produces three times the conditioning energy that the compressor consumes. This is owing to the coolant shifting condition from liquid to gas, which allows for more energy to be transported than the compressor utilizes.
It is a wise decision to pick an Energy Star-certified model if you wish to install an air conditioning unit in your space. It will reduce energy consumption and operating costs. This ceiling fan alternative is utilized in both residential and business buildings. It not only cools the home but also humidifies and filters it to keep bacteria at bay.
Window Fan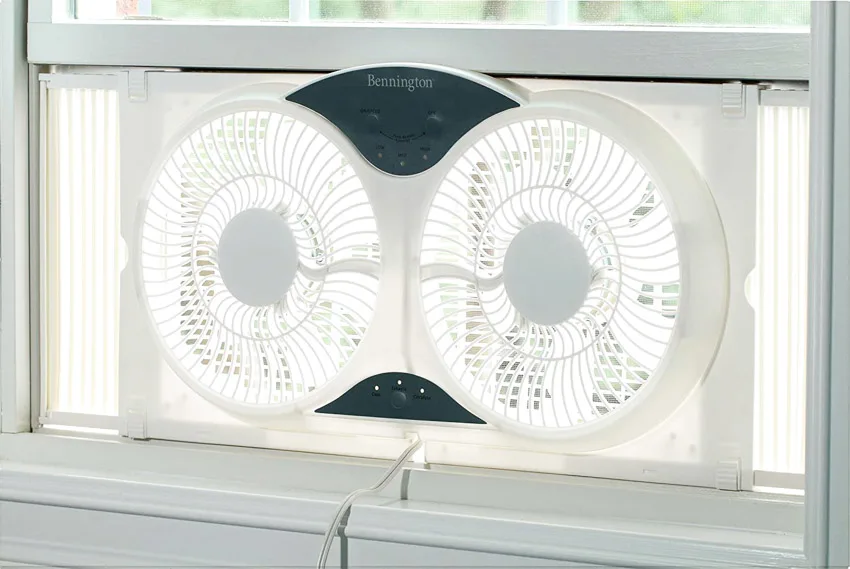 See this window fan at Amazon [sponsored link]
A window fan is one of the easiest-to-use fans. They are simple to install and uninstall from most types of windows, making them an excellent solution for anyone looking to cool the indoor air easily.
They may enhance air circulation in closed areas, which makes them a perfect choice if you live in an area with significant humidity levels since they can draw humidity out of the air.
Moreover, these ceiling fan alternatives work by drawing hot outdoor air into the window and directing it through and over a rotating pair of blades to create a forceful breeze. They are marginally noisier to operate, but they are one of the fastest methods to circulate air around your home and chill it out.
Window AC Unit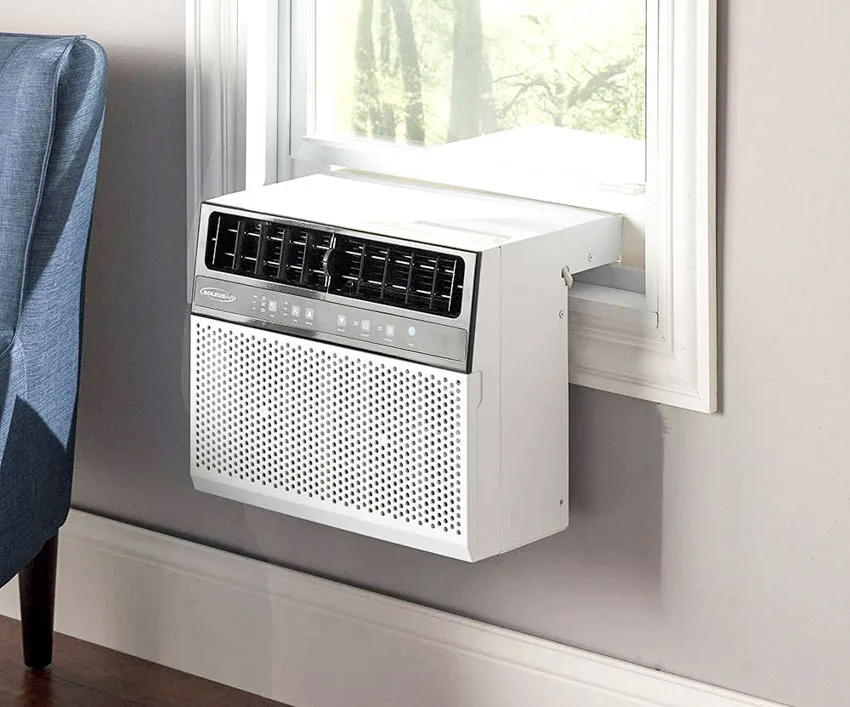 See this window air conditioner at Amazon [sponsored link]
A window AC unit or air conditioner takes up less space in your home and is typically controlled by a digital display or a dial. Certain models also include a remote control for adjusting the device. If you do not have solar panels to power this ceiling fan option, it will cost you more to run than traditional ceiling fans.
The technology of this ceiling fan alternative has advanced significantly in recent years, whereas the price has decreased. They are quieter to operate, and the majority of them include parts and accessories that are required to seal the window surrounding them.
Portable AC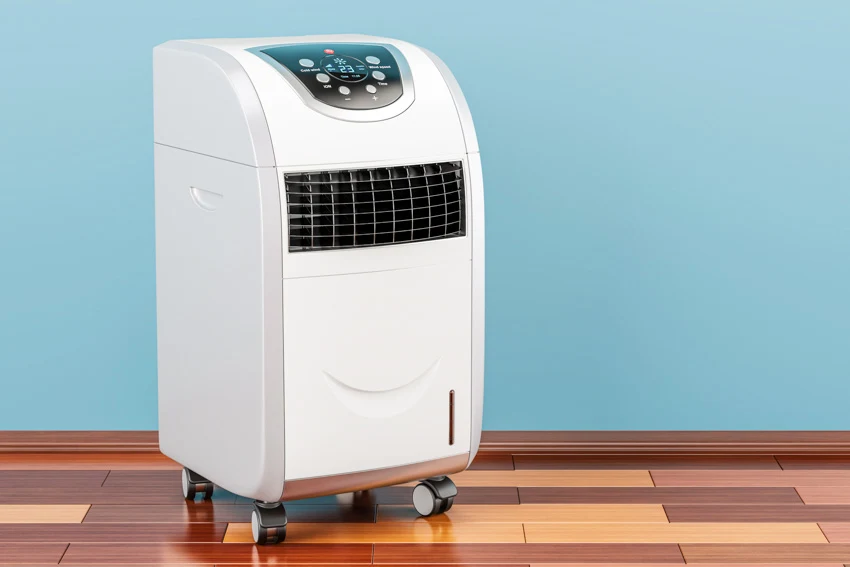 Because some localities do not allow window air conditioners for a number of reasons, you might try a portable AC alternatively. This is also less difficult to install and operate than a standard window air conditioner. A two-hose version will be more pricey than a single-hose one, but it will perform a better job of cooling your area.
If the neighboring rooms are chilled or cooler, a single-hose version would be appropriate for a smaller room. A two-hose unit can cool space in nearly half the time it takes a one-hose unit. Additionally, it must be noted that portable air conditioners are easily transportable.
Hence. if you put them in your ground-level windows, they might pose a break-in vulnerability. Always make sure to place them in a safe and secure position inside the house.
Evaporative Cooler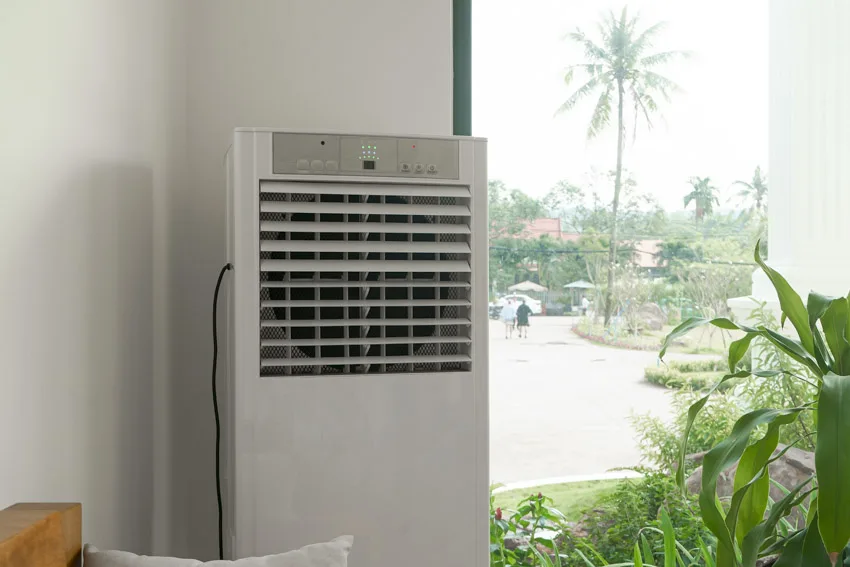 The evaporative cooler is another fantastic device for humid conditions that may decrease humidity and temperature in a space. It generates cool air by evaporating water into the surrounding space.
An evaporative cooler might be labeled as an air conditioner. Nonetheless, it uses an entirely new principle to cool your room, making it an excellent alternative. It draws in dry air with a fan before imparting cool water to the air with pads and pushing the freshly chilled air into space.
This ceiling fan alternative's design provides a notable cooling impact while improving air quality. These fans might help individuals who live in hot and dry climates minimize room temperatures. If your climate has reduced indoor humidity during the year, this might be a good option.
Aside from that, evaporative coolers may be controlled with a single remote, making them a good solution for individuals who dislike complex systems. You will not have to worry about maintenance costs since the filters just need to be replaced when they become worn out.
If you want to minimize room at home, you can integrate an evaporative cooler with a humidifier. This is so that your home will feel comfortable as they both use water.
Mini Split Cooler and Heater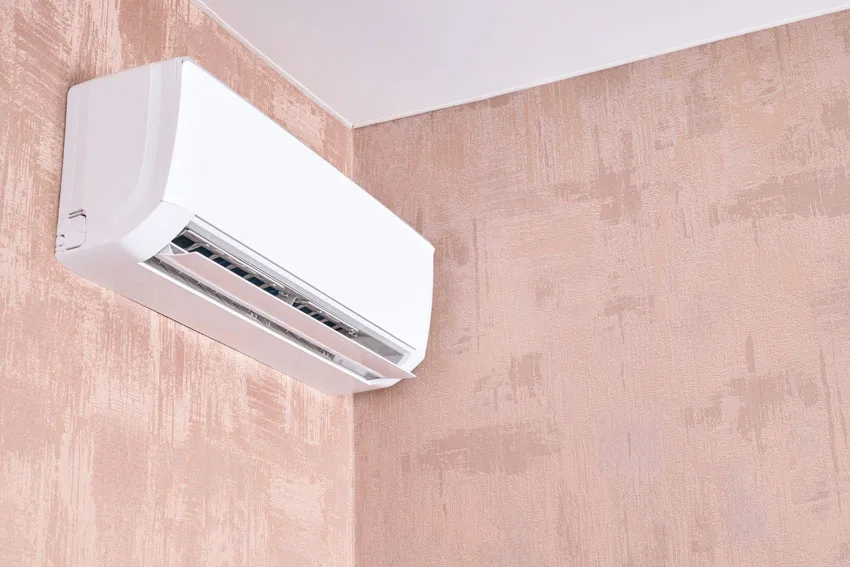 Mini-split air conditioners are cooling and heating units that enable you to regulate the temperatures in specific rooms or areas. Mini-split air conditioning systems comprise two major parts: an exterior compressor or condenser and an interior air-handling unit or evaporator.
They are simple to install, typically necessitating only a 3-inch opening in the wall for the conduit, which holds the power and transmission cables, copper tubing, and a condensation drain connection that links the exterior and interior units.
Moreover, the heat pumps of mini-split air conditioners are not only excellent for whole-house or new construction applications, but they also make incredible retrofit additions to homes with non-ducted heating systems , including hydronic, radiant paneling, and heating systems.
Indeed, these ceiling fans can be a superb solution for room extensions when expanding or constructing distribution ductwork is not feasible, as well as for energy-efficient new houses that need a compact space conditioning unit.
Attic Fans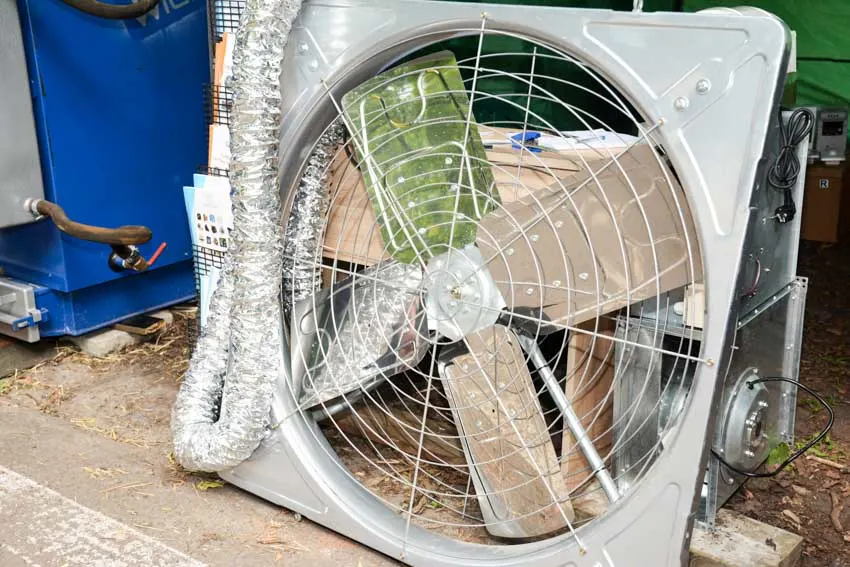 An attic fan is a ceiling fan replacement that functions similarly to a standard unit. Nonetheless, because they are situated in your attic, they do not directly cool your living space. Rather, this exhaust fan draws air from the attic and funnels it into the remainder of the house, which is cooled by cooling devices such as window air conditioners.
This alternative, like other typical ceiling fans, will not be able to generate a great amount of air. As a result, it is not as efficient as some of the other ceiling fan solutions on this list.
Nevertheless, when used properly, attic fans can reduce the degree of warmth that enters your living spaces and exhausts it from the attic. Therefore, you may be able to save finances on cooling expenditures.
Whole House Fan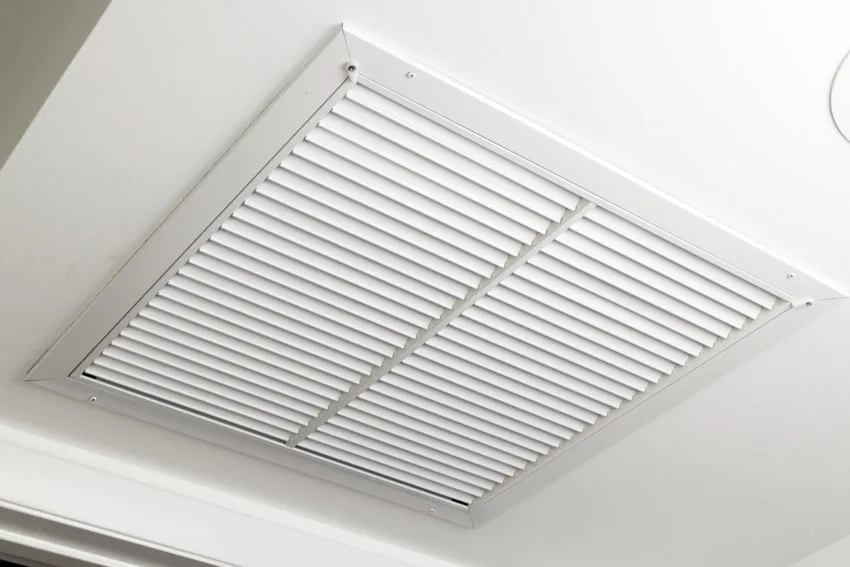 A whole house fan is another option that operates significantly differently from attic fans. When the temperatures within are cooler in the nighttime, you can switch it on.
You may also program it to turn on when the outdoor temperature is lower than the indoor temperature. It works by drawing cool outdoor air into the house via your windows and up into your attic.
Before entering a duct that leads directly to the fan, the air flows through a ceiling dampening device. The heat is discharged through the attic ducts and can cool the whole house and attic by up to 30%. As a result, it will be cooler during the day.
Interior air quality is typically worse than outside quality, and these ceiling fans operate to ventilate external passages up to 30 times per hour to ameliorate interior quality. Several individuals use this device in conjunction with an air conditioner.
It is, nevertheless, more economical in cooling than a typical air conditioner, and it is thermally efficient because it costs less to operate and can be controlled precisely with a thermostat and with a timer when it will be needed. You can also configure whole house fans to target a particular room.
The fan, ductwork, and ventilation-dampening device will be installed in the attic just above the room in concern. The fan must be capable of ventilating 2 to 3 times the size of the room.
In addition, the cost of this system will vary depending on how much space you want to cool, but it will be significantly cheaper than the cost of a central air conditioning setup. In reality, it may be a quarter of the price.
The cost of installing a whole house fan is often 3 to 4 times that of installing an attic unit. However, the results are impressive, and the flush mount registers are more efficient and less noticeable than a cooling fan in each room. Hiring a professional to conduct the installation may increase the cost, and running wiring for electricity will require the services of a qualified electrician.
Bladeless Ceiling Fan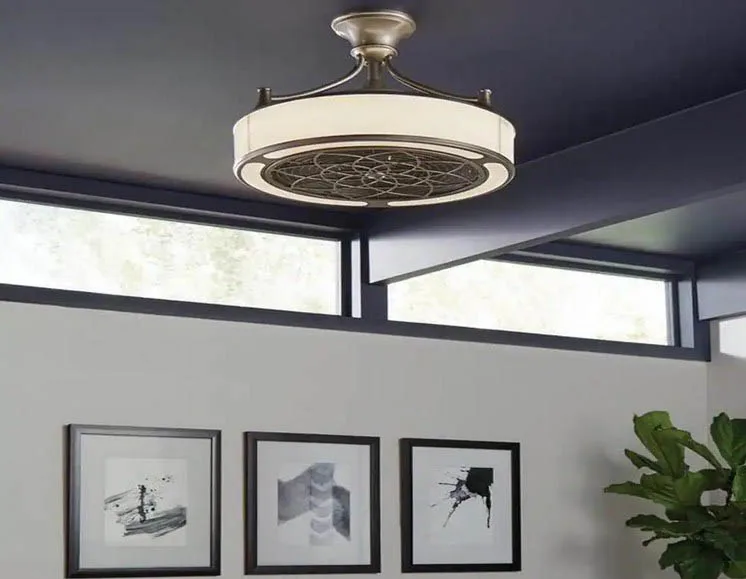 See this bladeless ceiling fan at Home Depot [sponsored link]
This is a differently designed fan compared to a normal bladeless fan. Bladeless ceiling fans employ blades to circulate air, but the motors and very few blades are concealed and operate differently from typical ceiling fans.
Through a succession of well-placed motors with tiny blades, bladeless ceiling fans draw air into the machine's base. The air is then forced through an elaborately built tube, which is visible as part of the design.
Aerodynamic forces within the device increase the velocity of the air coming from the foundation and the encircling tube. The ultimate result is a constant flow of air without the burst of wind that a standard ceiling fan type with exterior blades provides.
As the designers ironed out the early problems, such as unusual noises and poor efficiency, the technology took off. Bladeless ceiling fans can now be found in different settings, whether it is residential, commercial, or industrial.
Although the earliest designs were renowned for producing a relatively high hissing sound, this is mostly a memory of the past. When switched on, high-quality bladeless ceiling fans must provide just a low, calm, and, most crucially, consistent vibration.
Compared to the annoying noise of a standard ceiling fans that need to be cleaned regularly, bladeless models might appear much less bothersome, particularly in a bedroom. They also have the same reversible features many fans have that enable them to circulate warm air that gathers at the ceiling.

Manufacturers may simplify the appearance of the structure because the majority of the wonders happen within the bladeless ceiling fan. You can, for instance, purchase minimalistic bladeless ceiling fans with simple black wrought iron or steel casings or even a design with built-in lights.
See more related content in our article about the different types of appliances on this page.