This gallery of black tile bathroom floor ideas showcases the different types, styles, materials, and best choices for a stunning bathroom tile flooring design.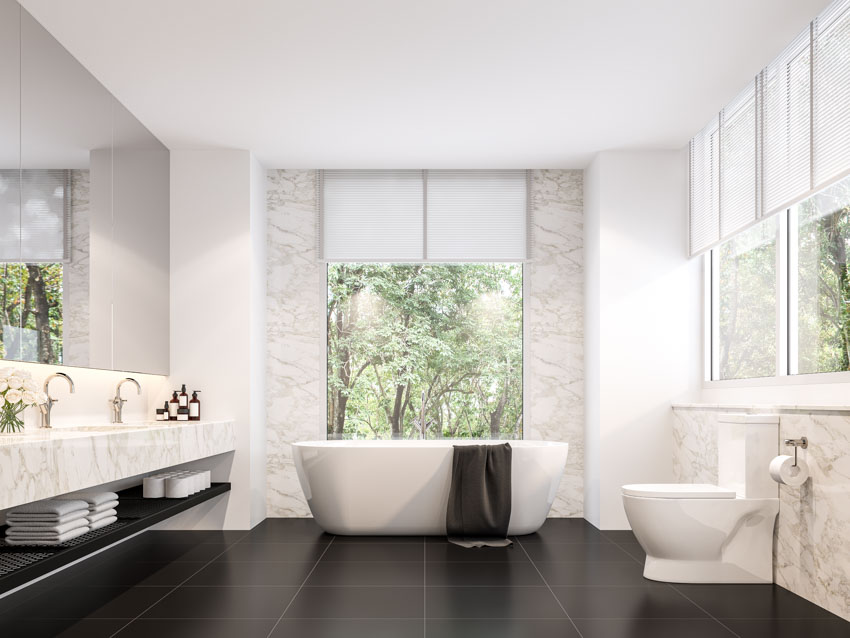 Having black tiles for your bathroom floor might sound a little new but it's something that can easily take your bathroom aesthetics to a whole new level with the right design plan and perspective. Here are some ideas you can check out when it comes to using black tiles on your bathroom floors.
Types Of Black Floor Tiles For The Bathroom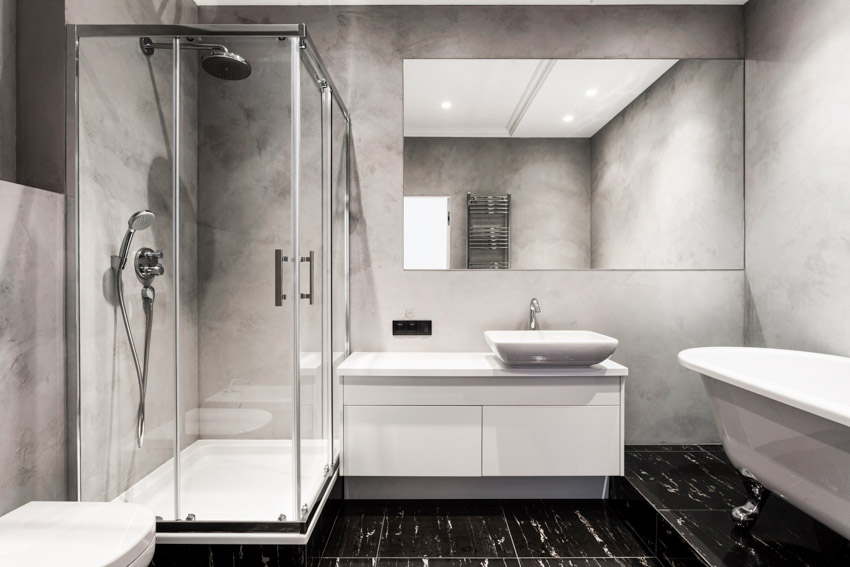 Here are popular types of black floor tiles for bathrooms in a variety of design styles.

Black Penny Tile Bathroom Floor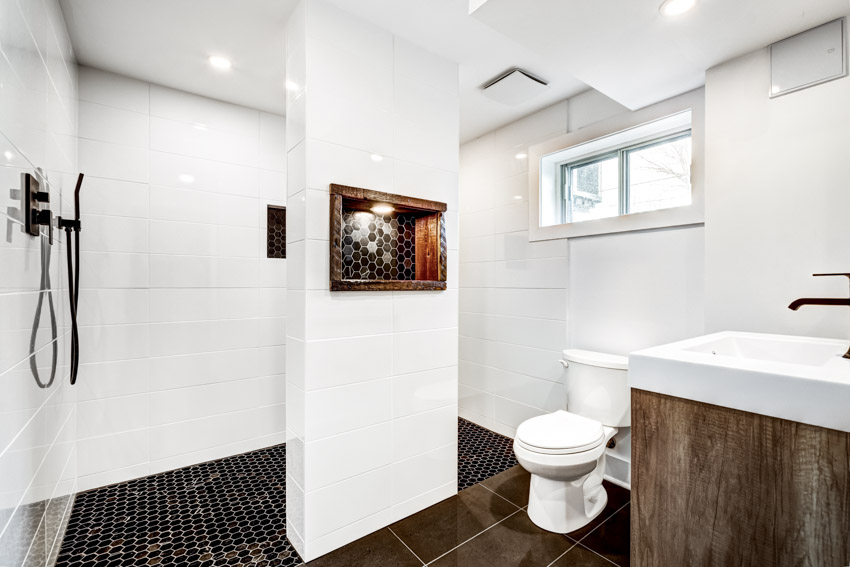 Penny tiles have been around for a while now. They're one of the oldest tile types known to man and although old, they are getting a resurgence and are actually all the vogue right now. Penny tiles are classic and are mainstays in both kitchens and bathrooms back in the early 1900s.
However, these days, black penny tiles for bathroom floors are all the rage. They come in standard sizes very similar to how big a penny is (hence the name). They're around ¾" in diameter. But these days, some contemporary black penny tiles can come in sizes as big as 1 inch.
They're oftentimes made out of porcelain material and are available in both glazed and unglazed versions. However, they also come in other materials such as glass, stone, metal, ceramic, and in some cases, even cork.
If you want to go for a black penny tile floor look that's vintage and has a kind of old-world charm to it, go for the unglazed version. However, if you want to go for a more modern or contemporary look, the glazed version works best. They fit in almost all sorts of spaces, even irregular ones because of their small size and they can look very striking and attractive on your bathroom floors.
Bathroom Black And White Tile Floor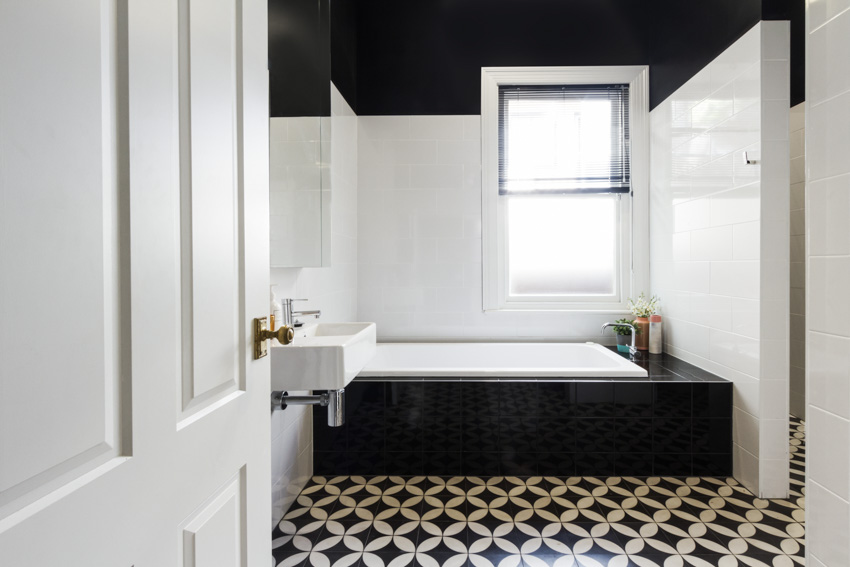 Black and white bathroom tile floors are another classic to keep in check if you're ever up for a bathroom remodel. For starters, it's a very forgiving palette combination. There are so many ways for you to do it and no single way is actually wrong.
You can go about it from so many directions. You can be as traditional, vintage, rustic, or even modern. Black and white tile floors will guarantee balance and cohesiveness every single time.
These tiles are really easy to incorporate into any interior design plans you may have for the bathroom because by and large, both black and white don't really go against any design scheme or color palette. They're a great way to introduce texture and uniqueness to your bathroom floors without going overboard with them.
It can provide you with a really solid yet artistic base for your bathroom design and you can experiment with the rest of the bathroom elements you would like to include. They're edgy yet classic, practical yet also indulgent. They should definitely be considered for any bathroom remodels you may have in mind.
Black Hexagon Bathroom Floor Tile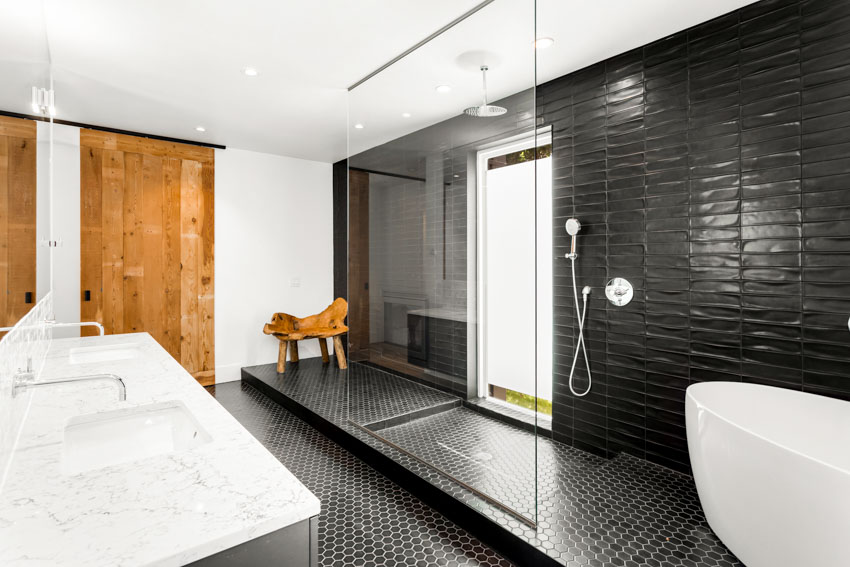 Black hexagon bathroom floor tiles require a little more precision for their installation but considering the amount of dimensionality and uniqueness they can contribute to your bathroom floors, they can be well worth the effort at the end of the day.
They're available in different materials, finishes, and even have variety in their hexagonal patterns so you really have the creative liberty to come check and see which one is better suited for your preferences for your bathroom floor. They have a lot of décor possibilities from the traditional hexagonal-shaped tiles to the elongated hexagons.
The overall look and feel of these black tiles are something intricate and sophisticated. And because these are mosaic type tiles, with the proper installation, black hexagon tiles for your bathroom floors offer superb durability. They also offer a great finish, and an almost surreal-looking aesthetic to your bathroom space.
Do take note though that they can be really tedious to install and it's actually recommended that you get professionals to do it. They can also be a pain to change so in the event that you want to redecorate your bathroom completely, you may come across some inconveniences with this as well.
A lot of interior designers also feel that although black hexagon tiles are quite popular right now, it may not always be the case in the coming years. So keep that in mind as well when you're making a decision on which black tiles to go with for your bathroom floors.
Black Herringbone Floor Tile Bathroom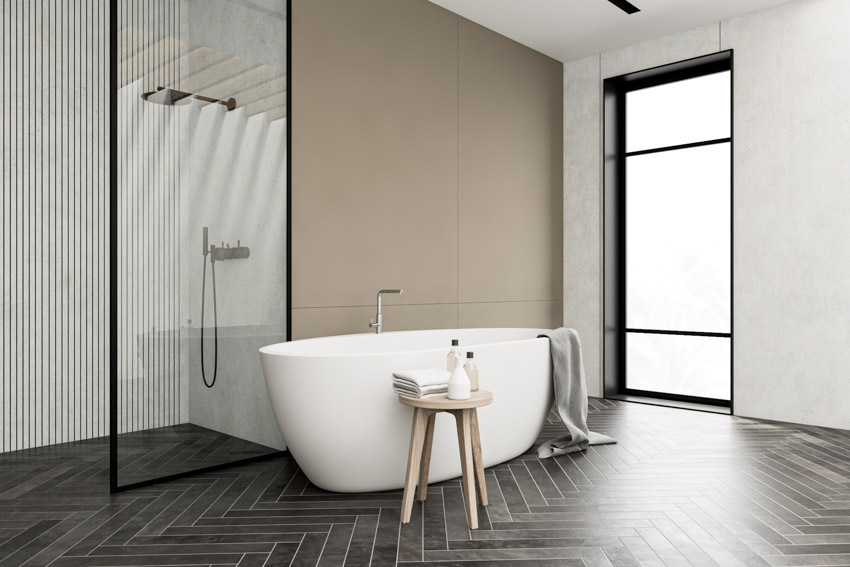 Black herringbone floor tiles can add personality and effortless style to your bathroom aesthetic. But more than that, they also offer practicality as their installation is both durable and effective when it comes to waterproofing, which is a huge plus when it comes to bathroom setups.
The herringbone layout can definitely suit any style. You may want to create a traditional bathroom layout or a more contemporary one. Black herringbone types of floor tiles are sure to deliver whatever your style preferences may be.
Because of their unusual and busy pattern, they bring in a visual detail that no other tiling pattern can. And although busy and very stylish, the overall effect also has a hint of subtlety to it.
These tiles work particularly well if you have a small and narrow space for your bathroom area. The positioning of the herringbone pattern on the tiles can give the visual illusion of a bigger and wider floor space than it really is.
This can be attributed to the fact that the tiles are laid out diagonally. This visually draws the attention outwards, making the floors appear bigger and so much more spacious. These tiles are great for when you're trying to create a black canvas for the bathroom.
The tiling features are both bold yet also subtle. This can both confuse and delight the senses and can dramatically elevate your bathroom style and layout.
Matte Black Tile Bathroom Floor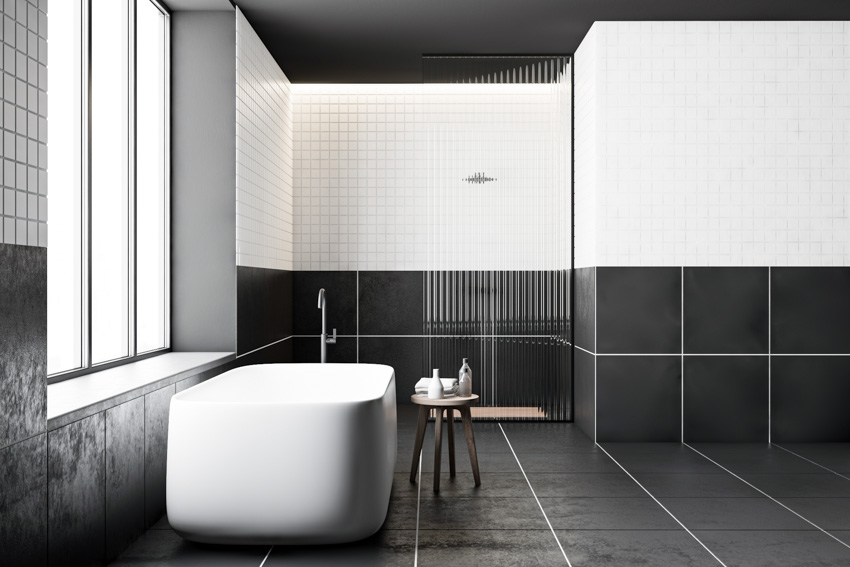 Matte black tiles are distinctive because of their low gloss, non-slippery, and non-shiny finish. These very traits alone already make them more than ideal candidates for your bathroom floors. They can add sophistication and style straight away with little to no effort. They are also very low maintenance.
Matte black tiles usually don't require anything more than just basic mopping to get them cleaned. Having matte black tiles installed in a busy space such as your bathroom floor would mean that you wouldn't spend too much time on keeping it clean and well maintained so that's already a plus right from the get-go.
They also offer a somewhat rustic and natural finish so if that's the look you're going for in your bathroom, then that's a major win. Matte black floor tiles pair very well with Scandinavian or even colonial aesthetics.
They are also quite safe because they're non-slip. Matte black floor tiles provide the best traction for your floors. Bathroom accidents tend to happen a lot and this is mostly due to slippery floors that come along with glossy tiles.
This means that if you have elderly people, children, or even pets living with you, matte black tiles are great for ensuring their safety and minimizing any slips and other slip-related accidents in the bathroom area.
High Gloss Black Tile Bathroom Floor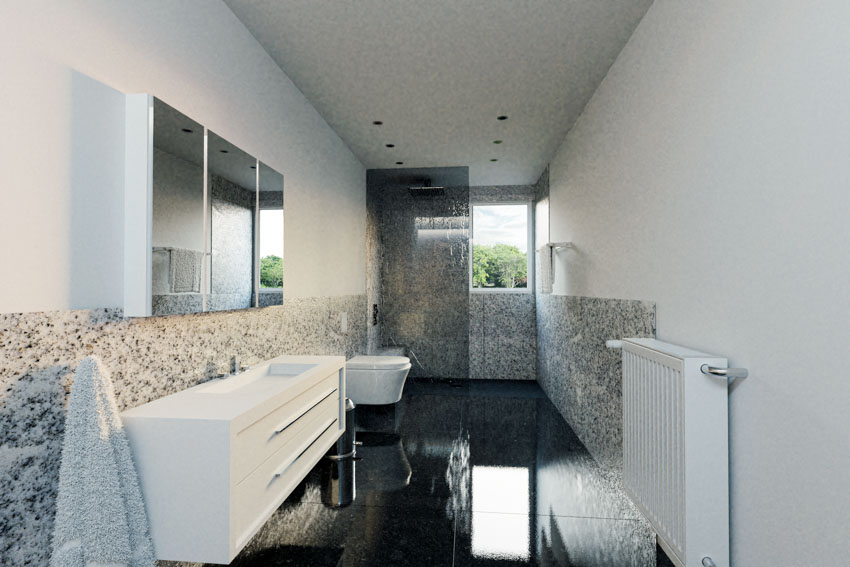 Having high gloss black tiles on your bathroom floor can come with a myriad of aesthetic benefits. For starters, they can instantly make the space appear wider and larger, despite the black color.
Black high gloss tiles are very reflective and despite the color, this will allow the light to bounce all over the room when it hits it. This can play a pleasant trick on the eye and make your bathroom appear so much larger than it actually is.
High gloss tiles are perfect for cramped or limited bathroom spaces. If your bathroom area is also devoid of natural or artificial light, high gloss tiles can make the space appear brighter because of the reflective qualities that they come with.
And of course, the best part about having black high gloss tiles is that they don't get dirty very often as the dirt and other forms of debris tend to just slide off. This very trait also makes them very easy to clean.
This is quite ideal for the bathroom areas in your home. These areas can be extremely prone to splash-blacks which means that you get to keep it clean longer and with way less effort. The effect is stylish and low maintenance. This makes high gloss black tiles very marketable for bathroom floors.
Black Marble Floor Tile In Bathroom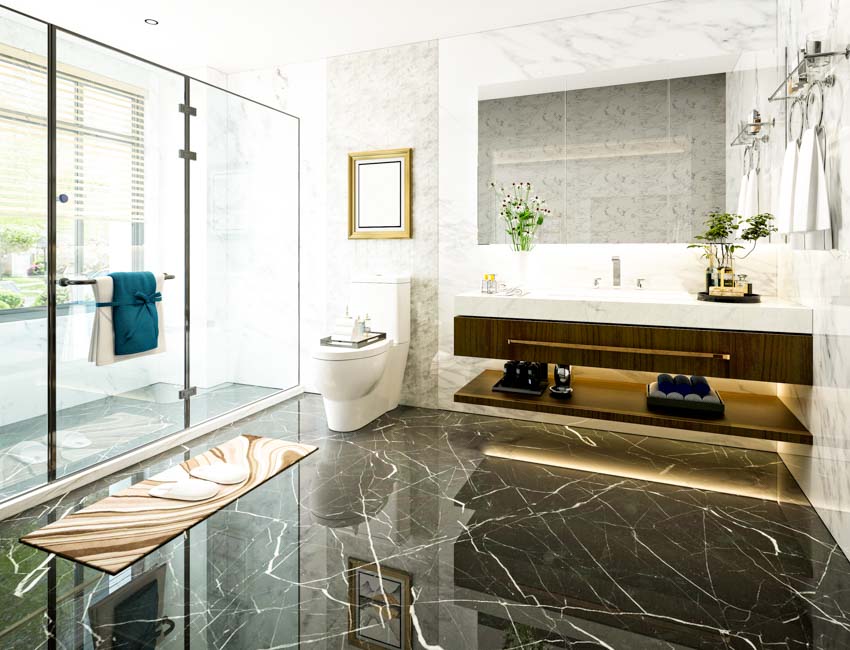 Marble is a natural stone material that's being quarried in the mountainous regions of the world. They've been a popular building material for as long as mankind can remember and it isn't hard to see why.
Black marble in particular is highly prized for its style, beauty, and boundless elegance. As a flooring material though, you need to know right from the start that black marble tiles will require more maintenance compared to regular flooring materials.
It is also more susceptible compared to other types of tiles as well as other types of natural stones. Black marble can look very chic and stylish. If you want your bathroom floors to look upscale and sophisticated, this material can get the job done extremely well.
Marble flooring gets easily polished so it has a highly reflective, almost mirror-like surface. And the best part in all of this is that it can definitely add to your home's overall real estate value should you decide to sell your property further down the line.
Black Vinyl Floor Tiles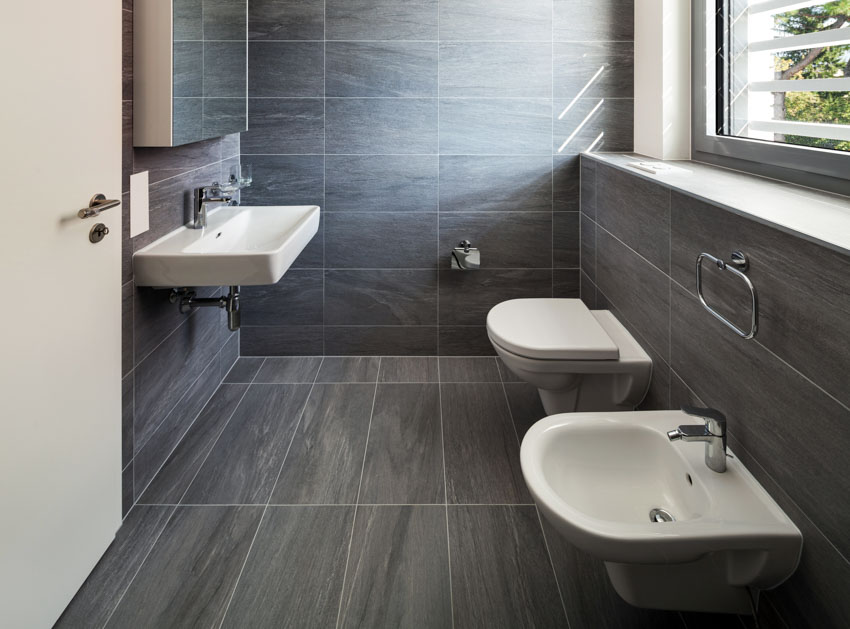 Black vinyl tiles are synthetic materials that can work well for you if you're on a bit of a tight budget. It's a bendable and highly durable material and can come in lots of patterns despite its black color.
Vinyl floor tiles are very affordable. Some options come in peel and stick variants and this means that you can immediately upgrade your bathroom space without ever having a need for demolition. It's also easier to replace should you have a knack for redecorating further down the line.
The only downside to this though is that it may have issues with getting too soaked with water. You might want to make sure that you double up on the adhesives and an extra layer of sealing certainly wouldn't hurt.
Oversized Black Floor Tiles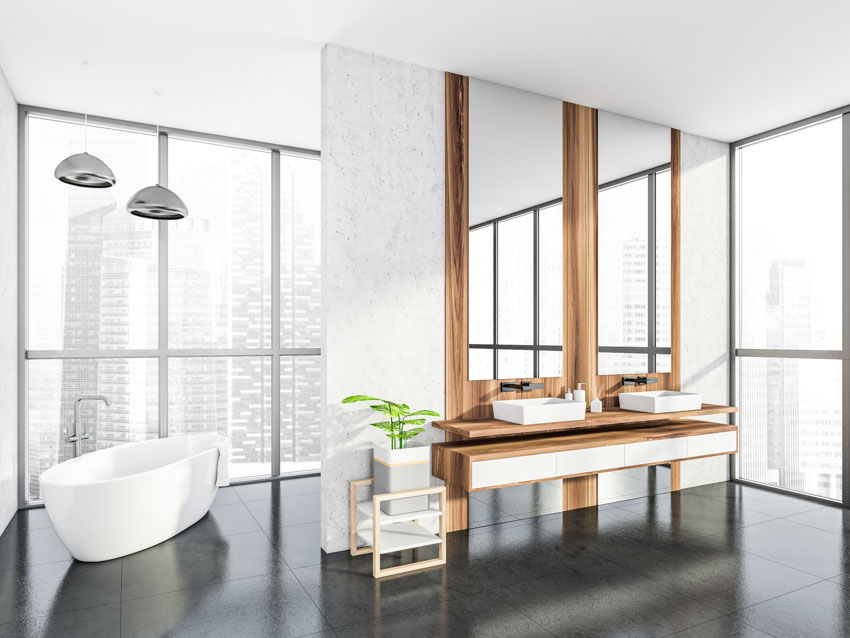 Oversized black floor tiles are also called large format tiles. They don't just look big, they are actually big in terms of size. Oversized black tiles usually come in sizes of 600x600mm and bigger. Obviously, black is a great and stylish color right off the bat.
But when they come in large formats, they can end up transforming your bathroom area completely. This is due to the fact that large format tiles come with far fewer grout lines. This delivers a look that's more seamless and has fewer visual interruptions.
There are some limitations to having oversized black floor tiles in the bathroom, though. They aren't suitable for all spaces and rooms in the home. The first thing you need to figure out is whether or not your bathroom size will be able to accommodate such large formats. So technically speaking, they aren't suitable for bathrooms that are limited in space or that are a little cramped.
Black Mosaic Floor Tiles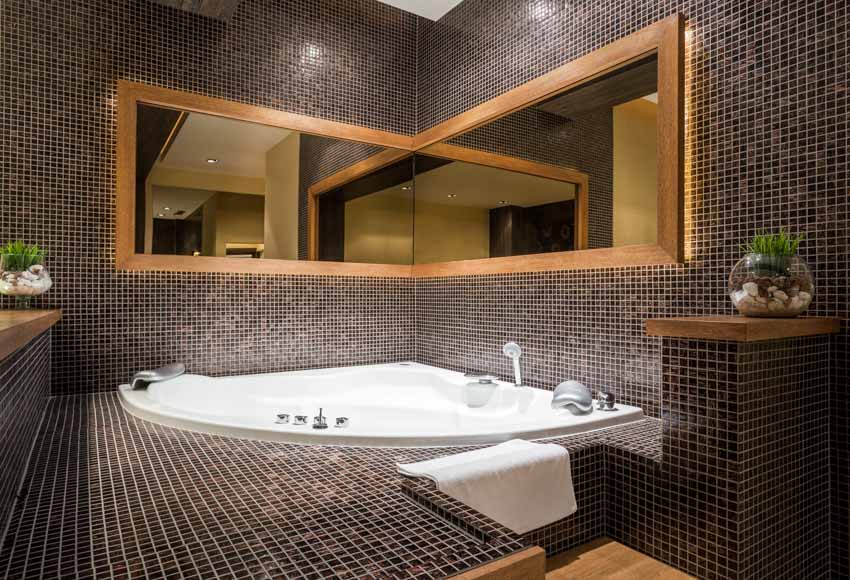 Although black mosaic tiles or mosaic tiles, in general, are more common as kitchen countertops and backsplashes, there's certainly nothing stopping you from experimenting and laying them down on your bathroom floors.
Black mosaic tiles can deliver a look that's very elegant and upscale. This is why most high-end spas are adorned with mosaic tiles. They're very luminous and the effect that this brings is something very sophisticated and elegant. It will make it very easy for you to embellish your bathroom space as you honestly don't have to add much after that.
Mosaic tiles can come in virtually any size but the smallest ones are usually one in ½ inches in diameter. The most common shapes are rectangles and squares but they can come in a myriad of shapes such as hexagons and the like. They can also come in different materials from porcelain to glass to metal, and so on.
They are very easy to clean as they're highly resistant to mold and mildew. They're also highly resistant to chemical damage because of their very low level of porosity so you can use strong cleaning products and you never have to worry about using strong or harsh cleaning products because they won't ruin the material.
And since a majority of black mosaic tiles come in glass, this means that it's technically a "green" product. It takes up half the energy it takes to manufacture a ceramic tile of the same size.
Reclaimed glass is also quite a trend so if you're a household that's particularly conscious of your carbon footprint, black mosaic floor tiles are a great material to consider for your bathroom floors. See more tile shapes on this gallery page.

Black Floor Tiles In Bathroom With Gold Finishes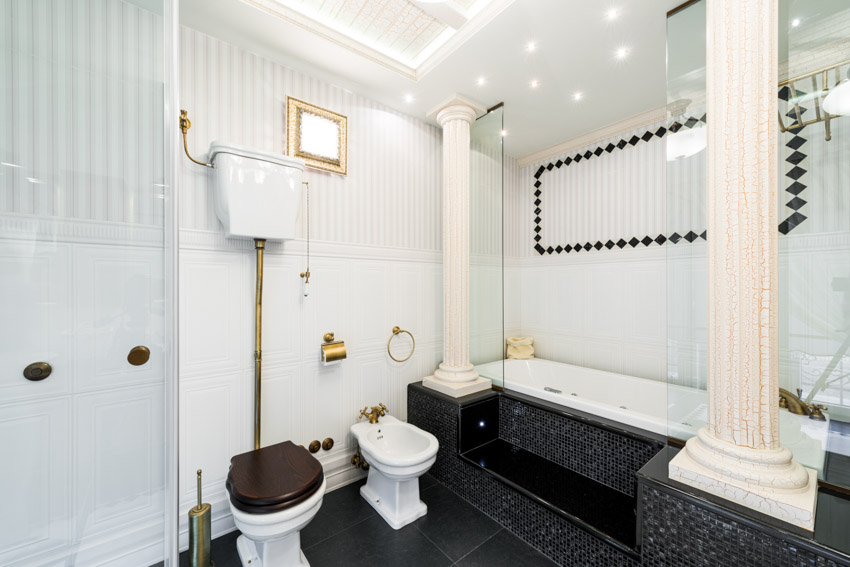 In terms of color psychology, black and gold go well if you want to portray elevated elegance, sophistication, and opulence. When used heavily in a color scheme such as for your bathroom tiles, the look and feel it can create is that of power, drama, and even mystery.
When paired up with gold finishes, you end up with a look that's seamlessly traditional and modern – a look that can't really be achieved with any other type of color combination.
Black can be a little heavy-handed for the most part so pairing it with something luminous such as gold grout and other subtle but striking gold finishes could really do the trick. You can go with gold bathroom fixtures such as faucets and towel handles.
You can play around with gold tile stencils to accentuate your black floor tiles and make them stand out even more. The sky's the limit when it comes to the gold finishes you can put in along with your black bathroom floor tiles.
Black Floor Tiles With Alternating Sizes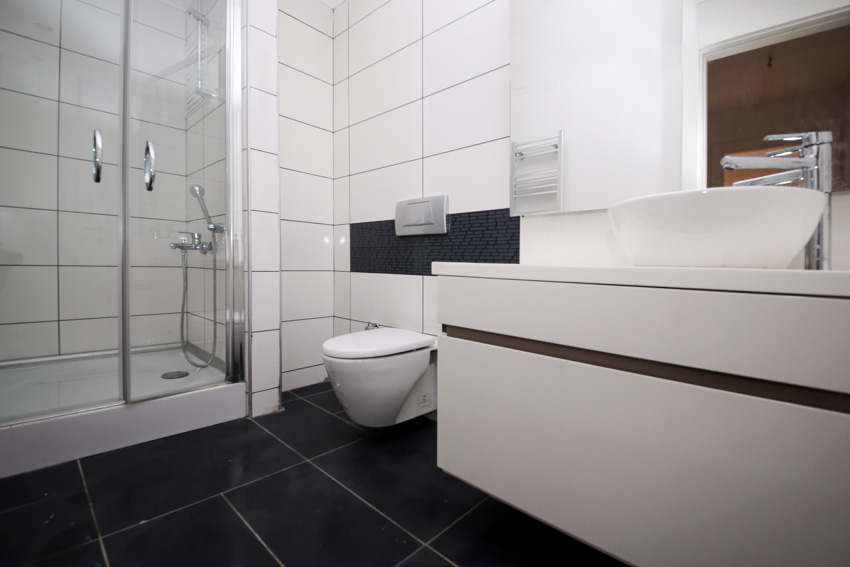 If you're wondering if you can play around with different tile sizes, the answer is a definite yes. For as long as you keep the black tile material consistent, there is definitely nothing wrong with alternating the sizes that you lay out for your bathroom floors.
You can even have them in varying patterns. A note of caution on this though, always go at this with the end design in mind. Deviations in design could lead to a bathroom design that's a little scattered and all over the place but for as long as your black tiles are fairly consistent, this shouldn't be too much of a problem.
Are Black Tiles Good For The Bathroom?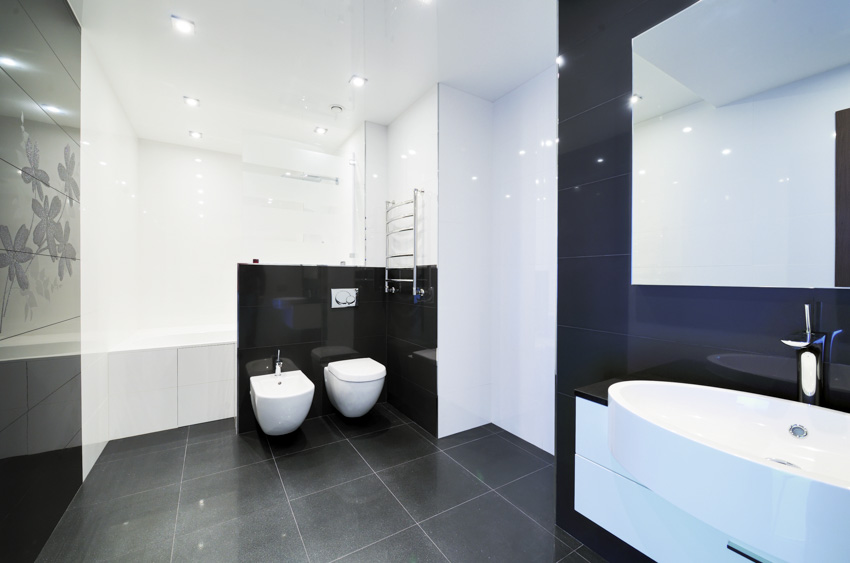 They're definitely a great idea for bathroom use. Black tiles look clean and seamless and they can go with just about any design or aesthetic you can think of. It's timeless and classic but also sophisticated and edgy.
If you want to go for a smart and eclectic-looking base, having black tiles for your bathroom floors is a highly recommended option. They're also very moody and chic and if you aren't afraid to try something new, then they're definitely for you.
Are Black Tile Bathroom Floors Hard To Clean?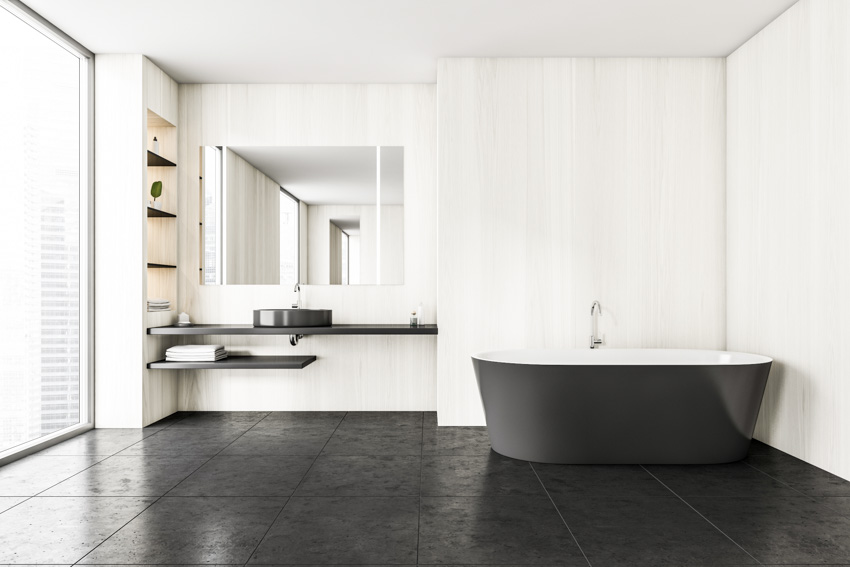 They aren't necessarily hard to clean but they can more easily show water stains because of the dark color. It's recommended that you keep a squeegee or mop close by so wipe away any water spots as soon as you get out of the shower or tub.
This should be done to avoid these hard water stains from settling. They also tend to show dust more easily compared to tiles with other colors so make sure that you routinely wipe them clean as much as you can.
Can You Put Black Floor Tile In A Small Bathroom?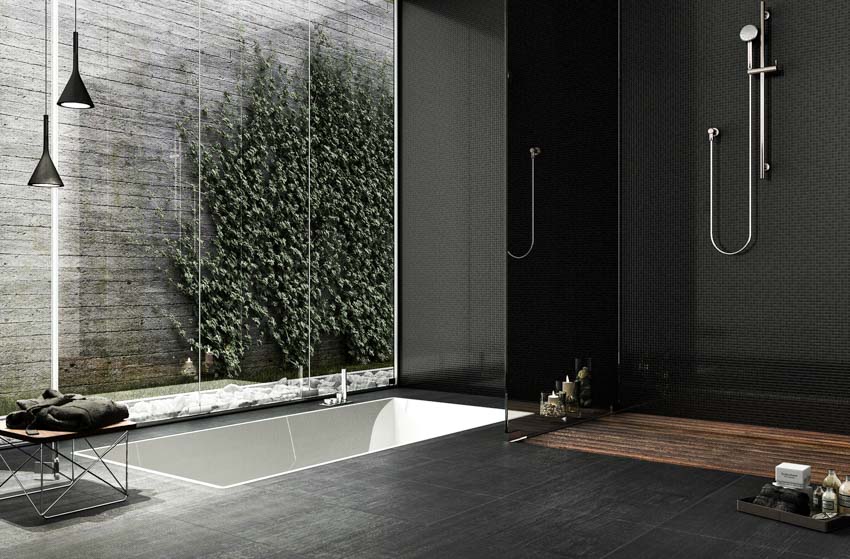 Generally speaking, small bathrooms won't do well with an all-black floor tile as it will visually compact it even more. Try to go for an alternating black and white tile pattern instead to break up the visuals and not make a small bathroom look and feel cramped.
See more related content in our article about the best material for bathroom flooring on this page.