Welcome to our design guide to penny tile flooring including popular styles, cost and pros & cons.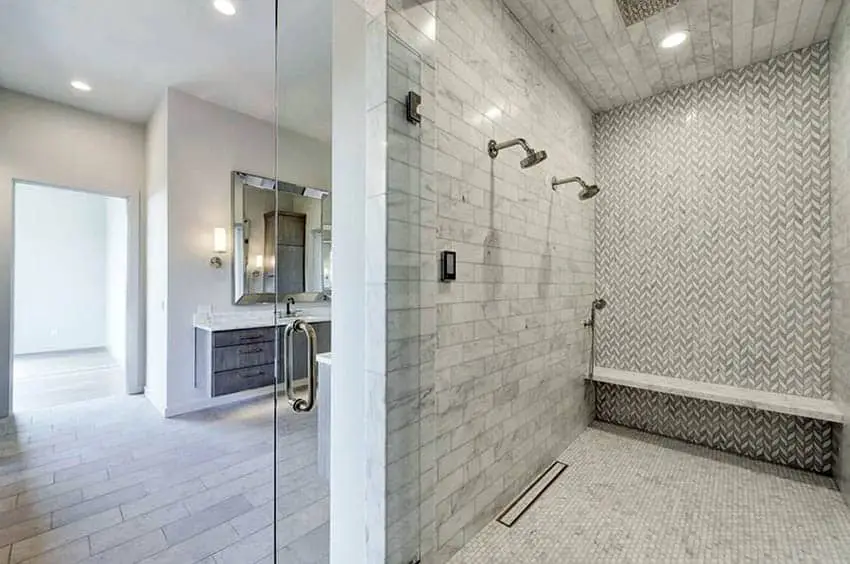 Penny tile floors can add a charming ambiance to your interior design. These types of tiles are made up of little tiles in the shape of a penny creating a pleasing feeling for bare feet. Penny tiles are most often seen in vintage homes, however, they can also be used in traditional or contemporary designs.
There are a variety of styles of penny tiles available. You can find different shapes, materials and color options. Each of these selections can change the cost of the flooring. On top of that each area in the home whether its in the kitchen or bathroom has different recommended selections.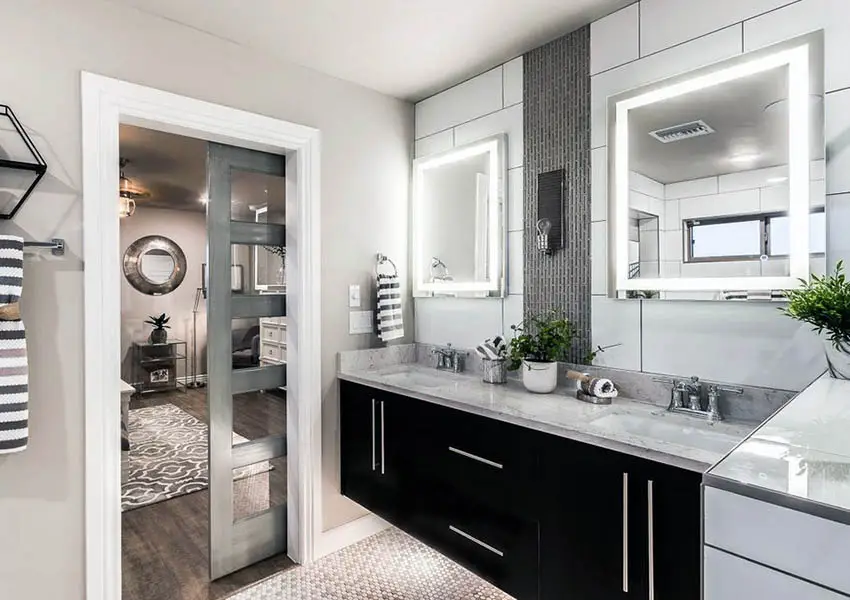 Materials: Penny tile flooring is most commonly made out of ceramic, porcelain or glass. Some of these materials can be glazed, or unglazed, or later sealed. This can be substituted for other materials, such as solid surface, stone, cork, metal, or actual pennies, they just need some more steps, by using resin to create a durable surface, and are not typically recommended.
With porcelain, glass and ceramic the tiles are place in a fiberglass mesh to ensure even spacing followed by being grouted and finished. When choosing glazed or sealing, or even just a material in general it is good to think about where the flooring is to be placed. In bathroom showers it is important to have non porous and slip resistant qualities in the materials. For kitchens it may be more important to be cleanable and slip resistant because of the actions that happen in that area.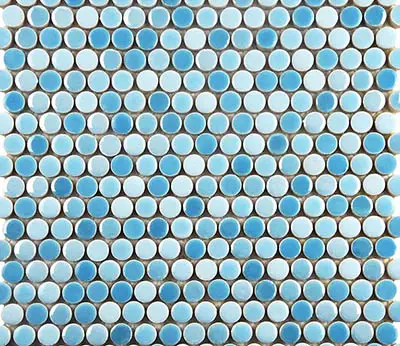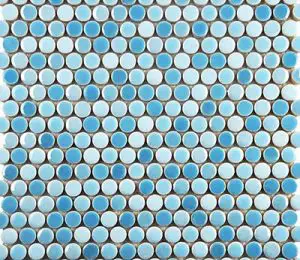 Colors: When it comes to color the options are quite endless, if you can get the material in that color, then the flooring can be that color. The most popular color is a white glazed porcelain penny tile.
No specific color determines whether it is considered a penny floor or not. IF the penny floor is done in actual pennies then it will be the color of pennies, which unless they are all new or super clean, likely need to be placed in a pattern based on their ages and wear levels. Back when this style was originally popular it was heavily used in the colors of black and white.
Shapes: Penny style flooring can be in a great deal of the shapes. Some popular options are hexagons, circles, octagons, really there are no limits on what sort of shape you use in the penny flooring, but the most standard is circles, like a penny.
Sizes: As mentioned above the penny flooring comes in a very small size, resembling the coin that it is named after. All of these tile are under on square inch or one inch in diameter, depending on the shape. This gives a mosaic look to the flooring.
Penny Tile Flooring Styles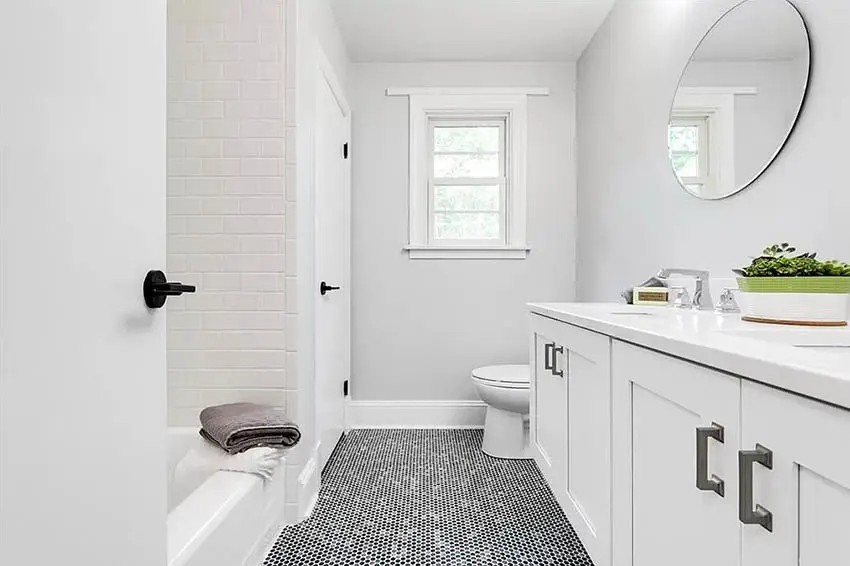 Two of the main styles of penny flooring is tiling and sheets. One is easier and more inexpensive, the other more expensive and difficult for installation. When it comes to patterns and design styles those are all in a personal preference and based on room category. In larger rooms more patterned designs are probably needed, while smaller rooms such as bathrooms can skate by in one solid area.
Tile: Tiling includes purchasing a large group of small tiles and putting them individually on a fiberglass mesh to create a pattern of array of patterns on the flooring. This process also needs to include grouting the tiles. Tiling can be very tedious work, and can wrack up installation costs.
Sheets: Using sheets of penny tiles basically is the same process, except instead of installing tons of individual pieces, there are a bunch pre applied to a mesh and places in sets. This can save a great deal of money on installation, plus it requires even less effort, which you will thank yourself for in the long run.
Penny Floor Tile
Penny floor tile is a lesser known flooring made from real pennies laid down in a mosaic, making it a unique and interesting addition to a space. This type of flooring was used in the early 1900s, but as a classic, it is bound to come back again. Diners and homes were filled with this flooring and then there are great amounts of penny tile accents which are a more modern take on the penny floor style.
The idea behind the penny flooring tile is that it is made up of a massive amount of tiny (penny sized), usually smaller than an inch in diameter each, tiles to create a mosaic look on the flooring. These are most commonly used in wet areas such as bathrooms, pools, kitchens, laundry rooms, etc.
Penny Tile Floor tile Cost
Penny flooring tile can greatly vary based on the material chosen and the size of the area you are trying to cover. Materials such as porcelain or ceramic are the most popular and can start as low as $5.00 per square foot. Colorful mosaics will cost about $10 per foot. For upgraded materials such as marble the cost is around $12 per foot.
Using real pennies as a DIY project run a little over $2.50 per square foot. That price cannot really budge, since you are using the coins themselves as the materials. This does not include the costs for grouts and sealers that need to be used to properly use this penny flooring. When it comes to other tiles they run anywhere from $1 to $2 per square foot, making it less expensive than using coins itself. This material also needs a grout and possible sealers or buffing.
Bathroom Floor Penny Tile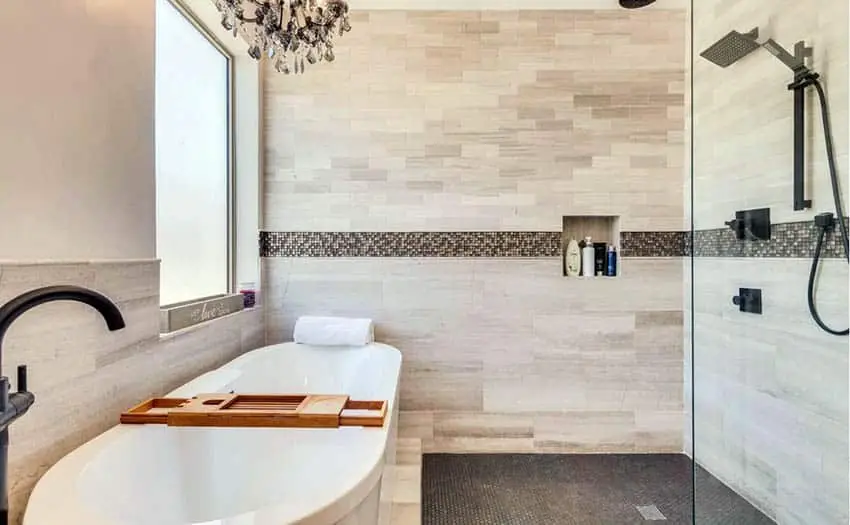 Penny tile is a great asset as bathroom tile flooring due to the usual non slip quality that it contains. With more times and more grout or texture it makes there be a lot of grip to avoid slipping. Not only can the bathroom floor be done in these penny tiles, but they could also be put in the shower areas or on the walls.
A lot of commercial businesses put these types of tiles all the way up the wall for protection and ease of cleaning. This can come in handy in residential bathrooms as well for decorative and practical reasons. In some cases these tiles are used as accents with larger tiles on floors or along the walls.
Penny Tile Kitchen Floor
Penny tiles can also be great for kitchen flooring and backsplashes. The kitchen benefits from the slip resistant qualities and the textured tiles. This type of tile can add an old diner feel to a kitchen or can make an extremely modern and sophisticated space. This can be mixed similarly to bathroom with larger tiles and just the penny tiles as an accent piece. The patterns and styles are endless. As well as the materials being good for areas that could get wet, as they are easy to clean. Read more about different types of kitchen flooring here.
Penny Tile Grout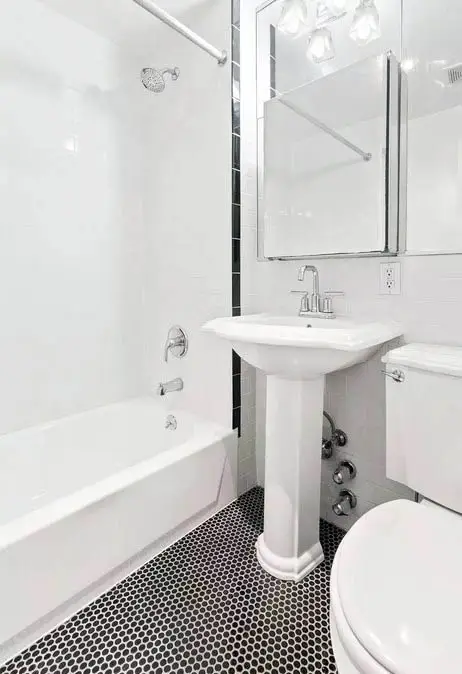 Selecting the styles, colors, shapes, etc for the penny tiles is a task in itself, but it is also extremely important to select the right grout color. Grout is not something that is usually thought about, but it takes up a great deal of the space on the floor or the wall, so getting a color that matches the aesthetic of the space is of great importance.
Not only is the color important, but so is the texture. In a kitchen or bathroom it is likely that someone is going to be walking barefoot which means the feeling of the tiles and the grout can be felt underfoot. This is of great importance to be done beforehand because once the grout is in, it is likely never coming out, especially not after it has dried.
For penny tile sheets with gaps larger than 1/16 of an inch you will want to select sanded grout. For tiles with a smaller gap of 1/16 of an inch you will want to select non-sanded grout.
Pros of Penny Tile Flooring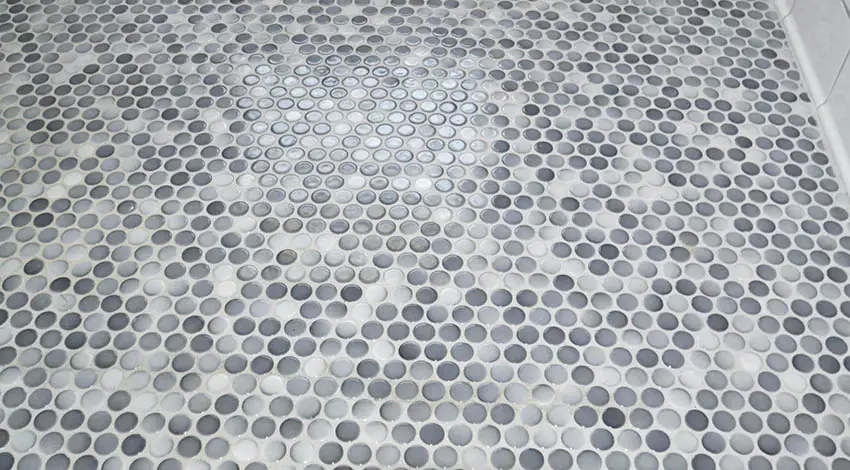 Durable – Penny tile flooring is extremely durable. This is due to gluing down tiles or pennies onto whatever flooring currently exists and then sealing the floor with epoxy or tile sealer. This makes for a strong floor that hold up even in the highest traffic areas.
Stylish – As for the creativity factor, when using real pennies for the flooring the creativity and uniqueness is through the roof.
Matching – As for flexibility, that is pretty limitless as well, as the penny tile type of flooring can be used with practically any design from contemporary to traditional.
Cons of Penny Tile Flooring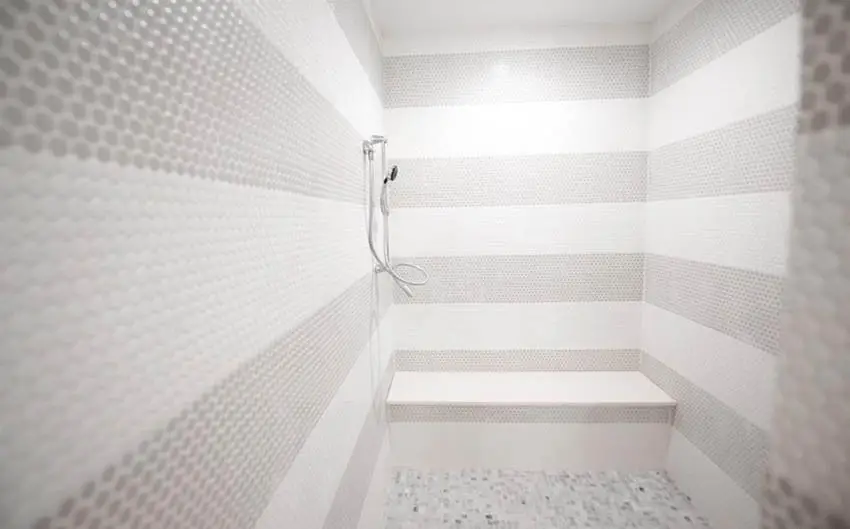 Expense – Unfortunately with pros there must come cons. One would assume that the cost would be down pretty low if you are using something minimal like pennies, but they are actually more expensive than using regular tiles themselves. Compare it to the pre placed tiles that you can get in the store now, and you will likely lean towards tiles versus actual pennies for the base of the flooring.
Installation – In addition to that the time it takes to place all those tiles or pennies on the floor is astronomical. If this is a do it yourself project, the labor can wear you down, so I would recommend starting with a small room so you know what you are getting yourself into.
You should look to have a professional install penny tile to avoid getting a grid look. This happens when grid style sheets are laid down the edges of the sheet are visible.
Cost – If you are having someone else lay the tiles or pennies for you, that labor cost is going to be through the roof. If you do not want to do it, why would someone else? As for removing these after you change your home style or decided to sell, it is not an easy project. This flooring is made to be durable, which means it is not going to come up on its own and it is not going to come up easily, even with help.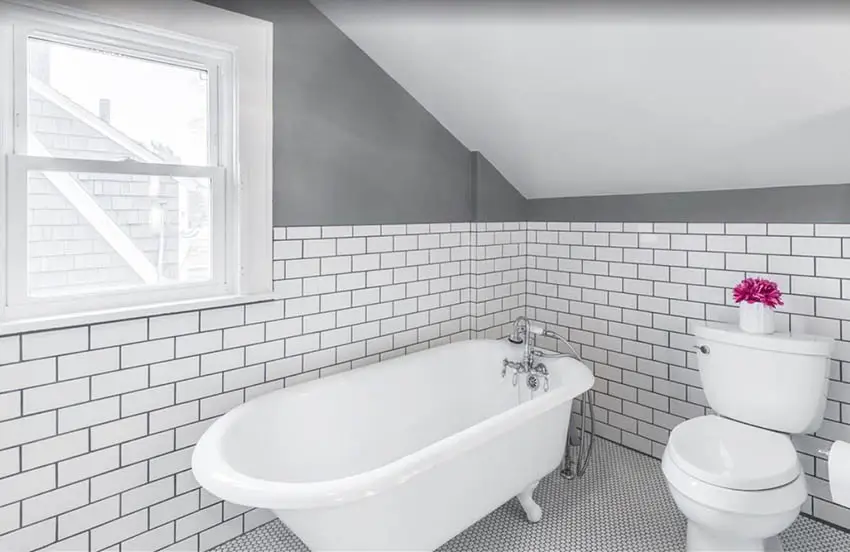 Cleaning – Penny tiles have a lot of grout to clean which can be a lot of maintenance. This is especially true if you have them installed in a high traffic area.
To remove stains from penny tiles you should mix one part scouring powder with one part warm water. Apply the mixture to the stained area and let it sit for several minutes. Then scrub the area with a soft bristle brush and rinse with warm water.
That being said, if the penny look is what you are aiming for it is going to be a lifelong, strong beauty that makes your home stand out from all the others. For another related idea, check out our article about pebble tile flooring here.