Welcome to our gallery of faux wood beams for kitchens, living rooms, dining rooms and bedroom designs.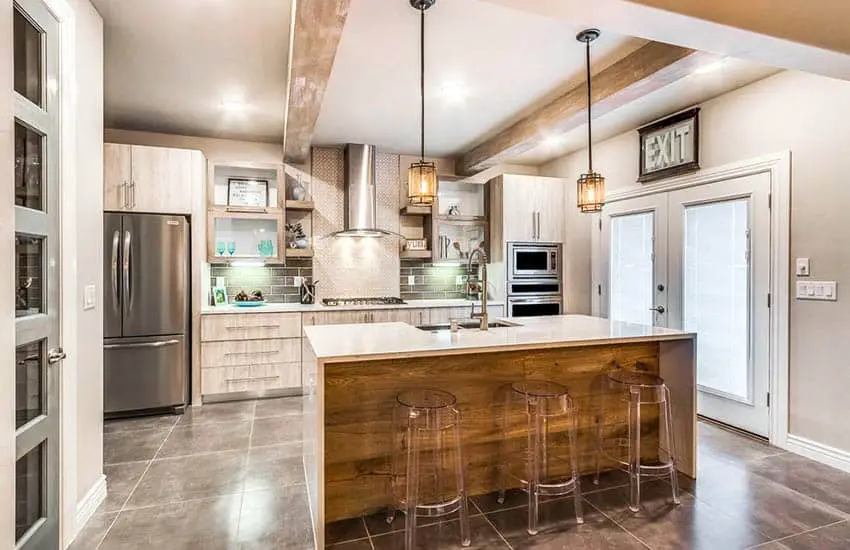 What are faux wood beams? Faux wood beams are essentially high density polyurethane made to look like wooden beams, but not hold the same weight. That being said, there are also a few other types of faux wood beams that can be made that possess different qualities than the engineered faux wood (the polyurethane mentioned above).
Sometimes these beams are made from Styrofoam. Other times they are made from laminate wood. There are other options that will be briefly discussed but for the most part we will refer to the engineered (polyurethane) faux wood beams.
Faux wood beams will be lightweight and much easier to install than the actual thing. However, they are only an aesthetic piece, not capable of stabilizing any form of structure.
Faux wood beams are used when the look of exposed wood beams is highly desired, but the budget does not favor them. Faux wood beams are also used in cases where there is fear that the wood will become rotted, cracked or warped, since polyurethane does not do that like real wood does.
Where to use faux wood beams?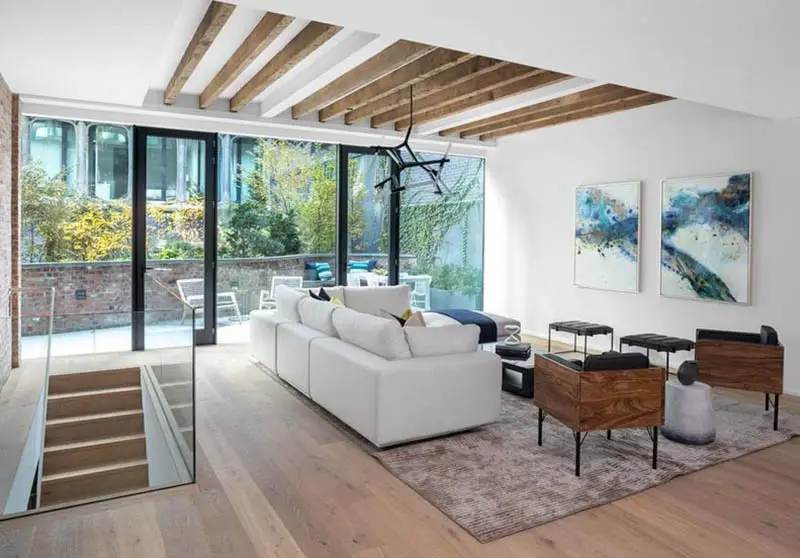 Faux wood beams are used in a variety of places within the home, each helping add a wood look to the room, without going overboard! Some of the most common places faux wood beams are used are below:
Faux wood beam ceilings are one of the most common uses for faux wood. Unlike wood, faux wood beams are lightweight, which makes them quite a bit easier to get to defy gravity and stick on the ceiling. Adding a wood look to the ceiling is a great contrast point to a typically all white surface. Not only color wise, but adding dimension to the ceiling will make a home feel warm and inviting.
A mantel is a decorative shelf above a fireplace, this is typically a built in piece and is the focal point of a living room or family room. A mantel is not something that you want to carry much weight itself, since often items are placed on top of it.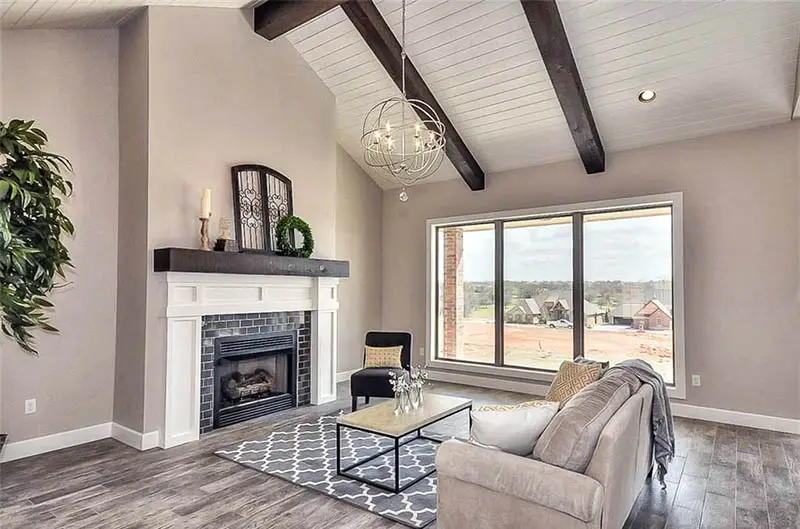 Faux wood will give a lightweight option to be places surrounding the fireplace. Not only that, but since the faux wood beams are typically hollow to contribute to the lightweight factor, they can also have cord running through them. This allows for most of the wires running to any electronics hooked up above the fireplace to be neatly tucked away out of eyesight.
Another great reason faux wood may be better than real wood near a fireplace is the flammability and the options for fire resistance that faux wood beams offer.
Often in buildings there are unsightly beams and poles that structurally belong, but aesthetically do not. Faux wood can come in handy with this by covering existing support beams with faux wood. This option allows you to leave the structural beams in place (which is not really a choice if you would like your home to stay standing) and not mess up the beautiful interior space.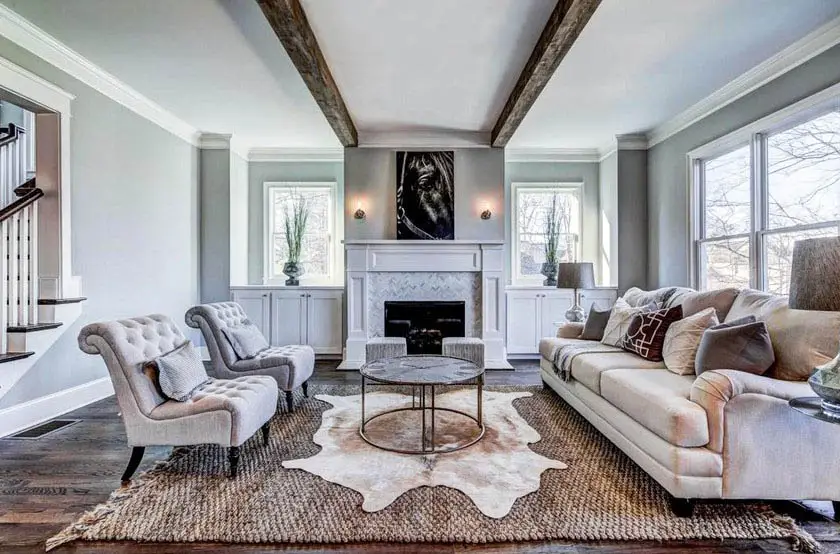 When using faux beams on the ceilings or in other space in the home this type of use will not even look like a cover up, but will help the entire environment flow together.
Framed doorways are a great place to add interest to the home. In arches and doorways there is commonly a frame, which can be enhanced with faux wood to take average door trim to a focal piece of the space. Not only will the door way be practical, but also will carry the faux wood look from one area to another since the doorway will the entrance and exit point of spaces it separates.
Not all hallways are created equal, so not all of them need to be boring! Spicing up a hallway with wood beams is a great way to add way finding in long halls and also flow within the home. Adding long faux wood beams encourages the user of the hallway down, adding some the width of the corridor can stand as a signal that there is a change, such as another hallway or a room that can be entered. This helps the users find their way in complicated hallways.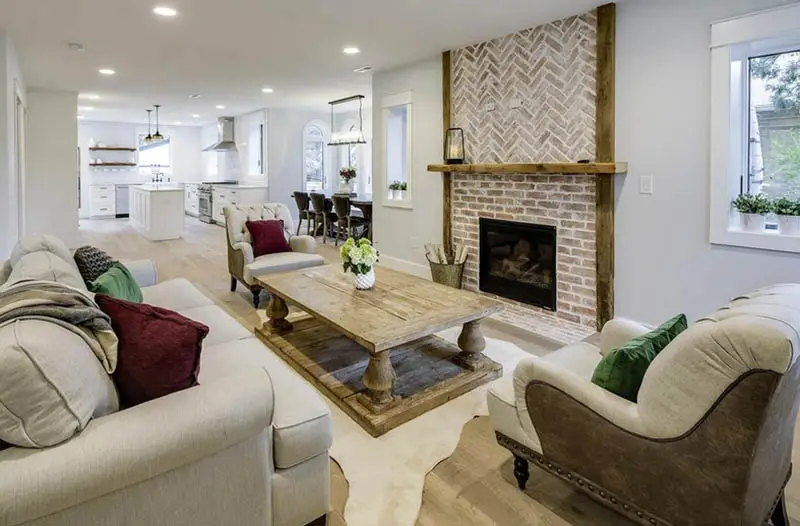 Not only can the faux wood beams be on ceilings and door frames but also on non-support columns. Faux wood beams being added to vertical portions of the home take the wood look to the next level appearance wise. Usually adding columns will require them to be in inconvenient spots and are more of a trying to cover something up appearance, but with faux wood, since they are not structure bearing, they can be put anywhere! These can help divide up spaces with a nice wood flare.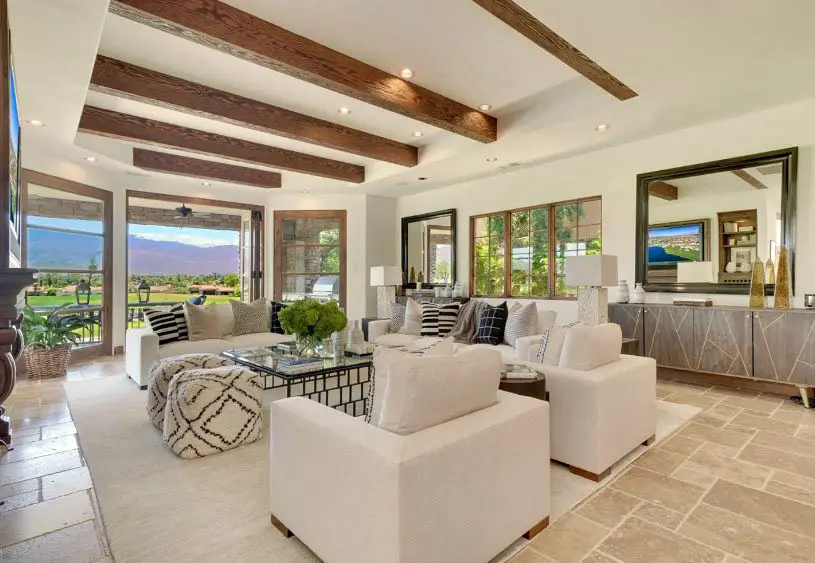 Outdoor covered patios are a great used for faux wood beams. These beams hold up a great deal better to the elements than the real wood beams. Faux wood beams do not rot or get water stains. They also are not susceptible to insect infestation or mold causing decay in the beams. On top of that, faux wood beams are scratch and chip resistant.
These factors are because the rain, condensation, and pests will not be able to penetrate the faux wood beams. This makes them way less likely to need to be replaced over time. The high density polyurethane used to create the beams does a great job at protecting itself and is great for outdoor spaces aesthetically and functionally.
What are some types of faux wood beams?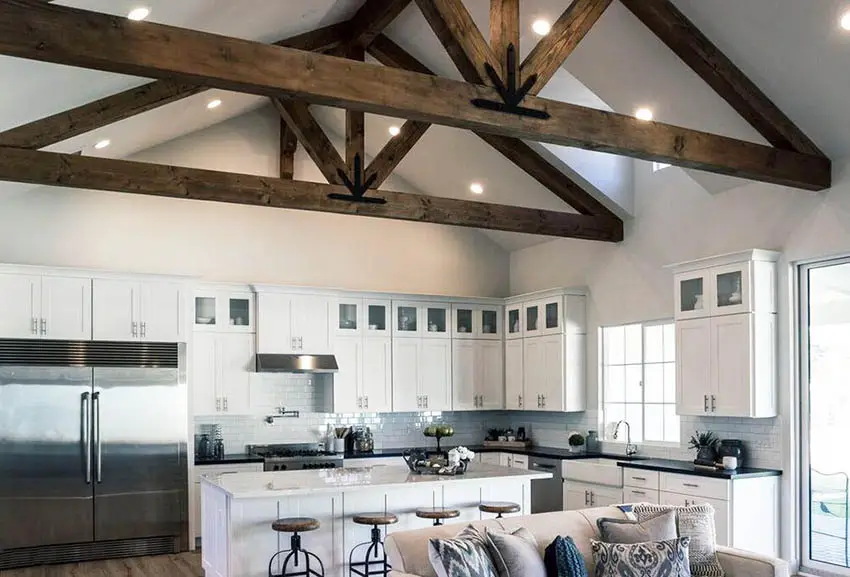 Kitchen with cathedral ceiling and wood beams.
After deciding where the faux beams are best used, you get the fun part of picking the style to use. There is a tremendous amount of styles that can be produced from faux wood based on the color, texture and amount of distress. Some of the more common styles implemented with faux wood beams a are below: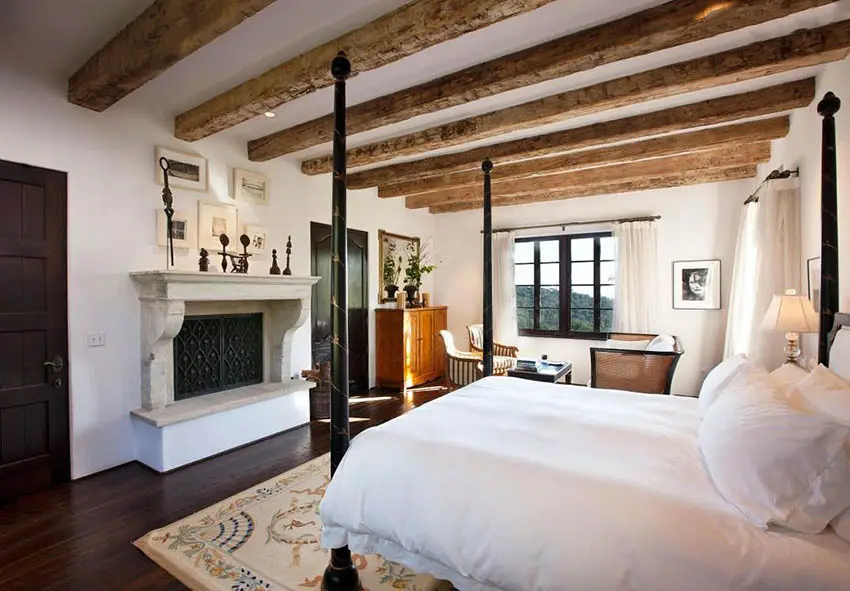 The Rustic style commonly contains beams that a rough and have a textured surface to show off the grooves and ridges in the wood. (In the case of faux wood it will be designed to resemble these features). These replicate the Early American styles and are also used for outdoor elements.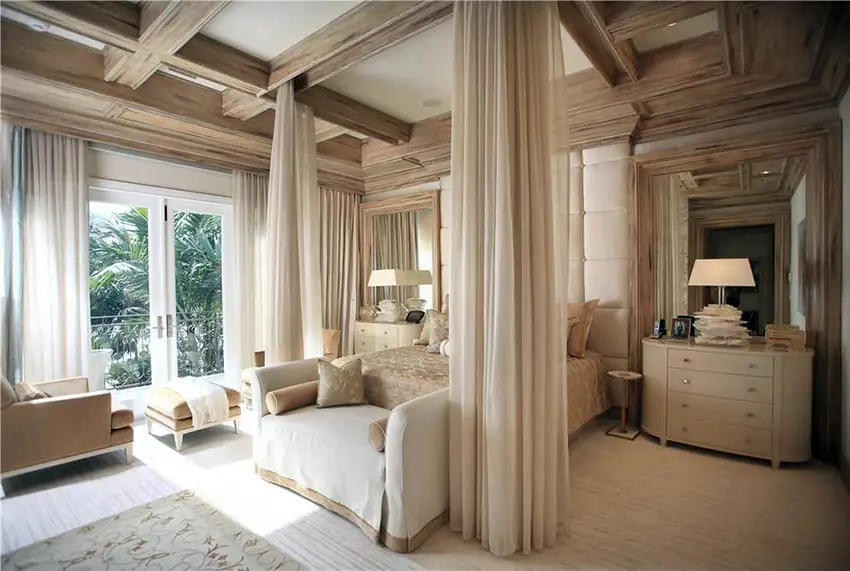 The Contemporary style can be portrayed with a softer, smoother beam with more classical wood grains. These beams are smoothed out in contrast to the rustic style, removing and grooves and ridges for a finished look that can be painted any color if so desired. The bedroom featured above uses beams arranged to form a box beam ceiling design.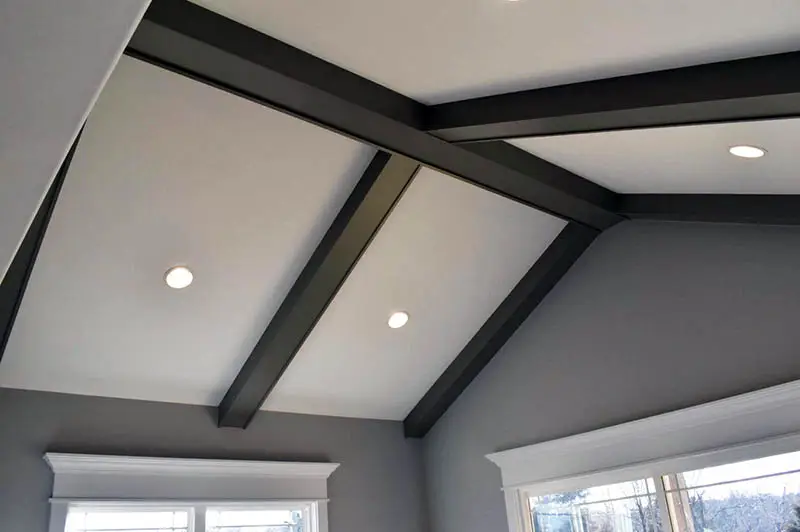 Contemporary style faux wood come in many different colors and styles. Depending on your preference they can range from looking very realistic and constructed from real wood to more modern and sleek.
What are faux wood beams made of?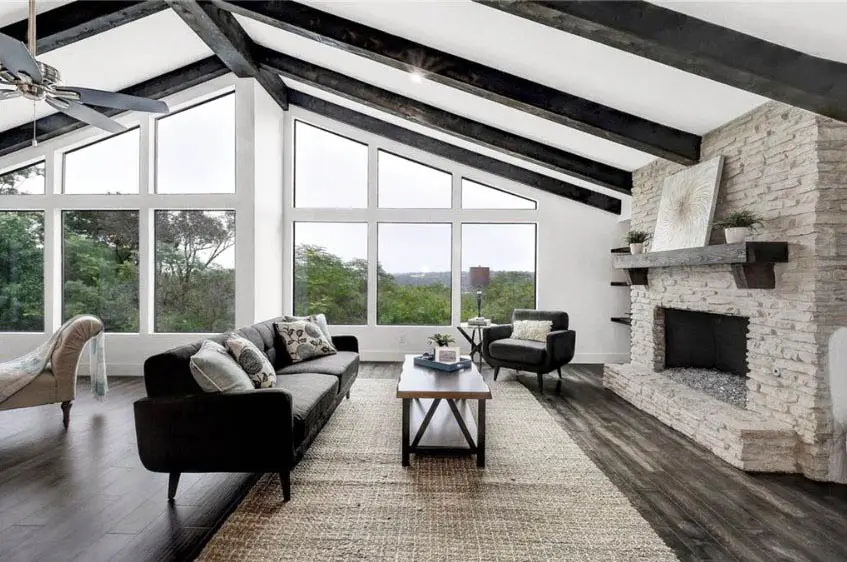 There are four main types of products that faux wood beams are made from. Each is used for a slightly different purpose, but typically have the same look to them. Those four types are below: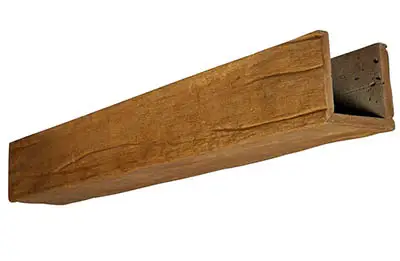 Engineered wood beams are common and are made from high-density polyurethane. This has the qualities which are most referred to in this article, though it lines up with most other types.
Laminate wood beams will be made of a laminate product (as the name suggests) which is a synthetic product with multiple layers fused together with melamine resin and fiber board. On top of those layers is a photographic later and then a clear protective layer. This product is most similar to wood in the water resistance and pest infestation qualities, without the weight of wood.
(See this faux wood beam at Amazon)
Foam wood beams use endurathane as its main component, which is a low density, highly efficient insulation. This product will also contribute to sound absorbency in the space. Foam beams have the same qualities of wood appearance, not susceptible to water damage, chipping, scratching, insect infestations, etc. These will be extremely lightweight and are quite affordable.
Faux wood wrapped beams will be existing beams – meaning the material varies based on location and construction type – wrapped in the engineered faux wood mentioned above. Depending on the material the existing beam is made of will affect some of the qualities of the faux wood beam. While the faux wood beam will be water and insect resistant, it is not to say that the materials behind it will be as well.
What sizes are faux wood beams?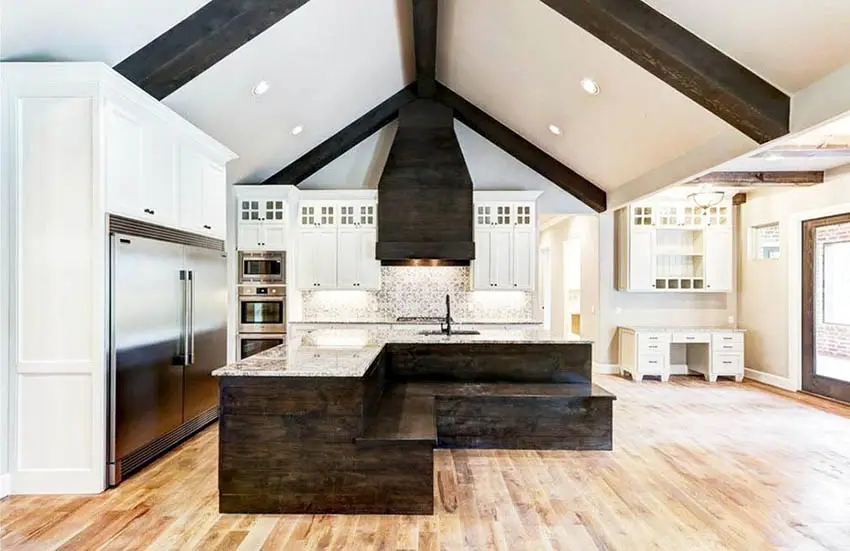 Faux wood beams come in many shapes, sizes, and colors, because they can! Some of the standard options that are typically in stock will be 8 feet long, but can range up to 16 feet in length. These will be extremely easy to cut to the desired size, and can be custom made to accommodate almost any shape and size that can be needed in a project.
Faux wood beams not only come in a straight length, but can also be curved for archways or other decorative surfaces. Often special requests such as this or odd lengths can cause longer lead times as well as higher costs.
Can you do a DIY for faux wood beams?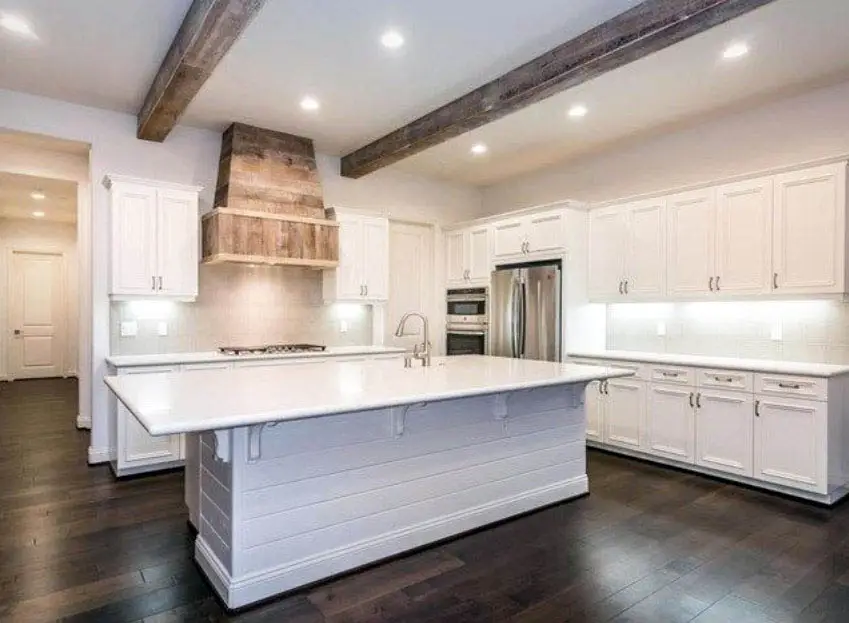 Faux wood beams have an easy installation that most home improvement savvy individuals should be able to tackle on their own. Depending on the materials chosen, size, and location of the beams installation should be easy. A lot of the time when doing the DIY faux wood beams it will used laminate, since engineered and foam are typically bought in large pieces so take a bit out of the "doing it yourself aspect".
Pictures of faux wood beams for interior design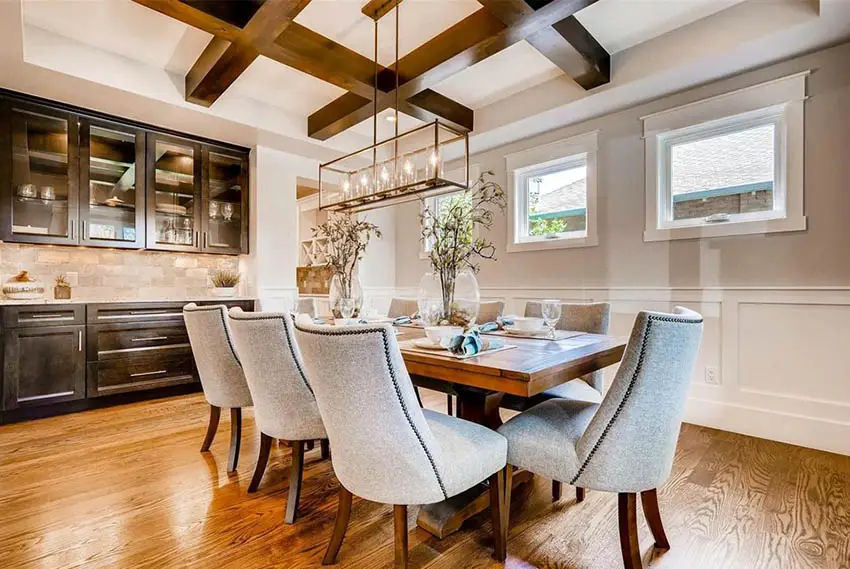 Dining room with wainscoting and criss-cross faux wood design.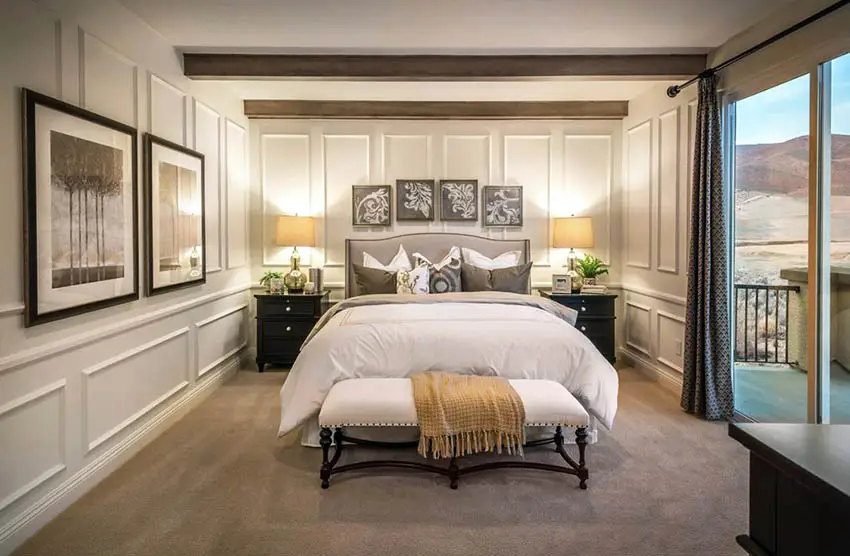 Beautiful master bedroom with faux wood and white wall panel wainscoting.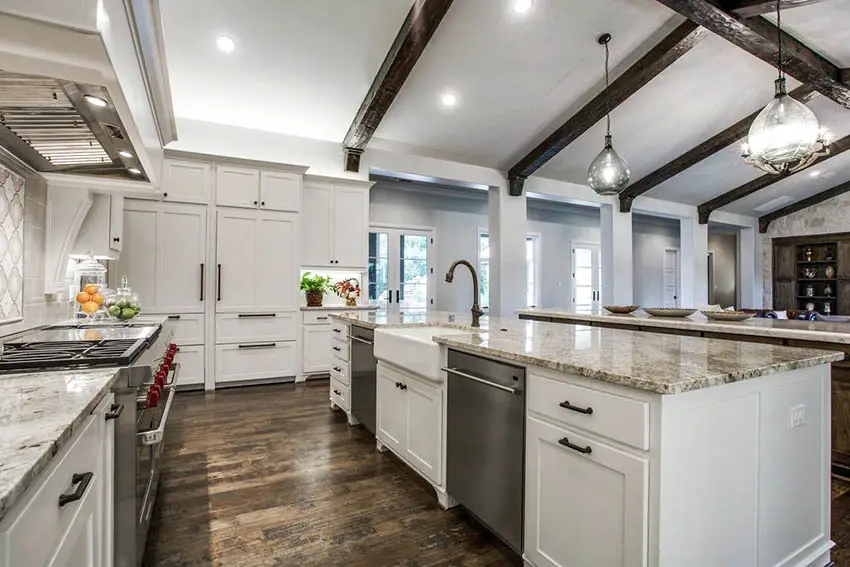 This open concept kitchen features white cabinets and dark faux wood beams with a vaulted ceiling.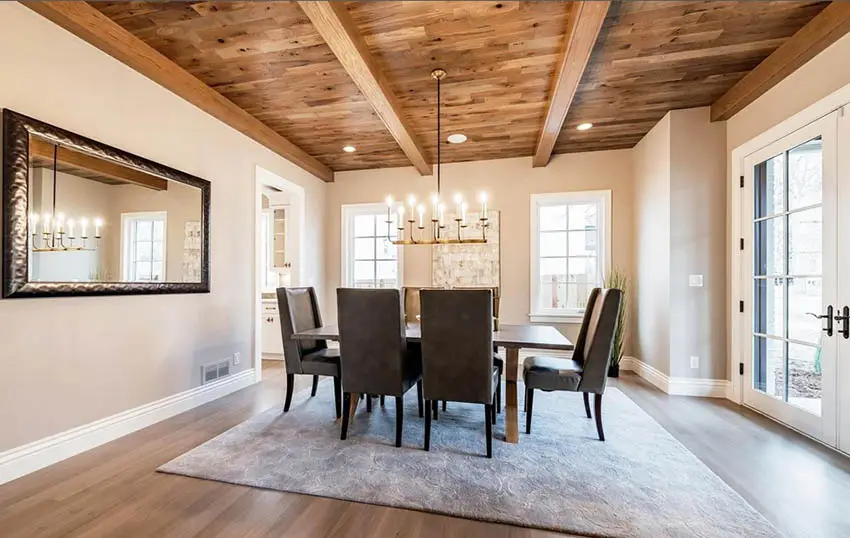 Dining room with wood ceiling and decorative faux wood beams.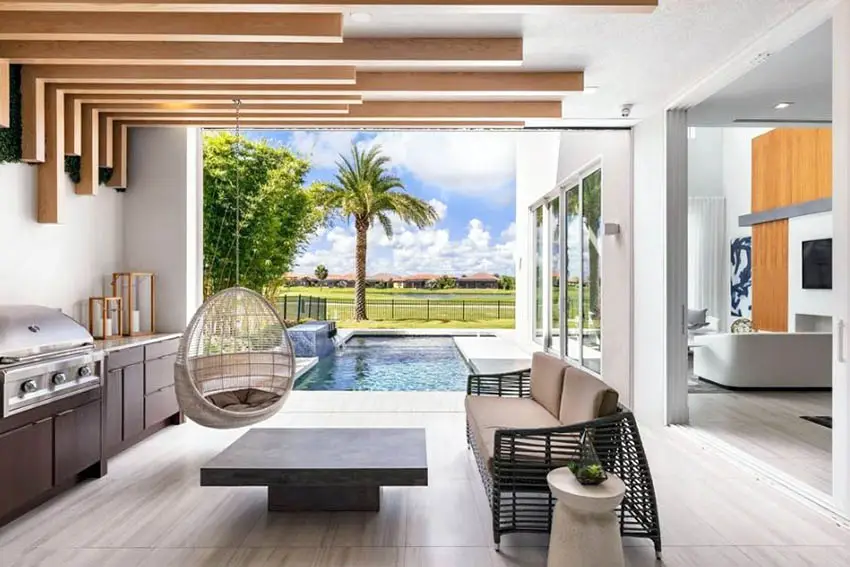 Modern outdoor living room with faux wood ceiling, swinging chair and outdoor kitchen. For more modern patio ideas visit our gallery page.