Here we share cathedral ceiling design ideas including popular types of lighting and pictures of them in living rooms, bedrooms & kitchens.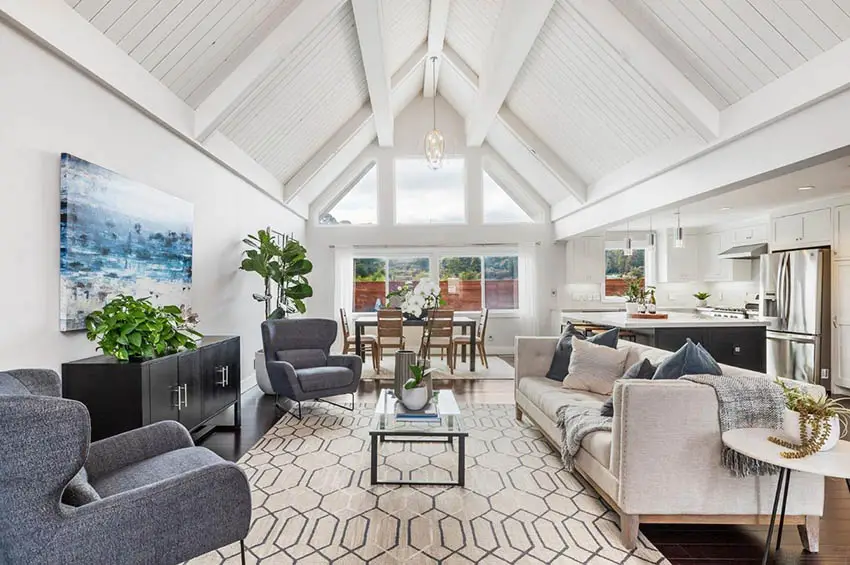 A cathedral ceiling can draw the eye upward creating a grand impression and add drama and ambiance to a room. A cathedral ceiling design can help make a space feel larger by providing a feeling of openness. Rooms with vaulted ceilings often have large windows giving them the benefit of addition natural light.
What Is A Cathedral Ceiling?
By architectural definition, a cathedral ceiling has symmetrical steep and equal slopping sides joining at a higher point in the middle of the room and usually conform to the pitch of the roof structure.
The term cathedral ceiling originated from the design most popular with cathedrals, and so the style was particular to describe the certain type of element of a ceiling design now widely use in both traditional and modern residential architecture.
Cathedral vs Vaulted Ceiling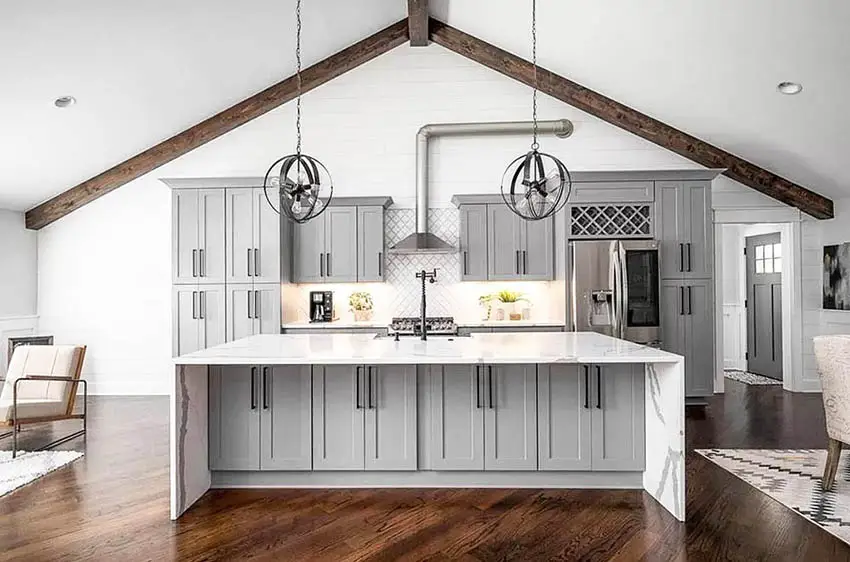 A cathedral ceiling is also known as a vaulted ceiling, but while the cathedral ceiling has equal sloping sides that are parallel to the pitch of the roof; the vaulted ceiling does not have two equal sloping sides that are similar to the roof's pitch.
Vaulted ceiling as defined in architecture, slopes upward from both sides to form a peak and constructed with a self-supporting arch in the form of an arched or barrel shaped ceilings.
Unlike the airy cathedral ceiling, the vaulted ceiling does not have to be the same pitch as the roof and could have a single slope and uneven sides. Unlike the cathedral ceiling, a vaulted ceiling can have a curved or an ached shape.
Both cathedral and vault ceiling extend higher than a flat ceiling and create an illusion of larger more elevated space overhead, adding air space and increases the natural light in the room especially when installed with skylights or roof windows.
Both ceiling designs can greatly improve the character and overall beauty of a home. A cathedral or vault ceiling can create a more interesting design by incorporating unusual detail which help add tonal warmth, elegance, and grandeur to any room.
Cathedral Ceiling Lighting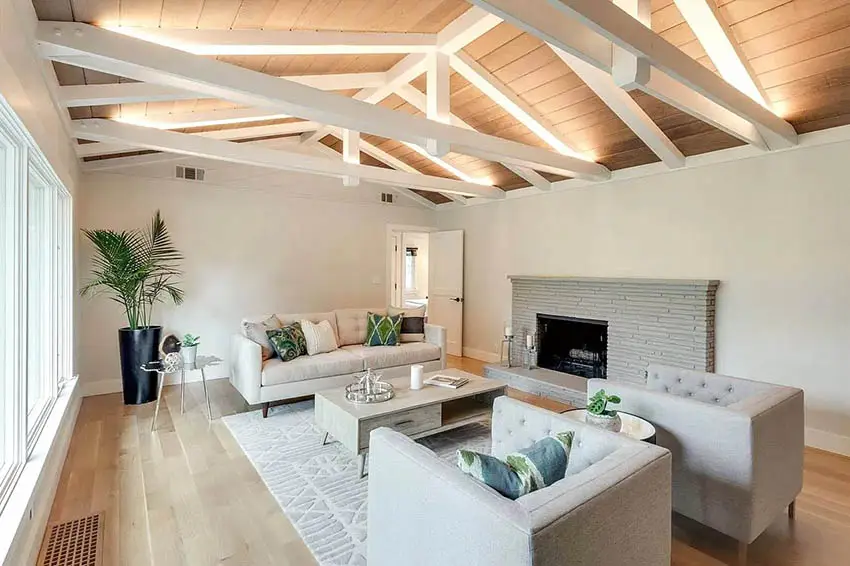 Having a sloped cathedral type ceiling has its own challenges and requires special considerations especially in finding a suitable lighting solution. Cathedral or Vault ceiling requires several layers of light to brighten the extra space overhead while making sure the light shines in the right direction.
Here are some things you need to consider in planning and installing lighting fixtures in your design.
• Be mindful of the amount of light you require in a room.
• Consider the areas which needs to be illuminated – indicate which part or spot in the room that needs maximum lighting or any architectural features you want highlighted.
• Measure the highest and lowest point in terms of ceiling height as well as the height difference of the walls in the room.
• Take into account the floor plan and the design concept of the room.
• Consider all existing beams and exposed trusses that line the sloping ceiling planes.
• Calculate the number of watts level required for a cathedral or vault ceiling.
o Measure and multiply the width by the length of the room and multiply the number by 25. This calculation will give you the approximate watts needed to illuminate the room.
o The total number of watts can be distributed within the quantity of lights to be used to allocate enough lights and create layers in the room.
Types of Lighting Fixtures for Cathedral Ceilings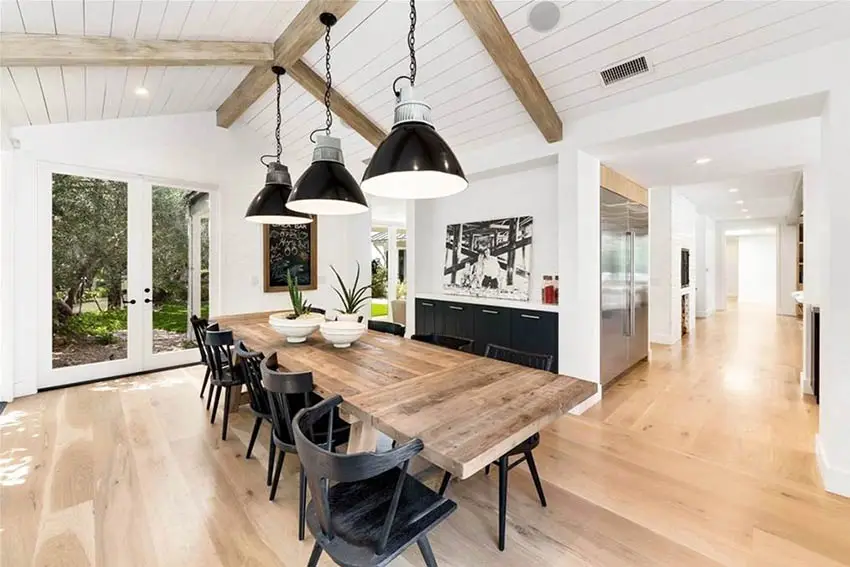 We would also like to suggest ceiling light fixtures suitable for cathedral or vaulted ceiling.
• Pendants and Chandeliers – This will bring the light to a more standard level for a tall or high ceiling type.
• Linear lights – These light fixtures are perfect to be installed along the ceiling edge to highlight the beams and add drama to the room's ambience.
• Recessed lights – Installing shovel-cut cans recessed lights that are angled on vaulted ceiling at a 45-degree slope allows light to shine straight down and work wonders in the room.
• Track lights – These types of lighting fixtures work best for kitchens with a sloped vaulted ceiling as well as any area of your home. By using track lights, you can easily adjust the lamp heads in the direction where you need most of the light. This addition can enhance your overal decor and show off different angles and details.
• Cable Lighting – These are lighting fixtures similar to track lights but without taking a lot of visual space. Cable lighting are the best option to use when you have exposed huge log beams and you want to highlight this architectural structure of your ceiling.
Cathedral Ceiling Ideas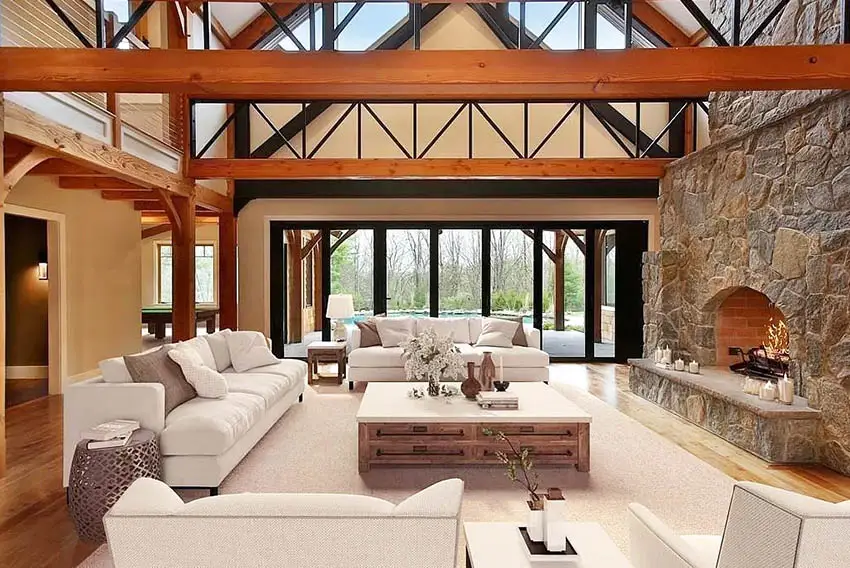 Designing cathedral ceilings showcases several features such as installing support beams or striking hardware fixtures which create a unique and distinct combination with the beams.
One of the most popular cathedral ceiling design is where the ceiling follows the roof line in a symmetrical design using a drywall finish which lines the sloping ceiling planes and would form a ridge in the middle.
Tongue and groove planks – Using tongue and groove boards or plank and beam design in high ceiling creates a dramatic impact to the extra space and adds visual contrasts. This design element lends a touch of elegance to the overall decor of the room.
Wood trusses & beams – Another design concept is combining squared trusses, horizontal beams and wood paneling help create a contemporary cathedral ceiling look a bit retro and cozy.
Skylights – Installing skylights is another design feature a cathedral ceiling may have. These skylights allow natural light to brighten the room and the upper part of the ceiling; plus, it offers extra ventilation for the room.
Cathedral Ceiling Living Room
When decorating a living room which has cathedral ceiling always consider matching the size of the furniture with the room size.
Locate proper lighting points in the ceiling which will highlight focal points in your living room, choose appropriate accessories and décor products that will emphasize the high ceiling and create an elegant design feature in the room.
Always remember to keep the design style and color scheme of your living room cohesive to give your living room a fresher and more relaxing ambiance.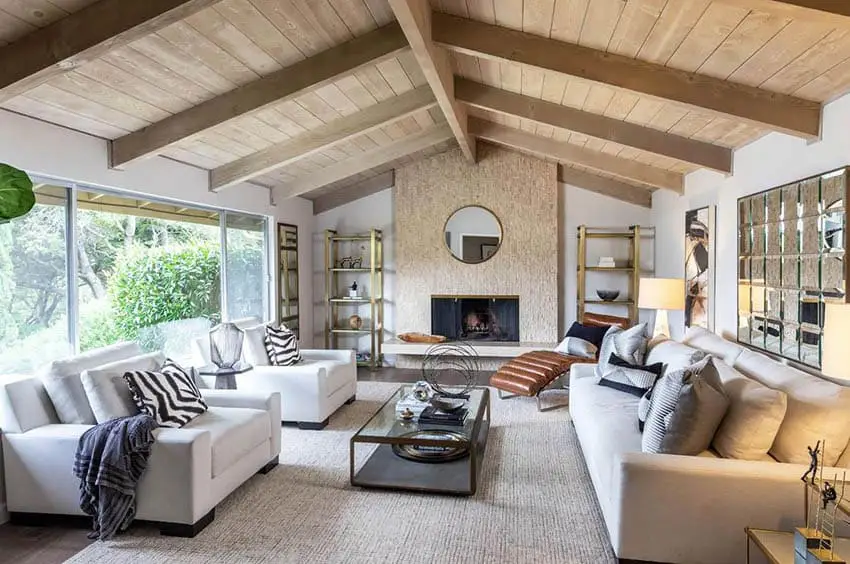 This wood plank ceiling provided visual interest and brings a natural feel to the space.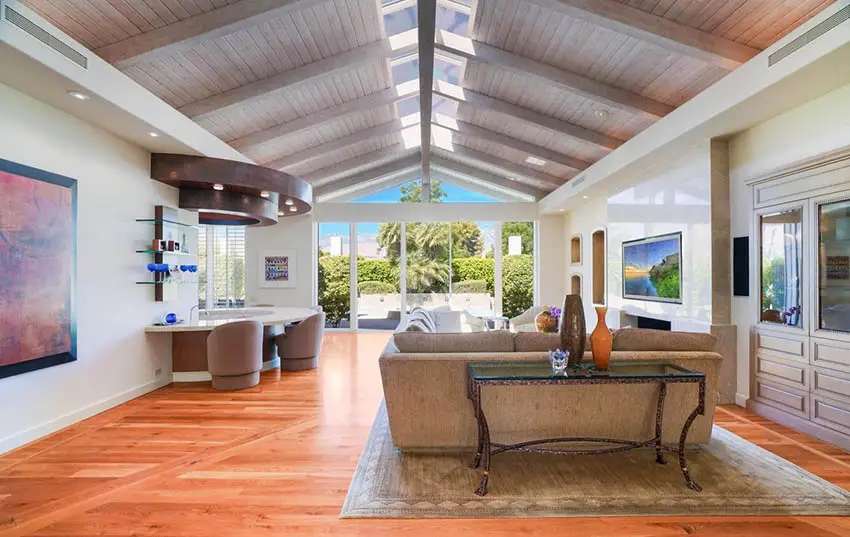 Mid century modern living room with high ceiling skylights.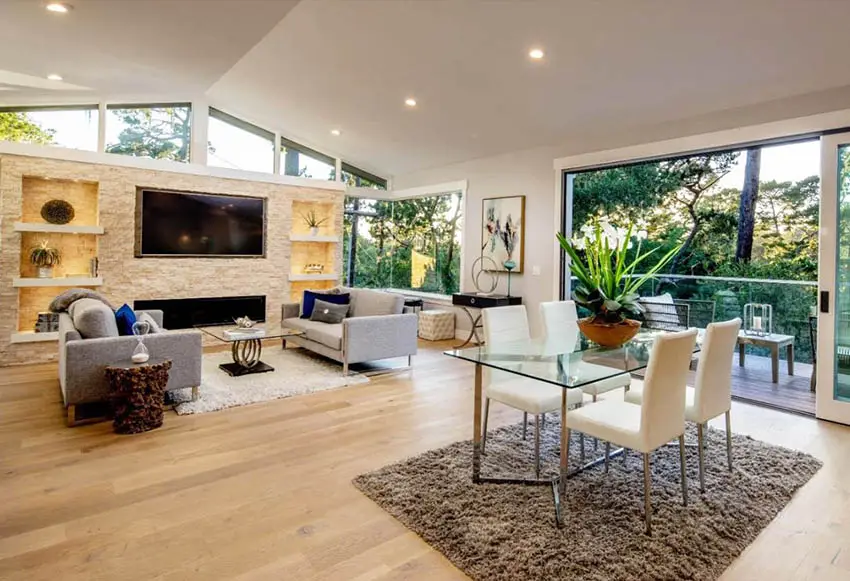 Modern living room with stone built in shelving and gas fireplace with subtle vaulted ceiling design.
Large living room with high vaulted wood beam ceiling and stacked stone fireplace.
Inviting living room with bright white ceiling and two chandeliers.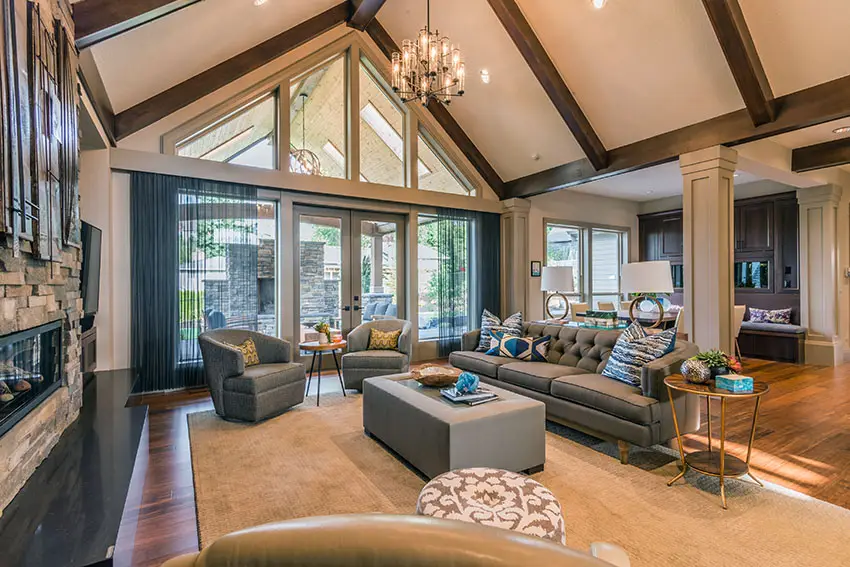 Contemporary living room with vaulted ceiling and gray furniture and granite stone gas fireplace.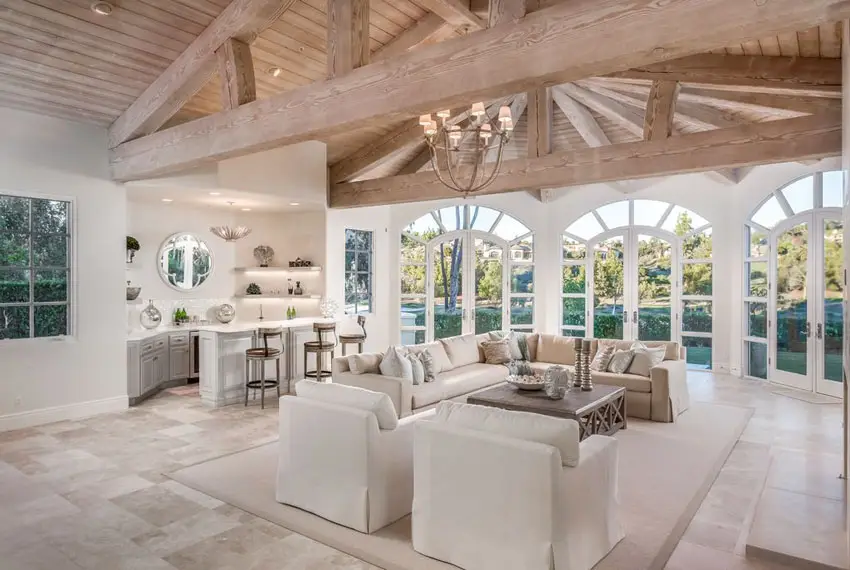 This luxurious living room offers a stunning wood ceiling design with attached home bar.
Cathedral Ceiling Kitchen
A cathedral ceiling is an architectural feature which creates a huge stunning effect when incorporated in your kitchen design since it gives the room a more dramatic effect.
Innovative rafters, such as heavy timber beam helps provides a unique detail and good vibe in the kitchen area. This luxury transitional kitchen with two islands has open wood beams and rich wood finishes.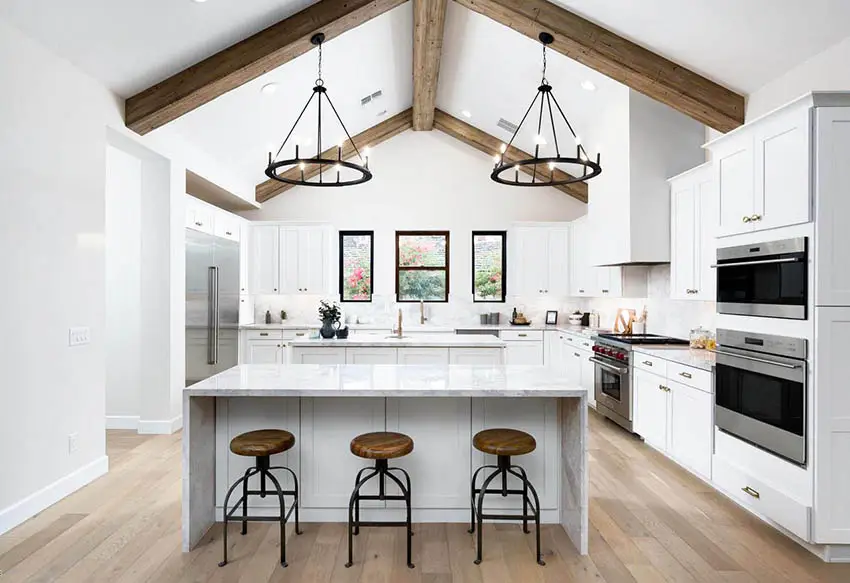 Contemporary kitchen with high ceilings and open wood beams, white cabinets and quartz countertops.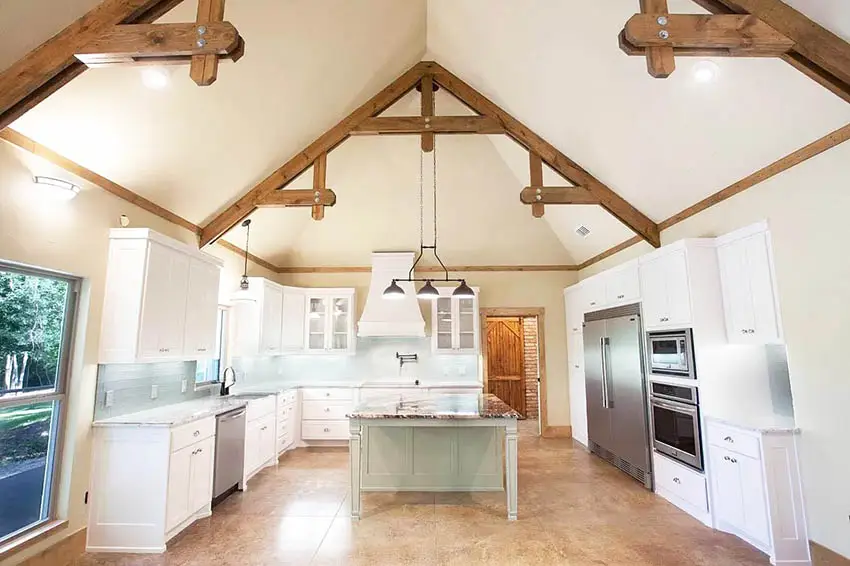 Kitchen with interesting wood truss design, linear pendant lighting and white cabinets.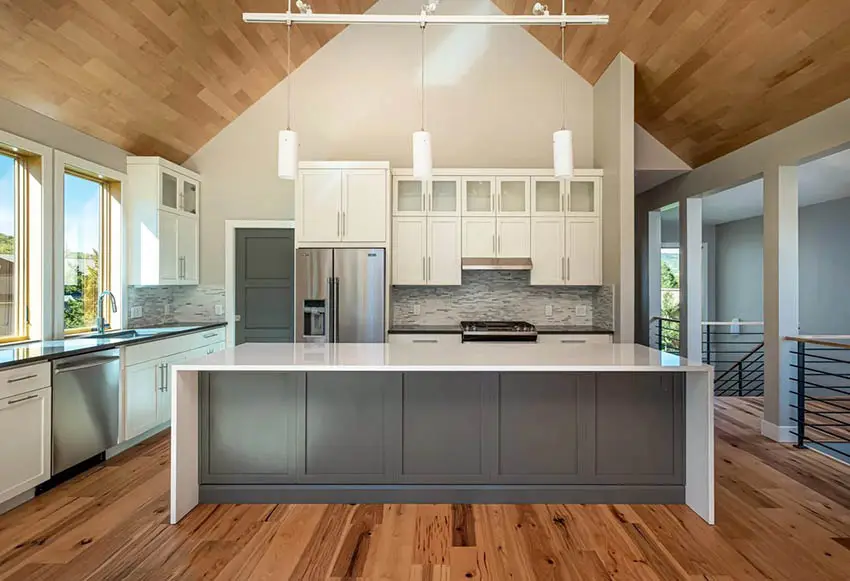 This contemporary kitchen with wood ceiling design looks stylish with its updated finishes including gray cabinets, white quartz countertops and frosted glass pendant lighting.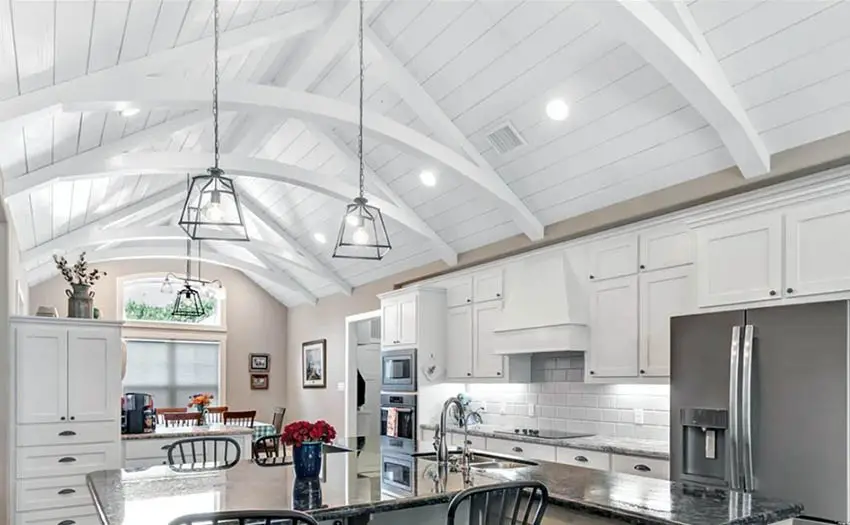 This expansive kitchen layout is made even more grand by its high ceiling with arched support beams, which adds a unique personality to the space.
Creative ceiling designs, such as this one, can take advantage of the room's height and provide various options such as recessed lighting, chandeliers, track lighting and other fixtures.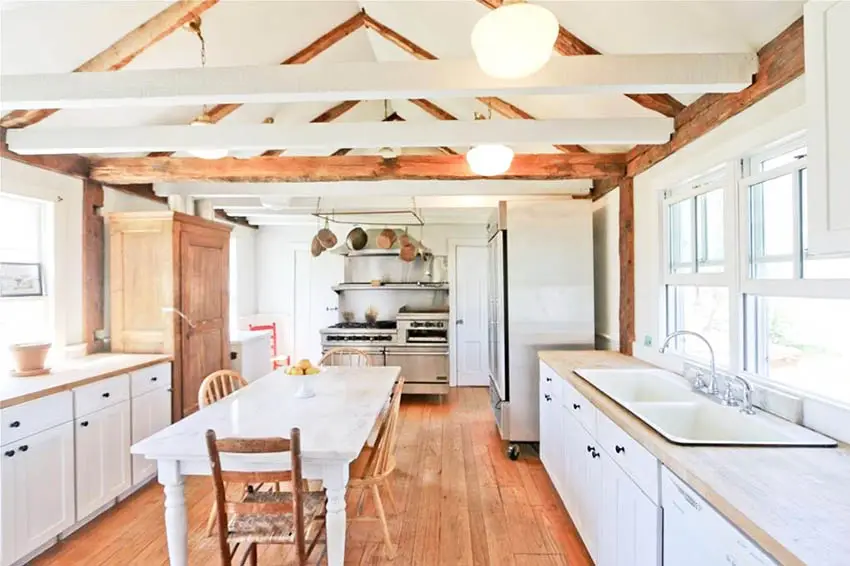 Country kitchen with rustic open beam ceiling and white cabinets with butcher block countertops. The choice of solid wood beams paired with wood countertops and white cabinet materials in this design adds warmth and charm.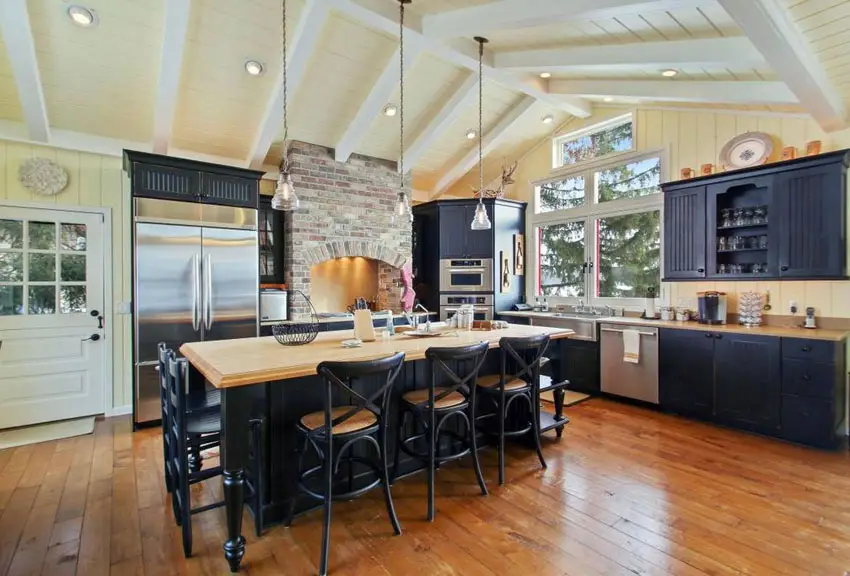 This country kitchen design features black cabinets with plenty of contrast through its bright yellow wall and ceiling paint and wood butcher block countertops.
Kitchen with vaulted ceiling, wood beam, white cabinets and black quartz countertops.
Cathedral Ceiling Bedroom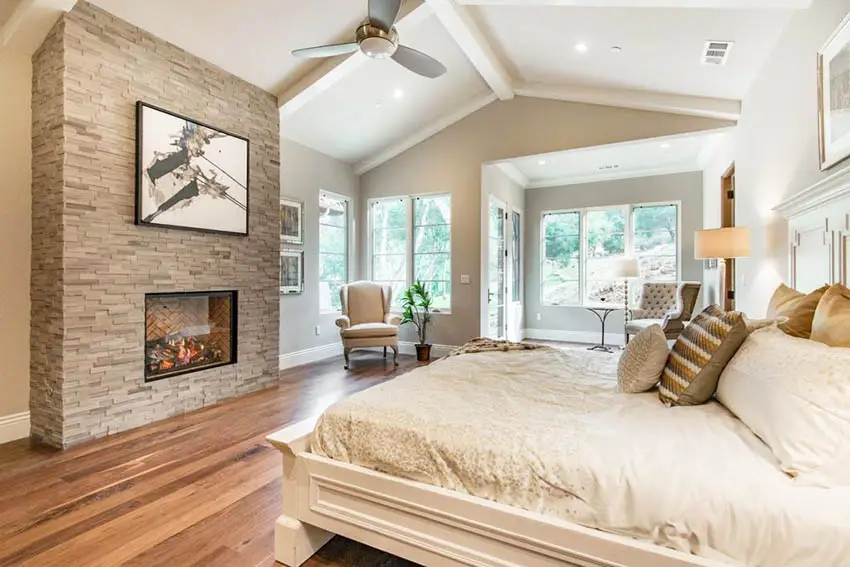 When it comes to architecture, bedrooms are designed to be a true sanctuary for rest and relaxation. Cathedral ceiling in bedrooms can add a stunning level of elegance to your private abode.
This design feature makes the room feel larger and create a brighter ambience. Wood beams, groove panels, and planked ceilings are just a few accents and features which produce a variety of contrast to the bedroom design scheme.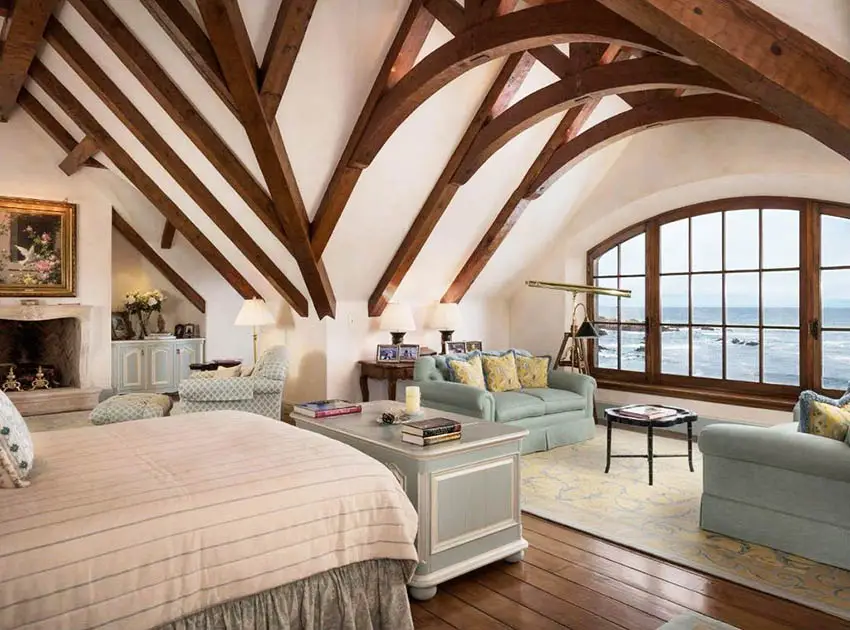 Traditional master bedroom with cathedral ceiling wood flooring.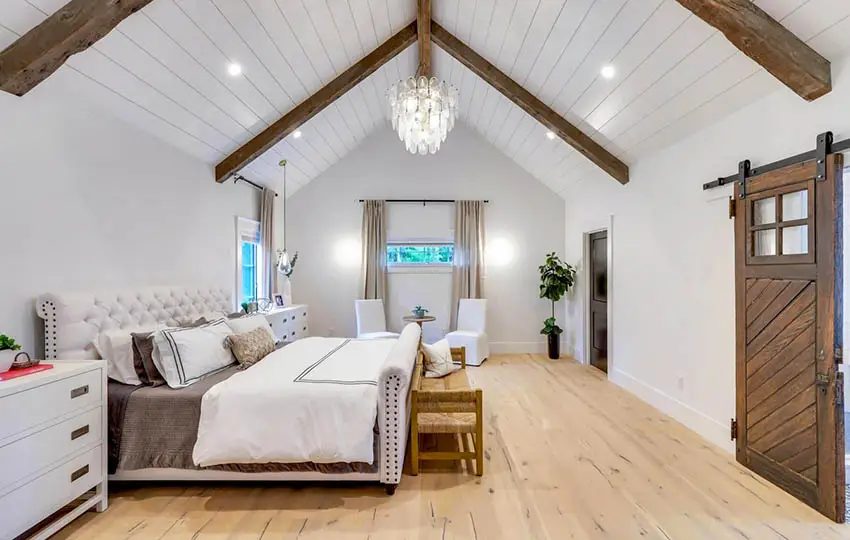 Modern farmhouse bedroom with rough hewn wood beams and shiplap ceiling. Shiplap ceiling designs that are painted white can help dramatically brighten the space.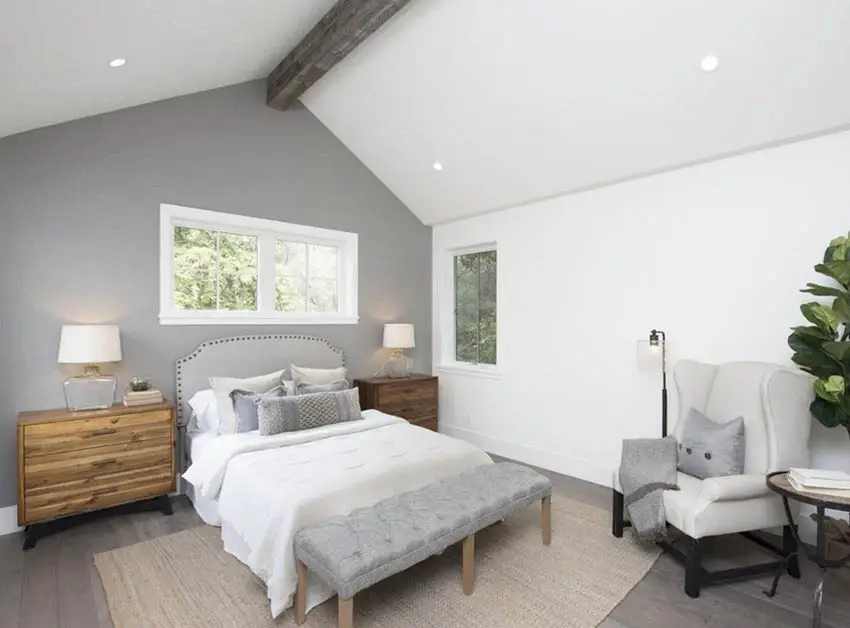 Master bedroom with vaulted ceiling, single faux wood beam and gray accent wall. The higher ceilings provide a roomy feel.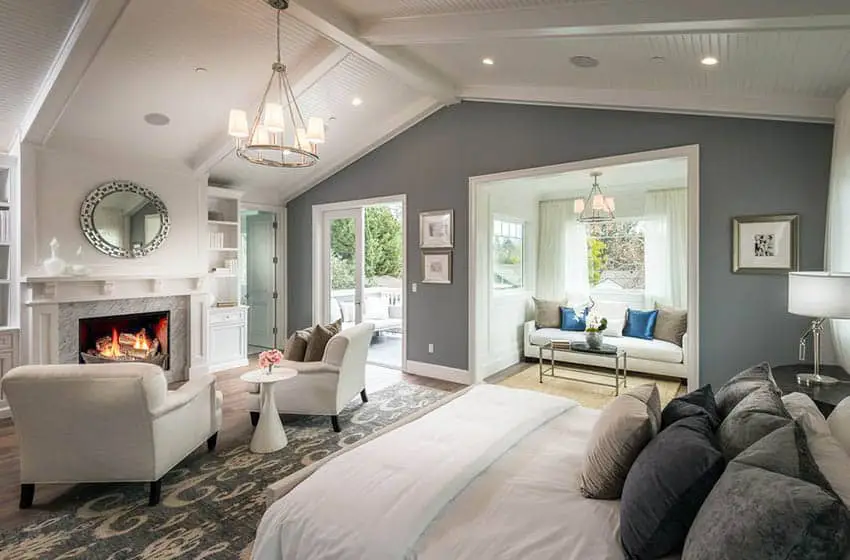 This inviting stately bedroom design with separate sitting area has an inviting fireplace and painted tongue and groove ceiling.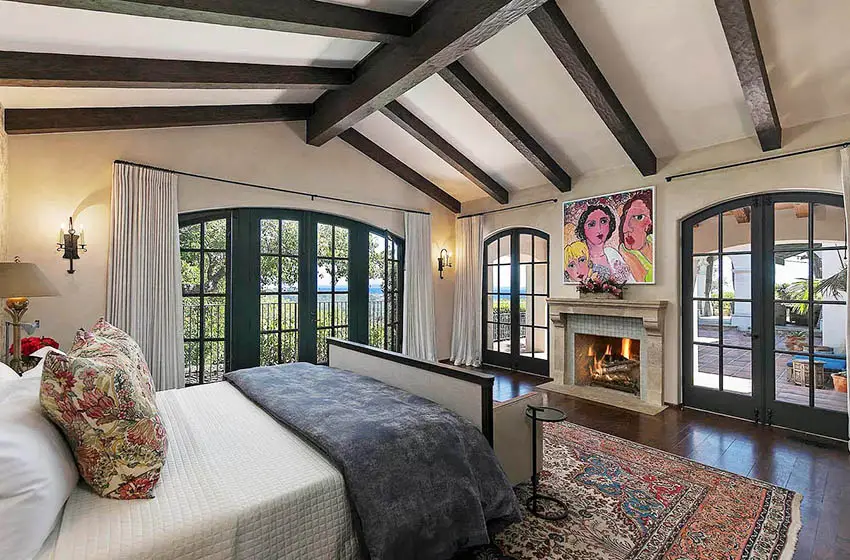 Mediterranean style bedroom with cathedral ceiling and wood beams enhances the majestic feel and spacious layout to provide a sense of luxury.
For another related picture gallery visit our tray ceiling ideas page, where you'll find additional tips and inspiration to transform your space.