Welcome to our guide of tray ceilings design ideas for the living room, bedroom, dining room, bathroom and kitchen.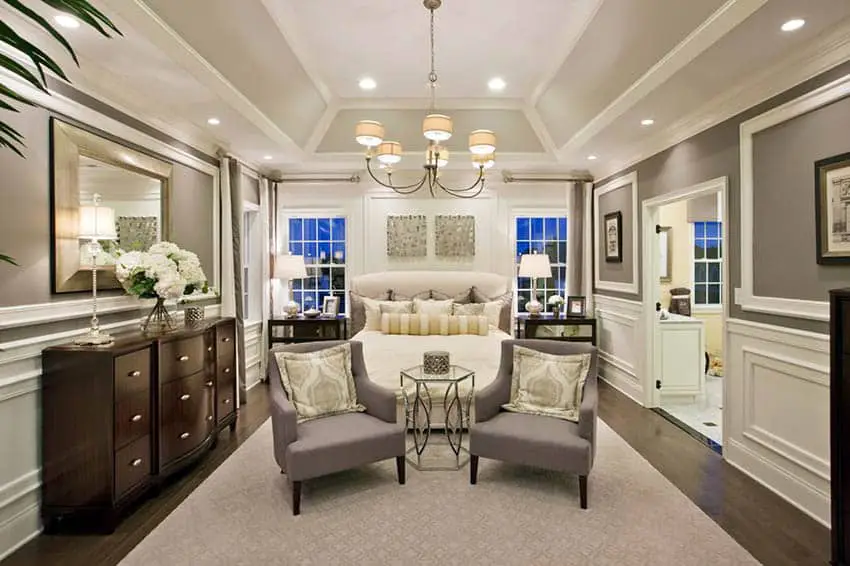 Almost every aspect of your home can be modified to meet your exact design and structural preferences – your ceiling included. There are a number of different ceiling designs that you can use and each one has its own styles, costs, and benefits. Here, we're going to look specifically at tray ceilings in depth to help you find the right design for your home.
What Is a Tray Ceiling?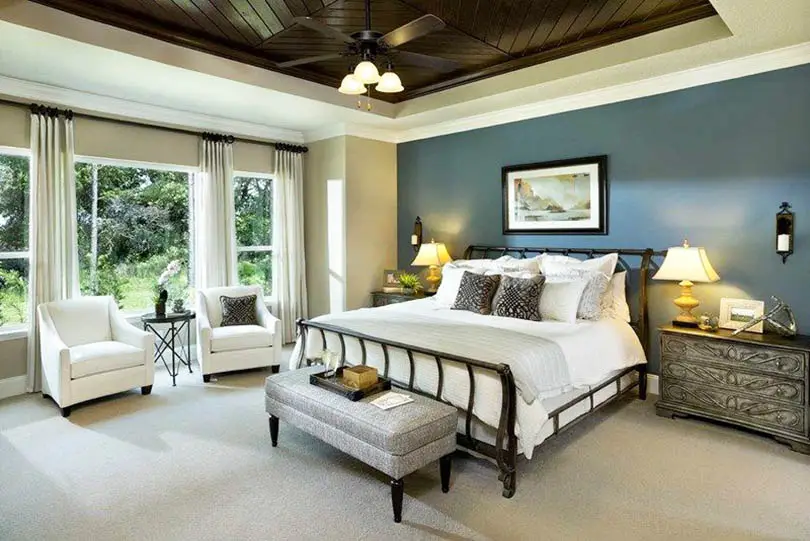 A tray ceiling is another name for an inverted or recessed ceiling. For these designs, the center of the ceiling is several inches to multiple feet higher than the ceiling near the perimeter of the room.
Tray ceiling design ideas can feature many different styles such as rounded design, molding, different paint colors, lighting, wood shiplap, arched construction and tiered levels, just to name a few.
Tray ceilings have been used for hundreds of years, and continue to be incorporated in homes of modern design. Historically, tray ceilings were used both for architectural design and for disguising duct-work before the invention of central heating and air. Now, however, tray ceilings most often serve as a design element.
Types of Tray Ceiling Designs
Here's a few of the most popular tray ceiling design styles you can find in residential homes.
| | |
| --- | --- |
| Standard Tray Ceiling | Basic form with a flat ceiling and a raised central panel |
| Cove Tray Ceiling | Tray ceiling with a curved, concave shape that extends from the wall to the ceiling |
| Tiered Tray Ceiling | Tray ceiling with multiple layers or tiers that create a stepped or tiered effect |
| Box Beam Tray Ceiling | Has exposed wooden beams laid out in a box-like structure |
| Recessed Tray Ceiling | Recessed into the ceiling with a raised center panel |
| Barrel Vault Tray Ceiling | Ceiling features with a semi-circular or elliptical shape |
| Coffered Tray Ceiling | Tray ceiling featuring a grid of recessed panels |
Living Rooms with Tray Ceiling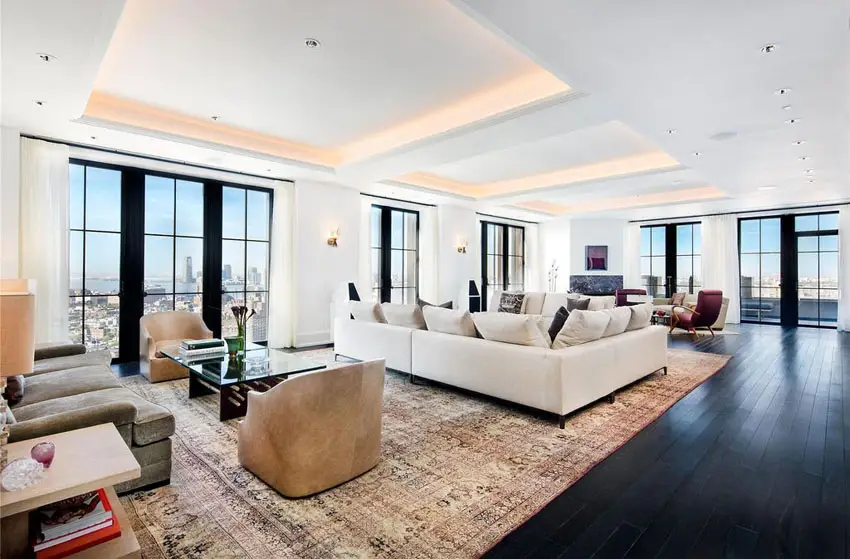 This large open concept living room design features three tray ceilings with hidden lighting.
This living room offers a decorative wood tray ceiling with an Asian inspired influence.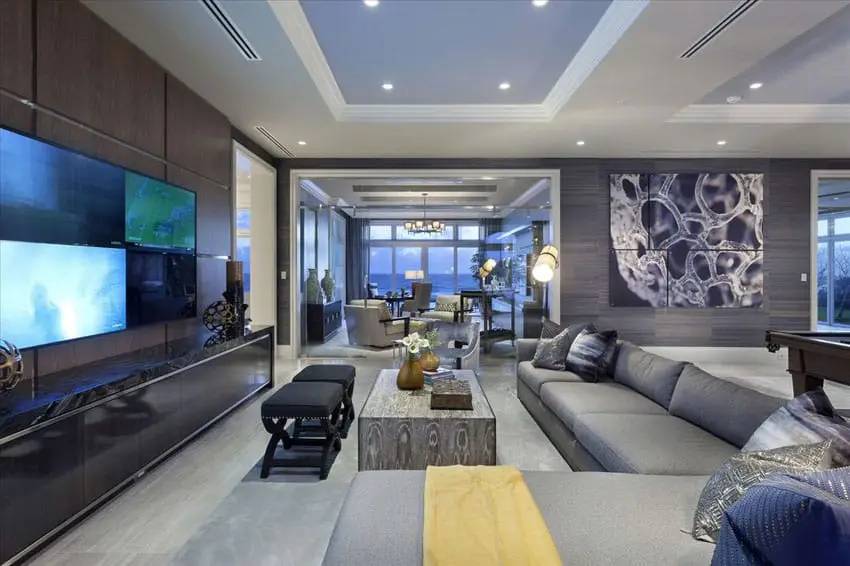 Modern living room design with multiple ceiling features.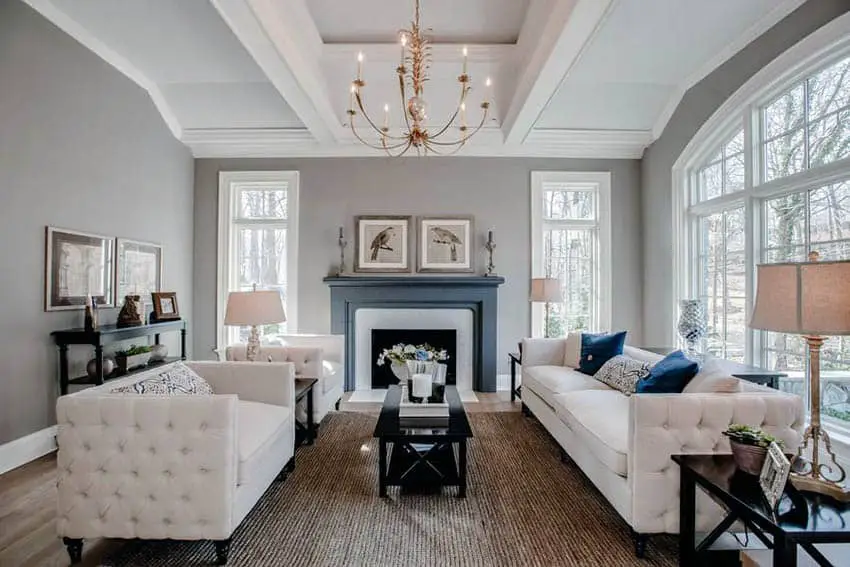 Unique custom tray ceiling design with living room chandelier.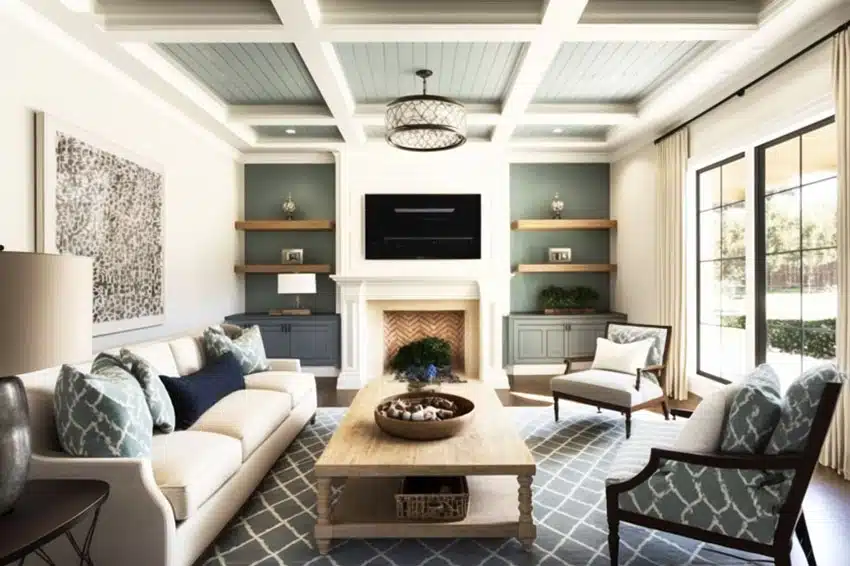 This transitional living room design features a white box beam ceiling with painted shiplap planks that match the built-in accent wall on either side of the fireplace with herringbone brick pattern.
A large area rug frames the space and provides a way to create cohesion between the furniture fabrics while providing color and contrast.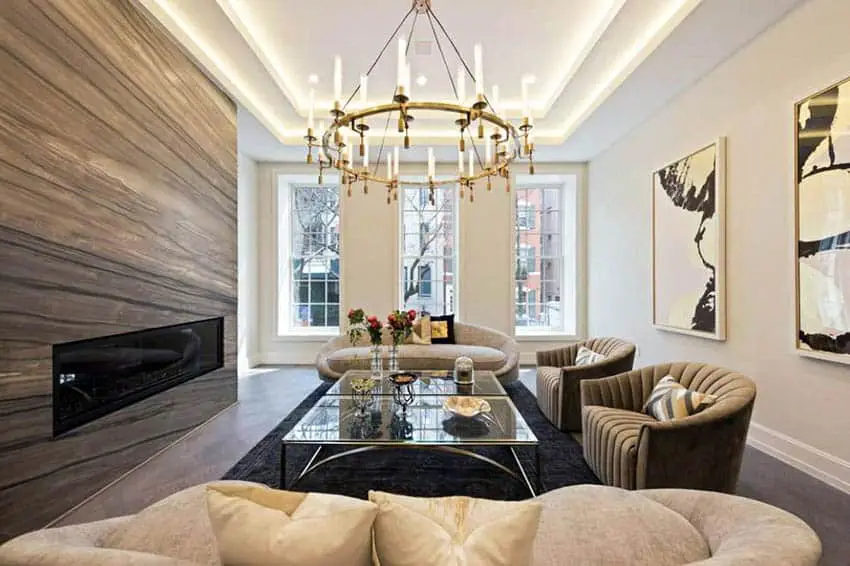 Contemporary design with illuminated double tray ceiling and quartz accent wall fireplace.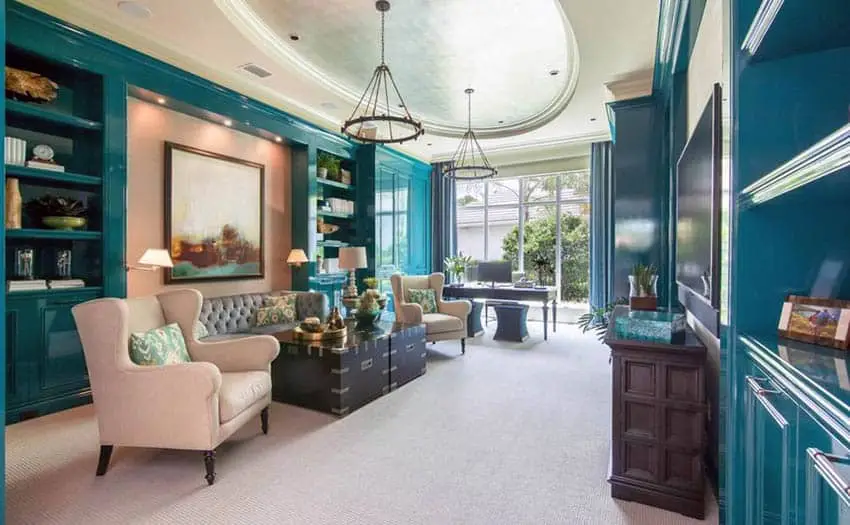 Oval design ceiling feature with aqua green living room with built-in cabinetry.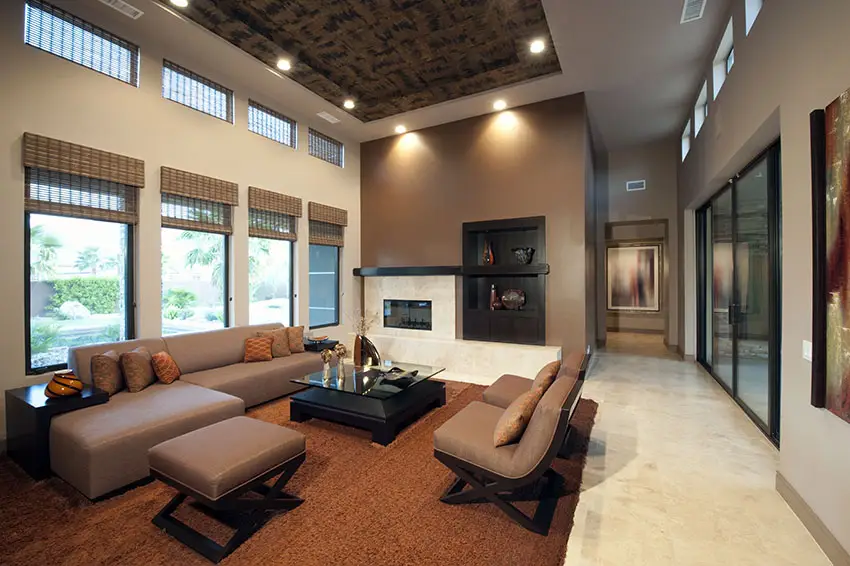 High ceiling living room with accent ceiling. Tray ceiling design ideas with wallpaper or texture allow one to match home decor pieces or finishes to create a cohesive look or create visual interest.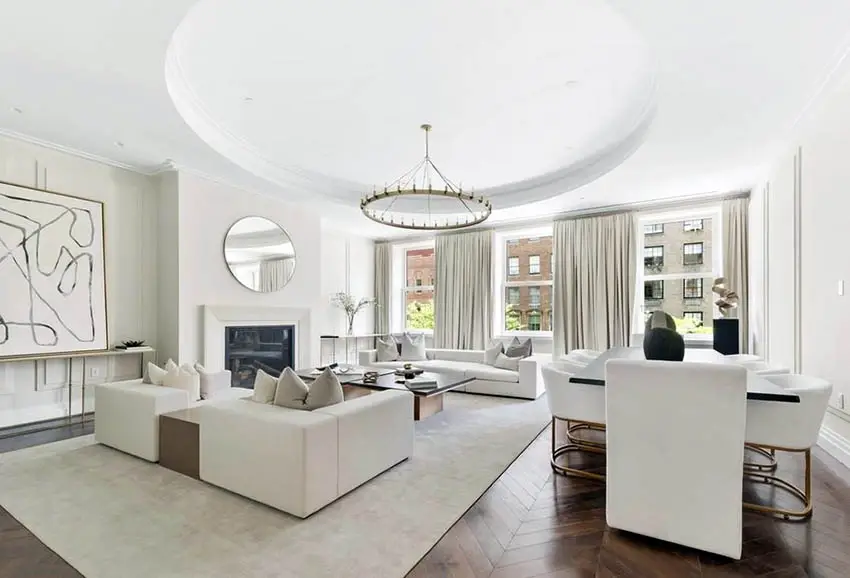 Contemporary living room with round ceiling feature with circular chandelier.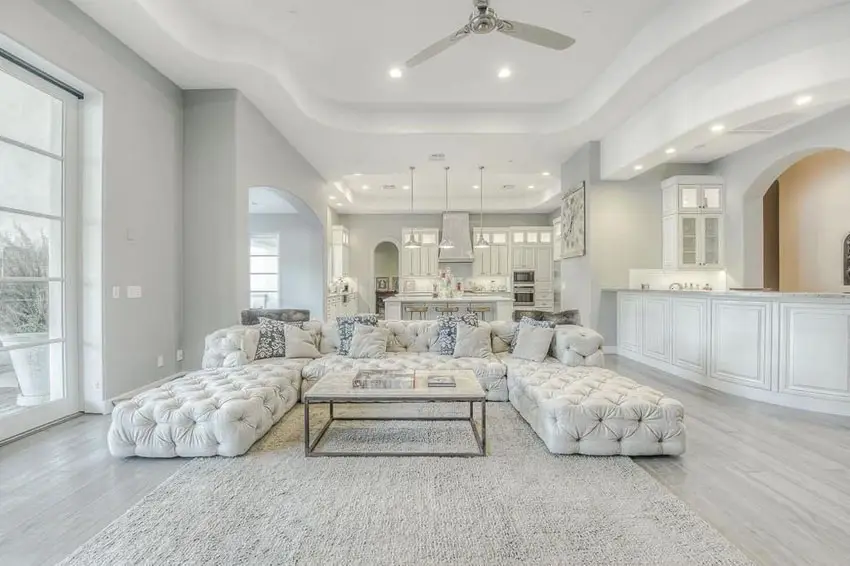 Unique circular ceiling design with rounded edges. Tray ceiling design ideas with unusually shaped ceilings can pose challenges. This room mirrors its tray ceiling with a unique tufted sectional sofa.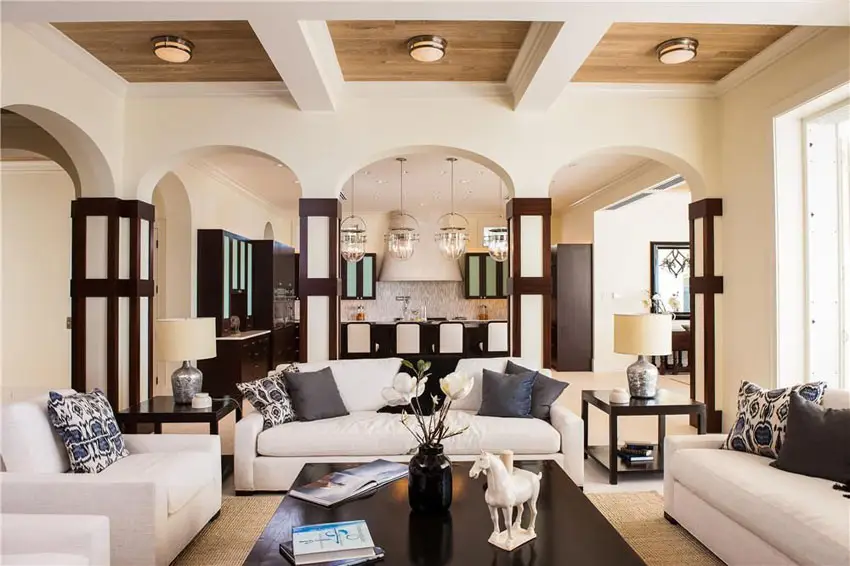 Coffered style ceiling with wood planks.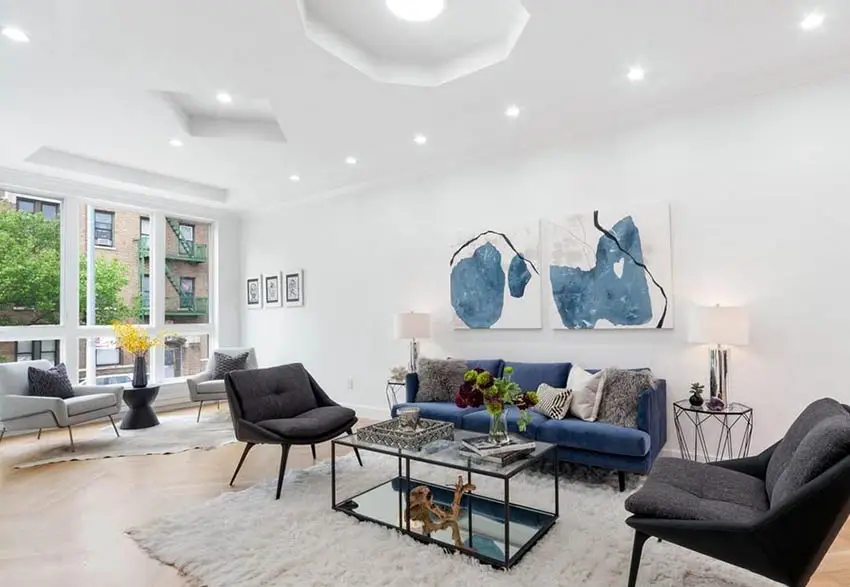 Geometric design tray ceiling in modern living room.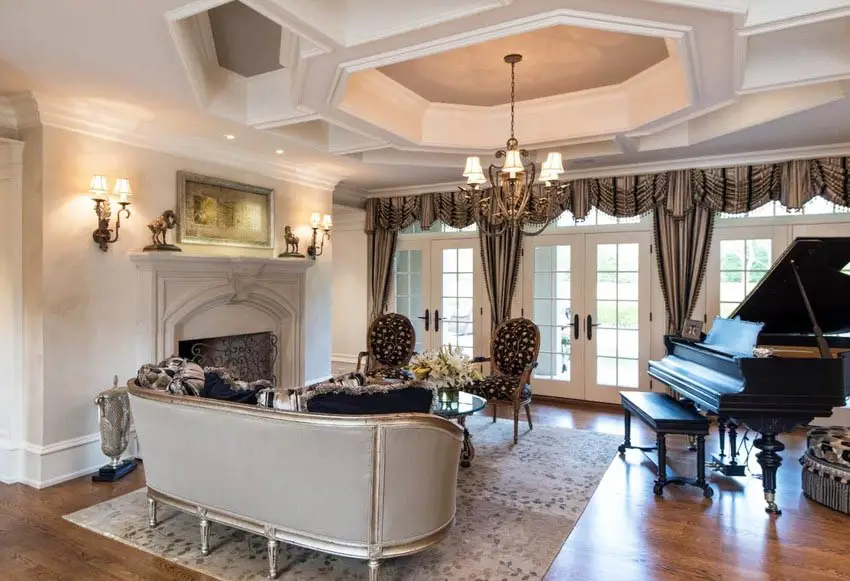 Formal living room with deep tray ceiling with unusual design.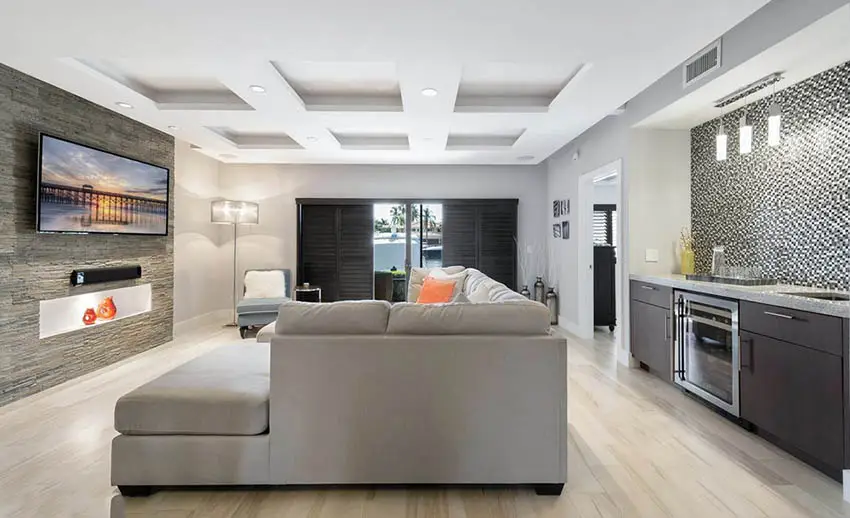 Modern living room with multiple tray ceiling, stacked stone fireplace and custom home bar design.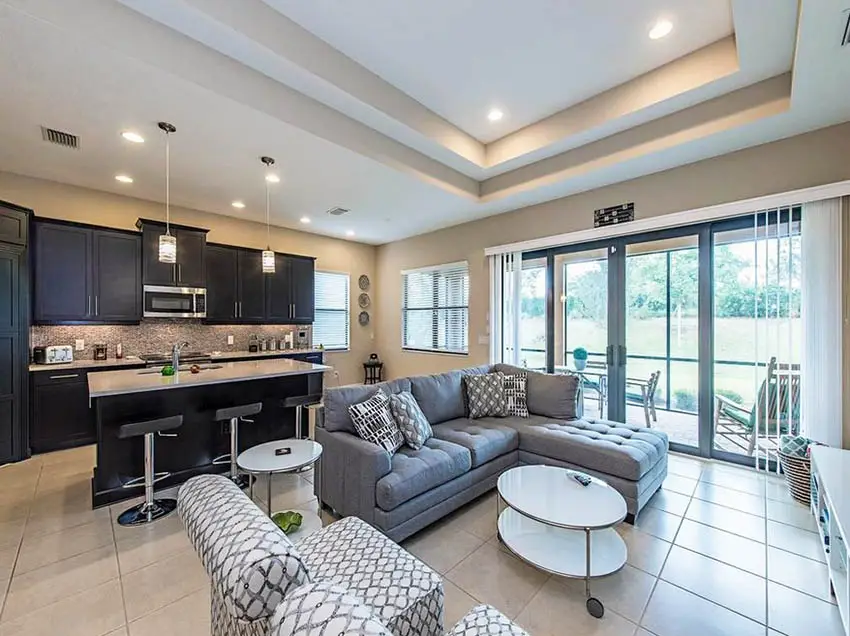 Two tier style ceiling in an open concept living room and kitchen.
Dining Rooms with Tray Ceiling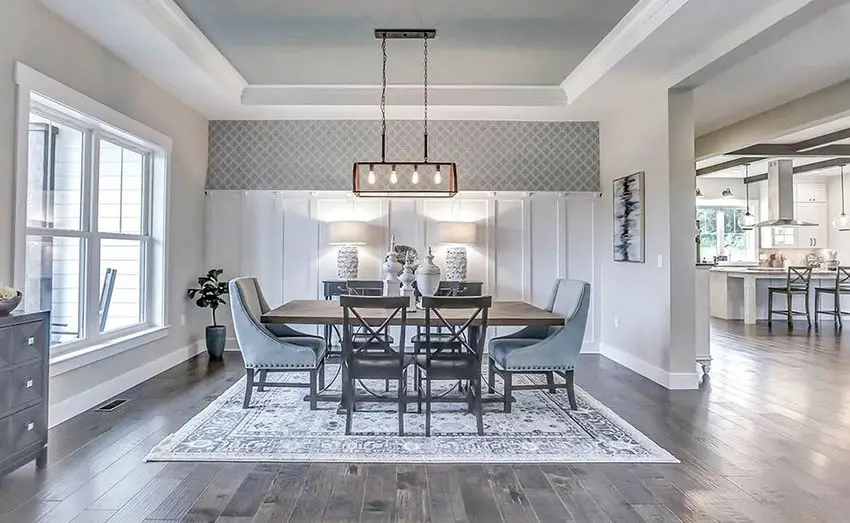 This elegant dining room utilizes darker gray paint for the ceiling than the lighter greige paint color used for the primary walls. Tall white wall paneling, large windows and multiple lamps and a linear chandelier helps keep the space feeling light and bright.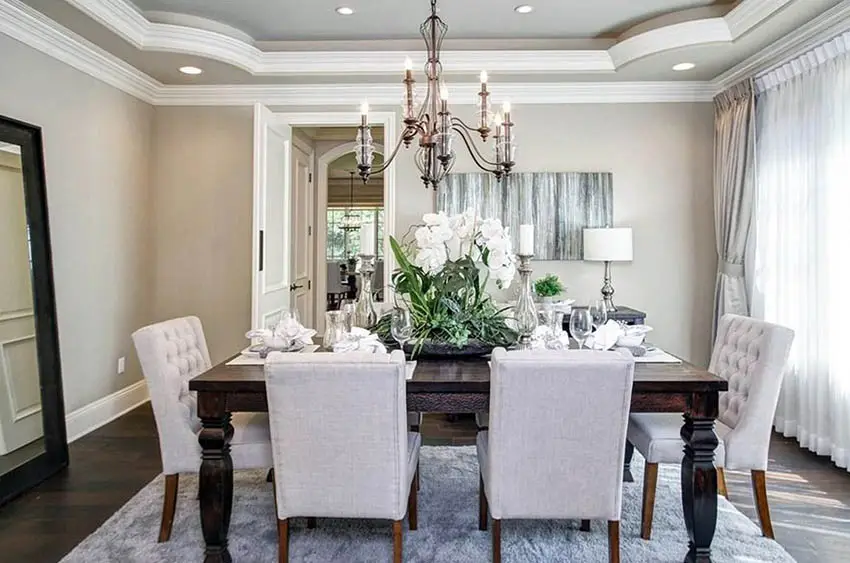 Rounded corner ceiling design with white molding.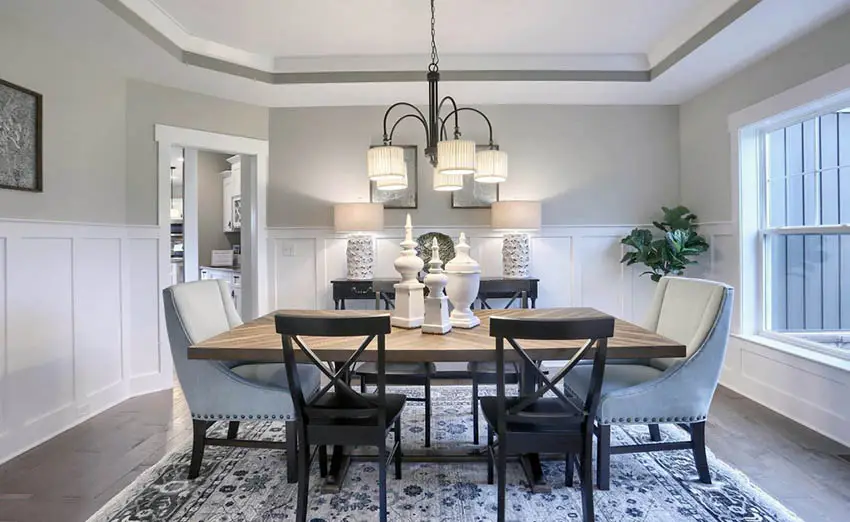 Dining room with painted edge ceiling design.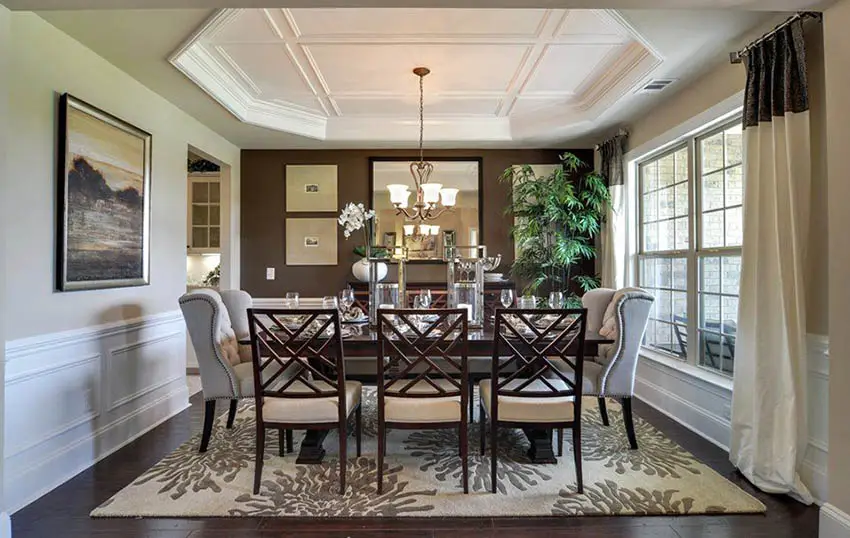 Octagonal sided ceiling design with raised coffered style edges.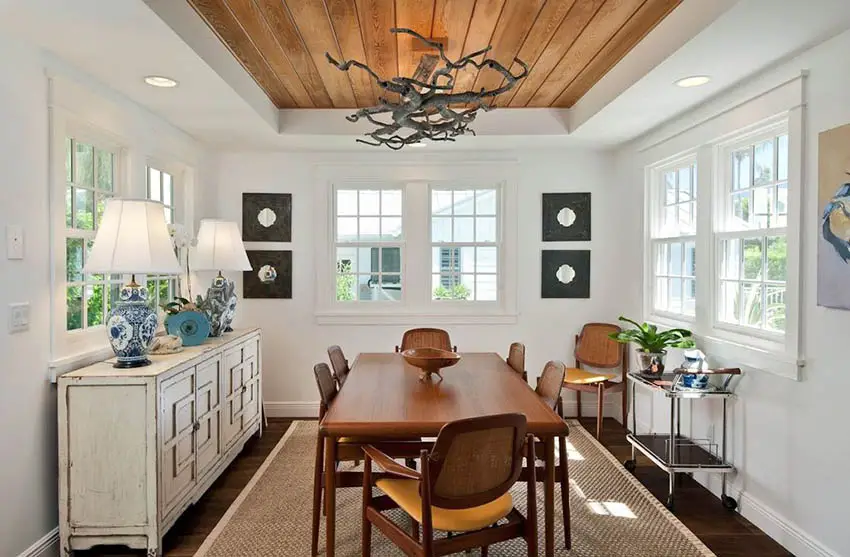 Dining room with wood plank tray ceiling.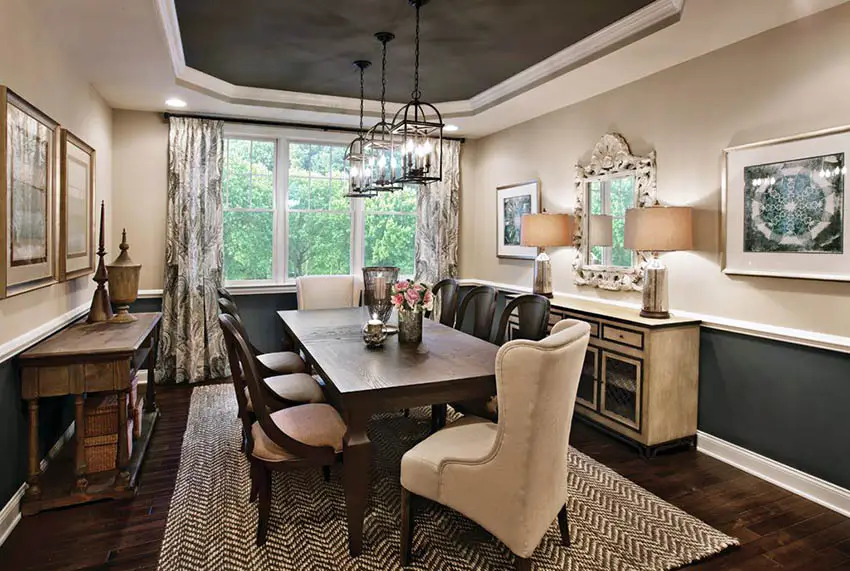 Painted black ceiling to match the lower half wall of this dining room.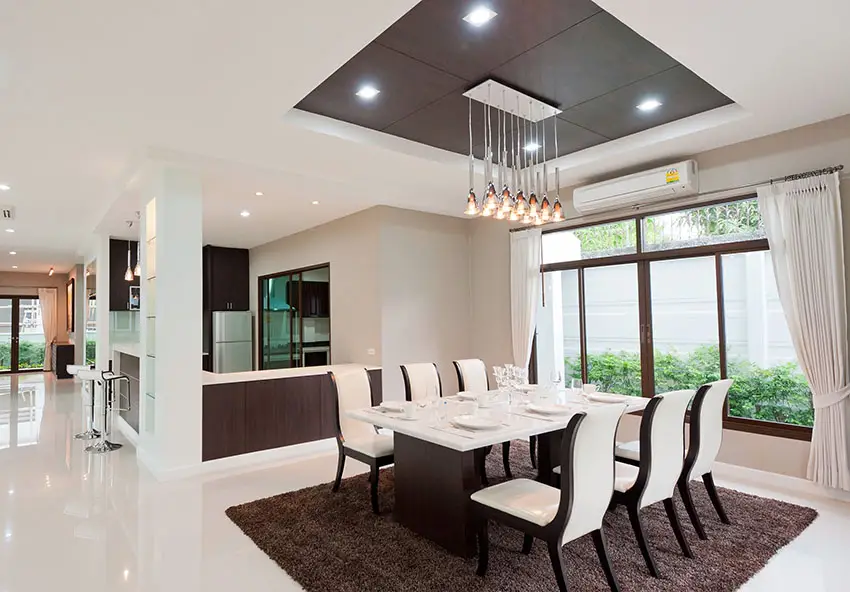 Modern dining room with wood veneer accent ceiling feature and linear pendant lighting.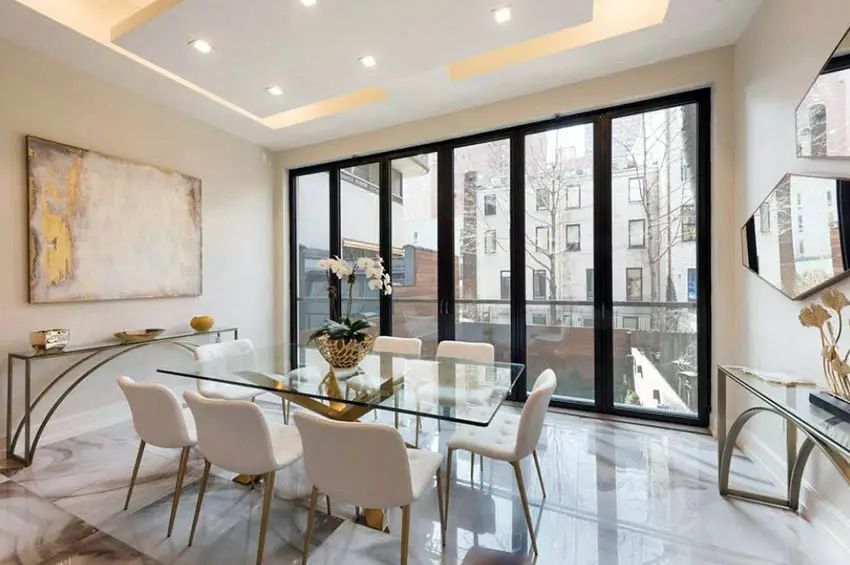 Dining room with reverse tray ceiling and recessed lighting.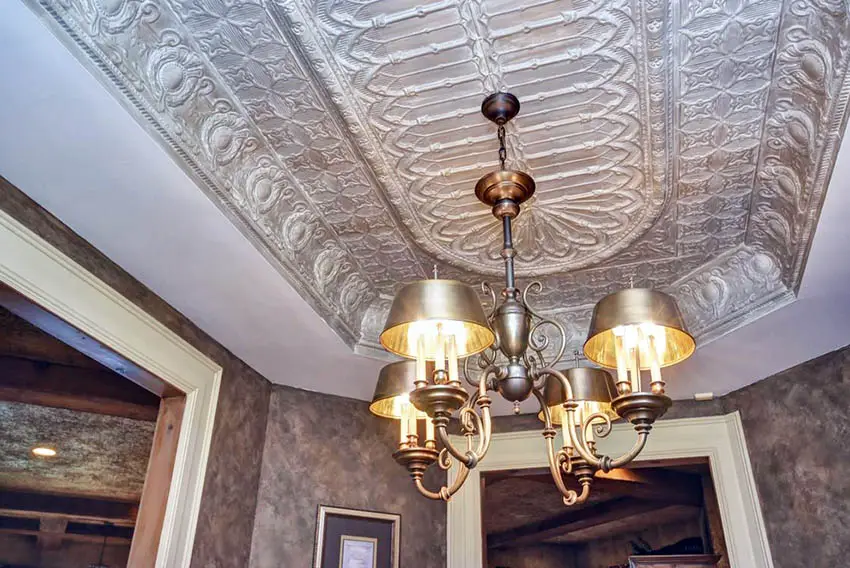 Tin tray ceiling and large chandelier.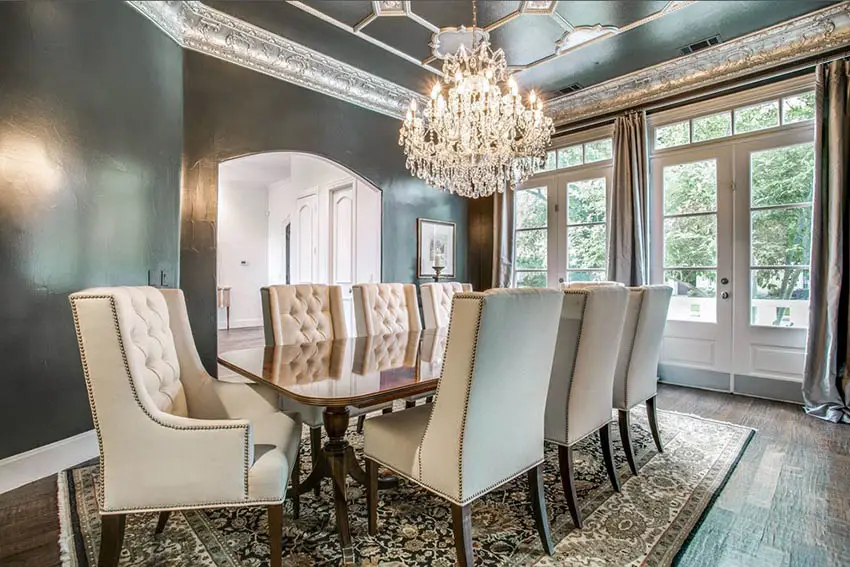 Tray ceiling with decorative tin trim and molding and crystal chandelier.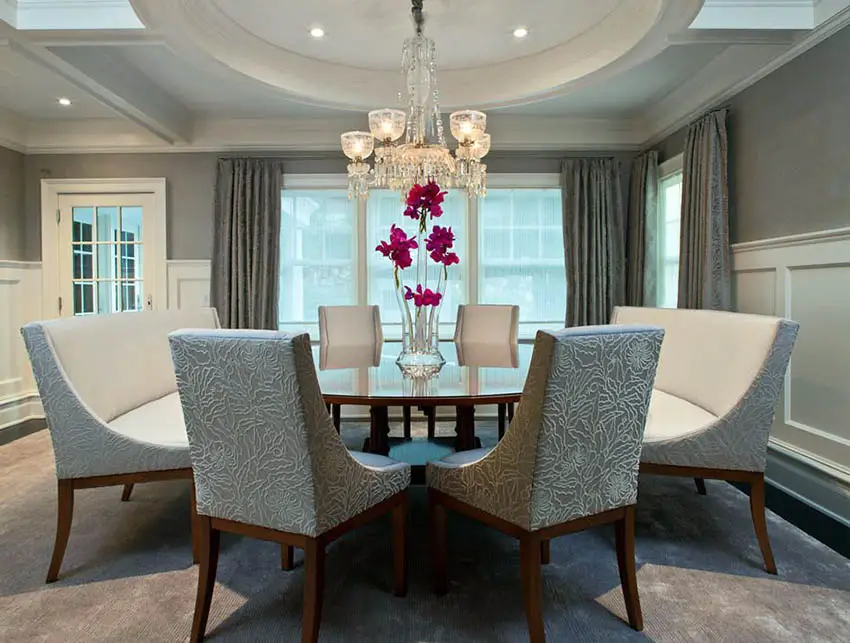 Round design with chandelier.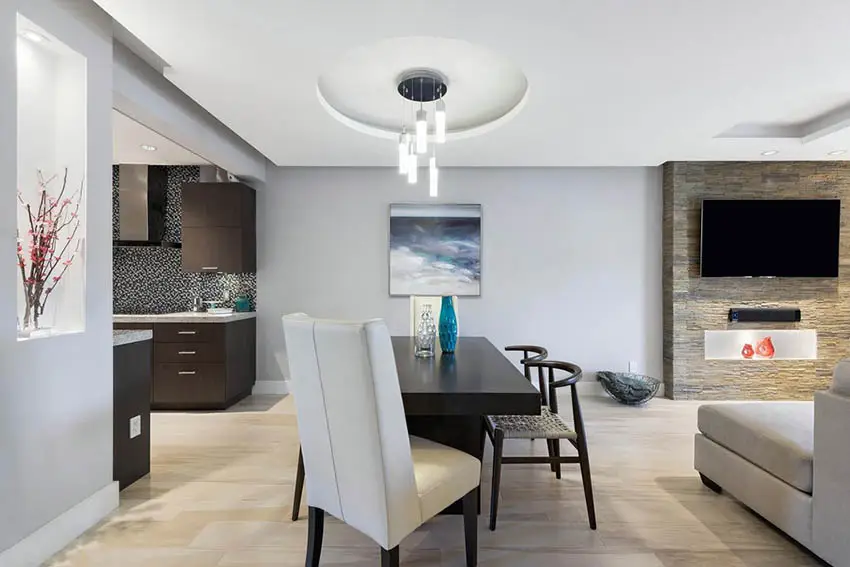 Small round ceiling feature with pendant lights.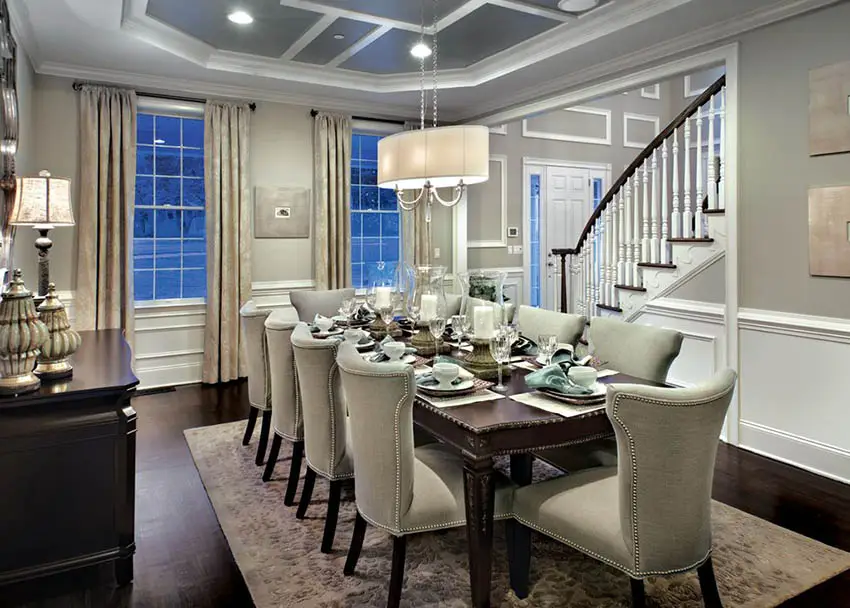 Gray and white geometric ceiling design feature.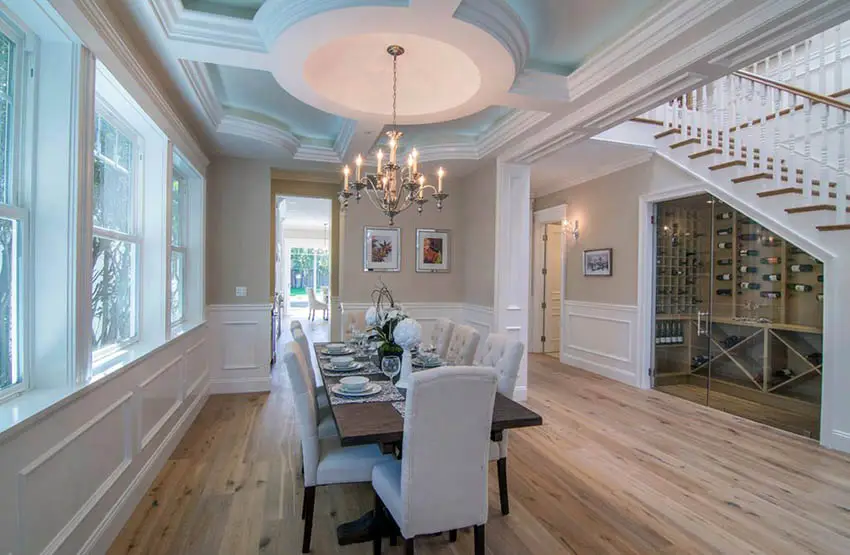 Reverse ceiling with coffered style.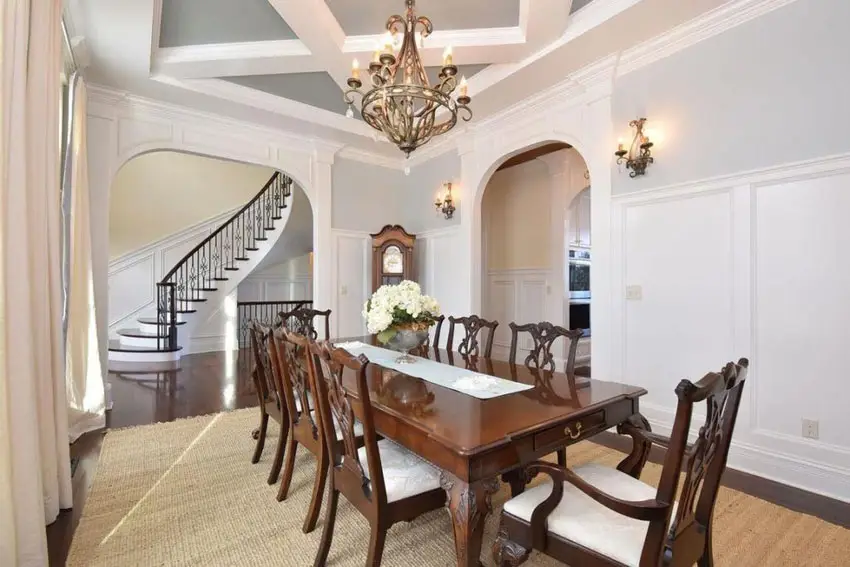 Criss-cross ceiling feature with gray paint.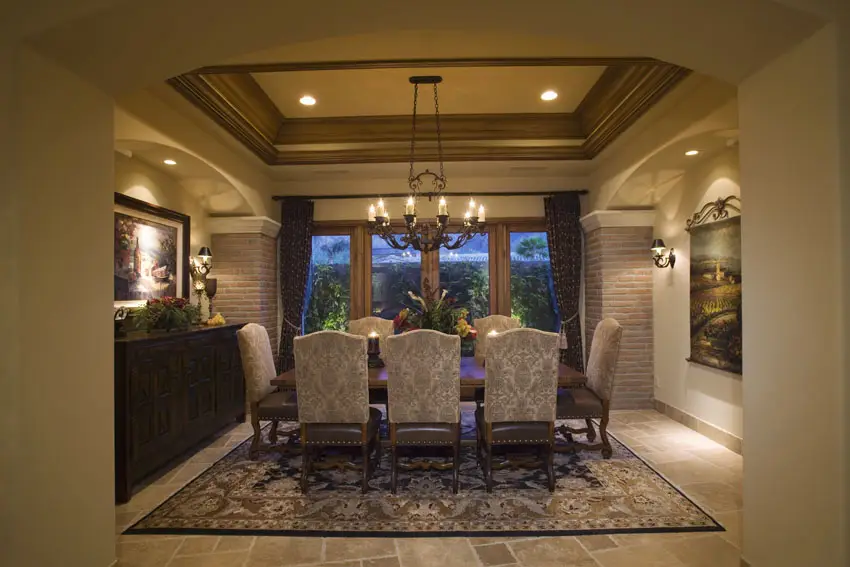 Rustic Mediterranean style dining room with deep ceiling feature with wood molding.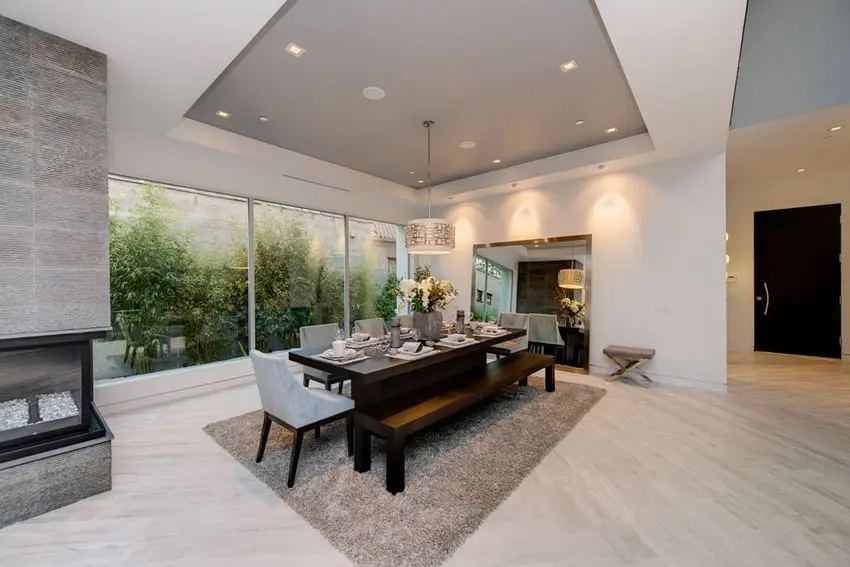 Large painted ceiling feature in an open concept dining room.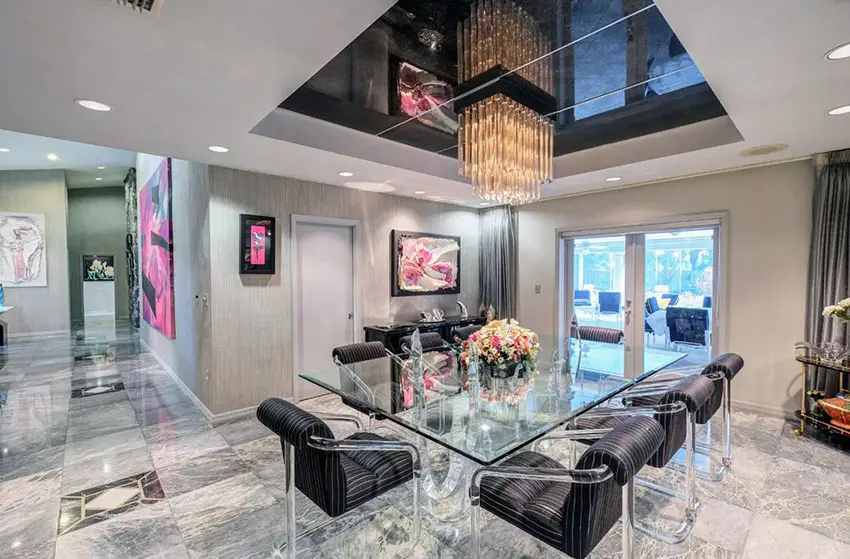 Modern dining room with glossy black ceiling feature.
Bedrooms with Tray Ceiling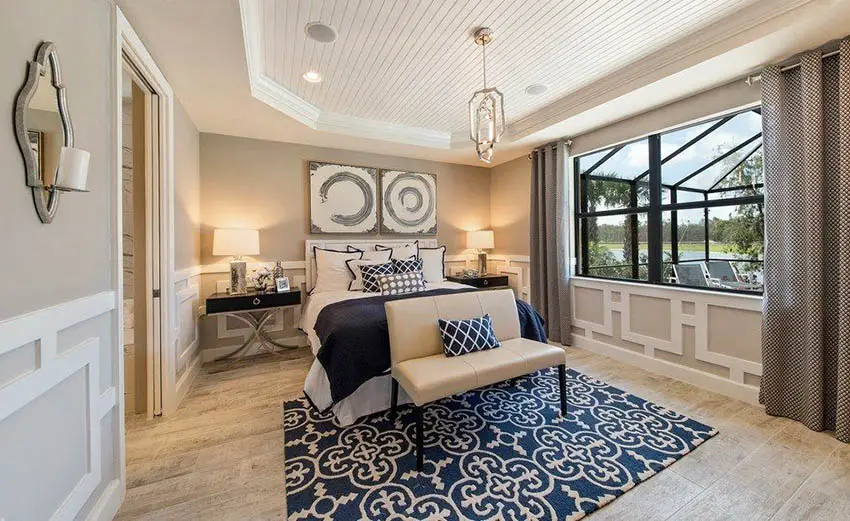 Master bedroom with painted white wood plank tray ceiling and geometric wainscoting.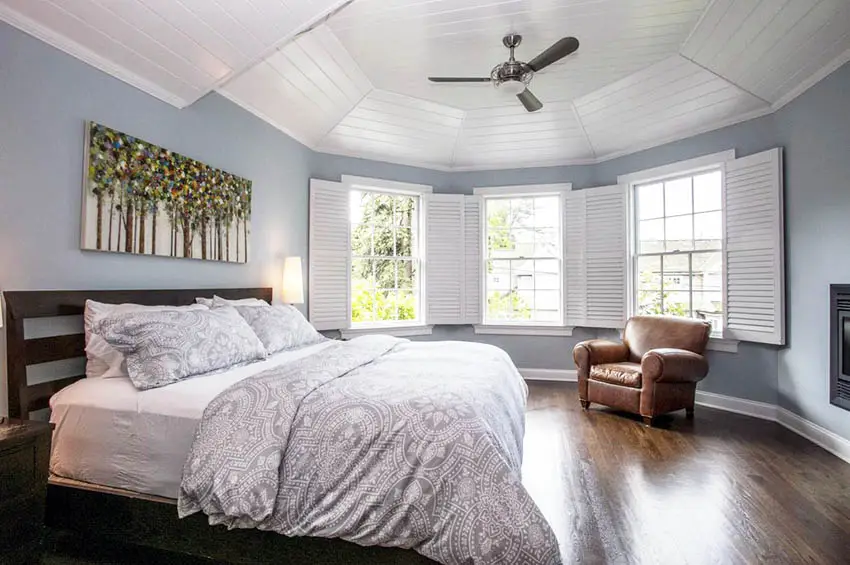 This bedroom features a circular design with a white painted wood shiplap ceiling. This style helps create a bright and inviting space especially when paired with white interior shutters and picture windows.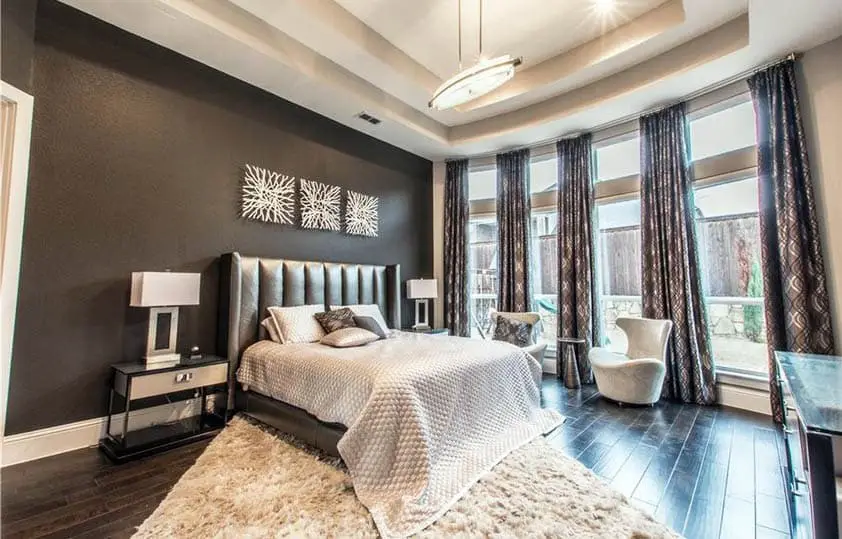 Bedroom with black accent wall and tiered ceiling.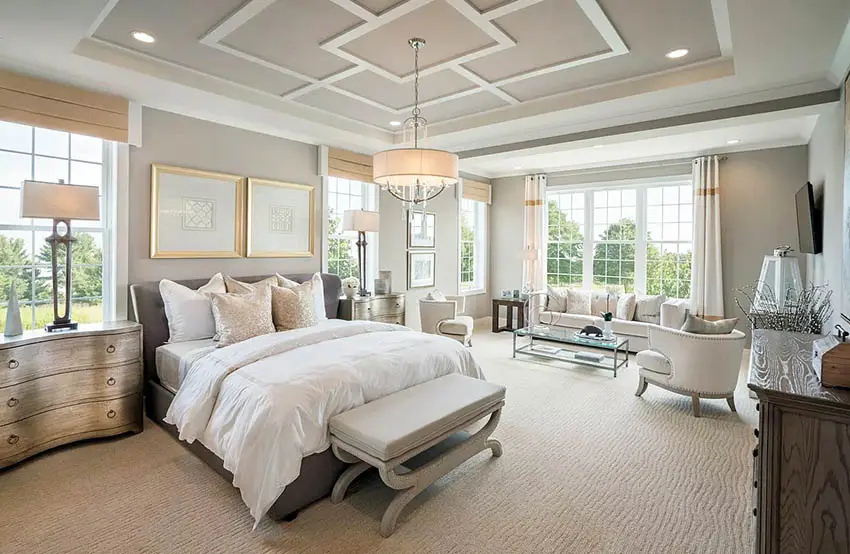 Bedroom with geometric tray ceiling design, drum chandelier and French windows.
Beautiful master bedroom with painted ceiling features and white wainscoting design.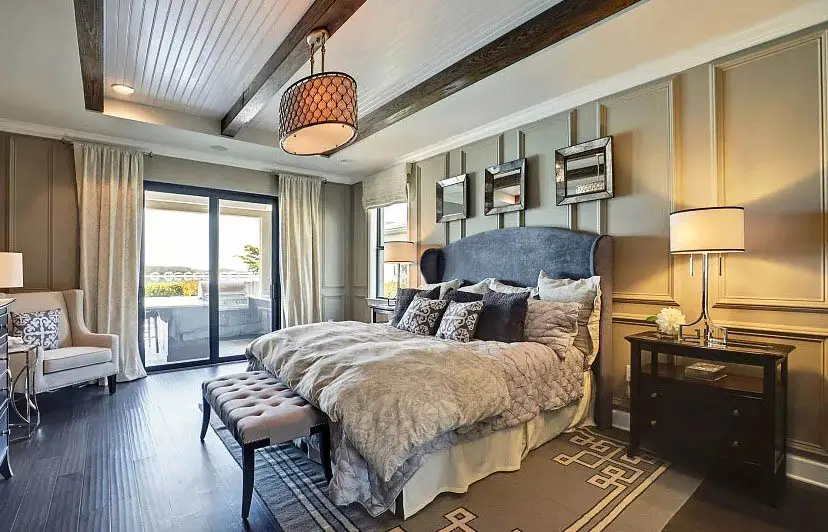 Bedroom with shiplap tray ceiling with wood beams and hand scraped hardwood flooring.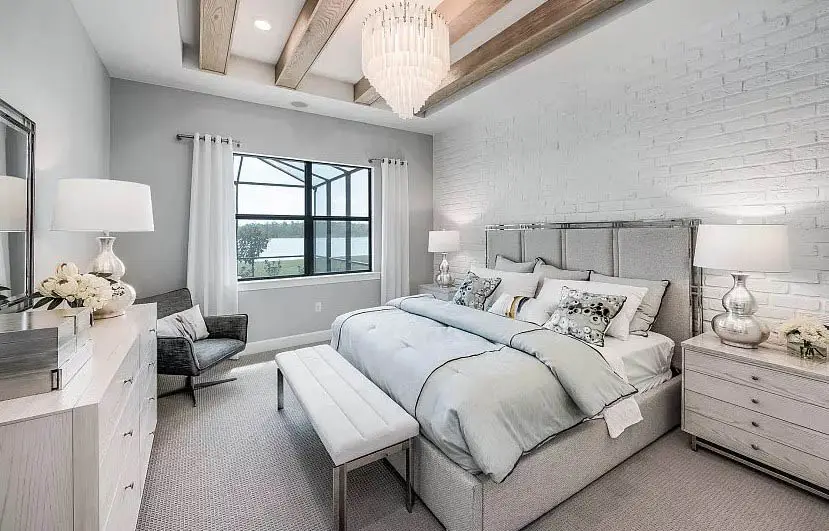 A bedroom with a tray ceiling with faux wood beams and chandelier.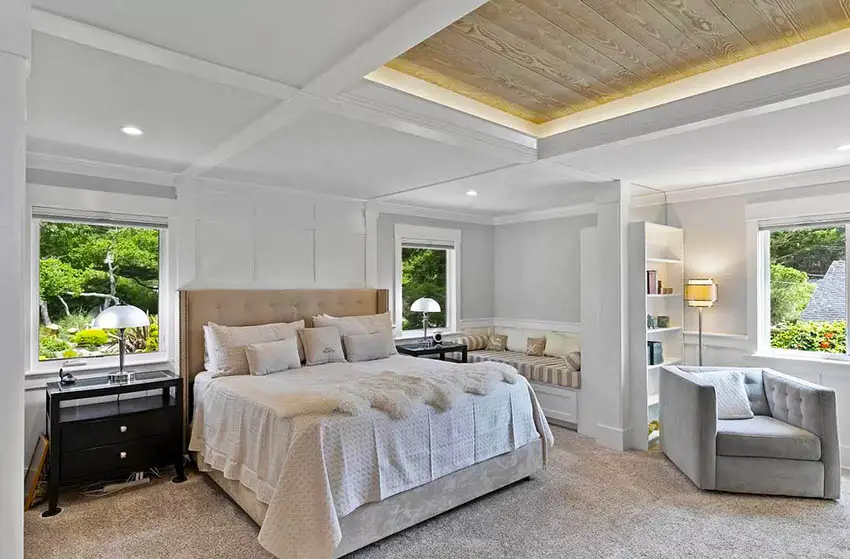 This amazing master bedroom showcases an eye-catching wood plank tray ceiling with backlights and a custom built-in bench. A separate sitting area nook creates a cozy place to relax or read your favorite book.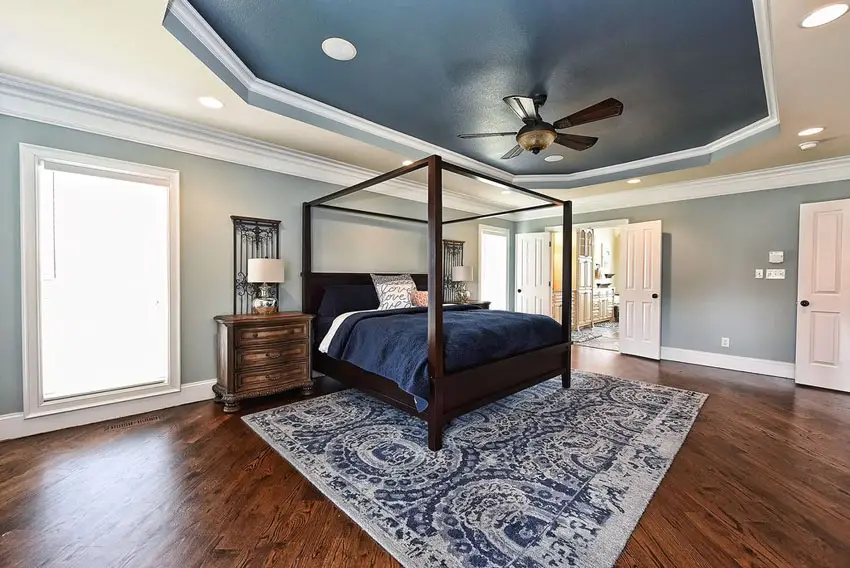 A blue with white trim tray ceiling harmoniously blends to create an interesting backdrop.
This bedroom uses blue paint to draw the eye up to the ceiling for added emphasis.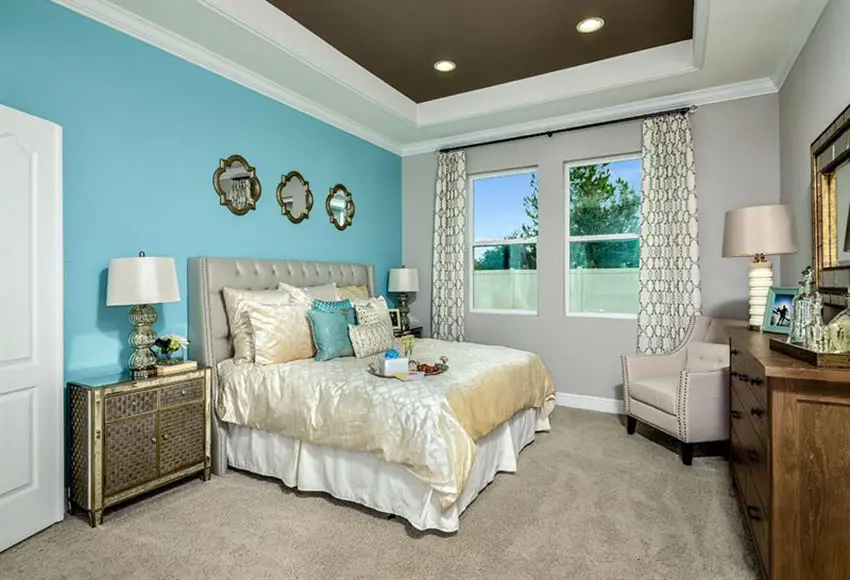 A bedroom with tray ceiling painted in dark brown.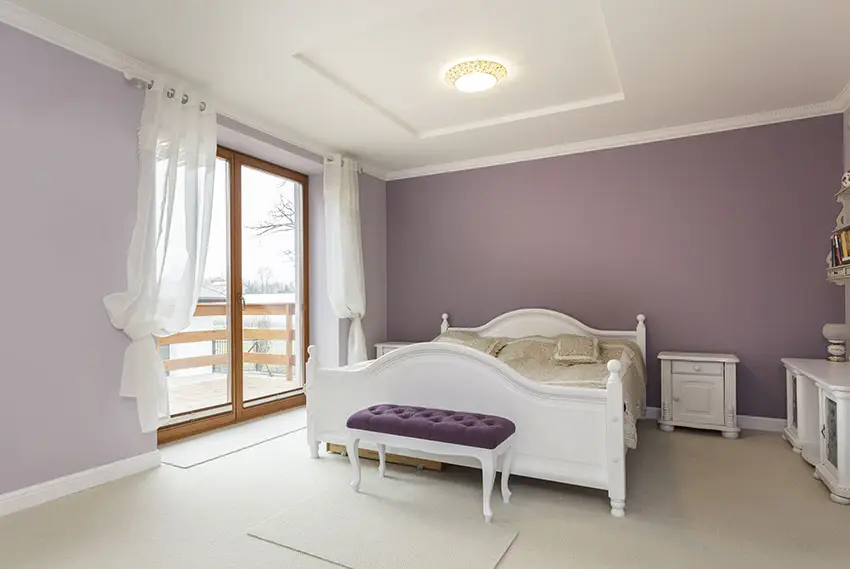 A bedroom with shallow tray ceiling.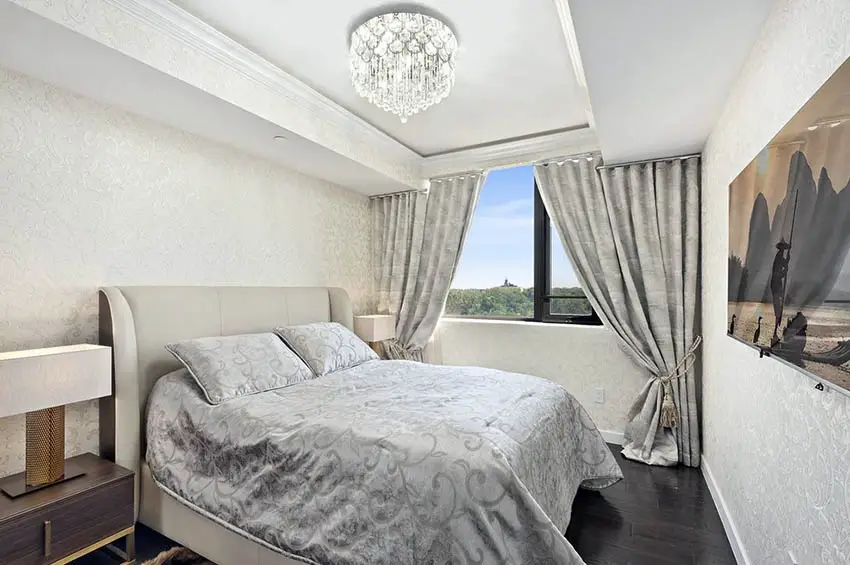 A bedroom with tray ceiling with small chandelier.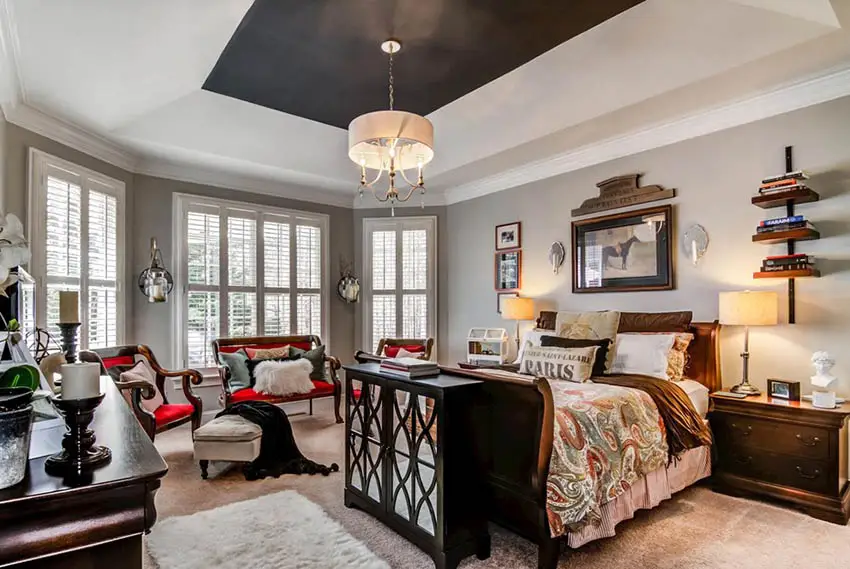 This tray ceiling is painted in black to create contrast and depth.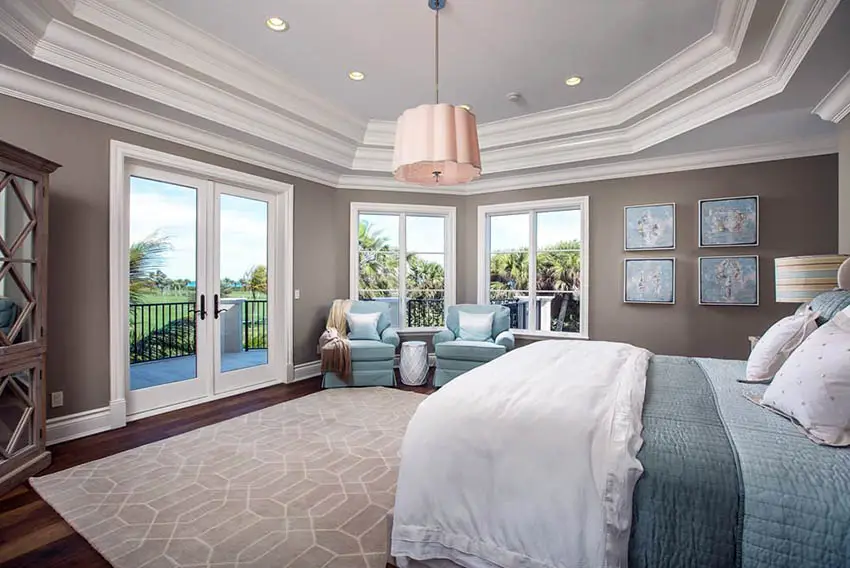 This bedroom uses plenty of large crown molding to decorate its tray ceiling painted in white.
Kitchens with Tray Ceiling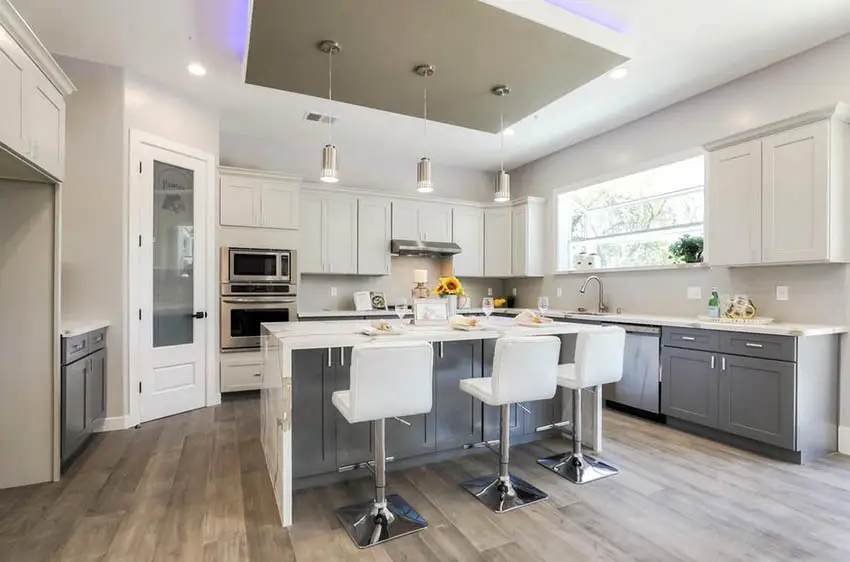 The tray ceiling in this kitchen makes a big statement by using hidden neon lighting to provide drama to the space. The gray paint used helps the area pop and gives it a unique style.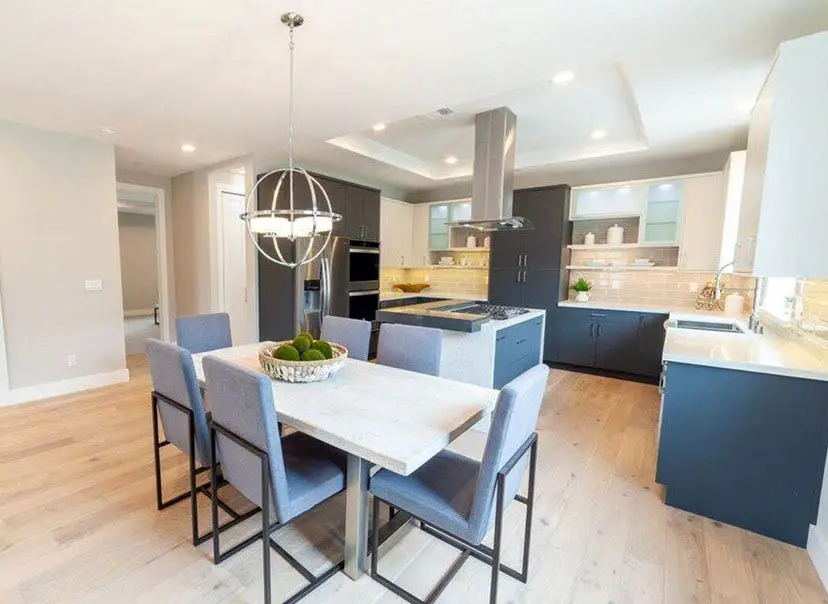 A kitchen with a tray ceiling can be used to install recessed lighting, ventilation and oven hood.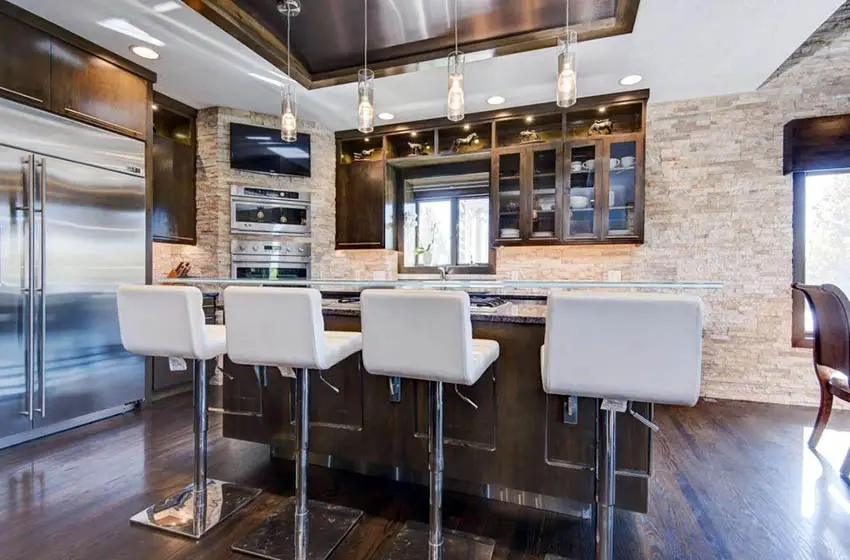 This kitchen uses its tray ceiling to frame the space above the island and hang its pendant lighting. See more kitchens with wood ceilings here.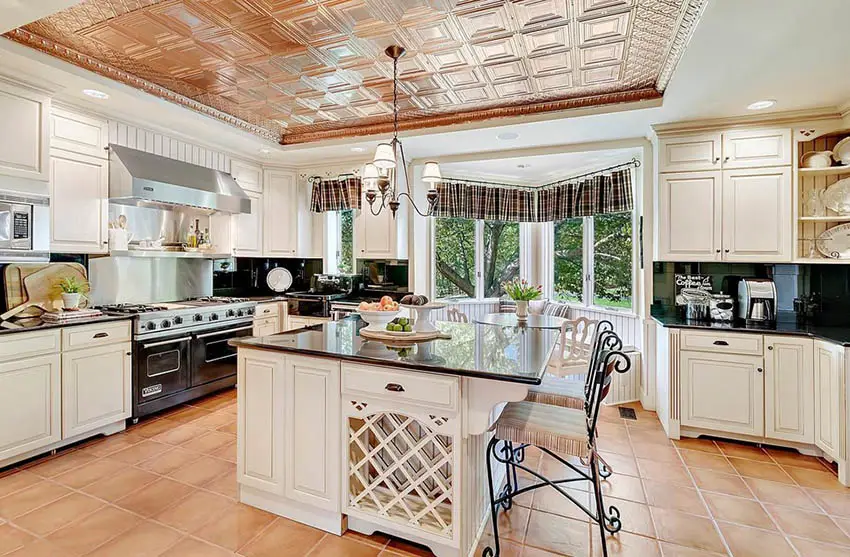 A kitchen with a beautiful copper tray ceiling can create an amazing focal point.
Bathrooms with Tray Ceilings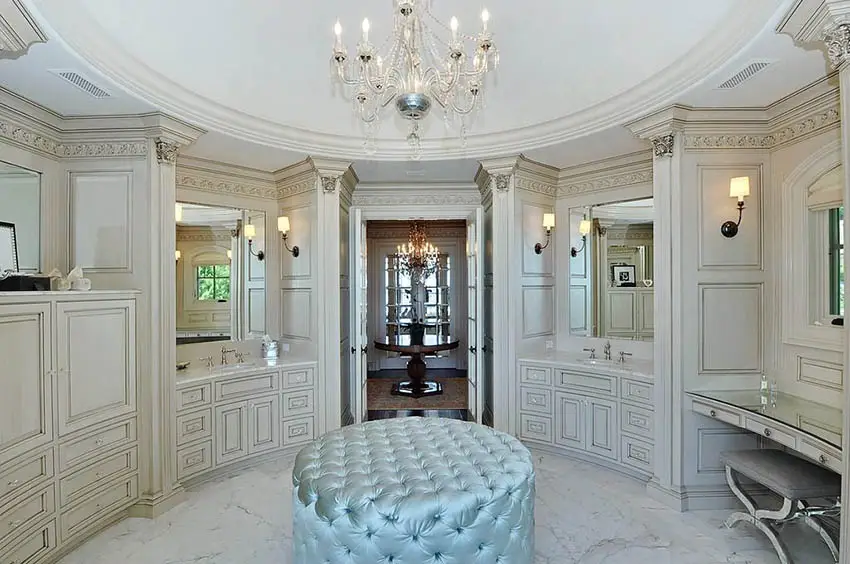 This bathroom powder room is perfectly accented with a circular tray ceiling with large central chandelier.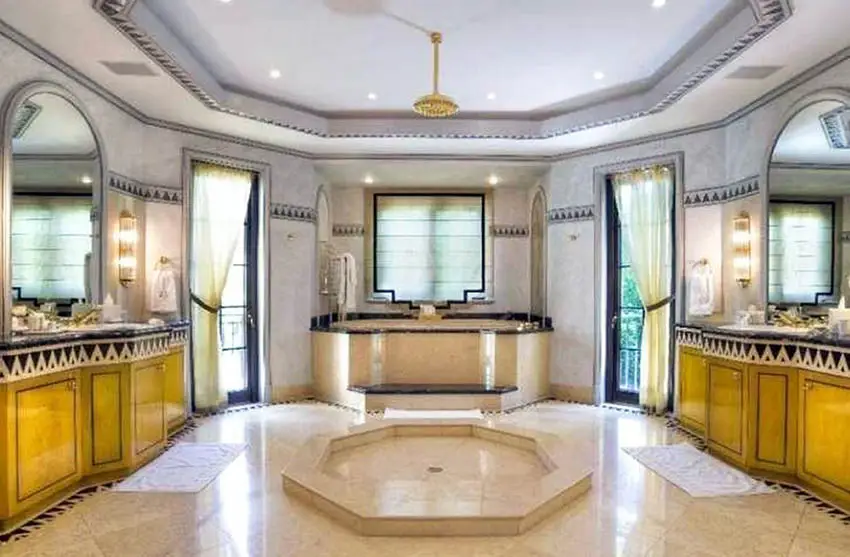 This custom bathroom uses its large tray ceiling to provide the backdrop for its open rainfall shower.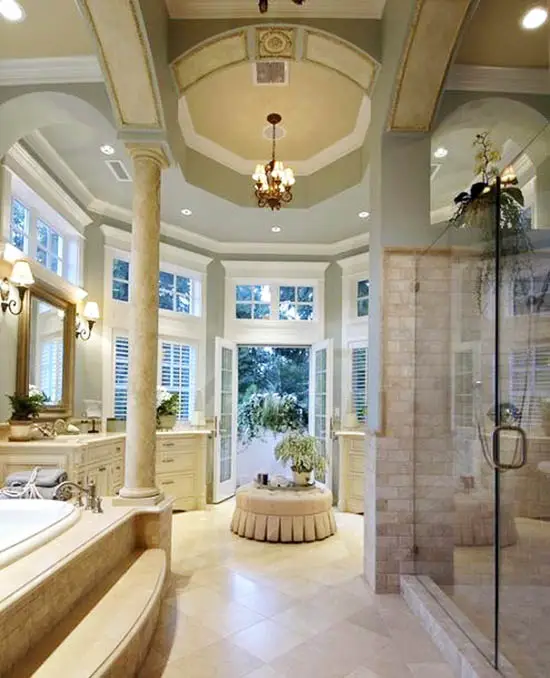 High tray ceiling design ideas when used in the bathroom can make a grand impression and makes the perfect center-point for a chandelier.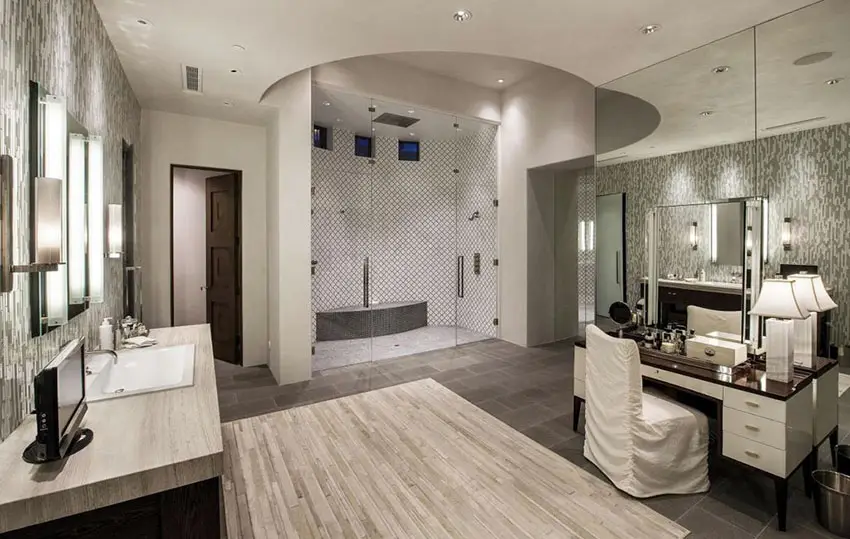 This custom bathroom design features a unique shower tray ceiling with rounded design.
A great feature for tray ceiling sin the bathroom are hidden lighting for creating the right mood for relaxing in the bath tub.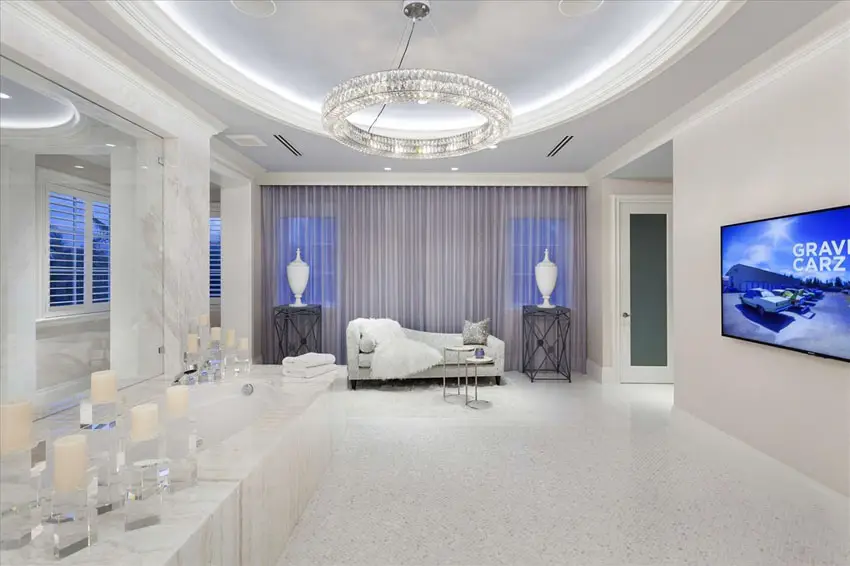 This roomy luxurious master bathroom offers a round tray ceiling with hidden lighting. Round tray ceiling design ideas can used fixtures such as regular or drum chandeliers, tiered candle style fixtures, and tiered circular fixtures with great results.
This large circular modern bathroom chandelier makes a grand impression and draws the eye up to the illuminated ceiling feature.
How Much Does a Tray Ceiling Cost?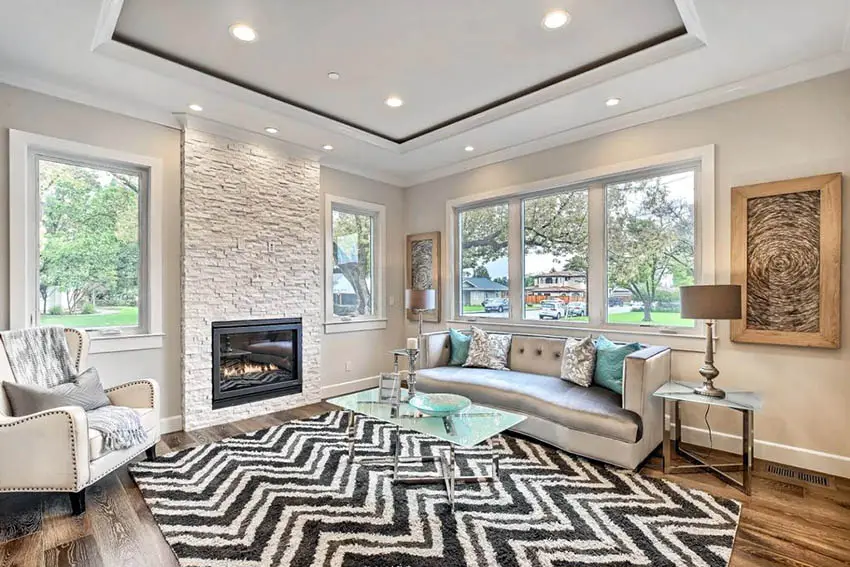 As with many other structural home improvement projects, a tray ceiling is most easily installed while the home is being constructed. Prices vary according to home size, location, and other factors, but the price will usually be between five hundred and two thousand dollars.
For homes that are significantly past the construction stage, the price is going to be higher. The price of installation in constructed homes will usually range between $3,000 to $5,000
Another aspect to consider is the location of the room in which the tray ceiling will be installed. Tray ceilings are most easily installed in rooms on the upper level of the home. It may be possible to install a tray ceiling on a lower level floor, but this is unlikely due to construction constraints.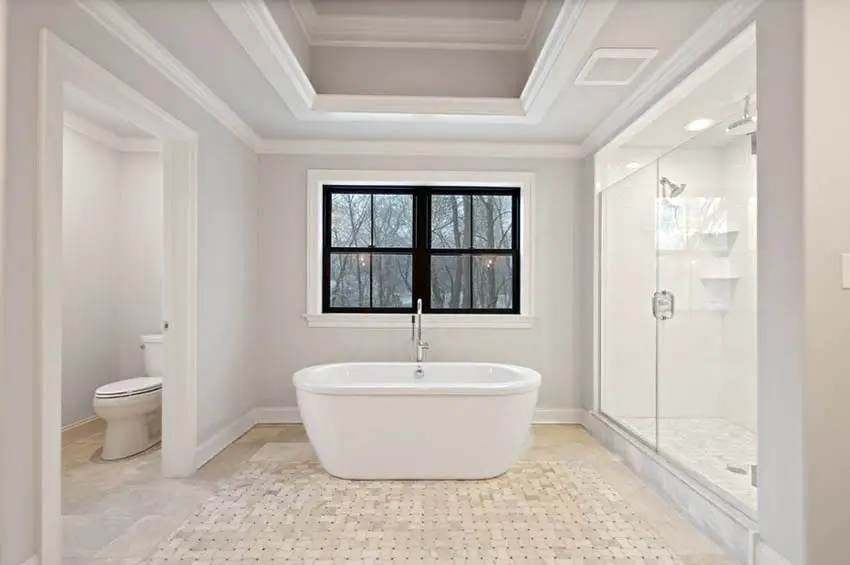 For rooms on the upper level, the ceiling will be raised using the space in the attic. If the attic framework has to be altered, though, this can potentially add thousands of dollars to the price of the project due to the structural aspect.
What's the Difference Between a Coffered Ceiling and a Tray Ceiling?
A coffered or box beam ceiling has beams or molding that creates a grid across the ceiling. The grid creates squares using the beams that hang lower than the rest of the ceiling.
While a tray ceiling is a variation of the coffered ceiling, there are a few differences between these two types of ceilings. These differences lie mostly in the design itself, as well as the materials used in each project.
A coffered ceiling is recessed similar to a tray ceiling, but a coffered ceiling has additional design elements. Coffered ceilings have recesses that are designed in such a way to create box-like indentations. Tray ceilings, on the other hand, Have only one recess that runs almost the whole area of the ceiling.
Tray ceilings are typically created using materials such as plaster and drywall. While Coffered ceilings are generally constructed from different types of wood or faux wood beams.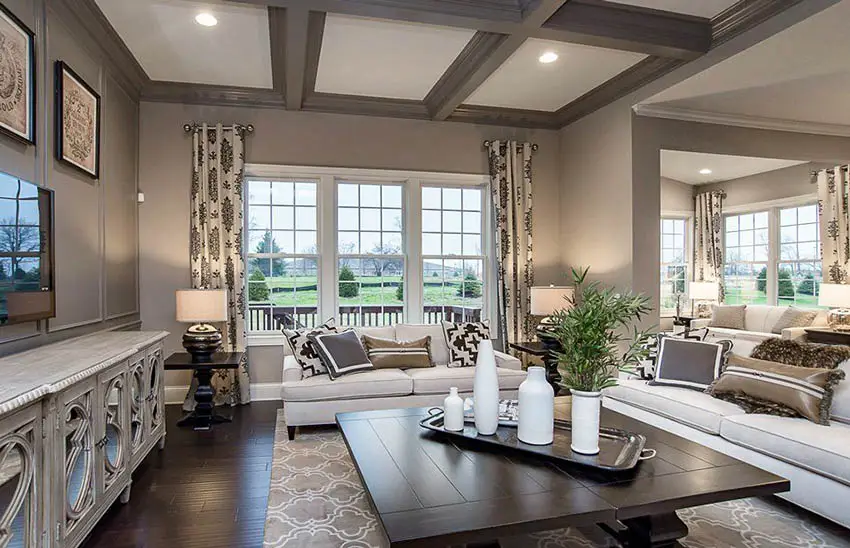 Coffered and tray ceilings do have a number of traits in common. Both ceiling designs offer recessed areas and affect design elements such as warmth and light. Another similarity is that both designs are limited to a degree by the size of the room.
While a tray ceiling is limited by physical size, a coffered ceiling is limited in the accent capabilities that can be added in a small room.
How Do You Accent a Tray Ceiling?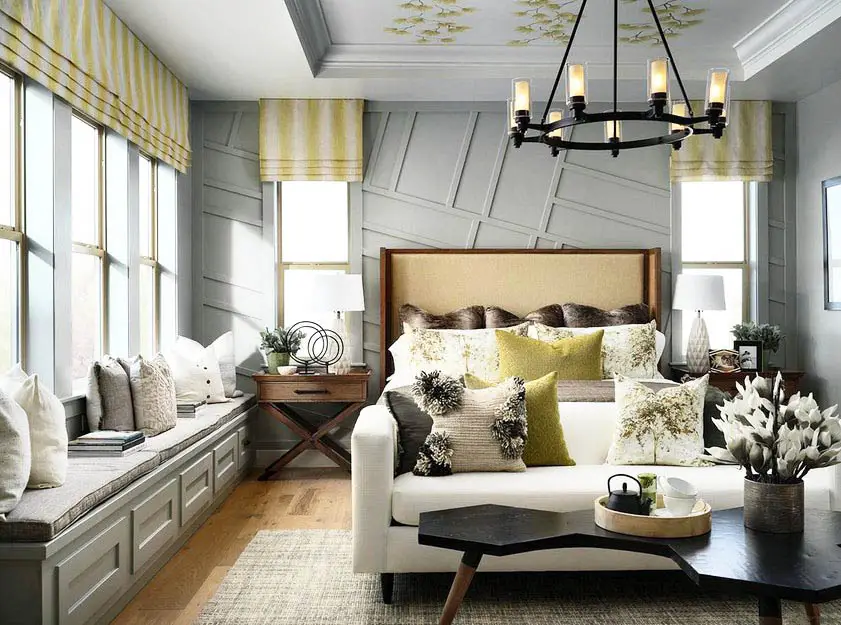 A variety of accents can be used on a tray ceiling design. Paint can be used to create different visual effects on a tray ceiling. The raised part of the ceiling may be painted a darker color, giving that area the appearance that is much higher than it actually is.
Conversely, a metallic paint will give the room a feeling of warmth, which can be helpful in large rooms that otherwise feel a bit empty.
You may also consider painting a mural in the recessed ceiling area. Using a stencil to create an art design would be perfect for a nursery or another room where a mural would be an appropriate accent.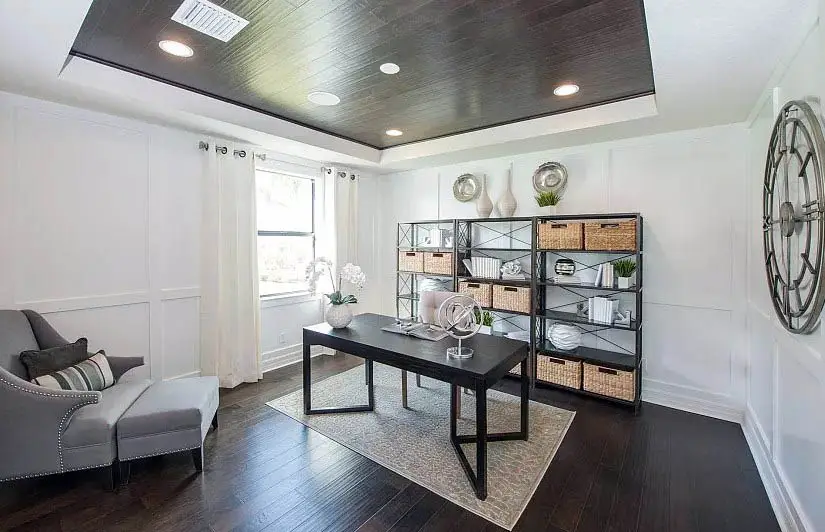 Using wood planks, wood beams or shiplap is another great way to add emphasis to a tray ceiling design. Those with extra hardwood floor materials can repurpose the leftovers in to a creative DIY ceiling.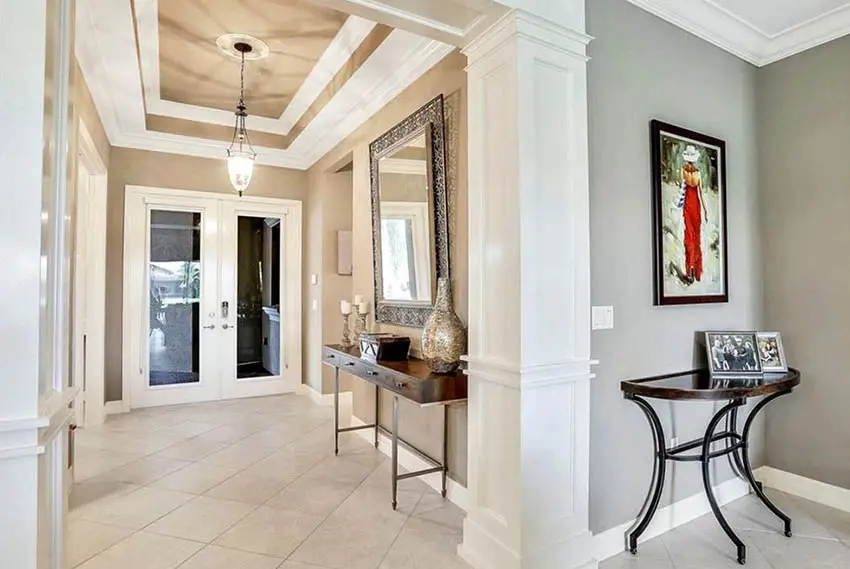 You may also choose to get creative with the trim or molding to bring in the accent color of the room design. This would increase the amount of texture of the ceiling and create visual interest.
You could also choose to add wood inlay along the trim to add a bit of detail to the tray ceiling. The type of wood inlay will be determined by the style of the room. If it's a room in a beach house, for example, bead board can be used to fit the style.
You may also choose to highlight the recessed portion of the ceiling by adding a chandelier or other fixture that draws the eye to the ceiling. The fixture will cast shadows onto the recessed portion of the ceiling, making the room seem taller.
What is a Reverse Tray Ceiling?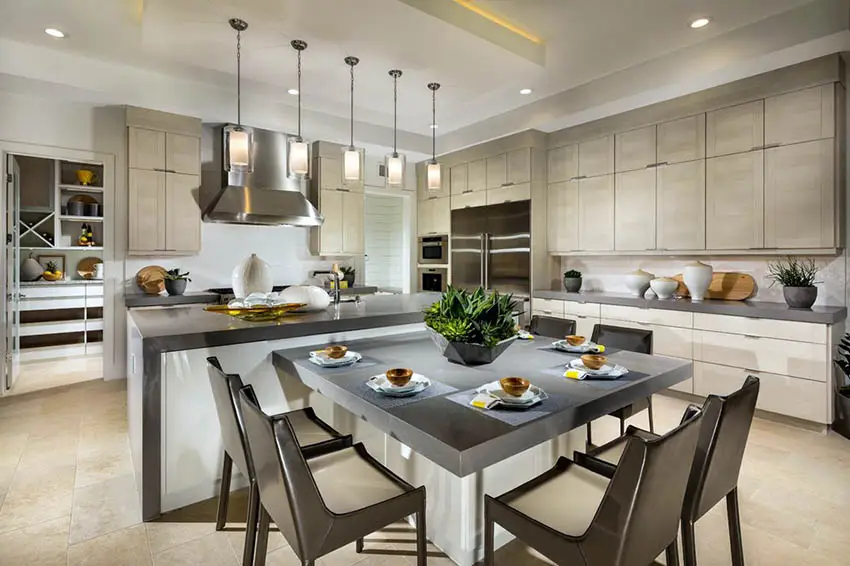 A reverse tray ceiling is similar to a traditional tray ceiling in that there is a disparity in the height of the center of the ceiling in contrast with its perimeter. Rather than the center being taller, however, the center is lower than the perimeter.
This creates a very different look than a tray ceiling, and is a bit more difficult to design as well. A reverse tray ceiling needs to be installed in a room with a tall enough ceiling to incorporate the drop, at least ten to twelve feet in height.
A reverse ceiling is perfect for large rooms that would benefit from an increase in warmth. Rooms with high ceilings often suffer from a lack of intimacy and warmth that makes the room feel empty.
A reverse tray ceiling brings a portion of the ceiling down, making the overall room feel smaller. It may be prudent to accent this reverse tray ceiling design by affixing a light fixture to the part of the ceiling that is dropped.
A tray ceiling is an excellent addition to any room of the appropriate size. With the proper installation, a tray ceiling can transform a room.
Homeowners interested in this design should consult a contractor to get an estimate and make plans. If you're looking for a change, tray ceilings can transform the look of your home and give you a unique design.
How To Determine The Depth Of A Tray Ceiling?
The general depth of a tray ceiling is 8 inches to have that perceptible effect, but it can range as little as 1 inch to 12 inches depending on many factors. The following are determining factors to get the best depth of a tray ceiling.
Determining Factors
1. Room Size. Smaller rooms, around 70 to 130 square feet, will look good with a shallower tray ceiling lower than the average 8 inches deep. Larger rooms require a deeper tray ceiling, around 9 to 12 inches deep, for an impactful statement.
2. Assess Decorative Elements. A deeper tray ceiling is recommended when planning to place lighting fixtures and other decorative hanging elements.
3. Desired Effect. A deeper tray ceiling increases the vertical height, which in turn provides an airier feel, a practical effect for small rooms.
4. HVAC System. While a tray ceiling can be used to conceal pipes and electrical wires, existing homes with preexisting HVAC systems can limit the height of a tray ceiling. Consult a professional if unsure if there are existing pipes or wires in your ceiling.
5. Added Treatments. Adding Decorative inserts will need added depth and structural support.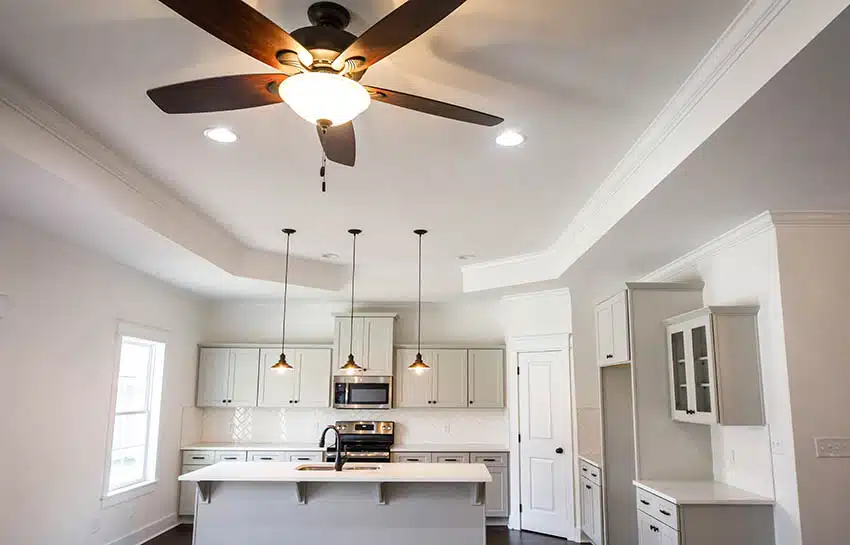 Tips For Tray Ceiling Construction
1. Hide Joints with sealing compound. The edges and seams of the drywall where the boards meet can be sealed to create a seamless joint by using a joint compound.
2. Consider using lightweight materials. Light materials such as gypsum and foam are easier to handle and will have less weight load on the structure. Also, consider metal furring, such as aluminum braces, if needed, as it is lighter while it won't expand or contract like wood.
3. Use premade components for faster construction. There are pre-built tray ceiling kits and prefabricated moldings that come with a variety of designs. These components will cut time on the assemblage of a tray ceiling.
4. Always plan the lighting before construction. A lighting plan beforehand ensures that electrical work is laid out correctly and lighting fixtures will look seamlessly integrated with the tray design.
5. Use rope lighting for a dramatic look. The long tube of lights is installed along the perimeter of the tray ceiling, which will emphasize the recessed area while giving it a dramatic glow which is great for social spaces and the bedroom.
Tips for Painting a Tray Ceiling
1. Start with the edges and corners of a ceiling before applying to flat surfaces to provide a cleaner and more precise paint finish.
2. Paint in small sections to prevent lap marks. Evenly paint the previous section with the next segment to blend in color.
3. Apply in multiple thin coats, which achieves a clean and smooth appearance.
4. A lighter tone than the rest of the room's overall color scheme can make a small room more spacious and open. A bold tone, meanwhile, is great for large expansive social spaces that can provide an opulent appeal. An exposed wood texture can also add depth and richness to the space.
5. Understand the difference between the matte and glossy paint effect on your tray ceiling. Glossy paint can reflect light better and can look more opulent than a matte finish. The downside is that imperfections can be easily seen with the reflective finish.
A matte finish is commonly used as it can hideaway imperfections and is easily repainted when needed without showing differences between the newly painted section and the old paint.