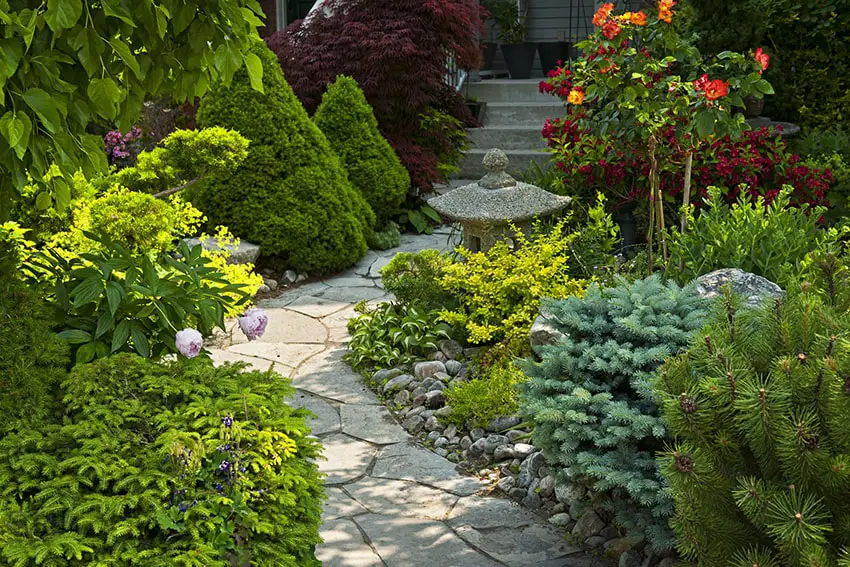 A walkway is a great addition to your garden that is sure to enhance your outdoor landscaping and allow you to get more enjoyment from your yard. Below you'll find pictures of 75 different walkway ideas and designs for inspiration. A variety of path styles are shown with brick, paver and flagstone steps to create the ultimate garden sanctuary.
In the picture above natural gray flagstones is the best choice for this lovely Japanese garden. When creating a walkway it's more than just a way from here to there – make a fun & inviting path to follow.

Walkway Ideas
A walkway or stepping stone path in your backyard can help you better enjoy your outdoor space. Creating your own DIY walkway design can be accomplished without a whole lot of money and as a weekend project. Here are some of the most popular types of materials used to help you come up with walkway ideas for your own yard.
Brick – Brick is great for outdoor walkways because it offers a distinct look that is attractive and elegant. However, brick is best when used in mild climates and will need to be sealed every few years to help prevent any water penetration.
Pavers – Pavers are commonly used for walkways and paths and can come in many different materials. Concrete, clay tile, brick and stone are often used as pavers making them both durable and low maintenance.
Stepping stones – Regular cut stones can be placed down across your garden or lawn to create a path anywhere you want. These are popular choices for a quick walkway project as they are both inexpensive and easy to do yourself.
Concrete – Concrete slabs, pavers and stamped concrete blocks are often used for constructing durable walkways. Concrete is a favorite choice because they can stand up to adverse weather conditions and be customized to get the look you want. With coloring techniques, molding and stamping you can get a custom look that is unique to your yard.
What makes this walkway unique is that it trims the outer edge of the flagstones it used to create a very straight edge, while keeping the other edges of the flagstone natural.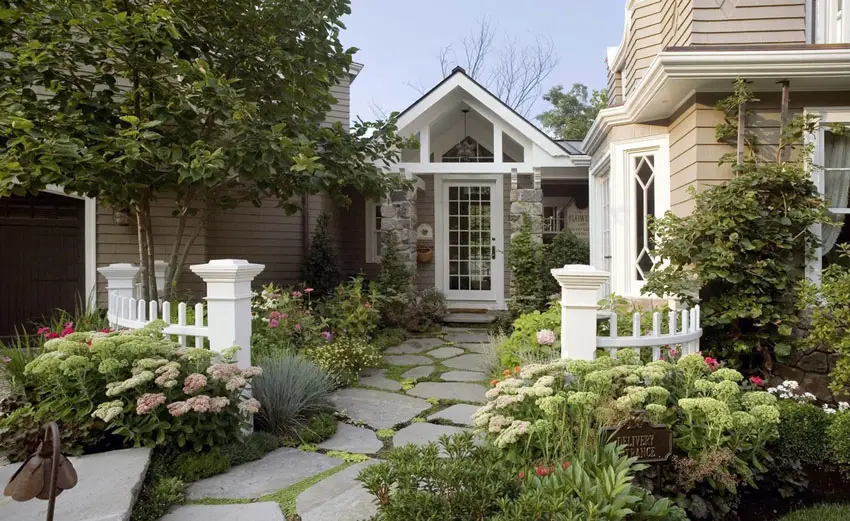 The large natural flagstones used in this walkway leading to the front door is the perfect choice of material to create that natural and romantic look for this small flower garden.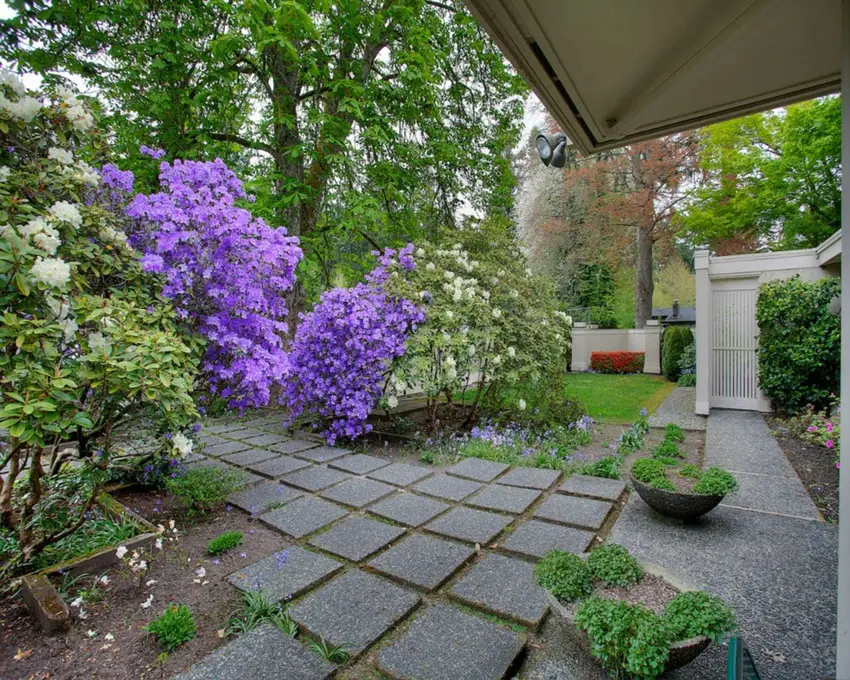 This walkway was made using square blocks of concrete with pebbles, matching the poured concrete walkway with pebbles.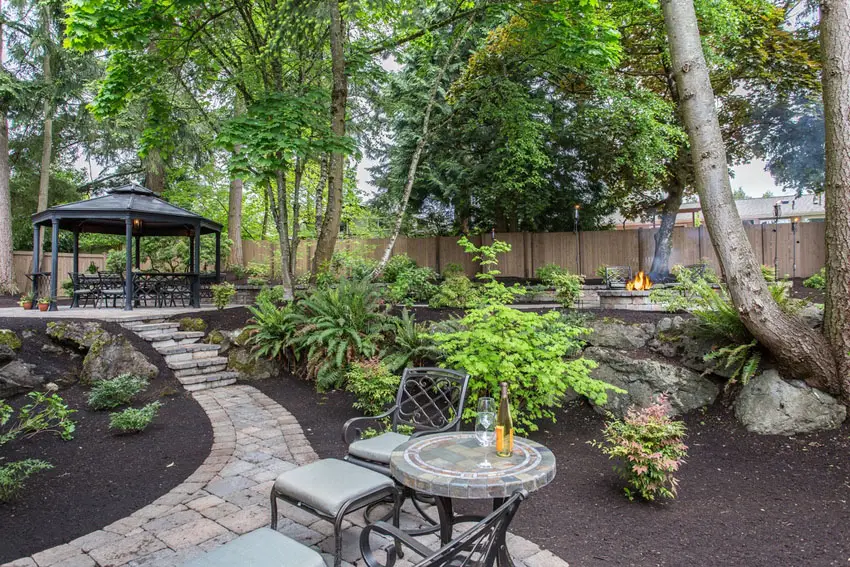 This walkway frames itself with square stone pavers and uses a variety of sizes of the paves inside the framing. This walkway connects a small lower sitting area going up to the open gazebo.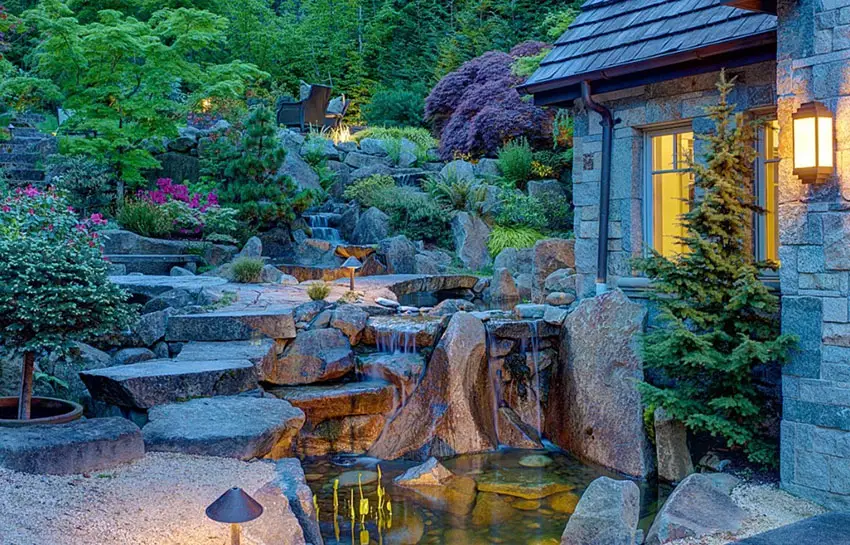 A gorgeous garden area complete with backyard water feature and a winding stone and gravel path leading up to an outdoor sitting area.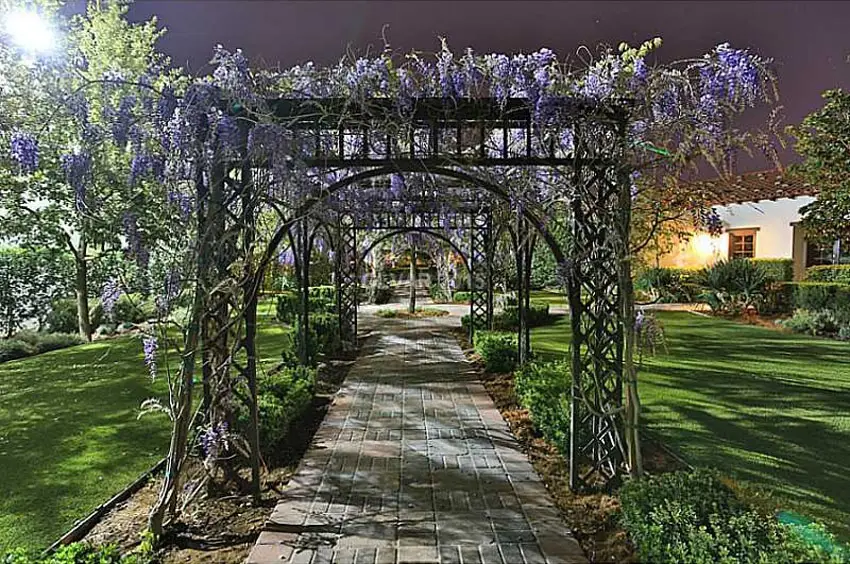 A romantic Wisteria-covered walkway which uses a basket-weave pattern for its stone pavement.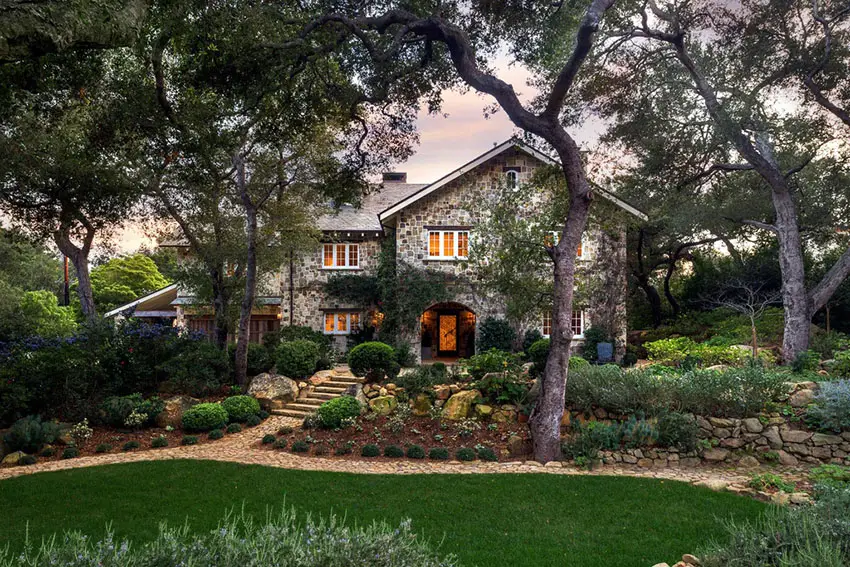 This picturesque stone cottage is made even more beautiful by the winding stone pathway through the garden. Small hedges and a curved lawn area invite guests to the home's entryway.
An expansive walkway in a cactus garden which uses stone pavers to match the over-all feel of the dry garden.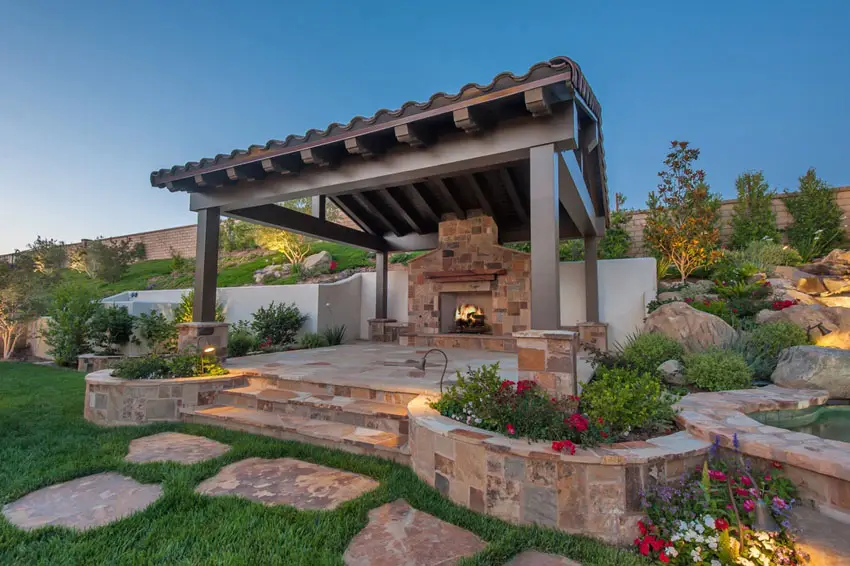 Leading to a covered patio with natural stone tiles, the flagstone used were also natural stone, keeping its real shape for a more natural look.
Using concrete zocalo to separate the plants from the terracotta paved walkway, the garden appears slightly raised above the walkway level, making them look "framed", like art pieces.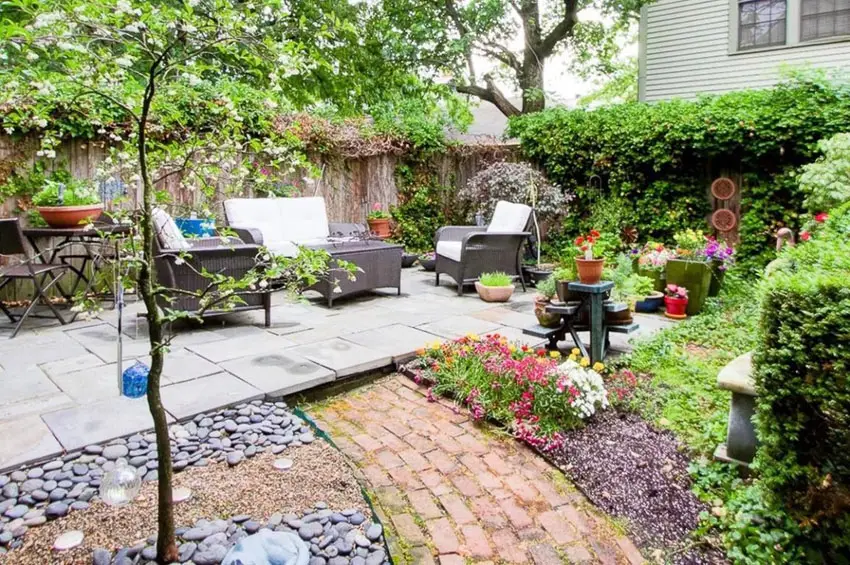 Antiqued brick pavers leads to this small patio sitting area in a raised platform with concrete paver blocks.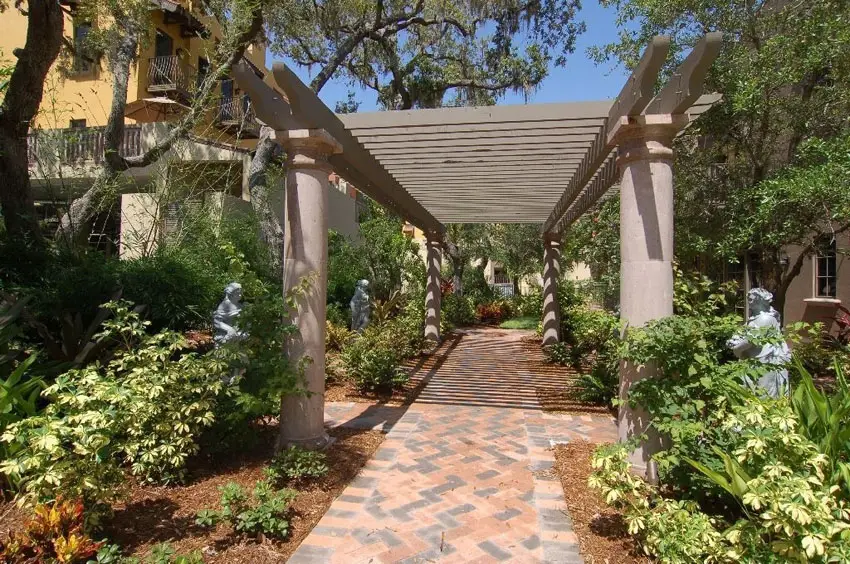 Brick pavement blocks are one of the most common materials for walkways, and in this example, the brick pavers were laid out in a chevron pattern and framed with straight lines of bricks for emphasis.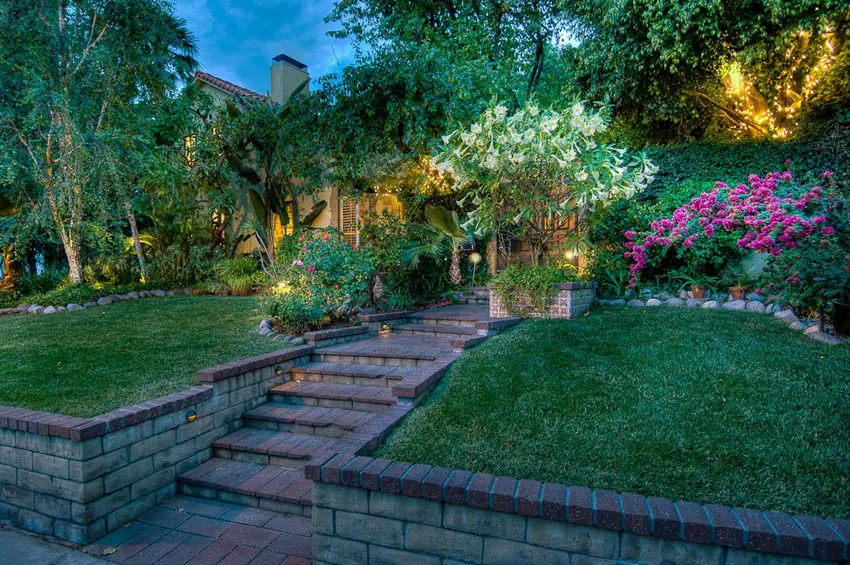 A well manicured garden which uses brick as its main pavement material. The same material was used on the narrow steps as well, creating a rustic look for the garden.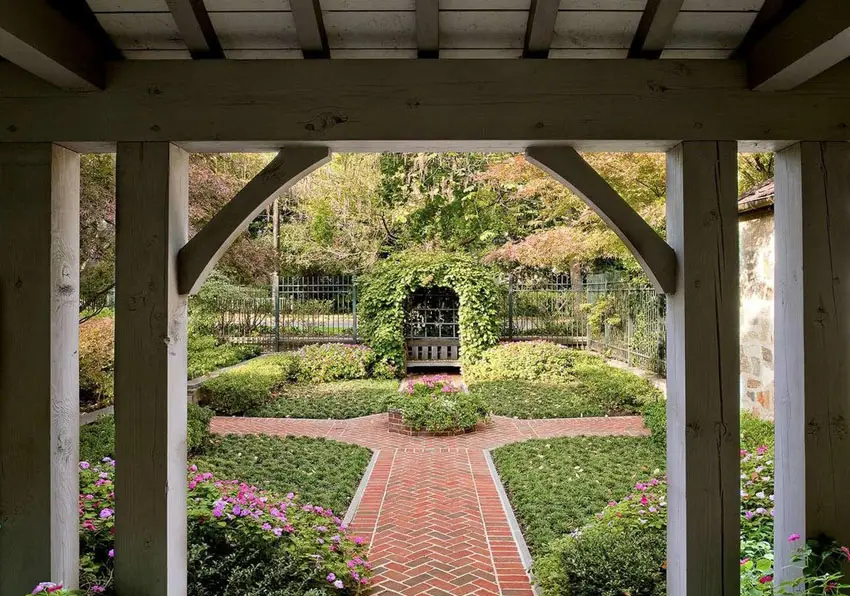 This elegant garden uses an equally elegant design for its walkway using bricks on poured concrete. It uses a combination of chevron pattern and horizontally-stacked frames.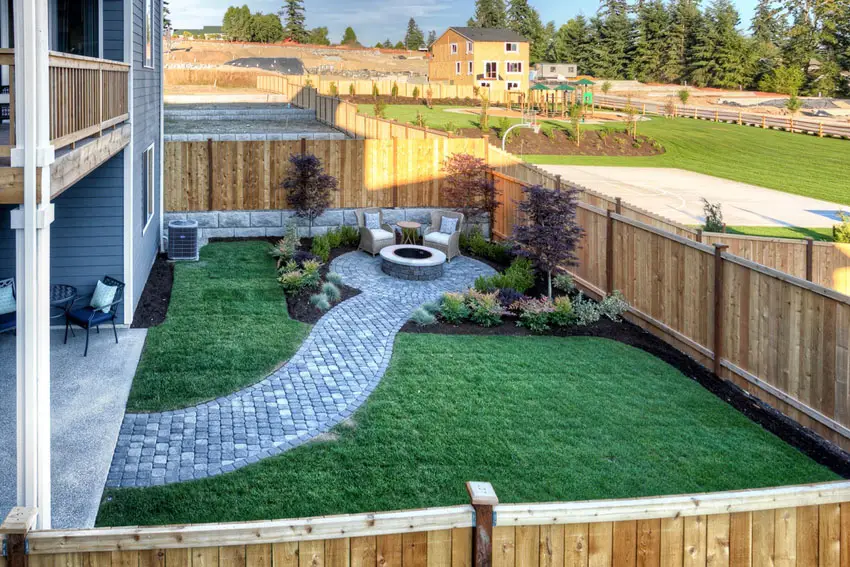 This walkway connects the patio with an open sitting area. The walkway is made of square shaped concrete pavement blocks curving into a cobble rosette layout for the sitting area with a round fire pit.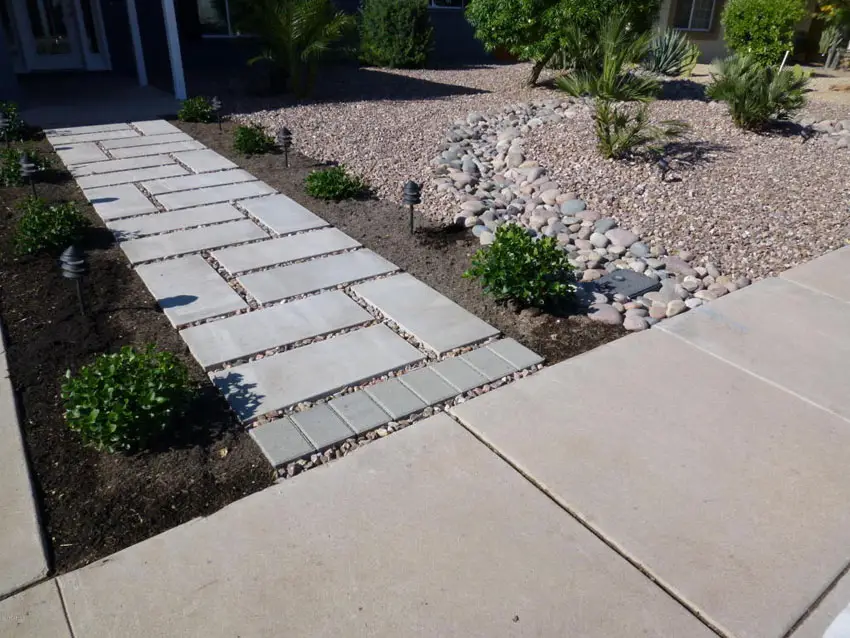 Going for a more modern look, this walkway has clean, straight lines and plain surfaces. It is a combination of thin concrete blocks in a rectangular shape placed on a river stone bed.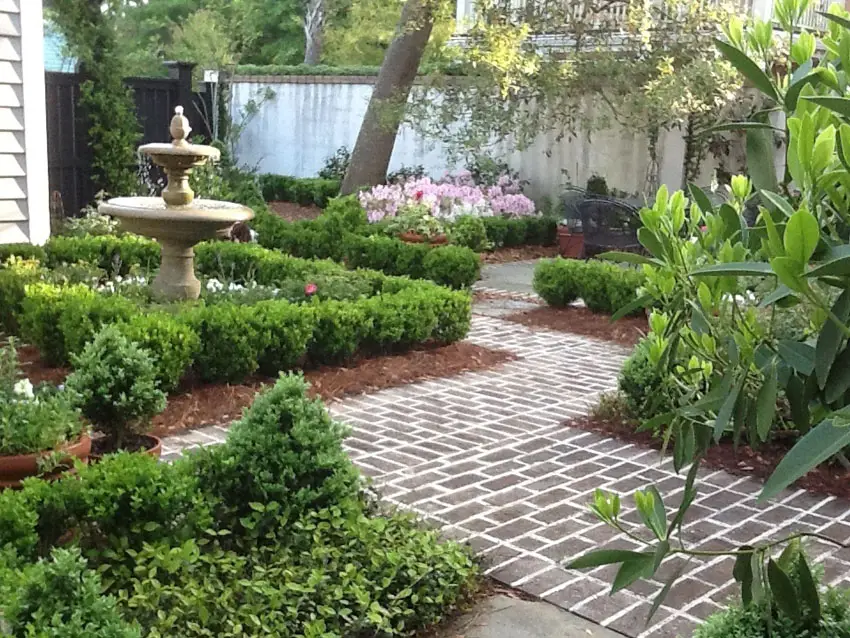 This walkway uses a darker color for its brick pavers and uses concrete to fill its gaps.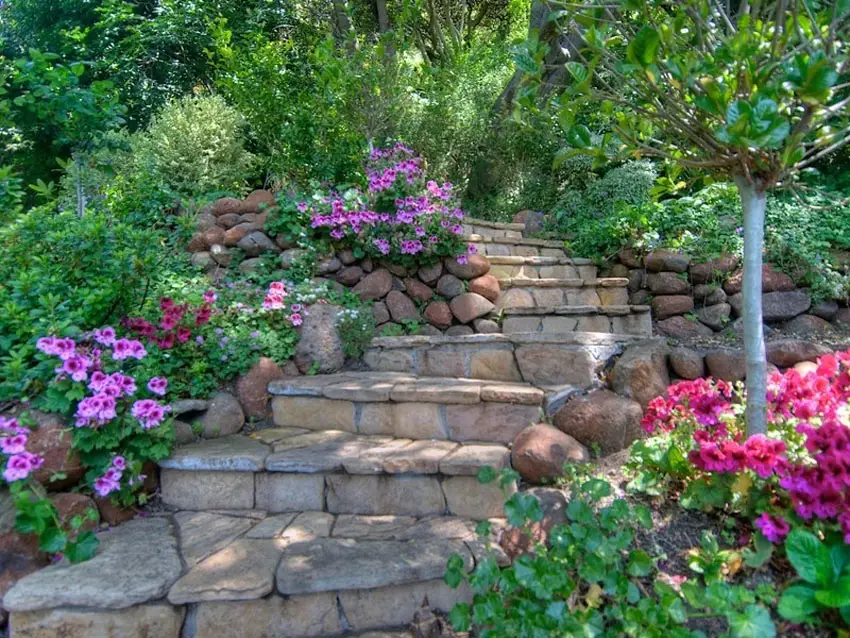 Going for a more natural look, this walkway steps uses natural flat stones which looks great with the riverstone walls used to hold the plants on the sides.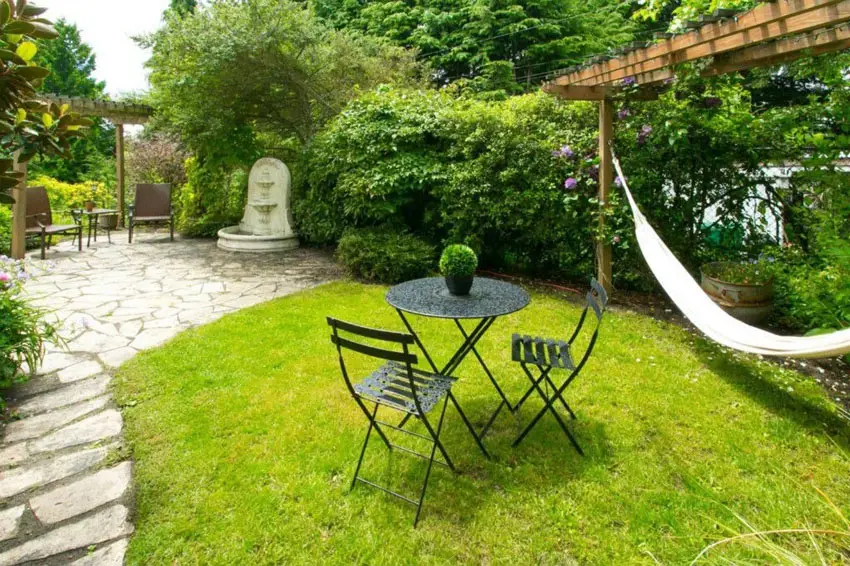 Slate Flagstones was the material of choice in this simple garden. It keeps its natural ragged shape and sets it with concrete to prevent it from moving or sinking to the ground.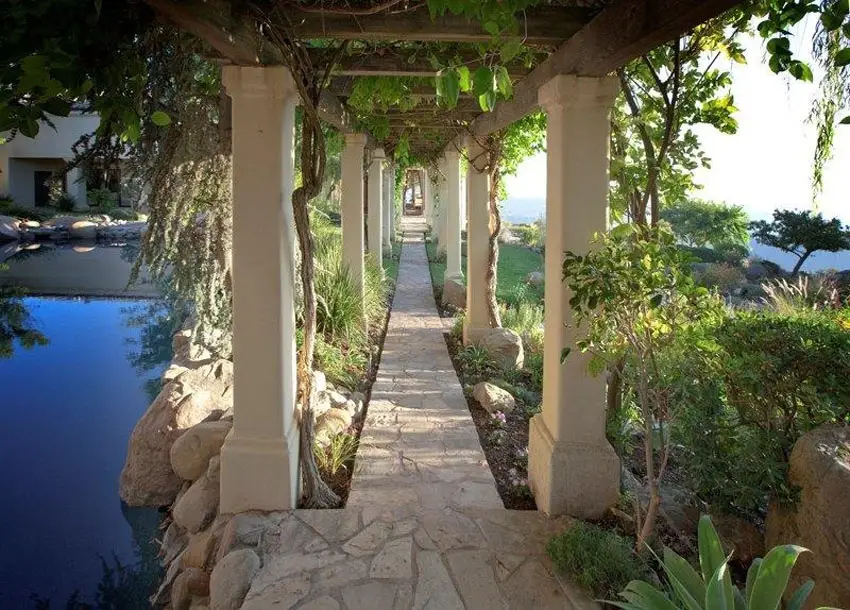 This gorgeous narrow walkway is surrounded by excellent man-made nature scenes and has stone pillars along the walkway with trellis in which vines serve as the shade. The flagstones used on the walkway is cream-colored sandstone set on concrete base and cream colored grouting.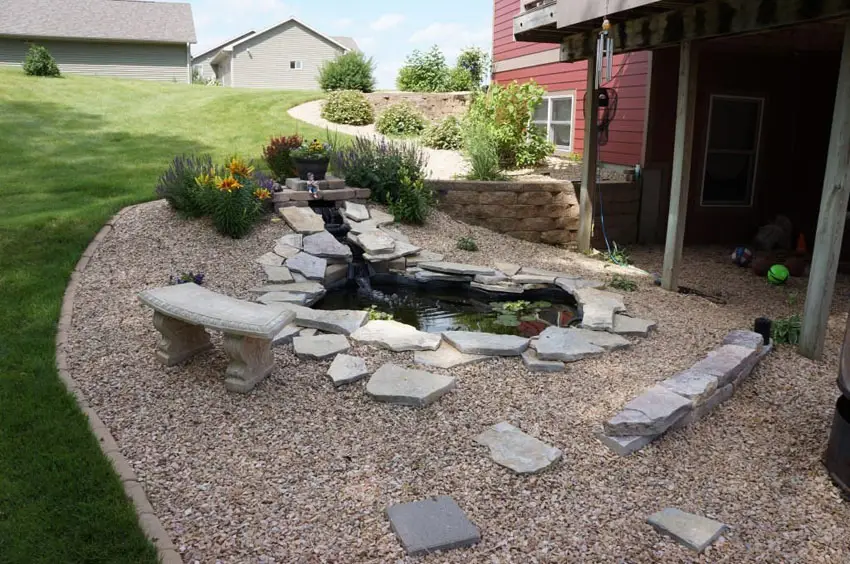 A unique walkway layout which uses flagstone in sandstone placed on top of beige colored pebbles with a scattered placement. Stone edging helps keep the gravel from traveling out on to the lawn area.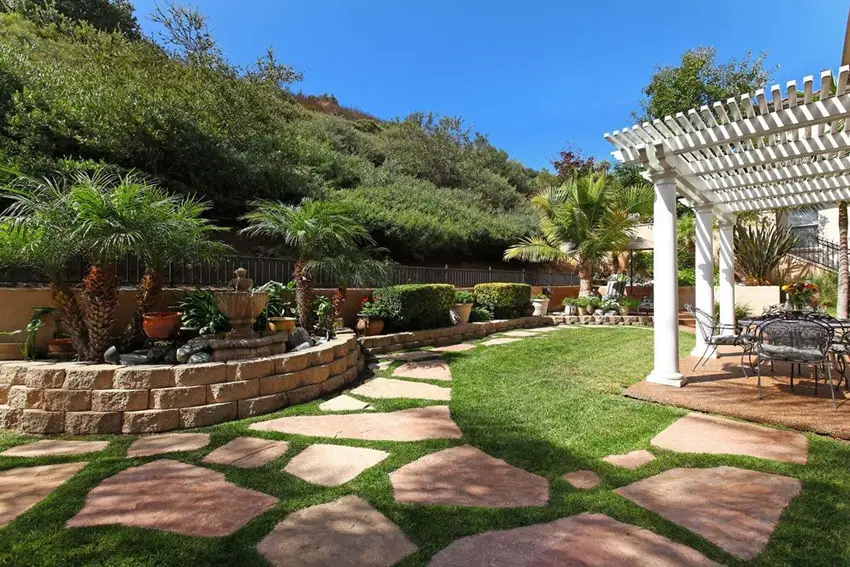 Placed directly on the lawn, these large Colorado red brown Cameron flagstone definitely adds more personality in this small garden backyard. the stones provide visual texture to the landscape design and allow you to let your creativity run wild.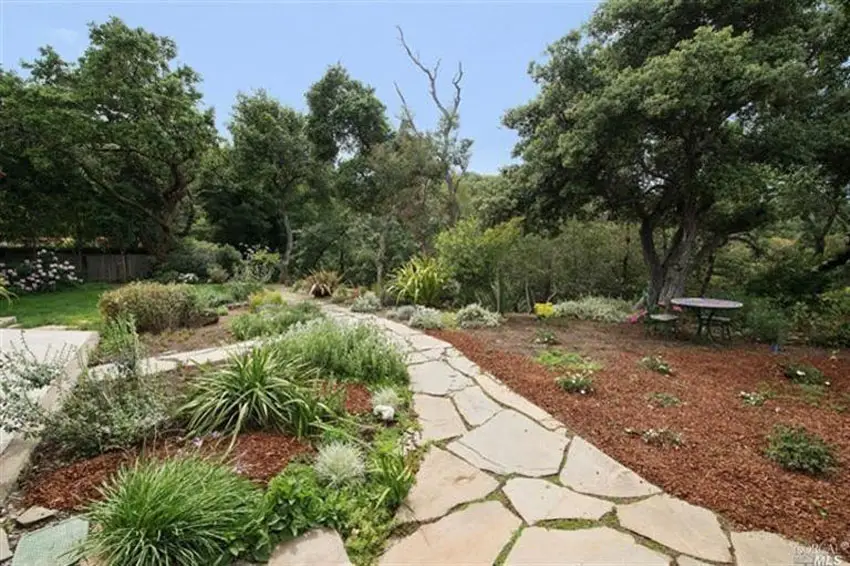 This large park/garden area is characterized bu its wild and seemingly random plant arrangement. The walkway in the middle of the red soil are limestone flagstones, which are almost white in color, making it really pop out against the color of the soil.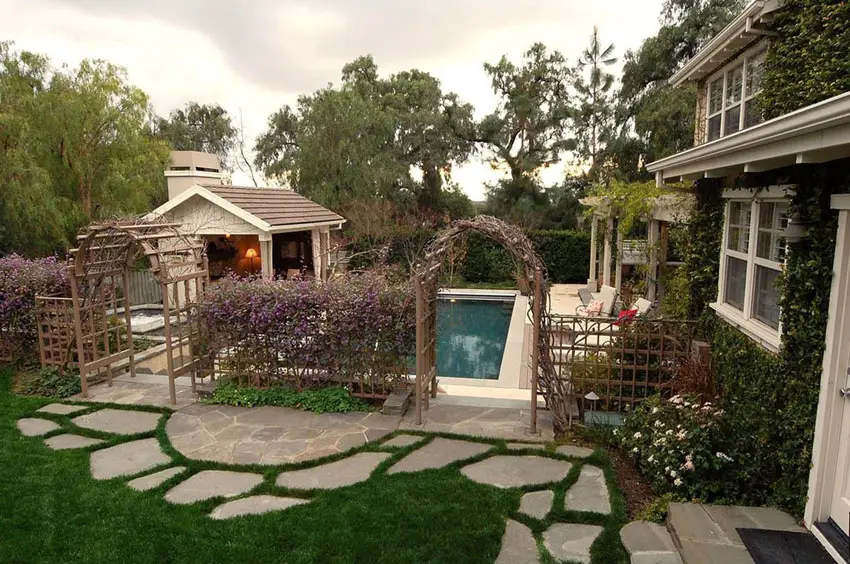 Large slabs of hickory gray flagstones were placed on the lawn-covered yard, creating a small walkway which connects the backdoor to the pool area.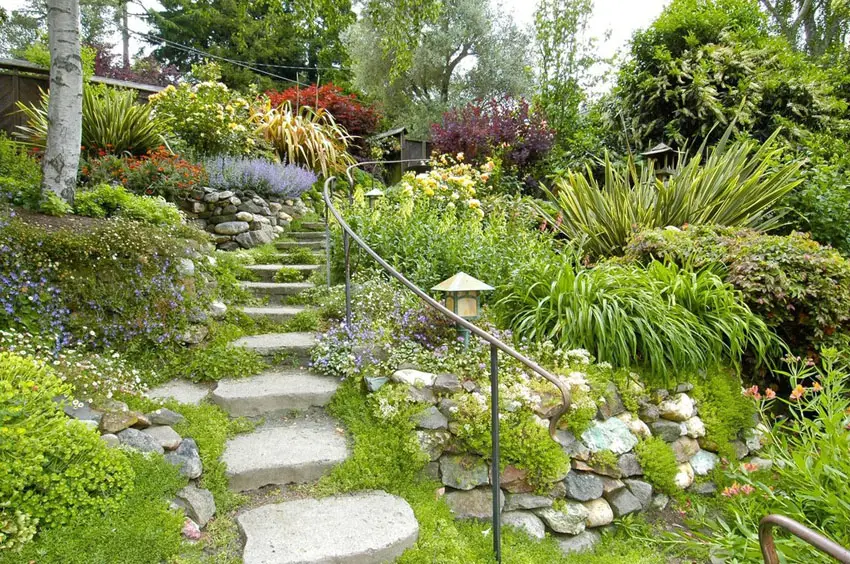 Bountiful shrubs and flowering plants surround this stair walkway which uses large slabs of stone to create the steps on the ground, making it look naturally part of the garden.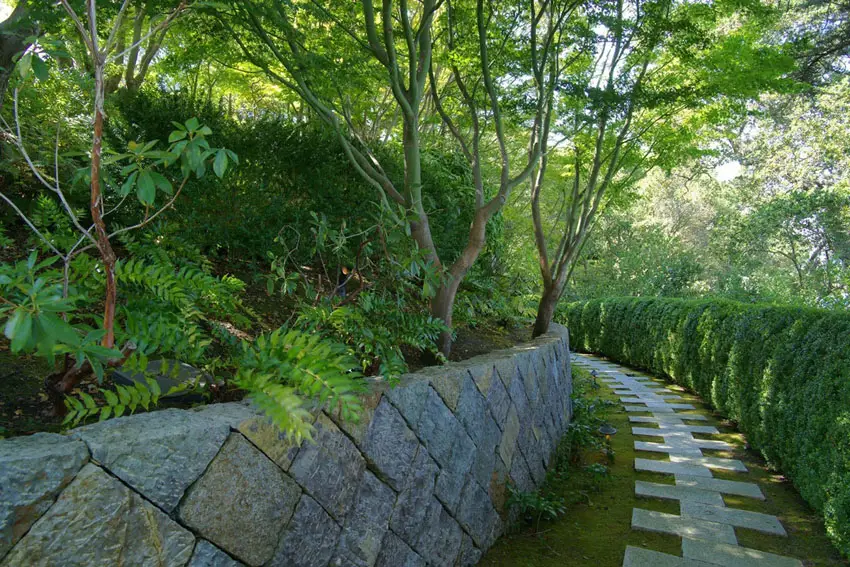 This narrow walkway creates an interesting pattern by using rectangular tiles laid out in an alternate pattern. The result is a spine-like walkway placed on top of the lawn with ground garden lights.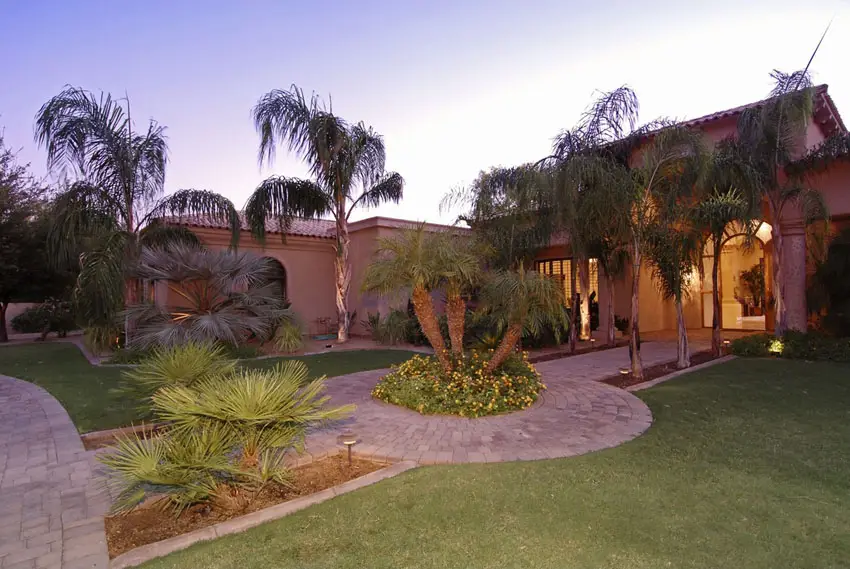 A Mediterranean style home uses cobblestone walkways to lead you from the driveway to the main entrance. In the middle of the walkway, the straight path is broken by a cobblestone rosette with plants at its center, creating an accent piece.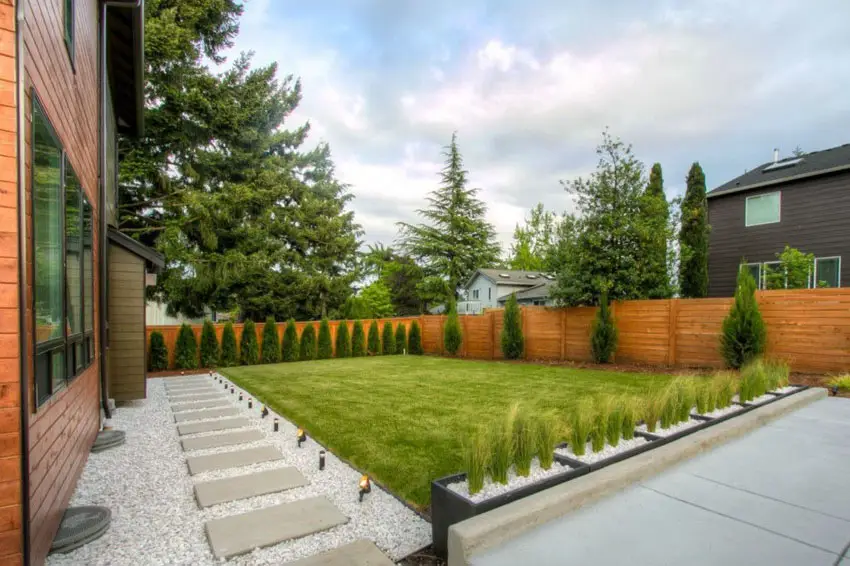 This simple short walkway simple placed cement tiles on top of white river stones, creating a simple and modern walkway.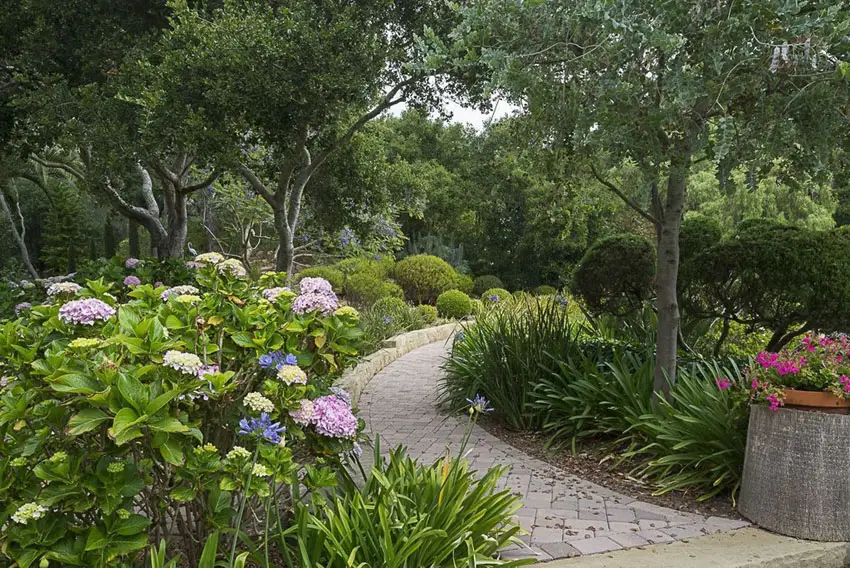 Using cement pavers, this walkway takes you to a curved path into the gorgeous garden.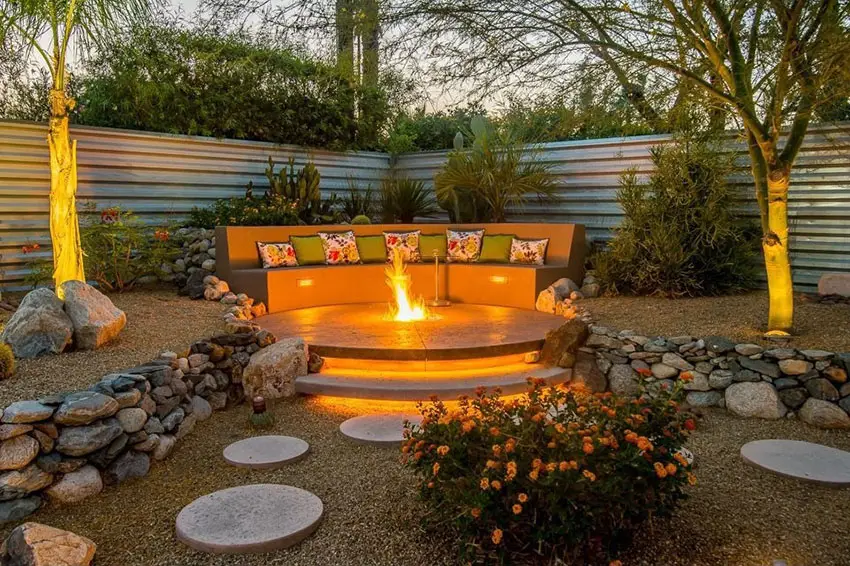 Going into this raised fire pit area is made more interesting, as it uses round cement blocks to create a walkway on top of the beige colored gravel.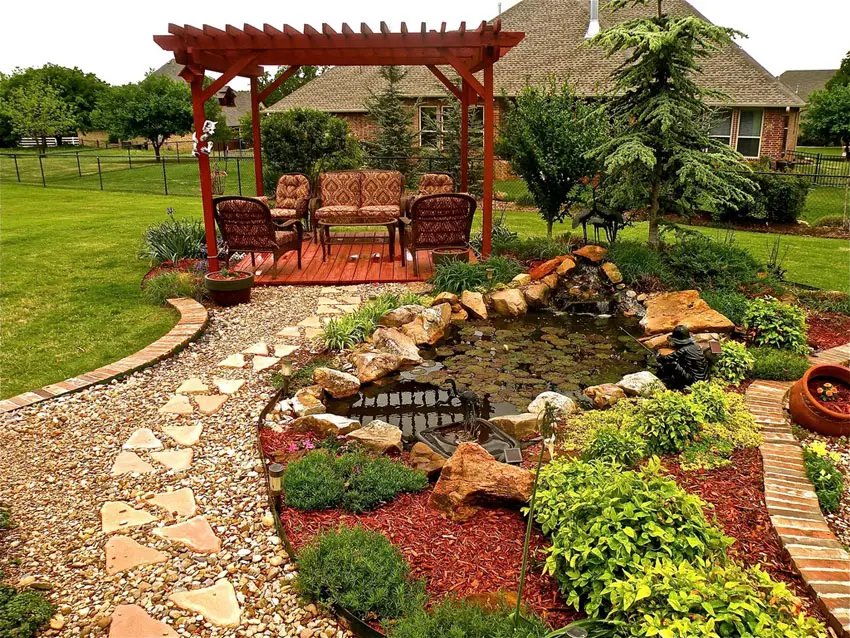 Usually, flagstone walkways use big slabs of stones, but this patio walkway uses smaller red color flagstones to help lead you into the patio and back.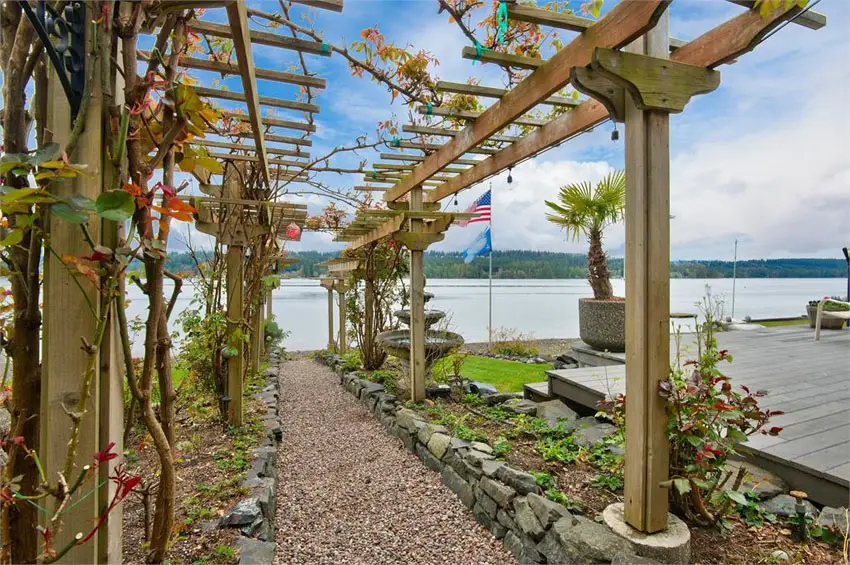 Most walkway examples in this post uses flat-surfaced stones as walkways, but this example doesn't. Instead, it simply uses red gravel stones for the pathway leading to the riverside, making it look appropriately perfect for the scene. Wood trellis' adorn both sides of the pathway leading to the lake and provide needed shade.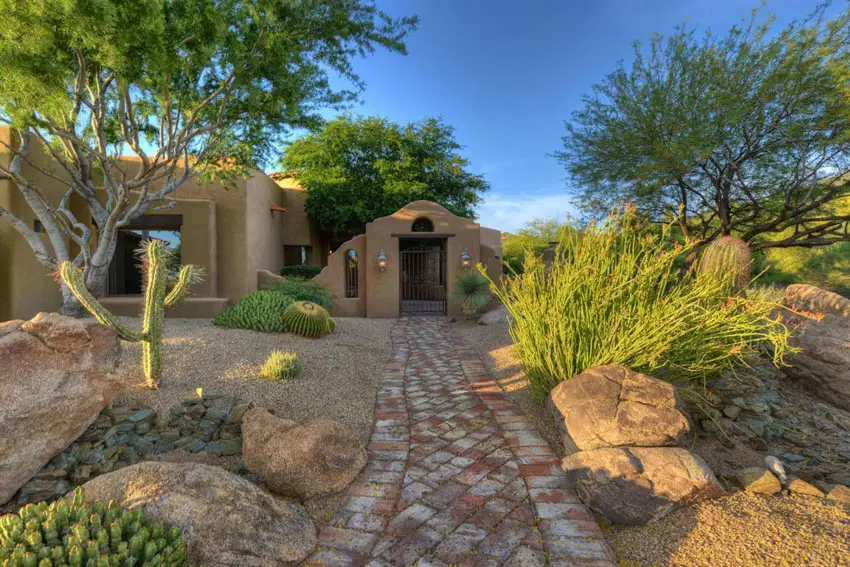 This dry garden keeps to its natural beige/sand color scheme, by using antiqued pavers arranged in a running bond pattern diagonally.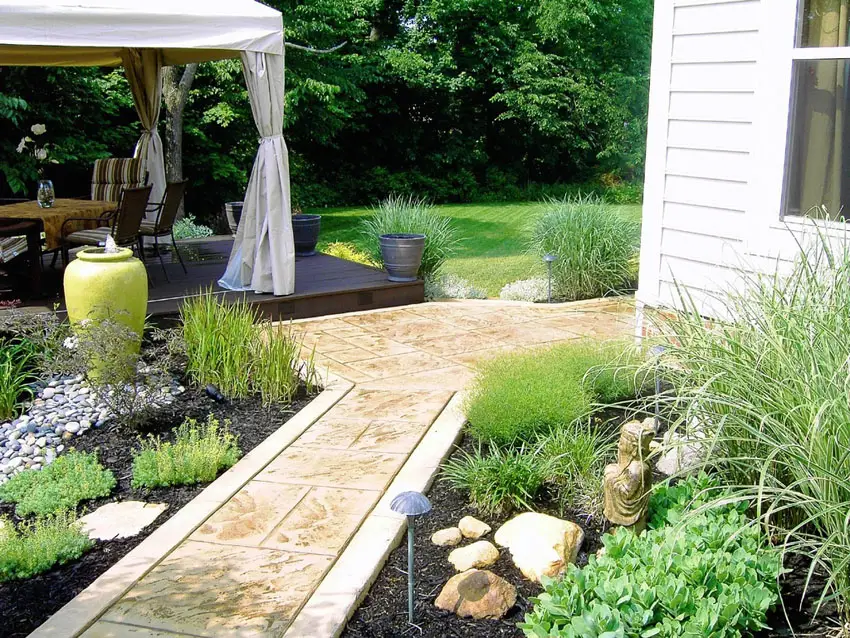 Unlike the previous examples, this walkway uses stamped concrete in cream beige instead of natural stones. It has a straight lines and a large basket-weave pattern.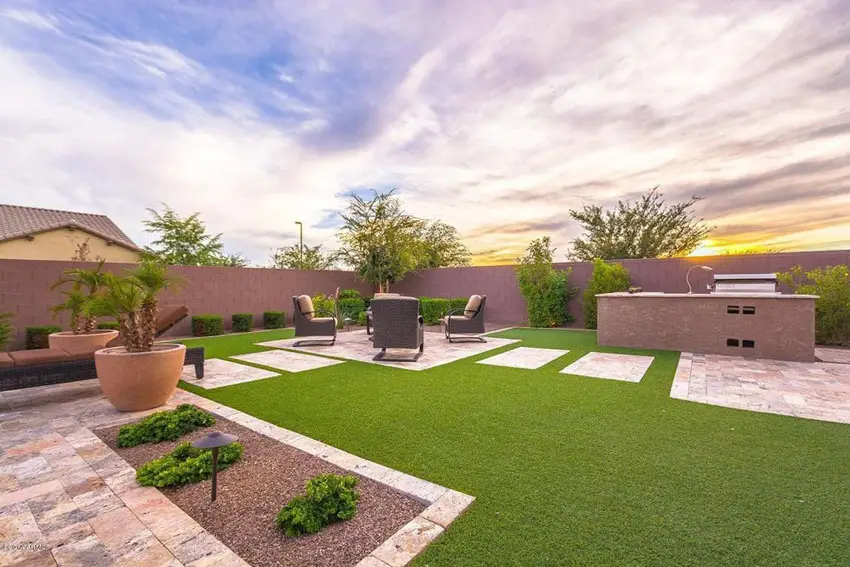 This modern Mediterranean garden using rectangular blocks of Tuscan paving stones to create this modern walkway leading you to different areas of the backyard.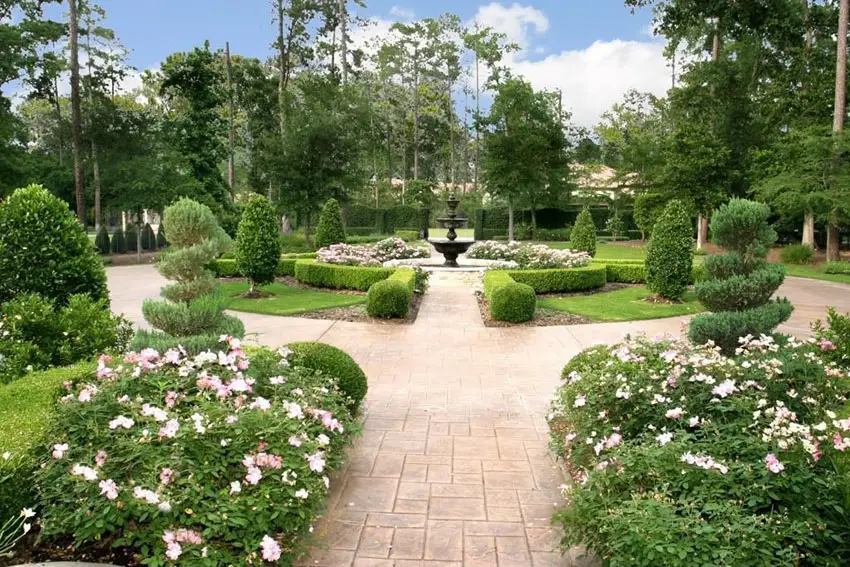 Red cobblestones in a basket-weave pattern were used in this French-style garden.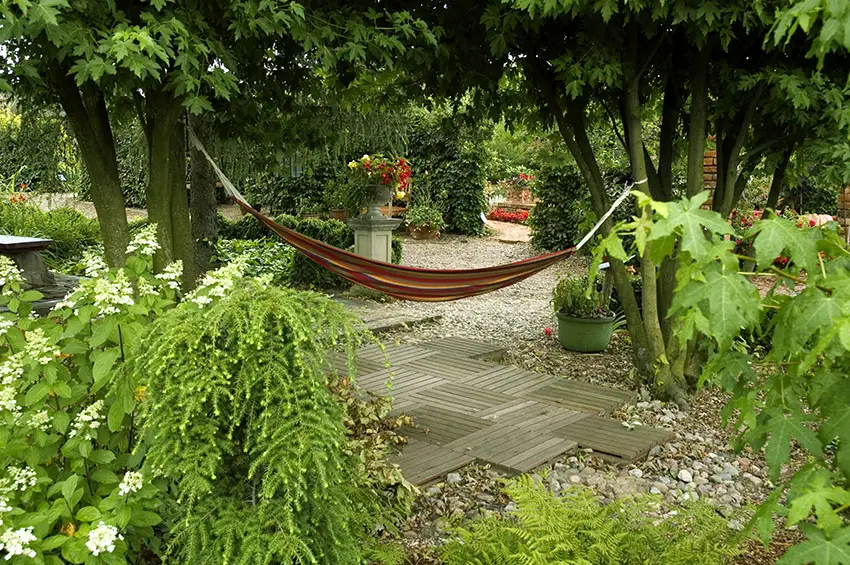 This hammock has a unique choice of walkway material. Instead of stones or pavers, it uses modular PVC wood decking arranged in a basket-weave pattern.
Brick Walkway Ideas
Going for a more neutral color scheme to match the architecture of the house, the pavers used in this garage area/walkway are concrete blocks in the size and shape of brick pavers.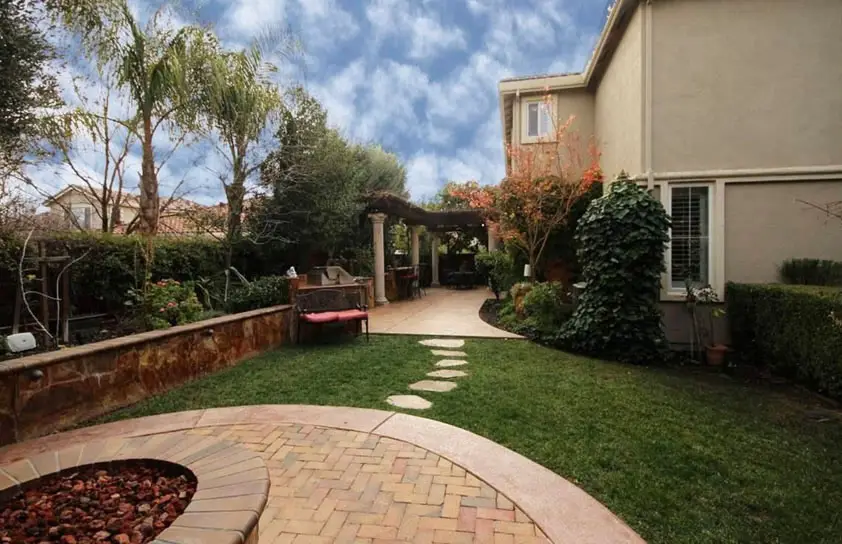 This walkway features a combination of chevron brick pavers and natural slabs of flagstones, connecting the fire pit to the tiled area of the backyard.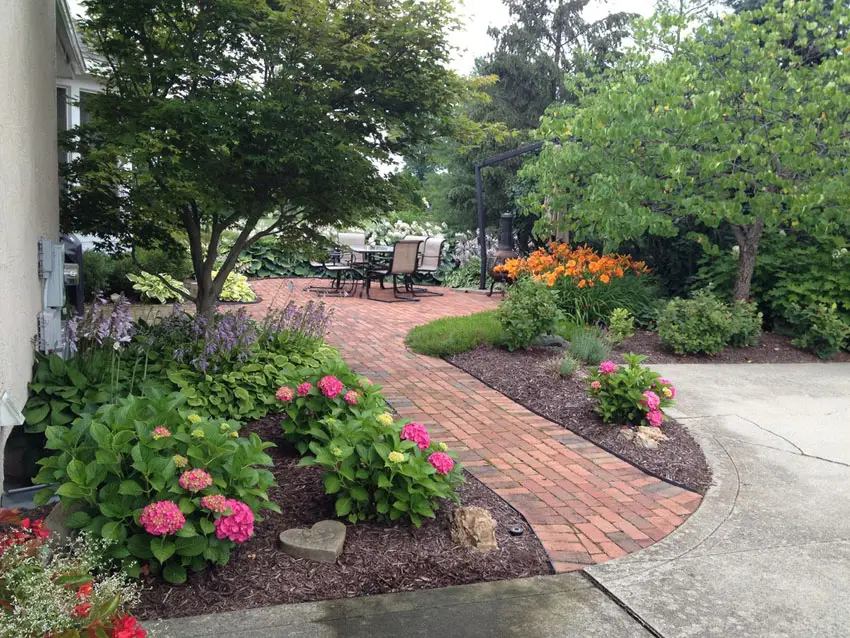 Terracotta brick pavers connects the small patio area to the concrete walkway/garage, making it stand-out and emphasizing it against the normal walkway.
Helping you around this well-manicured garden are brick pavers, which uses a basket-weave pattern. A small wood shingled structure complete with benches is a beautiful spot to relax and enjoy the surroundings.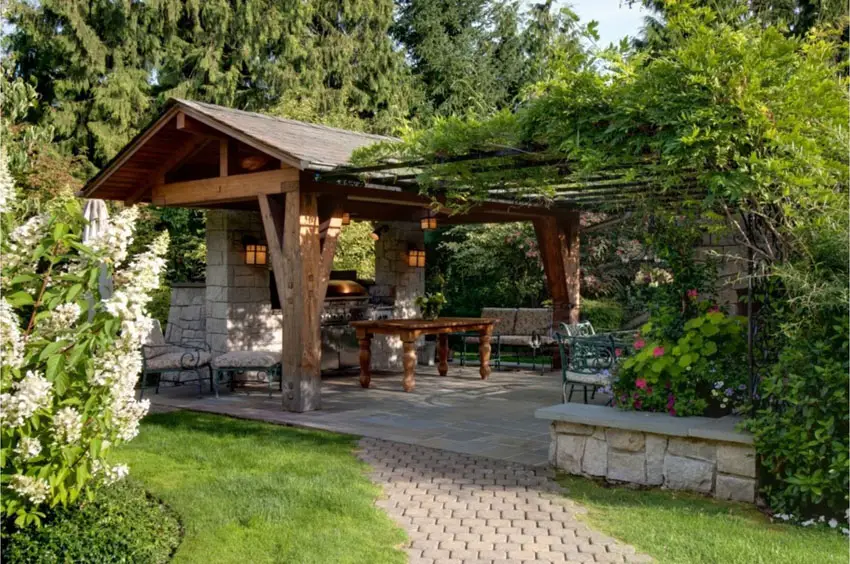 This outdoor patio area is connected to the other parts of the house via the hexagonal brick pavers. A wood covered outdoor kitchen area makes the perfect backyard location to hang out with friends and family.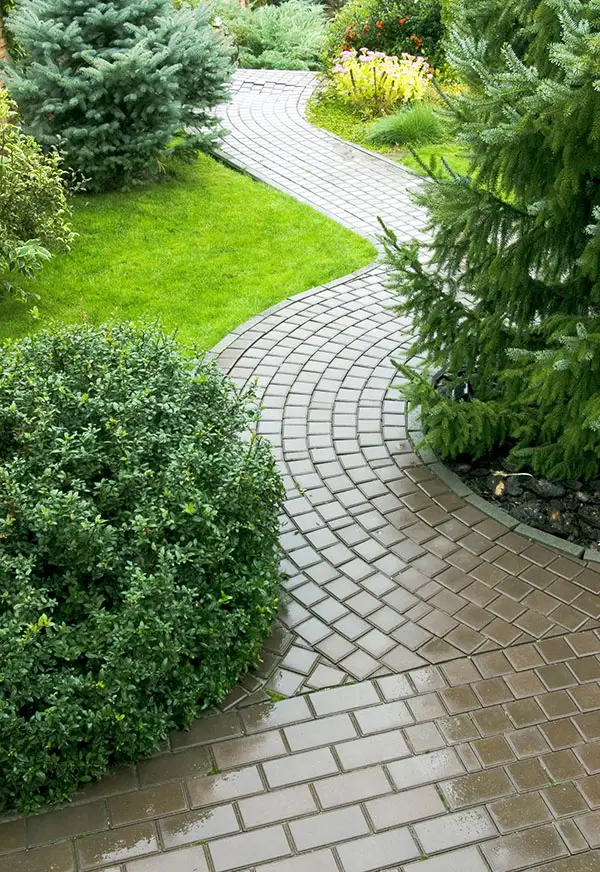 What's unique about this walkway is that it uses brown bricks with a glossy finish instead of the more popular natural stones or at least a matte finish.
Stone Walkway Ideas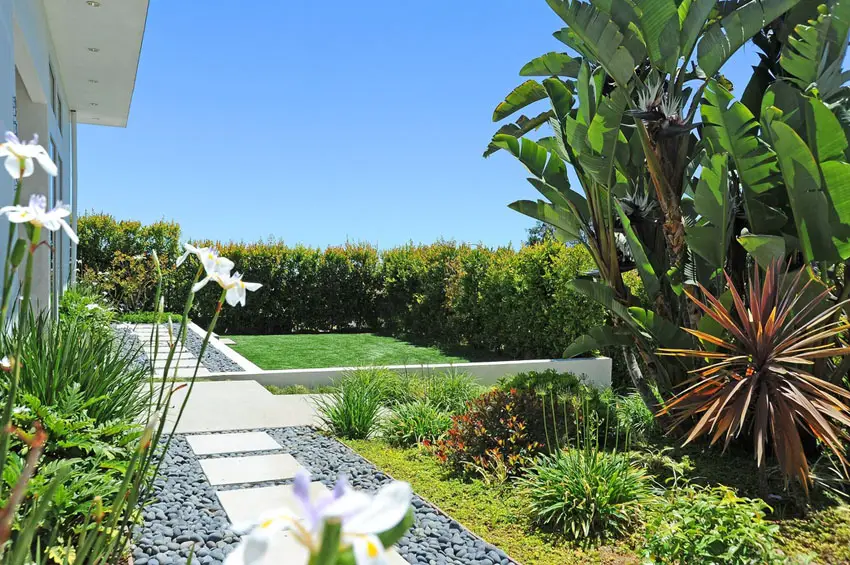 Matching the modern architecture of the house, the small walkway at the backyard combines river stones with straight-laid white square stone blocks.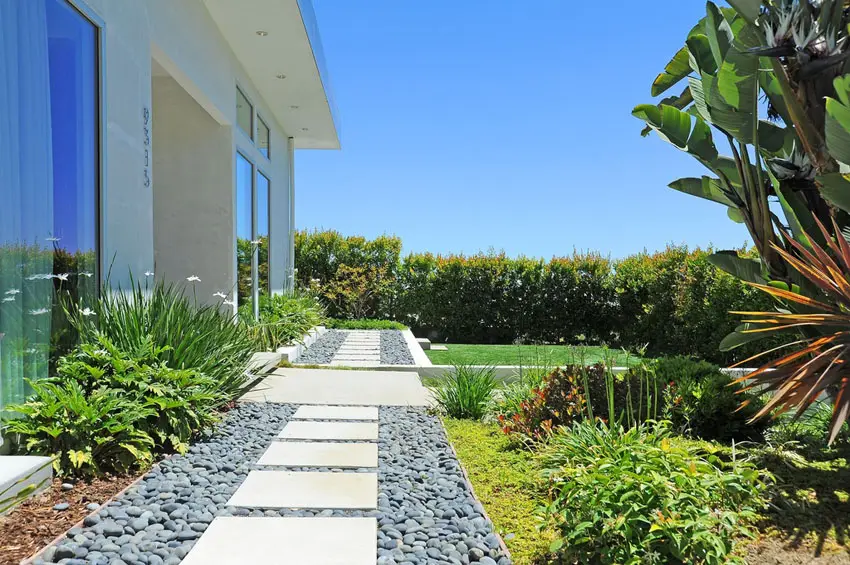 Seen from a slightly different angle this pathway is a low cost way to create a great looking way to navigate the garden area.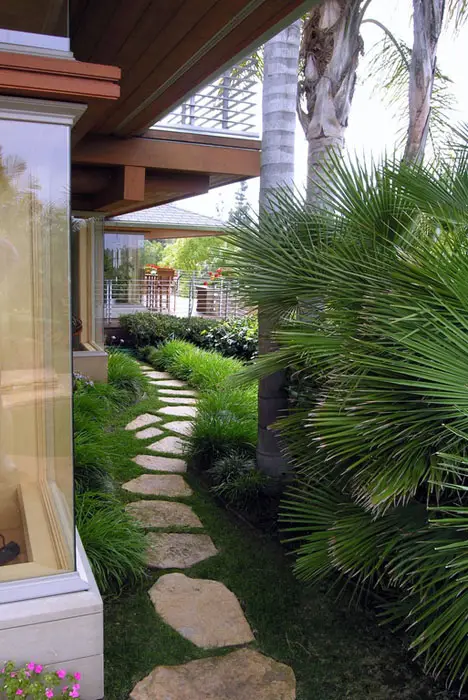 Lime stone flagstones adds a nice touch to this small garden, offering a small walkway around the garden on the side of the house.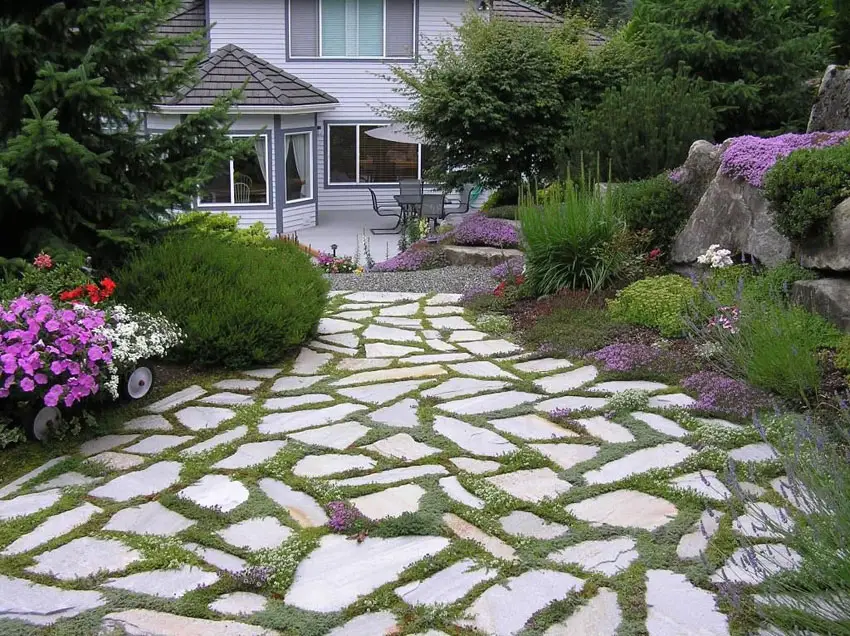 This walkway is sprawling with little flowers, shrubs and garden law, with randomly arranged limestone flagstones.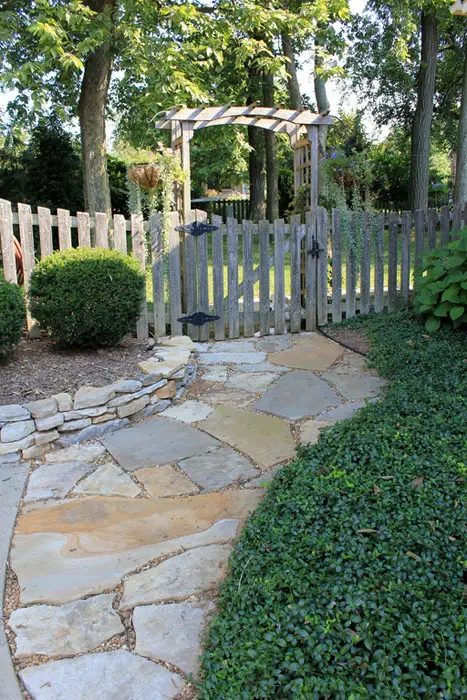 This little walkway leading to the garden gate uses a combination of different flagstone quartz colors, creating a natural look perfect for the outdoors.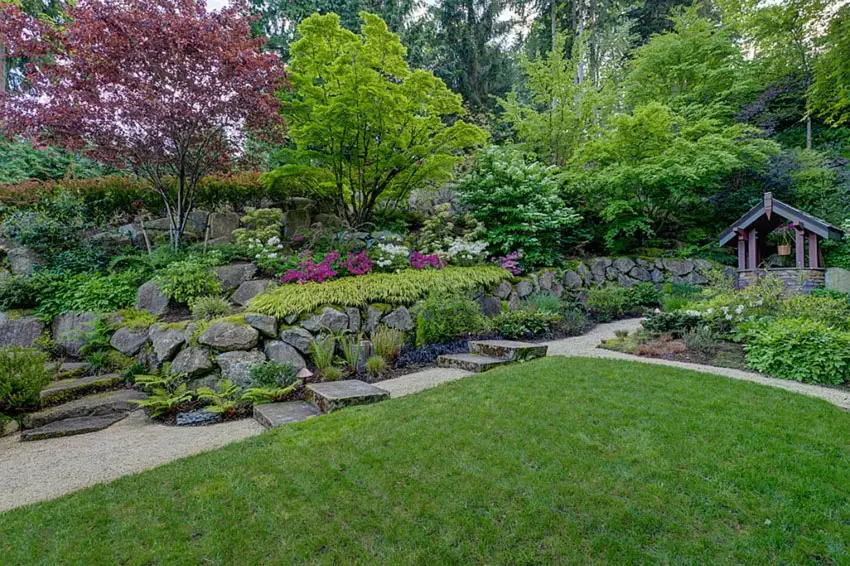 This garden uses a combination terrazzo walkway with large and heavy slabs of stones used as steps/risers.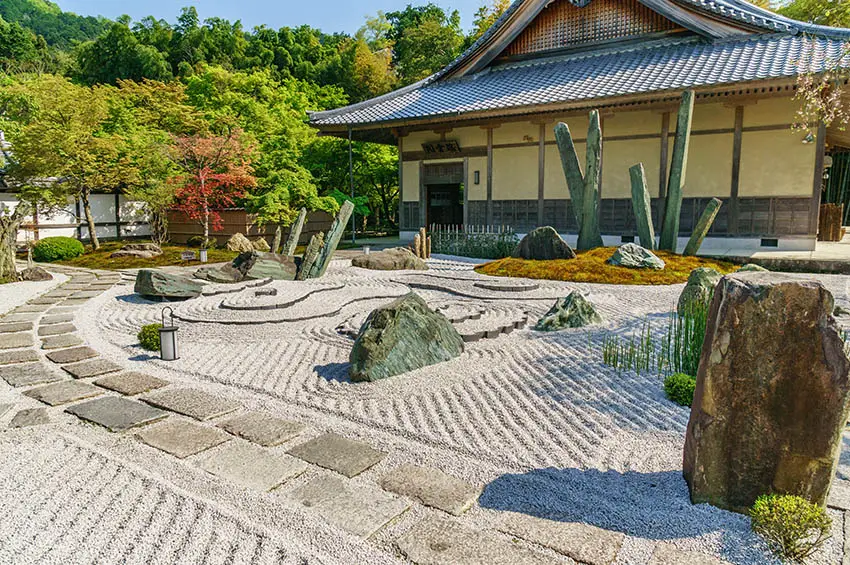 This beautiful Japanese style backyard rock garden offers a tranquil stone walkway through its raked gravel landscape.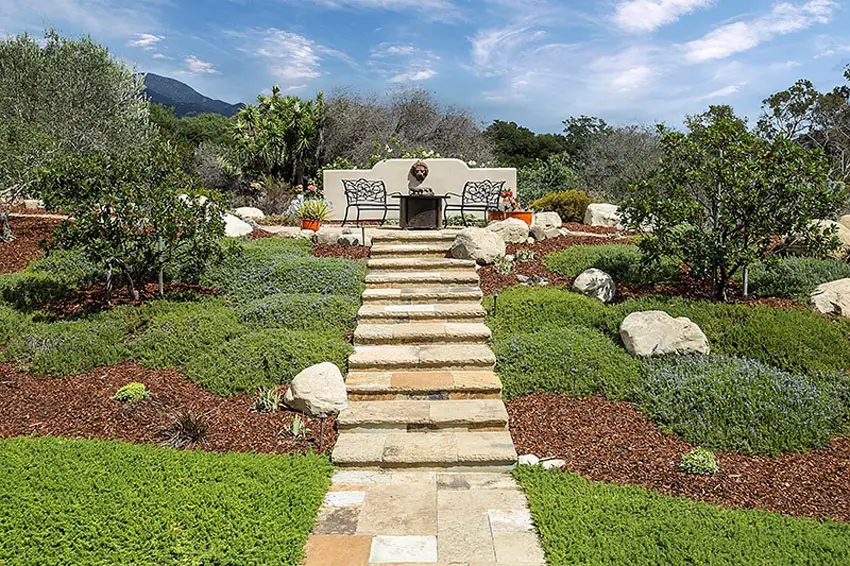 This walkway leads to an elevated area with stairs made from the same material as the walkway. It uses sandstone cut in various sizes and adhered together to create a more stable, smoother surface.
Flagstone Walkway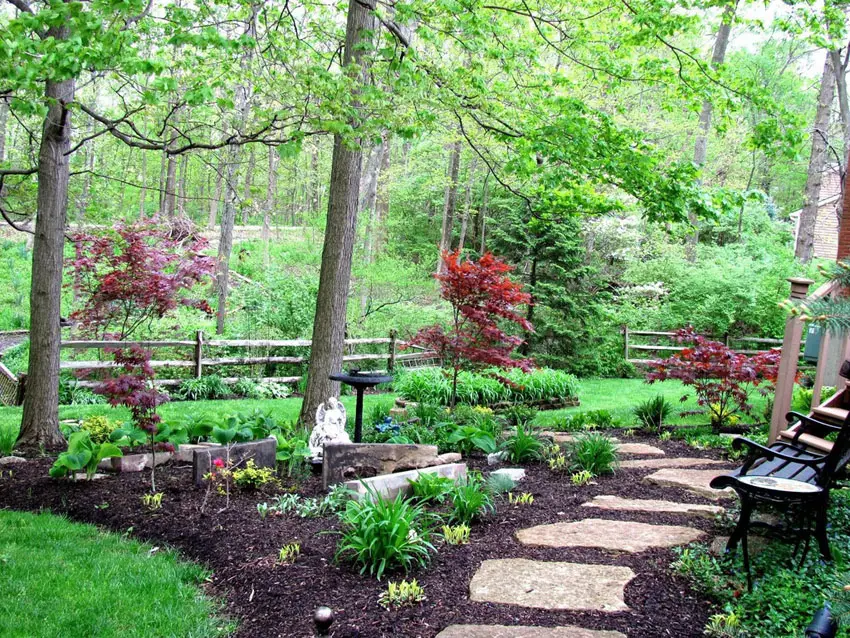 The light red color of this flagstone walkway definitely pops out from the dark soil base it is laid on.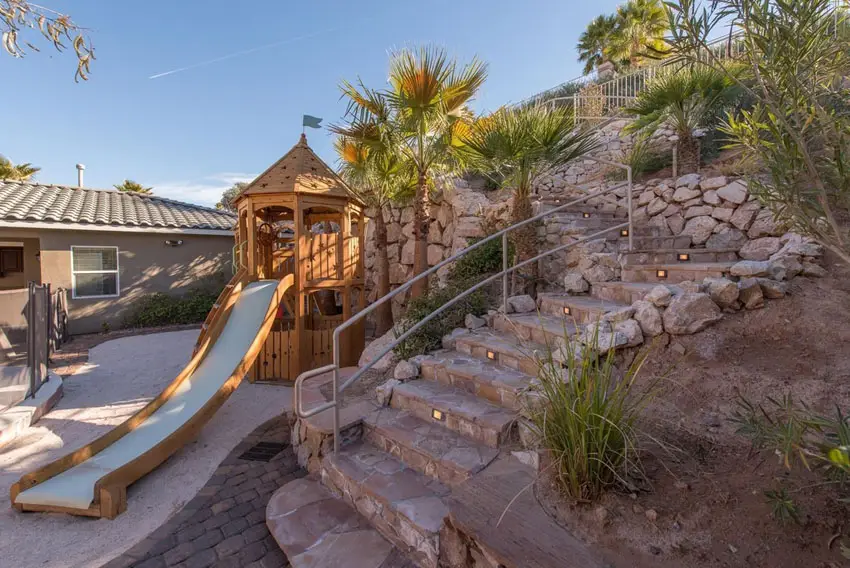 This example uses a combination of walkway materials. At the foot of the stairs carved out of the hill which uses lightwashed flagstone steps, are brick pavers in a simple running bond pattern and framed with the same brick material. A sandy child's playground complete with slide and fort are in the background.
This winding walkway uses cream colored flagstones and fixes them together like indoor tiles, creating a fixed and stable walkway.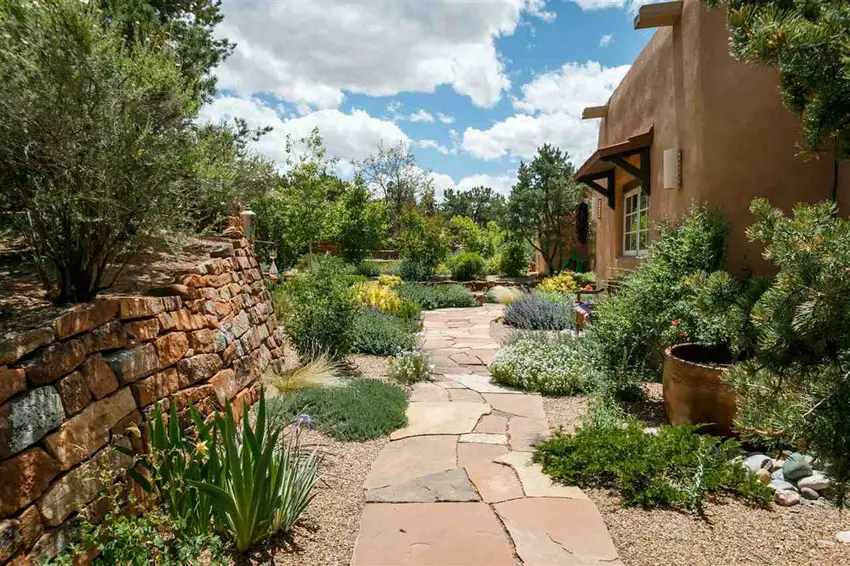 Red flagstones naturally blend in to this simple garden which is mostly surrounded by red pebble-covered ground and green shrubs.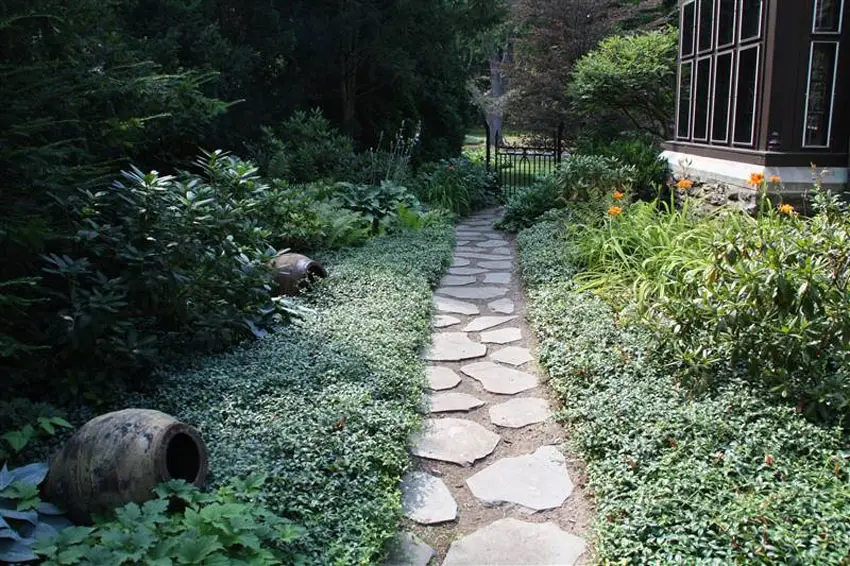 This walkway seems to magically sprout from the ground as it is surrounded by healthy shrubs. It uses slate flagstones placed on soil.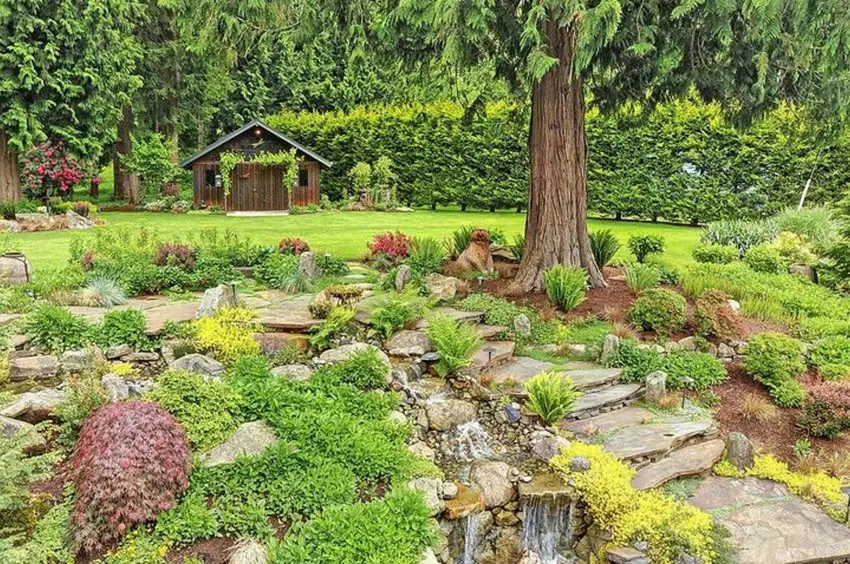 This walkway provides natural looking steps leading you towards an elevated part of the garden. Using large slab of slate flagstone, the walkway looks like its naturally part of the ground.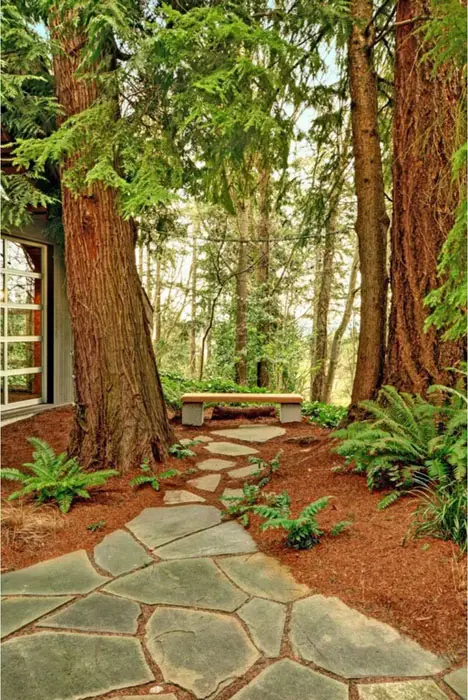 This large green river stone flagstone walkway is the perfect choice for this natural backyard. The natural wood mulch helps recreate the real look of a forest floor.
Paver Walkway Ideas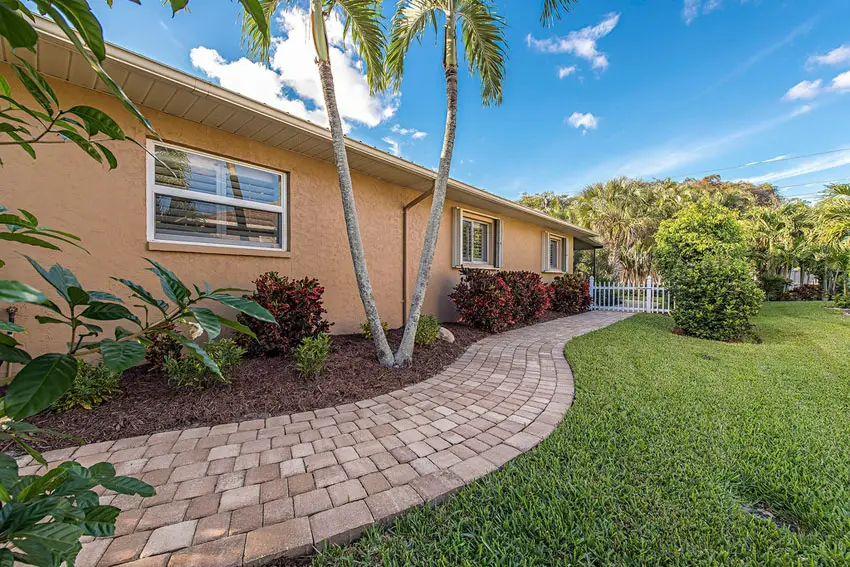 A curvy/winding walkway using brick pavers with a rougher texture for a better grip and slip-resistance.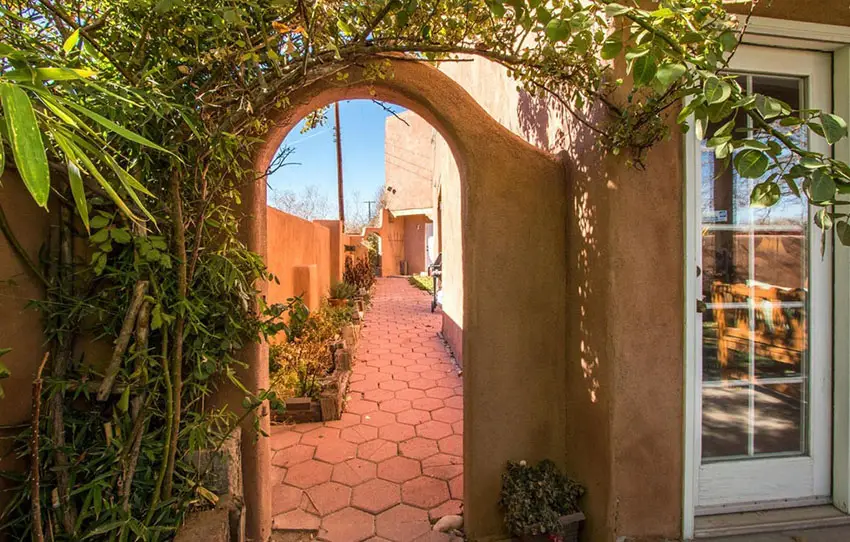 This paver walkway design on the side of this Spanish style home is a low cost way to create a welcoming path that stays in character with the rest of the home's esthetic.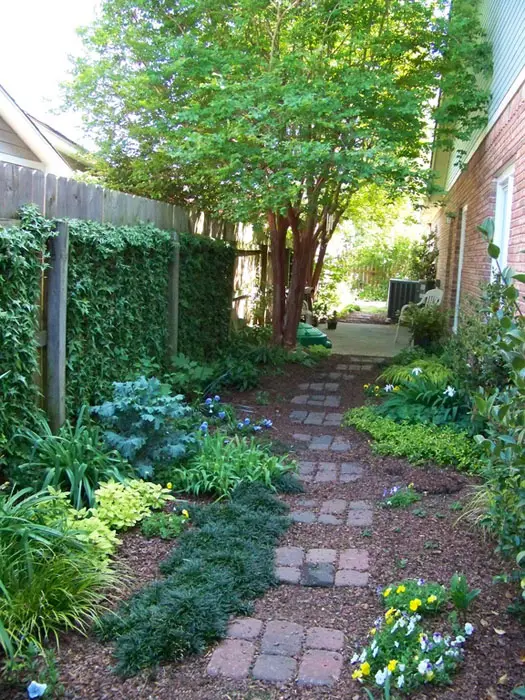 A unique way to use cobblestone pavers, they arrange 6 pieces of cobblestones to create a rectangular block and spaced them evenly with each other to create the walkway.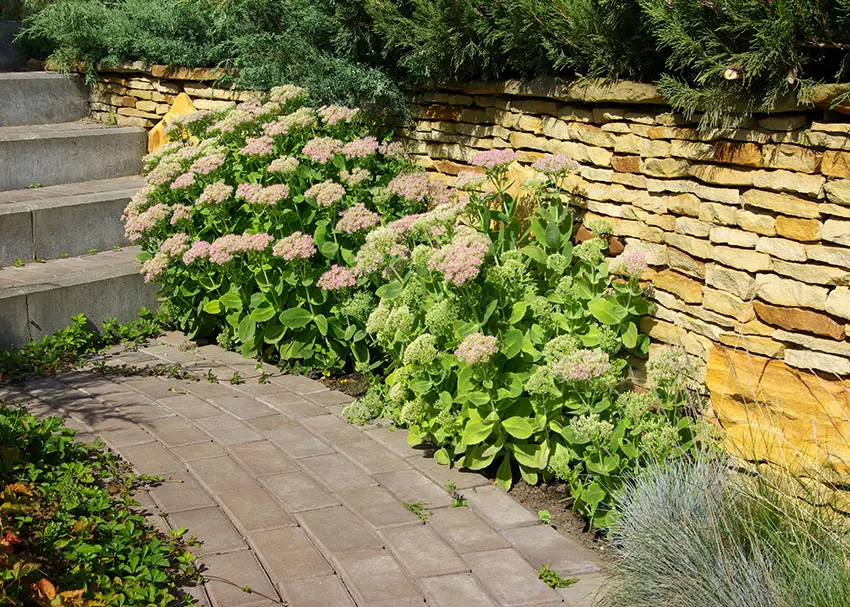 Dark red stone brick pavers were tightly paked and fixed together to create this small walkway leading to a small set of slate-clad stairs.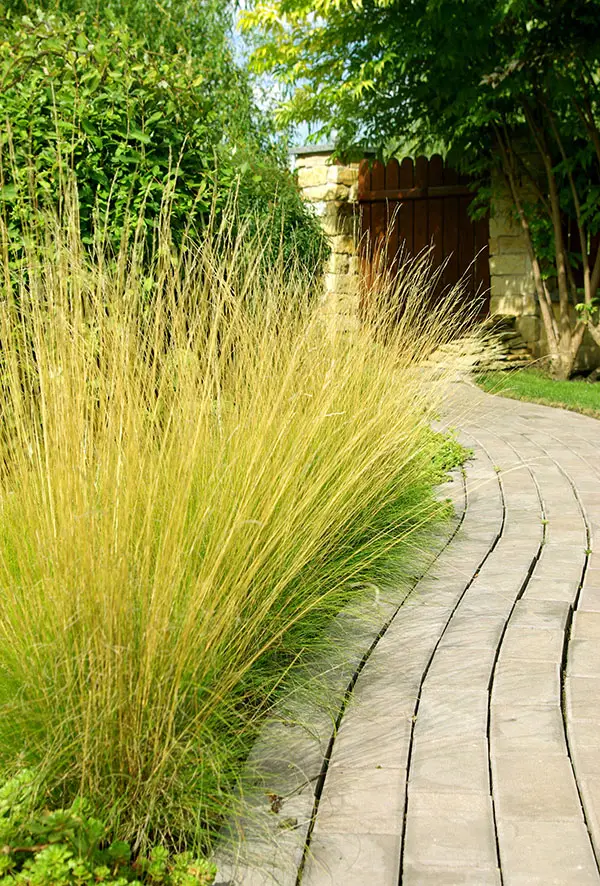 Gray rectangular cobblestone were laid out in a simple running bond pattern, winding a path into the gate.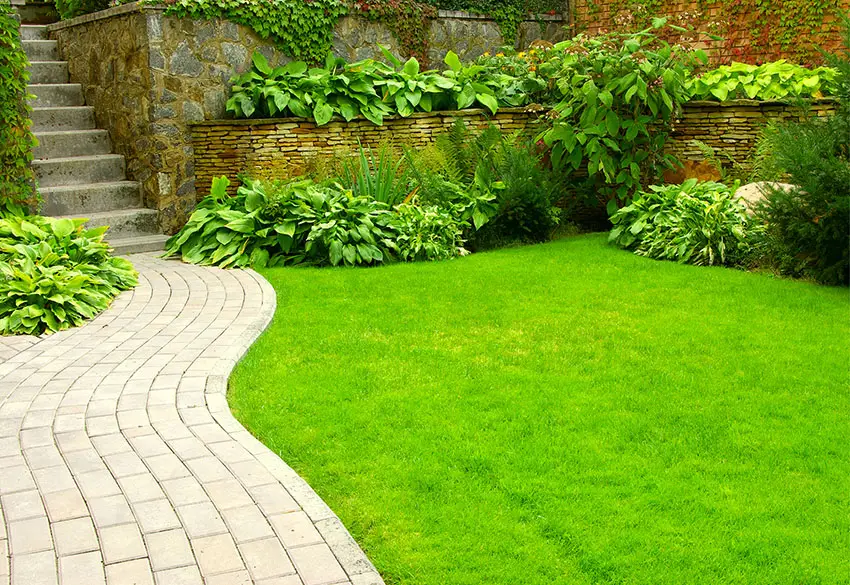 These light red cobblestone pavers gives a stark contrast against the bright green lawn, and creates a beautiful curved pattern along its way.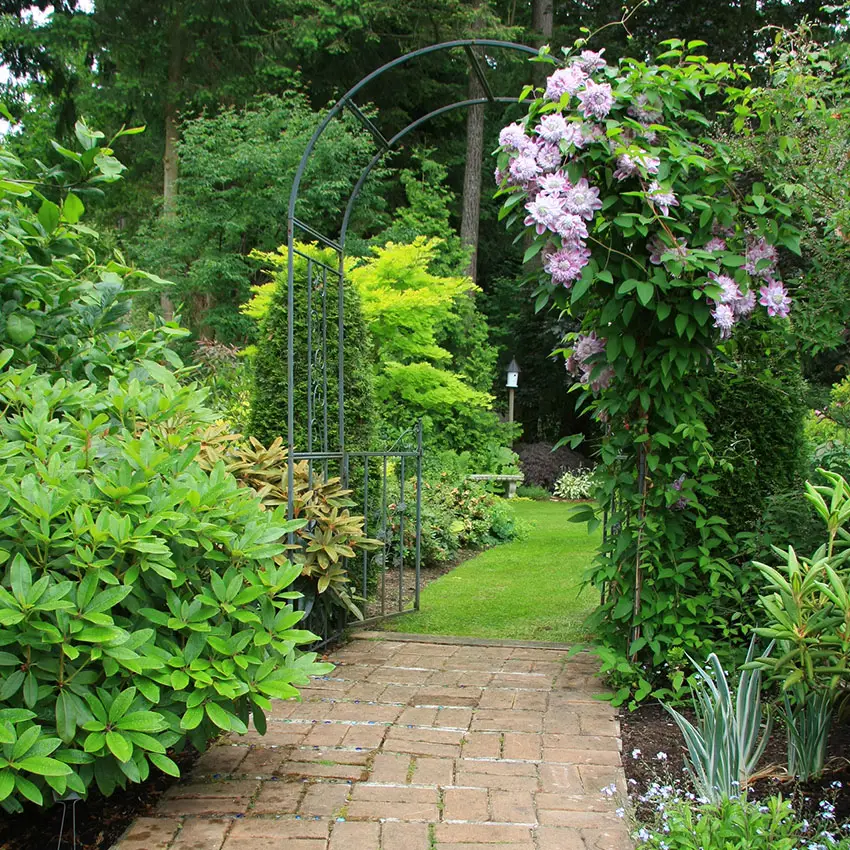 Stabilized with a concrete base and grouting, this simple walkway leads you to the gate with basket-weave brick pavers.
Slate Walkway
Instead of simply putting the green slate stone tiles on the lawn or the ground, this walkway permanently fixes it by adhering the tiles together and grouting it, making it less prone to displacement.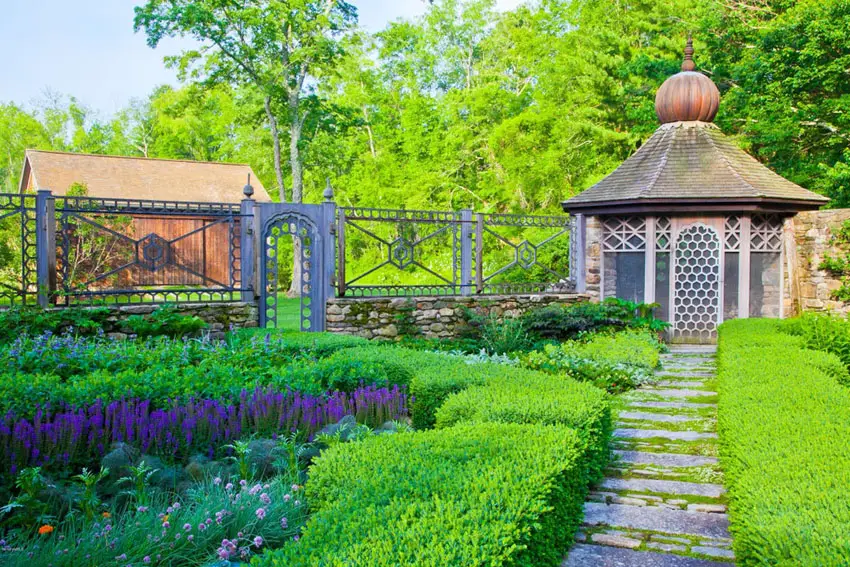 A narrow walkway leads you to this fully-enclosed gazebo. Keeping you safe from mud during the rainy season, it combines rectangular slate tiles with smaller natural-cut rectangular flagstones in between.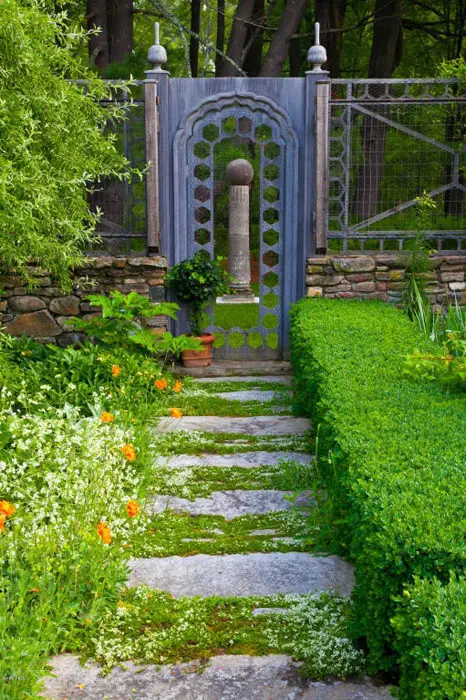 Rectangular slabs of slate stone tiles were used as a walkway for this shrub-surrounded path, even littered with small flowers in-between. The classic metal gate leading to a forested area with stone pillars evokes a feeling of mystery and drama.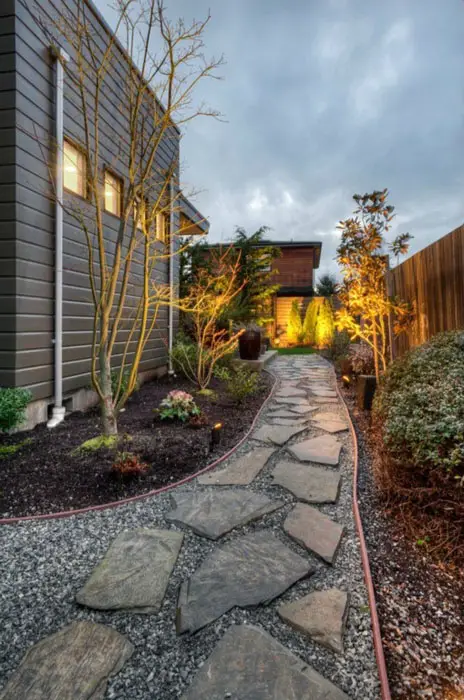 This walkway definitely emphasizes itself from the rest of the garden as it uses a combination of loose gray pebbles and natural pieces of slate flagstones to create the walkway path.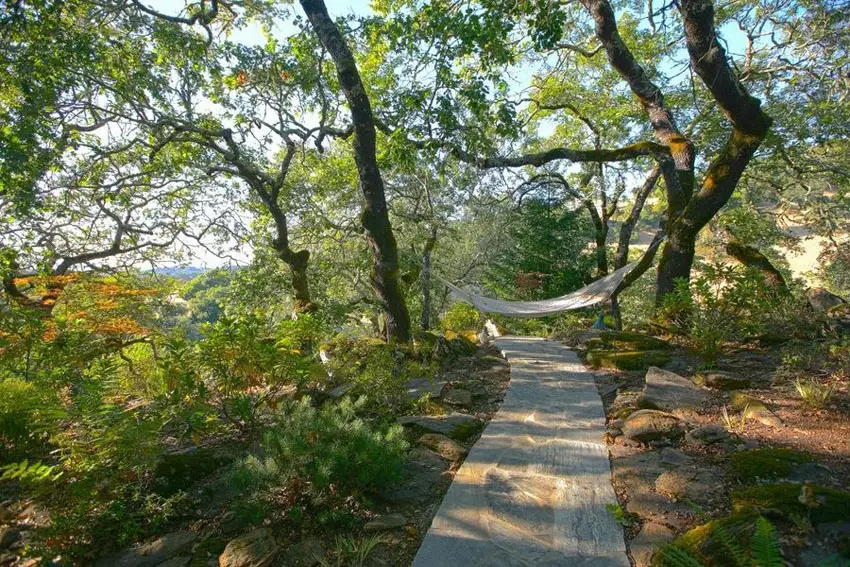 This slate walkway leads to a hammock attached on trees. The surrounding area is very natural, with large trees which gives shade to the area. The walkway uses slate placed on concrete and cut straight on the edges, making it stand-out.
Concrete Walkway Ideas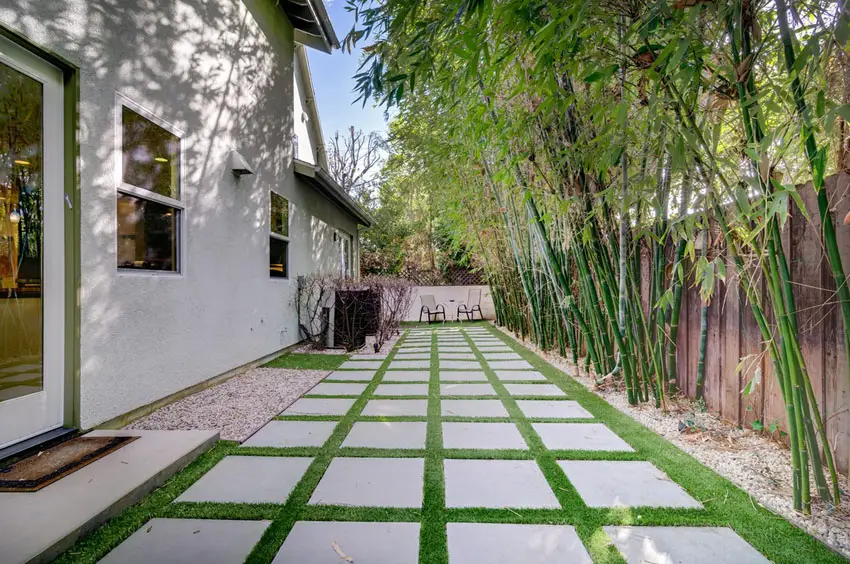 Modern symmetry is the concept for this small bamboo garden. Placed on top of the lawn are large 60×60 slate tiles, creating symmetrical rows and columns of tiles, giving you a nice walkway wherever you need to go in the garden.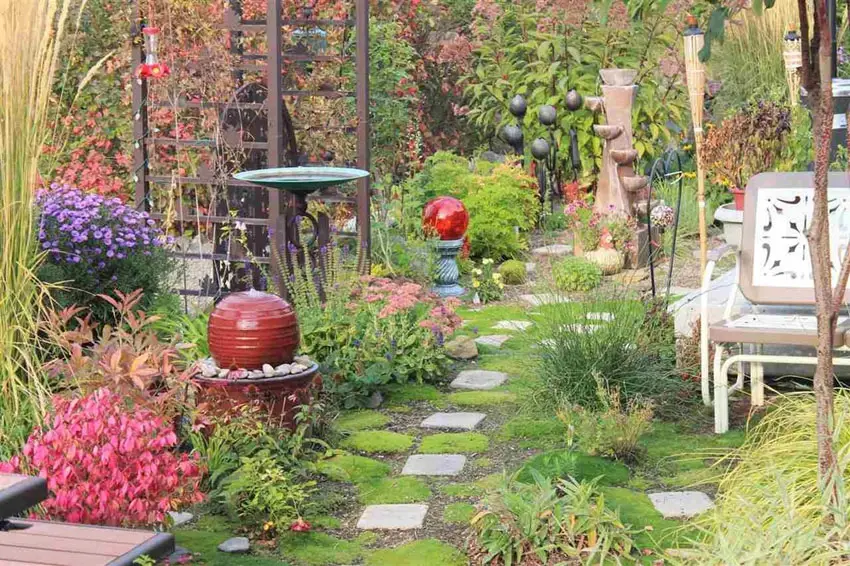 This garden is characterized with its "organized clutter" look, using square concrete blocks for the walkway, seemingly scattered along the narrow path.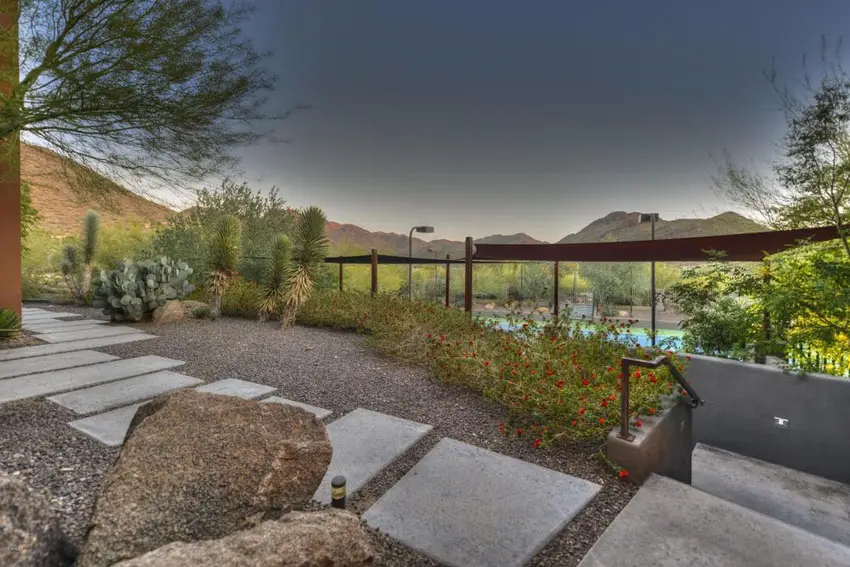 This modern garden uses large concrete tiles with various sizes of rectangles and squares, creating an interesting geometric pattern of top of the gravel base.
A modern walkway which uses large rectangular slabs of concrete pavers arranged in a 90 degree chevron pattern and has a winding path, trimmed on the outer edges.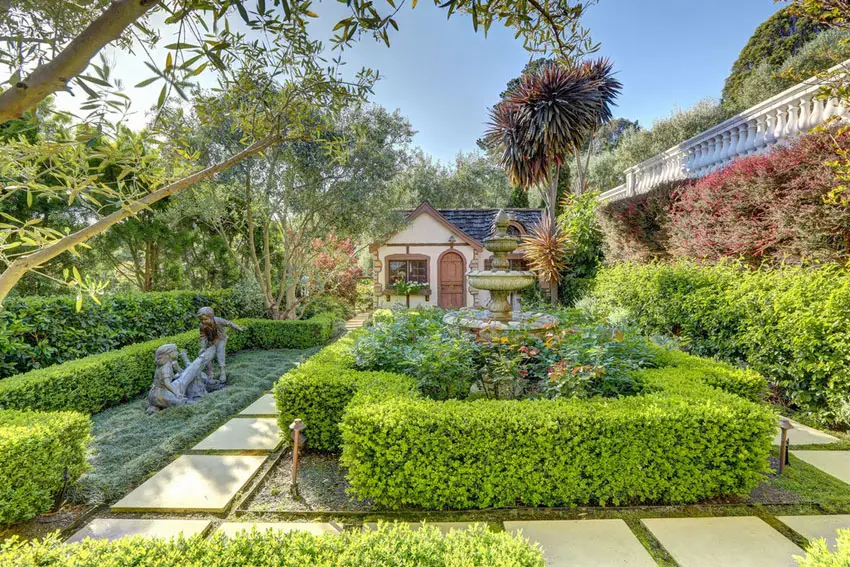 This french garden has a modern style walkway using square blocks of sandstone going on a rectangular path around the garden. A central focal point like this fountain surrounded by green hedges can be a great way to come up with walkway ideas and designs that will help you get the most from your garden.
67 Walkway Ideas and Designs Picture Slideshow Video
Related Outdoor Living Design Galleries You May Like:
65 Patio Design Ideas – 50 Deck Design Ideas – Outdoor Fire Pit Ideas – 35 Gazebo Designs – Garden Water Feature Designs