Here's our guide to putting a TV outside including the types of outdoor TV to buy, TV enclosures, where to mount & setting up a sound system.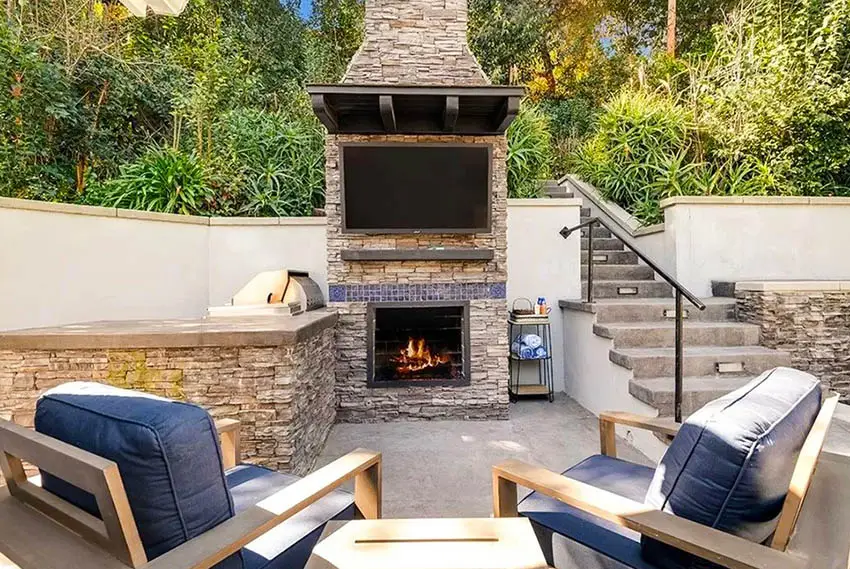 Adding an outdoor TV to your backyard can be an amazing way to increase your home's living area and enhance you or your families enjoyment. Watching movies under the stars at night can be a fun experience for all and allow you to create some great memories. However, before even thinking about putting a TV outside, it's important to know what type of outdoor waterproof TV you need.
Outdoor Waterproof TV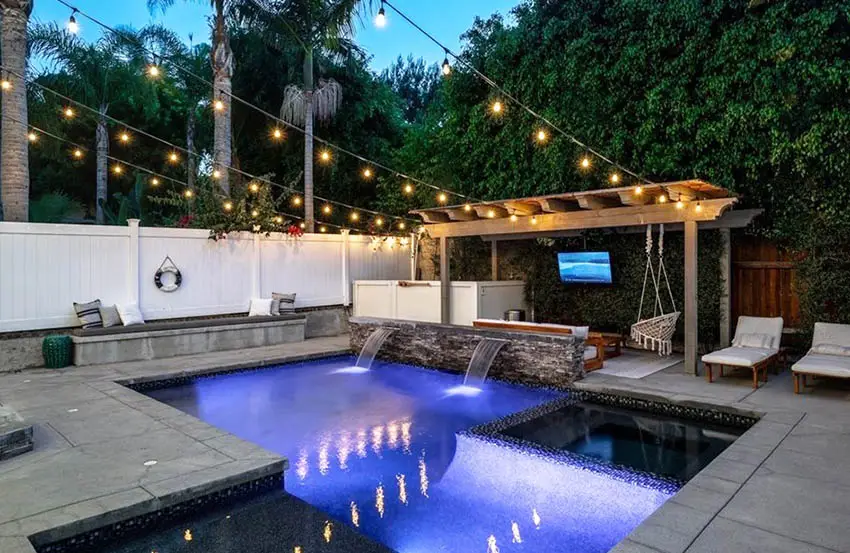 Getting a television made to withstand the elements and destructive power of the weather is a smart choice for permanent outdoor installation. These specially made televisions combat the sun with extra-bright displays.
What to Look For in an Outdoor Waterproof TV:
Before choosing an outdoor television, you need to know where you intend to place it. Different outdoor TVs function better in different areas, such as full sun, partial sun, and shade.
The brightness of the television is measured in units of light called 'nits', where one nit is equal to roughly one candle. The more nits your television has, the better it will perform in the sunlight.
'Contrast ratio' is the difference between the brightest image produced by the television, and the darkest image it can show. To further complicate matters, there is no standard way to measure contrast ratio, and the numbers can be deceiving. The best TV for use outdoors is one with a high 'native' contrast ratio, as these will produce the highest quality image that is most closely aligned with the original image capture. Most TVs today also have another measurement of contrast, called 'dynamic contrast ration'. This is circuitry that continually monitors the video feed and adjusts the brightness as necessary. A high dynamic contrast ratio will not make up for a low native contrast ratio.
Like sleeping bags, outdoor televisions are rated by the temperatures they can withstand. If you're looking to watch TV in the hot tub on a snowy winter night, you'll need to choose a TV rated for cold temperatures. On the other hand, if you live in an area with a high heat index, look for TVs that can withstand the heat without taking damage or compromising the picture.
Make sure that the remote and any cables or housings are also weatherproof, since they will exist in the same environment as your television.
If you're not using a TV cabinet, it's a good idea to choose a television with guards or covers on the inputs and outputs. This will prevent dust, pollen and insects from finding their way inside and causing damage.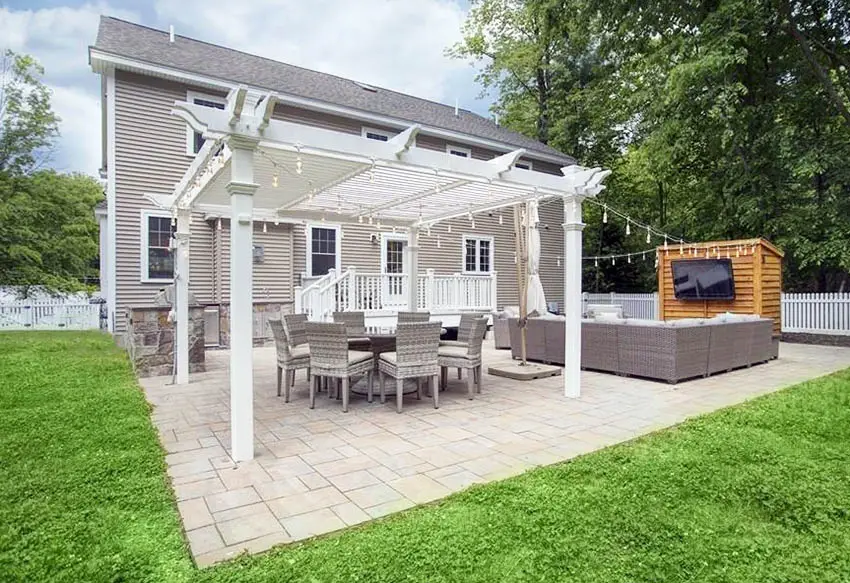 Using an Indoor TV Outside
For a big game or a teenager's sleepover, it is tempting to move your indoor TV outside. This is a fine solution for an evening, provided you have adequate power, volume, and protection from the elements. To repeat the experience, it's best to choose a weatherproof option — either a TV specifically made for use outdoors, or a weatherproof television cabinet.
Creating a dedicated sunroom or enclosed patio are two options to use an indoor TV. However, it's necessary to ensure that no moisture or condensation is allowed in to the space which could cause problems for electronics. The #1 priority when using electronics is safety, so please make sure you are using electronics that are rated for the type of job you need.
TV Enclosures for Outside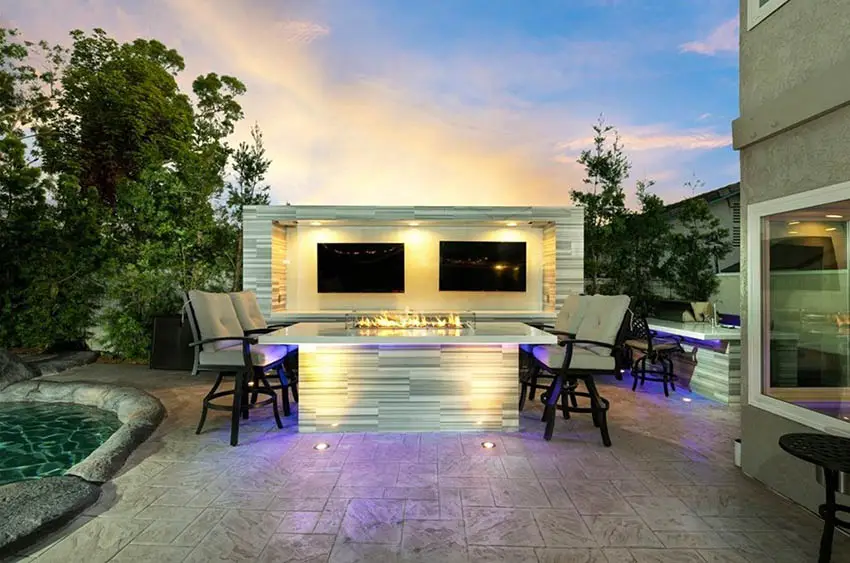 Modern patio design with two TV's.
Keeping your electronics hidden when not in use is smart, for protection from the elements and opportunistic thieves. A TV cabinet or enclosure can be sealed and waterproofed, and a lock can even be added for extra security.
Choose an attractive pre-fabricated cabinet, or have one custom built to match your decor. Vinyl dust covers that slips or zips over the TV when not in use are also available for purchase.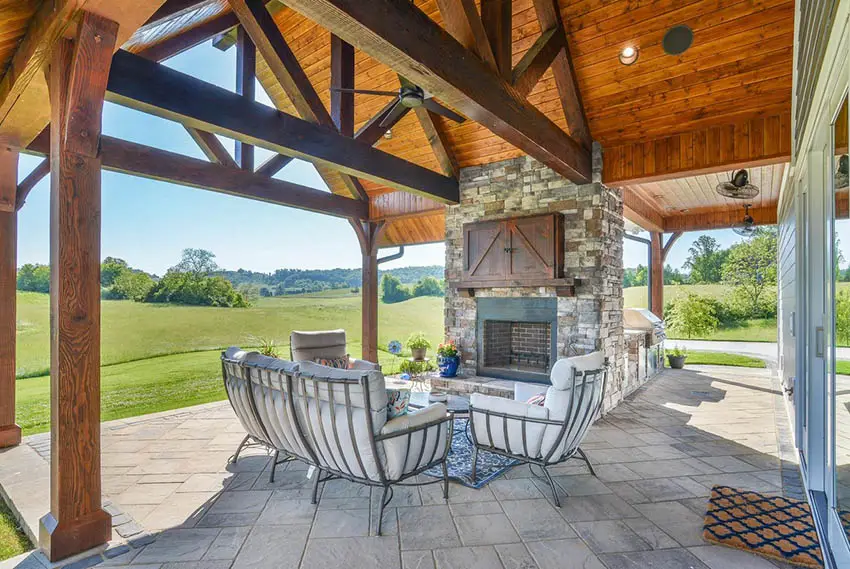 Custom covered patio with fireplace and wood outdoor TV enclosure with sound system. See more types of patios here.
Choosing the Location to Mount Your Outdoor TVs
Even a television designed to withstand the elements can't be placed just anywhere. A television exposed to direct sunlight is likely to develop heat damage over time. The TV should also be placed at a distance of at least 6 feet from any heat source, like a propane heater, grill, fire pit or chiminea.
A carport, awning, tent, pergola, or gazebo are all great locations for an outdoor television if a power source is available. A shaded, north-facing location will prevent irritating glare. If you have a garden that needs watering, make sure the television isn't at risk of getting splashed — the same goes for placement near hot tubs or pools.
If you have an outdoor area that is covered by a permanent ceiling, it is possible to mount the television directly there. Restauranteurs and bar owners might find this the most useful tactic, as they can mount several TVs and allow patrons to keep an eye on the game or season finale while seated around a table. A ceiling mount is not recommended for more sustained watching, due to neck strain.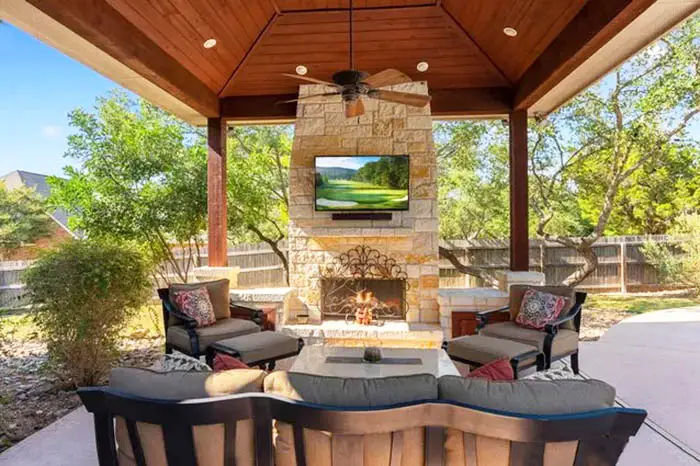 An existing wall or sturdy fence makes an ideal mounting surface for an outdoor television, without requiring additional construction. Mount the television cabinet first, and followed by the TV itself and a soundbar if you're using one.
If neither of these options works with the configuration of your space, there is another method. You can fit a post (or posts) into the ground, and attach your TV and/or cabinet to the post. This option gives you the most flexibility in terms of placement.
Wired System vs. Wireless System for Your Outdoor Television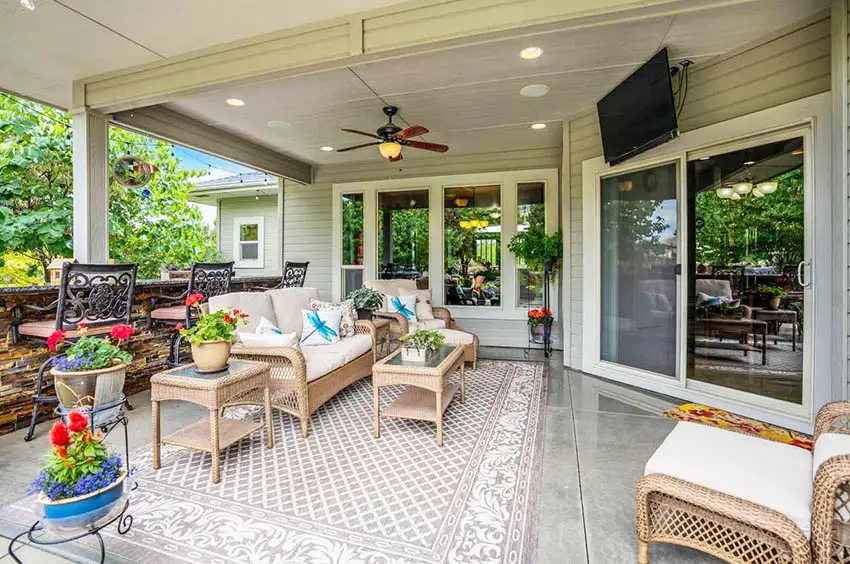 The choice to have your TV hardwired or to go wireless is dictated by your existing equipment, the options available from your cable or satellite provider, and your personal preference.
The television itself will need a power source. This begins with the outlet, which must be a ground-fault connection interruption or GFCI outlet. These outlets are easy to recognize and are commonly seen in kitchens, bathrooms, and out of doors — they have both a 'test' and a 'reset' button.
Any wires or cables that connect the television to the outlet need to be protected from UV light. There are cables that are rated for this type of protection, or you can use an outdoor-rated conduit or pipe.
A wired system will be more reliable than a wireless system, but a wireless system is usually easier to get set up. Some people choose to start with a wireless set up and if reliability is an issue, switch to wired.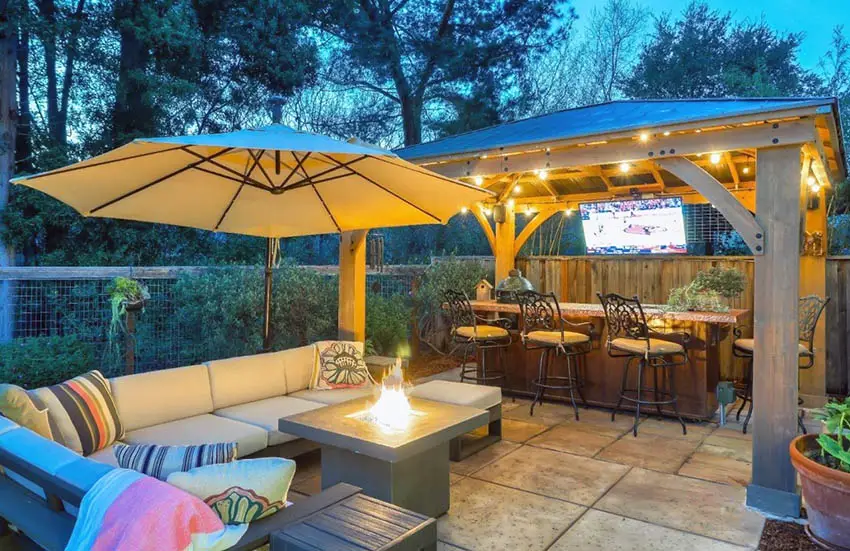 Is It Ideal to Connect the Outdoor Soundsystem to the TV?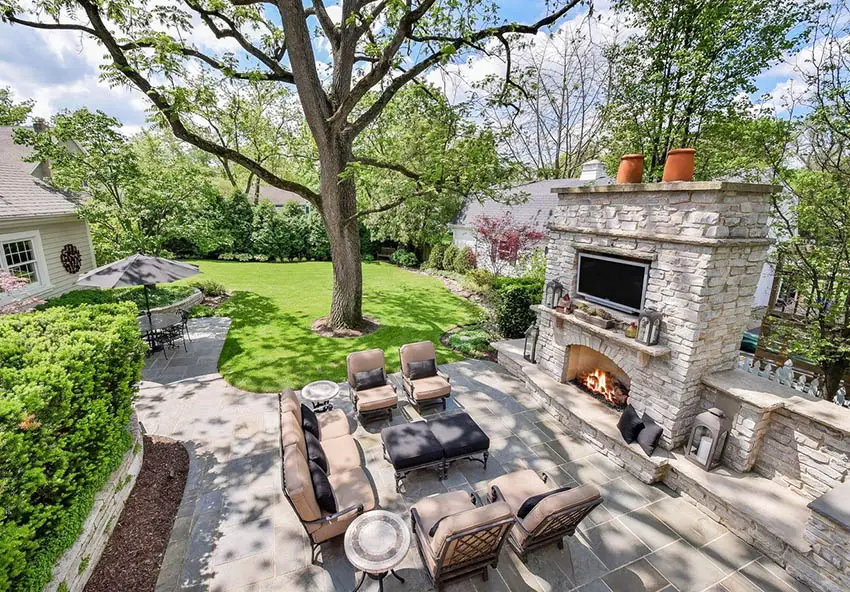 The speakers on an average television are meant to fill a room with sound, using the ceiling and walls as acoustic materials. Outside, these structures don't usually exist, so getting quality sound can require creativity.
A soundbar is the best option to make sure the game can be heard over neighborhood noise, passing traffic, or kids playing in the background. A soundbar can be mounted directly below the television. To allow for this, choose a television cabinet with space for a soundbar underneath.
A surround sound system is also an option for an immersive experience, but unless your seating area is well defined and semi-permanent, it will be difficult to achieve a balanced audio experience for everyone watching. This would also require shelter for the speakers, and running more cables. A soundbar also allows the outdoor television to be used as a music source, making it more versatile and increasing the value of the investment in an outdoor entertainment center.
Visit this gallery page to see more related outdoor TV ideas.