Gallery of enclosed patio ideas, including different materials, costs, popular features , and design styles.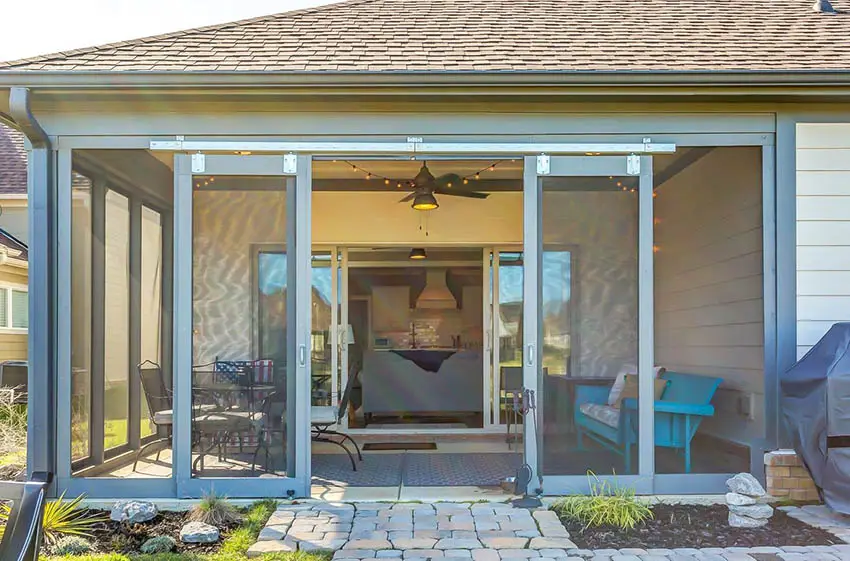 Entertaining is all about making people feel comfortable and having a place in your home to have a wonderful time and thought-provoking conversations. But what do you do when you do not have enough space and do not want to commit to a huge construction project?
Try considering the addition of a patio enclosure – it is an ideal choice that will allow you to entertain any time of the year and still feel connected to the outdoors.
There are wonderful ways to enclose your covered patio , which we will discuss in this article, and still create a warm and welcoming indoor spacethat is perfect for entertaining guests, family, and friends no matter the weather is outside.
A well-designed patio will provide some control over the environment around you and, at the same time, can add value to your home and give you a better return on your investment.
Enclosed Patio Designs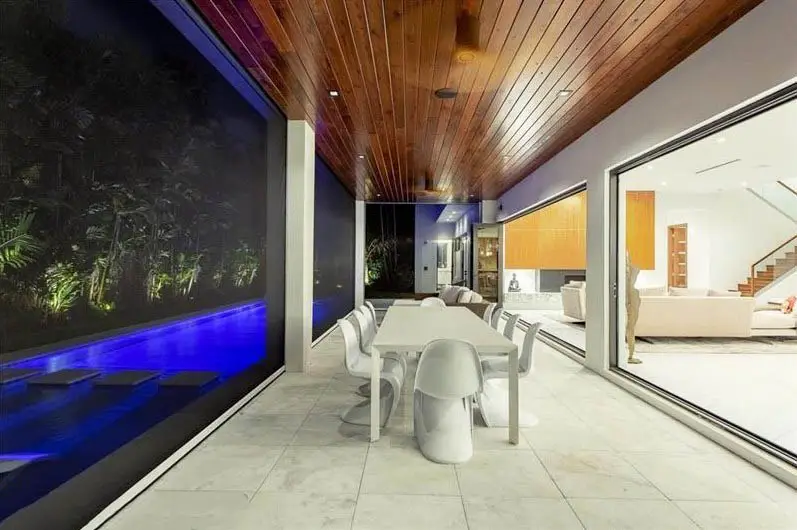 Need some extra space for dining, entertaining, or just a place to relax after a day's work? Are you thinking of extending your home into your backyard?
Here are some popular types of patios with enclosed designs that will make your outdoor living space more comfortable, help you better utilize this space, and, at the same time, look attractive.
Glass Wall Patio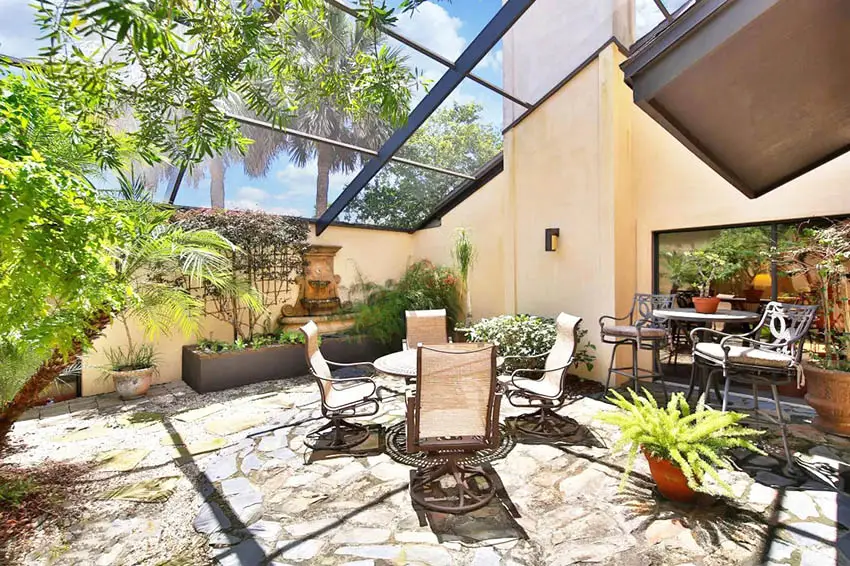 A glass enclosed patio is one of the most popular types of covered designsbecause they allow you to feel like you are outdoors any time of year.
You can choose between single or double-pane glass depending on your needs and budget. A framed-in double-pane insulated glass window and door rolling panels that enclose your patio will create a place that is weather-resistant that you can enjoy all year long.
Lattice Patios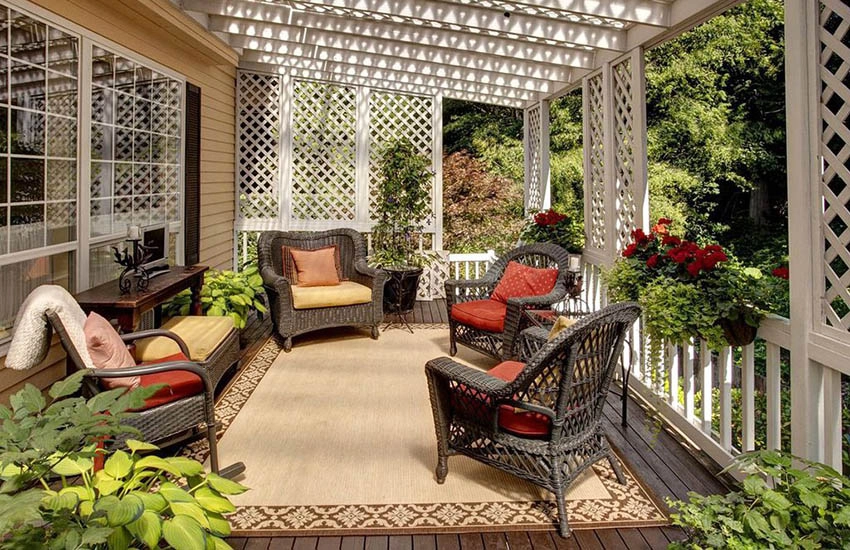 Using a latticework screen enclosure lets you see the outdoors but, at the same time, gives you the privacy you need. Lattice screens made from cedar or vinyl are the most conventional materials to use.
Patio With Windows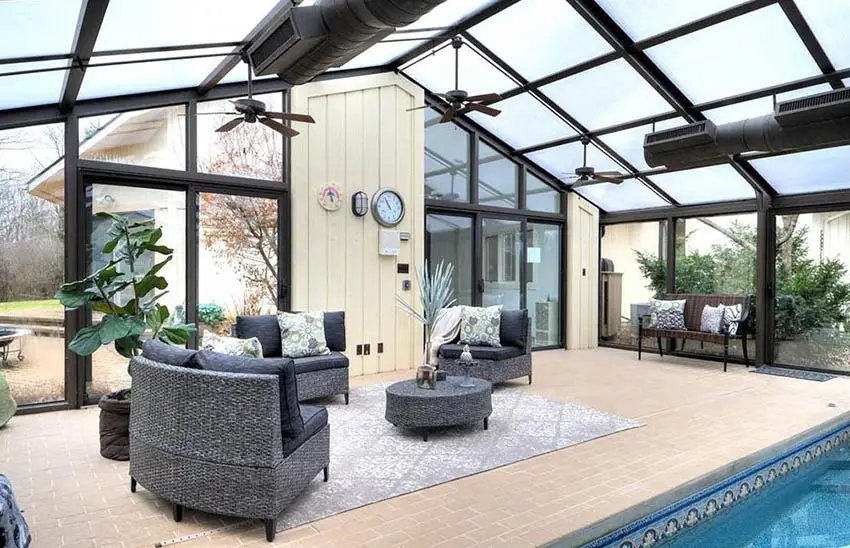 There are a variety of window enclosures to choose from for your patio; one of them is the acrylic pane, which comes with a sturdy aluminum frame – great for viewing lighting and, at the same time, allows a gentle breeze to come in.
Another is the glass pane, which is a great way to let natural light into your enclosed patio. If you want an innovative alternative to glass, choose vinyl panes. They are lightweight, durable, and, best of all, cost a fraction of the price of a glass pane.
Tropical Design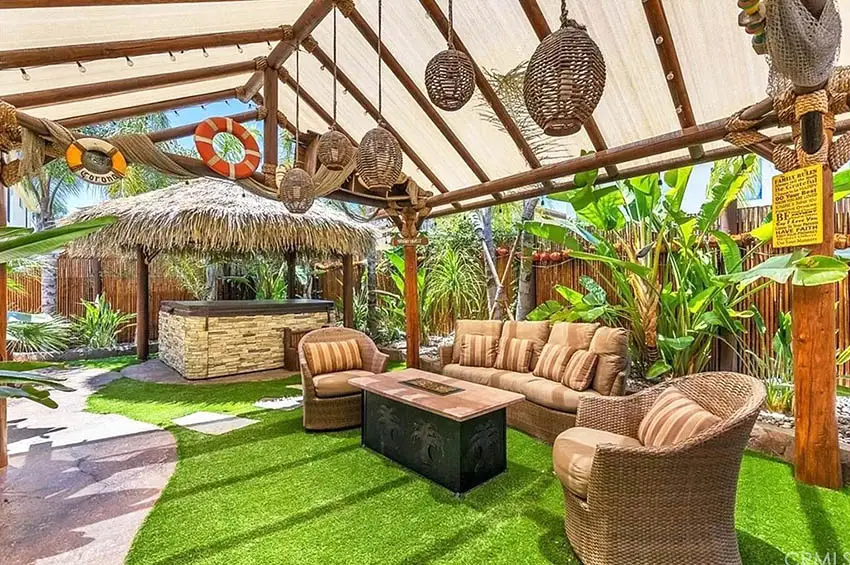 Turn your outdoor area into a fun and relaxing tropical retreat. To enclose your tropical theme patio for a more private sanctuary to unwind, try using a long window shade made from bamboo or wood. These types of shades or blinds will keep the sun out and can also be rolled up when the weather is rough.
If your furniture has a polyurethane finish and is not recommended for direct exposure and outdoor use, an enclosed patio is a good choice for such furnishing. – Log Home Design, June-July 1999
Use lighter furniture pieces such as light wicker or wire pieces, simulate flowing water with a fountain or waterfall simulator , and use it as a centerpiece or a wall feature. Incorporating comfortable seating, such as chairs with pillows, can make your space inviting for people to gather and socialize.
Add tiki torches for a romantic and inviting light at night, and include tropical plants such as bamboo, lush palm trees, orchids, and stones to create a variety of textures around your room layout.
Screened in Patio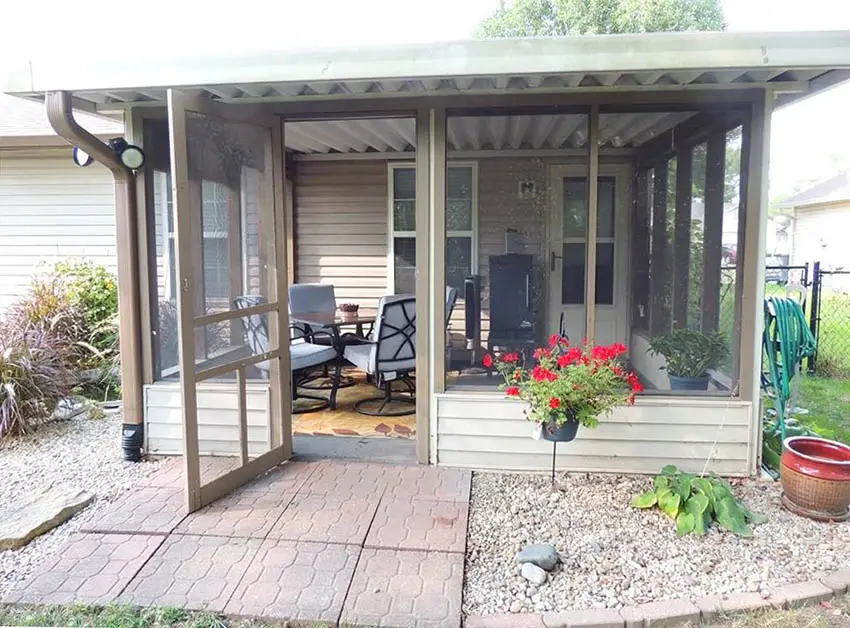 The old-fashioned screened-in patio allows enough airflow and gives you that outdoor feel without allowing bugs, insects, and rain to get in.
A screened in patio can be created by installing a specially engineered screen frame and rolling screen panels. It can block off glare from the sun, and it is easy to maintain and very affordable.
Fence Enclosure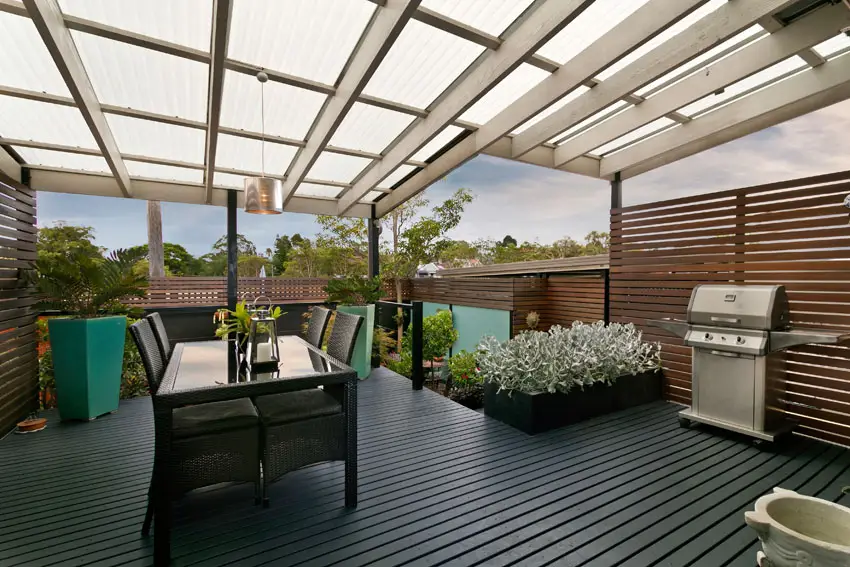 Installing a fenced enclosure for your patio is mainly for privacy reasons. With the addition of comfortable furniture like chairs and tables, as well as functional elements like a kitchen and fireplace, you'll have a beautifully designed space to enjoy the outdoors.
Usually, building codes dictate that fence enclosures cannot extend past six feet in height, but check your local building codes, as there might be a difference in requirements in your area.
Fence enclosures are usually built with wood , which allows you to customize them according to your needs and design. Reclaimed wood can also be used for a unique and rustic look. There is also a vinyl fence enclosure that is available in the market. See more privacy fence ideas here.
Three Season Patio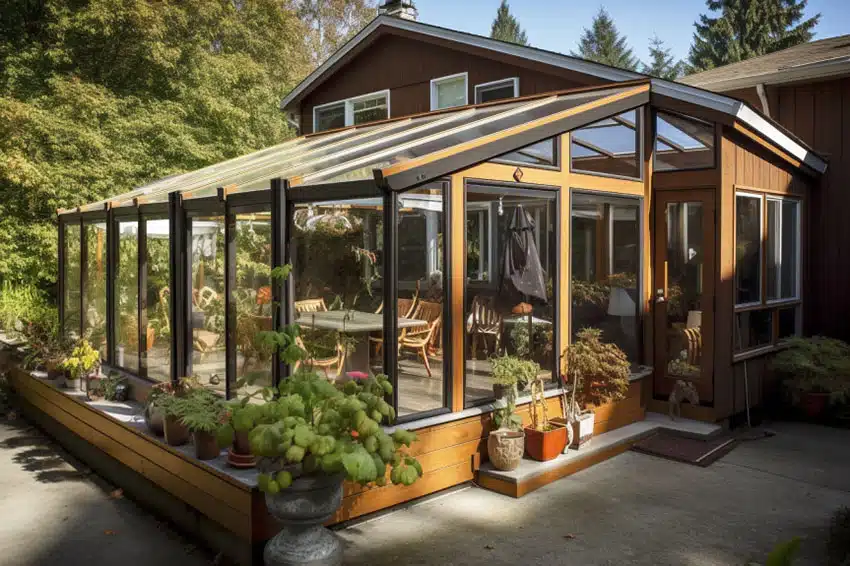 It's recommended to consider a three-season patio for homeowners seeking to extend their living space while enjoying the outdoors. By enclosing the area with glass or acrylic panels, these materials provide a barrier against weather elements and offer enhanced insulation compared to their screened-in counterparts.
Ideal for spring, summer, and autumn use, a three-season patio may not be the best choice for extreme winter climates.
Sunrooms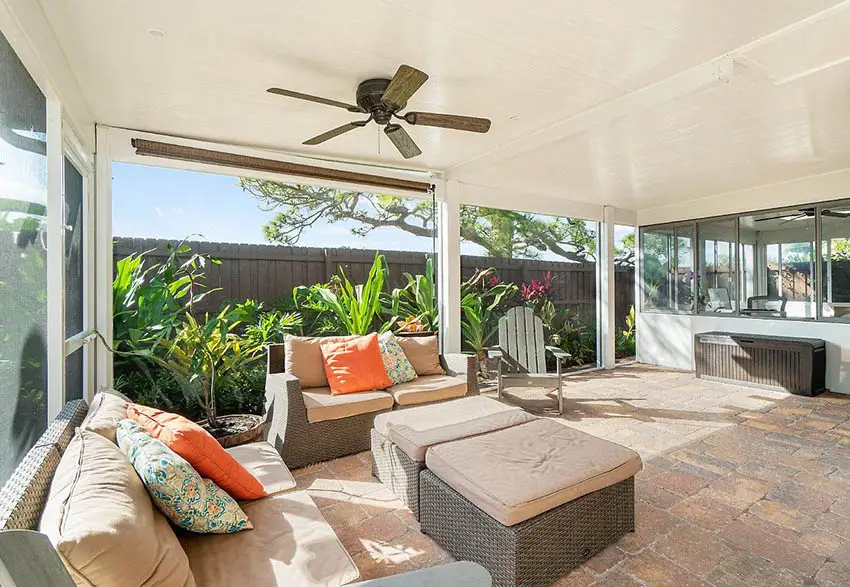 Sunrooms have rigid frames with many windows and are usually constructed as an additional room of the house rather than a separate structure. The sunroom roof may be made of glass and give you a floor-to-ceiling view of the outdoors. See more sunroom designs here.
Installing fences can offer your sunroom more privacy and be customized in various colors and materials, contributing to the aesthetics and landscaping of your property.
Garden Patio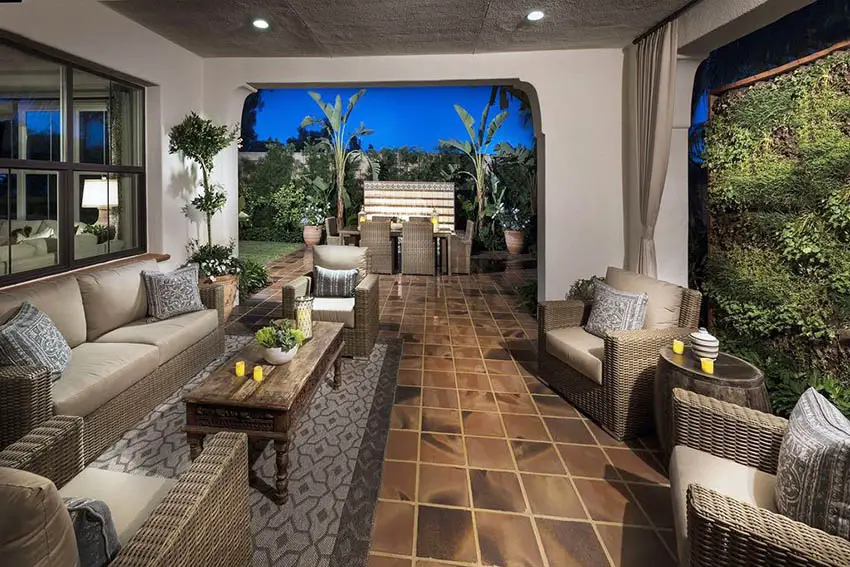 Surround your patio with evergreen foliage to serve as a living privacy fence and can turn your floor plan into a secluded retreat. Among the popular and favorite hedges are arborvitae, bamboo, skip laurel, privet, holly, boxwood, hicks yew, red twig dogwood, chocolate vine, and euonymus.
You may also incorporate planter boxes and plant them with flowers like roses, daisies, bee balm, zinnias, and vegetables such as tomatoes, onions, peppers, and herbs.
Creative use of trellises with climbing plants such as trumpet vines gives you a dramatic, warm, rich, and cozy feel for your garden patio.
Outdoor Dining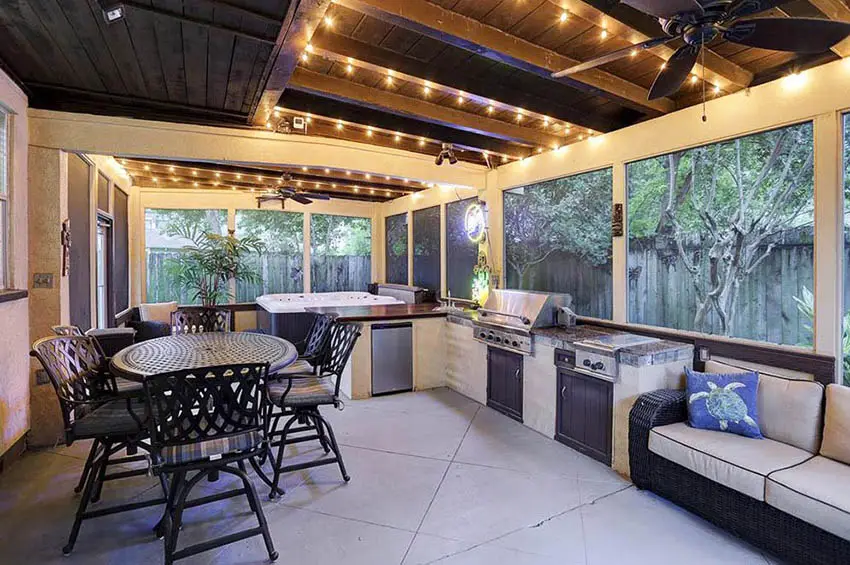 The love and fun of grilling while entertaining family members and friends is one of life's simple pleasures, so homeowners look for backyard patios that accommodate outdoor dining.
An outdoor dining area can help you better utilize your backyard layout and improve your home's resale value. A couple of tips are to look for dining table products with weather-resistant materials such as synthetic wicker, rattan, teak wood, aluminum, and powder coated steel.
In addition, buy a table that will fit all of your guests and fit the space. Oval table shapes are great for long, narrow rooms. A rectangular table is recommended for those with a large family or for entertaining larger groups of people.
Enclosed DIY Patio Kits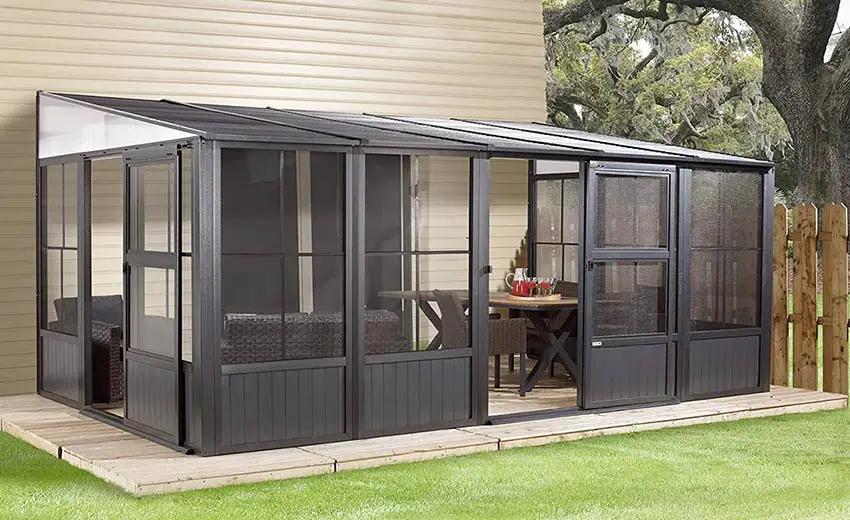 See this wall mounted sunroom kit at Amazon
There are inexpensive pre-manufactured screen-room backyard netted gazebos available which could easily enclose an area of 10 by 10 feet or 10 by 12 feet, or a pre-fabricated canvas-covered gazebos are good options, perfect for that extra space you need for entertainment and relaxation on a budget.
Materials for the Patio Enclosure

There are a variety of materials that can give your enclosed patio its unique look and reflect your personal preference and taste.
Some factors to consider when choosing materials for your outdoor enclosed patio are the location, floor plan size, budget, and available materials in your area.
By tailoring your enclosure styles to your needs and with the right materials, you can bring your design to life and make it your own private and comfortable haven.
Types of patio enclosure materials

| Material | Pros | Cons |
| --- | --- | --- |
| Aluminum | Lightweight, durable, low-maintenance, rust-resistant | Can be less insulating than other materials |
| Vinyl (PVC) | Cost-effective, low-maintenance, rot and insect-resistant | Less strong compared to other materials |
| Wood | Natural, traditional look | Requires regular maintenance |
| Steel | Strong, durable, suitable for high-wind areas | Prone to rust, requires maintenance |
| Fiberglass | Lightweight, low-maintenance, versatile | May be less insulating than other materials |
| Polycarbonate | Durable, lightweight, UV protection | May scratch more easily than glass |
| Glass | Clear view, insulating options available | Can be heavy, potentially fragile |
| Screen | Fresh air, natural light, insect protection | No solid barrier or insulation |
| Acrylic | Lightweight, cost-effective, insulating, UV protection | Less durable than glass |
| Combination | Customizable, suits personal needs and preferences | It may require more planning and design considerations |
Patio Flooring
For your enclosed patio flooring, there are many choices. Typically, with an outdoor patio, you will want a material that holds up well under adverse weather conditions. However, with an enclosure, you can have a little more leeway in your selection.
Concrete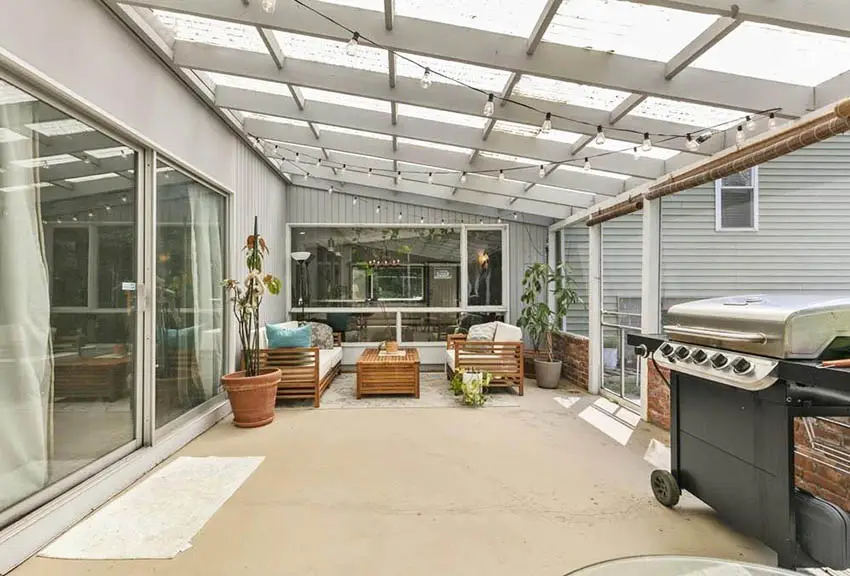 Concrete is durable and very low maintenance. You can choose which type of finish to apply for your concrete flooring, such as a smooth concrete finish, stamped, brushed, scored, patterned, painted, or inlay designs using pebbles. Homes with modern design accents may benefit from these customizable concrete finishes.
Brick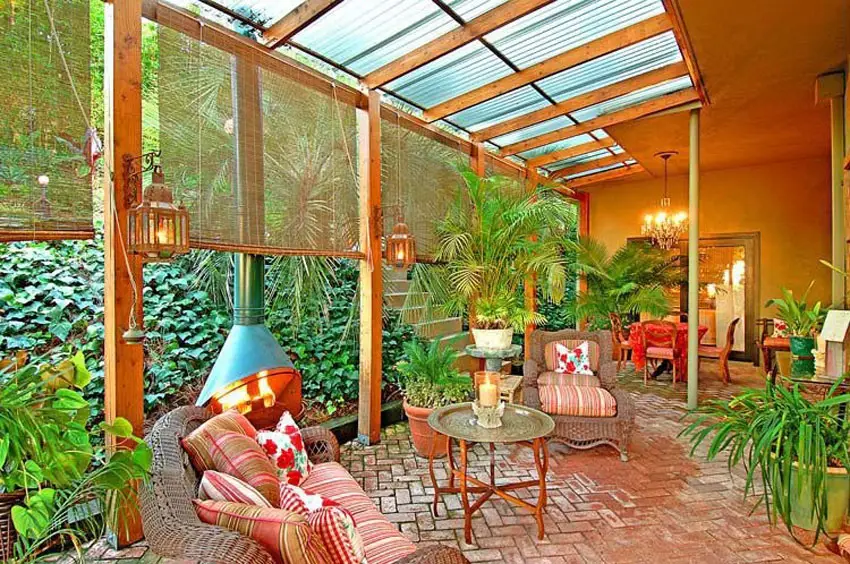 Brick is sturdy, versatile, and has a neat and classy look, which goes well with any patio enclosure style. Bricks can be laid in different pattern designs, such as herringbone pattern, running bond, or jack-on-jack. Looking at photos of different brick layouts can help inspire unique design styles and provide an idea about what styles you like best.
Flagstone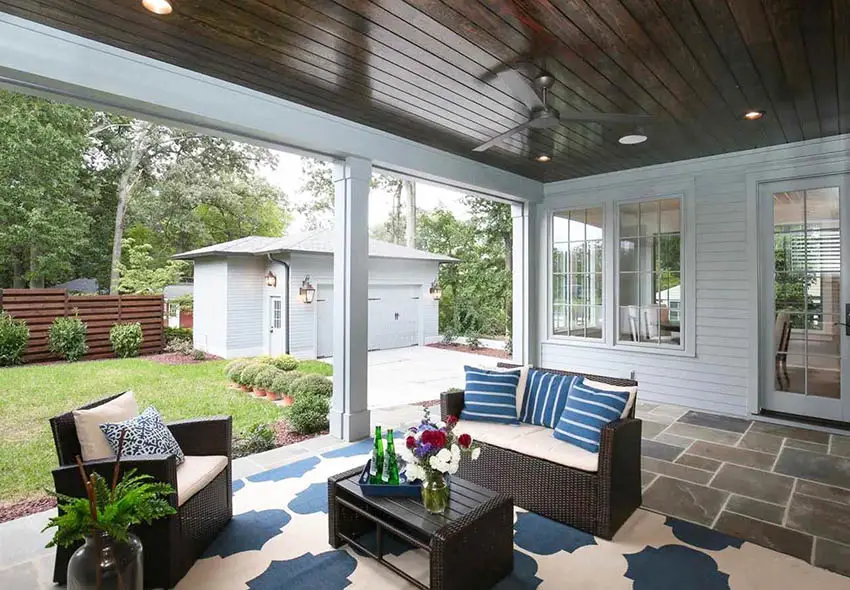 The roughened surface of flagstones provides excellent traction especially when wet. Flagstone are available in various type of stone, color, irregular shapes, and usually are one to three inches thick. The most common flagstone are sandstone, limestone, bluestone, and quartzite.
Pavers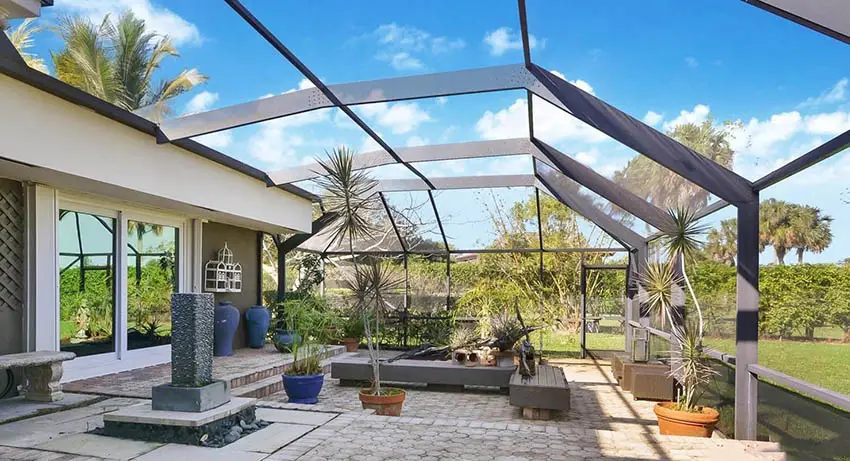 Interlocking pavers fit together like puzzle pieces, which can be made to look like brick, cobblestone, or cut stone.
Tiles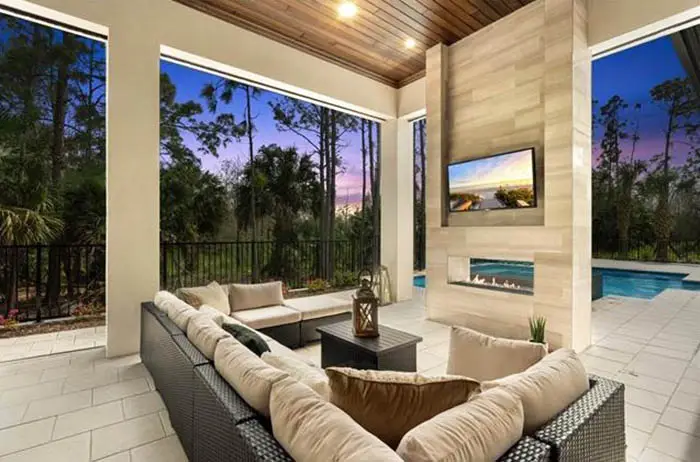 The best tiles to use for your enclosed patio are unglazed ceramic tiles. Porcelain unglazed tiles are heavy duty and stain resistant.
For a rustic look, terracotta tiles are best, especially for mild climates. If you prefer patio flooring with traction, best to go with quarry tiles. We recommend applying sealers and coating to your tiles for additional protection from stains and moisture, as well as to enhance their natural color.
Cut stones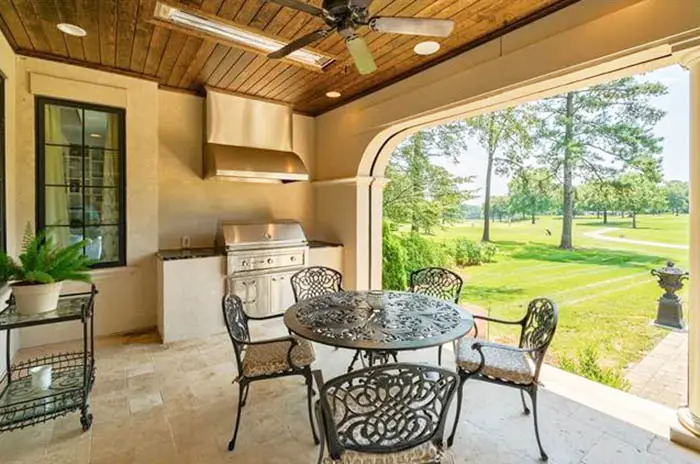 These are natural stones cut into square or rectangular shapes used for more formal design treatments, such as granite, marble, slate, travertine, limestone, blue stone, phyllite and sandstone.
Wood tiles & wood flooring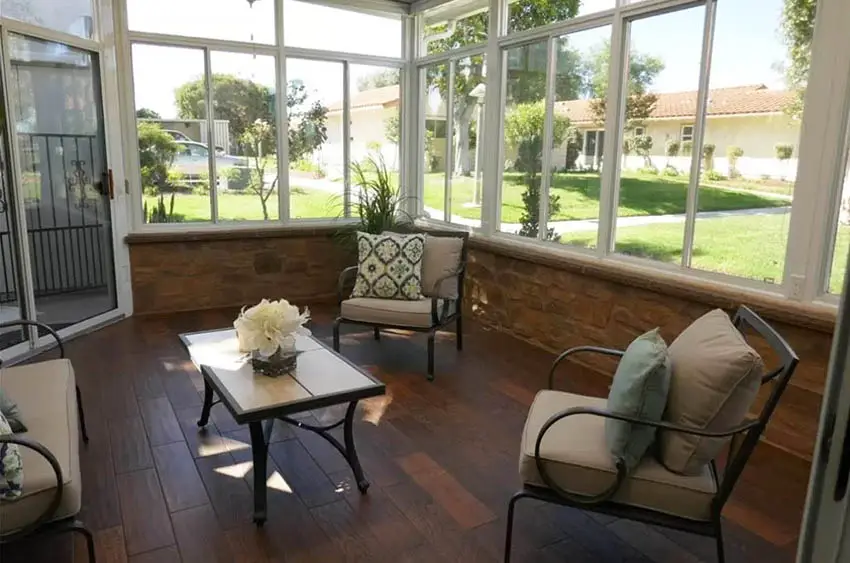 Wood tiles can be laid directly over your patio to create a warmer ambiance. Wood tiles don't have to be constructed from real hardwood. Many ceramic wood-look tiles on the market can give you a similar design style with superior durability and cost.
Loose materials – These materials are best in dry regions as an alternative for lawns; such materials include crushed stone, aggregate stone, bark mulch, rubber mulch, decomposed granite, and sand.
Artificial grass / Artificial grass tiles – Easy to maintain, great for kids and pets, soft and does not attract insects like natural grass does, and eliminates all allergens caused by real grass.
If you have a large area, you can have a mix of the materials mentioned above to create more visual interest to break up your patio into smaller entertainment areas or to design a focal point for your enclosed room.
Features of an Enclosed Style Patio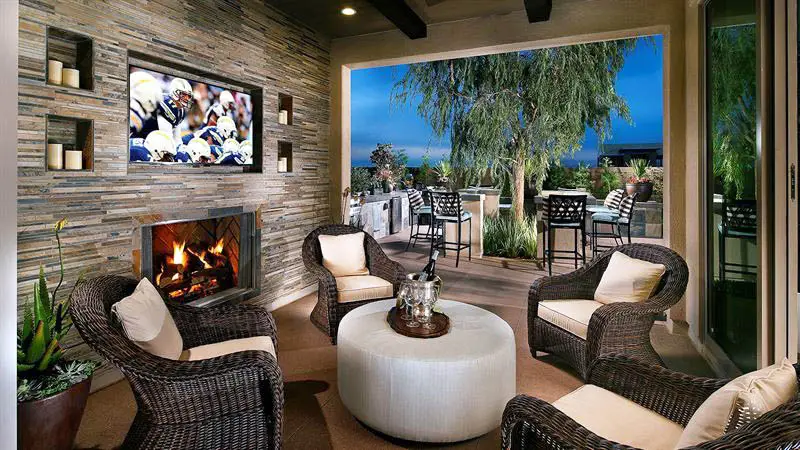 This luxury enclosed design example offers plenty of space to gather around the fireplace within a close distance to the built-in outdoor kitchen.
Wall material – Using a reclaimed storm door is one way to enclose patios, creating a solid wall of windows while maintaining an open feel of the outdoor space. You may keep one door on its hinges to function as an entryway.
Frame material – Popular choices for a patio frame enclosure are aluminum and vinyl. Aluminum is preferred for its strength and durability, but it tends to get hot, causing the entire room to become warm. Vinyl, on the other hand, requires less maintenance and it is not prone to scratches and dents.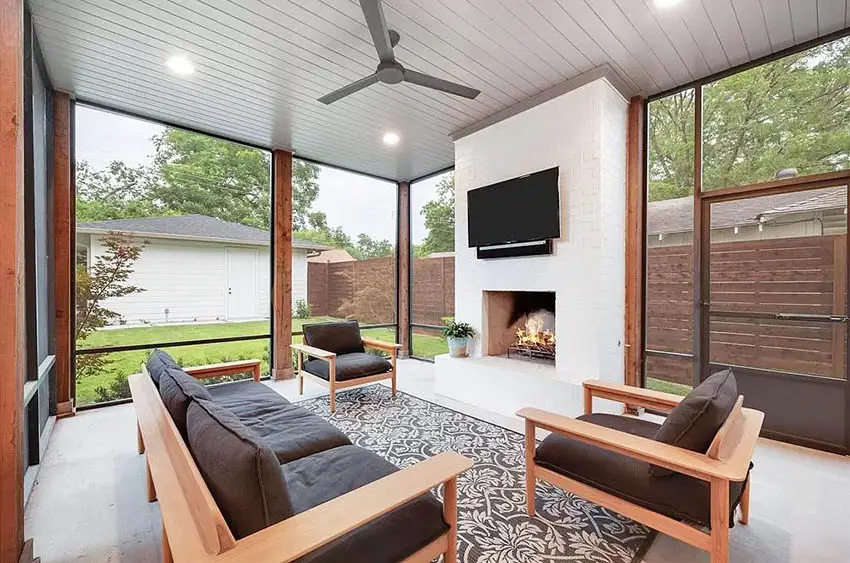 This custom enclosed patio features a black aluminum frame with a painted brick fireplace and mounted flat screen TV. Adding a chair or two, and three-seater sofa on top of a large area rug can enhance the enjoyment and decor of the design. Add in a dining table to create the perfect covered outdoor eating area.
Pre-constructed window wall system – This window wall system is customized and fabricated to fit the specifications for the openings that you want to be enclosed.
There are several window panels designs to choose from, such as a sliding panel or swing to an open panel; each type allows maximum airflow to the enclosed patio area.
Outdoor curtains and drapes – Porch outdoor curtains and drapes add elegance and create a whimsical and welcoming atmosphere. This way, you can enjoy nature and your neighbors when you want while keeping the space private.
A very specific type of porch curtain is a mosquito netting curtain, which keeps the mosquitos and other insects away; plus, this costs less to install than a screen enclosure.
Benefits Of An Enclosed Design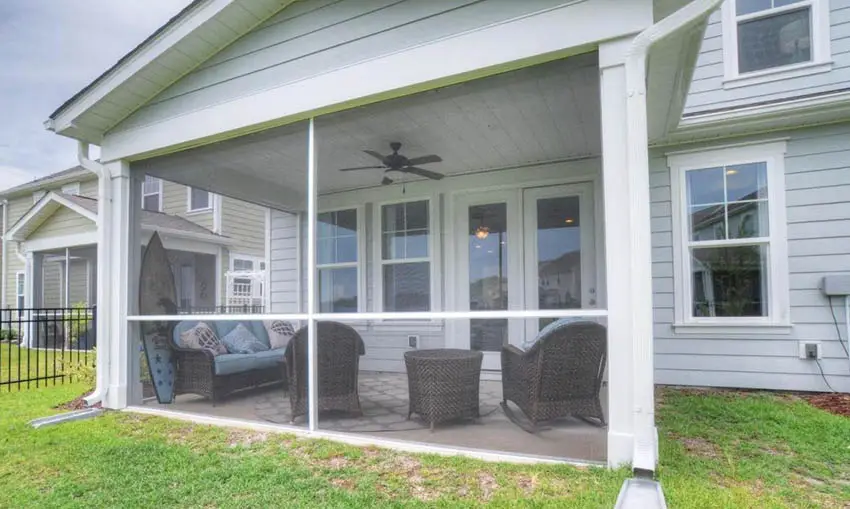 The ideal enclosed patio provides a place outside the main home for sitting, socializing, and relaxation. Here's a couple more benefits.
Extend the outdoor living area – You can enjoy the outdoors during the hot summer months and cold rainy days with the installation of a roof enclosure or canopy. This creates a space to gather with comfortable seating that is much more useful than just having an umbrella or pergola.
Privacy and extra security – Enclosing your patio will give you an additional solution for privacy and enhance the security of your home. You can enjoy the outdoor beauty and tranquility of your surroundings without compromising privacy.
You can relax and be at ease while keeping out mosquitos and unwanted insects, which can ruin a lovely evening outside and can help protect your health and well-being. You can also keep your expensive patio furniture more secure.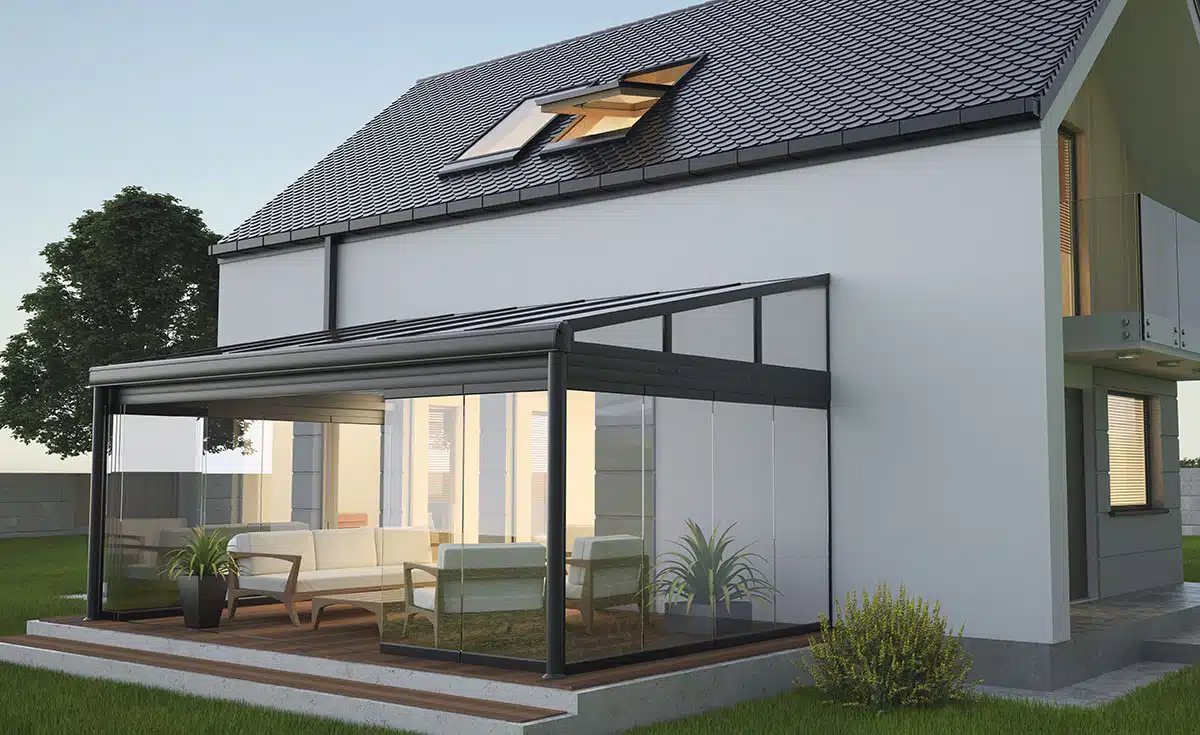 Increase in property value – An enclosed backyard deck or patio is a great option to get more value for your money and a better return on your home investment.
Adding an enclosed three or four-season room is much more practical in time and cost and will provide an aesthetic appeal for your home, adding more recreation space to help sell your property quicker on the market.
Extra storage space – An enclosed patio can also be very functional as it can store large furniture, yard work tools, gardening supplies, and a place to store firewood. These are outdoor storage products that can stow away cushions, sofa pillows , and toys to help keep things off the ground and look elegant.
So for the next outdoor project to add to your home, building an enclosed patio might be exactly what you need for that additional place to entertain or that extra space you need for storage, and maybe one of our design ideas might be just the one that will interest you.
Add lighting and ceiling fans – Having lighting fixtures can allow you to enjoy the space more often and provide a place to gather during the evening. Ceiling fans can be added as a useful and decorative element to your design, promoting air circulation and providing comfort.
Enclosure Cost for a Patio
There are certain factors to consider and understand which can affect the total cost of enclosing your patio. These include the types of materials used, such as whether it has windows and insulation.
The average range to build a custom patio enclosure is around US$ 8,000 to US$ 15,000 and may go as high as US$ 35,000 if installing electricity or adding custom features to the room.
A 200 square foot screened in patio will cost about $5.25 per sq ft for a total of $1050. You can buy a 10′ x 16′ enclosed room kit for under $4000. Remember that costs may vary based on elements such as ceiling fans, outdoor furniture, and other design features.
The cost will depend on the following factors:
Size or the square footage of the patio
The major cost factor to be considered in enclosing a space is the size of the layout to be enclosed. Smaller patio spaces will be much more affordable to enclose than larger square footage areas due to the materials needed to install the enclosure and the length of time in building the enclosure.
Type of enclosure to be used
The choice of enclosure to be utilized is another factor determining the cost of enclosing a patio. The most popular and common choice is installing a conventional roof enclosure.
But if you are on a budget, installing an awning with screens to cover the sides will be cheaper than a conventional roof enclosure with actual walls. You may also want to consider the installation of an enclosed porch in the front or adding a roof overhang extension, which may need architectural plans at an added cost.
An awning or screens is advisable if you have charcoal or gas grills to avoid harmful emissions and contaminants from accumulating in the space.
To prevent this, you could consider installing a powerful range hood with a gas grill. Even so, it is still necessary to have a 9 foot or higher ceiling to avoid potential problems. Always consult with an experienced contractor before grilling food in indoor spaces.
Windows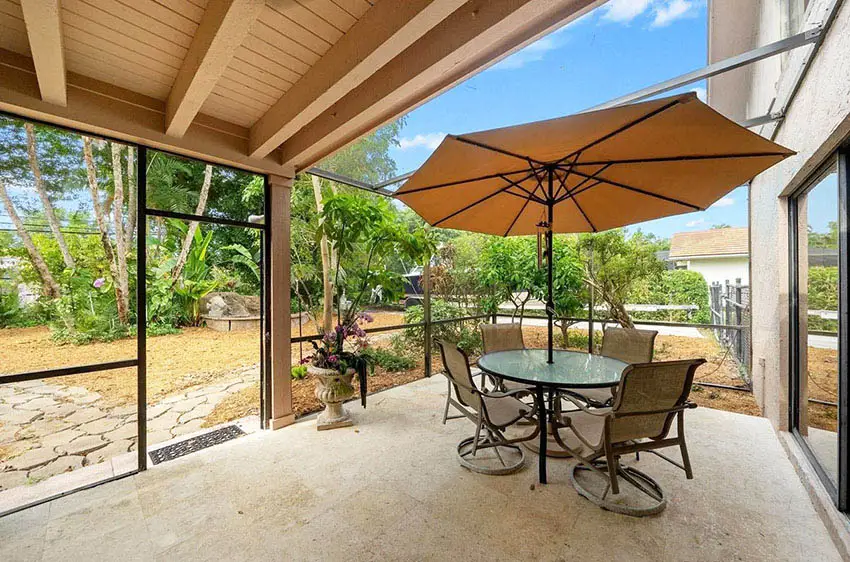 When enclosing a patio, installing a double-glazed window especially if you are living in a cold climate or an area where you experience heavy winds, provides a better insulation; but it usually will be more expensive.
However, the added heat retention will allow you to use it more frequently throughout the year and can be listed as a selling feature if you decide to sell your home.
Design and Décor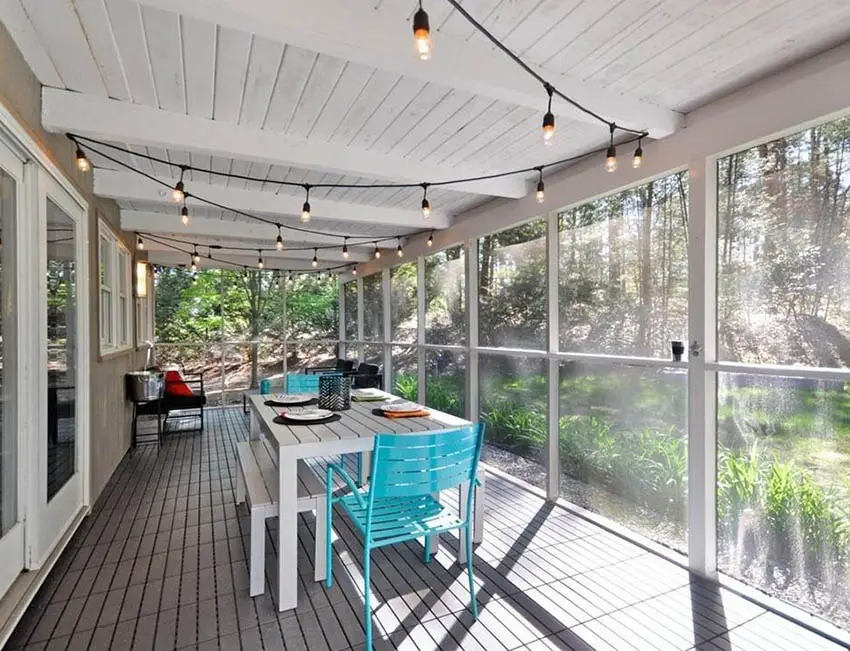 Patio enclosure design and upgrades for functionality will contribute much to the cost of the project, as well as all additional contemporary décor and accessories, such as skylights, outdoor dinign table, couch, coffee table, hanging lights, and window treatments, will add to your total backyard enclosure cost.
Permits
There will be cities that will require you to secure permits for patio enclosure with the local building department. The process of securing permits will certainly add up to your project cost.
You should contact your local city directory for more information regarding building permits and to determine whether one is required for your area.
Many cities will have an online database where you can get more information, as well as provide the ability to fill out documentation online for application and approval.
Glass Patio Enclosure Cost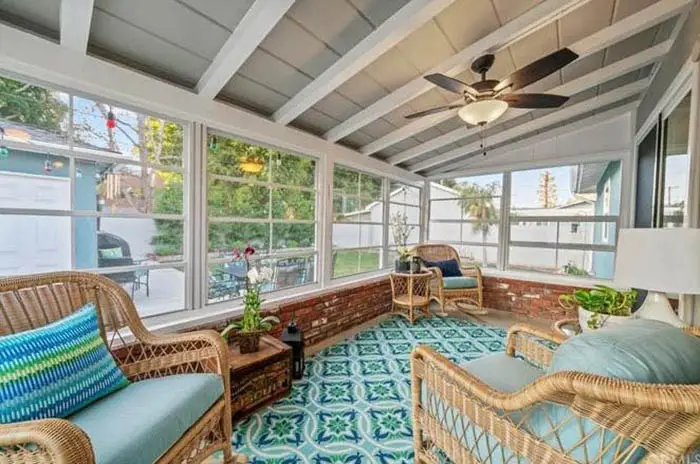 For a glass enclosure such as a three season room or a patio sunroom the cost can average around $15,000. For those who want a 4 season sunroom space, the cost can run between $25,000 to $35,000.
For more related designs, check out our gallery of backyard pavilion ideas.